Once we finished our kitchen renovation, I know many of you were worried that we didn't have any projects left in our house. The good news for you is that we actually have a lot more on our to-do list! In fact, some of the spaces we're focusing on may be ones you don't even know about or remember because I try not to show them 😉 So today I want to share what we plan to get done around the house this fall and winter! Now that summer is over and we're forced inside, it's time to tackle our list!
This post contains affiliate links for your shopping convenience. Click here to read my full disclosure policy.
Early this year, I shared my 2018 home goals. I actually hadn't looked at that list again until this post was almost finished, so I'm glad to see there's some consistency in my train of thoughts 😉 We'll actually be close to wrapping up our home goals for this year if we can finish up the projects below.
Our Staircase Plans
I actually love our staircase, but rarely show it because I half-assed it originally. I have one wall painted (but only up to the window trim) and the other two are in bad shape with the original flat paint. There's handprints, vaccuum marks, trim overspray – basically a little of everything. That's the truth. But now that our railings and window trim have been painted white, I want to move forward with our original plans. This one was actually on our 2017 Home Goals list,but we've both agreed it's a priority now!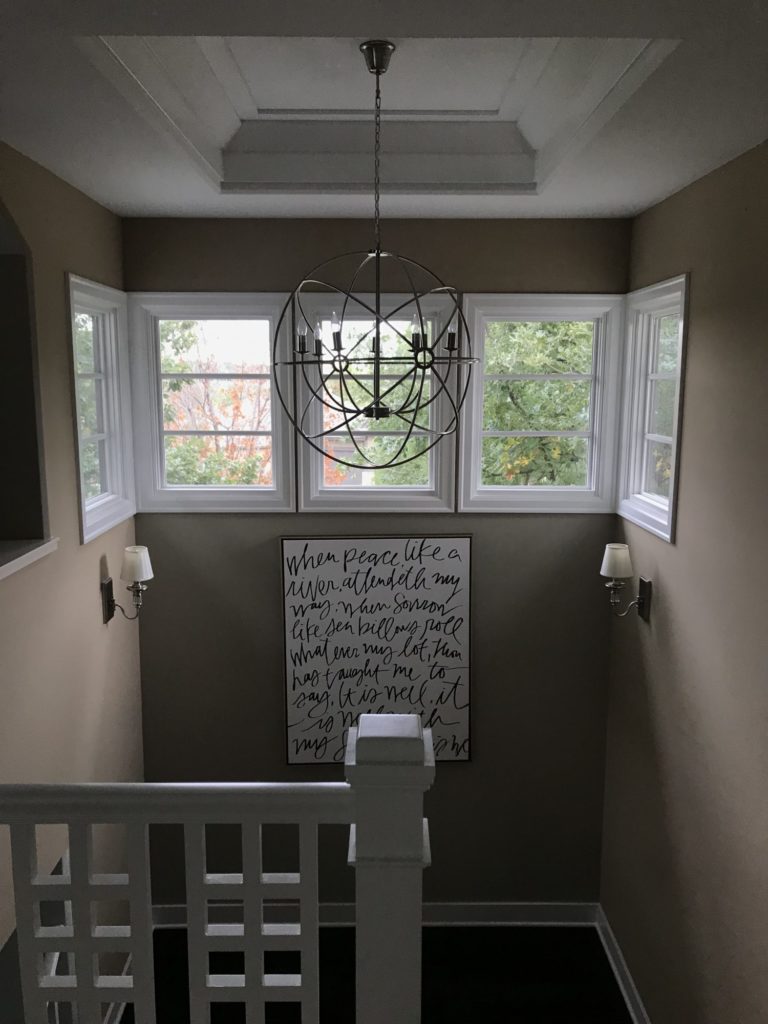 We want to brighten up the space with fresh paint and very likely add a board and batten treatment to the walls (similar to what we have in our office and guest bedroom). This is one we could tackle ourselves so I just need to draw up the plans and find a time to coordinate it all with Kurtis! It may get a bit tough with the geometry of the space, but I'm determined to make it work!
Our Master Bedroom
I love the layout of our master bedroom. But I've basically hated the paint since shortly after I finished it (and that was round two). The ceiling is still the original almond/pink/yellow color of our trim and it clashes badly with the SW Sea Salt walls (especially in real life). I've talked about this before, but as much as I love blue, I've realized I just can't do it on our walls. I want to take everything neutral and then bring in blue in the textiles. I think it has so much potential but I've just been stalling on it. I think I've held back on this update because I remember how much I dreaded painting it last time with the trayed ceiling (and probably because I painted the room twice in one setting because I hated the first color I used). I'm thinking I'll get started on this one once the holidays are over, but plan to finalize design plans soon!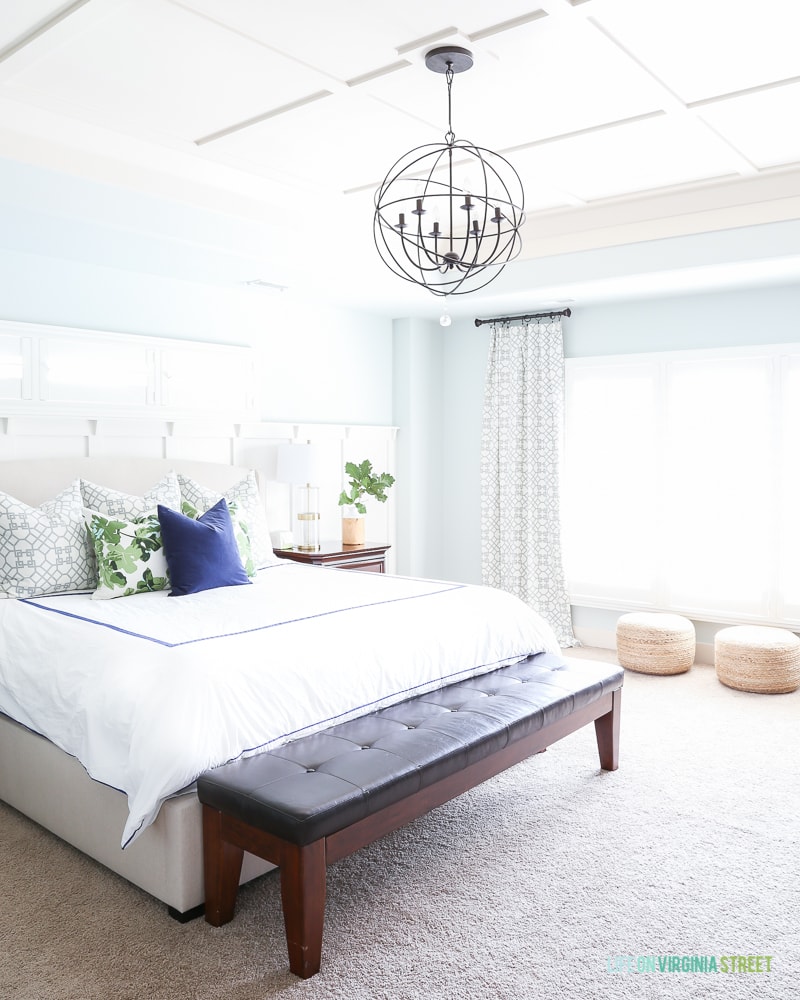 The Upstairs Bathrooms
We have three bathrooms in our upper level and all of them need work (you can see all of them in this post). In two, the cabinets are plastic/melamine and in all three there are Corian counters that have not worn well over the past ten years and two owners. And yes, this painters tape has been in our main guest bathroom for going on three years. I'm the best hostess ever. At least I managed to get one coat of paint up on the walls 😉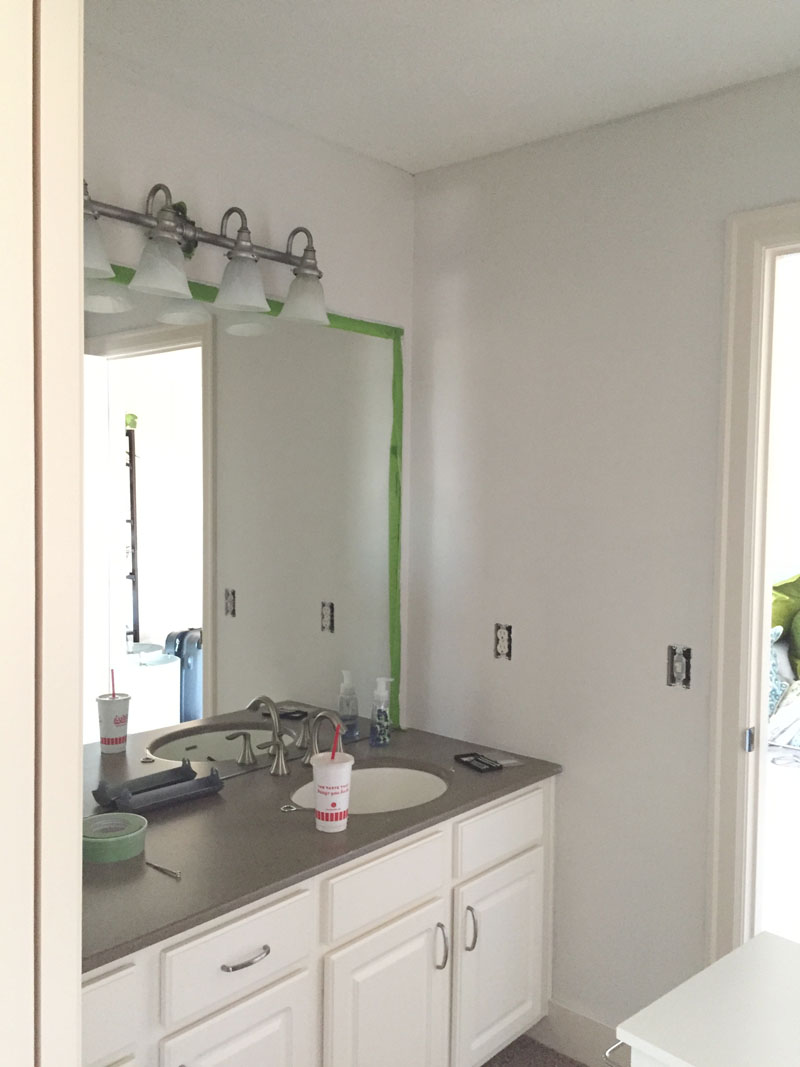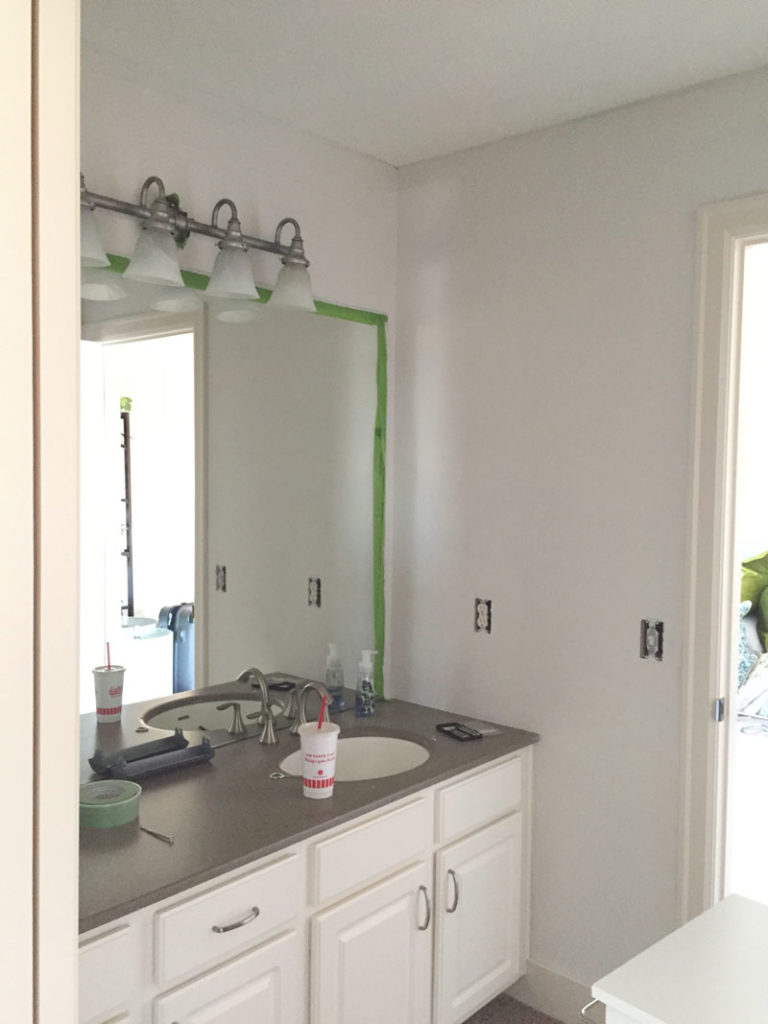 Realistically, I could see possibly updating one of the bathroom (definitely not the master) this winter, budget permitting. Likely it would be the one shown above that connects to our main guest bedroom and my craft room/TV room. We'd love to get the carpet out of the vanity area and tear out the dark brown tile in the shower/toilet area. I'd also remove the builder grade mirror for two standalone mirrors, and ideally, we'd like two sinks since the space allows for it. Since we'd have to hire some of this work out, this one is totally dependent upon bids and budget!
I'm trying not to add too many projects to the list so that we have a better chance at completing all of them! But these three from our 2018 Home Goals are going to be my focus over the coming six months! I'll be sharing specific plans and design boards soon for each space once I narrow down a few more decisions. Stay tuned!
If you would like to follow along on more of my home decor, DIY, lifestyle, travel and other posts, I'd love to have you follow me on any of the following:
Pinterest / Instagram / Facebook / Twitter / Google+
disclosure: some affiliate links used