Happy August 1st! I know it's super early to be talking about fall home decor, but given that my summer home tour didn't get posted until mid-July, I'm trying to get ahead of my fall decorating game! Today I'm going to share some Fall 2019 home decor trends along with favorites from last year that are back in stock!
What actually prompted this post was my excitement (after my initial anger) upon receiving some fall home decor catalogs. So many of my favorites (and yours) are back this year! As a self-proclaimed summer girl, it's really hard for me to get excited for fall. But, the fact that half of my shopping is already done (thanks, 2018!) I'm a little more on board this year!
This post contains affiliate links for your shopping convenience. Click here to read my full disclosure policy.
Fall 2019 Home Decor Trends
Following are some of the Fall 2019 home decor trends I've been noticing so far. I'll dig into each of them more in-depth (with a few favorites) further down in the post.
Warm Tones. Yes, brown is back! I proclaimed this last year, and nobody wanted to believe me, but for this girl that doesn't love gray tones, I was totally on board. Glad to see this "trend" isn't going anywhere!
Olive Everything. Olive anything isn't going anywhere. And I'm totally okay with that! I'm pretty sure my entire yard would be filled with olive trees if they would grow in Nebraska. I also think the olive shade of green will be really big.
Fig Trees and Stems. Check any of the pro lists, and they'll probably tell you figs are so 2017 (or earlier). But, so often their referencing fiddle leaf fig trees (which I love and refuse to call a trend). I think we'll also see other varieties of figs making an appearance. I love the color of the fruit paired with the leaves and it makes for the prettiest fall color palette.
Ceramic Textures. I'm loving all textured ceramics I've been seeing lately. I love them especially in earth tones, white or black! And if you want to use them with fresh flowers or stems, simply add a smaller glass vase inside of them to fill with water!
Whatever makes you feel cozy and happy to be at home! Regardless of what all the trend lists say, pick what makes you happiest! This is even more important as the months get cooler and we spend more time indoors.
My fall home tour from last year was one of my most popular tours ever! But unfortunately, that also means that may of the decor pieces I used sold out rather quickly (a few even before I was able to get my post up)! But, as I've been looking at decor for the upcoming season, I was so happy to see so many of my favorites from last year are back – and fully stocked – this year! Which, as I'm sure you know, isn't common since so many stores like to rotate their inventory to keep things fresh (and make you buy more)! So, today I'm sharing some fall home decor favorites that are back in stock this year (that also align with the trends listed above)!
Fall 2019 Trend: Warm Tones (and My Favorite Pillows)
As I mentioned above, I couldn't be happier to see warm tones back in full rotation this year! I'm already stalking all the caramel and cognac decor I can. I just love the warmth it brings to a space! I used a lot of these colors in last year's fall living room! And the best part – the patterned pillows that sold out a day after my home tour are back in stock this year! I love warm tones especially in linen form or brought in with wood (like our dough bowl) or jute rugs!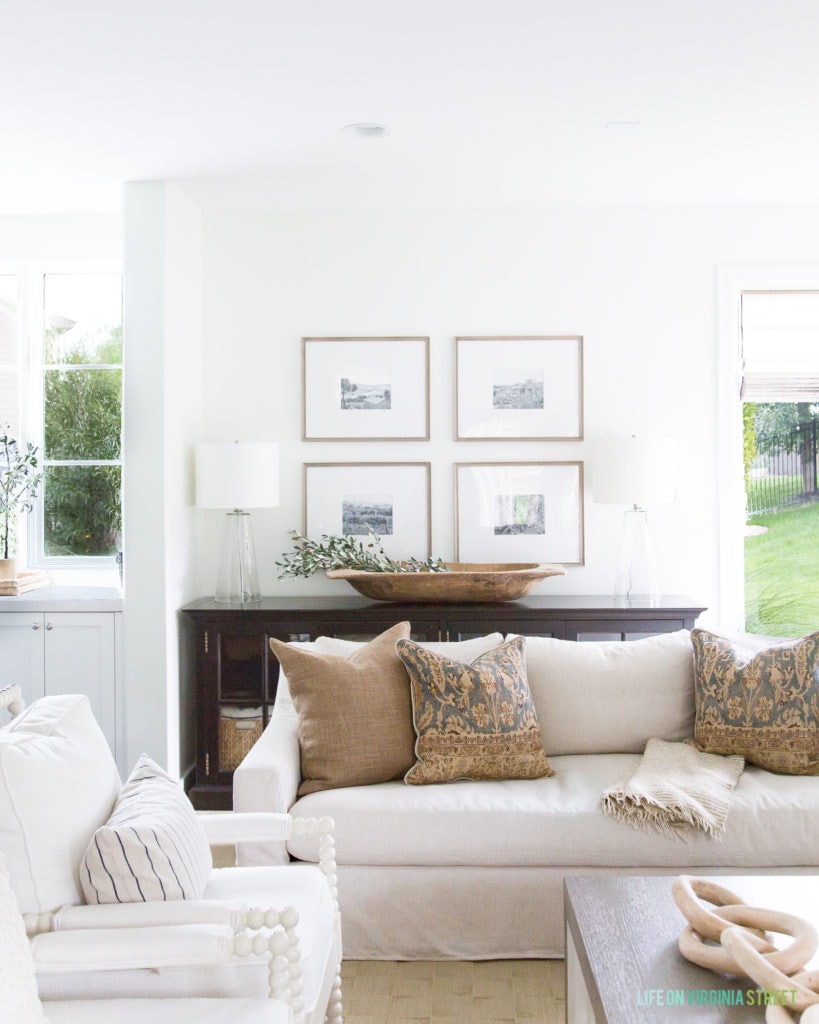 SOURCES: Linen Sofa | Spindle Chair | Patterned Pillow | Belgian Linen Pillows | Wood Dough Bowl | Faux Olive Stems | Gallery Wall Frames (look for less here) | Similar Black Cabinet | Lamps | Striped Throw | Coffee Table | Similar Wood Chain
Following are some other warm toned fall decor I'm loving. I also think we'll be seeing a lot of cane furniture and other woven textures in furniture, so be sure to check out my cane furniture and decor favorites if you're interested! Click any of the images below for more info on each item.

Fall 2019 Trend: Olive Trees and Stems
If you saw my home tour last year, you know I went a bit crazy with all things olive last year. These olive stems were one of my first purchases of the season because I knew they would quickly sell out. I'm not sure they even made it through August before selling out for the year, but they're back again! If they're out of your price range, these olive stems were pretty decent for the price but they are a bit smaller. Or, if you love the original, these shorter olive stems that come in a bunch are a great option as well!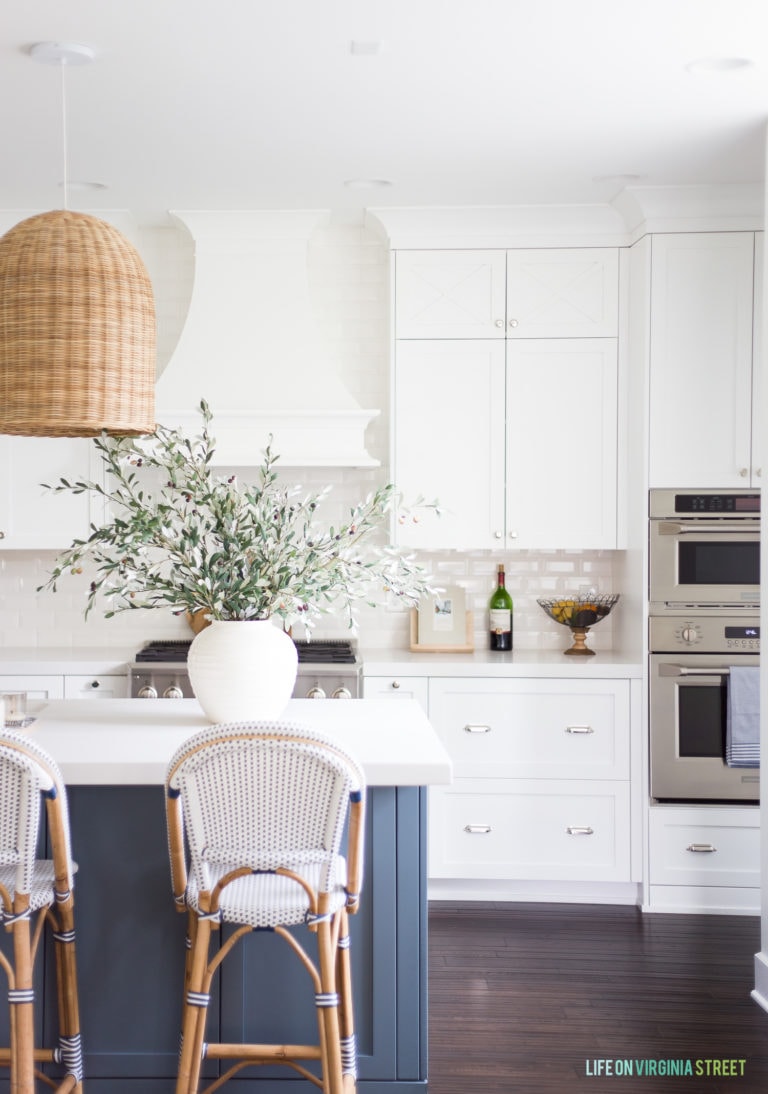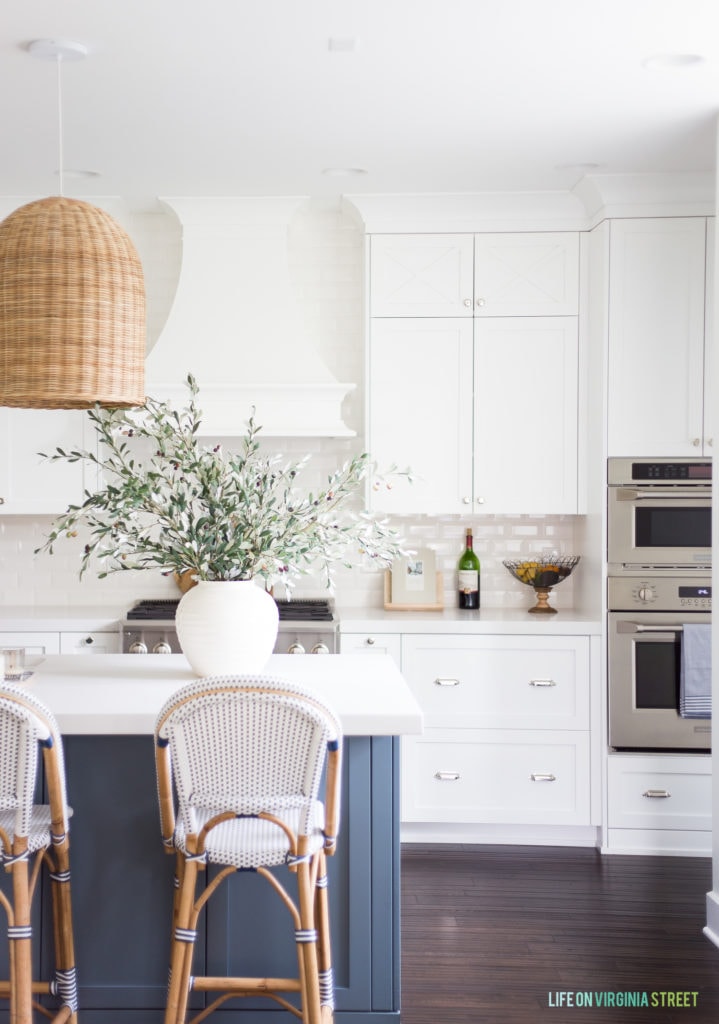 SOURCES: Basket Pendant Lights | Counter Stools | Faux Olive Stems | White Vase
Following are some other olive trends I'm loving right now.

Fall 2019 Trend: Fig Trees and Stems
Our neutral and green fall guest bedroom from last year was loaded with figs in tree version and fabric version. If you're also a fan of the look, be sure to also check out my post on the best faux fiddle leaf fig trees and how to make them look real!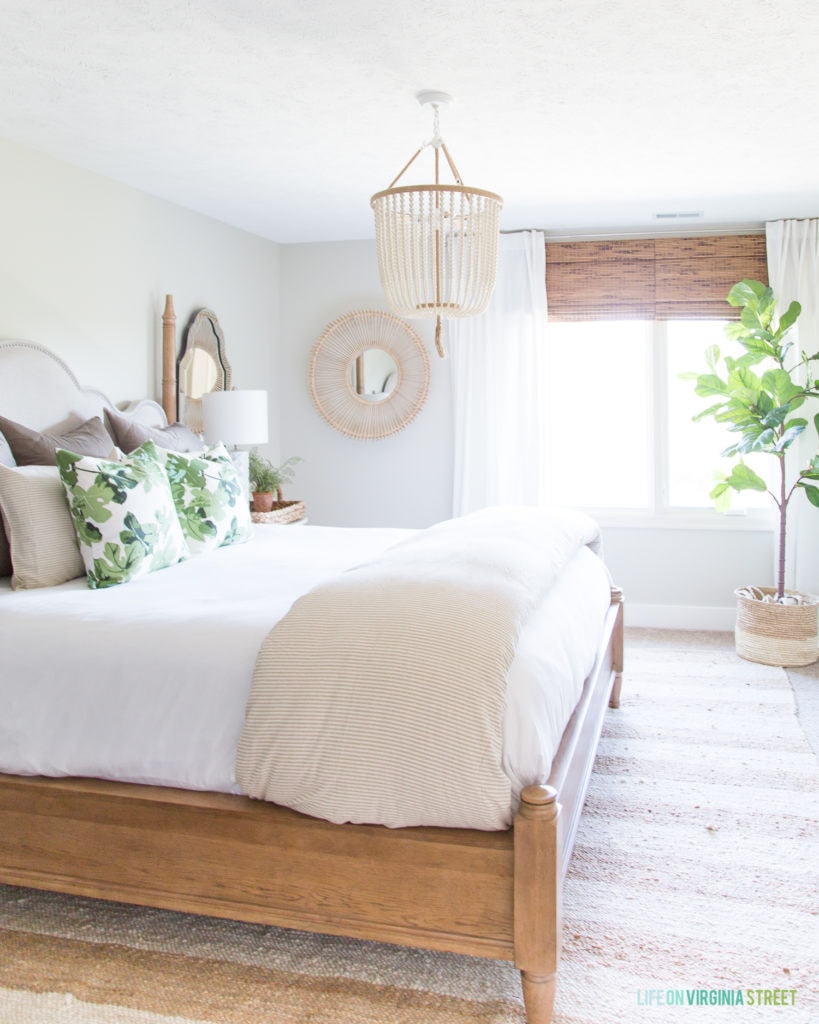 SOURCES: Fig Leaf Pillows | Striped Duvet & Pillows | Bead Chandelier | Striped Jute Rug | Linen & Silk Pillow Shams | Faux Fiddle Leaf Fig Tree | Arched Mirror | Rattan Mirror | Faux Maidenhair Fern | Bed
Following are some additional fig trends I'm loving! Click any of the images below for more info on each.

Fall 2019 Trend: Ceramic Textures
Any time I see a cool ceramic vase or pot now, I want it. Following are a few I'm especially loving lately. Simply click any of the images below to learn more about each item.

Any other trends you're seeing and loving for fall this year? All right – now let's get back to soaking up ever ounce of summer that's left!
If you would like to follow along on more of my home decor, DIY, lifestyle, travel and other posts, I'd love to have you follow me on any of the following:
Pinterest | Instagram | Facebook | Twitter 
disclosure: some affiliate links used