I am sharing with you some easy football party ideas + the best cheesy artichoke dip!
This shop has been compensated by Collective Bias, Inc. and its advertiser. All opinions are mine alone. #ScoreMoreFans #CollectiveBias
Does anyone else feel like they've attended a football party every single weekend night for the past month? My husband is a bit of a football fanatic, as is nearly every person I know in the state of Nebraska, so it seems like it's just a way of life now. Today I'm going to share some easy eye catching football party ideas that will make your party look polished and fresh, but without the stress of major planning.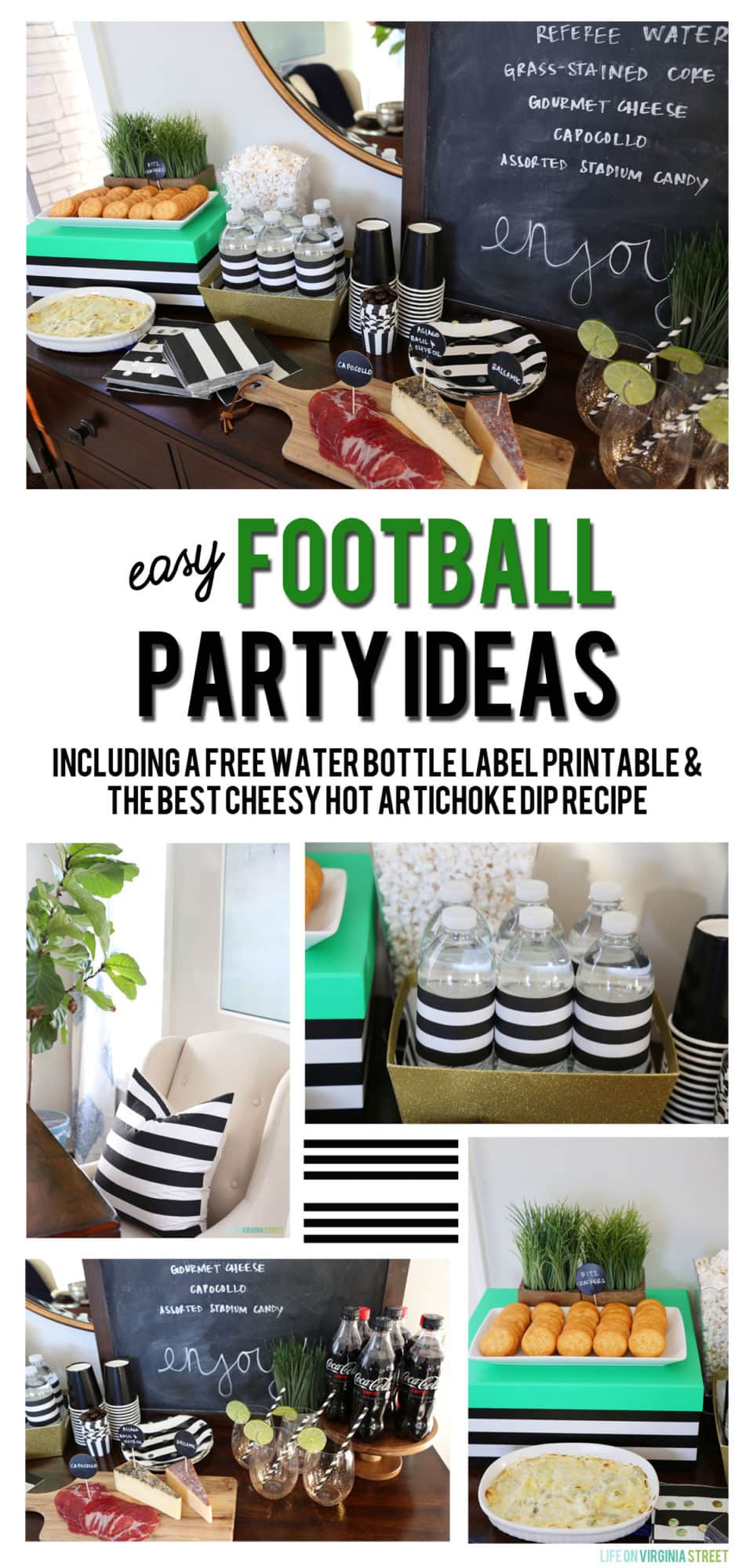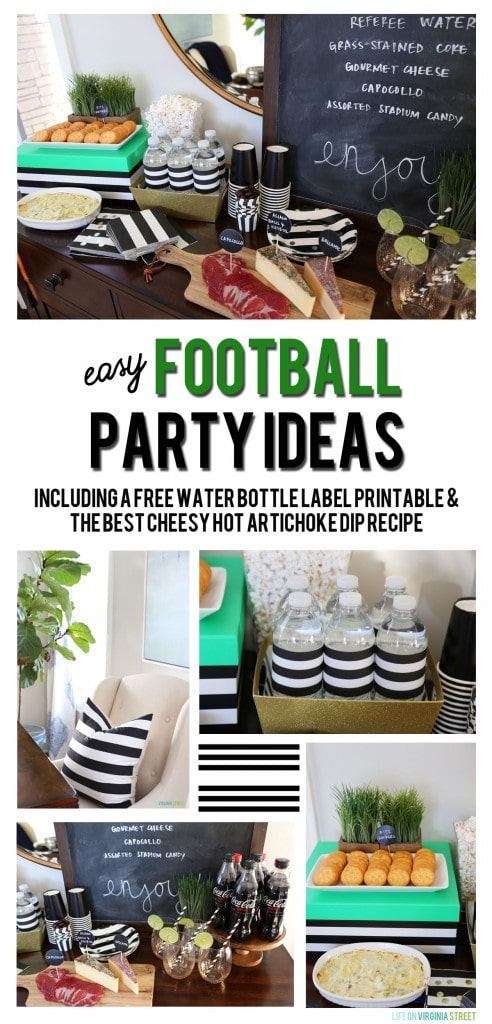 First, make a grocery list of delicious snacks you'd like to have on hand for the party. I prefer to serve mostly finger foods and only one hot item. When you don't have to stress about coordinating five different foods you need to bake at once, you'll be much more likely to enjoy your party (and likely put your guests more at ease!).
I headed to Walmart to get my supplies and stocked up on Coke Zero (where it is on sale 2 for $5 for the 16.9 oz 6-pack bottles!), ingredients for my mom's Cheesy Hot Artichoke Dip (recipe below), RITZ® Crackers to use to scoop the dip, as well as a a few other simple game-style snacks like candy, popcorn and pretzels. In and out in about twenty minutes. When you go with simple foods, your list can be pretty quick!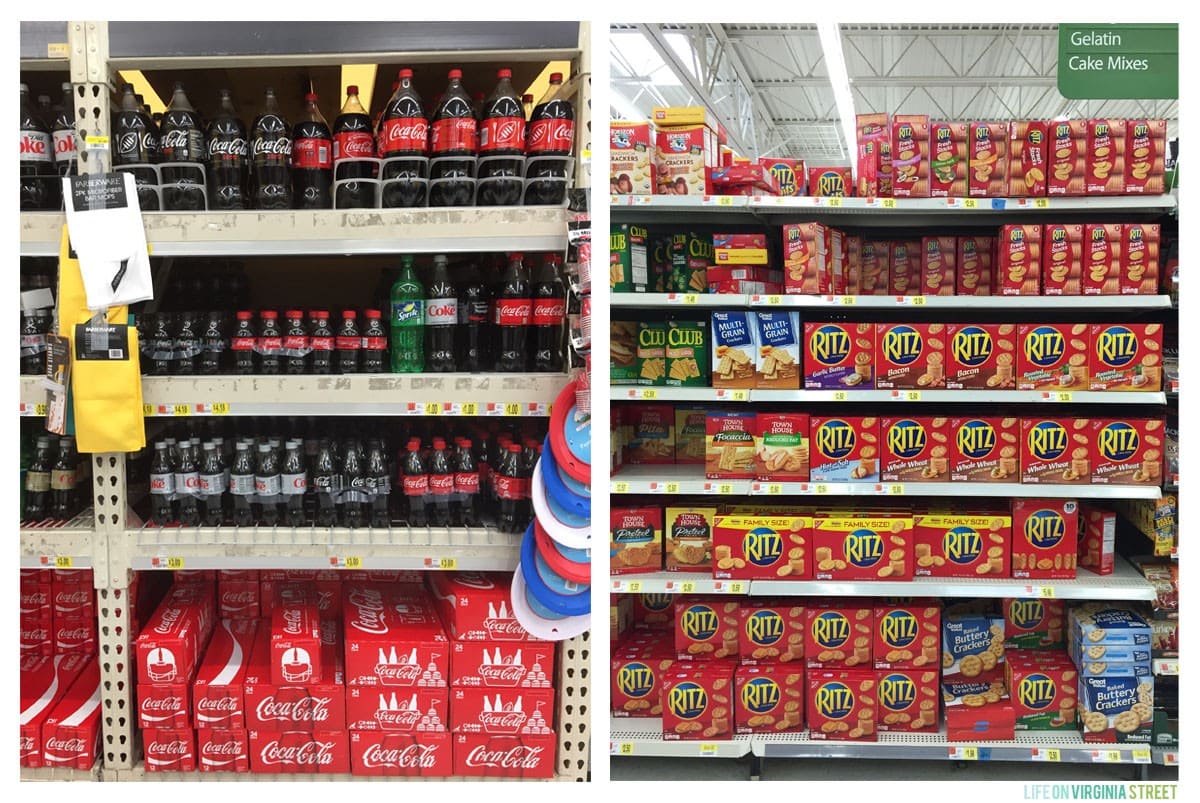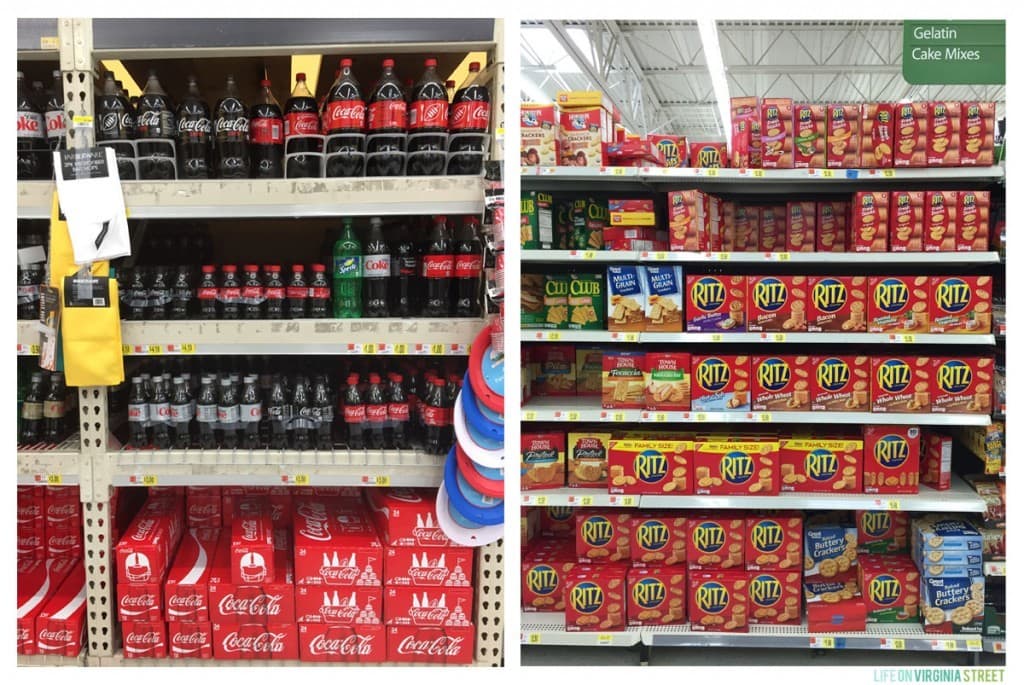 In an effort to avoid a five-year-old-birthday-party-vibe, I recommend limiting the amount of colors you use for your decorating scheme. As a nod towards football, and to keep things team-neutral, I went with a fun grass green and black & white stripe theme. Then I picked up plates, napkins, a decorative box, some grass decor and a few other items to decorate the buffet table (from both Hobby Lobby and HomeGoods). I also made an easy black & white striped printable that I taped to the water bottles (you can download the printable later on in the post).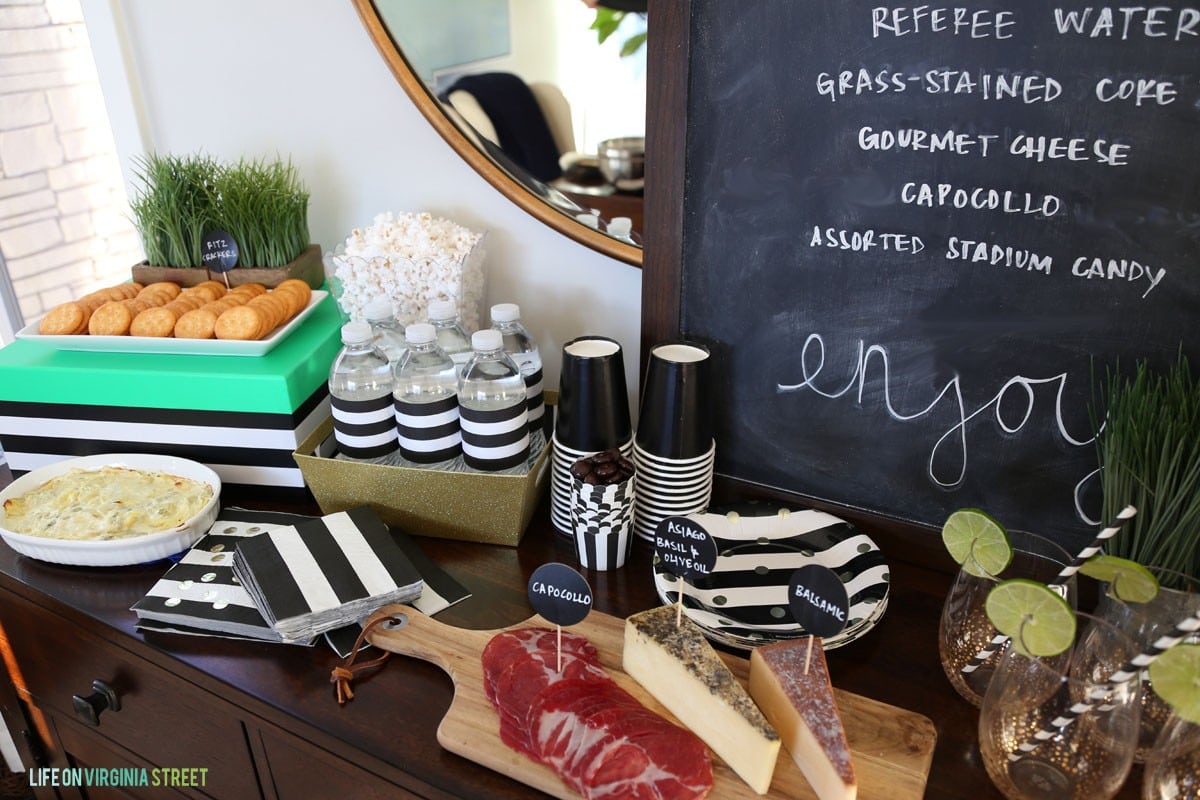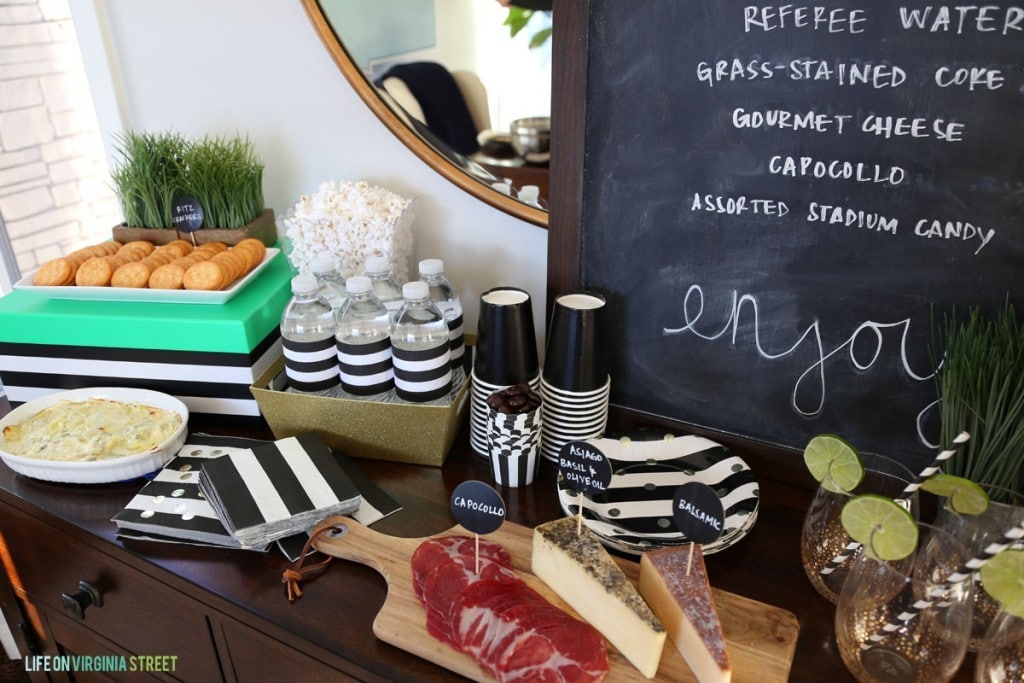 I then made some dynamic DIY pillow covers, using a basic black & white striped fabric and my DIY throw pillow tutorial, to add an extra graphic punch to the dining room. Coordinating pillows are an easy way add some more grown-up vibes to your party decor.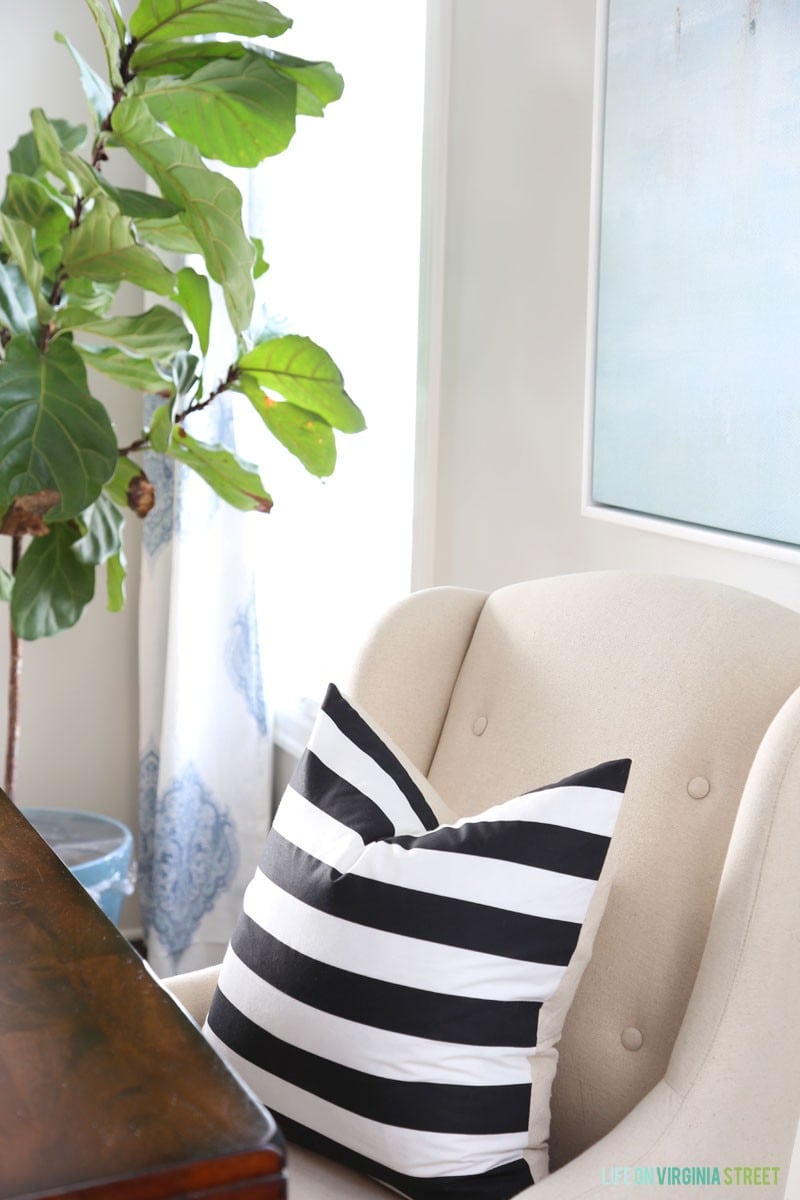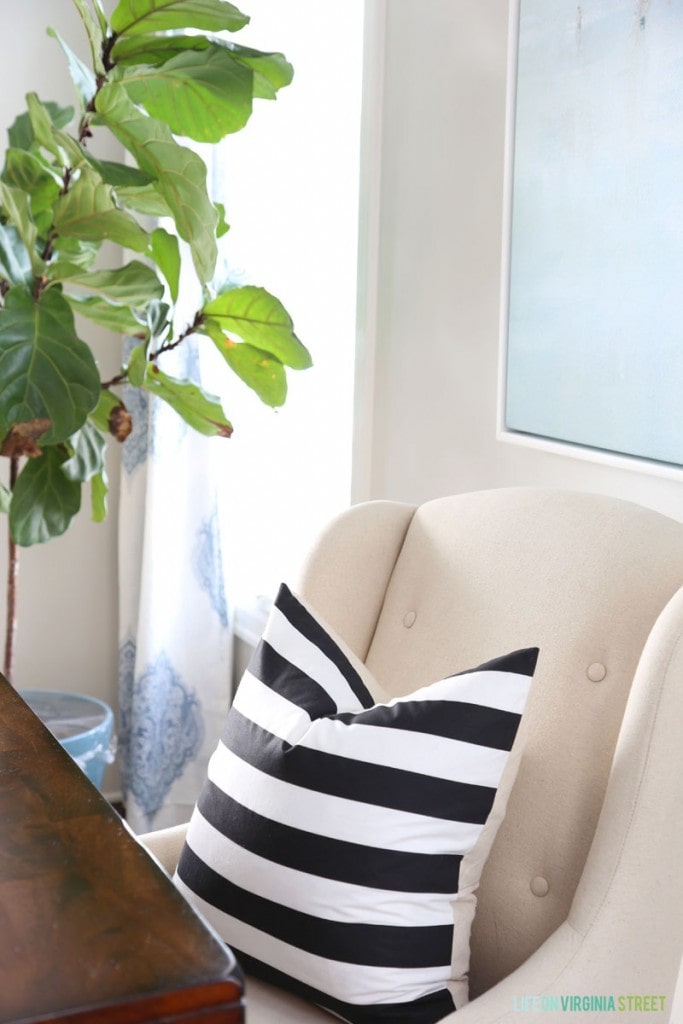 Once you've planned a fun menu, display it creatively on a chalkboard. I tried to add a football spin to the food items we served, including grass-stained Coke Zero (Coke Zero or Classic Coca-Cola with fresh limes), stadium popcorn (just homemade air-popped popcorn), referee water, assorted stadium candies, etc. I also added little chalkboard labels to all of the food. Certainly not a necessity, but it helps take the overall look up a notch and can make basic food seem just a bit fancier and elevated.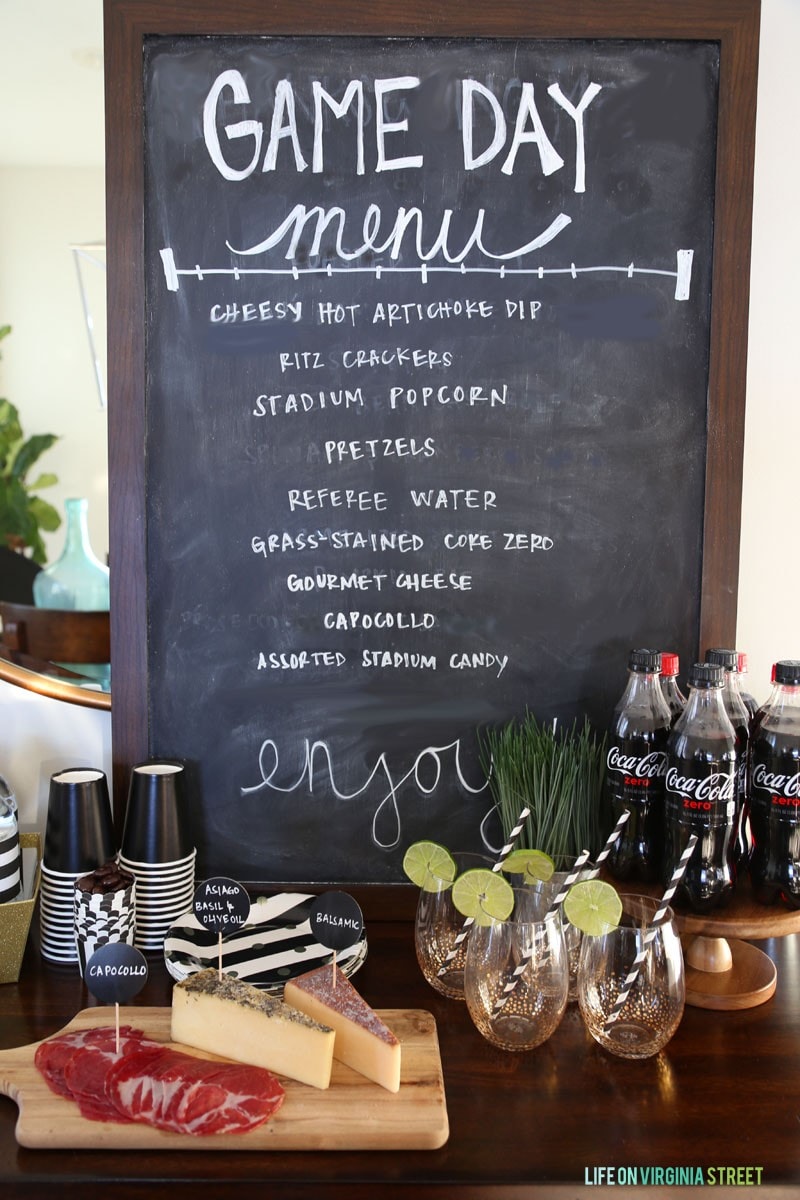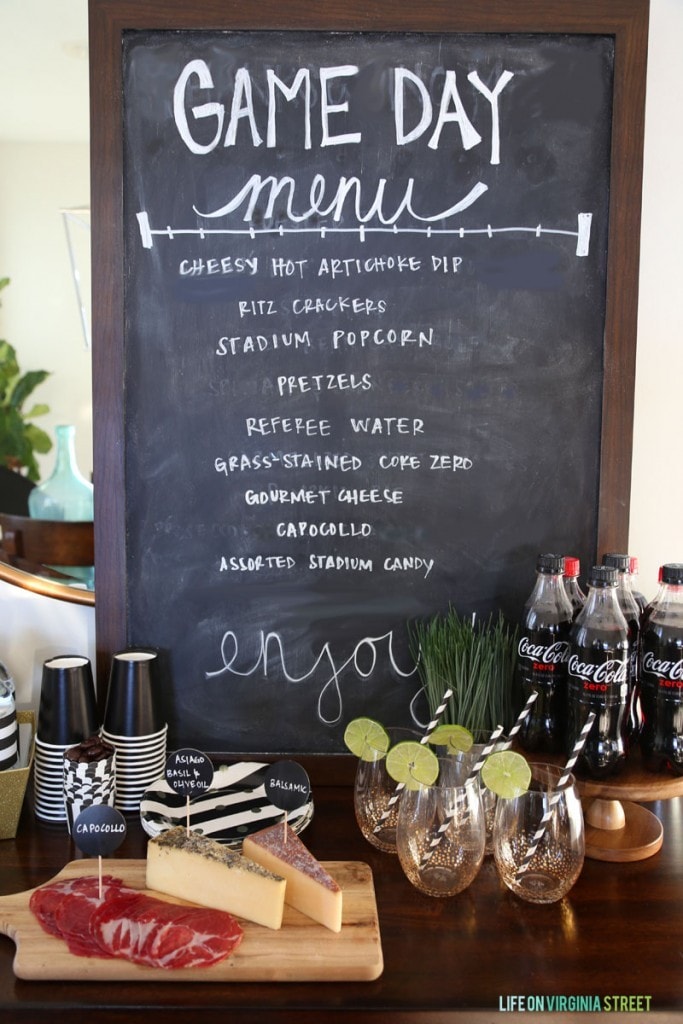 Like I mentioned, try and stick with only one food you have to bake and/or keep warm. That way, you're not trying to coordinate oven times, arrival of guests so it stays warm, and then later, too much food that is sitting out that has gone cold. Our go-to football snack is my mom's famous cheesy hot artichoke dip. It's easy to make and easy to reheat, should the need arise!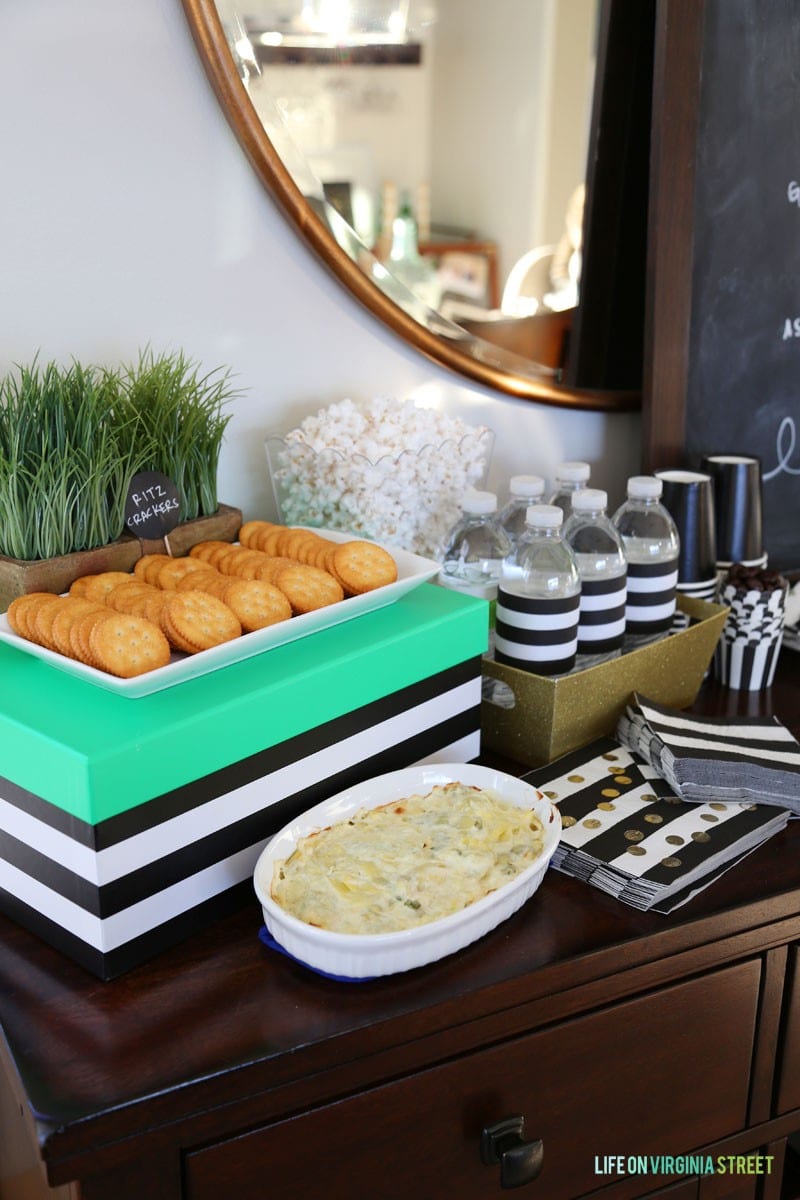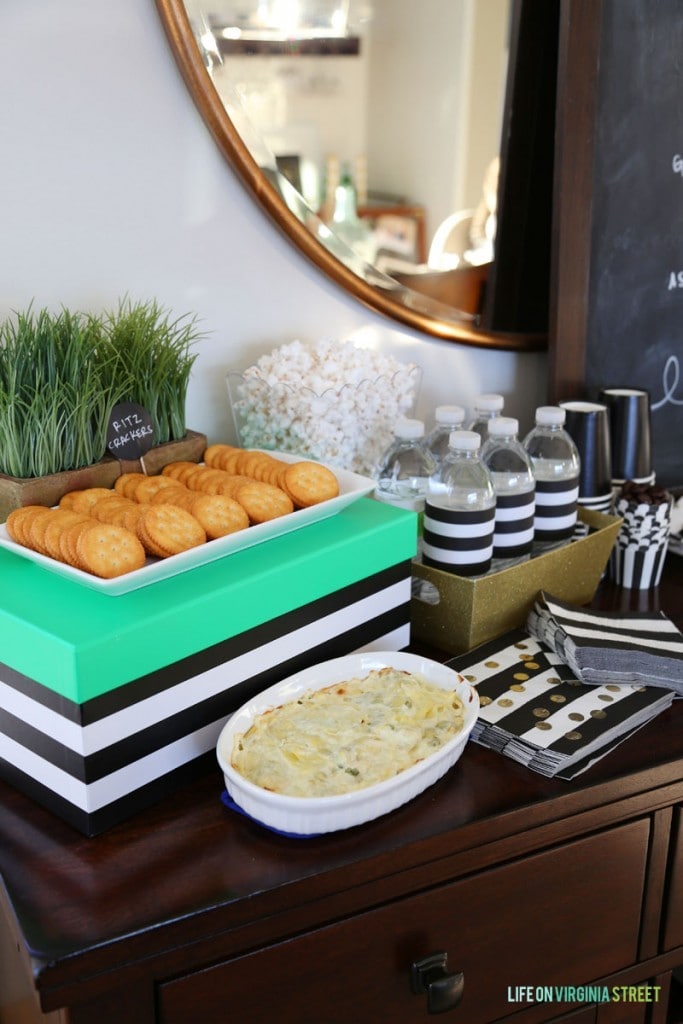 Easy Football Party Ideas and The Best Cheesy Hot Artichoke Dip
Prep time:
Cook time:
Total time:
This cheesy hot artichoke dip is the perfect appetizer for parties and on game day!
Ingredients
2 garlic cloves, finely minced
2 green onions, finely chopped
⅔ cup mayo
½ cup cream cheese
⅔ cup grated Parmesan cheese
2 cans artichoke hearts, broken apart
¼ tsp crushed red pepper flakes (optional if you want a bit of spice - we do not add them)
1 box of RITZ® Crackers
Instructions
Pre-heat oven to 400 degrees. Mix the first five ingredients together until smooth. Add artichoke hearts and mix thoroughly. Bake in oven safe dish for 15 minutes. Serve hot with RITZ® Crackers. Dip can be reheated in the microwave if necessary.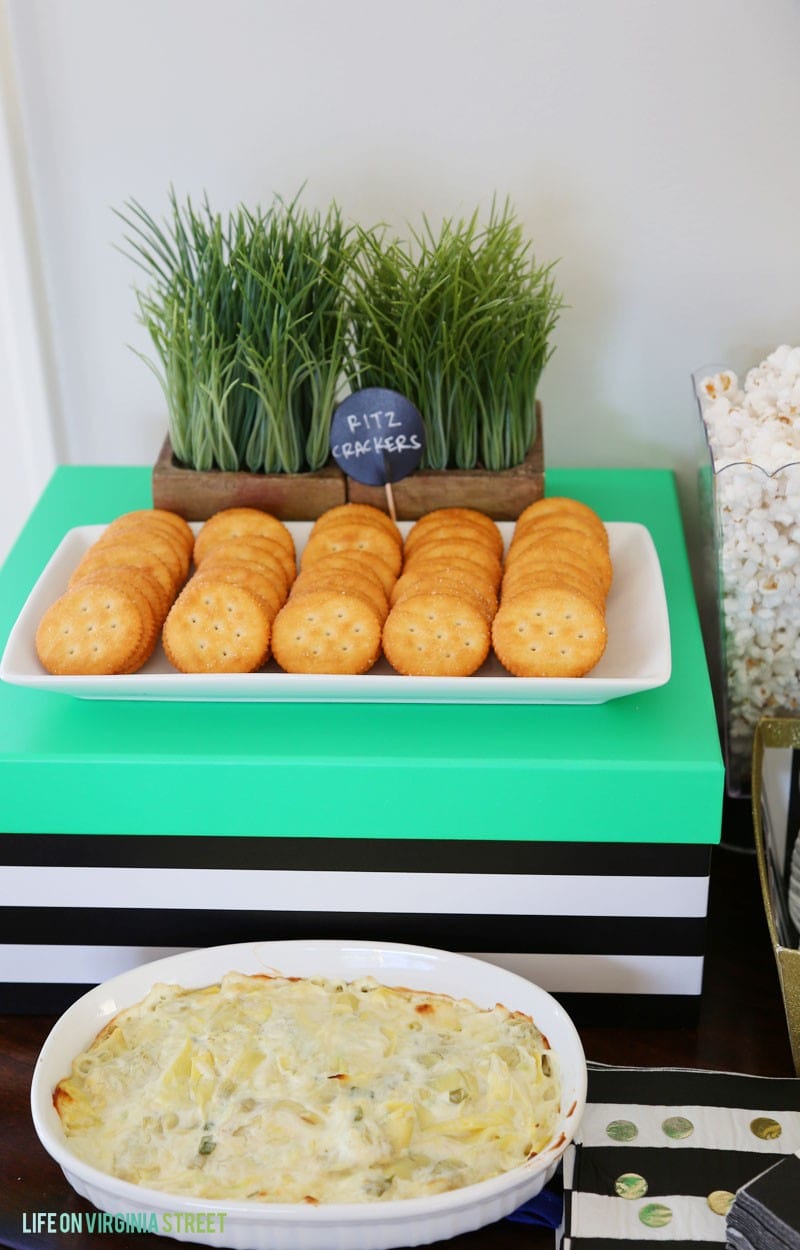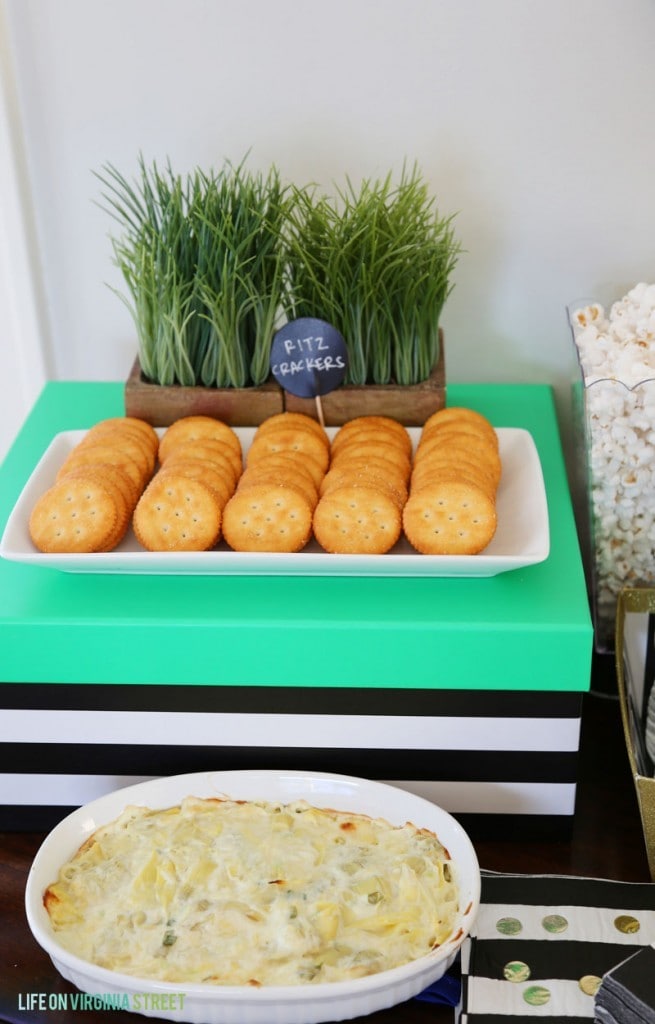 The dip is divine and always seems to go over well with a crowd! I also love that you can reheat it in the microwave if necessary. Definitely an easy way to score with your biggest fans!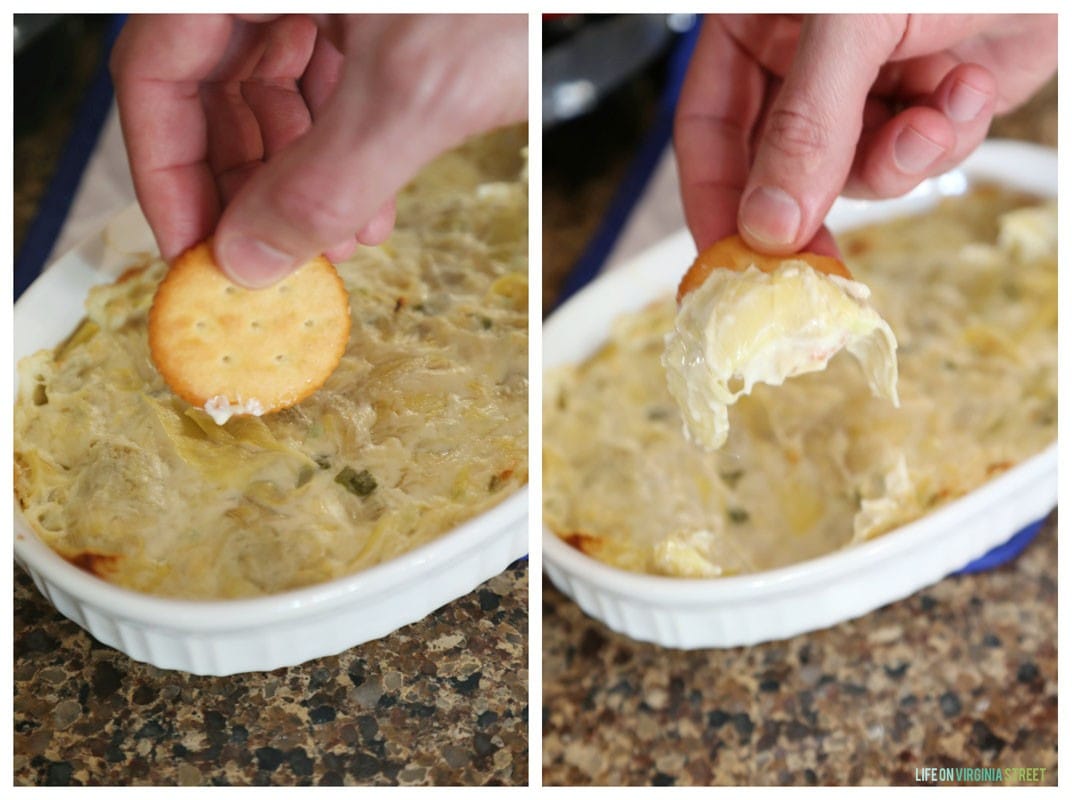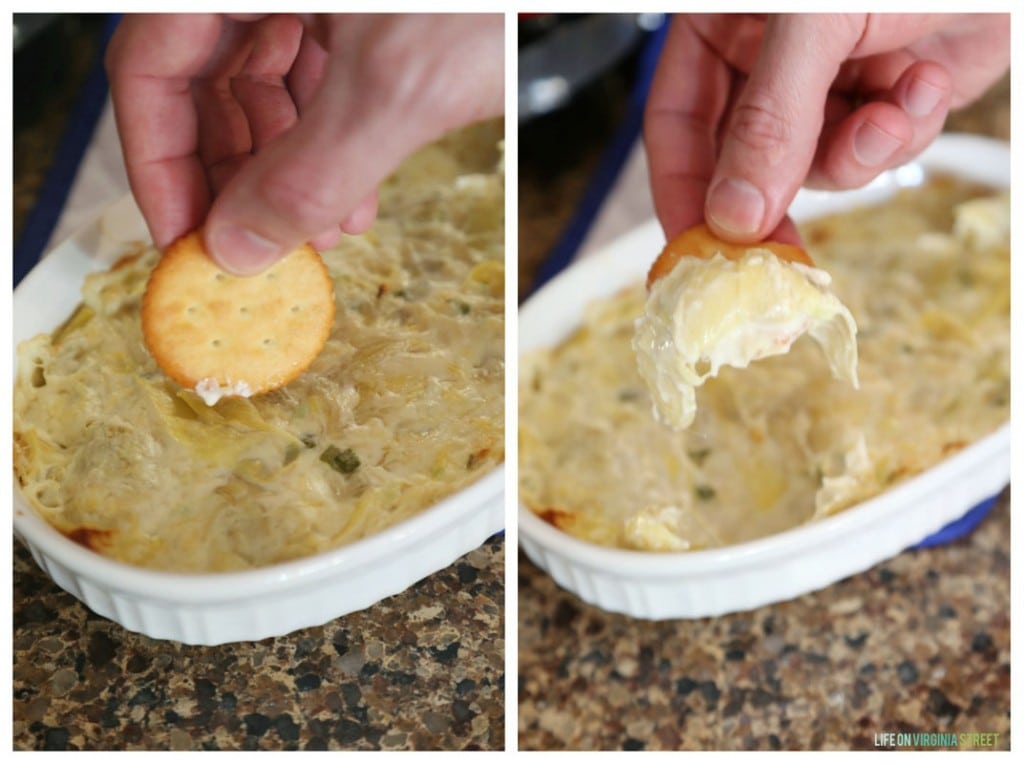 We always love to serve meat and cheese for parties, as well. Super easy to make and always a crowd-pleaser. Don't the little chalkboard signs just up the fun and glam factor?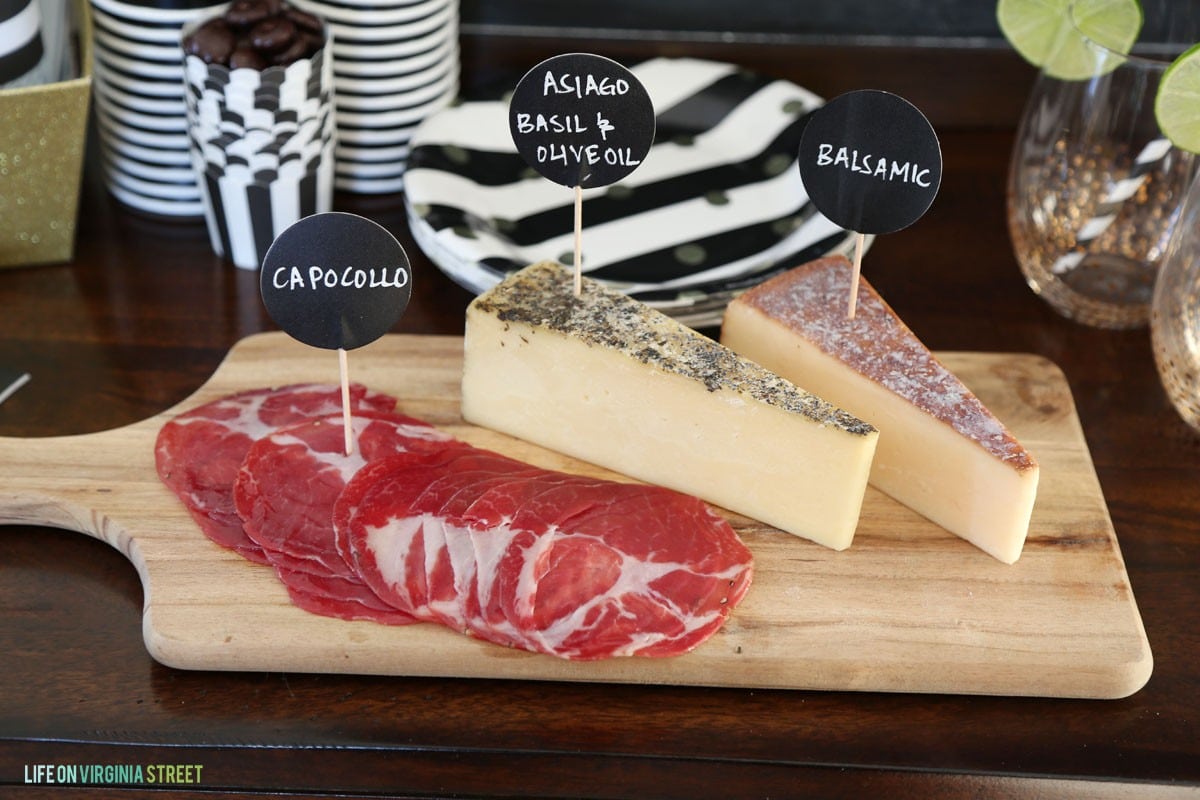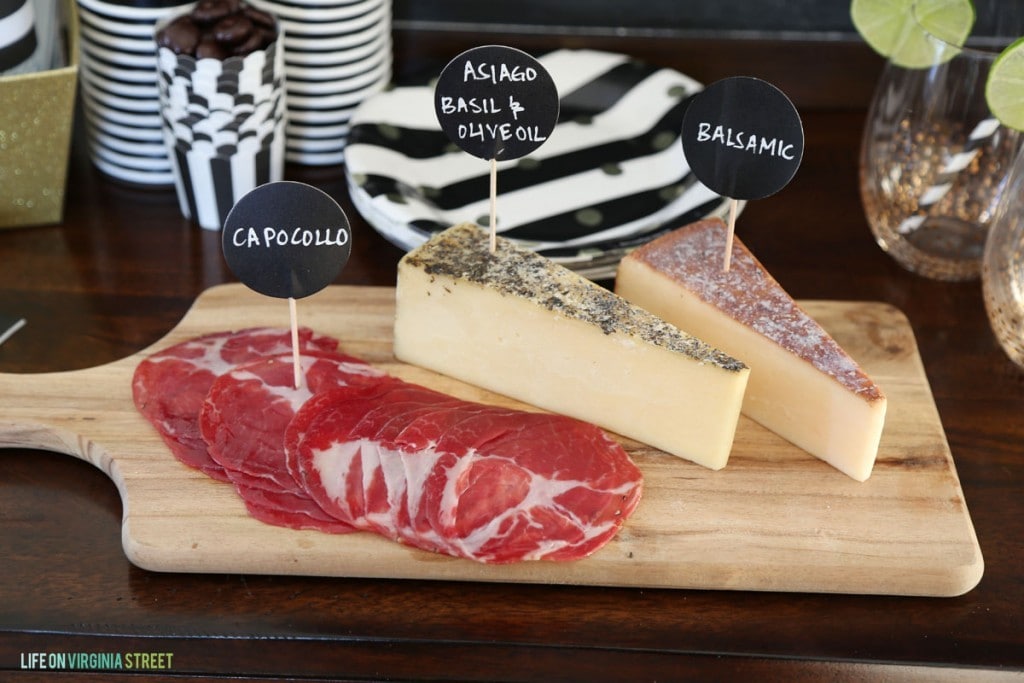 The water bottles instantly look chicer with the black & white striped labels. This simple touch made the overall buffet look more cohesive and it maybe took me five minutes to design in Photoshop, print, cut-out, and tape to the bottles. I'm sharing the printable below if you want to use for your own parties! Each page prints two labels (I made them a bit long so they should work regardless of your bottle size). Click here to download the PDF of the labels I made.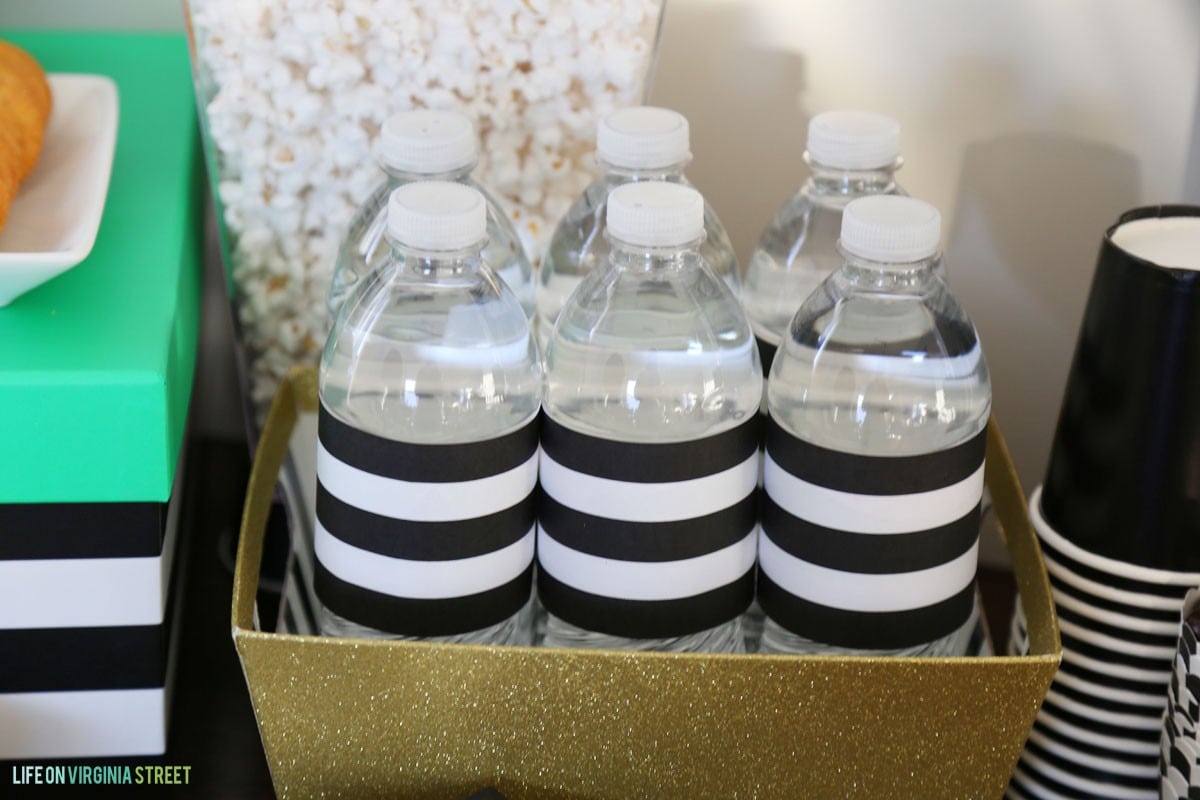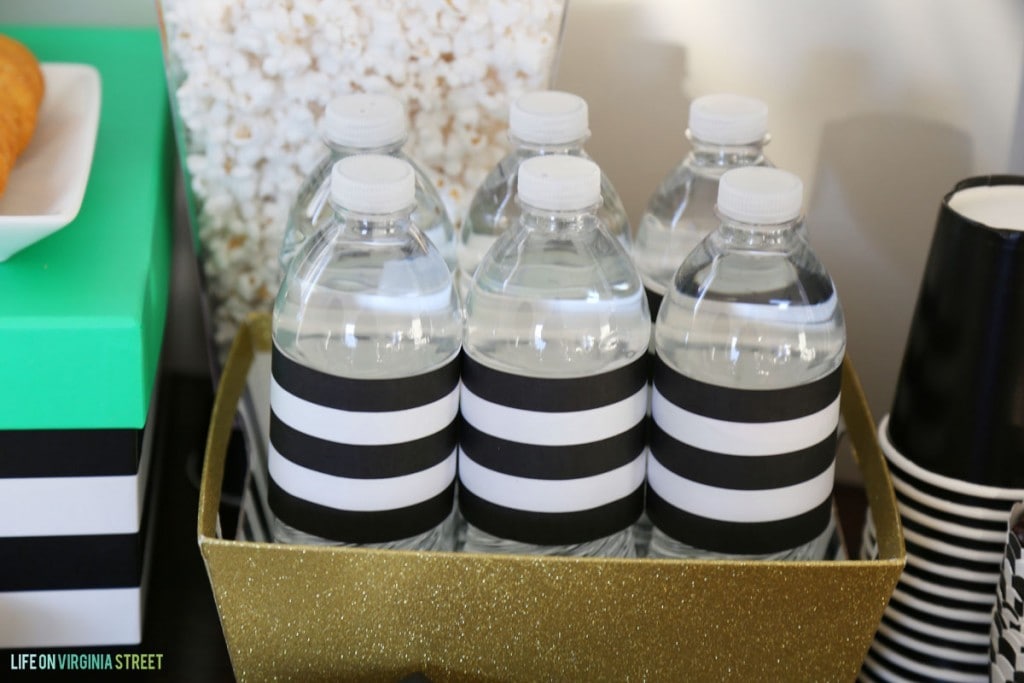 I kept the rest of the drinks simple, as well. Our "grass-stained" Coke Zero (and Classic Coca-Cola) basically just included the addition of fresh limes. But, served in stemless wineglasses with coordinating black and white striped straws, they instantly feel like a fancy drink!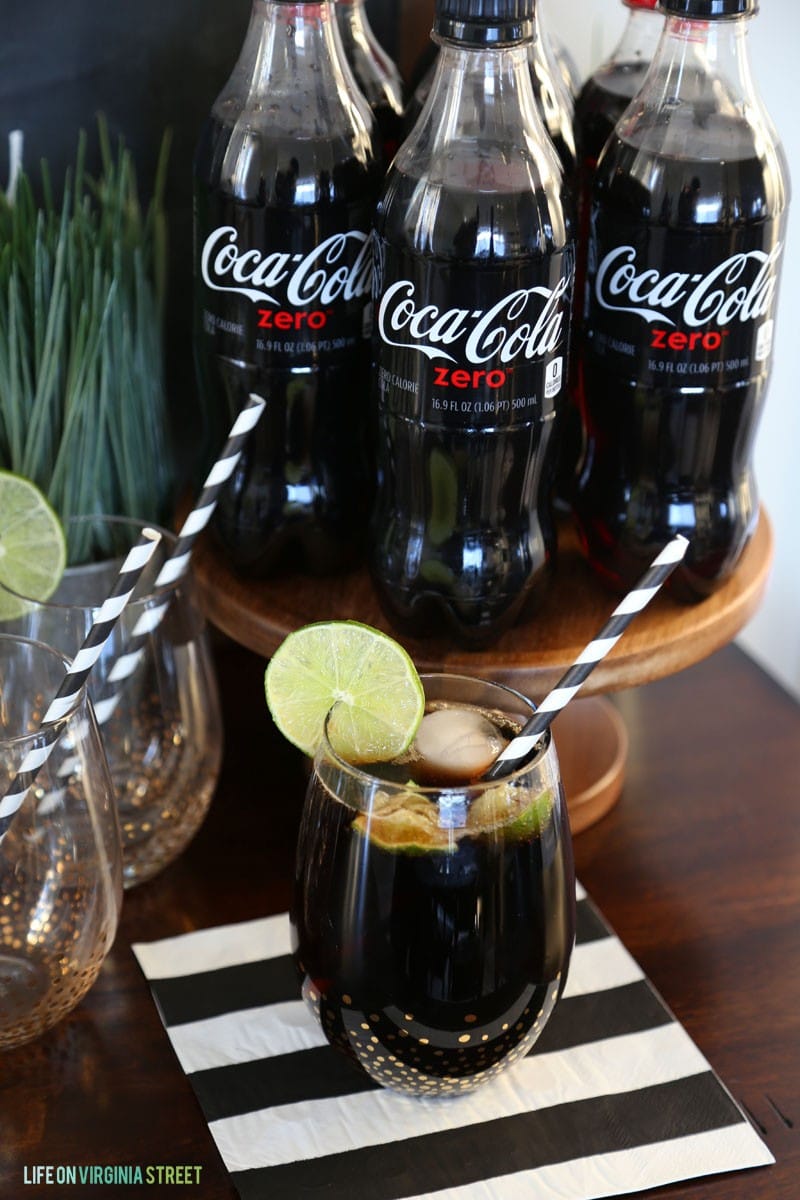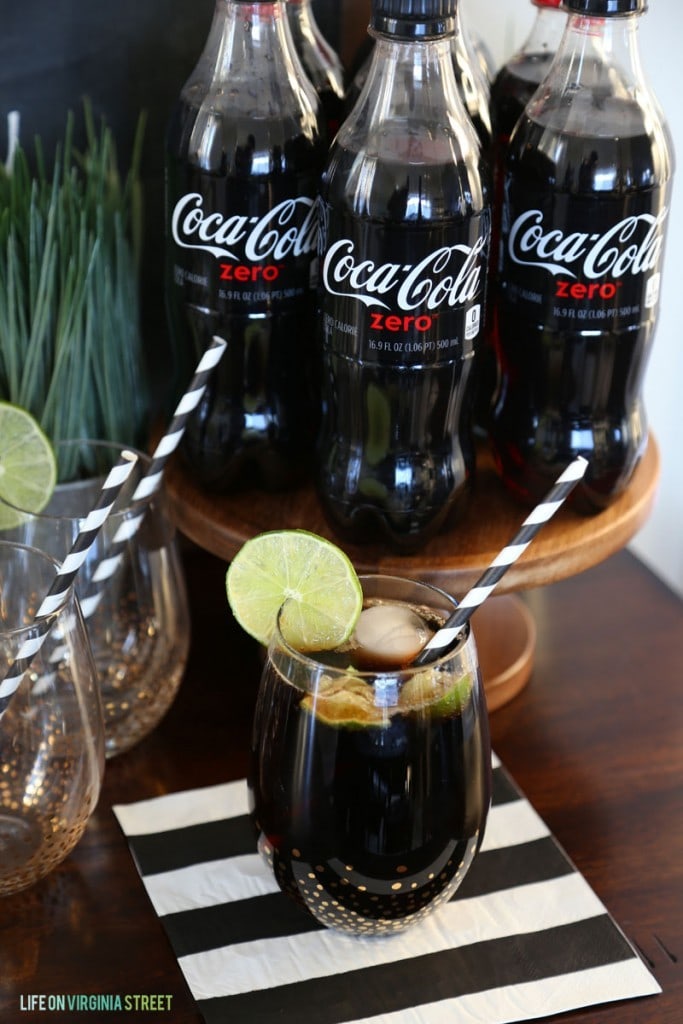 Pretty easy, yet chic, right? Looking for even more fun party inspiration? Check out this Snacks and Sips page for tons of football party ideas that will make you feel like hostess of the year! So, will you be hosting a party this year for the big game? What are your easy hosting ideas?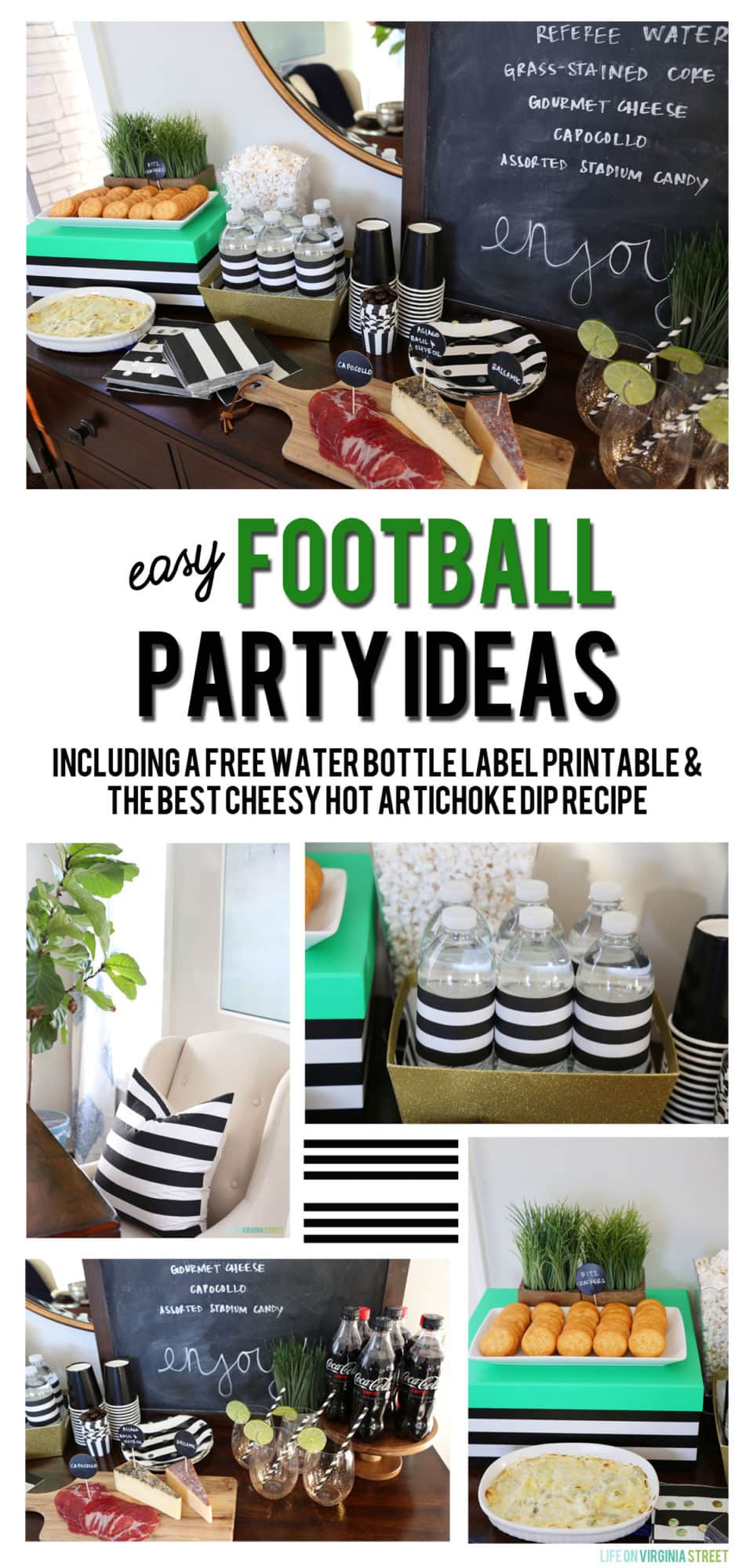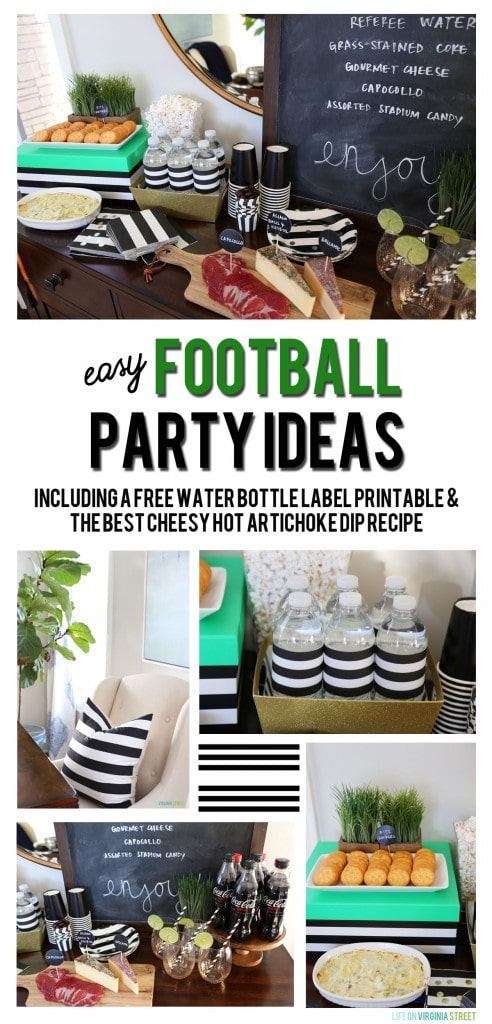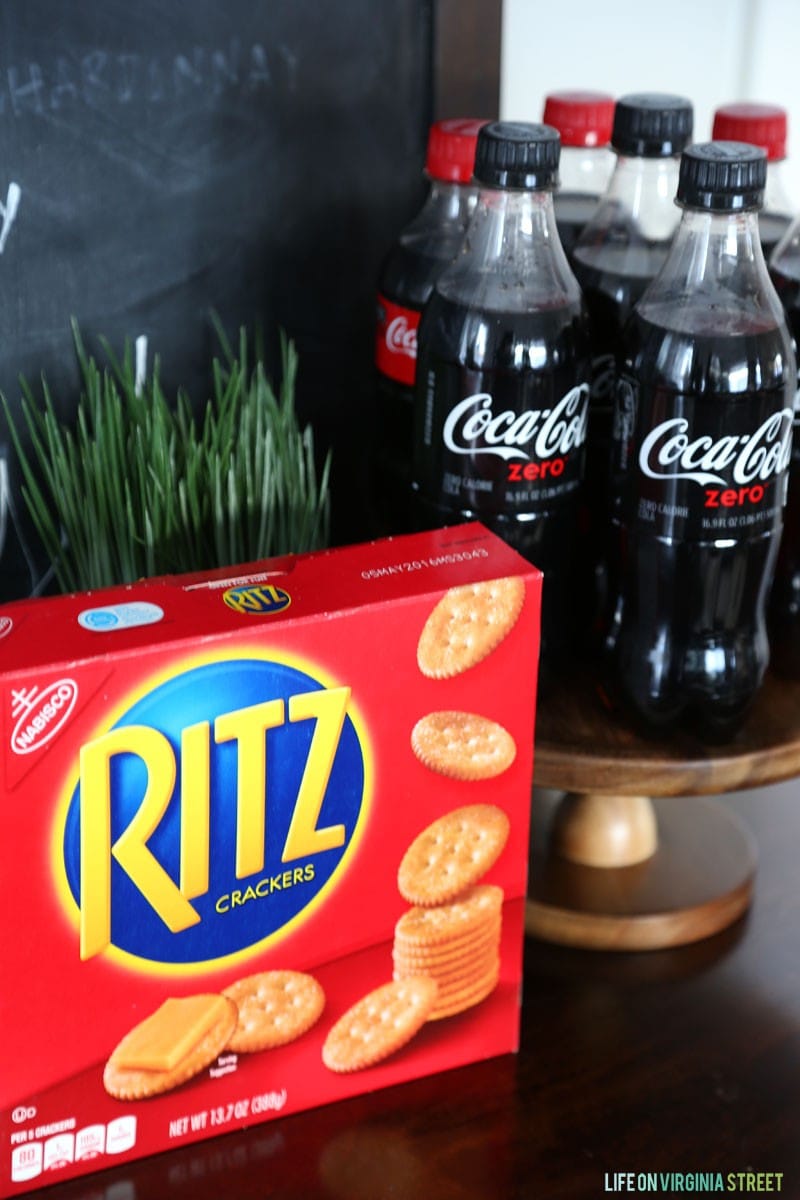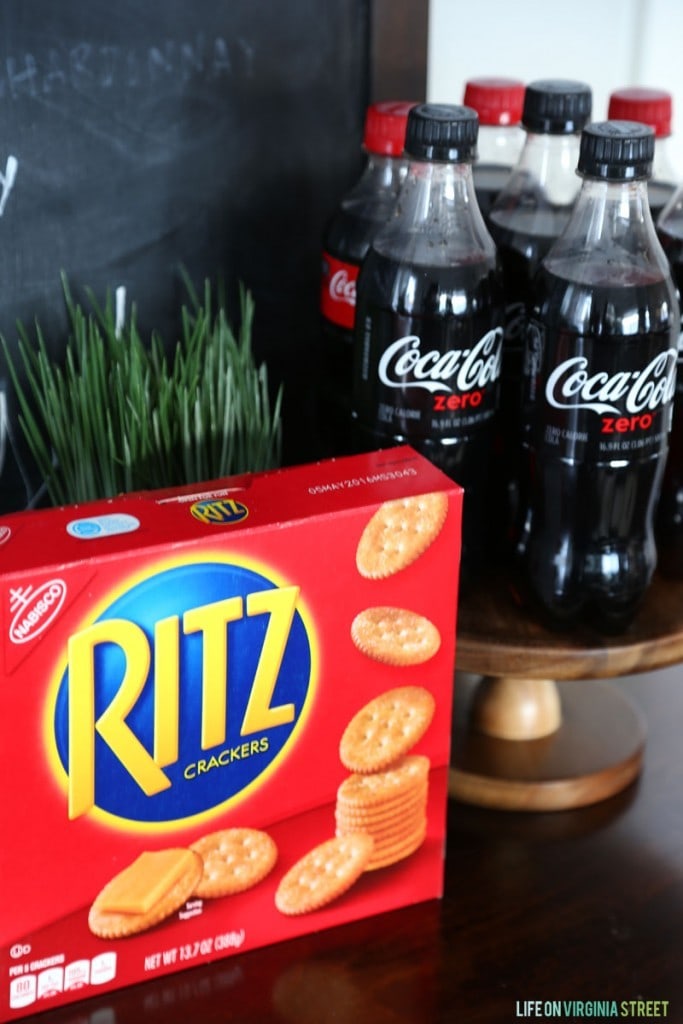 If you would like to follow along on more of my home decor, DIY, lifestyle, travel and other posts, I'd love to have you follow me on any of the following:
Pinterest / Instagram / Facebook / Twitter / Bloglovin' / Google