Welcome back to this week's DIY Summer School! I'm teaming up once again with my amazing DIY Summer School friends to bring you eight amazing DIY projects. If you haven't already, be sure to check out round one and round two of our DIY Summer School projects, as well! This week our challenge was wide-open: we could DIY a project using any item at all! I opted to make some DIY napkin pillows.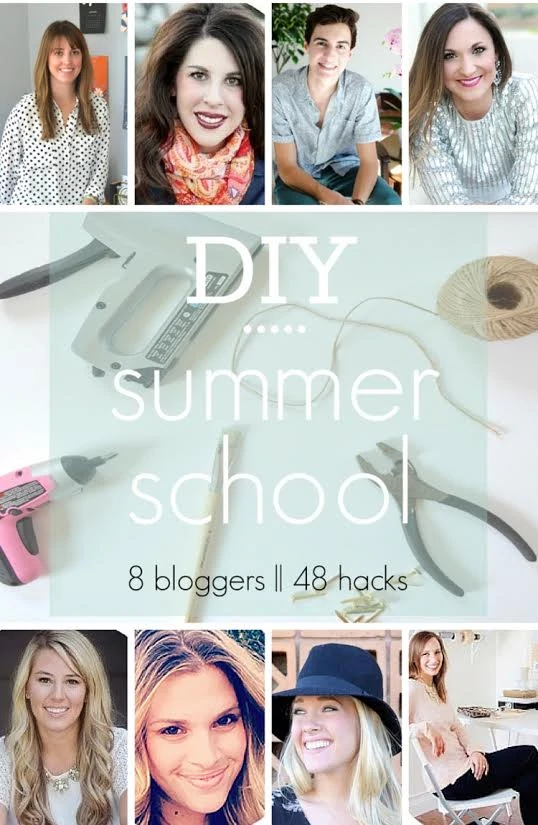 At the end of May, I talked about my summer throw pillows and how a few were made from cloth napkins I picked up at HomeGoods (if you're not a seamstress, be sure to check out my round-up of affordable summer throw pillows I shared earlier this week). Today I'm going to give a closer look at just how easy it is to make your very own DIY napkin pillows.
For me, the worst part of sewing is the fabric cutting. I don't know why, but it always seems to take me forever and I still can't manage to cut straight lines and square shapes. So, when I found some cute napkins (and even a tablecloth) at HomeGoods earlier this summer, I figured the "pre-cut" fabric my be just what I was looking for.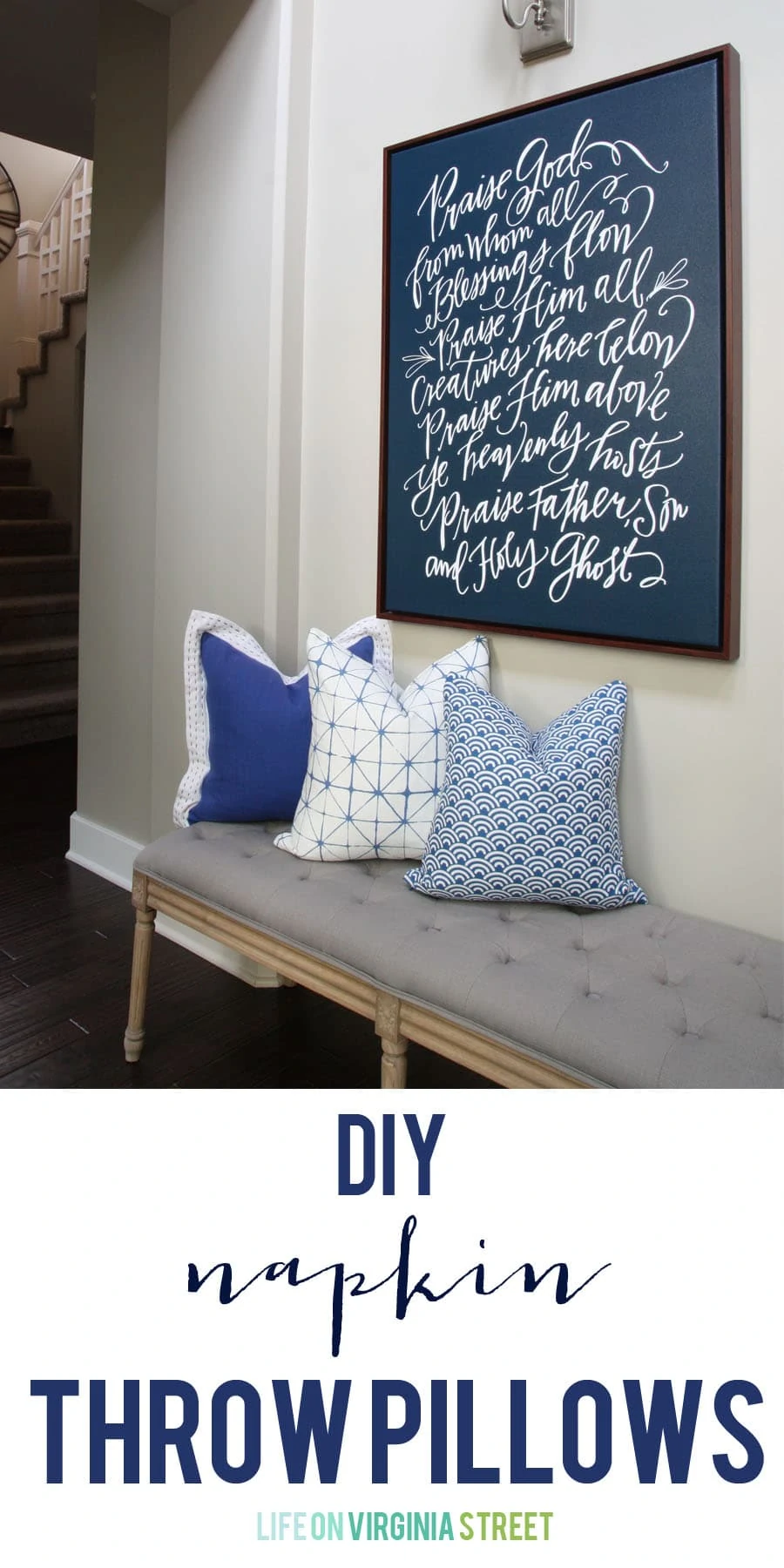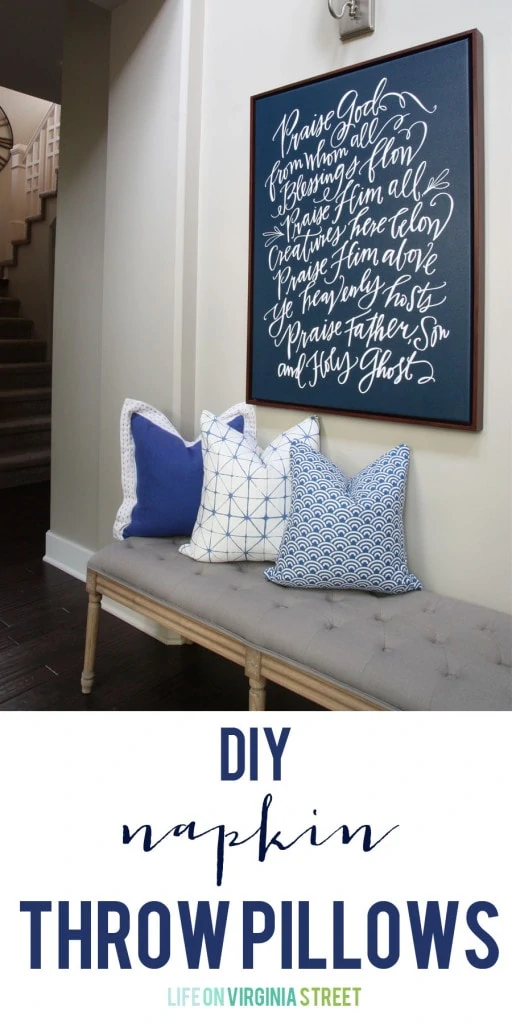 I prefer to make my pillows no smaller than 18″ square (and I would really prefer them at least 20″ square if possible).
So, this biggest two issues with using cloth napkins. 1) They tend to be pressed very well in their packages and those seams are strong! Be sure to put the prep work in and iron/steam the seams/wrinkles out as much as possible before sewing. You'll be glad you did! 2) I have found that most napkins aren't packages with similar cuts of fabric. By this I mean that when you line up two napkins together, they rarely, if ever, match from a pattern standpoint. Not a huge deal as long as you aren't expecting perfect pattern matches (this could be resolved if you backed the pillows with a solid fabric).
Other than that, napkins and/or tablecloths are some of the most affordable ways to make pillows. Case in point: the below image from my Instagram of items I picked up at HomeGoods. Napkins: $5.99 for four (makes two pillows front and back or four pillows with plain fabric on back); Tablecloth: $12.99 (lots of pillows); and napkins: $9.99 for four (again, two to four pillows but these were 20″ squares so I jumped on them). Basically anywhere from $2-$5 a pillow in a print you love. Hard to beat, right?!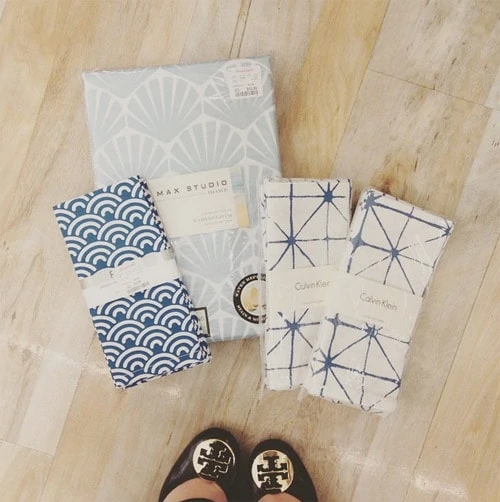 I followed my DIY Throw Pillow with a Zipper Tutorial to a tee. I love getting comments and emails from those that have tried the tutorial and also claim it is really easy to follow and works even for beginners 🙂
You saw in my summer home tour that I had finished pillows in the Calvin Klein print above, so last night, I also made a pillow with the fabric you see on the left in the photo above. It feels very Serena & Lily-ish to me!
This time around, I added a blue zipper for this particular pillow to make it a little more fun (I typically use these natural zippers on every pillow I make).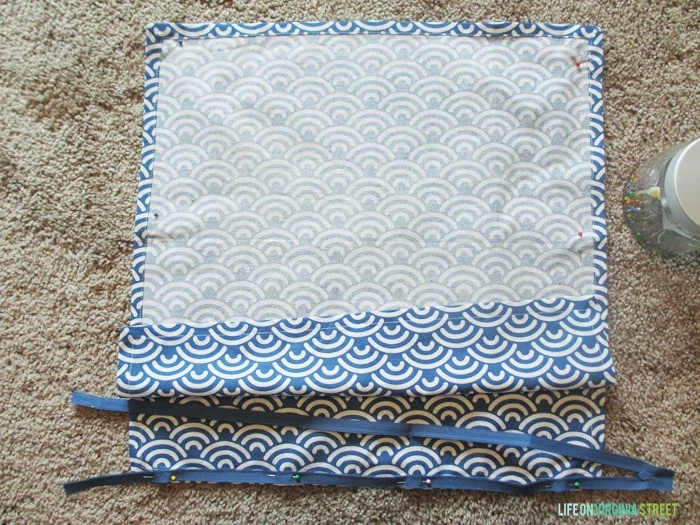 Since there is no cutting involved, it makes the process really quick. I think I finished this one in under ten minutes!
You can see below, I used the seam on the napkin as a guide for my new seam on the pillows. I simply had the footer follow the existing seam (clearly I'm a technical seamstress and now how to describe this – the picture is probably more clear).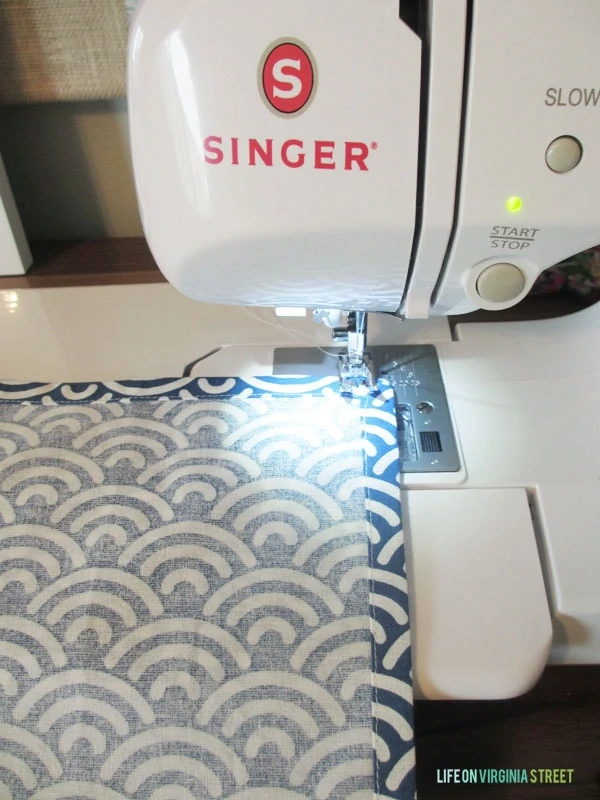 I love how it looks with my other pillows in our entry hallway. The pillow on the left is HomeGoods and then the other two are both made from napkins found at HomeGoods. Not bad, right?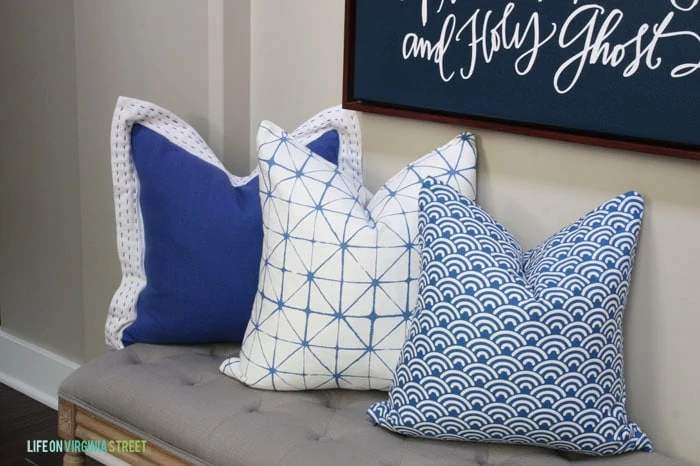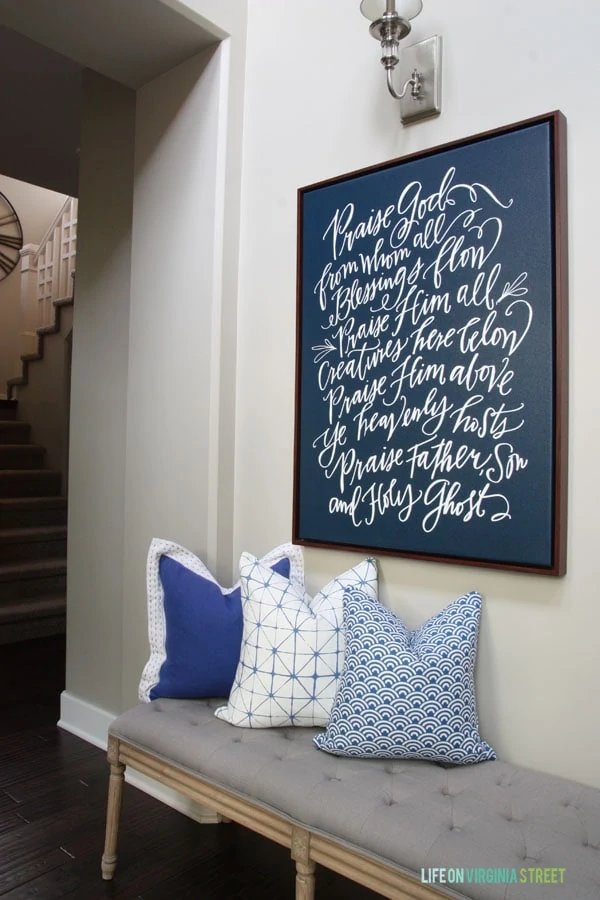 I also still swear by down or down alternative inserts. They make such a difference in providing that designer/more high-end look. I like these from Crate & Barrel or the selection at Robey's. Both have worked well for me in the past!
I think this will be a really fun project to do when the holidays roll around because it seems like there are always cute plaid napkins and tablecloths, but never enough throw pillows available at the store 🙂
Here are a few cloth napkin options that I think would making amazing throw pillows!



Don't forget to check out all the other amazing wildcard projects!
If you want to follow along with our upcoming schedules, following is what remains this summer:
August 20th
: Found in Nature
If you would like to follow along on more of my home decor, DIY, lifestyle and other posts, I'd love to have you follow me on any of the following:
Pinterest / Instagram / Facebook / Twitter / Google+
disclosure: affiliate links used