The day is finally here for the dining room makeover reveal! I'll be honest: I'm actually a little nervous about this reveal for a few reasons.
First, I started this room makeover in January so I hope your expectations levels have not been mounting as each month passes. Secondly, with the exception of a few textile additions, I don't think it has changed all that drastically since the last time I gave you an update. And thirdly, I don't feel like the room is truly done at this point, and still needs some final styling, but I figured if I didn't reveal the room now, you may never see it again 😉 I also have a fall home tour coming up in the next few weeks and thought it would be fun for you to see a more summery look now before I transition over to my early fall decor.
I've included some details on some of the new features of the room as well as a source list at the bottom of the post for those interested. I figured it would be easier on all of us if it was in one central location. Keep in mind, for this reveal I also kept the color palette very cool since it's still the dead of summer and I have plans to warm it up quite a bit for a fall tour in a few weeks. I thought it would be fun to compare the two looks at that time.
Now, before we get to the reveal, I wanted to show some before and afters of the space in it's former lives. The first is from the MLS listing when we found the house and the second was from the summer after we moved in and I had done my first makeover in the house. It's also worth noting that the look today strayed somewhat from my original design board.
I loved the last makeover a lot, but it always felt off to me and didn't actually flow with the lighter and brighter feel the rest of our home started to take on. It felt too much like someone else's space to me. I needed a fresh look that flowed better with the new vibe in the rest of our house.
And now, the new lighter and brighter space!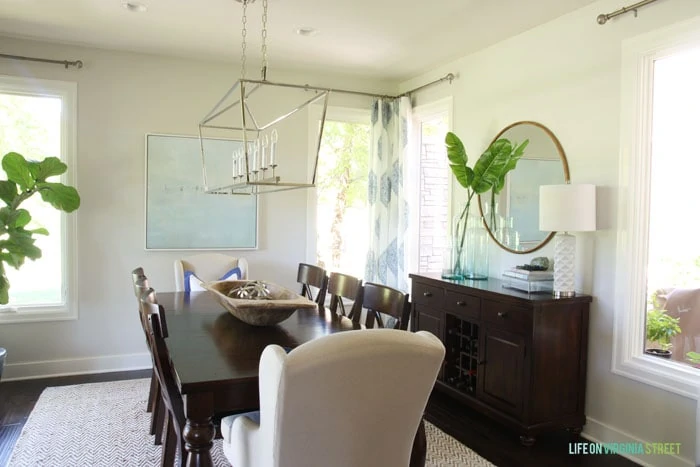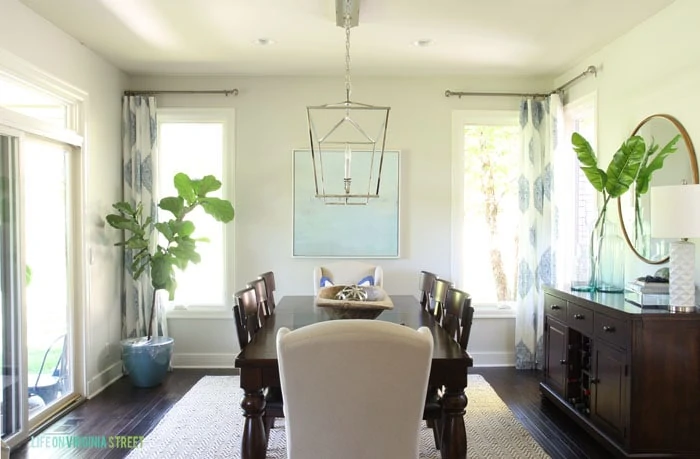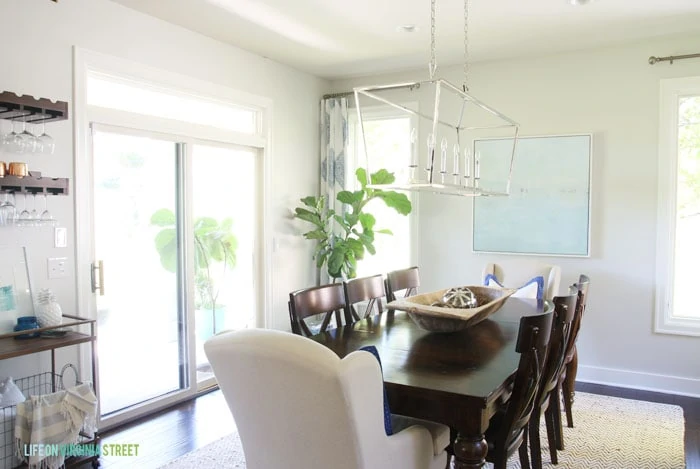 The biggest change of all was the light paint color (Behr Silver Drop), freshly painted baseboards and window trim, moving the wine glass holders, changing all of the outlets and switch plates from almond to white, and the icing on the cake: the new chandelier!
I actually borrowed the pillows from the neighboring living room and took the lamp from our entryway table. Those are purchases I didn't want to make just to make and I hadn't found the perfect items yet. So, those will be changing over time but I didn't want to delay the reveal any longer and these worked well for the time being.
I opted to only have drapes in each of the outer corners of each window. I felt like the in it's prior life, the dining room felt heavy and dark with the ten (yes, ten!) curtain panels. They blocked out so much light and were never utilized for anything other than to add some dimension to the space. They were never shut one time so it just felt so much lighter to go to less panels. I was worried it may look off, but I found a lot of inspiration looks and ultimately I love the new look, even if it may not be considered traditional. Something else to note: I used two panels on the rods in each corner because I felt like it was a much richer look with the extra fabric (and was doable given that the pairs were only $29.99).
Some details: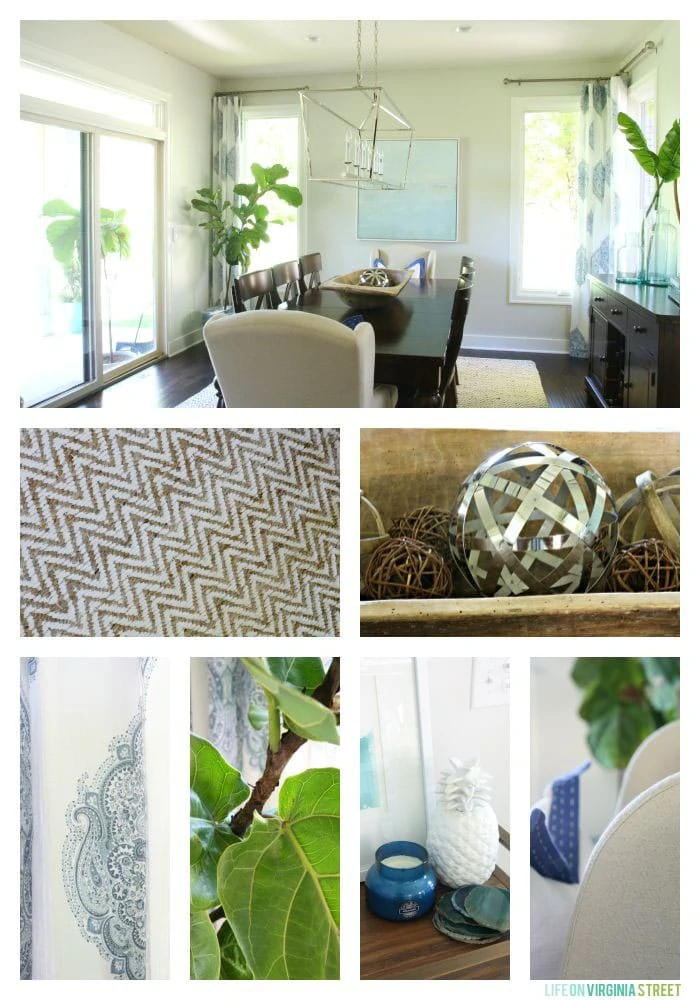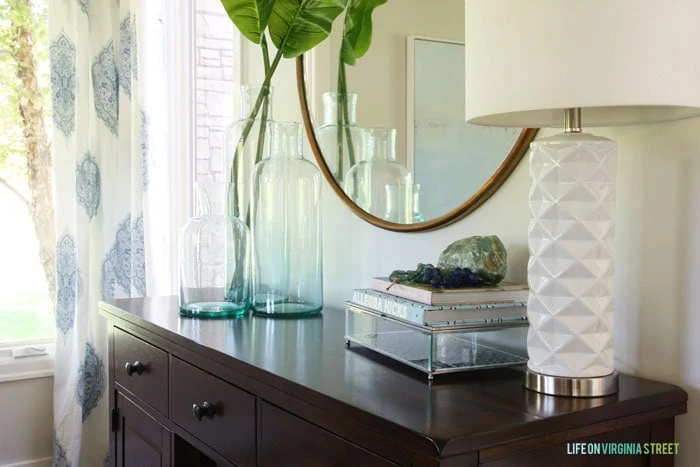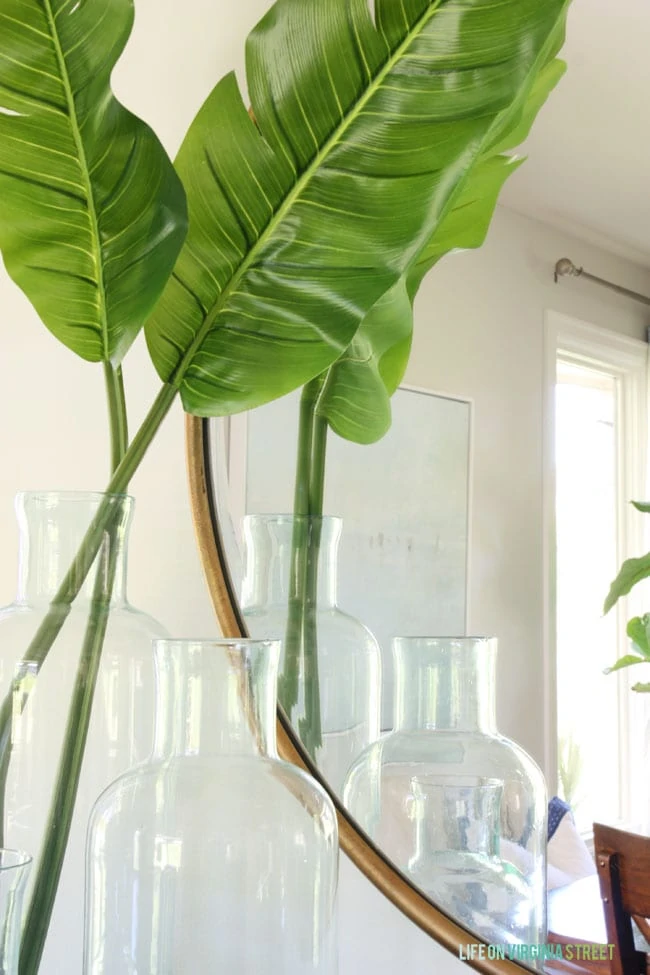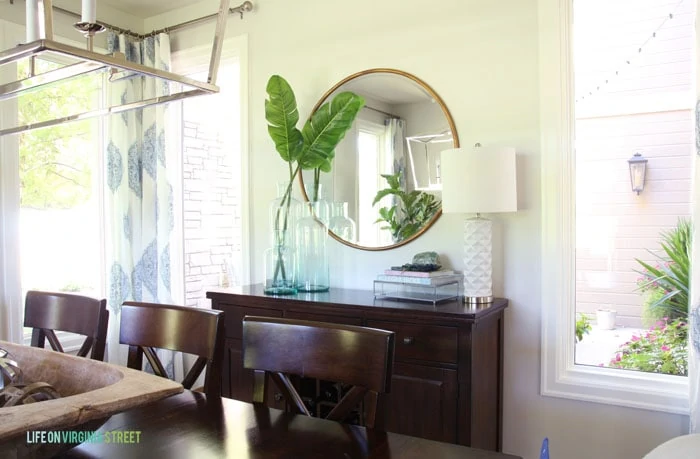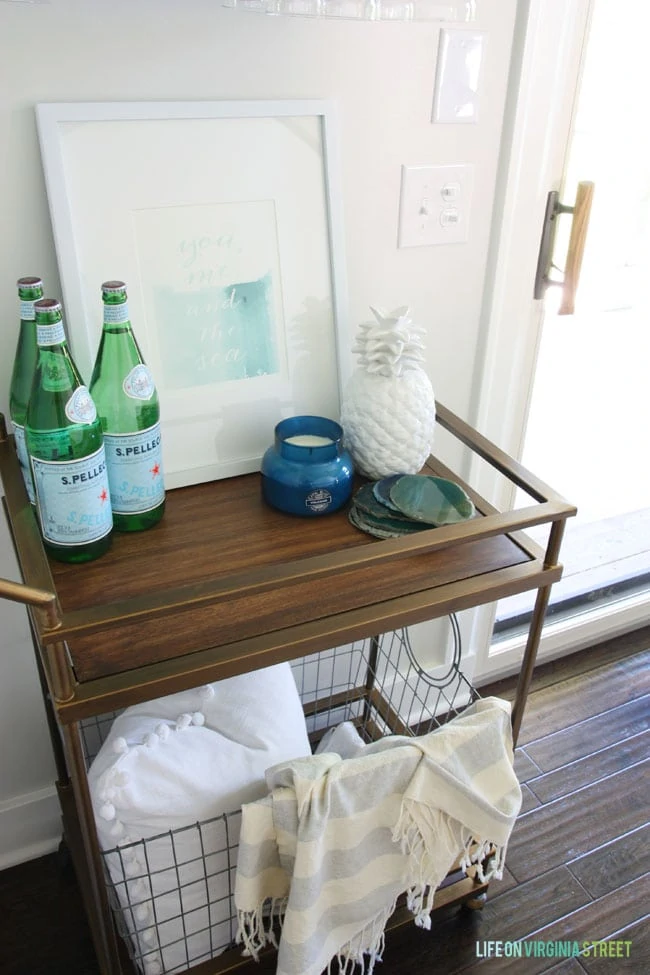 You can see that, although the room pairs nicely with our living room, it isn't 100% matchy-matchy: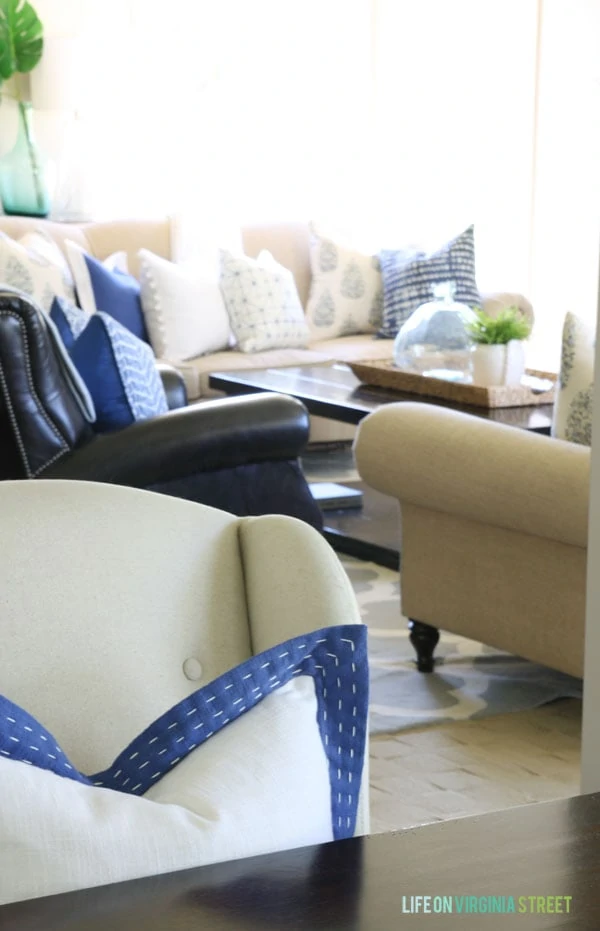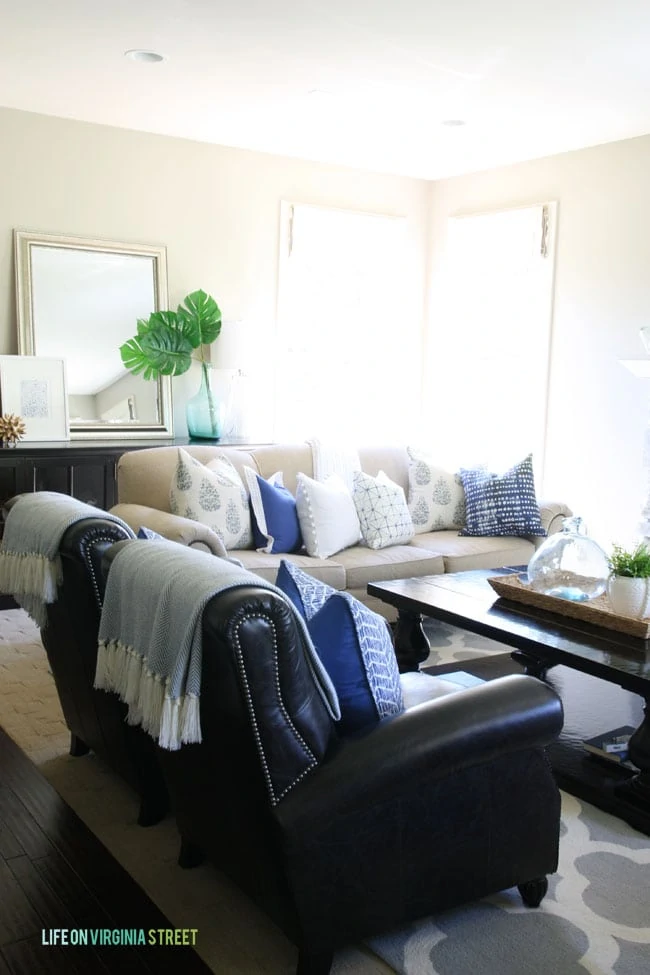 I know our house layout can be confusing to figure out at times, but this shot looking at the dining room and entryway (from the kitchen/living room area) may help put the space layout more in perspective.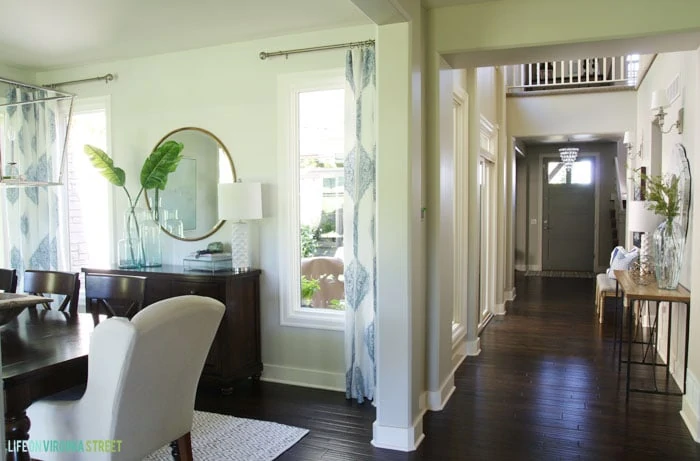 And stepping a bit further back, the view from the living room is shown below. As a reminder, the living room paint color is Behr Castle Path and it doesn't start until your in the living room, but it's amazing how the wall wrapping into the space (which is Castle Path) takes on the Behr Silver Drop color that's in the dining room. It's a chameleon I tell you!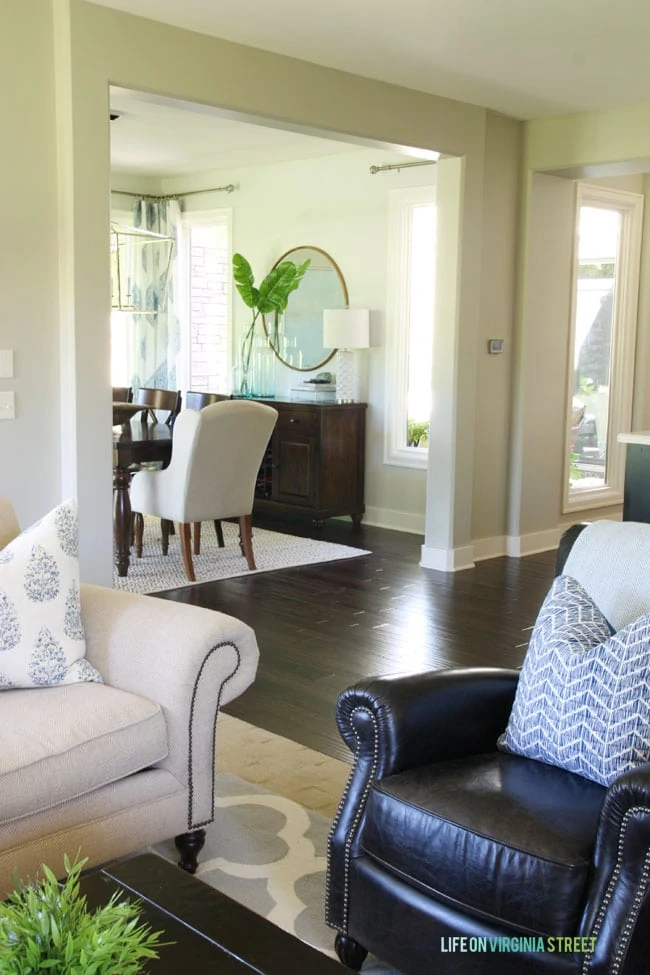 And lastly, one parting shot: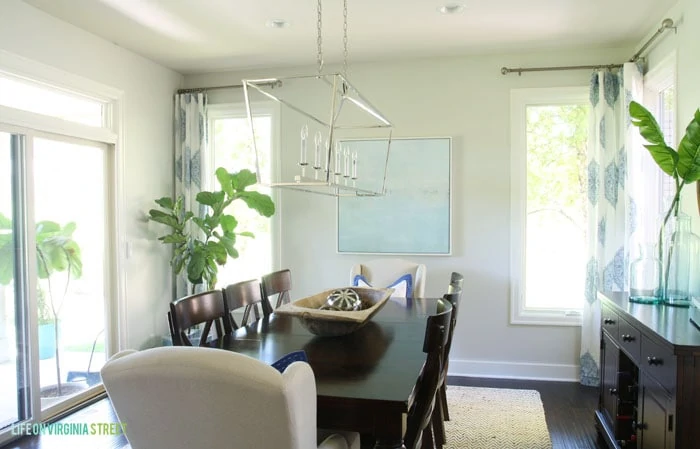 Sources (click the links below):
Art | Round Gold Mirror | Darlana Linear Pendant Chandelier | Drapes | Rug | Wood Tray | Linen Chairs (old from Sears) | Dining Room Set | Buffet | Bar Cart (similar) | Art on Bar Cart | Capri Blue Candle | Glass Beads | Allegra Hicks Book | Endless Summer Cookbook | Throw Pillows, Glass Jars, Lamp, Curtain Rods, Glass Box, Ceramic Pineapple Rock are all from HomeGoods | Wine Glass Shelves old from Costco (similar) | Banana Palm Leaves from Hobby Lobby | Agate Coasters purchased in Italy (similar) | Wall Paint Color: Behr Silver Drop | Trim Paint Color: Behr Swiss Coffee
I hate to talk about more changes I want to make in the space, but over time, I may paint the buffet table (or strip it of the stain and go more rustic/driftwood with it), change the leg color on the linen chairs, and find a centerpiece for the table that works well with the low-lying chandelier.
I think I've talked about this before but I feel like all of our rooms feel so much different "in real life" because of the numerous windows in all of our rooms. The outdoors play such a big role in how these rooms really look that I need to figure out a way to capture that better so the shots aren't so blown out in images. These photos were actually quite difficult to edit to a true color because everything looked so green due to the trees and grass outside. Someday I'll figure out how to get that all to show in images!
For my fall home tour in a few weeks, I plan to warm the space up a bit, but for these last few weeks of summer, I think this cool-toned space is ideal. I'm so much happier with the lighter and brighter space and I hope you've enjoyed following along with my dining room makeover!
If you would like to follow along on more of my home decor, DIY, lifestyle, travel and other posts, I'd love to have you follow me on any of the following:
Pinterest / Instagram / Facebook / Twitter / Bloglovin' / Google
disclosure: some affiliate links used