Decorating with fig leaves can inject bold color into a space!
It's been awhile since I've done a "Decorating With:" post, and I've had a specific bold look on my mind lately. I realize fiddle leaf figs have been so overdone the past five years or so, but I still love them and I'm really loving the look on fabrics now, as well. In fact, I'm really loving fig leaves in general – not just the fiddle leaf variety. Today, I'm going to talk about decorating with the natural beauty of fig leaves.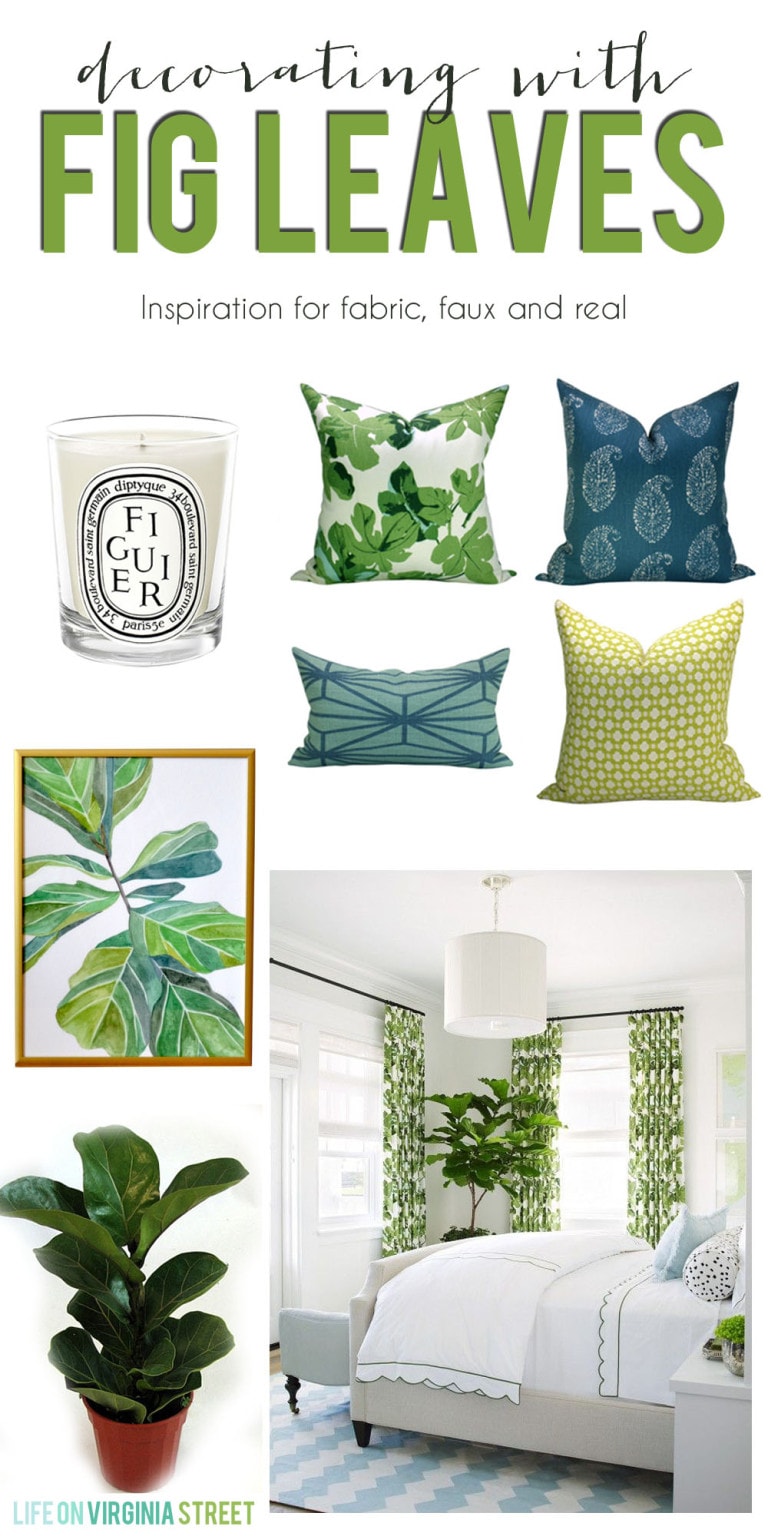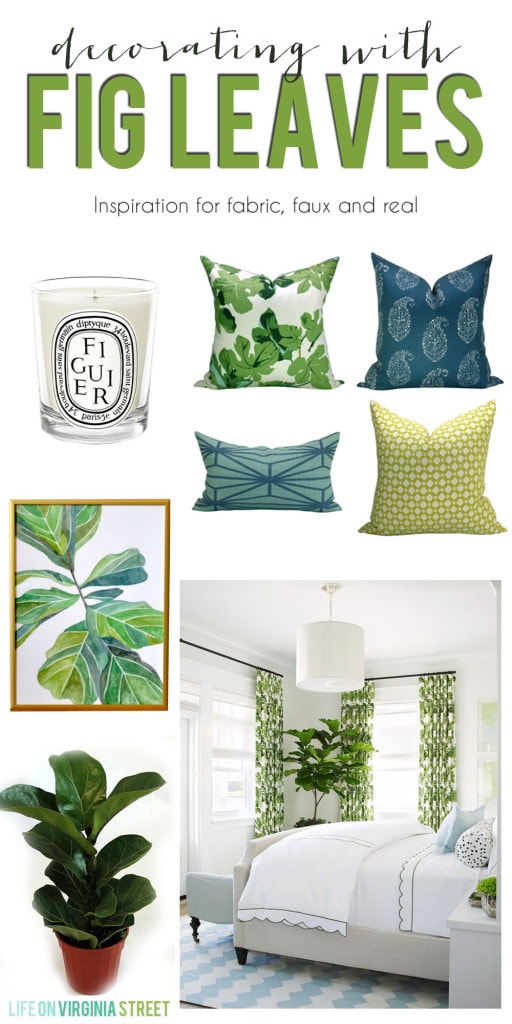 One of my favorite features of fig leaves is their unique shape and the way they can immediately inject bold, beautiful color in a space without a paint, furniture or textile update. Live fiddle leaf figs are a bit finicky, as most know that have owned one, so I've included ways to add the look without the plant if that's more your thing!
Frequently, I see the fiddle leaf fig plants in spaces that are more modern and minimalistic. But, I think the fig leaf adds understated balance in beachy-vibe rooms, and pair beautifully with neutrals and shades of blue.
After I posted this collection of pillows (including the famous Peter Dunham fig leaf fabric), I've become even more obsessed with adding the look to our home!
Today I wanted to share some inspiration on how beautiful and sophisticated the fig leaf (or patterns of) can look in a space, and offer some ideas for how you can get the same look in your own home!
First up: a little inspiration! I love this cozy little corner from Iron and Twine.
This Coastal Living Showhouse bedroom with fig leaf drapes has long been a favorite of mine!
I've heard nothing but positive reviews about this fig candle and I'm eager to give it a try! Although this one sounds equally as tempting.
This neutral dining room is a stunner with the dramatic bold green in the background! Studio McGee also offers custom fiddle leaf fabric by the yard that is equally as stunning.
The short and stumpy plant varieties are just as showstopping, as demonstrated by The Nester.
I shared this bright living room with fiddle leaf figs in a Wednesday Watch list a while back, and it is still a favorite!
This outdoor space proves the dynamic look carries just as well outdoors!
I've rounded multiple ways you can add fig in your life, particularly if you're scared of killing the real deal. Click any of the images below for more info on each item:

By some miracle, I've managed to keep the THREE fiddle leaf figs alive that we have (although it helps a million percent if I set them outside in the shade during the summer months and only water them once a week). If you're still struggling, try these 7 Secrets to Save A Dying Fiddle Leaf Fig Tree.
Are you a fig leaf lover?
Have a great weekend!
If you would like to follow along on more of my home decor, DIY, lifestyle, travel and other posts, I'd love to have you follow me on any of the following:
Pinterest / Instagram / Facebook / Twitter / Bloglovin' / Google
disclosure: some affiliate links used in this post