This beautiful decked & styled holiday tour will inspire you to get into the holiday decorating spirit!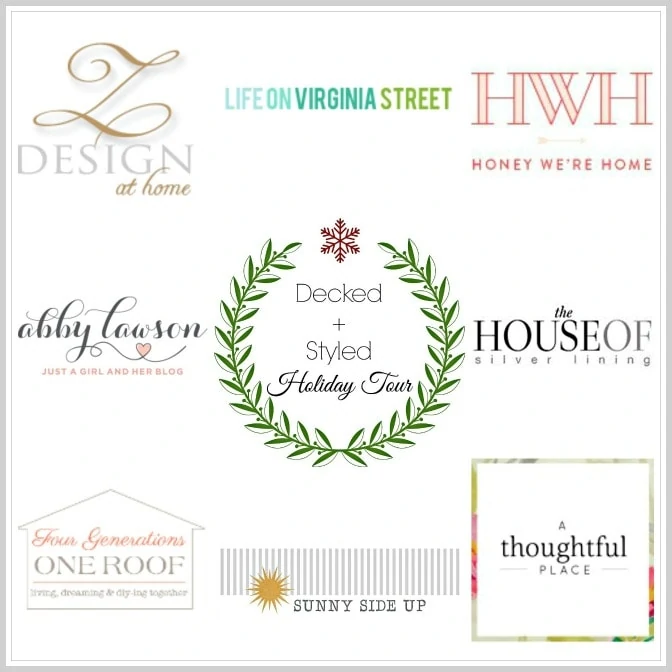 Today I've teamed up with my sweet friend Bree from ZDesign At Home along with six of my other favorite bloggers and Instagram friends to share more of our holiday home!
If you're stopping in from my friend Shauna's blog, The House Of Silver Lining, welcome! Not only does she have a gorgeous blog and stunning home, but she is super sweet and one of my favorite Instagram accounts to follow.
Holiday Decor
Admittedly, I didn't decorate as many rooms as I have in years past. We've been in the midst of a full-blown bathroom renovation (which is now done and I'll be sharing next week!), so the over-the-top decor had to take a bit of a backseat. BUT, the spaces I have decorated I really love and I can't wait to share them with you today. I'll also be sharing sources along the way, but if I forgot anything feel free to leave me a comment and I can get back to you!
When you first walk in our door, I went with non-traditional holiday colors. You'll see later on that I went with blue and green in my office, which is right off the entryway, so I wanted the look cohesive. But, this was the only area in our home that didn't get the 'red' treatment.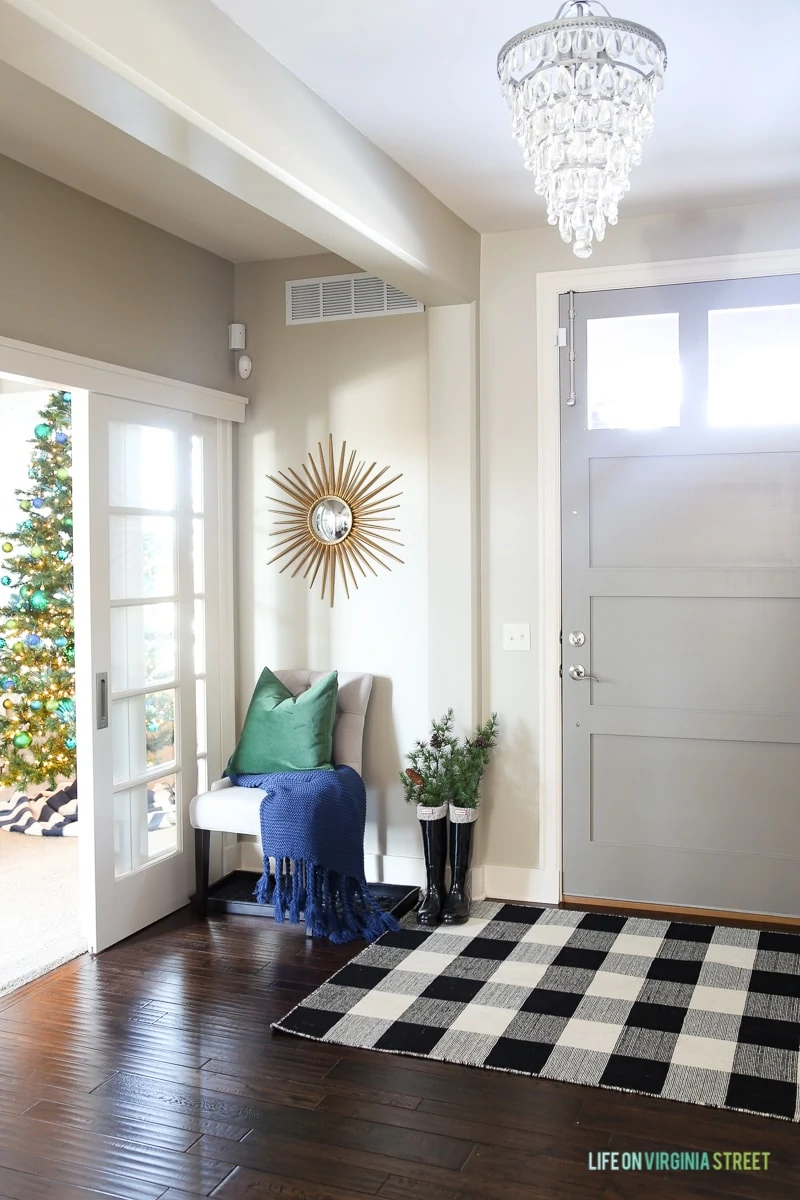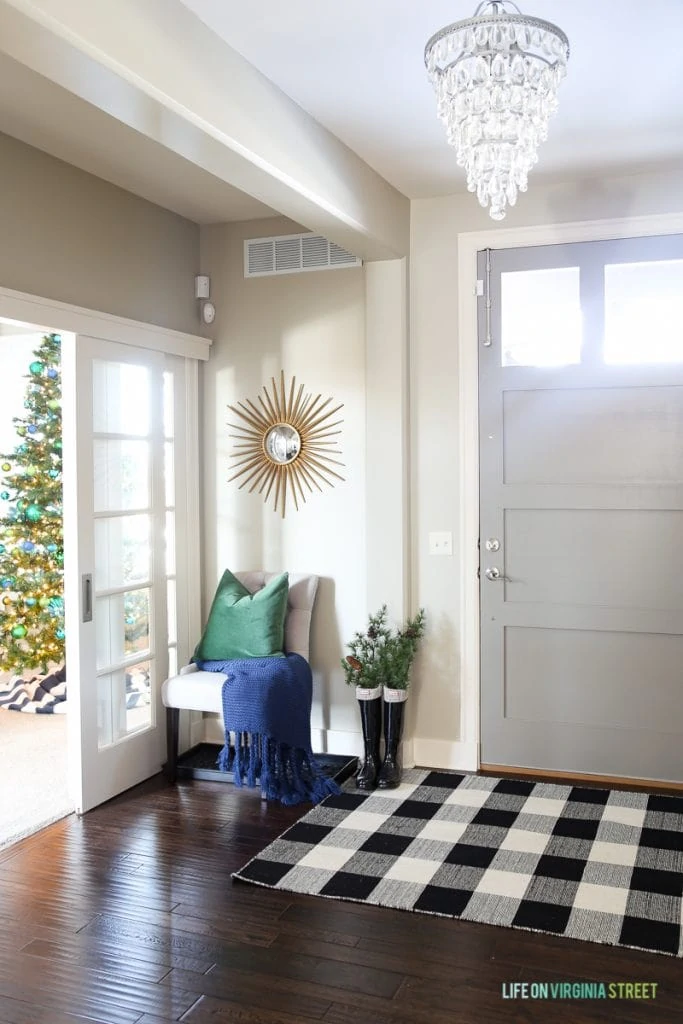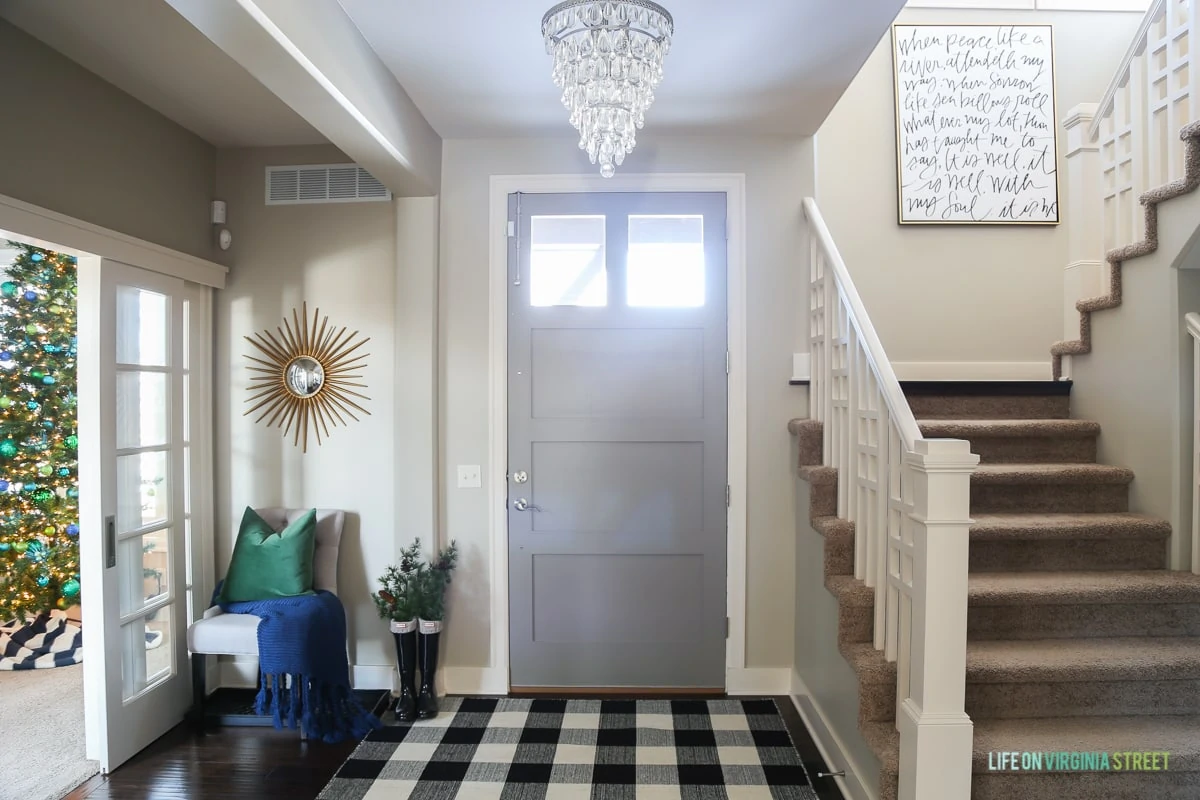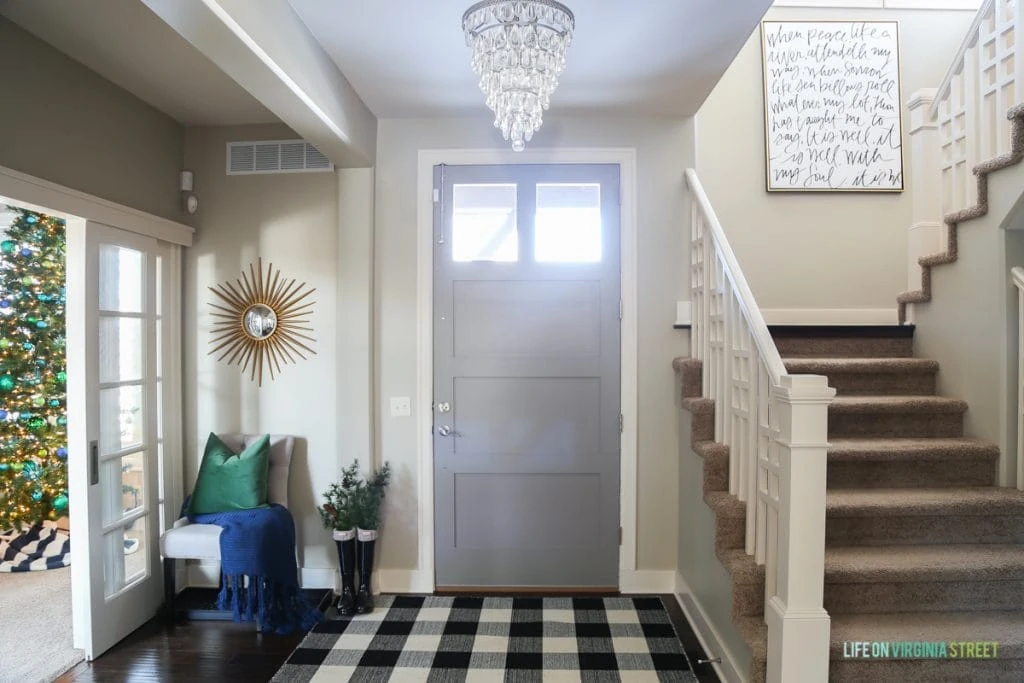 The wall color is Behr Castle Path and the door is Behr Elephant Skin. My beloved 'It Is Well' canvas is from Lindsay Letters. Other sources are shown below.


Moving down the main entryway hallway, I started to move into more of the traditional red tones with the plaid. Our entryway hallway has eight floor to ceiling windows so it is flooded with light, even on dark winter days. It's one of the selling points for us on this house! After some of our mini-home tours last week, I got several messages for more info on our floorplan. After the first of the year, I think I'll plan to devote an entire post to that, since I know the layout is unique and a bit confusing.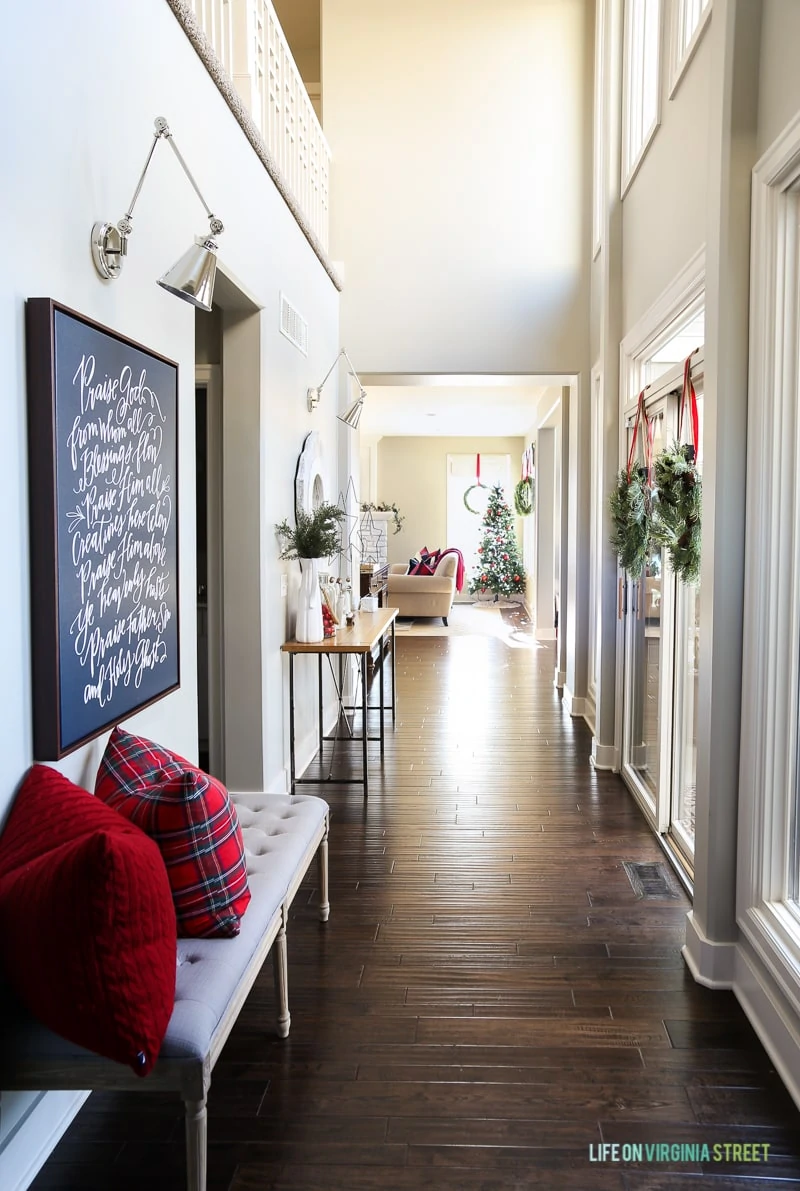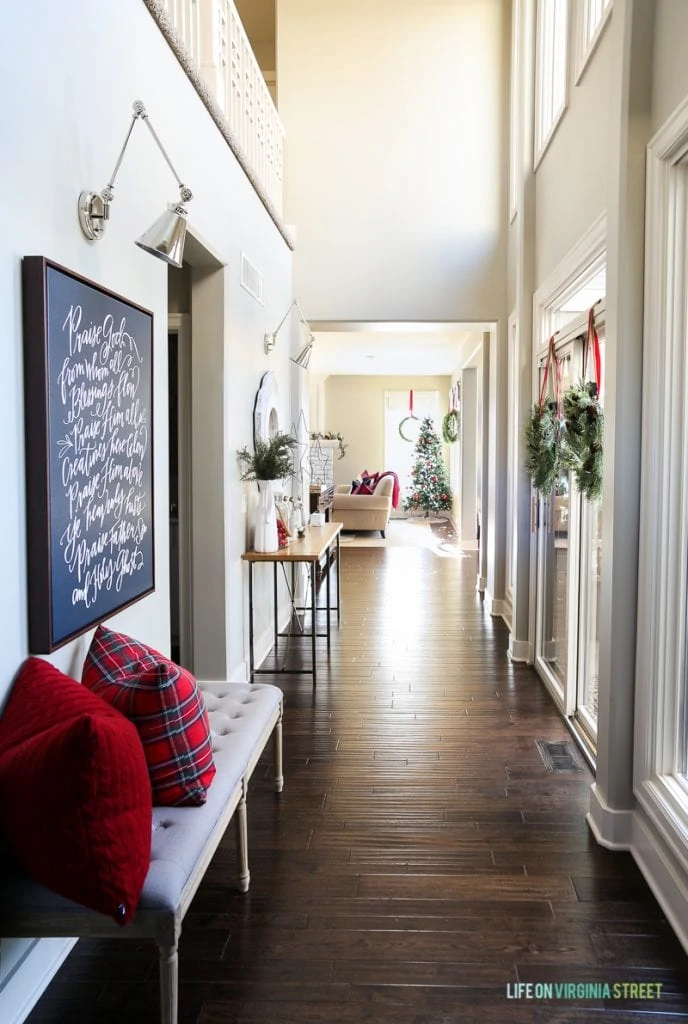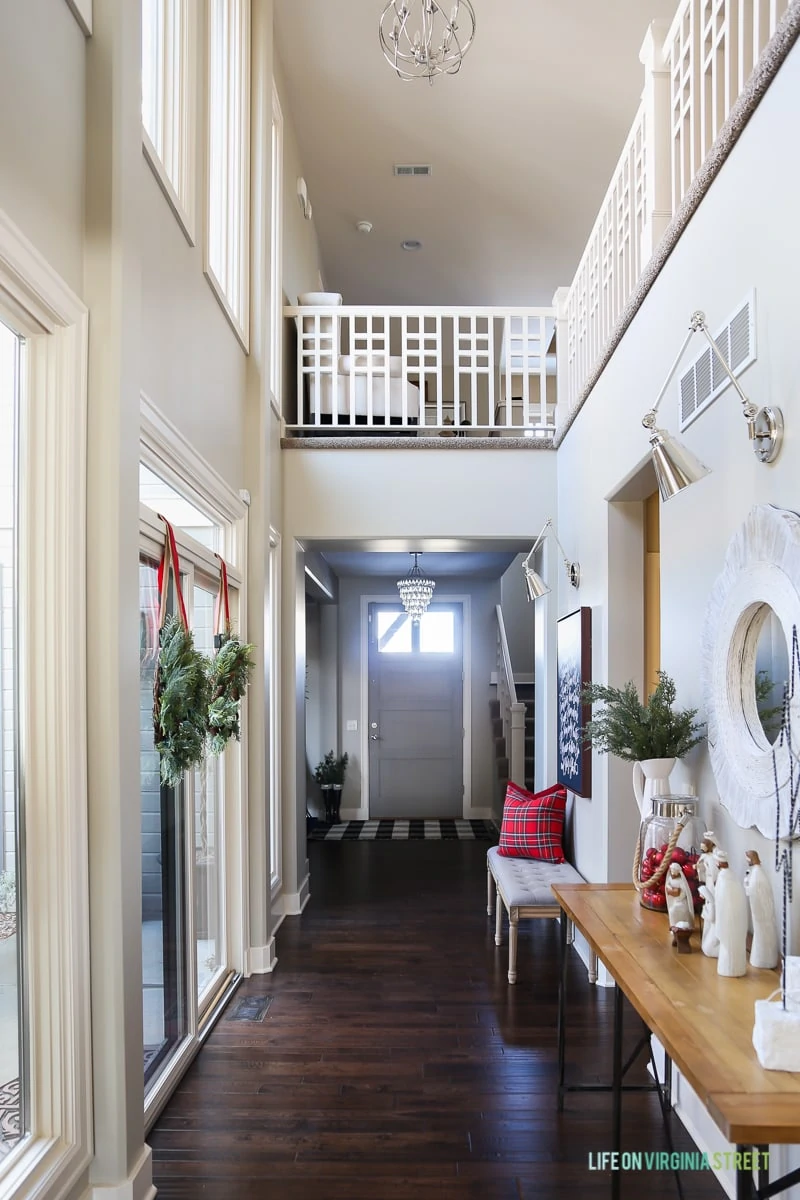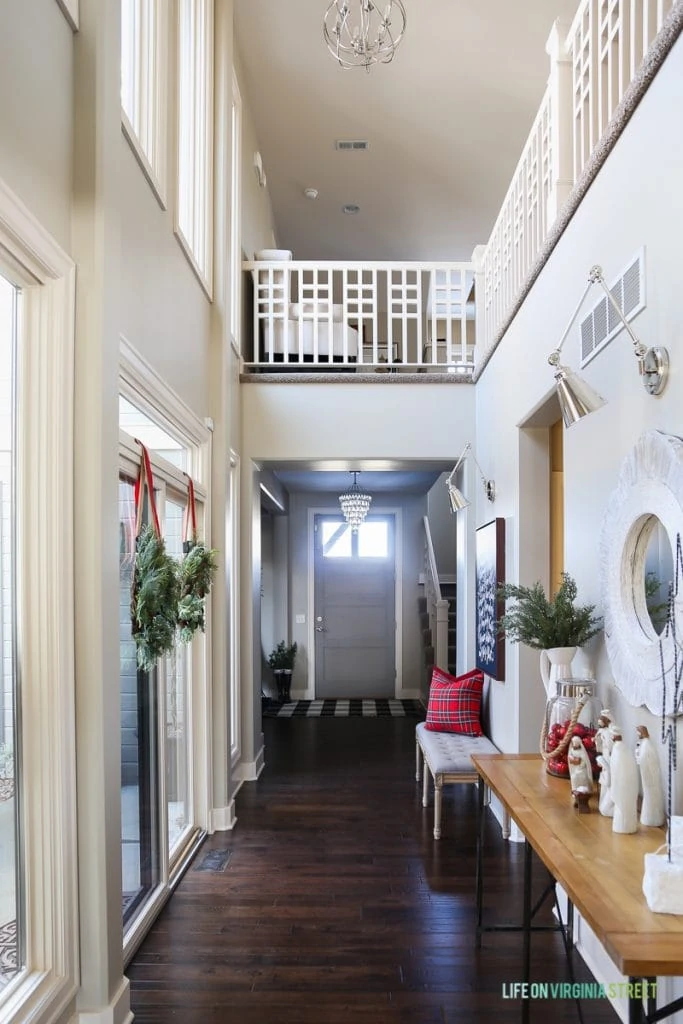 At the end of that long hallway is our kitchen, living room and dining room. In our kitchen, I don't like a lot of fuss with holiday decor so I kept things simple with a wreath, Christmas sign, and some ornaments.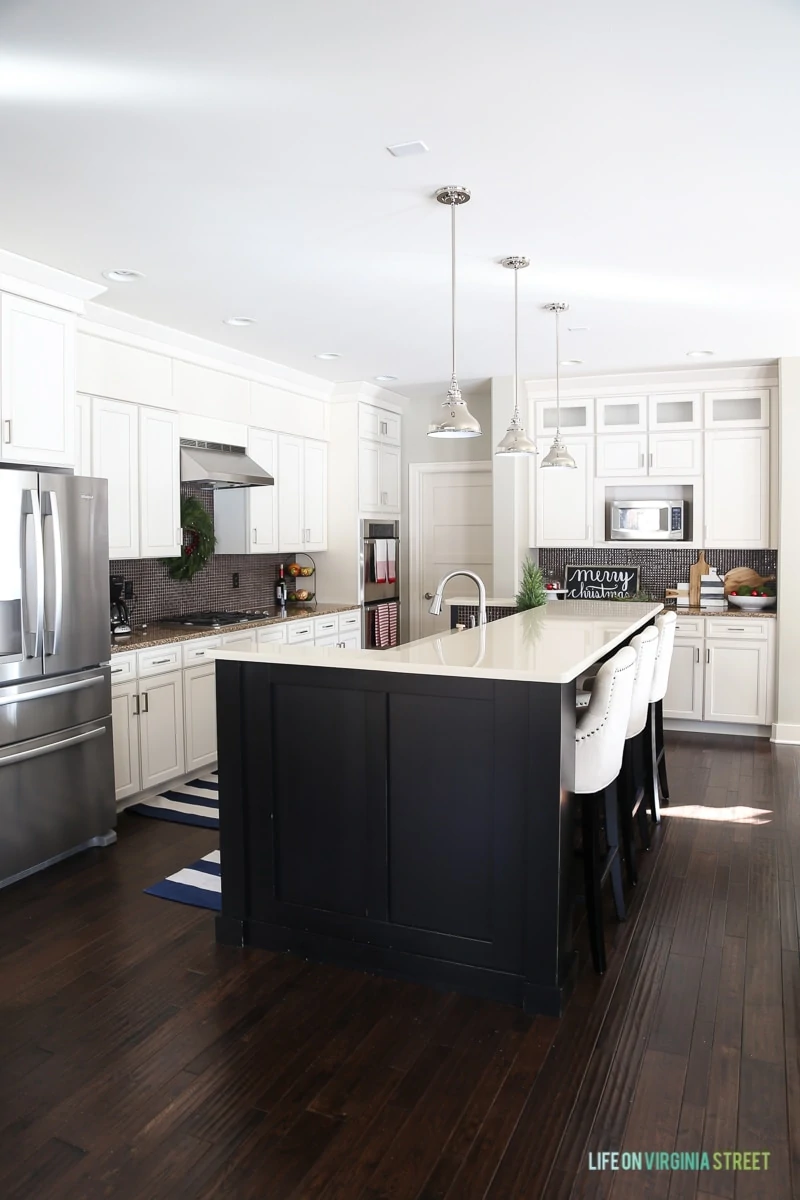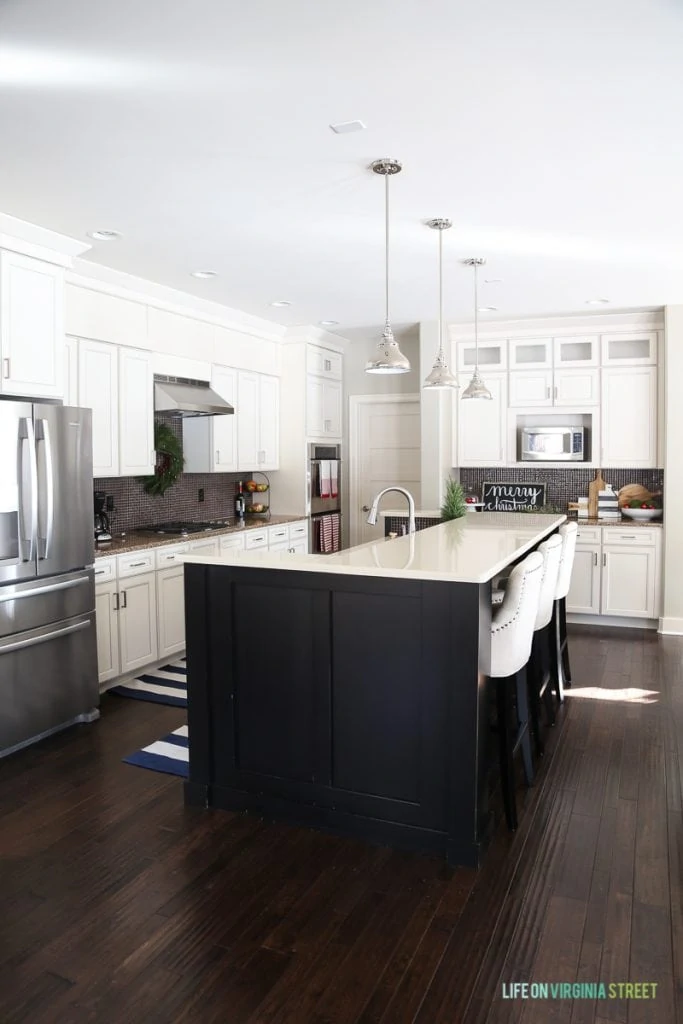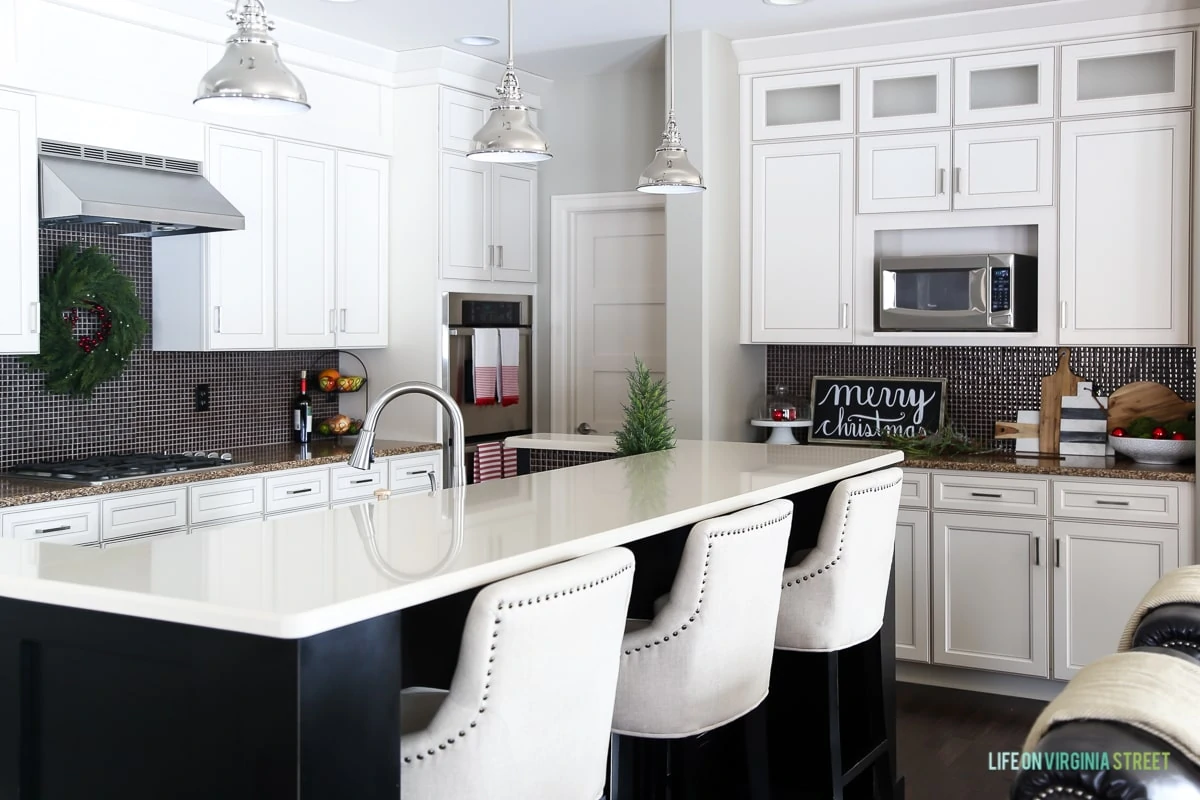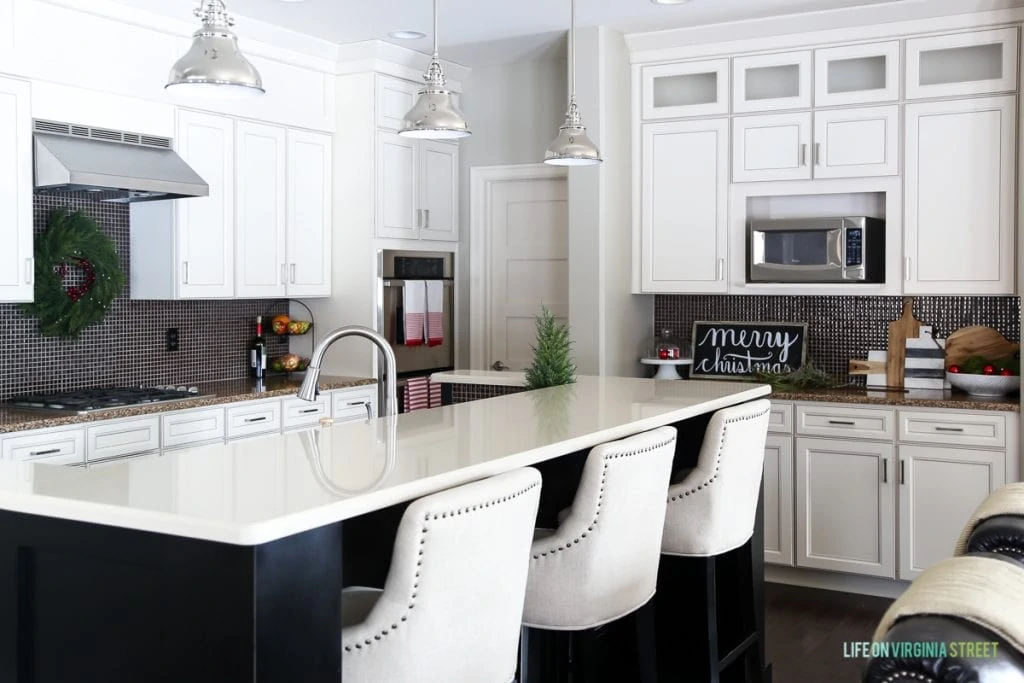 Our living room is where we spend our time binge-watching Netflix. So, it's no wonder that I used my favorite buffalo check pillows in this room. I love the classic pattern and the fact that I know I can use them again in the future! The 'O Holy Night' canvas was the first Lindsay Letters piece I ever owned (a gift from my parents) and I still love it every bit as much today as I did the day I got it!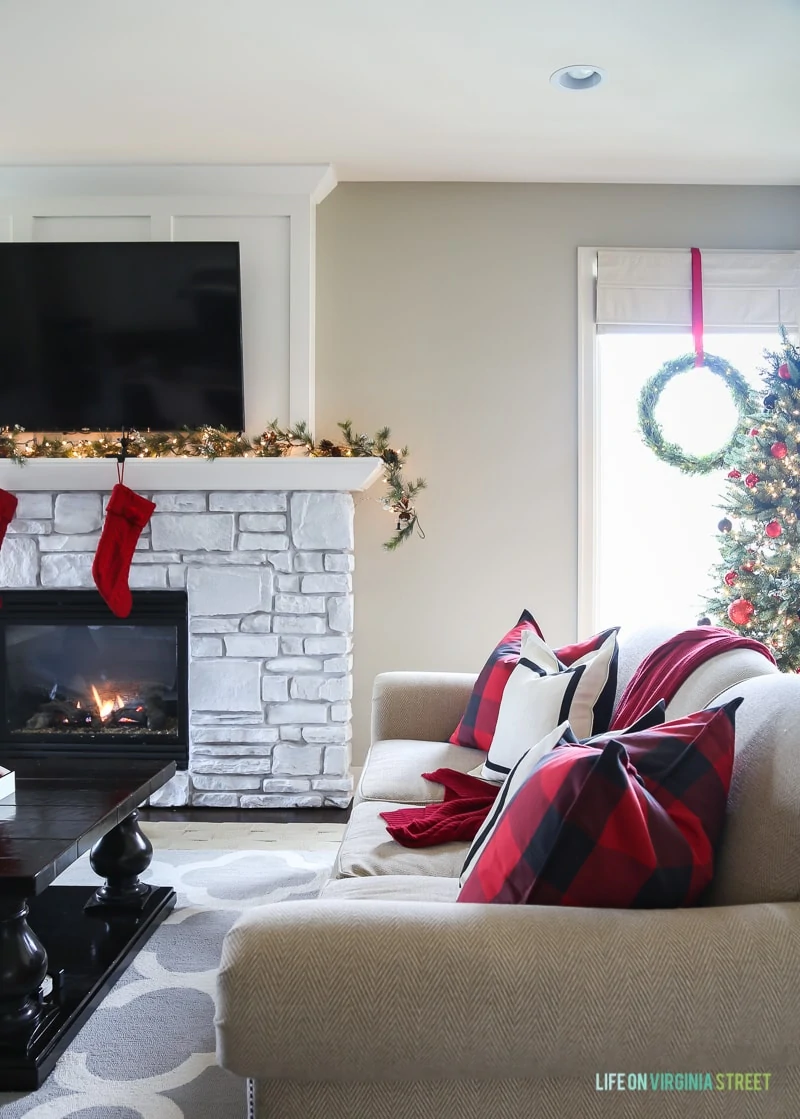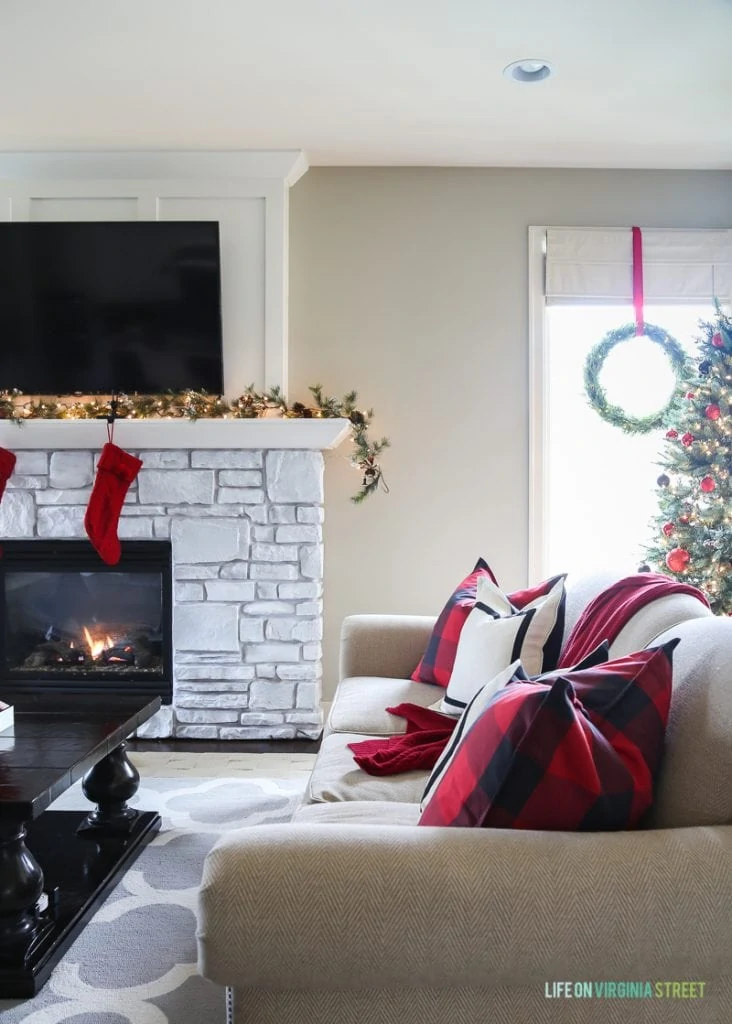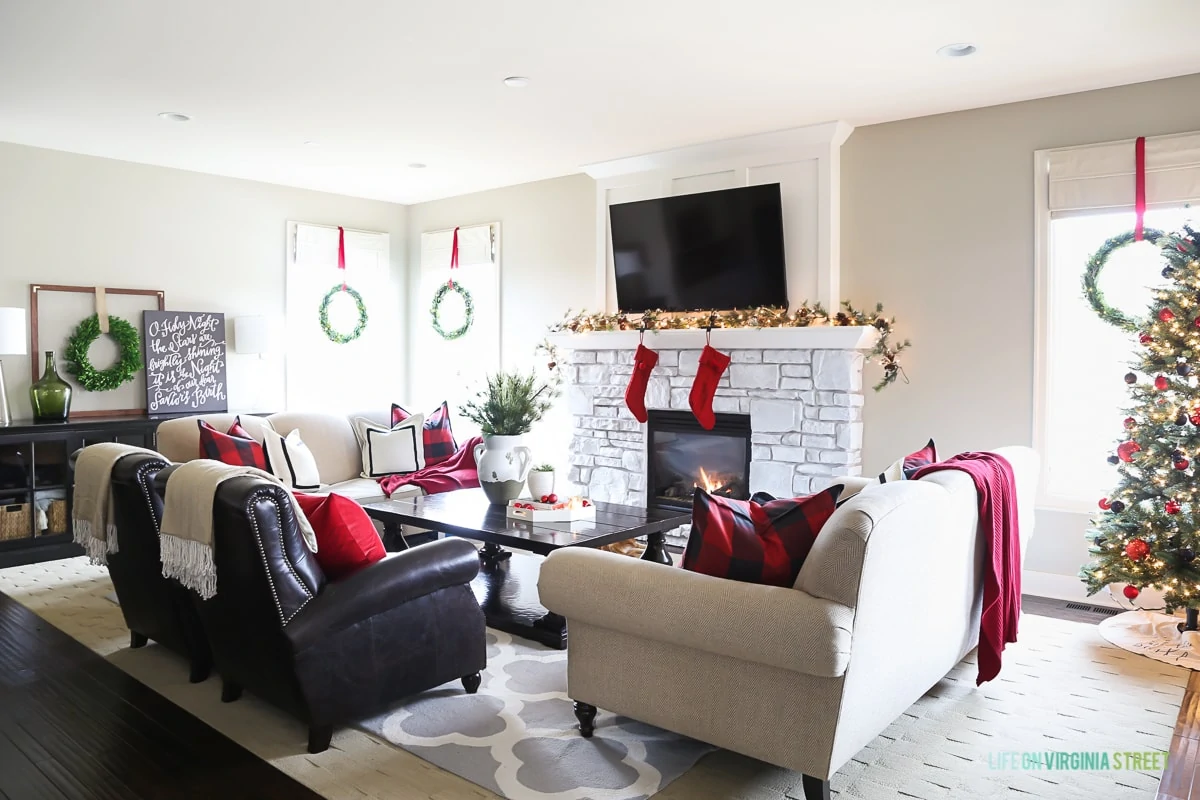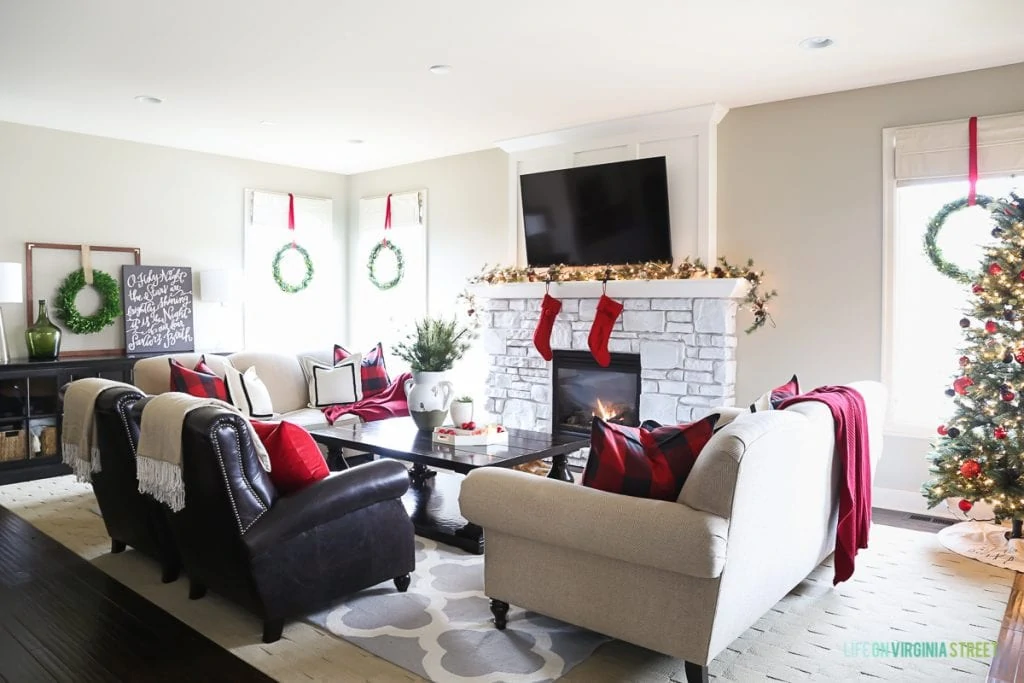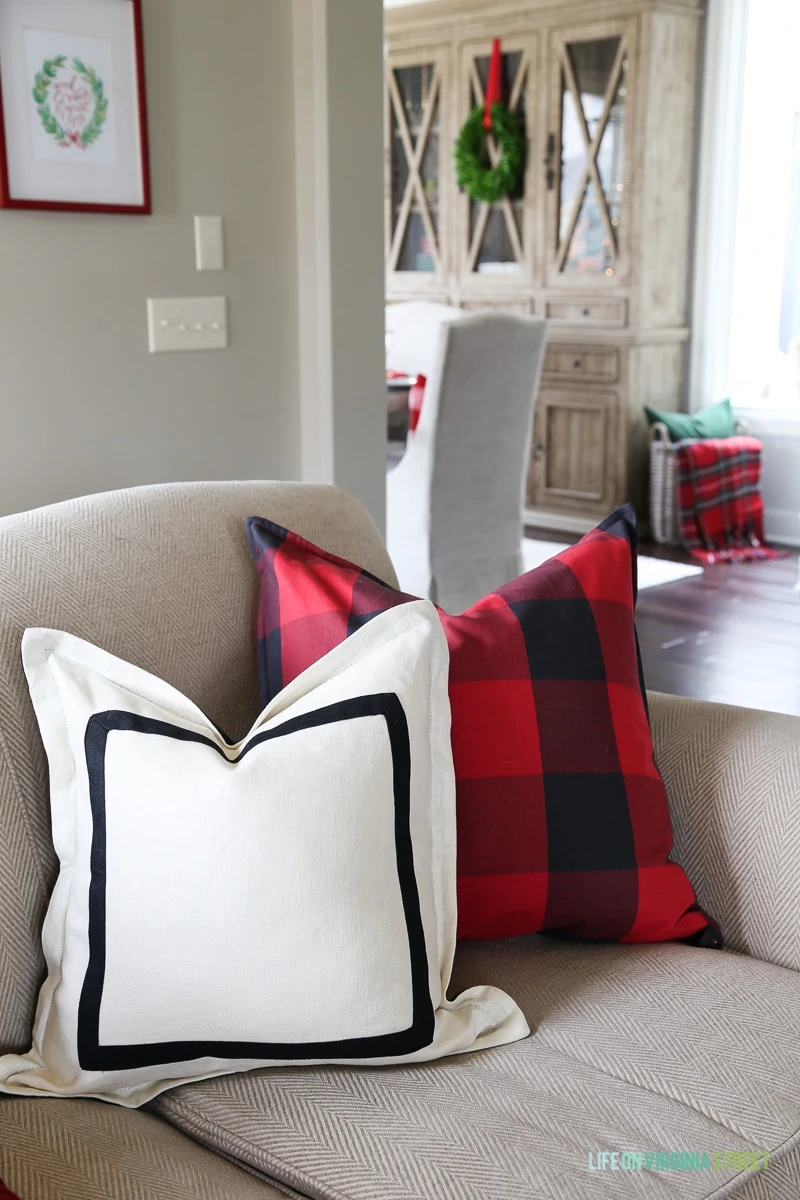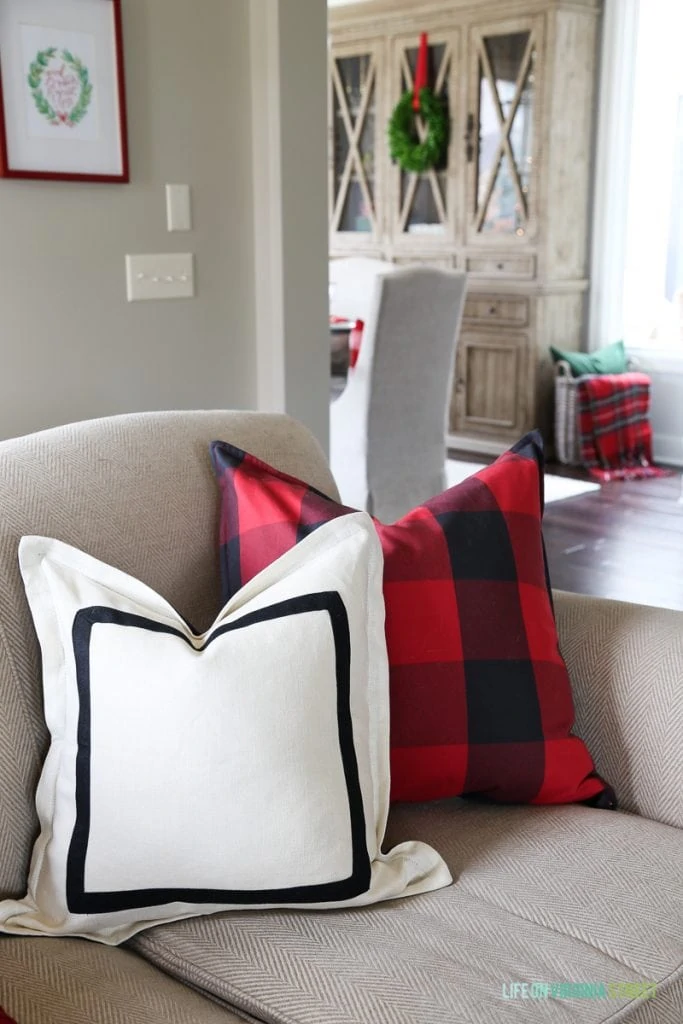 Our dining room received a recent update as part of the One Room Challenge, and the recent addition of the hutch makes it even more perfect! The hutch, for those of you that have asked, is the Chimeneas Andover Bookcase. I got it from Nebraska Furniture Mart a few weeks ago, but I seriously can't find it at any other store online. It wasn't cheap (I paid about $1,200 for it) but it usually retails for nearly $4,000. So, I told my husband it was a bargain and he should be glad he has me to find such great deals 😉 The 'O Come Let us Adore Him' is my latest Lindsay Letters canvas (are you sensing a theme yet?!) and I love the graphic punch it adds to our otherwise fairly traditional dining room.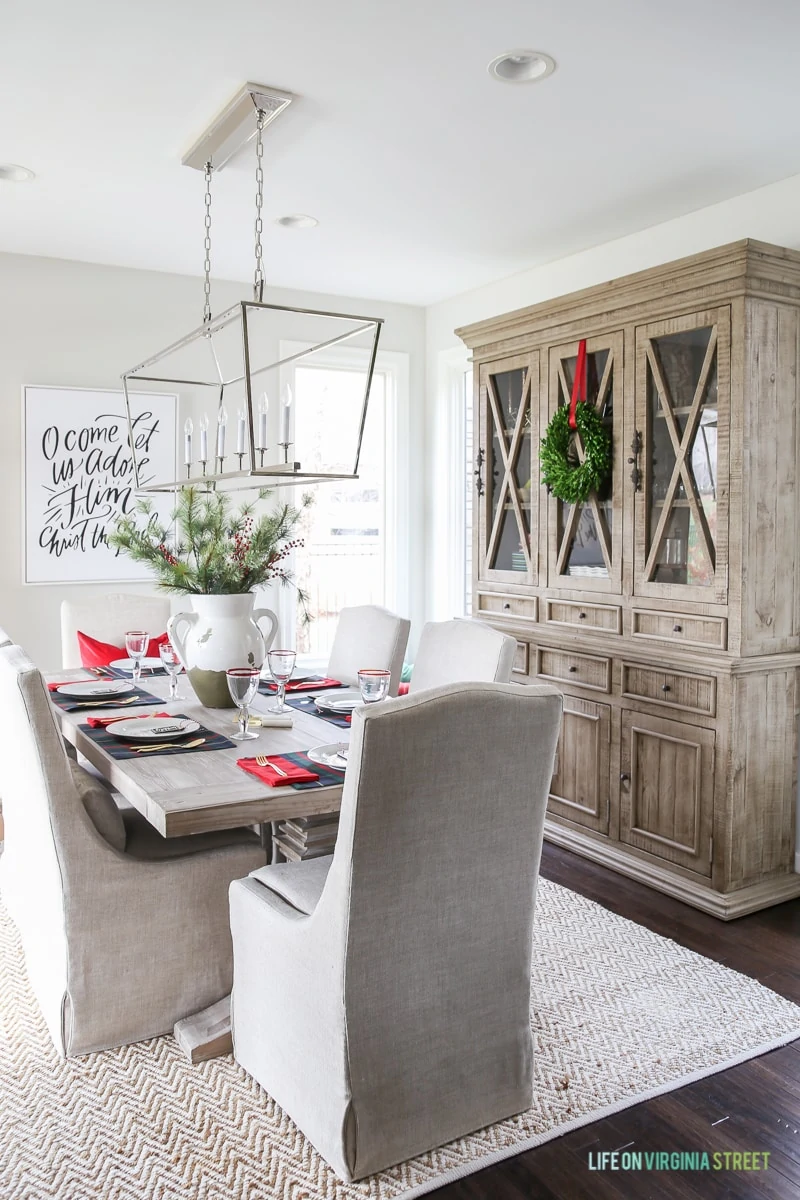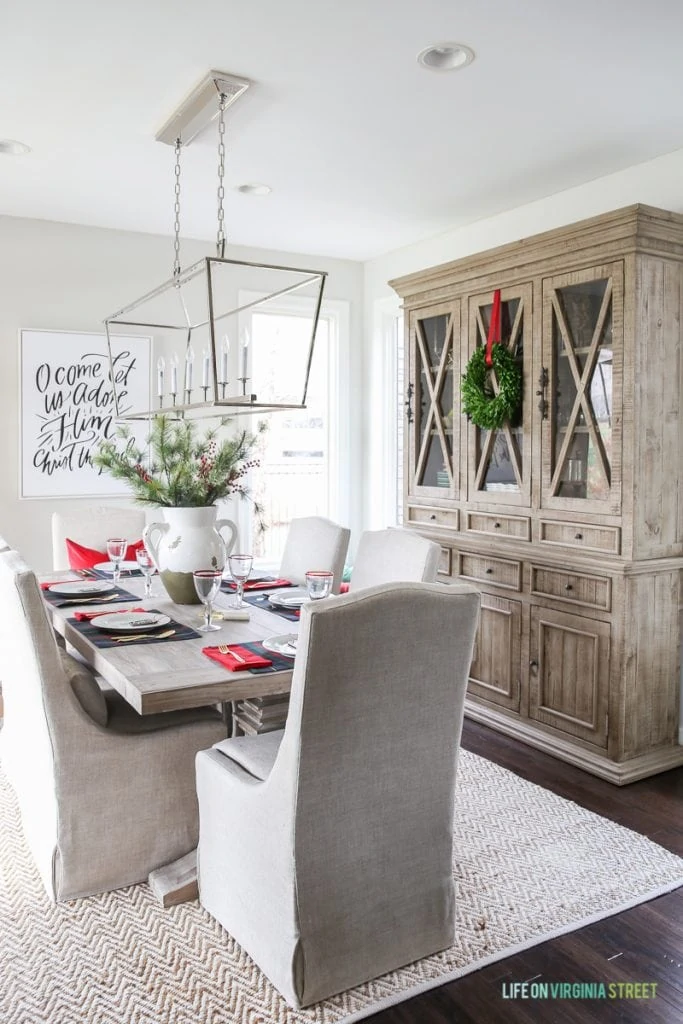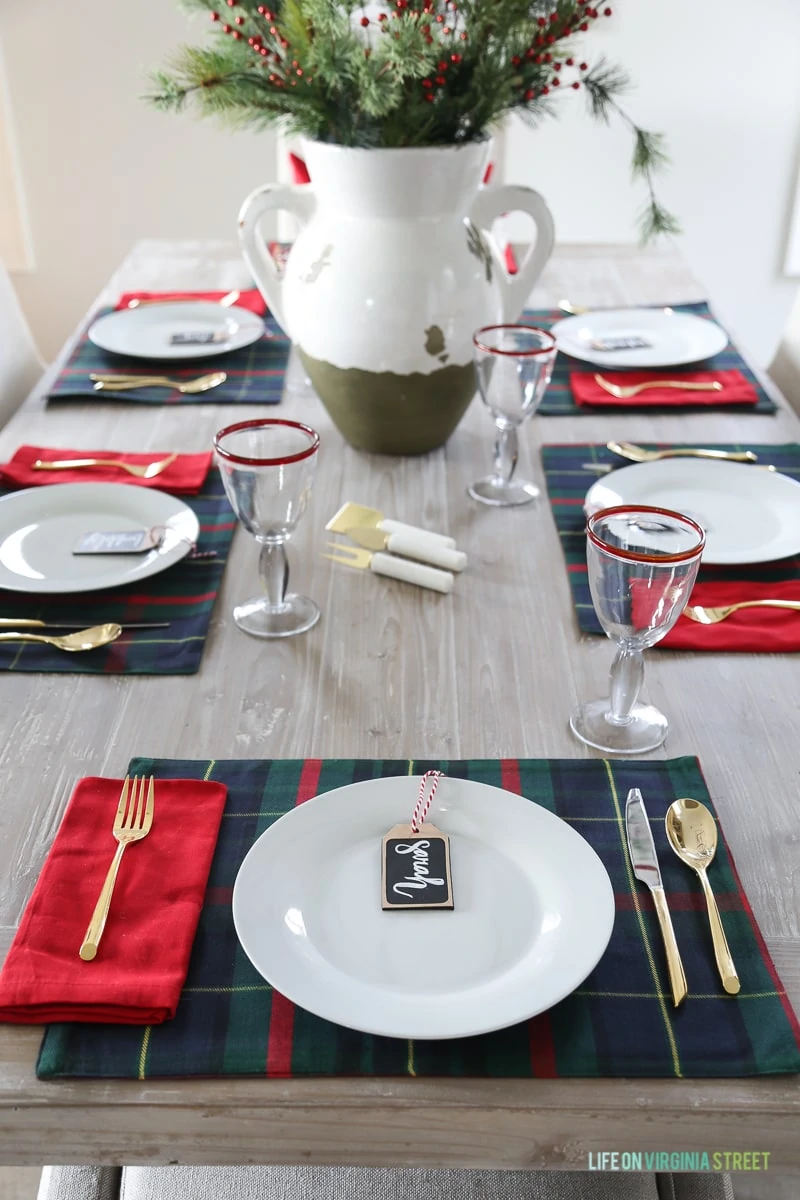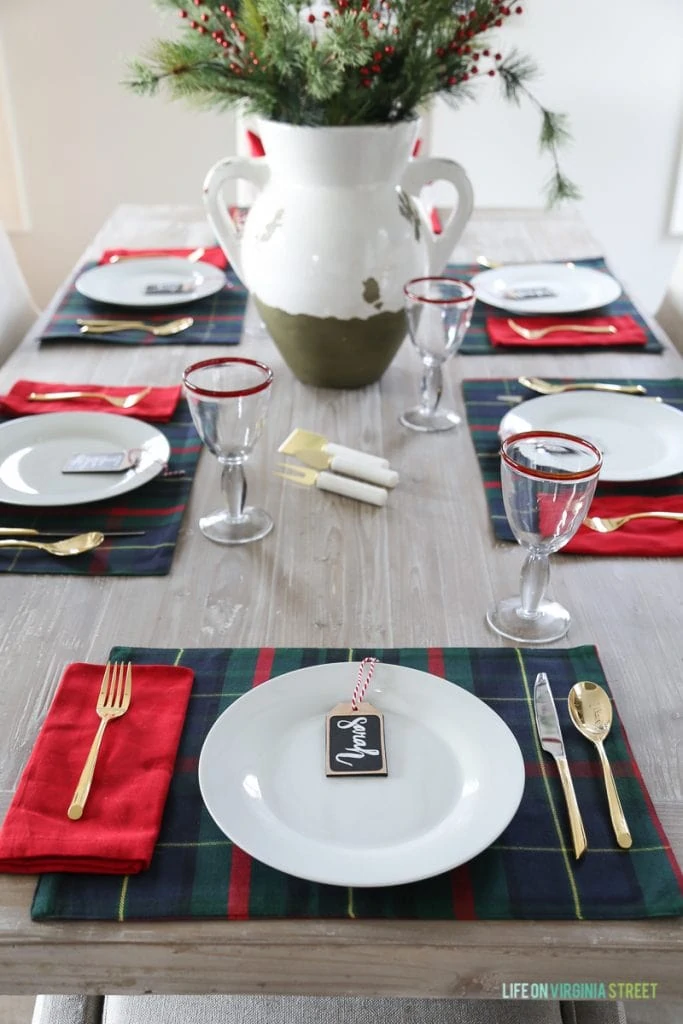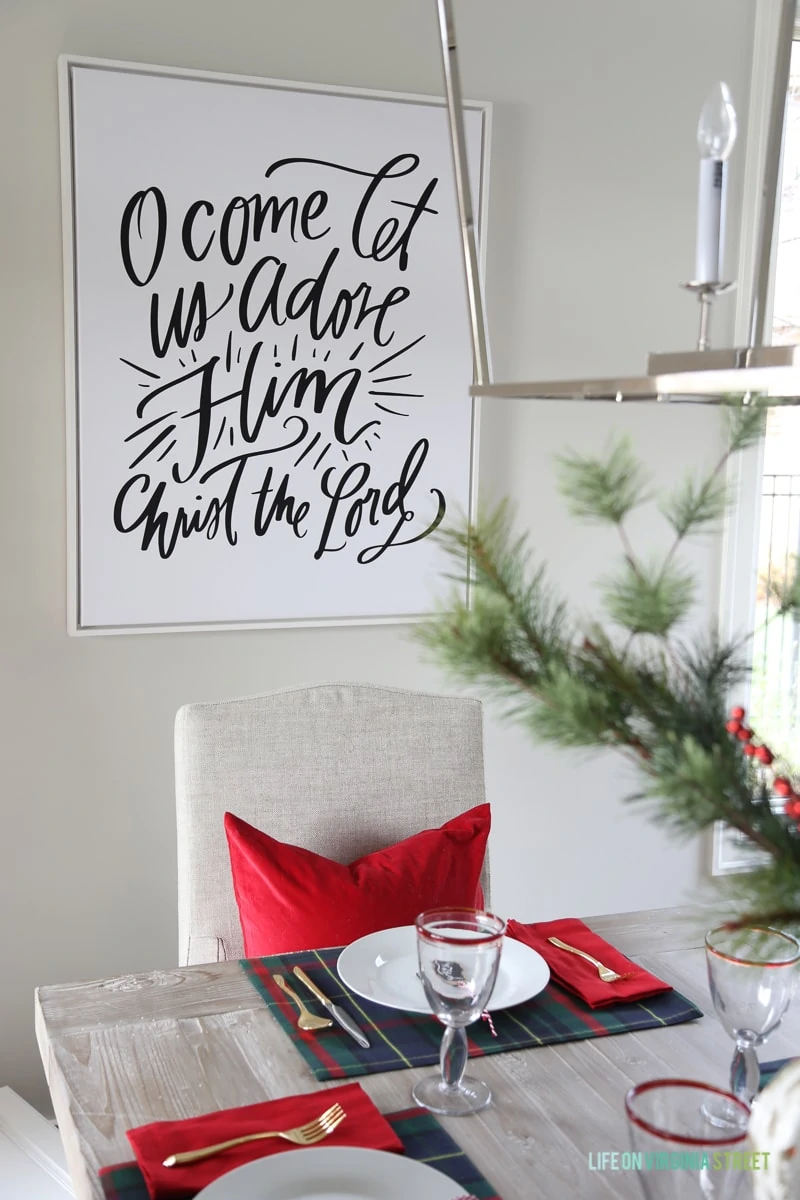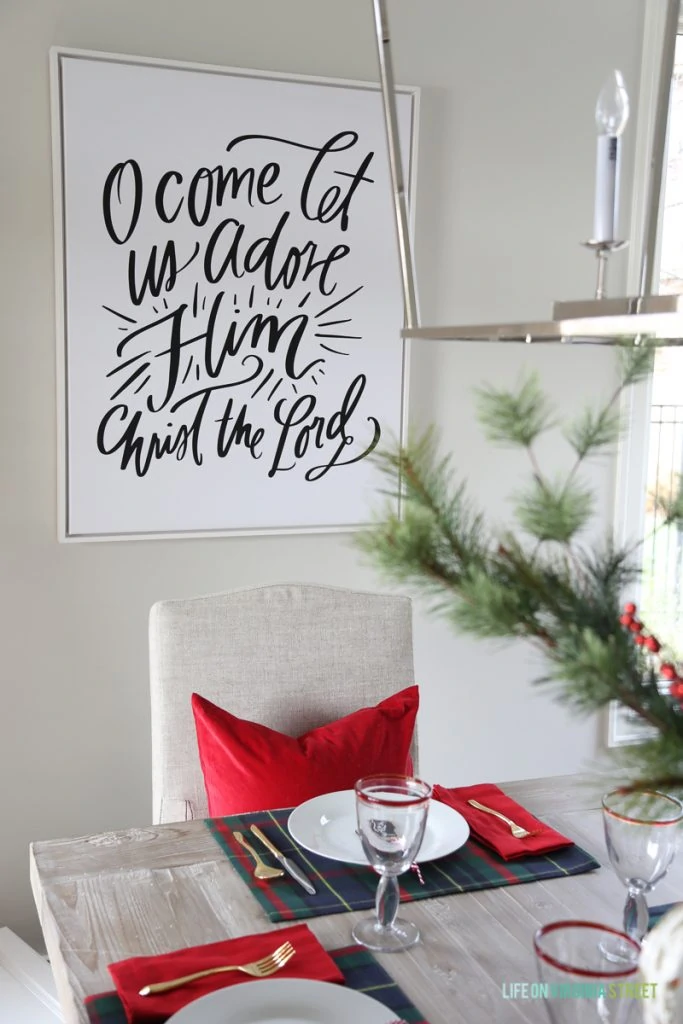 As previously mentioned, my office is the one area where I didn't go with traditional Christmas colors. I'm typically a blue, green and neutral girl (non-holiday time) but it was a bit of a stretch for me to not include any red here for Christmas. But, I love how it turned out!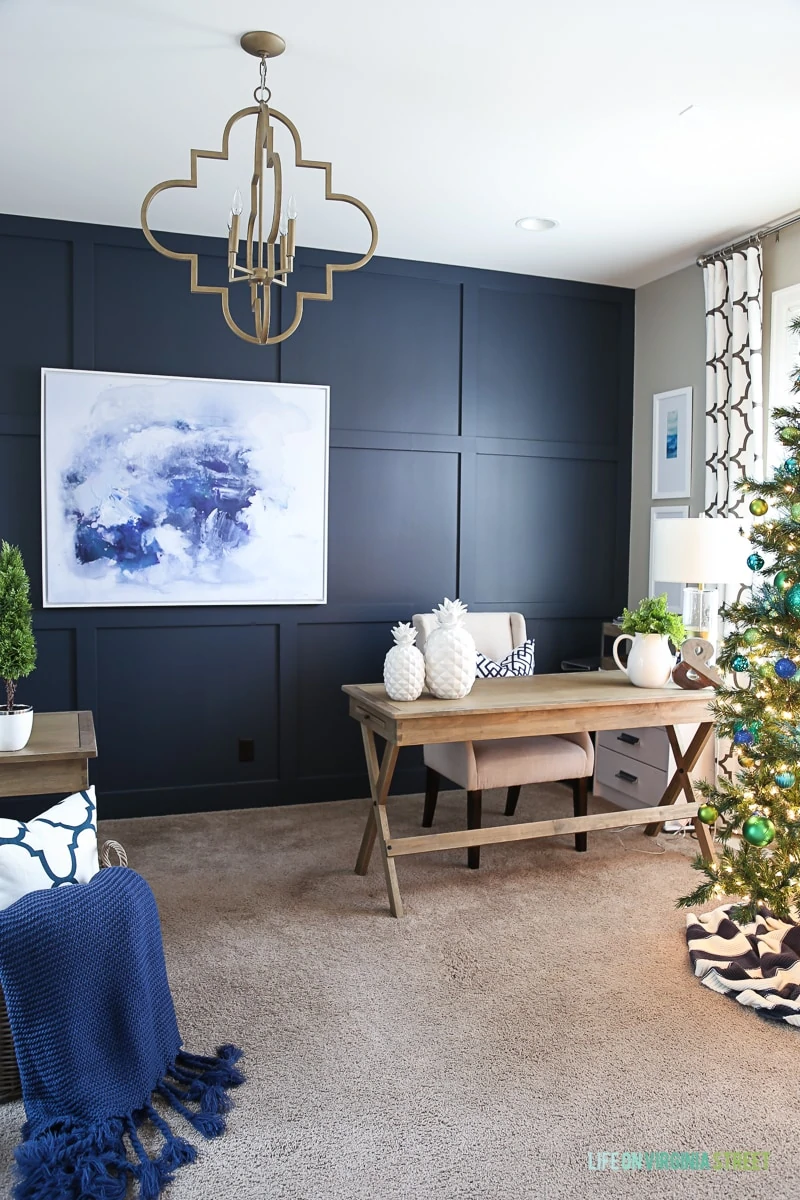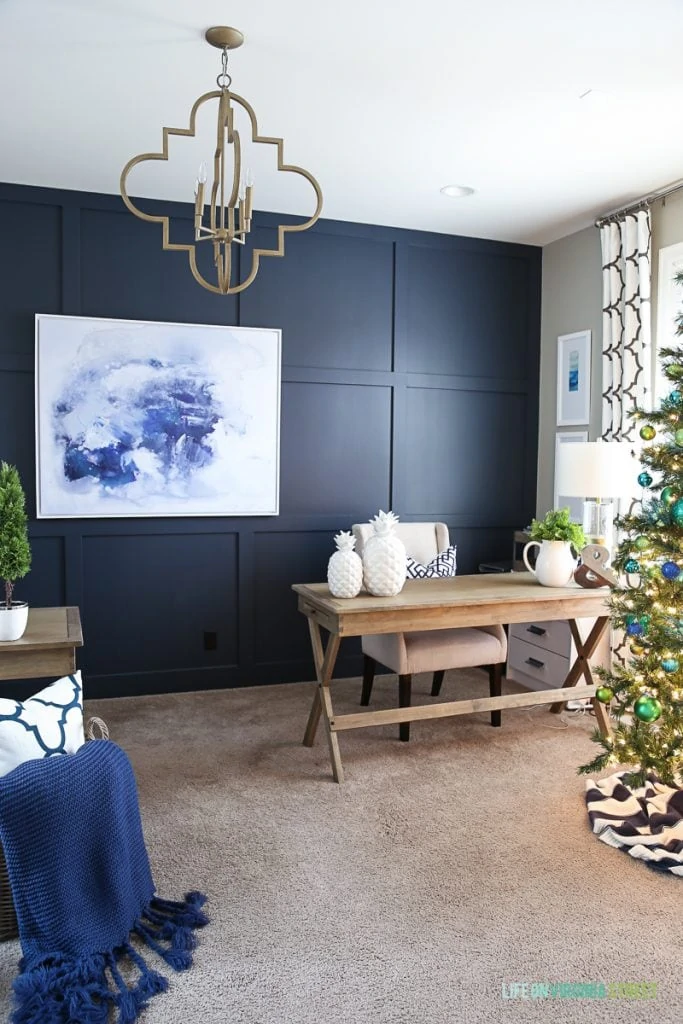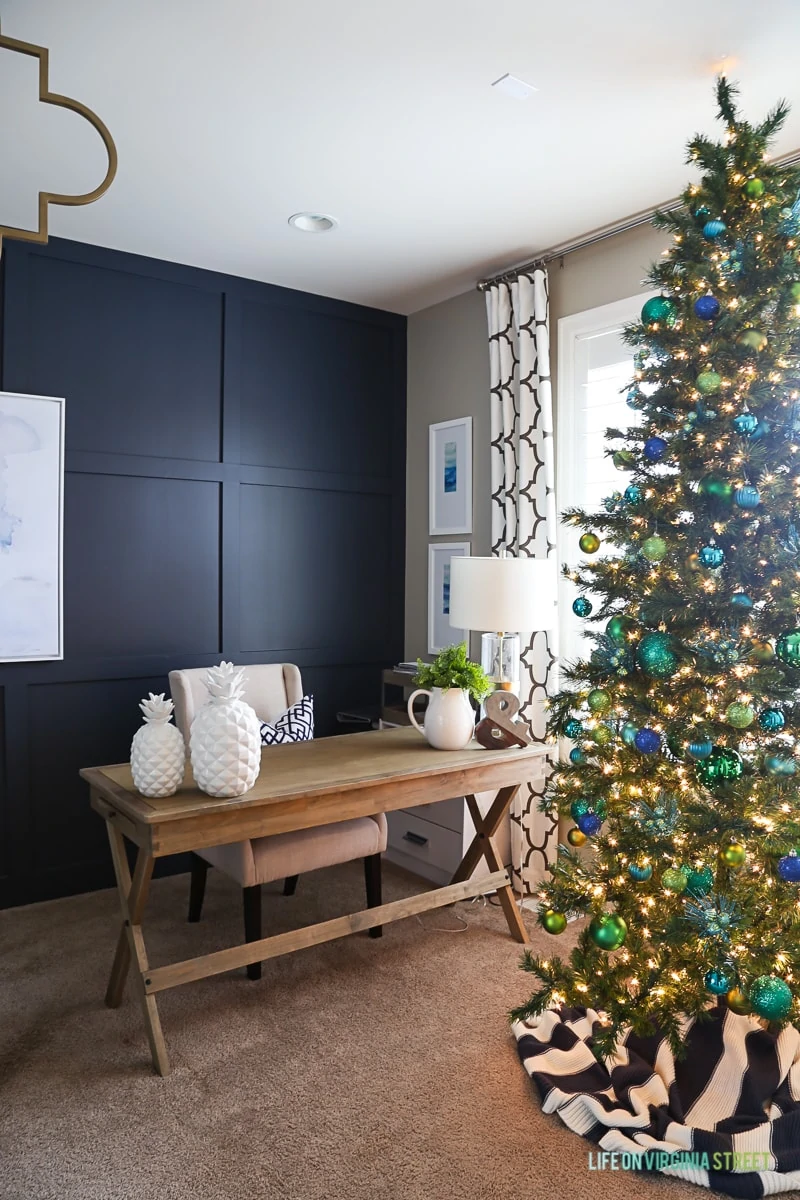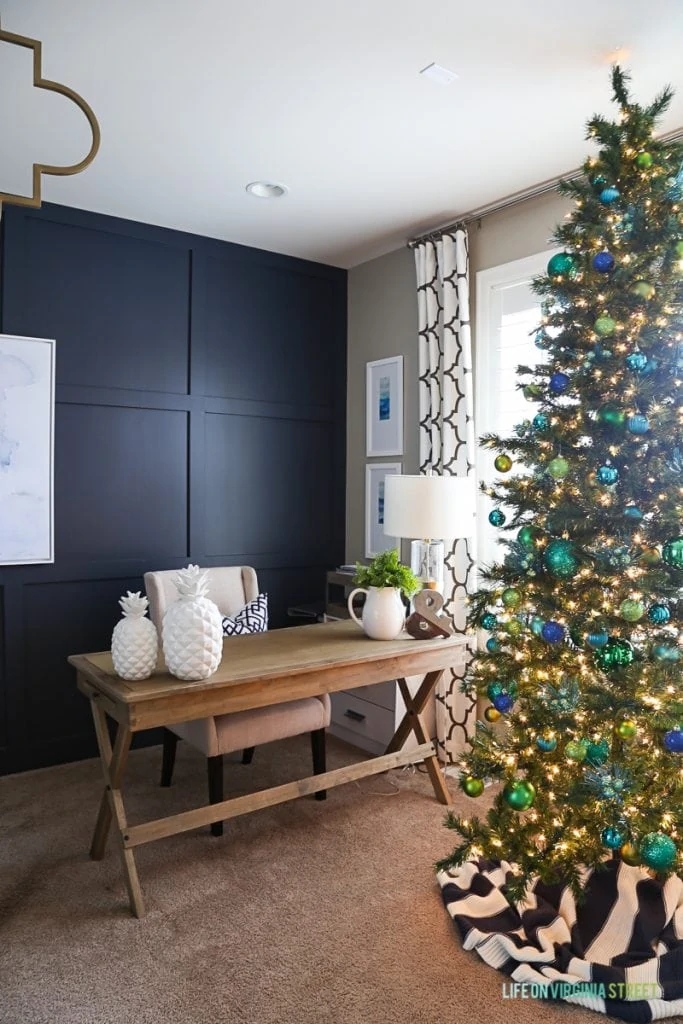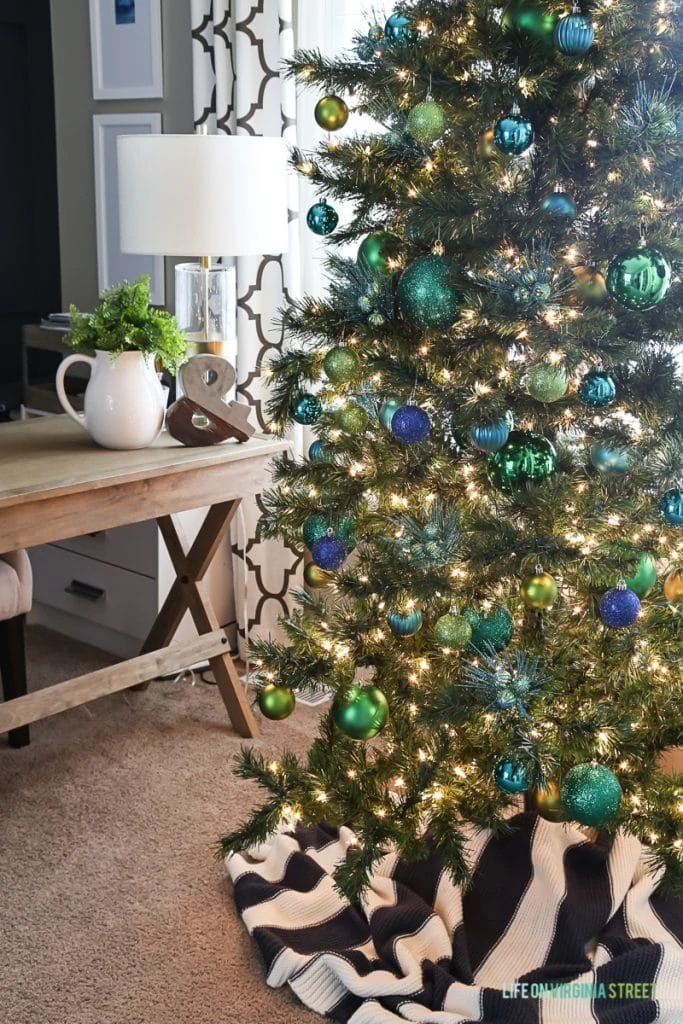 The wall colors are Benjamin Moore Hale Navy and Behr Castle Path. The abstract art is the Indigo Ink from Lindsay Letters. At this point, I probably didn't even need to say where it was from, right? 😉


Lastly, here's a little sneak peek of our master bedroom all dressed up for Christmas! I'll be sharing more of this space on Friday!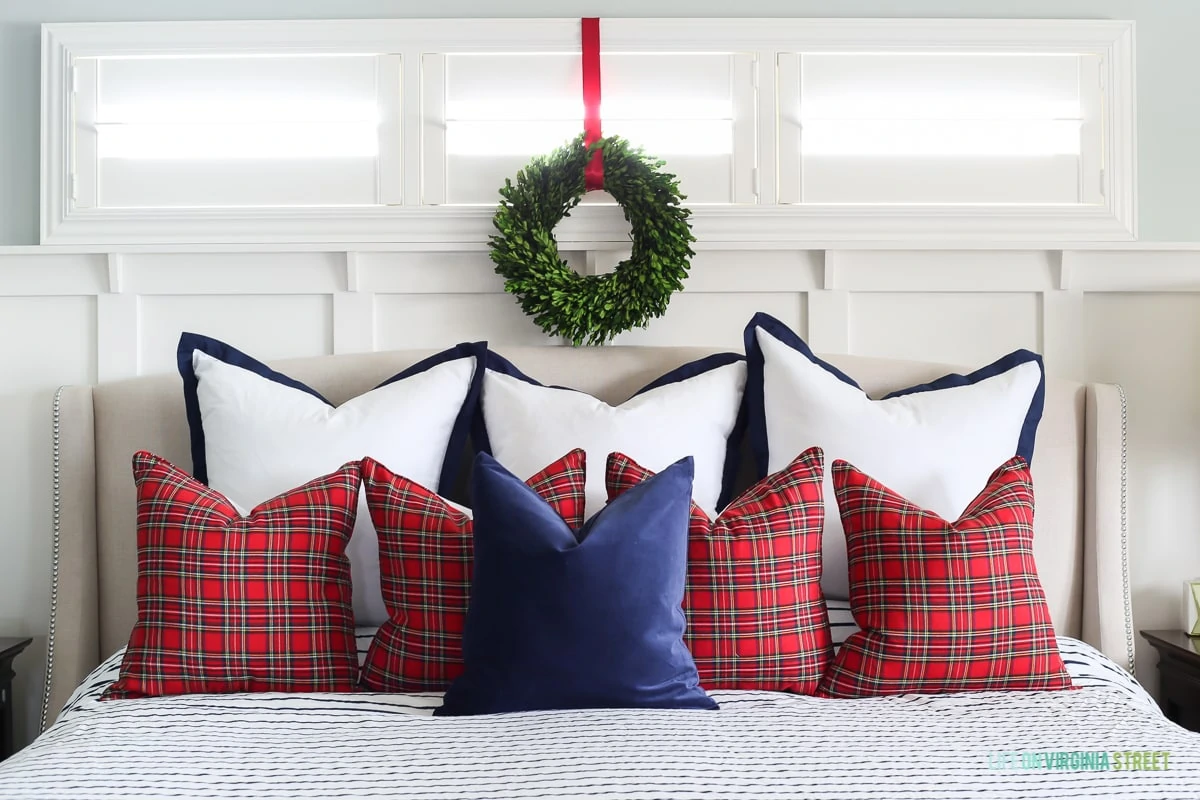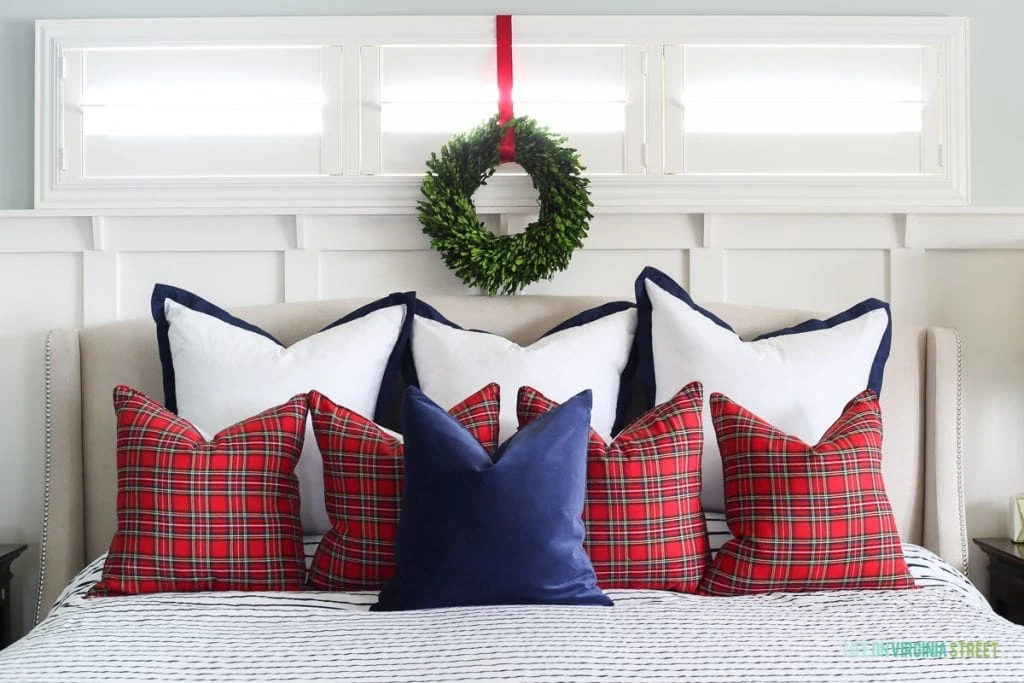 The wall colors are Behr Swiss Coffee and Sherwin Williams Sea Salt. I got the striped duvet cover on mega-clearance recently (I paid $35) and I'm pretty sure it's going to be my new year-round favorite!


Thank you so much for stopping by! I hope you enjoyed our tour!
The next stop on the tour is my dear friend Abby from Just A Girl And Her Blog! She just moved into a new home and I can't wait to see more of her beautiful space! Here's a sneak peak of a little of what she'll be sharing: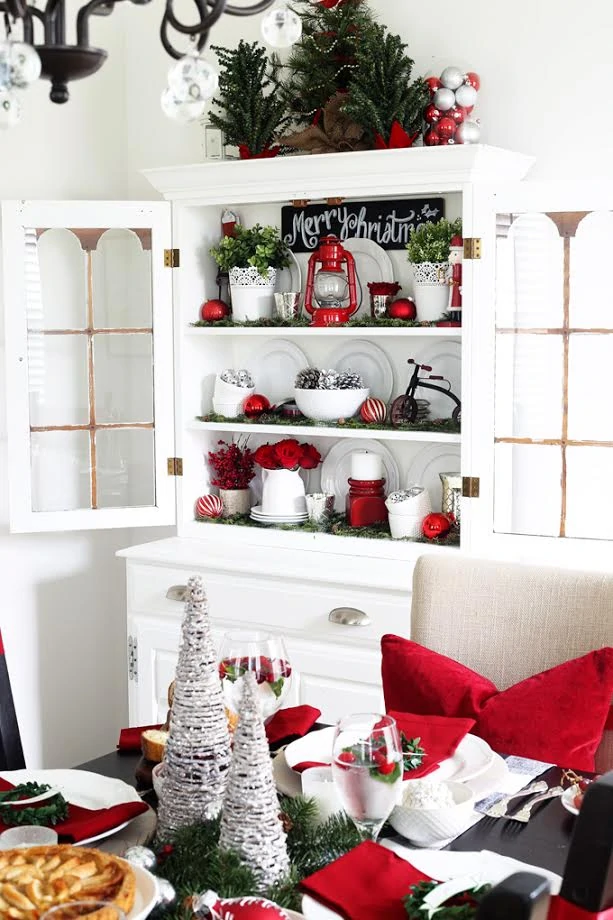 After Abby's tour, you can check out all the other stops on this one-day tour!
If you would like to follow along on more of my home decor, DIY, lifestyle, travel and other posts, I'd love to have you follow me on any of the following:
Pinterest / Instagram / Facebook / Twitter / Bloglovin' / Google
disclosure: some affiliate links used