Creating a room you love for less can be easy to do, and I will share with you some tips!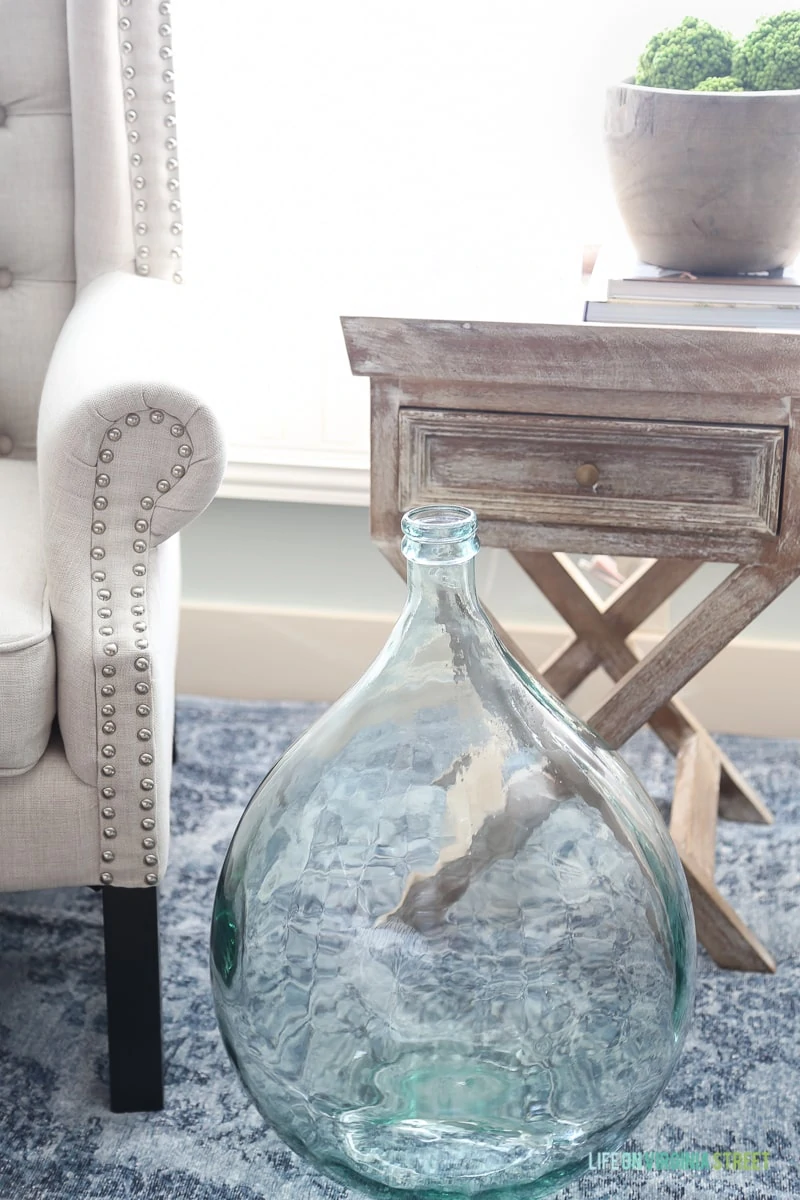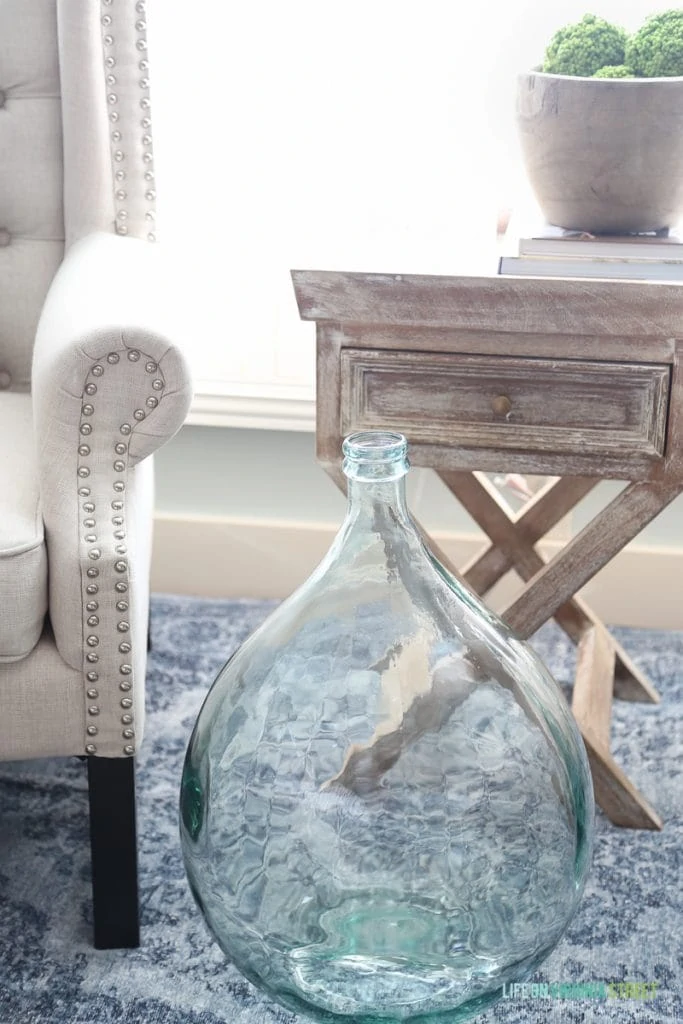 Thank you to Gordman's for sponsoring today's post. As always, all thoughts and opinions are my own.
Several months ago, I updated 'my office' to be 'our office' because my husband requested a work space. With the room update, we had some furniture that was displaced, including the two linen armchairs below. I've had them for five+ years and they've lived in several rooms in this house and our last one. But, once they were removed from the office, I didn't really have anywhere practical to use them. I thought about selling them on our local Facebook page (and at some point may still), but I still really like them and decided to find a use for them.
We had this really awkward area along our windows in our bedroom that isn't necessarily big, but it always just looked bare and empty. So, I decided to create a little master bedroom sitting area on a tight budget! Today I'm going to share some tips for creating a space you love without forking over a ton of money. If you keep your eyes open for specific features, you can get a high-end look with not a lot of money.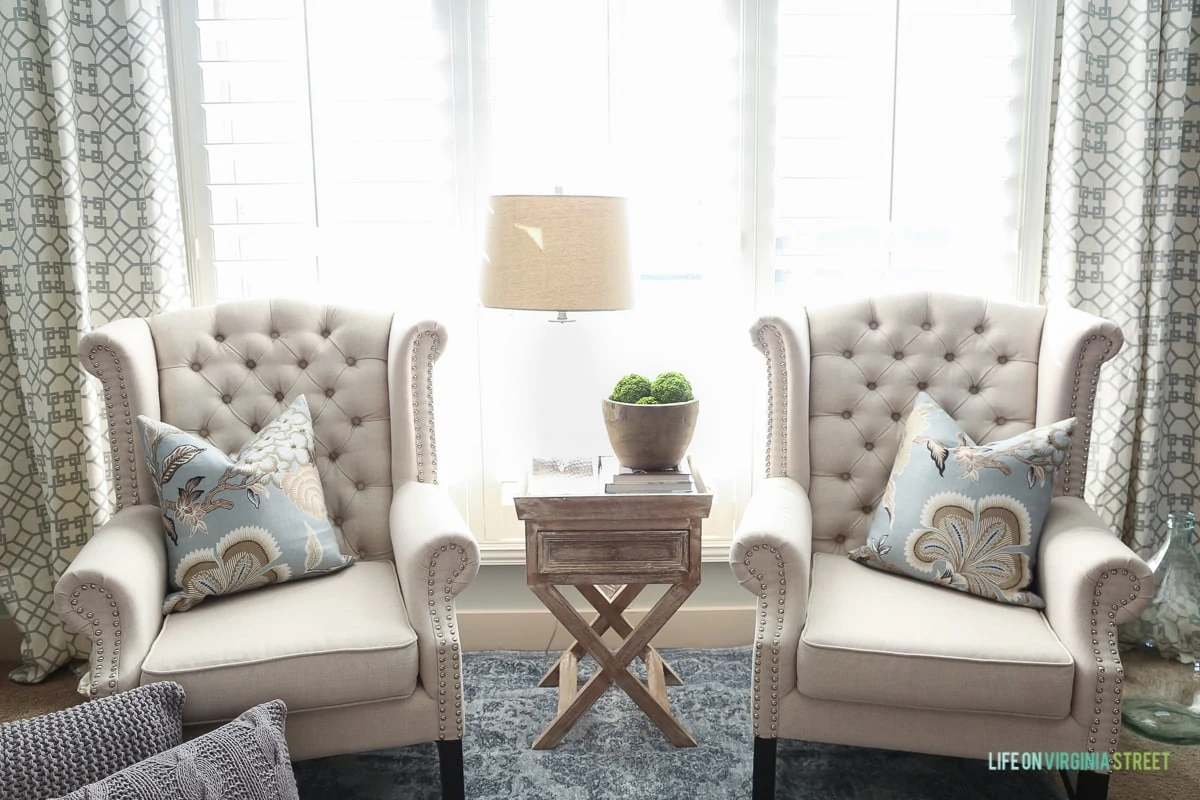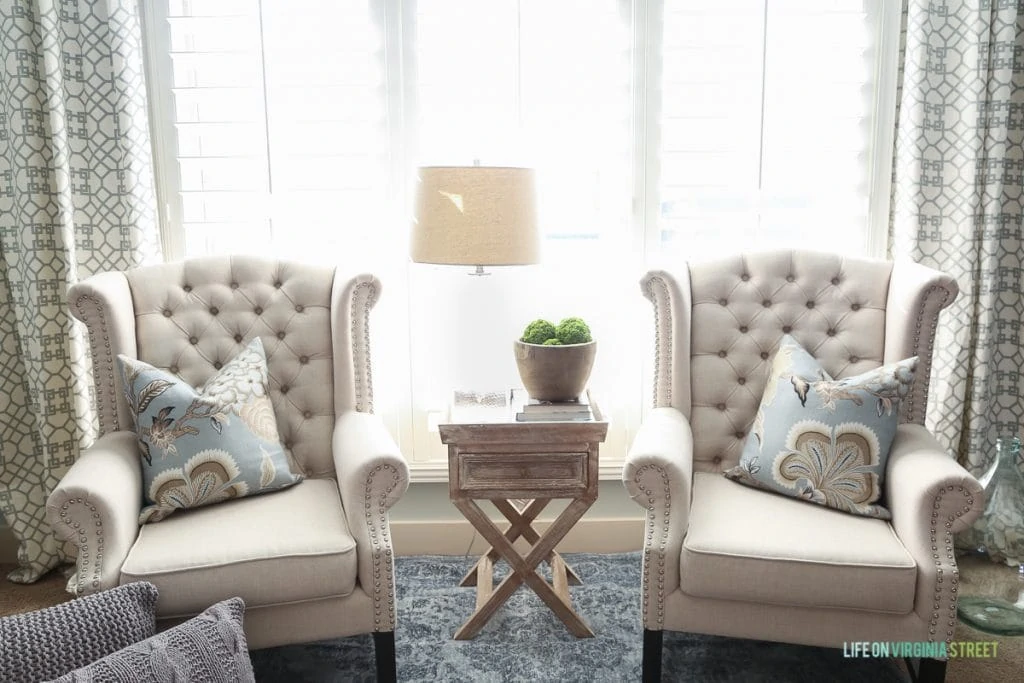 Peruse the Catalogs & Home Decor Magazines
Guys, I subscribe to about 20 more design catalogs and magazines than I should. But I love flipping through them on weekends looking for ideas. 95% of the time I don't even buy the items I'm eyeing. But, it's a great way to know what items are on trend and can show you interesting ways to re-imagine items and use them in ways you may not have thought of before. This gives me all the ammo I need to head to more affordable stores like Gordman's to look for look-for-less items.
Shop Your House
For this space, I obviously knew I wanted to incorporate the chairs. But I also looked for home accessories I could use here so I didn't have to buy new. You may not end up using everything you find, but at least knowing what you have on-hand that isn't being used is helpful to avoid purchases that may seem redundant.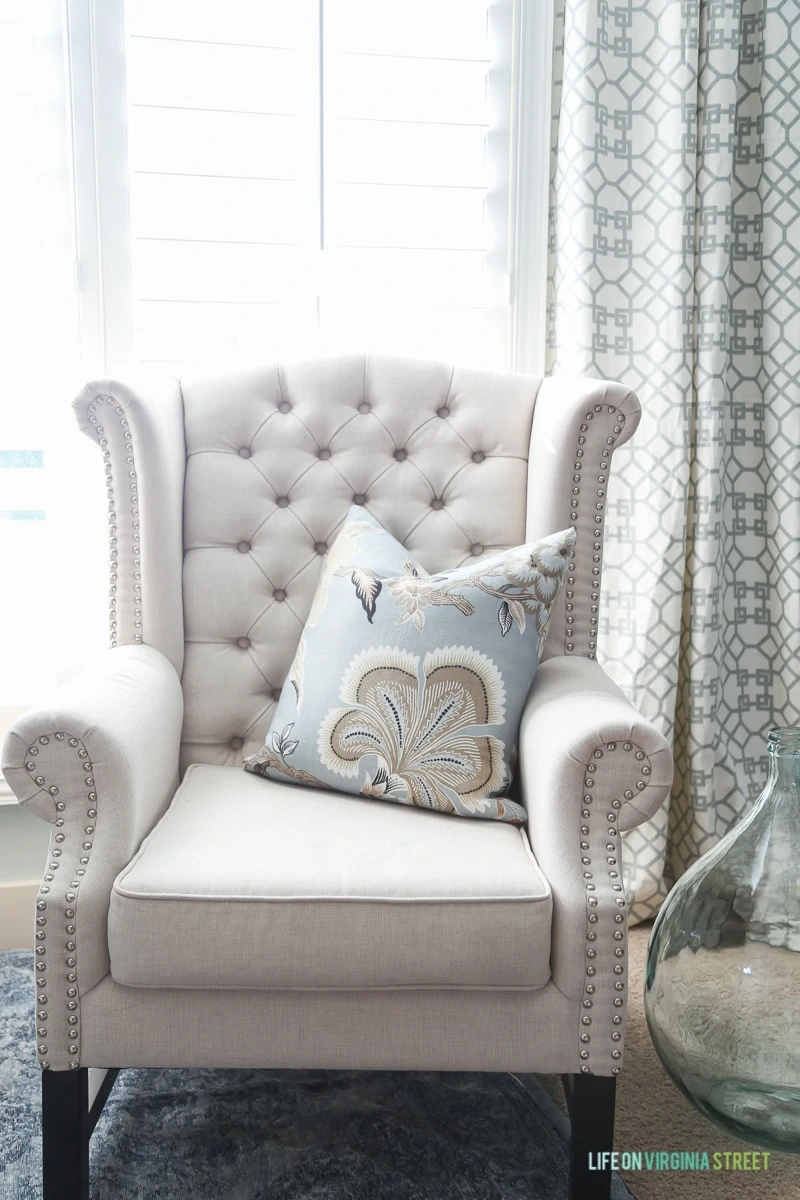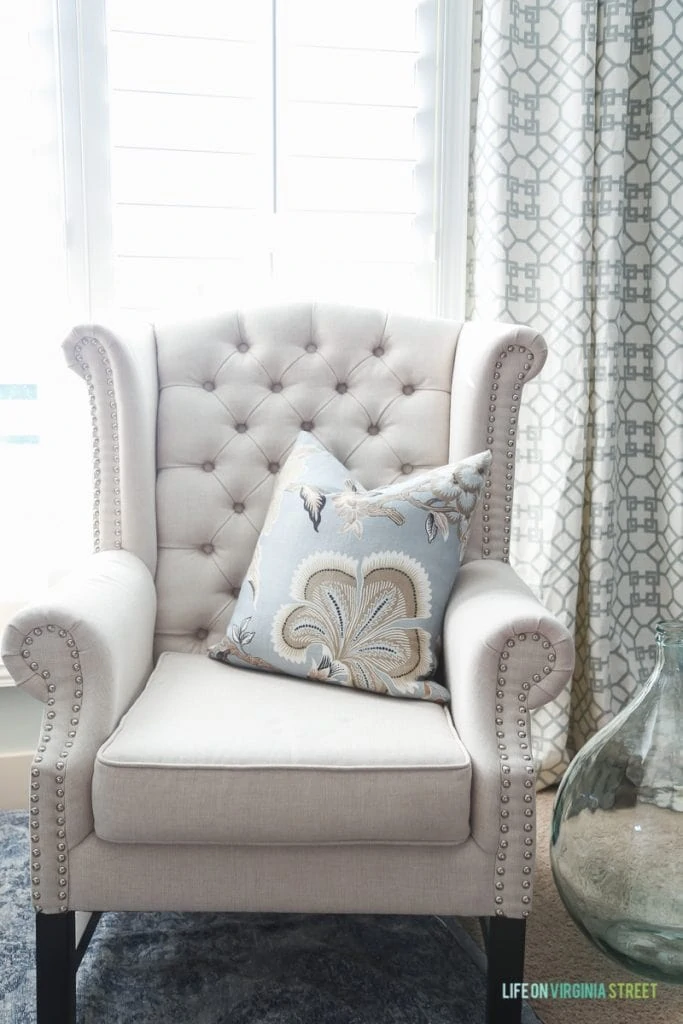 DIY What You Can
You all know I love a good designer fabric, but that all means $$$$. So, I make most of my own throw pillows and drapes with fabric I've found on sale or scrap remnants that are being sold at great prices. This is a great way to get a fancy designer look without spending designer prices. If you don't think you're an adequate seamstress, really study fabric prints you love and then look for similar prints/styles/colors at stores like Gordman's. Many times you'll find a very similar look for a fraction of the price.
Make Your Shopping List
Then, make a list of items you're on the lookout for. I knew I would need a small side table. Our other furniture in the room is quite dark and heavy so I knew I would want to find something with a lighter finish to balance it all out. I was also on the lookout for a new lamp that didn't carry too much visual weight, since I didn't want this side of the room to look too cluttered. I also wanted a few fun accessories to help liven everything up a bit. You'll want to use some of the other tips listed below, as well, to seek out items that meet the defined criteria when looking for some of these accessories.
I found this gorgeous mango wood side table for a good price at Gordman's. It was my most expensive purchase for the space, but also one of the most important. I'd rather invest more in the furniture pieces since they are more likely to be used long-term. And this bad boy is heavy. Isn't the finish beautiful? I also love the tray-like top.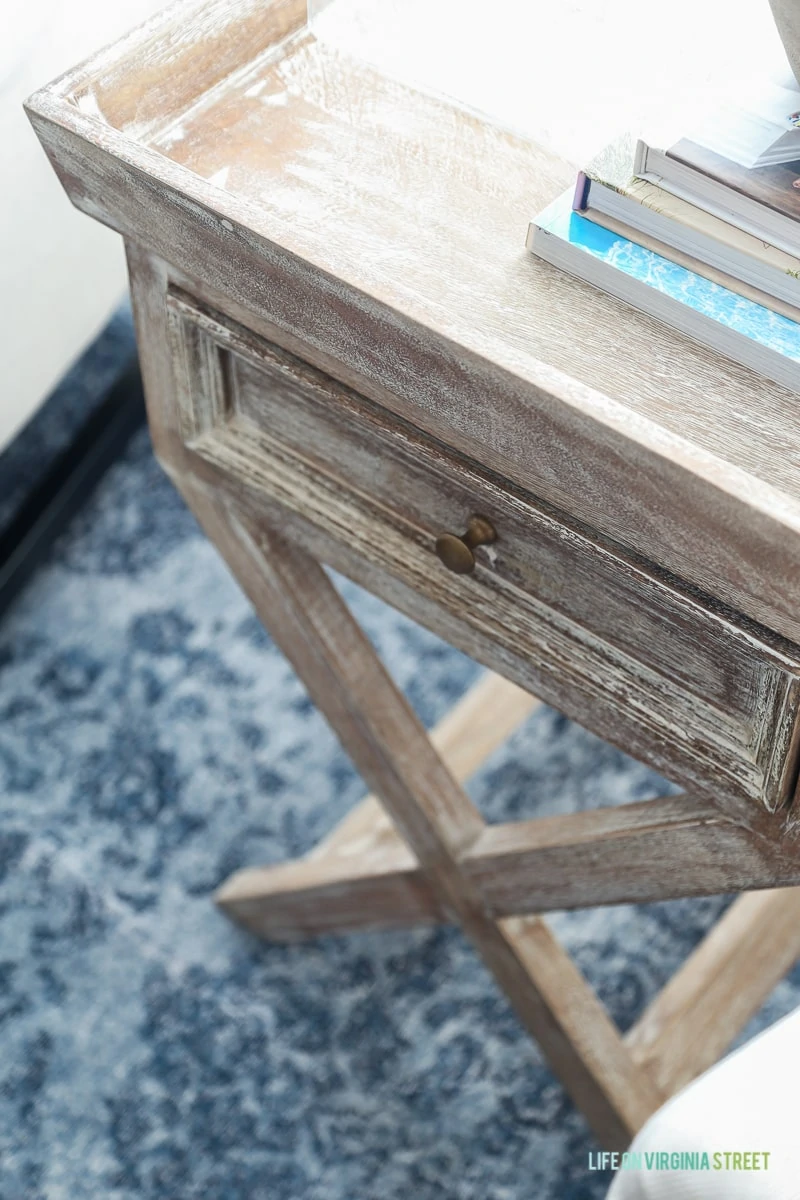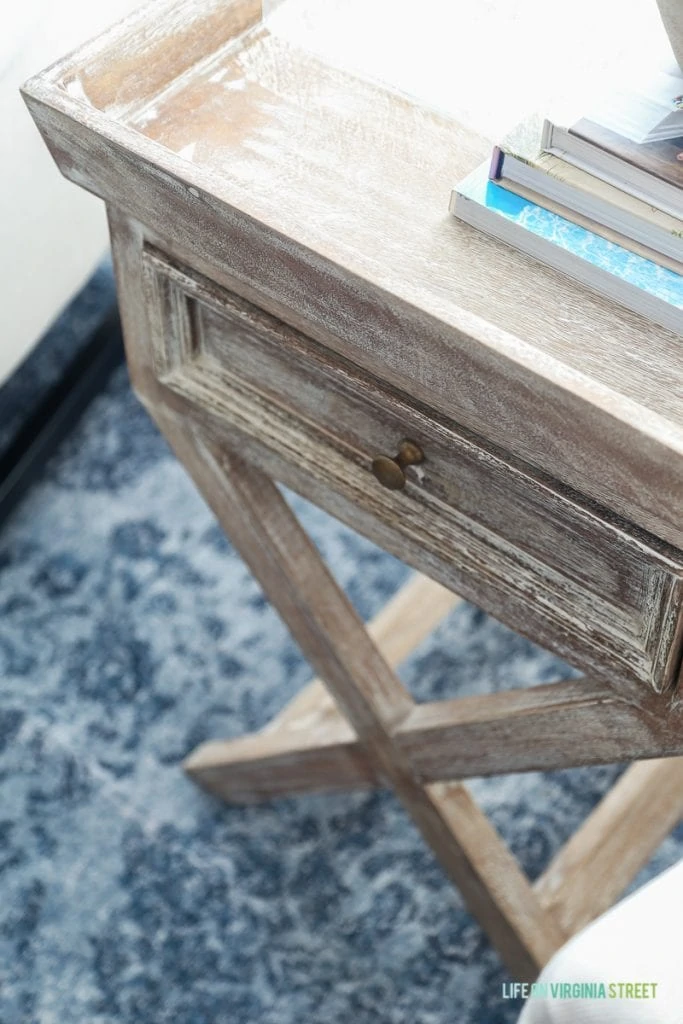 Mix High and Low Priced Items
Getting a look you love doesn't require spending a ton of money. Pick a few solid foundational pieces that are you investment items. From there, mixing in quality items at lower price points will give a richer look to the space. If there is a trend you want to try, my recommendation is to not spend large amounts of money to do so. Then you won't feel guilty down the road swapping that item out when it's no longer in style.
Texture, Texture, Texture
To really achieve a well-thought-out, high-end look, be sure to use a mix of textures. This also helps to ensure the space doesn't feel lifeless and gives dimension to the overall look. In the winter, add in texture with throw pillows (like the cable knit pillows from Gordman's shown below), and chunky throws, and layer in glass, wood and organic elements. I own the gray and the ivory versions of these pillows because they are amazing and only $16.99 each!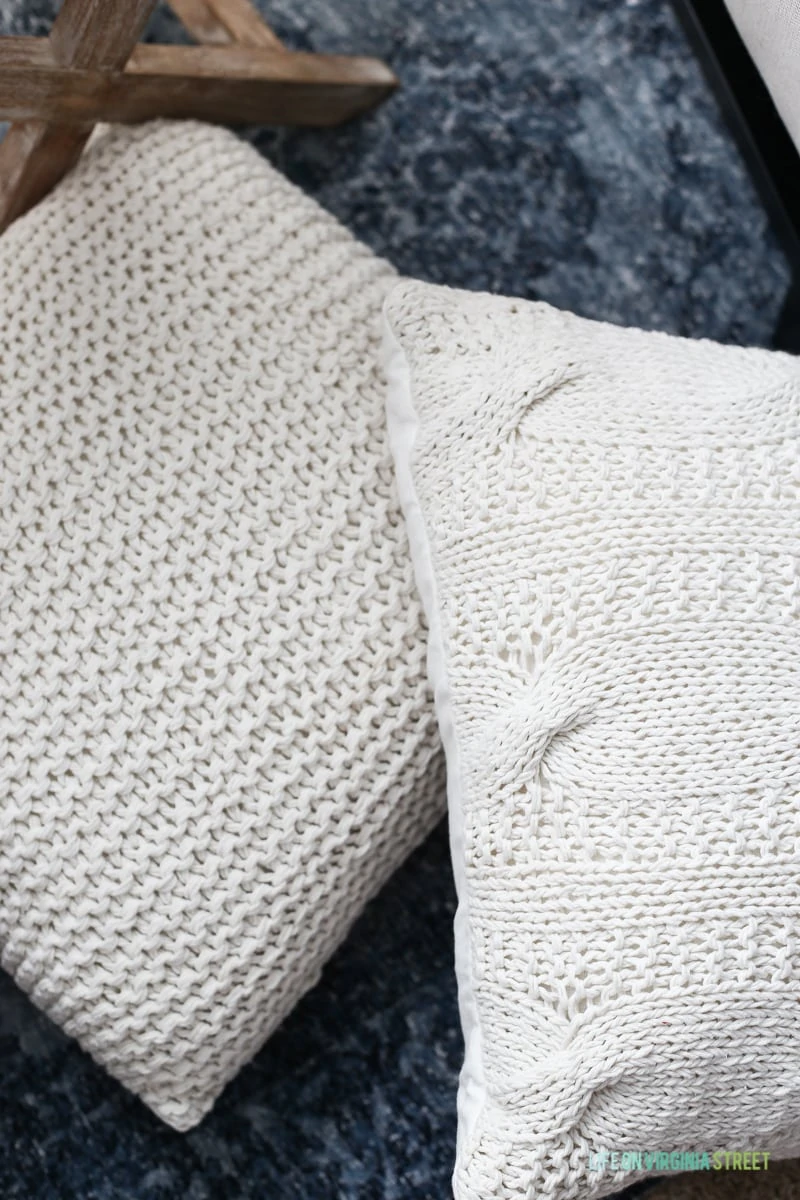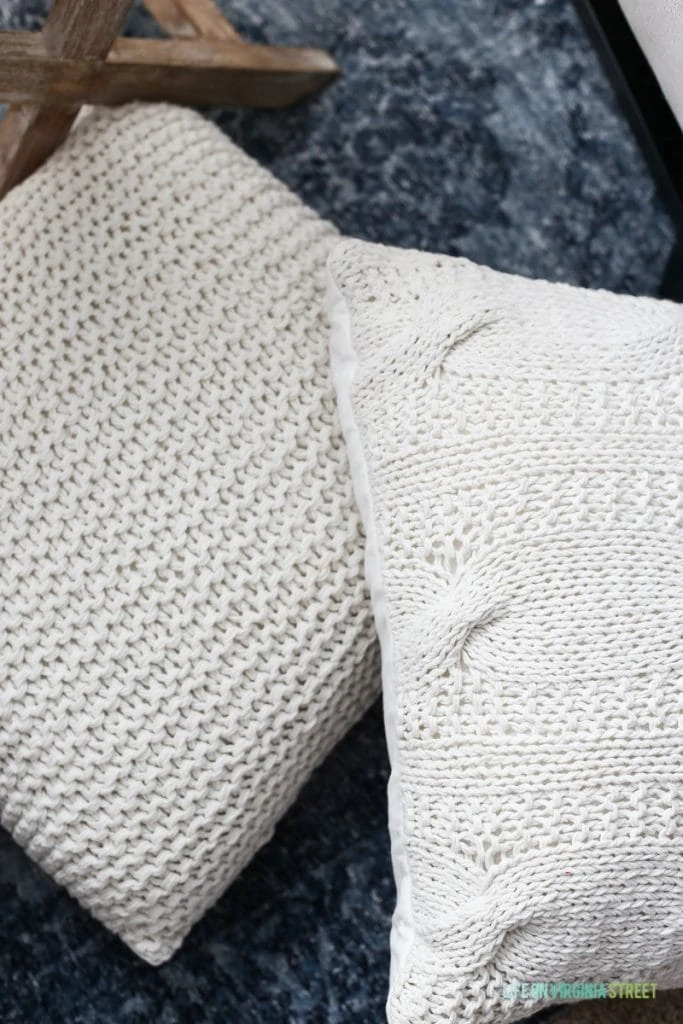 Use a Mix of Finishes
Although this particular look is fairly neutral, it doesn't fall flat because there are a mix of finishes. The linen fabric on the chair, the whitewashed wood side table, the glass from the lamp and the jug, and the weave on the pillows. Each item brings a different texture and finish to make the overall look appear much more expensive and interesting.
I found this lamp at Gordman's and thought it was the perfect addition to the setting. I loved the hammered glass in combination with the linen shade. It reminds me of much pricier versions I've seen in the catalogs for $150-$200.
I also think every room needs a bit of green somewhere and Gordman's has an excellent selection of faux greenery to choose from. I'm obsessed with these balls (not sure what the technical term is) that come in a variety of shapes, sizes and textures. In addition to the ones I used in the image below you can see a larger, mossier version in the last photo in this post that I'm equally as obsessed with!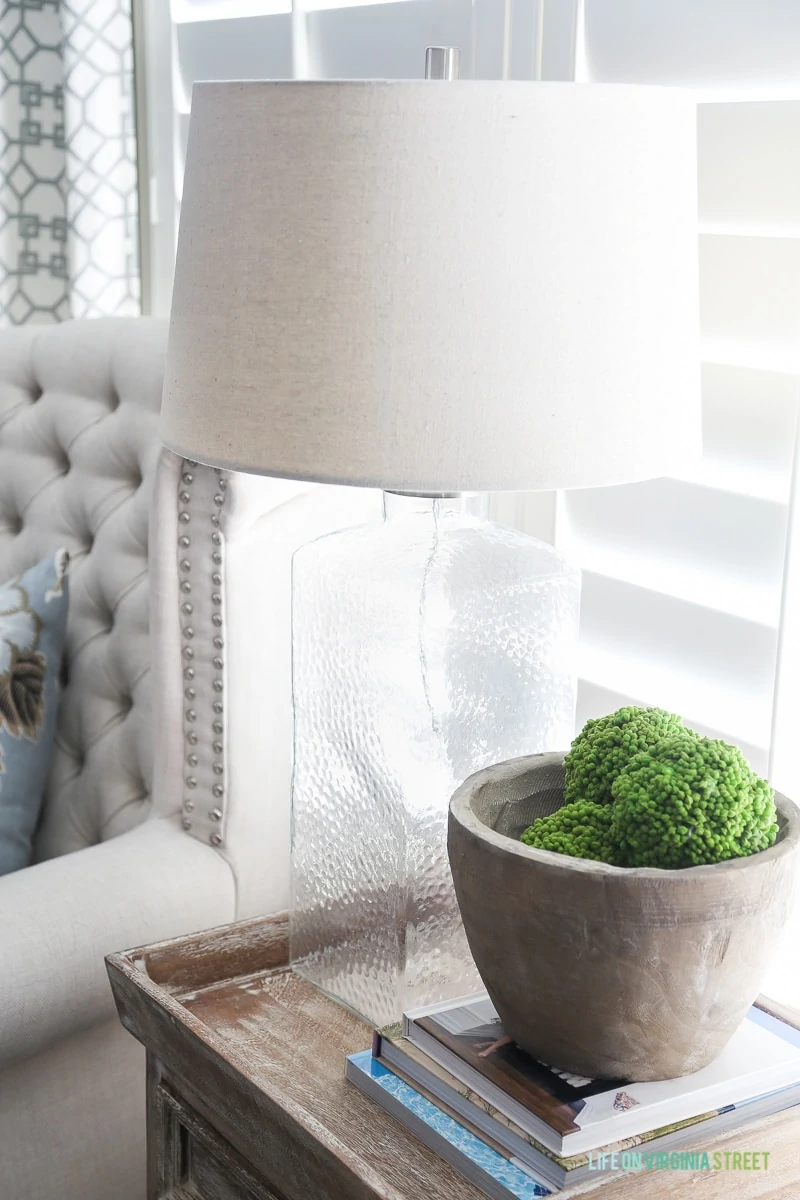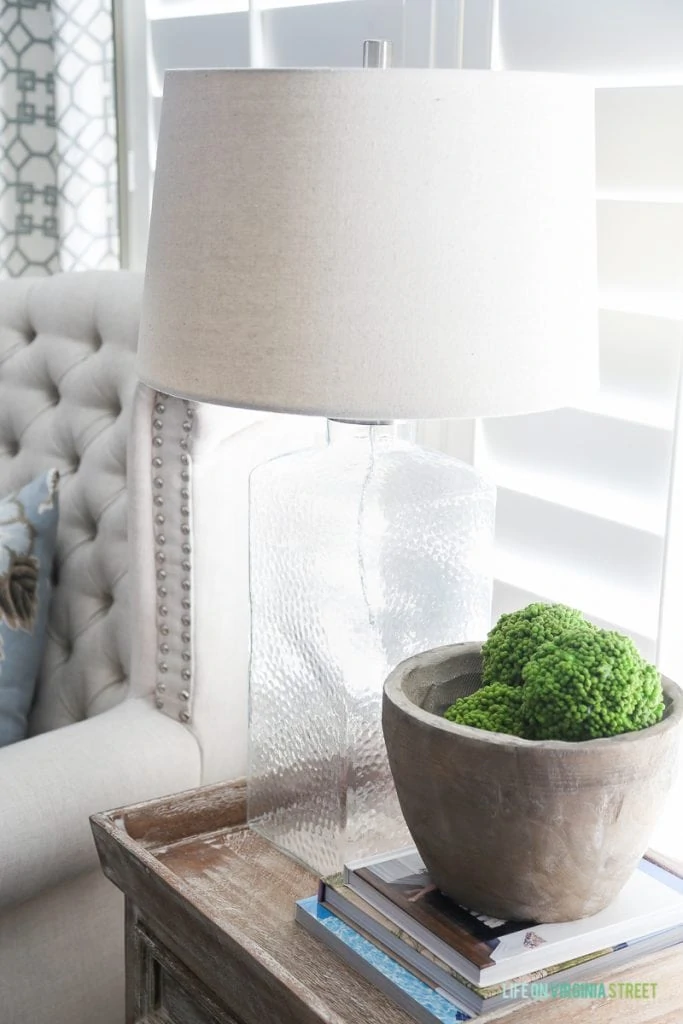 You know I'm a sucker for glass jugs, and this one stopped me in my tracks. Can you believe it was only $24.99 at Gordman's? It's huge! In the image below I moved it in front of the side table so you can see just how large it actually is! I've seen bottles this size (or even smaller) range anywhere from $75-200 so you can bet I walked very quickly towards it and threw it in my cart as soon as I laid eyes on it. I love that it adds some subtle color to the space, but again, doesn't take up too much visual space because it's glass.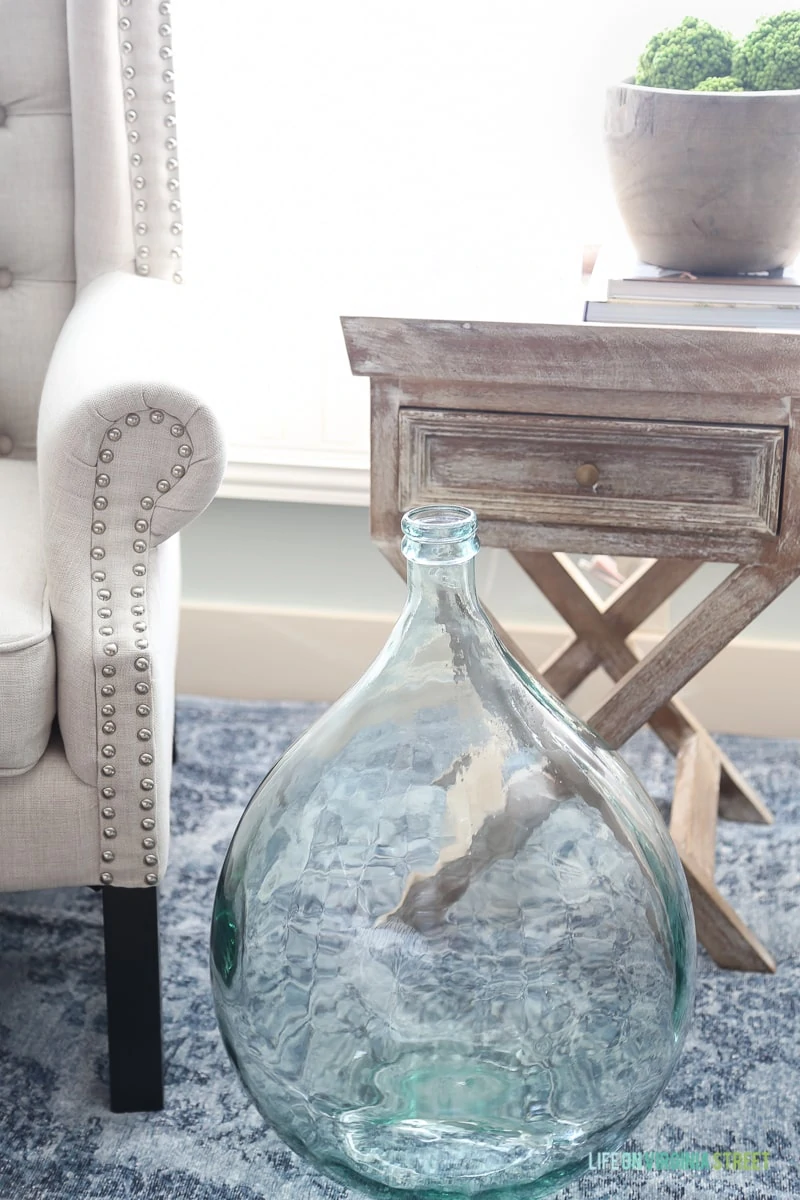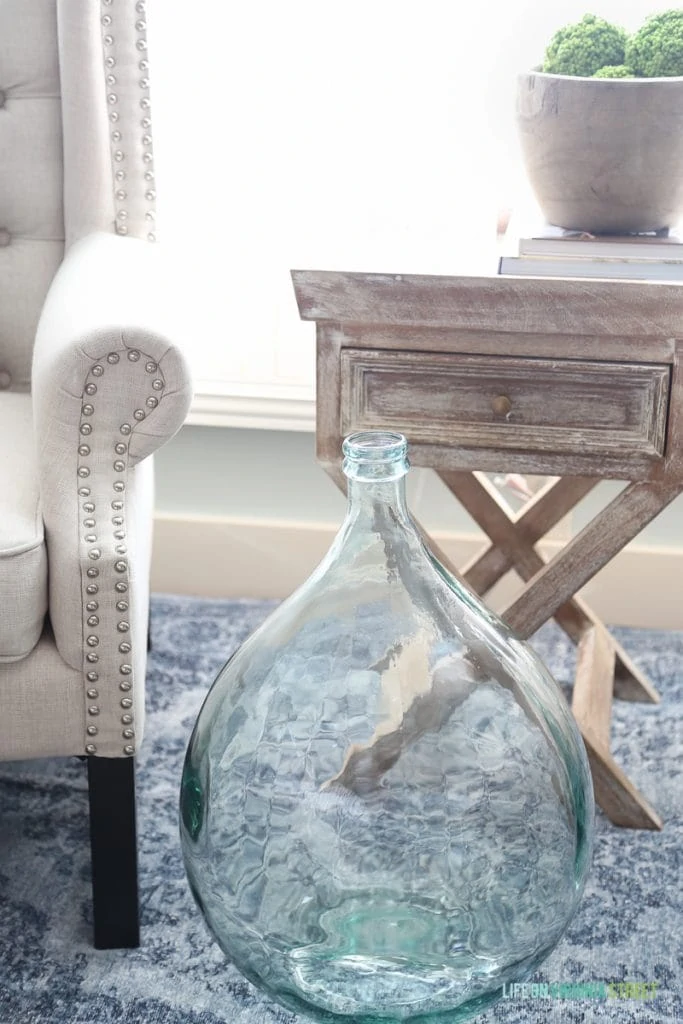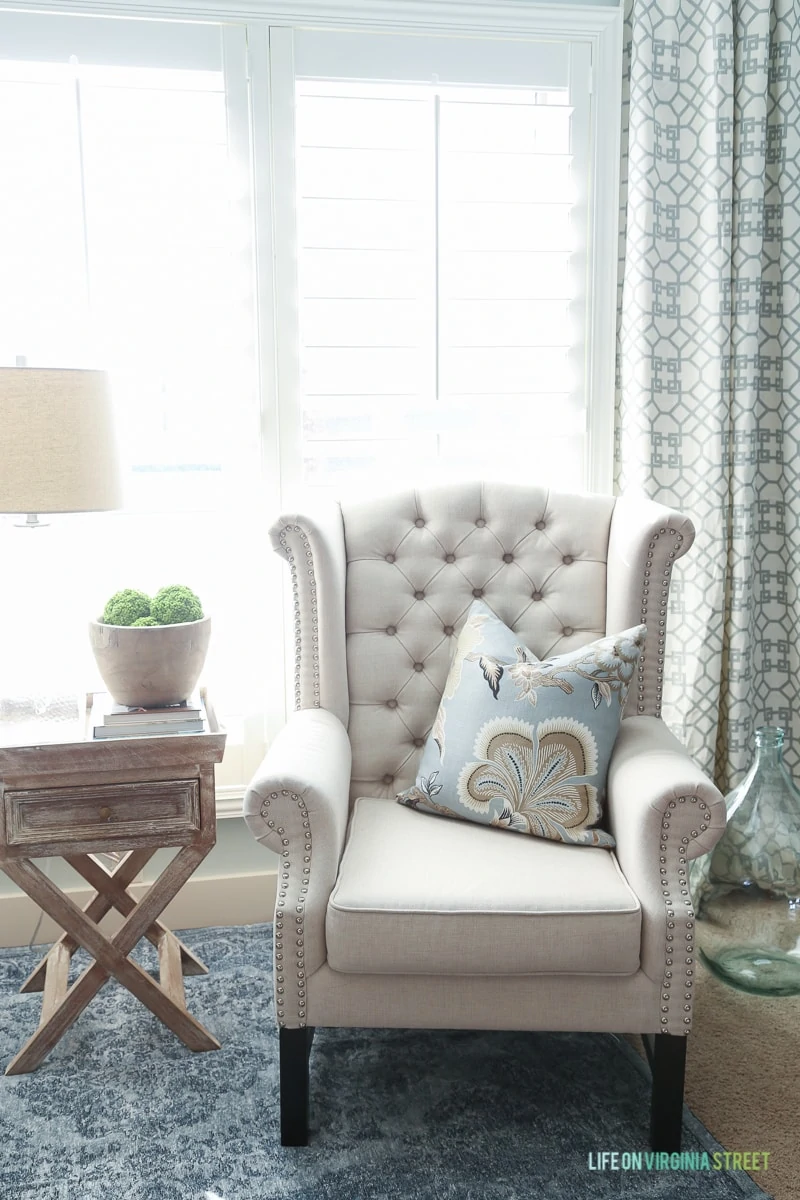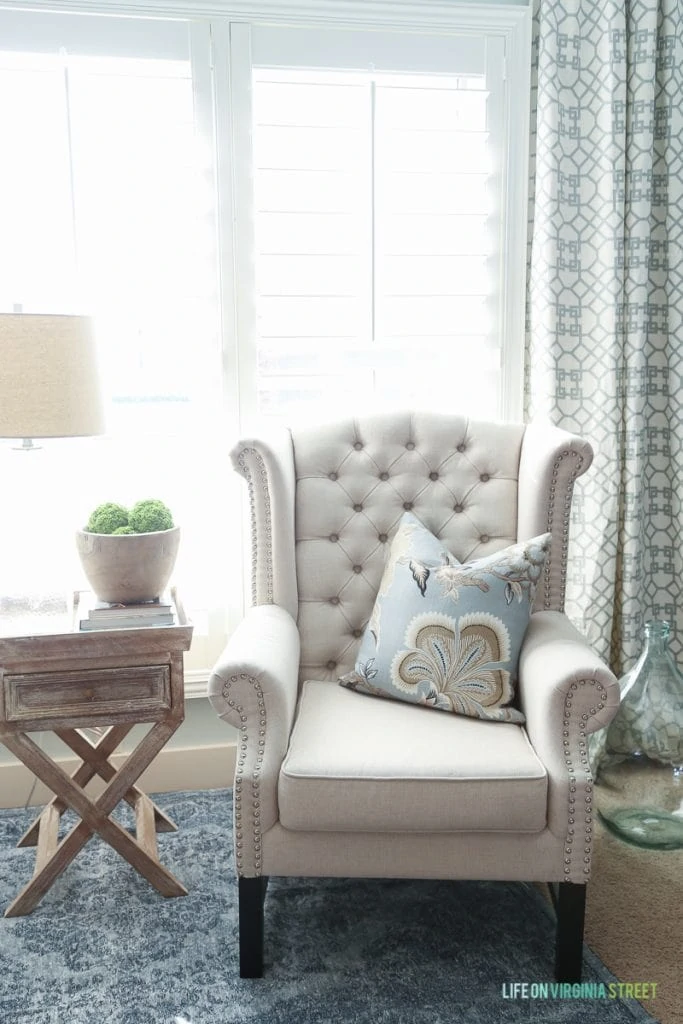 I hope you found these tips helpful!
We love this new sitting area! I'll be sharing even more of this space, all dressed up for Christmas, when I share our Christmas master bedroom tomorrow! The little sneak peak below is using all items from Gordman's as well. That driftwood tree is my favorite! But you can see that the same principles from above apply for holiday decor as well.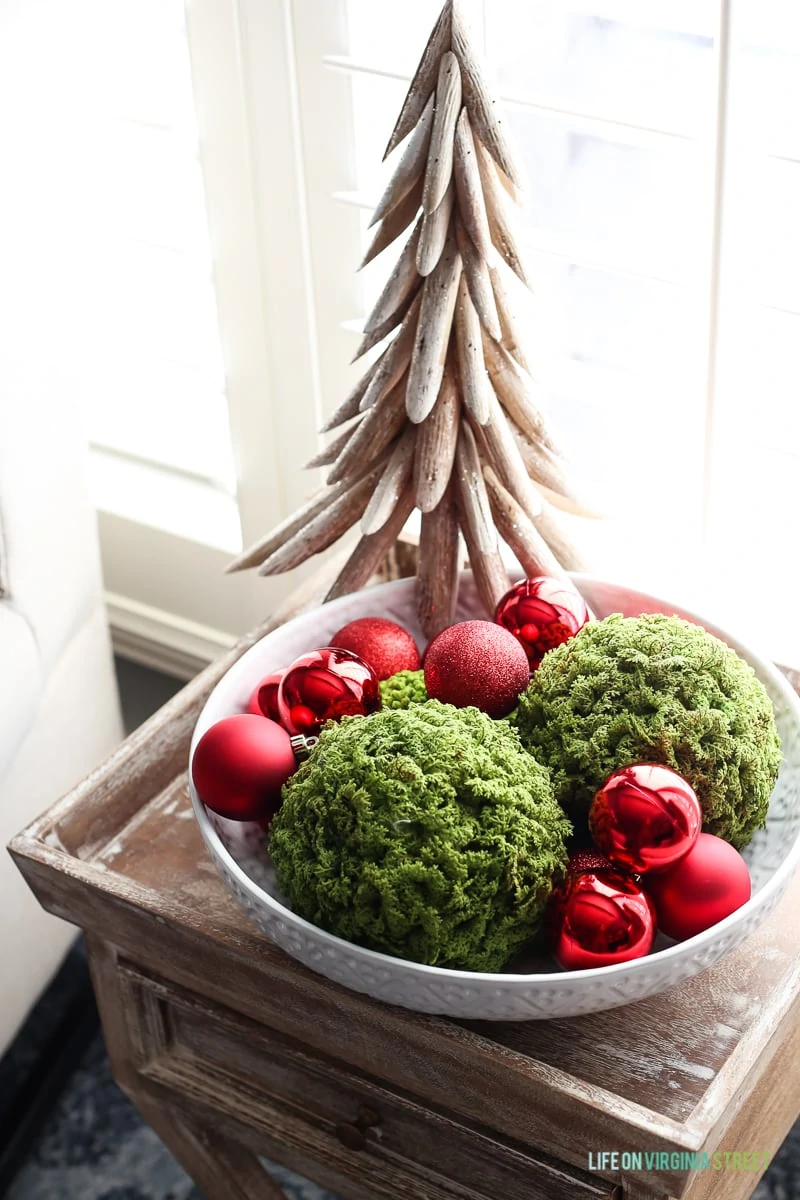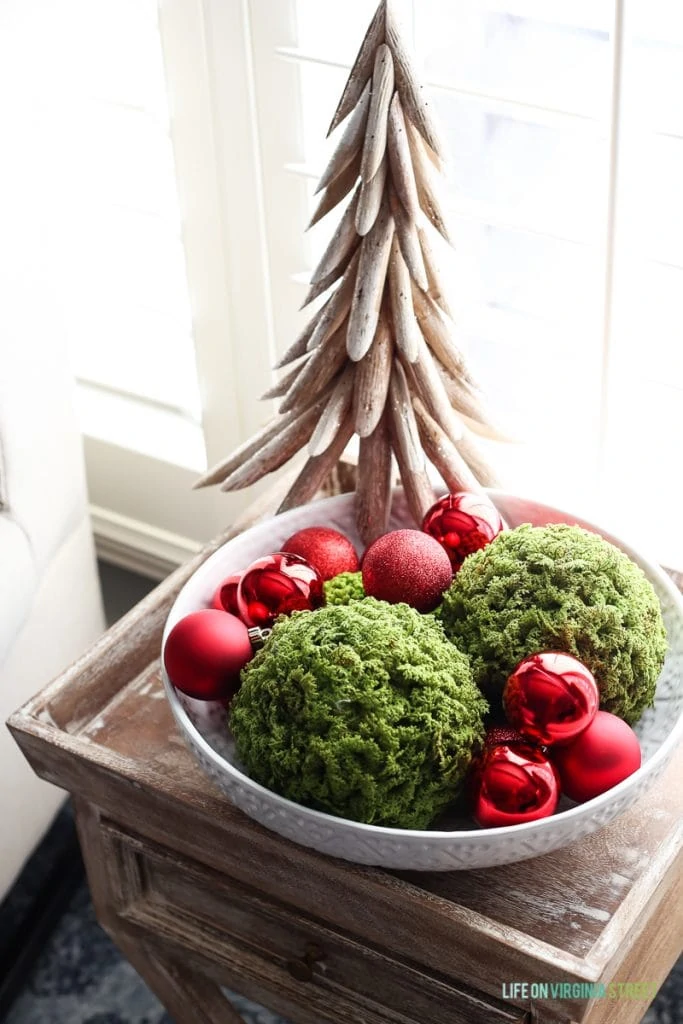 Thank you again to Gordman's for partnering on today's post!
If you would like to follow along on more of my home decor, DIY, lifestyle, travel and other posts, I'd love to have you follow me on any of the following:
Pinterest / Instagram / Facebook / Twitter / Bloglovin' / Google
disclosure: some affiliate links used