We decided this was a "no project" weekend (and by that I mean I only spray painted a table, two S's and sewed a pillow). The problem with these types of weekends is we tend to wander town with no purpose and end up buying things that probably aren't entirely necessary.
Case in point. We left the house today to run to Lowe's, Quizno's and to find me a new computer chair because the husband wants to confiscate the one we have for his office. What we got was a new couch, two giant living room chairs, two more structured chairs, an ottoman and a new clock. Yikes!
The good news is, we both LOVE the new funiture. We have been contemplating getting rid of our sectional for some time because when people come over, they never all want to sit on it (even though it would probably hold 6-8 comfortably because it is so large) so people end up standing or on the floor. Additionally, the velour-like fabric of our sectional leaves directional marks (like when you vacuum it – which we have to do with the cat hair).
Here is the new couch we got (chocolate brown linen) plus we got two of the cream/off-white linen giant chairs (almost the size of a loveseat), an ottoman in the same color and two more structured/formal chairs in the twig print that is seen on the pillows ~ we contemplated the rust colored loveseat seen in the background of one of the picture too, but opted for the bigger chairs. The photos are bad because they were on hubby's blackberry but you get the point. Our goal is to sell our sectional on Craig's List. And we had to snatch these up because I can literally never find anything I like when I go out looking and tend to settle on something that is okay. I can't wait until these new ones arrive in late August!!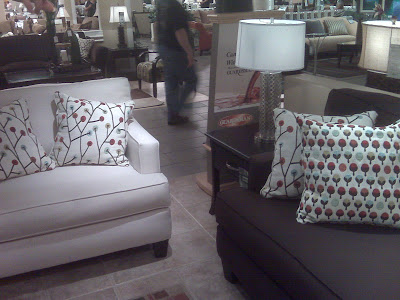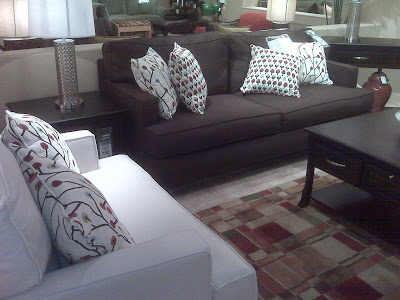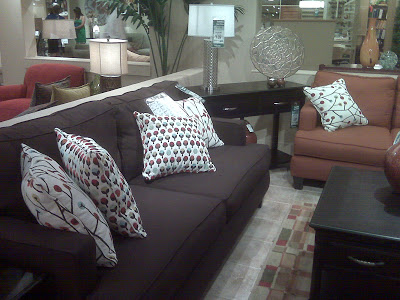 Here is the new clock we also got at Nebraska Furniture Mart (the first photo shows the room with our current sectional and the old clock). We have been needing a new clock, basically since the day we moved in, because the one we had was much too small for the wall where we had it. It may need to be hung a little higher (we used the same screw) but since this is a project-free weekend that will have to wait until later. I love the look of the new clock!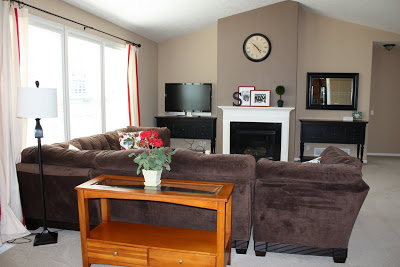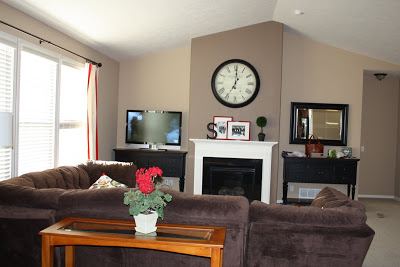 I could use a bunch more of these "no project" weekends, but my guess is the huband won't allow one for many months (or years) to come 🙂