I am excited to share today's post with you. Today isn't about the usual pretty images or home decor ideas. I'm sharing my favorite Christmas tradition that my family has continued for years and years! Our Christmas Eve fondue dinner is always a favorite dinner each year, and I'll be sharing some of our favorite food to cook and eat during this meal!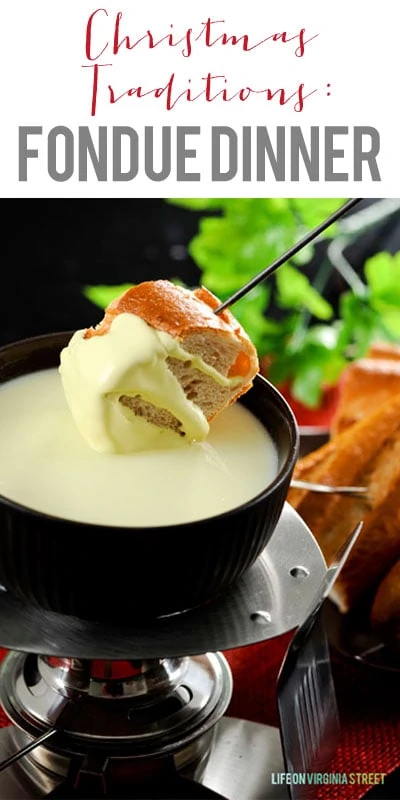 Christmas is by far my favorite holiday of the year. I love that it is full of tradition and family, in addition to Jesus being so present.
Every Christmas Eve growing up in Utah, my parents, brother and I as well as my aunt and her family would get together for a fondue dinner at my aunt's house. Our two families are different religions with different practices and beliefs, but on Christmas Eve we all celebrated together. After a delicious fondue dinner, we would go to church at my family's church for the annual candlelight service. My aunt and cousins usually joined us well, and then we made a tradition of following up the Christmas Eve service with a trip to Christmas Street in Sugarhouse to look at the lights. We'd all head home for the night and my brother and I would get to open one gift: which was always new pajamas. There is something so magical and uplifting about a tradition that goes by year after year, a night that I look forward to every single year!
Christmas Eve Fondue Dinner Favorites
The fondue dinner was always a favorite of mine because it was really the only time of year we ate fondue. As I'm older, I think part of the appeal is the length of the dinner. When you have to cook each bite individually, the process obviously becomes extended. But it sure made for some great memories! It was the one time each year where all of us would sit down at a giant table. The "table" typically consisted of several eight foot tables combined into a square shape.  Regardless of age, everyone could participate, laugh, and enjoy just being together. It may sound sappy, but it is very true.
With the fondue, we always use electric fondue pots for consistent heat. We usually have several pots of grease for the meat to cook in and then one for cheese. We typically have chicken, beef and shrimp. We also have several types of bread for the cheese dip and we have tried pretty much every veggie you can think of fried. Sometimes we even get creative and fry things like dill pickles. It's a thing!
We always polish it off with a dessert fondue, which is probably my favorite!  We typically have chocolate and caramel in the fondue pots and then dip in various fruits and angel food cake. I think the caramel/pineapple combo is one of the family favorites. Although, the year my mom made bananas flambé was a huge hit with the kids, and really the adults too! Nothing like a little fire to add to the party ambiance.
Thankfully, this tradition still occurs and when my husband and I travel to Utah for Christmas it is always so fun to be a part of!
Do you have a Christmas tradition you cherish and want to ensure is passed along through the years? If not, hopefully you'll find some inspiration along the way with this tour and will create some of your own new traditions!
If you're looking for some Christmas decor inspiration, check out my Christmas Home Tour, which also links to many other gorgeous tours. You'll be busy all day 😉 Thanks for stopping by!
If you would like to follow along on more of my home decor, DIY, lifestyle and other posts, I'd love to have you follow me on any of the following:
Pinterest | Instagram | Facebook | Twitter
disclosure: affiliate links used