Here is the disaster after I attempted to make cheesecake which is my significant other's favorite dessert!
As you know, I never cook. Today I was off work and we were invited to my sister-in-law's for dinner since the husband's parents are in town. She asked if I could bring dessert so I decided a few days ago I would make a cheesecake (the husband's favorite dessert) – completely from scratch. I found this amazing recipe for Caramel Macchiato Cheesecake. I bought all the ingredients last night (along with a spring form pan) and was all set. I was up by 7:00 today to get the baking process started (total time required is 10 hours).
Things were going so smoothly until hour four – the cheesecake was at room temperature finally and needed to be moved to the fridge to chill until it was time for serving. As I was carrying it the bottom of the spring form pan fell and the whole cake splatted on the floor. If it weren't for my blog I may be in a mental institution right now – I freaked out for 3.5 seconds and then ran to get my camera before the sleeping cats found the cake.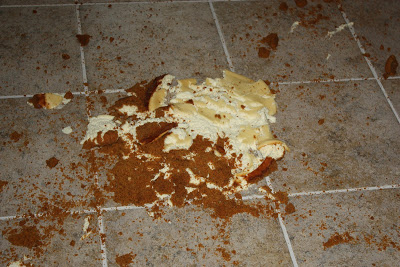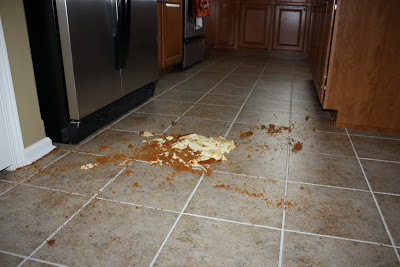 I may be baking-naive but isn't the bottom only supposed to come out when you unlatch that lock on the side of the springform pan?!?
I scooped up the top layer from the floor and then called my husband and told him he still has to eat some of the cheesecake. That's what husbands are for right? I still cannot believe this happened – so sad! It actually tastes REALLY good. Think I can still serve it like this tonight? 🙂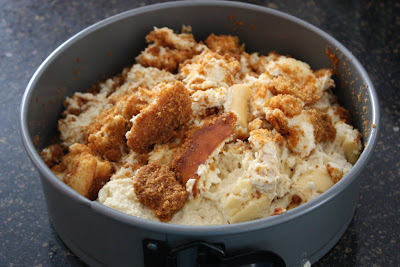 Thank heavens for Cheesecake Factory – the husband is going to stop and pick up dessert on his way home from work. That'll teach me to try baking again…