Thank you to hayneedle for partnering with me on today's backyard pool reveal!
I can't believe this day is finally here! Over the past six months, we've completely transformed our backyard from nothing but grass to an oasis in the Midwest. Today I'm finally going to share our backyard pool reveal!
Today I've teamed up with hayneedle to show you the styled space and the complete transformation! In addition to the styled reveal, I'm also over at the hayneedle blog sharing tips for having the perfect staycation at home. With that being said, my husband and I have both decided traveling vacations may now be optional, and backyard stay-cations will be a must going forward!
If you're new around here or have missed my other progress reports, you can get up to speed here:
A Pool + Backyard Update | Progress: Week 1 | Week 2 | Week 3 | Week 4 | Week 5 | Week 6 | Week 7 | Week 8 |Week 9 | Week 10 | Week 11 | Week 12 | Week 13 | Week 14 | Week 15 | Week 16 | Week 17 | Week 18 | Week 19
As a reminder, here's where we started: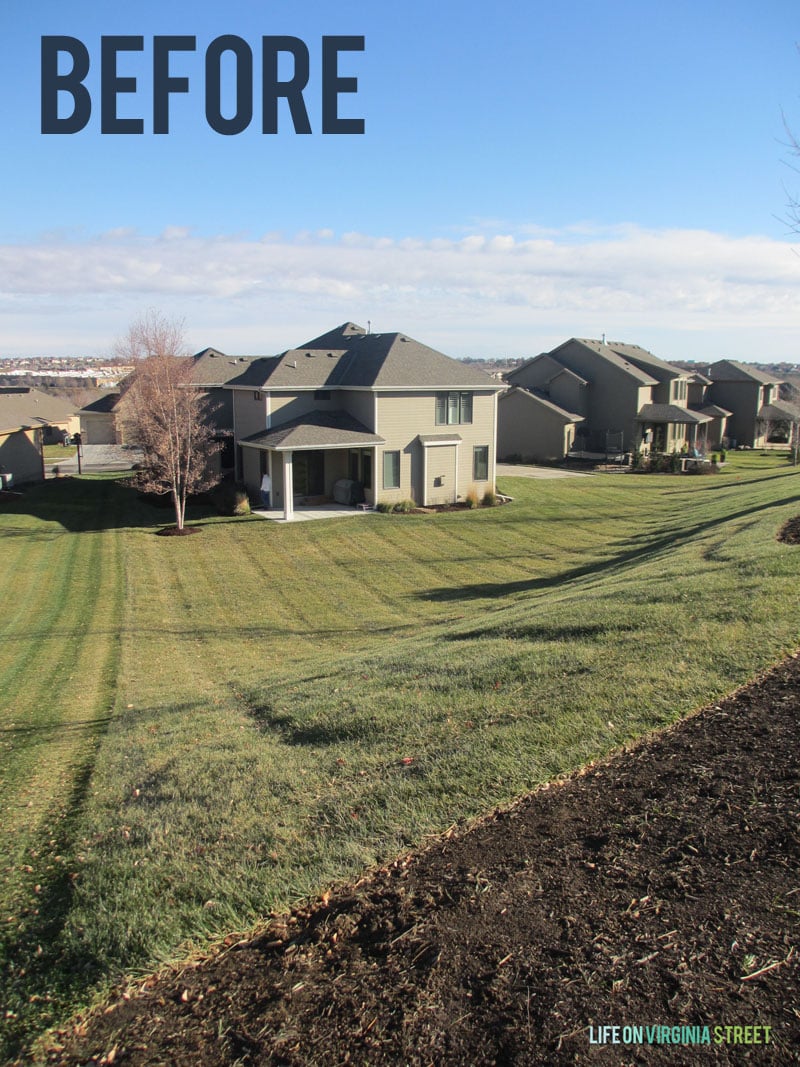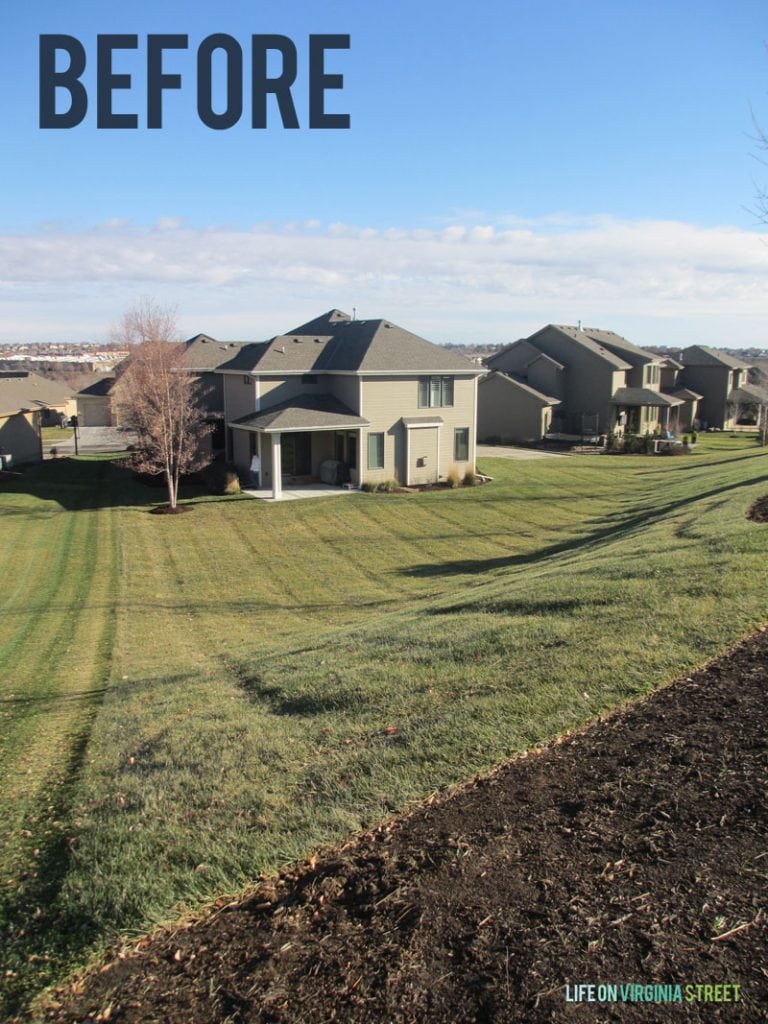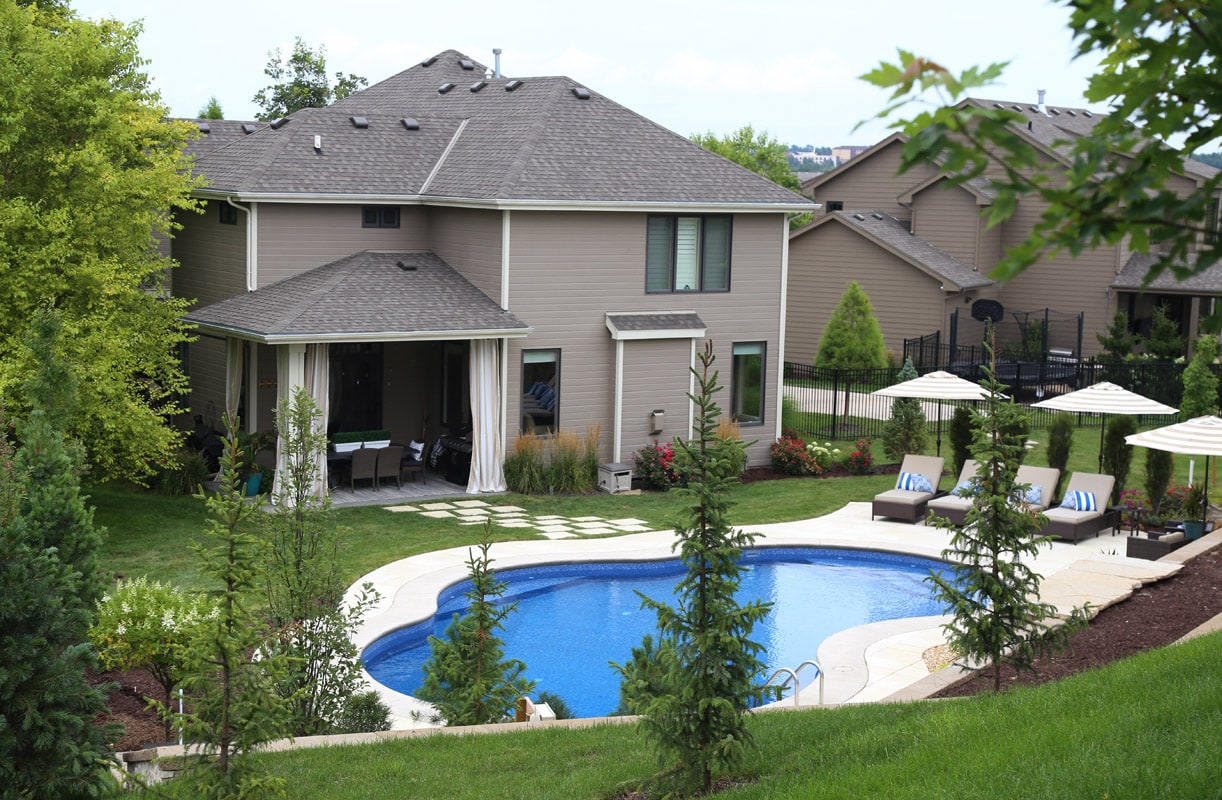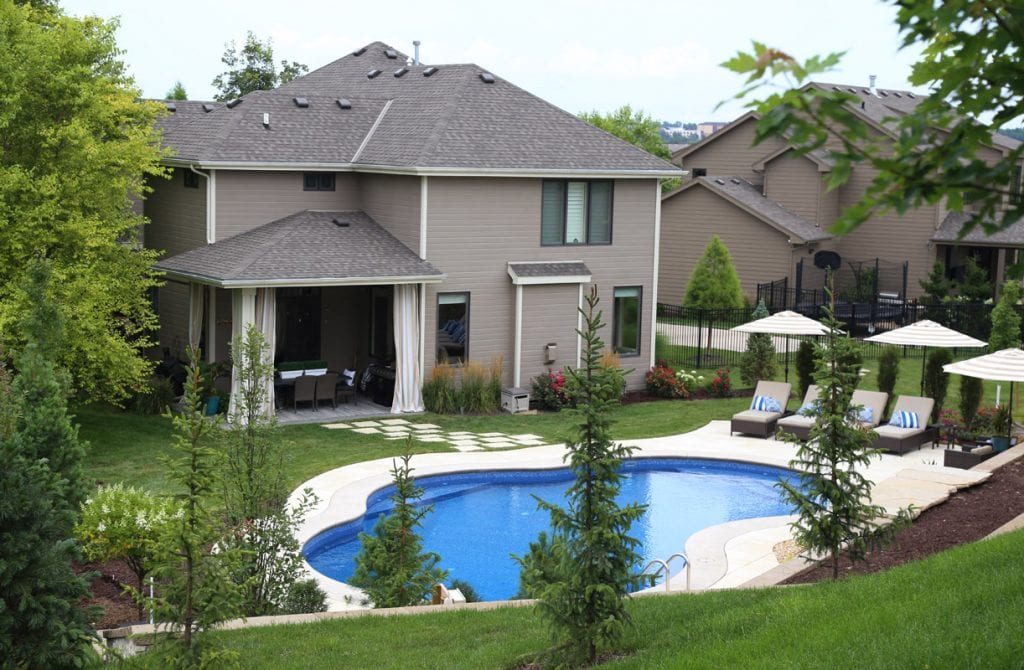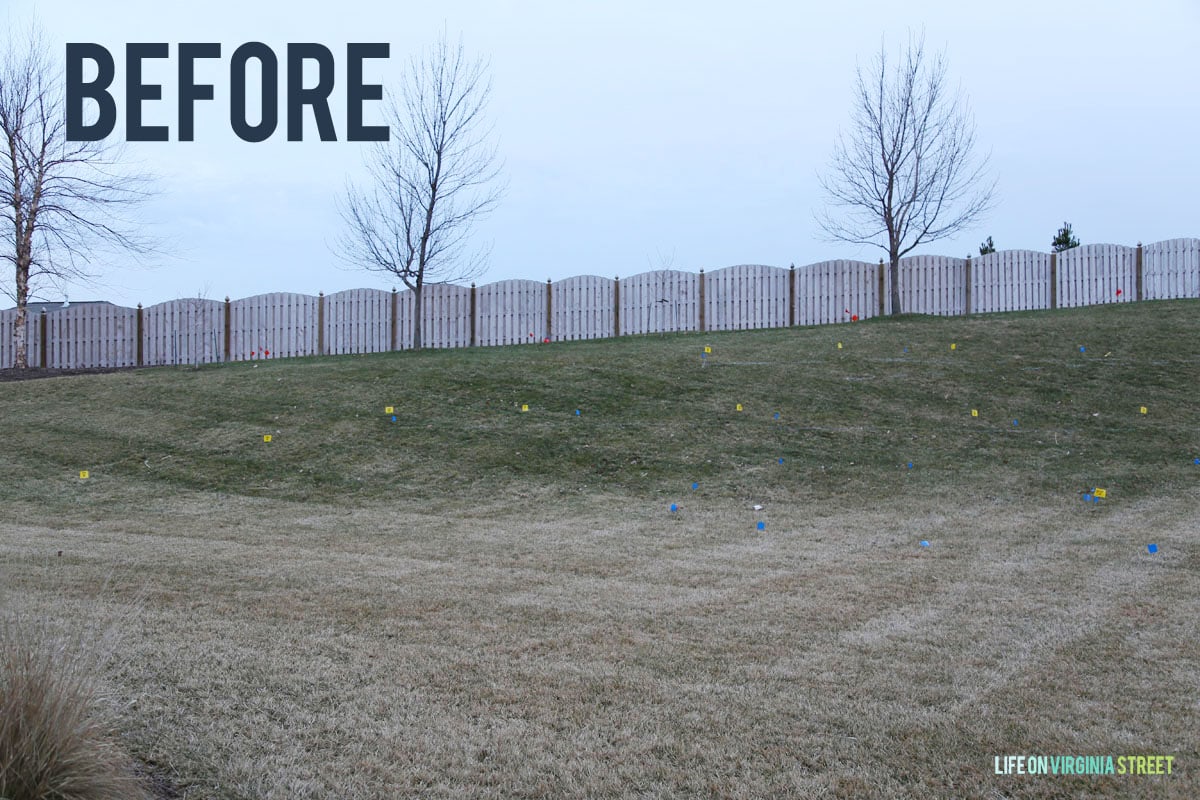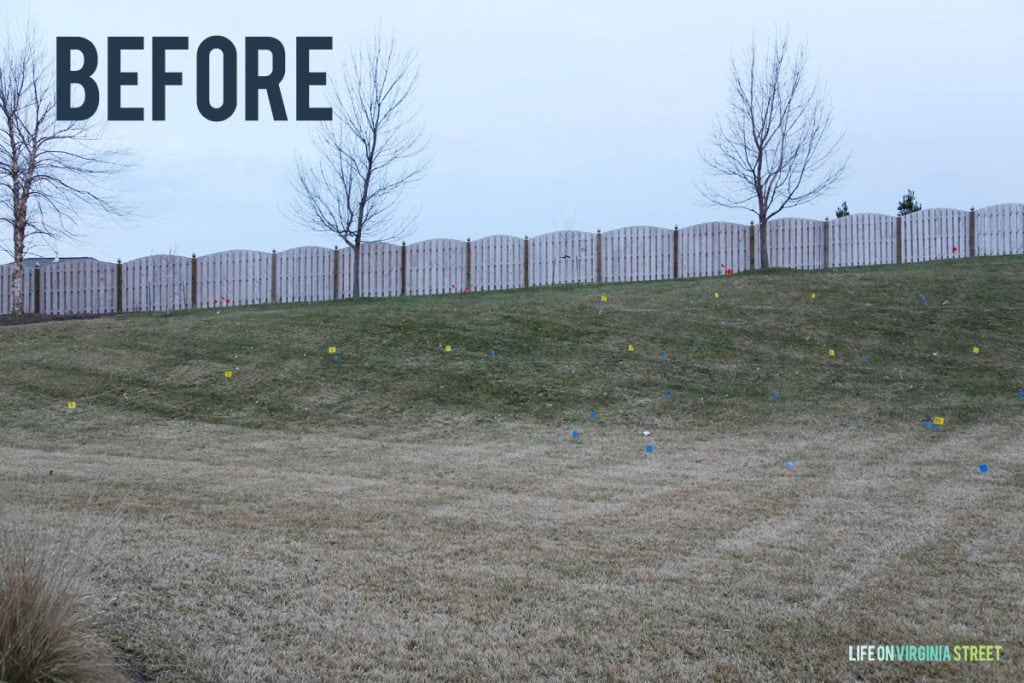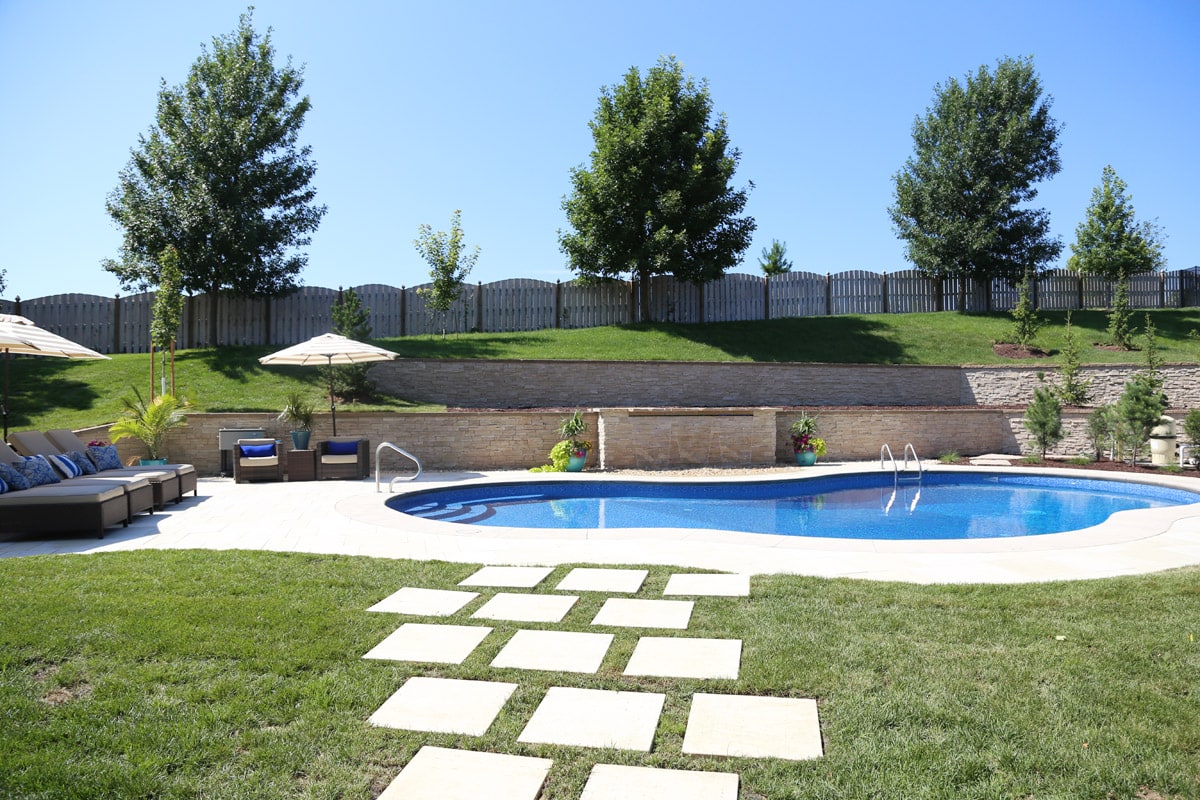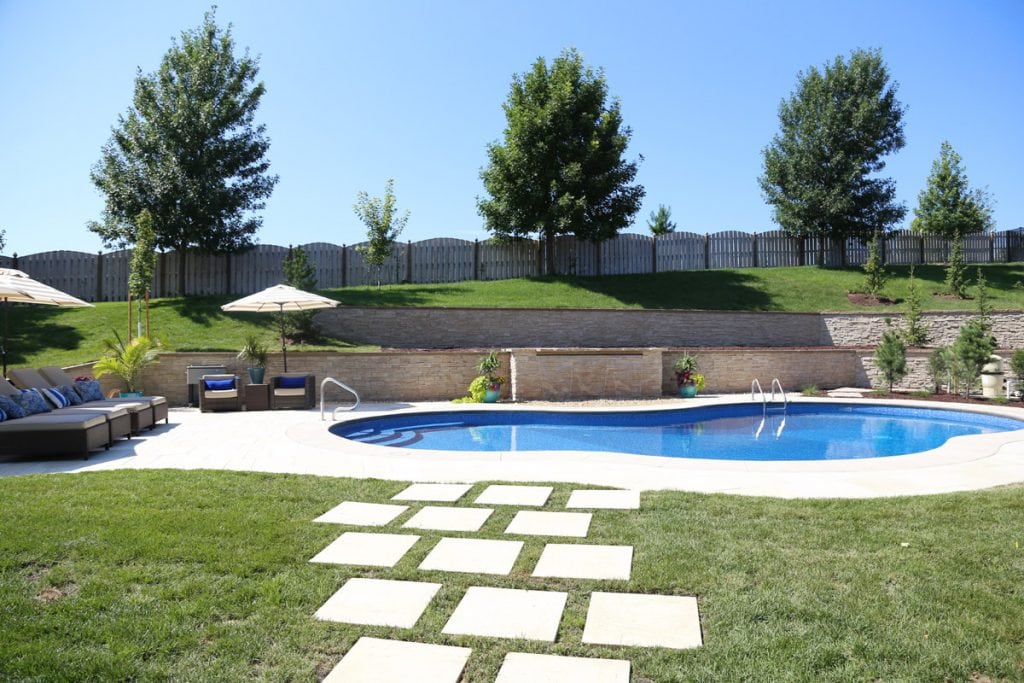 Can you believe the transformation that has occurred over the past 20 weeks? For us, it's hard to believe this is even the same backyard. Now, let's move on to all the details.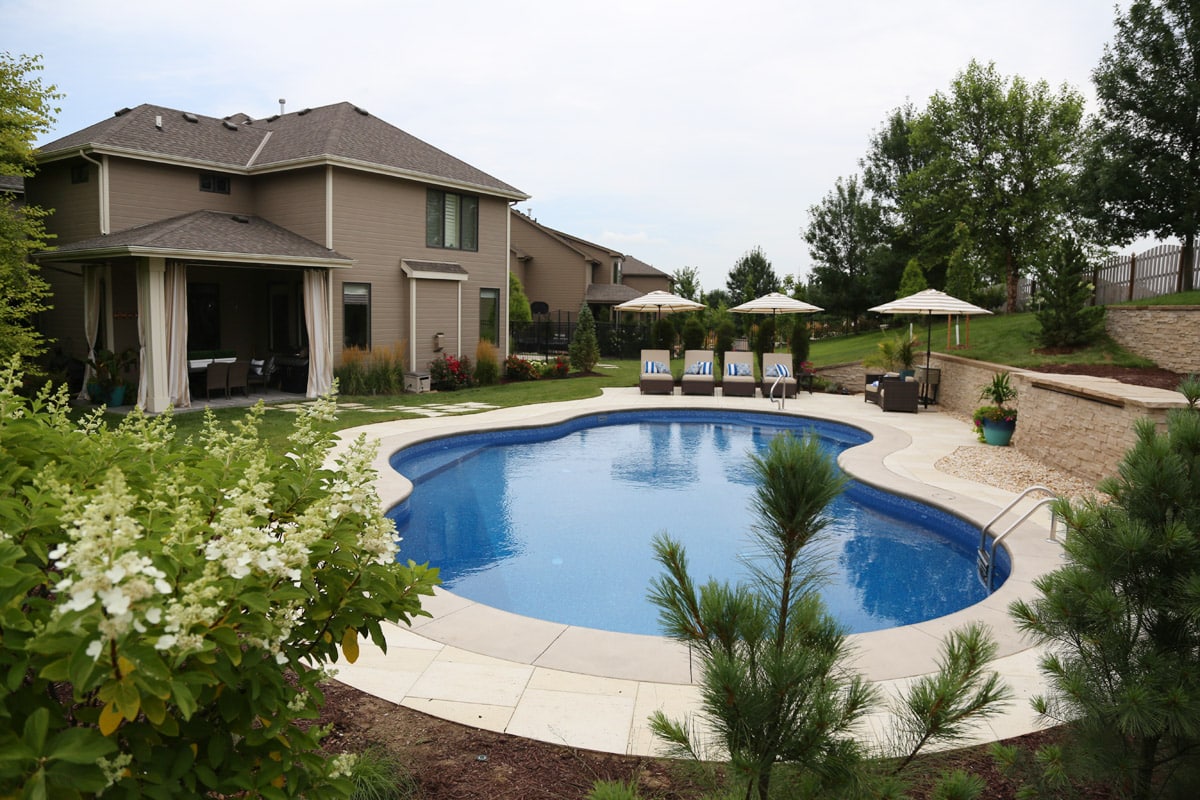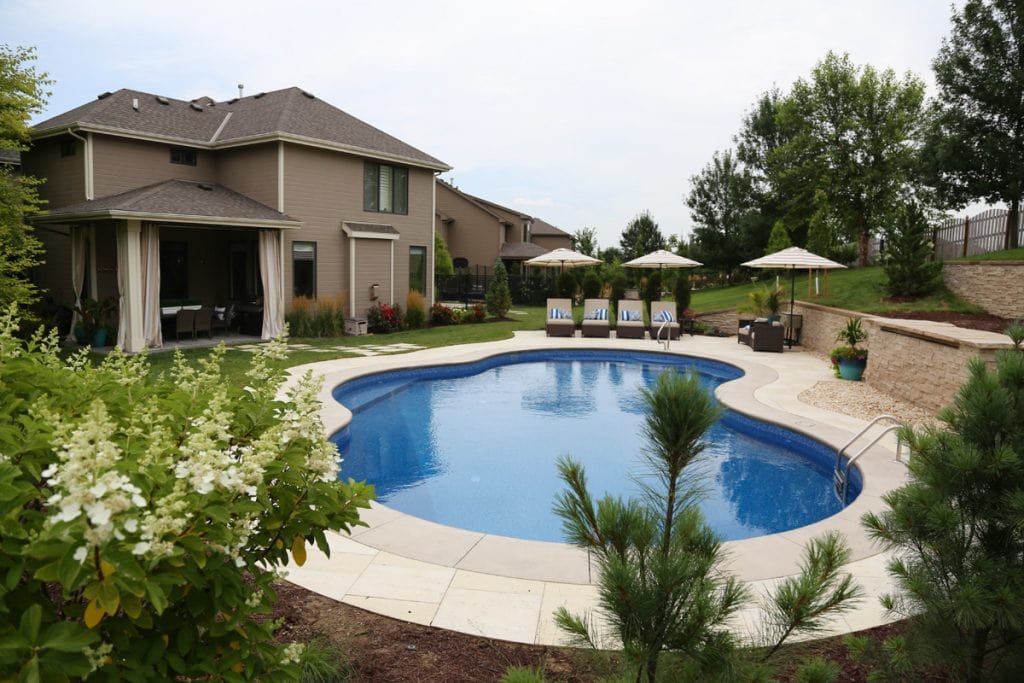 THE POOL DECK
I treated our backyard furniture much like I would with our interior furniture. Neutral bases with colorful accents. We are obsessed with our crazy comfy chaise lounge chairs and our striped patio umbrellas are getting serious use with the Omaha heat lately.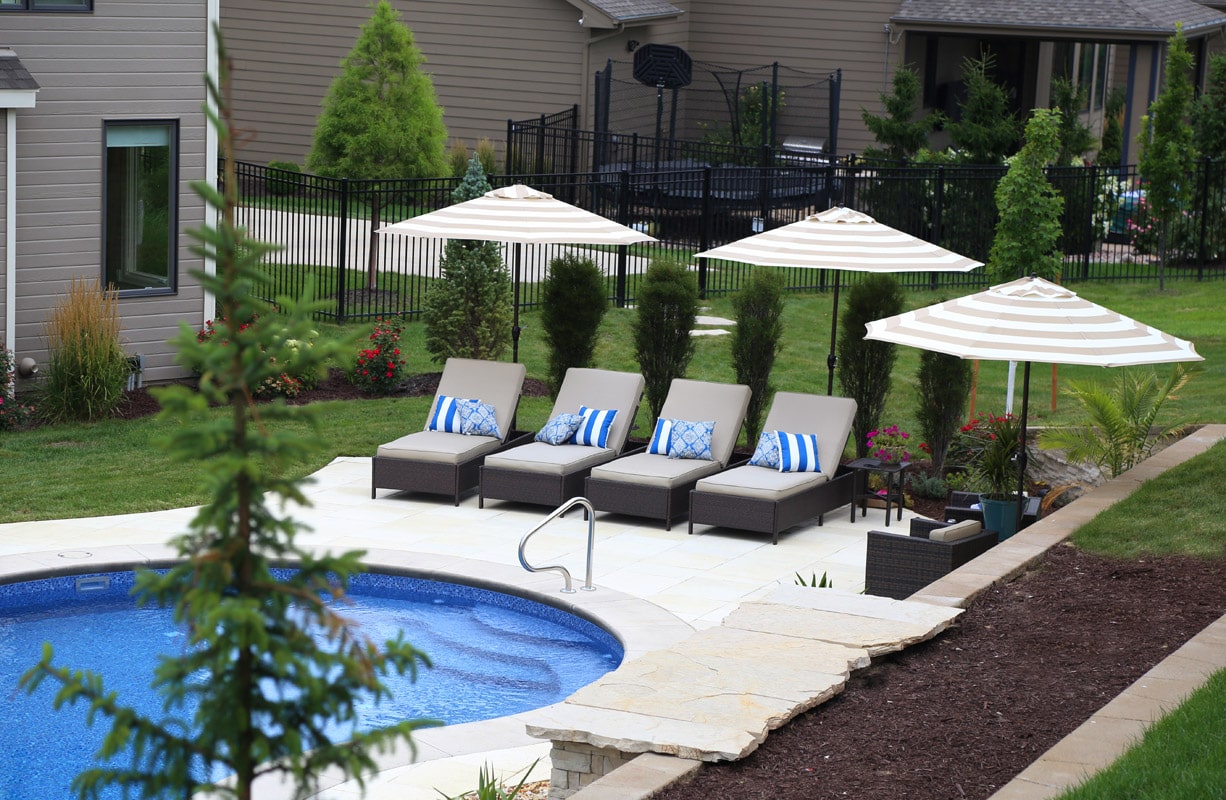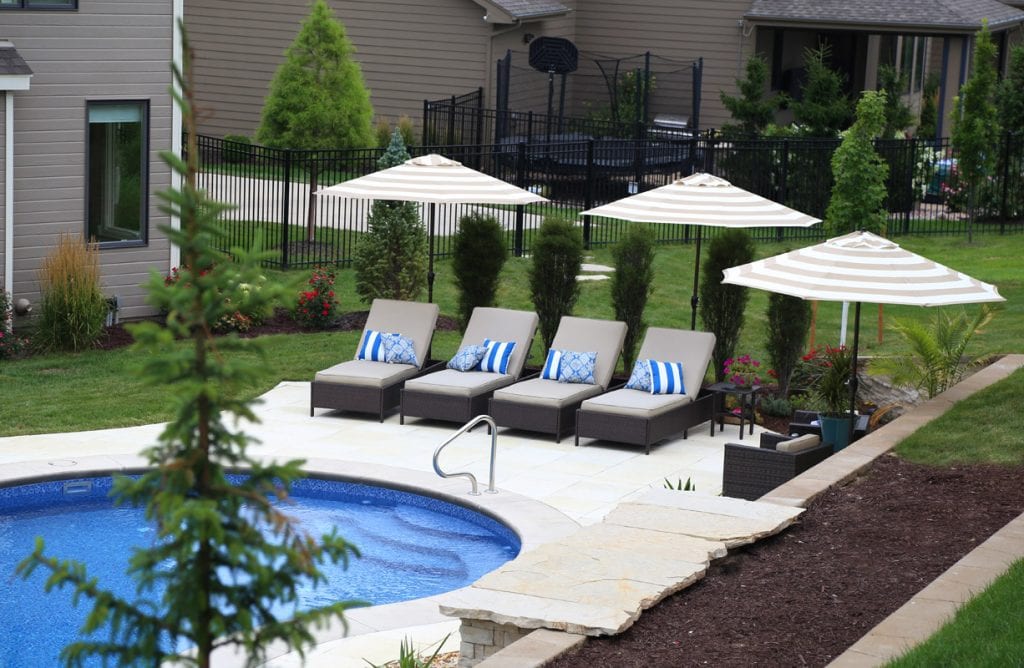 The bold blue throw pillows (I used this striped version and patterned version) and bright flowers and palms help liven up the more neutral elements. I love to go with neutral bases because it's easier to swap out the colored accents for a different look down the road. I also added some beach-like whimsy in the form of this sculptural clamshell filled with beach glass.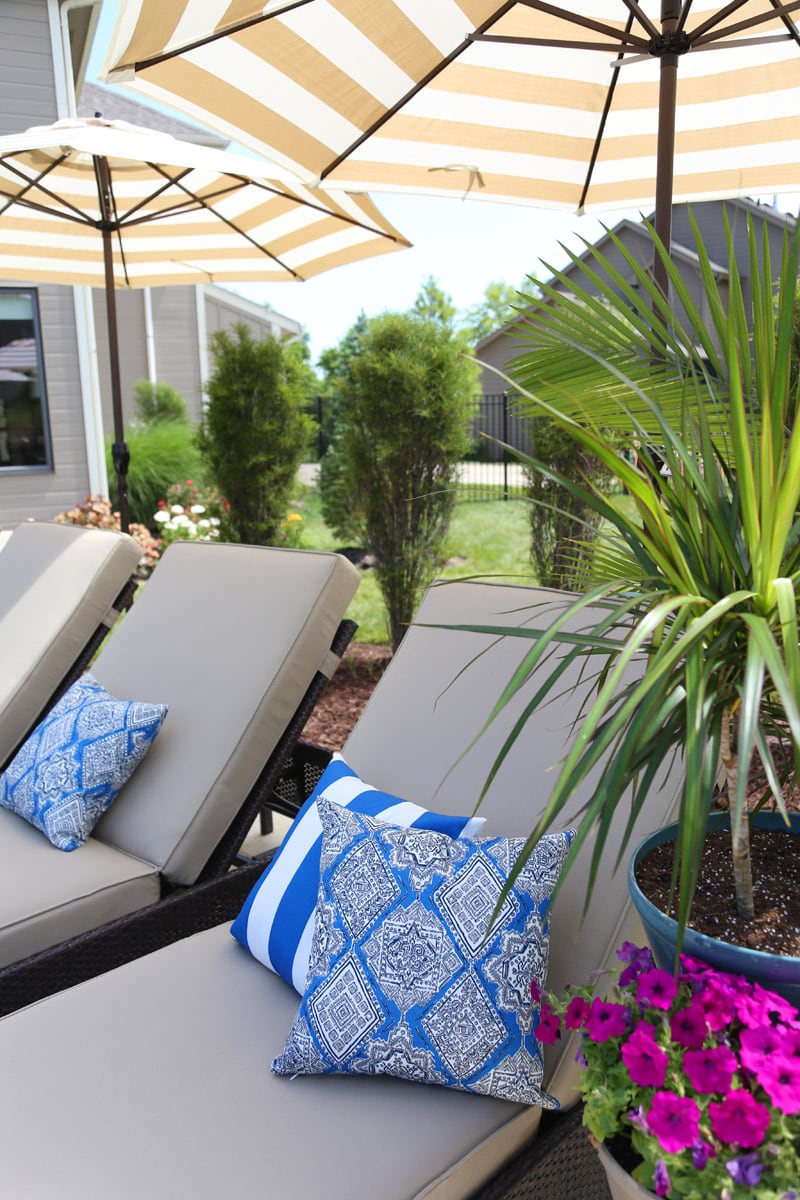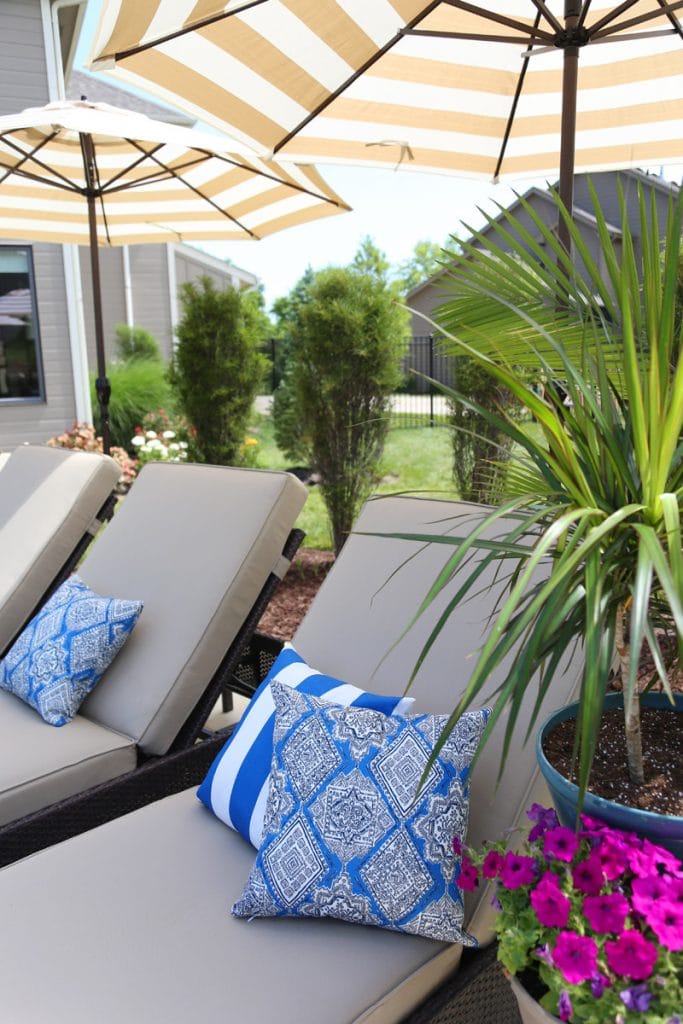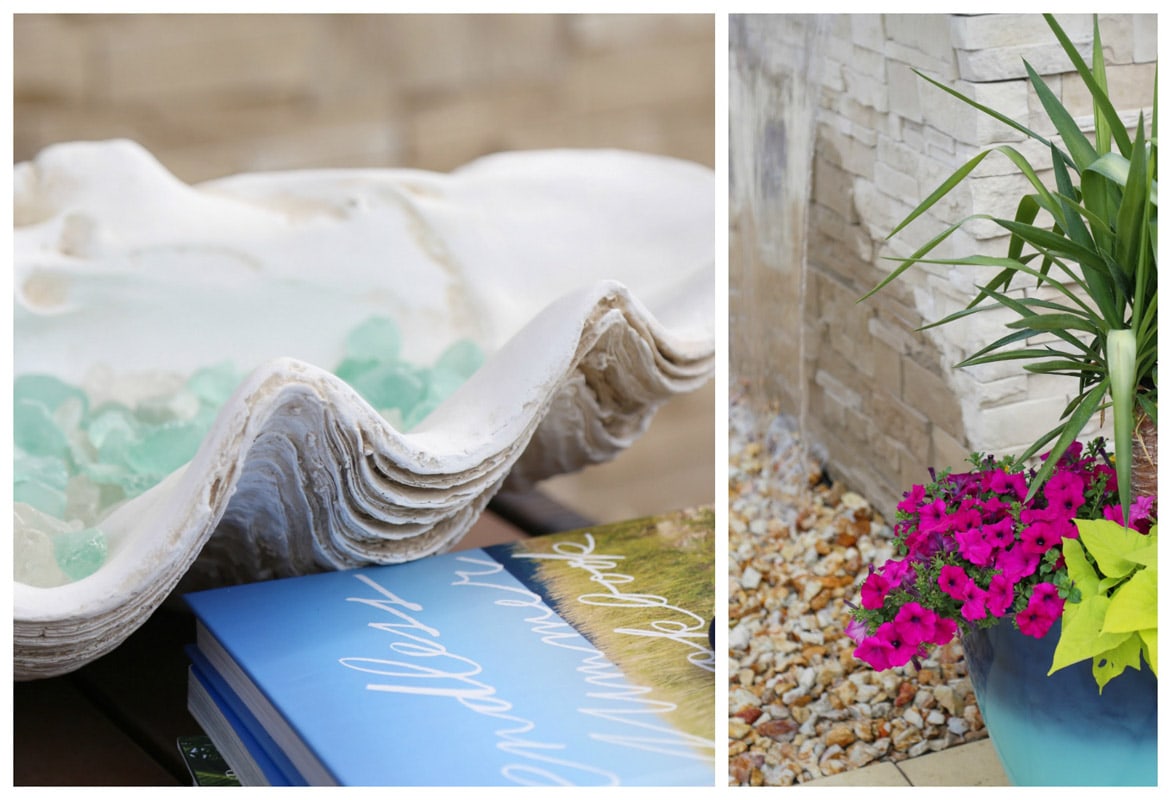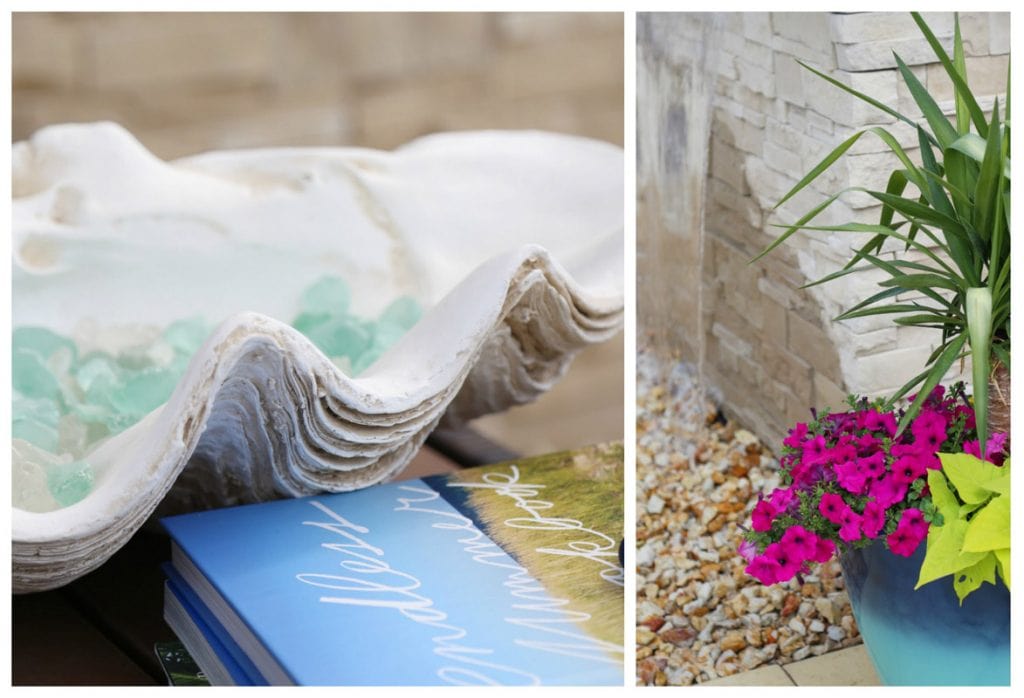 Since we now spend so much time outside, we are obsessed with this rolling patio cooler. I've left ice in it for well over a week and it hasn't fully melted, even in the hot summer sun. It's super handy to not have to run inside for fresh, cold drinks all the time. I also love that it has a built-in bottle opener and space on the bottom of the cart to store food or other items. I've recently found myself going outside to curl up in one of the chaise lounges with a favorite drink and book, even if I have no intentions of going in the pool. I just love being outside and in this space!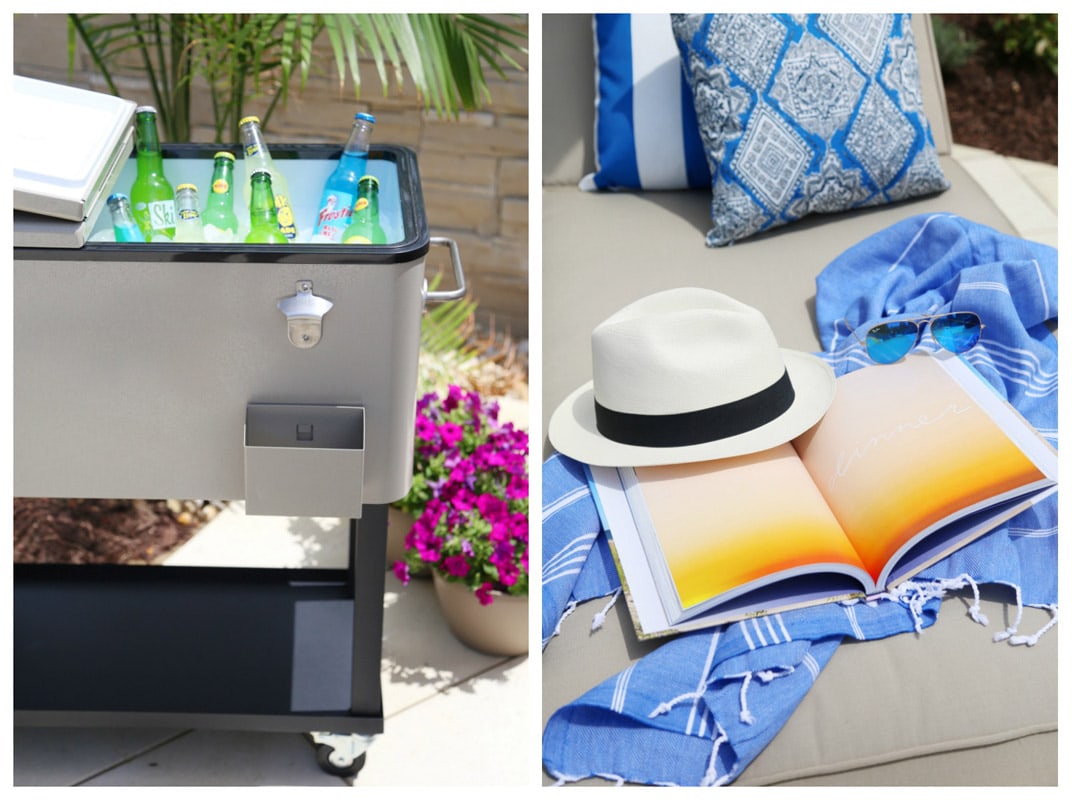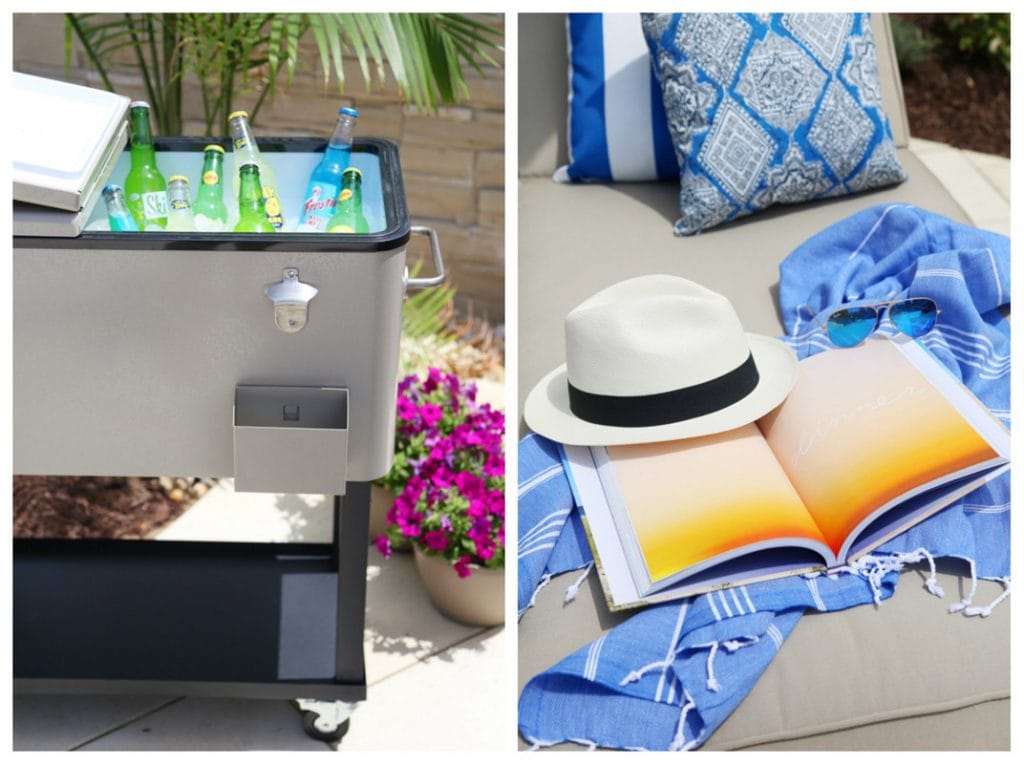 We added this little conversational area off to the side of the lounge chairs, using the Belham Living Pavani Wicker Chat Set. The Coral Coast Striped Umbrella casts the perfect amount of shade to allow for more enjoyable hours in the hot summer sun. This area also serve to function as a secondary space for reading and relaxing! I also love that the table doubles as a storage unit so I can store my throw pillows inside when its windy.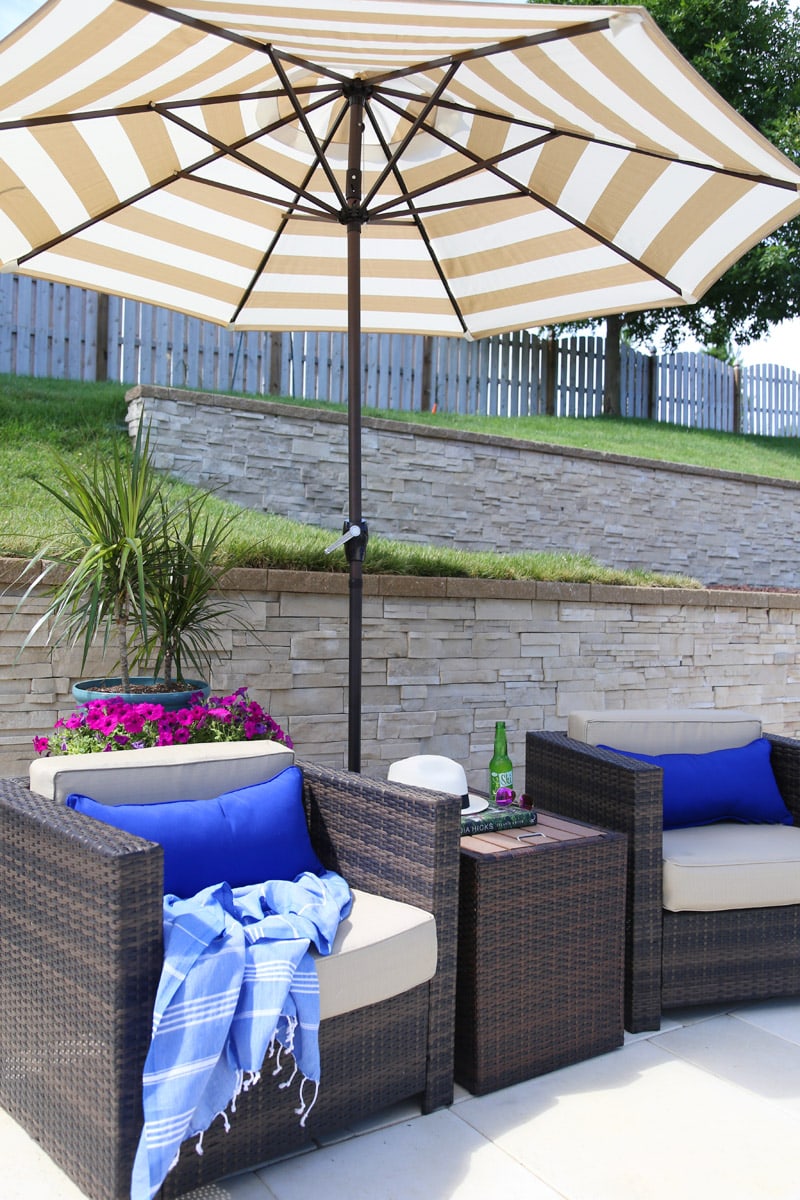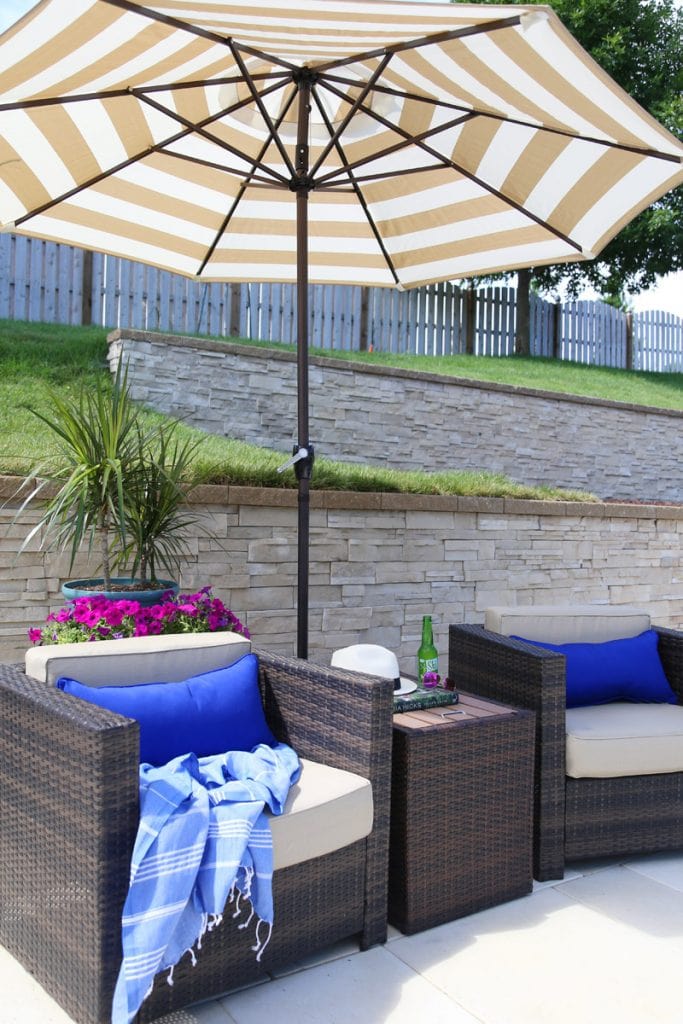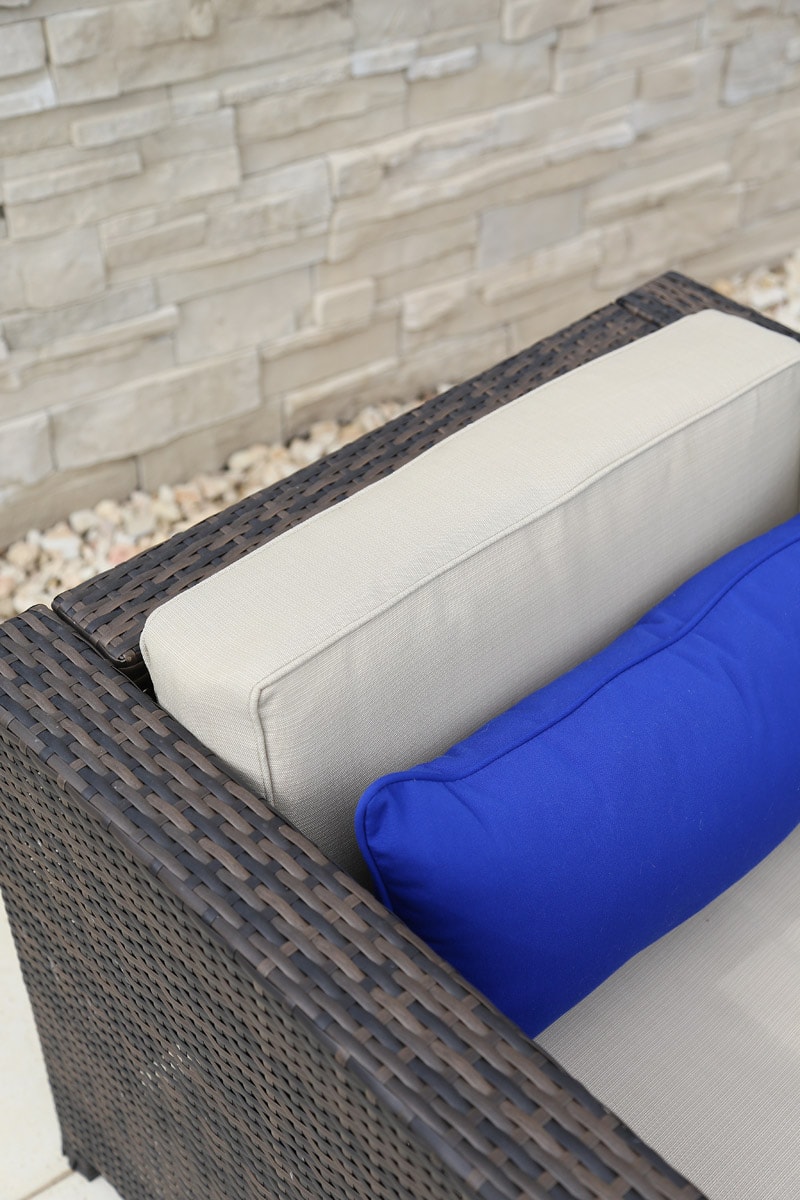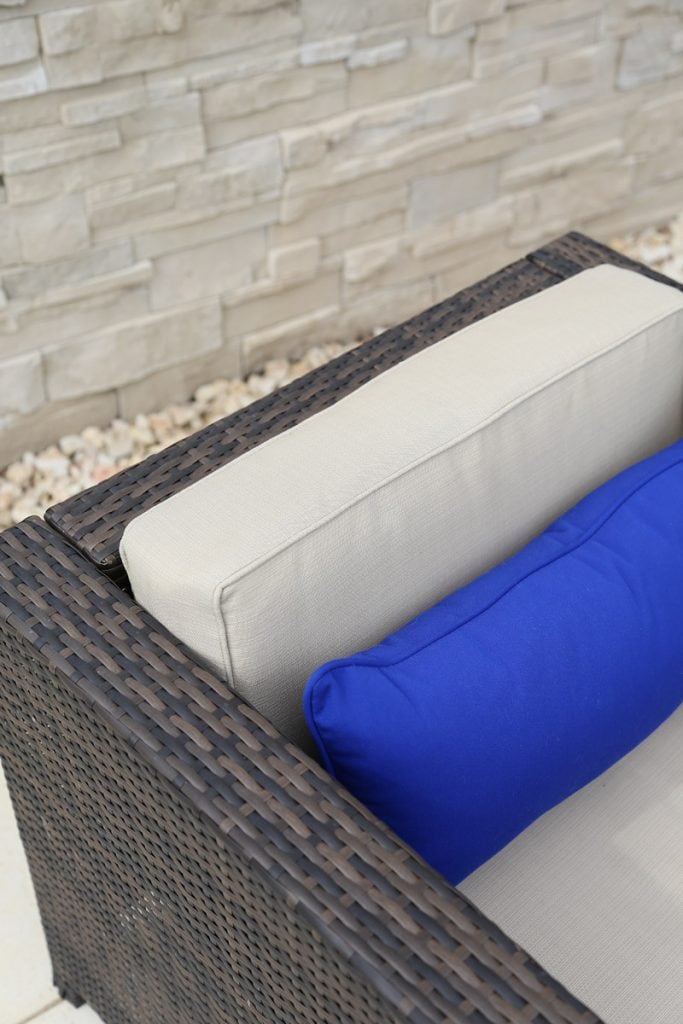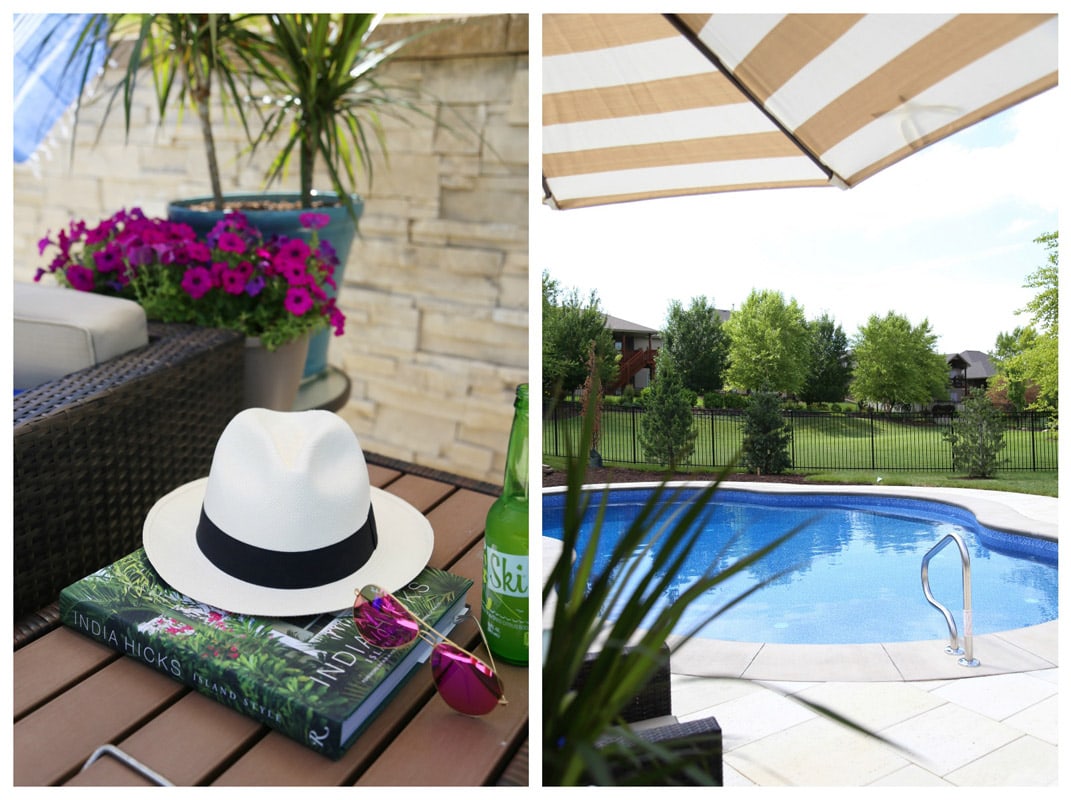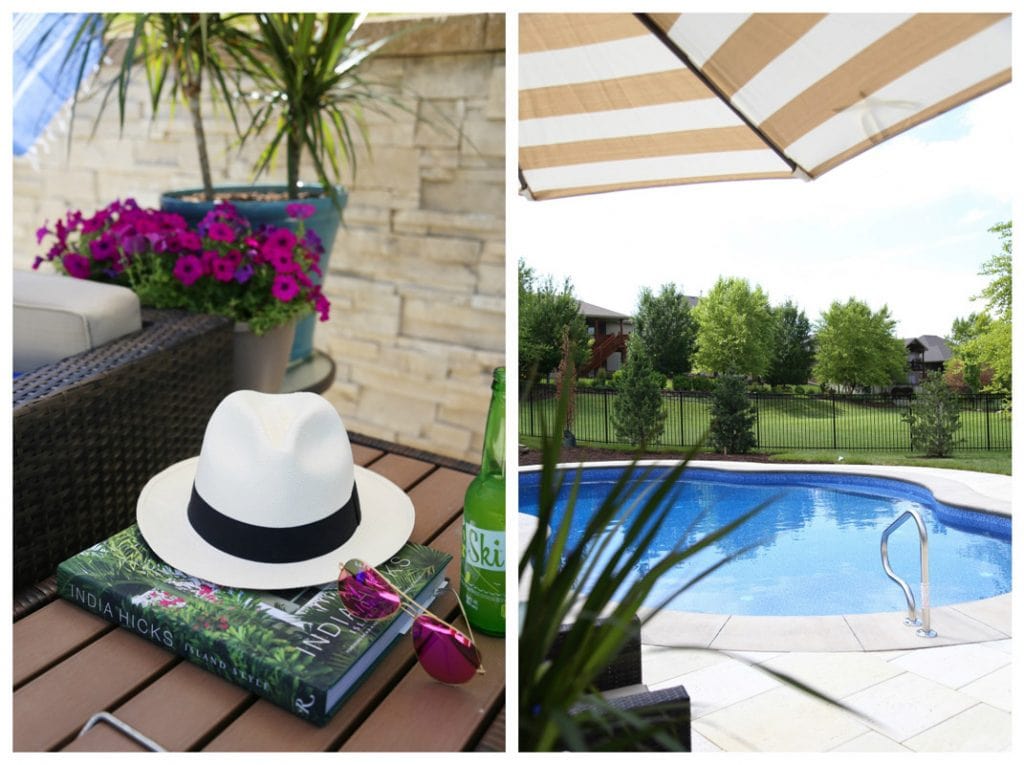 This shot was taken shortly before we finished the top of the water feature wall.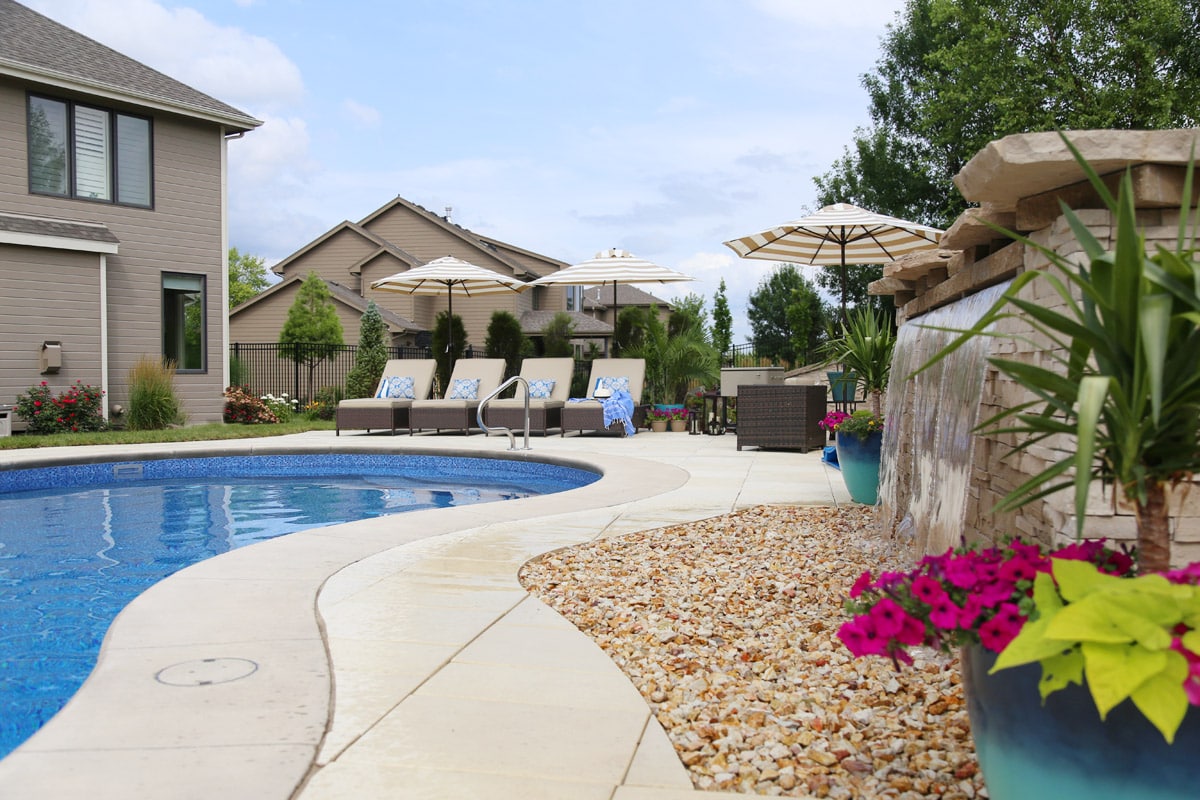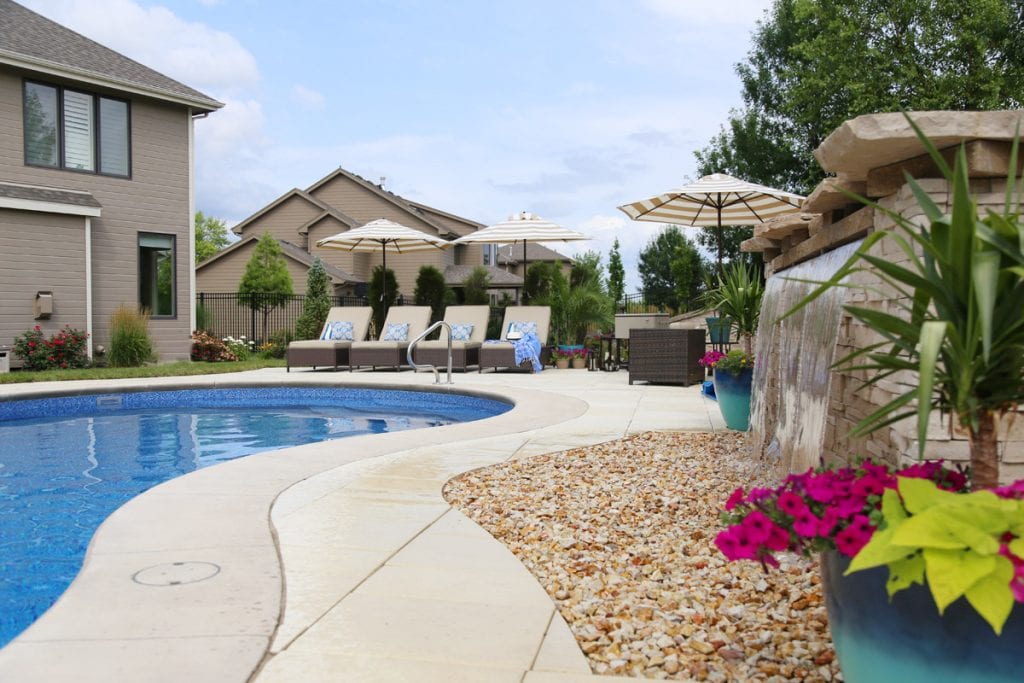 The photo below shows an updated view of the water feature now that the natural stones were set on top and the veneer facing was sealed. The water feature is by far one of the most peaceful elements we could have added. We absolutely love the sound of the splashing water. We're still looking for the perfect accent trees to plant directly behind the water feature, so those will be forthcoming down the road.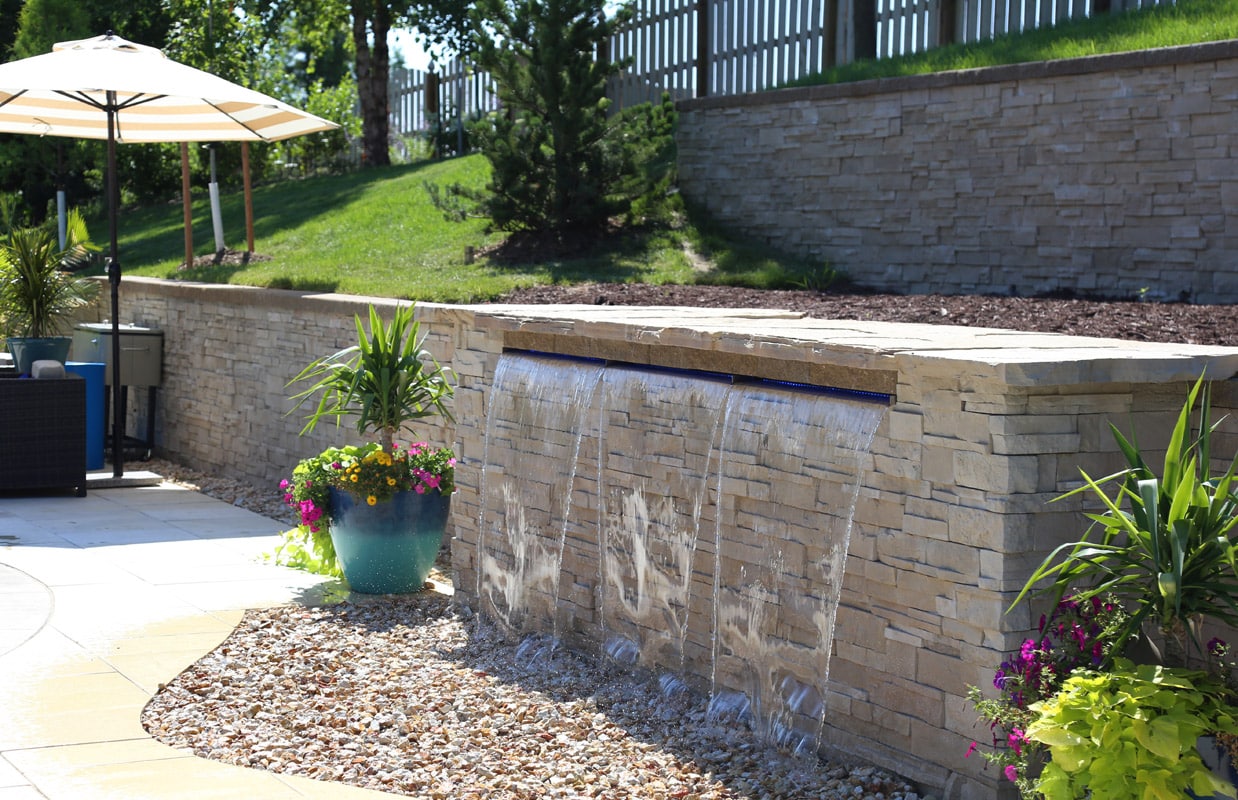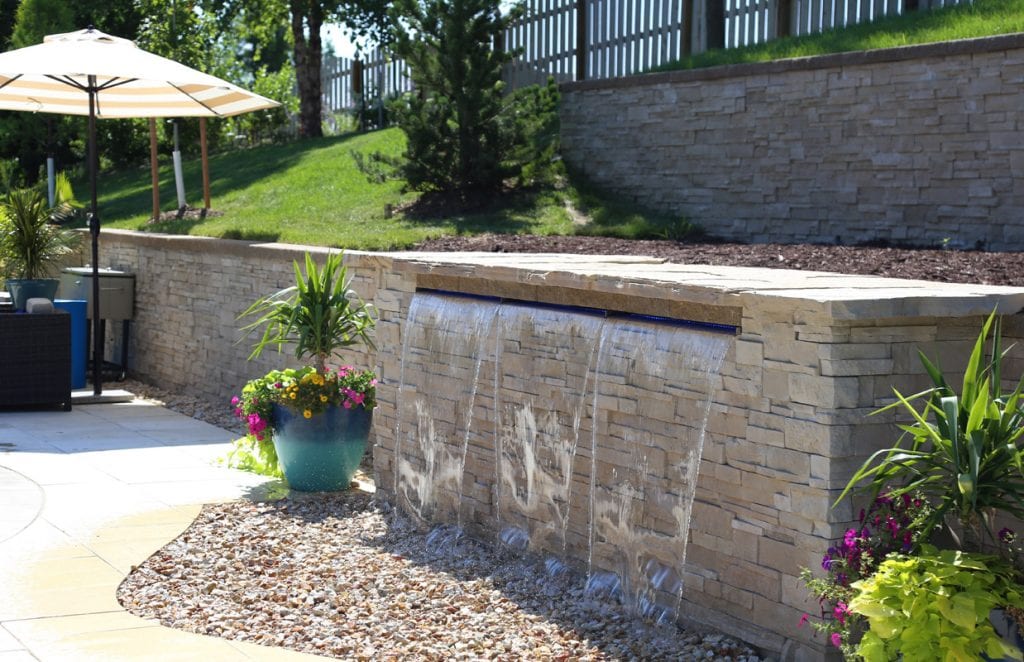 THE GREENSPACE
Even with the pool and retaining walls taking such a large chunk of our yard, we still have plenty of greenspace and room to play. Lately, we can't get enough of our Wooden Cornhole Set and we find that the competition can get fierce! The entire east side of our yard still has grass, as well. All share more details on the changes over there shortly.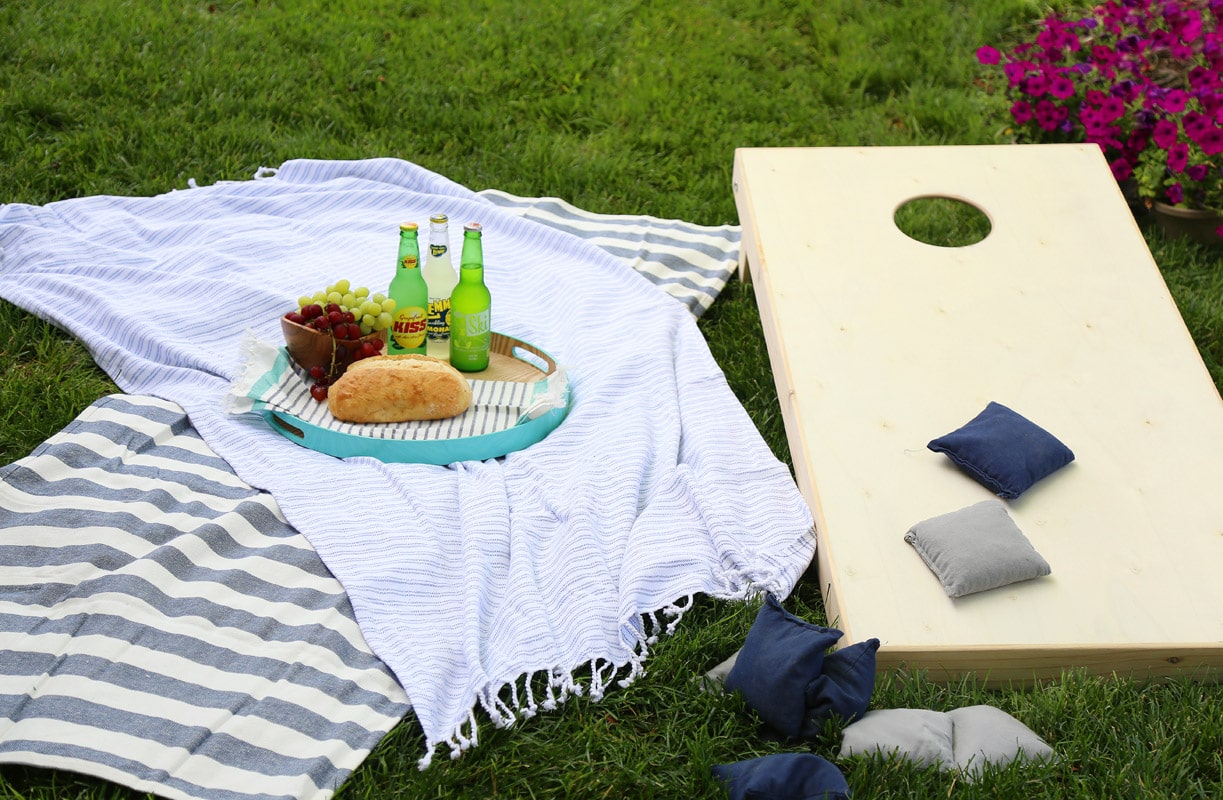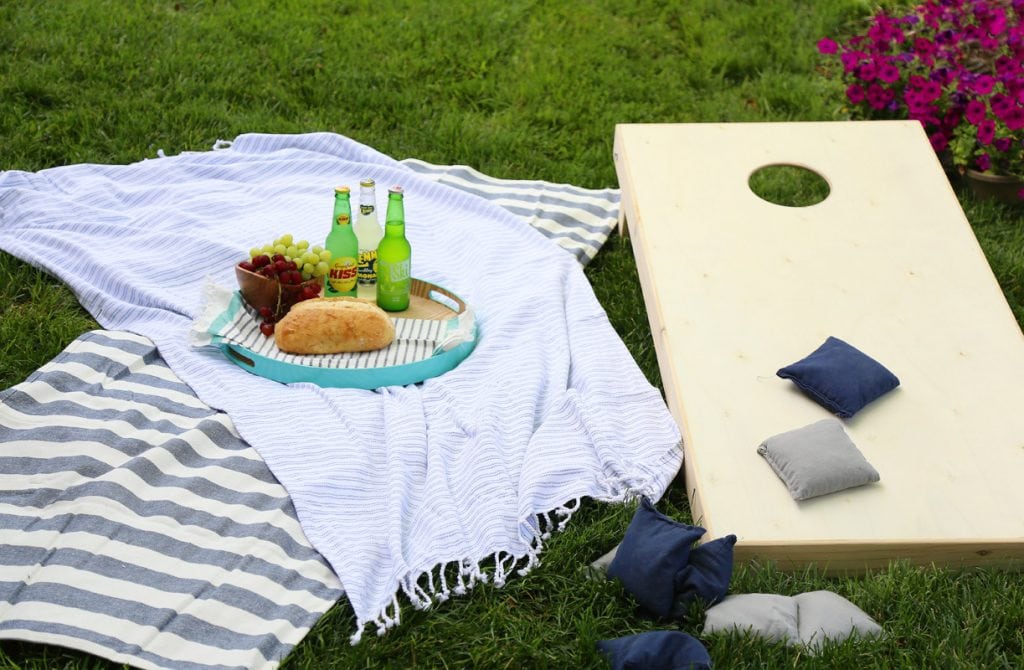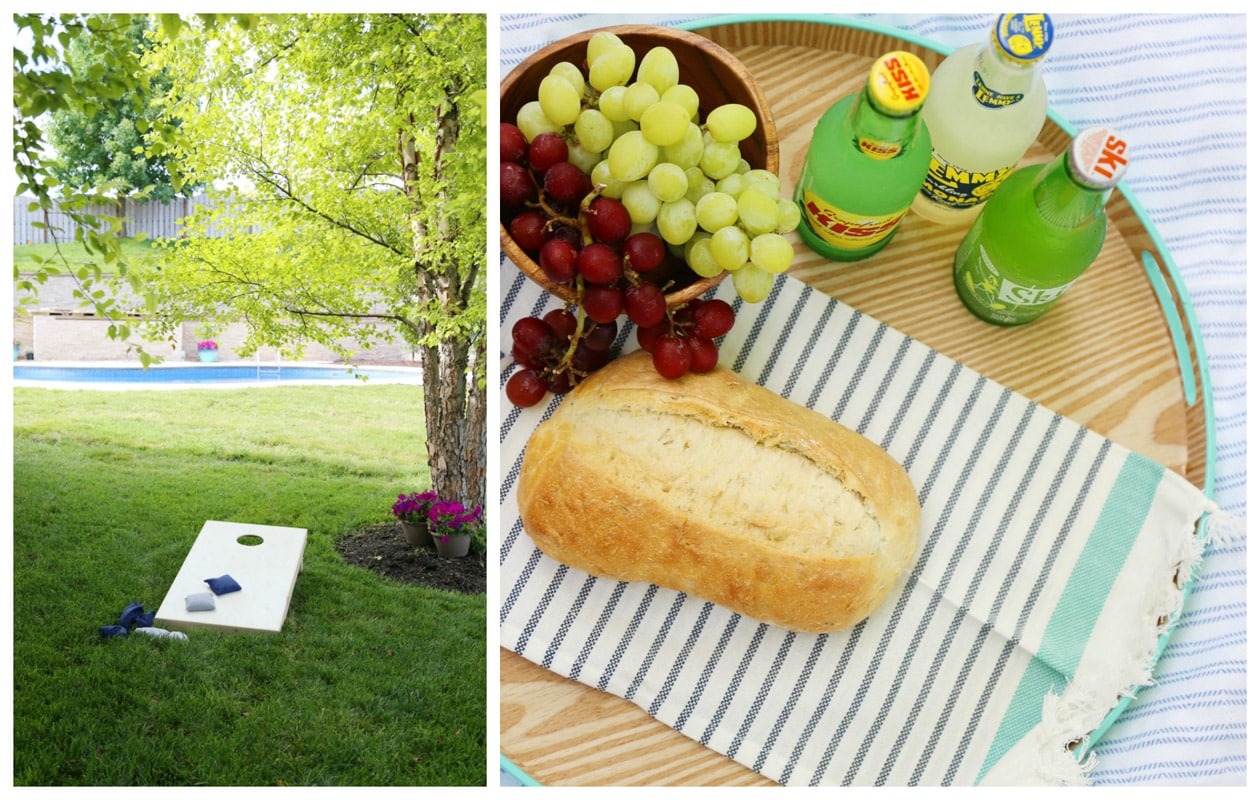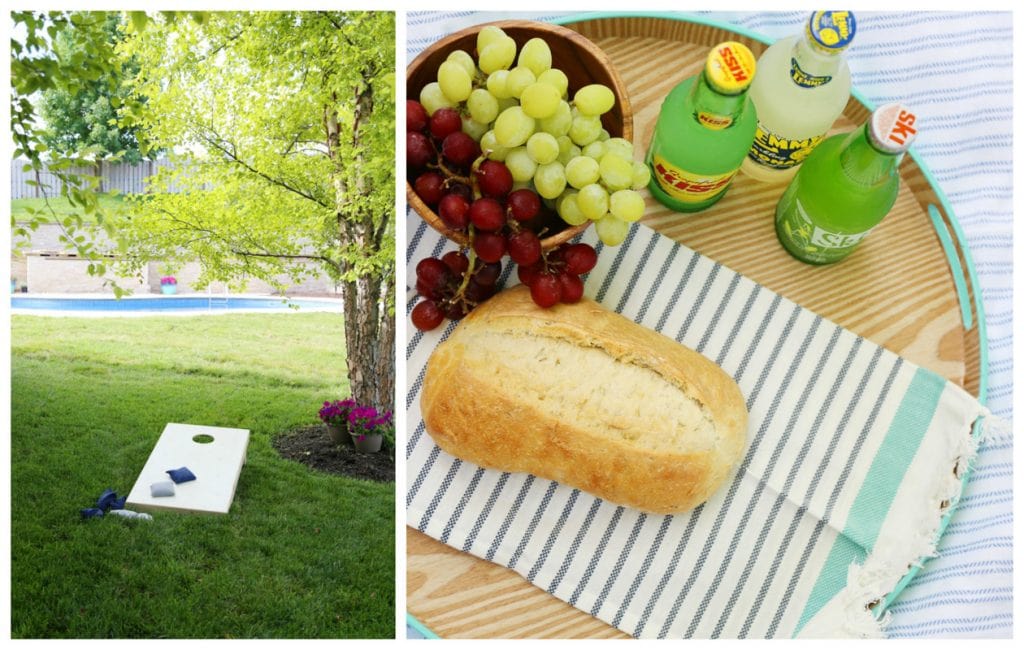 THE COVERED PATIO
Another area that got a major overhaul is our back patio! We finally made it usable and functional! This spot was always such a puzzle to us because it was never quite large enough for an outdoor sectional or other seating. The placement of the stairs is a bit awkward and the concrete pad just felt like a wasted space to store our grill. Here it was before: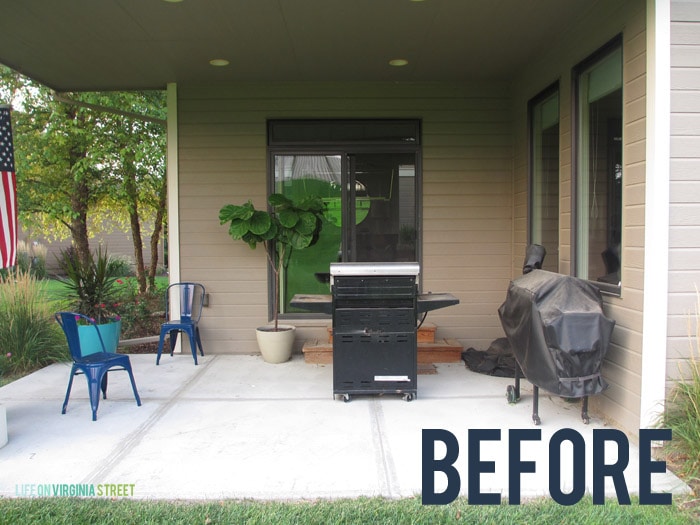 However, with the addition of the Belham Living Ashera All Weather Wicker Patio Dining Set the patio actually feels useful. I love the combination of the wood table stop with the metal x-legs and the woven chairs. The set is so perfect for this space! We are also loving the addition of some Edison Vintage String Lights to create a fun whimsical vibe and soft lighting in the evening hours. Kurtis honestly thought the table would get zero use, but has since admitted that he loves it. We've actually had quite a few meals out here and find ourselves pulling food off the grilling and quickly eating outside before heading back to the pool.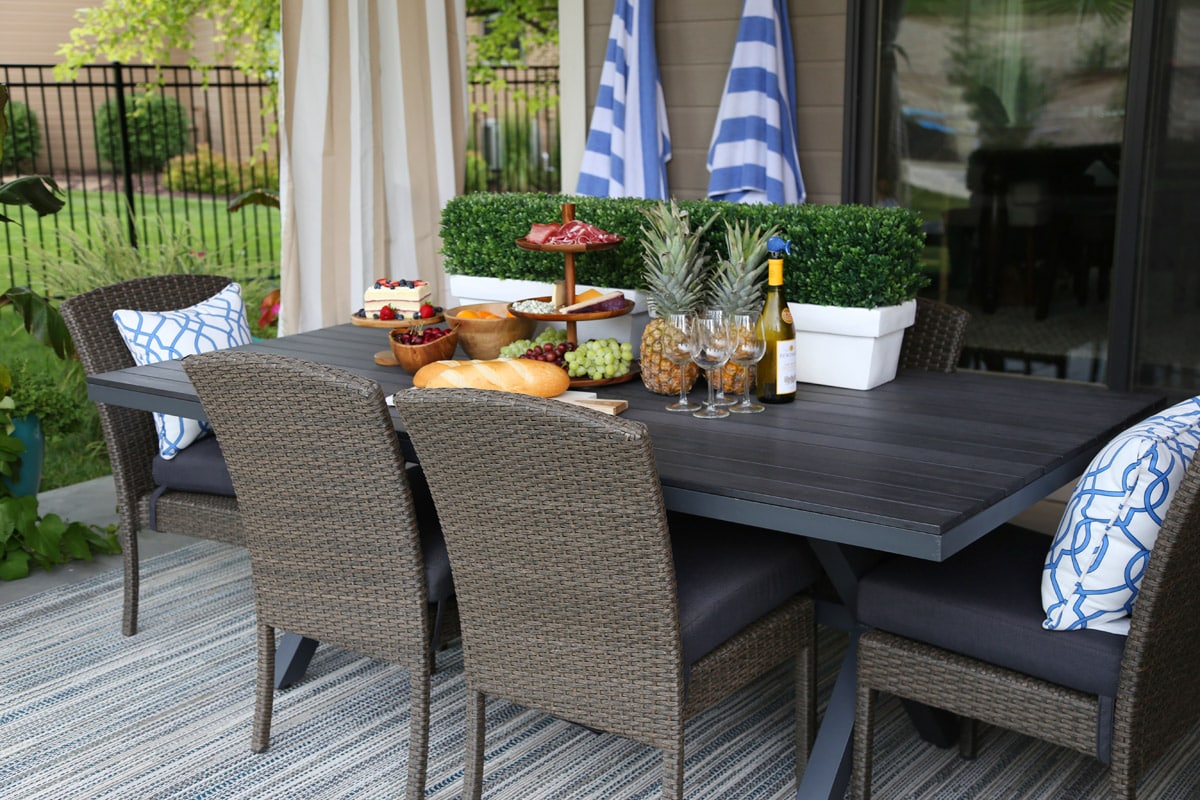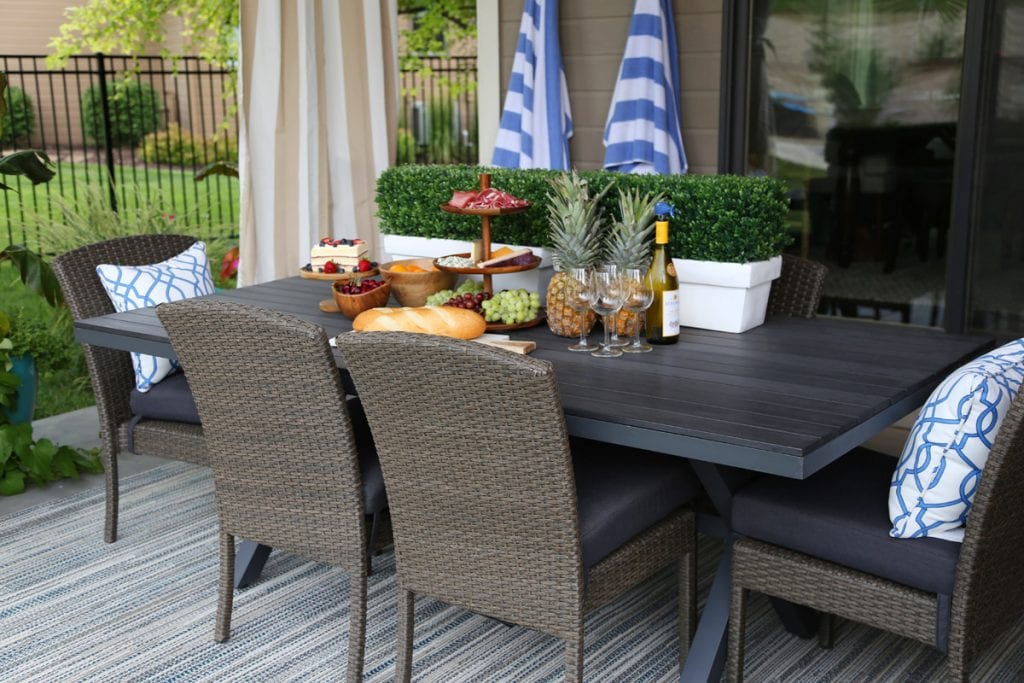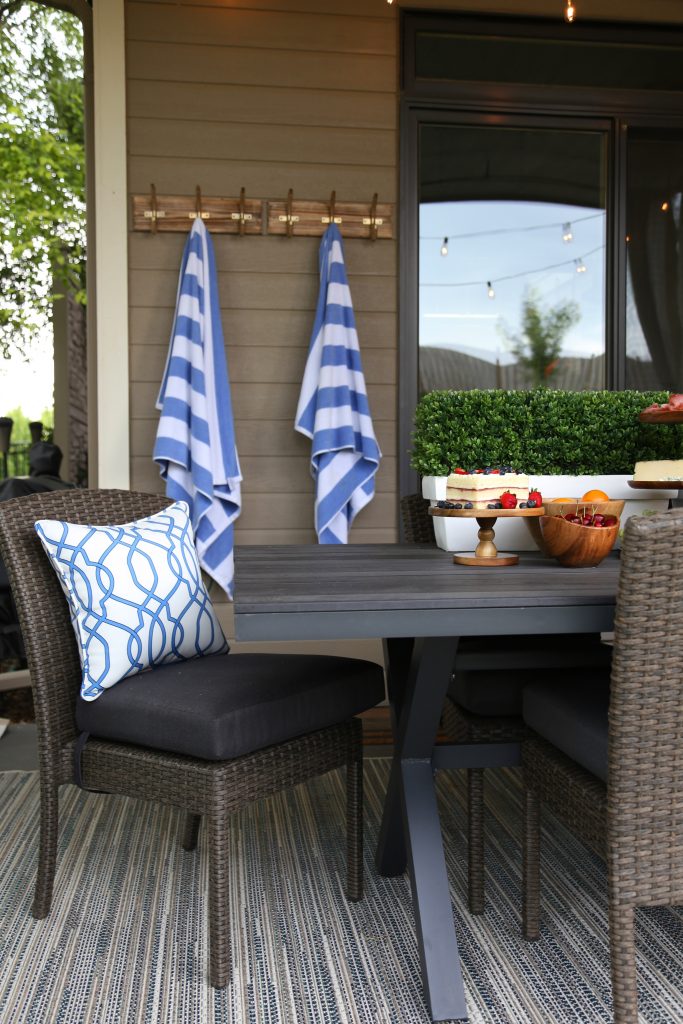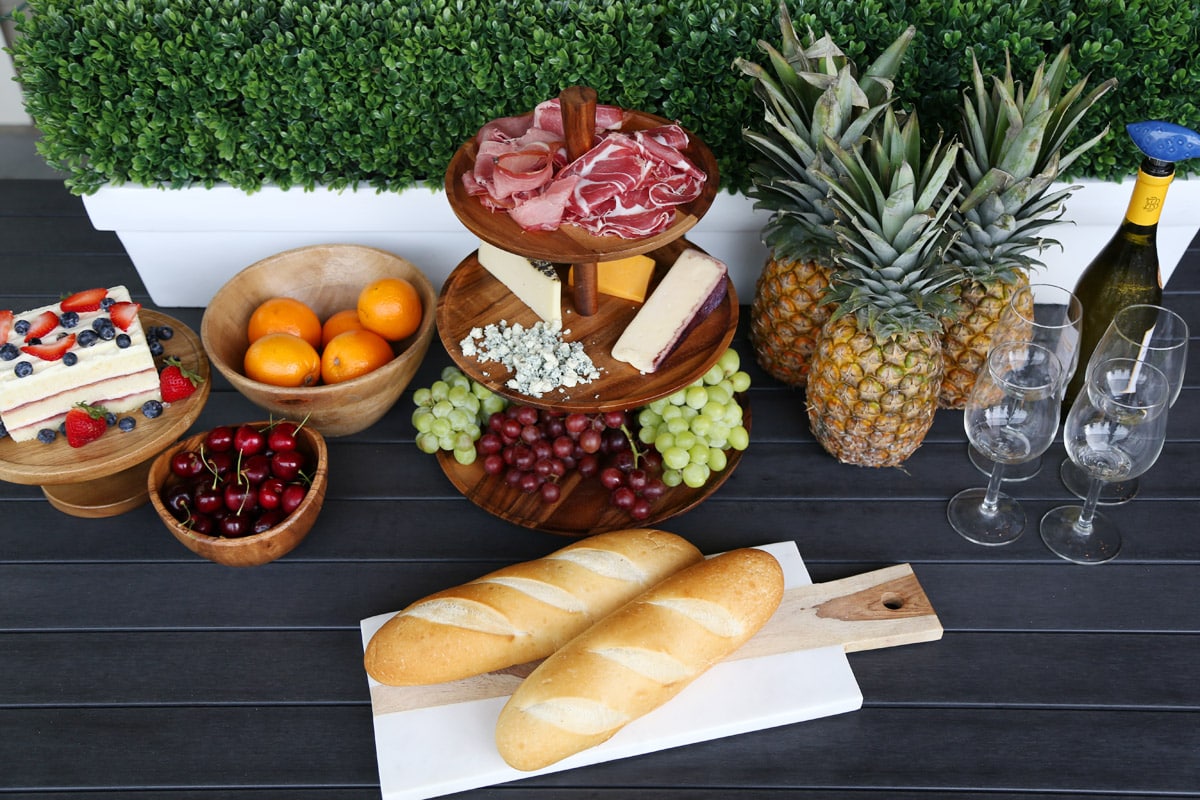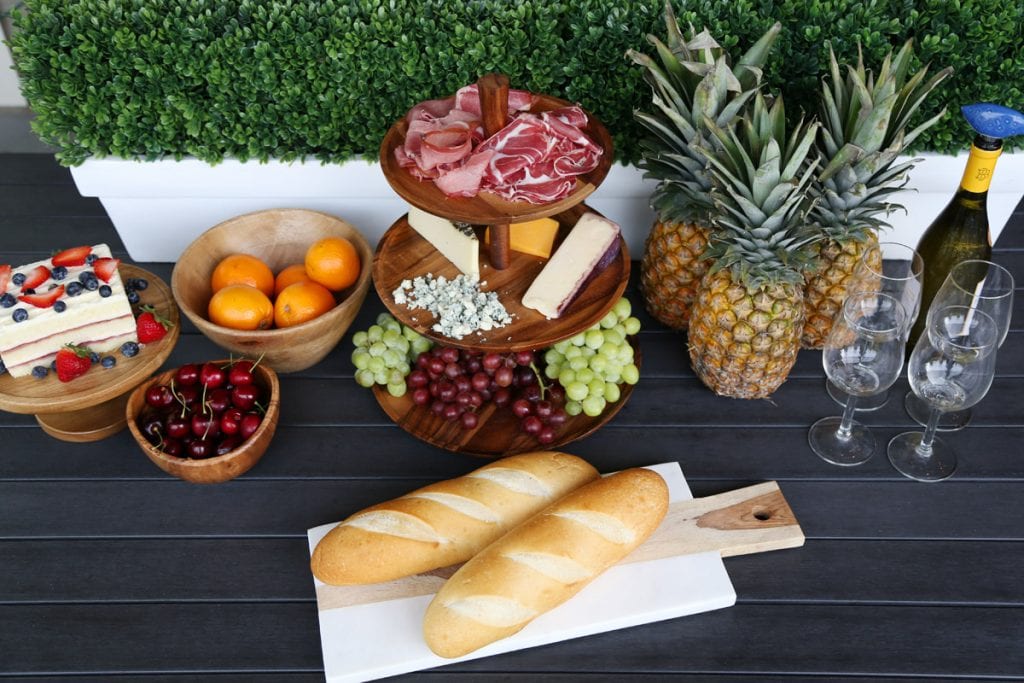 THE LANDSCAPING
Throughout this process, we added 19 trees to our backyard along with countless plants. We've said from Day 1 that landscaping will be a multi-year project. We just needed so much done that we had to go with the basics first and focus on privacy. In all honesty, we probably added even more trees than we thought we would at this point, which is great. We're excited we're well on our way to even more privacy. The sooner those trees start growing, the better off we'll be. Patience is certainly not my strength though, and I pretty much want everything done. Now. 😉
Right now, my primary focus is to get the three columnar oaks I want for behind the water feature. I feel like the area looks really bare right now and we want to draw the eye to the water. However, this will likely be a fall project (assuming I can find the right trees at the time). BUT, with all that said, we are so happy with the two retaining walls and the way the trees are tiered. In a few years, I think it will look even more amazing once all the trees take root and start growing! And yes, we have a very dead tree that will need to be replaced shortly.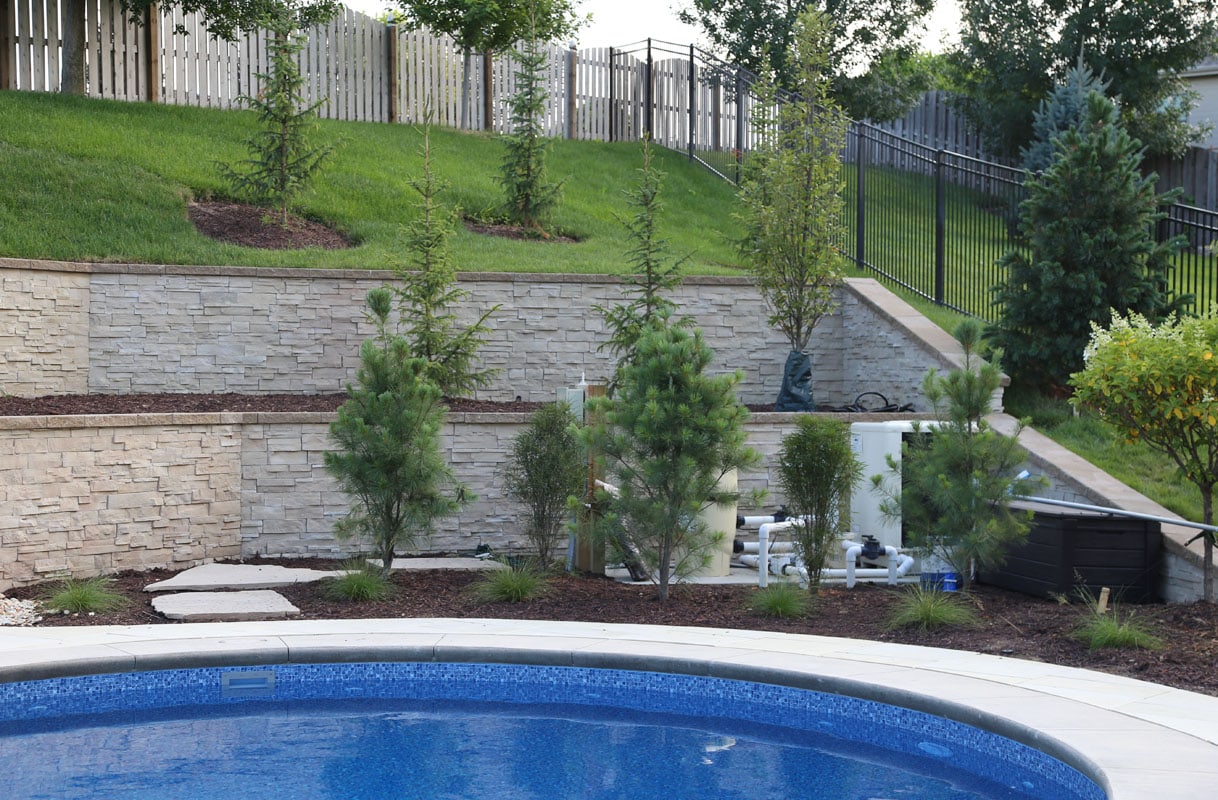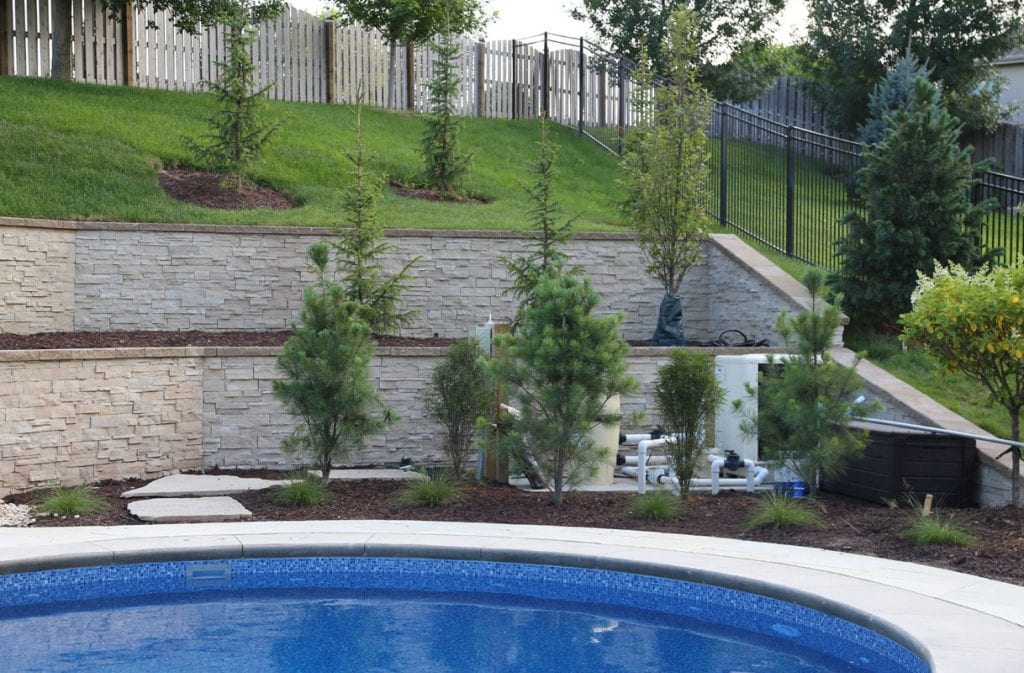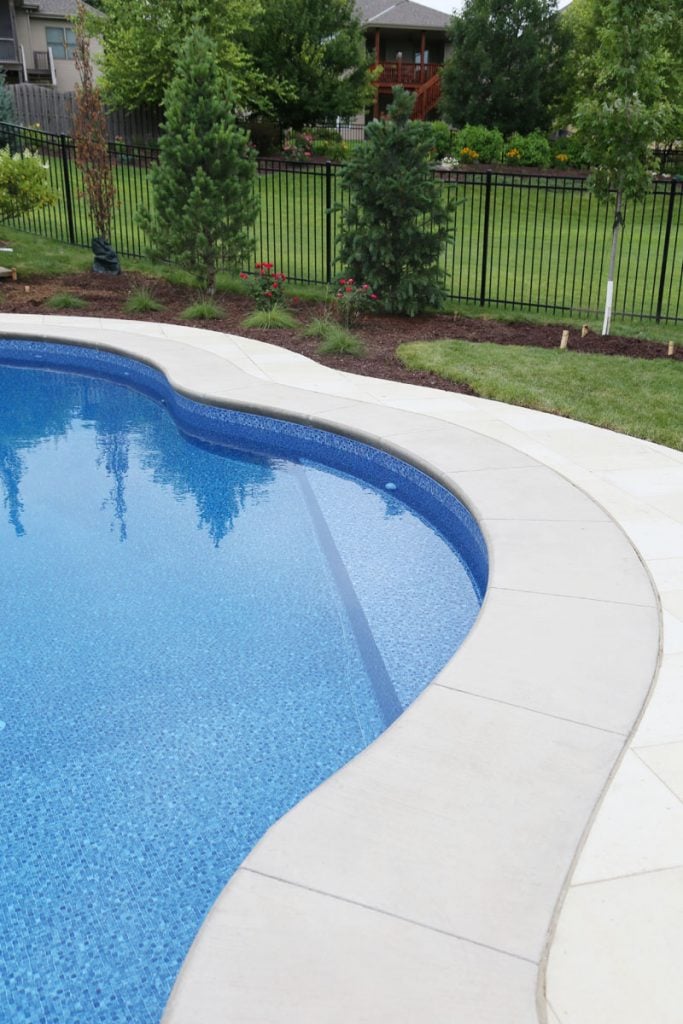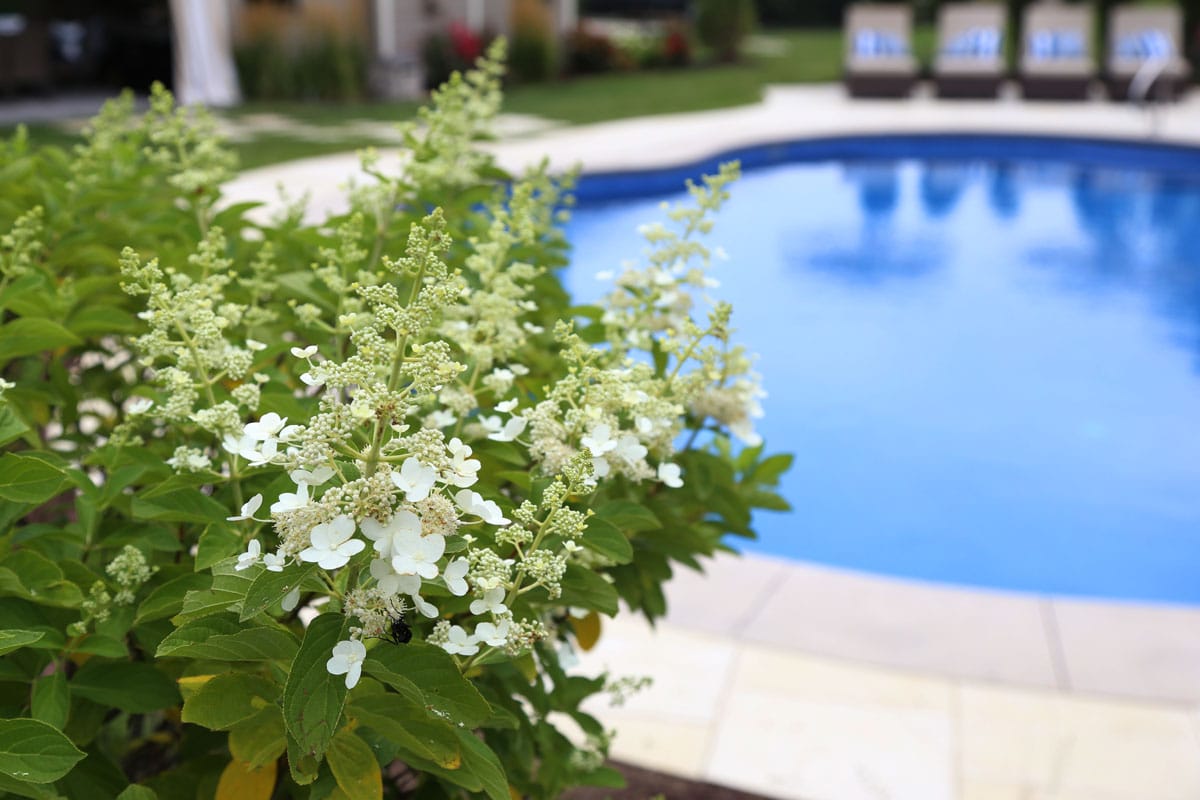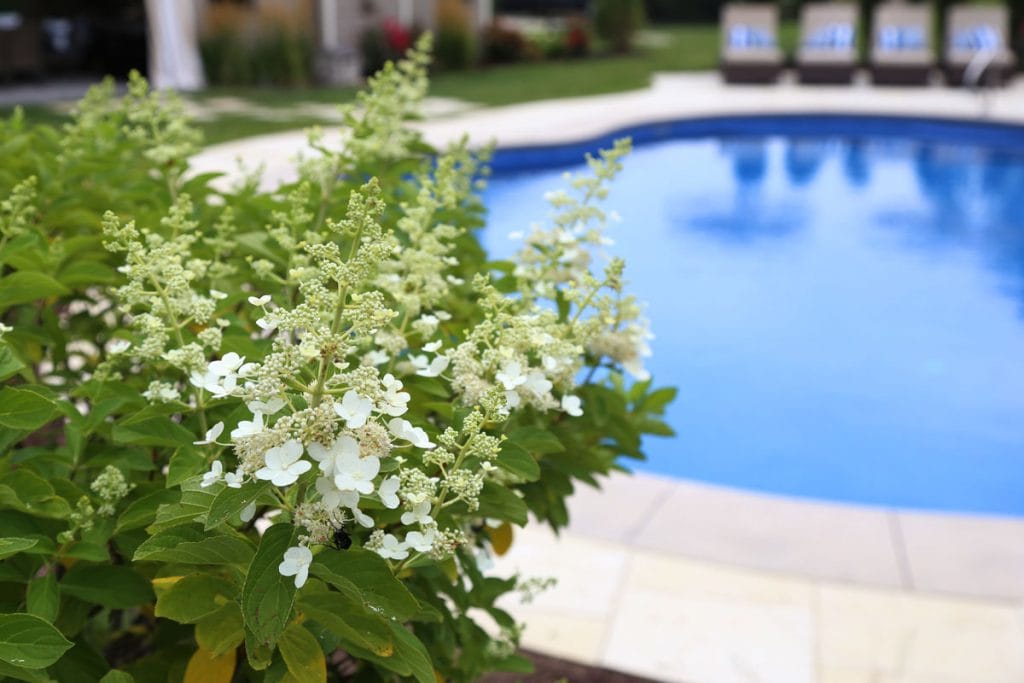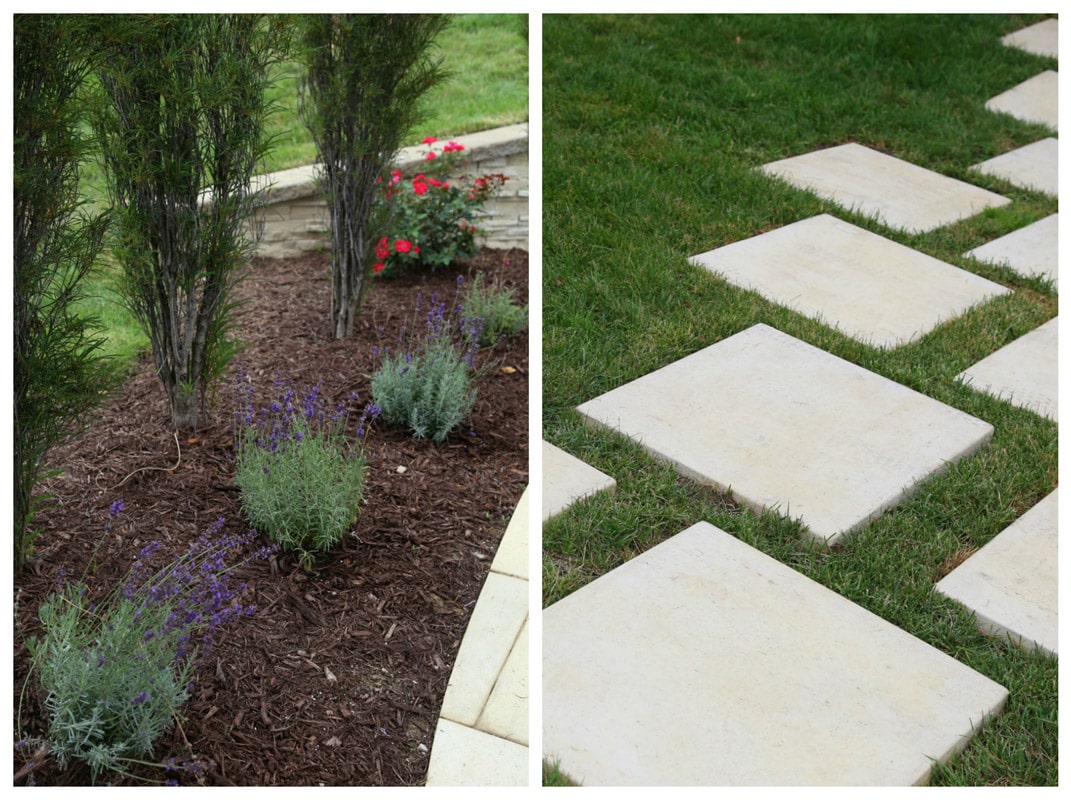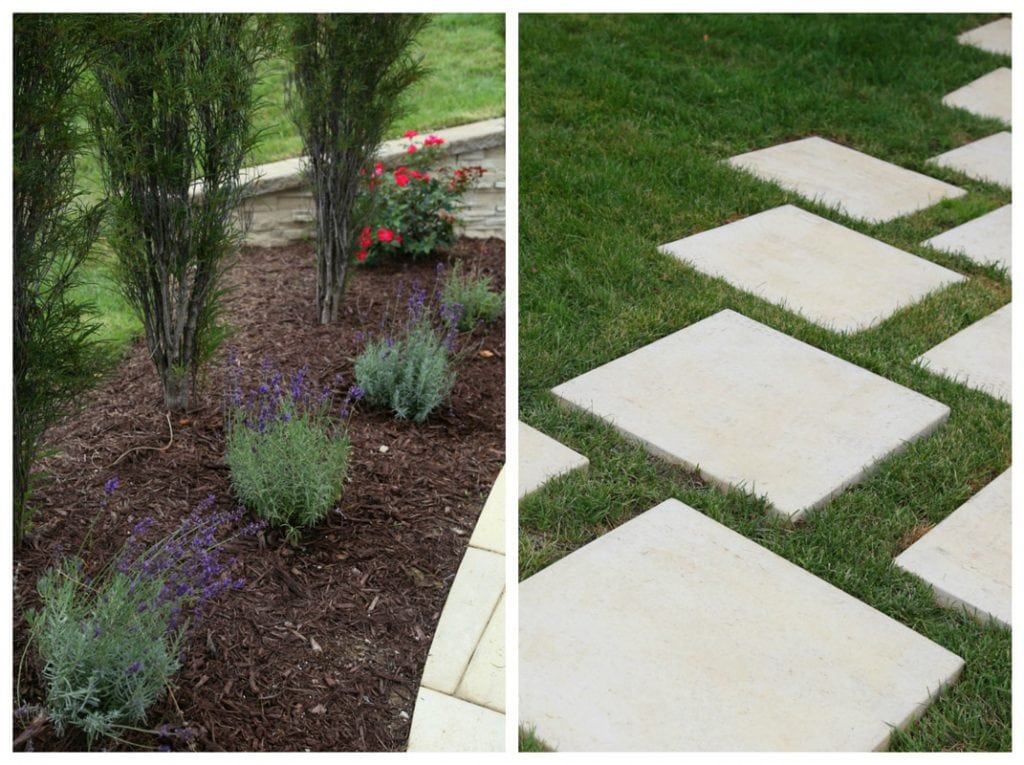 THE BACKYARD AT NIGHT
The entire outdoor area is equally as beautiful at night! We love the addition of the LED pool lights, waterfall lights, string lights, and some LED lanterns.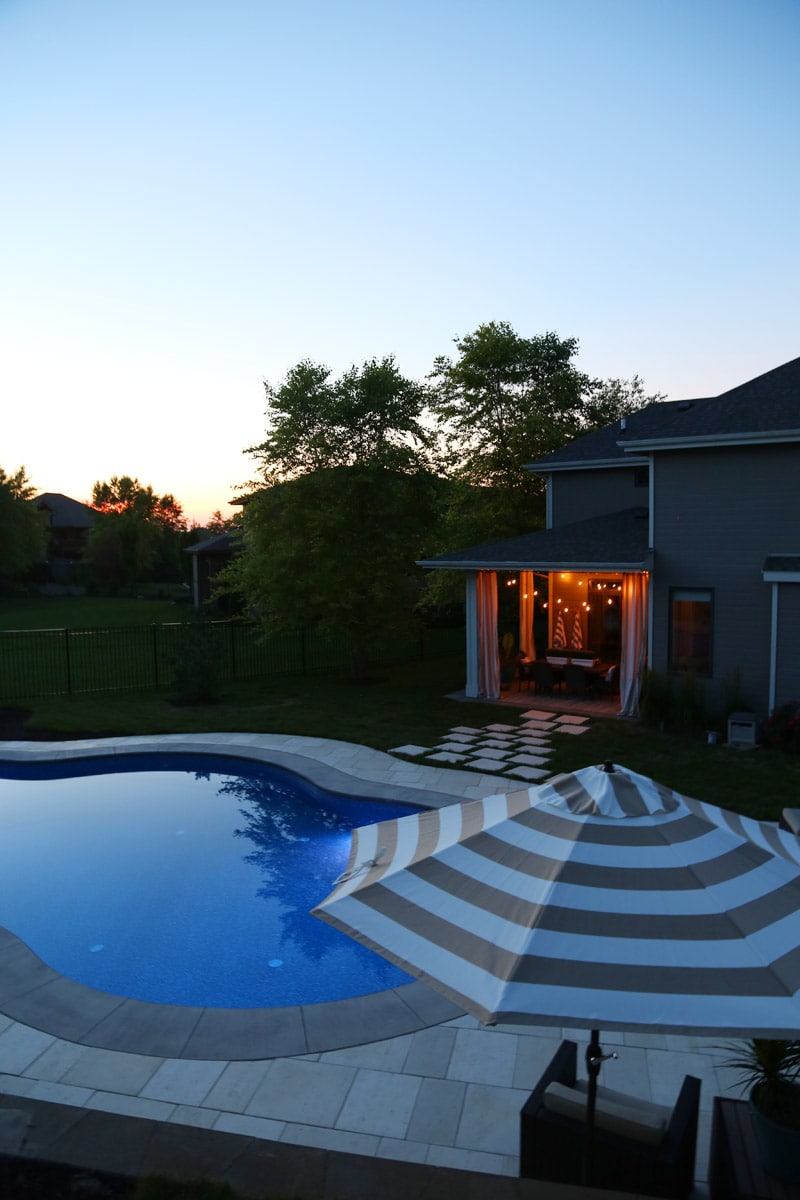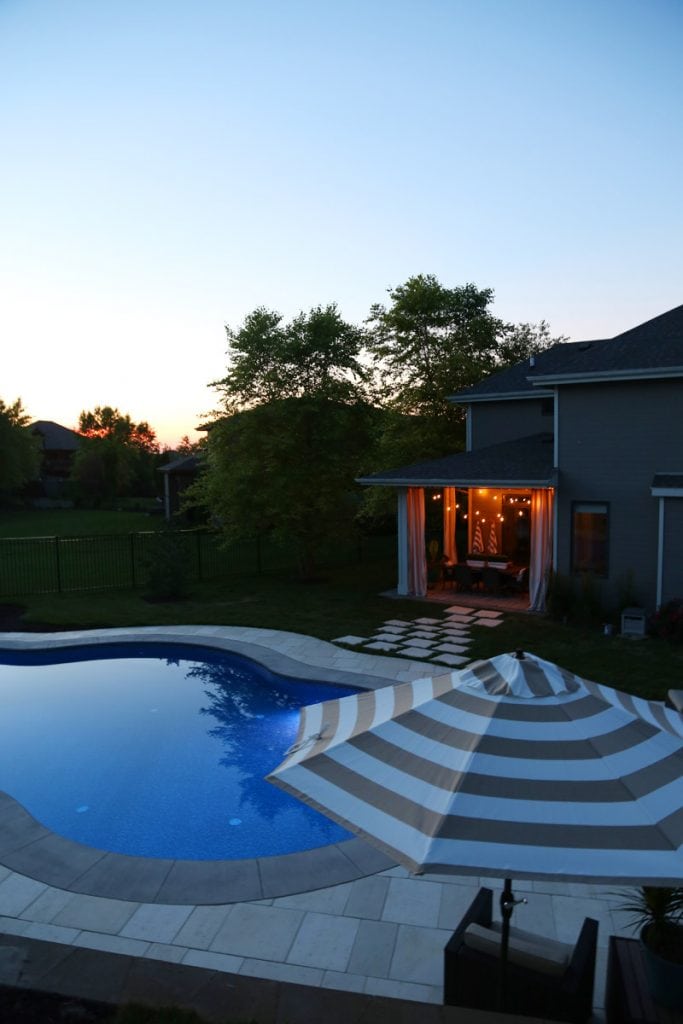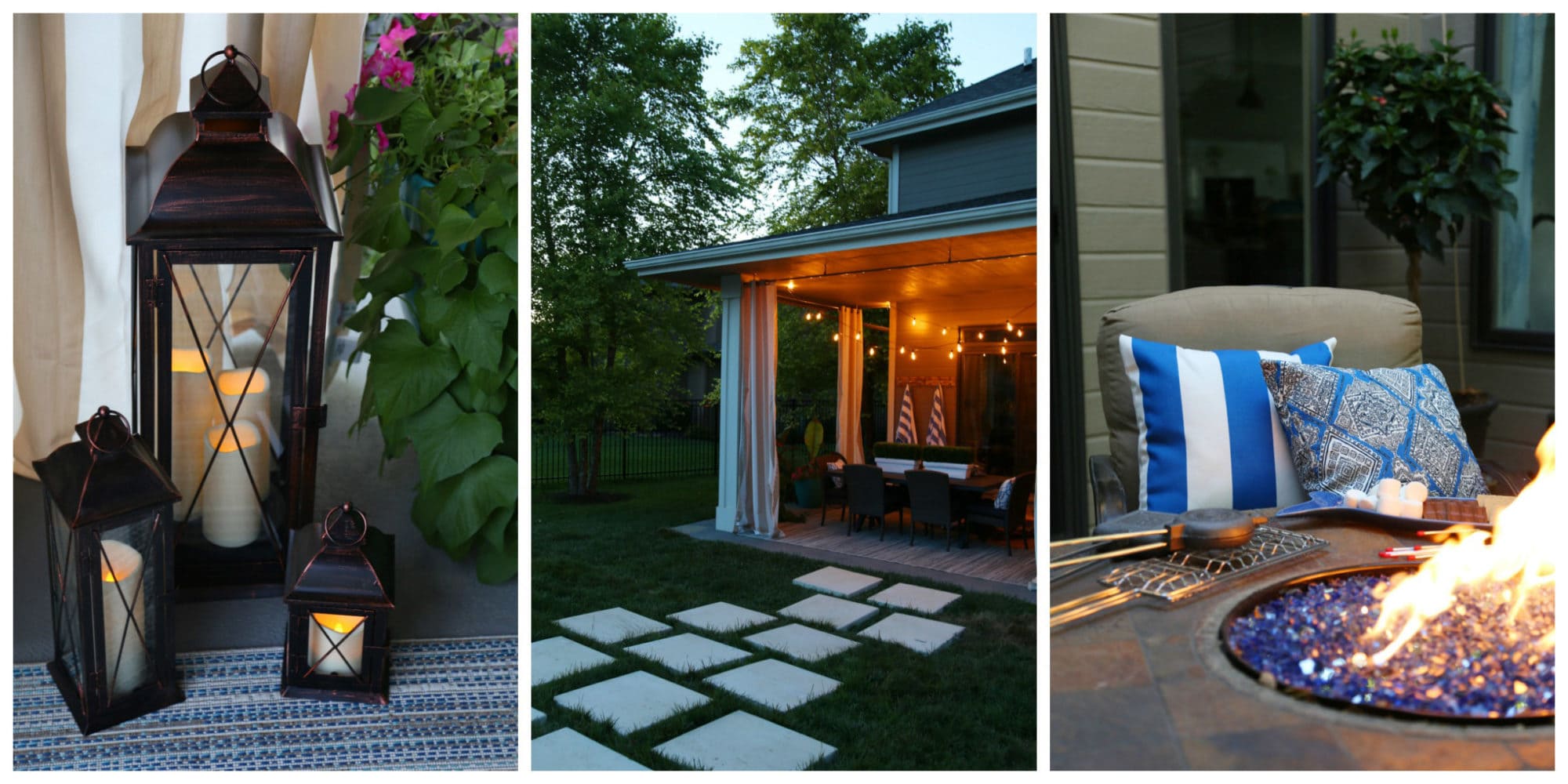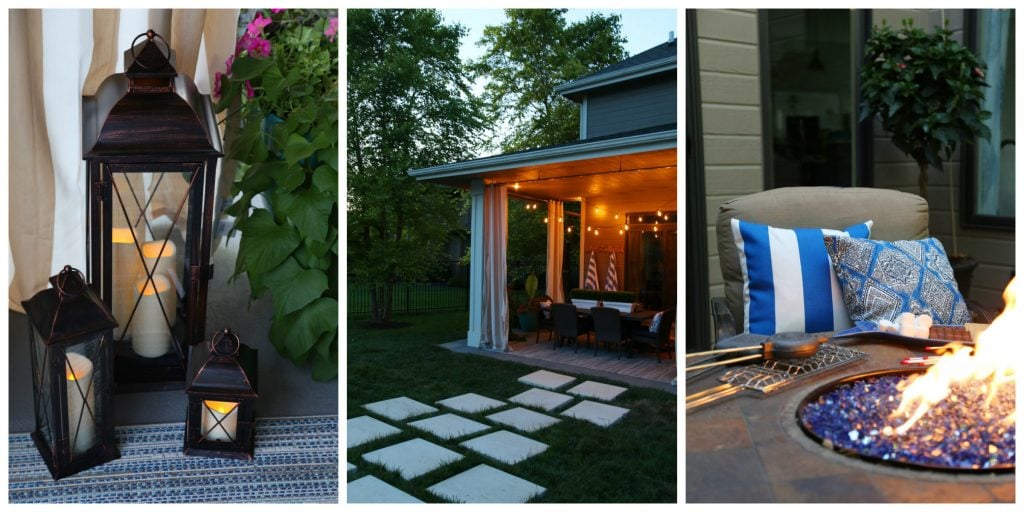 We couldn't be happier with how this project turned out! I think we both have to pinch ourselves sometimes because it's so hard to believe this space is actually ours. Thank all SO much for all of your feedback, thoughts, input, and support throughout this project. I can't thank you enough for your insight and advice and helping us make this our dream backyard!
Be sure to stop over at the hayneedle blog for even more information on this space and to read all my tips for having the perfect staycation at home – pool not required!
Today is the 'styled reveal', but I'll be back soon with a full list of sources and vendors. I'll include everything from the veneers, pavers, landscapers, to all the other decor items, etc. I'll also be sure to include all the nitty gritty on everything you may ever want to know about building a pool! Thank you again to hayneedle for their amazing partnership and for helping make this the backyard of our dreams!
If you would like to follow along on more of my home decor, DIY, lifestyle, travel and other posts, I'd love to have you follow me on any of the following:
Pinterest | Instagram | Facebook | Twitter
Linking up to: Thrifty Decor Chick