This is a tutorial and pictures on adding color to our backyard & tips for planting roses!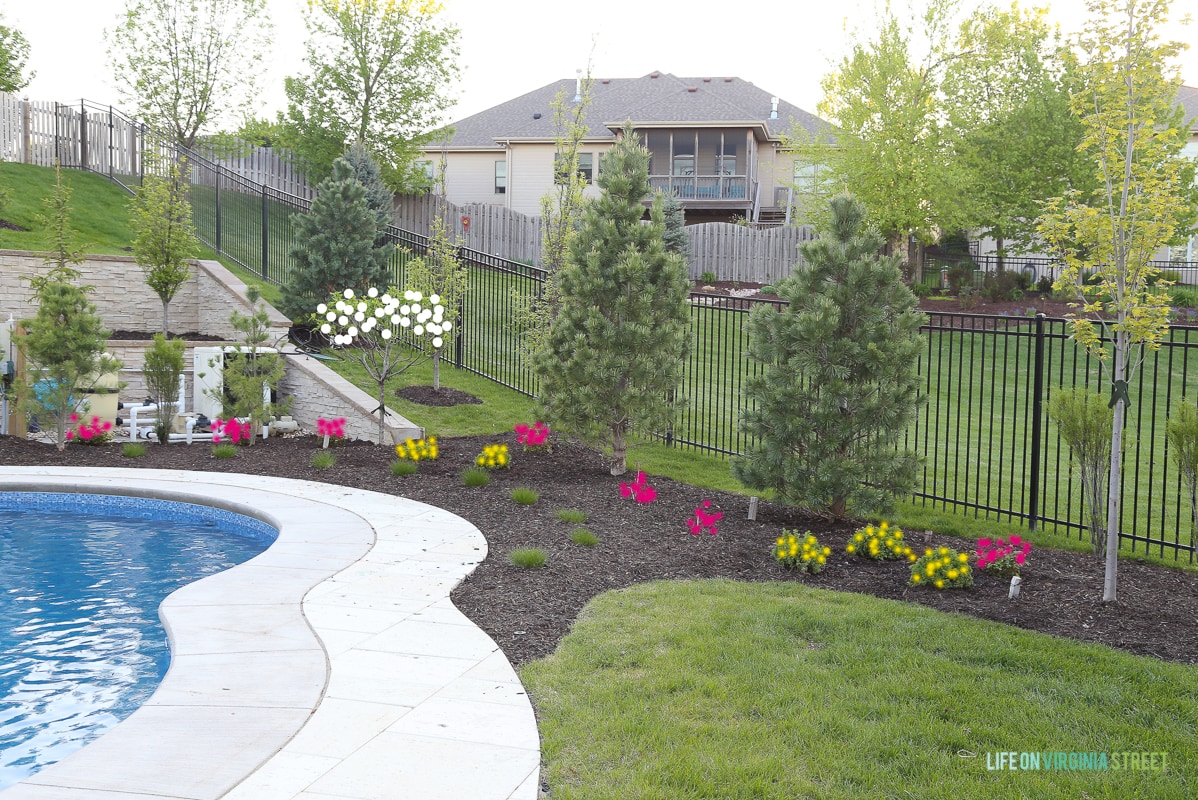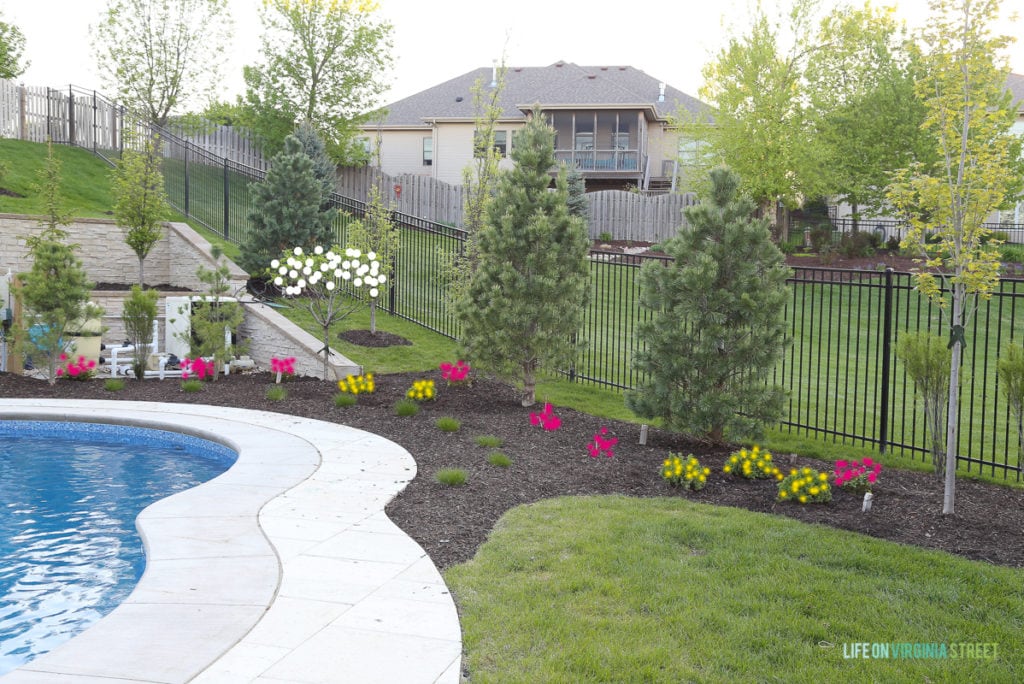 This is a sponsored conversation written by me on behalf of Easy Elegance® Roses. The opinions and text are all mine.
Several weeks back I talked about that fact that I've been working on plans for adding some vibrant color to our backyard during the summer months. And, as I mentioned in my weekend recap, I spent close to seven hours in our backyard last weekend planting and adding the color we've been craving! Today I'm going to talk to you about the plants I selected, how I lay everything out and my planting process. Plus, I have a great giveaway at the end of this post!
Gardening In The Backyard
I added some Easy Elegance® Roses to our backyard over the weekend, along with some potentilla. These are both really great low-maintenance options that add bold knockout color to your yard. I also wanted something that could help add additional coverage in front of the pool equipment the is an eyesore. I've had such great luck with the Easy Elegance® Roses  in the past (we have multiple versions of them in our yard already), I knew I wanted more. Our neighbors have potentilla by their pool and I've always loved the addition of bright yellow, so I picked some of that up as well. I love plants to bloom all summer long, and these both fit the bill!
Here are the exact roses I purchased. There were honestly so many beautiful color options I had a hard time picking just one! But ultimately, I chose this really bold, rich pink called My Girl, because it looks so great with the color of the pool water! They Easy Elegance® Roses are easy to spot because they all come in a deep red/burgundy pot.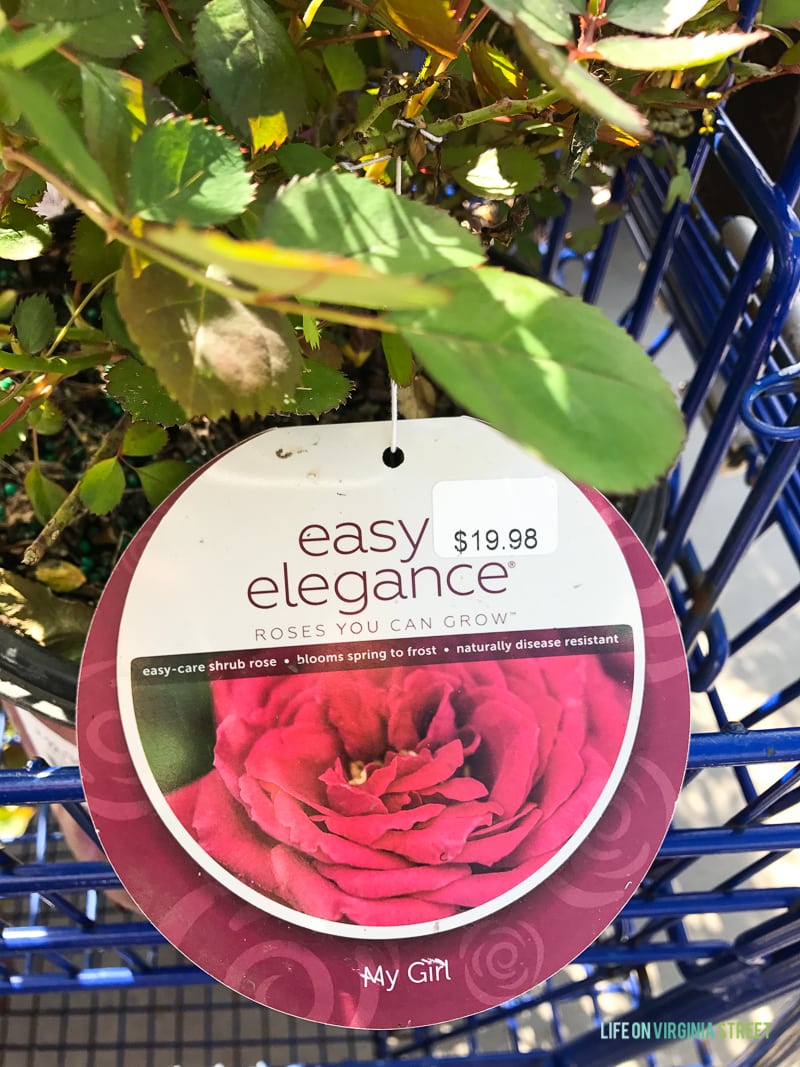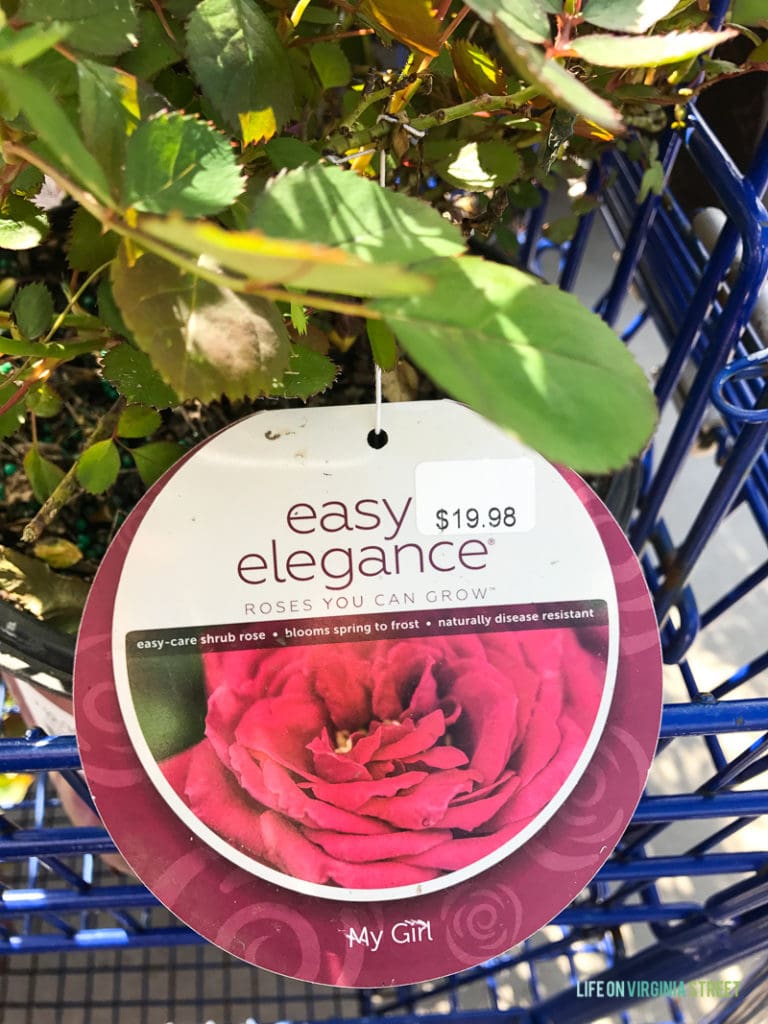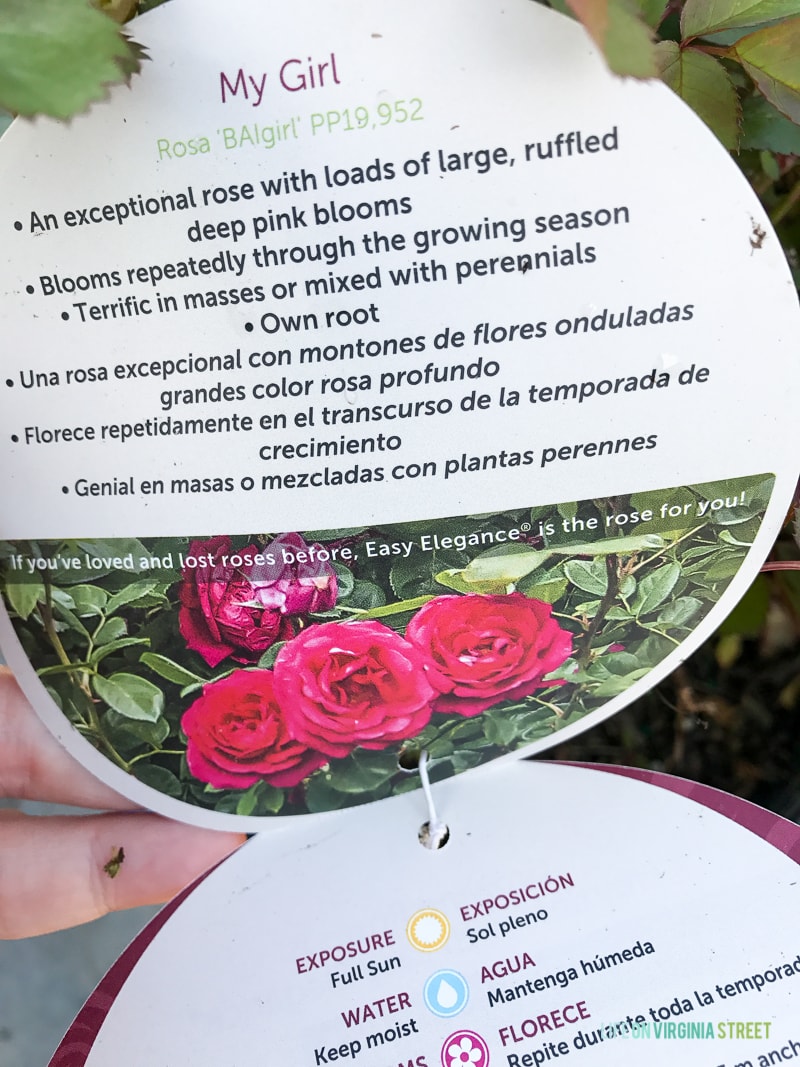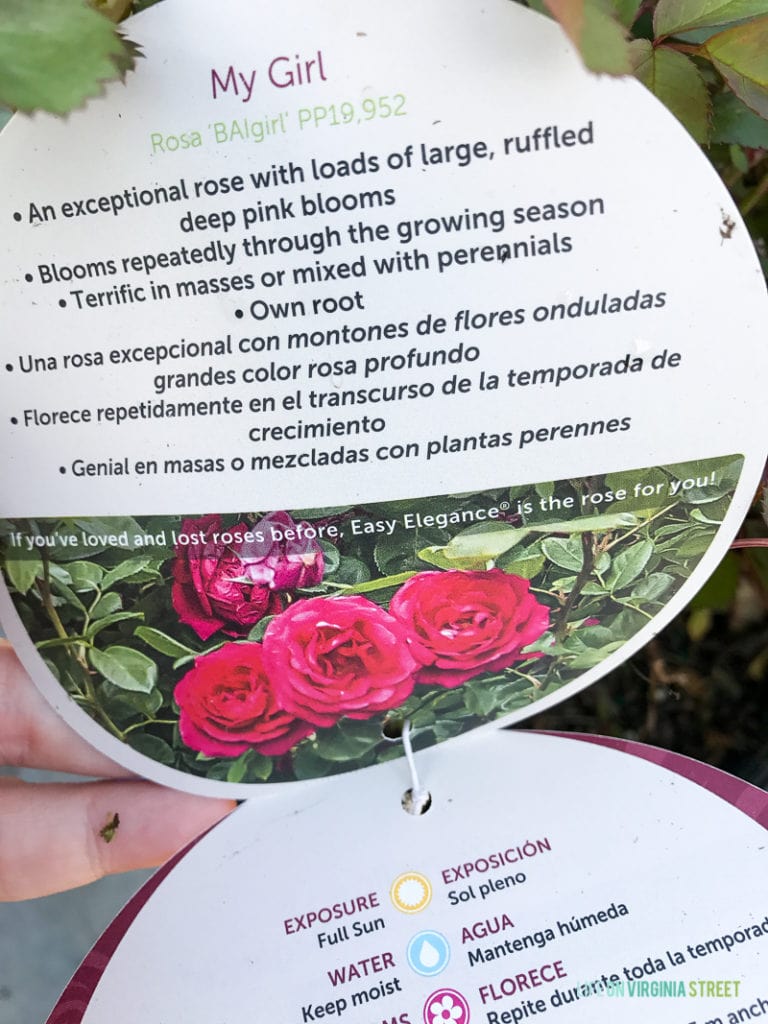 The potentilla I purchased (also from the Bailey Nurseries brand) is a beautiful golden yellow with orange undertones called Mango Tango™.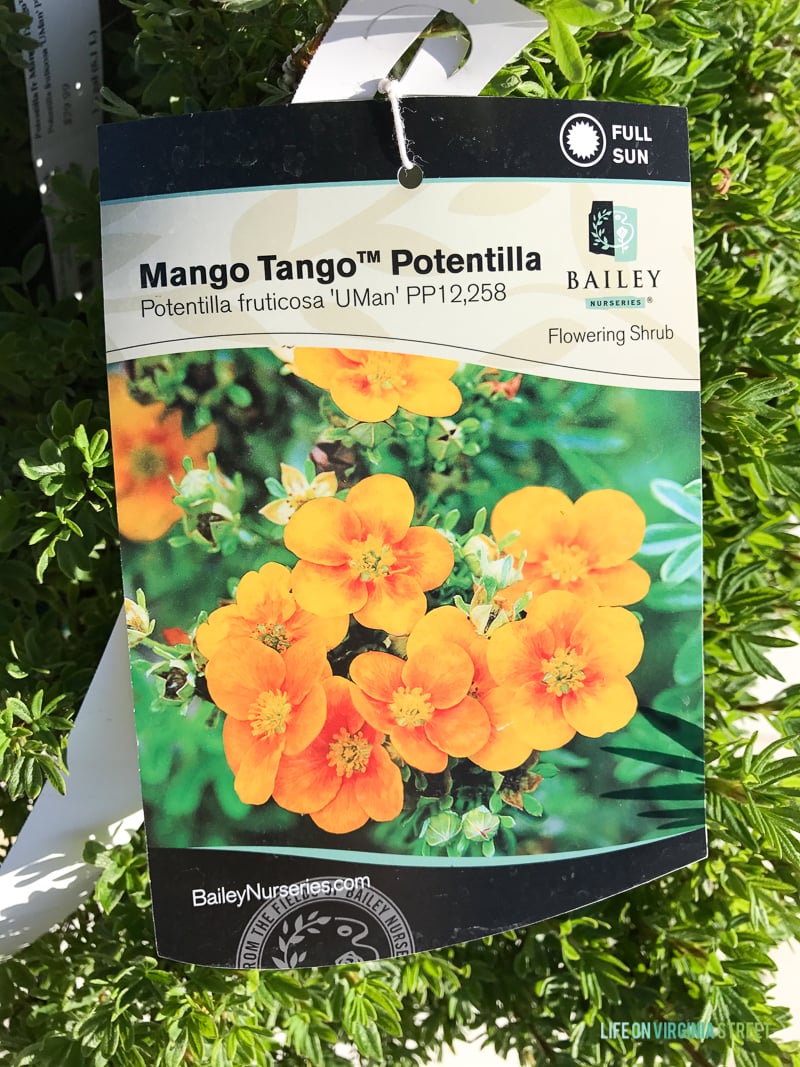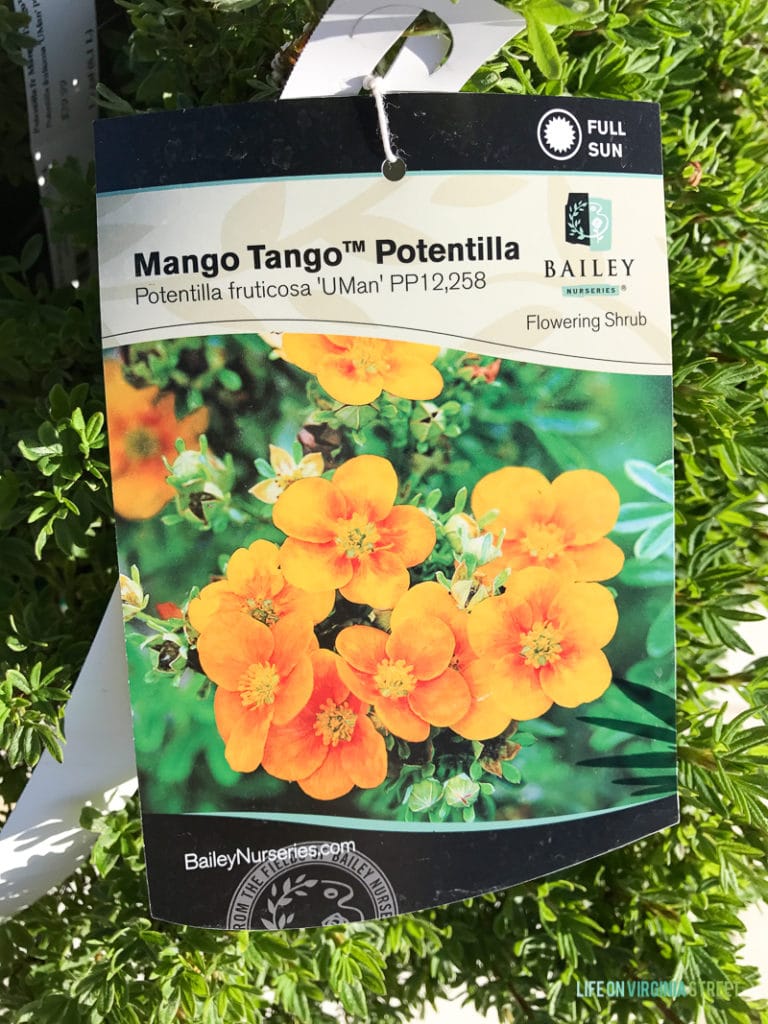 I know some of this may be basic, but I thought I'd give you some of my gardening tips for planting and share a bit about my process. I know many out there are scared to try and plant flowers or shrubs on their own because they feel they have a black thumb and/or no experience doing so. The Easy Elegance® Roses are a great plant to start with because they are incredibly hardy and thrive in so many conditions. There's a reason we have them all over our yard!
First, I start by laying out all the plants in the general area where I wish to add them. I like to walk around and view the garden beds from multiple angles to ensure I have everything exactly where I want it!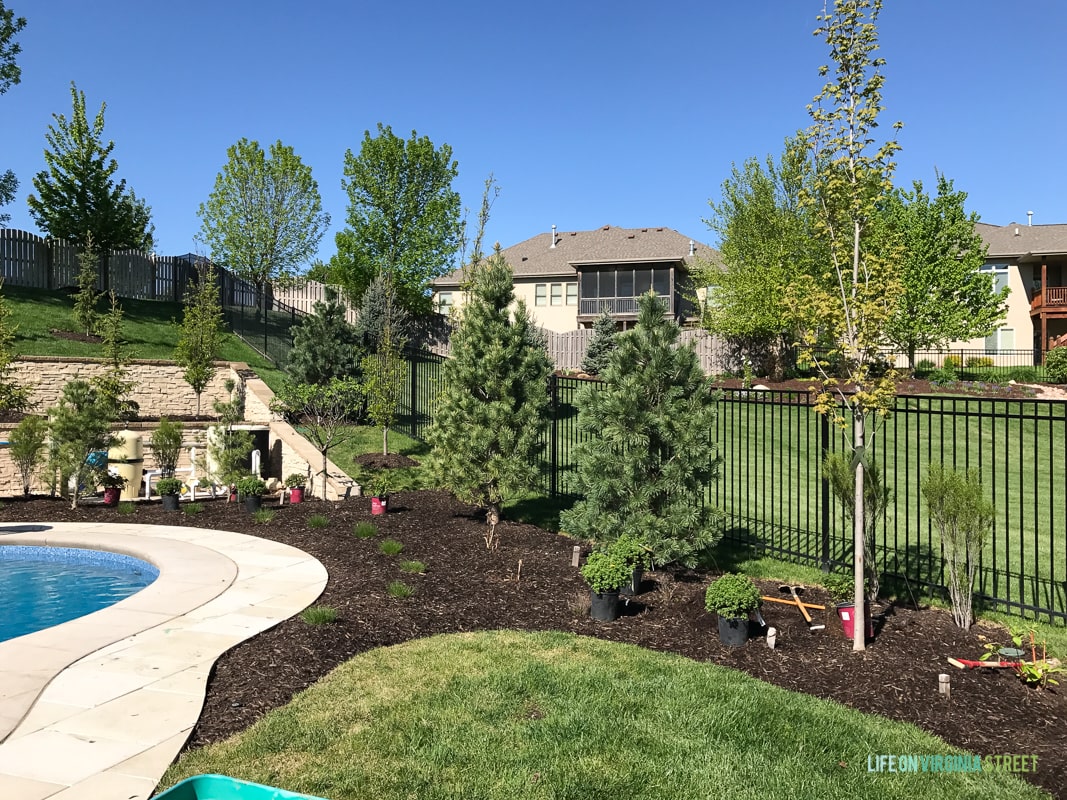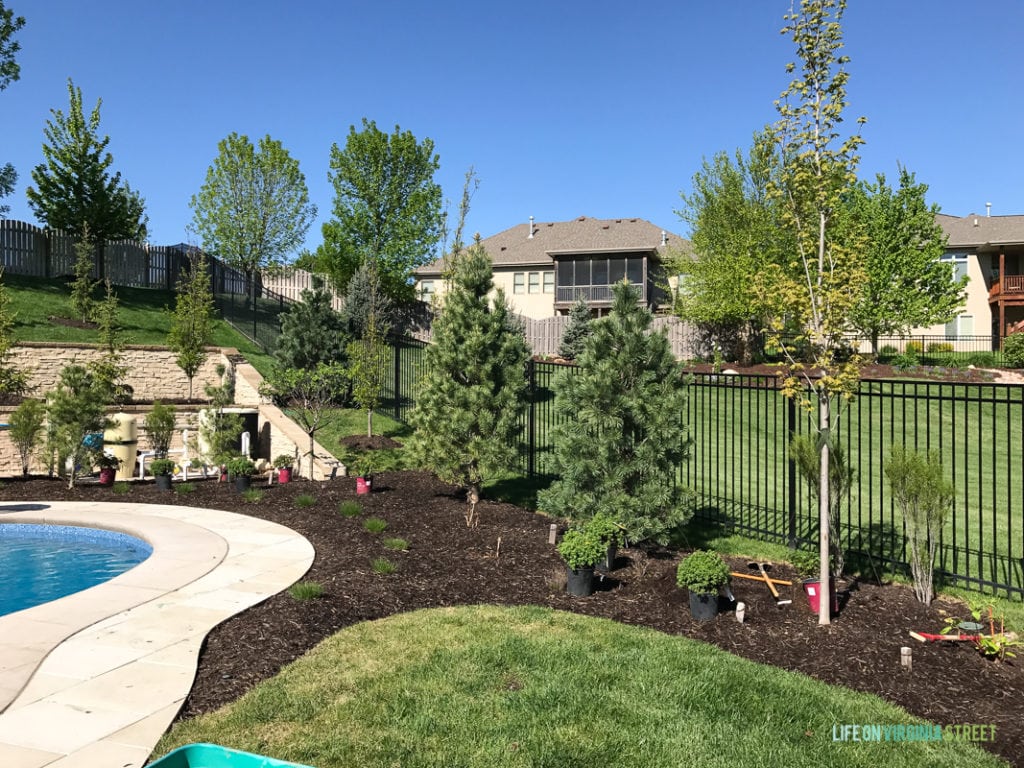 Then comes the digging! I typically follow the directions on the plant guide, in terms of how big to dig the hole. You'll really want to pay attention to this as you want to ensure your hole isn't too small for the plant. It also allows the roots to really grab hold and take off!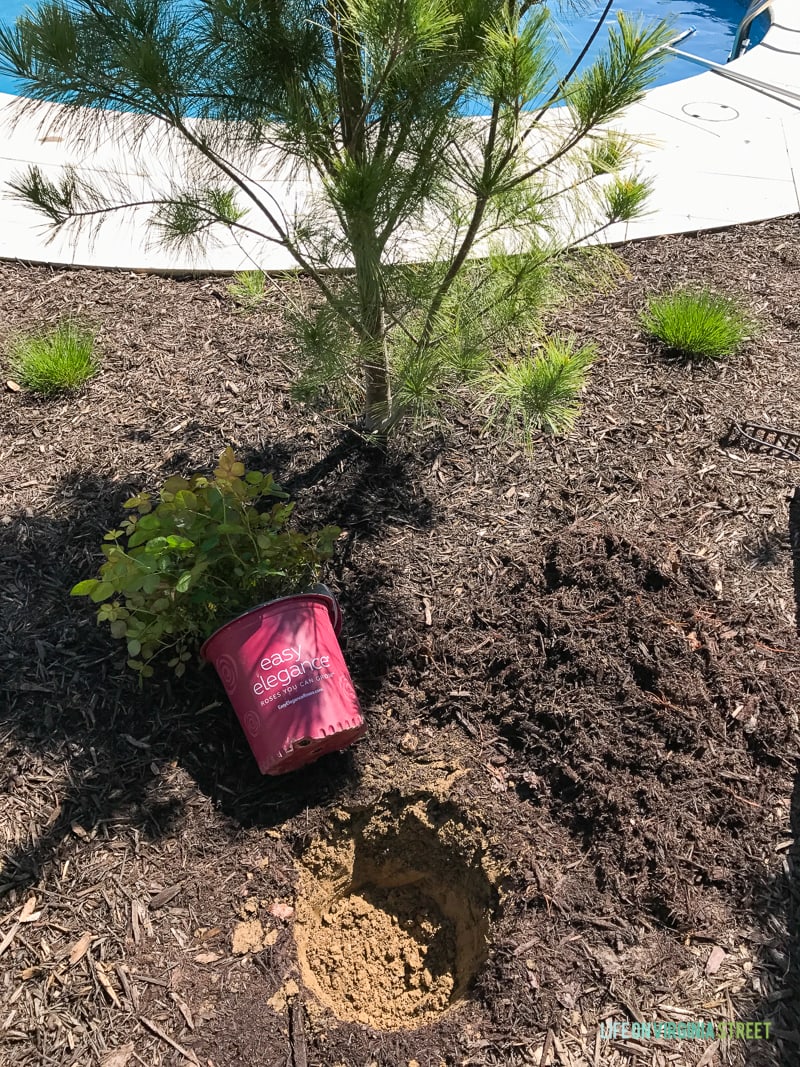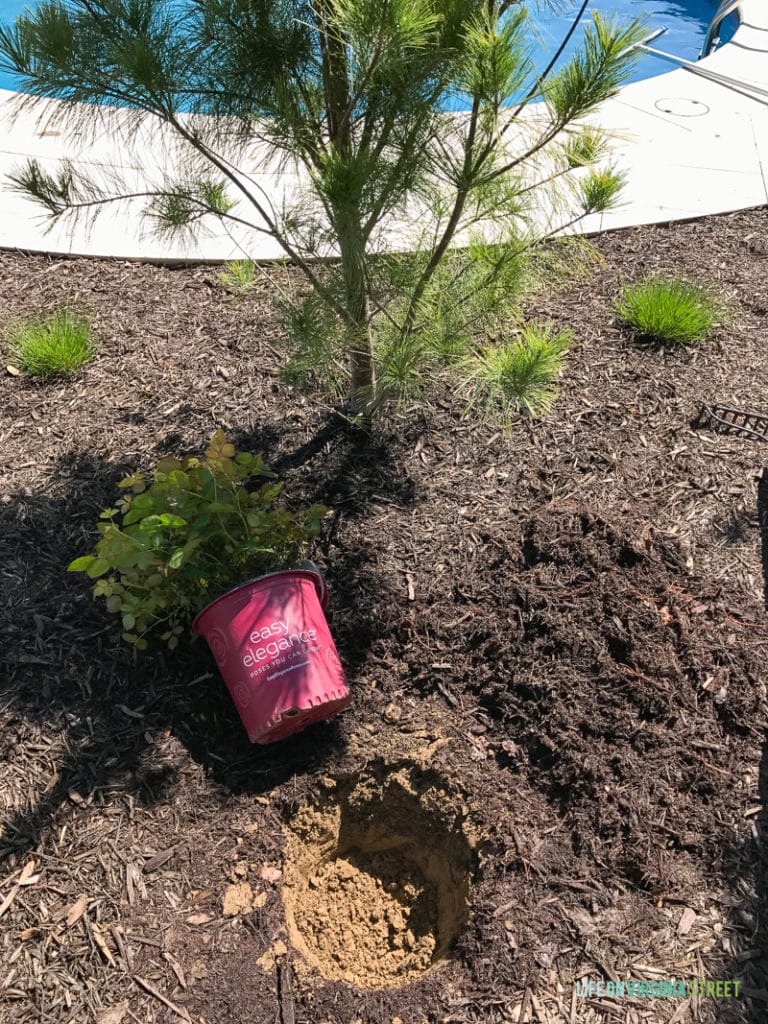 I gently remove the plant from the container, and then very gently try to loosen the roots at the base of the plant. Sometimes the plants' roots are so packed in at the base of the bucket, this will help them grow into the new soil. And I'd be happy to provide sources for my grubby planting clothes (Croc and pilling joggers included) if anyone is interested. #fashionblogger 😉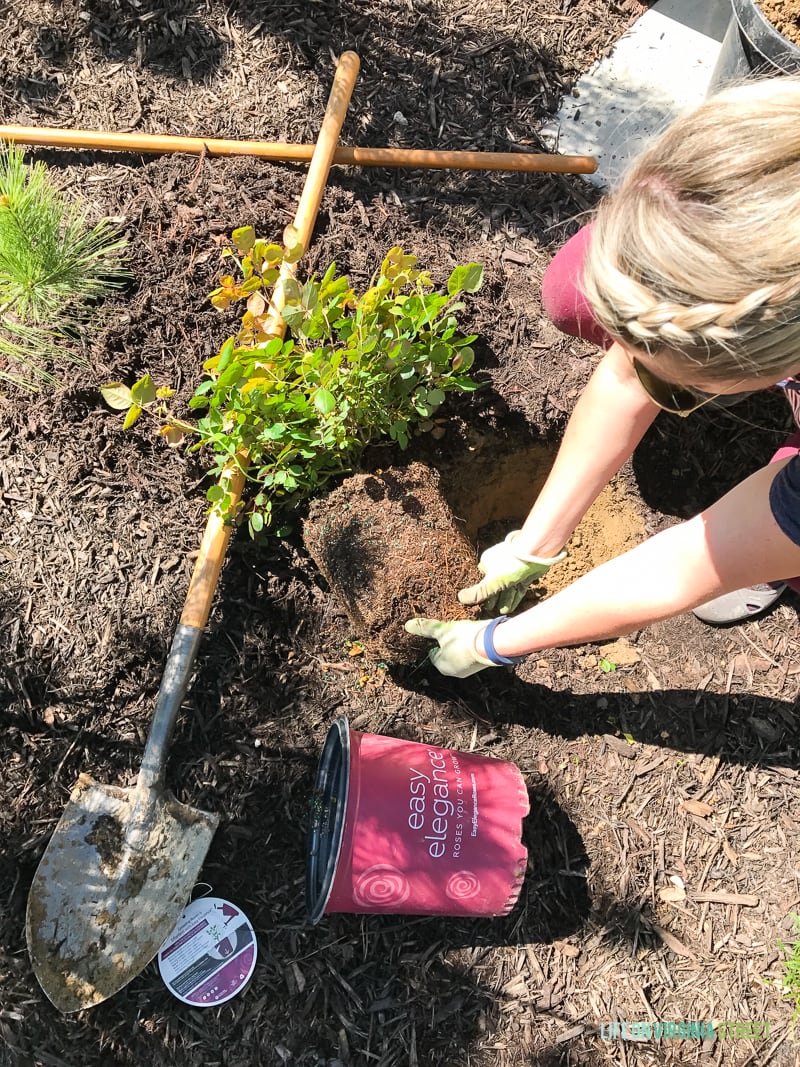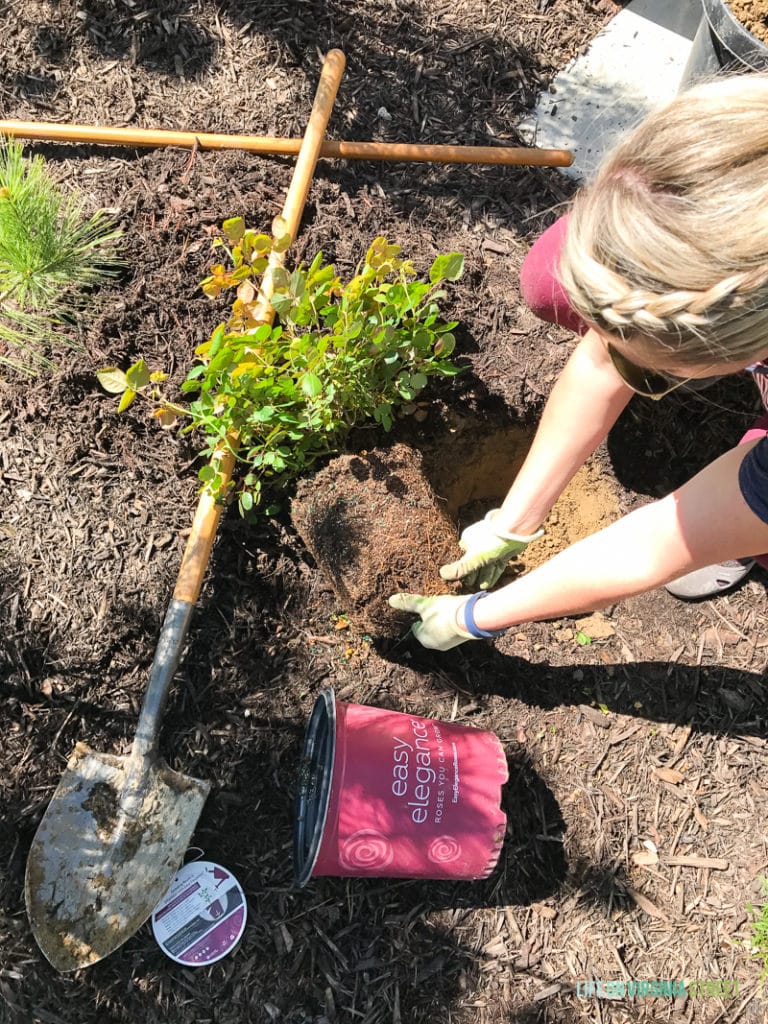 Once I place the plant in the hole, I like to backfill with a 50/50 mixture of native soil (that I dug from the hole) and potting soil. We don't have the best dirt in the subdivisions in Omaha (lots of clay) so I want to ensure I'm replacing with a healthier version! I then add a layer of mulch and it's good to go! It's seriously that easy!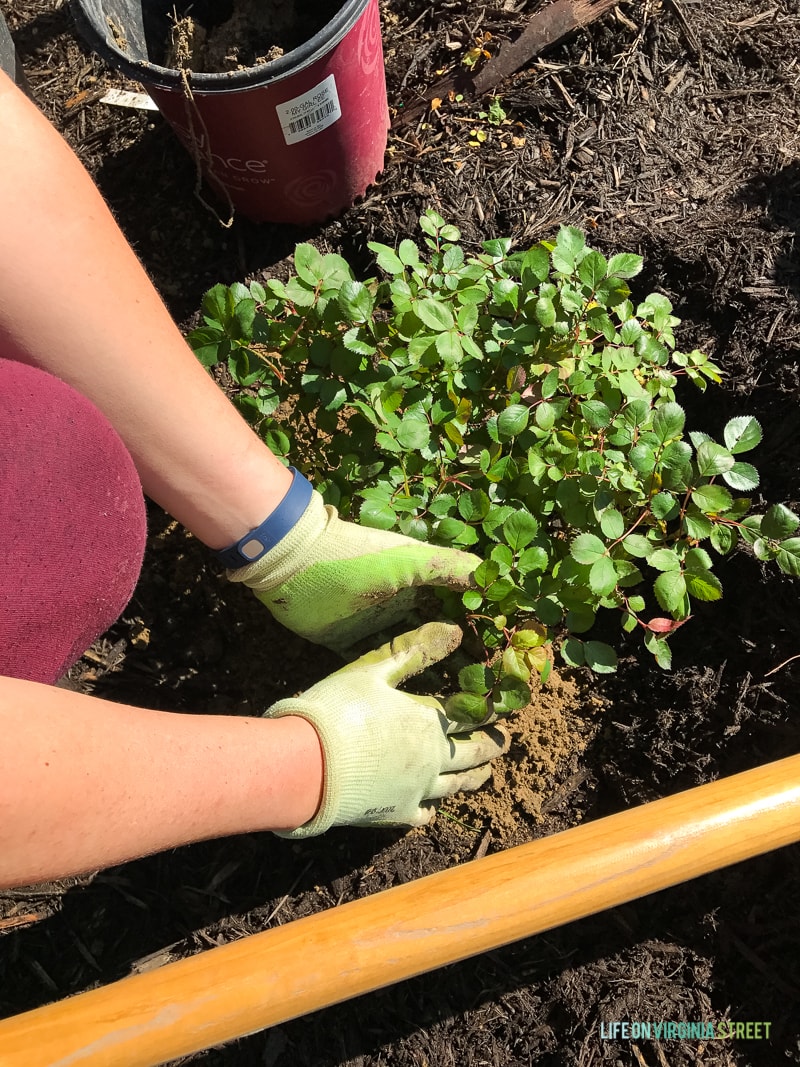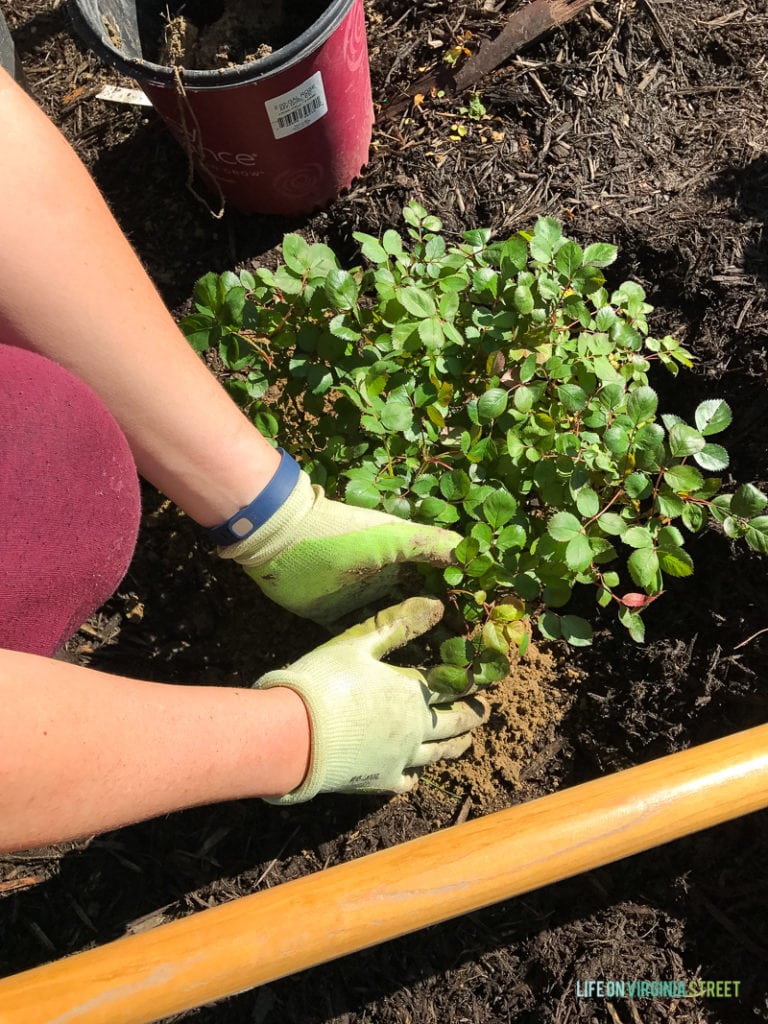 Once I get all of the plants in the ground, I water all of them in with our hose. Especially if it's a hot sunny day like it was in Omaha last weekend!
I'm really excited for the roses around the pool equipment to take off. They'll ultimately get 3-5′ wide and tall, so they should really help hide "R2D2" by the end of summer!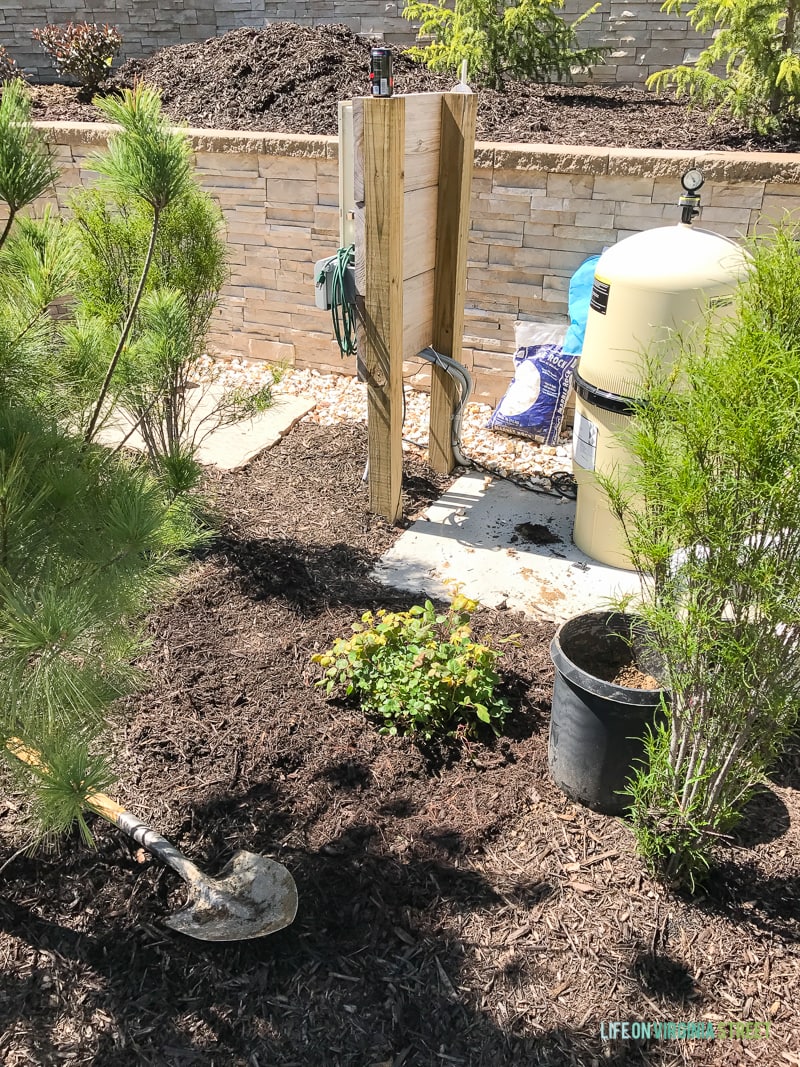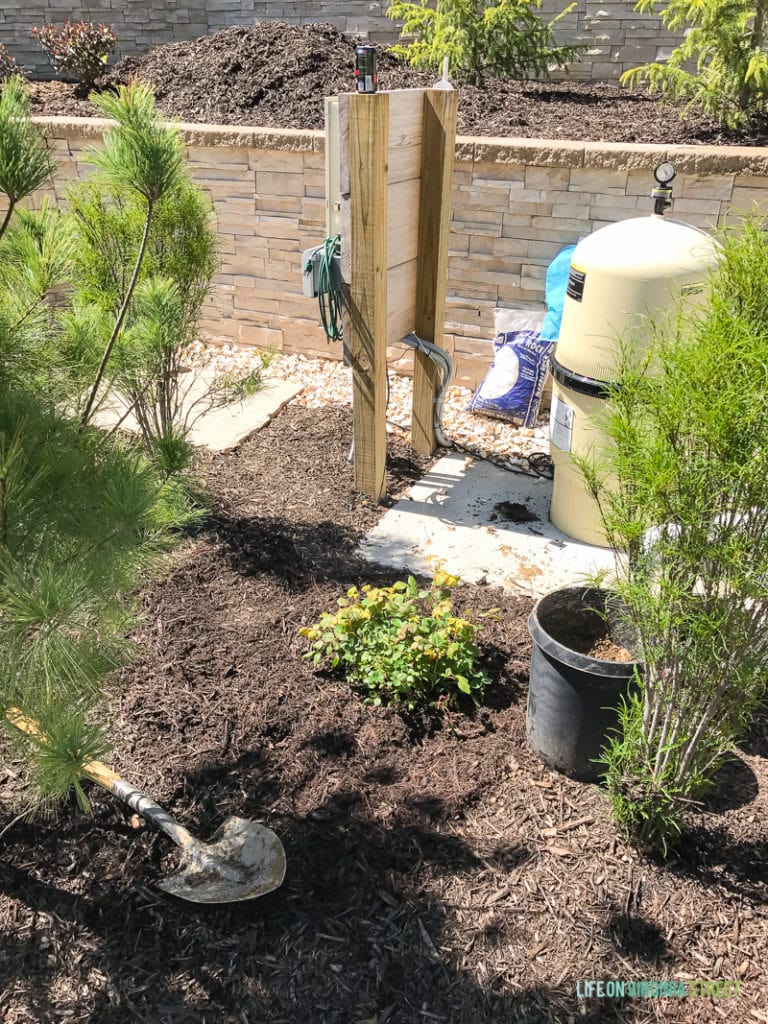 The Easy Elegance® Roses are one of the few colorful shrubs I've found that will thrive in the intense heat and humidity we have here in the summer. Plus, they are super tolerant of our cold winters! Ultimately, I ended up adding seven of rose shrubs, along with five potentilla, around the pool area. I can't wait until they're all in full bloom! Even more, now that they're planted, I love that I won't have to touch them again until fall! As an added bonus, they offer a text opt-in program to give you tips for ensure your roses remain healthy all year long. If you're interested, you simply text EASYELEGANCE to 73095 for timely care tips.
Here's how everything ended up looking once I was done with all the planting.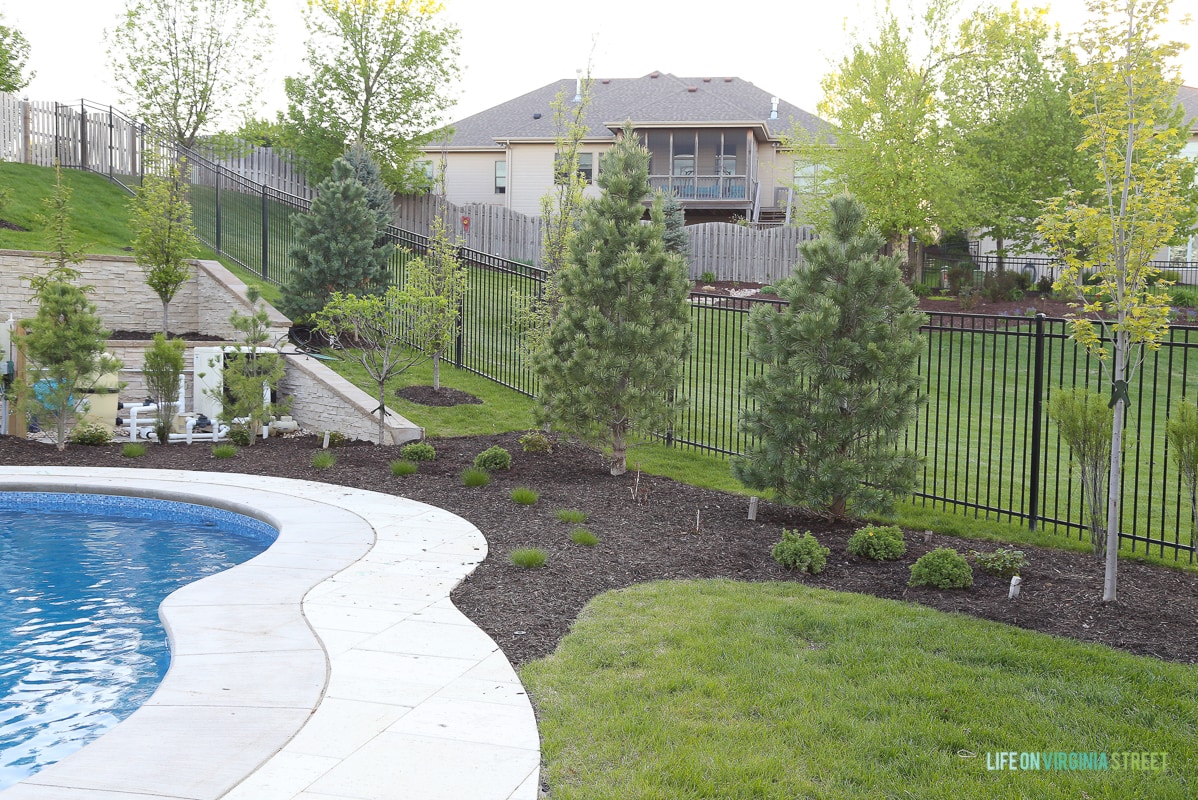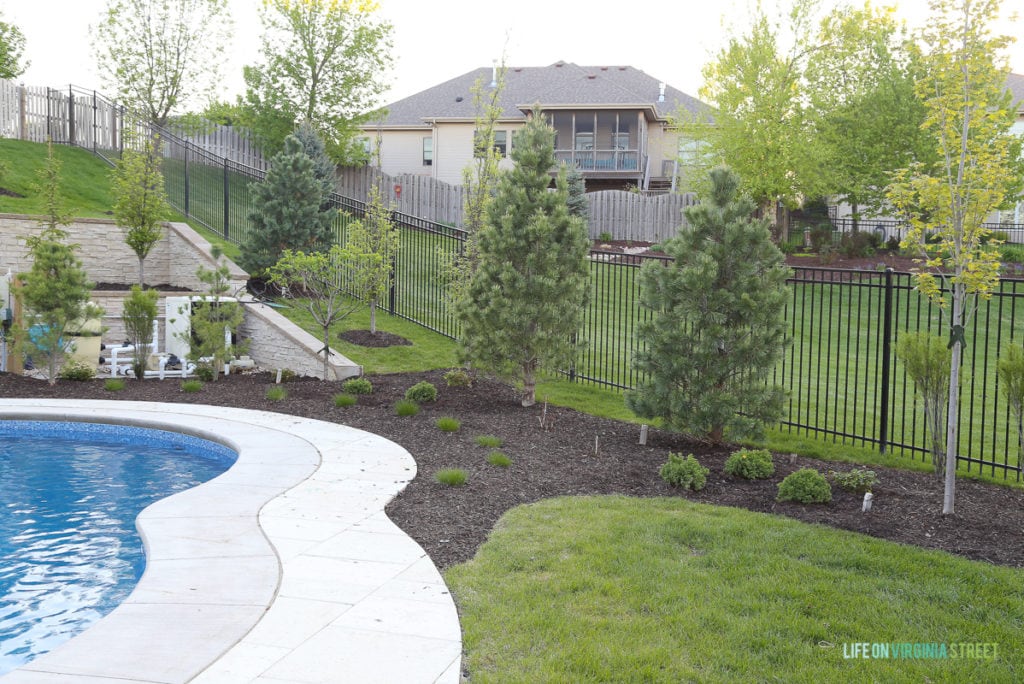 And since I know it's a bit underwhelming at this point without the glorious blooms, I made this pretty little mock-up so you can see exactly where the color will be. Don't be jealous of my skills guys 😉 Squint hard and it may look like real flowers!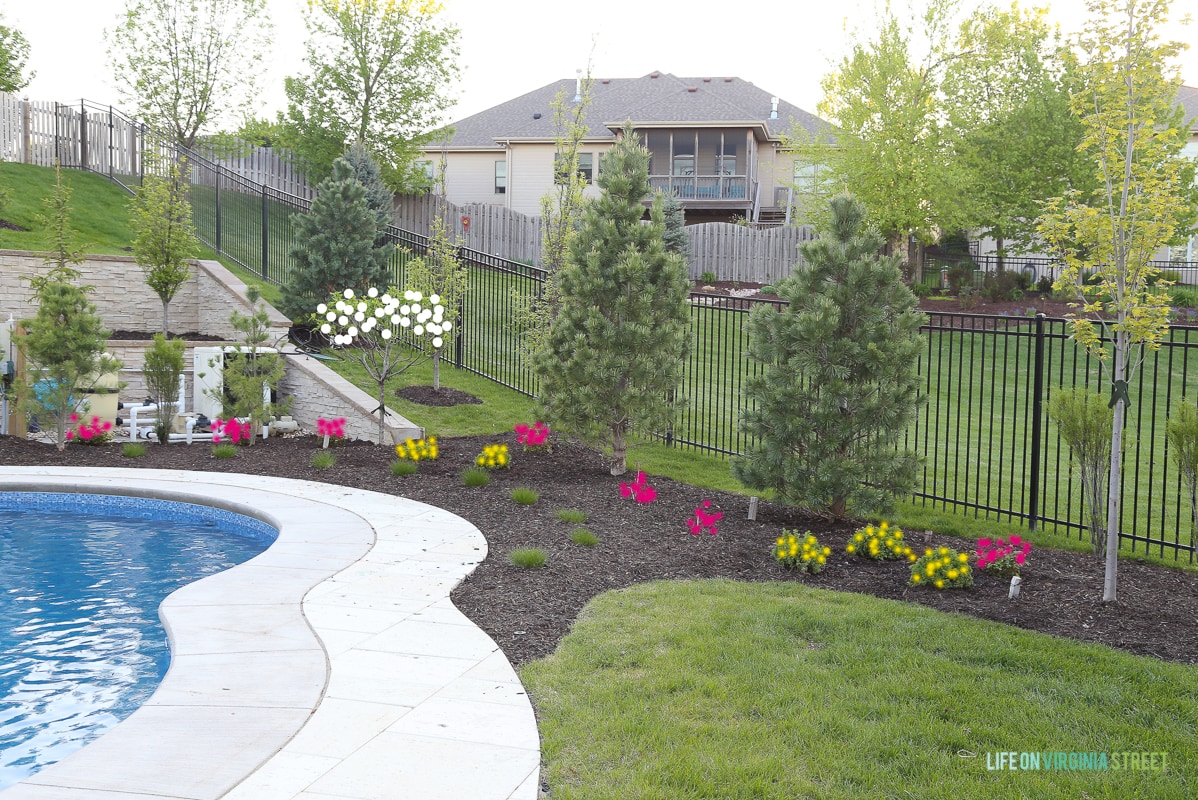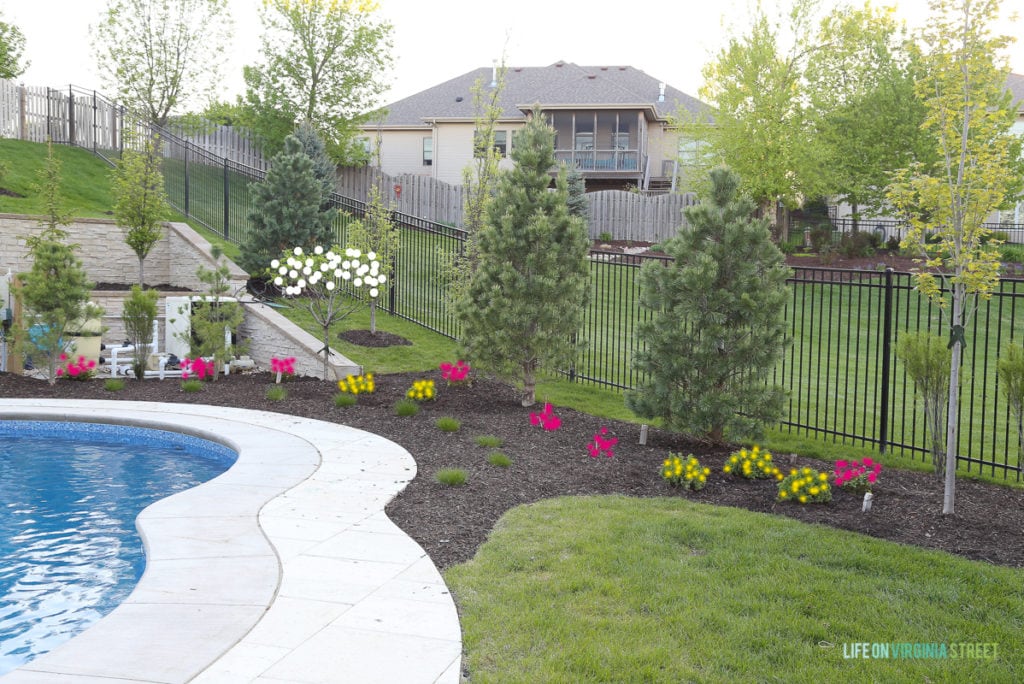 I'll be sure to share some backyard updates during the summer once the roses are in full bloom. Additionally, I'll plan to check back in during the fall and share how we get the Easy Elegance® Roses ready for winter! Happy planting!
Now for the giveaway! Comment below for a chance to win one (1) Gardening Tool Kit that includes: a knee pad, pruning shears, soft grip hose nozzles, quick hose connects, and water splitter/controller, and one (1) pair of Easy Elegance branded gloves!
***This giveaway is now closed. Congratulations to the winner, Donna. I have sent you an email with the details.***
If you would like to follow along on more of my home decor, DIY, lifestyle, travel and other posts, I'd love to have you follow me on any of the following:
Pinterest / Instagram / Facebook / Twitter / Google+
Comments submitted may be displayed on other websites owned by the sponsoring brand.