Here are 4 simple &unique tips for being more environmentally friendly that are easy to do!
I have a special "treat" for you all today! Kurtis is going to be taking over the blog to discuss something we're both passionate about, but he tends to articulate better and/ or geek out on a little more. Plus, he hasn't taken over the blog since he talked about what it was like being married to a blogger, so he made it clear he was more than ready 😉 In honor of Earth day last week, Kurtis is going to be sharing some helpful tips for steps we take to save on energy and reduce waste on a daily basis. Take it away Kurtis!
This post is sponsored by Hefty® and contains affiliate links for your shopping convenience. As always, all thoughts and opinions are my own. Click here to read my full disclosure policy.
Hey everybody.  It's been a while since I have written for the blog.  However, that doesn't mean I still don't contribute by getting wrapped into projects.  By now, I have a PhD in hanging lights and I've gotten pretty good at putting up board and batten.  I also get lots of exercise rearranging rooms and consistently hauling furniture up and down stairs.  Finally, I give lots of creative advice for the blog but for some reason, most of my ideas don't seem to get implemented.  Weird, right?
Anyway, Sarah has finally wised up and enlisted my help again to write this blog post.  Today, I am going to talk about a few simple things we do around the house to be more environmentally friendly.  
WiFi Enabled Thermostats
We have had WiFi enabled thermostats for a few years but we recently just purchased the NEST thermostat.  This thing is cool for several reasons. One, it is very simple to install if you just follow their instructions. Two, it is pretty stylish looking and beats the heck out of the old school, ugly looking thermostats.  Okay, that one was for brownie points with Sarah! Third, the app is super easy to use. I love being able to use the app to set up a schedule. If that seems like too much work, you can actually just let the NEST learn your creature habits of the temps you like and when you are home.  Also, you can check the day-to-day history on the app to see if you are being energy efficient or not. For a competitive, numbers geek like me, that is right up my alley. Finally, on more than one occasion, we have been sitting in the airport and remembered we forgot to hold the temp at a lower or higher point when we were going on vacation.  Being able to adjust your thermostat anywhere you are connected to the internet is definitely a cool feature.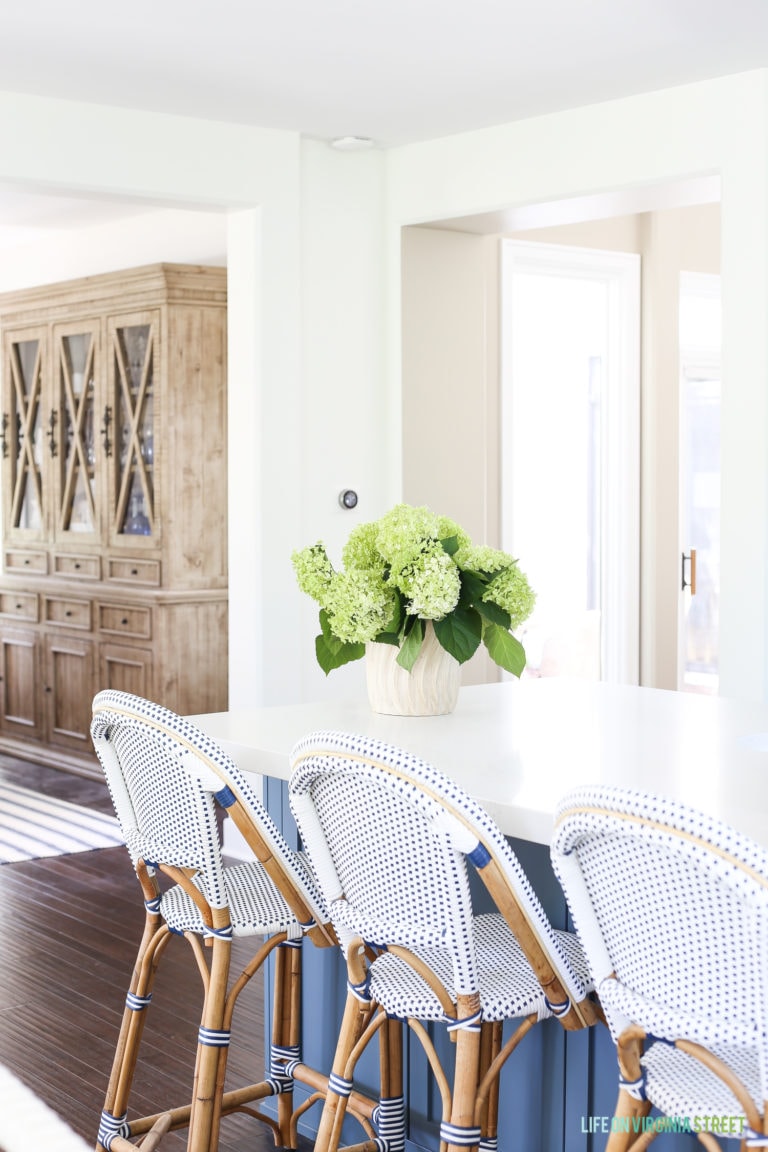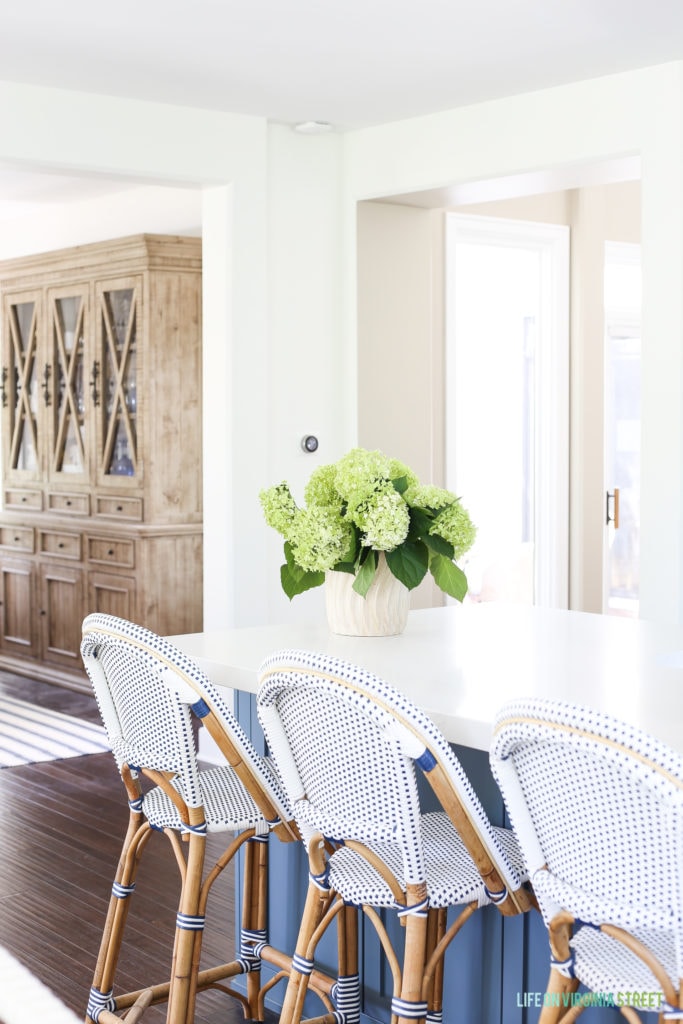 Sprinkler System Rain Sensor
I remember in my first house I would occasionally look outside when it is raining and see that my sprinkler system was running.  I always thought, wow, what a giant waste of money. Why am I paying for water when Mother Nature is giving it to me for free? The second thing I always thought was, yikes, I am sure my lavish yard is going to be nice and soggy now!  Well, now I never have to worry about that again. We have a rain sensor attached to our sprinkler system that will shut off the system when it rains. It attaches to a gutter and you will never notice that it's there. It's also relatively inexpensive with the parts and installation running us less than $200.  You can find various options here. The nice thing with this feature is if you get just enough rain to turn off the system but not enough to really water the lawn, you can bypass the sensor and turn the system back on. Just don't forgot to shut off the bypass like I may or may not have done before. Just sayin'.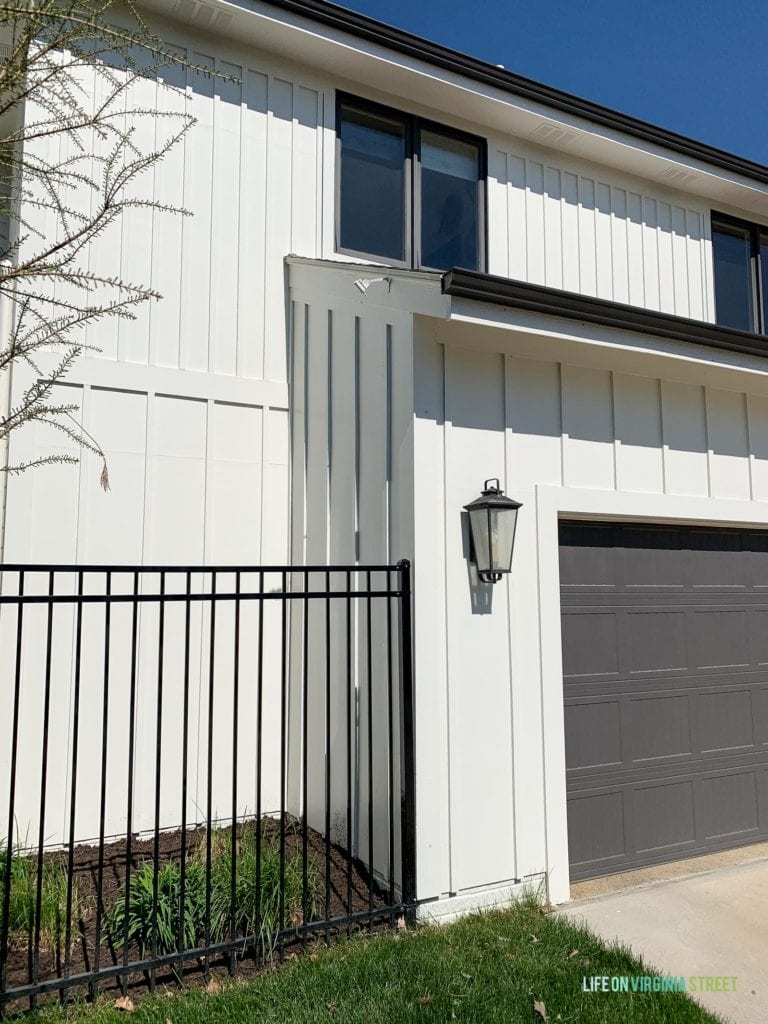 Recycling Water & Our Waterfall Reservoir
As I mentioned above, I love the idea of using Mother Nature to give me something for free.  Okay, I can definitely be a little frugal about certain things but I do think it is cool to use natural resources that the Earth provides us and if possible, reuse rainwater instead of just letting it runoff into drains.  When we built our waterfall, we had them build a giant reservoir underneath the beautiful waterfall. You can't see it when you look at it, but it serves a very cool purpose. When it rains, water is directed into the reservoir from drains along the retaining walls.  Only when the reservoir gets too full, will it spill over into another drain that empties out further down the yard and the water is then slowly dispersed across the yard with a pop-up emitter. Also, when Sarah waters her planters in the back yard, she will turn on the waterfall and fill a bucket to use the rainwater.  We are also exploring additional ways to do even more, like capturing more rain using handy barrels attached to your downspouts.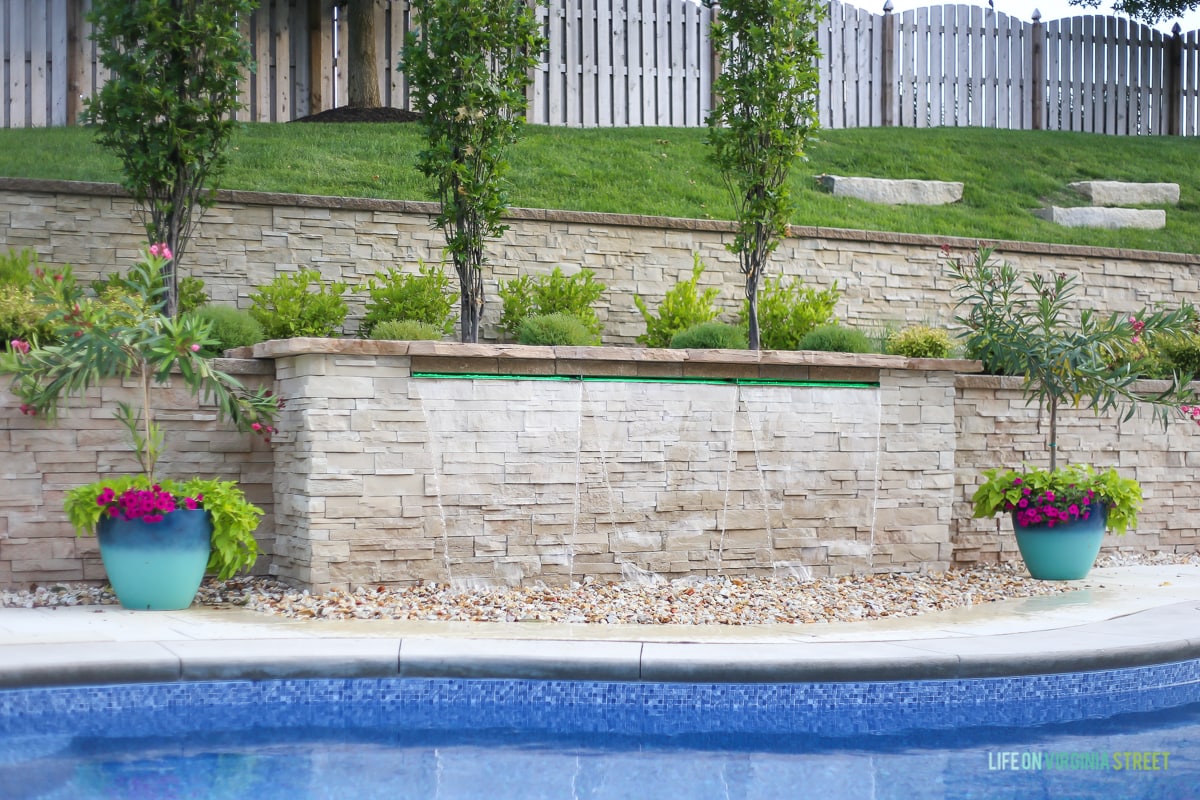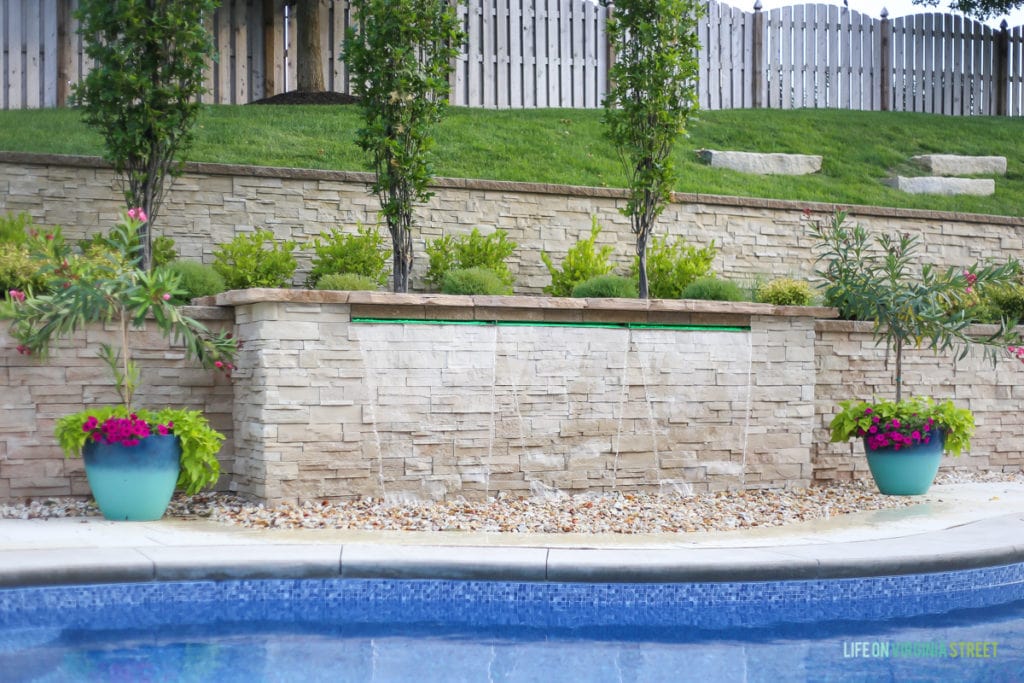 Recycling & The New Hefty® EnergyBag® Program
We have a been big proponents of recycling for a long time. In fact, when we redid our stunning coastal kitchen last summer, it was a must have to include two garbage cans into the design; one for traditional garbage and one for recyclables only. The main reason was to keep them separated so when it comes time to empty them, it is very convenient to put the garbage into their appropriate container.
Through our waste company, we have three large trash cans. One is for traditional garbage, one is for yard waste, like tree branches and lawn clippings and the last one is for recyclables. In most weeks, we have as much recycling as we do regular trash.
One challenge we have had over the years, is the items the trash company will take for recycling has seemed to decrease. The biggest item they no longer take is glass, which is too bad because in the summer we tend to go through a fair amount of glass bottles from a variety of adult beverages. Okay, no judging…it's mostly for friends. 😉  
We also have a ridiculous amount of foam packaging…I mean, have you seen how many packages Sarah gets on a weekly basis? Outside of the obvious problem there, the other issue is we couldn't previously recycle foam products. After years of just putting this stuff in with the regular garbage, we were excited to hear about the new Hefty® EnergyBag® program that recently launched in Omaha (and other cities around the country). The bags are awesome because they let you collect previously non-recyclable items to convert into valuable resources. The best part is, it doesn't replace your existing recycling program – it works to complement it and there is no need to sign-up for anything to start! We found our bags at Hy-Vee (a Midwest grocery chain) in the garbage bag aisle but they are available at most of our grocery stores. You can find the full list of retailers and more info on the bags here.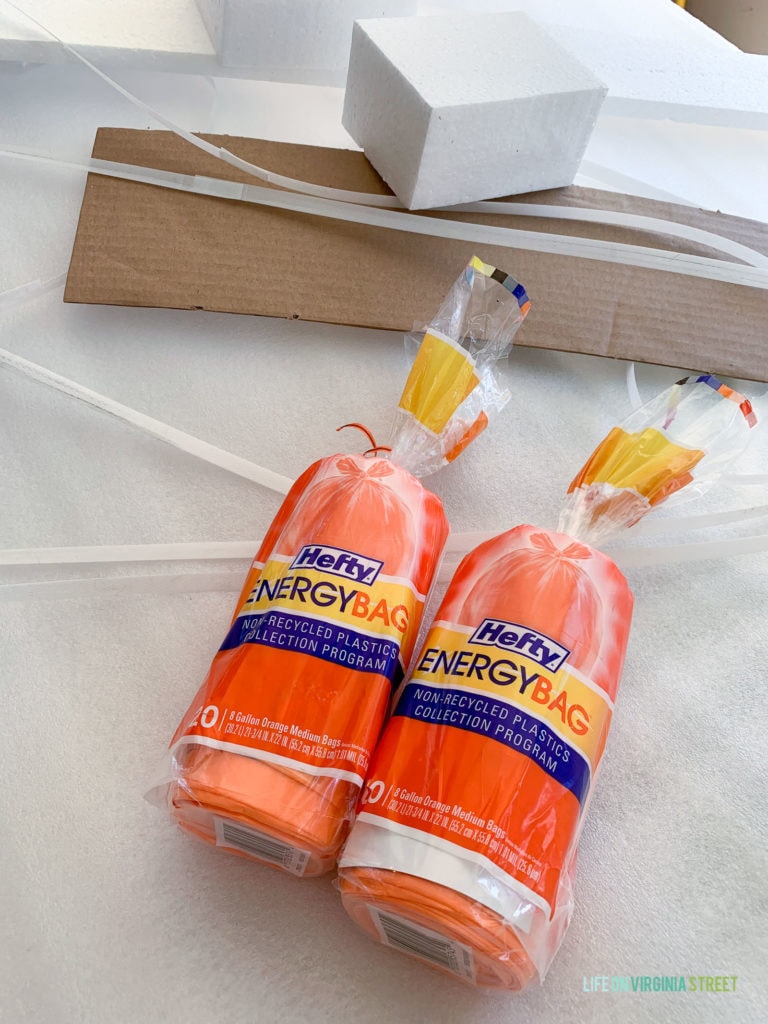 Following are items that are allowed in the Hefty® EnergyBag® program:
Toothpaste tubes
Cake mix liners
Snack bags
Plastic cups, plates and bowls
Foam products (Cups, plates, to-go containers, packing peanuts)
Stand-up pouches
Condiment packets
Salad bags
Squeezable pouches
Laundry pouches
Potato chip bags
Pudding cups
Frozen potato bags
Plastic cheese bags
Plastic pet food bags
Frozen fruit bags
Frozen vegetable bags
Candy wrappers
Plastic liners from powdered mixes
Microwavable pouches
Plastic straws and stirrers
Plastic utensils
Juice pouches
All other non-recycled plastic bags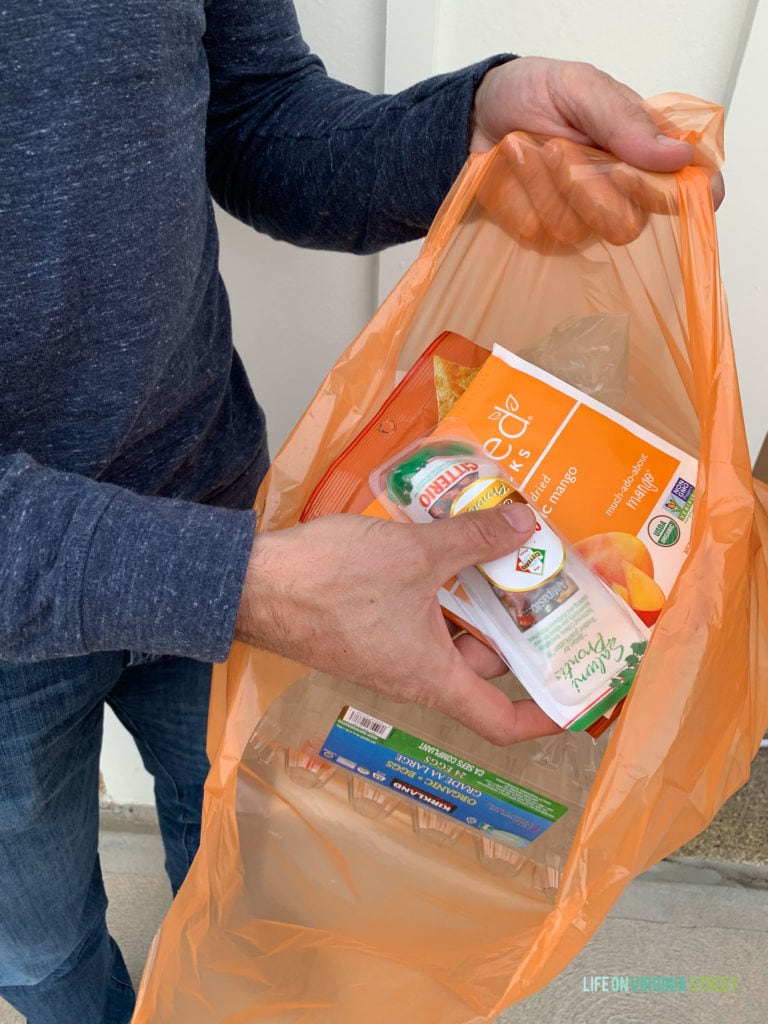 The following items are not accepted with the Hefty® EnergyBag® program and should NOT go in the
orange Hefty® bags:
Food
Glass
Metal
Paper
Aluminum Cans
Liquids
Water bottles
As you can see, the list of what can go in the bags is quite extensive! You basically add these clean and dry items to the orange Hefty® EnergyBag® bags, and once full, securely tie the bag place it in with your regular recycling bin. So easy!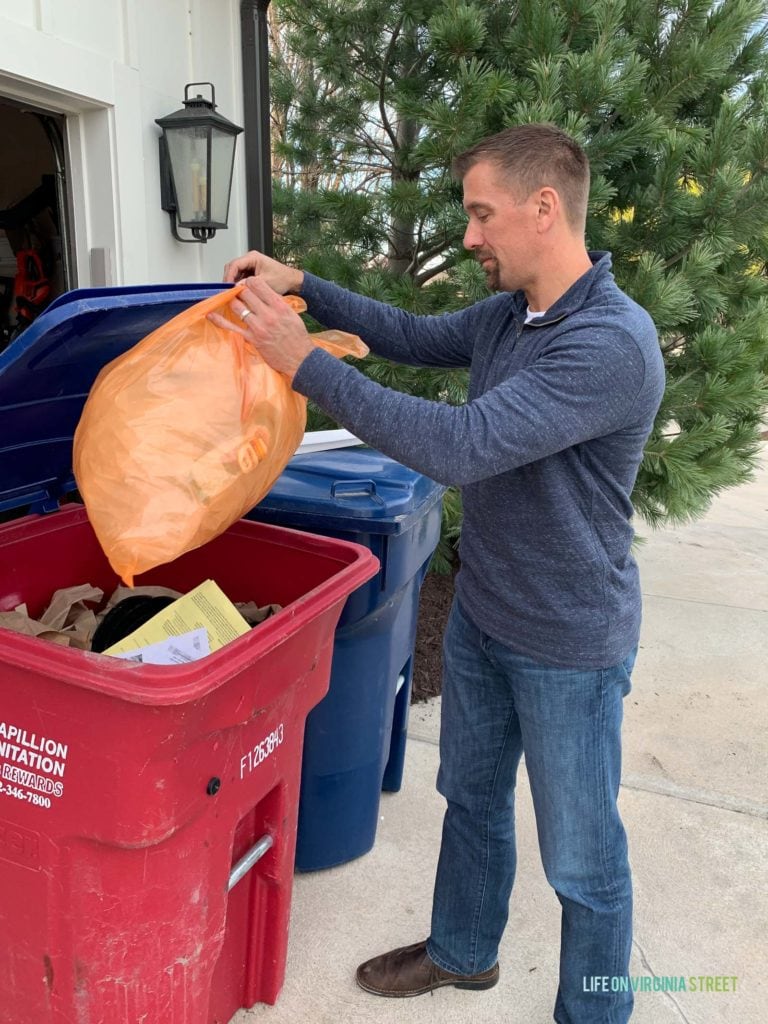 We love that the program collects the plastics you can't recycle today, sorts them at local materials recovery facilities (MRF's) and effectively converts them into energy resources – all via existing waste management infrastructure. The only cost to us is the price of the bags (which for us was less than $.35 per bag). I also think it's pretty cool that the program converts hard to recycle plastics into alternative energy, which can be used to power businesses, cars and homes, rather than add to the landfill!
It's been a great way to further reduce waste and expand our recycling efforts. Sadly (for me), it also doesn't make Sarah feel as guilty for shopping online as much 😉
I hope you have found all these tips and ideas helpful! We're always looking for ways to be more environmentally friendly and have found these simple changes to help, if even a little bit. Until next time, thanks for reading my post!
A big thank you to Kurtis for taking over the blog today! I hope you guys found this post helpful!
If you would like to follow along on more of my home decor, DIY, lifestyle, travel and other posts, I'd love to have you follow me on any of the following:
Pinterest / Instagram / Facebook / Twitter
disclosure: some affiliate links used