This post contains affiliate links for your shopping convenience. Click here to read my full disclosure policy.
The 2019 Nordstrom Anniversary Sale is live to the public today at 11:30 Central! I'm posting a bit early again so you have a bit of time to read through this and see if you have any favorites before the sale launches. But just remember – if you're not a cardholder, you won't be able to add items to your cart until 11:30 Central! Additionally, some items that are showing sold out now, may re-stock once the sale goes live!
I received my (rather sizable) order on Tuesday. The stack of returned items is much higher than normal (boo), but I will say that what I kept are items I'm more excited about than from sales in the past! With all the said, I thought it may be helpful to share the details on everything I ordered, loved and returned and the reasons for each. I also have a section at the end on items I'll likely try before the sale ends. You can also see all of my initial picks in this post.
2019 Nordstrom Anniversary Sale: What I Ordered
As I mentioned above, I ordered a lot. Some of it was because of multiple sizes for a few items and some was because I know historically, I usually keep less than half of what I get. And I would argue this year it was even less than that. So, here's a breakdown of everything I ordered. Click any of the images below to get more details on each item. Further on in the post, I'll show some pictures and details on each item, as well as sizing tips based upon what I ordered. Another side note: some of these items sold out in Early Access, but I'm including them in this post, because many times items are re-stocked for public access!
TOPS, SWEATERS & JACKETS
Following are the tops, sweaters and jackets I ordered in the exact color I ordered them in. Click on any of the images for more details and color options.

JEANS & PANTS
Following are the jeans I ordered this year, knowing I would likely only love one or two pairs.
SHOES
These are the exact shoes and boots I ordered.
MISCELLANEOUS
Following are the other random things I ordered this year that didn't fall into one of the other categories above.

2019 Nordstrom Anniversary Sale: What I Loved & What I Returned
Shoes were the big winner this year for me! I was obsessed with all three pairs I ordered! I ordered them all in my regular size (size 10) and would say they all fit pretty true to size. The Uggs did run a tiny bit big, but I would argue it isn't more than a 1/2 size tops. I'll be keeping my regular size since they are a more fitted style than typical Uggs. In the Børn boots, I ordered a regular 10 since (shockingly) my calves aren't large even though I have thicker legs. I still had room in them even in the regular size and they're super comfy with a squishy footbed. The flats online say you should order down 1/2 size, but I ordered my regular size and they fit great! They're so beautiful in person and I may consider getting the black pair, as well!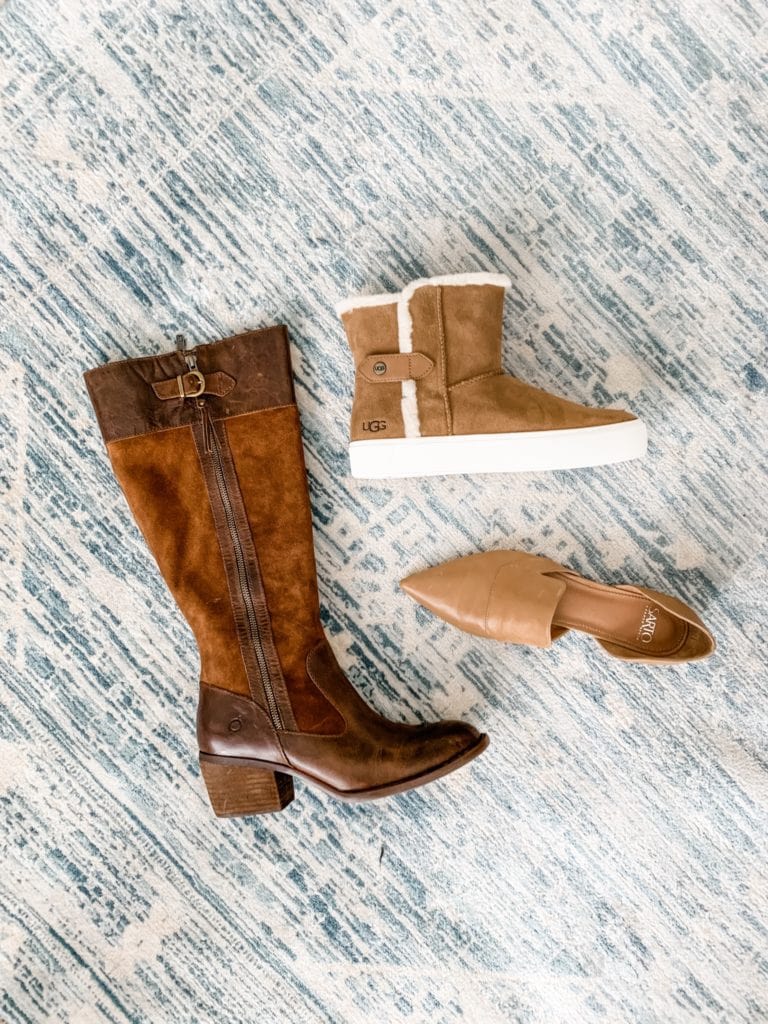 Tall Boots | Sneaker Boots | Flats
On to the clothing! Sadly, nearly ever top I ordered is going back! But I'm okay with that. I love using this sale for shoes, jeans, cardigans and other seasonal staples and I then like to fill in with stuff from J. Crew and other favorite stores when the season arrives. A few of the tops that I'm returning, I will actually be re-ordering today in a different size if available. Here's a look at everything I ordered. My outfits are definitely not styled or even necessarily paired with the appropriate top or bottom. But it got hot trying on all these sweaters, jeans and boots when it was 100 degrees outside 😉
For sizing reference, I'm 5'8″ and currently a size 12 in jeans and large in tops. Although arguably I'm on the high end of both of those right now thanks to too much pool time snack and drinks! All of the items below were ordered in my regular sizes unless otherwise noted. Final side note: my selfie game is definitely not strong! But hopefully you'll get a general idea of overall fit.
My first selfie of the day and also the most awkward 😉 It's so hard getting a selfie when you don't want to cover your upper chest area! This smocked neck top was a last-minute add to my cart and I like that I can wear it now or with a blazer or cardigan in the fall. I'm not usually an orange person, but I was drawn to this shade and love it! Although that could be my summer tan talking 😉 I'm wearing it with these linen shorts because that's what I happened to be wearing yesterday!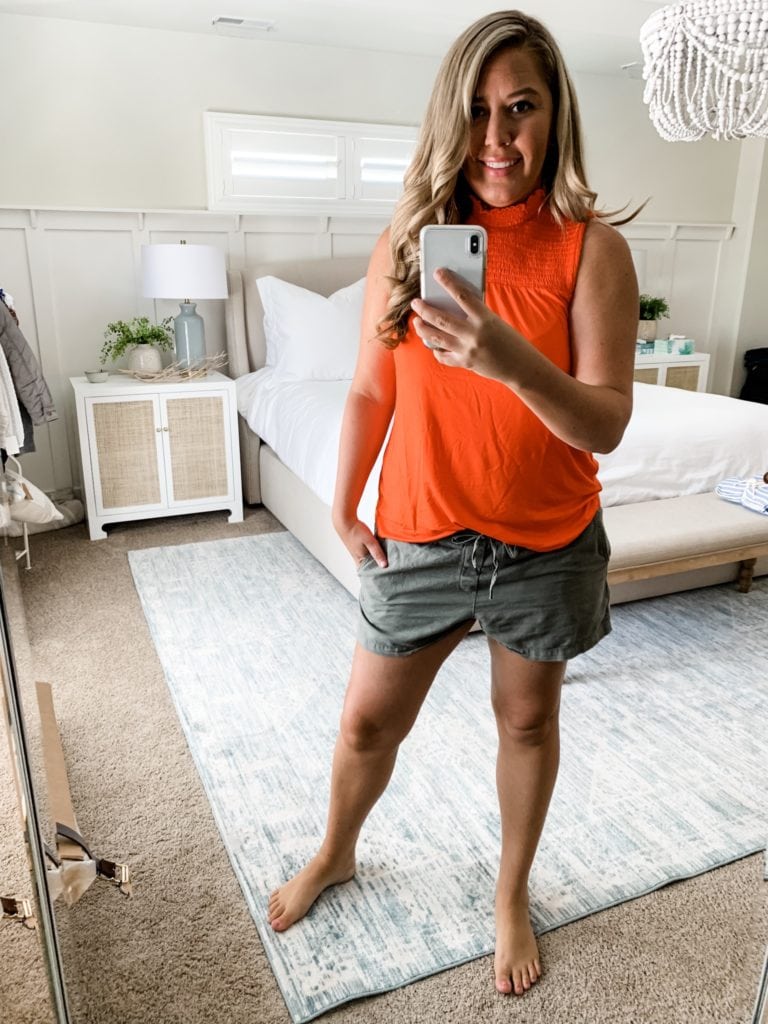 I knew ordering this top was a risk. It's definitely unique and I can't decide if I love it or hate it! Which means it's probably going back 😉 I had these jeans 15 years ago in grad school and had to order them again when I saw them back in stock this year. I love the flared trouser leg but can't tell if it looks like a 15 year old trend. Ha! I ordered them in size 32 because I know how this brand fits me. I'm also wearing these chunky tortoiseshell hoop earrings.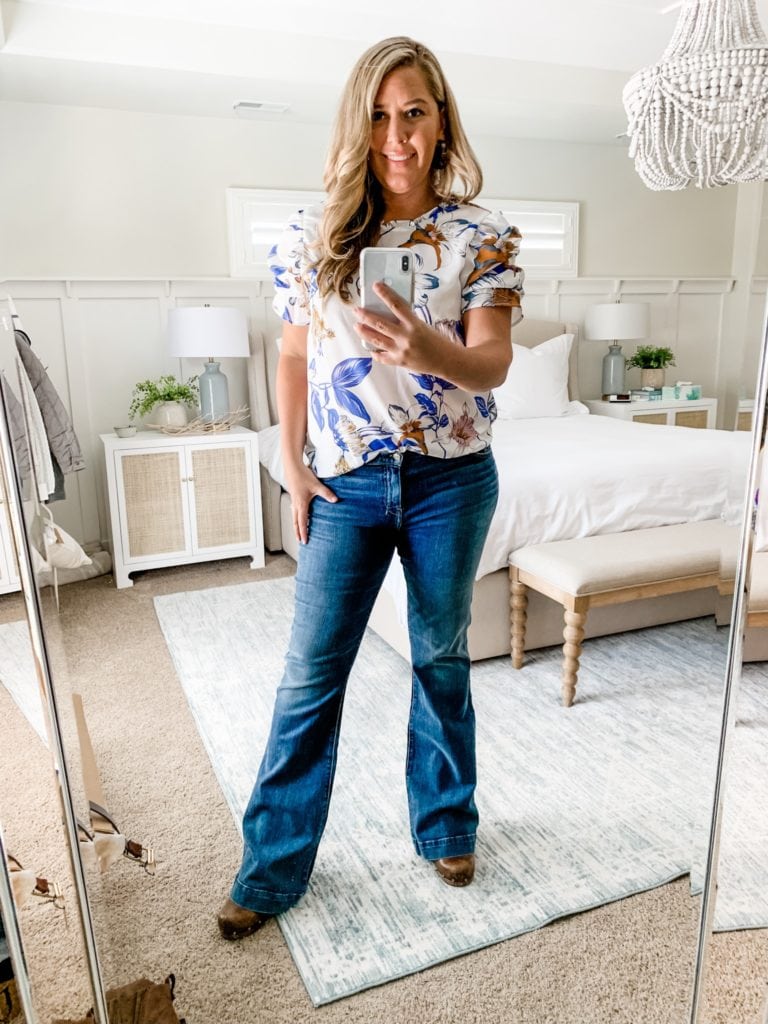 Trying to show a better look at the jeans and sleeve details. The jeans are super long (I had to dig out an old pair of platform mules for the photo above). With the mules on, I'm close to 6′ tall, so keep that in mind if you're under 5'8″.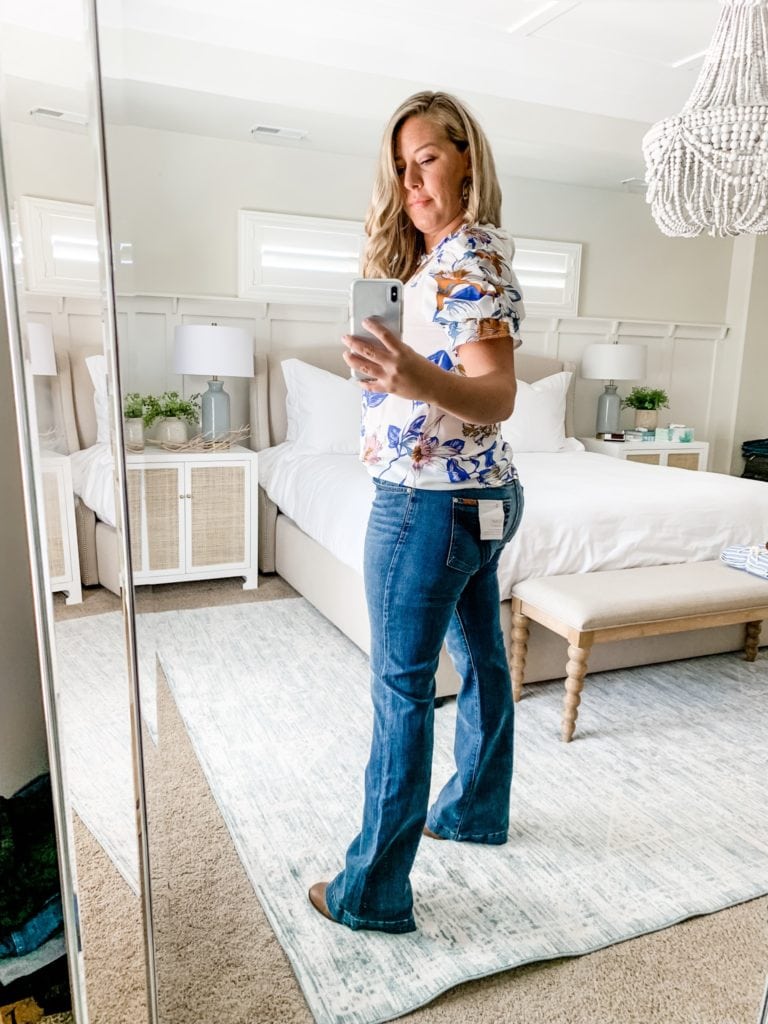 This long cardigan was my favorite sweater purchase and I may order it in another color. I love the longer length and the way it hangs. Paired below with these trouser jeans, but I'd probably wear this more frequently with skinny jeans. Side note: I'm wearing this hot pink Walmart tee in about half the photos. Not because I necessarily because I thought it looked cute with the items because I was already wearing it when I shot these and was too lazy to find different tees 😉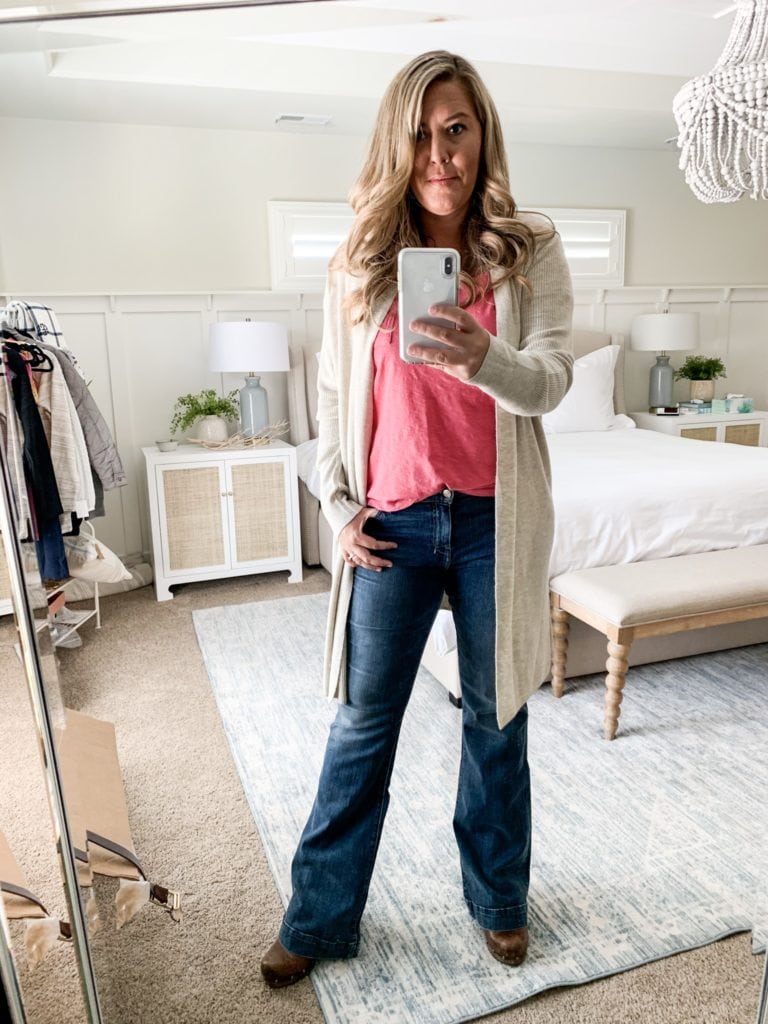 With the long length, the side slit helps it not to ride up on your butt when you're walking. Word will get out on this one, and I'm guessing it will sell out in several colors pretty quickly!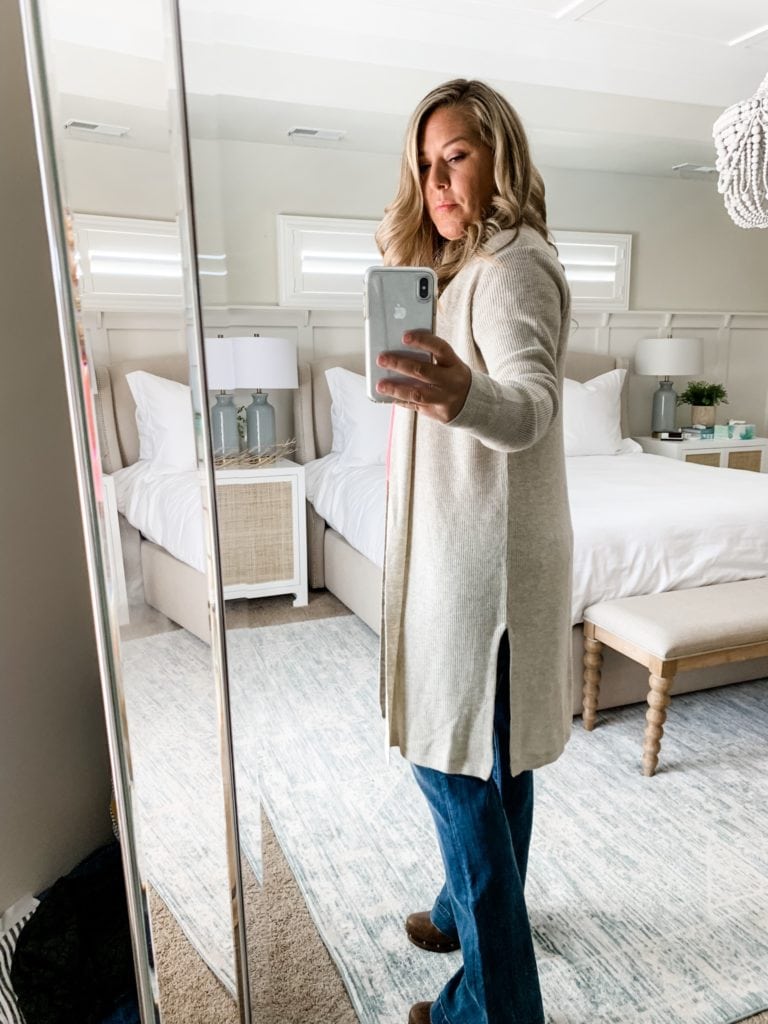 I really loved this swiss dot top and the ruched neckline (that I found impossible to photograph). I ordered my regular size (glad I did or it would have been too small). The bottom is slightly boxy so I think it looks best tucked in or half-tucked. These high-waist skinny jeans are from one of my favorite denim brands and feel so good on! I also love that they're longer than many and I think they'll be great to pair with tall boots this year! And I was so happy with these flats! The color is gorgeous and I love that they can be dressed up or down.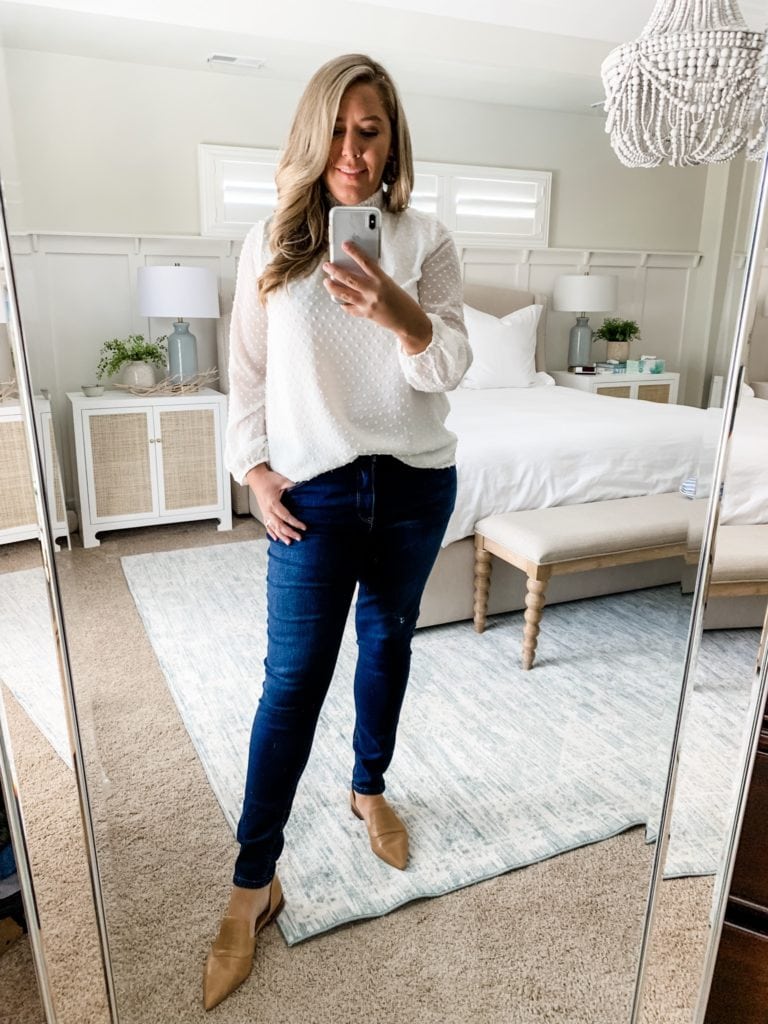 One of the challenges of Early Access shopping is no reviews on most items. This top one said to order down a size so I got a medium and it was way too small. I think I may have liked it otherwise if I got a large since I'd want to wear it as more of a lounge-y tunic! Still wearing these jeans paired with my favorite sneaker boots.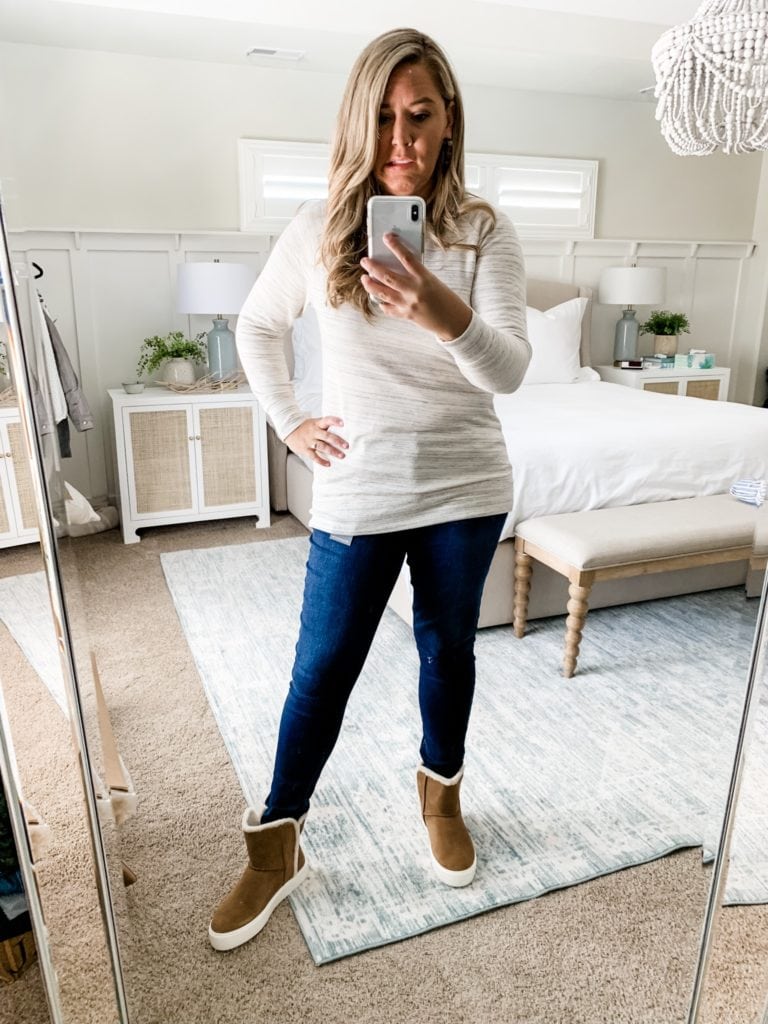 This sweater fit well and was soft and cozy. The color on the Nordstrom site is more accurate – when I lightened this photo it made the pink get a bit more neon than it actually is. Still undecided on this one!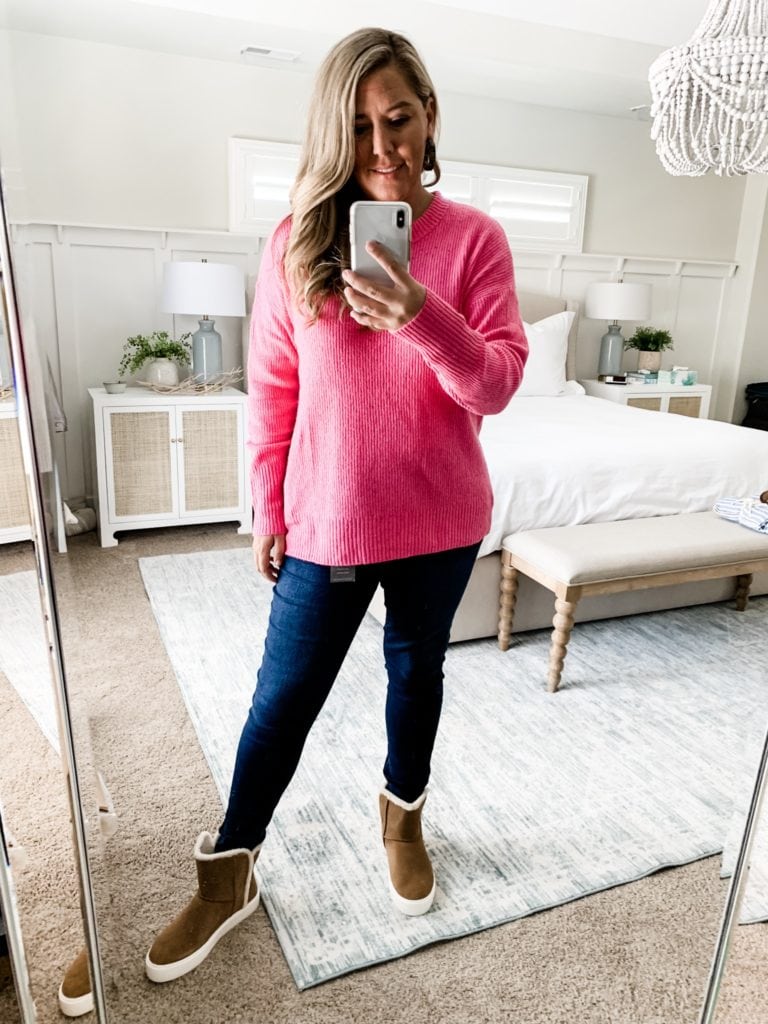 I absolutely love this quilted jacket! It basically sold out immediately so I'm hoping since it's a house brand they'll restock it today! The price is hard to beat! I'm pairing it hear with these skinny jeans and these boots.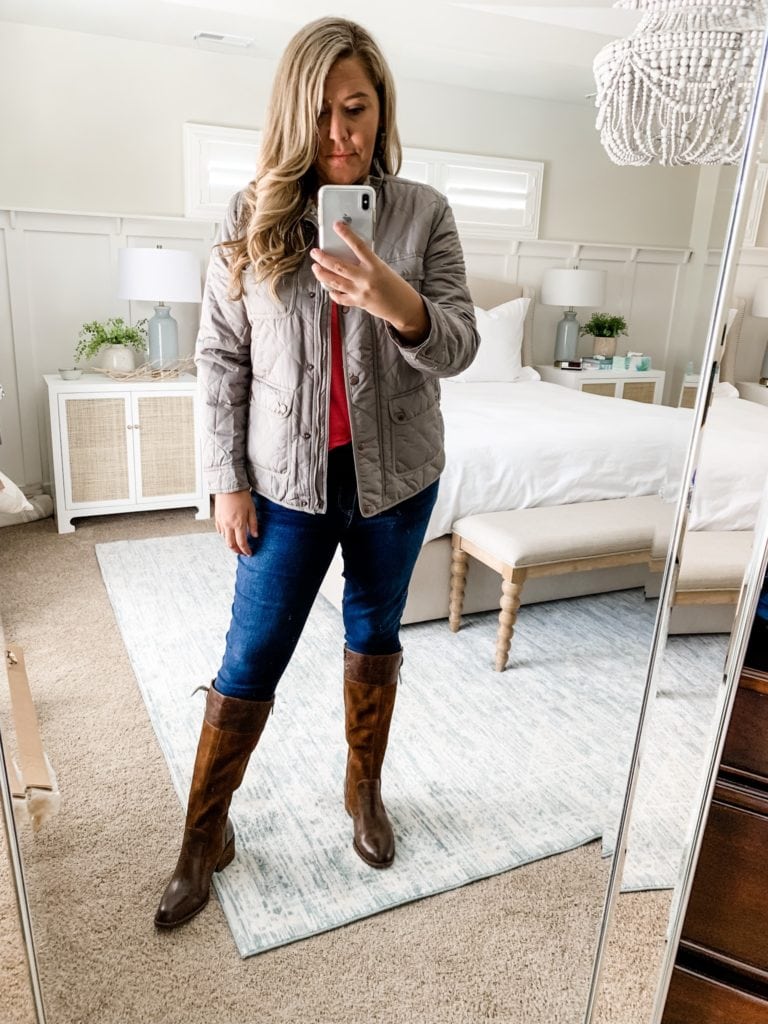 This side-snap sweater is a cute one and I ordered down a size to a medium, per the website instructions.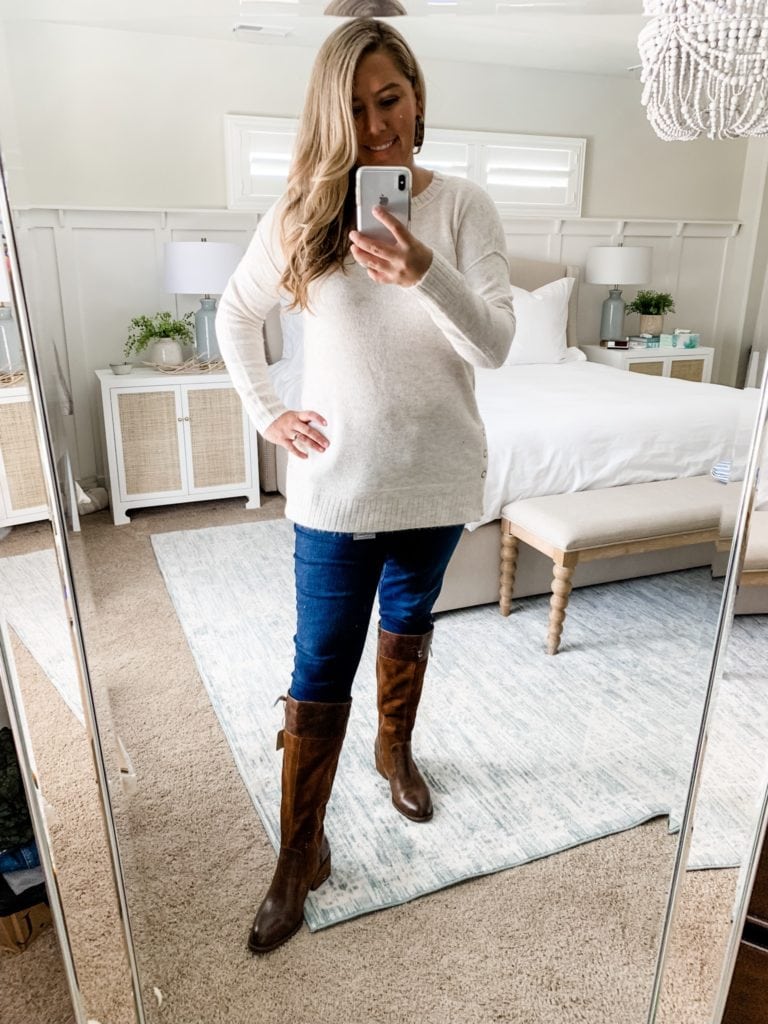 I like that it's long enough to cover the booty and the snaps are a fun detail. This color is slightly sheer so I'm not 100% if I'll keep this one or not. I think I'd like it better if I got my regular size since the fabric is a bit clingier.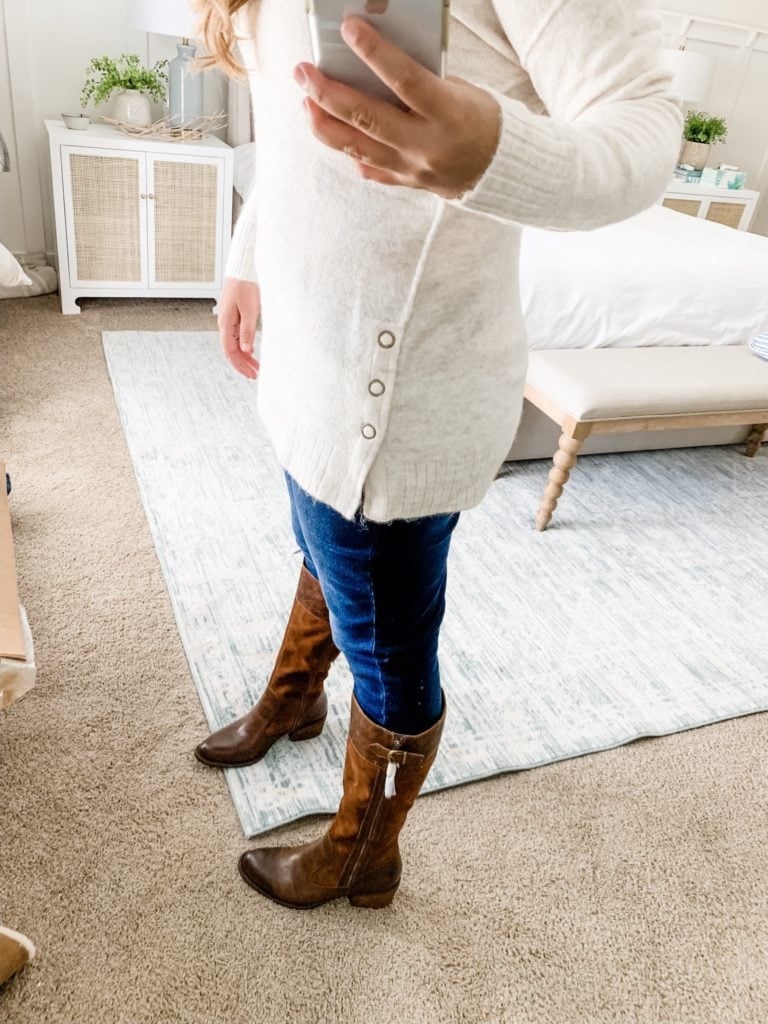 In the fall and winter months, I basically work all day in lounge clothes. So I gave these joggers a try and really like them. They're the same live-in material that so many love in the yoga pants so they're super comfy. They aren't wildly flattering on me because the material is a bit clingy, but I'll likely keep them because I think the material will wear better than some of my other joggers!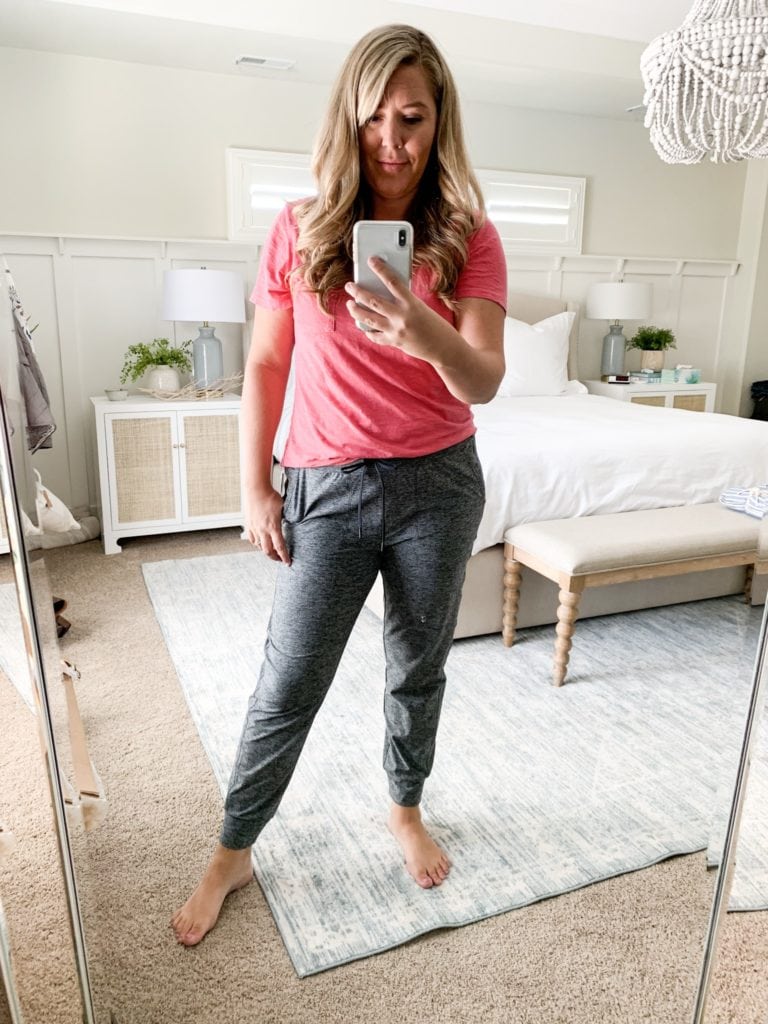 I hated these jeans on me. They are high-waisted and hit me in a really weird spot and made a pretty bad muffin top. I also think they length on me just looked off. I think they'd be super cute on a slightly shorter and leaner frame. Definitely going back.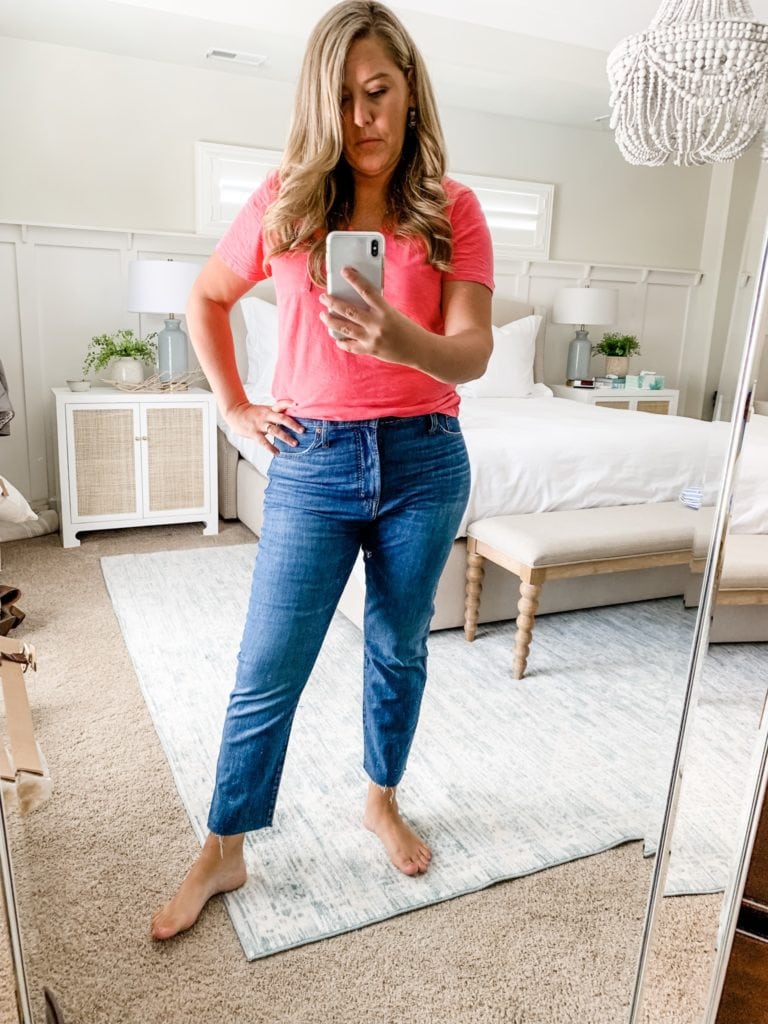 I had high hopes for these skinny jeans and actually laughed when I took them out of the box. They looked like jeans for children. But they actually did stretch and fit. I just can't say I love them enough to pay double the price of the skinny jeans above. They'll be going back.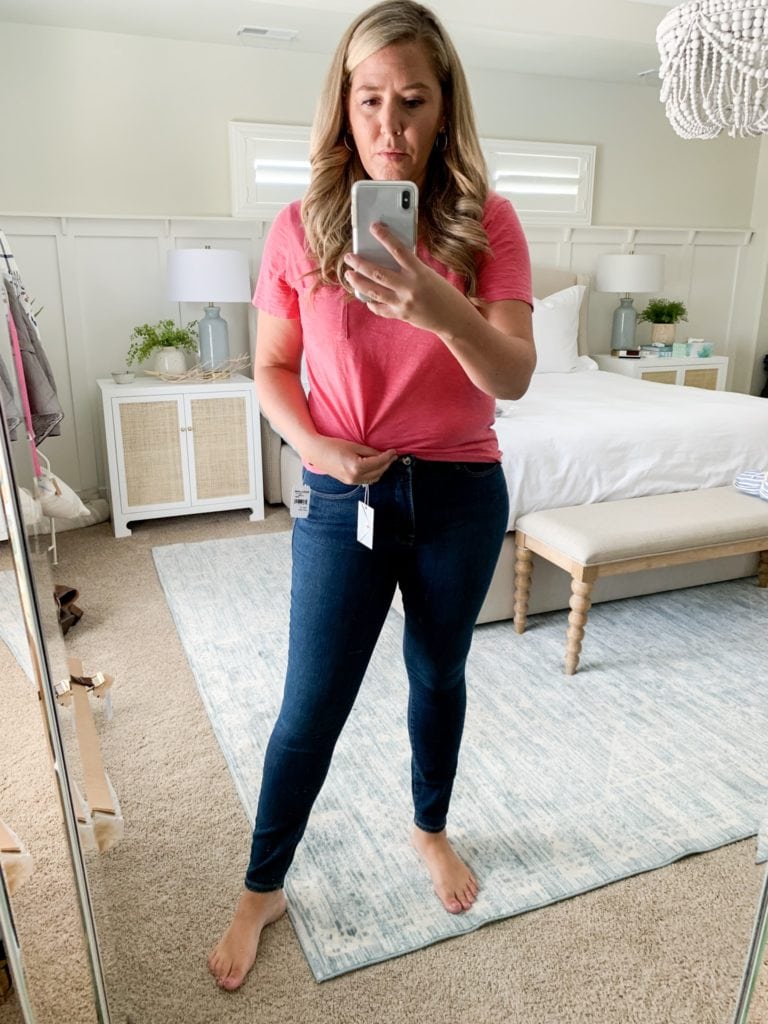 I ordered these jeans last year in a dark indigo wash and have gotten quite a bit of wear out of them, so I opted to get this slightly lighter pair. I feel like it's a universally flattering cut (and denim weight/stretch) and I love that the brand makes them a bit long!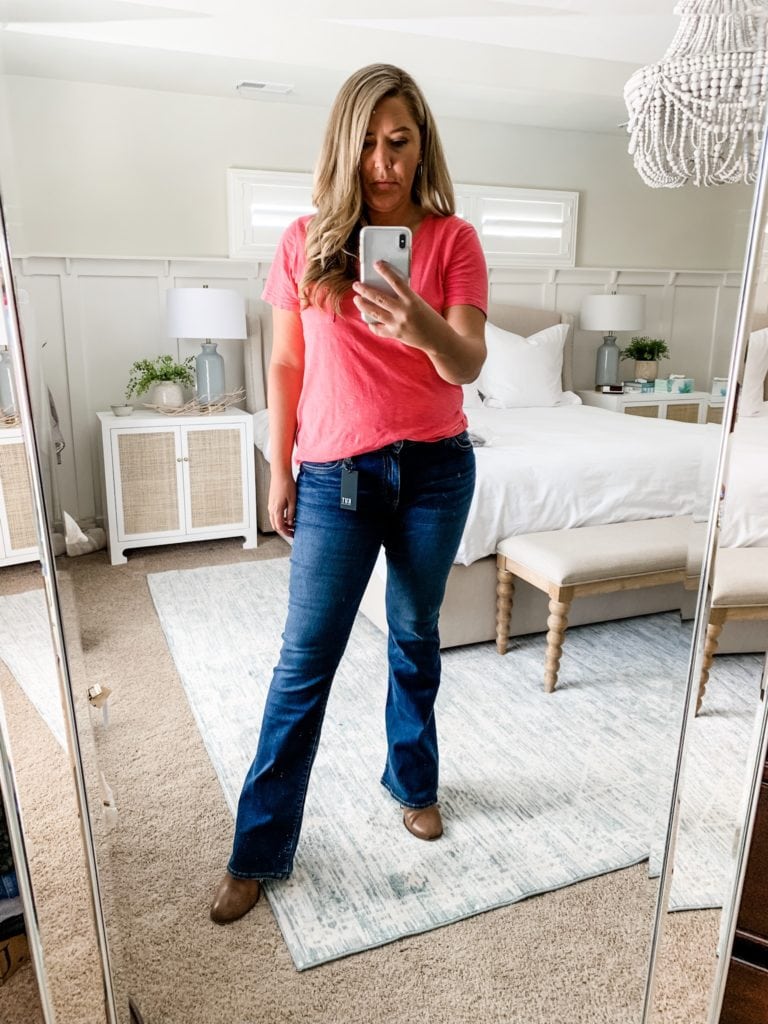 This Madewell cardigan is one I may try to re-order in a smaller size if it gets re-stocked today. I really like the overall look and how soft it is. But I felt like it drowned me and added a lot of unnecessary bulk in my regular large size.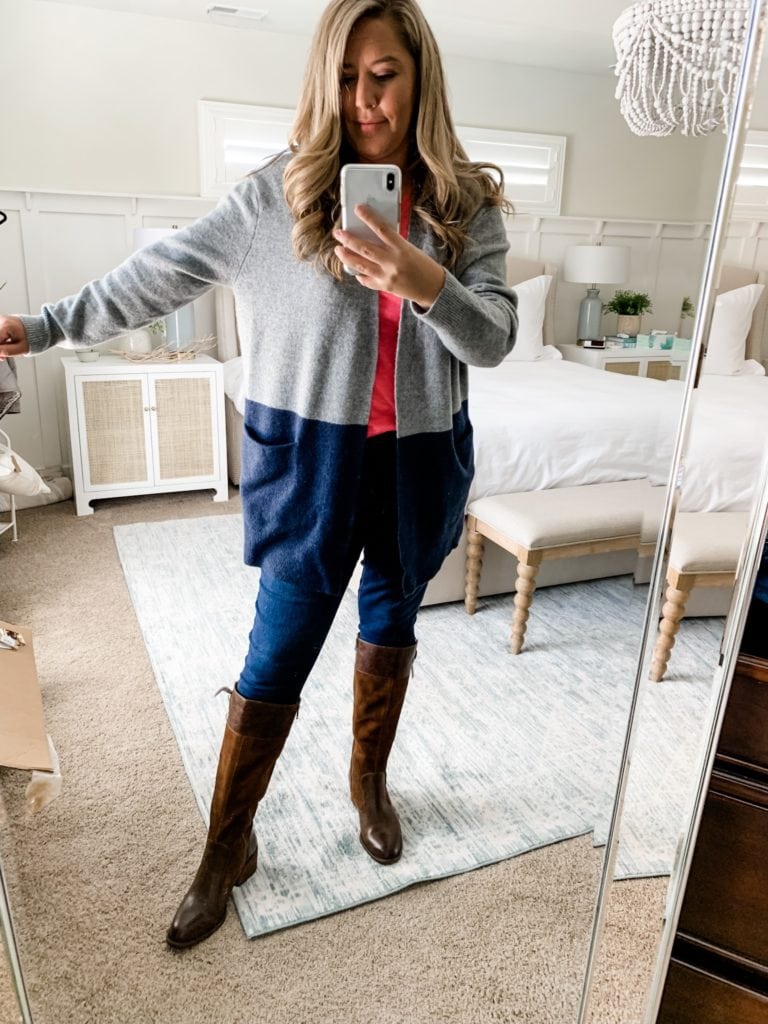 Here you can see the length better and how well it covers behind.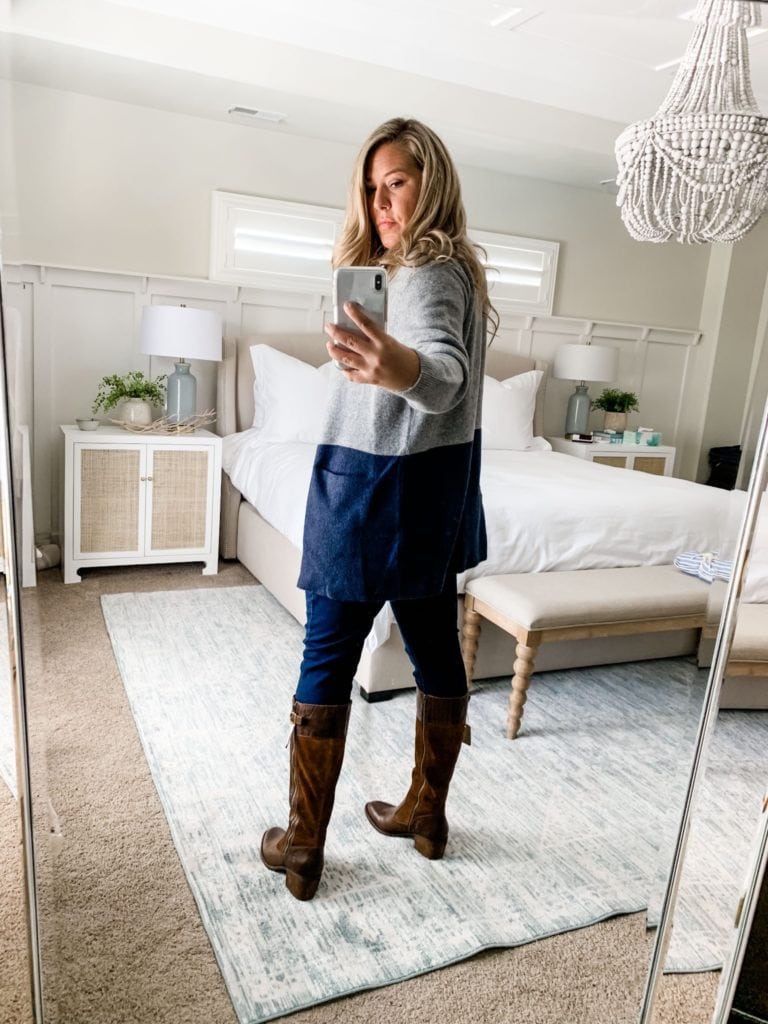 This lace top is the one I was most excited about. I ordered my regular large and it's too small. And that's largely due to the fact that it felt like it was cut like a petite size. The belt sat up way too high and the proportions seemed off so I'm not sure ordering up would have helped me. But it's a gorgeous top for someone shorter that doesn't have a long torso! Just note there isn't any stretch in the lace at all!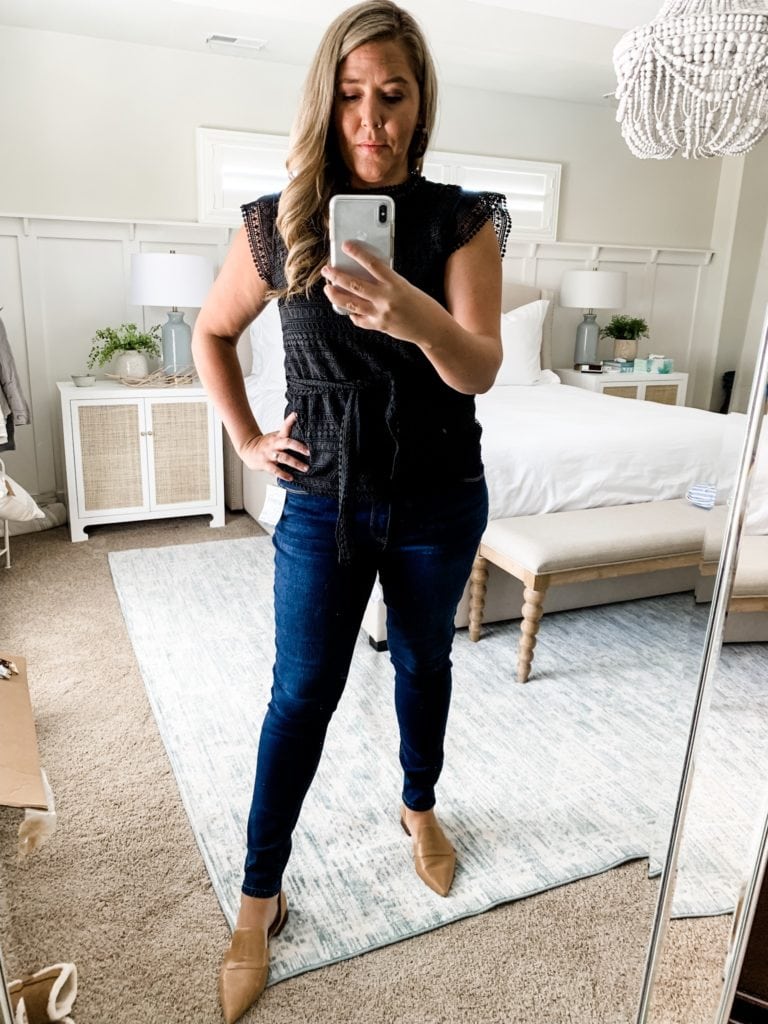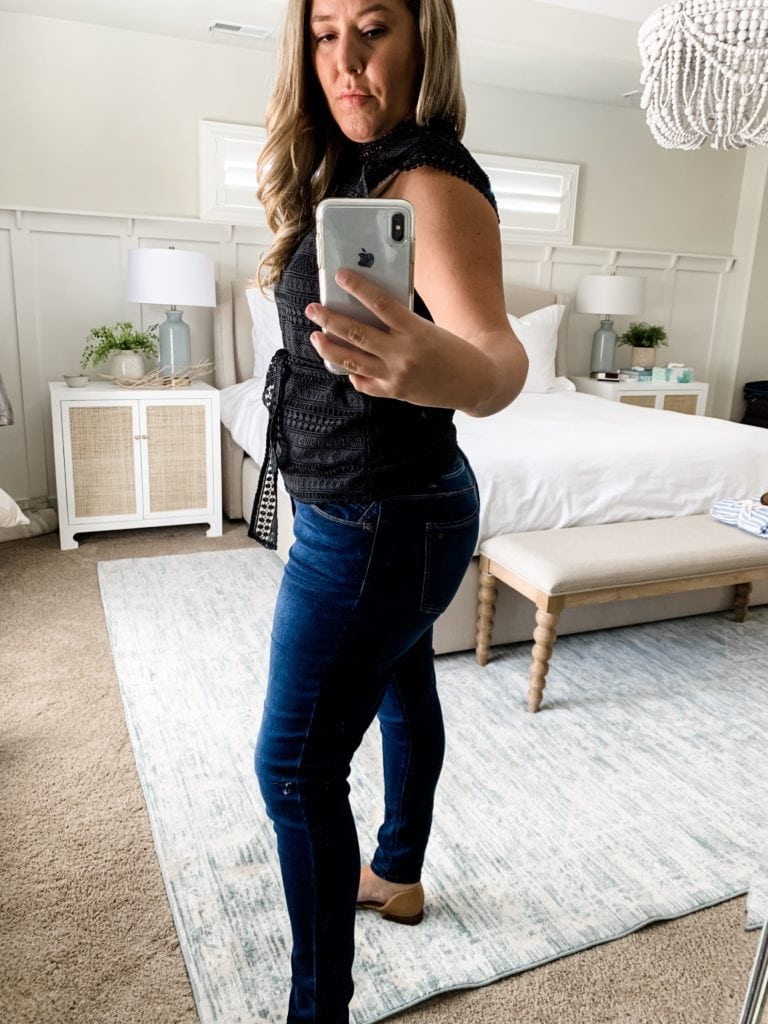 No idea why this is the only shot I got of this sweater but at least it shows the cute diagonal stitching and the side button details. I also love the cowl neck! I ordered down a size to the medium, per the site, and I think it fits well! I wish it were slightly longer though because I do worry about the length once it gets washed.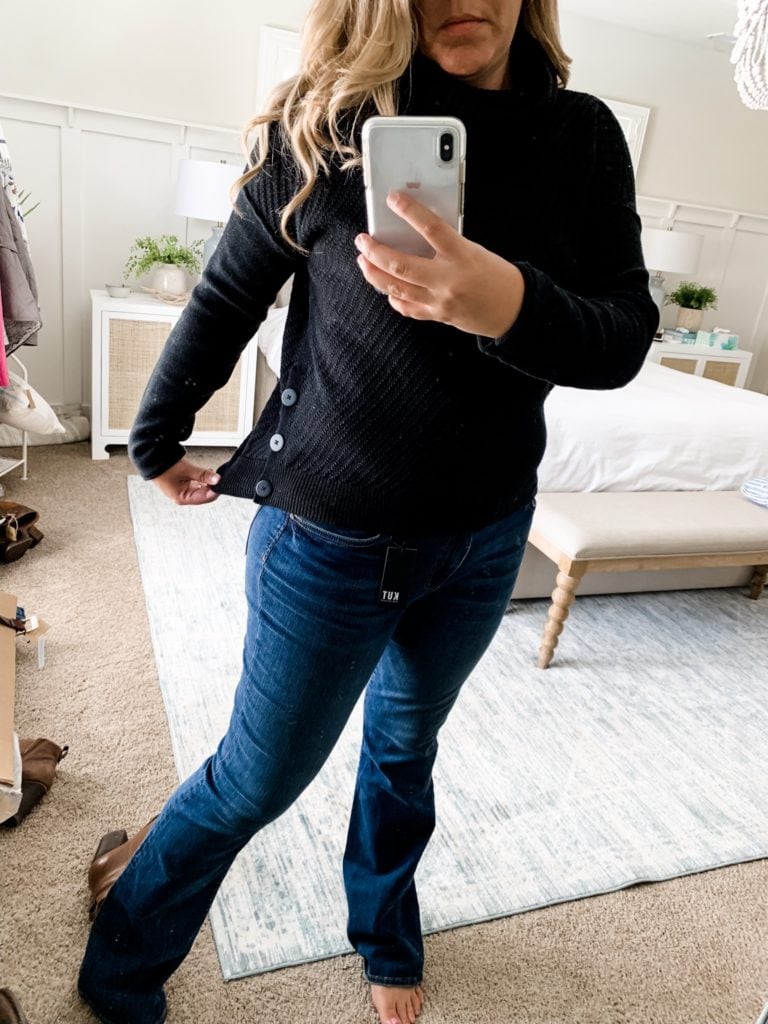 This dress is super cute in person but my regular size is a bit snug. Since the dress is a bit fitted at the waist, I think that's more due to my summer eating plan than anything to do with the dress. The wrinkles are being highlighted quite a bit below but the inverted pleat in the front is very flattering and the material is structured and lays well. Plus, those striped ruffles couldn't be cuter! I did find it to be slightly short for me in back on my 5'8″ frame.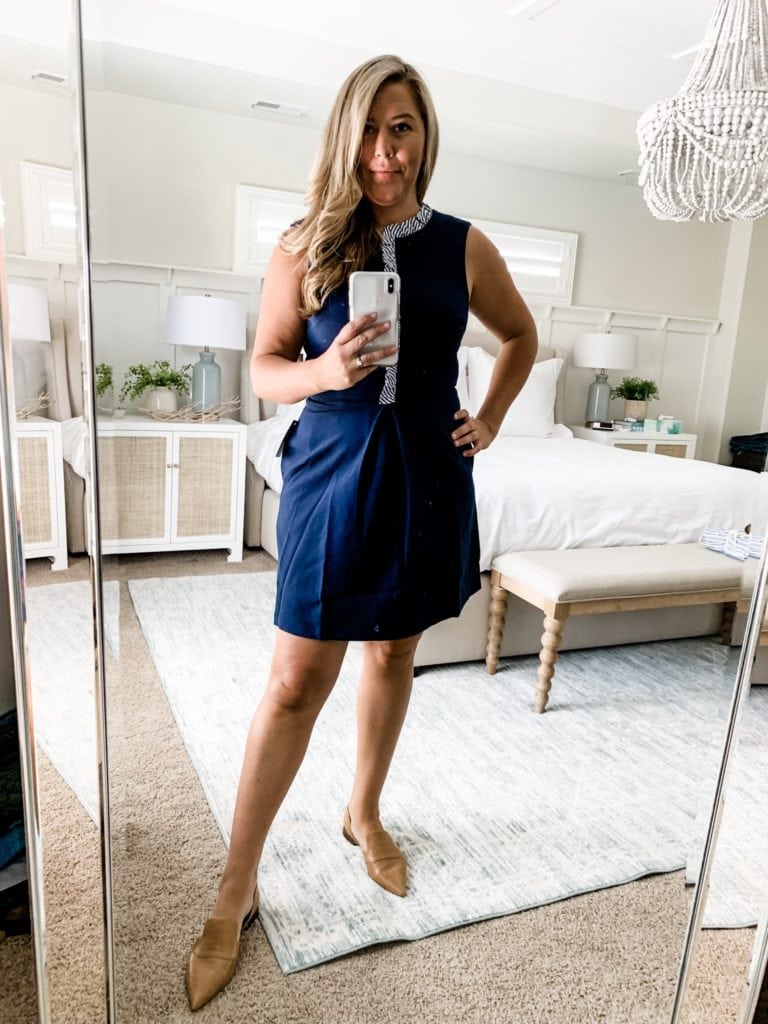 I forgot to snap a photo of me wearing this printed sleeveless top. It was just very 'meh' for me and I felt the colors were more 'springtime' than fall.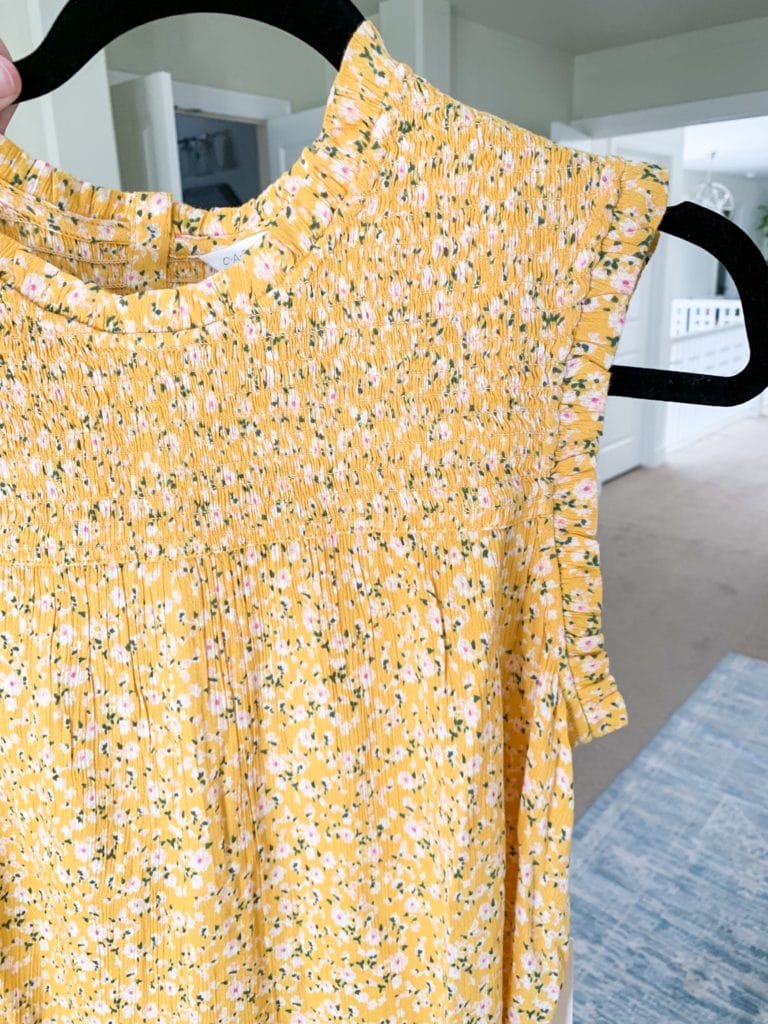 I ordered the short-sleeve Barefoot Dreams cardigan and don't love it. I think I expected it to be longer (which is what I get for buying it after seeing it on my shorty blogging friends)! It wasn't really what I was expecting (although I love the brand!) so it's going back.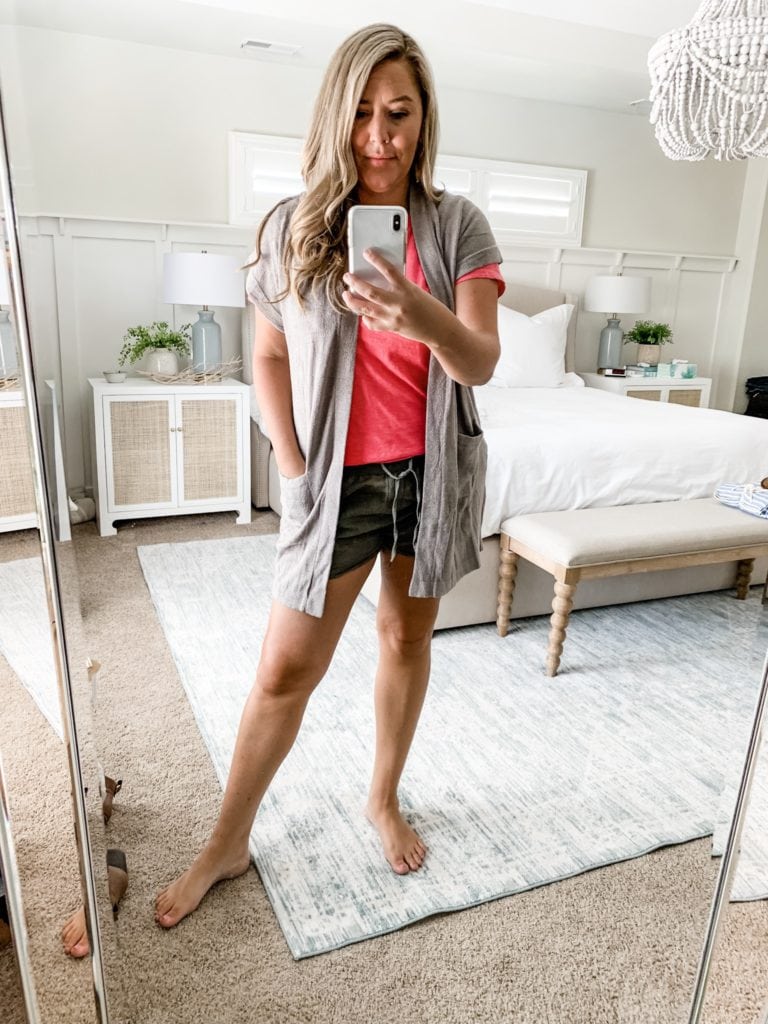 I took all of your advice and ordered these pajamas. I love how soft they are and I think the material will hold up well. I'm in a size large.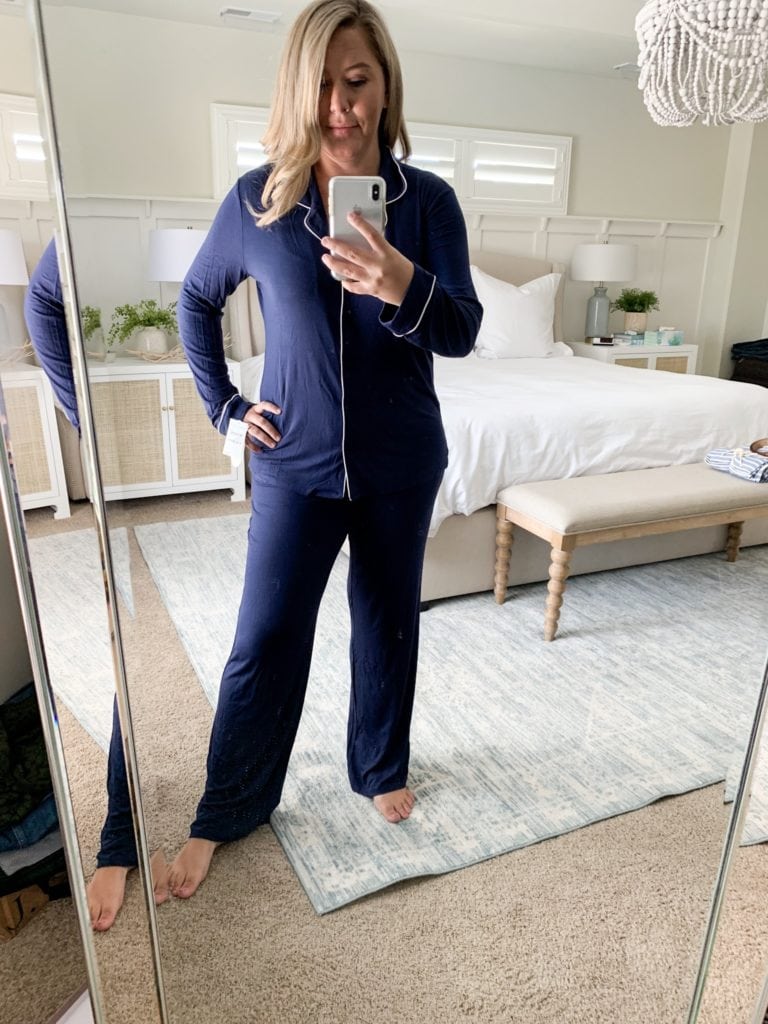 So, I'm walking away with the three pairs of shoes, a few pairs of jeans, and a couple sweaters. Just a few staples that I can then add to from other stores!
Sale Items I'm Still Considering
Following are the items I'm still contemplating ordering before the sale ends on August 4th. Click any of the items to get more info on them.

I hope you found this post helpful! I'll be back tomorrow to share a fun guest bedroom update!
If you would like to follow along on more of my home decor, DIY, lifestyle, travel and other posts, I'd love to have you follow me on any of the following:
Pinterest | Instagram | Facebook | Twitter 
disclosure: some affiliate links used