I realize that the majority of my readers are not bloggers, but if you've ever thought of starting a blog, or are interested in blogging in general, you'll probably enjoy some of the information in this post.
This year, I was asked to be a Haven Conference Mentor. For those that aren't aware, Haven Conference is the DIY and home decor blog conference I attend in Atlanta. It's where I met most of my closest blogging friends and is a conference that I'll likely attend every year in the future. It's my home 😉 Each Haven attendee is assigned a mentor and small group. Throughout the conference, we make time for the small groups to meet, led by the mentors. It's a great way for the newbies to make some immediate connections. Conferences can be intimidating, but the mentor program should help make the transition much more smooth! I am honored to be joining all the other crazy talented mentors this year, many of whom I looked up to when I was really trying to build my blog!
If you're stopping in from Chaotically Creative, welcome! This will be my fourth Haven and I'm so excited to get back to Atlanta to see all my friends and meet some new ones! You can read about my first three Haven conferences here (#1), here (#2) and here (#3).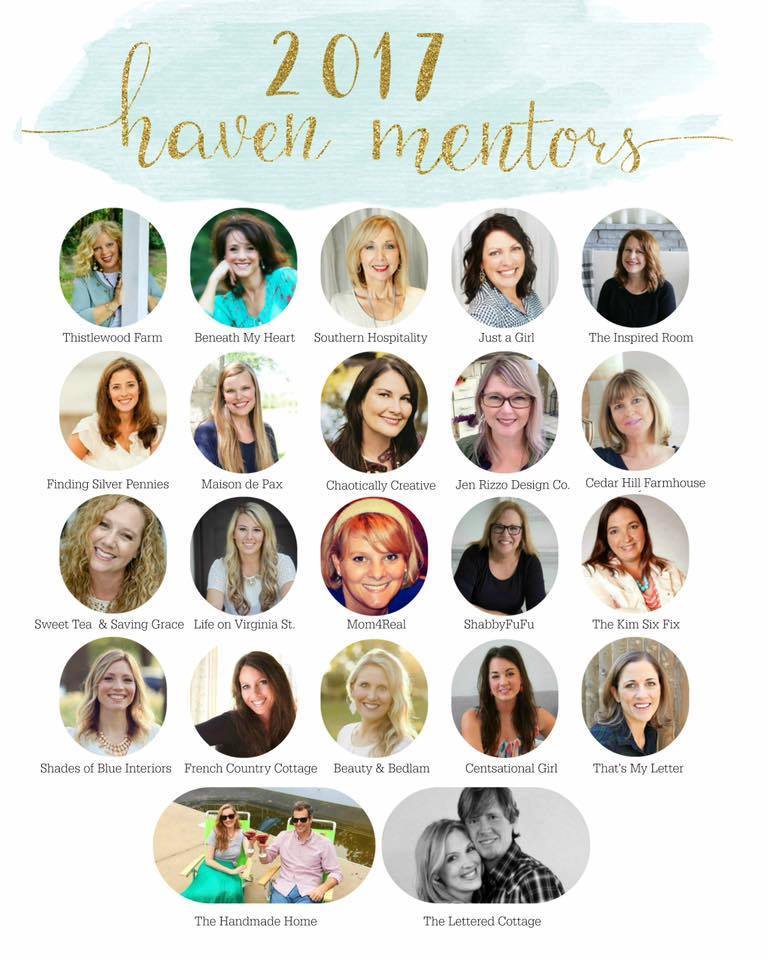 How many years have you been blogging?
I started blogging in January 2008, which technically makes me elderly in the blogging community. I started my blog when all my Utah high school friends created theirs. I found that it was a great way to keep up with everyone's lives while I was living in Omaha. My blog then became a way for our out-of-state families to read about the many DIY projects we were undertaking in our home. The first time someone I didn't know commented on my blog, I freaked out a little bit.
However, I didn't make the blog "official" or call it Life On Virginia Street until 2012. Since then, my passion for blogging has grown exponentially, and I've turned it into a small business that I love! It may sound a bit dramatic to say, but blogging really has changed my entire life for the positive.
What is your favorite DIY project that you have completed?
This is a tough one! I would have to say the walls in our home office. They've undergone a few color changes over the year, but I still love how they look and it's one of the most requested tutorials I get asked about. You can read the full tutorial in this post, since it's the same process we did for our guest bedroom makeover. You can read more about our office specifically in this post.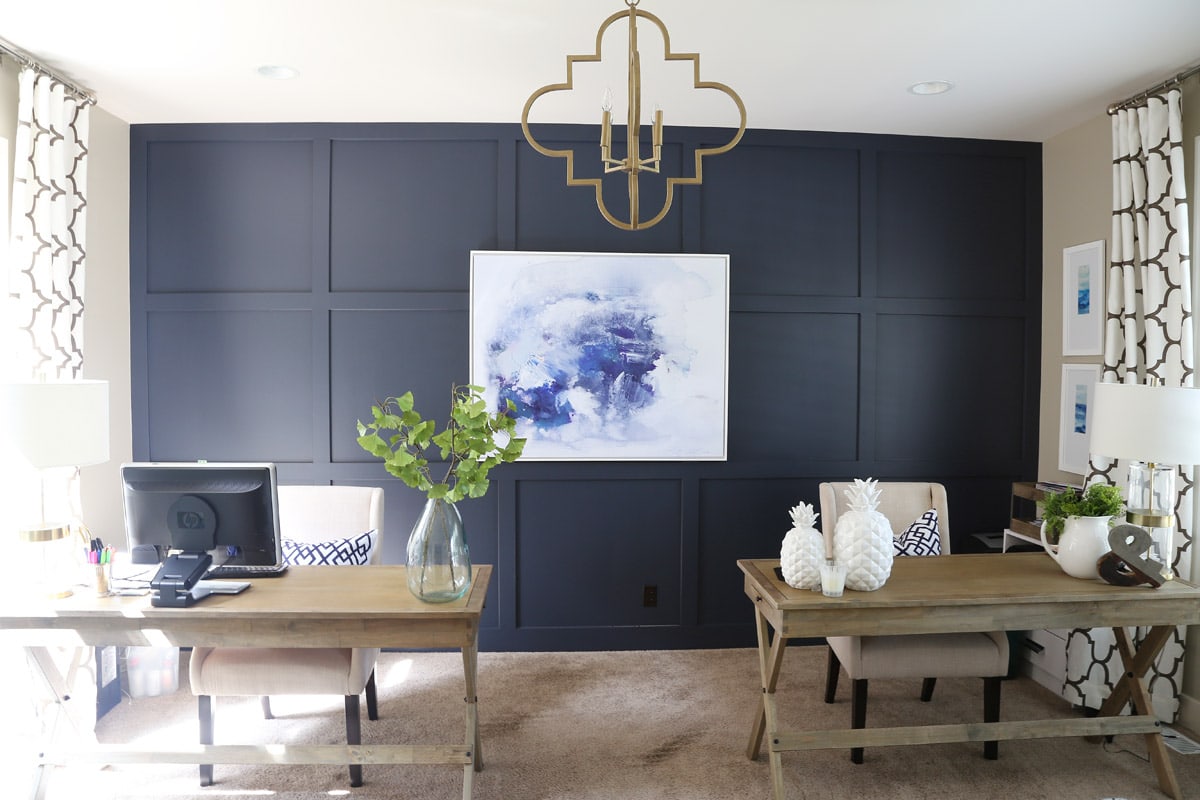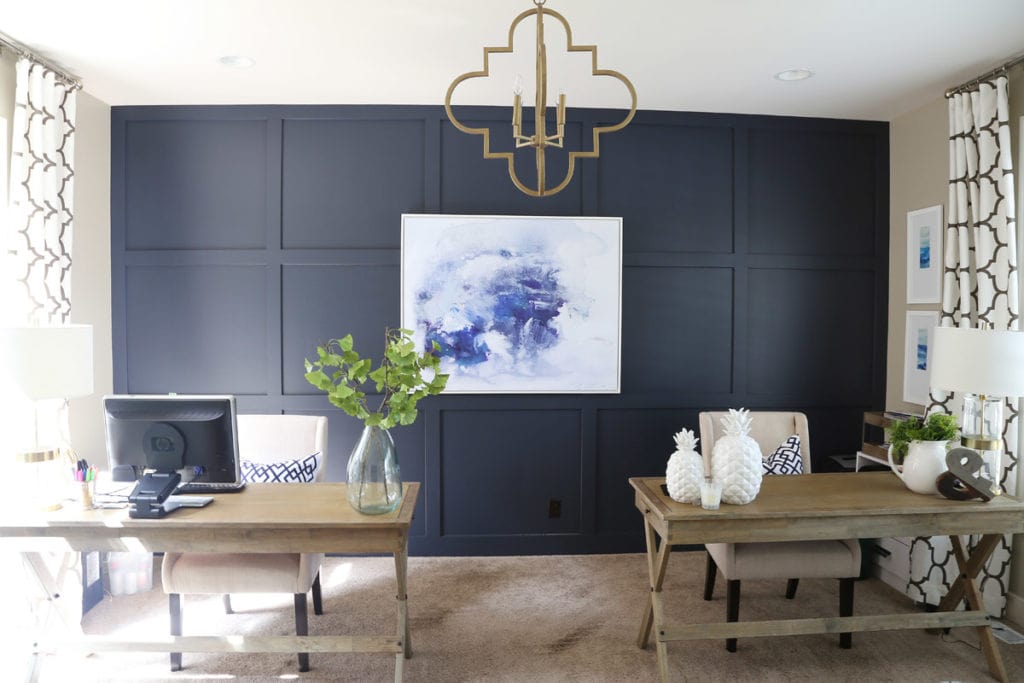 What is something useful you have learned from a blog conference?
With every single conference I've ever attended, I've walked away with solid, useful information. In the early years, it was from every class I attended. Nowadays, I find that that the after-hour conversations are full of so much invaluable information, that it pays to go just to have time for these in-person conversations!
I've quickly realized that you can Google questions all day long, but you never really know what information you can trust. But, I have found my "experts" and have formed several small Facebook groups and these people have quickly become my tribe. Without going to Haven and making these connections, I would likely still be pretty lost. Networking is key at these events!
What is something you love about blogging and what is something you wish you could change?
As a blogger, it can feel like nobody really "gets" you or what you do. One of my absolute favorite things about blogging is the incredible community and the genuine friends I have made. These are my people and they get that owning a blog is a whole lot more time intensive than spending an hour or two writing each post. It's not just a hobby, it's a real business and is very time-consuming. I've met some of my very best friends at Haven, and many of them I "talk" to daily. I don't want to take away from the educational aspect (which is also super helpful), but at this stage in blogging, I mostly go for the people and what I learn from my peers!
At my very first Haven (pictured below) in 2014, I went without having ever met any of the other attendees. I had  some friends I knew virtually, but that was it. I was definitely outside of my normal comfort zone, but I met so many amazing people that I still call my close friends today! I say all this to show that less than four years ago, I was a complete Haven newbie and had no idea what I was doing. And this year, I'll be a mentor!
One of the biggest challenges in today's blogging environment is the ever-changing landscape of social media and how it impacts your blog. On the surface, it may seem like running a blog is a quick and easy task. It's a "cute" hobby that maybe sets you back an hour or two a week. But, the reality is, I spend as much time on my blog as I do my full-time insurance job. There are so many behind-the-scenes elements to a blog, and those "things" are the ones I wish I could change. I wish blogging was just about blogging and connecting with your readers and creating inspirational content. But unfortunately, there is so much more that requires a blogger's attention in order to stay relevant and continue the traffic streams.
What is one piece of advice you would offer a blogger – new or otherwise – who is going to Haven?
Don't be afraid to introduce yourself to a blogger you've wanted to meet. I've found that everybody that attends Haven is friendly and so genuine and you don't want to leave with any regrets! So, if there is somebody you really want to meet, make it happen! I'll admit I got a bit starstruck at my first Haven and totally geeked out when I saw about half of the people there. But remember, these are all real people and again, everyone is so nice and we all love to meet new people!
__________________________________
The next stop on the tour is Chris from Just A Girl. Be sure to stop by and say hi – you will love Chris and her blog! Following are all the other Haven Mentors for 2017!
Monday: Southern Hospitality | Finding Silver Pennies | Jennifer Rizzo | Chaotically Creative 
Tuesday:  Life on Virginia Street | Just A Girl | French Country Cottage | Maison de Pax 
Wednesday:  Thistlewood Farms | The Handmade Home | Beneath My Heart | That's My Letter | Sweet Tea, LLC
Thursday:  Centsational Girl | Mom4Real | Cedar Hill Farmhouse | The Lettered Cottage | Shades of Blue Interiors
Friday:  The Inspired Room | Beauty and Bedlam | The Kim Six Fix | Shabbyfufu
If you would like to follow along on more of my home decor, DIY, lifestyle, travel and other posts, I'd love to have you follow me on any of the following:
Pinterest / Instagram / Facebook / Twitter / Google+
disclosure: some affiliate links used