This was such a busy weekend! I had three major projects I had to shoot for the blog this weekend so I felt like I was working all weekend – but at my fun job!
Earlier last week I shared this image on Instagram of some fabrics remnants I purchased from The Designer's Attic last week. The one on the left is Schumacher Zimba and the other is Schumacher Chiang Mai Dragon. The popular dragon print always scared me a bit in the past so I thought this would be a fun, designer combo for Halloween throw pillows this year!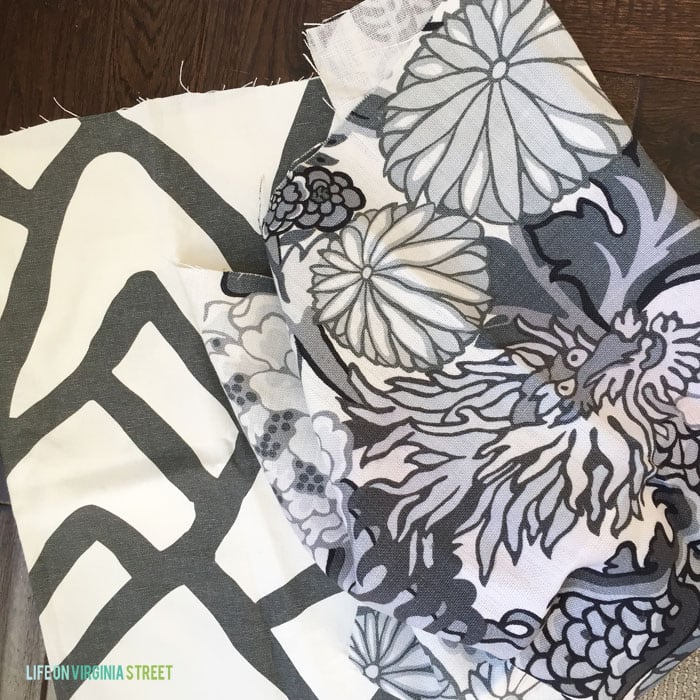 Friday after work I finally had a hair appointment. I'm usually really good about going every 6-8 weeks, but I hadn't been since prior to Italy. Which equated to almost 12 weeks. As you can image my hair was a wreck. Bad roots and dry ends that were in desperate need of a trim. So, to the reader that was kind enough to say hi to me at HomeGoods earlier in the day, I apologize for my unwashed, frizzy, gross hair. Isn't it always when you feel your worst you run into someone?!  As a side note, if I ever win the lottery, I'll be paying Lindsay (my hair girl) to wash and dry my hair every single day. Who needs a new house or fancy car if you can experience head massages and clean hair that you didn't have to style yourself. That is luxury people!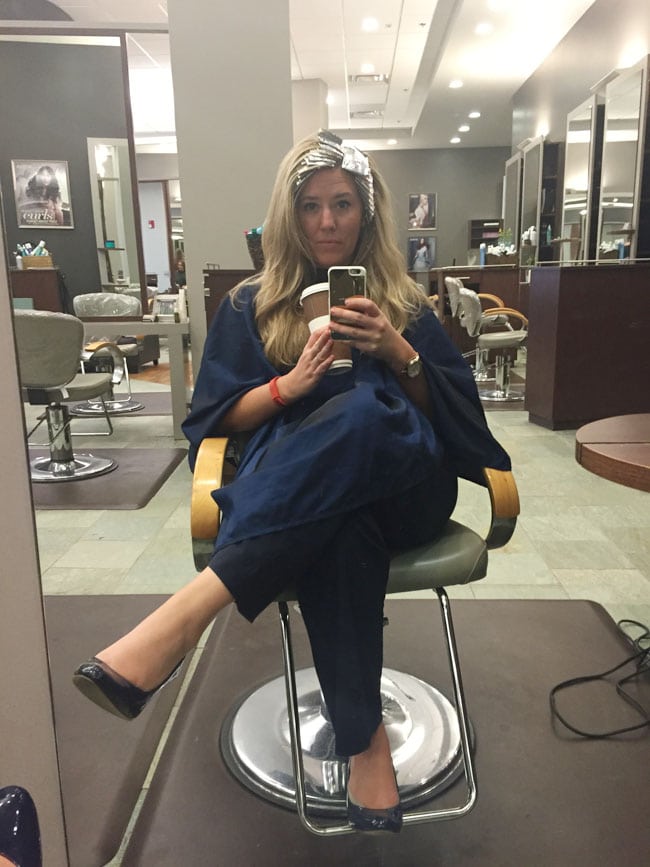 On Saturday morning, I spent three hours shopping at three different grocery stores. I have two party-type posts going live at the end of the weekend (just in time for the holiday weekend)! I also have our fall home tour next week, so not only was a I stocking up on food, I was looking for the perfect florals for all of my posts. One of the few times I've actually had fun grocery shopping! 😉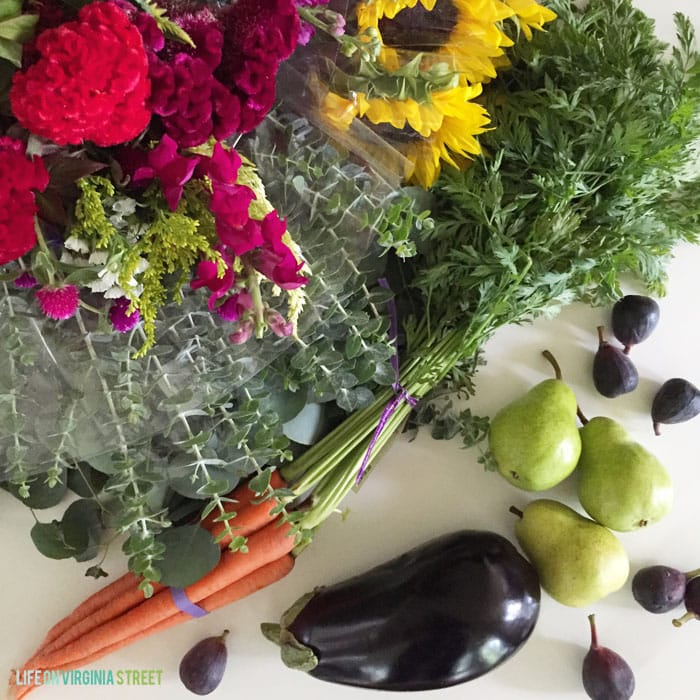 I shared the cropped version of the below image yesterday on Instagram. Over the weekend, I made five or six throw pillow, three of which are shown below. As you can see, I branched out from my usual blue and green color scheme this year for fall. I'm loving the warmth the navy and purple tones add to the space! My full fall tour will be on the blog next Monday. I can't wait to share more! You can find my easy throw pillow with a zipper tutorial here.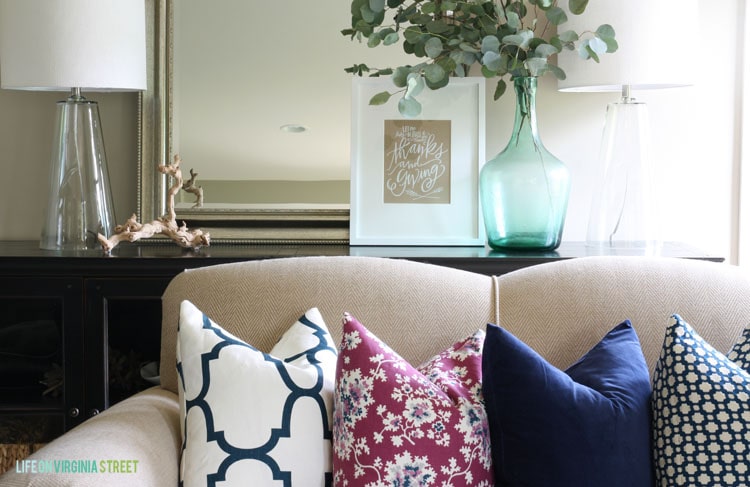 Pillows left to right: Windsor Smith Riad in Indigo, Tilton Fenwick from Loom Decor, H&M Pillow Cover, Schumacher Celerie Kemble Betwixt in Indigo
Other items: Glass and Linen Lamps, Driftwood and glass vase from HomeGoods, Thanks and Giving Print, Fresh Eucalyptus from Trader Joe's
I found this bad boy in our front yard last night. It is growing on this weird limelight hydrangea plant out front where the branches are wanting to grow downwards instead of upright. I may have to ultimately plant a 'normal' one, but I think I couldn't spot this particular bloom because it was so heavy and was laying on the ground. Look at the size of it!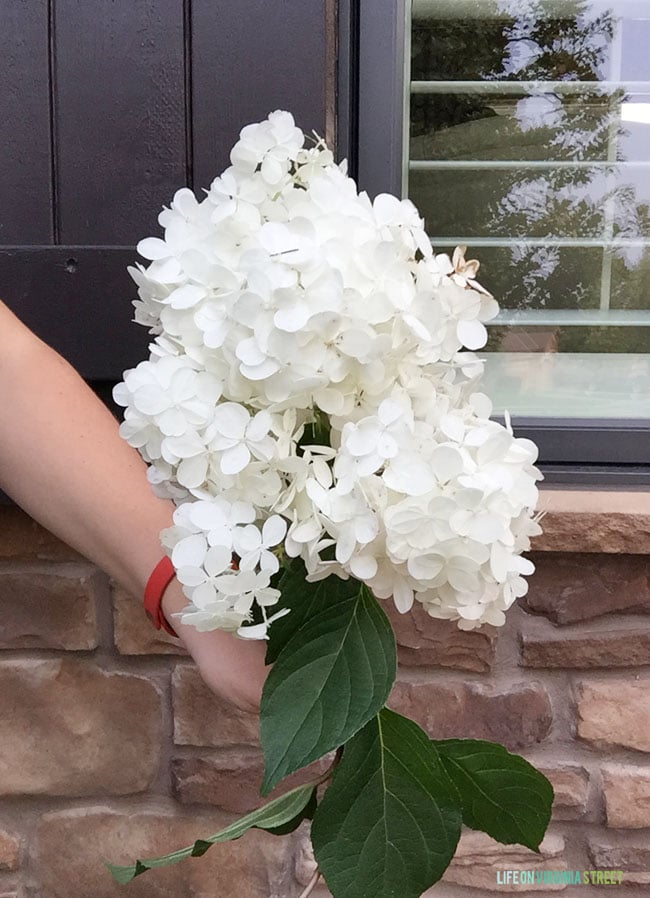 I hope you all had a wonderful weekend! As exhausting as mine was, I do feel great about just how productive I was. I'm definitely looking forward to the long holiday weekend next week (it also happens to be my birthday weekend)! Tomorrow I'll be back with highlights from the Omaha Street of Dreams home tours I did last week!
If you would like to follow along on more of my home decor, DIY, lifestyle, travel and other posts, I'd love to have you follow me on any of the following:
Pinterest / Instagram / Facebook / Twitter / Bloglovin' / Google
disclosure: some affiliate links used