I hope you all had a wonderful Christmas weekend! Today I'm sharing our Christmas weekend recap, and at the end of the post, I'm sharing some of the best year-end sales that are currently going on!
Our week started out a bit rough when one of our tenants called to let us know their oven/stove stopped working. Why do these things always happen right before a holiday, right?! In the nine months we've owned that unit now, we've had to replace the oven/stove, the dishwasher, the furnace, the water heater and the roof. Plus we've had to have maintenance over on five other instances. We're hoping 2018 is a fresh start over there!
Anyways, while I was at Lowe's picking out the oven/stove, I saw this cute display kitchen. I was immediate drawn in by the quartz countertops.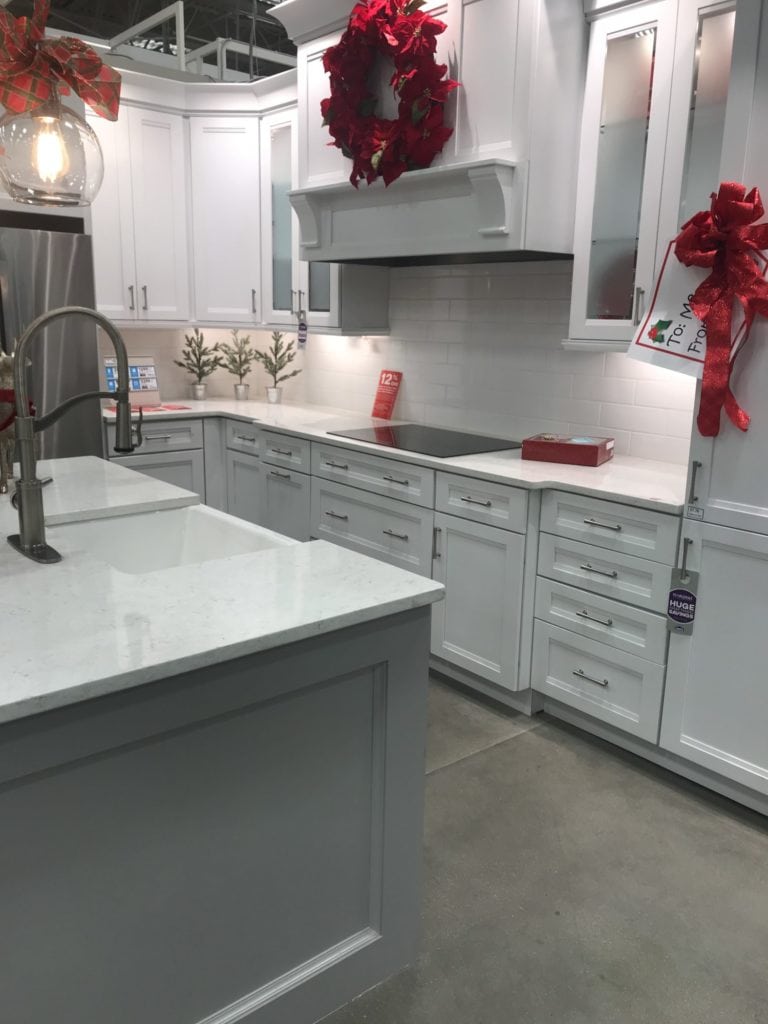 It reminded me of a warmer Carrara marble look (maybe more like Calacatta marble?) but is obviously quartz. We've been talking again about doing our countertops in our kitchen and so I mentally added this one to the list of possibilities. It was really pretty in person and I thought it was worth sharing if anyone else out there is on the list for a marble alternative!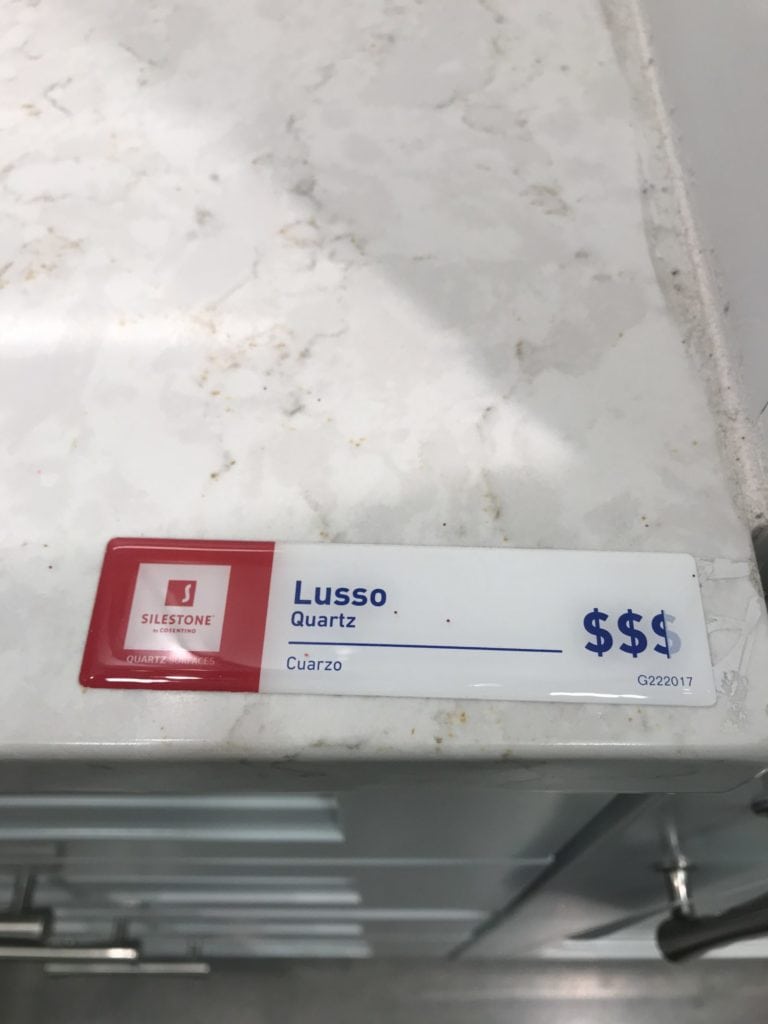 Kurtis was in Maine Tuesday thru Thursday for a Christmas party with his team there. So, for the first time in my adult life (or ever) I binge-watched some Hallmark-style Christmas movies on Netflix. So out of the norm for me, but it was pretty glorious.
Friday afternoon we officially kicked off our weekend. We really tried to make an effort to disconnect digitally and leave our smart phones down. So, we played some rounds of Trivial Pursuit and Sequence.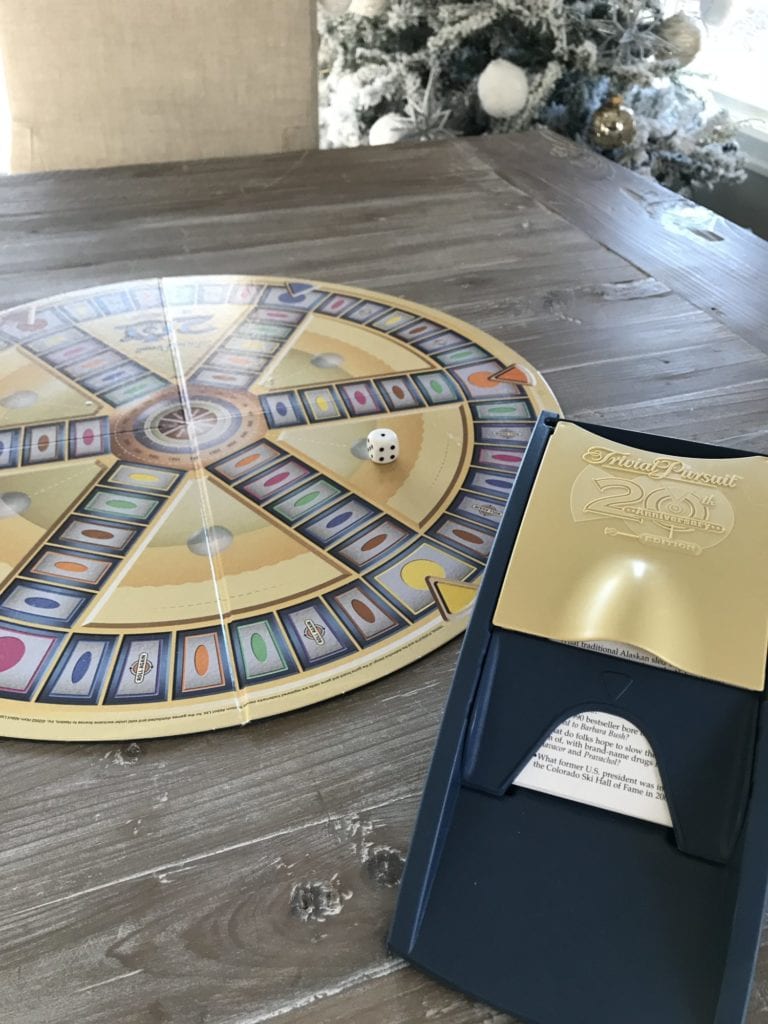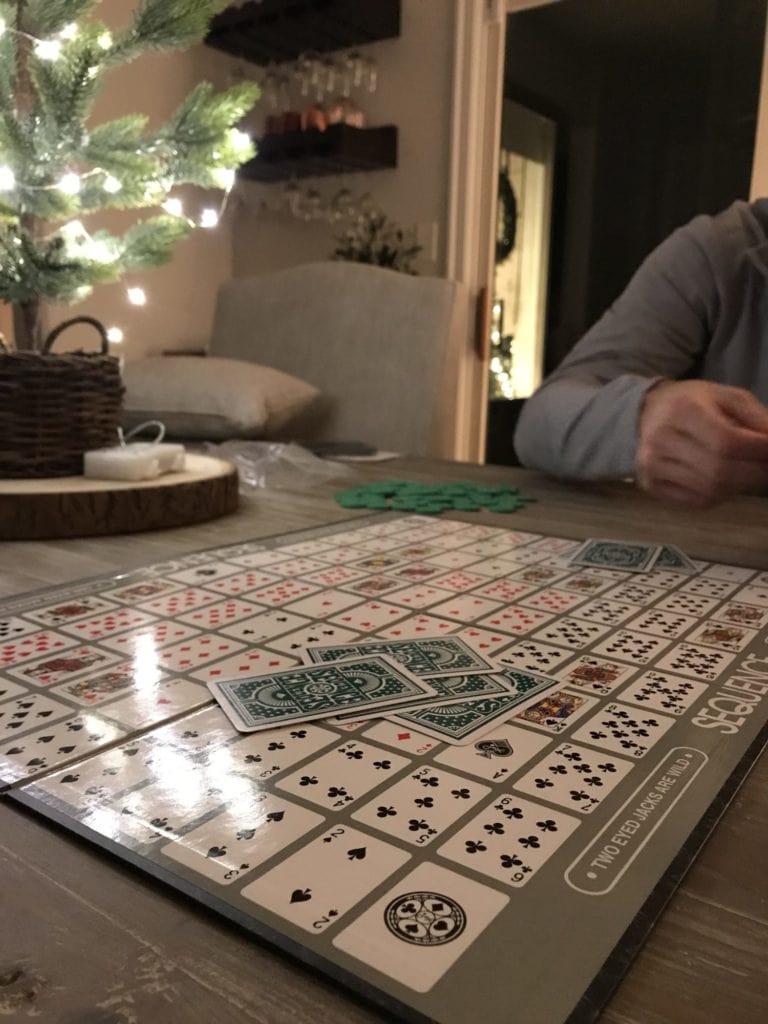 We also watched some movies and spent some time with the cats before we had to head out Saturday morning to Iowa.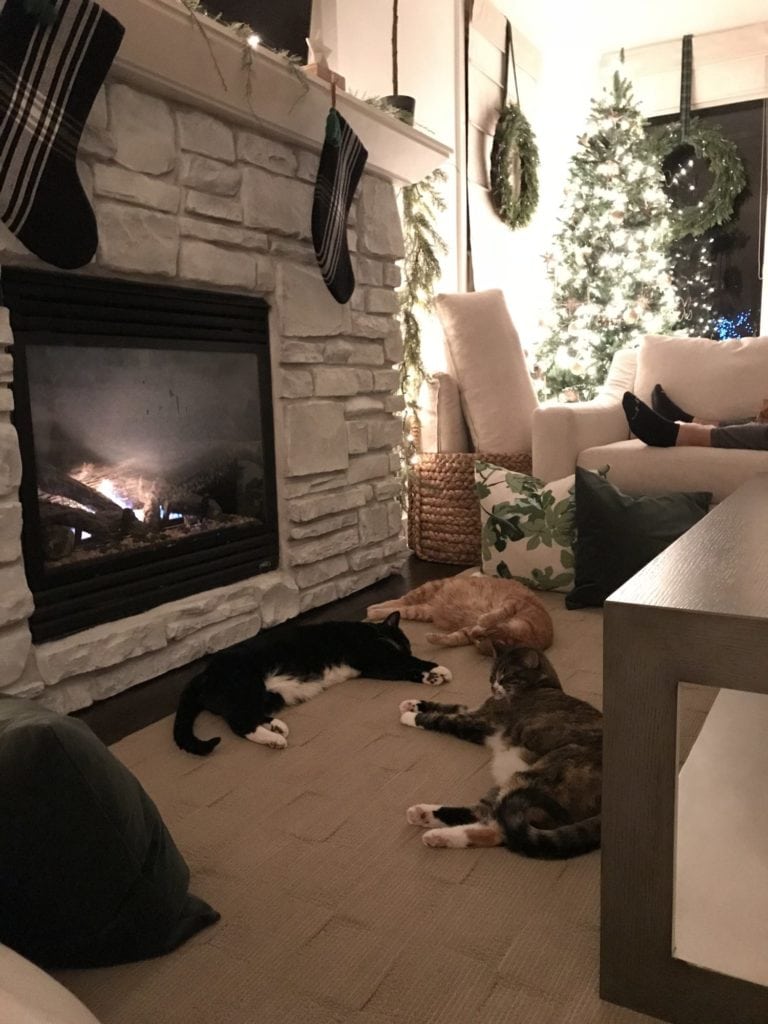 Once we got to Iowa on Saturday I bee lined it to little Sasha. She's seriously the spunkiest, funniest kitten and is always so fun to play with.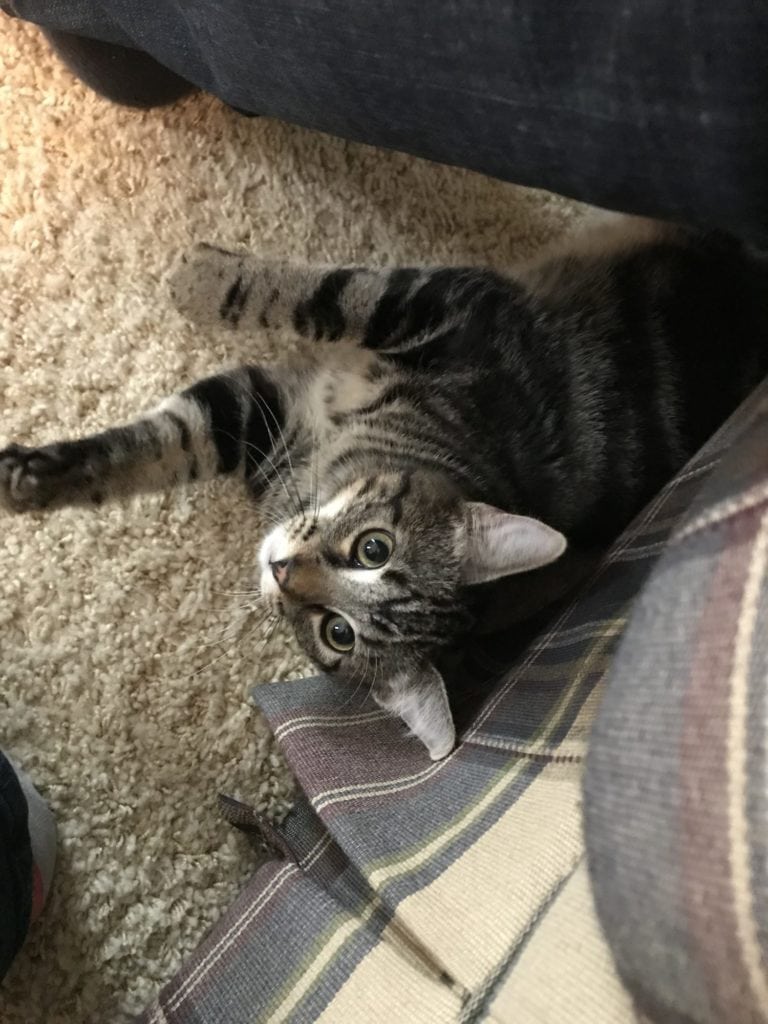 That afternoon, I had to finish my niece Katie's graduation photos. She wanted a few with her dog and horse at their house, so we spent as long as we could taking a few more shots. It was a brisk 17 degrees out though, so we had to make it quick! We got in 347 photos. And although probably 300 looked like the one below, there are definitely a few keepers too! Braxton was much more interested in running around the field like a wild man than posing to get his photo taken 😉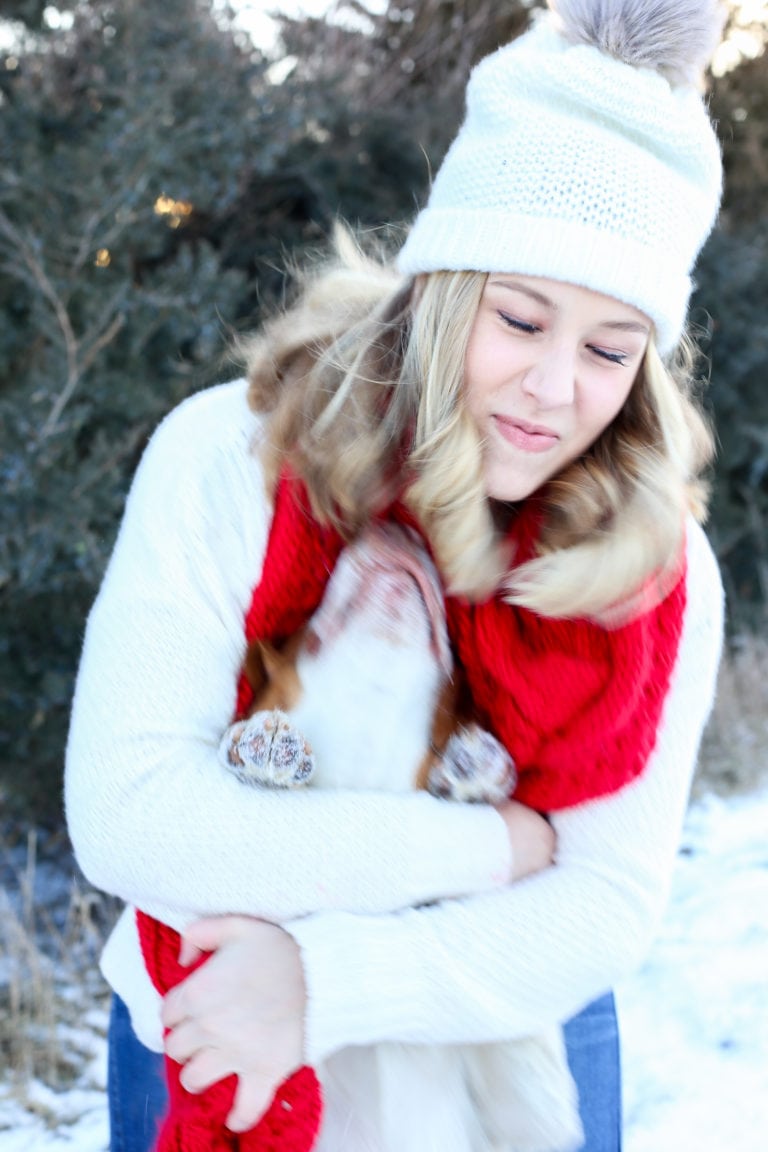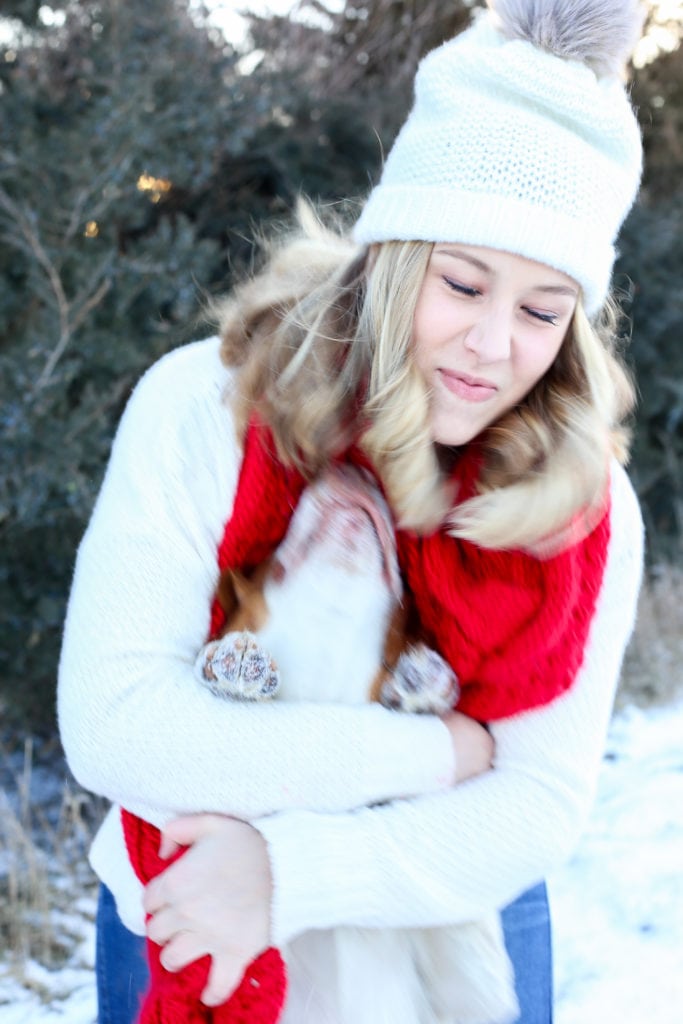 Saturday night was church at Kurtis' hometown church. Their congregation shares a pastor because they are so small, so this was technically their Christmas Eve service. I always love their sanctuary. It looked even prettier when all the Christmas lights were on and the candles were lit but it's such a cute sanctuary!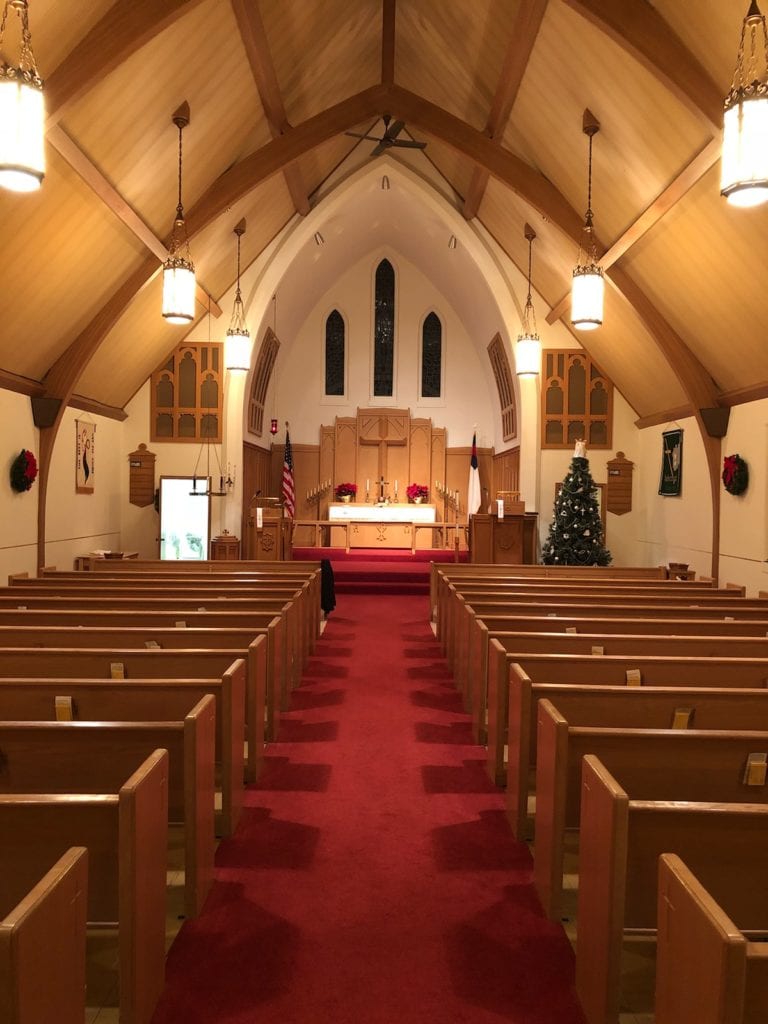 One of my favorite outfits of the weekend is one I shared on my Instagram stories, but didn't get an actually photo of. This sweater is my near all-time favorite and paired with these fleece leggings (where have they been all my life?!) it's the perfect combo! I got the sweater in the ivory color, but now that it's 33% off, I'm contemplating getting another color. The side-tie is too cute and the sweater is really cozy. I'm not usually a leggings girl at all, but these are warm without being too hot and they have that faux denim look so they look a bit more like skinny jeans than leggings (although the fit is more leggings). I'll try and take a picture of all of it together this week to share with you!
Saturday night we got about 2 inches of snow in Iowa (Omaha got closer to 4 inches). It was going to be a white Christmas!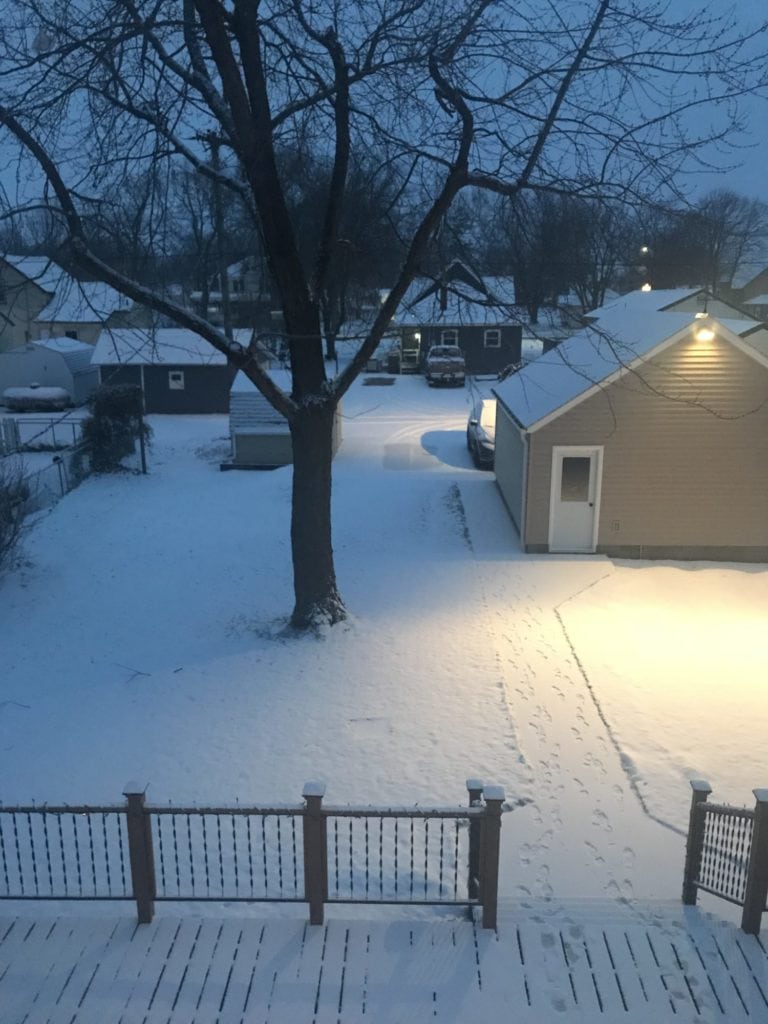 Here was my outfit on Christmas Eve day (which was our Christmas Day at the Stewarts).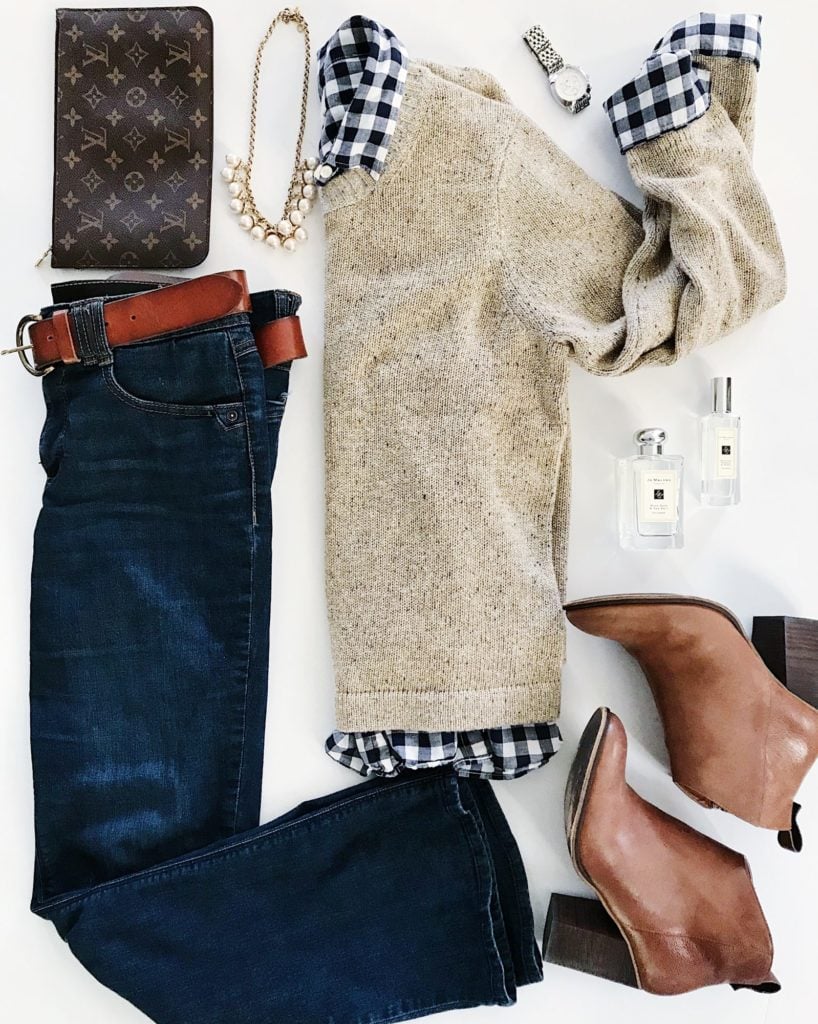 Gold Sparkle Sweater (it has gold thread woven into it for a super pretty sparkle!) | Gingham Check Top | Jeans | Boots | Necklace | Perfume | Clutch (similar) | Watch (similar)
With the new kitten, my mother-in-law had to find a new home for her Christmas village. I thought it looks so pretty in this cabinet! And it was safe from curious paws 😉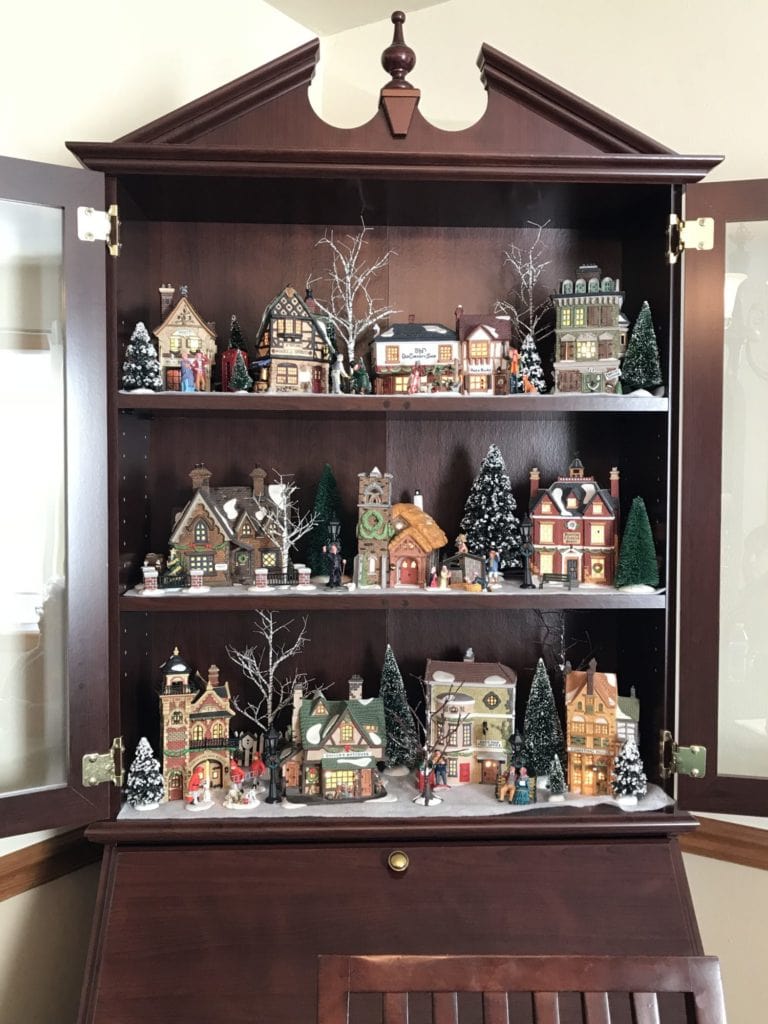 We played tons of games, including dominoes, and this random one where we had to open gifts with oven mitts. They were all a lot of fun!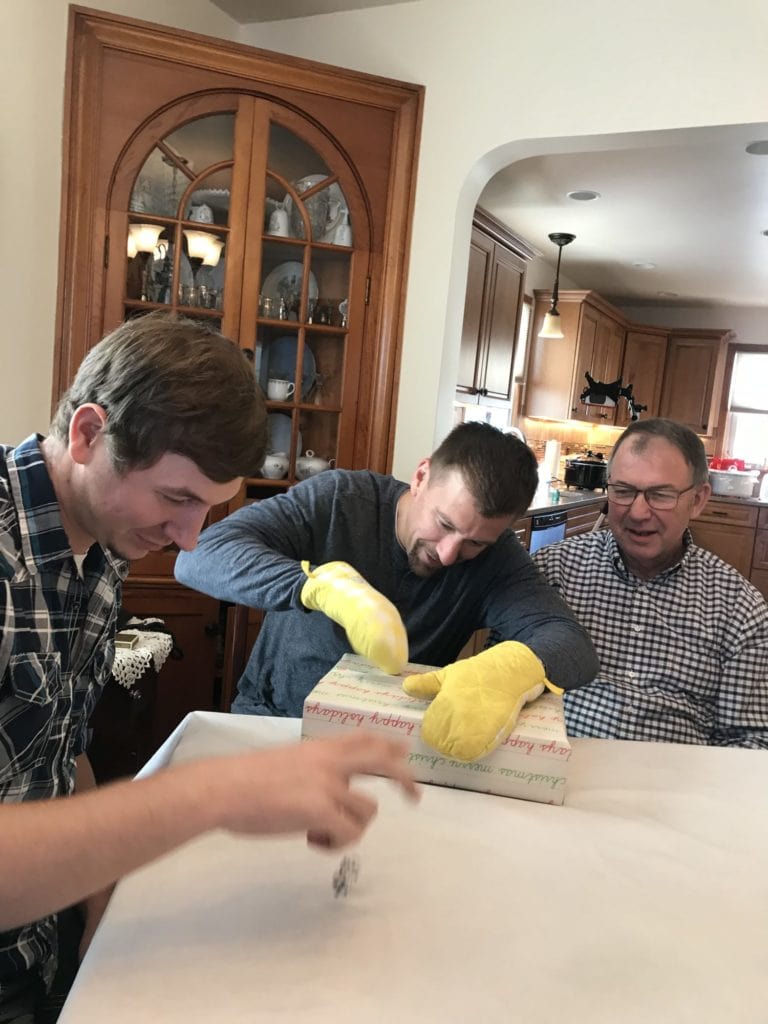 We had a really great time in Iowa and headed home Christmas morning.
After we got home from Iowa, we opened the gifts from my parents. My mom loves that we send her a list with links to every item we want, and we love that every single one of those items show up under our tree 😉 I'm in love with every single thing they got for me! And now, I have lounge wear for days!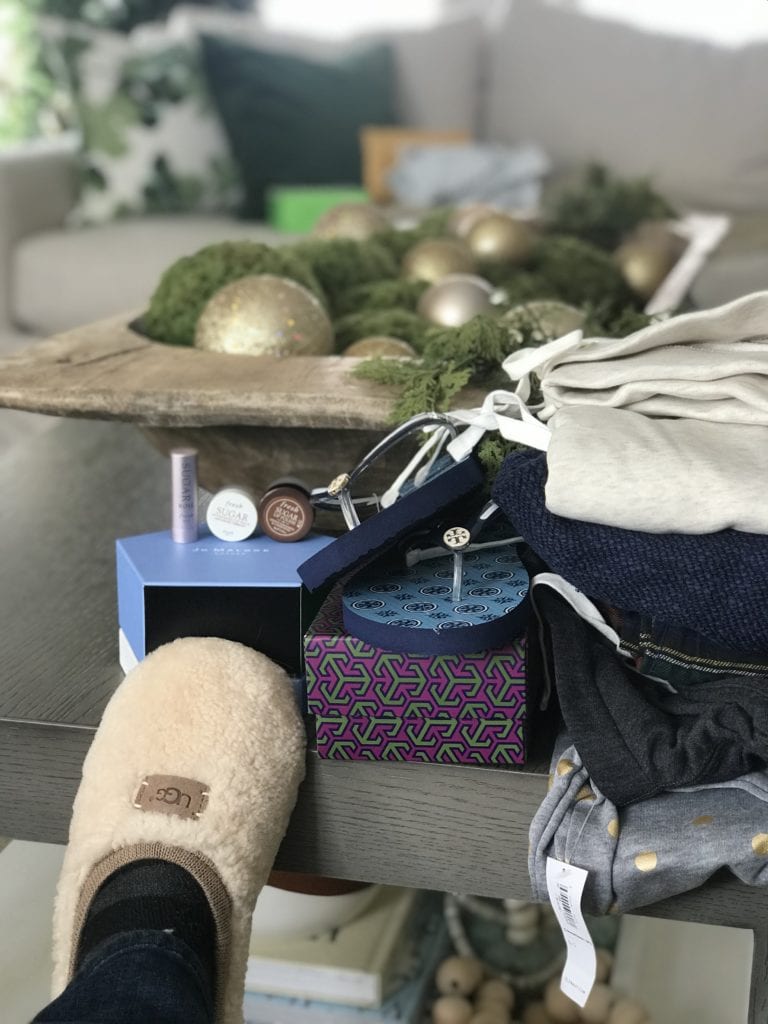 Ugg Booties/Slippers | Perfume Set | Lip Set | Flip flops (similar) | Favorite Joggers (I added dark charcoal gray and oatmeal to my collection) | Gold Polka Dot Sweatshirt | Funnel Neck Boucle Sweater
Christmas night, Jill and Nick texted us and told us they had tons of leftovers after their Mexican food party with her family. So we headed down for leftovers and to binge watch some Carpool Karaoke. We spent a few hours catching up and making plans for New Years!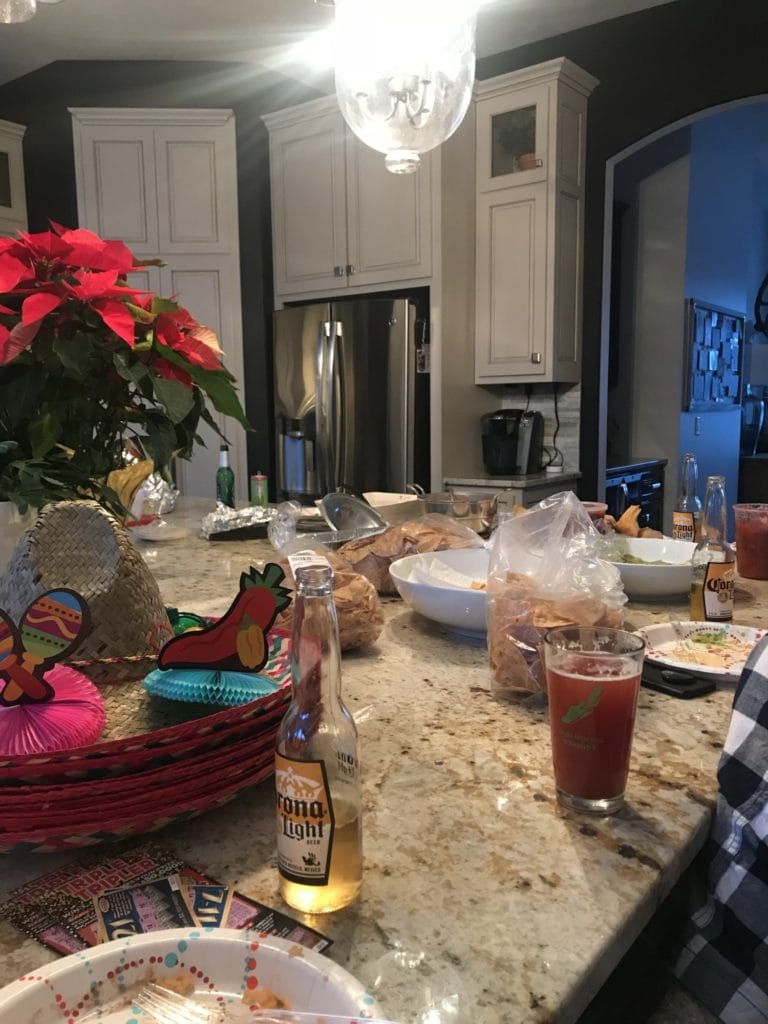 We ended the night watching Christmas movies in front of the fire with the cats. It was a great end to a perfect holiday weekend!
Enjoy your short work week before New Year's! Below are the current best year-end sales out there, so happy shopping!
The Best Year-End Sales
Anthropologie is offering an additional 30% off sale items in both clothing and home (no code required). See the sale items here.
J. Crew is offering an additional 30% off sale items with code CHEERS. See the sale here.
J. Crew Factory is offering an additional 60% off their clearance items with code SIXTY. Shop their site here.
Joss & Main is offering their lowest prices of the year up to 75% off with their last-chance clearance sale. See the sale items here.
LOFT is offering 50% off everything with code WRAPITUP. Shop the sale here.
Nordstrom started their Half-Yearly Sale, with items up to 50% off! See the sale items here.
Old Navy is up to 60% off store-wide, and if you buy 3 clearance items you get one free with code FREE. See the sale here.
Pottery Barn is offering up to 70% off hundreds of items. Plus, you can get free shipping with code FREESHIP. See all the sale items here.
Tory Burch is offering an additional 30% off sale styles with code EXTRA30! See all the sale items here.
Wayfair is offering up to 70% off tons of items in all different categories. See the sale items here.
West Elm is offering 20% off nearly everything sitewide. Not only that, you can get an additional 20% off markdowns with code BYE2017. Shop the sale here.
Williams-Sonoma is offering up to 75% off during their winter clearance sale. Plus, you can get free shipping with code FREESHIP. See all the sale items here.
Williams-Sonoma Home is offering 20% off your entire purchase, including new spring arrivals, with code REFRESH. Once you take the additional 20% off our Christmas bedding, it's on MAJOR sale at 60% off! Shop the sale here.
World Market is offering an additional 15% off your entire purchase with code 15CHEERS. You can also get free shipping on orders of $150+. This is on top of other sales already occurring. You can shop the sale here.
If you would like to follow along on more of my home decor, DIY, lifestyle, travel and other posts, I'd love to have you follow me on any of the following:
Pinterest / Instagram / Facebook / Twitter / Google+
disclosure: some affiliate links used