I hope you all had a great weekend!
Friday night, we had an early dinner reservation at M's Pub with Kurtis' sister and brother-in-law. It had been our long-standing Christmas tradition to have dinner at M's, drive around and look at Christmas lights and play some cards afterwards. Unfortunately, about two years ago, M's Pub (and everything else in the building) completely burned down. They were basically only able to save the shell of the building. A few weeks back, M's was finally able to re-open. Much of the rest of the building is still under construction, but we were so happy one of our favorite restaurants was back and we were happy to go support them again and re-start our tradition!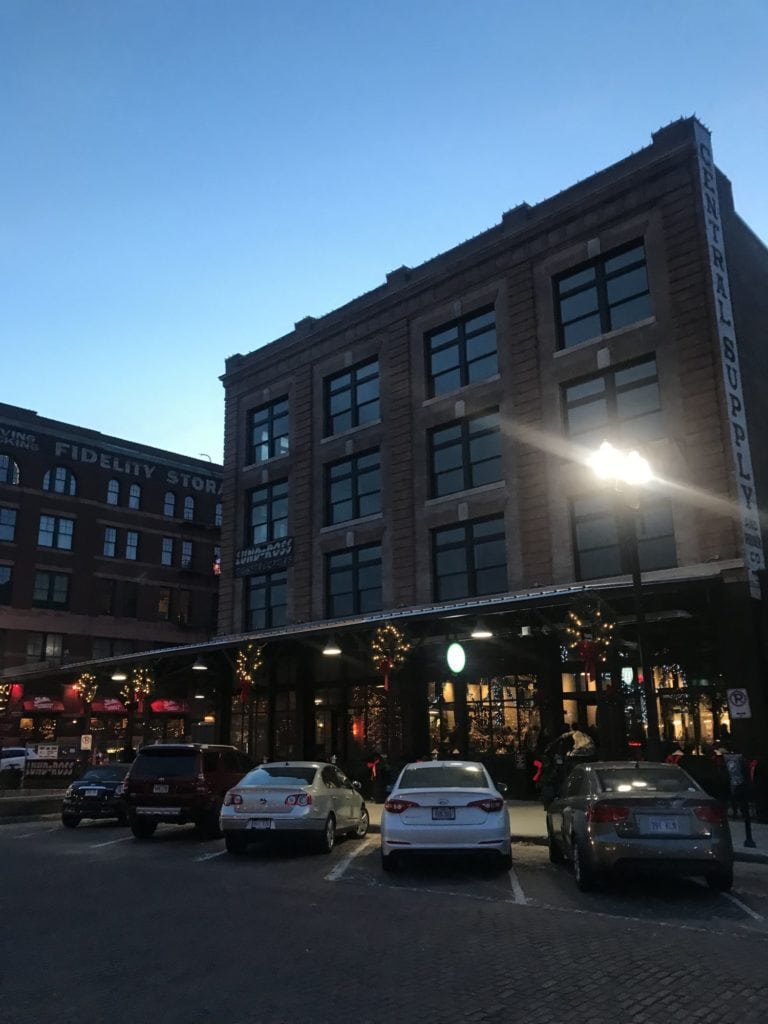 When we walked in, we were shocked at just how well they were able to re-create the original look of the restaurant!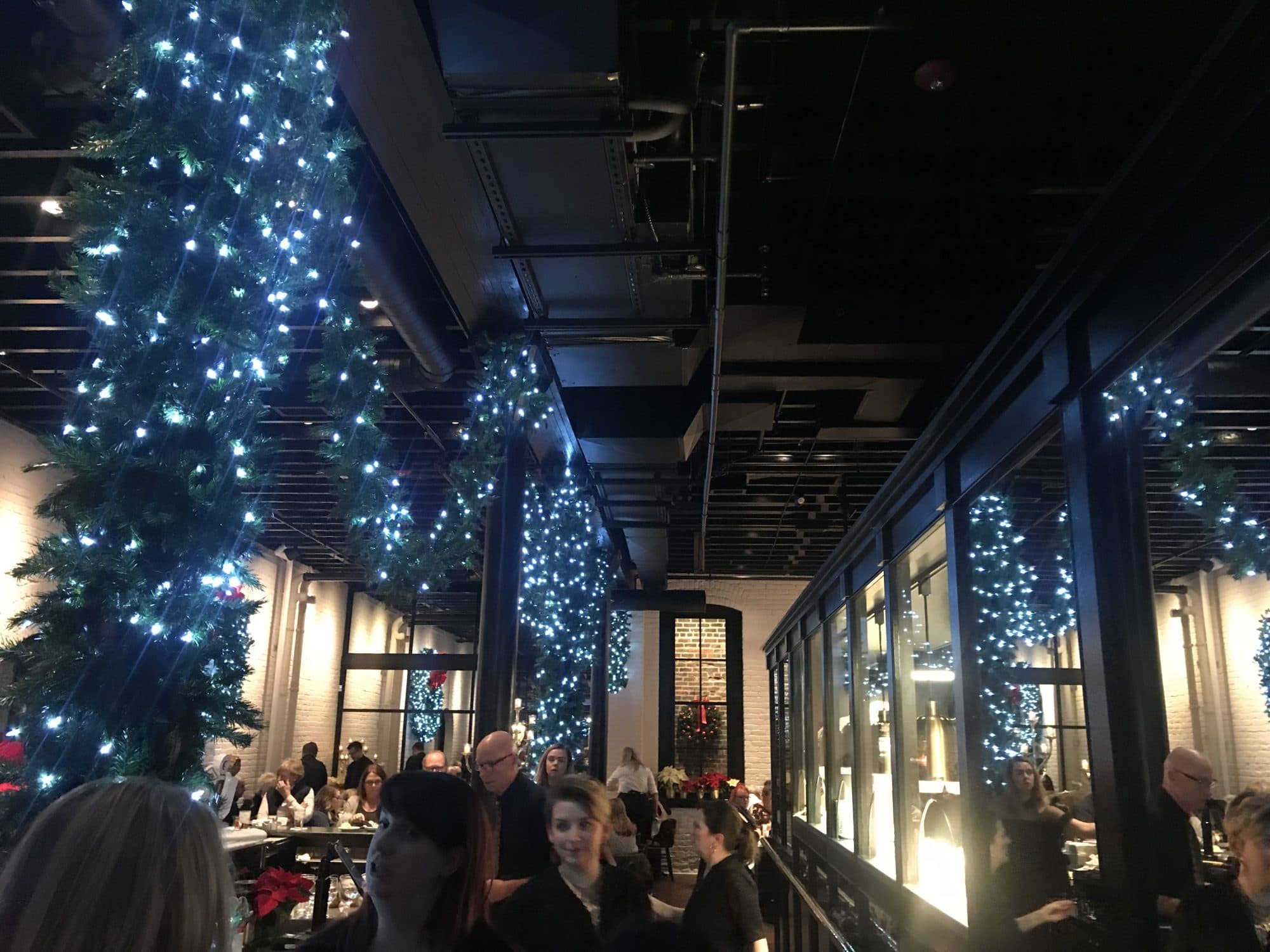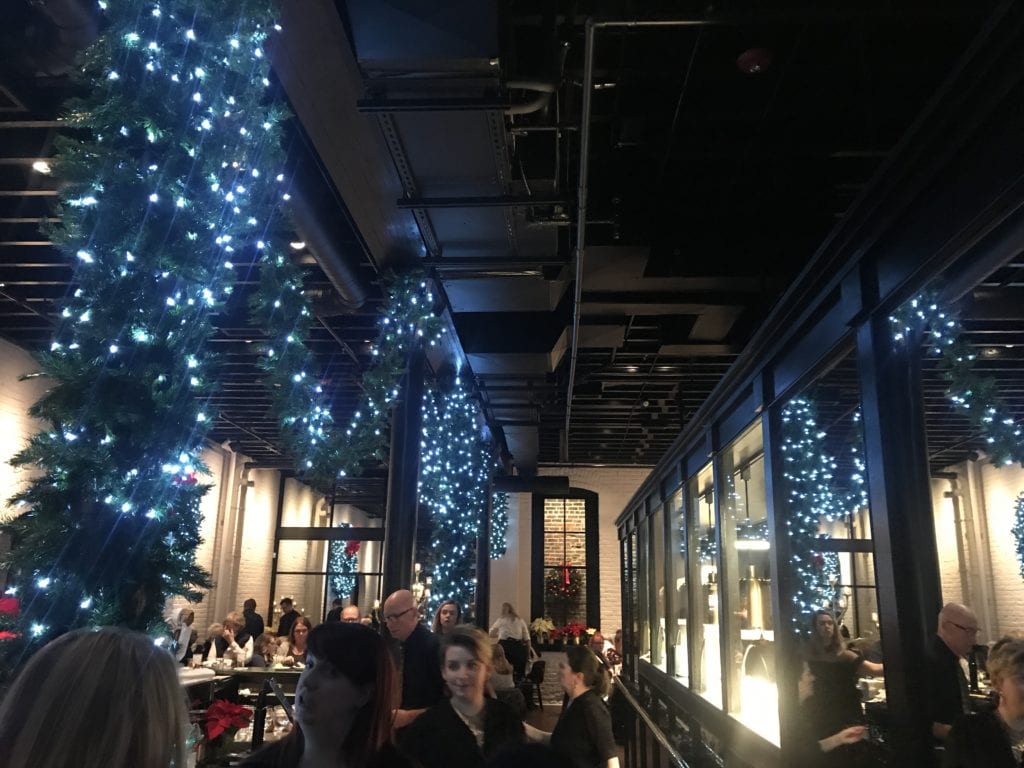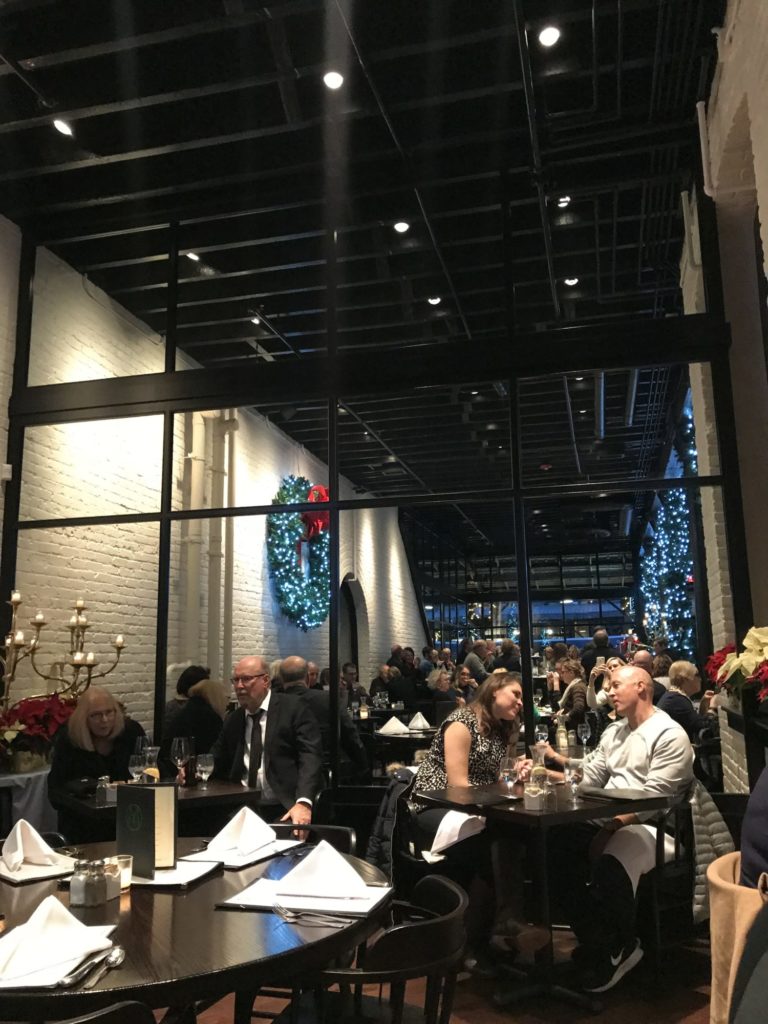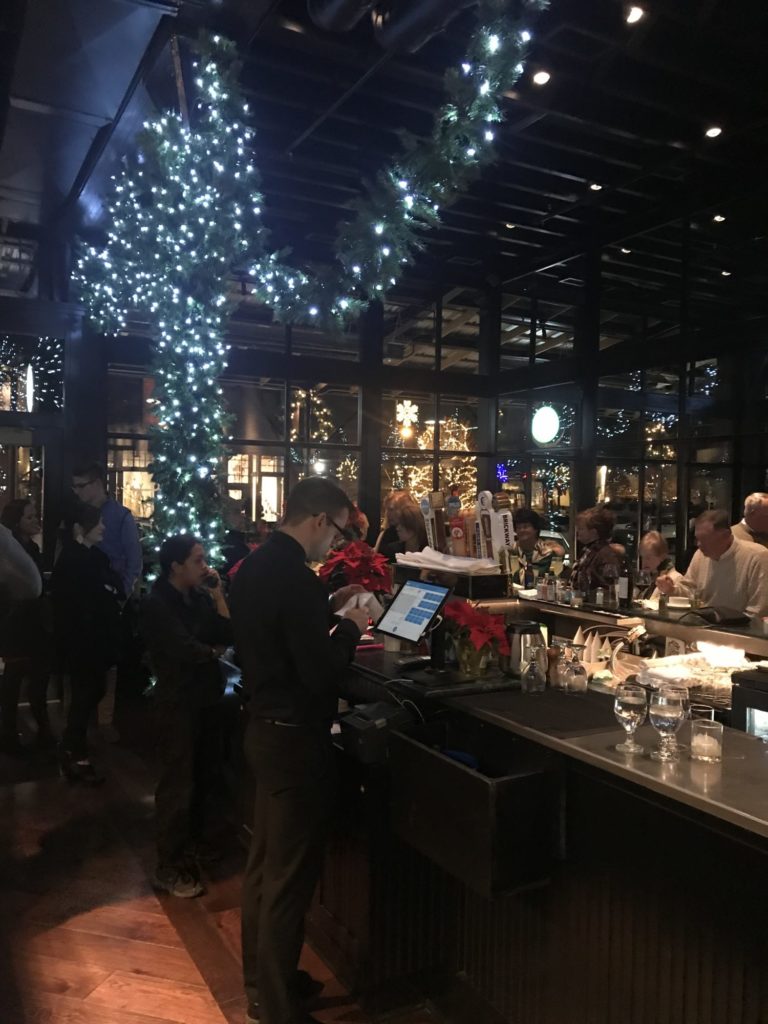 Our awkward table photo to commemorate the night 😉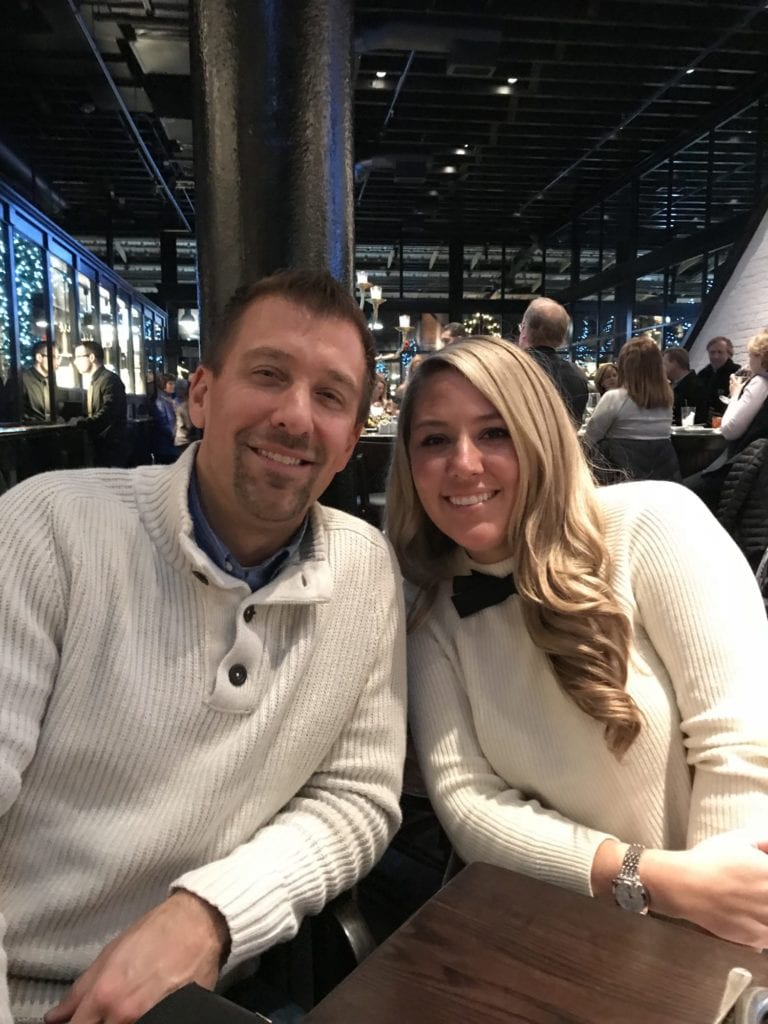 We spent an hour or so after dinner driving around looking at lights. If you're local, we headed to Regency, Linden Estates and Champions areas. It was mostly a disappointment this year! Linden Estates had some pretty spectacular setup but we were too focused on not hitting all the cars/buses/valets set up for parties (what?!), etc. It was kind of crazy town over there. I guess we should have expected that on a Friday night! I think we were also all eager to get our competitive boys vs. girls card game going too. We always play Euchre with them, and I'm proud to announce the girls dominated the night! 🙂 Since we're all such party animals, we were done by 10 pm (another advantage of an early reservation time)! We're so happy we've re-started this tradition again – always a favorite with lots of laughs and fun.
On Saturday, I did a few quick Instagram stories talking about the white chicken chili I was making in the crockpot and just how easy it is. I couldn't believe how many people messaged me and said they tried it that day or on Sunday and loved it too! So glad everyone enjoyed it. It's one of our favorites! The recipe was originally in this post, but I also have a screen shot of most of it below for those that I asked if I would-reshare on the blog.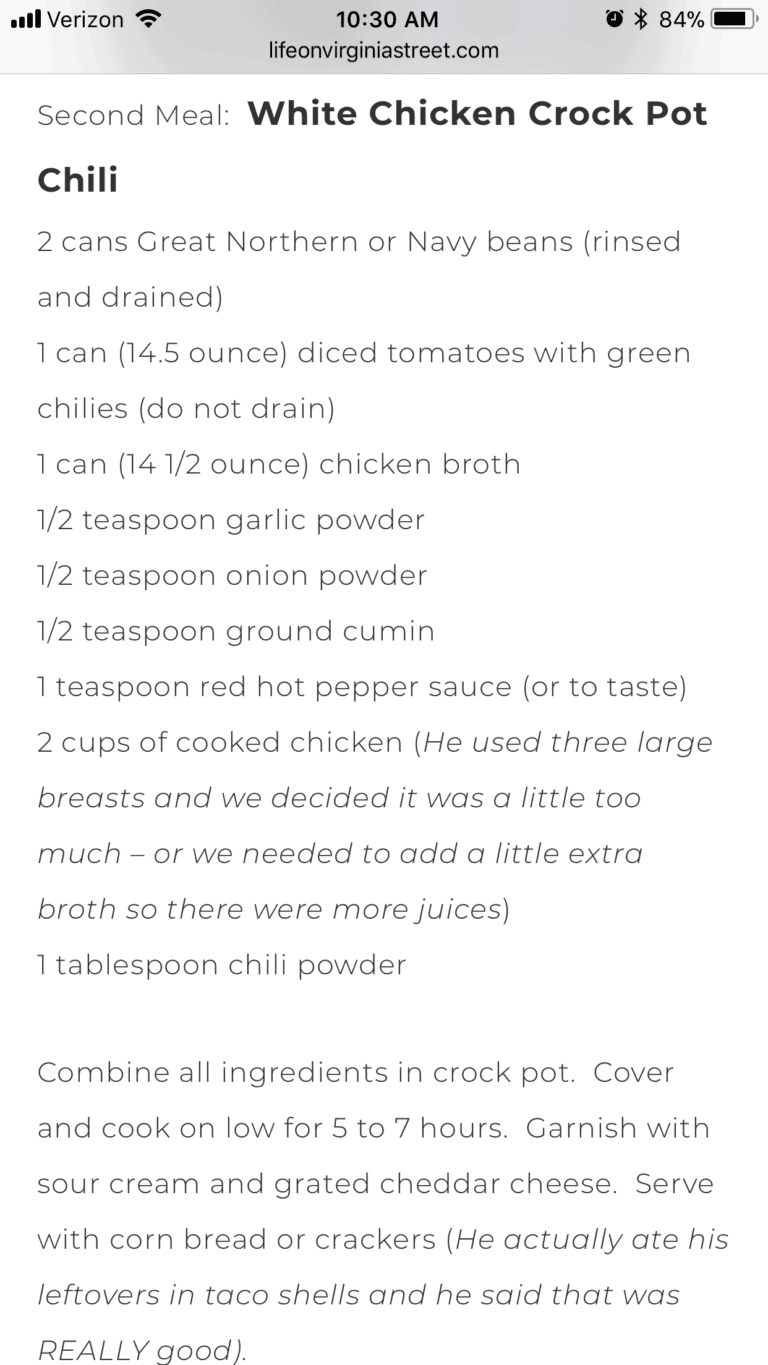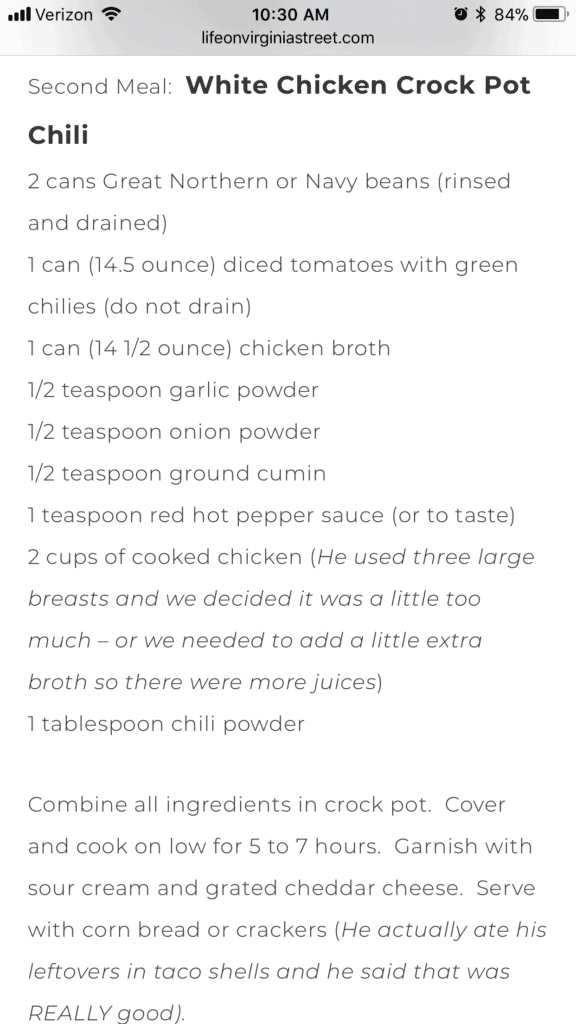 In the video, I mentioned that lately, I've been buying the packages of rotisserie chicken at Costco (the vacuumed sealed packs with all the bones and skin removed). We use about 1/2 of one of those packs now, rather than chicken breasts and it make the process even easier – and we really like the added flavor. I always make mine brothier because I love the extra juice. I basically take the extra because Kurtis likes his a little chunkier – more like a traditional chili. I actually cooked ours on high for about 3 hours Saturday so that we could have it for a late lunch yet that day.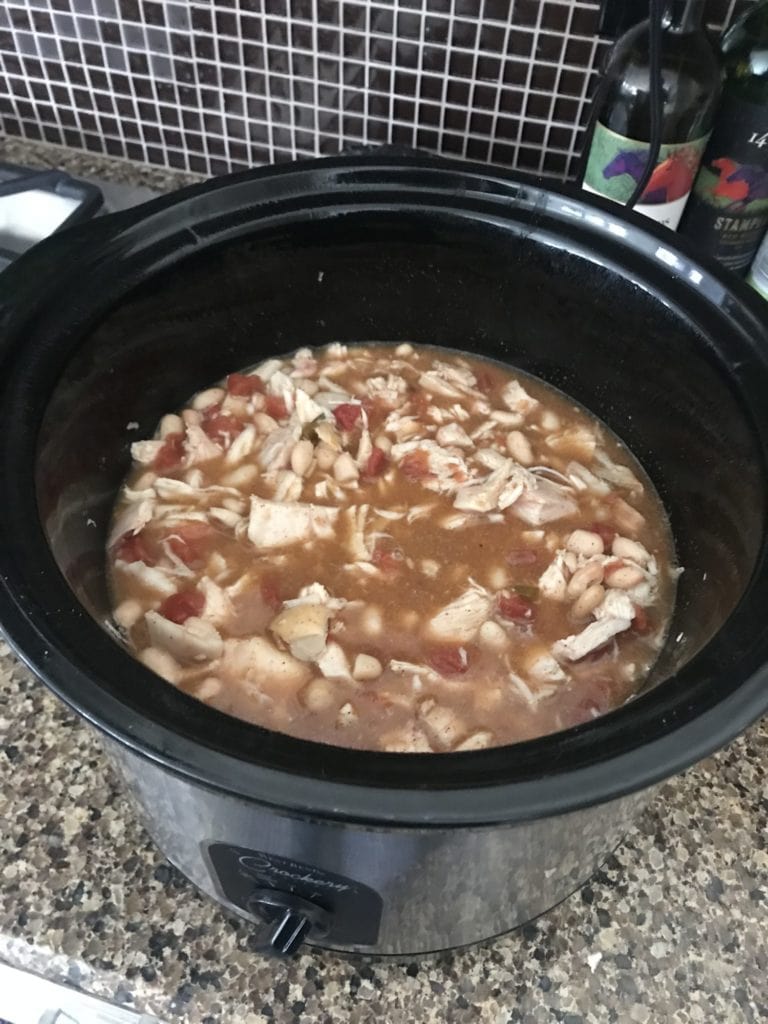 Kurtis and Nick spent most of the day running all over. Jill was hosting a baby shower so I think Nick needed someone to entertain him and get him out of the house for half the day 😉 Since Kurtis was gone, I was super lazy. Like really lazy. I did shoot some photos for yesterday's home tour but that's about it. Now that my home tours are done, I'm looking forward to just really enjoying the decor for the next few weeks! The cats love when I'm lazy. I'm pretty sure I'll be able to give the world's most in-depth and thorough review of our new sofas over the course of time. If they can survive this nonsense I'm pretty sure they can survive anything: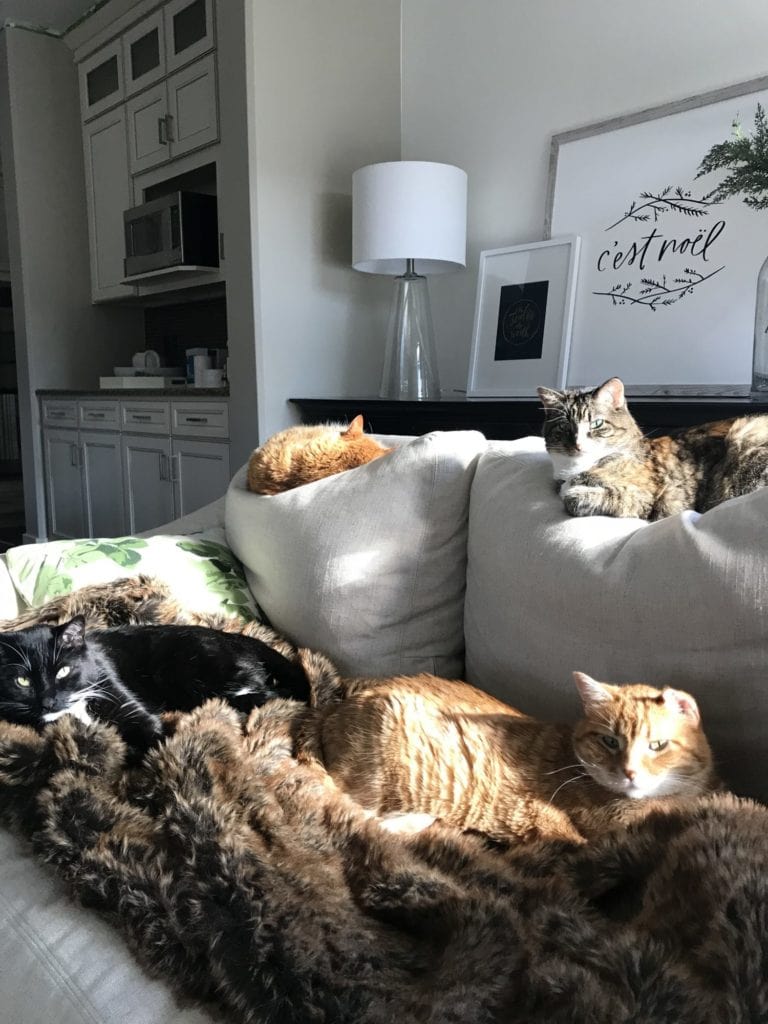 Speaking of the sofas (and our chairs and coffee table), I've already had quite a few questions come in on the fabrics we chose, sizes, and other details so I'll plan to get a post up soon with all of that information so you have an easy reference all in one spot. I can then add to the post over time to let you know how everything is holding up!
The last few weeks, we've been going to church after teaching confirmation class on Wednesday nights. So, Sundays are usually just spent at home vegging before the weekend is over. I had to wrap up my home tours but we also had a Netflix binge or two. We've also been discussing whether or not we want to do a trip next summer or if we'd rather just stay home and enjoy our summer here. We looked into several potential trip options, but we're still really torn! Sunday night, we watched our usual Justified / VEEP combo. A little heavier with a bit of comedy 🙂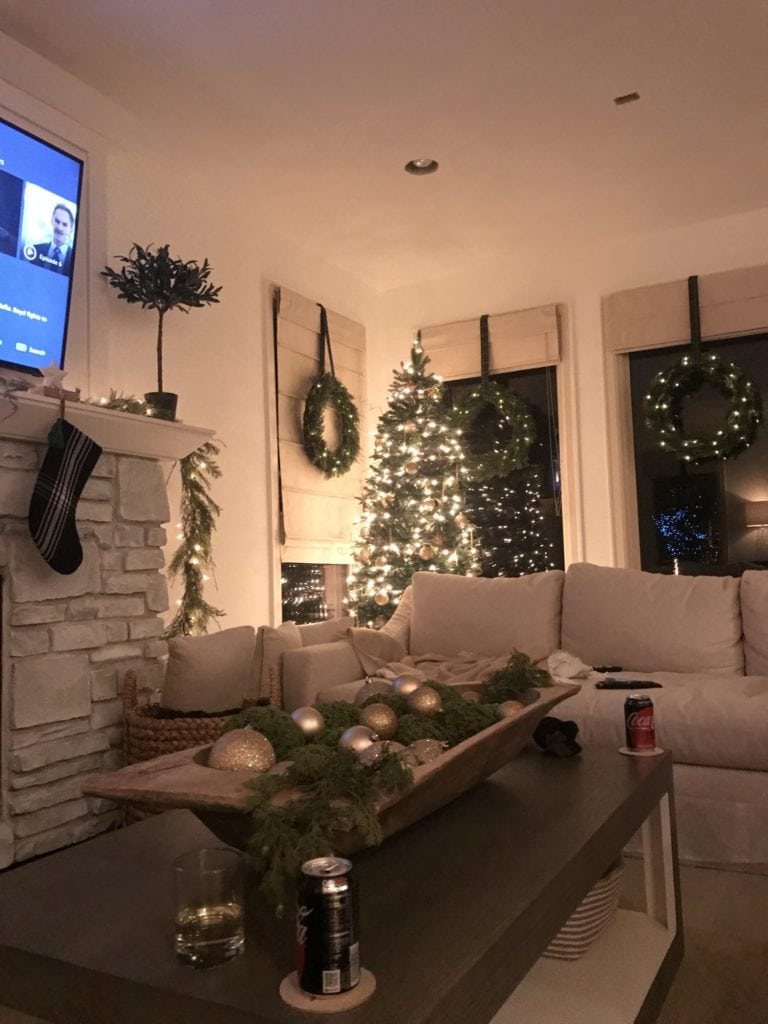 Today marks a lot of great sales on items, most of which you can still get in time for Christmas! Following are a handful of my current favorite sales:
J. CREW is offering 40% off full-priced styles and free shipping with code TIME2GIVE. Shop the sale here.
J. CREW FACTORY is offering 50-60% everything. Prices are as marked – see them here. I'm in love with all of these looks.
LOFT is offering 50% off sweaters, coats, jackets and other cold weather accessories. They have tons of cute stuff right now. Shop the sale here.
NORDSTROM has free shipping with tons of new markdowns. You can see them all here. This tote is a current favorite and comes in at under $25! It would make a great gift for a loved one or a gift to yourself!
OLD NAVY is offering 30% off any purchase, or 40% off your purchase of $75 or more (online only) with code MORE. Shop the sale here.
POTTERY BARN has multiple deals-of-the-day including up to 50% off favorite lighting and 30% off all things velvet. I have a few of these frames waiting for me at our local store and I can't wait to get them up on the walls! See all the deals here.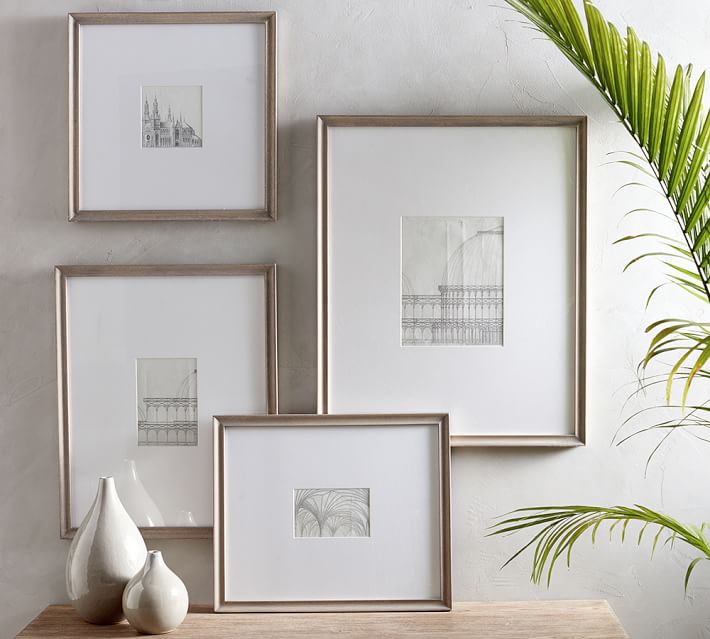 We have some big anniversaries coming up soon (five years in our home and then my ten year blog anniversary) so I'm working on some fun posts for those over the next month or so. I'll likely have some big giveaways in the works for all of you after the first of the year! I'll be sure to share more soon. I hope you all have a great week!
If you would like to follow along on more of my home decor, DIY, lifestyle, travel and other posts, I'd love to have you follow me on any of the following:
Pinterest / Instagram / Facebook / Twitter / Google+
disclosure: some affiliate links used