I hope you all had a great weekend! I shared tons of live stories this week but I'll try to recap a few in case you don't follow me on Instagram!
I got more painting done in the living room and I finished the first coat on the ceiling! I actually forgot just how much darker the old color is when I see it next to a warm white. But you can definitely see the difference below (along with our almond colored trim and roman shades).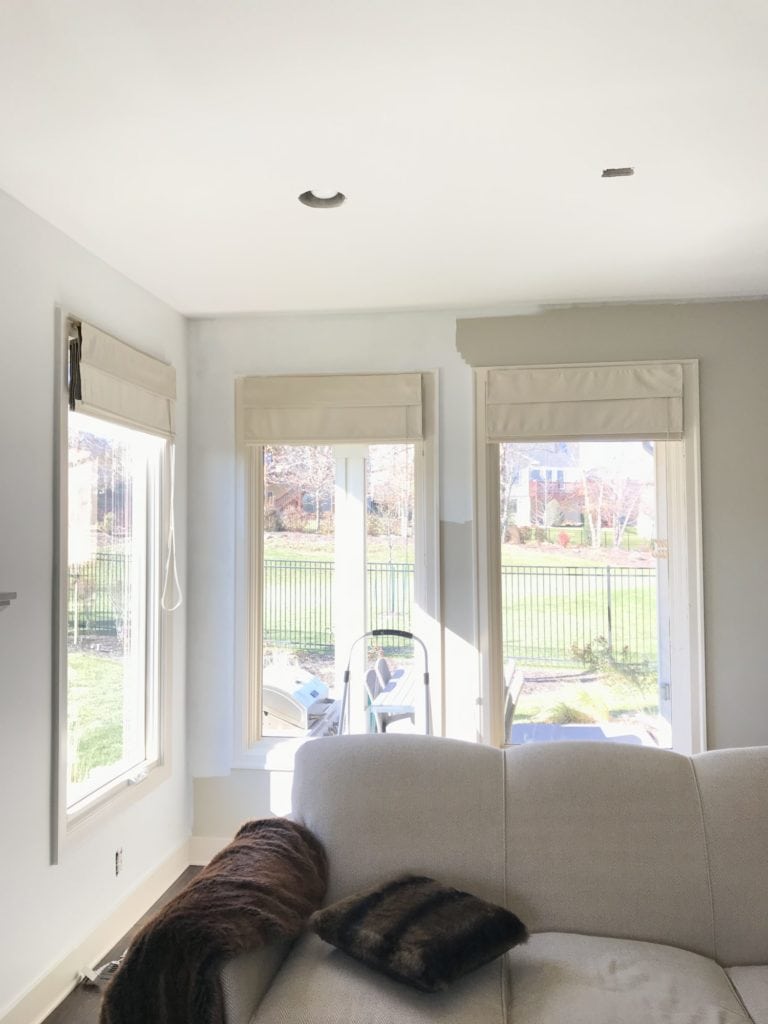 Wow, right?!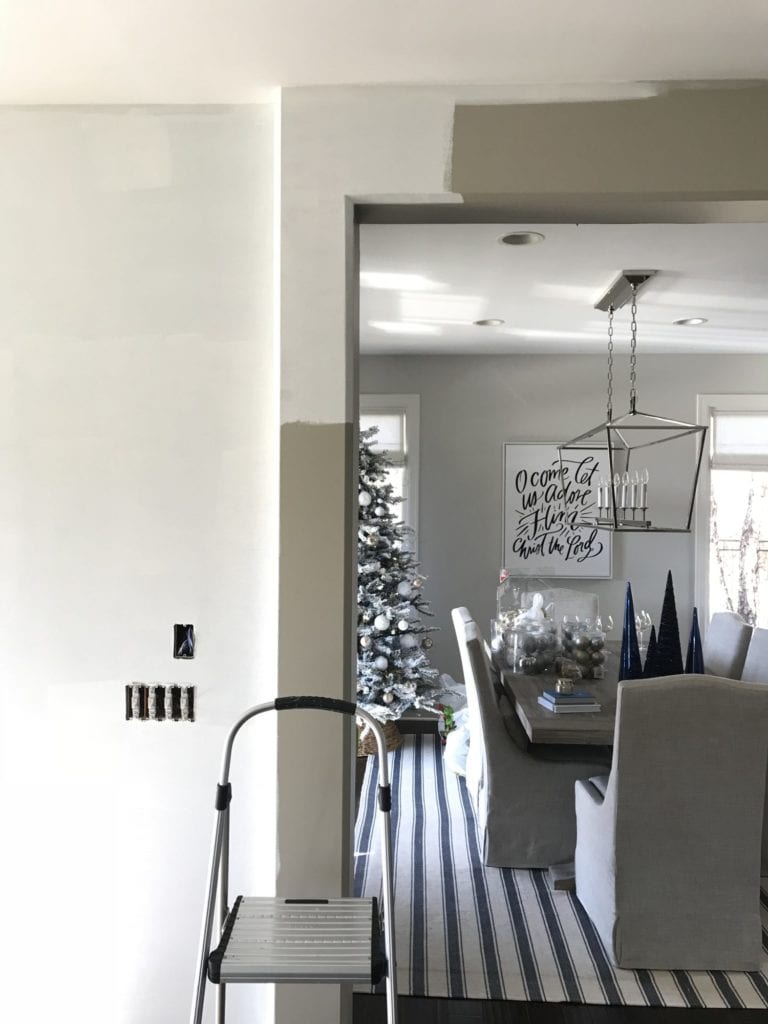 You can really see just how bad the trim color is in the photo below. Although the second coat is completely done on the walls, I still have a third to go, plus all the trim (and another coat on the ceiling)! It's definitely a long process, but I know it will be worth it in the end!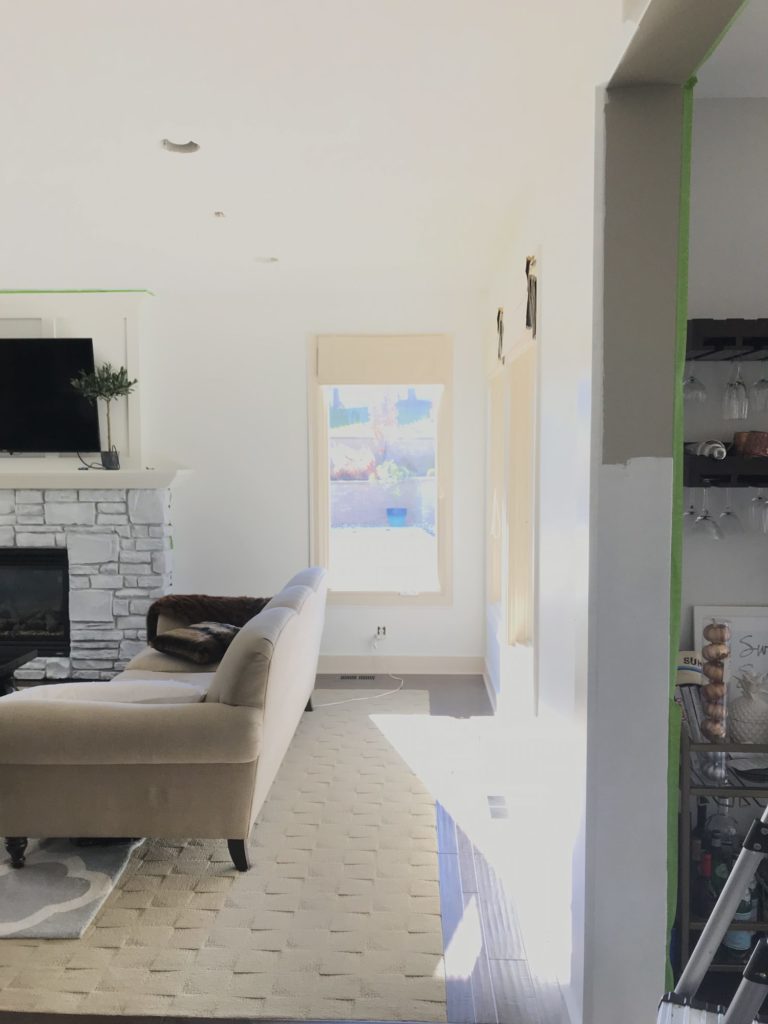 Friday I did some "grocery shopping" but accidentally got trapped in the Hearth and Hand section. Since I haven't been able to find navy blue ornaments (that are not breakable) anywhere, I opted to go with green and black instead of green and navy for my Christmas decor. This line fits in perfectly – they have so many cute things that it was hard to resist!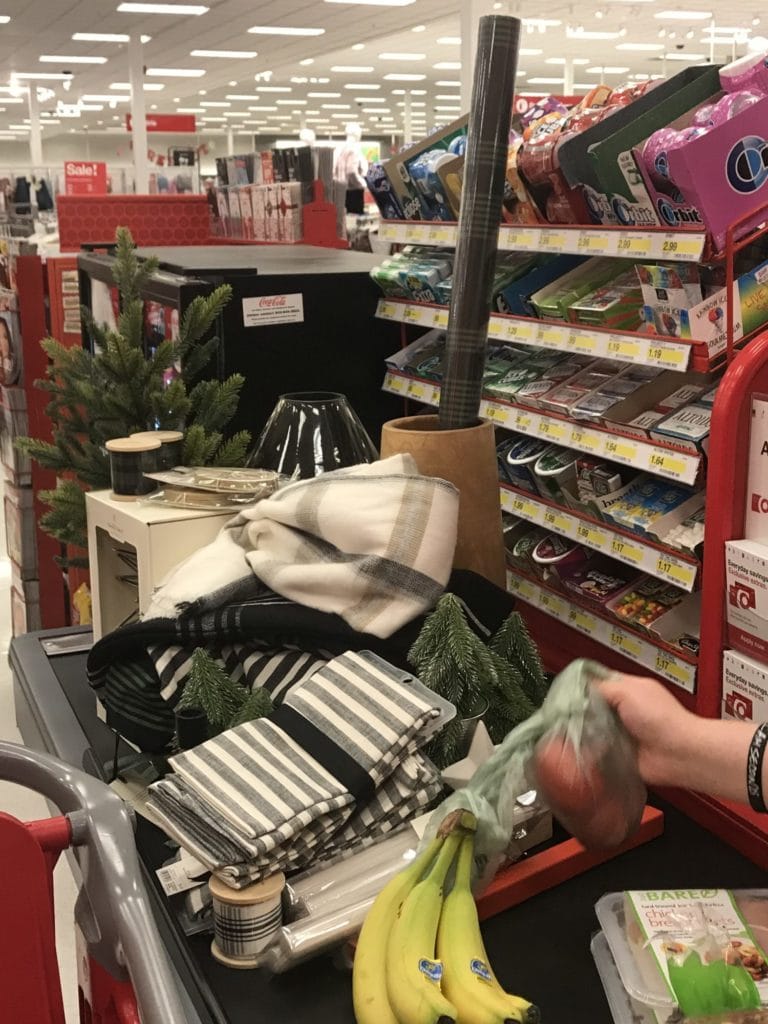 Friday night I took a poll on Instagram with two of our top choices for coffee tables. The two shown were the best fit (size wise) for our space. After over a thousand votes, the bottom one won in the very end. I searched and searched for the best prices on Saturday morning, but I'll get to that more in a minute.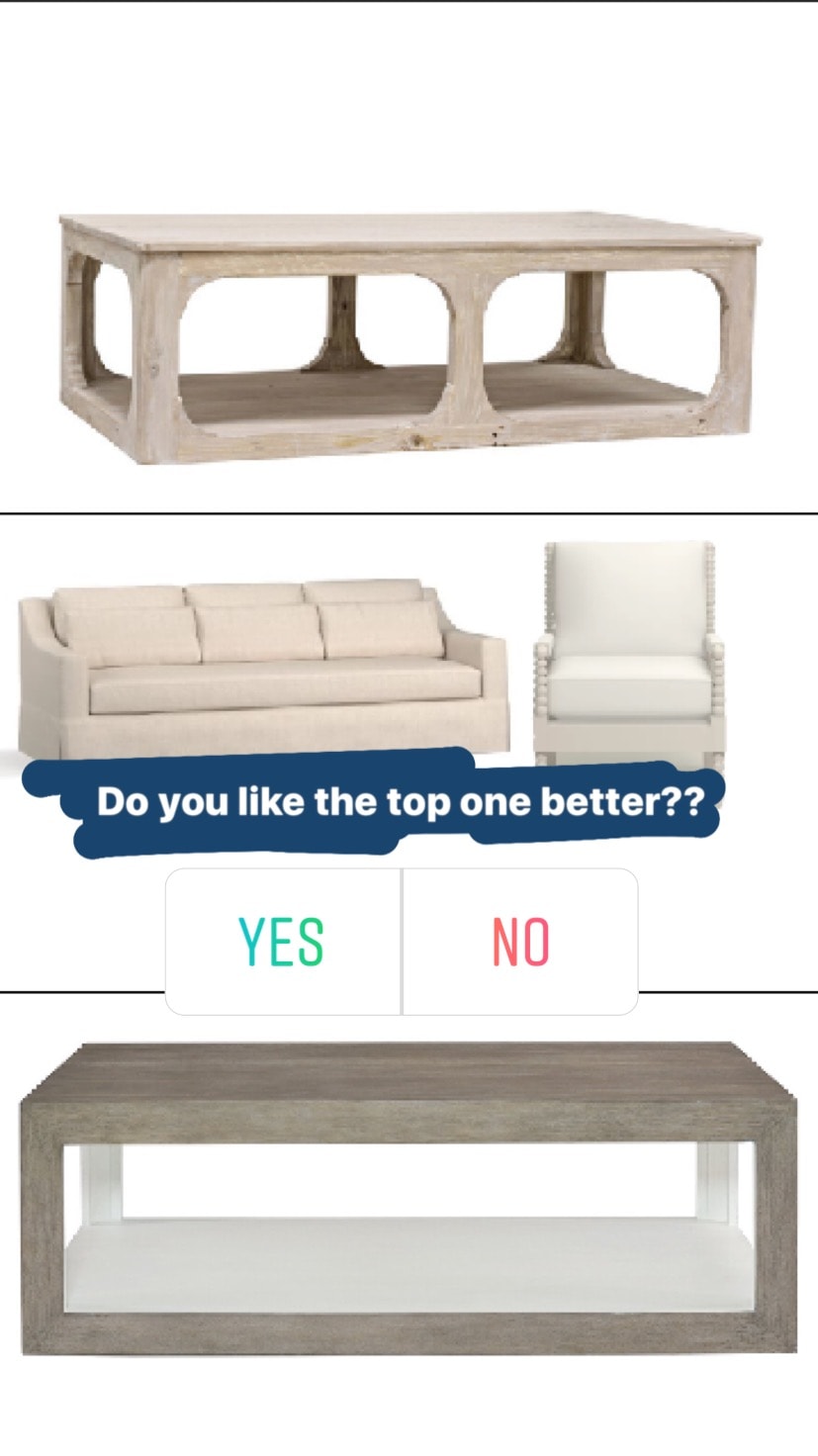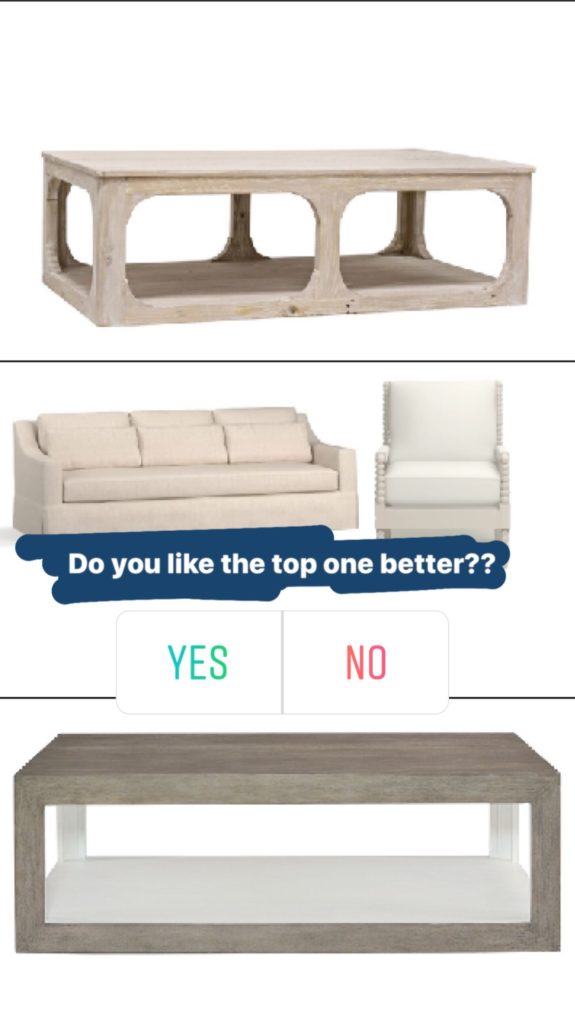 Friday night, the buyers of our sofas and coffee table came to pick everything up! It felt great to sell it to a family I know will love it and we don't have to worry about having four sofas in our living room come Friday! After the furniture was out, the living room was looking rather sparse. And our rug had clearly been sun bleached over the past five years!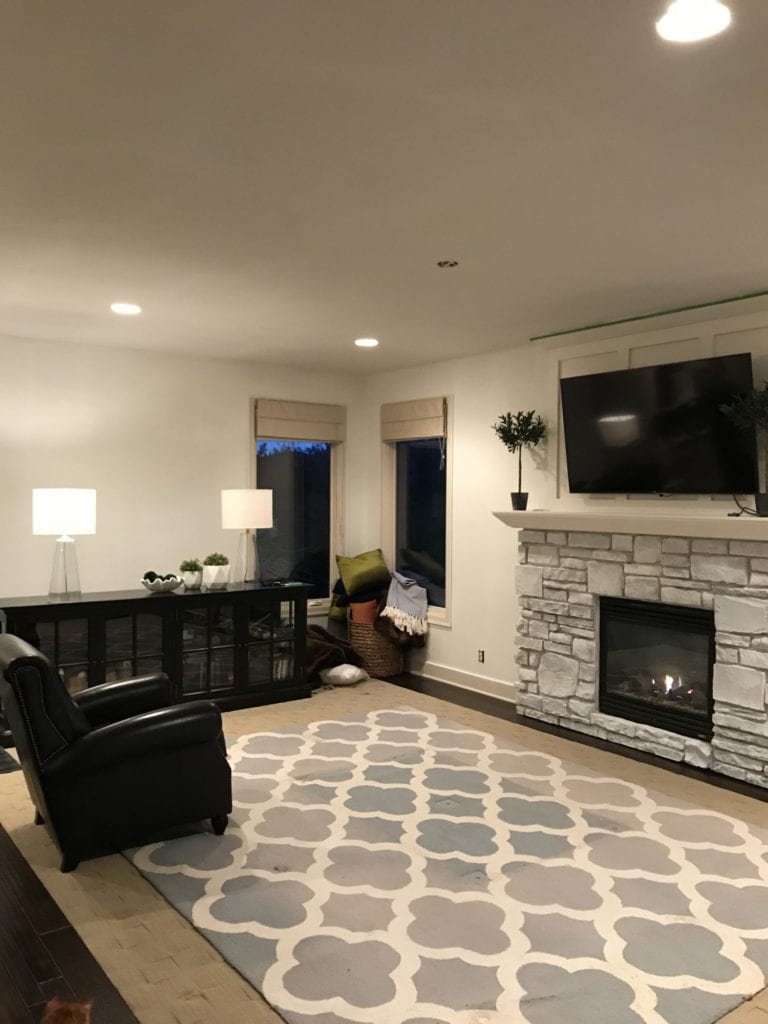 We found Kurtis' apparent hiding spot for empty boxes and dead laptops when we moved the sofas….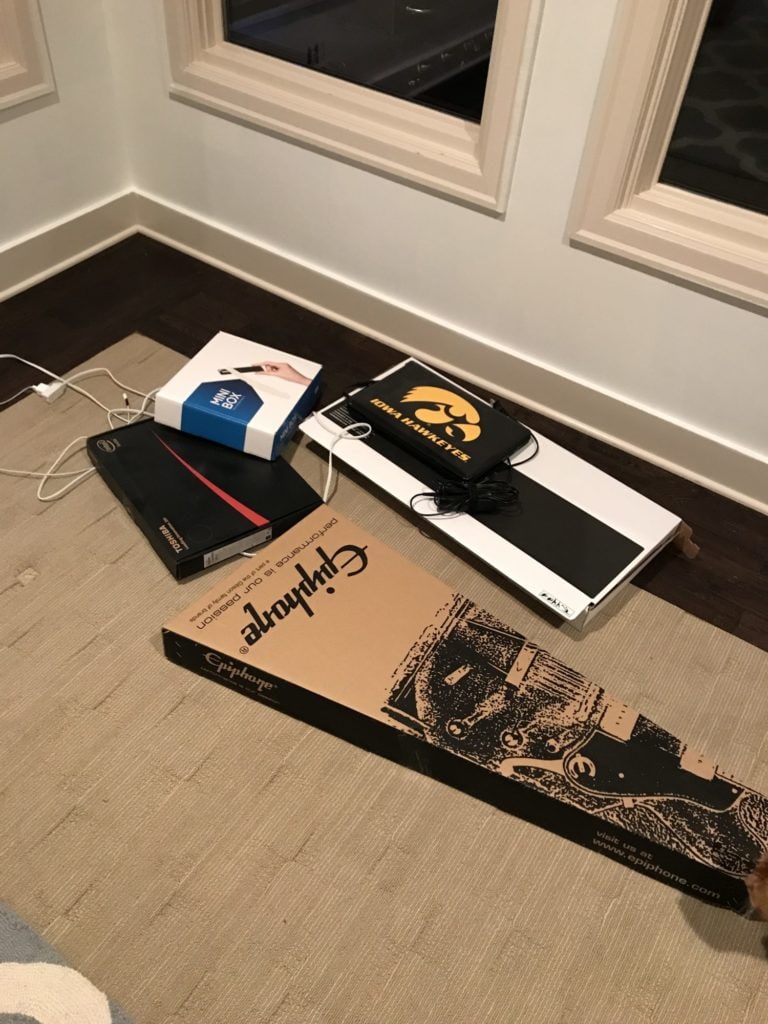 Since we had nowhere to sit, we made makeshift recliners with two chairs and our bedroom bench. But, the bench was sold Saturday morning, so even that isn't around any longer. Nothing is safe in our house!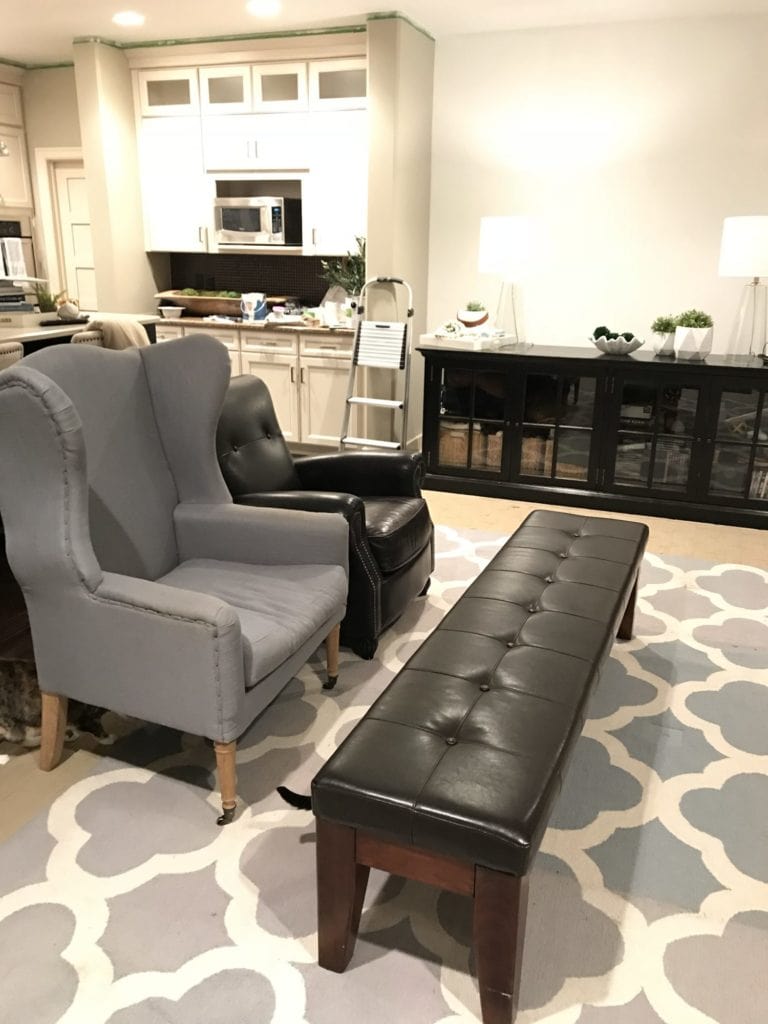 Bearcat loves his morning cuddle time with me while I'm on the computer. He ends up in the strangest positions sometimes when I'm trying to type!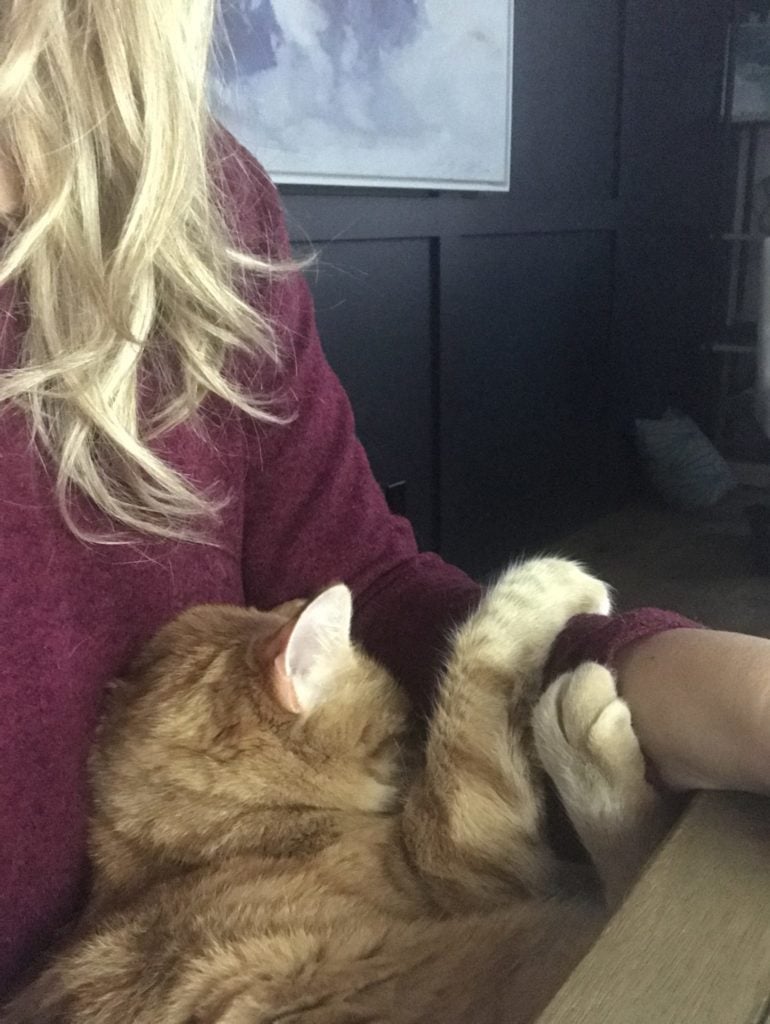 I shot a Christmas tablescape in our dining room that morning that I'll be sharing next week. But I also wanted to show you this gorgeous navy blue and gold foil print I got from Lindsay Letters over the weekend! It's one of my new faves!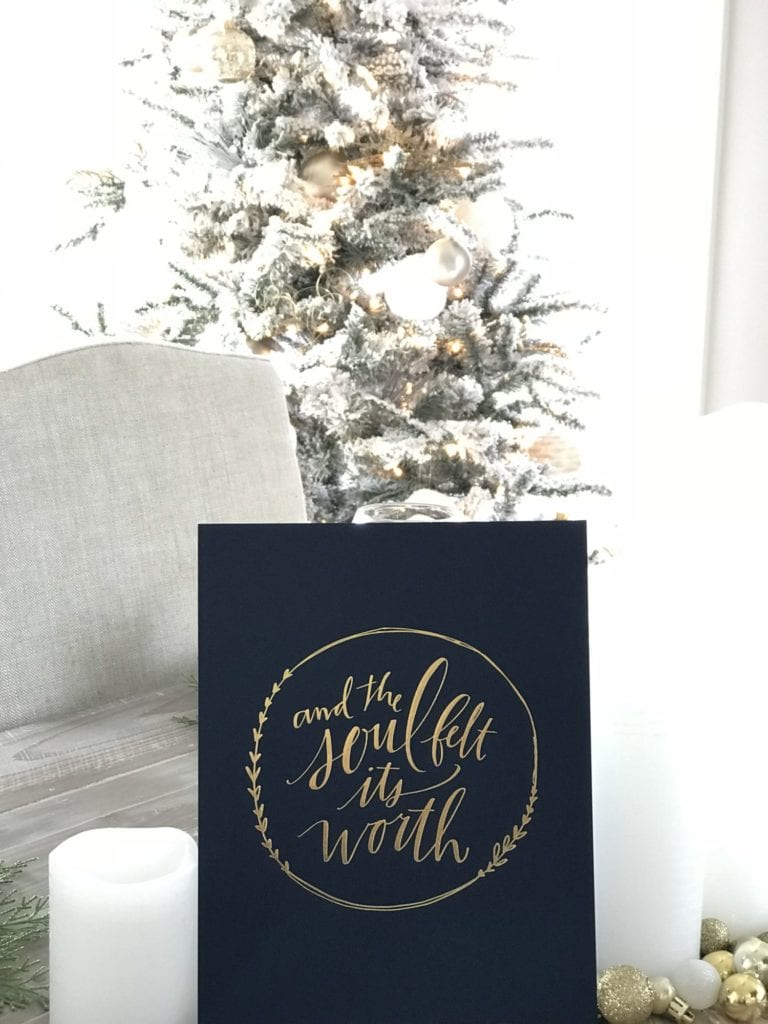 I mentioned above that I searched for the coffee table everywhere online. Turns out, they also had it in stock at Nebraska Furniture Mart. Not only that, they had a floor model to take a look at! I took a bunch of Instagram stories during the process but of course for got to take still images on the blog to share. Long story short, it looked super dark in the store, but I was still interested given the price. So, I decided to buy it after they told me we could take one home and return it if we hated the color. Thankfully it fit in the back of my Murano so we didn't have to pay delivery or shipping charges either!
In order to convince Kurtis to go furniture shopping with me, I promised him beer and pizza at Scriptown. It's one of our favorites, but we don't make it down as often as we'd like to. So, it made for a fun Saturday afternoon! It's near mid-town in Omaha in the Blackstone District.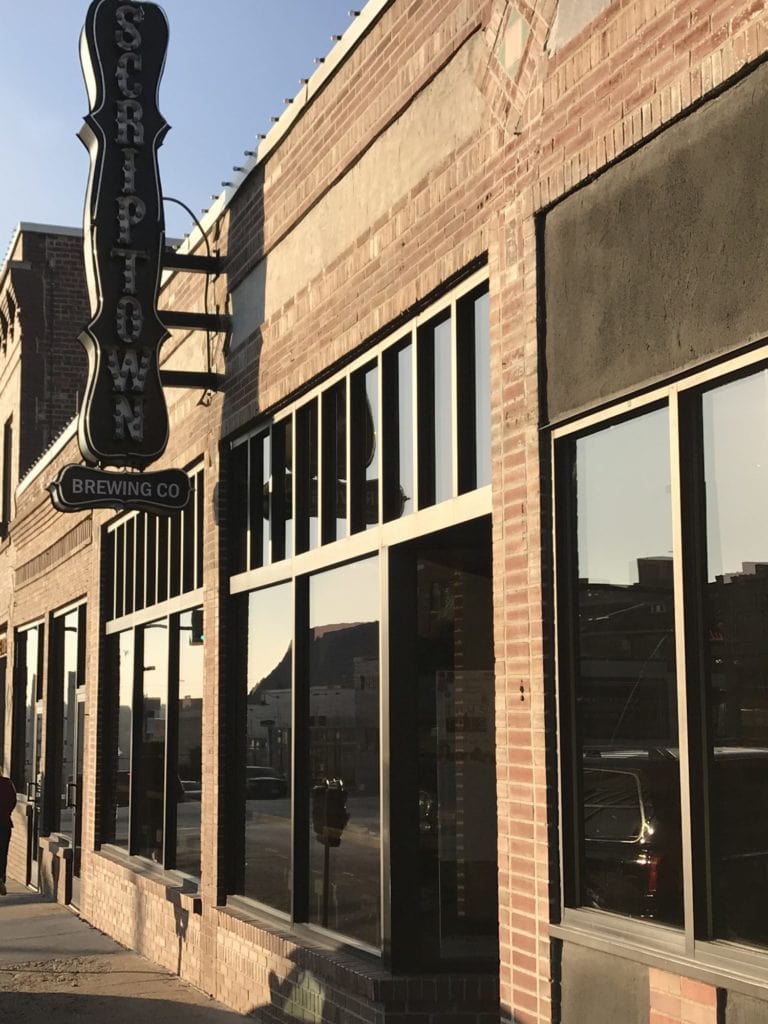 They had a bunch of new beers so we shared a sampler to start and try all the new flavors. And in some pizza from Noli's and it was the perfect splurge!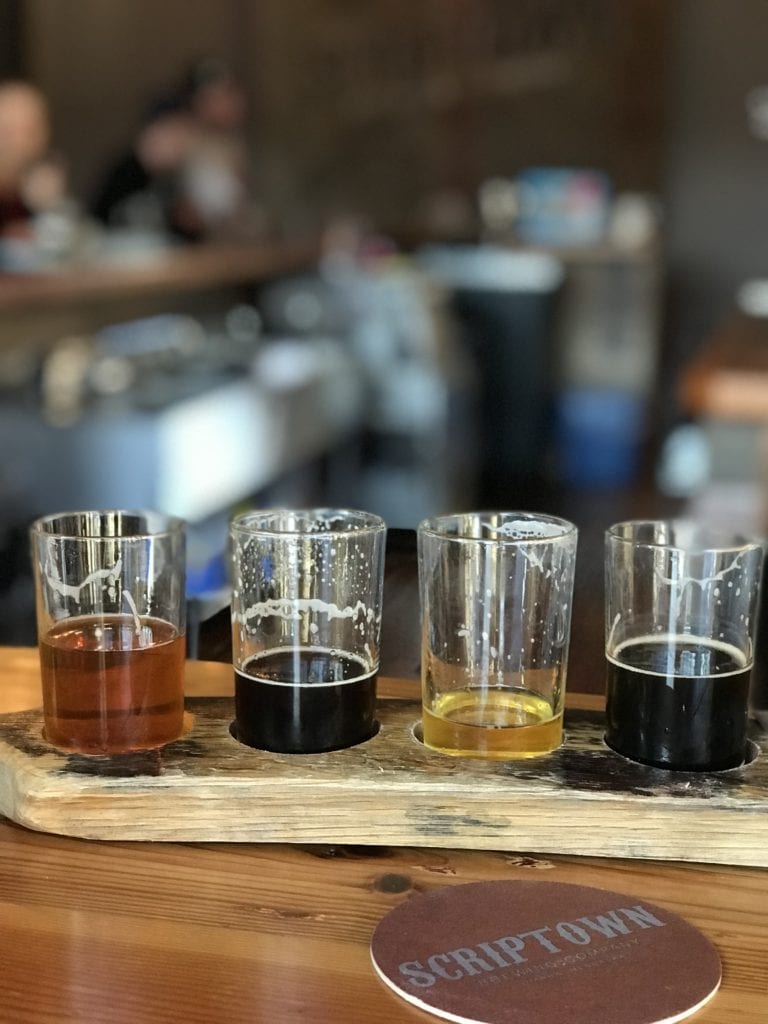 On the way home, we swung into Trader Joe's and I bought some of the fresh boxwood wreaths. They're only $10.99 for a 22″ wreath so it's a great buy! I'm hoping to be able to preserve mine so I can continue to use them year after year. No idea if that's possible, but if you've done it before, I'd love to hear the best method!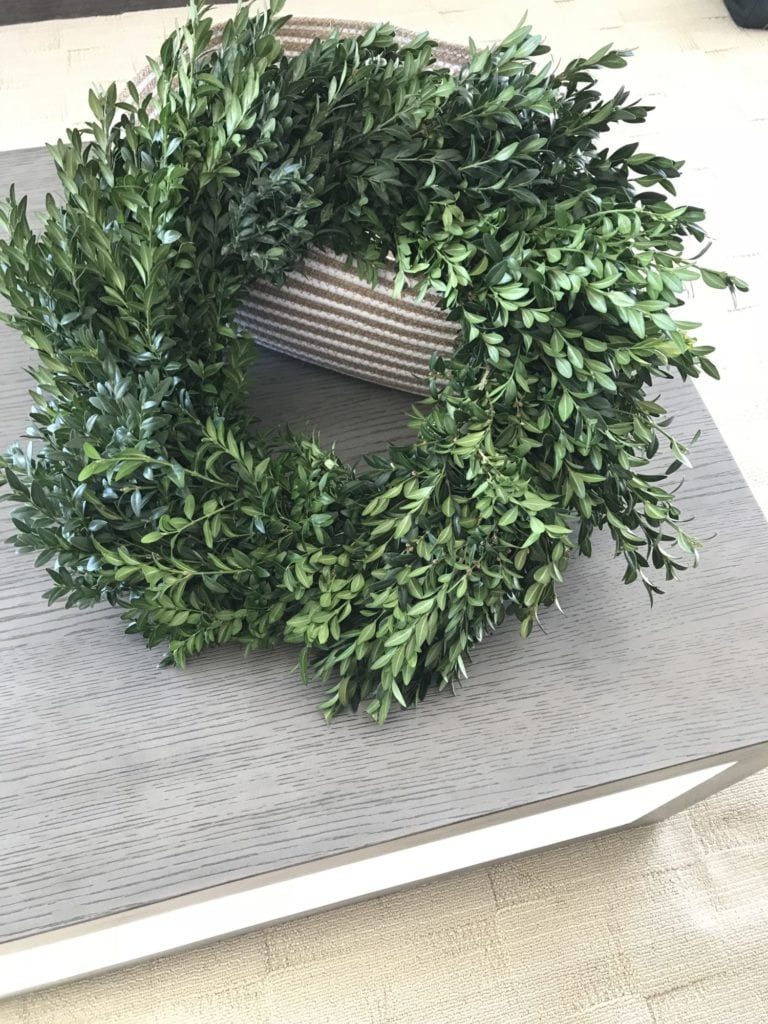 My friend Chelsea texted me Saturday night to see if the new coffee table was working. I sent her the picture below to let her know it was too dark to tell. She proceeded to tell me that our living room looked like a college apartment.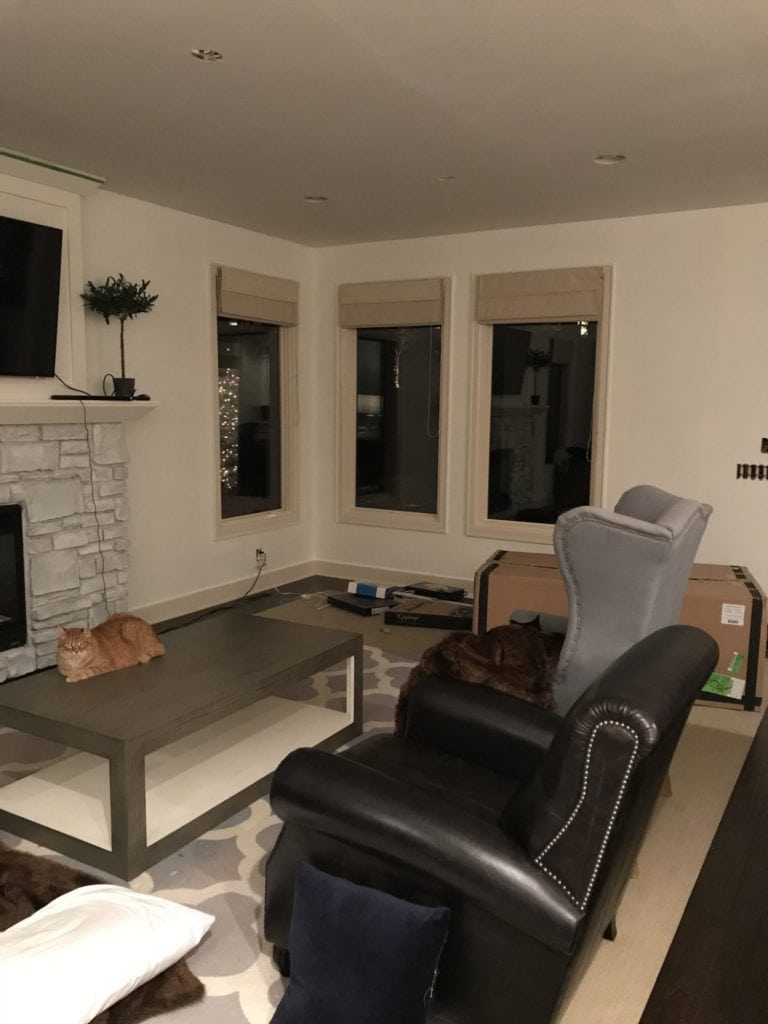 Touché. I had no other response than to send her this image of the "couch" Kurtis made to take a nap. He lasted about ten seconds before going upstairs to sleep so Bearcat took over. It probably emphasized her point 😉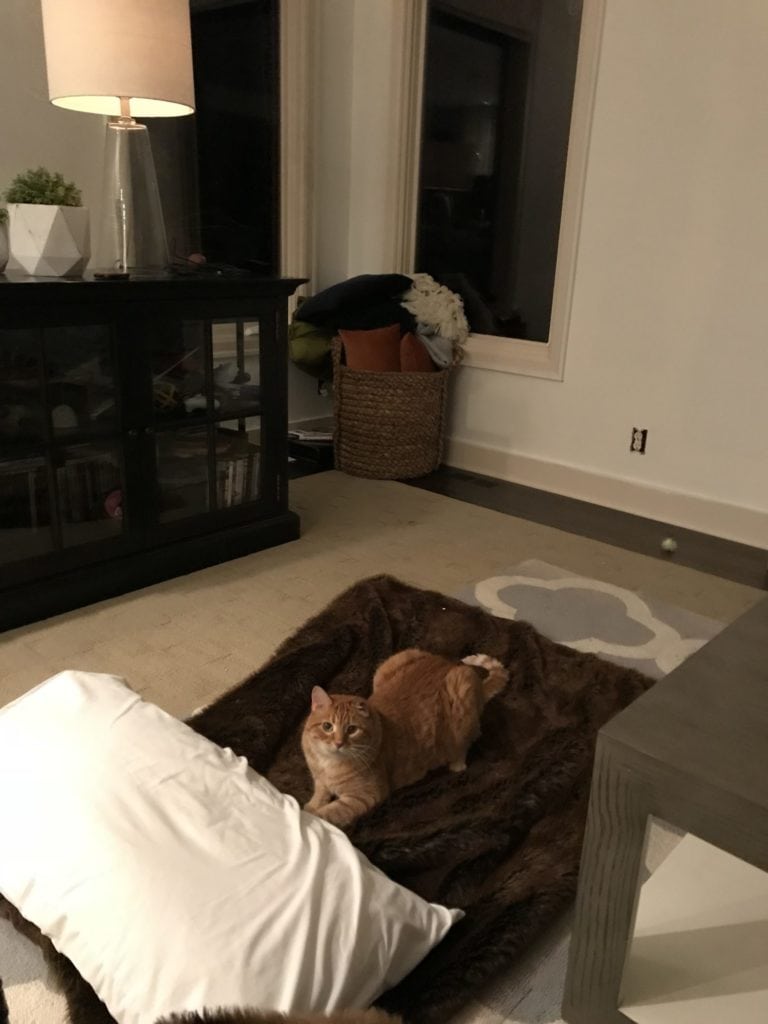 Sunday morning, Kurtis made us waffles and eggs. He makes a flour-less version with oatmeal, bananas and egg whites (with a bit of vanilla and cinnamon). They are really good and a fun treat every now and then. I'm still reviewing his pulled pork recipe but promise to share that soon with you!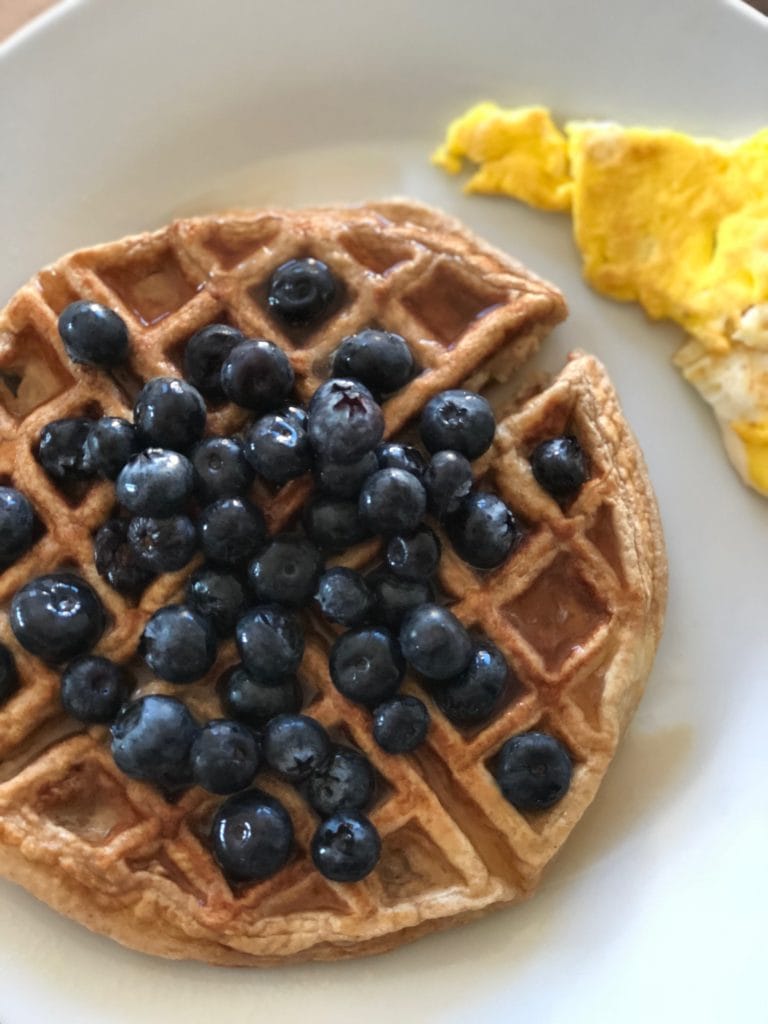 I showed this cute picture of Henley on my Instagram stories sitting in this striped basket, and I had a few questions asking if I'd already bought fresh garland. I actually put up this faux garland yesterday but I like that it does look fairly real! If you use code EARLYBIRD it's currently 25% off! These are the stockings we're using this year. Side note: the olive to
piaries will be getting moved shortly and put away to make room for Christmas.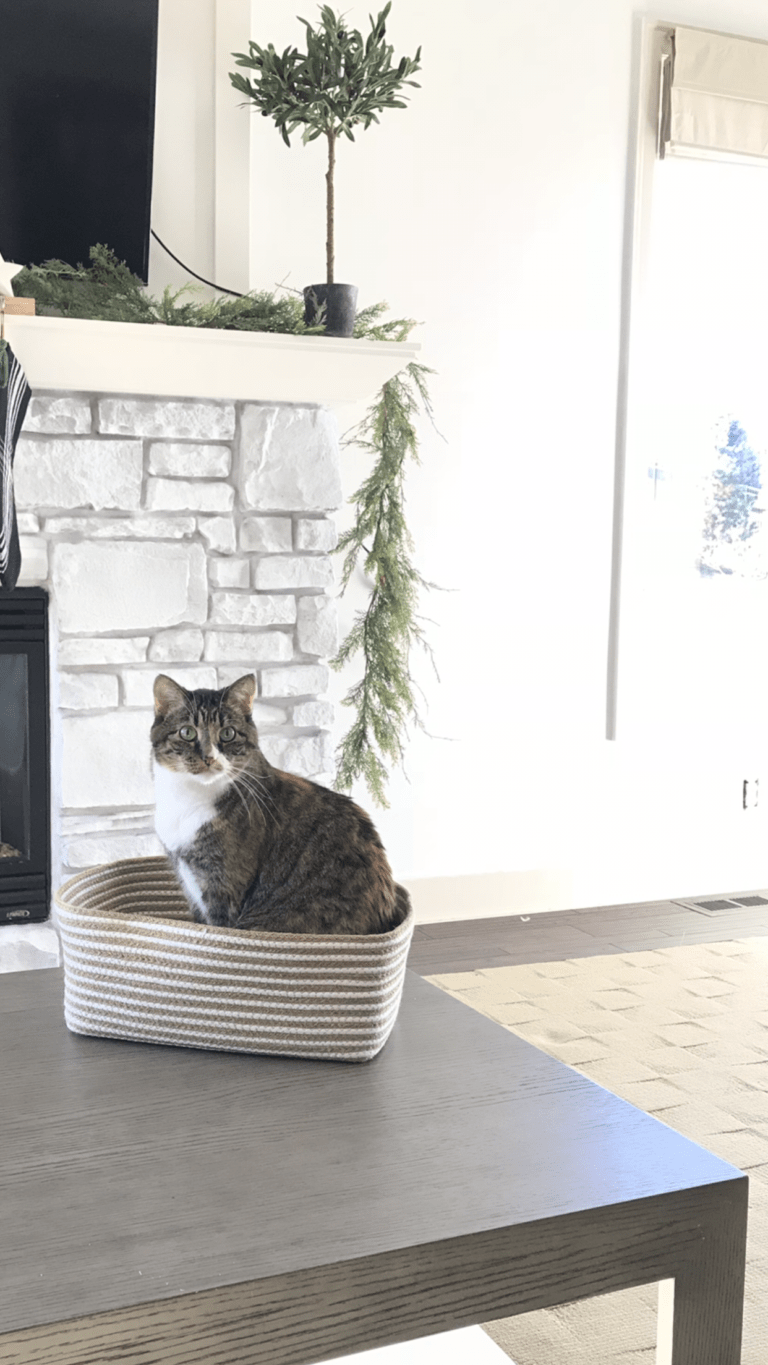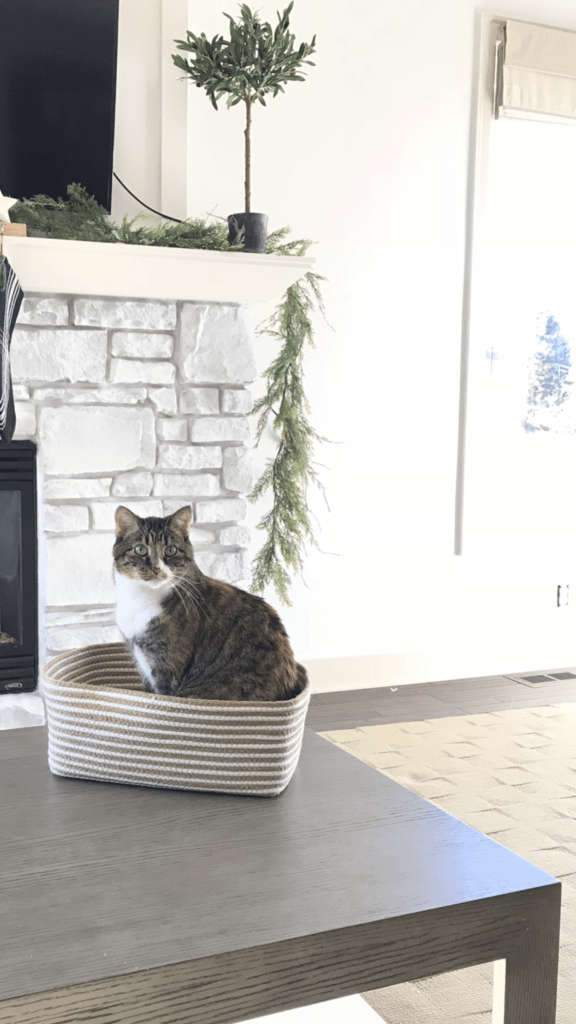 The squirrels were out in full force yesterday chasing each other and doing whatever it is they do this time of year with acorns. Henley is squirrel patrol around here.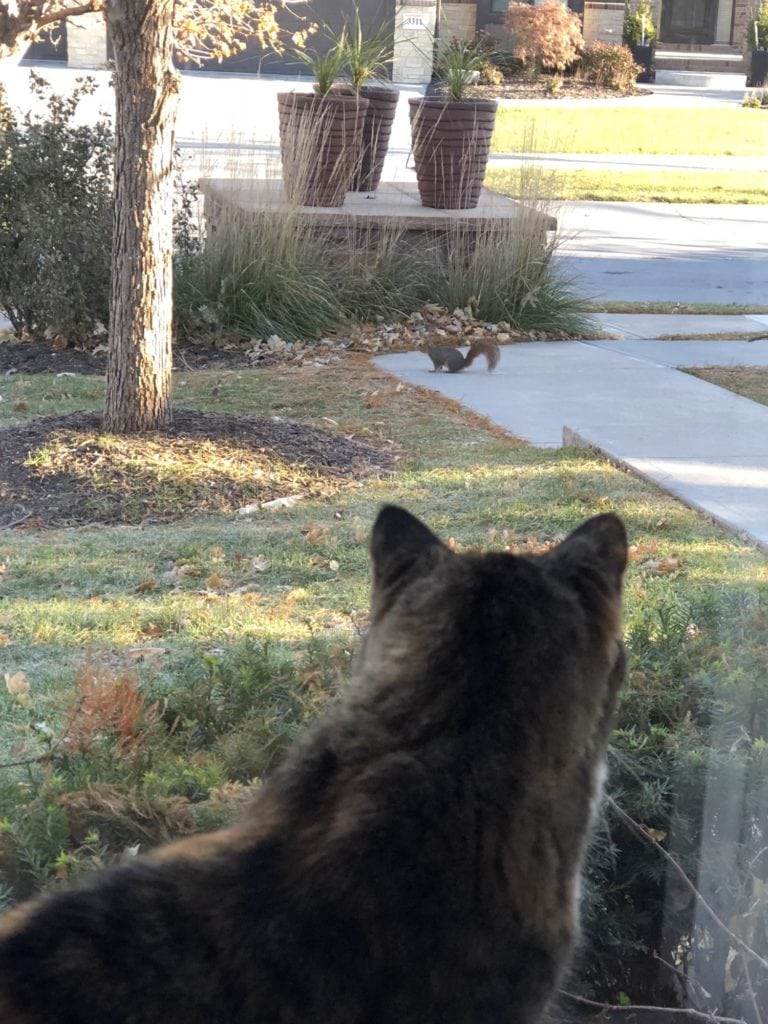 Kurtis and I were even entertained when they were running around like crazy chasing each other around the yard and up and down one of our oak trees!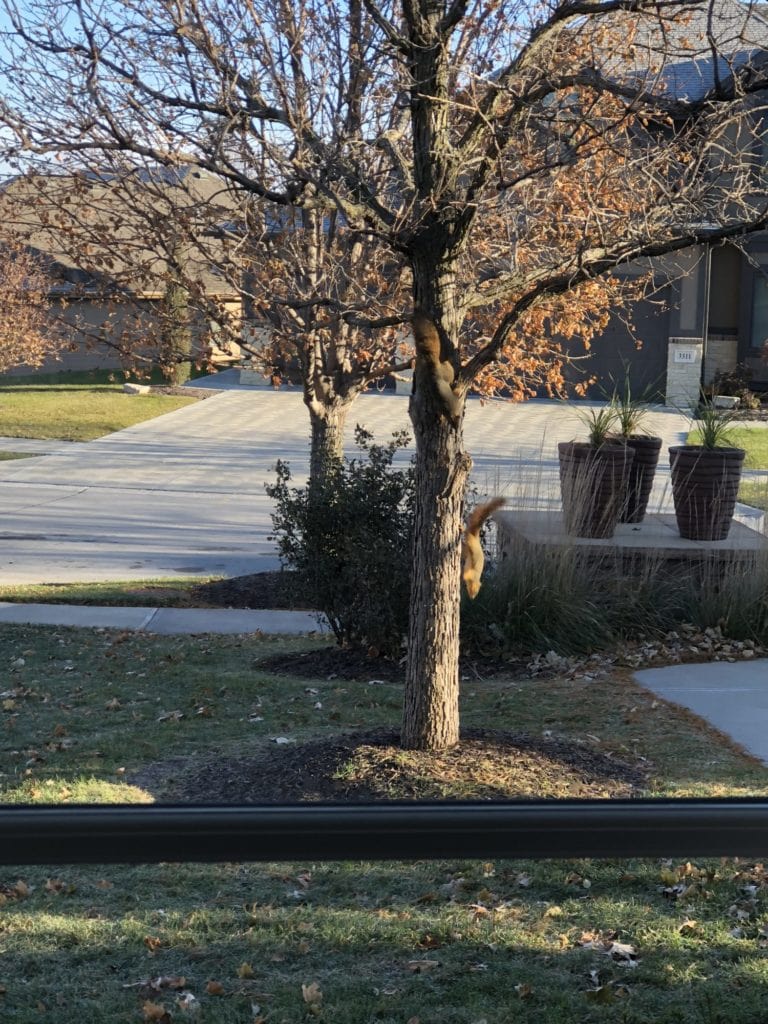 Sunday afternoon while Kurtis was watching football with Nick, I decided to rake more of our leaves and bald cypress needles in our yard.  It's a non-stop battle around here in the fall with all our trees and neighbors' trees! Not only that, I finally pulled the tropicals from three of my planters. Mostly since they'd been dead for the better part of a month 😉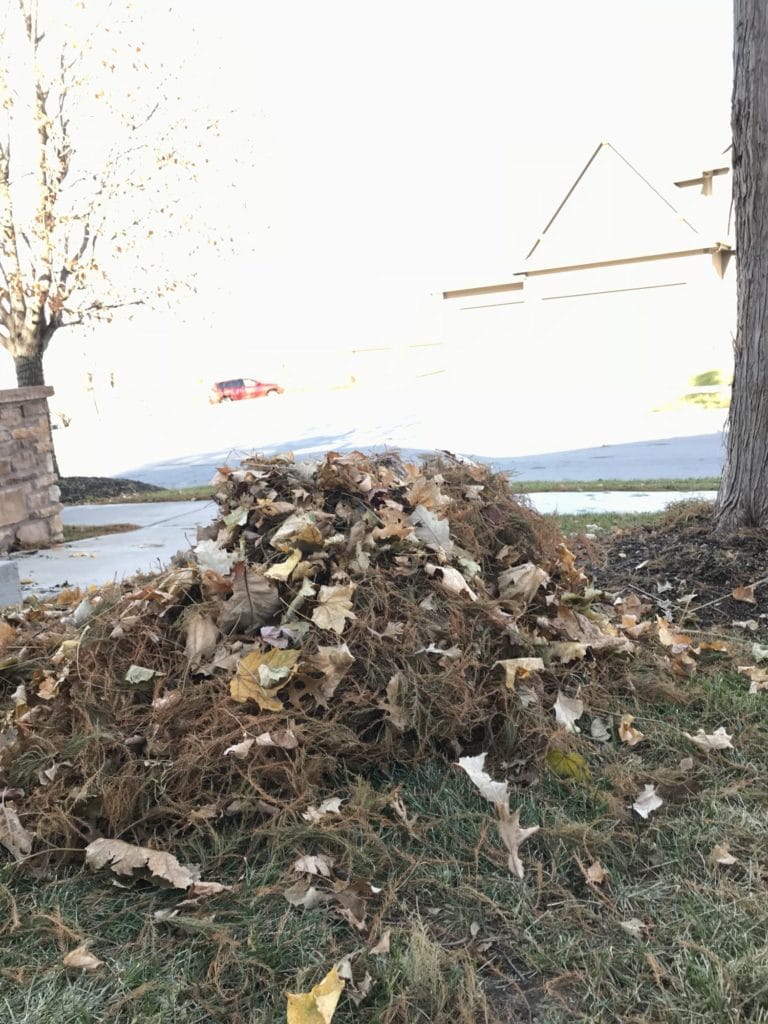 I managed to pack and fill our yard waste bin to maximum capacity. The bad news is, we still have tons of leaves left!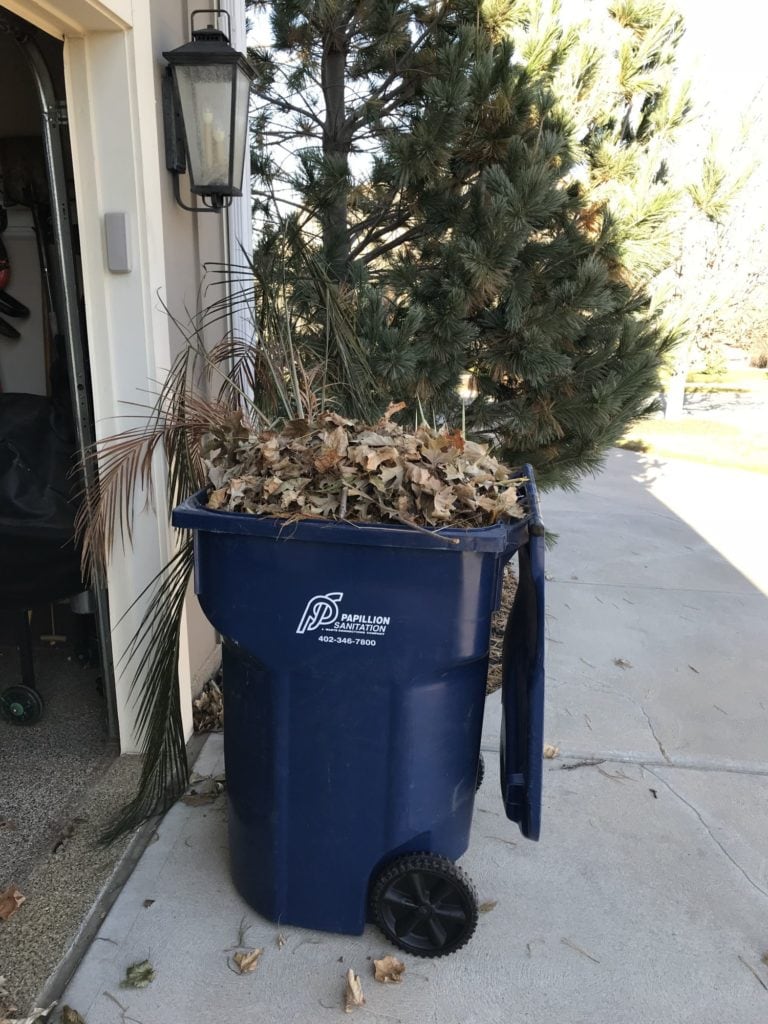 Since we don't currently have ideal living room seating, it makes it tough for us to watch our shows. So, I spent Sunday night at the computer babysitting a sick cat. Bearcat threw up no less than a dozen times yesterday and you could tell he felt horrible. We have no idea what happened, but by the end of the night, he seemed to be getting better.
I wanted to shared that Pottery Barn is offering 20% off your full-price order today with code SAVEBIG and their throw pillows are all 30% off today! That includes these buffalo check pillows I used in last year's decor (I'm using the navy blue and ivory version this year)!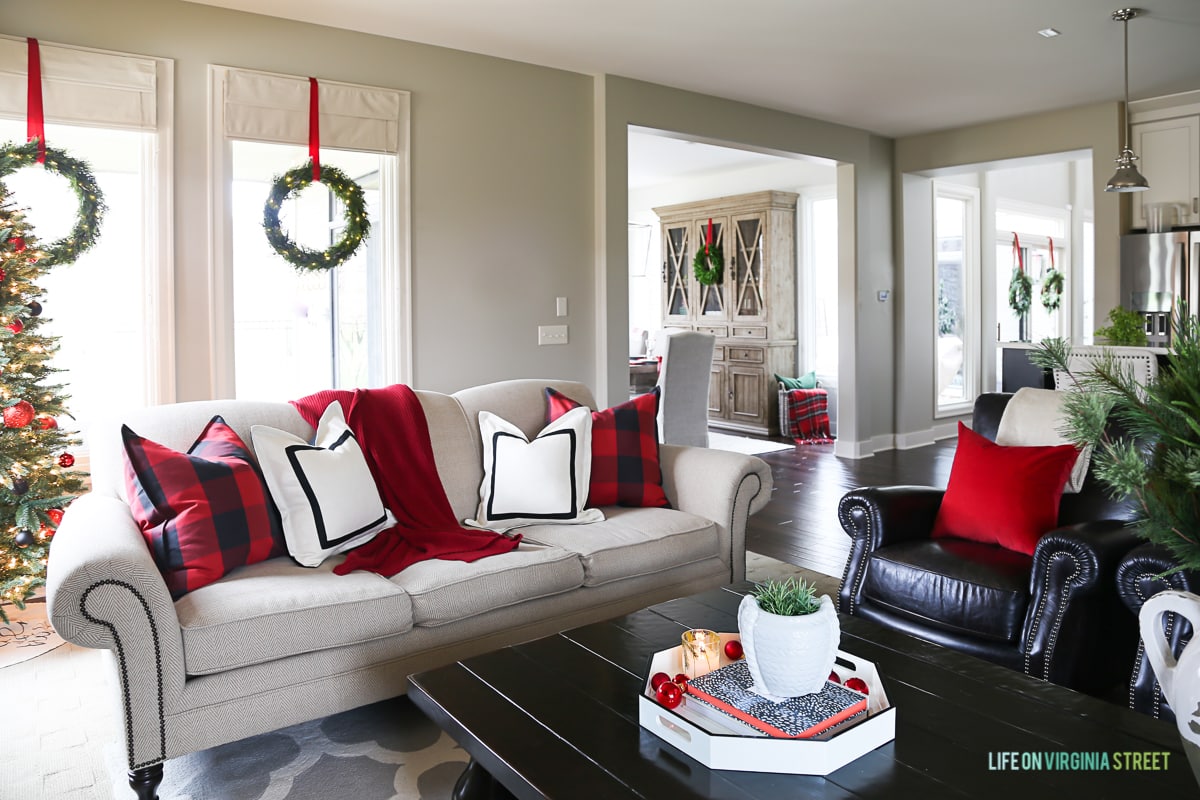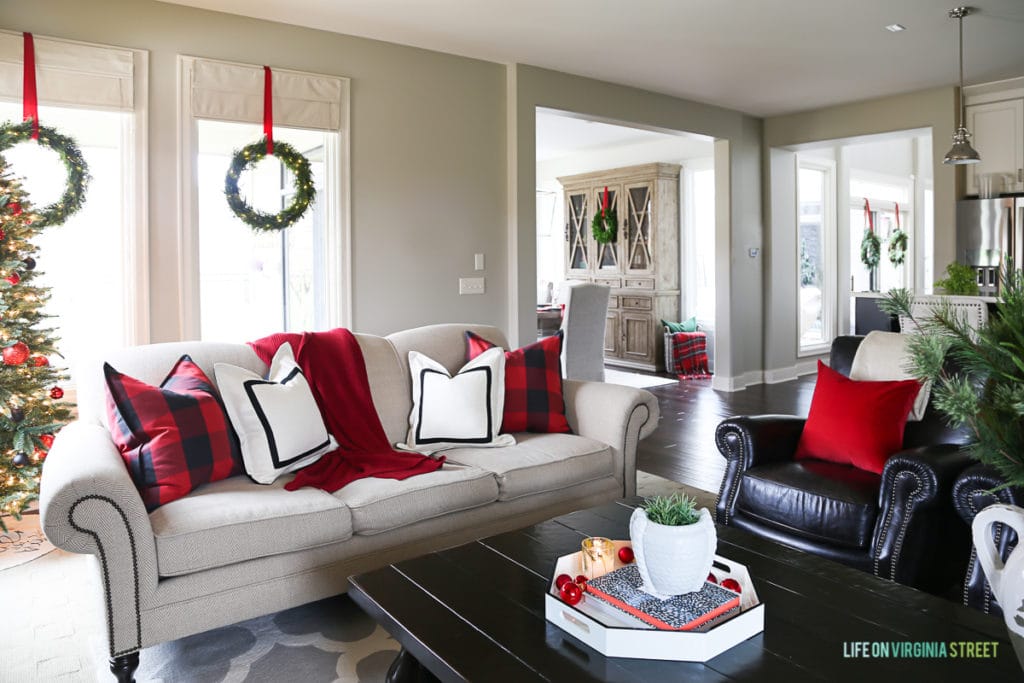 It's so hard to believe that it's already Thanksgiving this week! We're headed to Iowa for a day and then my parents are flying in late in the week. It should be a lot of fun to see everyone! I also have some gift guides planned yet this week as well as Black Friday and Cyber Monday shopping guides. It's always a fun time of year! I hope you all have a great week!
If you would like to follow along on more of my home decor, DIY, lifestyle, travel and other posts, I'd love to have you follow me on any of the following:
Pinterest / Instagram / Facebook / Twitter / Google+
disclosure: some affiliate links used