Good morning! I hope you all had a great holiday weekend! It was a bit of a crazy week for me, as I departed Tuesday afternoon to make the six-and-a-half hour trek to Minnesota to visit my 94 year old grandma. I'll get to more of that visit in a minute.
On Monday, our broken trees from the storm that hit us in June were finally cleaned. It was a 10-12 week wait because of all the storm damage (this isn't the same storm that totaled our roof and the roof on our rentals either). I feel like the trimmers went a tiny bit crazy, but we tend to say that any time we have someone come over.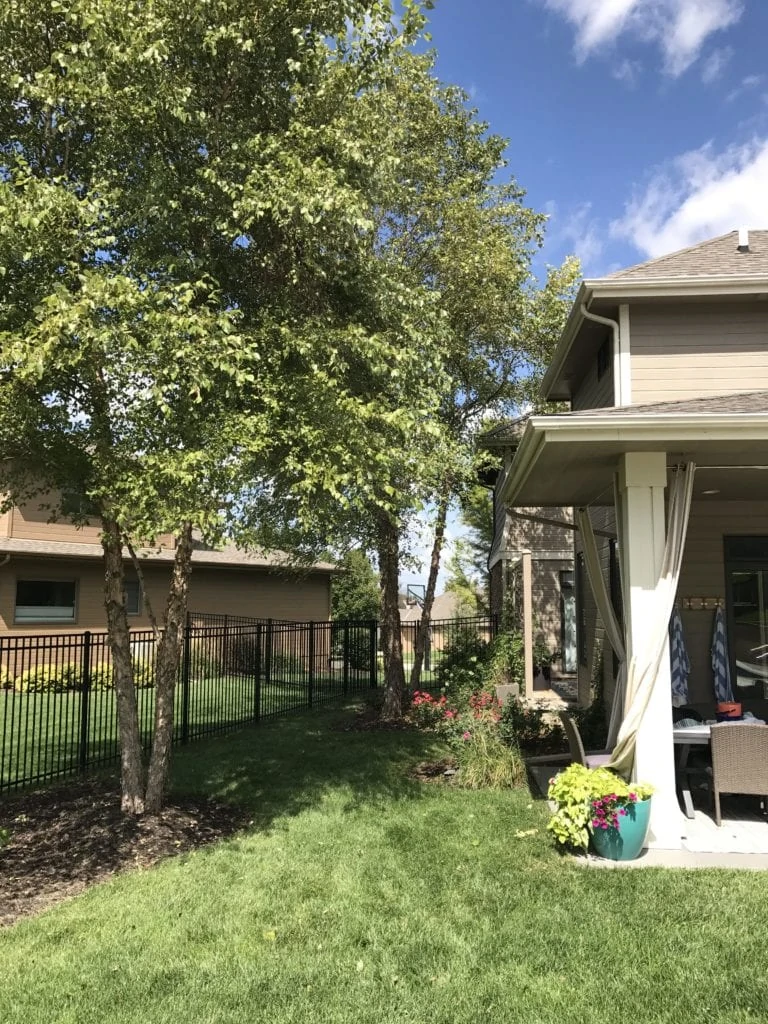 The broken tree was the one that was the farthest out in the below picture. Once they got the broken limbs out, I feel like it belongs in the serengeti now. Not loving the look at all, but hopefully, come spring, it can start filling in again.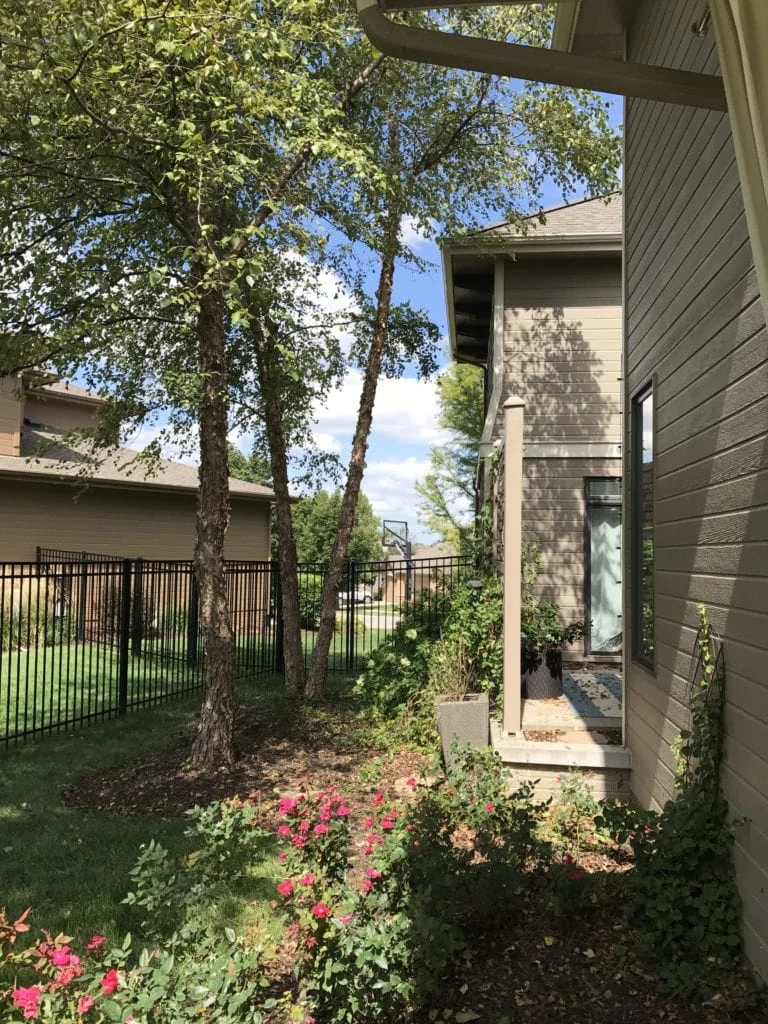 Here's the view from our upstairs hallway looking out into the courtyard. The limb/large vein on the far right is the one that sustained most of the damage so you can see it is super bare now. It exposes this side of the house now to our next door neighbors, but again, hopefully it will fill in soon!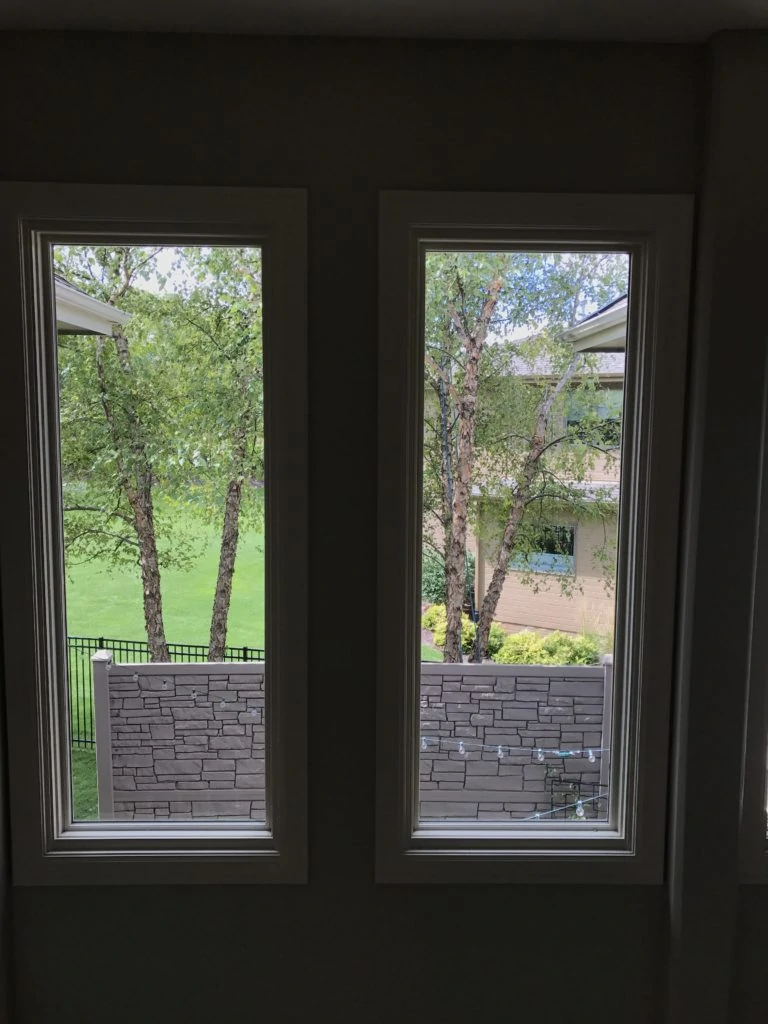 As I mentioned, I headed to Minnesota around lunchtime on Tuesday. It's a six-and-a-half hour drive to Alexandria (where my grandma now lives) which is a bit brutal for me to do by myself. But, it was a beautiful day and the drive went by more quickly than I expected.
My cute parents at dinner that night after I arrived in town. They had flown in from Salt Lake earlier that day.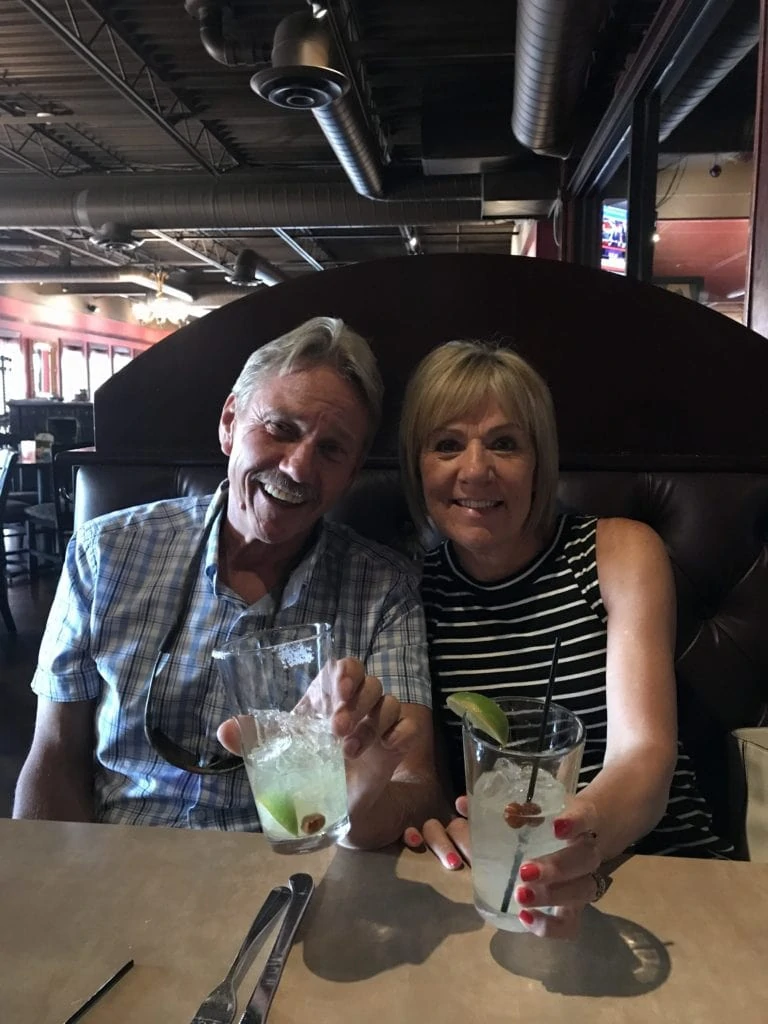 The next morning, we headed to spend time with my grandma and then we drove about 30 minutes north to visit my cousin and see her new house (on a beautiful, serene lake). If you follow me on Instagram, you may have seen the tour I did in my IG stories. It is such a gorgeous home and has such a fun vibe! I just loved the planked ceiling and those beams!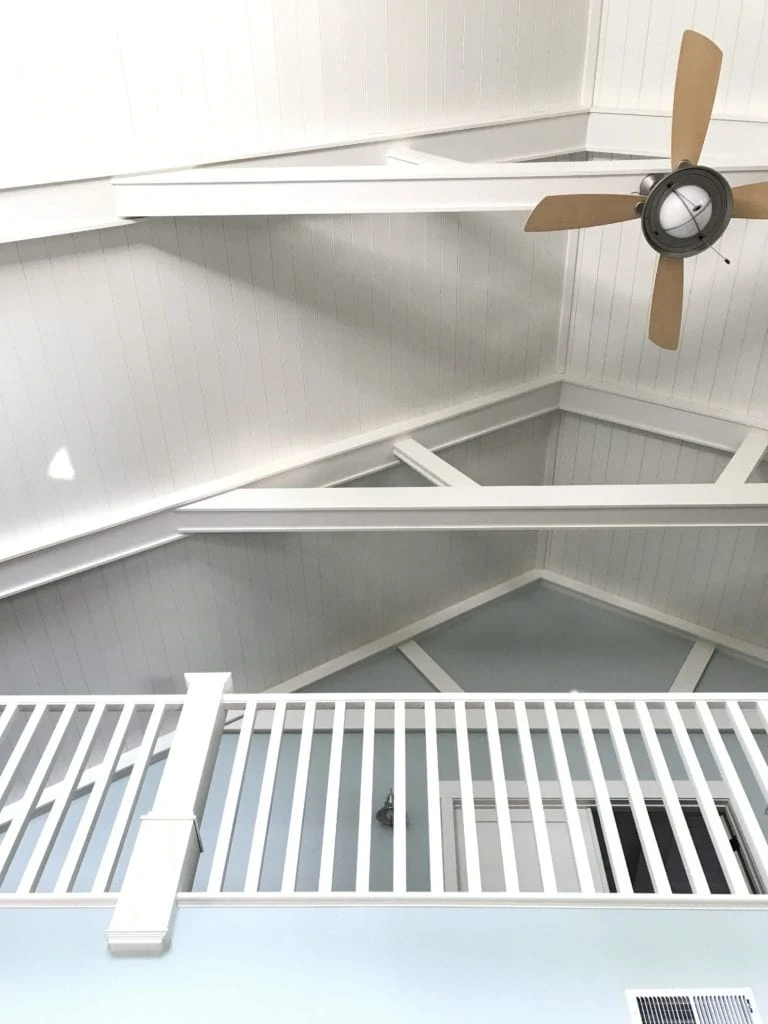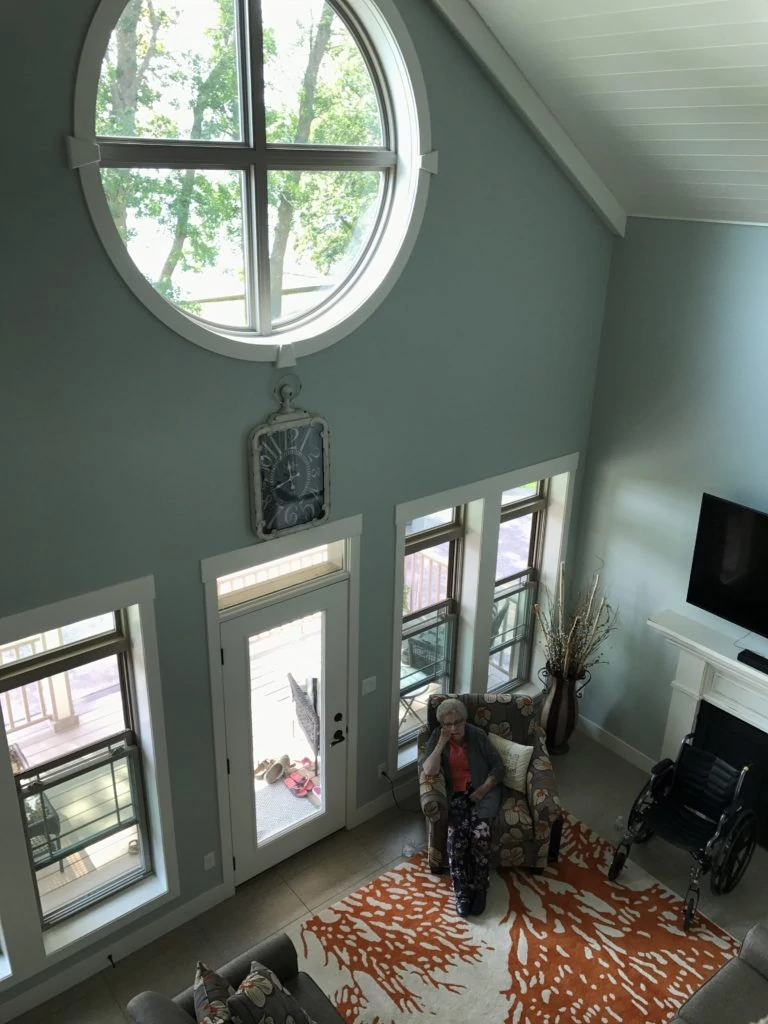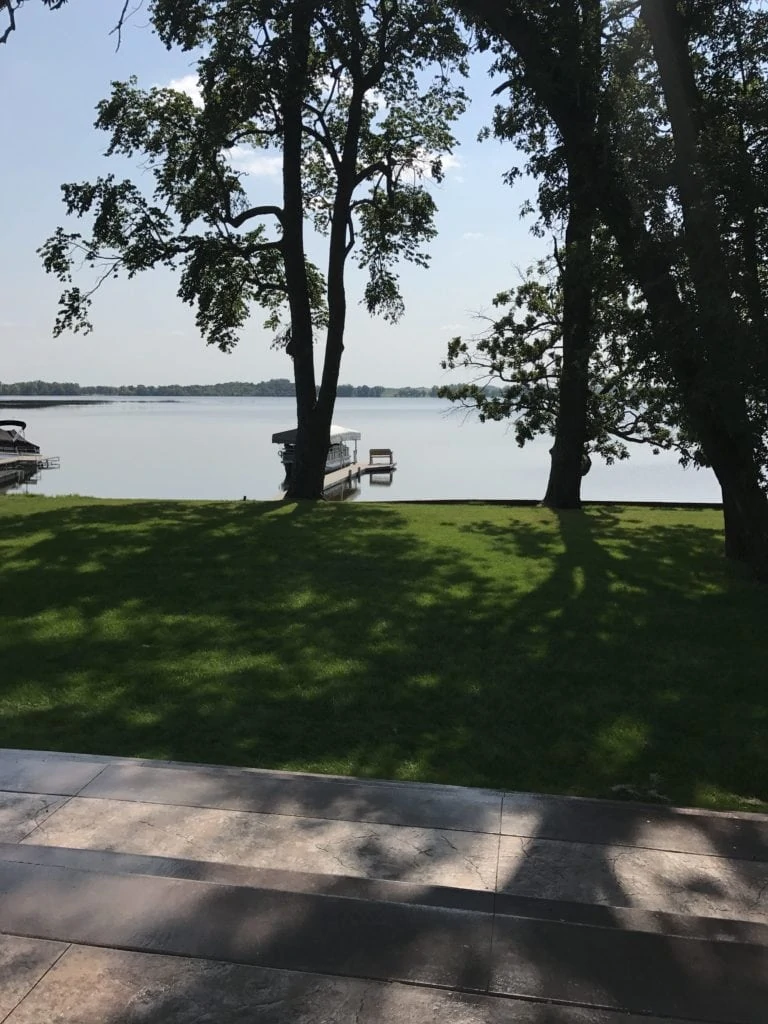 We stayed for a few hours before grabbing lunch and then taking my grandma back. Below is a picture of me and my grandma on Wednesday at her birthday celebration at the assisted living center. She's doing (and looks!) amazing for 94 years old!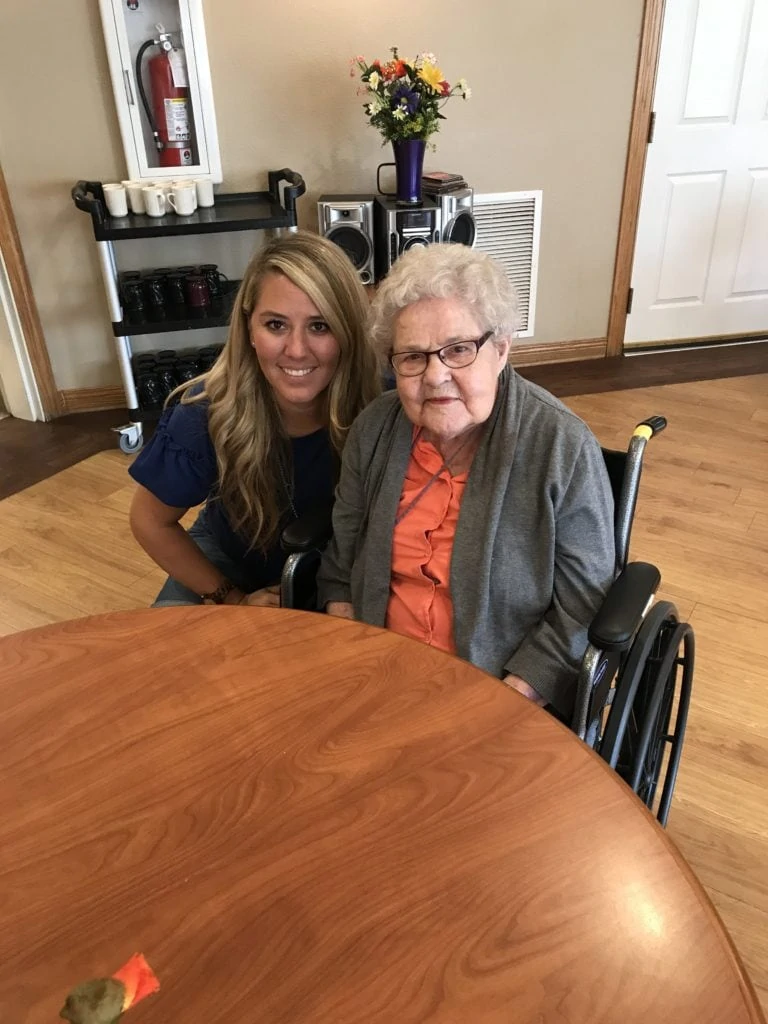 That afternoon, my mom and I did a little shopping in downtown Alexandria. I always end up buying stuff from Charlie's Bazaar. This time, it was a cute fall cape and a bunch of faux greenery and topiaries.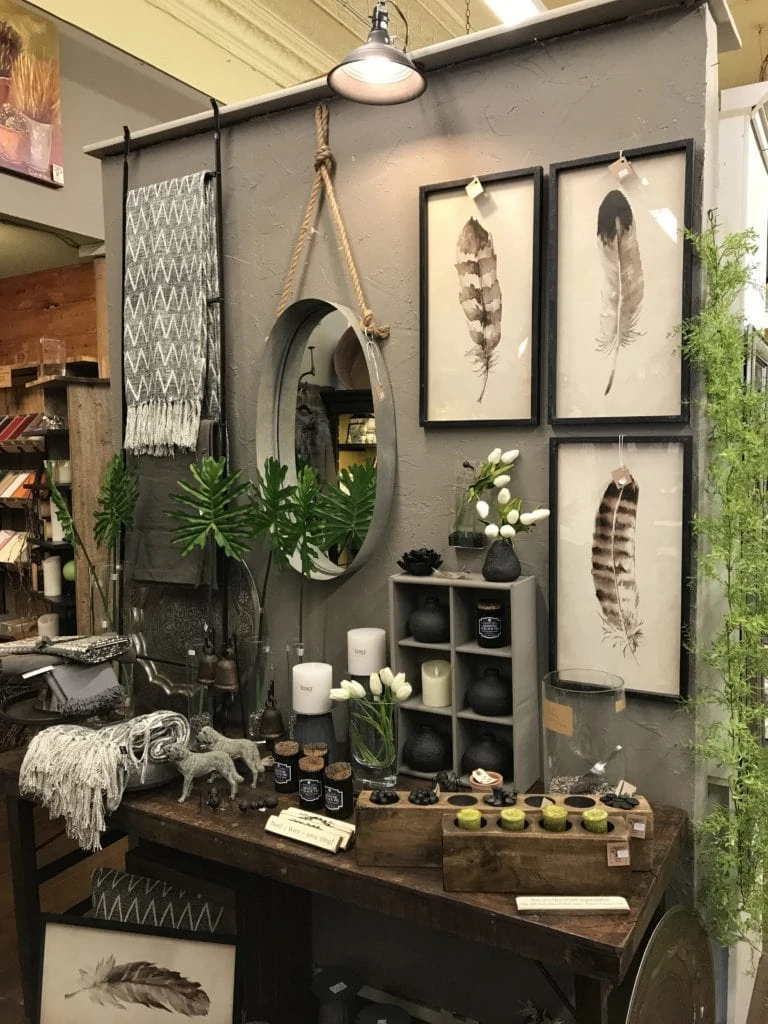 After spending more time with my grandma, we headed to dinner on the lake at The Depot with my Uncle Steve. Not sure if I've mentioned this before, but my mom had eleven kids in her family. All but my mom and two of her sisters still leave nearby in Minnesota.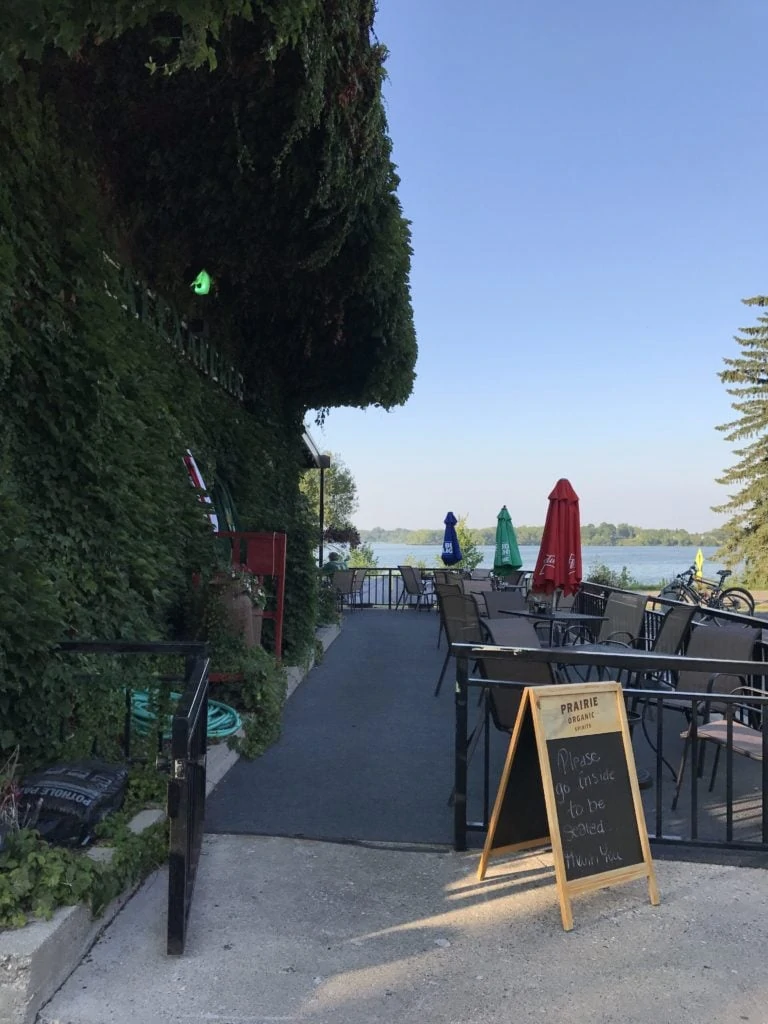 Thursday morning was the quarterly auction at the assisted living. The residents earn fake money throughout the quarter by participating in events, etc. and get to save up to buy items at the auction. It was a lot of fun to participate!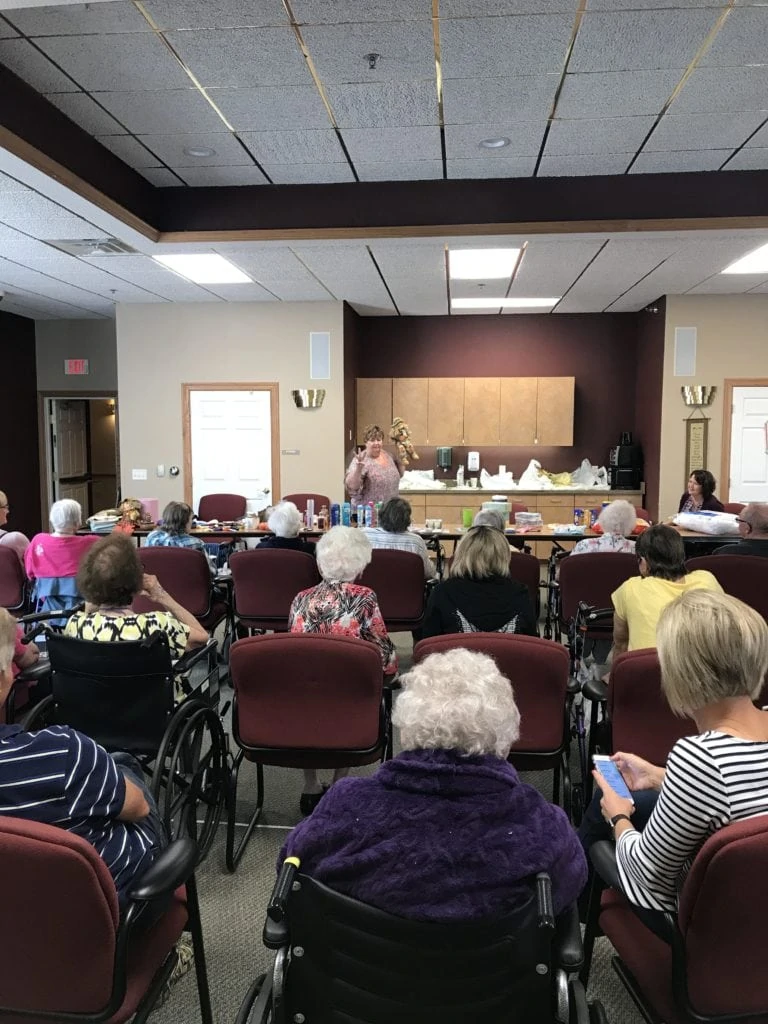 My aunt and uncle from the Cities and my aunts from Kansas City got to town later that afternoon so we spent time catching up. My parents, two aunts and I headed to dinner that night. It was so great to see everyone and I'm so glad I made the trip there!
I ended up waking up at 5:30 on Friday morning to make the trek back to Omaha. I got home around 12:30 and had to take a power nap! Kurtis and I then went to La Mesa for an early dinner. While we were wrapping up, we got a text from his sister asking if we wanted to meet them and their parents at Lazlo's for dinner. Since we had already eaten, we opted to join them for a drink and to chat.
Saturday I just felt off all day. I don't know if it was a combination of allergies (which had been bothering me most of the week) and being tired from the drive and long day the day before, but I felt pretty crappy. Thankfully by Saturday night I felt a lot better, but it was pretty much a waste of a day for me.
On Sunday, I really wanted to run to Pottery Barn to take advantage of their buy more / save more sale (FYI it got extended thru the end of today!!). If you recall from this post, I've been on the hunt for new sofas for quite sometime. Since I could get them for 30% off with the sale, I wanted to investigate a little further. Which means I had to get Kurtis to lay on one of the sofas before I could commit to anything. I had to bribe him with brunch (his favorite) and Bloody Mary's at Louie's Wine Dive.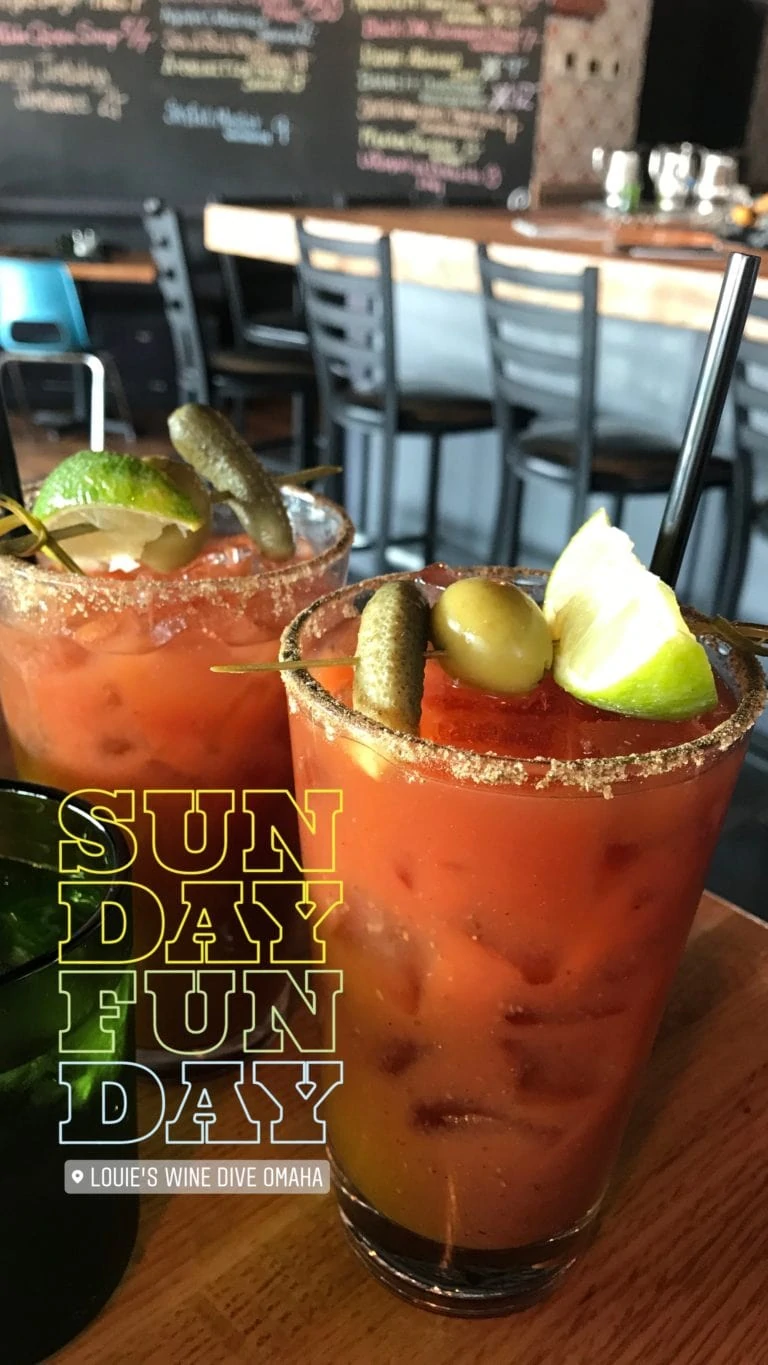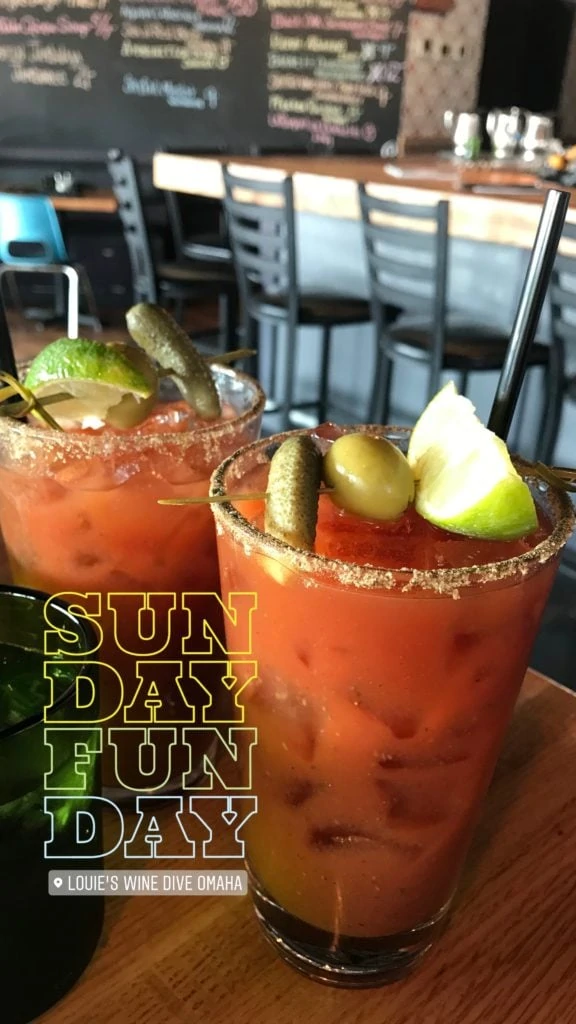 Kurtis gave his blessing on comfort level for the sofas (although he was totally against the price, even at 30% off). Here were two samples I was able to bring home from PB.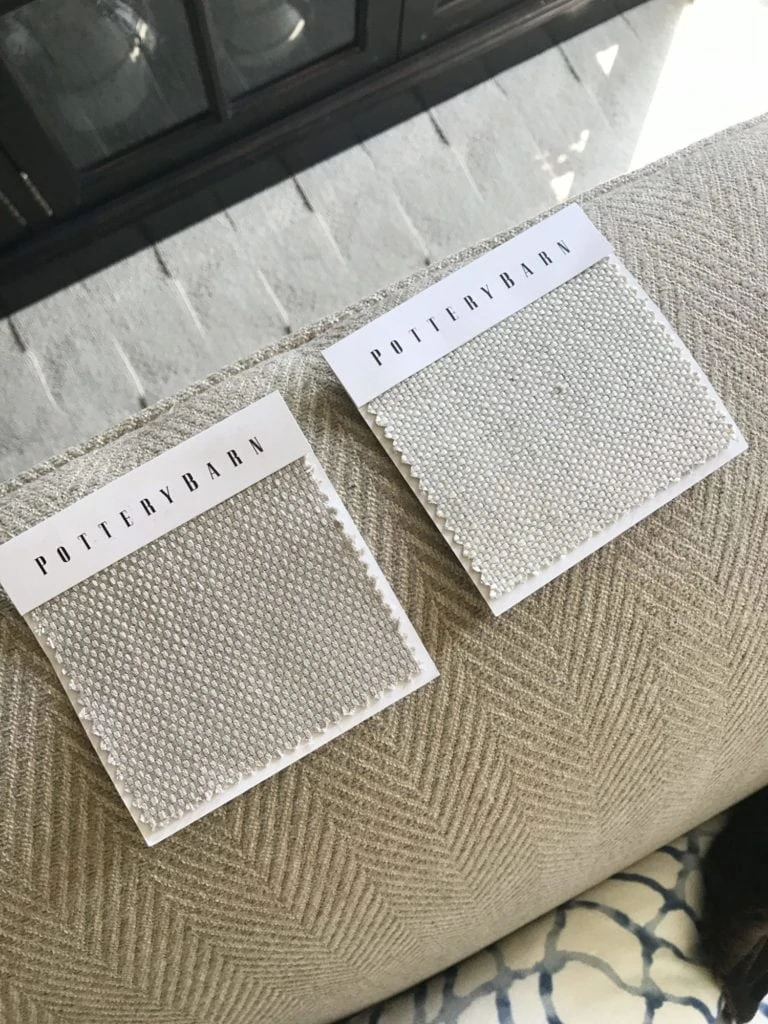 Once we got home, we hit the pool for a few hours. It was a bit hazy from fires, but ended up clearing a bit towards late afternoon. We can definitely sense a shift in the sun's angle when we're in the pool, and sadly it's starting to feel more and more like fall.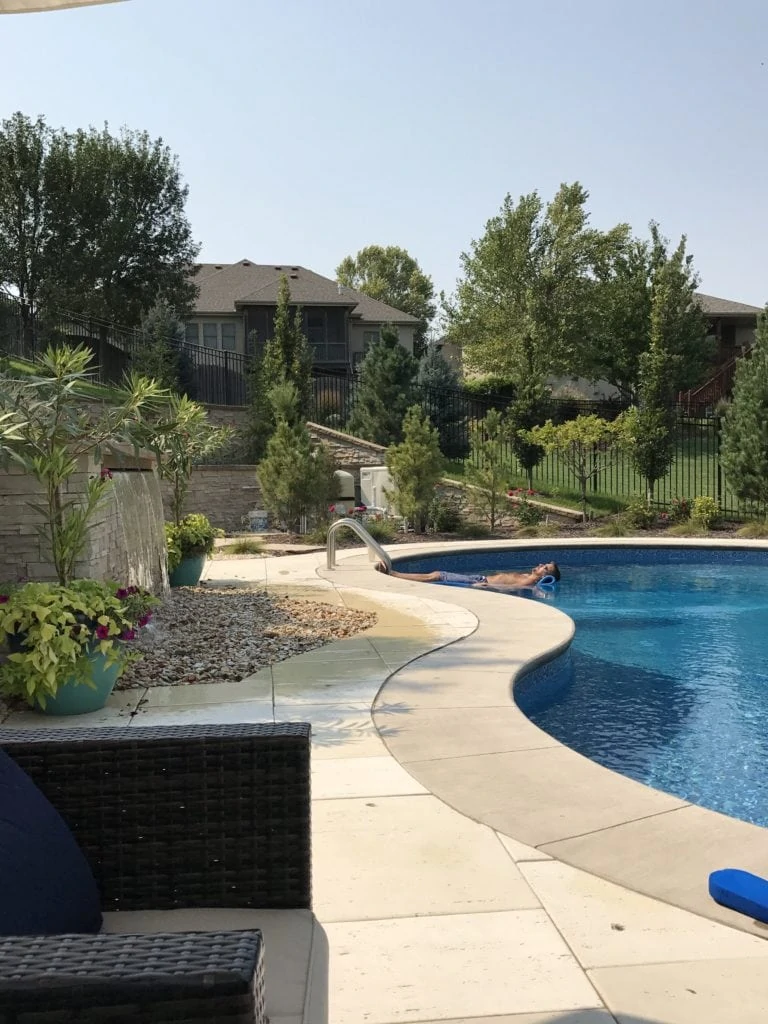 We decided to go see The Hitman's Bodyguard that afternoon. We both ended up really liking it even though there were a few slow parts. But it was definitely action-packed and had some really funny scenes.
Afterwards, we headed across from the theater for a light dinner of nachos and margaritas at Fuzzy's. Clearly we were on a really healthy diet all weekend 😉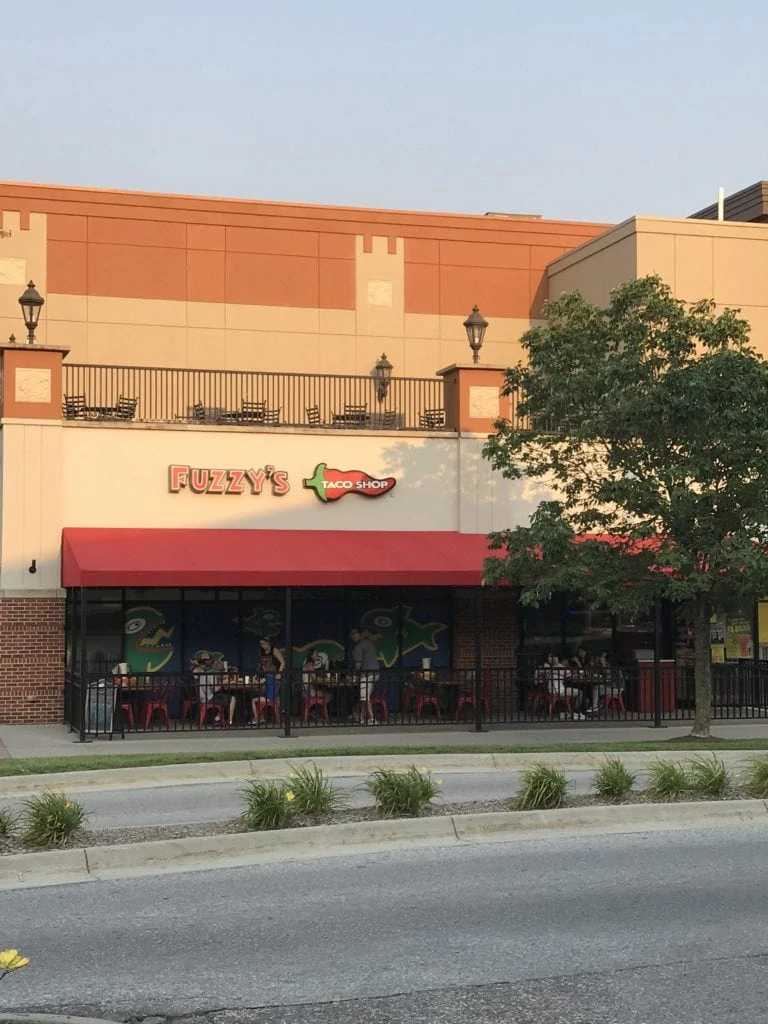 Sunday night, we finished watching the last season of Scandal. Any other series you recommend we start watching? We're kinda stuck at this point! I also started reading this book. I've never read anything by this author before but I've heard so many great things about her lately. So far, I'm really liking the book!
On both Sunday and Monday I sold a few items around our house. I was basically trying to prove that if I really wanted the sofas, Kurtis would hardly even remember I spent money if I sold enough.
Monday morning we headed to Pottery Barn again. Kurtis was bored and I wanted to look at more fabric samples. The one on the left below is the Performance Everydaylinen™ by Crypton® Home in Oatmeal and the one on the right is the same fabric in Stone. I was 95% sure I was going with the Stone (it's what they have on the floor sample) but it looked so dark when we got it home. Granted, the sky was super weird and almost eclipse-like because of fires and all the haze. But ultimately, I thought I'd be happier with the lighter color. I actually poured red wine on the sample and it beaded up and wiped right off. I then really pressed wine into it and there is a faint spot but it mostly all came out. I also went back and forth (and back and forth again) between arm styles. I always thought I wanted sloped but then they had the roll arm in stores and I liked it too. Plus, I've heard it may be a little more comfortable if you want to prop your head on it. I think Kurtis got so sick of me talking about all the choices all day, he secretly just wanted me to order something so that I'd stop obsessing 😉 And if you contributed to the conversation on my Facebook page, thank you! It's always so good to hear from others!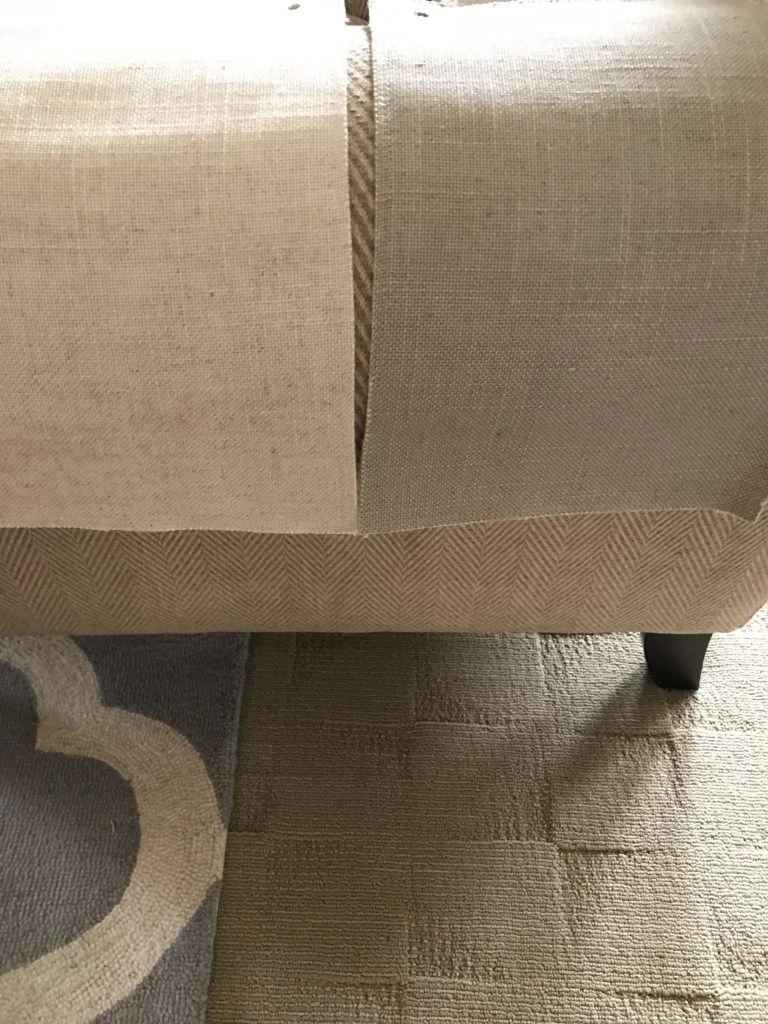 I ultimately ended up going with this version. The 95″ York Slope Arm Deep Seat Slipcovered Sofa in the Performance Everydaylinen by Crypton Home fabric (Oatmeal color) with the bench seat. That's a mouthful. Below is how it looks with my selections. The sofas won't arrive until late October or early November, so I'm just praying my decision was the right one!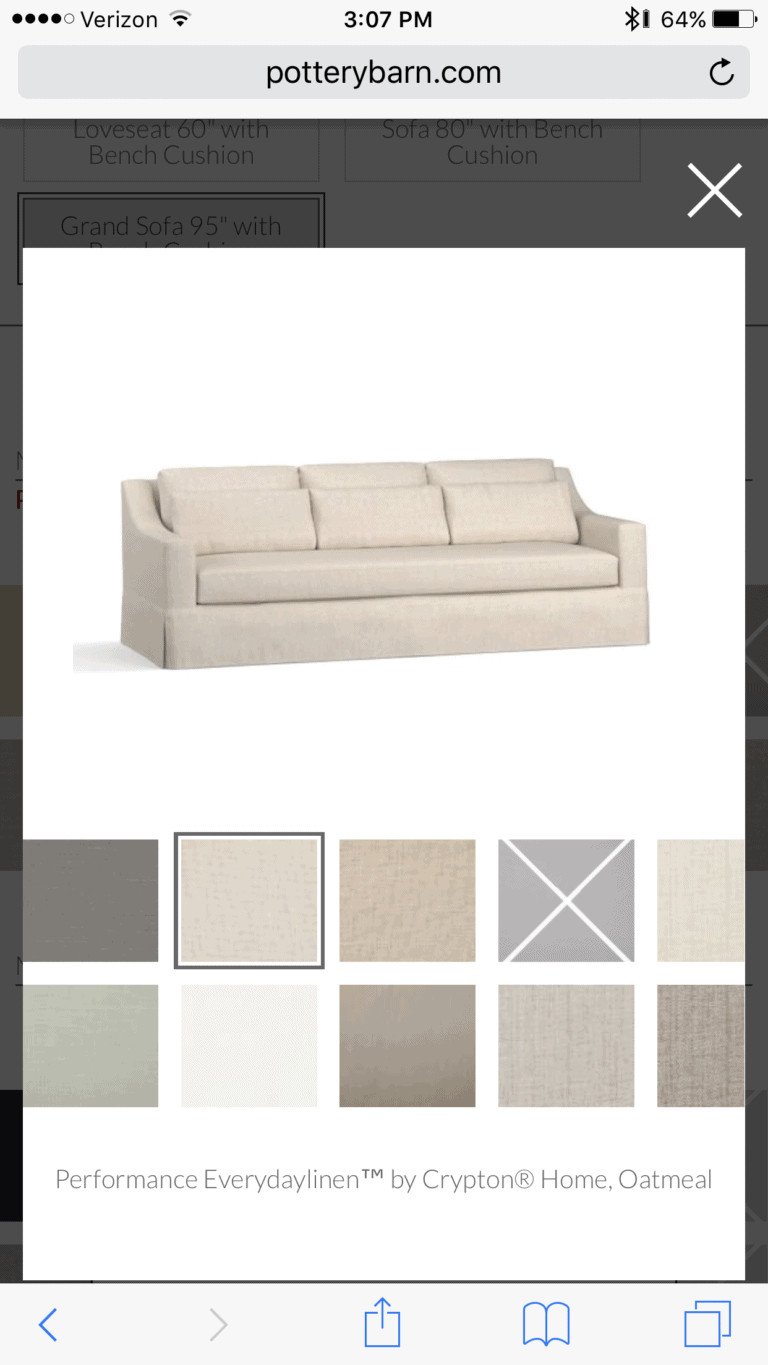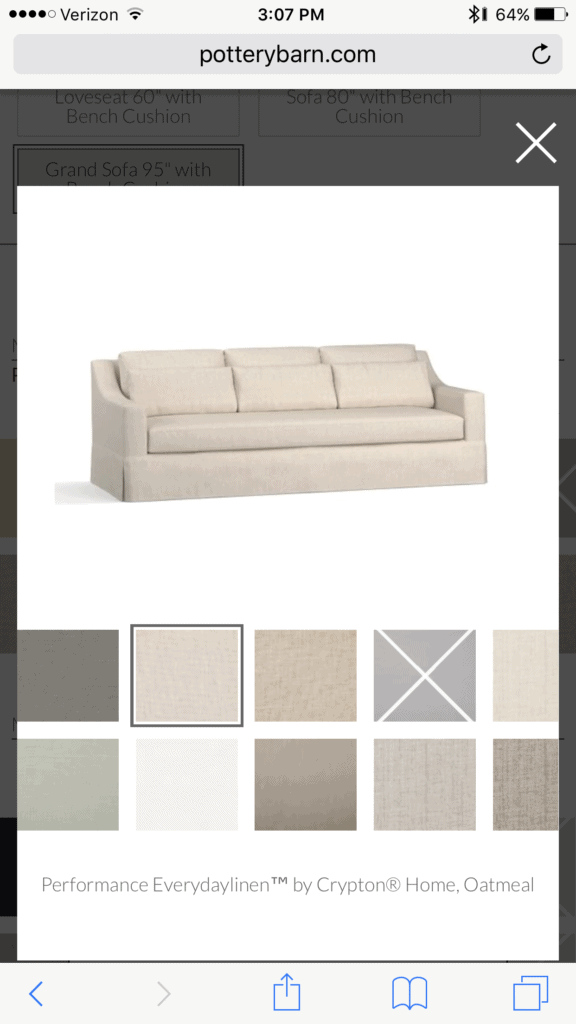 Since the haze never really cleared, the temps were fairly cool all day Monday, so sadly we weren't able to go in the pool. We ended the night with steak on the grill and enjoying the last few hours of our weekend.
Wow! Sorry for such a long recap. It was a busy week! I'm hoping to share my latest mini-makeover with you on Thursday! Have a great week!
If you would like to follow along on more of my home decor, DIY, lifestyle, travel and other posts, I'd love to have you follow me on any of the following:
Pinterest / Instagram / Facebook / Twitter / Google+
disclosure: some affiliate links used