We got back from Italy late Friday night so the weekend was a bit rough on us. #jetlag.
BUT, we had such an amazing time and have so many wonderful memories from our trip. I'm hoping to share all the details on our time in both Rome and the Amalfi Coast this week or next week. I got so many messages on Instagram and Facebook from those of you that are traveling there soon and are looking for recommendations! It's hard to believe it had been nearly three and a half years since our last vacation together (you can read about that trip here).
The past several years, our "vacations" had been business trips for either Kurtis' company or mine, and although we were in amazing locations, they never really felt like true vacations. We both agreed we need to make one-on-one vacations a priority each year in the future! We honestly couldn't have asked for a more beautiful location to visit!
Positano was a total dream and one of the most ridiculously beautiful towns I've ever seen.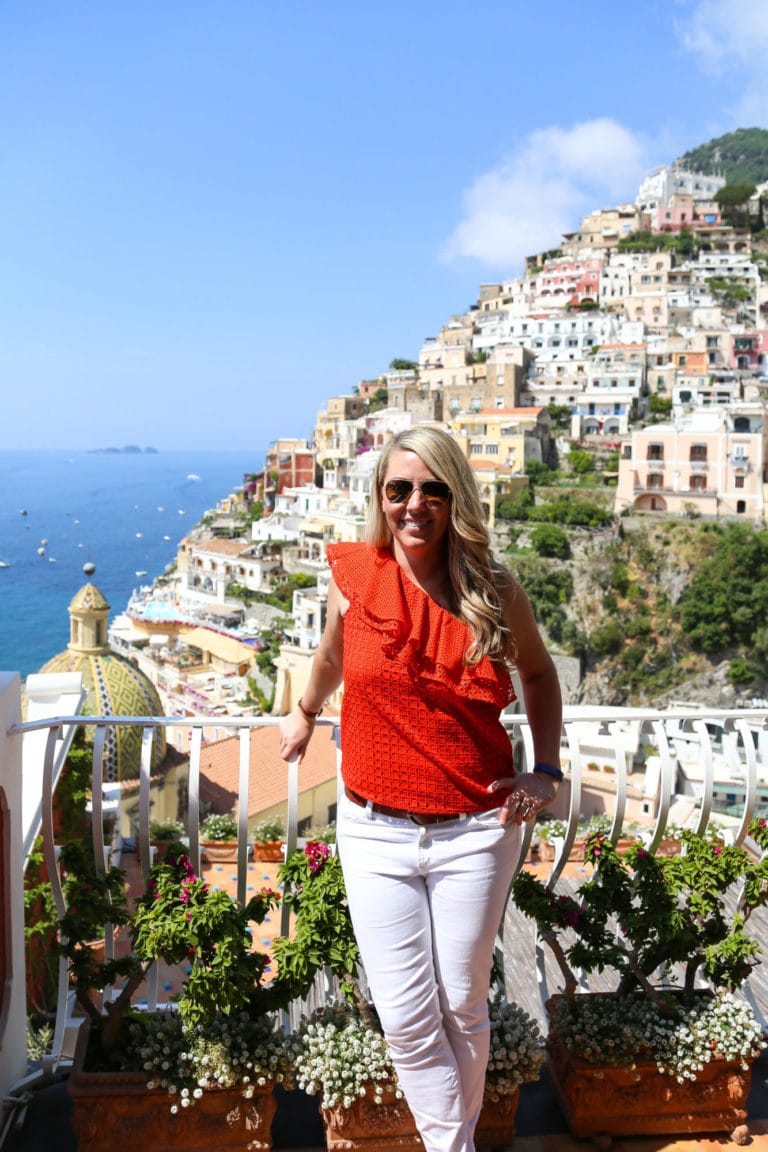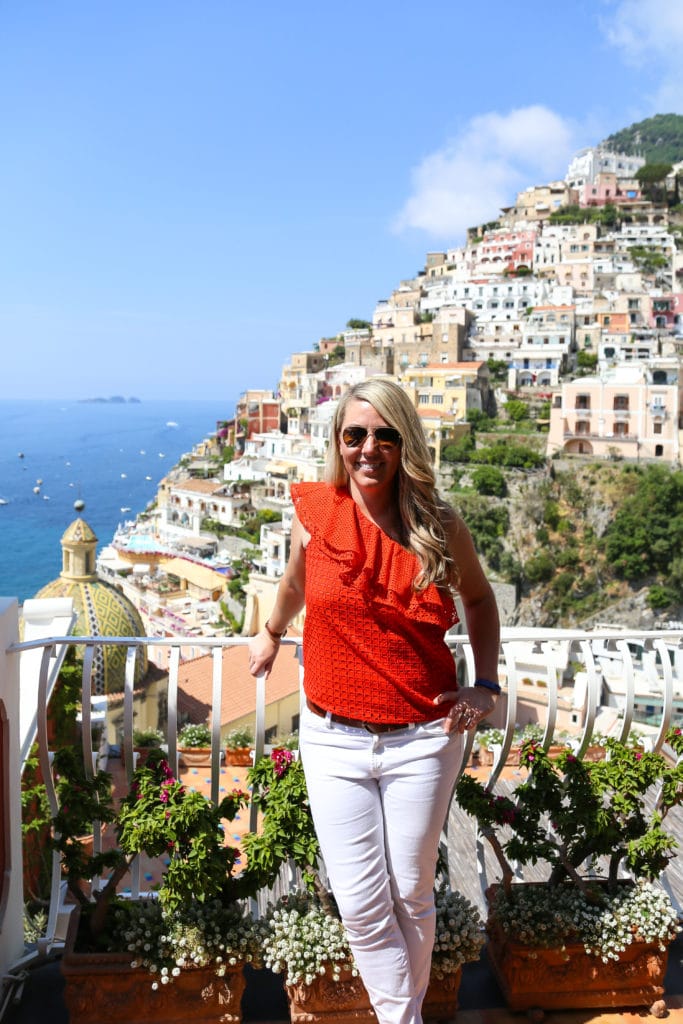 Eyelet top | White jeans | Comfy walking sandals | Life-saving make-up setting spray/SPF | Sunglasses
Also, this happened in the Detroit airport after nearly 20 hours of travel/airport time. 100% not a joke.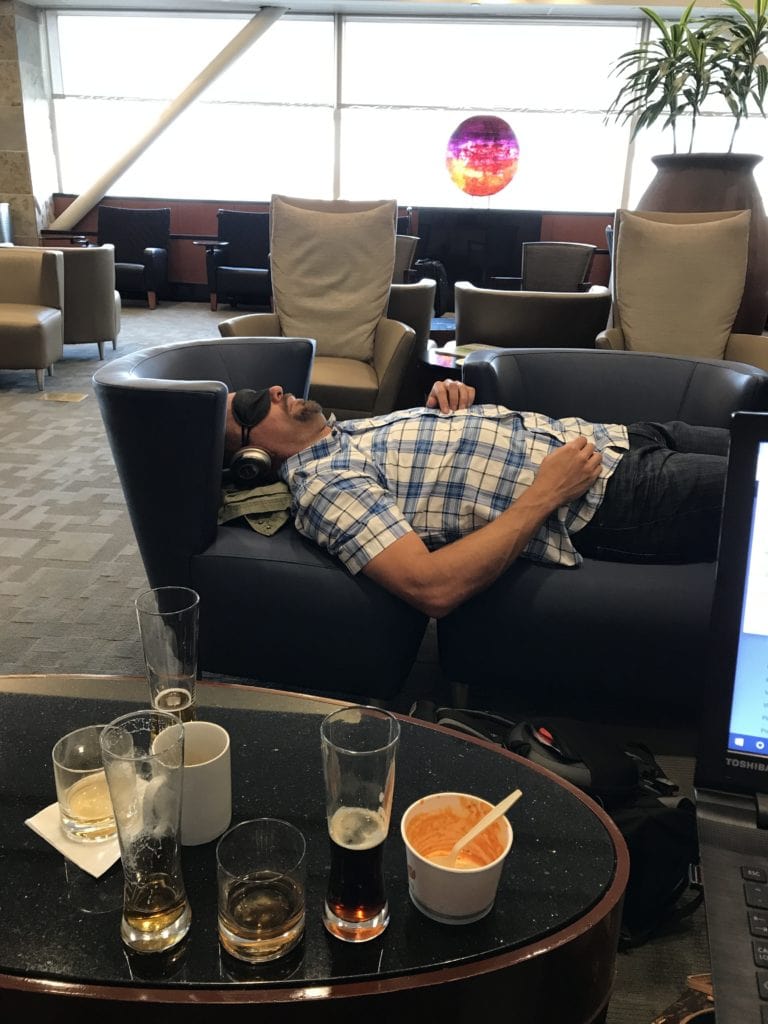 I'll be sharing much more (along with some of the 800+ photos I took) very soon!
Saturday morning (after waking up at 3:00 am) I swung by the rental house to see the new flooring that got wrapped up the day we left for Italy (so we never saw the end result). I'm so happy with my selections and I can't wait to share all the details, along with a full before and after tour with you soon!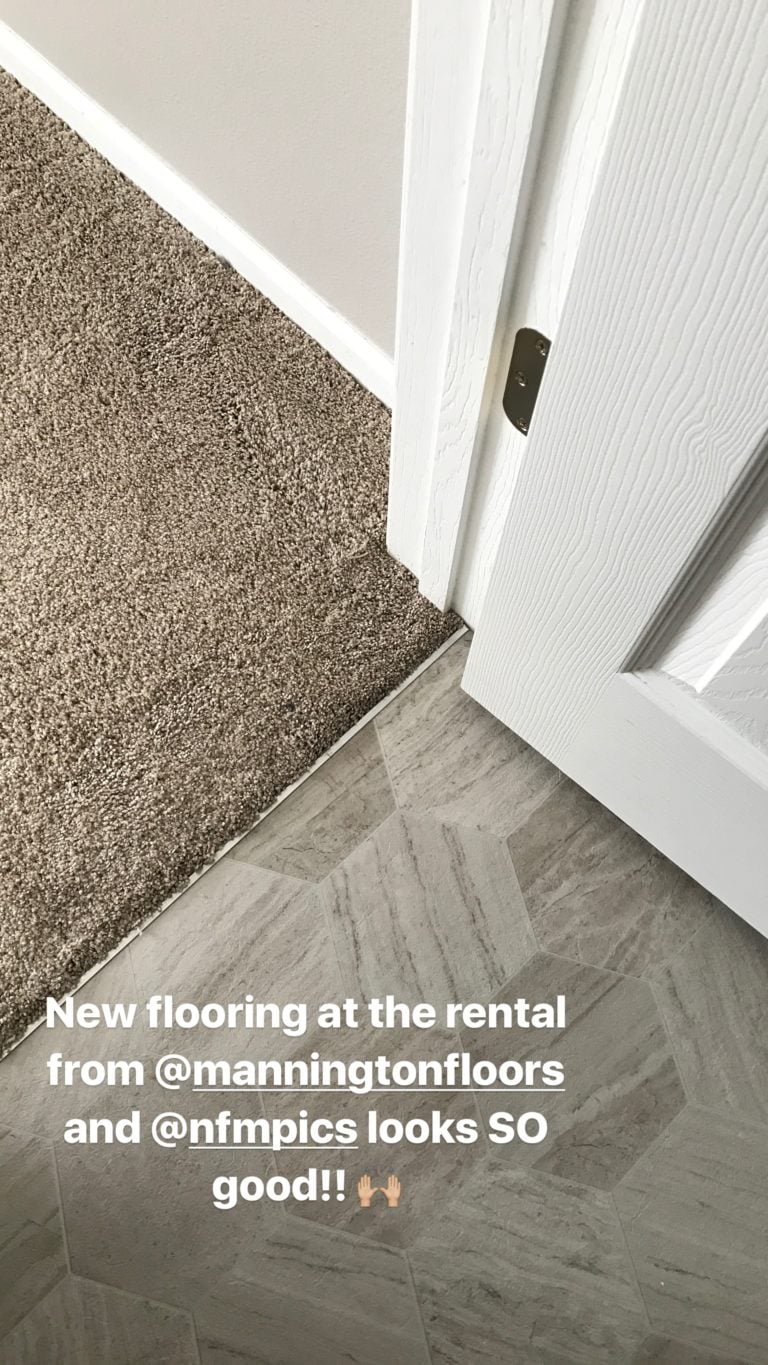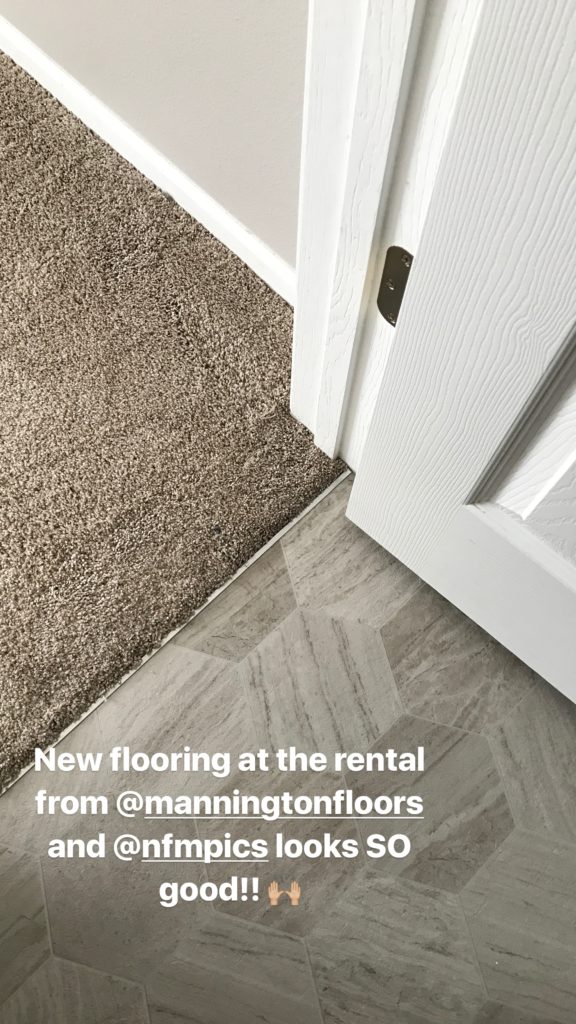 We finally got the house listed on Sunday so we're hoping for tenants ASAP! I do still have to paint the front door in the next week or so (it's currently a really streaky red) but otherwise, we're good to go! I'm thinking of painting it navy blue. Shocker, I know.
We had lunch outside at Lazlo's and reminisced on our trip. Getting back to reality can be tough! We were so used to eating and drinking all day that we had to slowly wean our habit 😉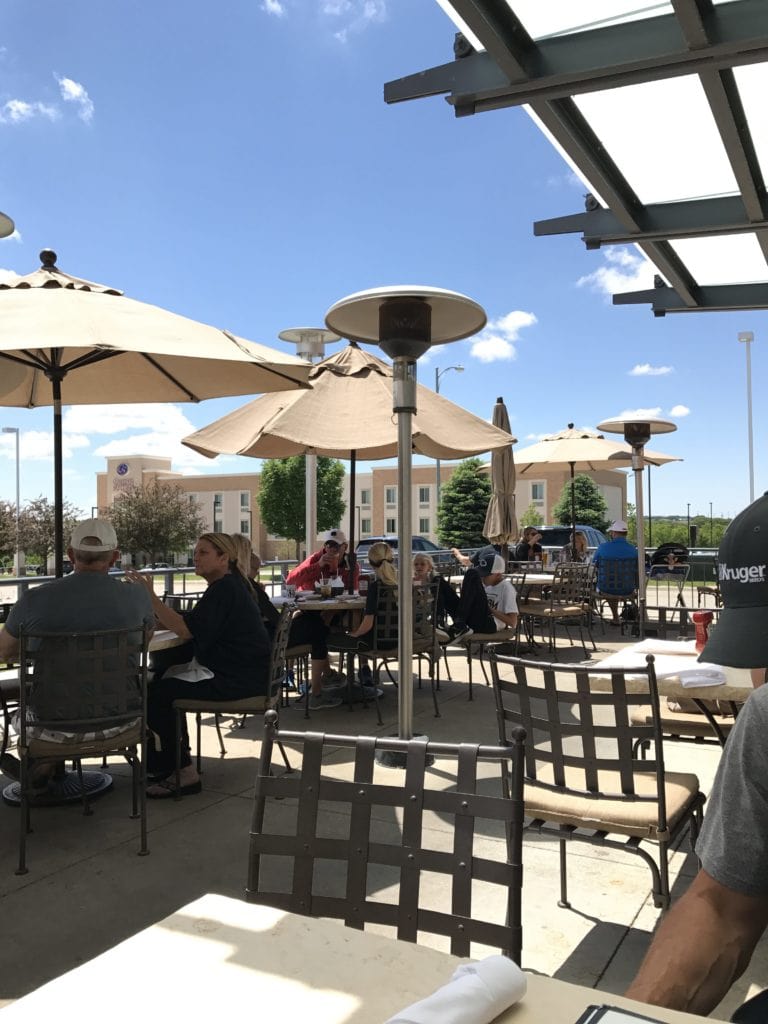 I realized one of the cats peed on my fiddle leaf fig tree while we were gone. How did I know? I've now found EIGHT leaves that fell off (and obviously I could smell it in the dirt when I sniffed). The remaining one were super droopy, as well. I added a bunch of water and it seems to be recovering but I'm bummed about it because this one had been thriving and generating new leaves all the time. It's looking pretty sad now compared to how it looked just two months ago in the pic below. Hopefully I can revive it or I may have to go faux!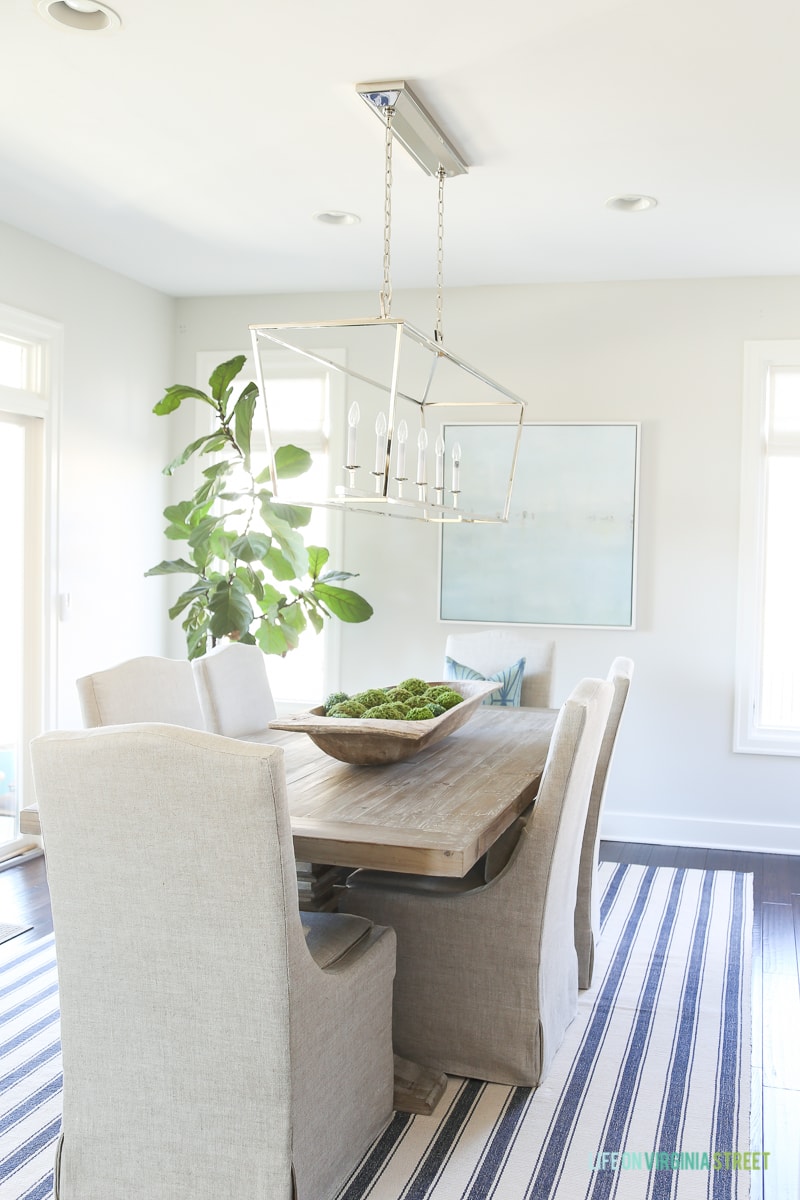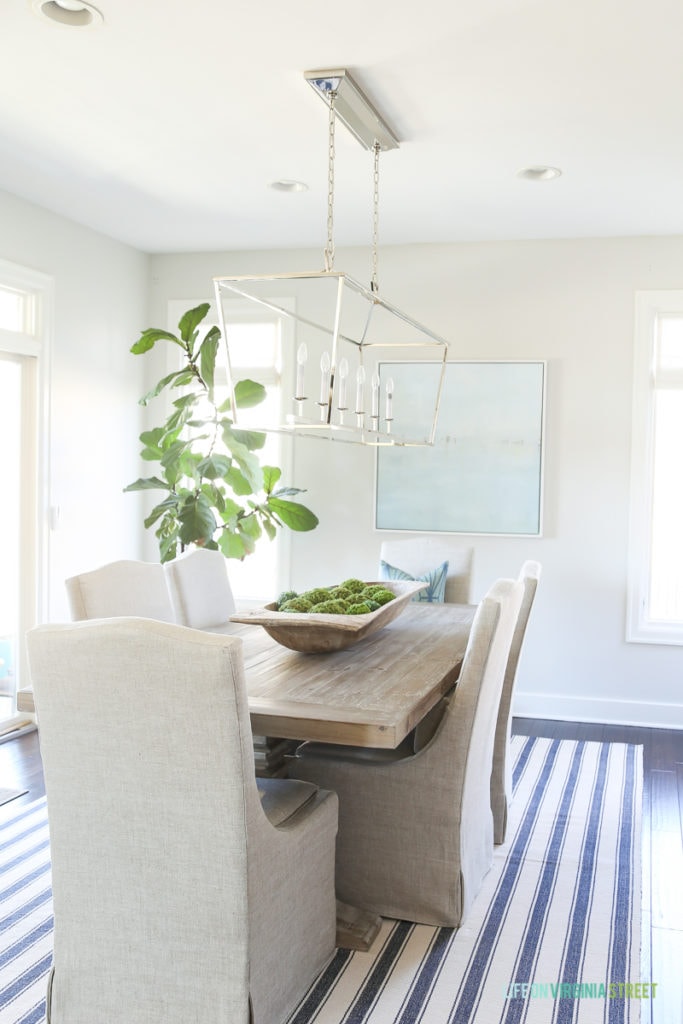 Saturday afternoon, we put to use these traps that we bought. I'm not sure if this is an issue everywhere, but we get Japanese beetles rather severely this time of year and they devour/destroy our knock-out roses, columnar oak leaves and our buckthorns. So much so, that if we don't spray and poison them quickly they will actually kill the plant/tree. They eat the leaves so quickly and then the tree dies without its leaves when photosynthesis cannot occur.
Last year, one of our neighbors showed us these traps he bought and it almost made me throw up. The entire bag filled with the little beetles within a few days. Yikes! But it worked wonders in his yard and prevented him from having to spray the poison. We're probably a week or two early getting our traps out, but the issue with the beetles is that you usually don't know they are there until there is already visible damage and you see the lace-like pattern on the leaves. I'm not taking any chances this year with all our new trees and shrubs! Side note: apparently once the beetles strike, these sell out quickly and it's hard to find them. We needed five for our yard based on the size, so we stocked up to make sure we don't run out!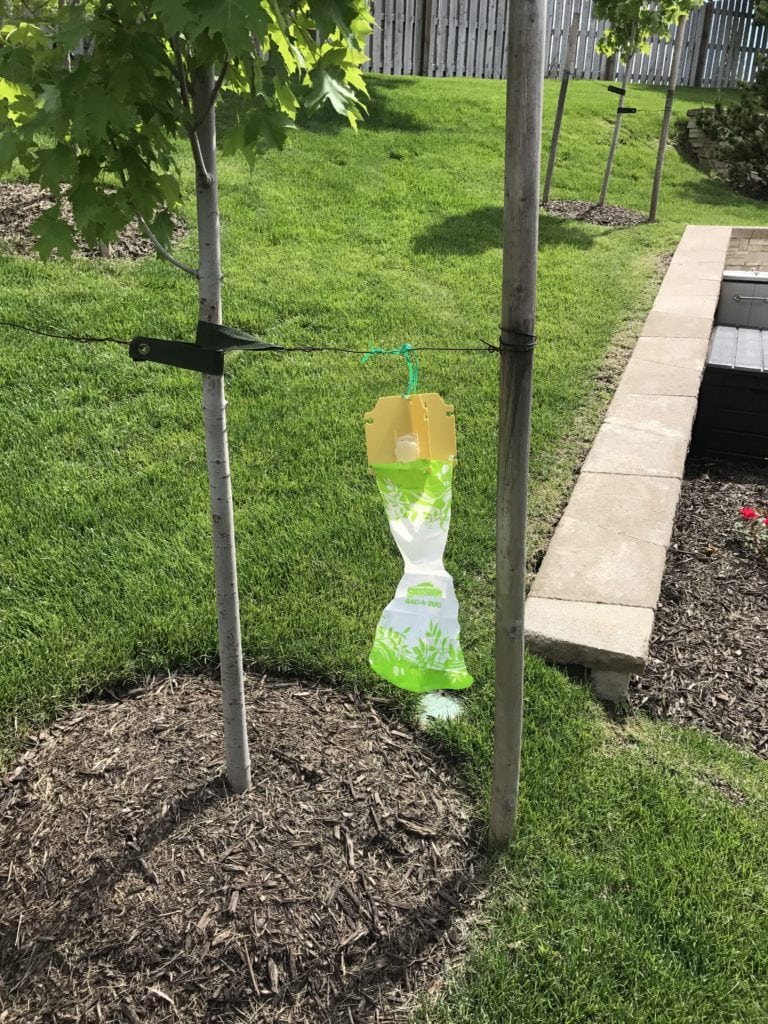 I came across this pic on my Instagram Sunday morning and it had me cracking up as I was on my way to the grocery store. Nick, Jill and Kurtis after their workout (notice I am not present and likely never will be). We have a neighbor friend in the NFL and Nick thought they should work out close to his pace. You can see the commentary below. Names and our neighborhood have been blurred to protect the innocent 😉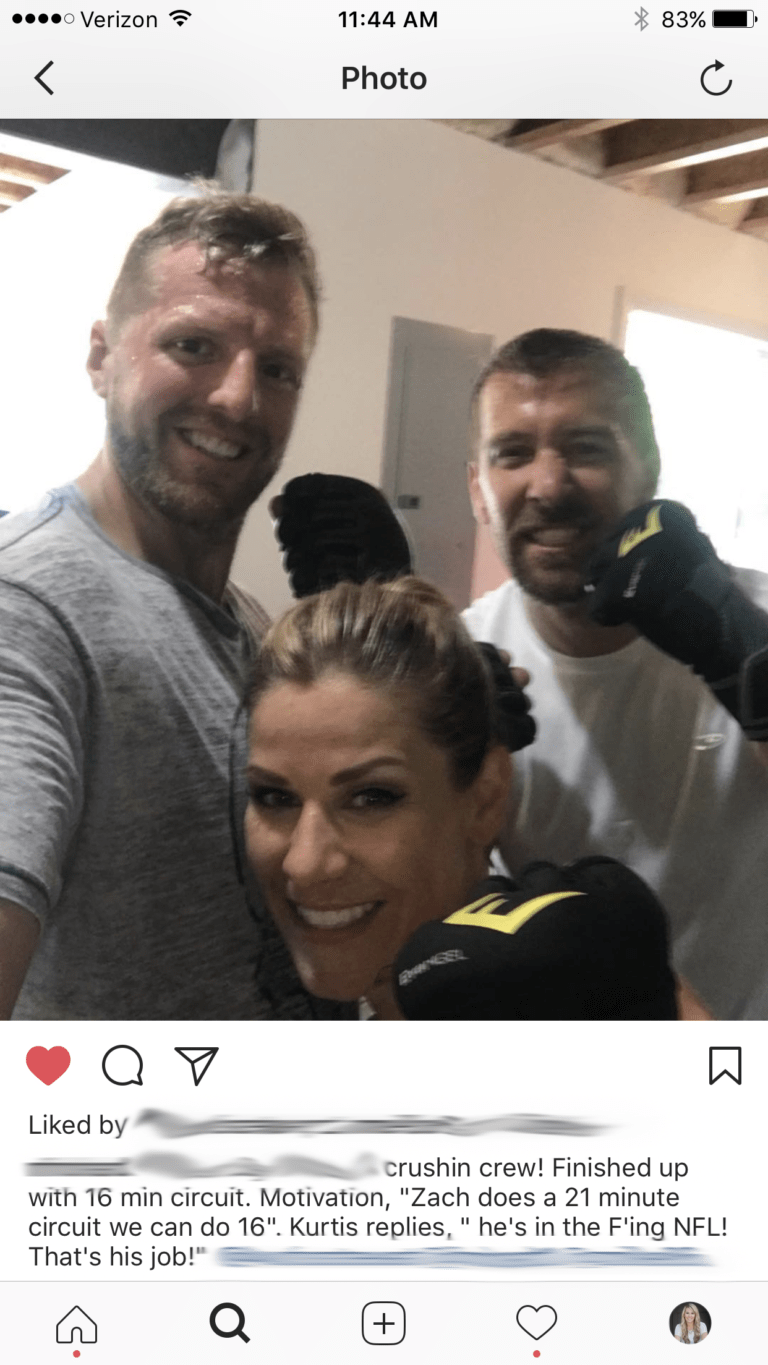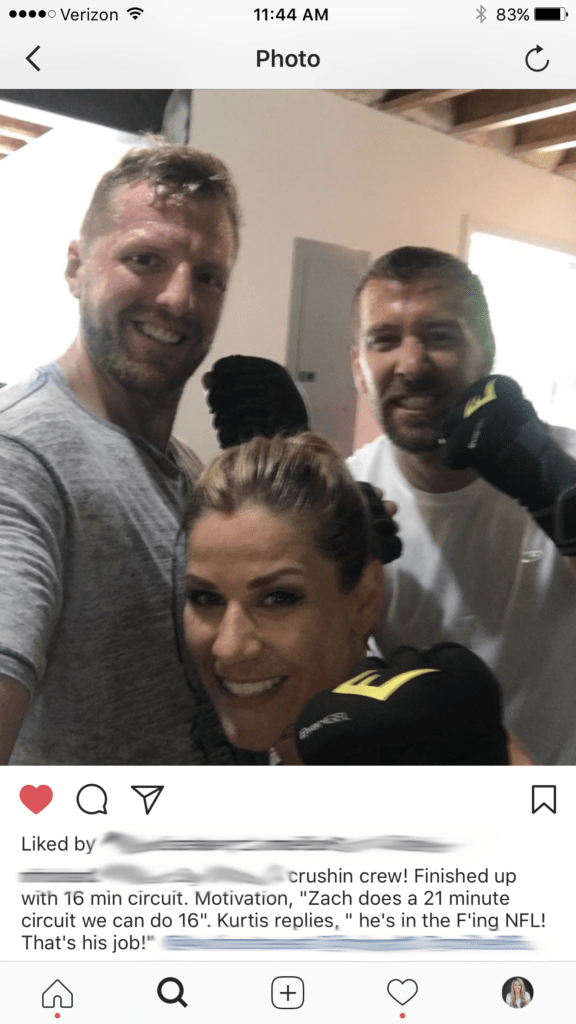 Haha! These are my people! I seriously need to get even a fraction of their workout energy though. I really do suck and hate it so badly.
Sunday afternoon, Jill and Nick came over for some pool time and a barbecue that night. We ended up having an impromptu neighborhood pool party that started out with mostly the kids before all the adults made their way over. It worked out because it was only about 75 and the clouds kept covering the sun. Too cold for me and Jill to swim! Kurtis had the water at 85 degrees though, so the kids loved it.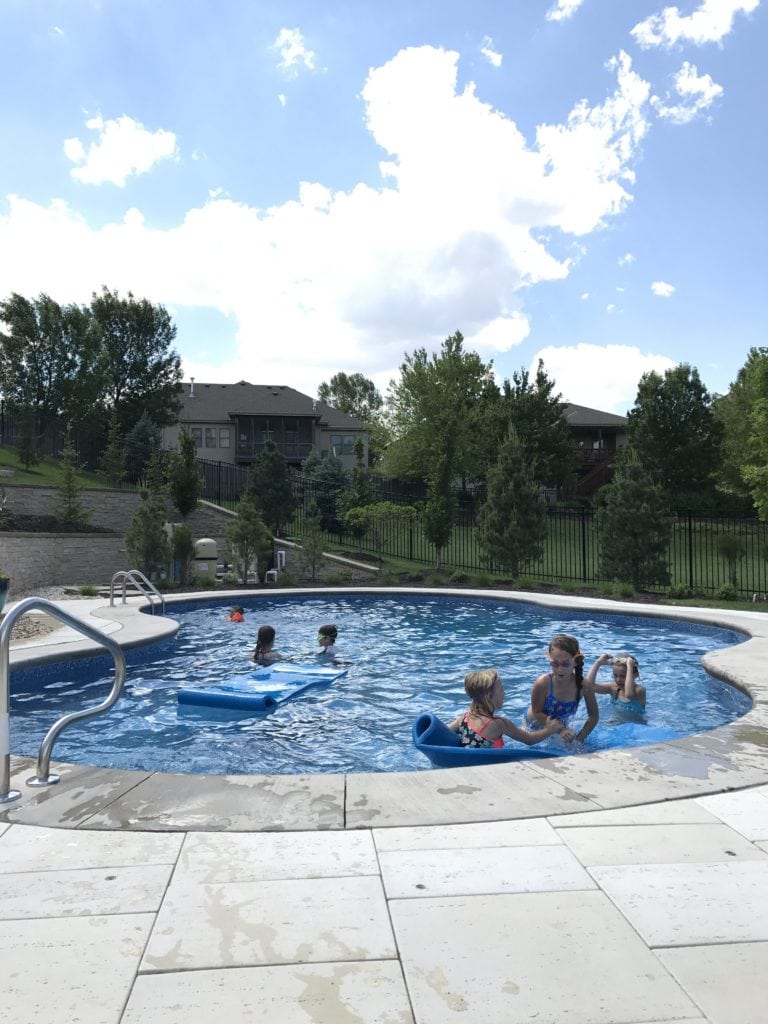 It was a lot of fun to grill out and officially kick off summer! We wandered to another neighbor's house later that night and hung out with our friends. Life in the summertime is always so much better!
I ended up ordering this two-person banana palm pool float. Sadly, we had to put the pink flamingo to rest (it got mold in the seams and creases by the end of the season last year). I'm so excited for this to arrive, and actually excited to not have the bright pink flamingo in our backyard all summer. It didn't really go with the decor 😉
Monday we were super chill. After a week of travel, jet lag, and spending all day outside on Sunday we really just wanted to veg out. I made a quick trip to Lowe's for more plants but left after about five minutes (with a giant palm tree). There were no carts and entirely too many people so I decided I'll try again when half of Omaha isn't there!
Late in the afternoon, we started watching Mad Men (we still haven't finished). While we were watching, in about a two second window, Hawkeye lept to the couch then to the mantle in an attempt to kill a fly that had gotten in the house. He's our little fly-killing ninja and it's hilarious to watch because he literally can't focus on anything around him until the fly is dead. Works for us!
It was pretty clear that cats missed us while we were gone, so there was lots of cuddle time all weekend. I can't even make up how cute Henley is when she's sleeping/cuddling.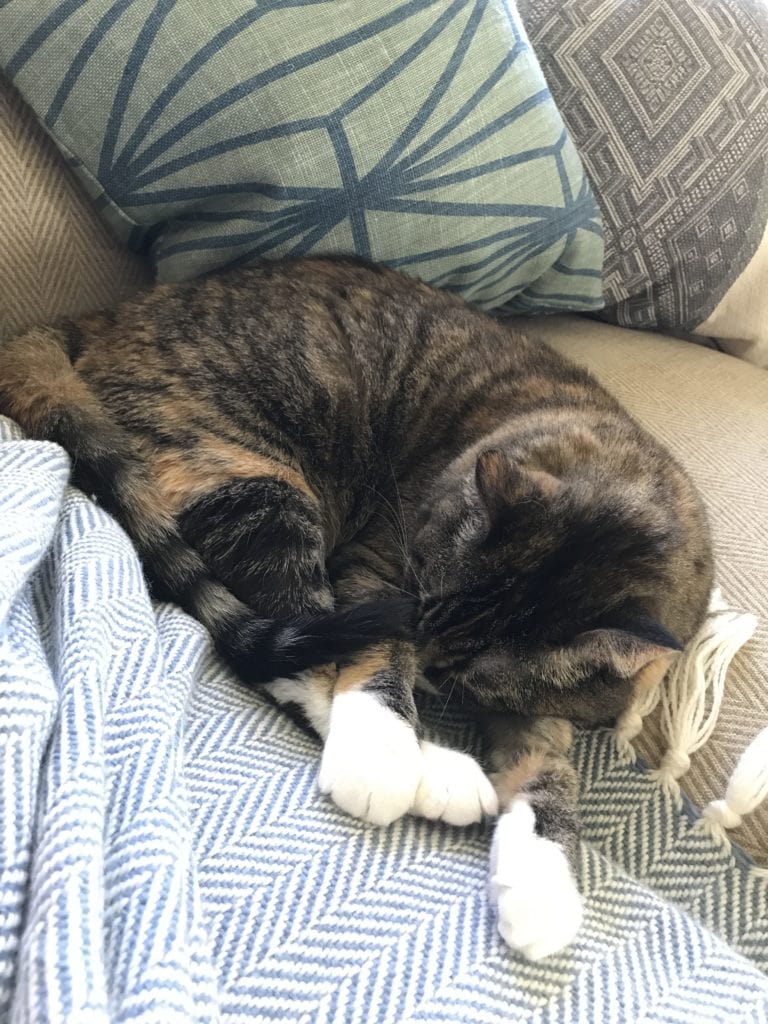 I finished my last two throw pillows for summer. I know last time I shared them it was a dark/not great iPhone photo, so here's a better idea of the colors in the fabric. I'm absolutely loving the water effect for summer!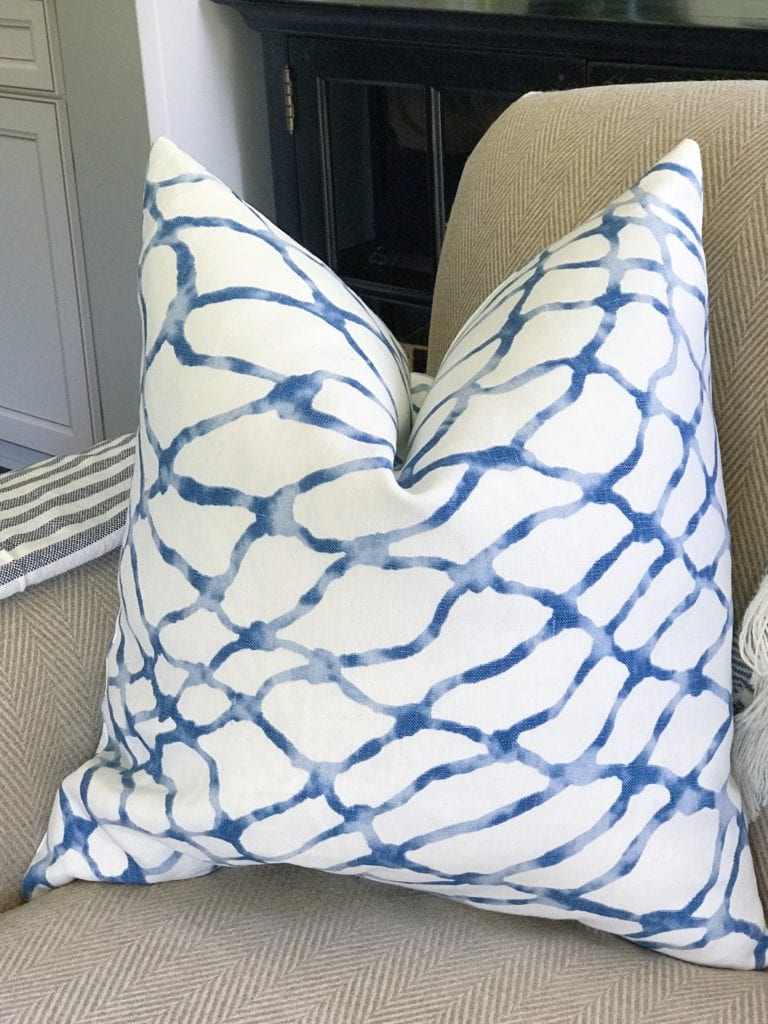 Also on the home front, I'm so excited to share that the hardwood floors are going to get installed today in our home office! I'm so excited to get rid of our janky carpet in there and have the room feel much more complete! I'll be sharing all the details ASAP once everything is wrapped up!
I'll likely have to paint some quarter-round once the floors go in and I'm thinking it may be time to paint the walls (other than the Hale Navy accent wall) Simply White. Which would then require me to paint all the trim and sliding doors and ceiling. And then I start thinking I'm not really a gold light fixture person now that I've lived with one. And the desks are going to look too much like the floor color. And then maybe I'll need a rug to ground the space. Etc., etc. You know how it goes. Welcome to the twisted inner-workings of my mind on a minute by minute basis. 😉 Bottom-line though, the new floors are going to be amazing.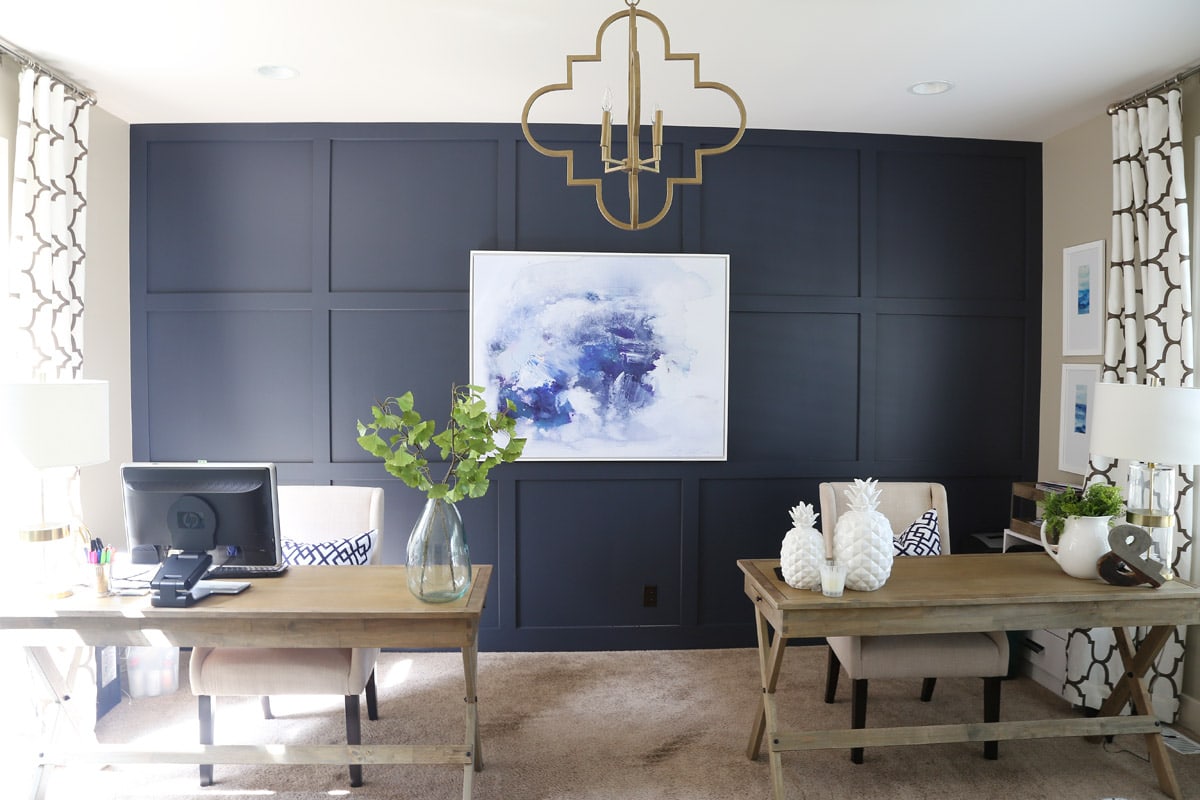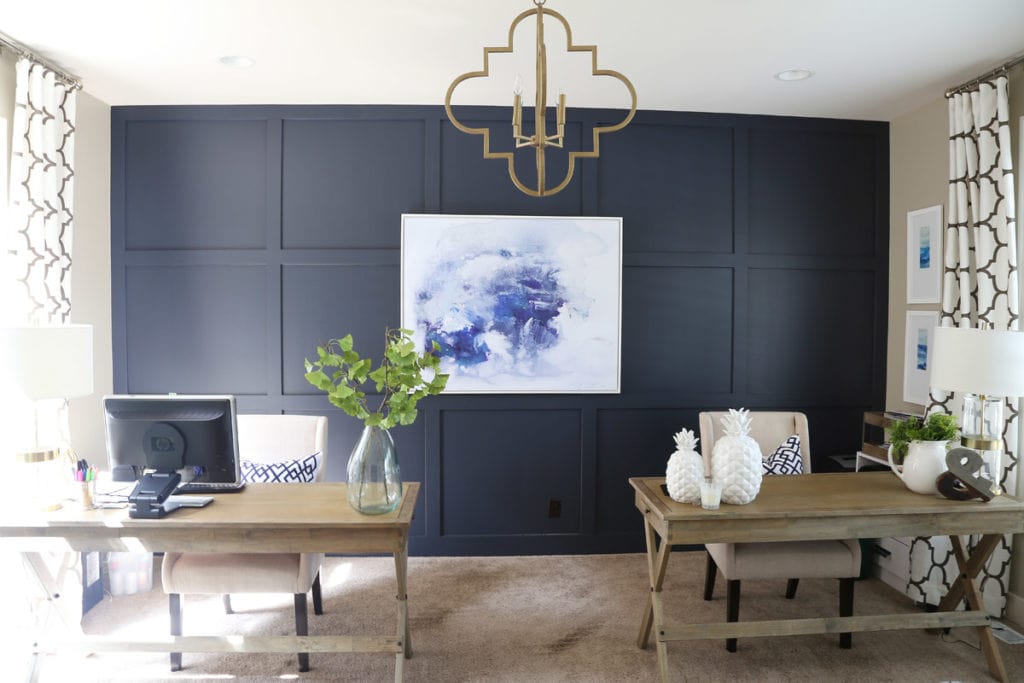 Abstract Art | Desks | Gold Quatrefoil Chandelier | Desk Chairs | Curtain Fabric | Lamps (similar) | White Ceramic Pineapples (similar)
It's so good to be home again, but I can say I'm definitely missing those Italian sunsets! I took this photo our last night in Sorrento and the sunset was completely unreal. This is straight out of camera with no filters or anything. So gorgeous!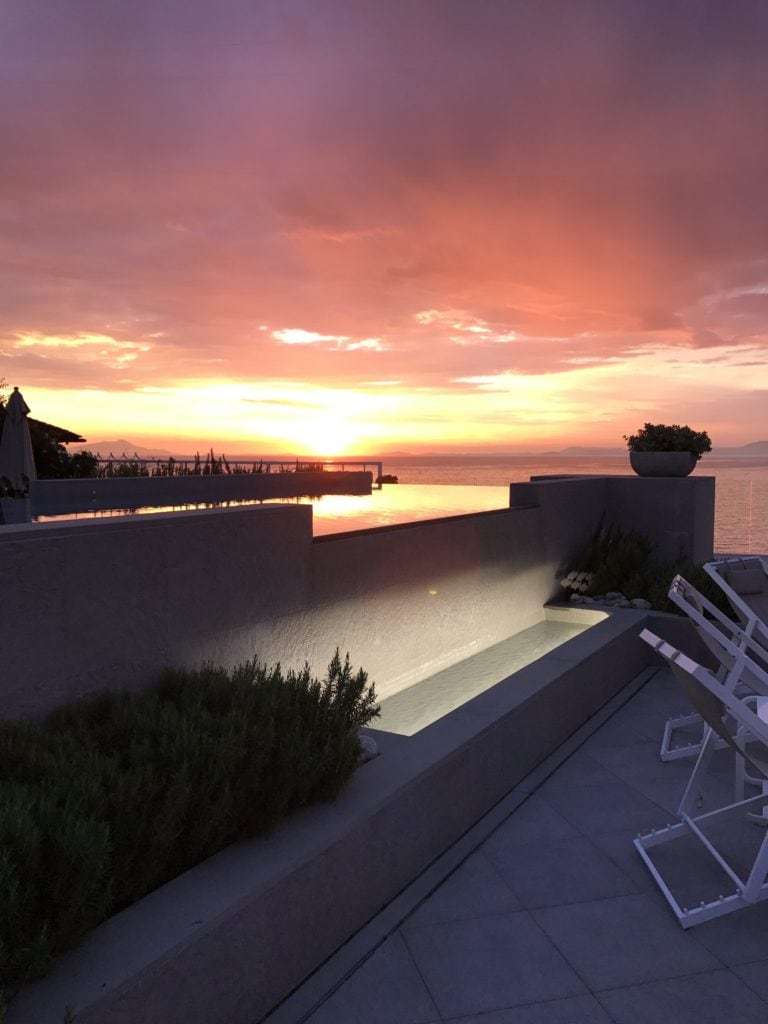 I hope you all have a great week! It's always so great to start the week on a Tuesday!
If you would like to follow along on more of my home décor, DIY, lifestyle, travel and other posts, I'd love to have you follow me on any of the following:
Pinterest / Instagram / Facebook / Twitter / Google+
disclosure: some affiliate links used