It was an exciting weekend around here! I made great progress on several projects.
Friday, our new countertops were installed and a bunch of our drywall was fully sanded and repaired. I shared these two images on Instagram stories and I can't believe how different the powder path already looks with just the new countertops! As a reminder, the remnant was ONE Quartz in Luminesce.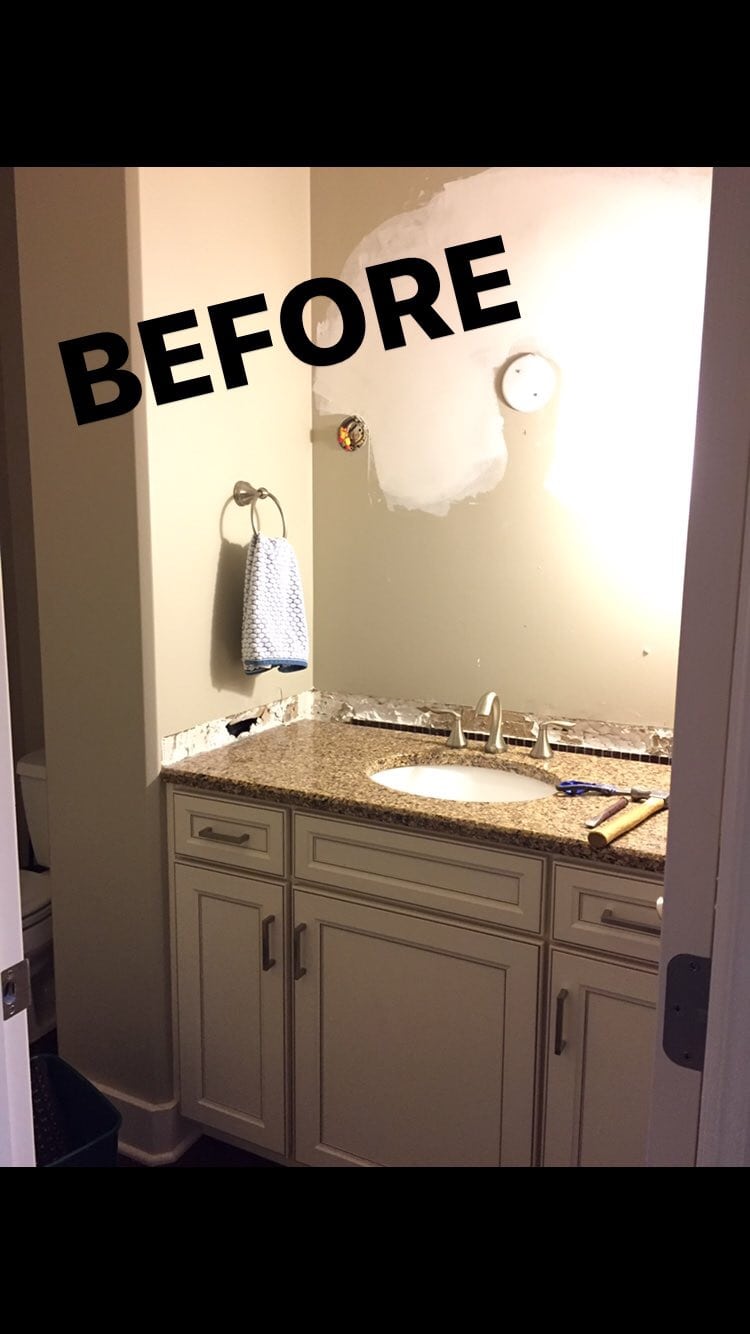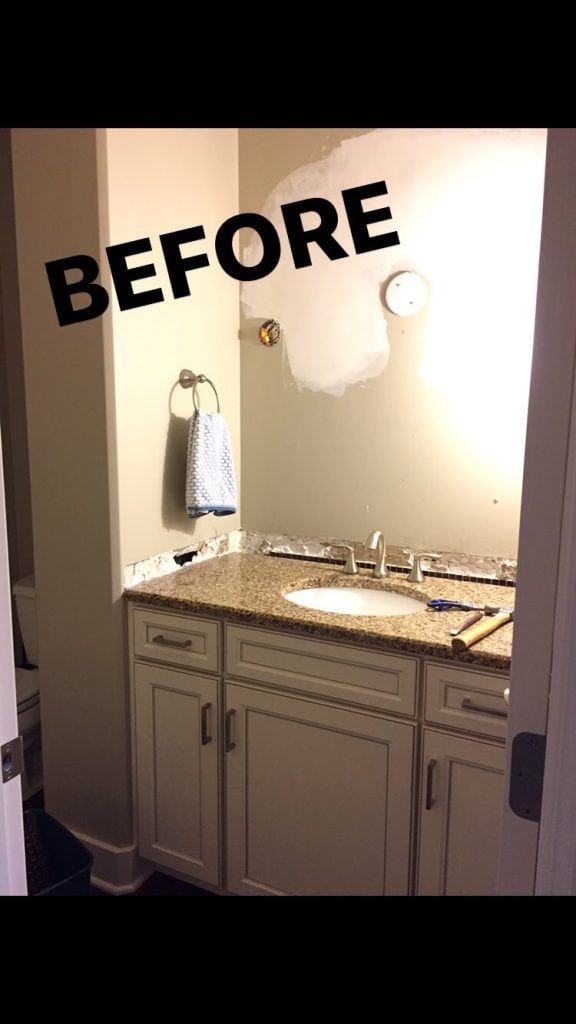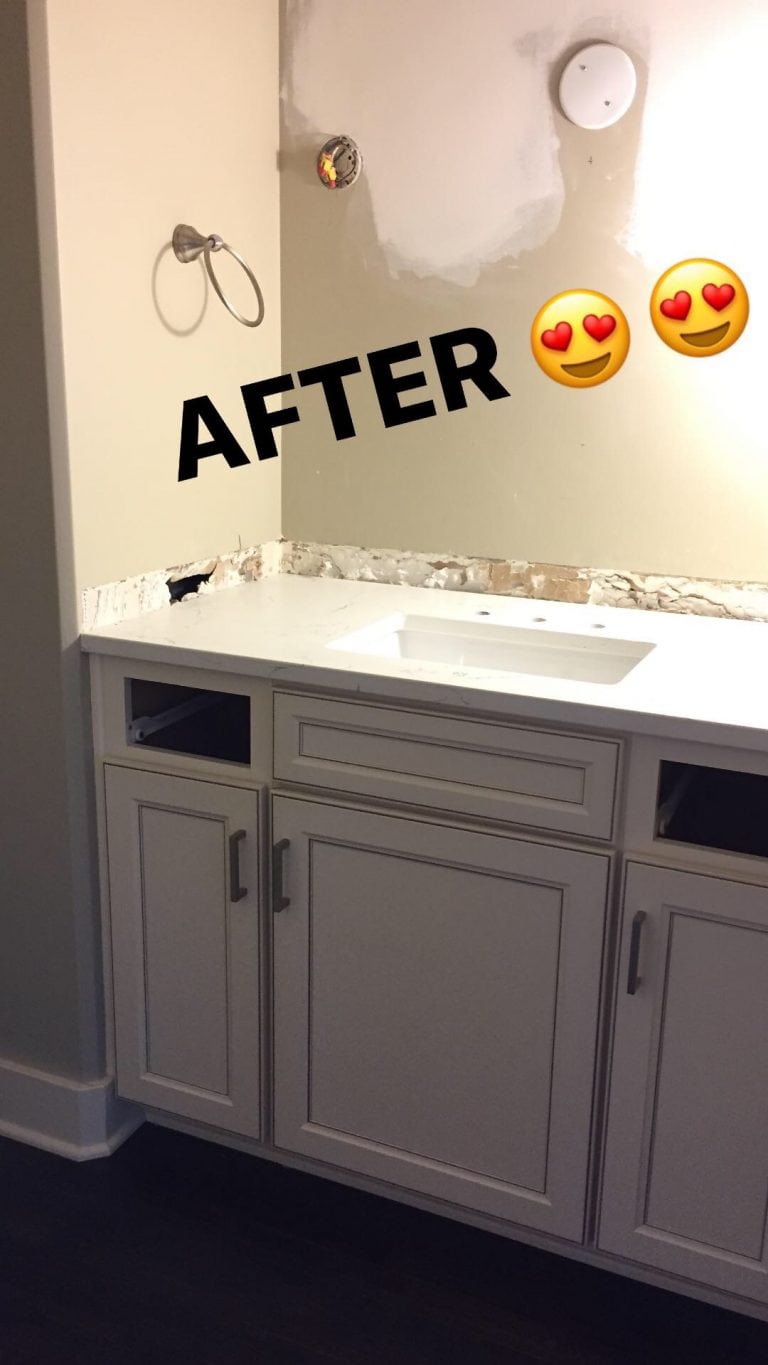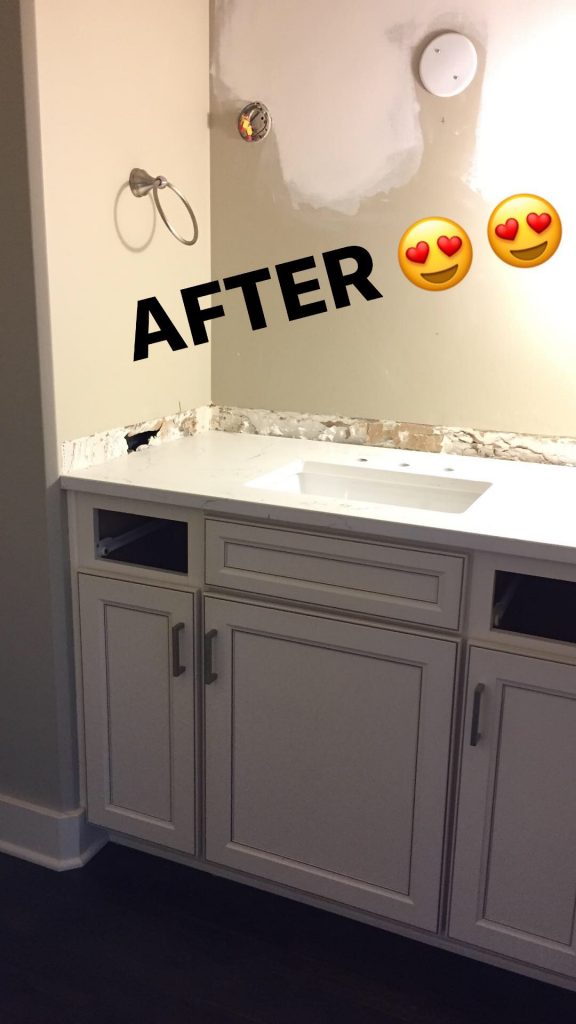 The lighting is pretty horrid in these shots, because as of the time they were taken, we had a single random bulb dangling from the wall. But, you can definitely see that it's much lighter and brighter!
On Saturday, I did a little Christmas decor shopping and then decided to run by Nebraska Furniture Mart again to see if there were any buffet tables I liked. The night before I was considering using the bookcase in this room…but then I found this beauty: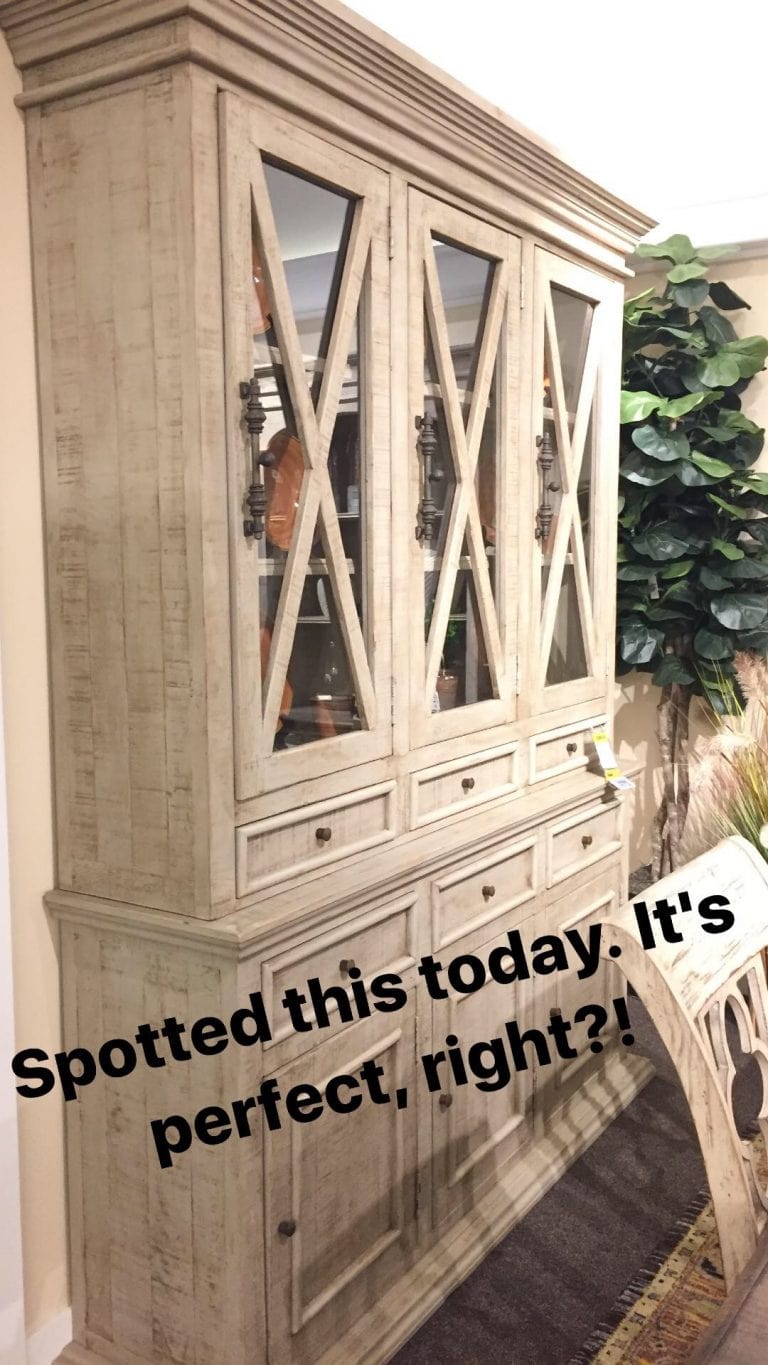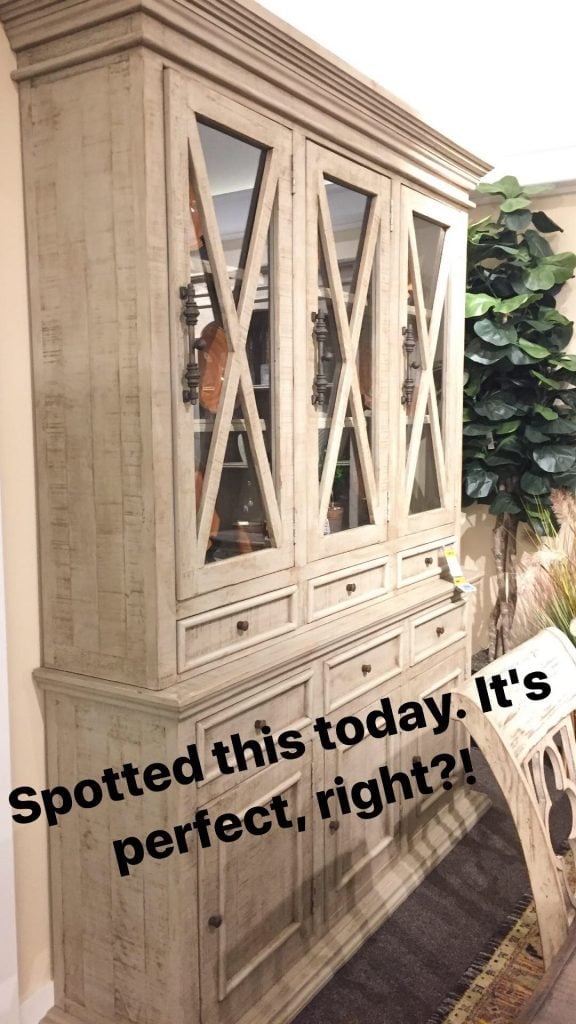 Here's the online image. I'd say a color is a blend between the two photos. We even took a drawer outside to see how it looks under "real" light. It's actually $300 cheaper in real-life than it is online (which is already 50%+ off) so we weren't able to get them down any further on price. But, we both love it and think it will be perfect! I'm excited to have real storage for our pool supplies like we needed (in the hidden cabinets below), all my silverware and placemats/table runners as well as pretty stuff to display on top. It's so pretty but also so practical for what we were needing! Definitely a splurge but I was able to pay for it with all my recent Facebook sales on our old furniture. It should be delivered the end of this week!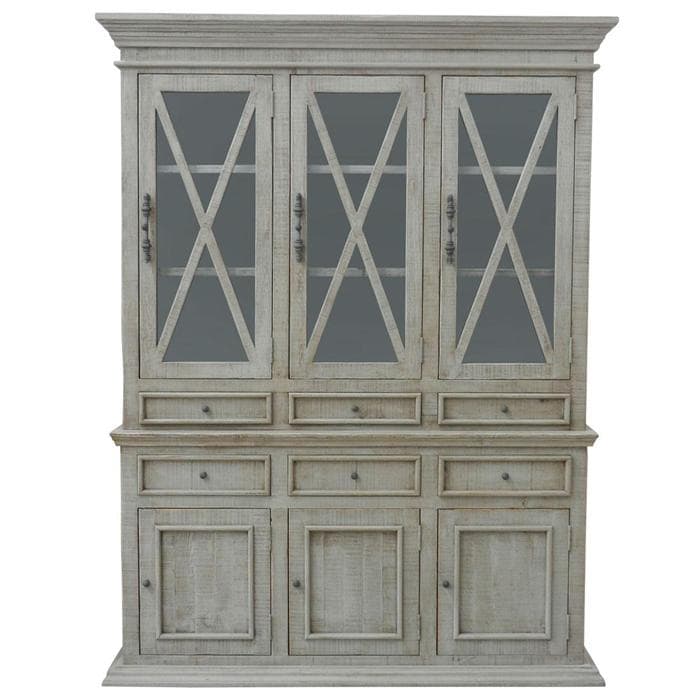 I also received a new Christmas canvas from my all-time fave, Lindsay Letters. It is this canvas in white with the white gallery frame (30″x38″). I absolutely love the graphic punch it gives to this otherwise very traditional room. And, the good news for you, is that she is offering my readers 10% off their entire purchase through Thursday with code VirginiaStreet10. If you've read my blog for long, you know I pretty much have a canvas of hers in every room in our house at this point (and that doesn't include the countless prints I also own)! I love her talent and the instant happiness her artwork provides me.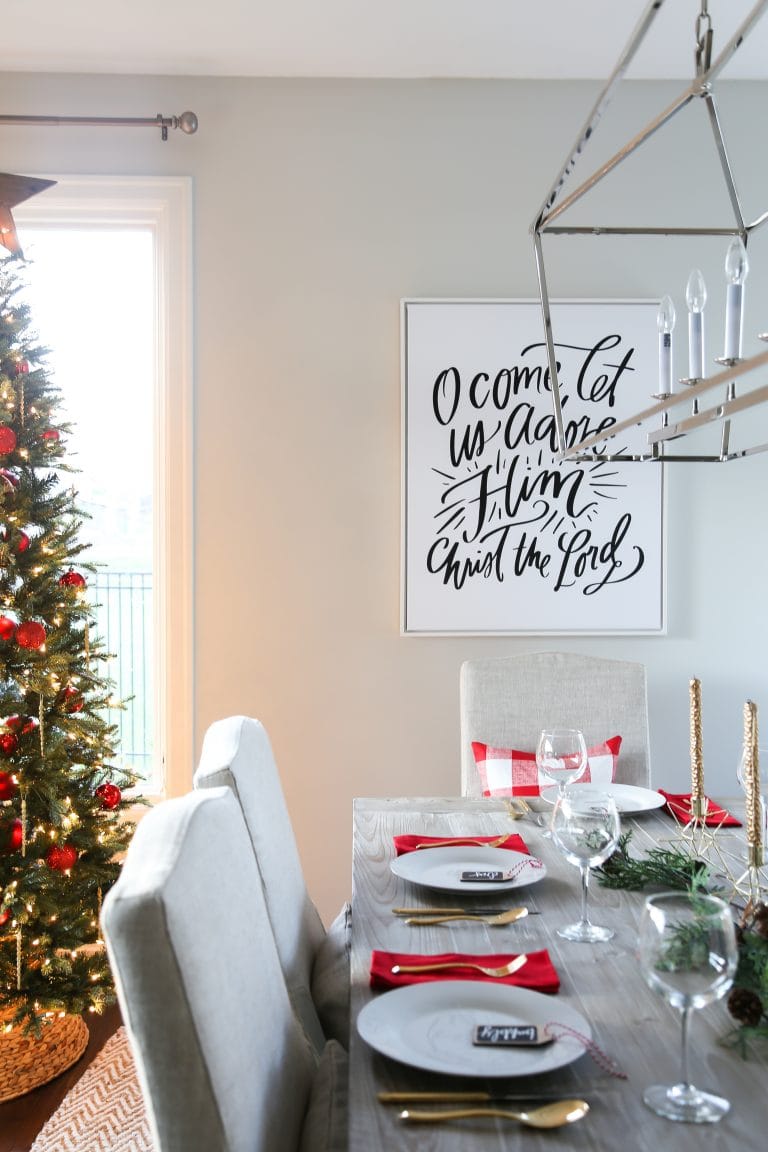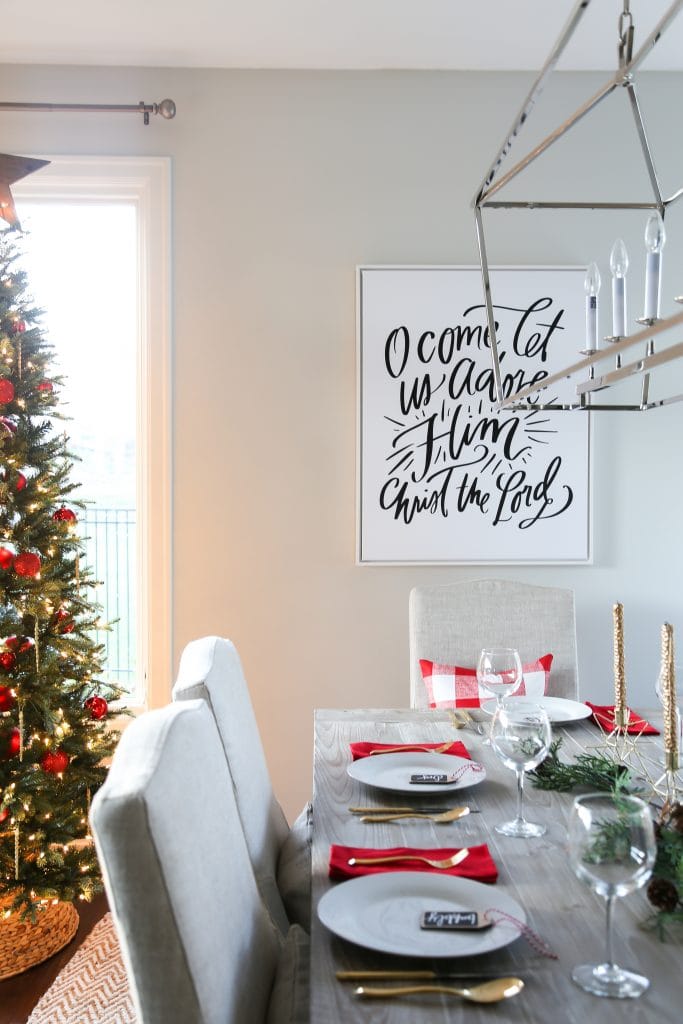 Yesterday, I also primed all of our powder bathroom cabinets. See how cream these cabinets really were?! It's the same as the trim throughout our home (other than what I've painted) as well as our kitchen cabinets :/ I'll share a tutorial soon (assuming it all works out) on how to paint thermofoil cabinets.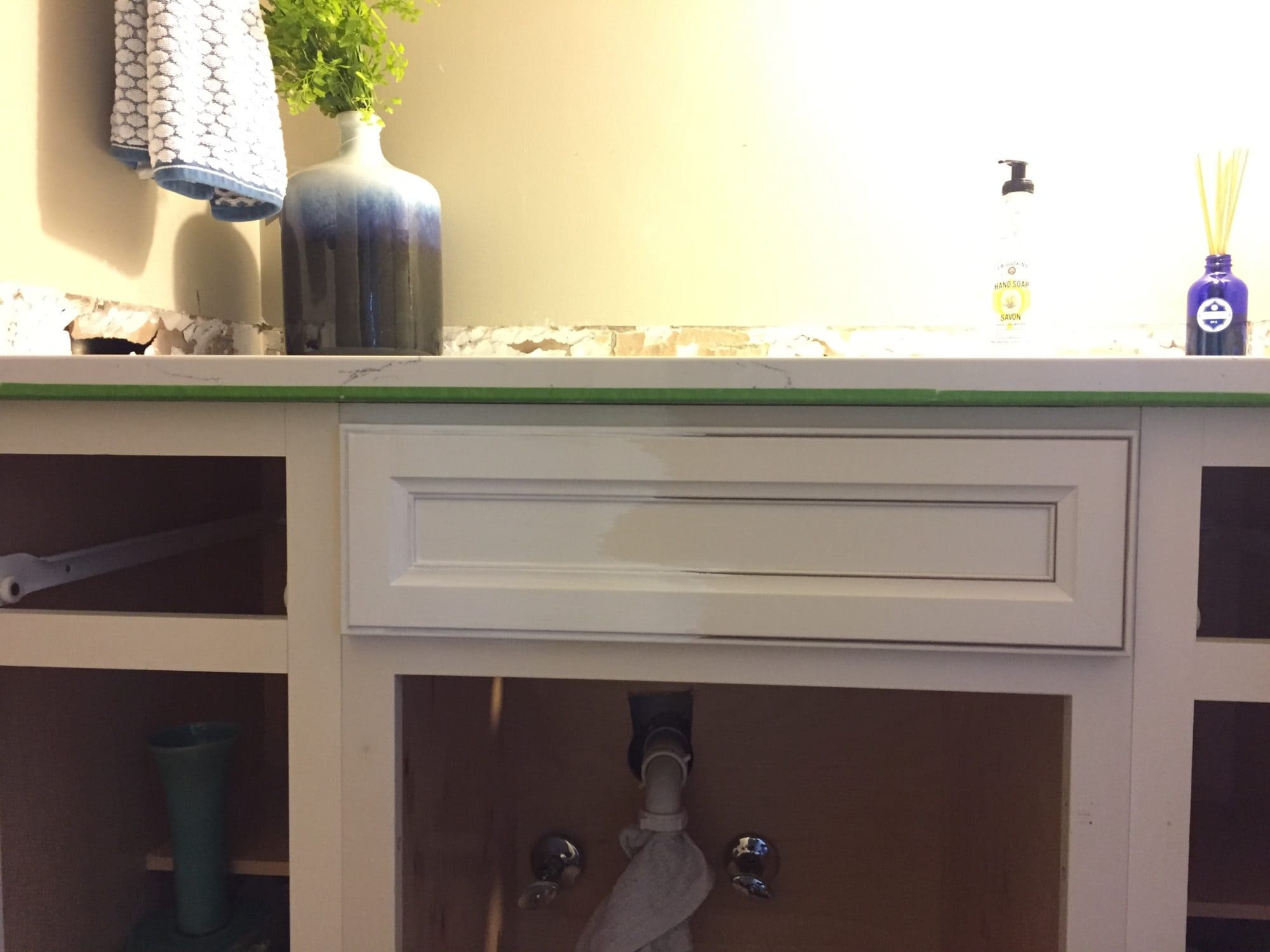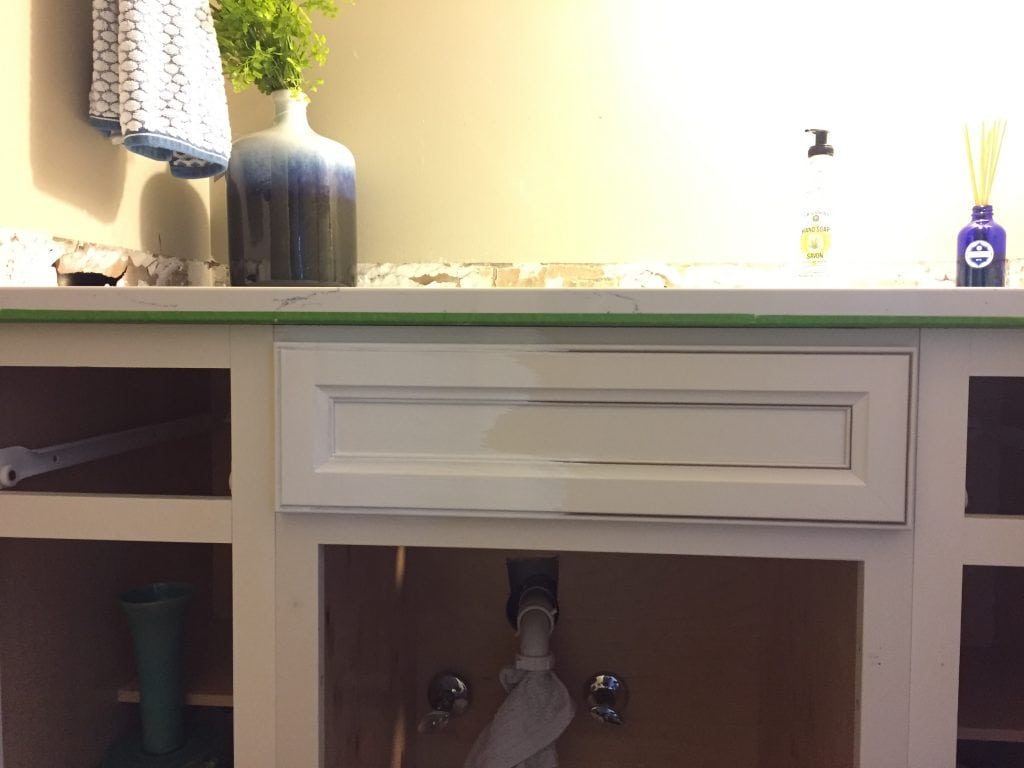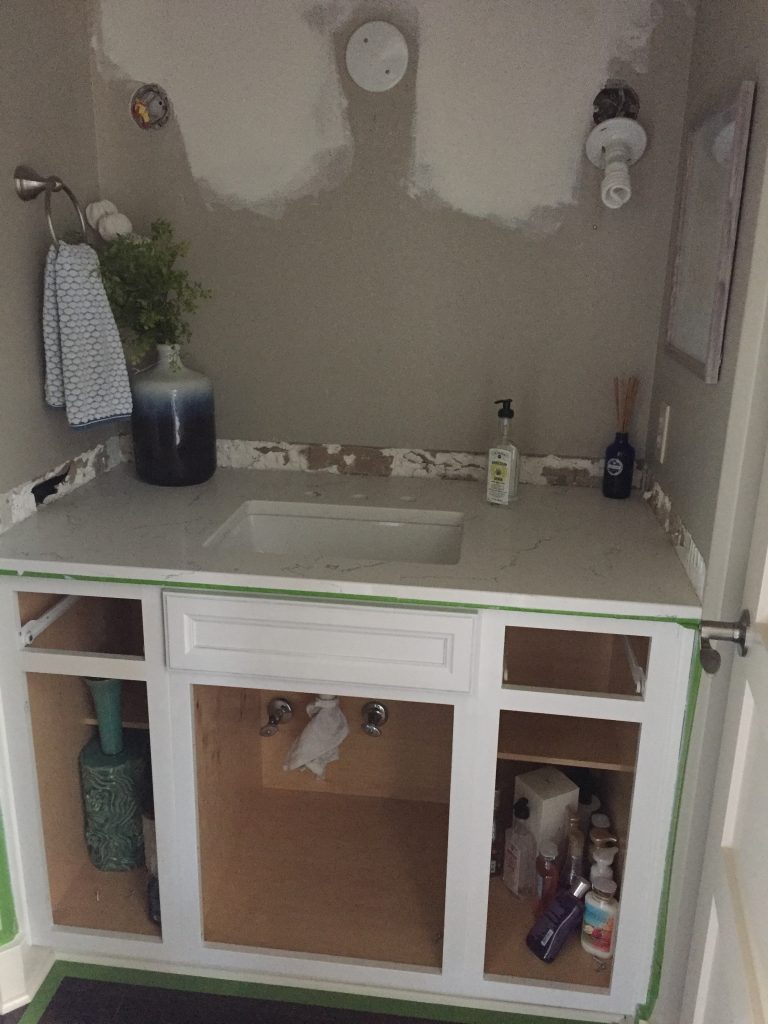 My professional painting studio…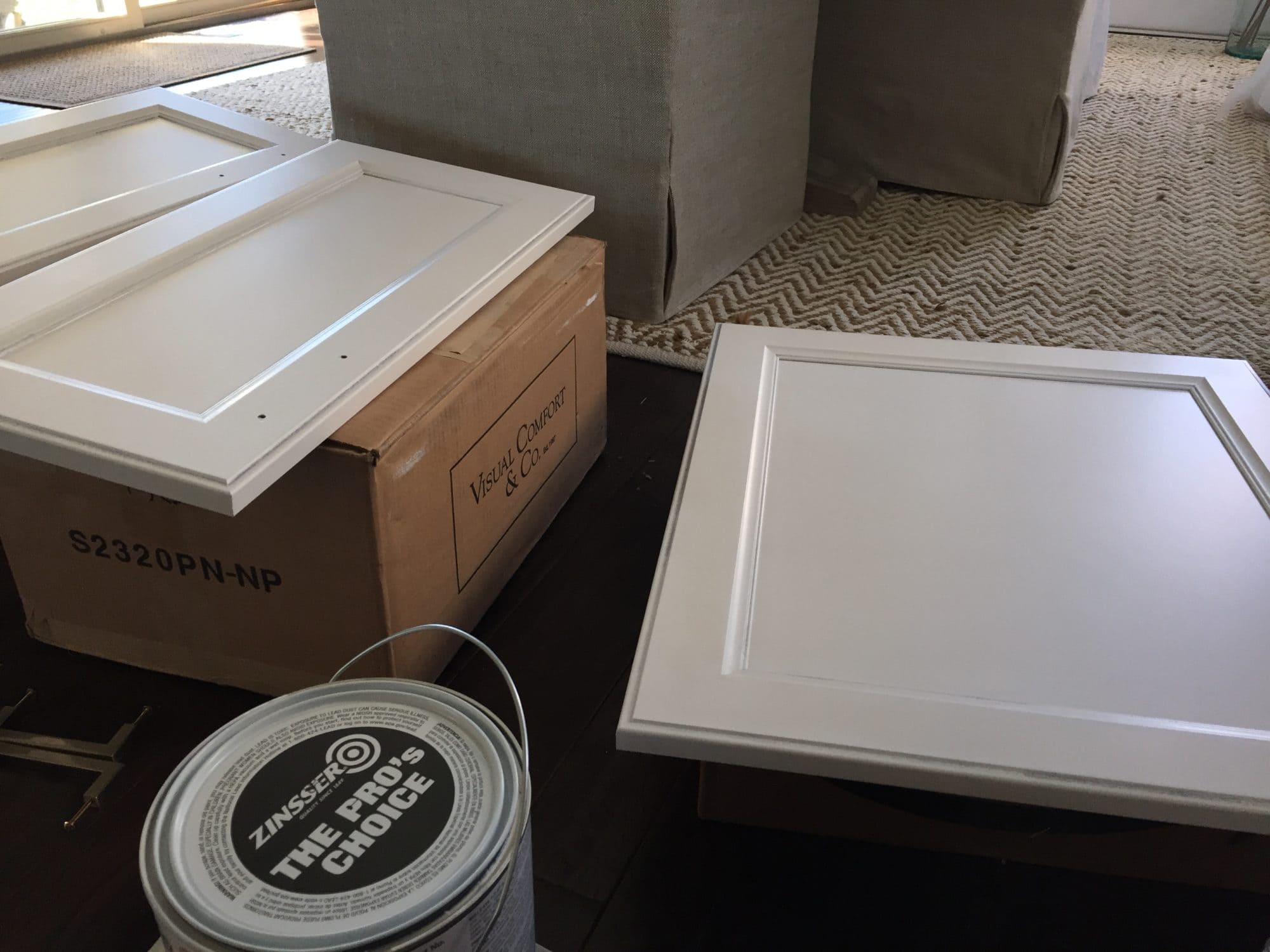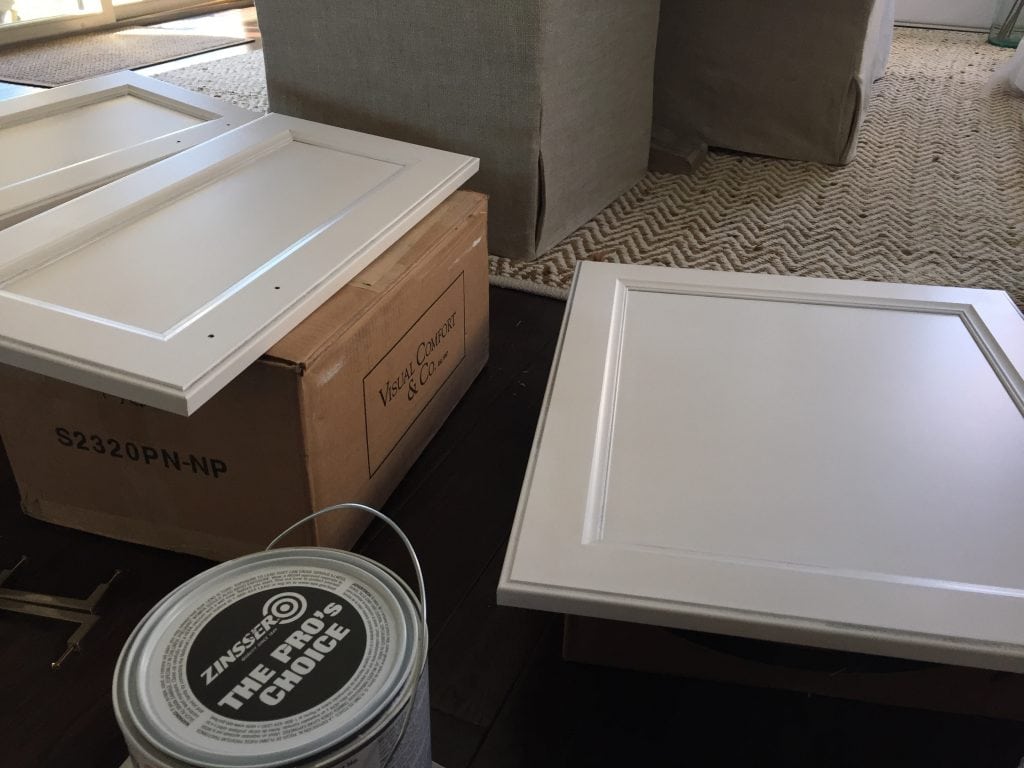 The first coat of primer is on! We still haven't decided if the cabinets should go gray or navy (or white?).  But no matter what, I can tell it will be a huge improvement. I hope to have the rest of the drywall repaired, lights up and new paint colors selected by next weekend!
And, in case you missed it, I shared my Christmas dining room reveal yesterday! I've held out as long as I can on Christmas posts (hey – I almost made it to the week of Thanksgiving!). My next post today will be my gift ideas for women, men, children and home. I want one of everything on the list 😉
And next Monday, I have my annual 'Favorite Things' giveaway. It's going to be killer and I opted not to team up with any other bloggers this year, so it is going to be giveaways strictly to my readers! It should be an amazing week ahead!
If you would like to follow along on more of my home decor, DIY, lifestyle, travel and other posts, I'd love to have you follow me on any of the following: