Good morning! I hope you all had a nice weekend! The weather here was gorgeous and we were finally able to get outside to get some work done. Here's what else we've been up to these past few weeks.
This post contains affiliate links for your shopping convenience. Click here to read my full disclosure policy.
Home Projects & Updates
Last week my friend Mandy came and photographed the Jack & Jill bathroom! I'm hoping to share the full reveal later this week! The shower door in the smaller bathroom encountered further delays, but they should be here to install it tomorrow. Fingers crossed that all goes smoothly, and then I'll plan to share that reveal next week once I can get Mandy back out to photograph it.
With the bathrooms mostly wrapped up, our next project is our garage! I'll share a lot more in the coming weeks, but here's a little of the backstory. Our epoxy floors have not held up well at all (they were here when we moved in). Each year they get worse and worse. They're also super slippery in the winter. This particular winter we also started to wonder if our garage was even insulated because everything was freezing in there basically the whole month of February. We had an insulation expert come out and they said there's basically ZERO insulation on the walls that don't touch our interior of our home. Which leaves a lot of walls and ceiling space not insulated. It's no wonder things were freezing!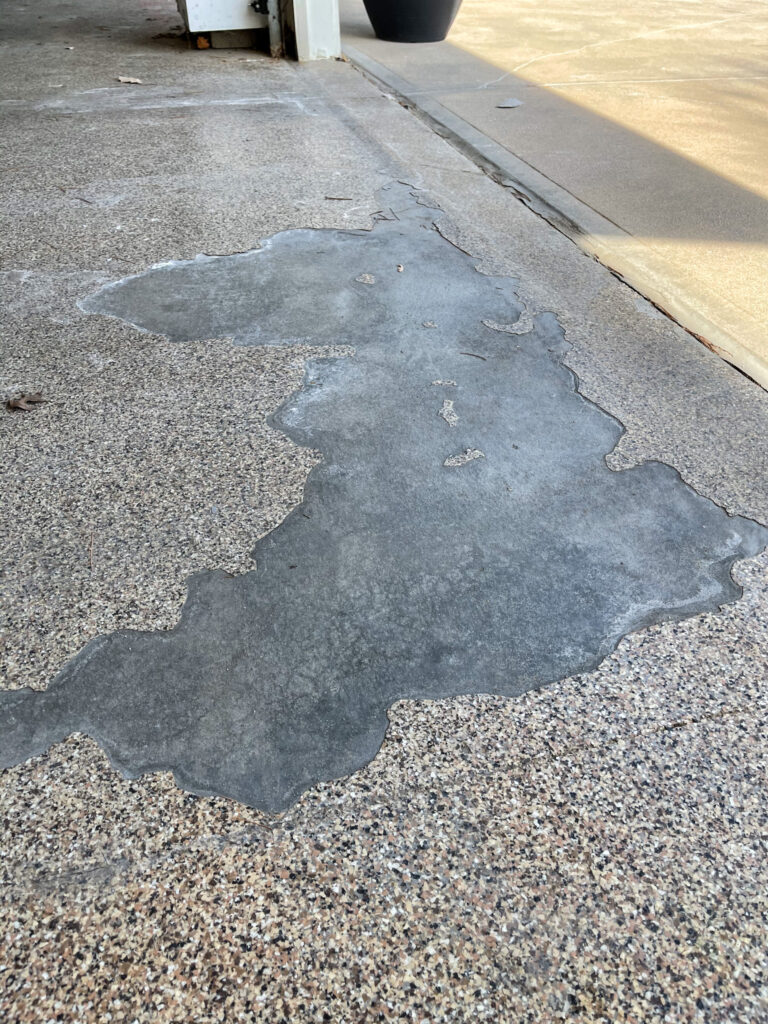 And no matter how many times we clean and "organize" our garage, it still looks terrible. We even purged everything we didn't need last fall and it still looks like this right now.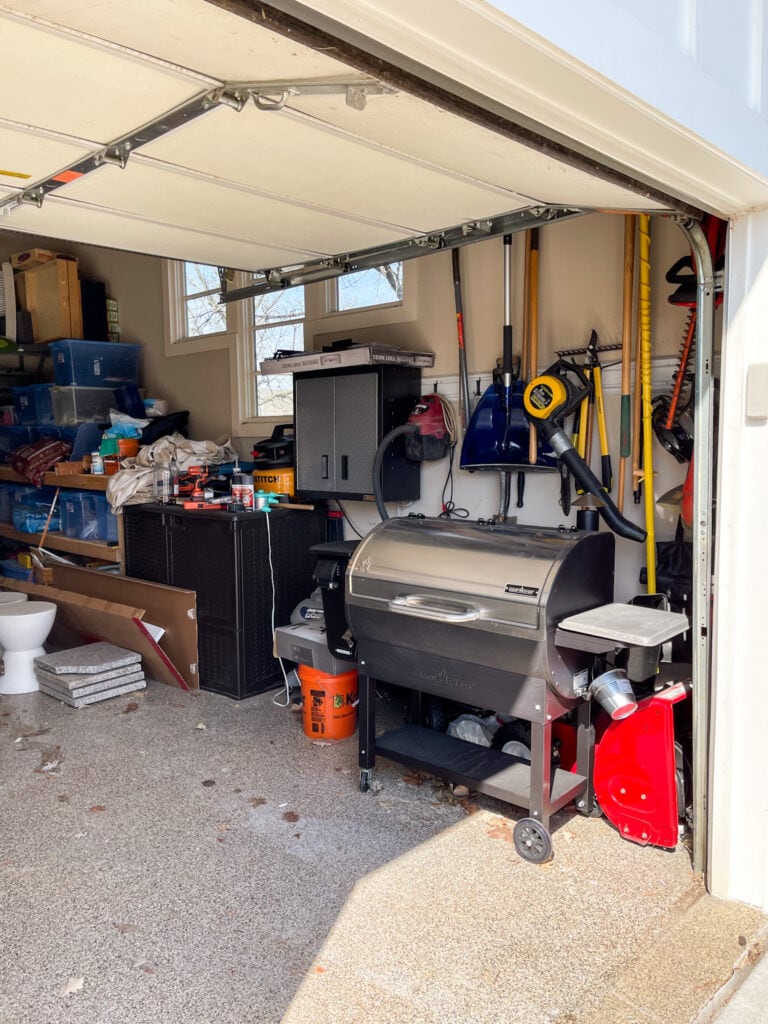 So, here's the short list of what we're going to tackle over the next month or so.
We're having our garage insulated in two weeks! But since the walls are finished, they have to blow it in between every set of studs (about 18″ apart). So, we'll be left with drywall mud spots all over the upper part of our garage.
We'll then have it all painted. It's a quick job since they won't have to cover the floors.
We're partnering with Hello Garage on our floors to have the existing ones ground out and an epoxy alternative applied.
We're then bringing in the organization pros at Hello Garage to help us get most of our crap behind closed doors and making it look less chaotic out here!
All that to say, with everything we're doing, we have to empty the garage 100%. We have a POD arriving Wednesday to store everything for a month or so. We spent a lot of the weekend working out here to get things off shelves and pool furniture brought outside to make things go more quickly once the POD arrives. It's going to be a lot of work, but we're excited to get this space taken care of once and for all! Kurtis is geeking out!
Speaking of Kurtis, he now found out that the earliest he'll go back to the office is September. We're also not sure if, at that date, it would be a full-time move back downtown to his office or on a rotating schedule. So, it's definitely stalled all of my office plans. We're also thinking we're going to have to figure out a dedicated office space for him that isn't in the corner of our bedroom or the guest bedroom, as we anticipate he'll be working from home more in the future, even if his office building opens back up. We don't know if that means finishing the bedroom in the basement (currently the cats' room when we have to lock them up). Or if we take apart a guest bedroom to allow for a dedicated office space. We're still weighing the pros and cons of each option since neither jump out as a great solution. One thing we know for certain, with how many phone calls he's on throughout the day, he can't work in my office with me. And the "temporary" solutions we had used previously are clearly no longer just temporary. I don't think I ever shared a picture of how the space looks right now with our desks back facing the door instead of the windows. So here you go, even though it isn't exact picked up or styled perfectly 😉
Top Sellers Of The Week
Since I skipped a weekend recap last week, following are the top sellers of the past two weeks across all of my channels. Links to each item are below the graphic.
Following are the top sellers from this past week.
Around Town & For Fun
We were able to see Kurtis' parents and sister twice over the past week or so! It was the first time we had seen his parents since last July when we had their anniversary dinner. It was so great to see them again. On Saturday night we played some dominos after dinner and had a lot of fun!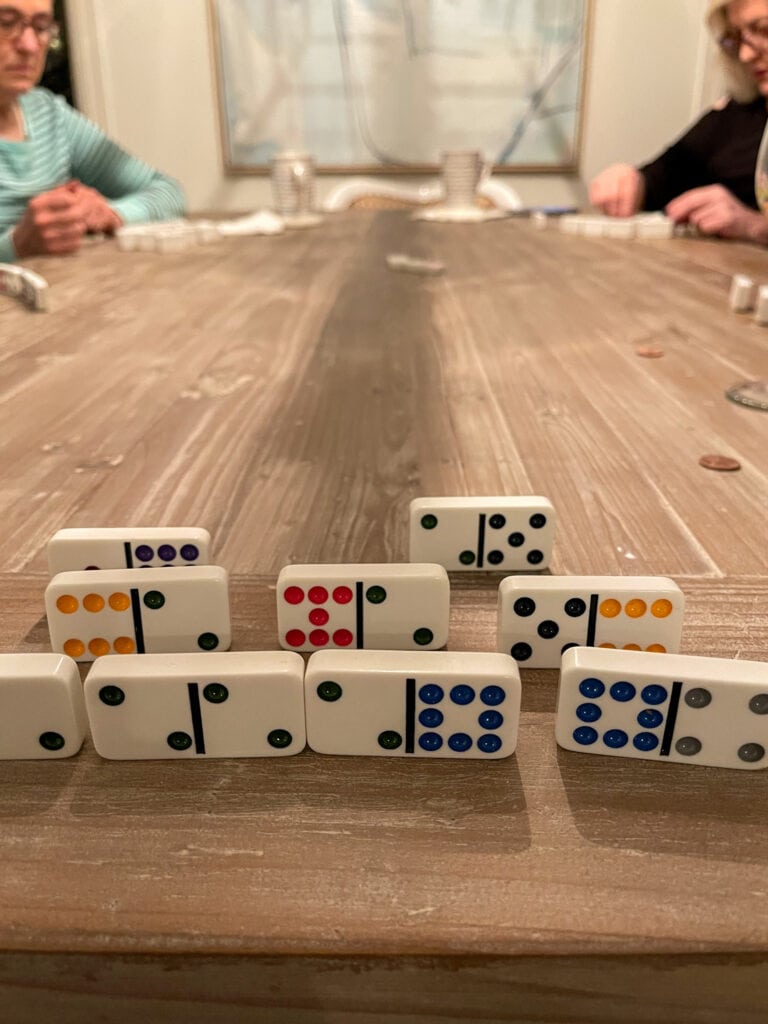 We also had dinner with our goddaughters twice this past week! They're interacting with each so much right now and it's basically the cutest thing ever.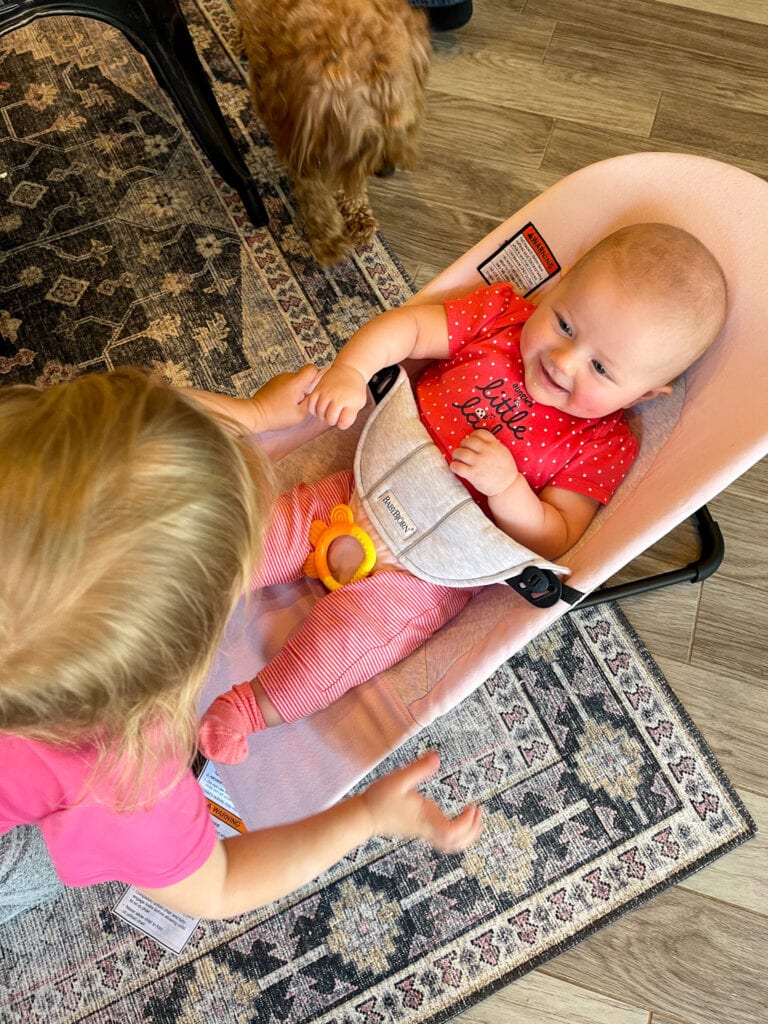 With the warmer temps over the weekend, the cats got to outside a few times and were in absolute heaven. It's so funny to watch them all just close their eyes and sniff in all the possible scents they can.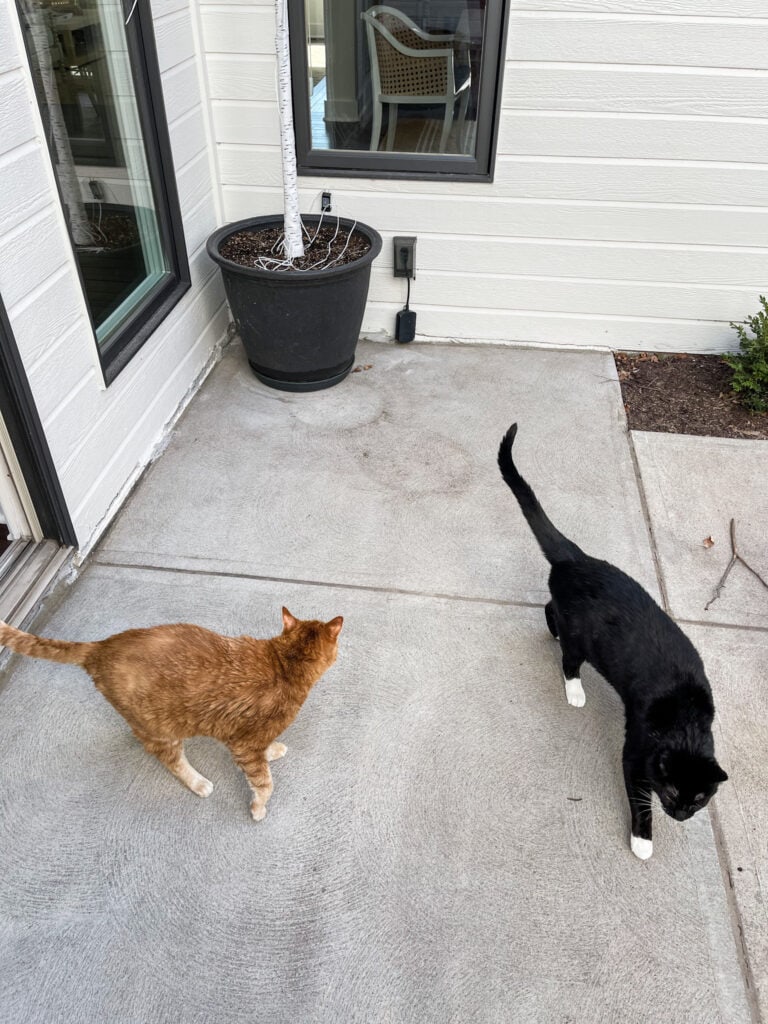 We hung our patio curtains back up on the back patio so they got to explore back there, as well.
For those of you that like to use the LikeToKnow.It shopping app, they launched a cool new feature last week. If you go to my profile on the app, you can now do searched within just my profile. So if you're trying to find a source or idea, it may be a quick option! If you don't already have the app, you can just search LikeToKnow.It in your app store to download it. I have started loaded a lot of original content there that I don't necessarily share in other places!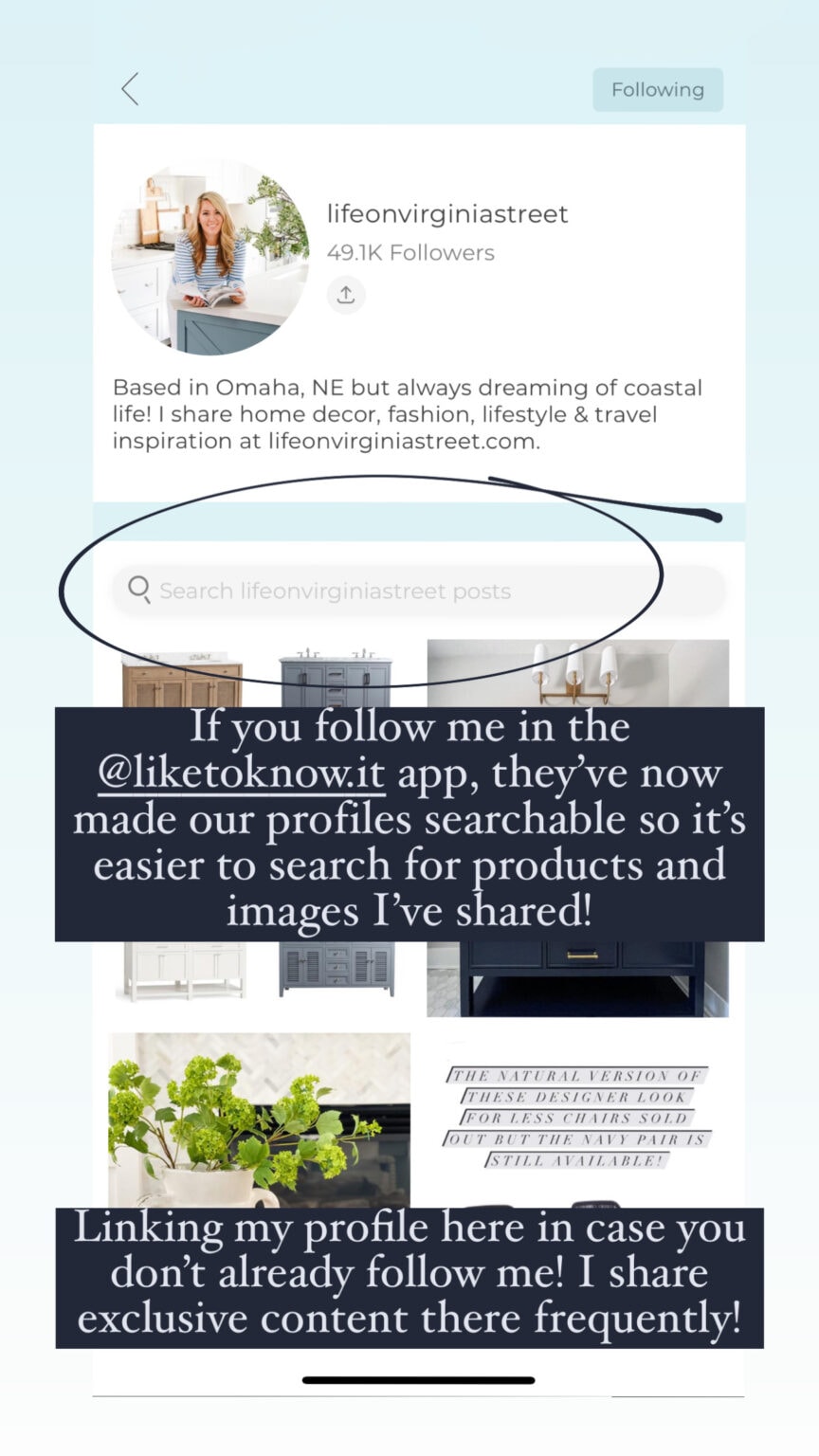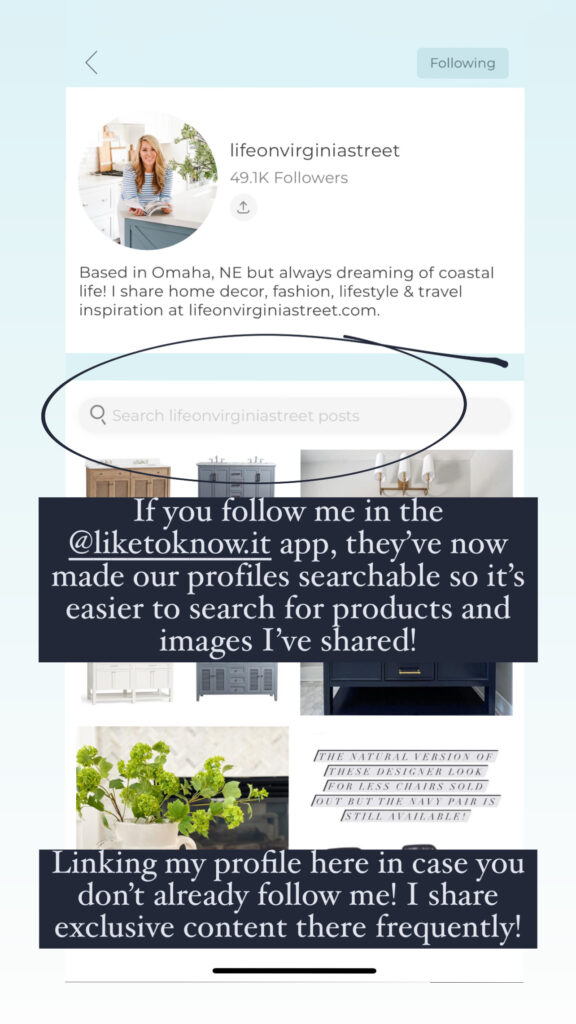 Lastly, a re-stock you may be interested in! The full set of our courtyard chairs is in stock again! Our friends have the full set and we actually sat on it last night on their deck and I remembered just how much I love it all. Such a great price for the value (it includes custom covers for the furniture). I've been asked multiple times if I know if just the chairs will be brought back this year, and unfortunately I'm not sure. I'm leaning towards thinking they won't, since Walmart has deleted the listing entirely from their site (rather than just marking it out of stock). Here's how the chairs looked in our courtyard last summer. I'm thinking I may uncover them a few days this week so we can enjoy the warmer temps!
We're looking forward to the next few days of more beautiful weather before it turns cold again later this week! Needless to say, I am ready for spring!
Recent Buys & Sales
Following are the sales from the weekend that are still going strong. You can see my top picks here.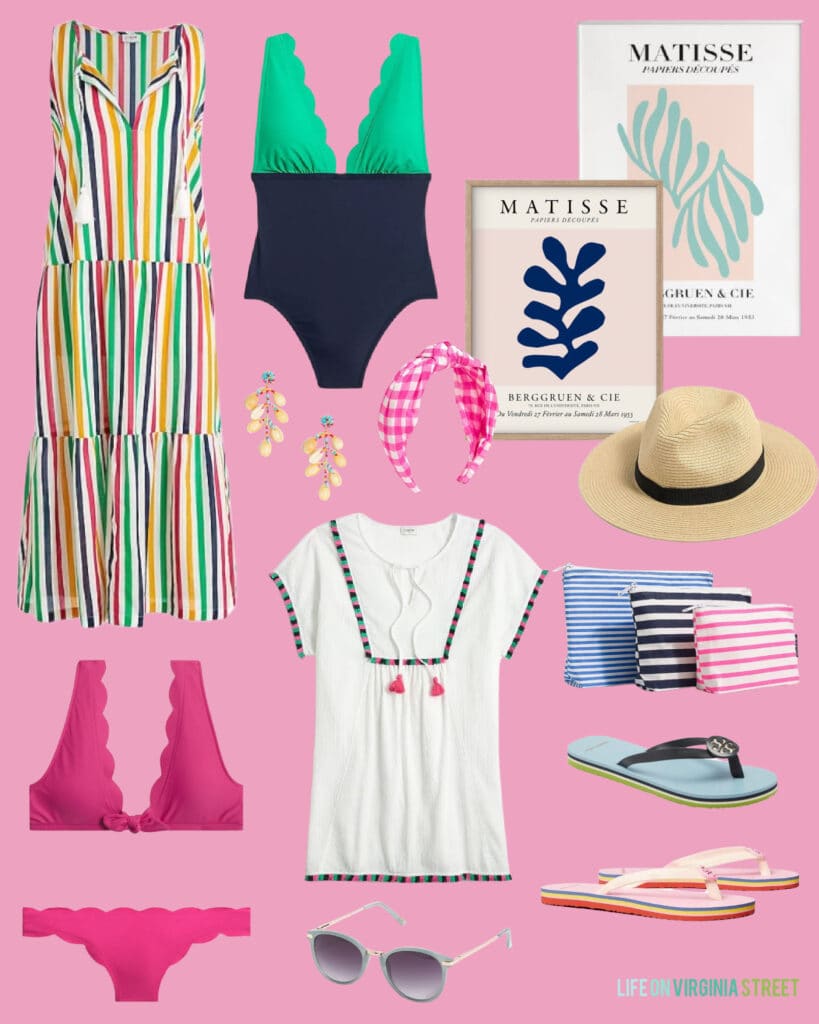 SOURCES: Striped Maxi Dress | Scallop One-Piece Swimsuit | Shell Earrings | Gingham Headband | Navy Matisse Print | Aqua Matisse Print | Packable Straw Hat | Scallop Bikini Top | Scallop Bikini Bottom | Fringe Tunic | Sunglasses | Set of Three Canvas Pouches | Blue Tory Burch Flip Flops | Rainbow Tory Burch Flip Flops
I hope you all have a great week!
If you would like to follow along on more of my home decor, DIY, lifestyle, travel and other posts, I'd love to have you follow me on any of the following:
Pinterest | Instagram | Facebook | Twitter
disclosure: some affiliate links used