Happy Monday! I started getting sick on Thursday and it carried through the weekend and doesn't show much signs of stopping today. Summer colds/allergies are no joke! I feel like it's moved into my chest at this point though so I may have to head to EmergiCare today (my least favorite thing ever). All of that to say, it was an unusual weekend around here, to say the least!
This post contains affiliate links for your shopping convenience. Click here to read my full disclosure policy.
Home Projects & Updates / Around Town & For Fun
Last Monday night, I headed up to the den to do some reading while Kurtis watched TV. The cats hadn't been in there much in the past few weeks. But it's like once they remember they love a room, it's the only place they go. I think I sent Kurtis a nearly identical photo of them every single day last week.
I've talked a lot about our hydrangea tree and clearly I'm obsessed. The blooms still have a ways to go to be fully mature but it's looking so pretty!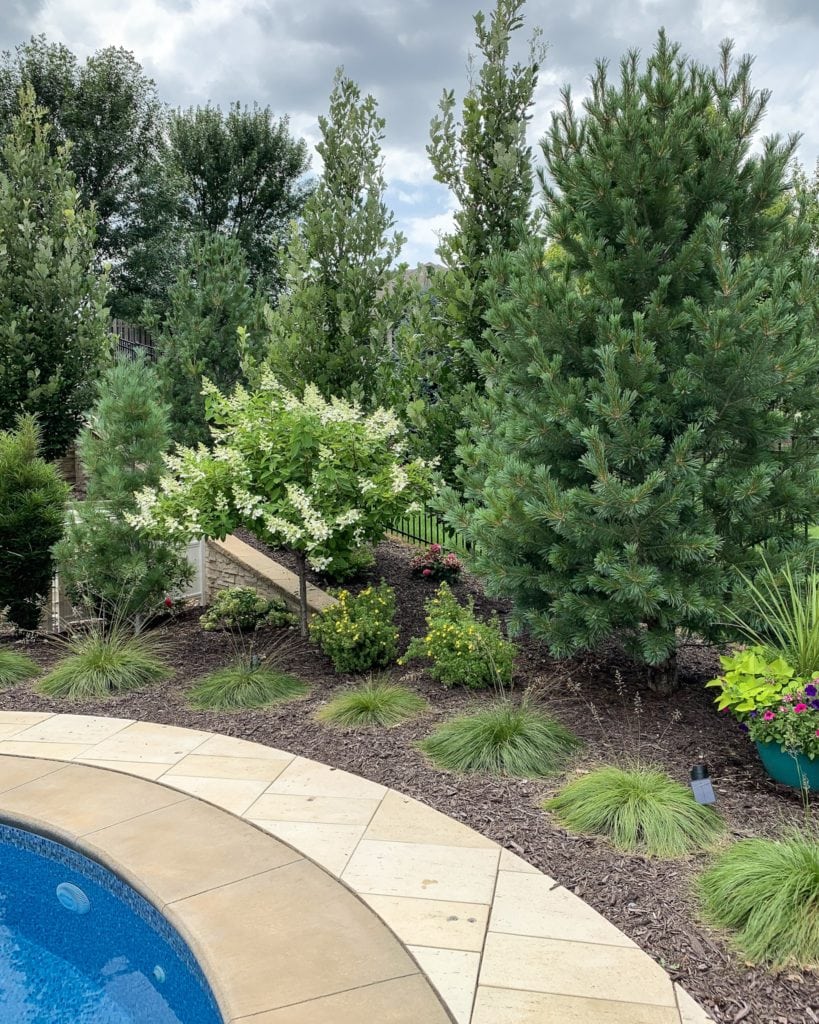 Last week it was filled with what I though were monarch butterflies, but it sounds like they're painted ladies. They're so fun to watch playing in the tree! I'm pretty sure I took no less than 200 photos of them last week!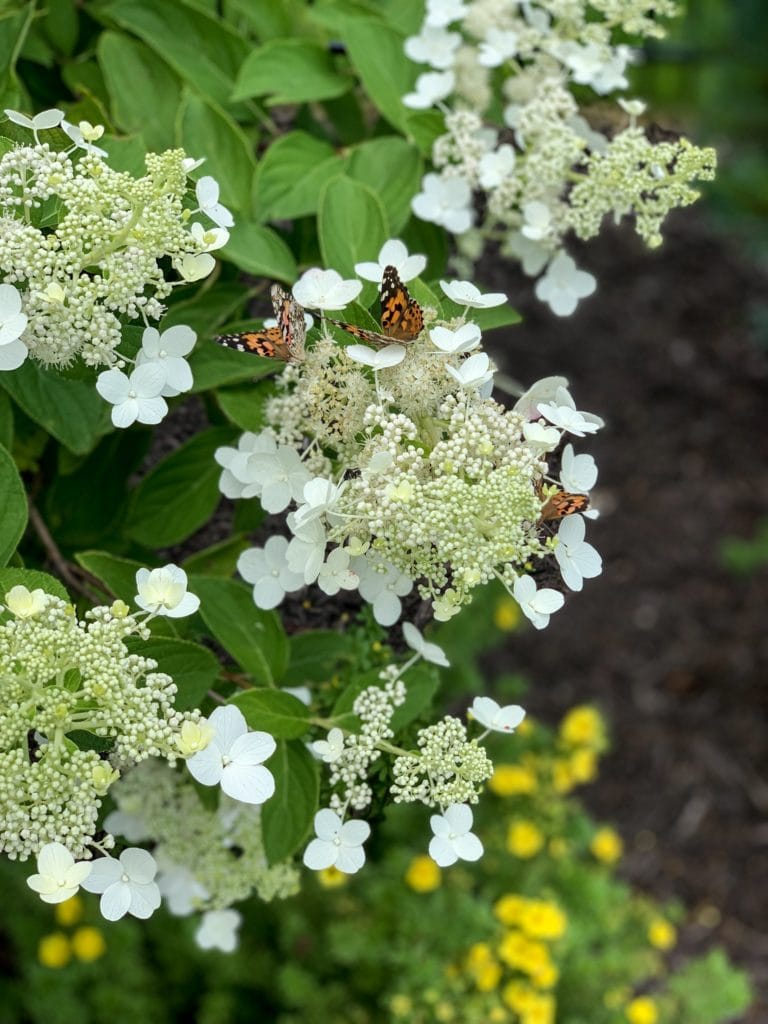 Kurtis' middle sister and family came to stay with us on Wednesday night. We went to dinner with them at Lazlo's and it was fun to have some one-on-one catch-up time with them before they headed off to Colorado! This guest bedroom has been hosting a lot of visitors lately and we love it!
We don't get a lot of colorful sunsets around here, but Friday night's was a stunner!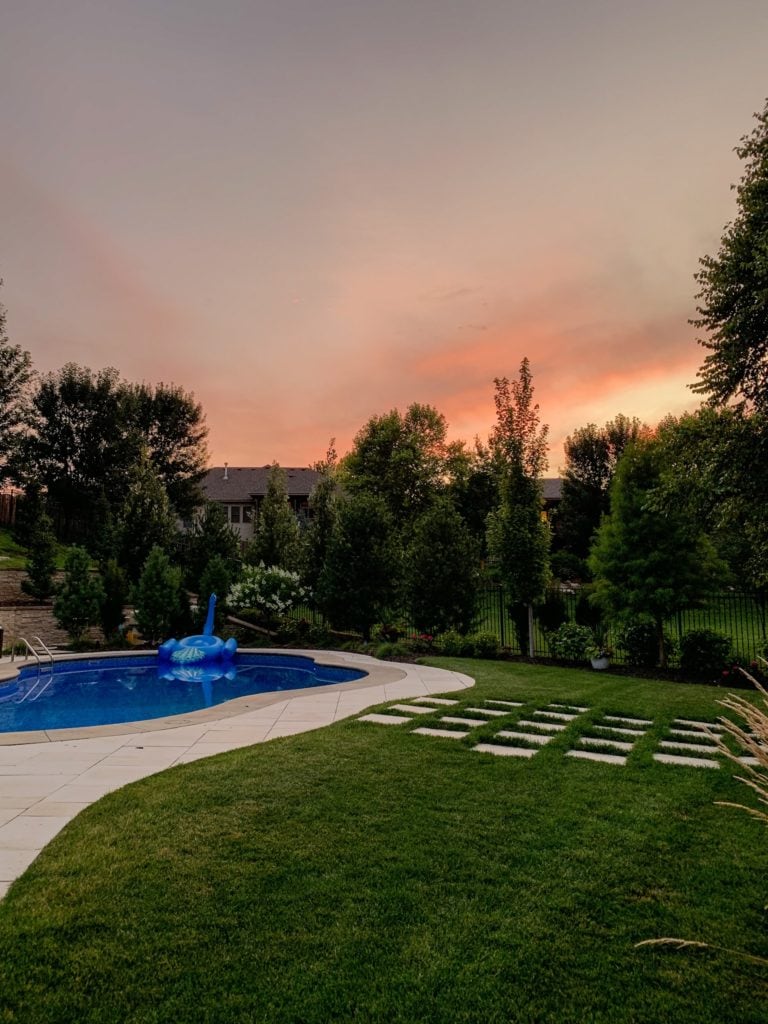 I'm that person that basically refuses to be sick, so by Sunday morning I was bored out of my mind. I refuse to turn on the TV and just watch "whatever" and reading would only work for an hour or so and then I'd need to nap. By Sunday, I decided to help Kurtis in the yard with some projects we needed to wrap up because I couldn't deal with laying around any longer. We needed to trim up a few trees along our fence line that I couldn't reach on my own a few weeks back. We also have a big party at our house on Thursday for Kurtis' work, so we needed to just do some basic cleaning and maintenance outside.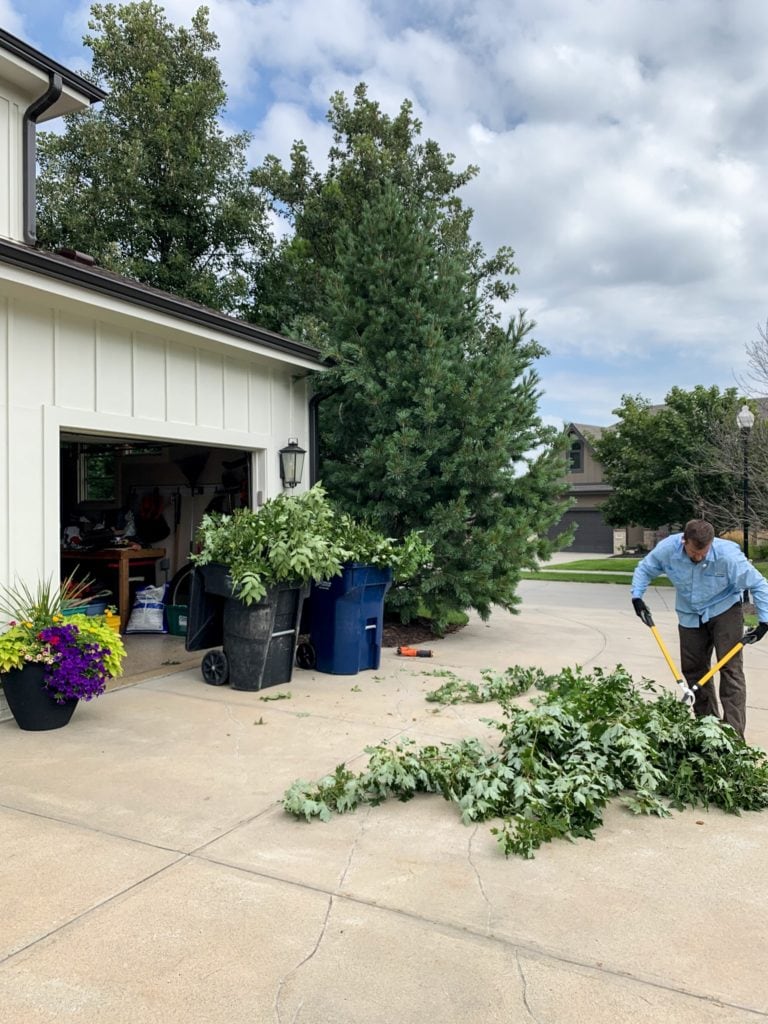 Kurtis also trimmed up the pavers and they always look so good when he does! I get a lot of questions if we'd ever do them again. I would probably consider it, but Kurtis would be in the 100% "no" camp. It really is a pain to maintain the grass and our mowers always leave it very uneven, so it's an extra chore for Kurtis if we want them looking good.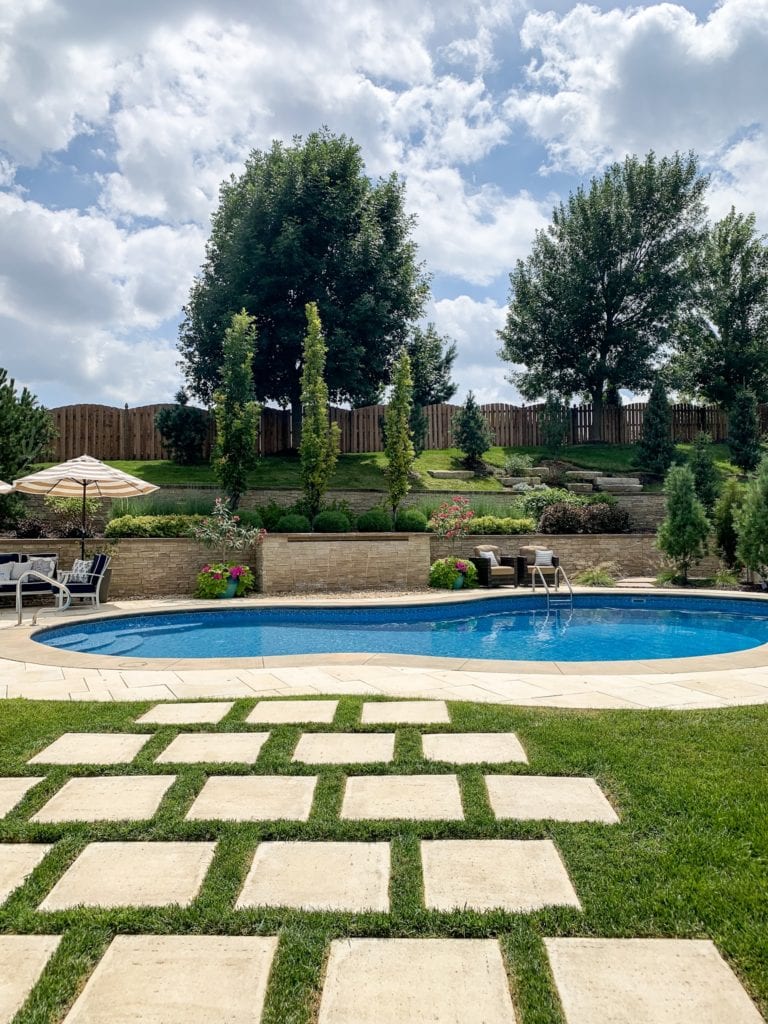 Sunday afternoon, I decided to head out to the pool with Kurtis and not get in the water since I'm prone to ear infections when I get sick. So, I plopped down in that lounger for about 45 minutes and just relaxed (and then ended up getting a little bit sunburned). Clearly I was on the struggle bus last week! But in positive news, all of my little lime hydrangeas started blooming out back and I could basically stare at them for hours!
Last night on Instagram I shared this image to talk about our latest Lutron obsession in our kitchen. You can check out the full post here (and see my stories of it in action until later this evening). I think we've been eating no less than four caprese salads a week and we love it! We try to change it up with the traditional style and will sometimes by the small round mozzarella and small heirloom tomatoes to make it more of a salad. So good!
It's going to be a busy week preparing for the big party on Thursday! But it is so nice that we have a food truck come every year, so that leaves a lot less work for us hosting. I'll be sure to hop on Instagram Stories a few times that day so you can see the setup. I know people always love checking it out and it's relatively affordable considering they supply all the plates, napkins and utensils!
School already starts here next week, which doesn't always impact us a lot, but it definitely motivates us to soak up every ounce of summer that we can!
Recent Buys & Sales
Following are some sales that carried over from the weekend!
I hope you all have a great week!
If you would like to follow along on more of my home decor, DIY, lifestyle, travel and other posts, I'd love to have you follow me on any of the following:
Pinterest | Instagram | Facebook | Twitter 
disclosure: some affiliate links used