I hope you all had a great weekend! I'm guessing it was as cold for most of you as it was for us. With the cold, wind and ice we got, it was a pretty quick reminder that winter is still here – as much as I want spring to get here! Here's a little look at what else happened around here this week.
This post contains affiliate links for your shopping convenience. Click here to read my full disclosure policy.
Home Projects & Updates
Saturday afternoon we ventured out into the cold to go check on our rental property we bought in August. You may have forgotten about this one – and believe me, sometimes we try to block it out of our head at times too 😉 We got word that most of the drywall was finished in the past week or two so we wanted to see how it turned out!
As a reminder, here was a before from the living room looking into the dining room.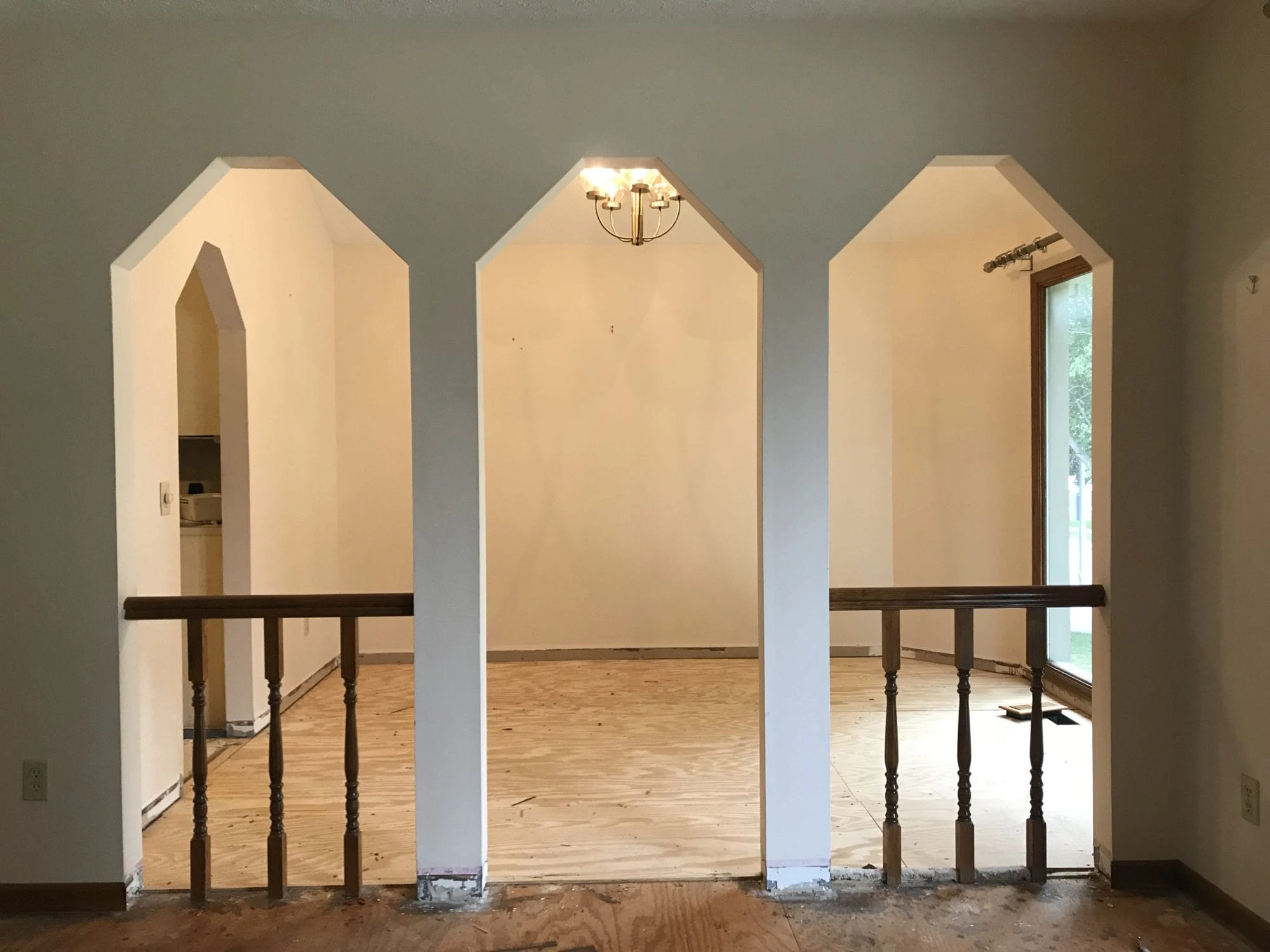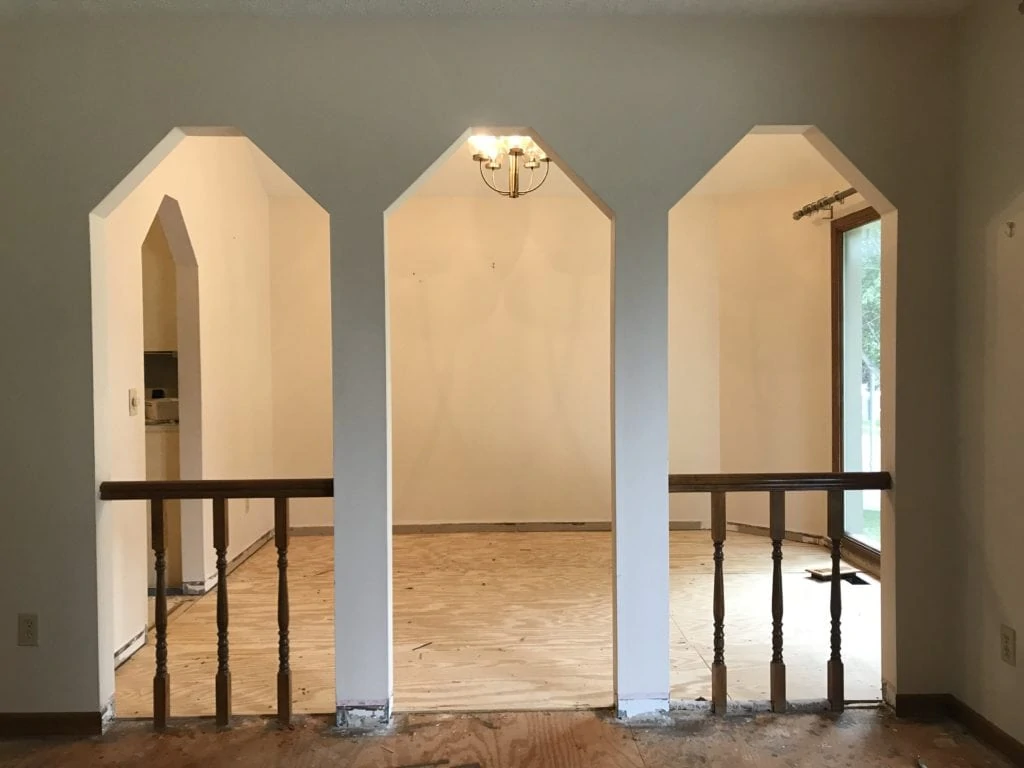 And here's how it looks now! Kurtis and his dad actually cut the opening and installed a new beam, but with the drywall finished it already looks so much better!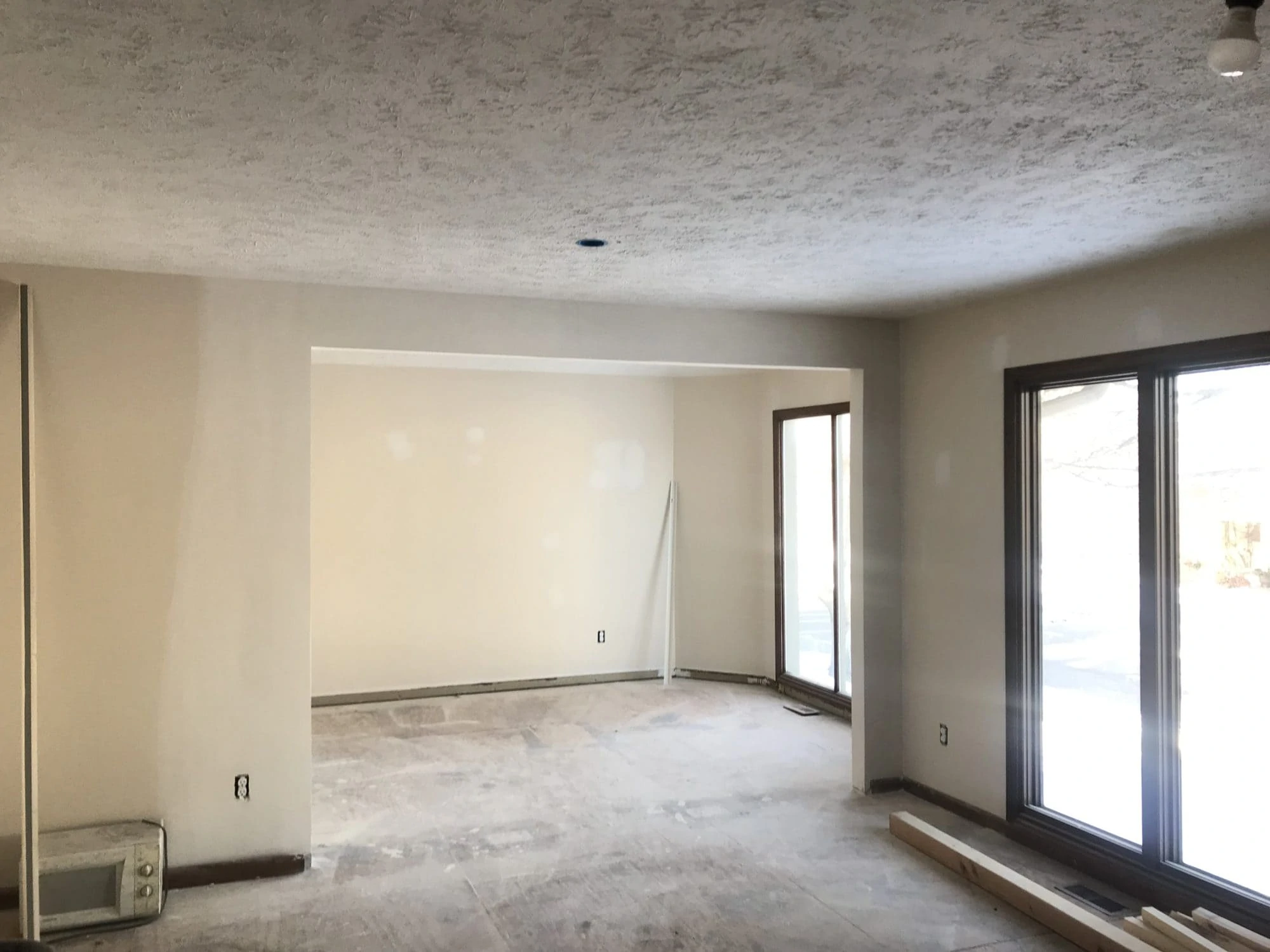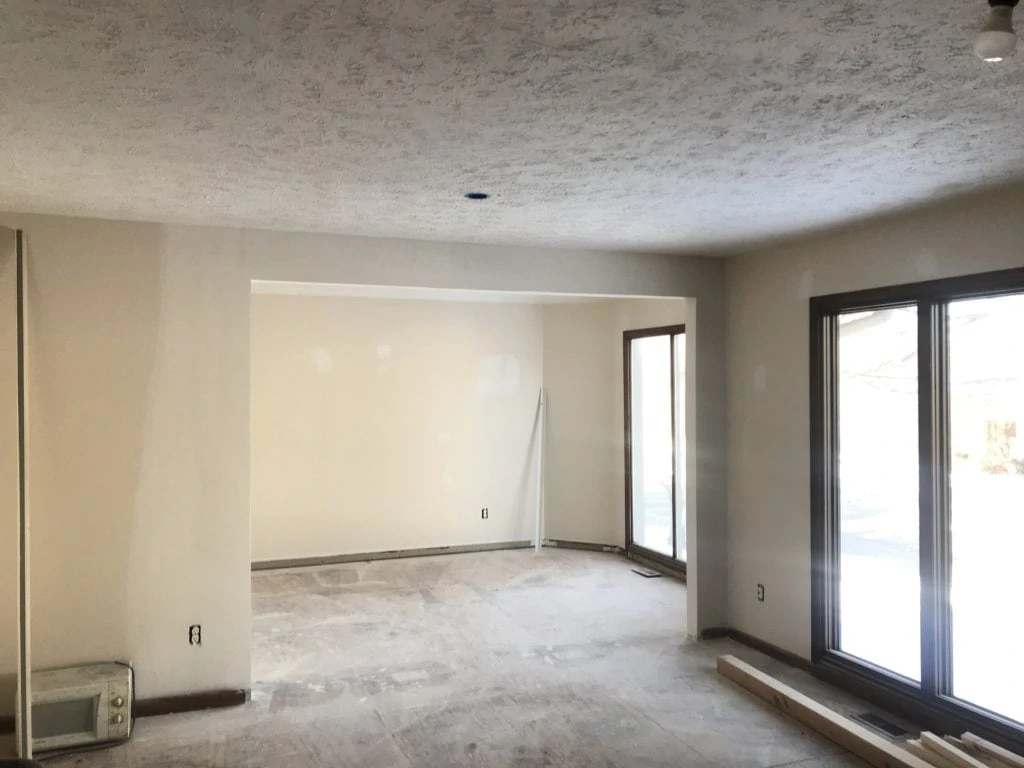 Here is the family room before.
And here's how it looks now. The fireplace from the early 80's had a lot of issues so it basically needed to be torn. We're going with an electric more modern fireplace now.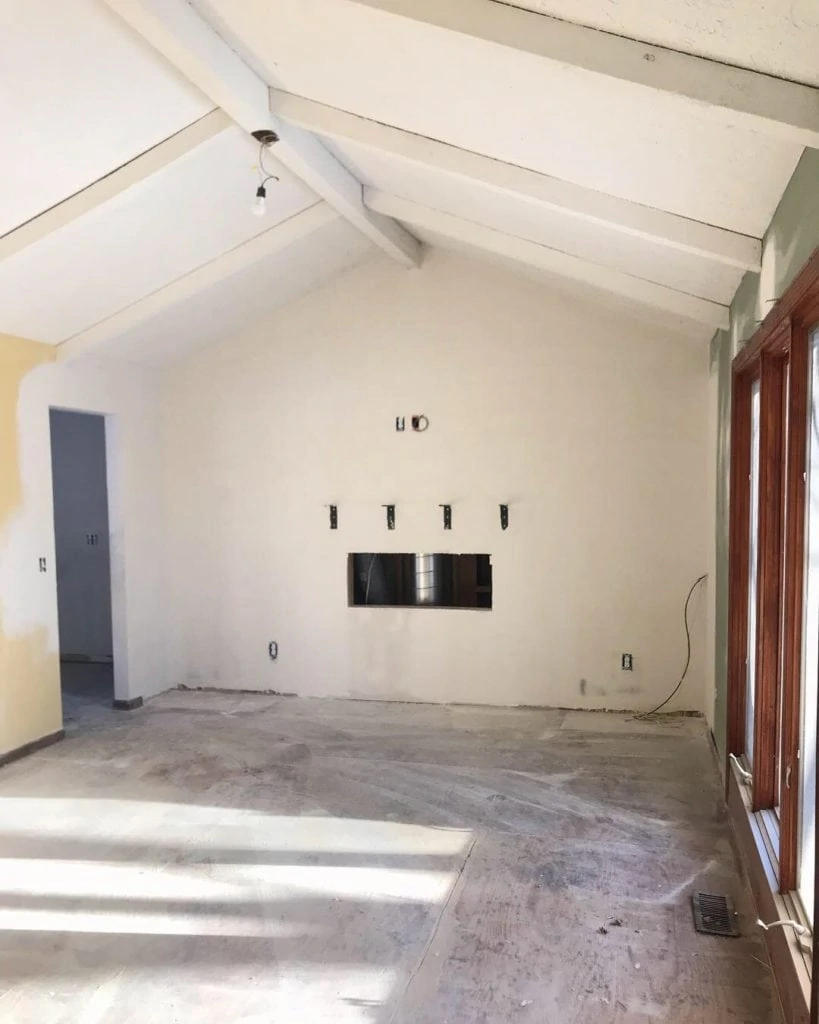 The kitchen was probably the scariest place when we bought it back in August. The sink had been linking water so the flooring had swelled and rotted. We basically tore everything out of here including the drywall and subfloor so it's basically going to be a brand new house!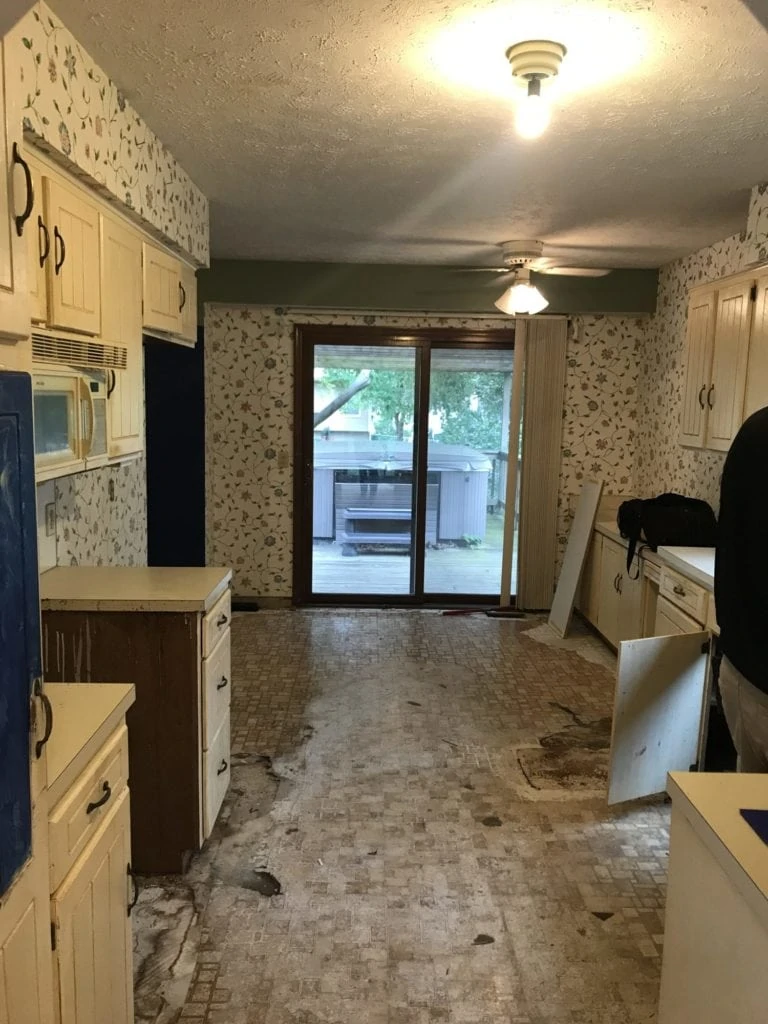 The sliding door was no longer functional so that got replaced as well. It's amazing how much better it feels in here!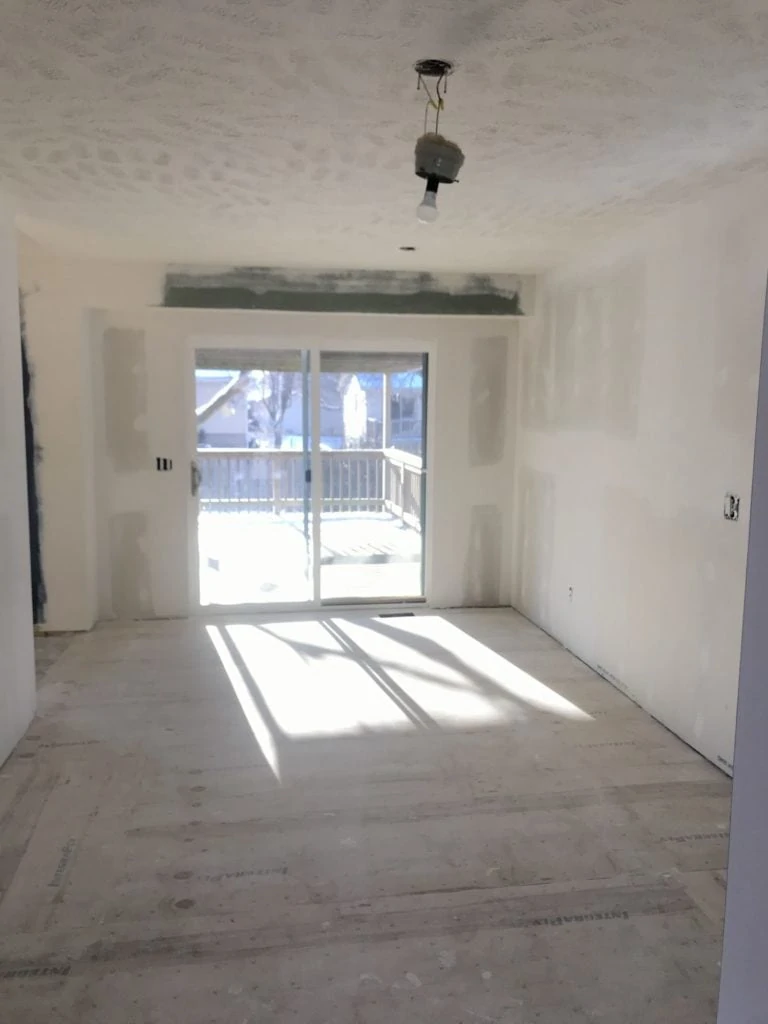 The basement had major creeper vibes. This room had almost been set up like a workshop and felt very industrial.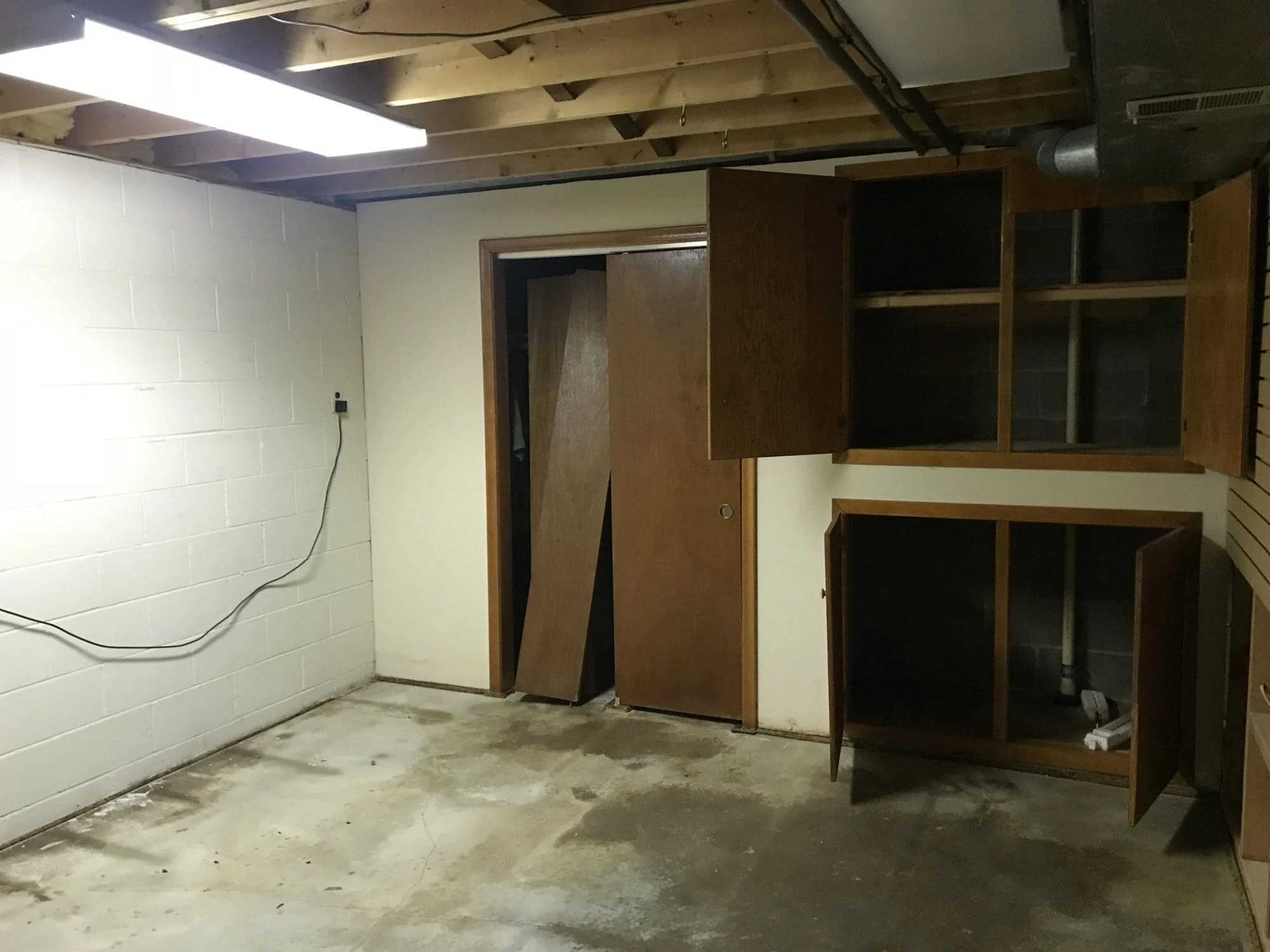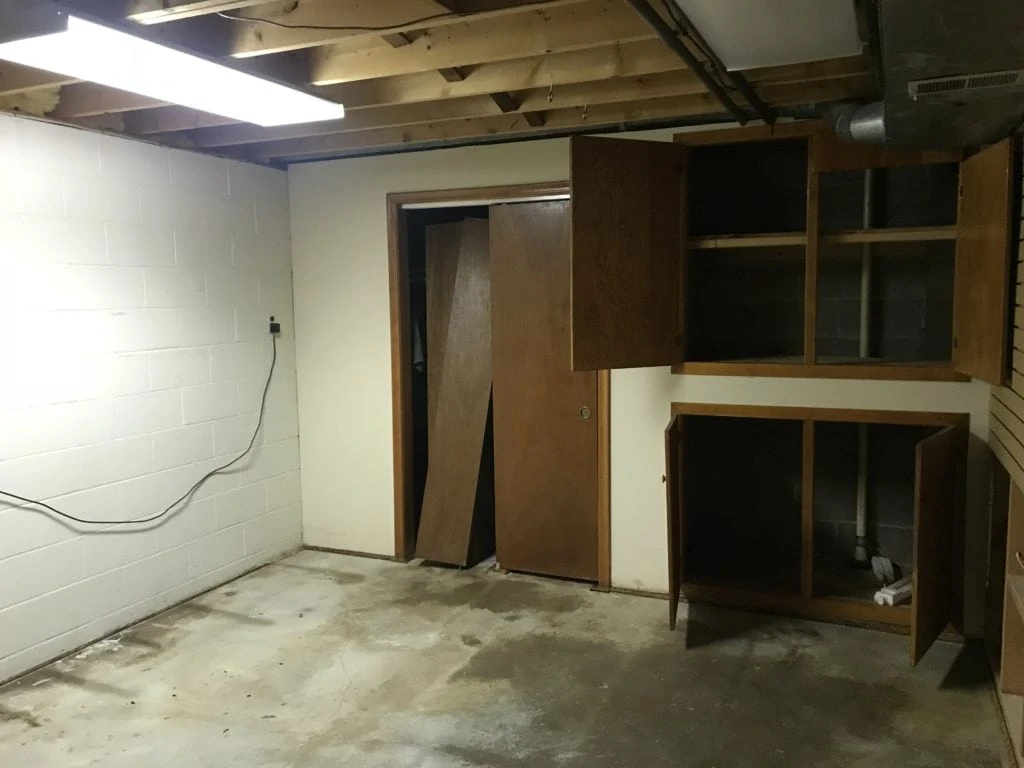 But, we knew it was the perfect spot to add a fourth conforming bedroom. So, we had a window and closet added and it is such a great space now!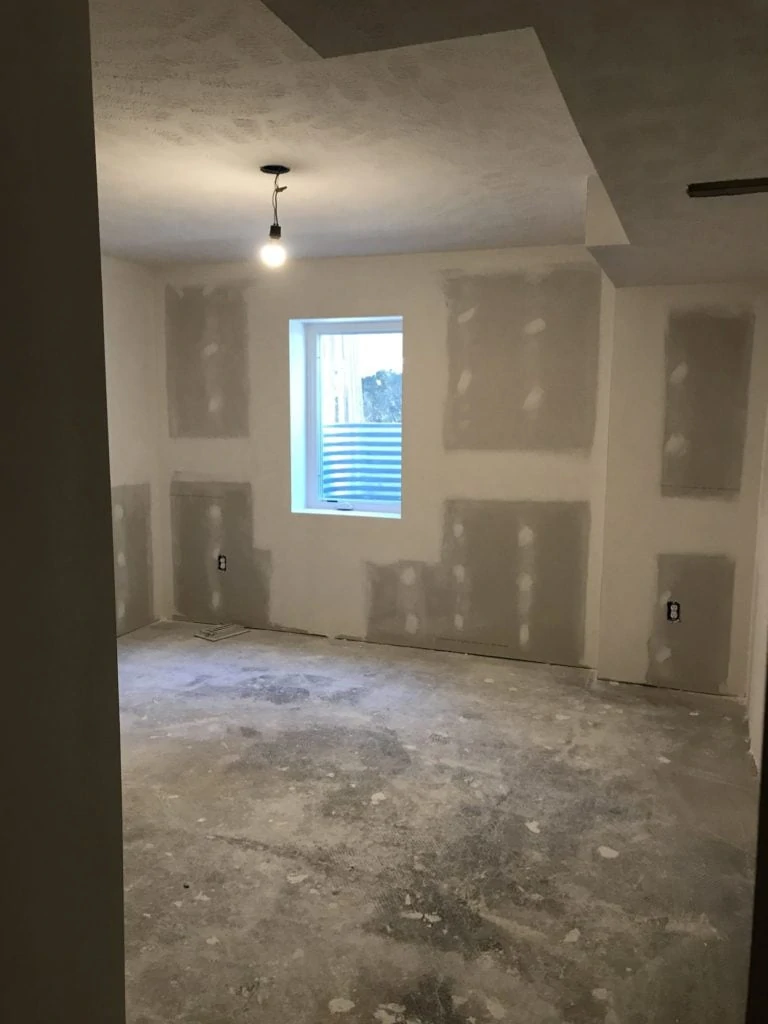 Now the fun part should be coming. They hope to get the painters in soon (I'm having all the trim painted white and the walls painted Sherwin Williams Agreeable Gray). It finally feels like some progress is being made (now that they're no longer having to fix everything that was wrong with it). We have to keep the finishes super cost effective (since we've already had so many additional expenses) but regardless, it's going to look so much better! I'm excited to share more over the coming months!
Around our house, I finished taking down the last of Christmas. I had the bulk of it done in weeks prior, but I kept finding little thing here and there that needed to be put away. I'm loving this update view from our kitchen looking into our dining room!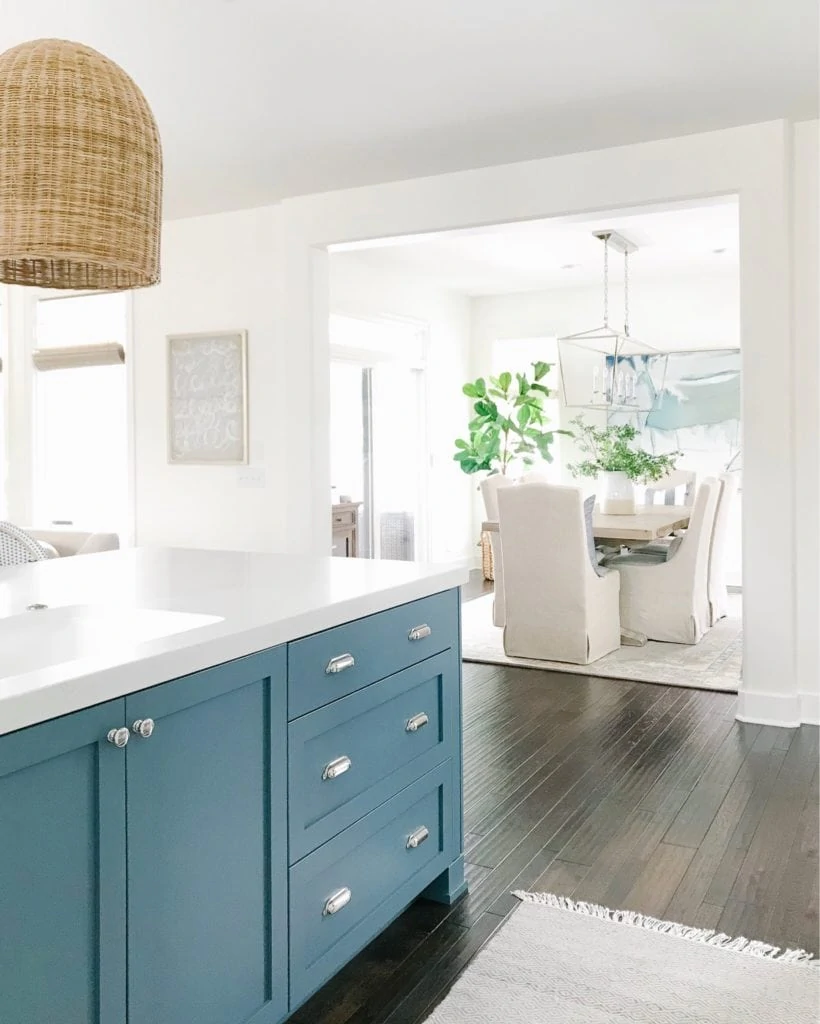 Basket Pendant Light | Counter Stools | Cabinet Hardware Knobs & Bin Pulls | Rug
I shared this image on Instagram yesterday. The fig tree, art, rug, basket, and faux greenery are all still 25% off today (and ship for free – except the large version of the art) with code REFRESH! As I mentioned that's the highest discount I've seen them offer without requiring a minimum spend! I can't wait to fully decorate for spring over the coming month or so!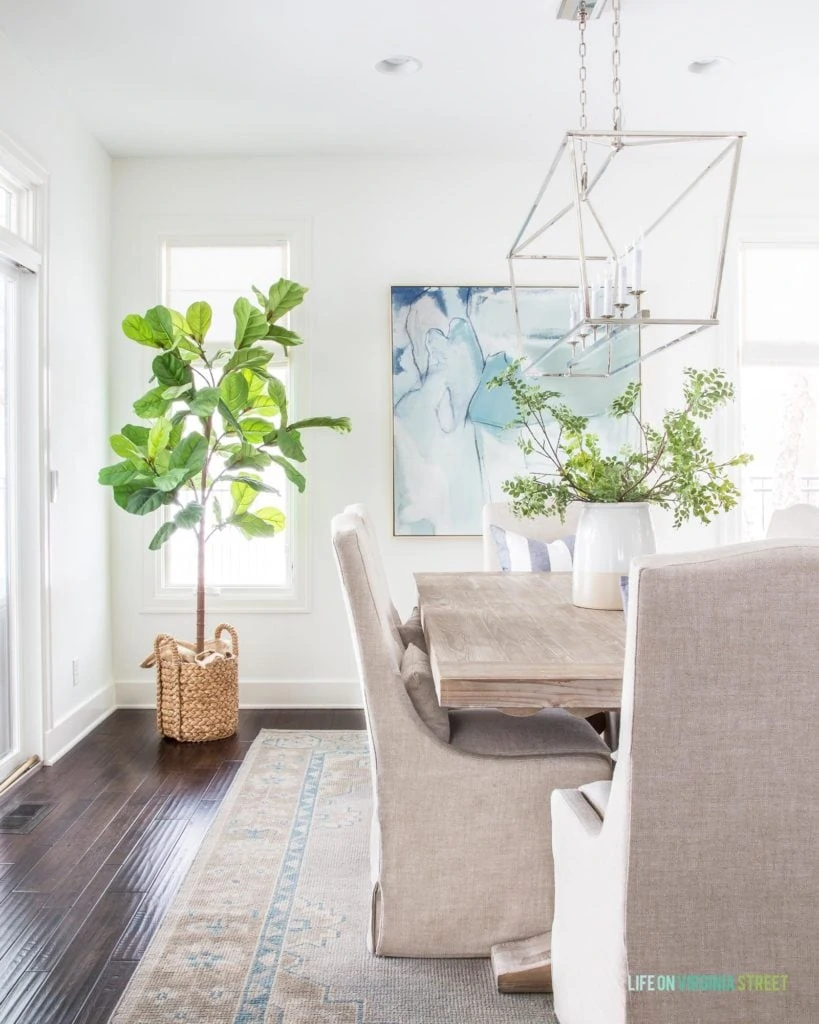 I have two other room designs I'm working on right now and can't wait to share. I really appreciated your feedback on my dining chair/room post. As much as fun as big room reveals are, I'm glad to hear you like seeing the progress as well. I'll be sure to share more on both of those spaces soon, even if it is just random design thoughts at this point!
Around Town & For Fun
Kurtis was in Dallas for work Wednesday through late Friday night. Wednesday our internet service went out for about five hours and I felt like a lost soul! I ended up heading to the outlet mall to do a return before heading to teach class at church. The mall turned out to be a bust. I think it's that weird time of year where the stores are just trying to get rid of winter clothes before spring clothes start rolling in. I can't even remember the last time I went out to a clothing store (versus buying online), so it was fun to browse, even with the lack of inventory.
With the weather being cold and crappy, I got some Netflix time in with the cats since Kurtis was out of town. I watched this movie on Friday night and thought it was super cute – despite the just okay reviews. I'll definitely be watching it again in the future!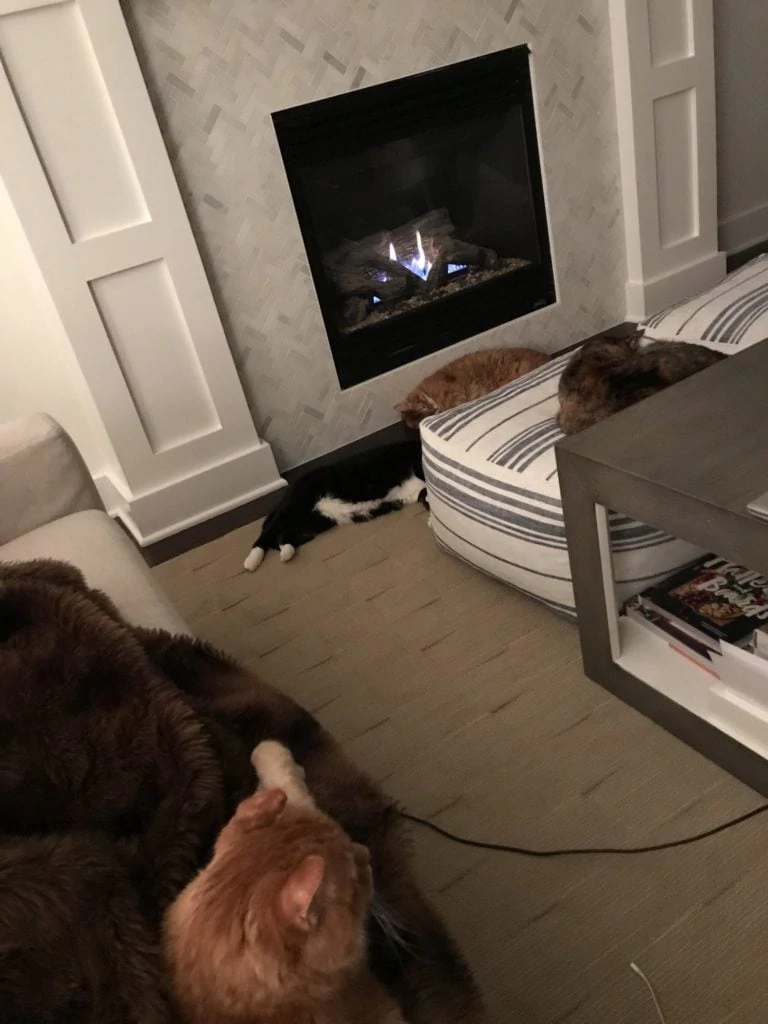 Kurtis decided he's going to give up cable TV. I really couldn't care less one way or the other if we have it, but it is pretty ridiculous just how expensive it has gotten. So, he decided he's trying an HD antenna so we can still watch network TV. It's legit like a piece of cardboard we slid behind the TV but we couldn't believe how well it actually works – especially for $28! He was super impressed with the quality of the TV picture with it! Henley and Hawkeye stole our ladder we used to hang it in order to rest for awhile 😉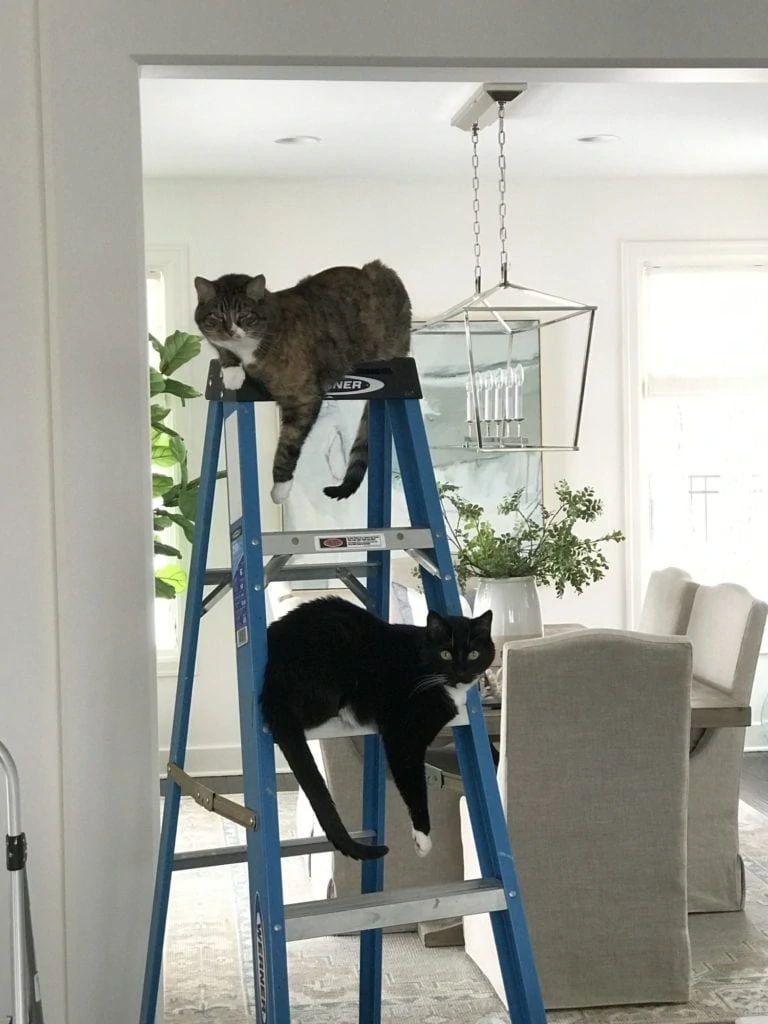 I spent some time reading on the sofa. I think the cats knew it was deathly cold out because they were extra cuddly. Which you know I was okay with! This is me, turned on my side with a blanket. Bailey is back behind my legs, Hawkeye on top of them, and Bearcat up on the cushion. I love that they always want to be wherever we are!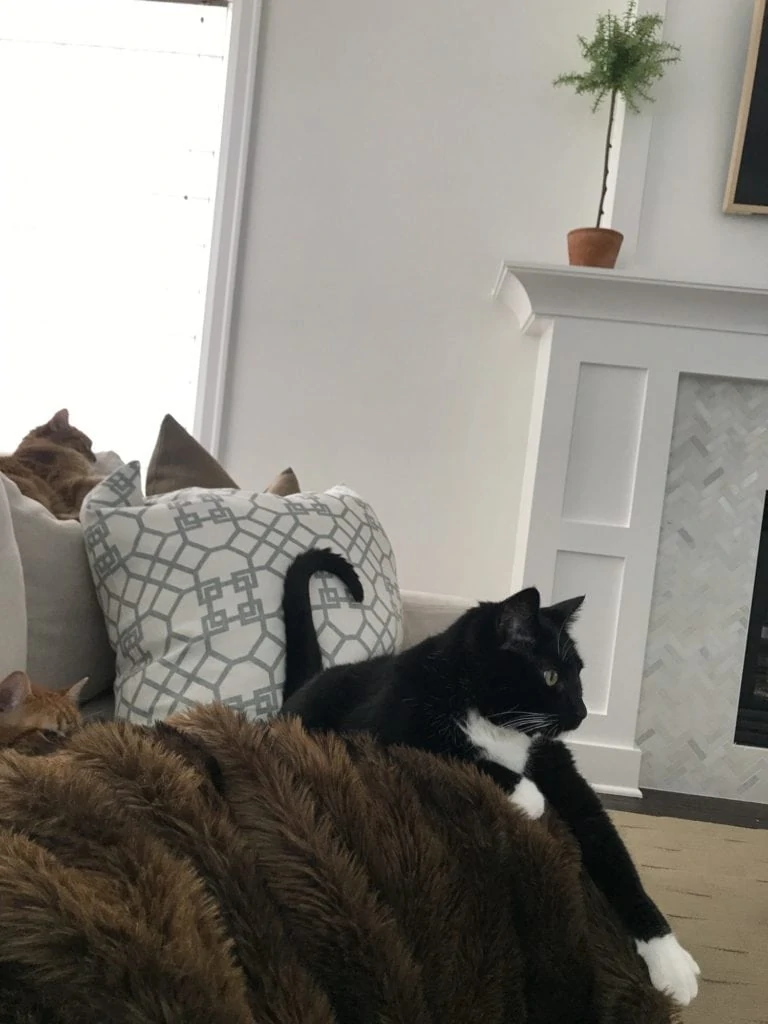 As I mentioned last week, I started the FASTer Way to Fat Loss program last week. It was just prep week last week and today is the official start. But I actually tried the intermittent fasting all last week  last week (eating all my food in an 8-hour window each day) and it was much less difficult than I had expected it to be. I'm excited to start the official meal plans and workouts this week. I'll keep you posted on how it goes, but based upon everything I learned last week, I think it's something that will be easier for me to stick with. Fingers crossed. I ordered these glass meal prep containers, so I really hope to get in the habit of batching my lunches for a few days at a time! I think it will make everything so much easier in the long run. My coach (Jill Reikofski) has another group opening up on February 4th if anyone has interested in joining us! You can learn more here.
And in fun, random news, I'm headed to Las Vegas Market next Sunday through Tuesday with Amethyst Home! I'm really excited to see all of the new design trends, decor and furniture coming to the market soon. I'll plan to share all of my favorite looks after I get back!
Recent Buys & Sales
I just ordered this resin earring 4-pack and can't wait for them to arrive. It's pretty hard to beat the price – especially when they look like some of my J. Crew ones I love so much. I'll let you know but the reviews so far are great!
I shared this outfit idea on my Instagram and Facebook pages last week.  The sweater is mostly sold out at this point after the huge weekend sale, but there are still some sizes and colors left. I got the scarf for Christmas and I think it's one of my first monogrammed items ever! And every time I buy a pair of jeans from this brand, I'm always so impressed! And you can't beat a stretchy waist!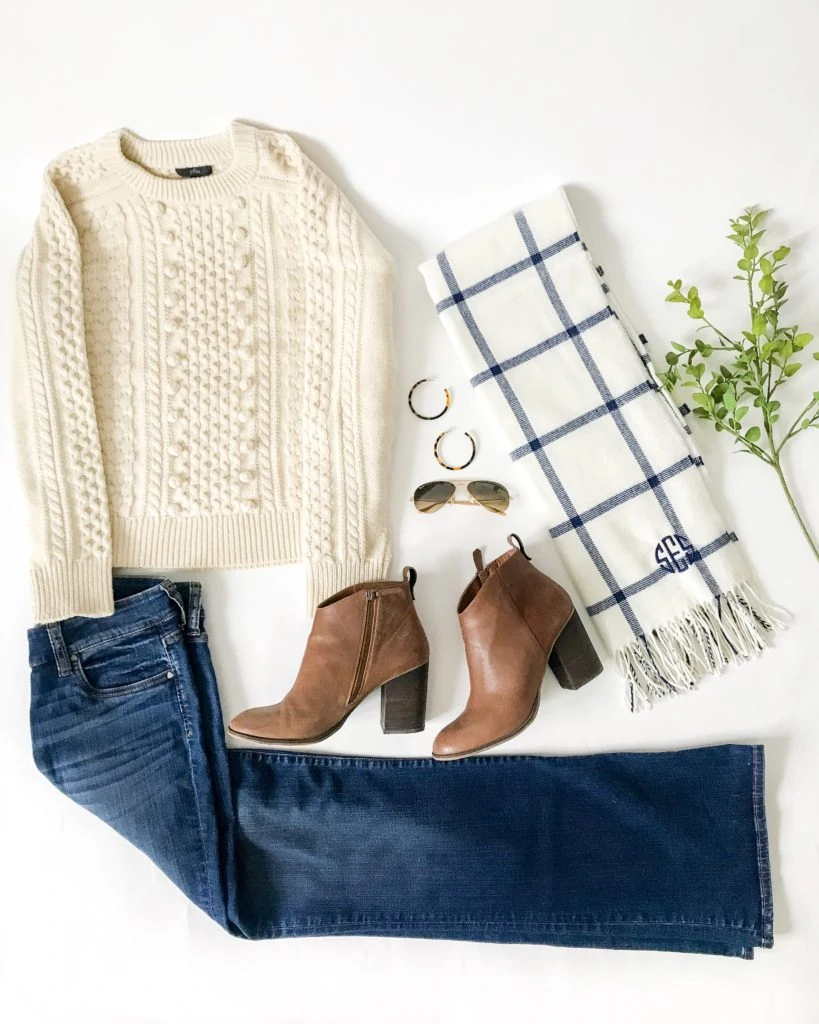 Cableknit Popcorn Sweater | Favorite Jeans | Booties | Scarf | Aviator Sunglasses | Tortoise Hoop Earrings | Faux Greenery
Following are some sales that are going on today! With the holiday, some have gotten even better! You can see all of my weekend sale favorites here.
I hope you all have a great week!
If you would like to follow along on more of my home decor, DIY, lifestyle, travel and other posts, I'd love to have you follow me on any of the following:
Pinterest | Instagram | Facebook | Twitter 
disclosure: some affiliate links used