I hope you all had a great weekend! This is one of my favorite weeks of the year! We have so much to be thankful for and we're excited to be flying to Salt Lake City later this week to spend Thanksgiving with my family. It should prove to be a really fun week!
This post contains affiliate links for your shopping convenience. Click here to read my full disclosure policy.
Home Projects & Updates
I spent more time last week working on our Christmas decor. I'm so close to being done and I can't wait to share it all with you! Here's a little peek at our dining room decor!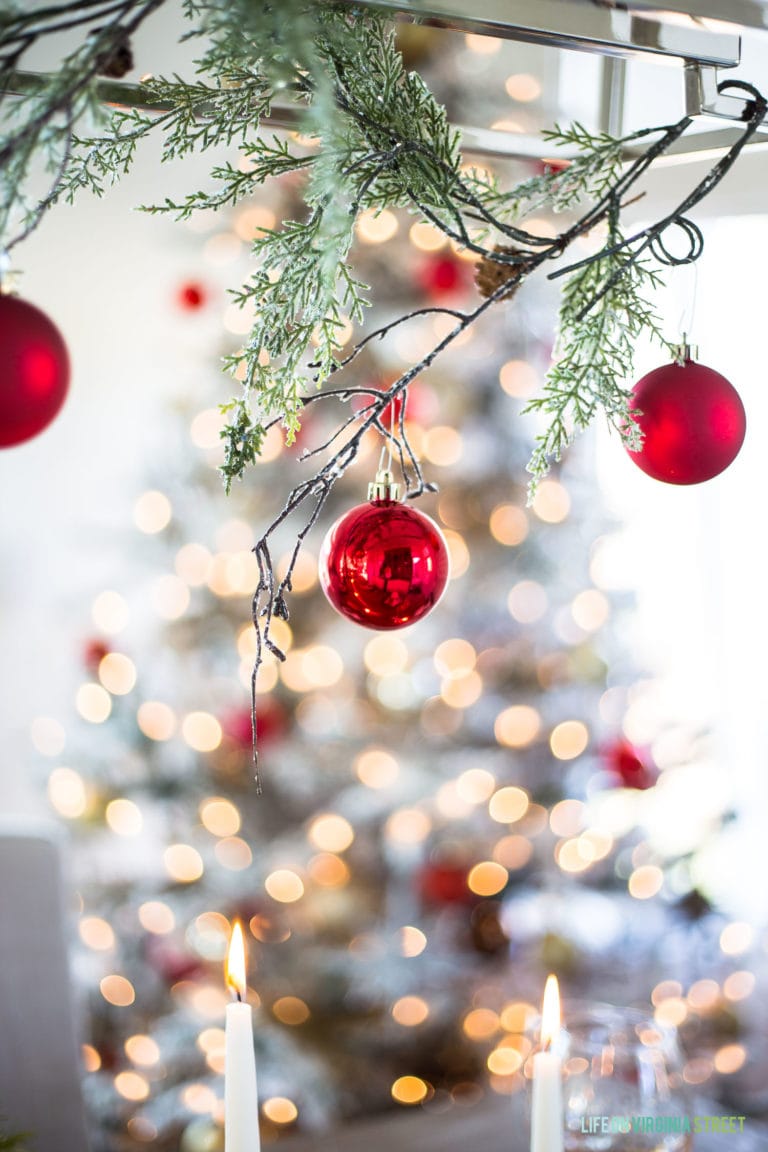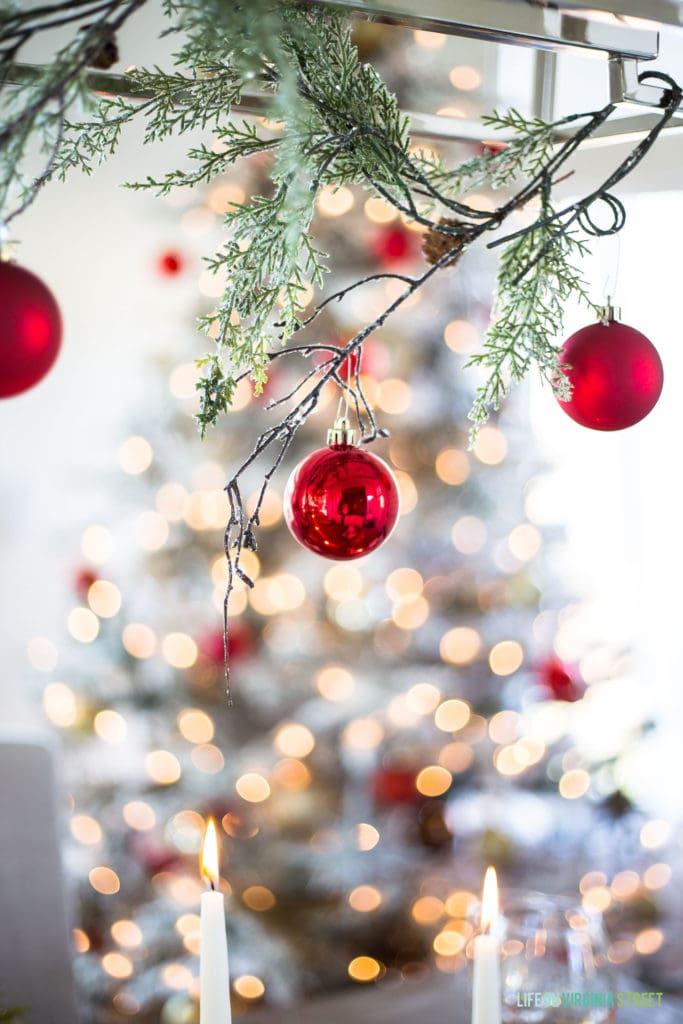 Here's a peek I shared of our living room on Instagram last night. I love the simple yet festive vibe!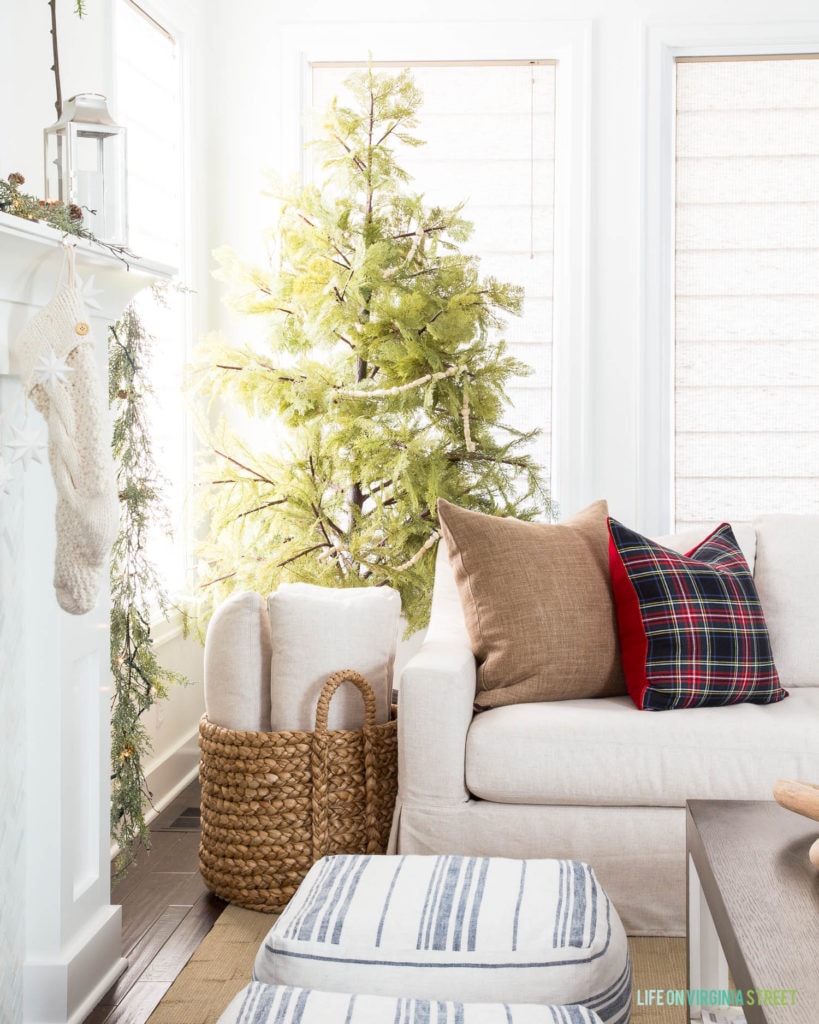 Sofa | Linen Pillow (Bronze color) | Stewart Plaid Pillow | Basket | Garland | Stocking | Lantern (similar here) | Poufs (similar here) | Coffee Table
The kitchen is still a work in progress but I'm loving the addition of the plaid runner and the wreaths in the window!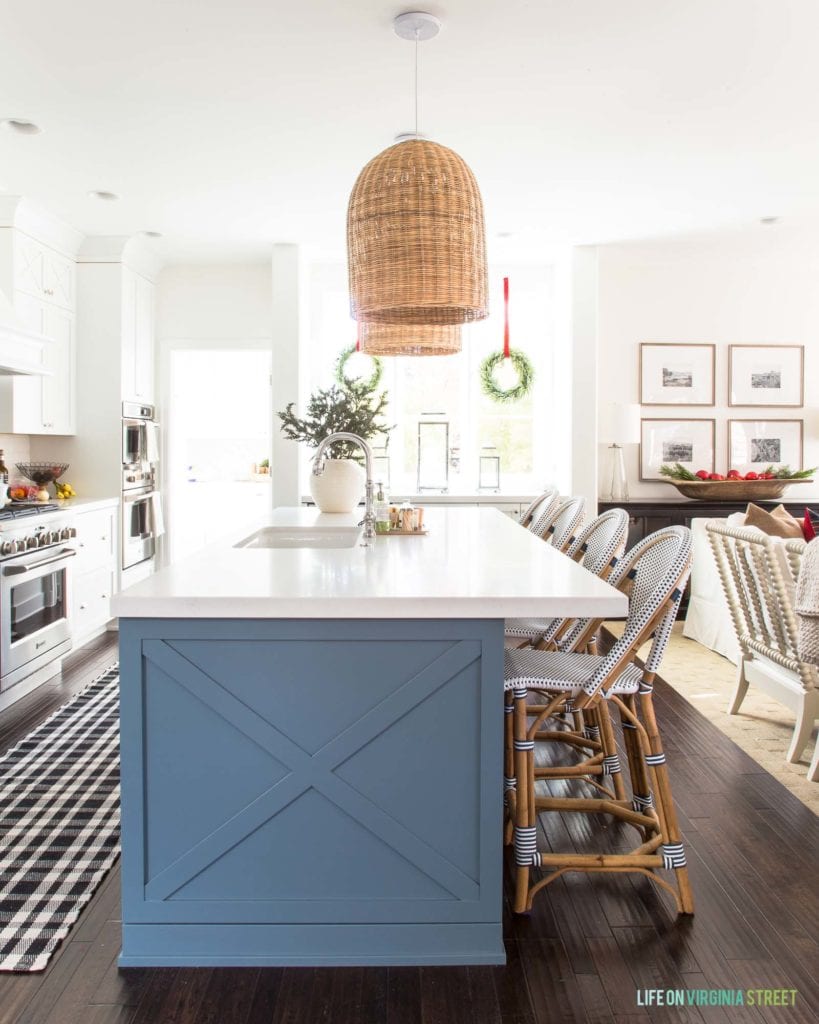 Plaid Runner | Wreaths | Lanterns | Vase | Faux Greenery | Bar Stools | Basket Light Pendants | Spindle Chairs | Wood Frames | Wood Dough Bowl
Friday afternoon, we spent some time getting the yard in order since the temperatures finally rose about 50 degrees. And here is photographic proof as to why you don't leave your pumpkins on your porch after two snowstorms. There was actual swelling and water in all those weird crackle marks. They had all gotten so bloated and waterlogged I could barely lift them!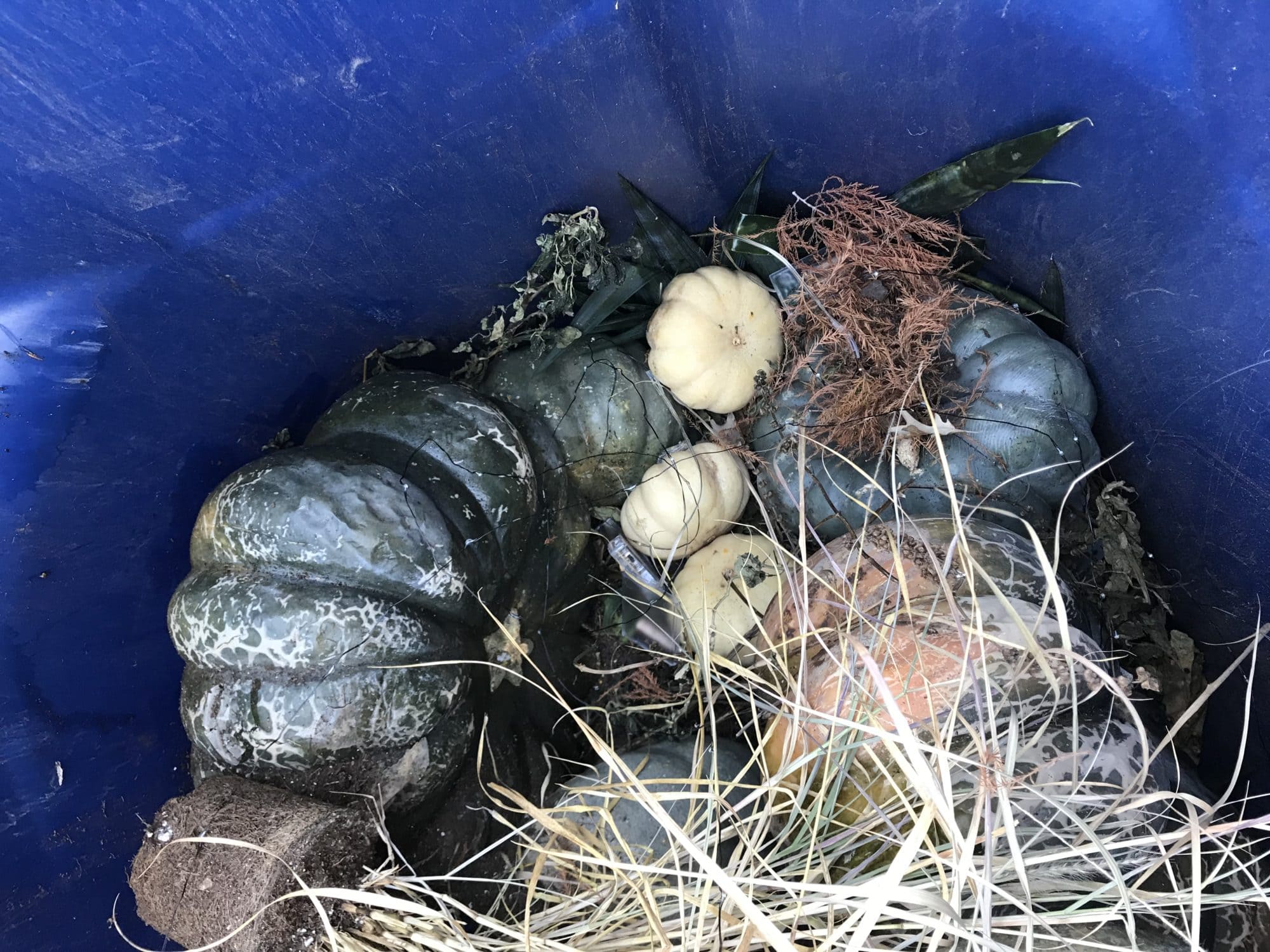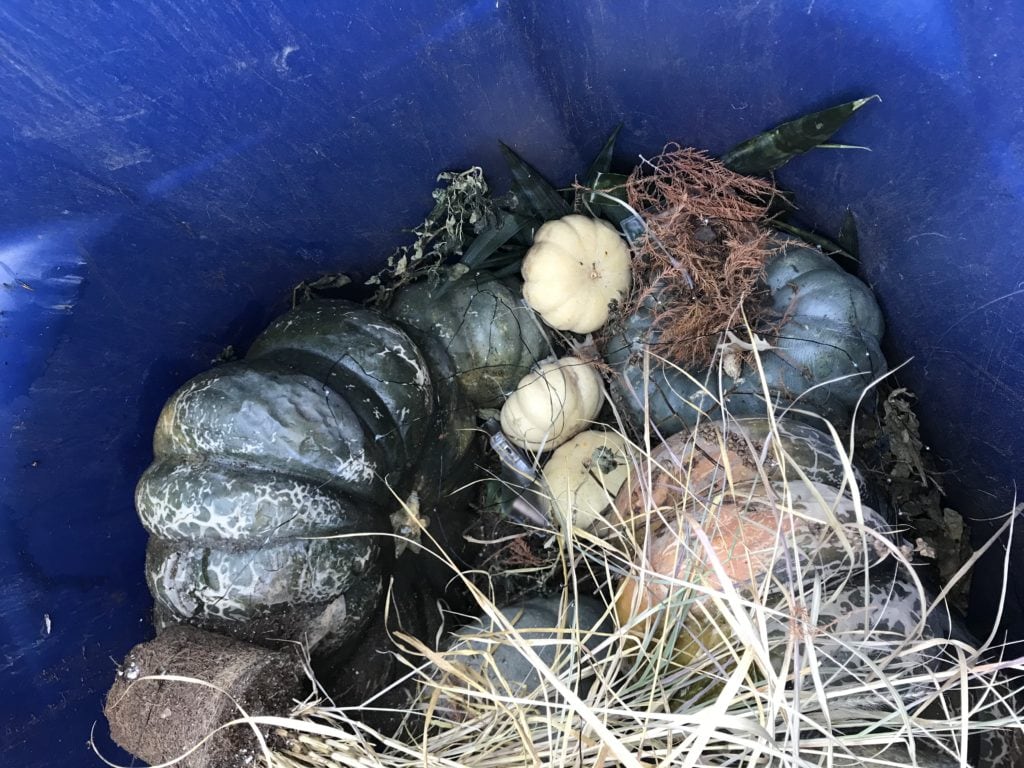 While we were working in the yard, Kurtis also got our neighborhood Christmas lights on our maple tree in the parkway. We're ready for Christmas around here!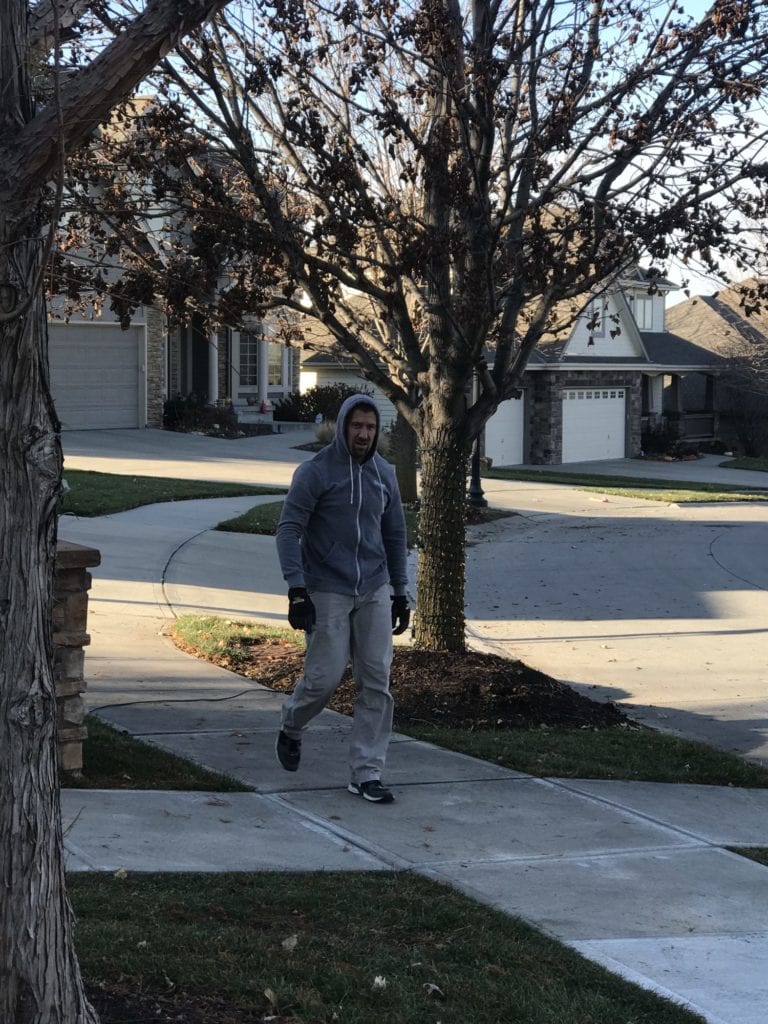 We decided it was also time to get rid of the rug in the courtyard. It had been there permanently over the past two years, and let's just say it was time for it to go.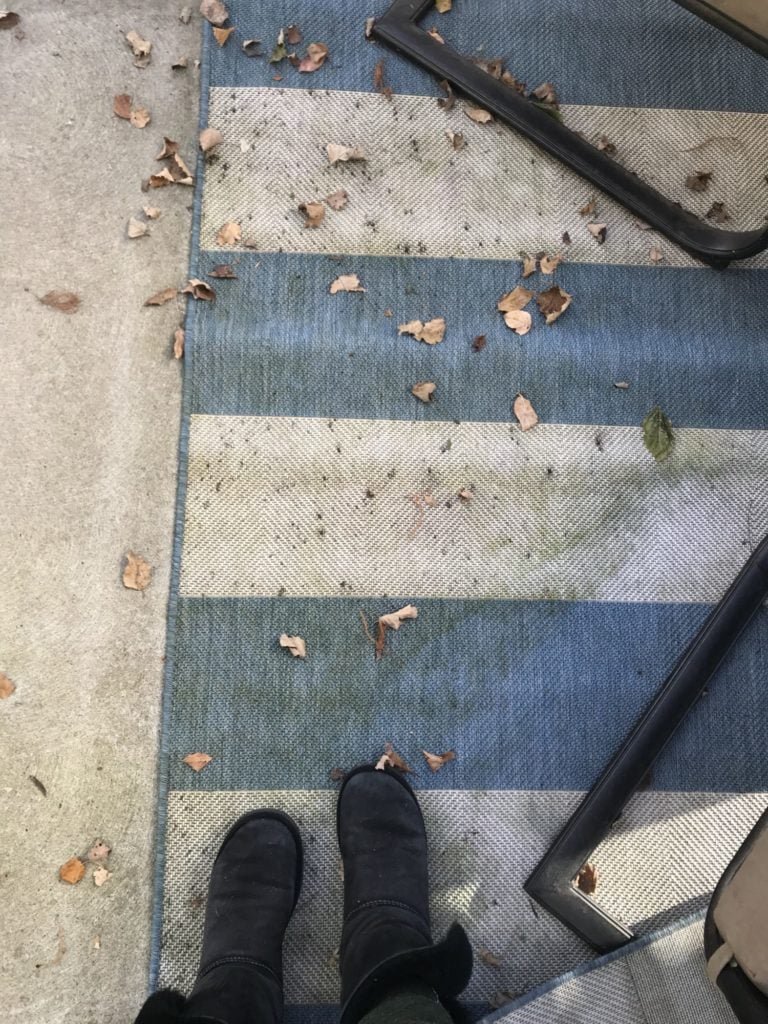 It was pretty dirty underneath but cleaner than we thought it would be! We decided to let it all air out before moving the furniture back.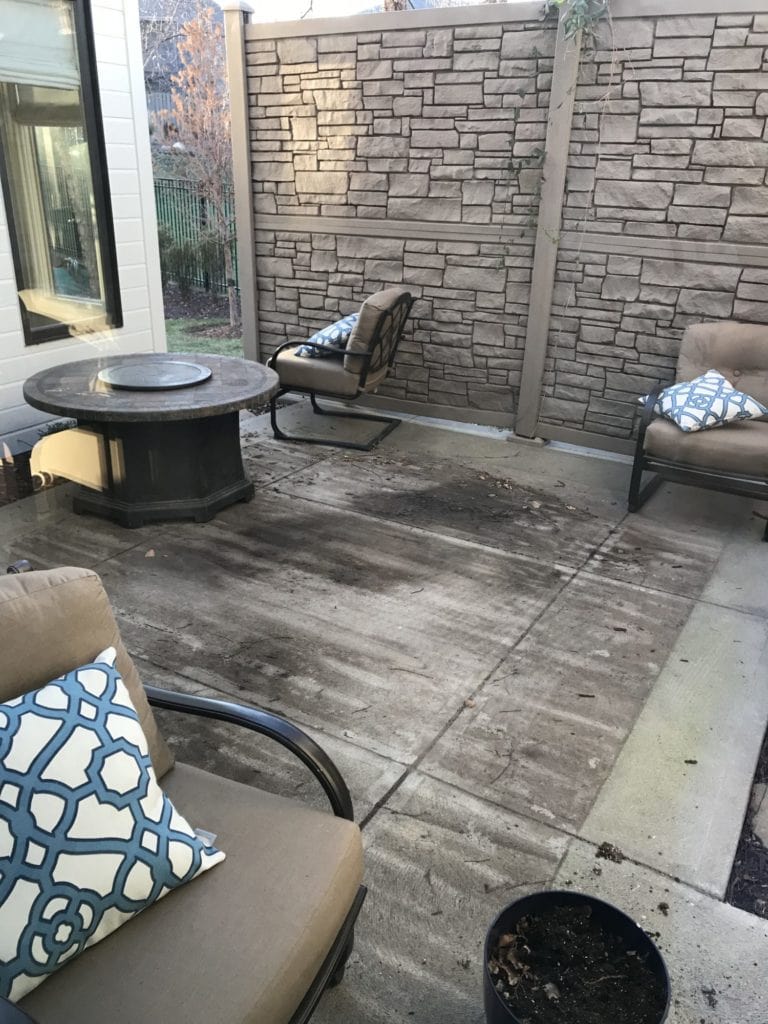 We also finally took down our striped drapes on the back patio. Always a sad day since it makes us feel even more so that winter is here!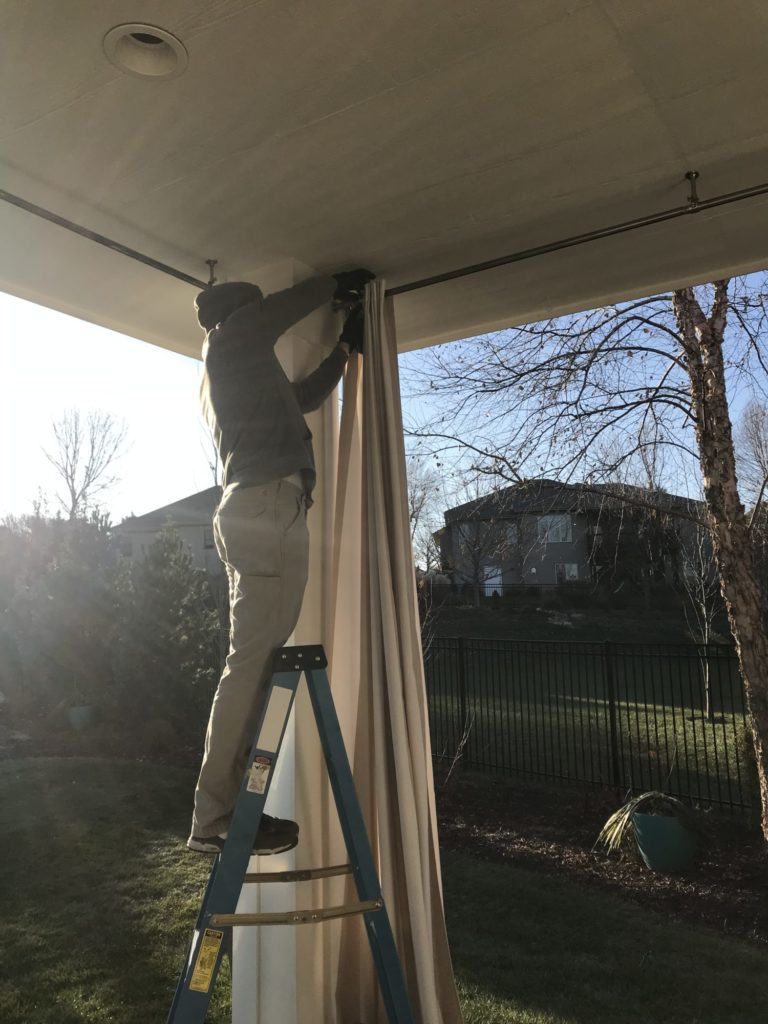 I also finally took control of my paint "situation" over the weekend. This is only about 20% of the paint I have. You can find the rest under every sink in every bathroom in our house, the entryway cabinet and more. It was bad. I'll be sharing my new solution soon once I get it all organized, but let's just say it is so much better!!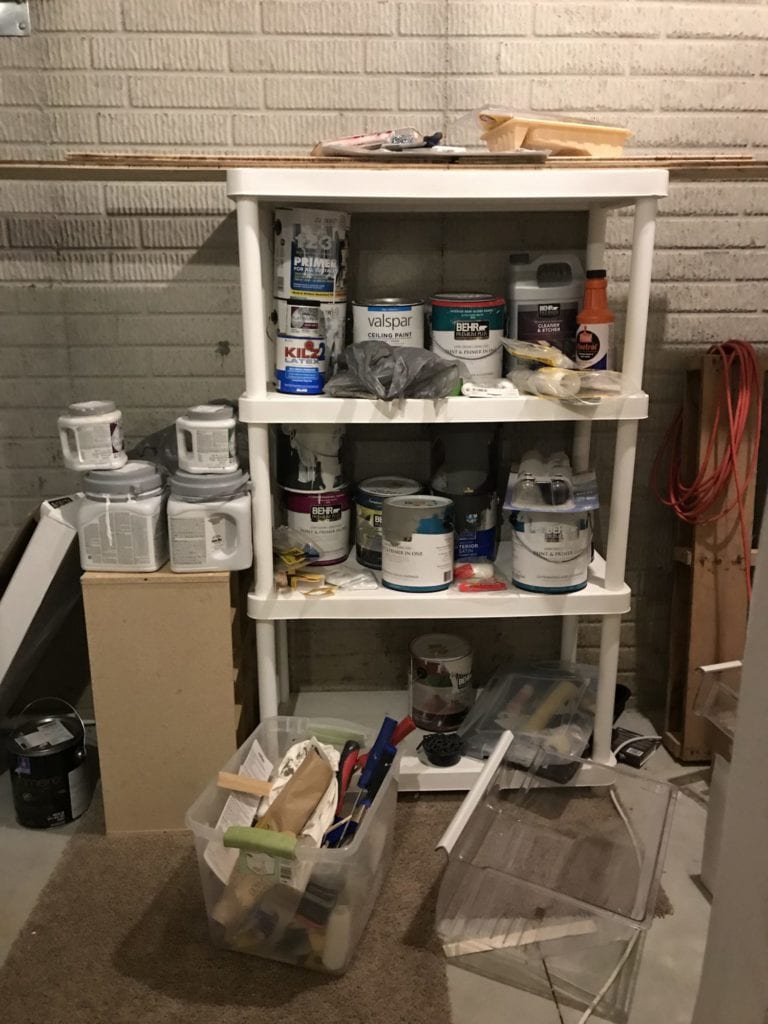 Our plans had been to put the covers on the courtyard furniture once they had dried out, but then we got snow. Thankfully it was pretty dry and Kurtis could just use the leaf blower to "snow blow". We may have to just bring the covers inside to dry so we can get the covers on. Our weather has been crazy lately!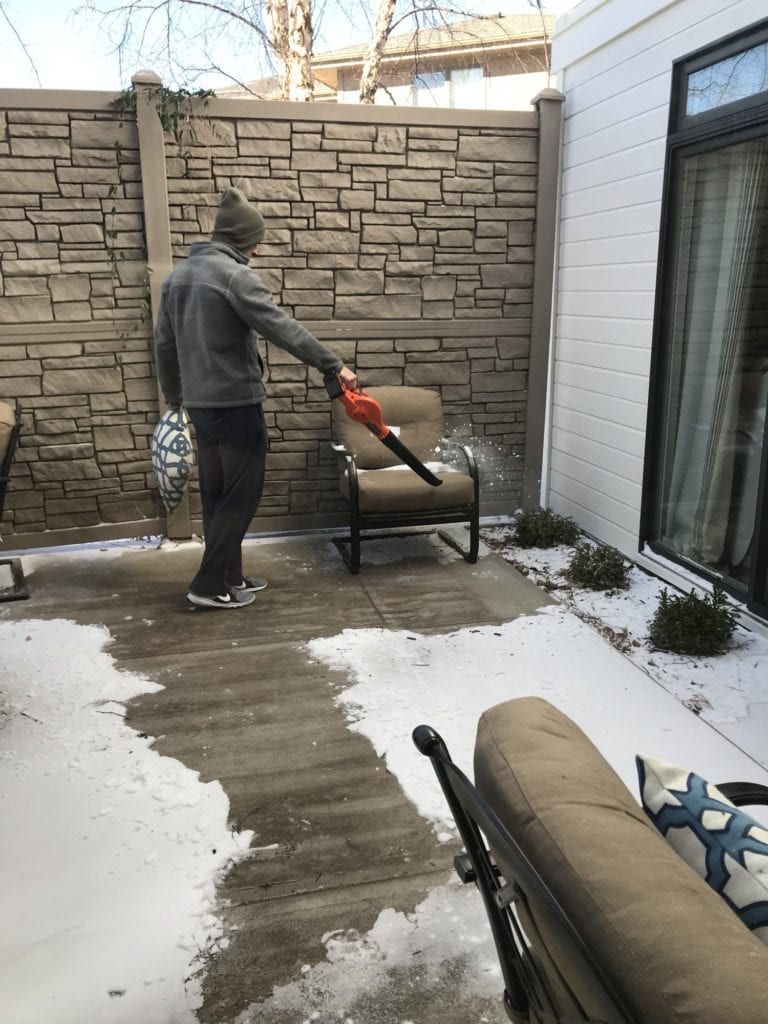 Around Town & For Fun
As I mentioned, it ended up snowing on Saturday. And when that happens, it usually means we're lazy inside, hanging on the sofas with the cats and watching TV!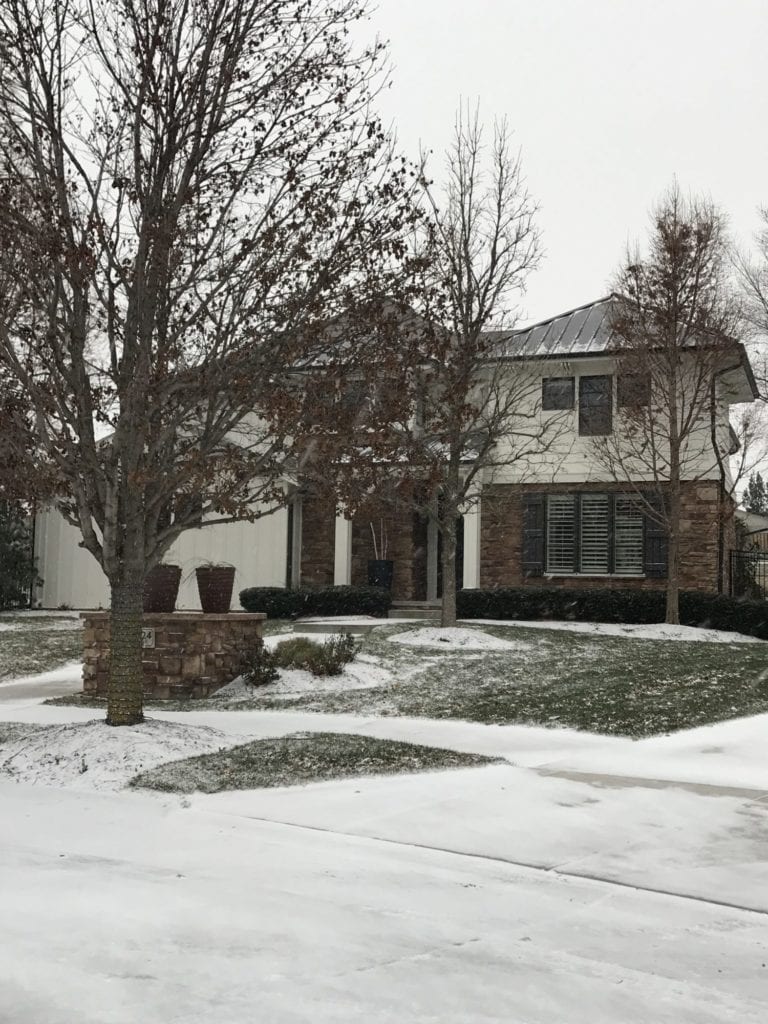 This weekend was no exception. Also, if you haven't tried Door Dash for food delivery, it's basically changed our life. Especially when it's super cold outside!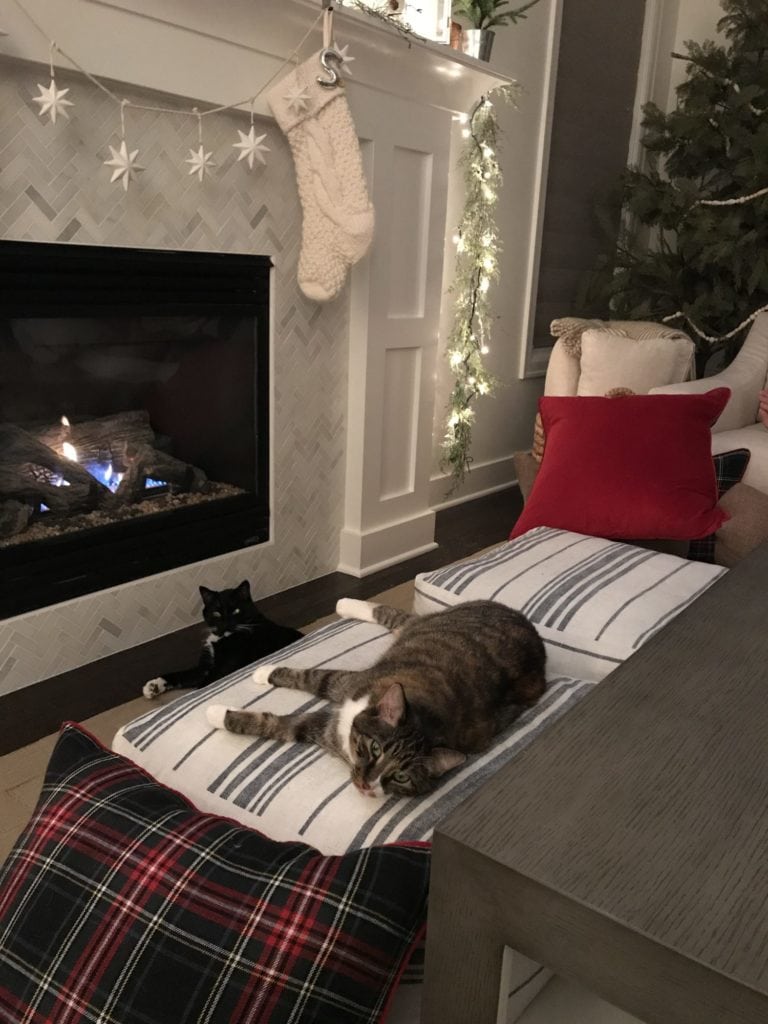 Our Christmas cards are printed, sealed, stamped and ready to go! Can you believe I couldn't find a picture of Kurtis and I that wasn't more than a year and a half old? So, that's the one we went with! Note to self to make sure we get a quality photo at some point in the next year! This is the style of card we went with and I love it! You can get 15% off your order with code MERRY currently. I've used Minted for years because I loaded addresses years ago and now I just have to make minor tweaks to them with moves, etc. and it's a breeze to get them ordered now!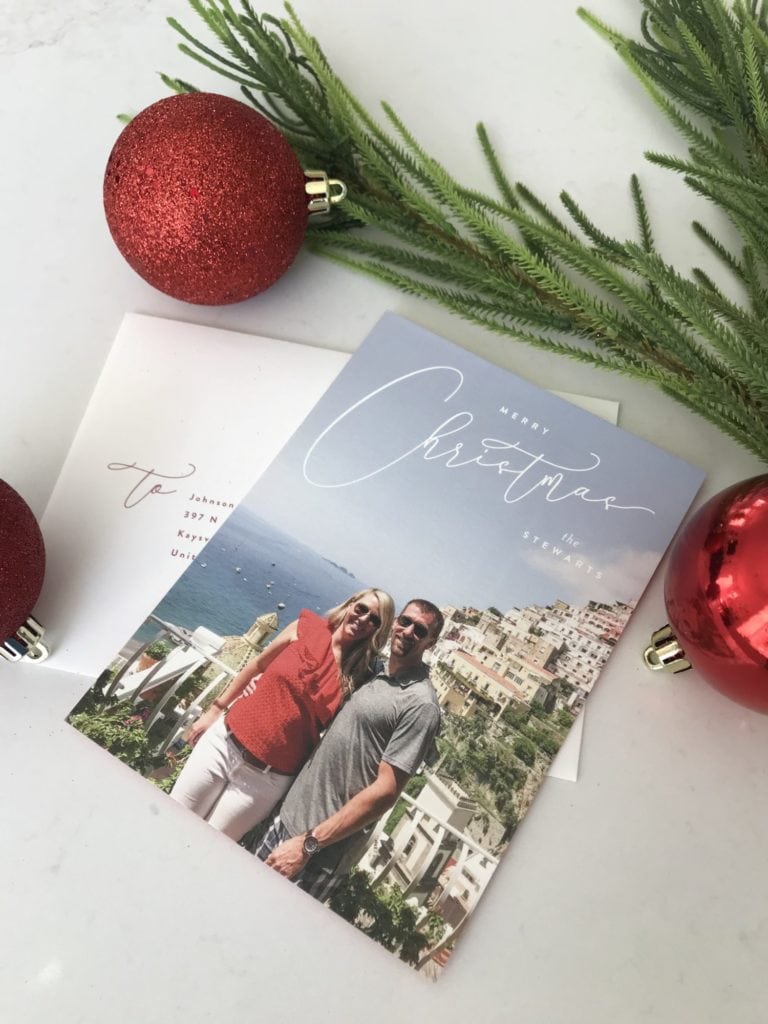 Sunday we got quite a bit done around the house in preparation for our trip later this week. But, Sunday night we were able to relax with The Americans and more time in front of the fire!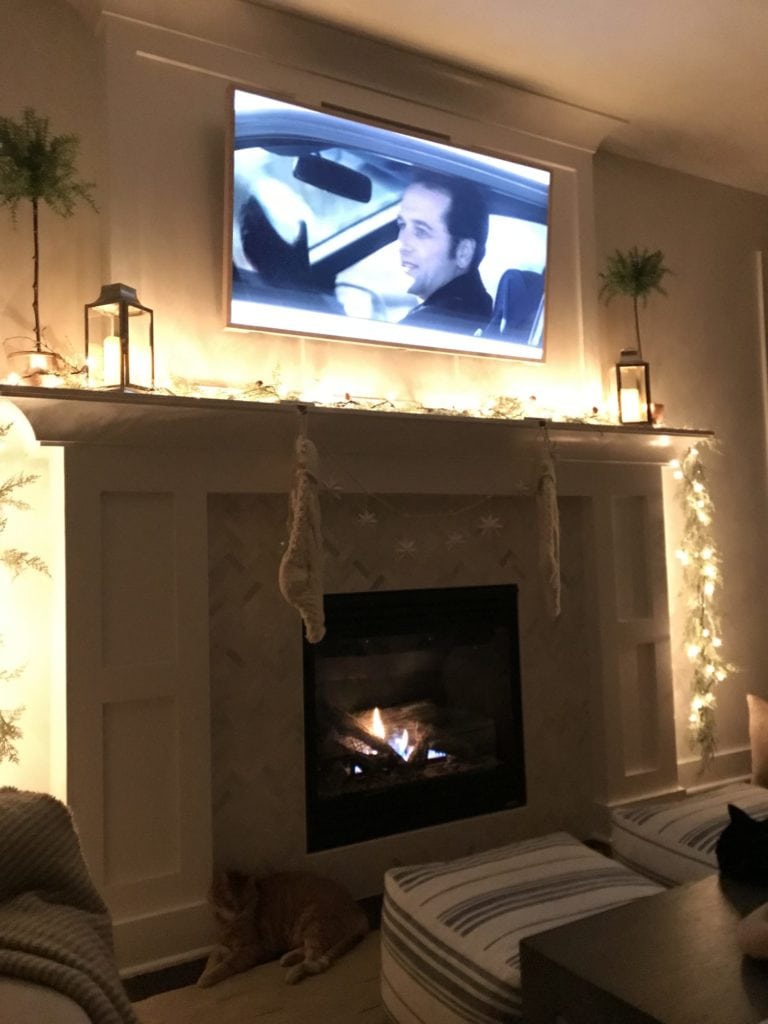 Recent Buys & Sales
I shared this cozy sherpa moto jacket on Instagram yesterday. It's super soft and warm and the perfect jacket for cold fall days! You can currently get 40% off at checkout on this one!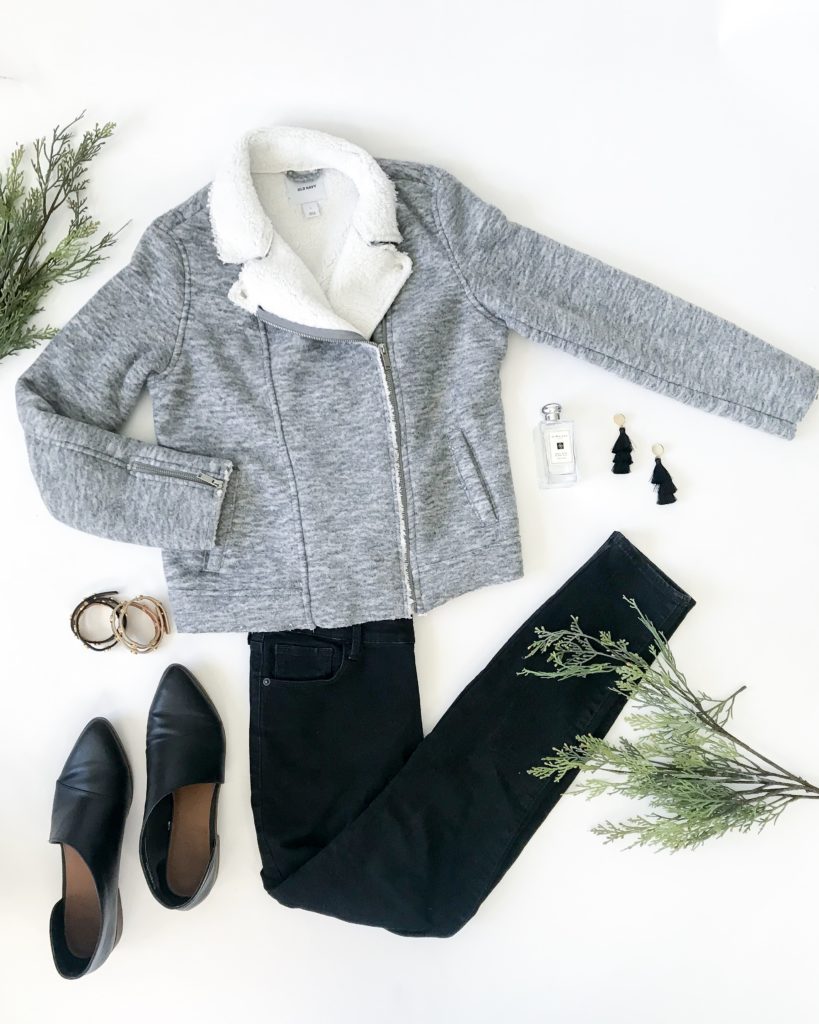 Sherpa Moto Jacket | Black Skinny Jeans |  Booties | Cologne | Tassel Earrings | Tory Burch Wrap Bracelets (similar) – same here | Faux Greenery
Following are some of the weekend sales and pre-Black Friday sales that are going on right now:
I hope you all have a wonderful week and get to spend time with the ones you love!
If you would like to follow along on more of my home decor, DIY, lifestyle, travel and other posts, I'd love to have you follow me on any of the following:
Pinterest / Instagram / Facebook / Twitter / Google+
disclosure: some affiliate links used