Happy Monday! I want to first start by sending a heartfelt thank you to all the Veterans and their families for their service and their ongoing protection of our freedom, including to my dad and both of my grandpas! My dad looks like a child below (and exactly like my brother).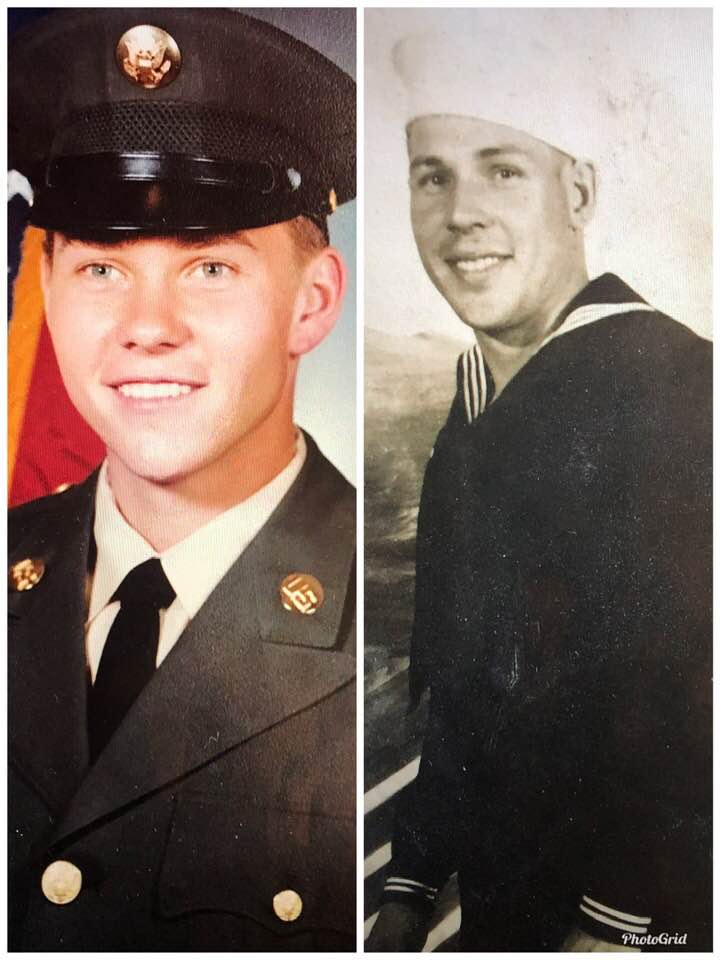 Secondly, I want to send prayers of strength and healing to those of you in California and for others that need love and support this week.
This post contains affiliate links for your shopping convenience. Click here to read my full disclosure policy.
Home Projects & Updates
It was a snowy and cold weekend in Omaha, so admittedly, we spent a lot of time on the sofas watching movies. But, I did manage to wrap up a few things around the house this week.
My sweet friend Monica from Amethyst Home gifted me this gorgeous artwork when I was in her shop two weeks ago. I knew it would be perfect in our living room. I had been looking for ages for something to hang in that blank spot but I always wanted something neutral enough I could leave it up all year. This was the perfect solution! I had to hang it a bit higher than I would have liked (that dang light switch and speaker box!) but I love how it looks here! She has it available for purchase on her site here if you're interested! It's stunning in person!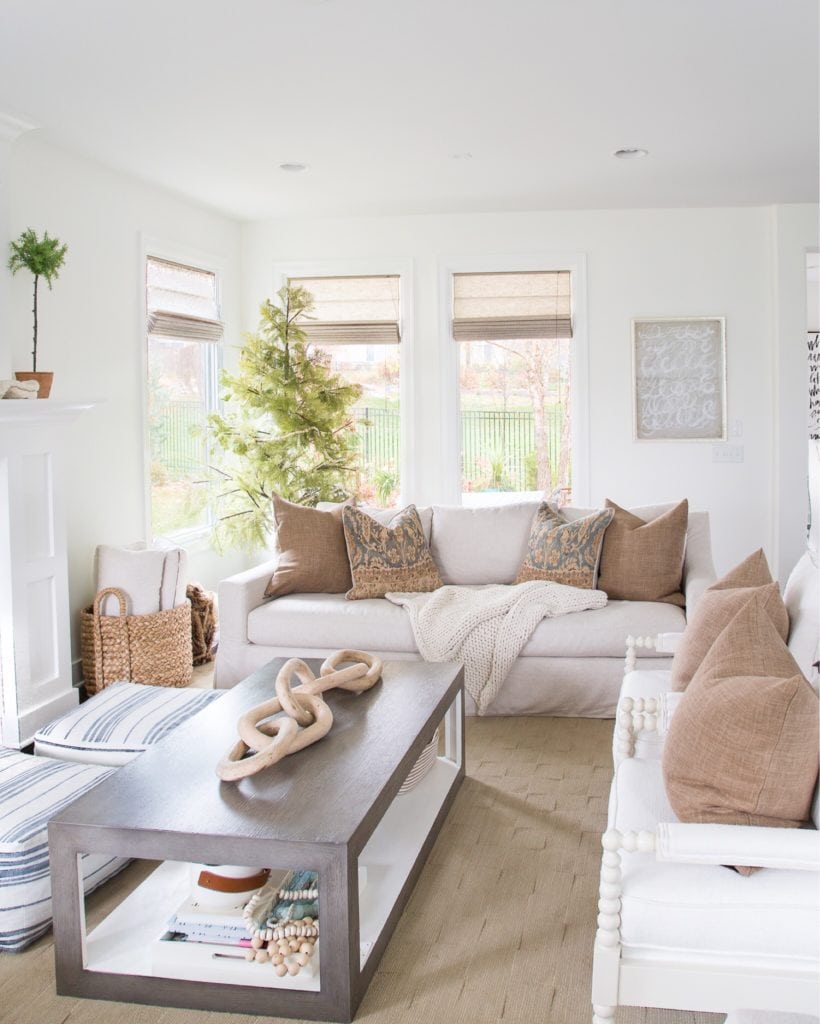 Sofa | Chairs | Coffee Table | Linen Pillows | Printed Pillows
On Tuesday, I started a DIY project and it went a bit wild on Instagram. I won't be sharing the full tutorial for two weeks, but here's a little sneak peek. I wasn't able to find navy blue non-glass ornaments anywhere. So I decided to take it old school and make my own marbled ornaments for our office tree! They turned out beautifully and I can't wait to share them with you!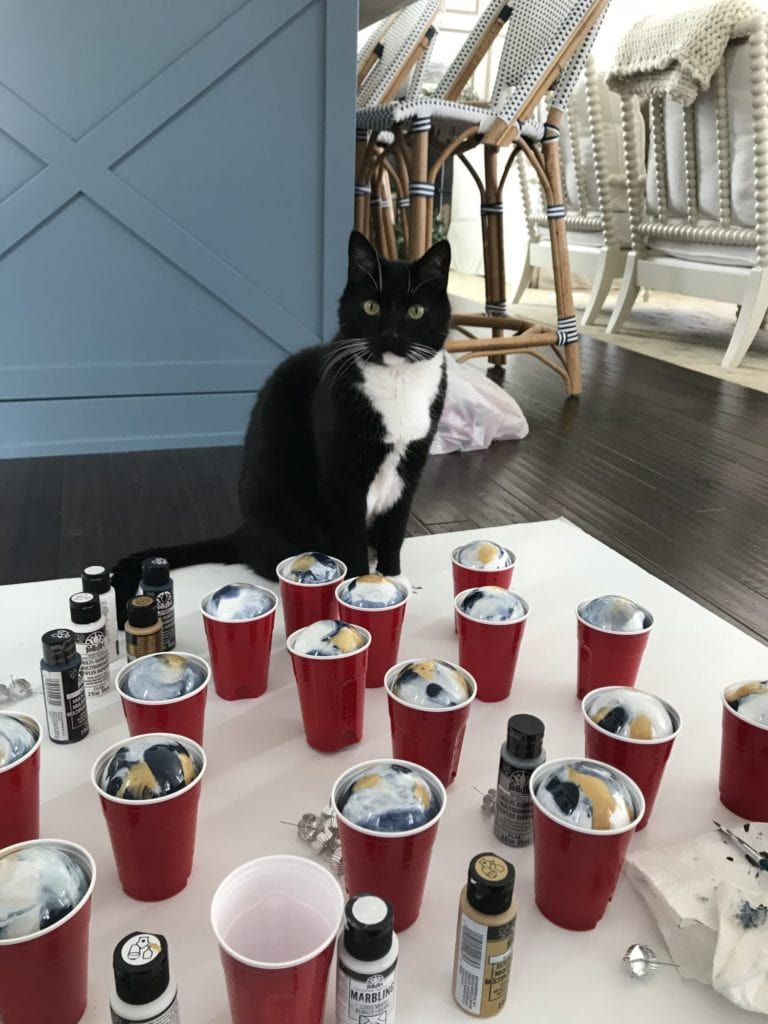 In the meantime, you can watch my Instagram Stories highlights for a live view of the project and to see the exact products I used. If you're not familiar with how to find Instagram Stories highlights, you can go to my Instagram account and then click the circle under my name that says Marble Ornaments. The videos will then all start!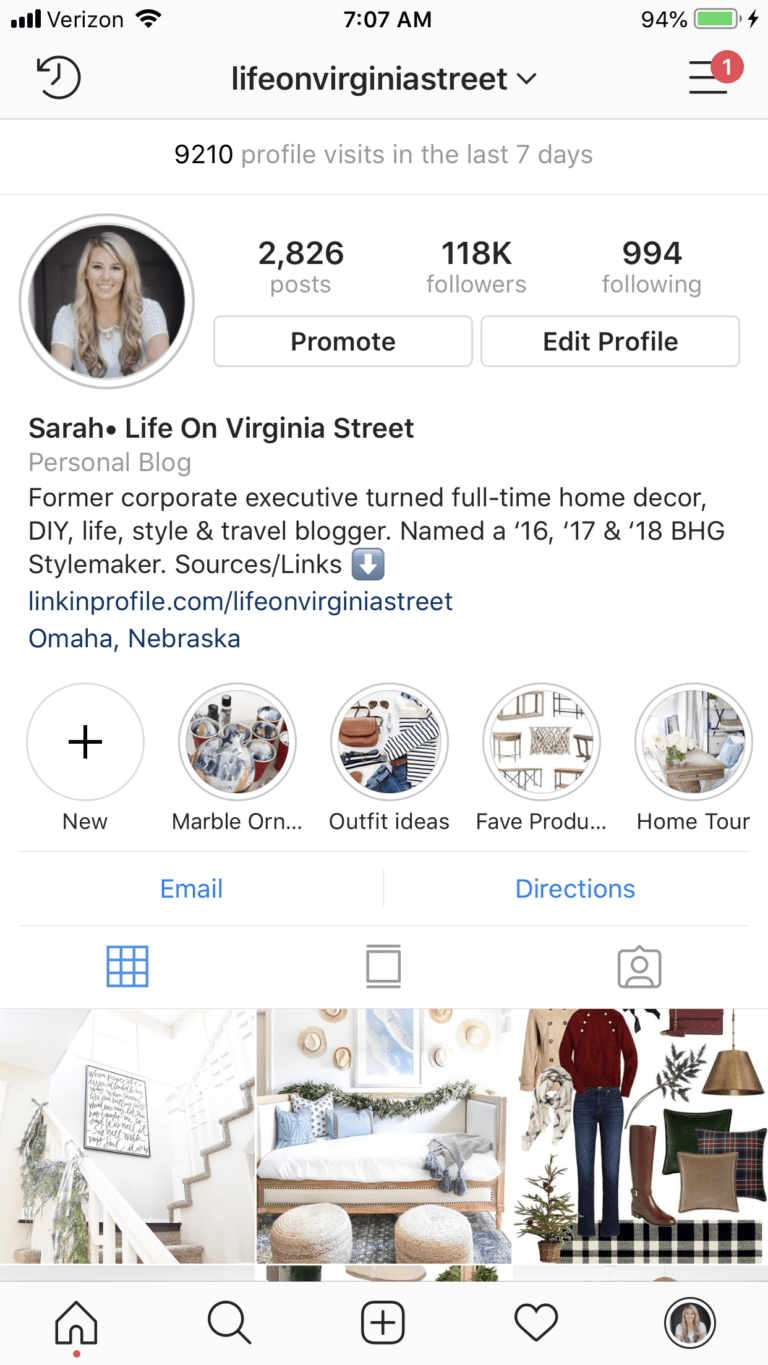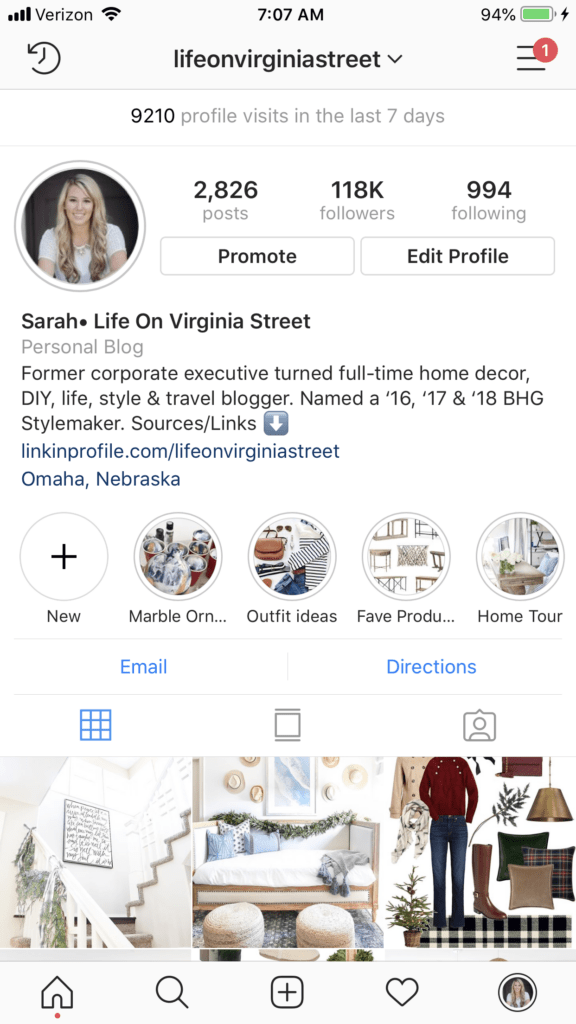 I'm still getting a lot of questions about the difference between my two flocked trees.  I took two (pretty crappy) iPhone pics last week so you can see them in their unfinished glory. The first one is this 85″ flocked tree. It's the one in our dining room that I bought last year. This one is fuller and has more natural clumping of flock. I also prefer the warmer tone to the lights. However, it is by far the messiest in terms of the flock shedding!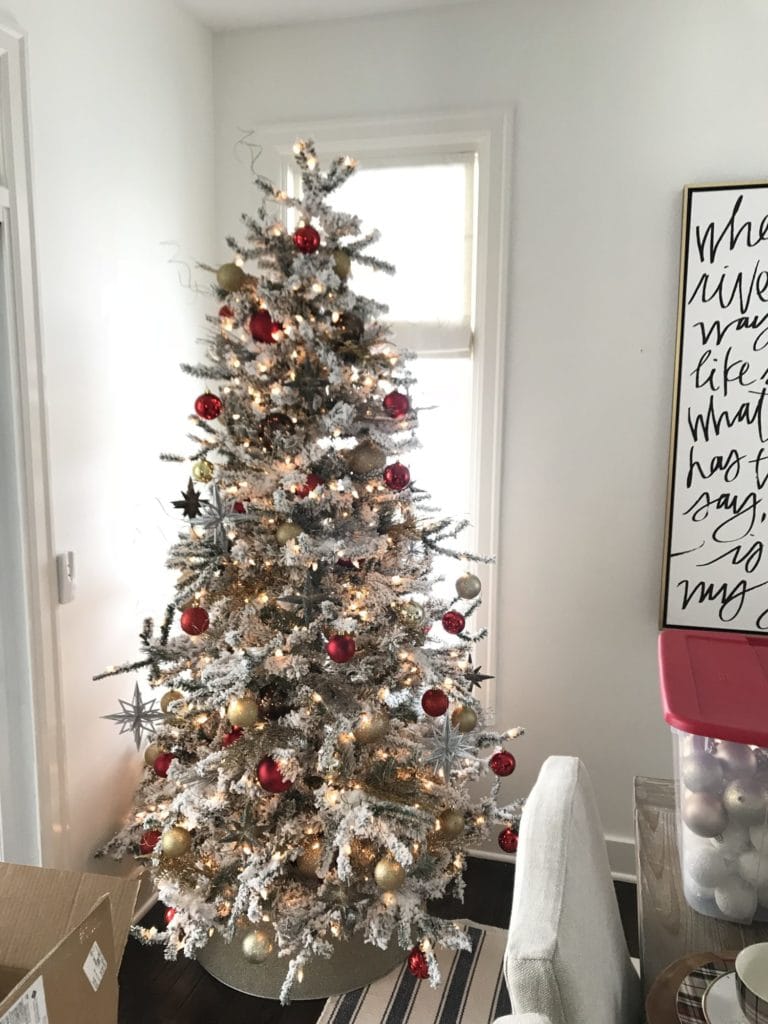 The next is the 9′ flocked tree in my office. It still needs a bit of tweaking. But I love this one because set up was breeze, I love the taller height, and it is by far a lot less messy. However, it's not quite as full as the other one, and the lights definitely have more of a white LED look.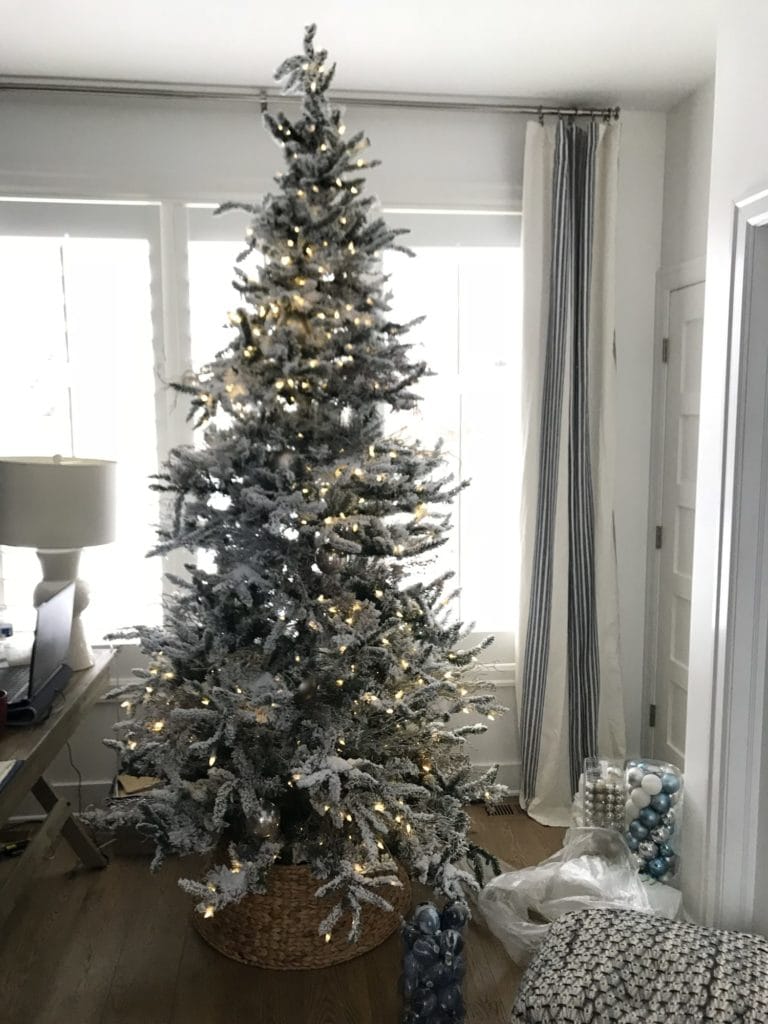 Over the weekend Kurtis finally agreed to part ways with the TV we had over our mantle. It had been giving us fits with Netflix and Amazon Prime (the connection speed was super off and it would always buffer). So, he agreed to let us try The Frame TV that I had up in my craft room/TV room. It's the one that looks like art and it's actually 10″ smaller (much to Kurtis' dismay). I need to touch up some paint and then I'll share it with you. It's SO much better! I thought it would be interesting to share this image though to show just how bad our trim and cabinet color used to be (you can see those two stripes in the middle). Sometimes it's easy to forget just how much better the fresh white paint is!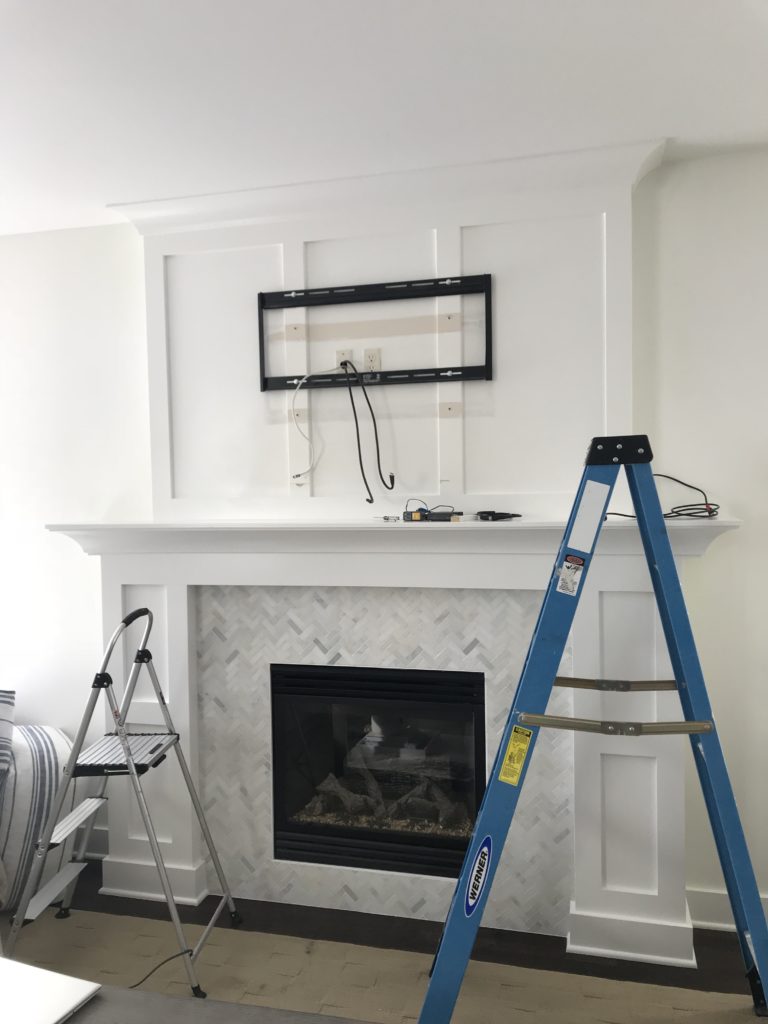 Around Town & For Fun
As I mentioned it was a pretty lazy weekend. You can tell it's getting a lot colder outside when all four cats are this close to each other.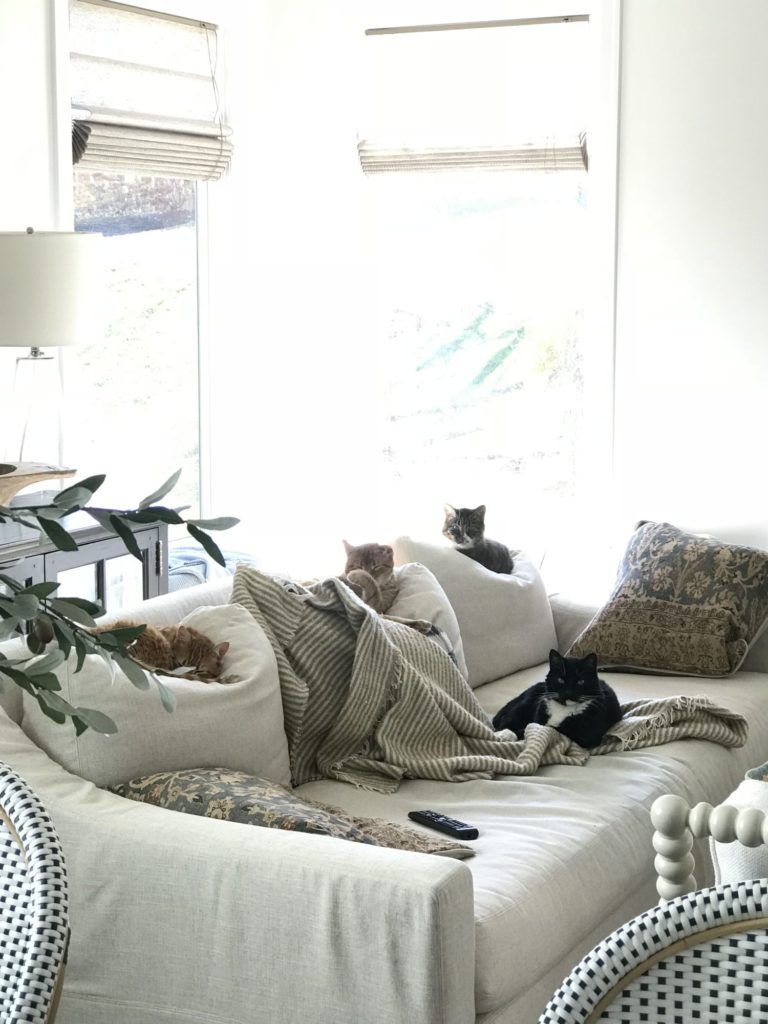 If I haven't mentioned before, they are water snobs and beg to get water out of our master bathtub or powder room sink. They fight over who gets to drink and it's pretty cute to watch 😉 And yes, that is our master bathroom. It's probably been a few years since I shared it (and all of that dark tile)!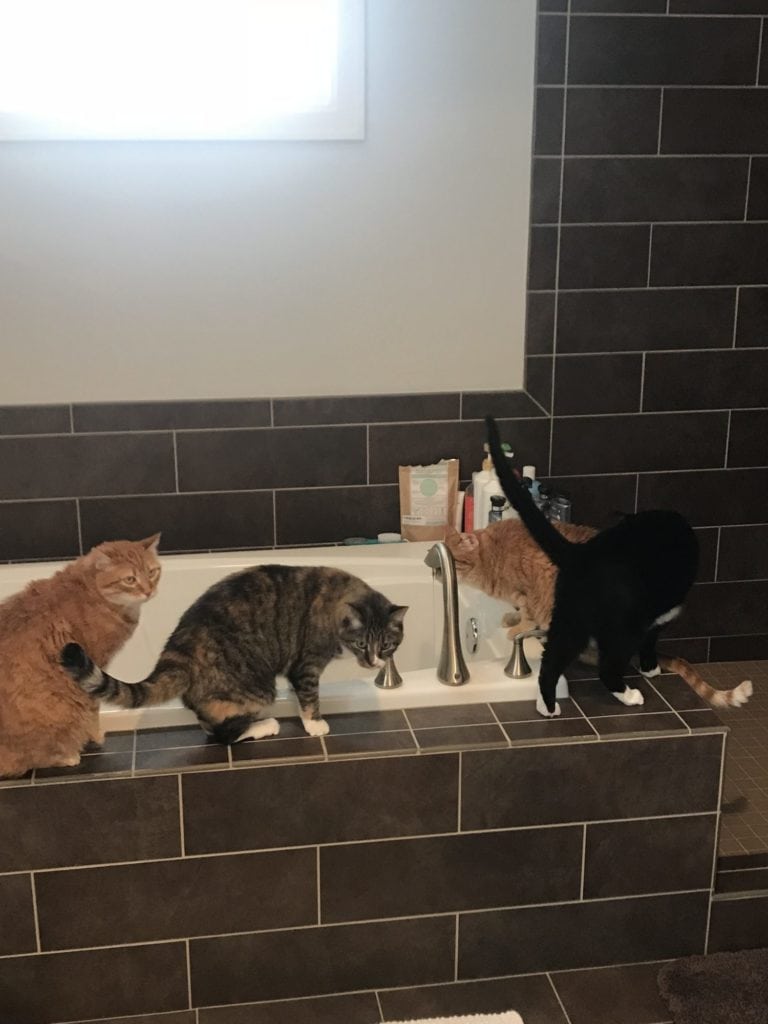 They love nothing more than fresh water and fire time! I still laugh whenever I see Bailey using the mantle legs as her pillow.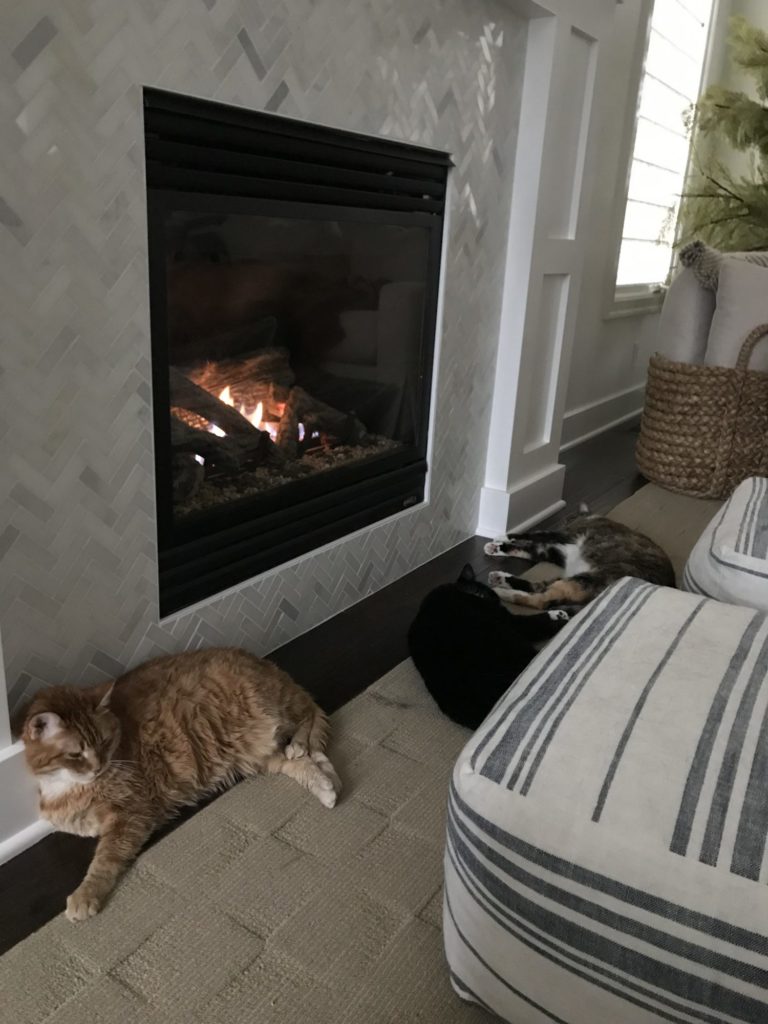 We made this super easy "roast" recipe last week. Both times, we only had one of those Hormel pork tenderloins on hand and used that in lieu of a roast. You can find the recipe in this super fancy post here. It's the same post that has the white chicken chili we make on a weekly basis as well! I need to get them both put into proper posts (with less embarrassing photos)! But, here's how ours looked yesterday while prepping. It's amazing how dry everything looks (with only 1/2 cup water) but within a few hours, it has already made tons of gravy with the mix! Such a great cold weather recipe!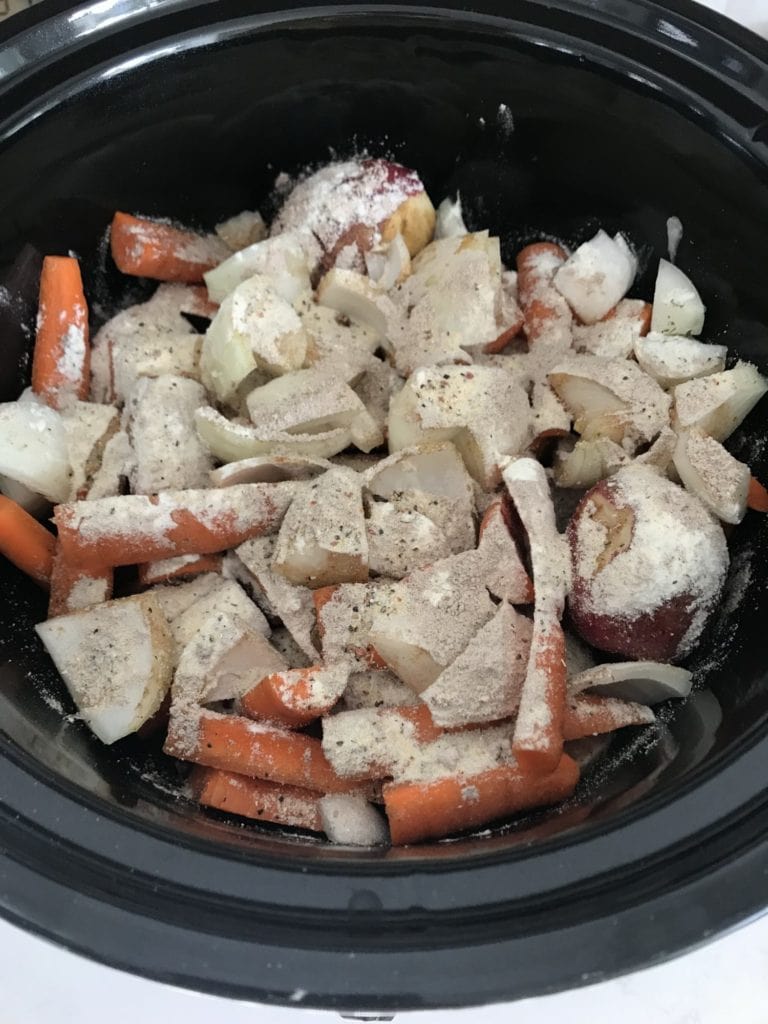 Recent Buys & Sales
Following are the sales that have carried over for the weekend. Some stores have even started their pre-Black-Friday sales a week early! But first, I wanted to let you know that some of my sweetest friends in the blogging industry have launched a holiday line with Nordstrom and there are so many cute options! It's also so fun to hover over each product and see their beautiful faces. So proud of these ladies – they are some of the hardest working people I know! It's hard to decide, but I think this top is my favorite because it's the most versatile to mix in with everyday options!
I hope you all have a great week!
If you would like to follow along on more of my home decor, DIY, lifestyle, travel and other posts, I'd love to have you follow me on any of the following:
Pinterest / Instagram / Facebook / Twitter / Google+
disclosure: some affiliate links used