Happy Monday! I hope you all had a great weekend! I'm still a little bit in shock that this is the last weekend in August. Suddenly it feels like the holidays are just around the corner!
This post contains affiliate links for your shopping convenience. Click here to read my full disclosure policy.
Home Updates & Projects
I ran into Target last week for a few grocery items, and you know how that goes 😉 I found a few cute things to spruce up the pantry a bit and since I only spent about $30 on it, I felt like it was a win. I had most of the other items and pulled them in from other rooms. I love this bit of personality in this room that is our tiniest in the house!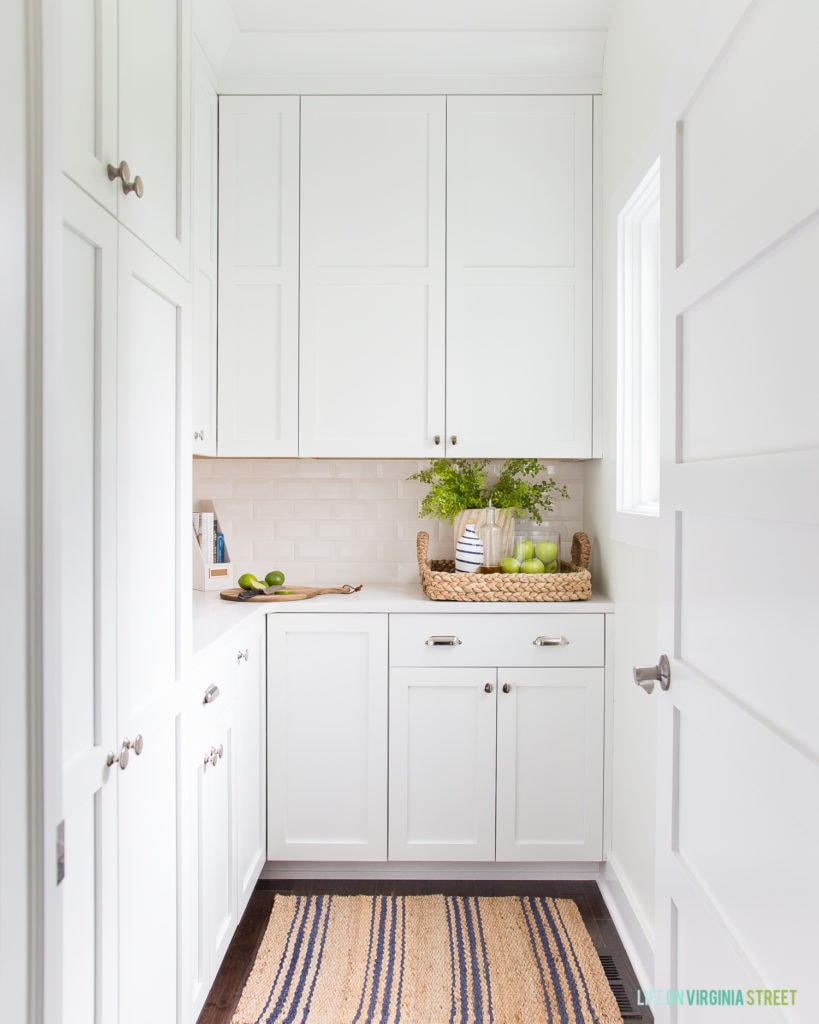 Rug | Linen & Copper Magazine Holder | Cutting Board (similar) | Seagrass Tray | Wood Vase | Faux Maidenhair Ferns | Olive Oil Bottle | Cabinet Hardware
Kurtis' dad came into town Thursday night and we spent most of Friday and Saturday at the new rental property. I'm working on the full design plans and will share it all in one big post once I have everything ready. I'm searching hard for items that look high end on a major budget! I'll also plan to compile my tips for getting quality products on a budget for any room renovation you may have coming up! We're still learning a long the way, but hopefully I'll have some good tips to share with you!
Kurtis actually demoed the kitchen by himself Thursday afternoon. You can see how it looks now in the shot below (which was taken Saturday when the guys were working on removing the gothic looking arches).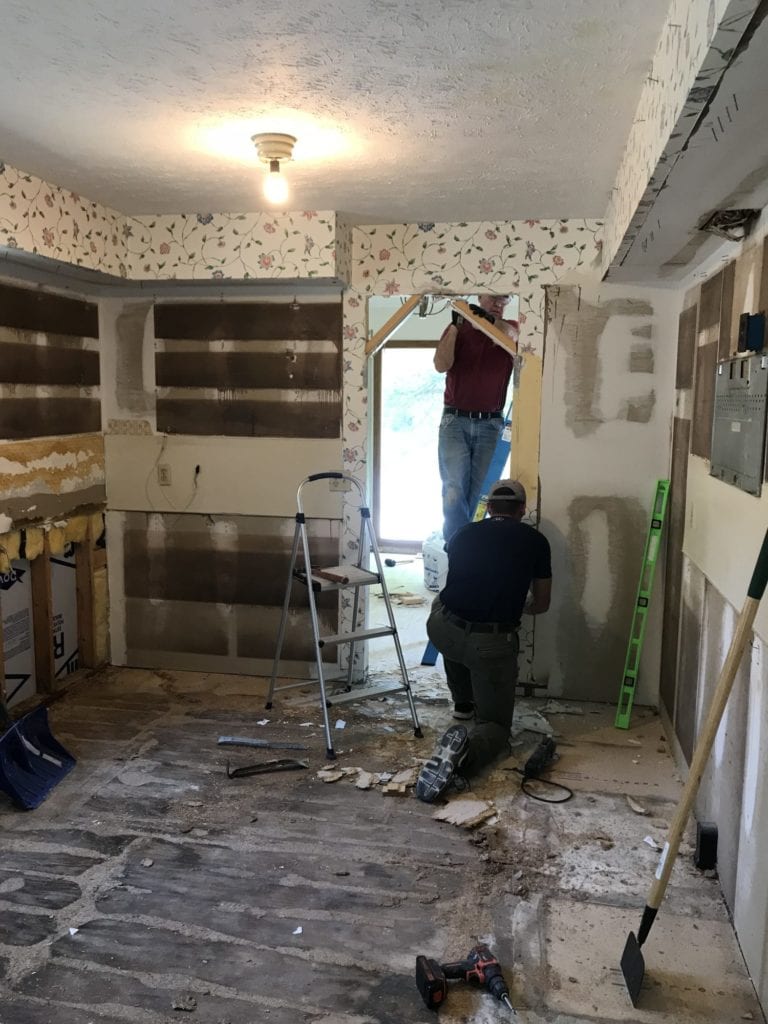 He sent me this text when he started on Friday and he said he felt like Walter White.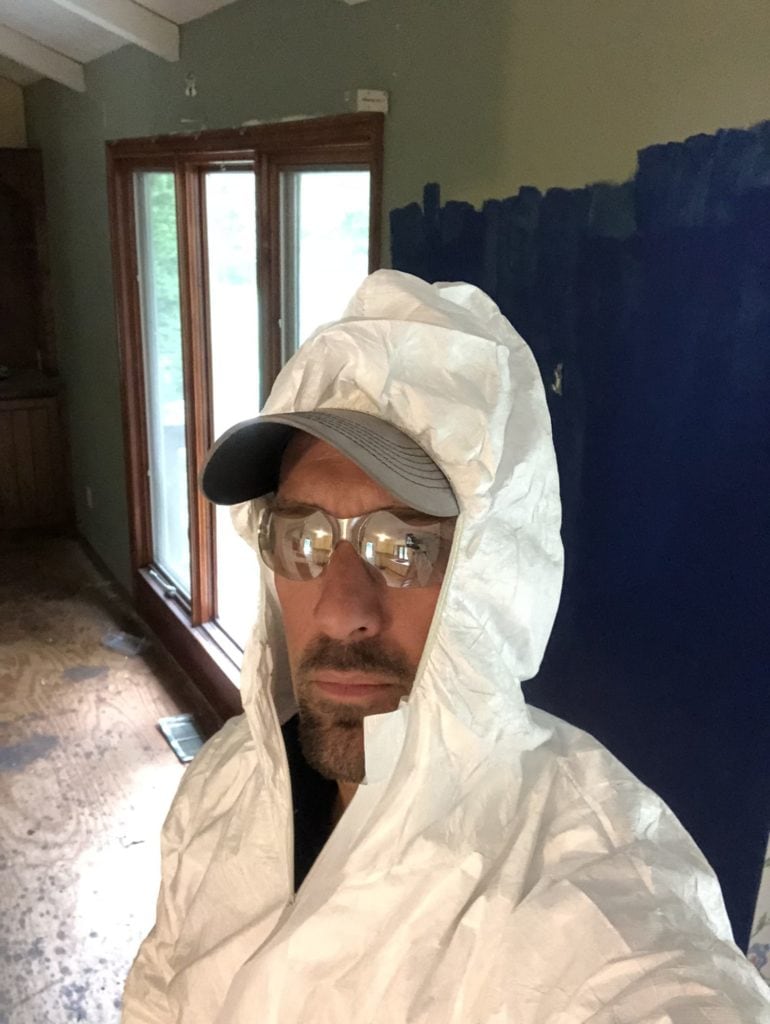 The big project Friday was removing these three arches and hand rails between the dining room and "formal" living room. The before and after gets me giddy! Can you believe how much better it already looks simply by removing all those dated pieces?! Can't wait until it's actually finished! I think I'm going to use an oil-rubbed bronze version of this chandelier in the dining room! We're also contemplating adding a fun board and batten wall (similar to the one in my office) in the dining room, but the angled walls may force us to come up with another option.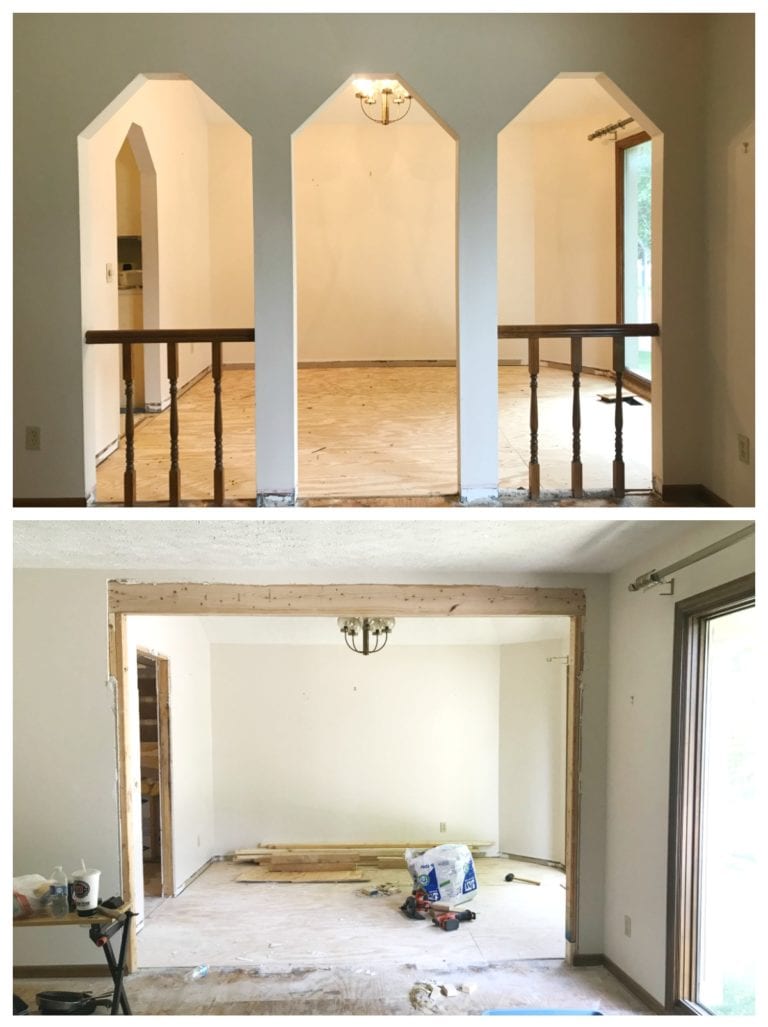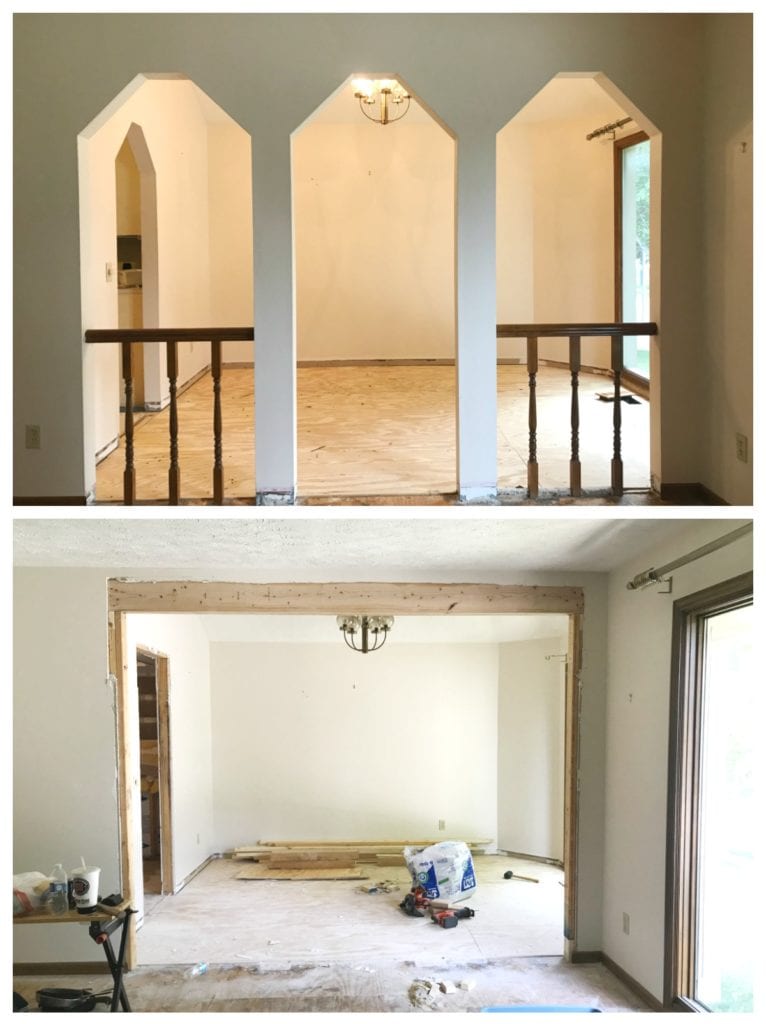 My job Saturday was to meet with three contractors to get various bids, and then I got to pull staples from floors all day! The floors had previously been ripped out (thankfully), but the staples for the carpet pad were all left behind (along with chunks from the pad). I spent about three hours on my knees pulling staples and pad with a needle-nose pliers. Based upon how I felt a few hours later, I think I'm too old for these types of jobs!!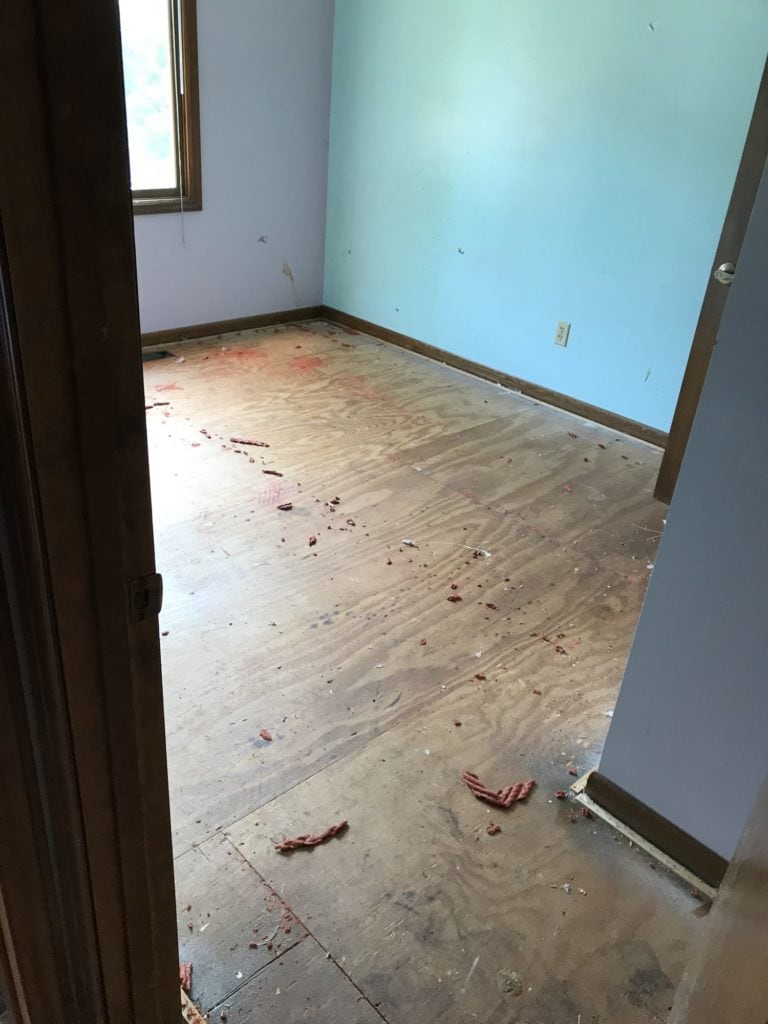 Here's how it looked after I was done. The subfloor looks a lot better, but obviously the room needs MAJOR work and a thorough cleaning. At least this shot blocks the 20+ holes that were punched into the drywall throughout the room.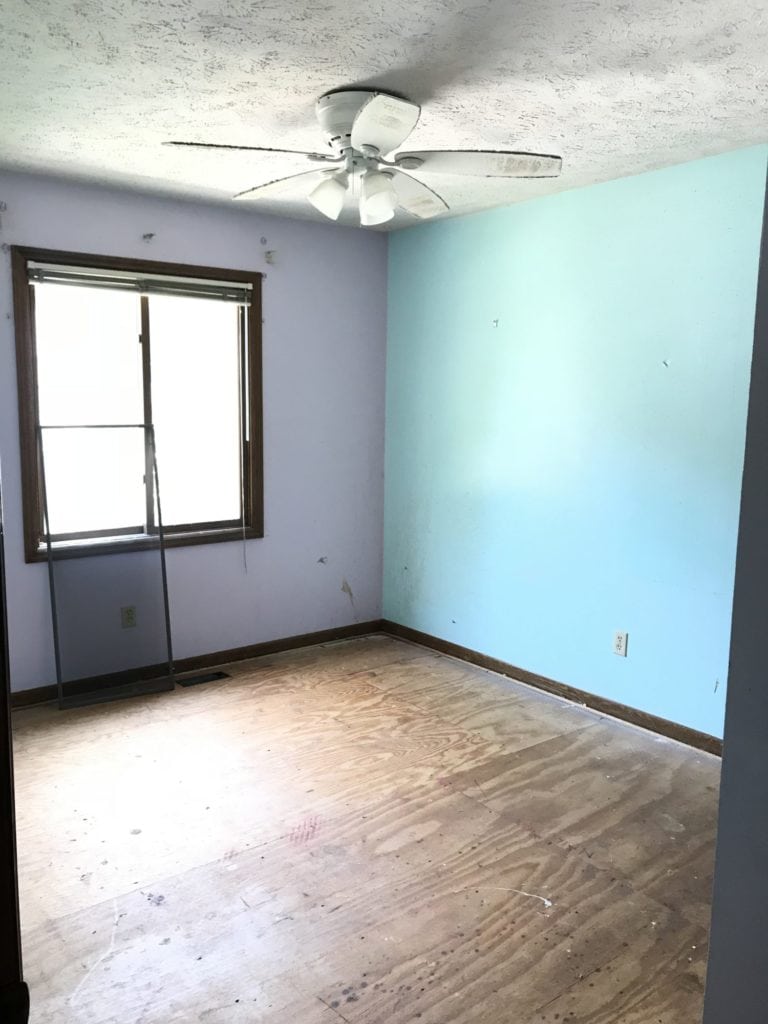 We had to wrap up mid-afternoon on Saturday, but before we left, Kurtis and my father-in-law most of the main bathroom shower torn out! It's hard to see, but the grout was in really bad shape (especially on the wall with the water faucet and shower head). I'm pretty sure it hadn't been cleaned for a long time either. So, we are opting to keep the tub and tear out the tile. We'll likely just do a bathfitter type piece that goes right over the existing one.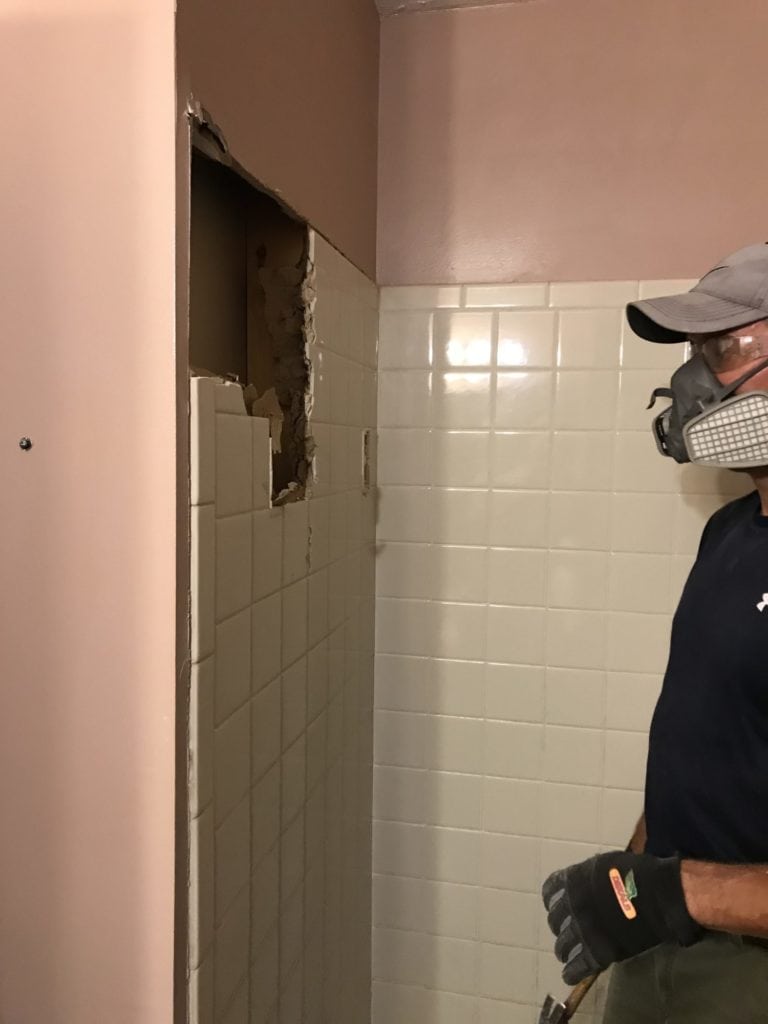 Yesterday I spent some time taking more photos of the kitchen and also of our living room. I plan to share the updated fireplace and other living room updates tomorrow on the blog! Here's a little sneak peek I shared yesterday on Instagram. I'm still so in love with how the fireplace and tile turned out! Tune in tomorrow for all the details. My limelight hydrangeas are at their peak right now, and it's fun having access to them from all over our yard!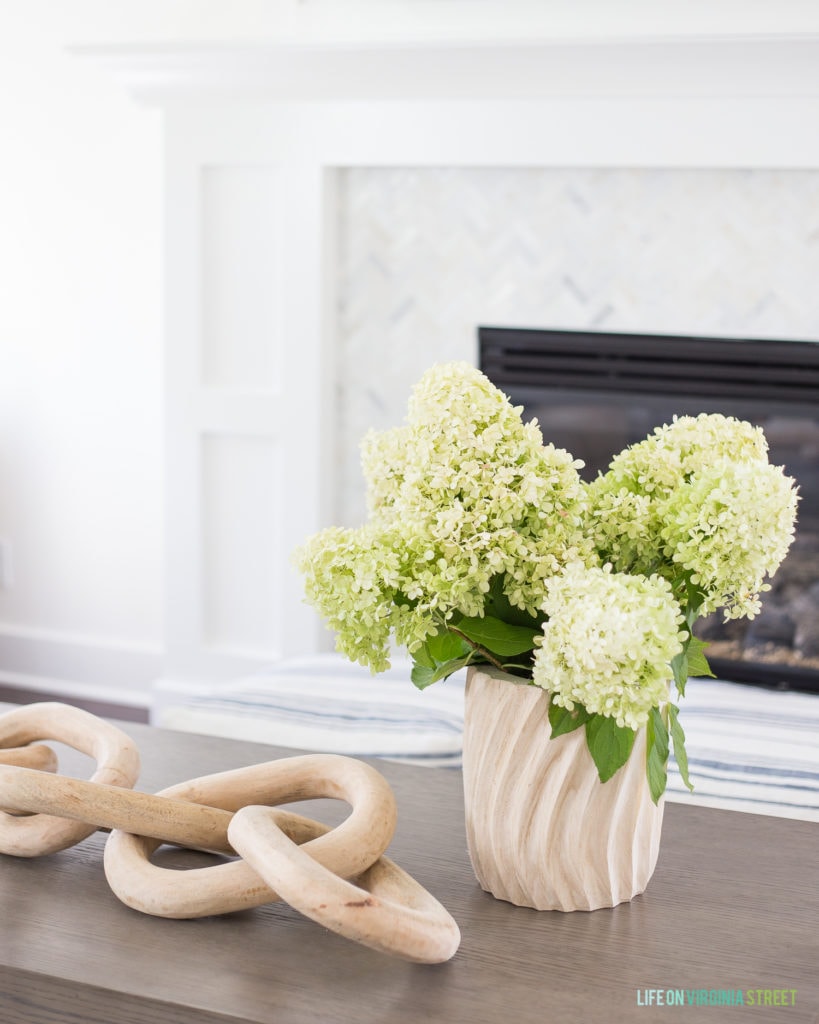 Wood Vase | Coffee Table | Wood Chain (similar) | Striped Poufs
Can't wait to share the rest of it with you tomorrow!
Around Town & For Fun
Thursday I spent some time stopping in to local home decor shops. I was trying to have a method for my madness and shop for a handful of upcoming posts all in one day. Unfortunately, that made my mind a bit to chaotic and I didn't get much accomplished – other than looking at a lot of really pretty things!
One of my favorite stores is always Amethyst Home. I want that wood orb chandelier and that maidenhair fern art on the wall. And basically everything else in the store 😉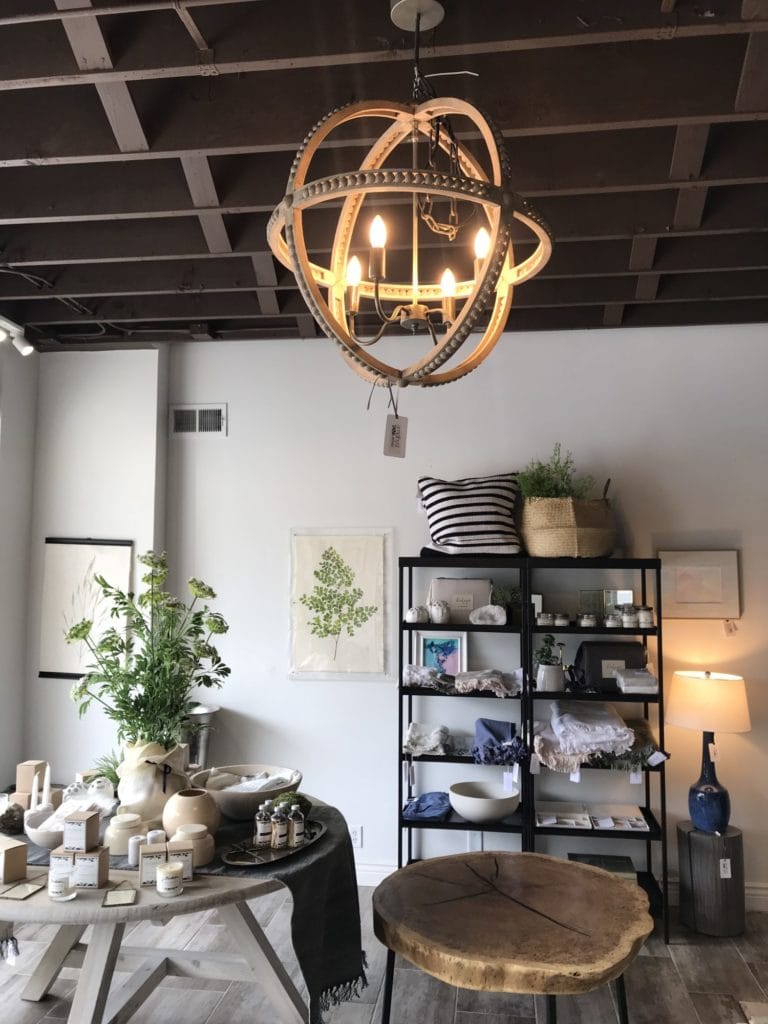 I'm still considering that faux cypress tree. I'm thinking I could leave it out fall through the end of winter without it feeling Christmas-y. It's potted and it has a really organic look about it that doesn't scream "Christmas tree" to me. Although I think it would be fun to dress it up for Christmas too!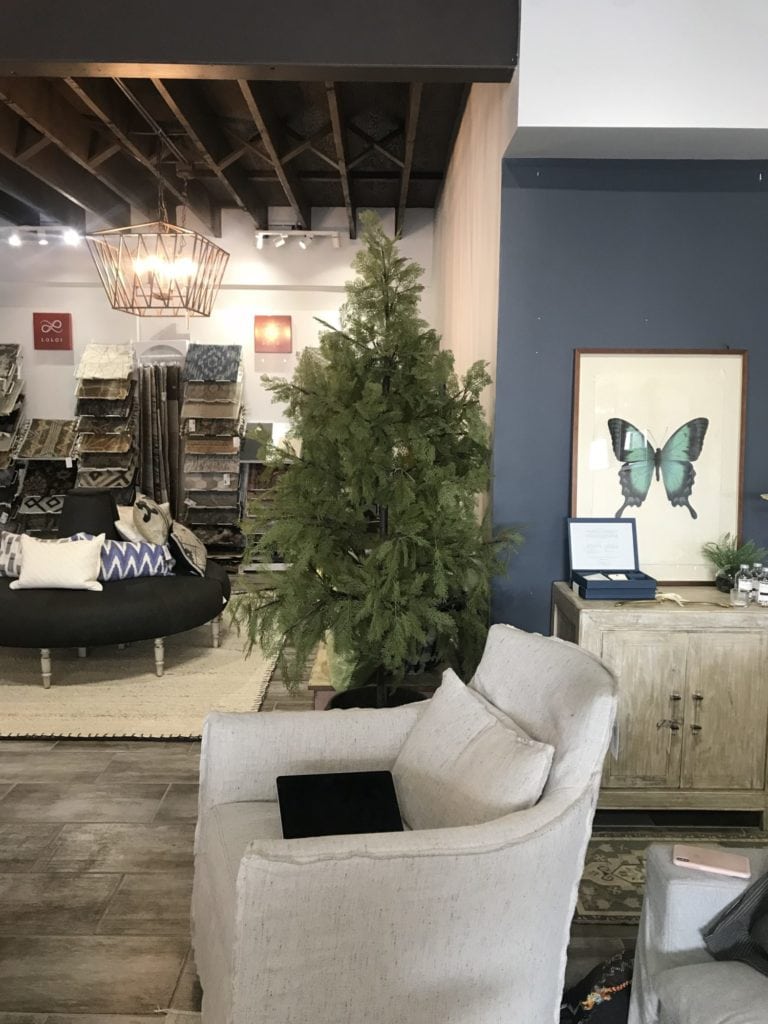 We didn't have much time to squeeze in a lot of fun activities this weekend with all the work at the rental. Firday night we were all so tired so we did hamburgers at home. We then watched a movie (310 to Yuma) and had ice cream cones. The cats clearly thought grandpa was the sucker for the night 😉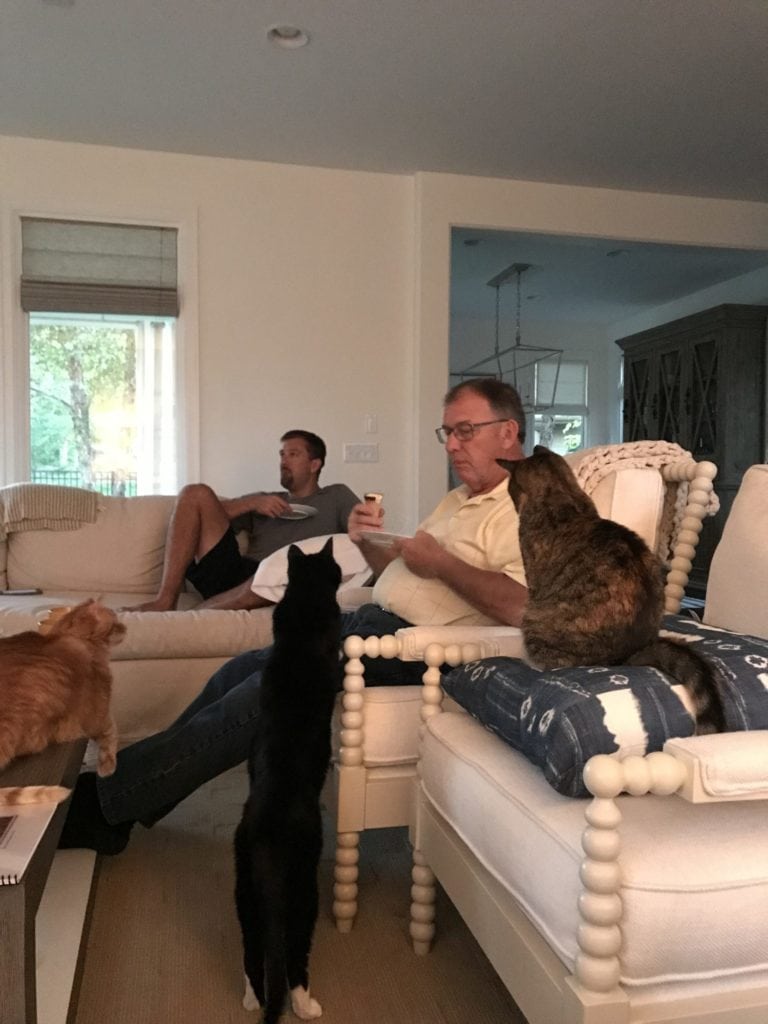 Speaking of the cats, I found Henley AND Hawkeye both sleeping in my inbox basket in the office. It was a bit of a tight fit but they didn't seem to mind!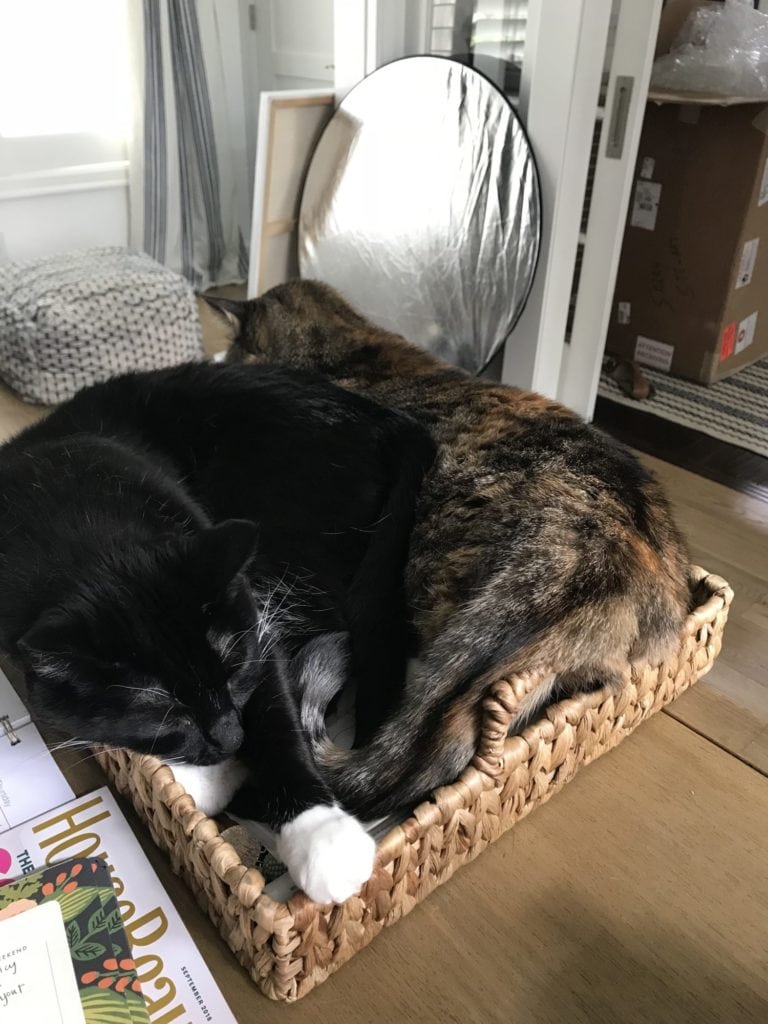 We stopped working at the rental mid-afternoon on Saturday. My father-in-law headed back home and we had to head to a fantasy football draft at Kurtis' sister and brother-in-law's house. They've been hosting this league for 15 years and it's always fun to catch up. I get bribed with my sister-in-law's homemade deviled eggs and free beer to log the picks, so I'm usually in attendance as well. It was a fun night and it's always great to catch up with everyone!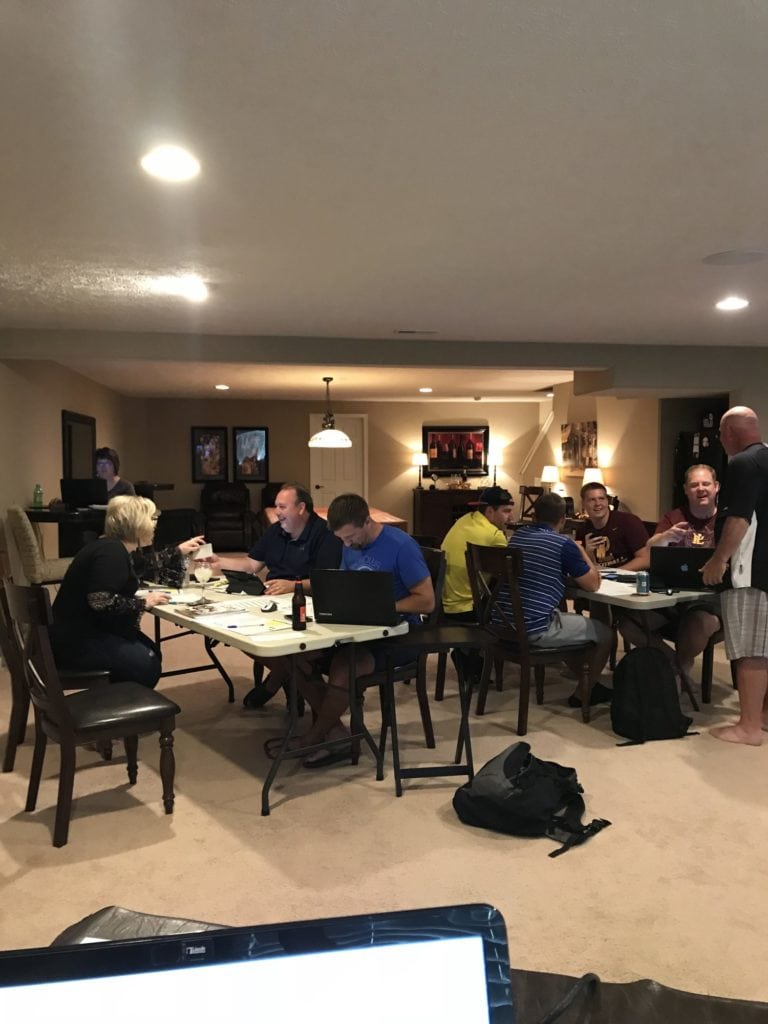 Sunday I tried to be a bit lazy but had a bunch of photos to take for my post tomorrow along with an Instagram takeover I'll be doing later this week! We also ended up finishing the last few episodes we had left of Parks & Recreation. So sad for it to come to an end! It might be one of my favorites yet!
Recent Buys & Sales
Following are some of the sales that go extended thru the weekend to today!
BAUBLE BAR is offering 20% off any order with code SAVE20, and 30% off orders of $50+ with code SAVE30! They always seem to offer the cutest jewelry each season! I'm loving all versions of these resin hoop earrings for fall! You can shop their sale here.
BLOOMINGDALES
THE CONTAINER STORE is currently offering 15% off your purchase with their "buy online, pick-up in store" model and with code PICKUP15. Shop the sale here.
J CREW is offering buy more, save more on pants (20-40% off) with code PANTSPARTY. Additionally cardholders can get 25% off their entire purchase with code CARDPERKS. It's a great time to snag this striped dress I featured a few weeks ago! Shop the sale here.
J CREW FACTORY is offering up to 75% off clearance items with code SEEYA. All other items sitewide are 40% off! Shop the full sale here.
SEPHORA is hosting their Insider Sale, where you get 10-20% off your purchase, depending upon your loyalty level! Use code YESROUGE for the first six days for Rouge Insider discounts. You can shop their sale here.
SERENA & LILY has tons of items marked up to 60% off! How gorgeous is this striped linen pillow cover for fall?! Shop the sale here.
TARGET has tons of items already added for their Labor Day Sale! Get up to 30% off rugs, furniture, bedding patio, etc. PLUS save an extra 15% off online only! sale here.
WORLD MARKET is offering 30% off all full-priced furniture with code FURN30. That includes our office desks that we love so much! Shop the sale here.
I have three appointments at the rental house today and I'm hoping to wrap up most of the bids today! I hope you all have a great week!
If you would like to follow along on more of my home decor, DIY, lifestyle, travel and other posts, I'd love to have you follow me on any of the following:
Pinterest / Instagram / Facebook / Twitter / Google+
disclosure: some affiliate links used