I hope you all had a great weekend! It was crazy hot around here, but that's something we love in the summer months. A lot of work and a lot of play make for the perfect summer weekend! I was also able to take photos of the exterior of our house so I'll be sharing that here on Thursday. Tomorrow I'm sharing our home decorated for summer, so it should make for a fun week ahead!
This post contains affiliate links for your shopping convenience. Click here to read my full disclosure policy.
Home Updates & Projects
We're in the home stretch for kitchen decisions and things are moving quickly now! I shared this image on Instagram last week. I was testing four island colors, and we're pretty sure we found the winner! Shown below from left to right are (all Benjamin Moore colors): Hale Navy, Mozart Blue, Providence Blue and Water's Edge. Our current island color is a true black for reference. I know every single one of these colors will look even better once our cabinets and countertops look white and not yellow! I can't wait to share which one we're going with. I may keep it a surprise until the reveal though. Side note: I'm going to try and start sharing more in-progress shots and less "edited" images on Instagram. To be honest, Instagram has gotten boring for me and feels to perfect and Pinterest-y. I'm going to try and take it a bit less serious and share some more "real" shots mixed in with the pretty. I think that will help to make me enjoy it more!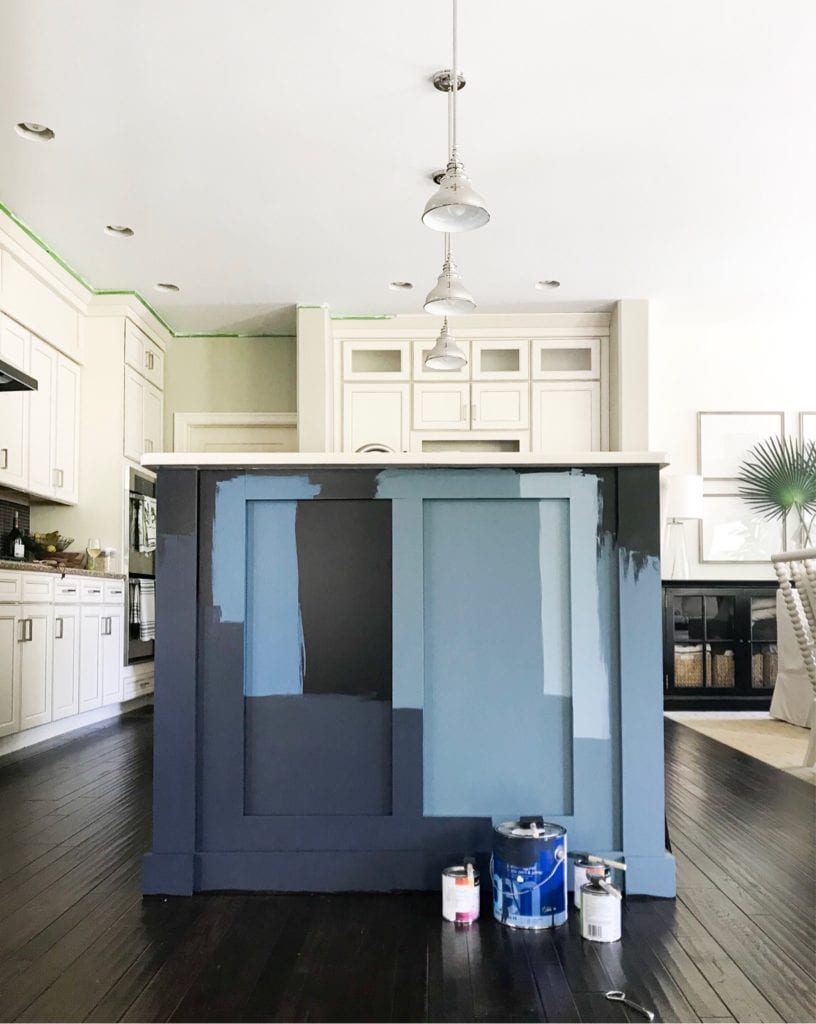 And, we officially have a hole sawed into our cabinets so there's no going back now! They had to saw thru to make sure there wasn't anything behind that section. We're all clear!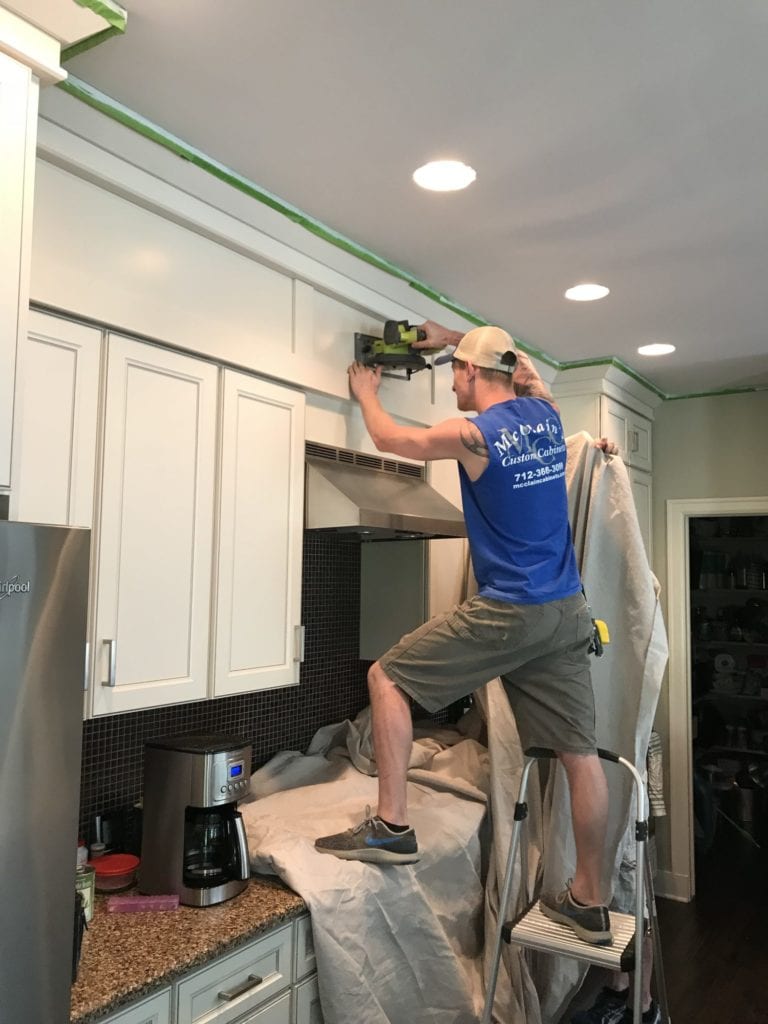 I have a few other fun home updates to share, but I'll be sharing those in my other posts this week.
Around Town & For Fun
I started working out again last week, and have really been liking this app. Each day the workout is varied so you're not having to watch the same thing over and over like I used to do with her DVDs. I find that helps make the time go by much more quickly! Early Friday morning, Kurtis and I decided to get up and go for a walk. The mornings have been beautiful around here lately and it was fun to explore the neighborhood a bit.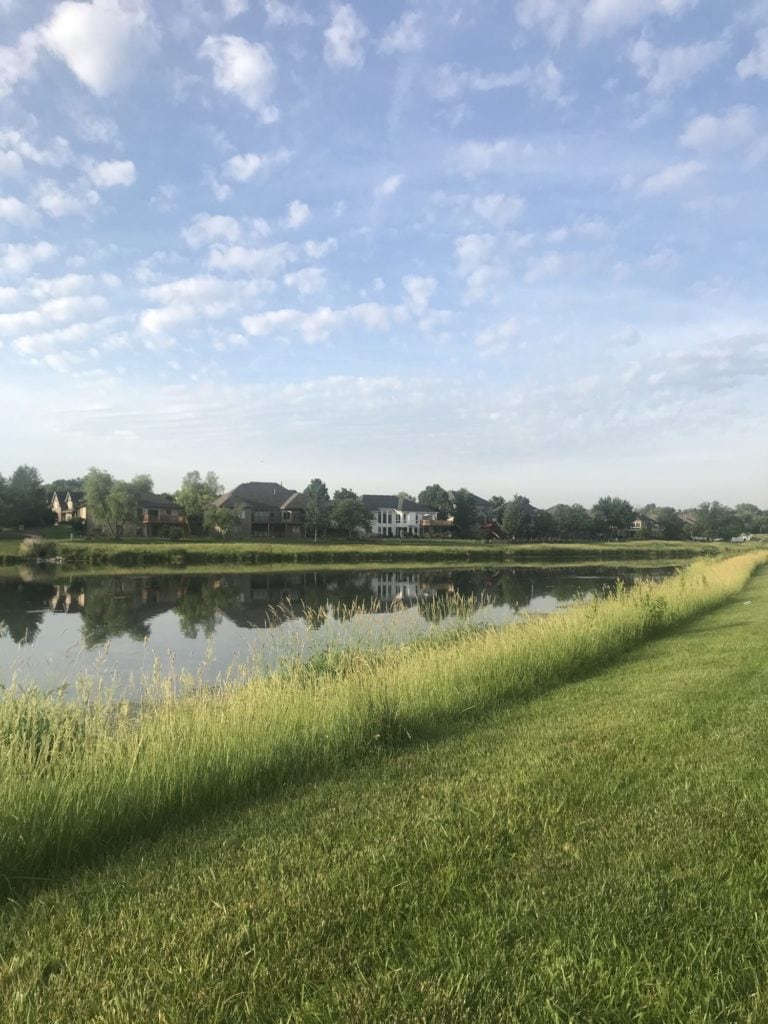 We made this breakfast twice this past week and it was so good! I basically just tried to use up some ingredients we had around the house that needed to be used, and it now might be our favorite! Just one piece of toast, an egg, sliced avocado, drizzled with a bit of olive oil and some course sea salt. So yummy!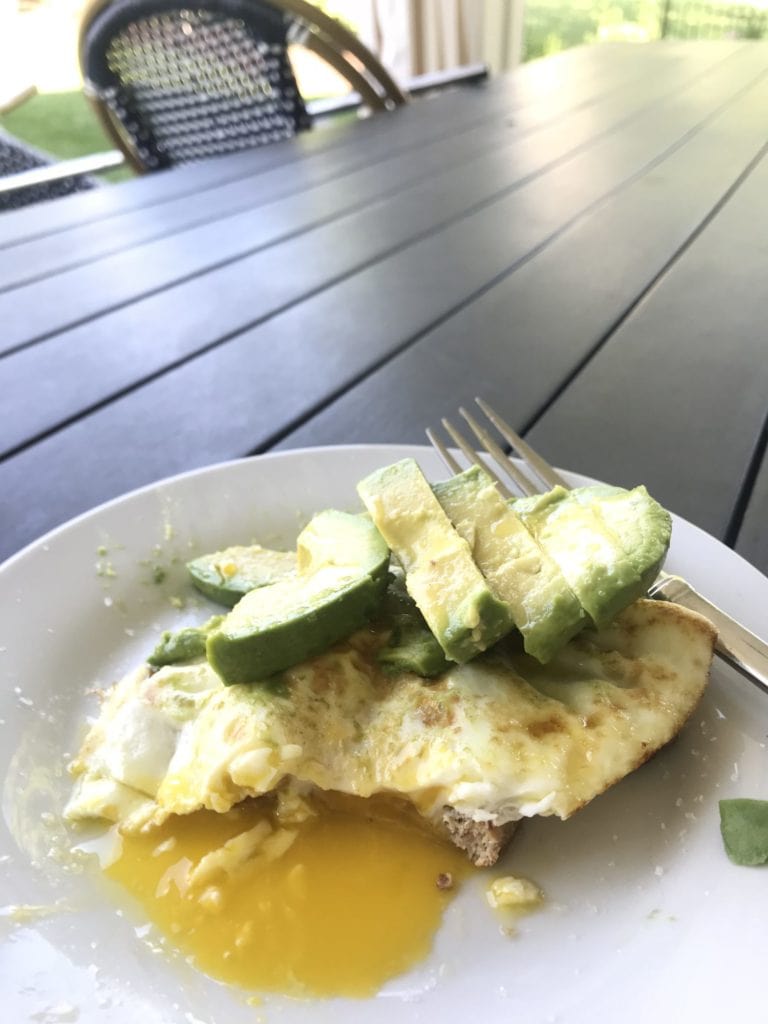 This is Hawkeye's newest thing and how he thinks he's "cuddling" with Bailey – he basically just sits on her. She's pretty much always cold, so she doesn't seem to mind. My sofa on the other hand probably isn't loving it 😉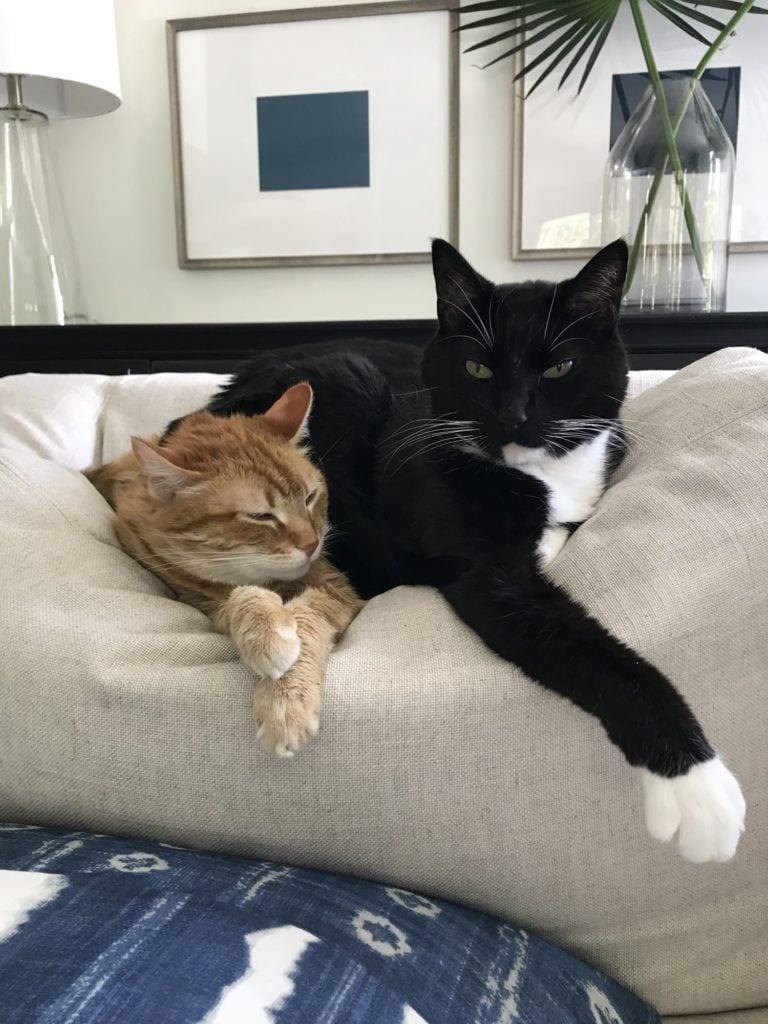 Saturday afternoon, we met Jill, Nick and Zoe for dinner at Shucks for some seafood. Zoe slept the entire time so it gave us the chance to catch up!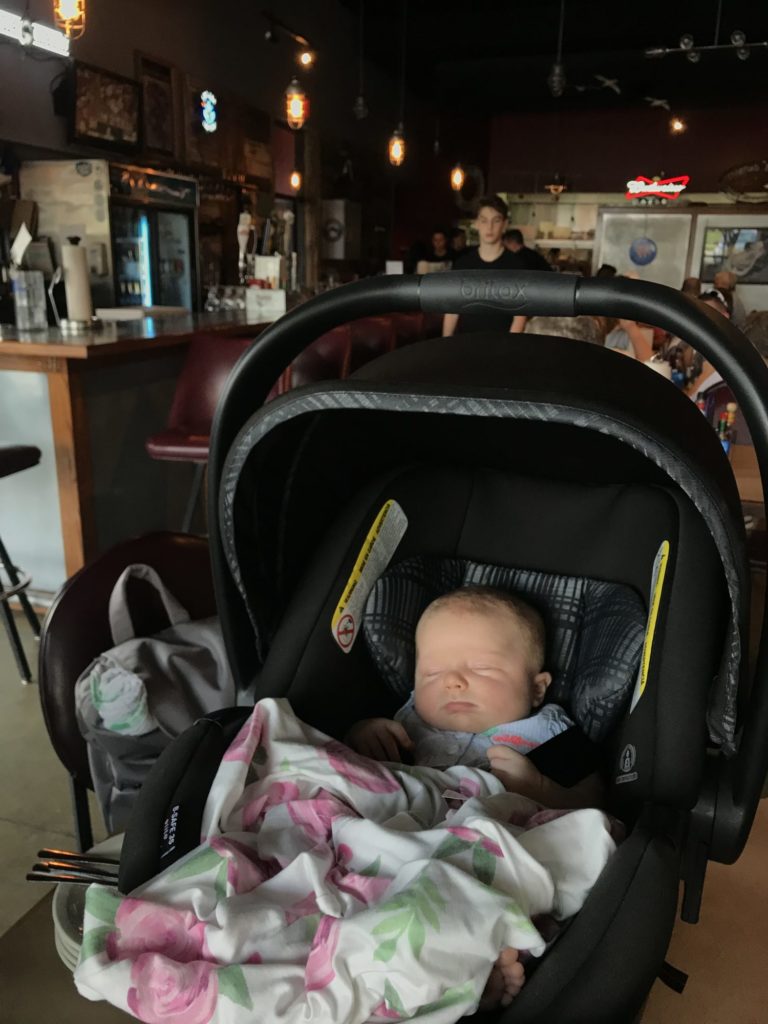 We've gotten into a really good routine these past few weekends where we get up early, get about four hours of work done around the house, and then we head out to the pool for the remainder of the afternoon. It helps us feel much less guilty when we're so lazy in the afternoon!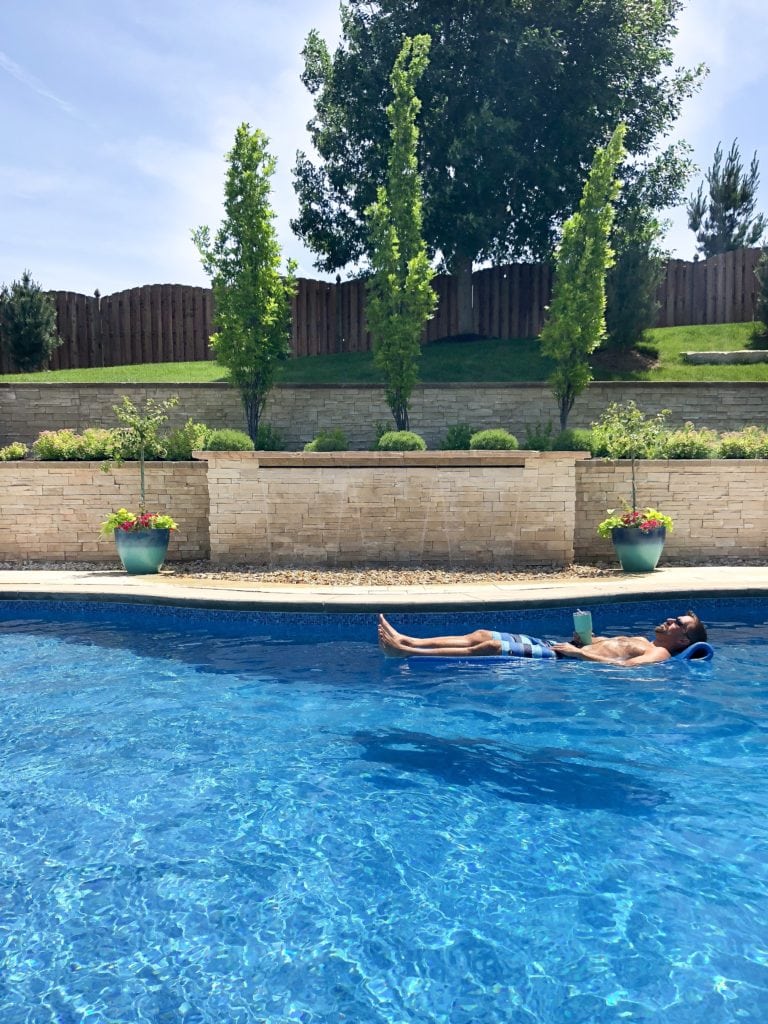 After about 30 minutes out in the sun yesterday, I was about sunned out. Thankfully we bought one more umbrella the week prior so I can basically line them up now so that my chair stays in the shade for the afternoon 🙂 Side note: we get the granite bases for the umbrellas at Lowe's and they work better than others we've tried for keeping the umbrellas upright in our crazy Nebraska wind. We've also found that if we leave some slack in the umbrellas (like these photos show), they're much less likely to tip over. Although it does still happen occasionally.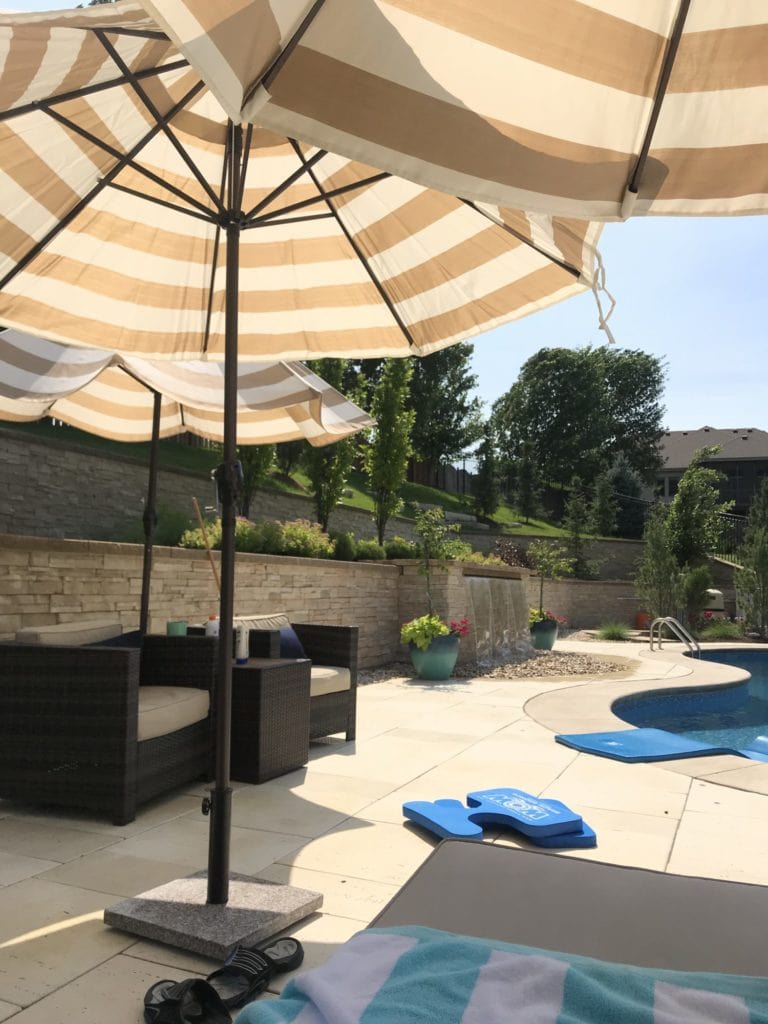 Late Sunday afternoon, Kurtis' sister and brother-in-law stopped by when they were on their way home from some errands. We were about to eat the ribs Kurtis had made, so we all sat outside and enjoyed the food and a few drinks. We hadn't seen them for a few weeks so it was fun to catch up and hang out for a few hours! We are getting so much use out of our covered patio this year – and I love it! We've tried to eat breakfast and dinner out there each day. And honestly, even seeing my outdoor drapes from the living room makes me so happy! Definite signs of summer 🙂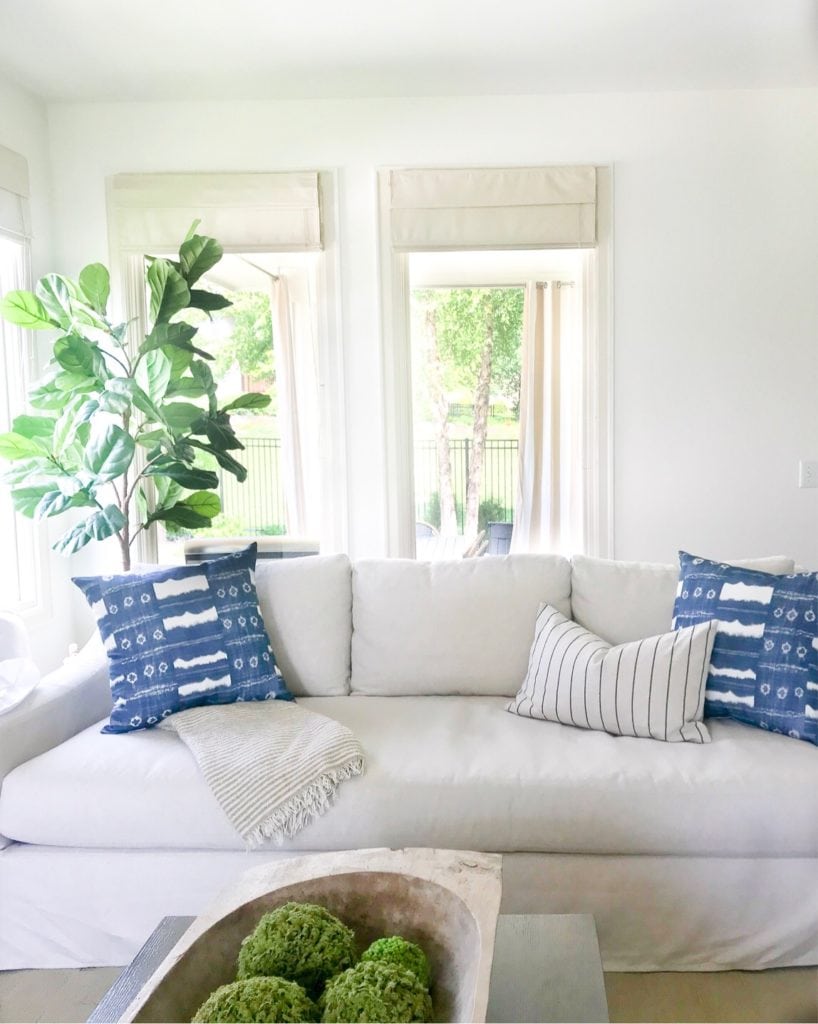 Sofa | Faux Fiddle Leaf Fig Tree | Shibori Pillows | Striped Pillow | Throw | Coffee Table | Dough Bowl | Outdoor Curtains
Here's a closer shot of the details. I got the hooks at HomeGoods last year. We've been using these ceiling-mounted rods for three years now. They aren't intended for outdoor use, but they've held up totally fine (they've turned more matte than shiny over the years, but they haven't rusted). They were the only semi-affordable option I could find that didn't cost an arm and a leg for the lengths we needed.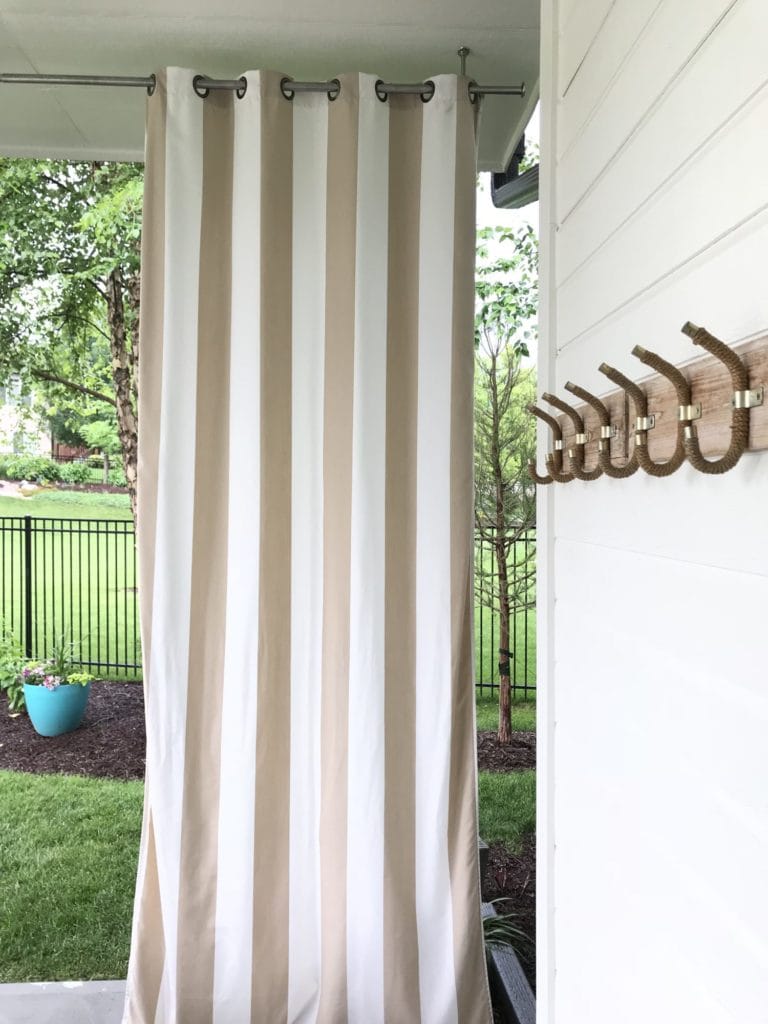 Recent Buys and Sales
I added this next image to my Wednesday Watch List late in the day after the post went live, so I'm guessing most of you didn't see it. But, I was wearing this eyelet top (from the post that day) and these cut-off shorts so I took a quick shot to show how the top fits. I love it so much!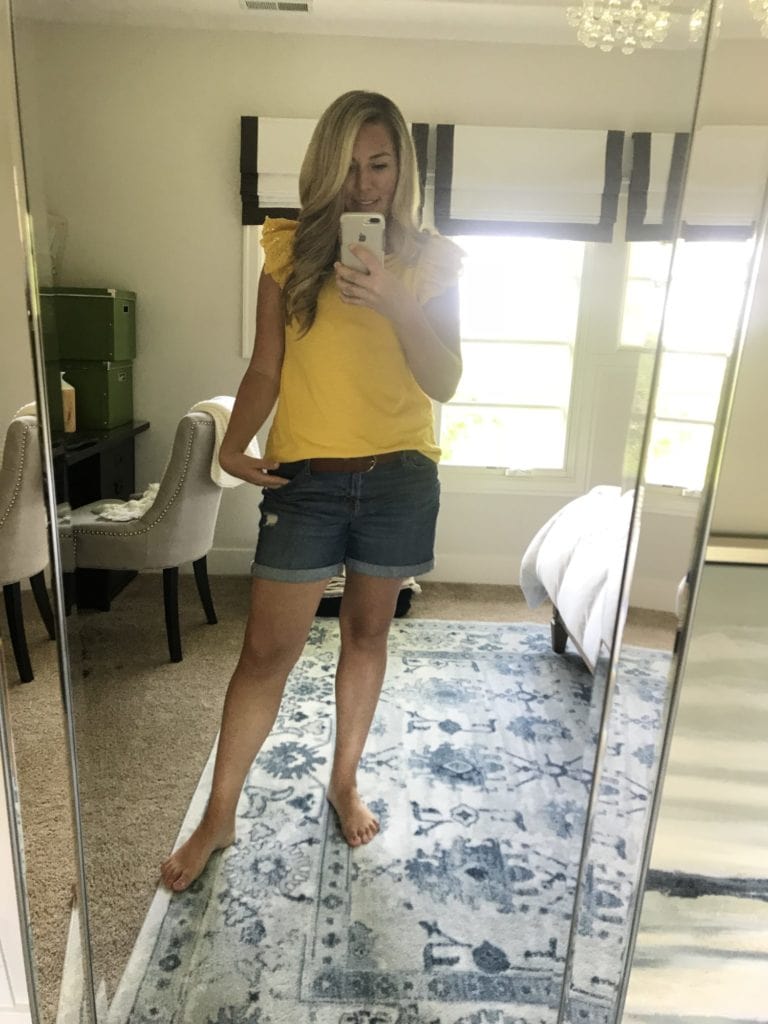 I also wanted to let you know that if you had been eyeing our bistro chairs I shared here a few weeks ago, they are currently 50% off!! That makes them only $65 per chair. Like I mentioned we're eating most meals on them and we both have really enjoyed the chairs. Kurtis is 6'2″ and even he thinks they are comfy! The black and white version is also on sale.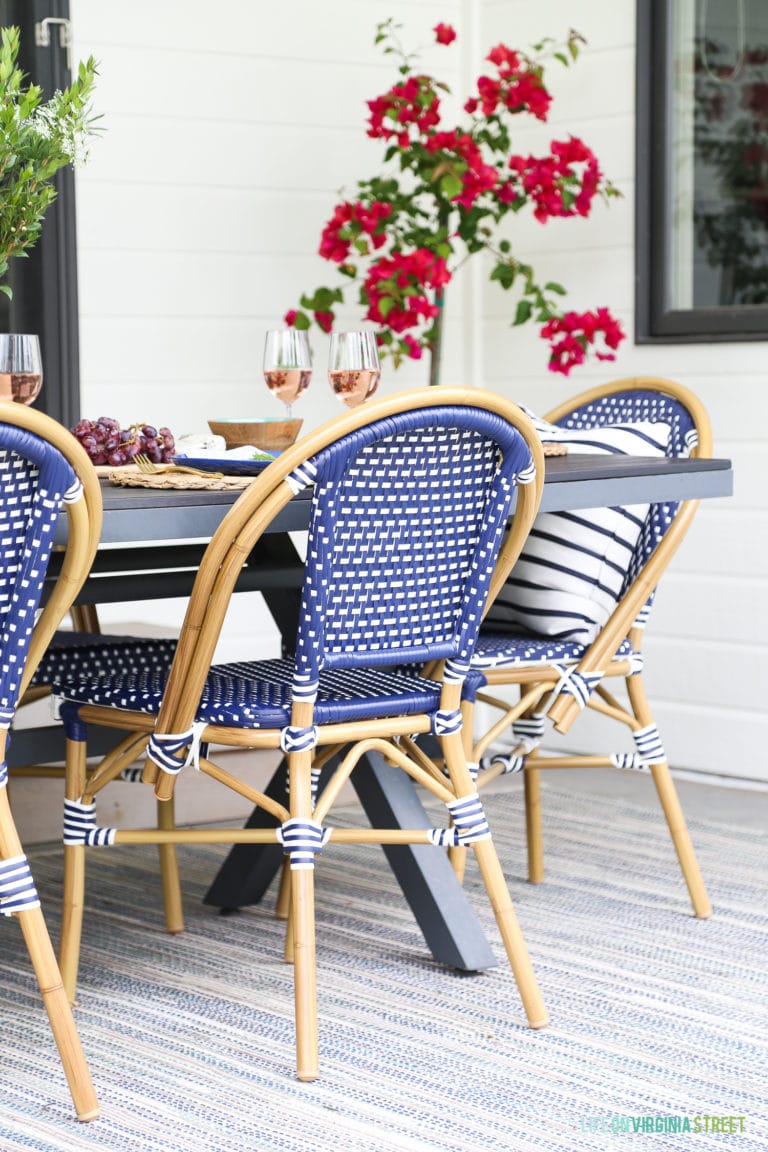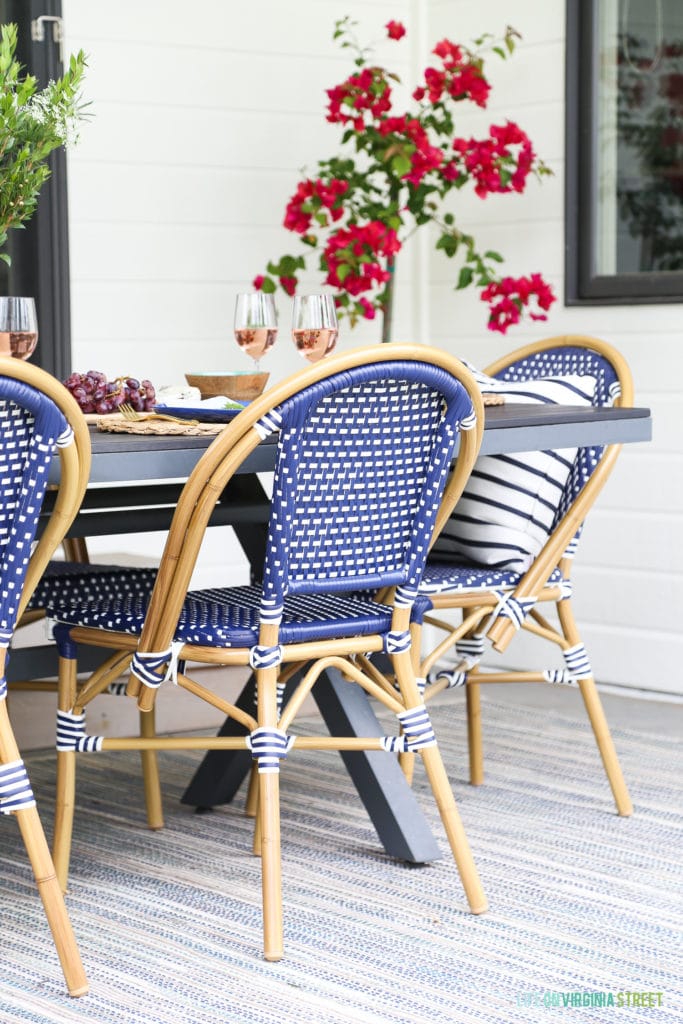 Bistro Chairs | Table | Rug
Have a great week!
If you would like to follow along on more of my home decor, DIY, lifestyle, travel and other posts, I'd love to have you follow me on any of the following:
Pinterest / Instagram / Facebook / Twitter / Google+
disclosure: some affiliate links used