I hope you all had a great weekend! It was a crazy busy week for us last week and all I can talk about these last few days is our house paint color. We finally have some paint up!
Home Updates & Projects
The painting work started on our house last week! As a reminder, here is what our house looks like pre- white paint. If you watch my Instagram Stories, you saw my frustration with our roofing company that still hasn't finished the metal portion or the gutters. Keep in mind they did the shingle work mid-April so the delay has gotten a bit insane. Long story short, we originally thought the painter couldn't start until the new gutters were on but since the gutters will come pre-painted, it now works out okay.
In the image below, if you look closely near our doorbell, you can see a swatch of white paint (it's BM Simply White because that's all I had on hand at the time). I ultimately decided that color is way too bright for our exterior, but it gives you an idea of just how much white paint can brighten up our porch!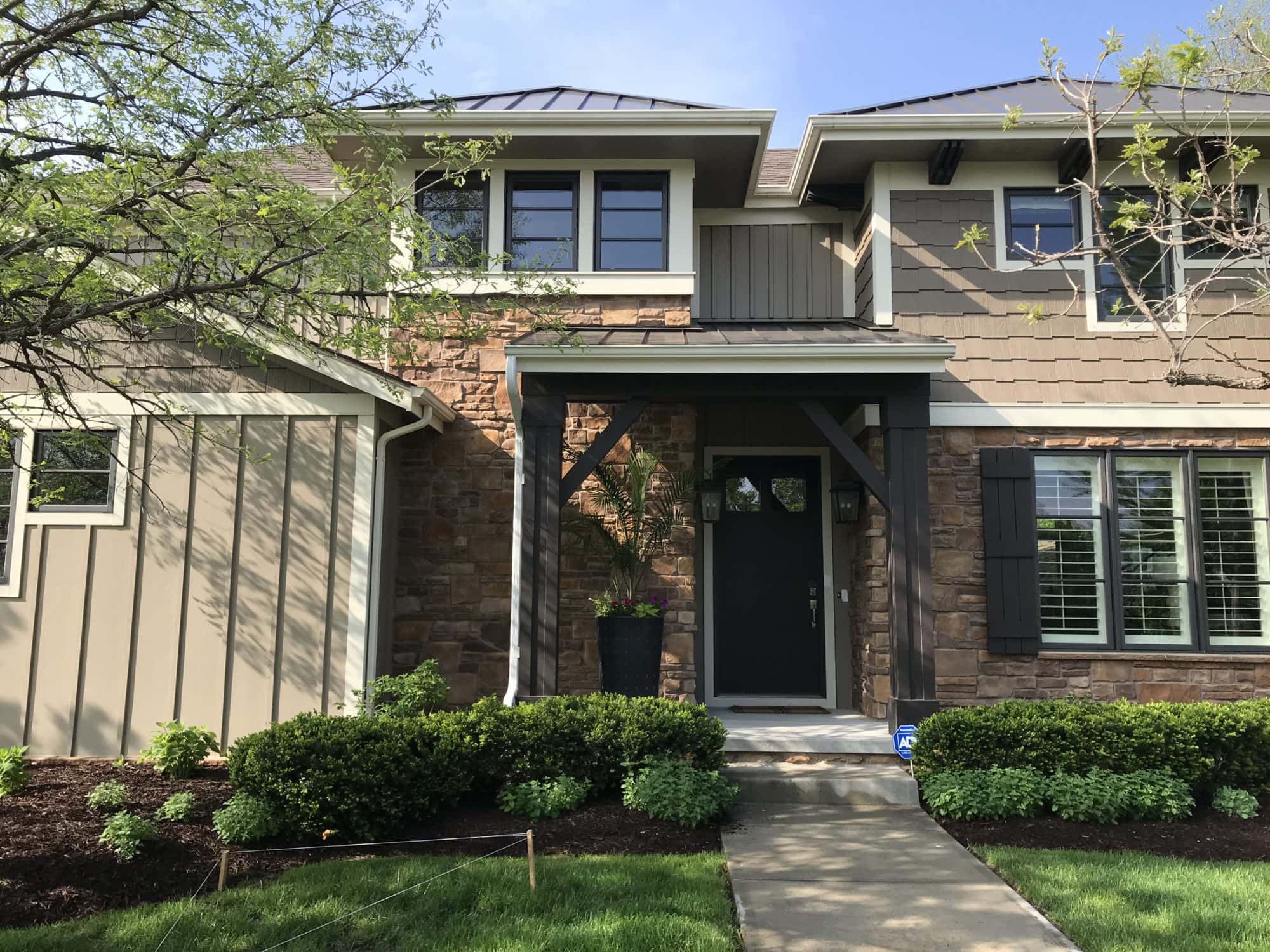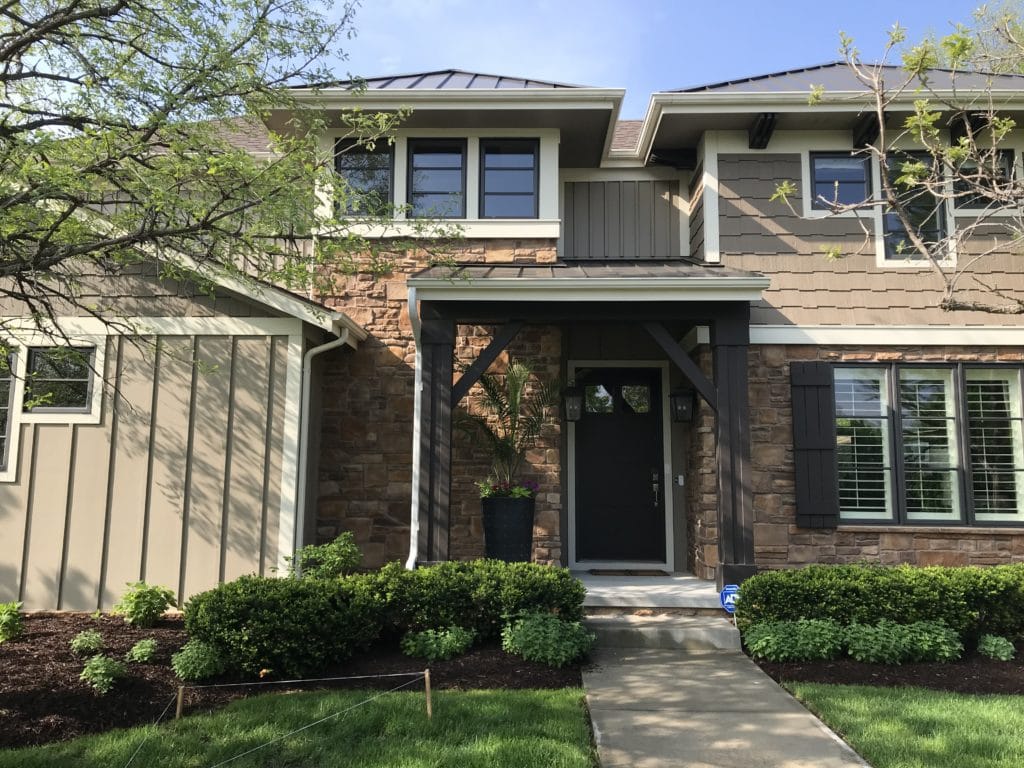 Here you can see the sample of BM Iron Mountain I tested on the door (right above the handle). The color is a near perfect match for our window trim so we'll be using it on the garage doors, front door and shutters. The white shown on the wall is Simply White, which we decided is a bit too stark (especially in areas that receive direct sunlight).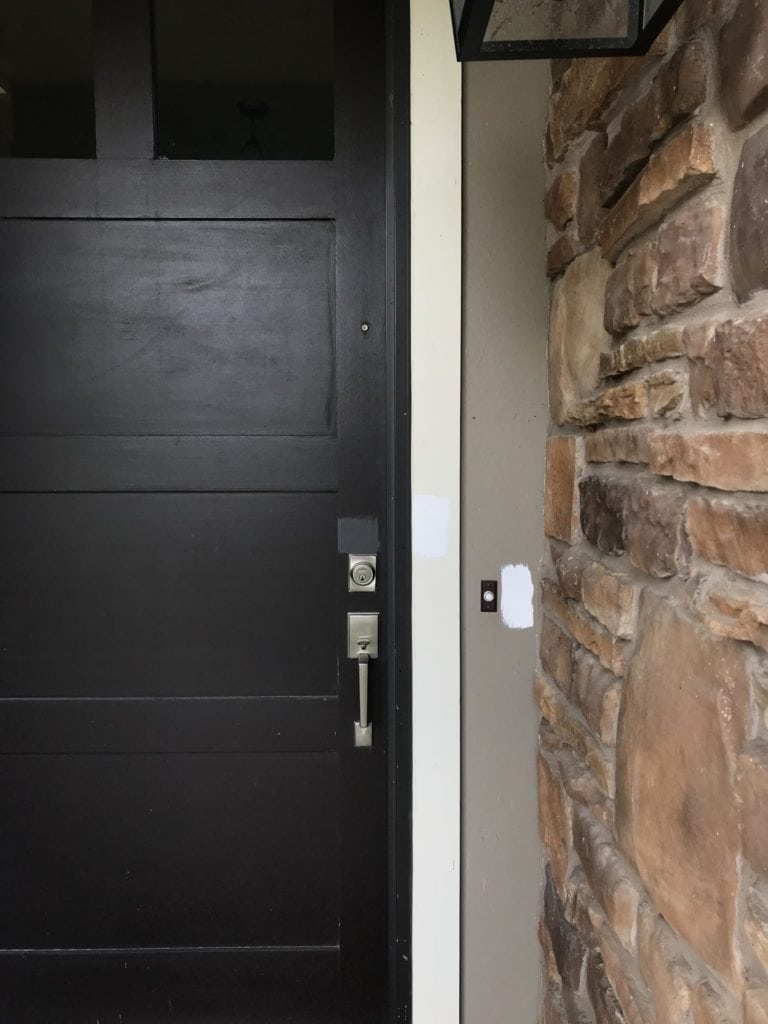 Last week, I headed to the Benjamin Moore store to get some sample pots of different colors. But, at $8.99 per pot, I limited myself to four new colors. If you recall, I was going back and forth as to whether or not I should paint the entire front white or if I should use a contrasting color on the shaker shingle portion. Below, the really solid color on the left is BM Revere Pewter which I was really considering.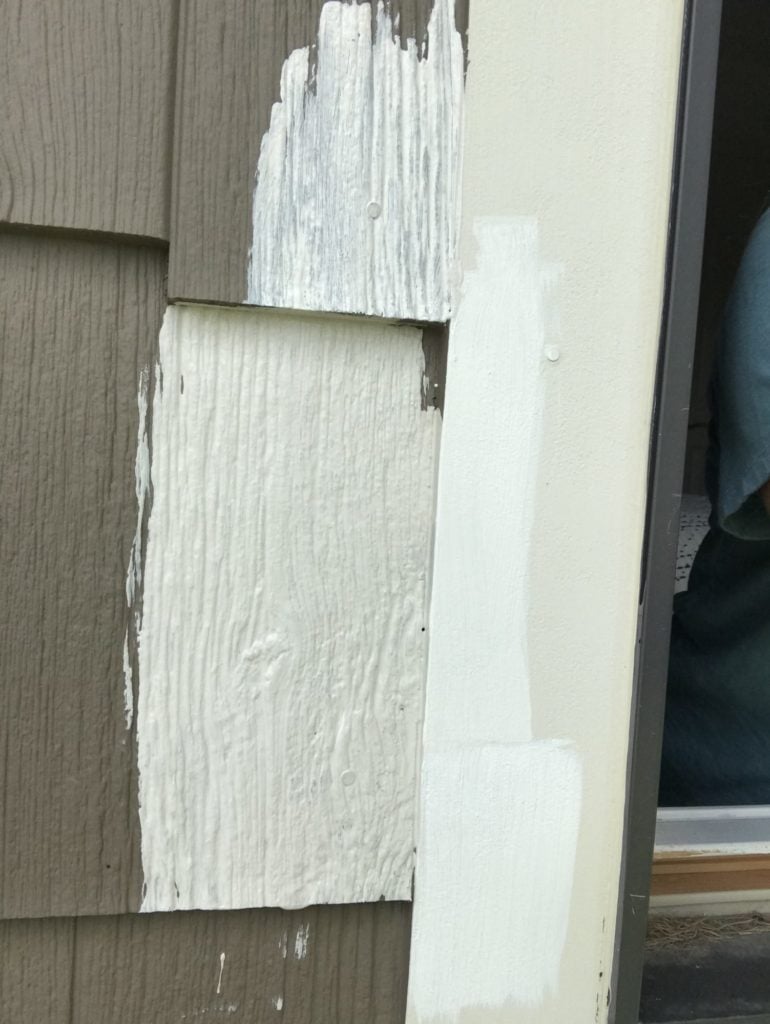 I took several polls on Instagram stories, after my friend Cyndy from The Creativity Exchange said to go all white. She also thought it would look even better if we painted the stone, as well, since we have so many different textures going on. So then, I had to decide which white. I added BM White Dove to the mix, after also trying BM China White (too saturated for me). A bunch of other people continued to recommend Sherwin Williams colors. However, my painter was strongly pushing toward BM paint as he prefers it for exteriors. I received multiple messages to NOT color match whites, as multiple people said it never comes out properly. Likely due to variance in the base white? So, I had to make a last minute call when our painters arrived Thursday!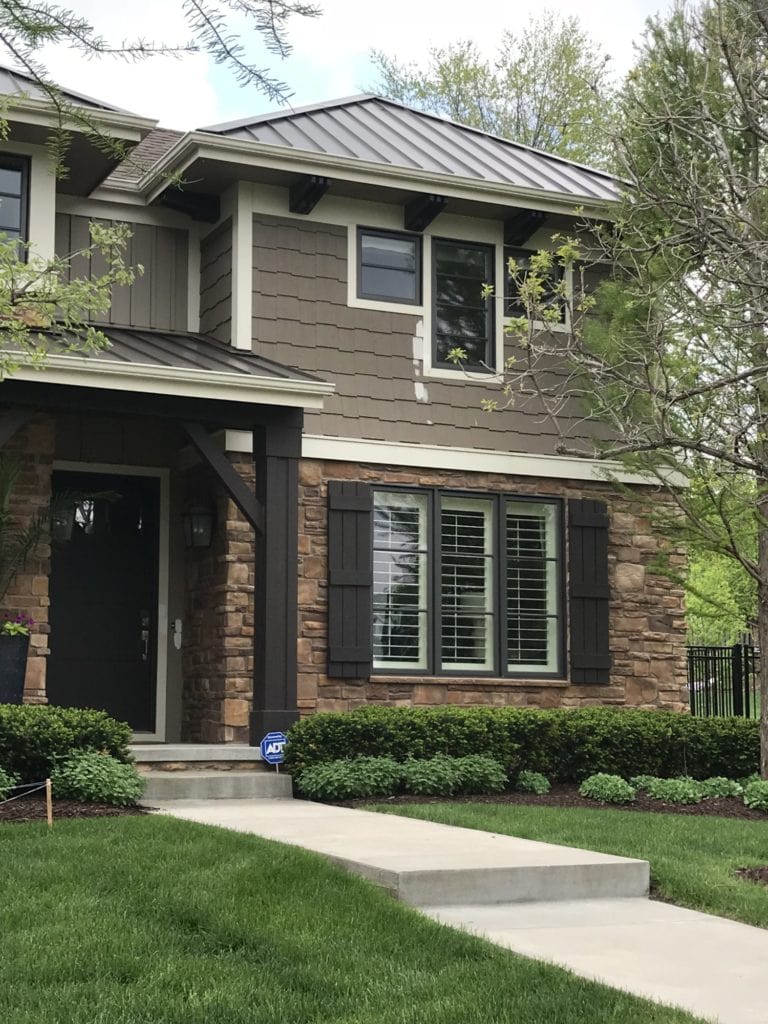 In the end, I panicked a bit and went with Benjamin Moore White Dove. It definitely has a bit more of a yellow tone to it, but on the back of our house, we felt like that's what we needed so we aren't blinded when we're back at the pool in the summer. Additionally, the warmer tone seemed to look best with our very orange stone on the front of the house. At this point, I'm only having the wood portions painted (not the stone) and I'm doing all White Dove. I figured I could then add in the Revere Pewter afterwards if I felt like it needed more contrast. On Friday, our back patio got painted! Here's a little in-progress sneak peek. I'll be sharing a slightly closer look tomorrow. Unfortunately, this was all they could complete due to weather. And it looks like there may be a few rain delays again this week. I'll share more as soon as they move the the front! There's another sneak peek at the end of the post.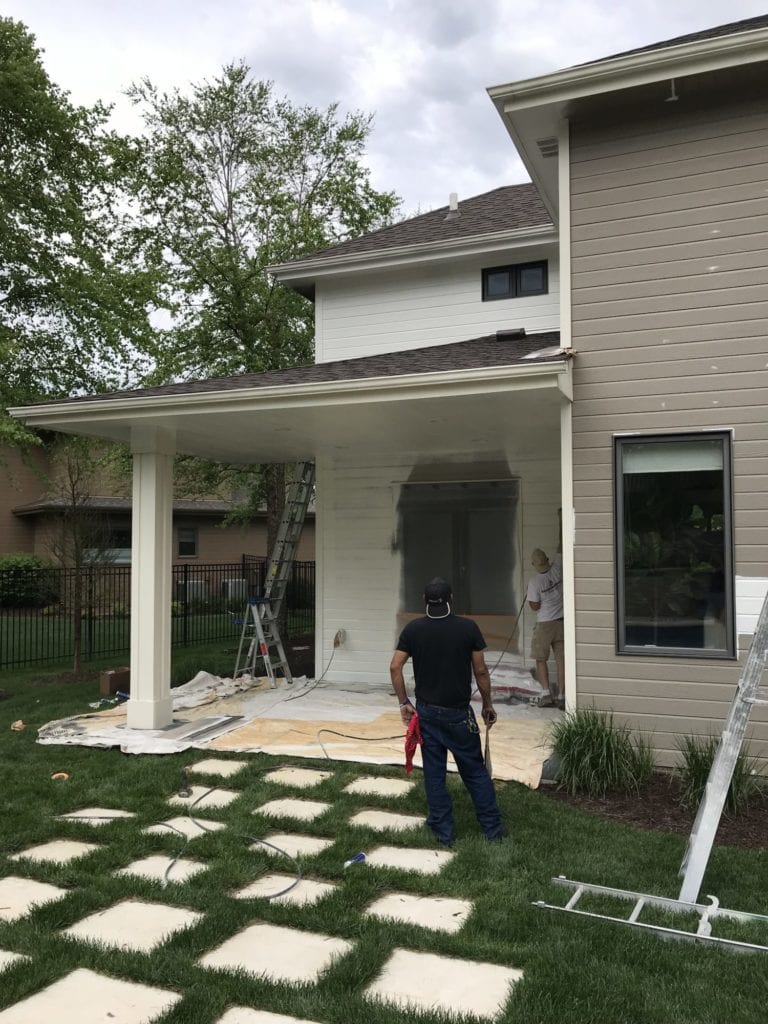 While the guys were painting outside, I decided to start painting the trim in our entryway so I can get that space wrapped up.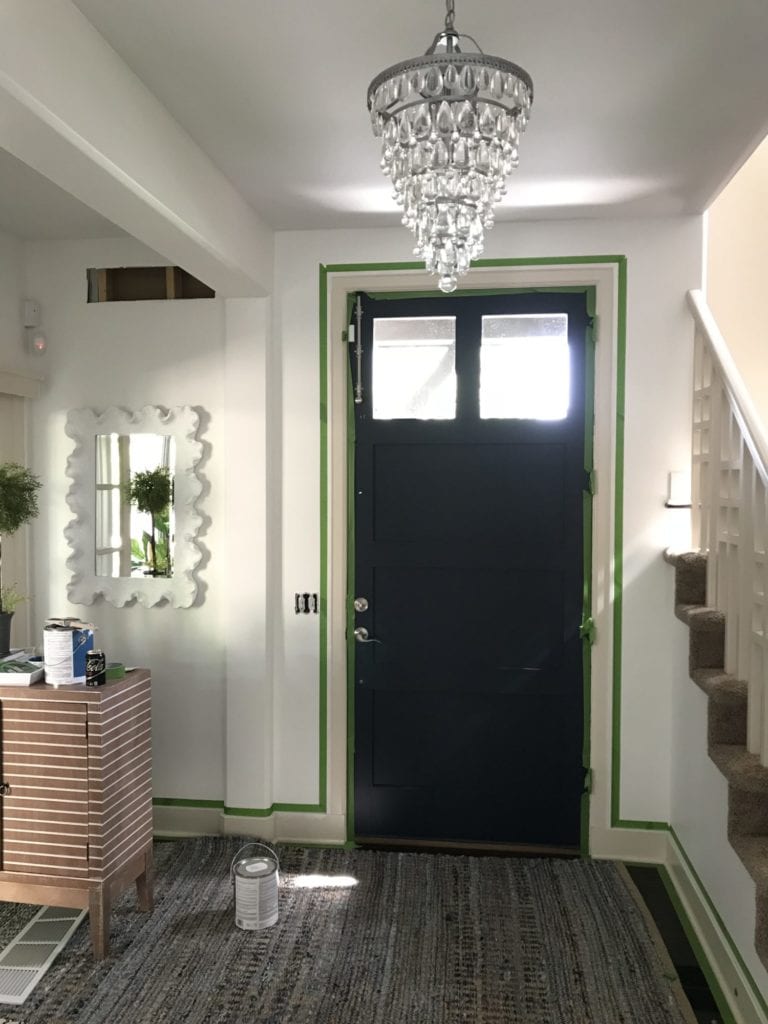 It's always easy to forget just how bad our trim color is until you see images like the one below. Even with only one thin coat of white paint, the color difference is rather dramatic! I painted the trim the same color as the walls – Benjamin Moore Simply White. But I have an eggshell finish on the walls and a semi-gloss on the trim.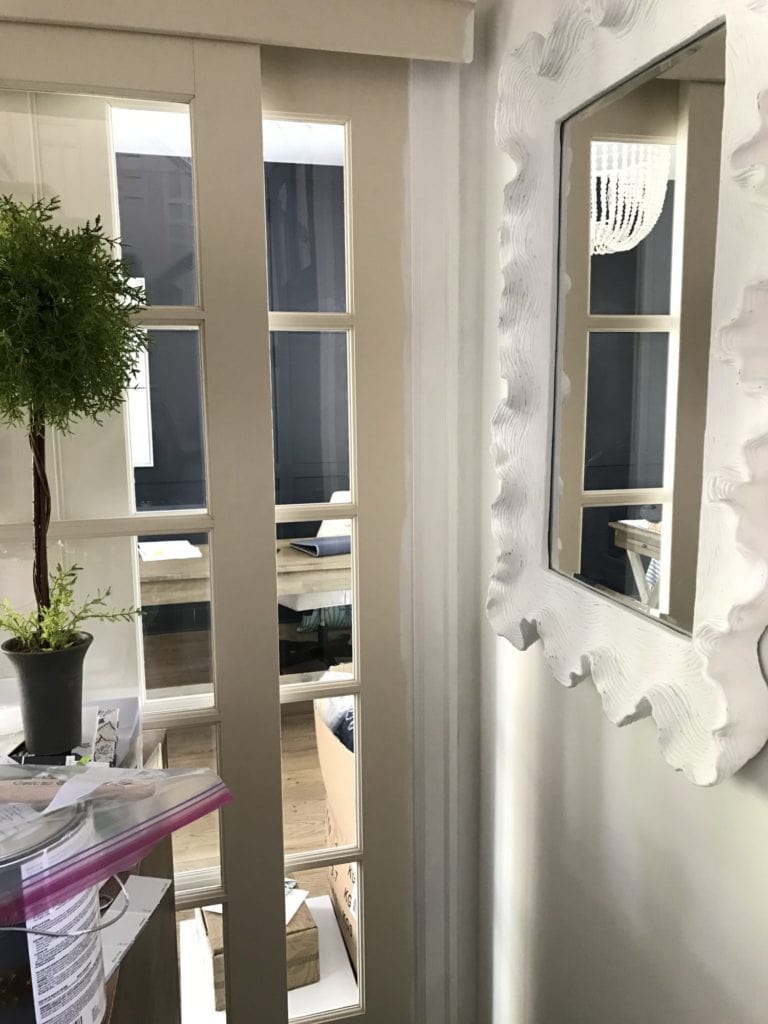 Even with one coat, it looked so much better! I ended up doing a total of three coats, just to get the best possible color coverage. I used the BM Advance paint line, with is intended for trim and cabinets and has a self-leveling feature. I hate painting trim but I feel like this paint makes it slightly less stressful. I brush it on and move pretty quickly, and I feel like it leaves the least amount of brushstrokes of any paint I've tried. I'm hoping this space will be done this week!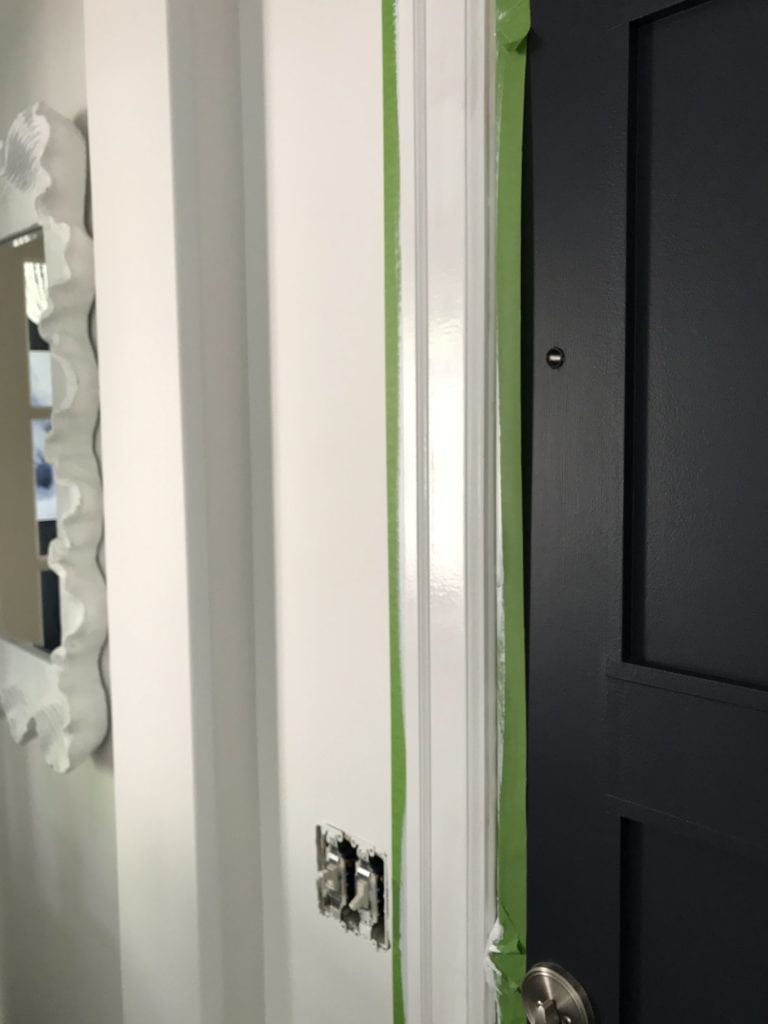 I finally got my planters in the front of the house planted last week. They definitely do not look impressive at this point. Like I said in my planter tutorial post, I try to start with smaller plants if possible. Within a few weeks, these should already see some pretty impressive growth! I'll share more soon!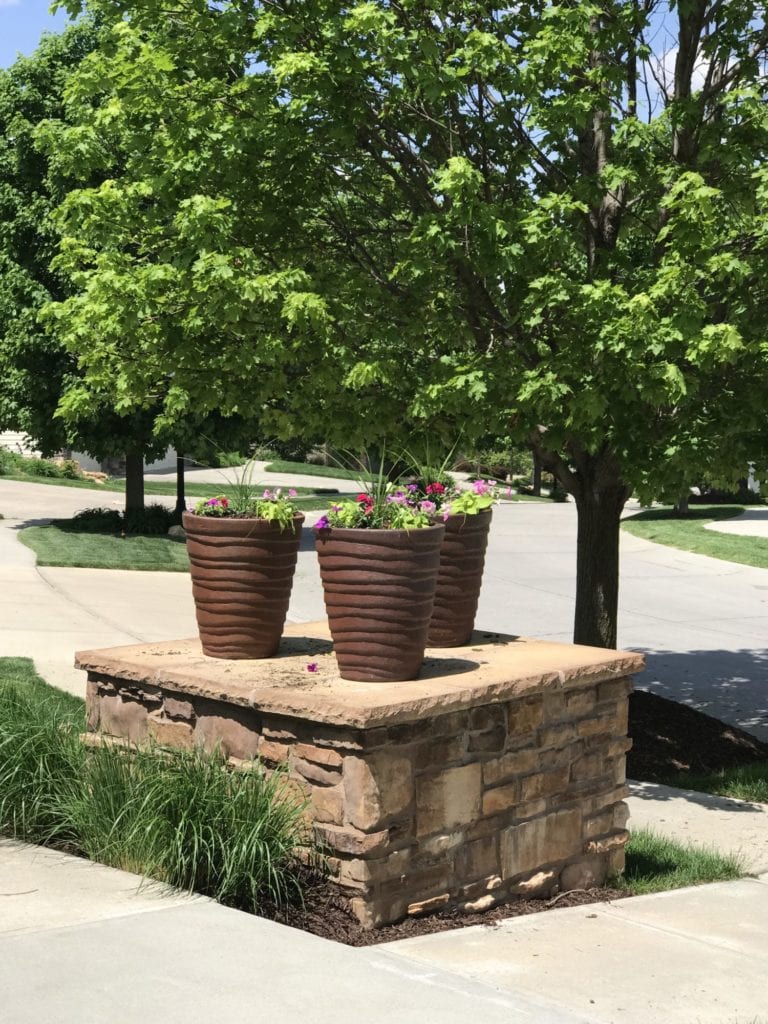 Around Town & For Fun
On Tuesday night, there was a blogger get together at a local PR rep's home. It was catered by Dante, which is one of our favorite restaurants. They have a a mobile wood-fired oven and can set up at your house for the ultimate pizza party. Their food is always so amazing and I love that they source most of their ingredients locally.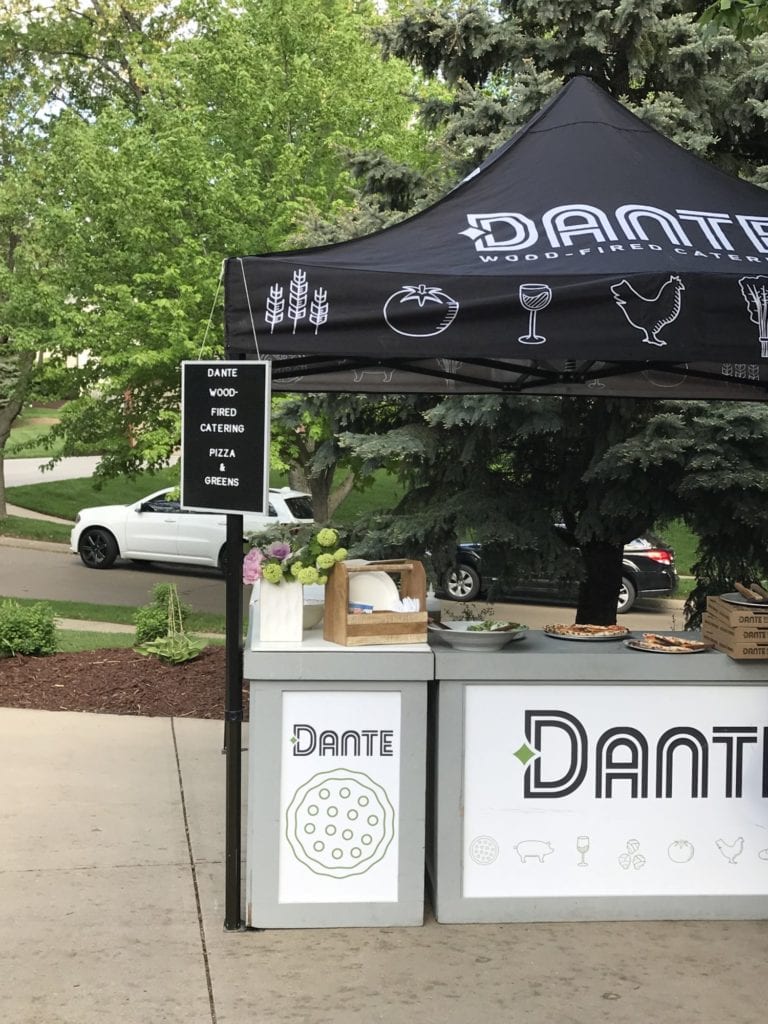 The flowers from Bouquet Omaha were stunning!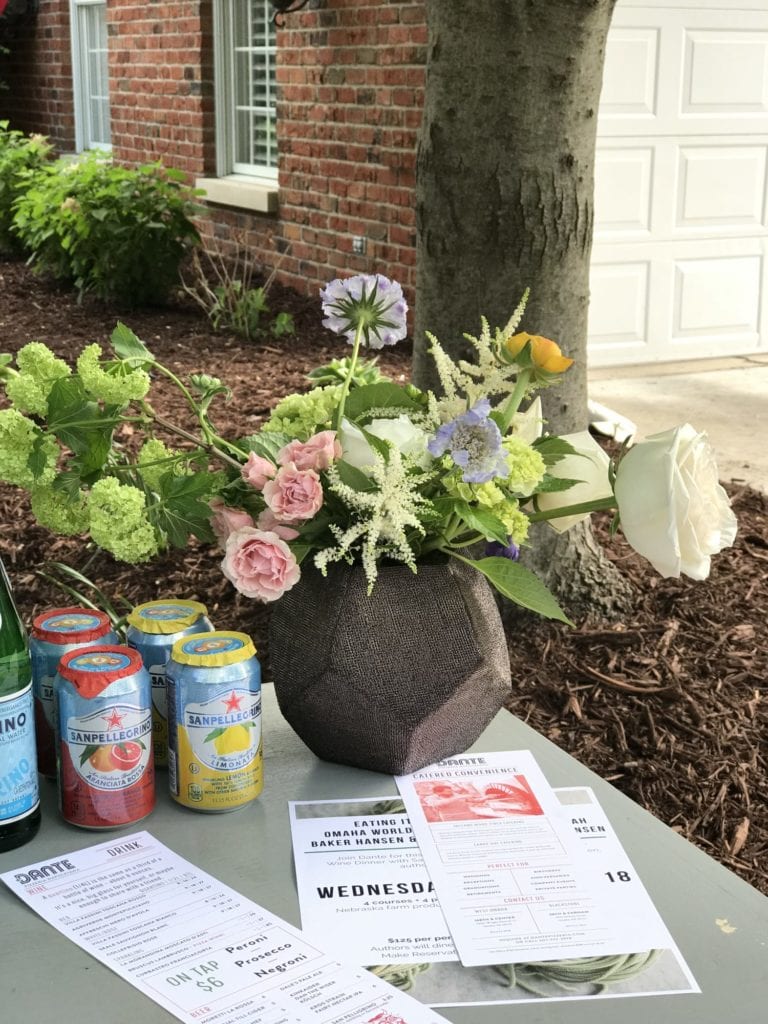 Their pizza is always so good! And it was so fun to meet some local bloggers I hadn't met before. A group of us actually went out afterwards for drinks and it's always fun to talk shop with other people in the industry, especially when they are totally different genres!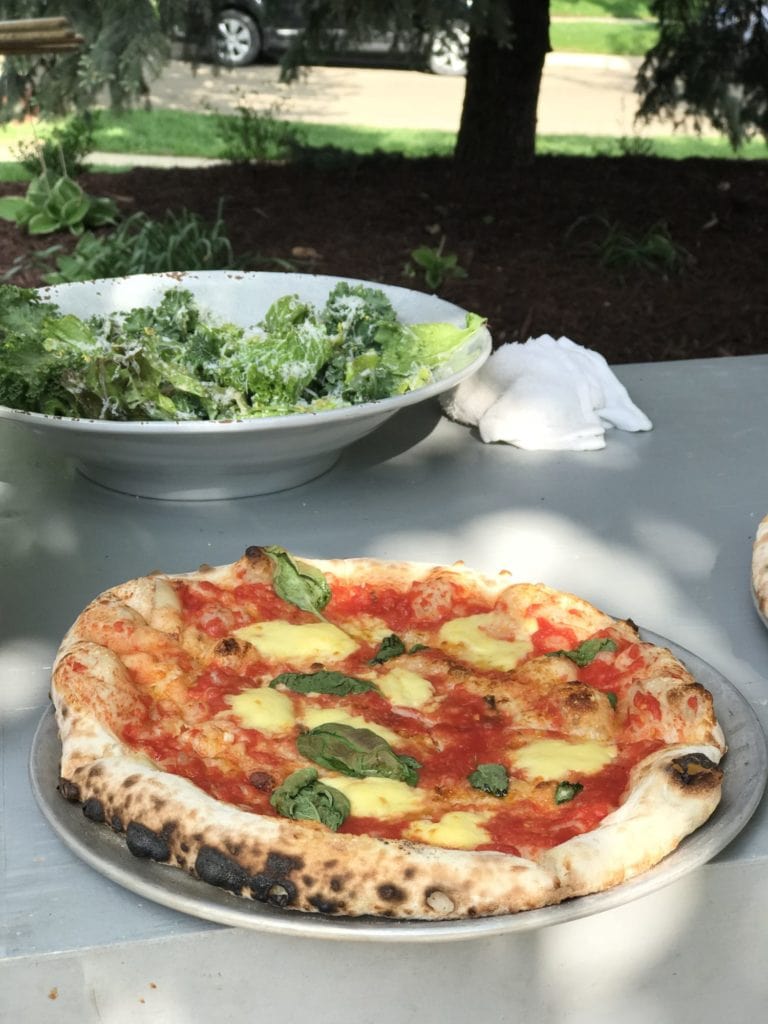 Friday night, we babysat Zoe so Jill and Nick could have a night out. It's hard to believe she's over a month old now. She's so much more alert and is definitely growing so fast.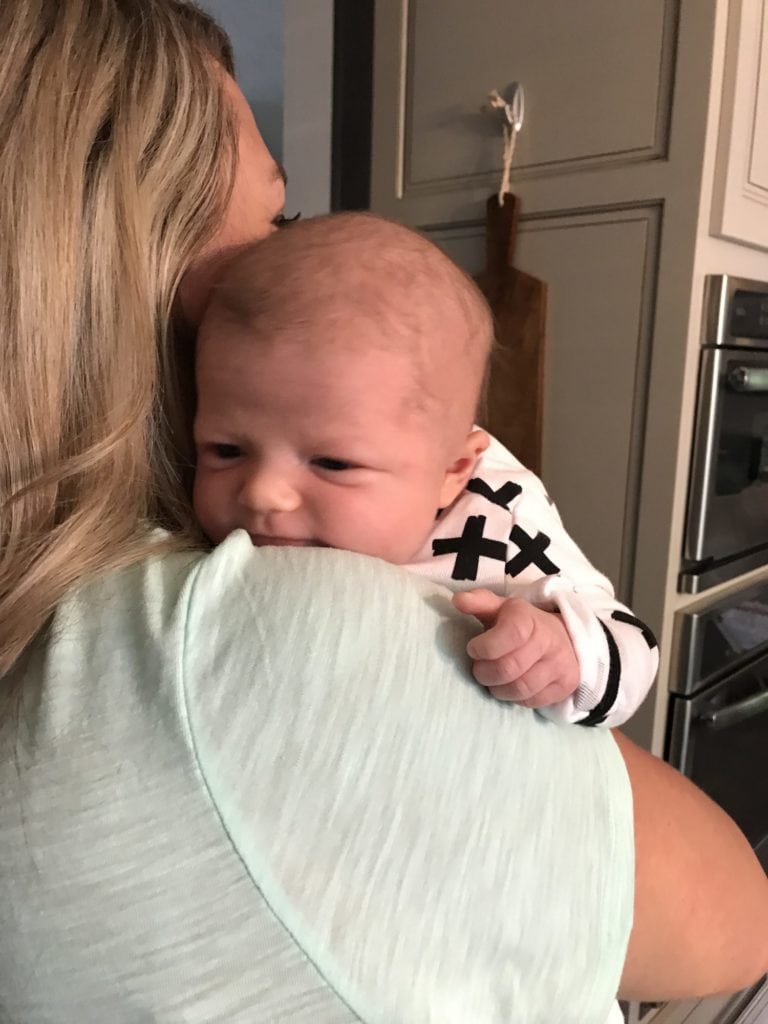 She's seriously the cutest baby ever, even if she is giving me the side-eye in the picture below!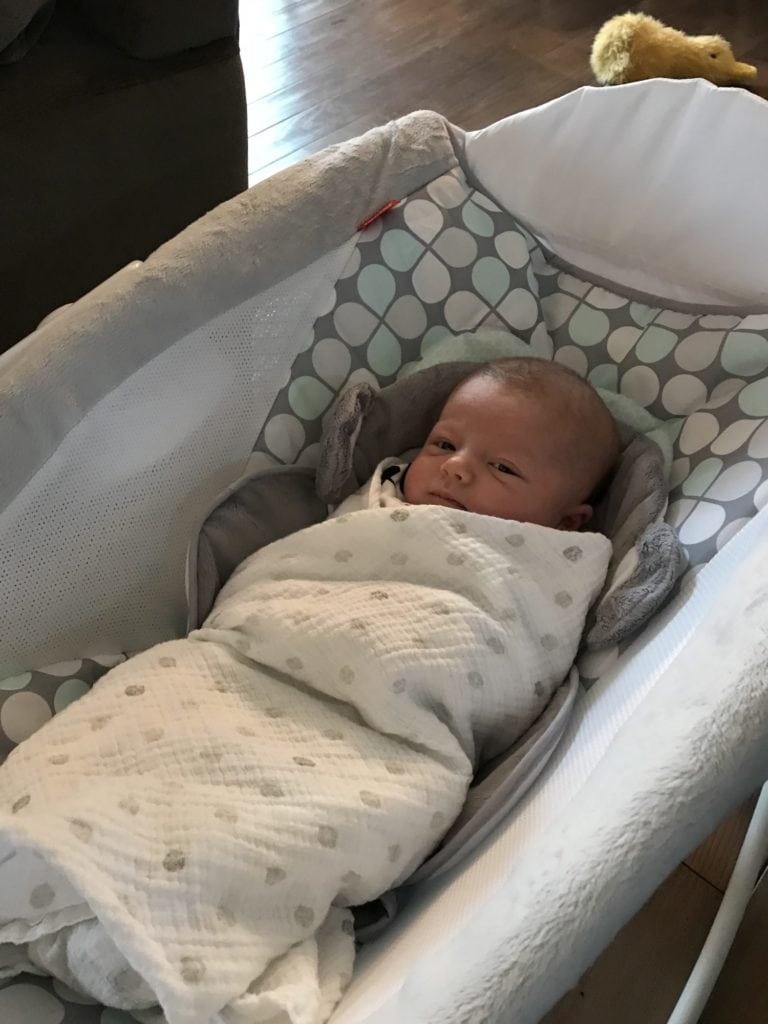 Saturday we did more projects around the house and I wrapped up the trim painting in the entryway. Now I just need to convince Kurtis to switch out the light switches for me, and I'm pretty much ready to go in there!
Sunday was my niece's graduation ceremony in Iowa. We drove with my sister-in-law and brother-in-law the two+ hours journey each way for the ceremony. So proud of these beautiful girls and all they've already accomplished! It's hard to believe Katie, the graduate, was our flower girl thirteen years ago!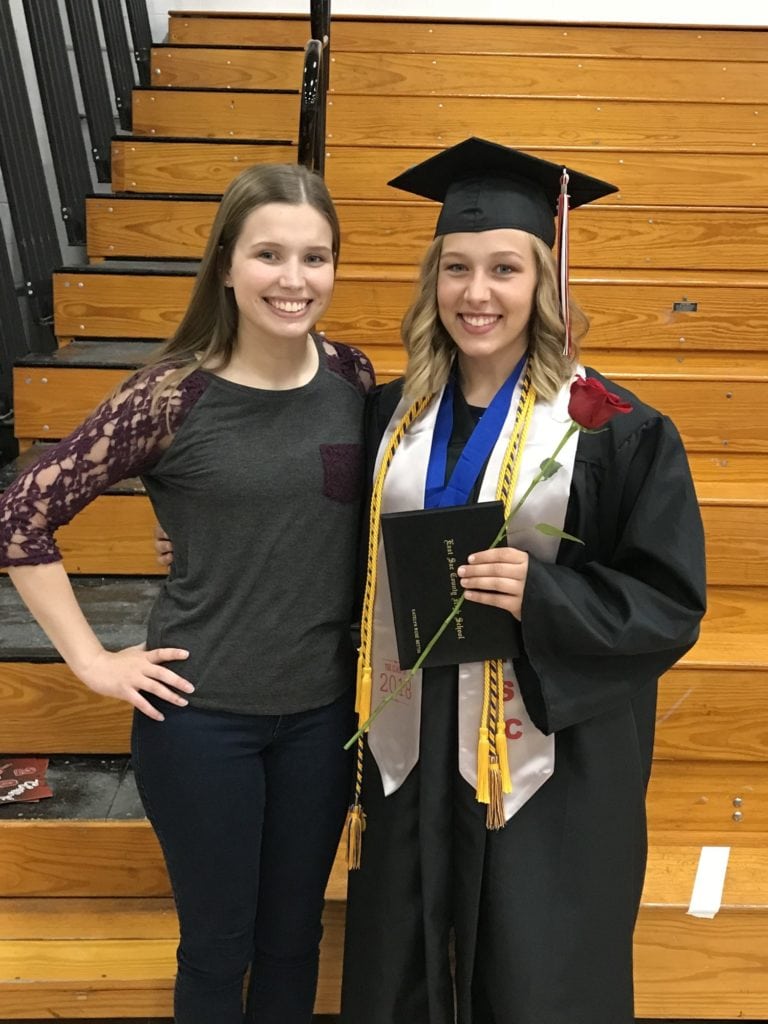 Recent Outfit Favorites
This post contains affiliate links for your shopping convenience. Click here to read my full disclosure policy.
Here's a recent favorite outfit! The tie-front top is the one I mentioned in last week's Wednesday Watch List. It comes in multiple colors and a few striped options – and I love that it's a bit longer than most. I wore the tassel earrings a few times last week and got asked about them no less than a half dozen times. They are so cute in person! I ended up buying two more pairs of these 5″ denim cut-off shorts because I love them so much and I've had the hardest time finding cut-offs that don't have a 3″ inseam. I love the slightly longer length and the fit is so good!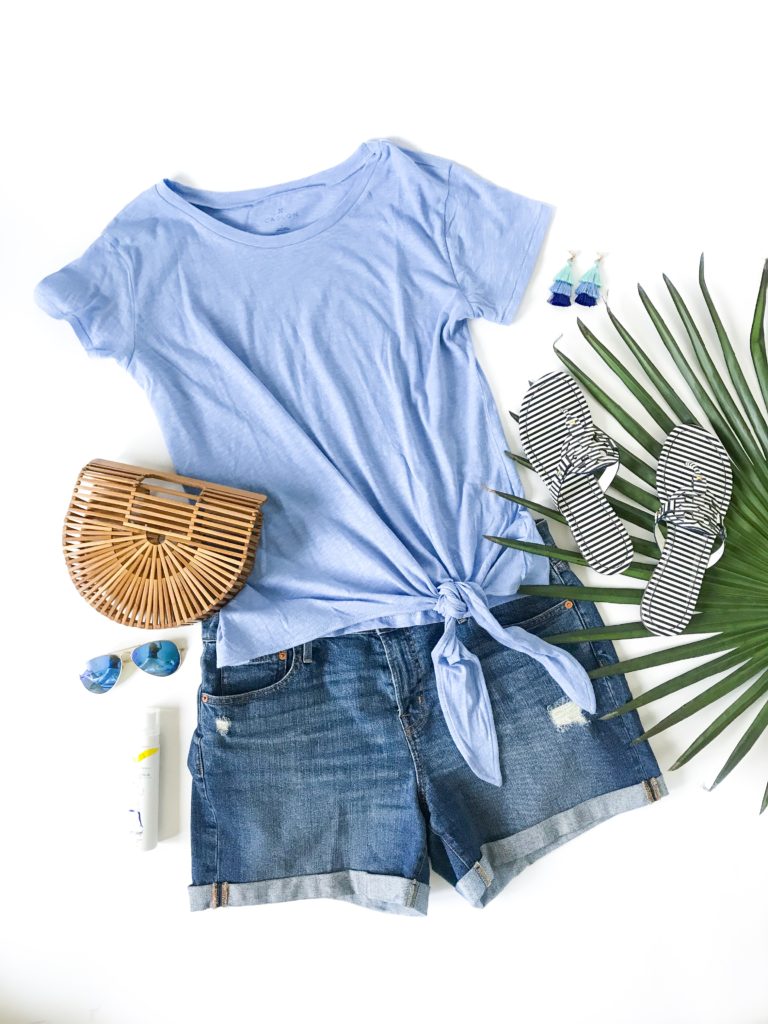 Tie-Front Top | 5″ Denim Cut-Off Shorts | Striped Sandals | Tassel Earrings | Bamboo Bag (knock-off version here) | Blue Aviator Sunglasses | Makeup Setting Mist | Faux Palmetto Palm
Another white house sneak peek and my new favorite outfit. I ordered this striped dress Thursday last week, and it arrived just in time for me to wear to my niece's graduation! Guys – I am in love and you will not believe the price!! It's super comfortable, and the perfect stretchy jersey material that makes it great for packing (or sitting four hours in a car in one day like I did for the trip and back). It is really long (I'm 5'8″) so it could easily be hemmed – and I've also heard from others you can cut this material with scissors and just leave a raw hem and it won't unravel. It comes in six colors and I want all of them now! And I also can't stop raving about my favorite wedges. They are so comfy and the perfect color! You can see a live one-minute review of this outfit on my Facebook page if you're interested!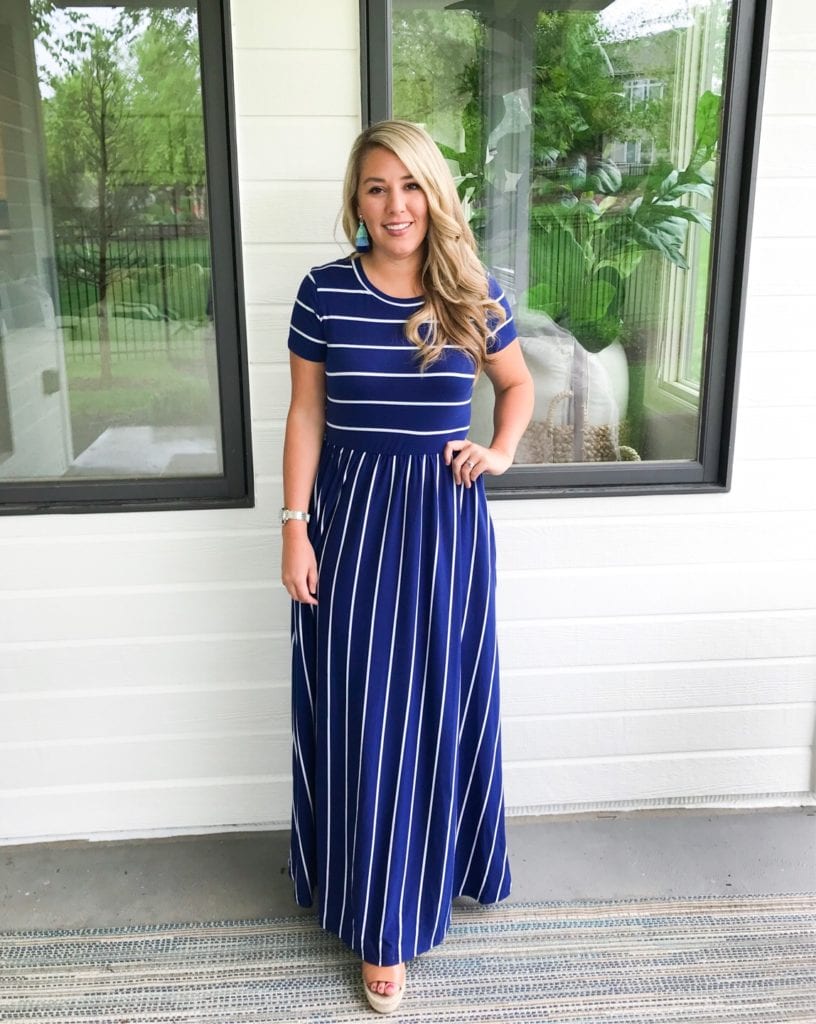 Striped Dress | Favorite Wedges | Ombre Tassel Earrings | Lip Gloss (Love Child) | Watch (similar style, same brand) | Outdoor Rug
I hope you all have a great week!
If you would like to follow along on more of my home decor, DIY, lifestyle, travel and other posts, I'd love to have you follow me on any of the following:
Pinterest / Instagram / Facebook / Twitter / Google+
disclosure: some affiliate links used