Welcome to this week's Wednesday Watch List, where I share the random things that captured my attention and stole my heart over the past week!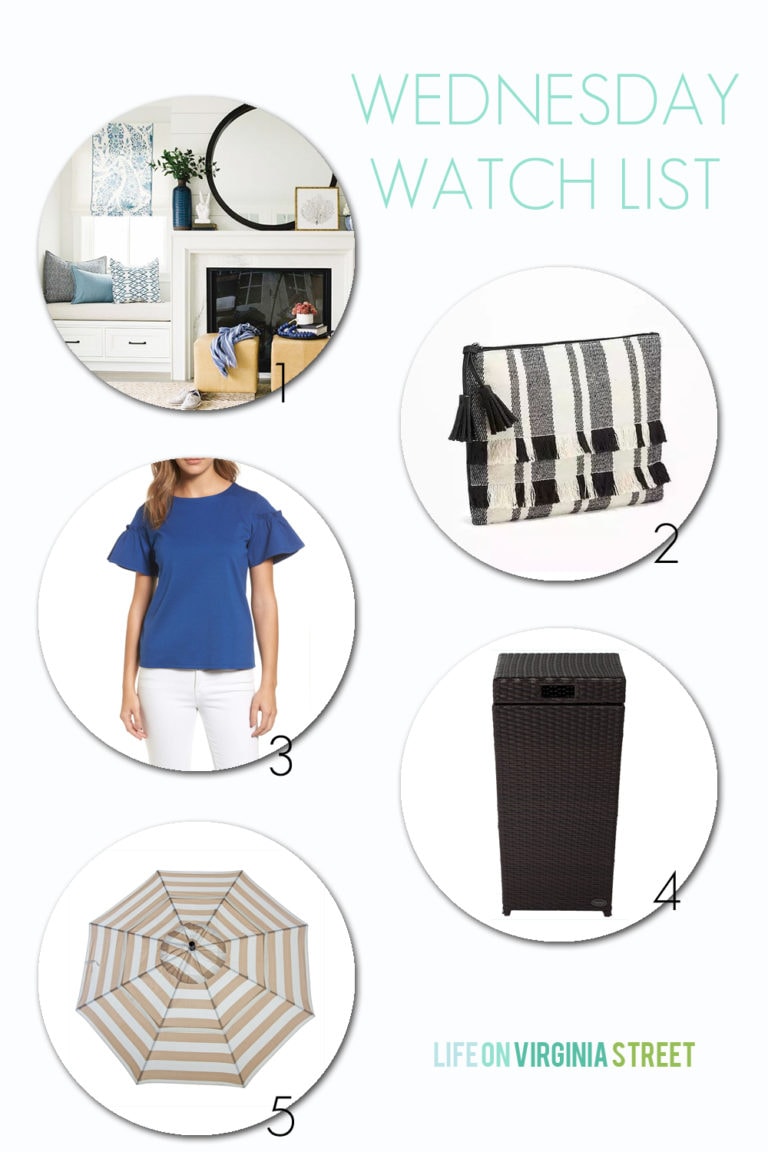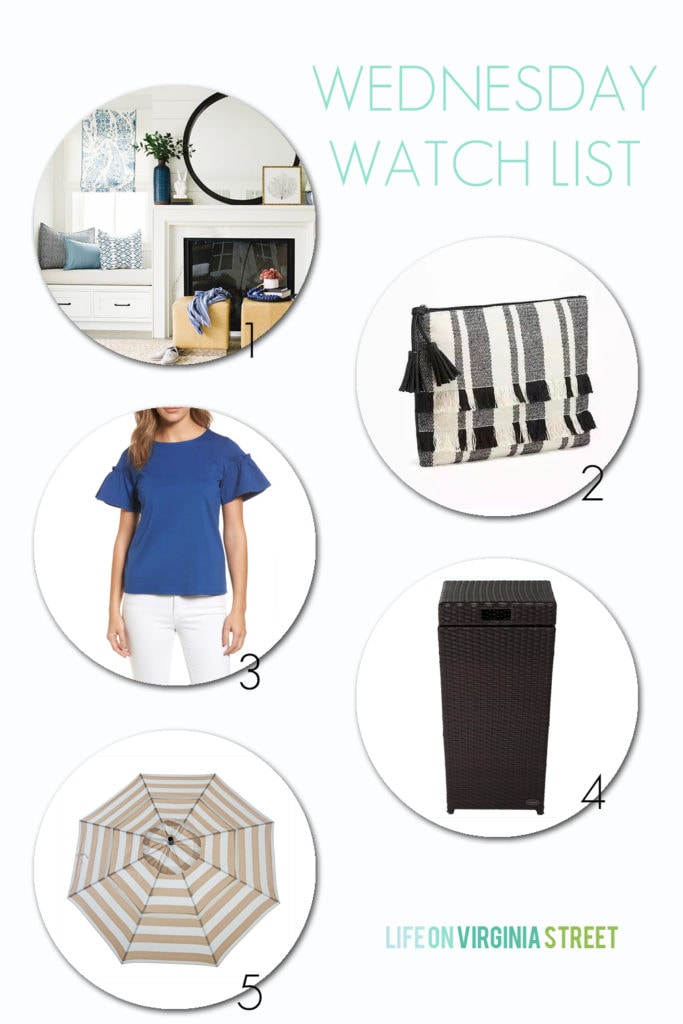 This post contains affiliate links for your shopping convenience.
1 – I stumbled upon Kate Lester's portfolio on Pinterest when I saw some built-in cabinets I loved. But then I saw this room and realized her entire portfolio is amazing! I'm actually obsessed with those roman shades, but knowing my changing fabrics, I don't think I could commit to something so graphic. But aren't they gorgeous?!
2 – I pretty much only use clutches when I don't want to tote my giant purse around. And this stripe, tassel and fringe clutch couldn't be cuter (or more affordable)! It also has a matching tote if you're interested!
3 – I've had my eye on this blue ruffle-trim tee for a few weeks, and when I saw it went 40% off yesterday, I had to have it. So cute and easy to dress up or down. I love the eight colors/patterns it comes in too. You're probably all shocked I didn't go for the striped version instead 😉
4 – Yep, I'm officially featuring a wicker outdoor garbage can. But for good reason! When my mom and her friends were here, they gave us an amazing gift basket full of everything we love for hosting them. But, they also knew Kurtis and I had been arguing over his use of this really ugly garbage can outside. So much so, I preferred to just hang a bag on our cooler 😉 But, they also gave us this wicker garbage can that went with our outdoor furniture and it just arrived this week. We love it! Not only does it look good, but it is so helpful outside by the pool or the covered patio for outdoor meals. So, if you're in the market, I definitely recommend this one! Super sturdy, good looking and not crazy huge (like the one Kurtis forced us to use previously). Perfect timing for the holiday weekend!
5 – Sadly, I had to order another striped umbrella this past week after one of ours bit the dust after that crazy storm we had when our visitors were here. We have three of them and they have been crazy durable and we really love them! They match my Pottery Barn striped outdoor curtains perfectly and I've heard these are actually the exact same umbrellas but for much less money. They're also an additional 10% off right now with code UMBRELLA! We have crazy wind here (it seems like almost daily) and these have done amazing. We've also found that a really heavy base is critical if you get a lot of wind. We've upgraded bases already (one doesn't come with the umbrella) and this one seems to work the best. Plus it has little wheels under it to make it a little easier to move around.
If you would like to follow along on more of my home decor, DIY, lifestyle, travel and other posts, I'd love to have you follow me on any of the following:
Pinterest / Instagram / Facebook / Twitter / Google+
disclosure: some affiliate links used