I'm still in shock that we're about to start a new year already! There's always something so refreshing and motivating about starting fresh! I have lots of goals and plans for the new year and hope to get started on all of them soon! Today I thought it would be fun to share the top 10 reader favorite buys of 2018 from Life On Virginia Street. This is based upon a combination of clicks and sales off of my site and there always seems to be a few surprises I didn't expect. I always find it fun to see what is popular and what wasn't.
Following, in true countdown fashion, are the top 10 favorite buys of Life On Virginia Street readers in 2018. Granted, these favorites are based upon your reactions to items I shared, so if there are any products you found this year that you can't live without, I'd love to hear in comments so I can look into them! Below I've also included the link to the post where the interest in each product came from, as well as some current alternates if the product has already sold out. At the end of the post, I'm also mentioning a few fashion favorites that also popped up!
This post contains affiliate links for your shopping convenience. Click here to read my full disclosure policy.
10 – OFFICE BOOKCASES – I shared these whitewashed bookcases in our office reveal last year, and they are still a reader favorite! We have one on each side of the room, and they are great for storage of office essentials (and mine actually holds a fair amount of books)!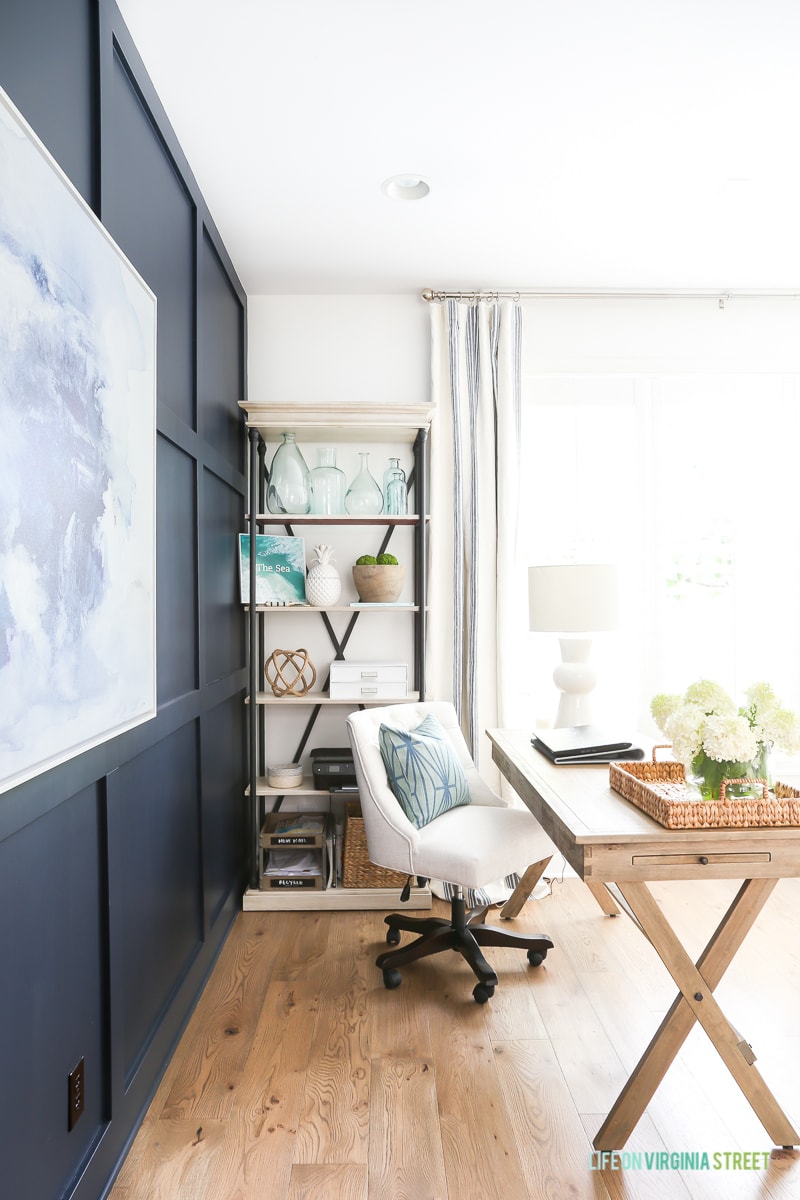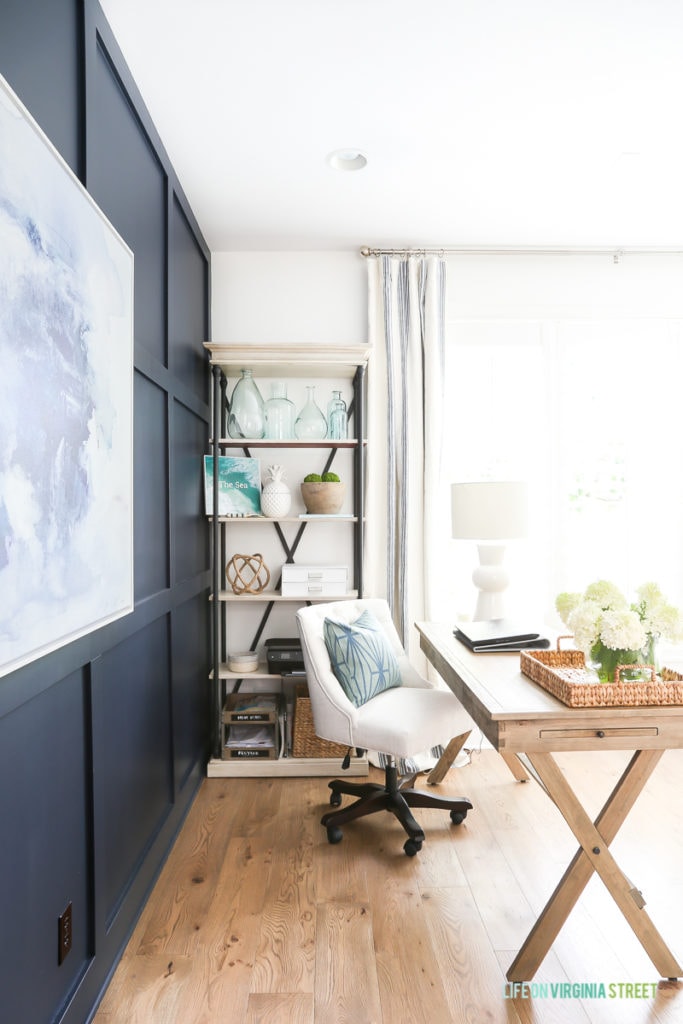 9 – RIVIERA STRIPE DRAPE – Our striped office drapes barely beat the office bookcases! I have been so happy with these drapes (we have the blackout version) that I actually bought another pair for our guest bedroom in the sandalwood color!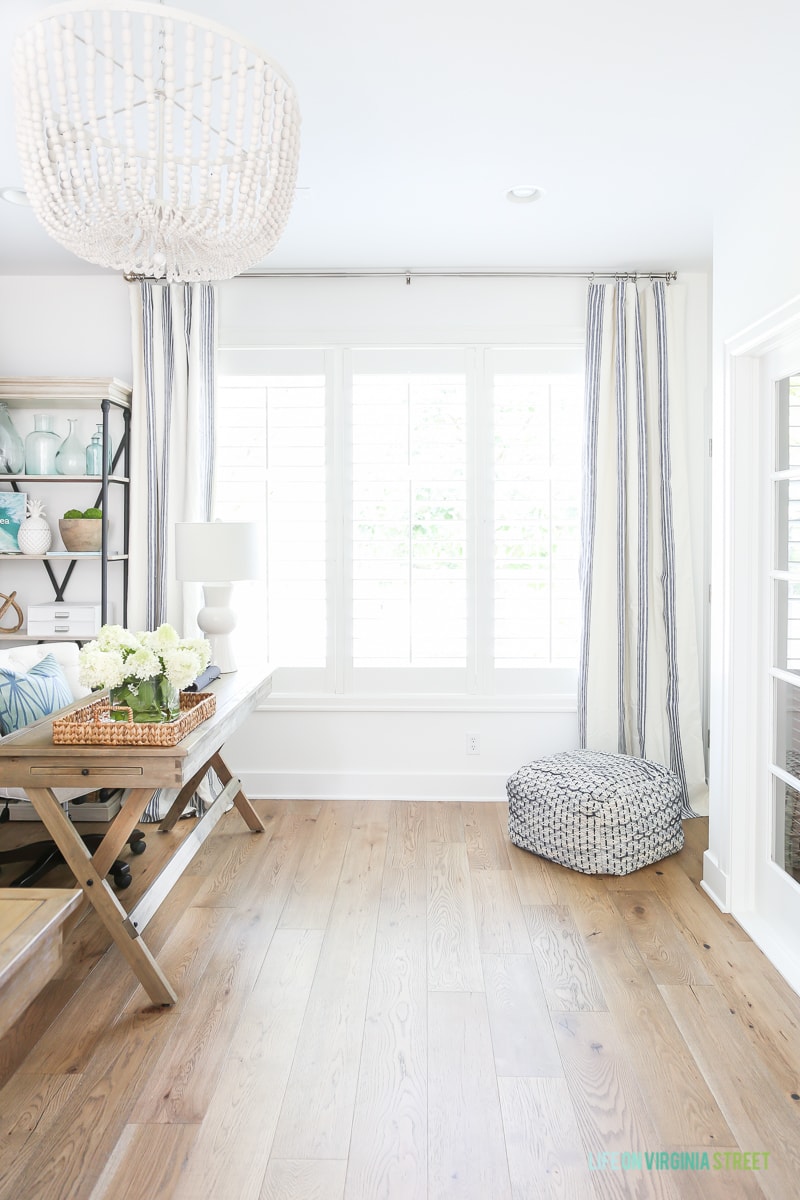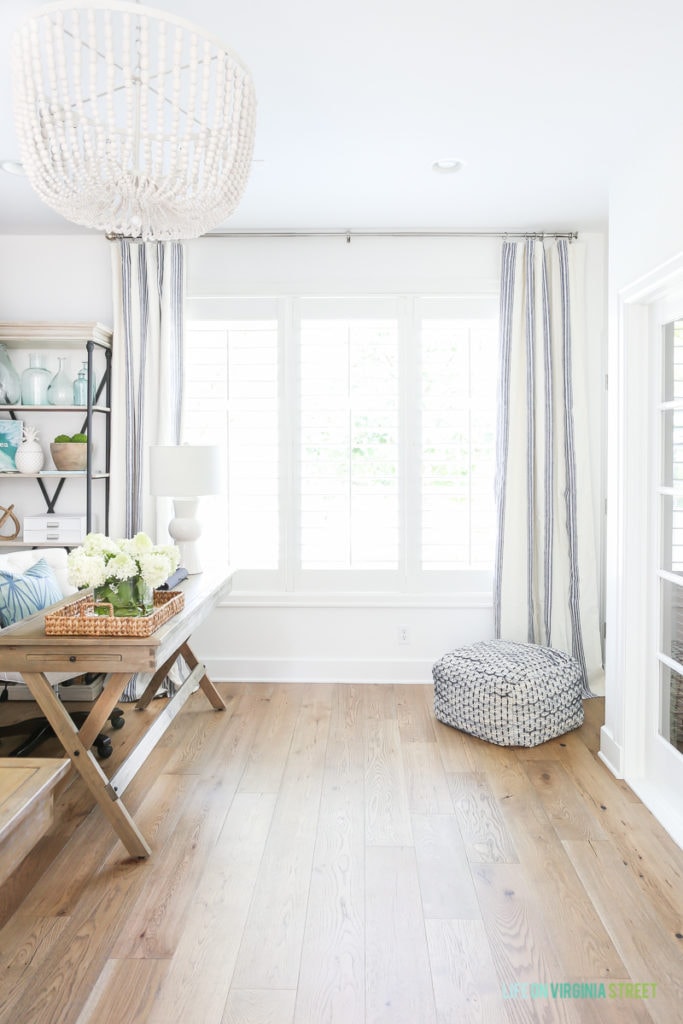 8 – LINEN DINING CHAIRS – I originally got these from Hayneedle and they sold out quickly. I then found them on Wayfair but they sold out there as well. But I have since found them here on Overstock. We love the chairs, and the only real downside is that they only sell them in pairs but they are gorgeous and have held up so well over the years!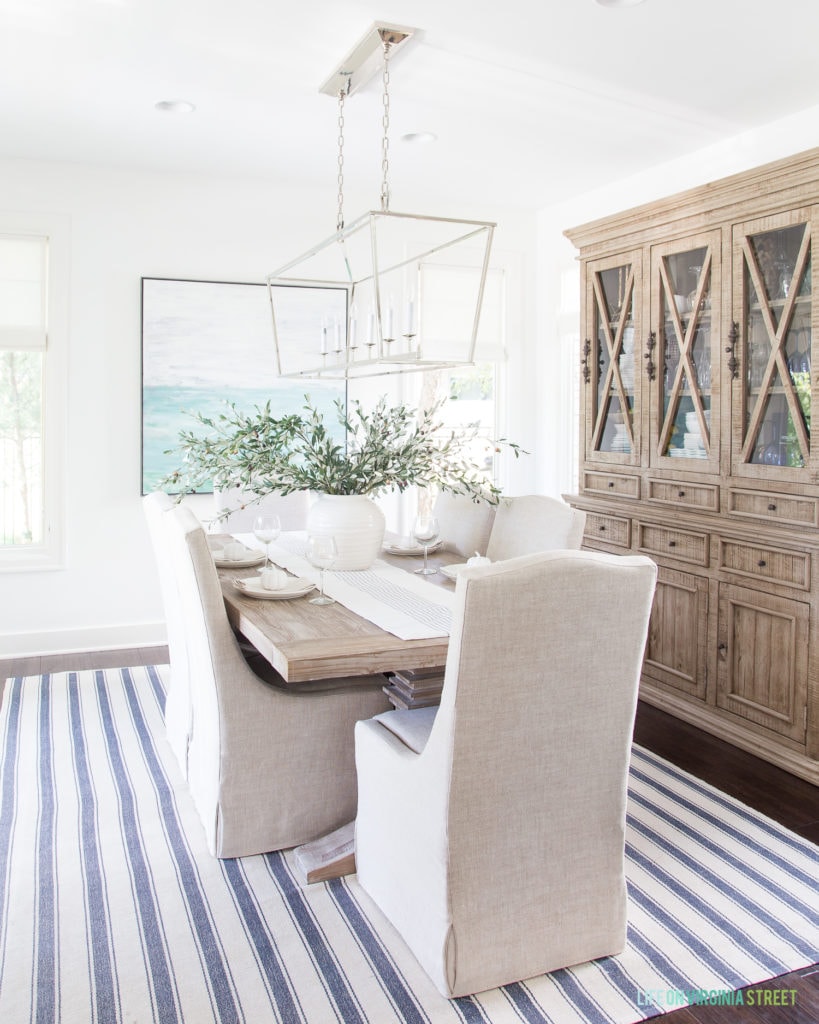 7 – MY FAVORITE FERTILIZER – This one has been a reader favorite for going on three or four years! I've had so many people reach out to me to tell they love this fertilizer every bit as much as I do and they can't believe the difference in their plants! It works on indoor and outdoor plants, and is crazy for flower growth! You can get my step-by-step tutorial on my planters here.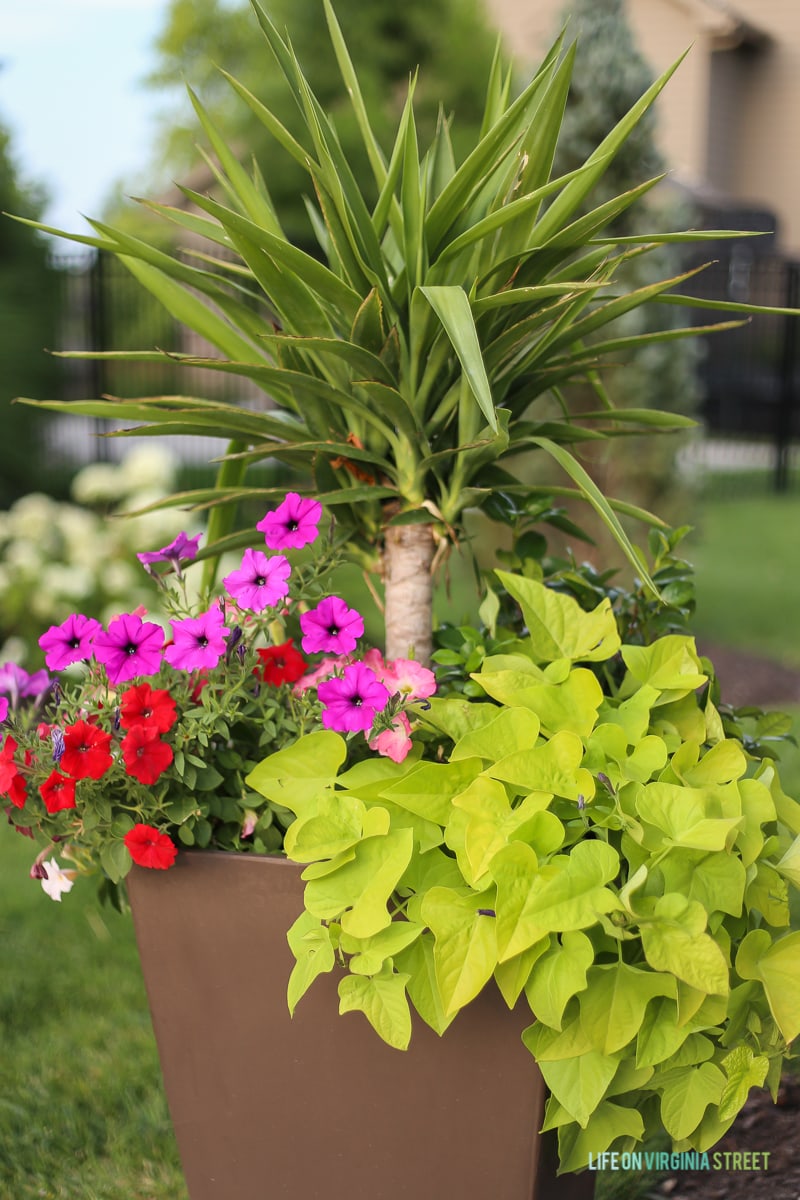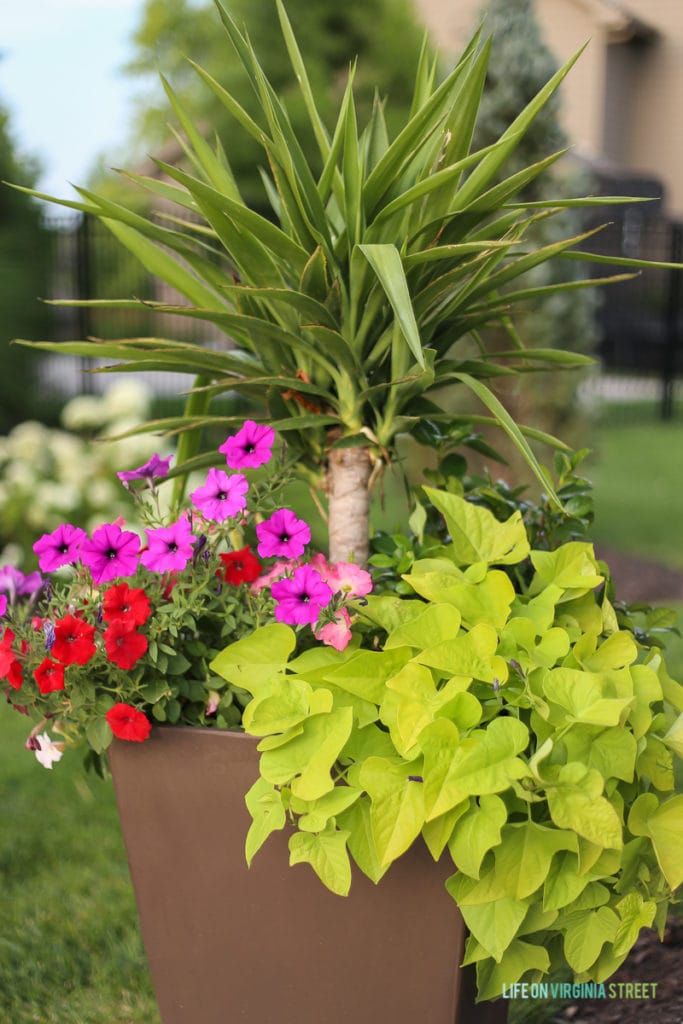 6 – FAUX TOPIARY BALLS – I've definitely gotten my use out of these topiaries this year! They even made an appearance in our Christmas decor! Sadly, they have since sold out, but these faux topiaires would make a good alternative!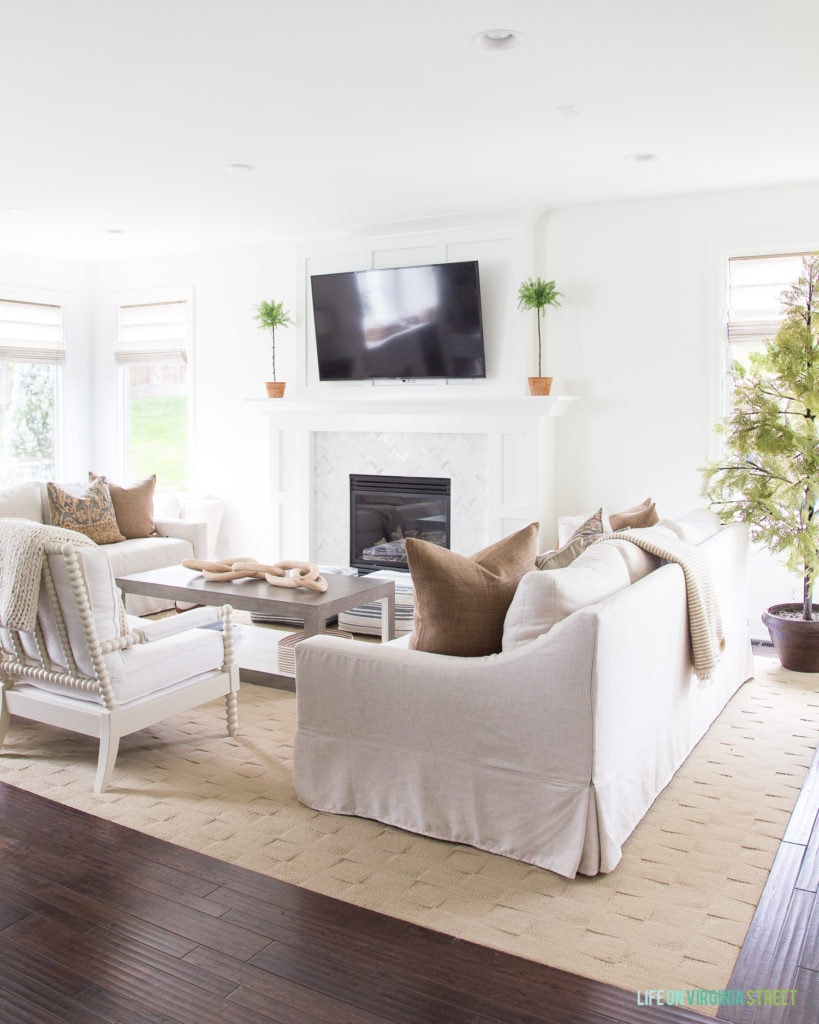 5 – SANTA BARBARA PENDANT – Our kitchen renovation was the big project of the year, so it wasn't much of a surprise to me that our basket pendant lights made the list! We still love them, and if you have interest, the white version of the lights are currently 67% off!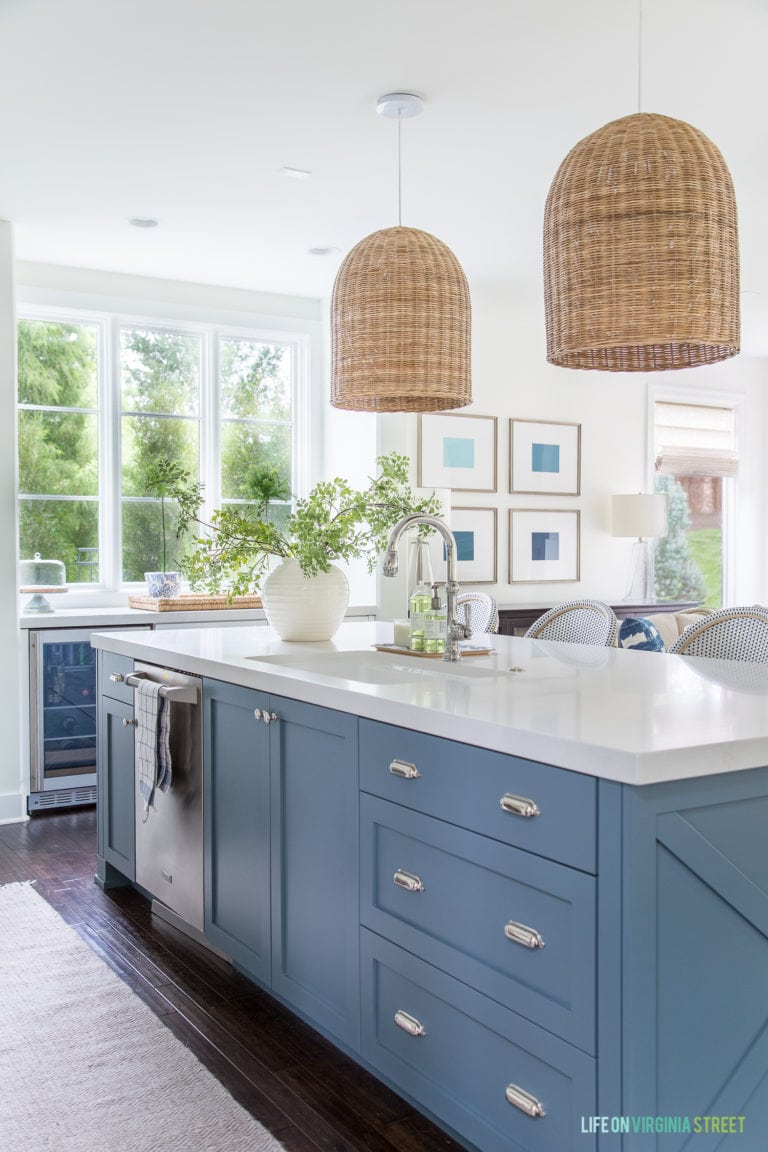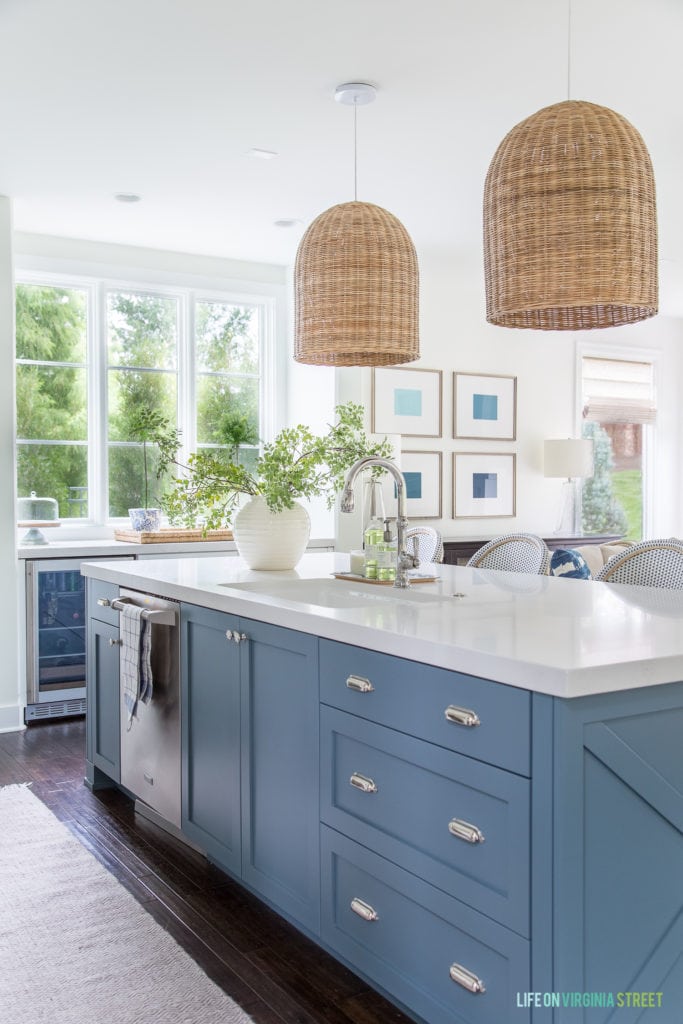 4 – RIVIERA COUNTER STOOL – Another part of our kitchen reveal, our new counter stools are definitely a favorite around here. They're a breeze to clean up, are much comfier than they look like they'd be, and add the perfect amount of coastal charm I love!.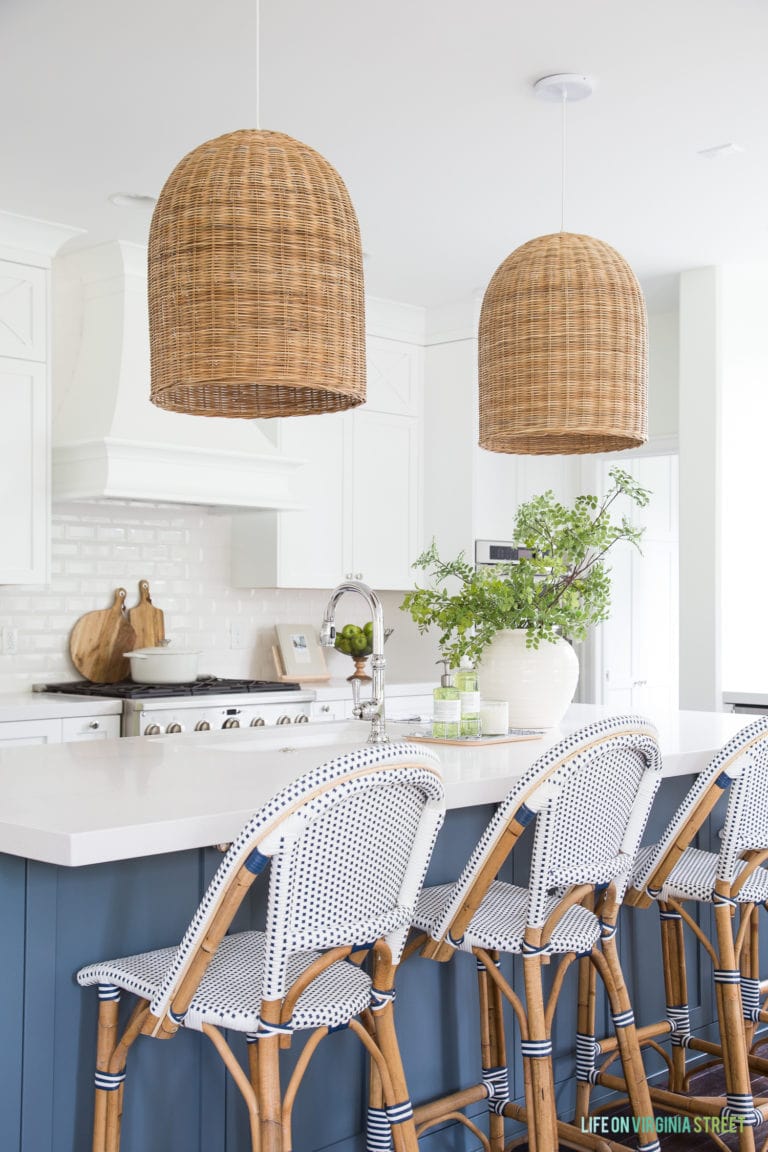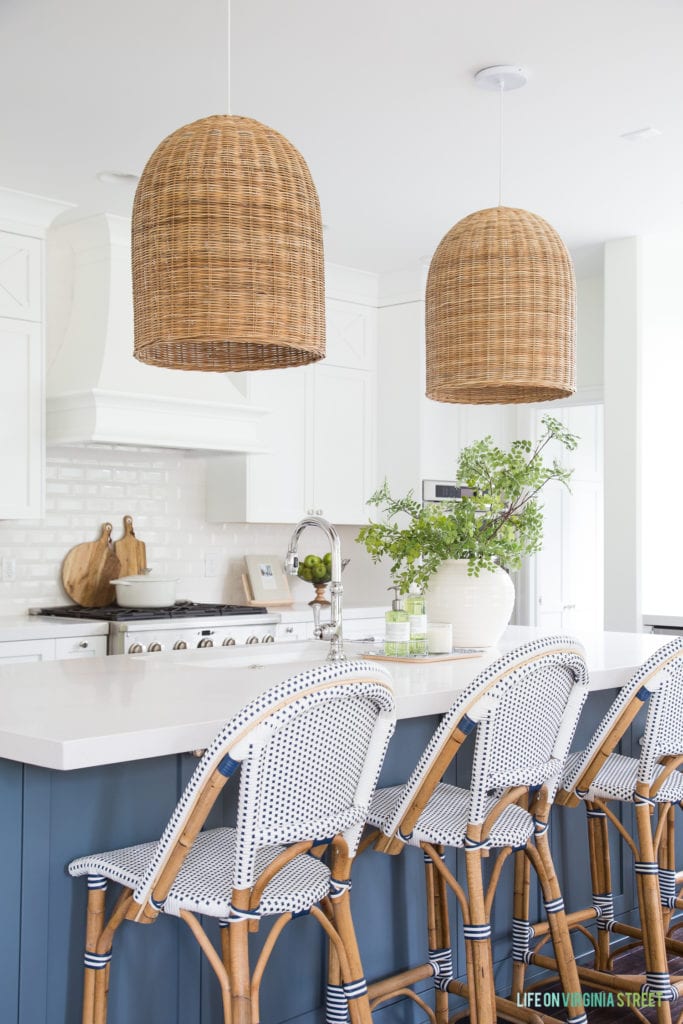 3 – HENDERSON ARM CHAIR – These spindle chairs in our living room were one of my favorite buys last year! Our specific fabric is the Bevin Natural, which continues to go in and out of stock. But, there are still a lot of versions left of the chair. I really like the finish on this spindle chair that is still available and the price is hard to beat!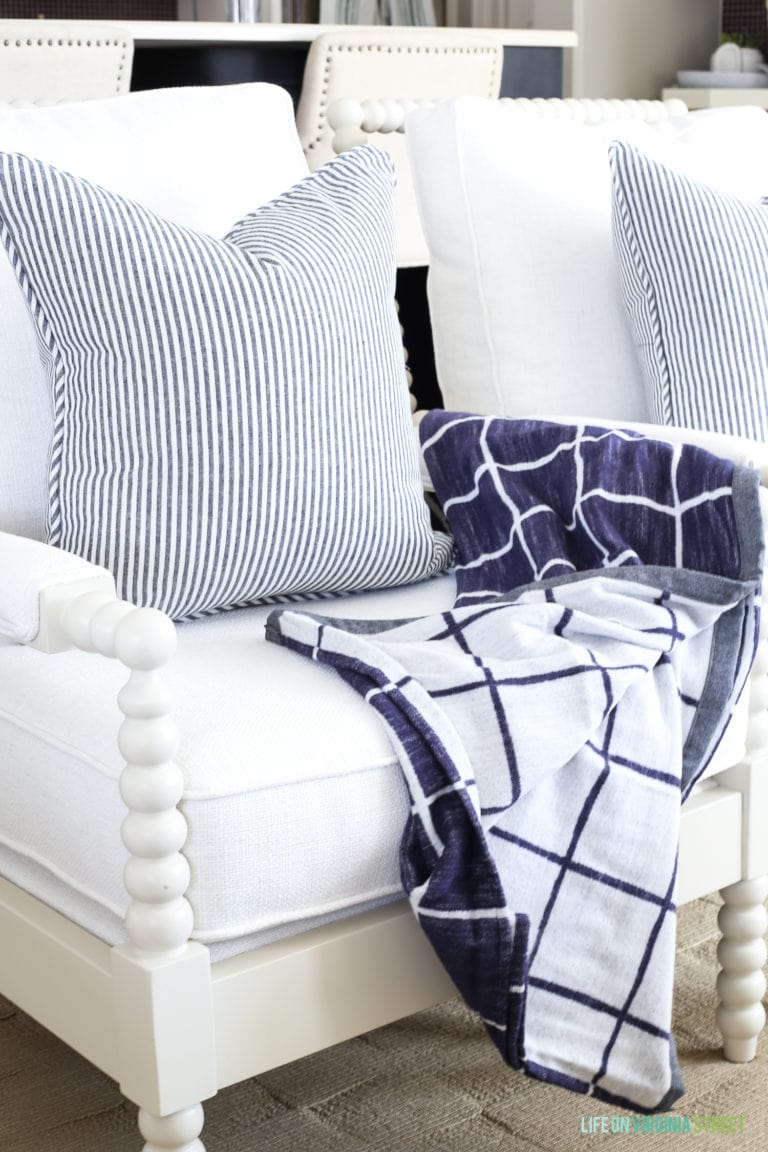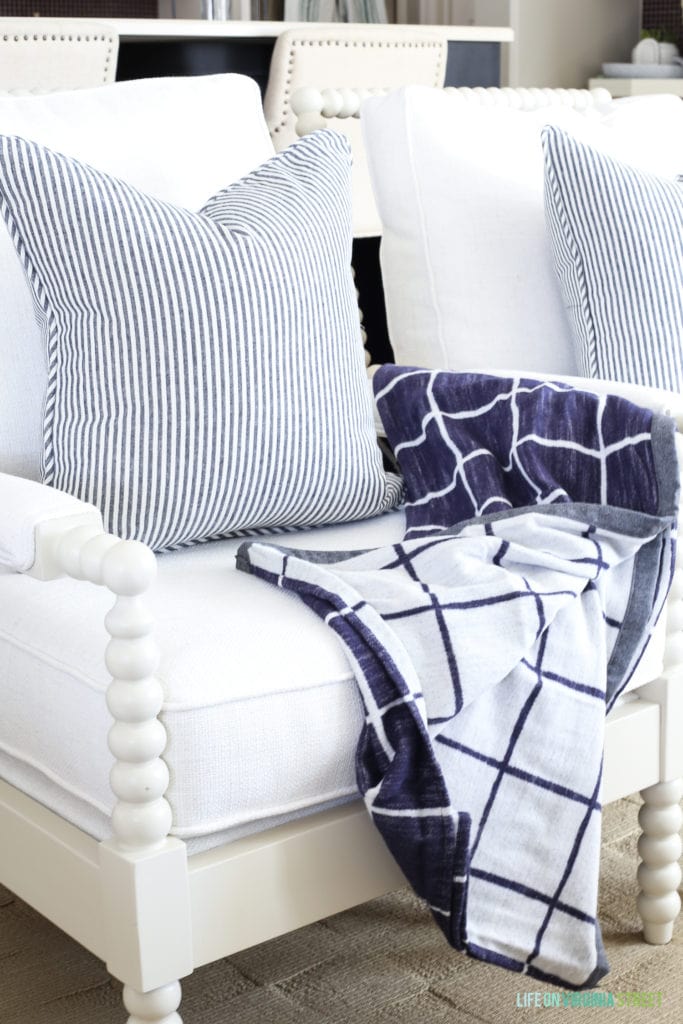 2 – DARLANA LINEAR PENDANT KNOCK-OFF – This one is never a surprise to me when it pops up. Our dining room light is crazy expensive, and at the time, this knock-off didn't exist. It's an excellent dupe and the price is hard to beat! It also comes in the lantern version. You can read my review of all the finishes in this post.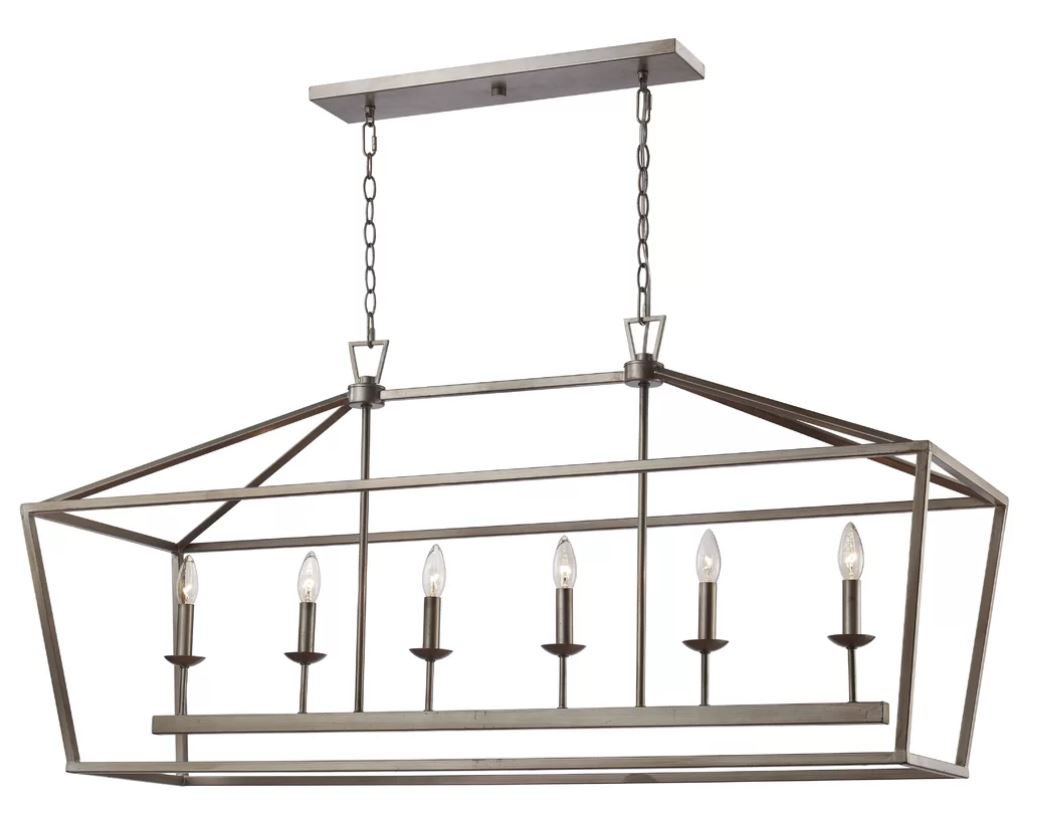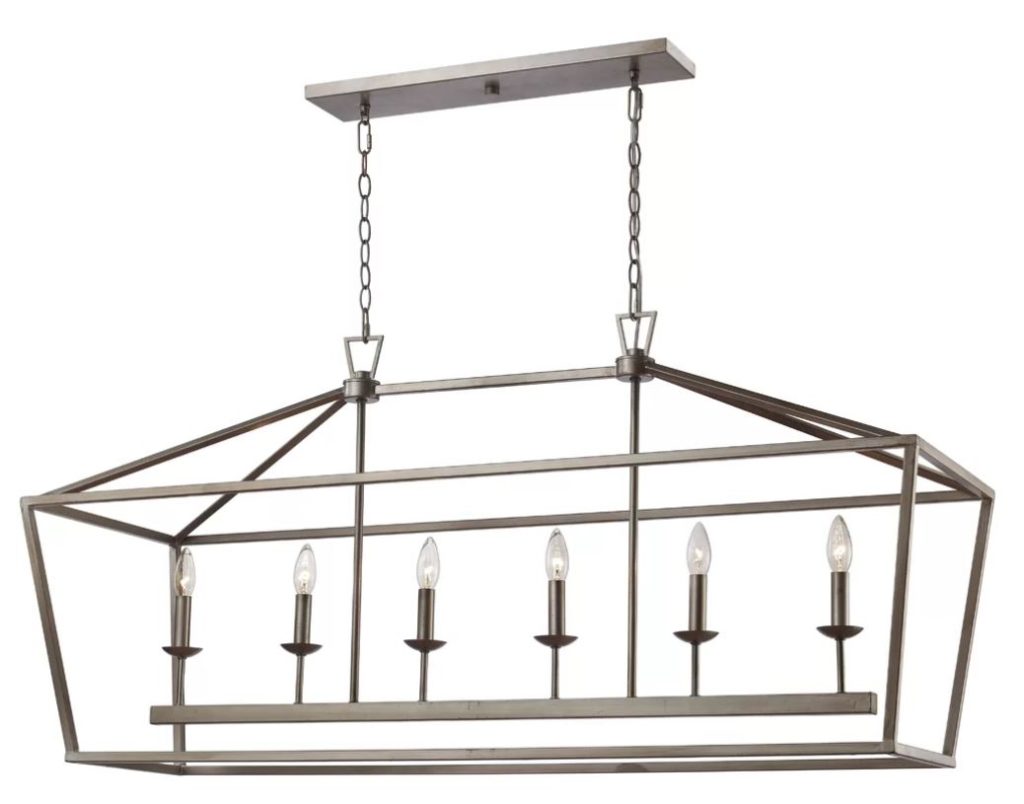 1 – POTTERY BARN YORK SOFA – Early this year, I shared a review of our York sofas and we still love them every bit as we did day one! Since that time, we've actually had more spills and issues with things we thought would stain the fabric, and we are shocked at how indestructible the Crypton fabric is! You can get all the specifics for exactly what we ordered here. And the good new is, Pottery Barn is currently doing their buy more, save more sale, so you can get them for up to 30% off right now with code SAVEMORE (the only time I ever recommend investing in them)!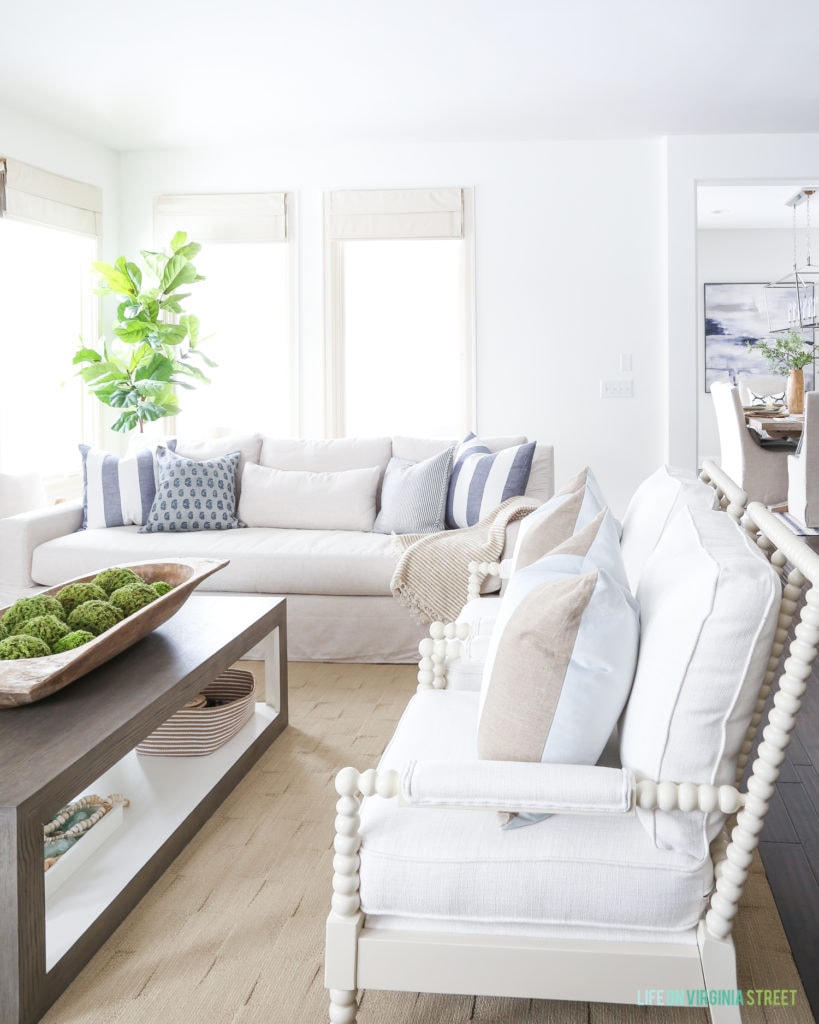 On the fashion side of things, this sweater, this dress, these booties, this sweatshirt, and this top were the hot items of the year! But, as seems to be the case with seasonal clothing items, most of them have sold out or are only available in limited quantity. But, I thought they were worth mentioning regardless, as it's fun to see what the hot items of the year were!
Next week I'll be sharing the top ten posts of the year and that is always a fun one to read as well! I hope you all have a happy safe New Year's Eve and Day!
If you would like to follow along on more of my home decor, DIY, lifestyle, travel and other posts, I'd love to have you follow me on any of the following:
Pinterest | Instagram | Facebook | Twitter
disclosure: some affiliate links used