I mentioned a few weeks ago I was struggling finding pillows for spring. This post actually started out as a "spring throw pillows" post but quickly evolved. A few days ago I struck gold with some great items for spring at TJ Maxx when I started my search. This post isn't sponsored or anything – I just wanted to share the cute items they have right now! Be sure to also check out my December 2019 TJ Maxx home decor finds, as well, for even more inventory!
This post contains affiliate links for your shopping convenience. Click here to read my full disclosure policy.
I stumbled upon some lookalike Serena & Lily pillows on the TJ Maxx home decor section of their website a few days ago, and I went a bit crazy with my shopping after that point! I find that they (and HomeGoods) can be a bit hit or miss. It's either all good, or just kind of 'meh'. I honestly hadn't bought anything from either store since fall time. You already know I love their selection of lamps (I shared a bunch in my table lamp post). And their pillows and other decor is no exception!
So, when I found pillows I wanted online, I visited all of our local stores (two TJ Maxx, two HomeGoods and a Marshall's). Turns out none of the good stuff I had found was available in person. So, today I thought I'd share some of my online spring home decor finds at TJ Maxx! The only downside is, given their online quantities are limited, I thought some of this may sell out before it arrived. So I wanted to share all my finds with you today – and then hopefully you'll see them next week styled in our home! Turns out I found most of my spring home decor here, rather than my usual sources!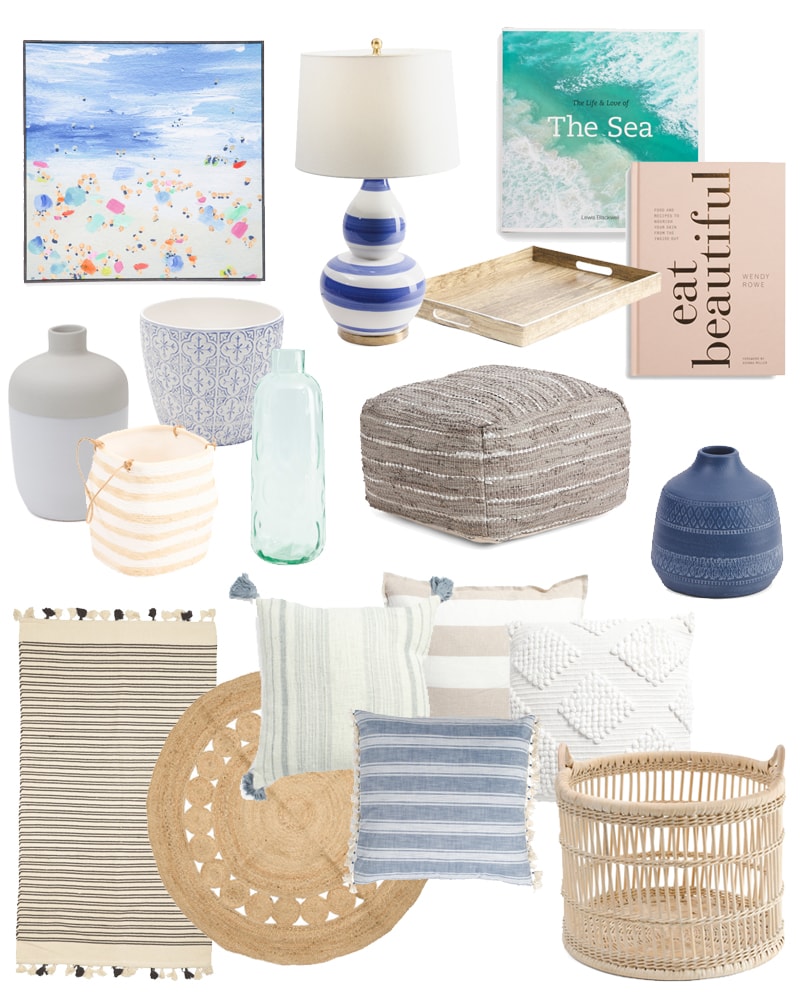 Beach Art | Lamp | "The Sea" | "Eat Beautiful" | Wood Tray | Colorblock Vase | Blue Patterned Vase | Striped Planter | Glass Vase | Pouf | Dark Blue Vase | Striped Rug | Round Rug | Tassel Pillow | Rugby Stripe Pillow | Blue Striped Tassel Pillow | Textured Pillow | Basket
Throw Pillow Favorites at TJ Maxx
Not only are many of TJ Maxx's pillow cute and affordable, but they typically come with a down insert already included! Sometimes the prices of the full pillow and cover is less than some inserts at other stores! Here are some of my favorite finds (some come in other colors as well). Click any of the images below to learn more about each item.

Don't this pillow and this pillow look like this option (in both sizes)? The banded tassels are almost identical. And this one (in blue) look like this one? And this one look like this one? I'd argue there's even more options but I felt like this gives you a good idea. I'm in love and it's a great way to get the look for less! I'm guessing these will sell out the quickest!
Coffee Table Book Favorites at TJ Maxx
Turns out they also carry basically every single coffee table book I own. These are some of my all-time favorites! Click any of the images below to learn more about each item.

Wall Art Favorites at TJ Maxx
They definitely don't have this selection in our stores! I'm so in love with so many of these! Click any of the images below to learn more about each item.

Vase & Basket Favorites at TJ Maxx
I always seem to have great luck finding decorative baskets at TJ Maxx and HomeGoods, but the problem is, I usually want at least a pair. Which I can rarely find in person! The online section is pretty killer and this way you can order multiples if needed! Click any of the images below to learn more about each item.

Miscellaneous Home Decor Favorites at TJ Maxx
These Gucci candles are a fun find (and hard to actually find because they aren't searchable by the brand name). The gray embossed logo jar alone would make it a really fun gift. Following are some other good finds. Click any of the images below to learn more about each item. Also, this rug reminds me of this much pricier one!

I hope you found this post helpful and inspiring to start your spring decorating!
If you would like to follow along on more of my home decor, DIY, lifestyle, travel and other posts, I'd love to have you follow me on any of the following:
Pinterest | Instagram | Facebook | Twitter 
disclosure: some affiliate links used