I'm sharing with you my best tips for a more organized new year!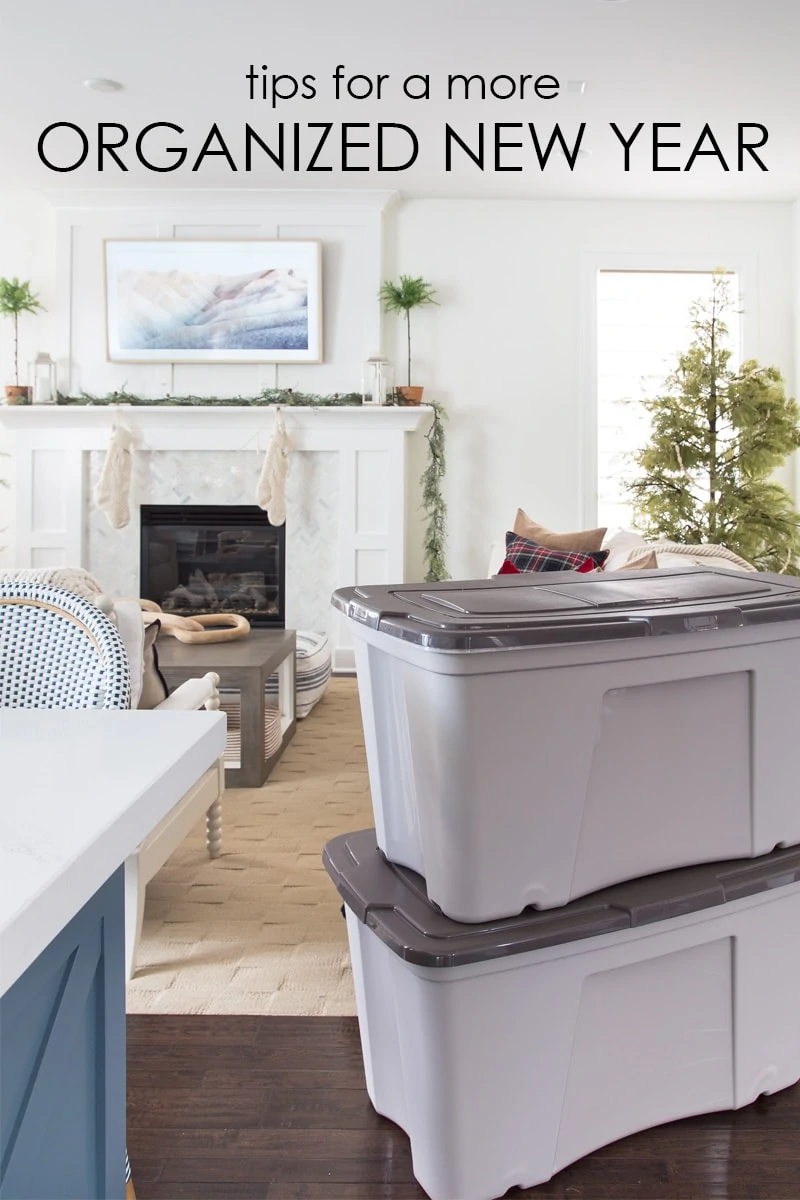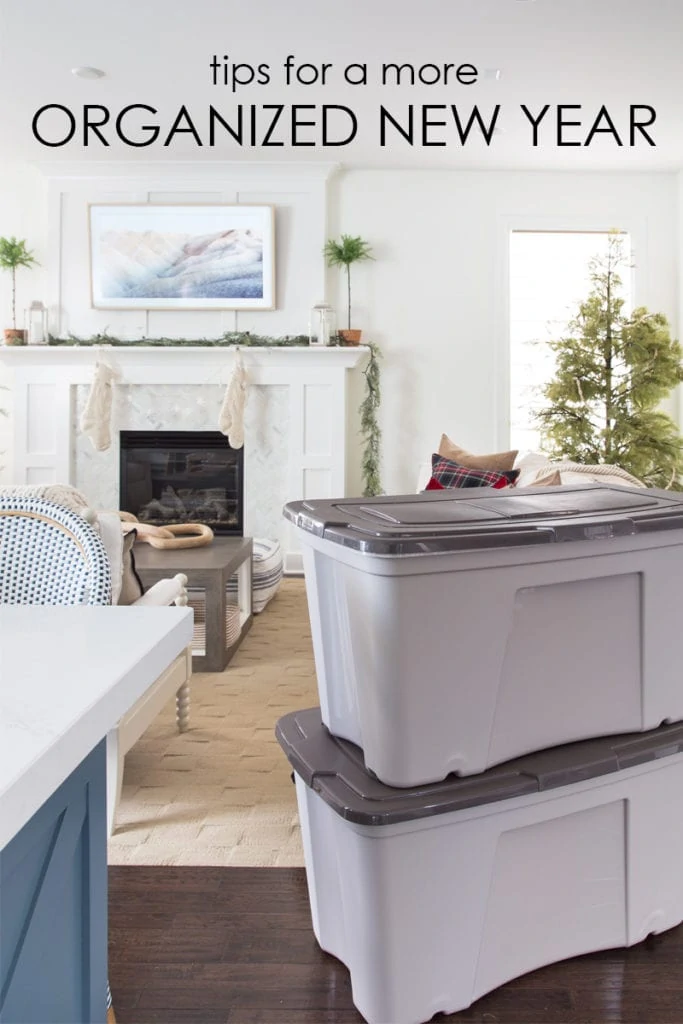 This post is sponsored by Suncast and contains affiliate links. As always, all thoughts and opinions are my own. Click here to read my full disclosure policy.
It's hard to believe another exciting new year is nearly upon us! I like to take the last few weeks of the year to really enjoy the holidays, but also to do simple tasks to help make me more organized for the coming year. Today, I'm going to be sharing some tips for a more organized new year.
Keep a To-Do List
I've become a firm believer in keeping a to-do list for the past few years. Not only does it keep me much more organized (and accountable) for items on the list, but I find I lay awake less at night thinking of all the things I have to do. I continue to buy this desktop calendar/mouse pad and write out my weekly list every Monday morning. By doing so, I've become much more intentional with my time, and feel much more organized on a daily basis!
Purge & Donate Unwanted Items
December is my favorite time of year to purge unwanted items. As you take down your day-to-day decor to prepare for the holidays, it allows you to closely examine what items you really want to carry over into the new year. Many times I find that the items I have out are there simply because I haven't dealt with them. I also love to use this time to go through my closet and donate unwanted items. I'm always more motivated because I know what I pull can help others. And if you donate before the end of the year, you have the added bonus of a potential tax write-off!
I also like to plan out my storage needs ahead of time, so I have all the totes and bins I need to store holiday decor at the end of the season. I love these 50 gallon outdoor storage bins because they hold so much I don't need to buy five smaller bins to hold the same amount of items.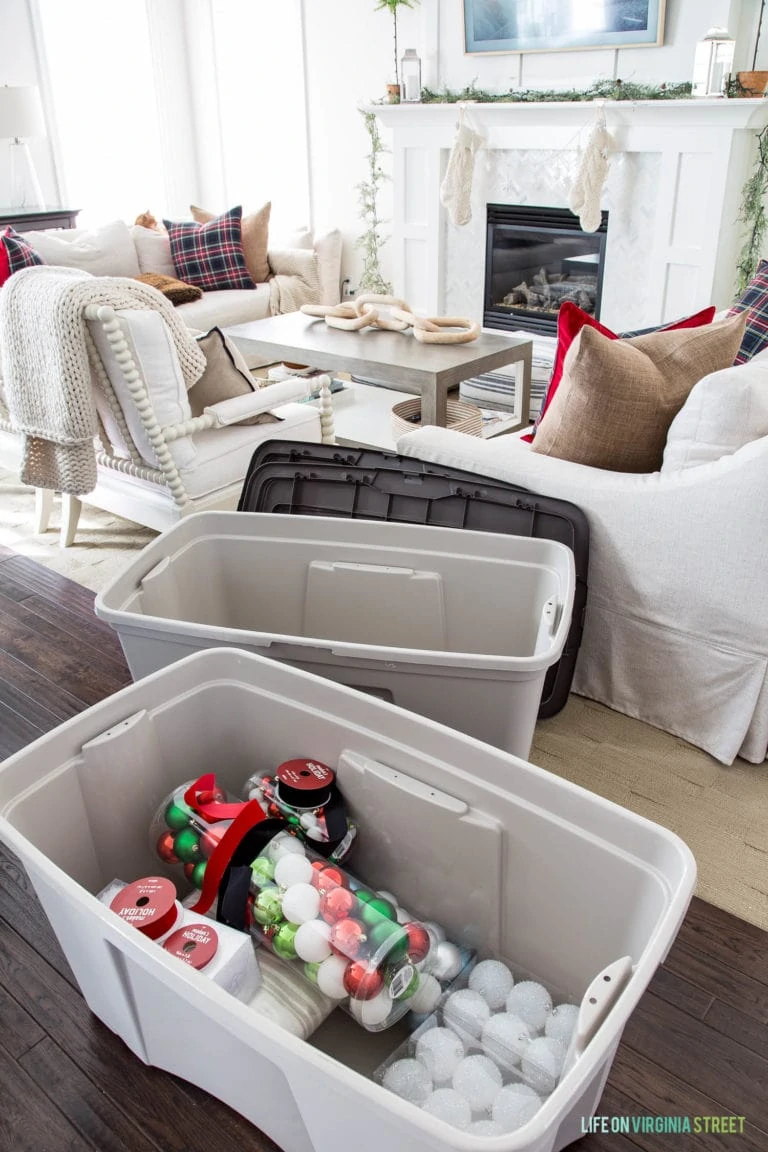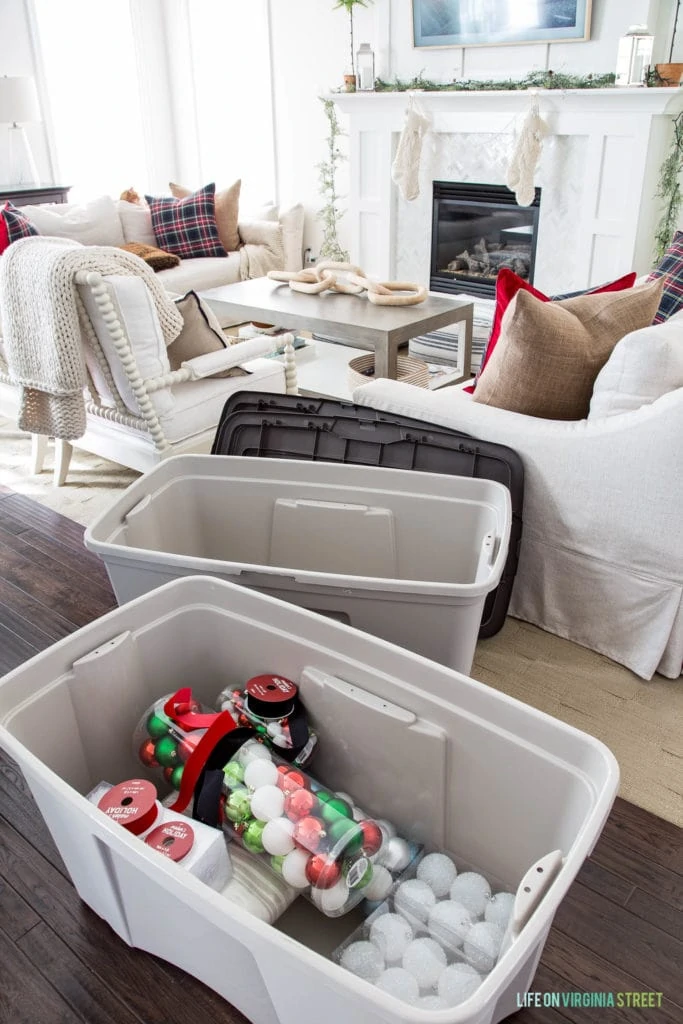 Clean Up Regularly
Kurtis and I aren't the tidiest of people. However, since the kitchen renovation, I've tried to make a conscious effort to always keep the kitchen clean. Along with that, I've found it has carried over to other areas in our home. It's pretty amazing to wake up every morning to a clean house and it helps get the day started off on the right foot!
Replace Items That Are Past Their Prime
Each November, we try to take stock of items we feel are past their prime in our home. We then make a list to try and watch for some of the items during holiday sales so we can get them at the best price. One example is the storage bin we were using for our cat food. It was several years old, and was past the point where cleaning it made it look any better and I'm not sure how sanitary it was. We opted to replace it with these hopper bins that also work great for food storage! Now we know our cat food is staying as fresh as possible! This task could also carry over to items in your pantry, garage, laundry room, etc.!
Follow the "Everything Has Its Place" Mantra
Far too often, I'd transfer items that needed to be put away from one location to another. Many times, I would move them to five different locations until I actually put it away. If you have a designated place for every item in your home and put items immediately back after use, you'll find you have to spend much less time during the week tidying up!
Tackle Your Organization Nemesis
We all have those areas or items that we know need addressed but always avoid handling. And then it continues to hang over you. For me, it was paint cans. I'm not exaggerating when I say we had paint cans in every cupboard and cabinet in our home. It was, quite frankly, out of control. A week or two back, I decided to tackle this issue once and for all. I ordered this heavy-duty storage cabinet from Suncast and placed it in our basement. Then I rounded up every paint can in our home and organized it all. I can't tell you what a relief it is to have all of our painted sorted and organized in one location! Not only that, we now have the added benefit of clean cupboards and cabinets in other areas of our home. Please note: you'll want to ensure to check labels prior to storing items in this cabinets, as you should not store products marked flammable or caustic inside.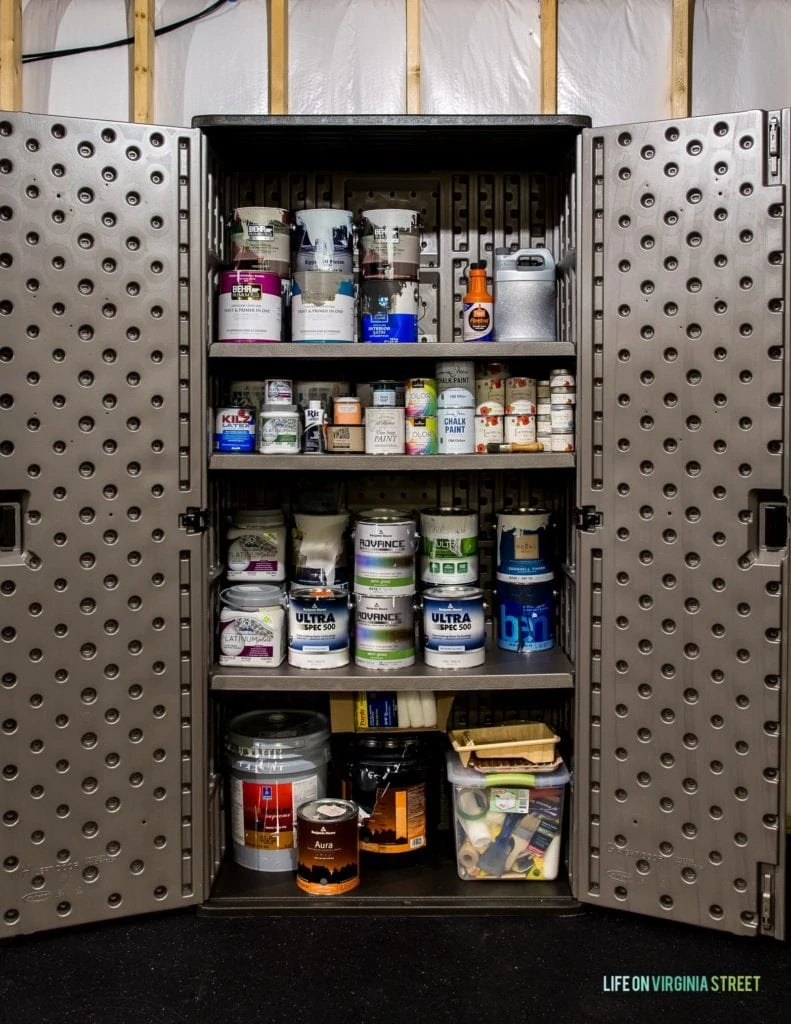 Choose Multi-Tasking Storage Pieces
Each year, we seem to accumulate additional outdoor furniture as our needs change and we better learn how we use our spaces. When I found this Suncast outdoor storage cabinet and entertaining station, I knew it was perfect for our needs! Not only can we store outdoor cushions and pillows when they're not in use, but the piece also functions as an entertaining station/bar top in the summer months! We also love that the doors can be padlocked in case we opt to store more valuable items outside. We're excited to finally have a place to store our outdoor cushions without having to run them to the garage every time we want to put them away! Multi-tasking storage pieces will help get you more organized, but also give you flexibility and creative new uses for your spaces.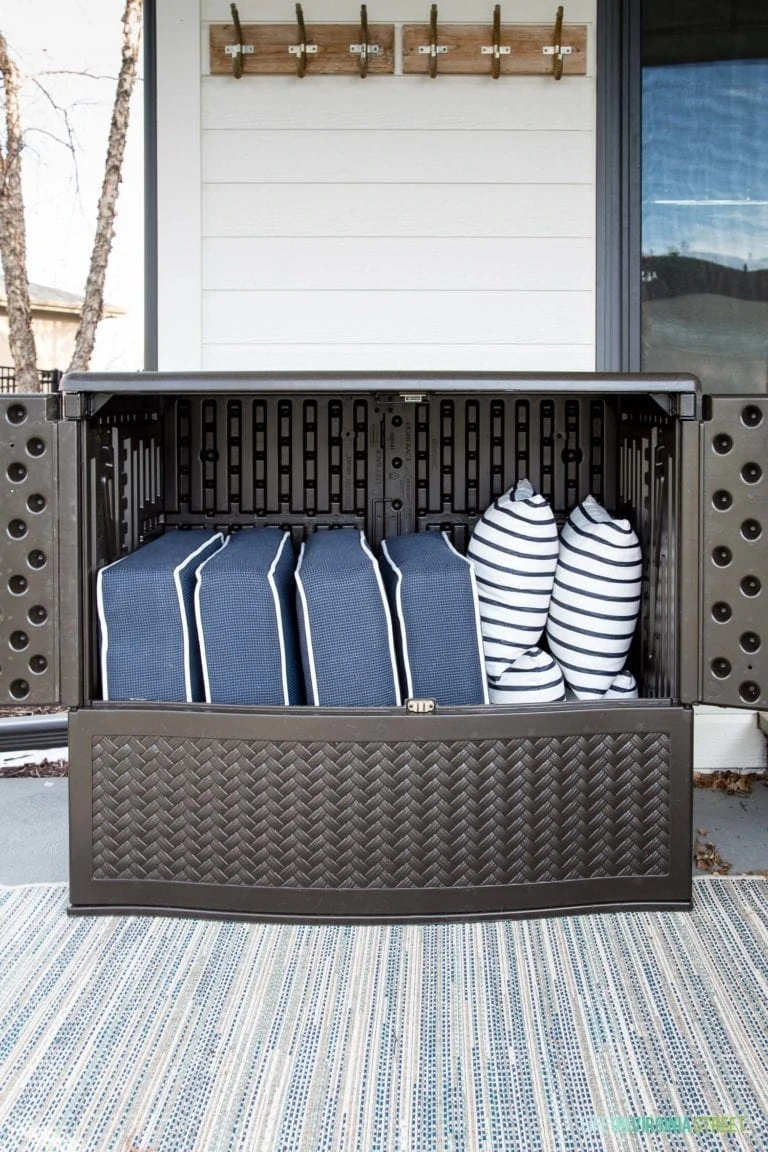 Unsubscribe From Unwanted Mail (Physical & Digital)
Years ago, I actually loved receiving emails. I didn't even care who they were from, barring SPAM. Nowadays, I've gotten much more particular about who takes up space in my inbox. The month of December is the perfect time to set aside 30 minutes or so and unsubscribe from all unwanted emails. Chances are, you'll hear from every single company you're subscribed to this month and if you handle all of them at once, you'll start the year off with a much cleaner slate! Same goes for physical mail. Do you find yourself throwing away the same catalogs and magazines month after month? Set aside time to unsubscribe and save on unwanted mail – and save paper while you're at it!
I hope you found these tips for having a more organized new year helpful! To see even more of the products Suncast has to offer, click here.
If you would like to follow along on more of my home decor, DIY, lifestyle, travel and other posts, I'd love to have you follow me on any of the following:
Pinterest / Instagram / Facebook / Twitter / Google+
disclosure: some affiliate links used