All the details on the new Studio McGee Collection at Target for Spring 2022! Includes all the information you'll need, including launch date, favorite styled photos, and top product picks!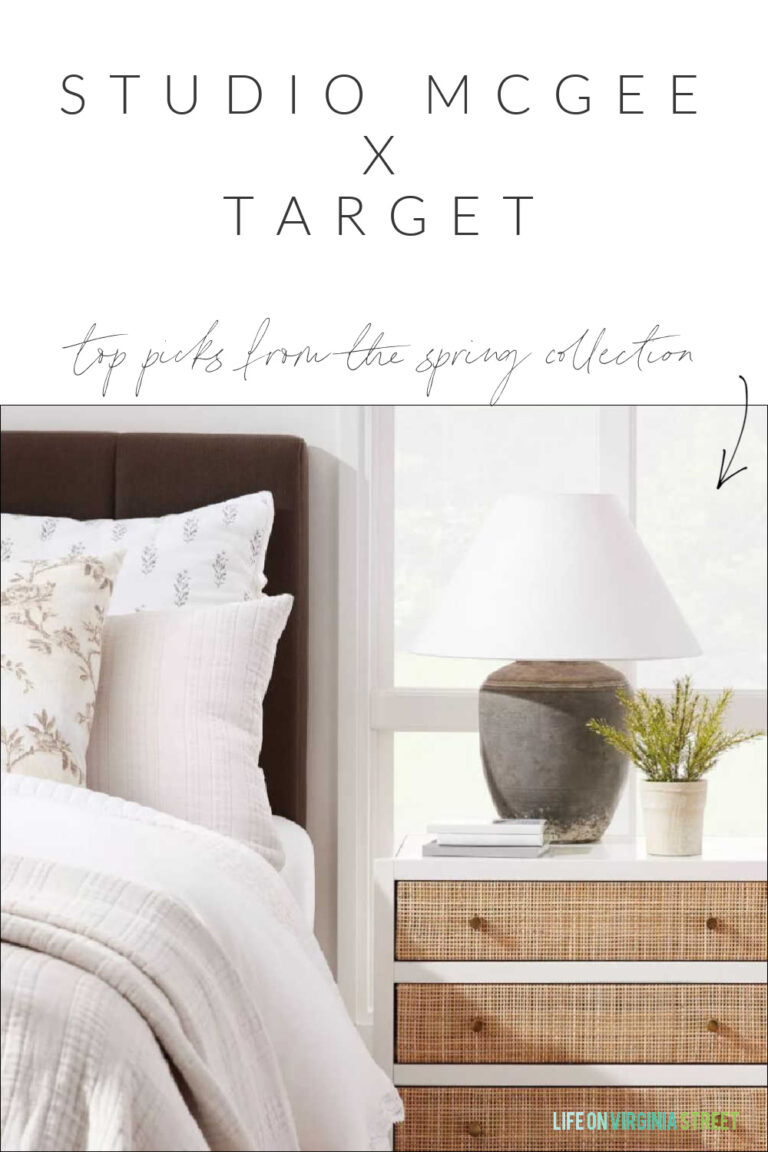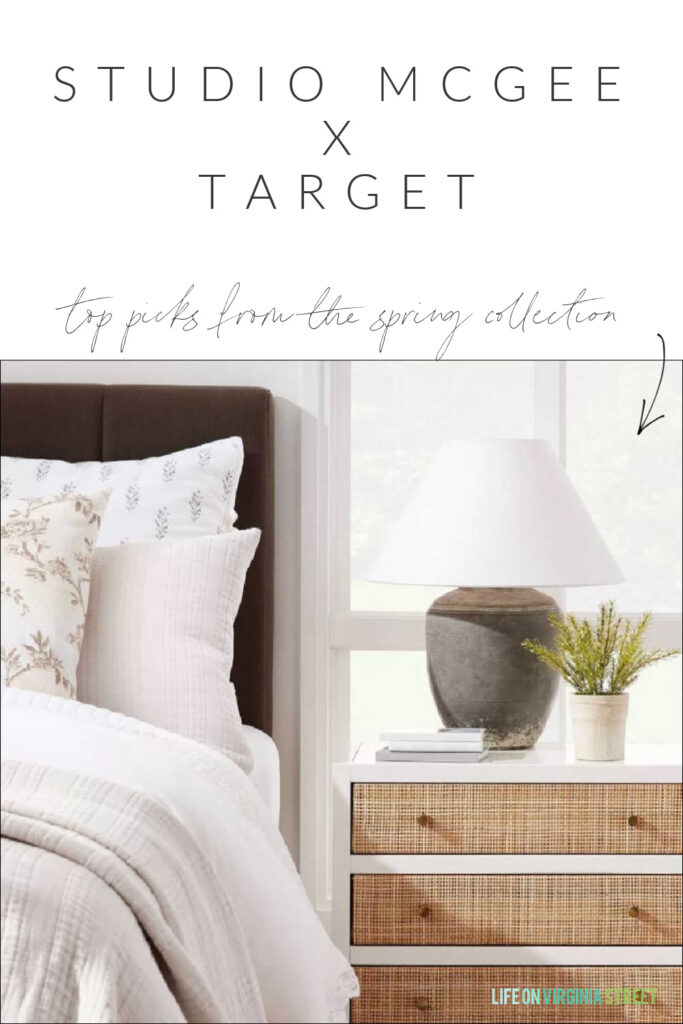 This post contains affiliate links for your shopping convenience. You can read my full disclosure policy here.
What You Need To Know About the 2022 Spring Studio McGee Target Collection
UPADATE: The collection is now live! Most of the Spring 2022 Studio McGee Threshold Collection at Target can already be found online here. There was a subset of the collection that actually launched yesterday and is available to shop now! However, the majority of the collection does not launch until January 23. I would anticipate it will be at midnight Pacific time, as has been the case the past several launches. For the first time, Target has already added all of the items to their website. Simply go here and then scroll down a bit and sort by "Newest".  Although the majority cannot currently be shopped, it is helpful because we all have time to peruse the collection, and save our favorites! If you create an account on Target's website, you can login and then click the heart next to any item that you want to save as a favorite. This will make checkout much more simple the day of the launch!
Favorite Styled Images & Products From the Spring Decor Line
There are so many beautiful new pieces in the Spring 2022 line from Studio McGee and Threshold, but I think my favorite has to be this Rattan Nightstand. They also have a coordinating Dresser. I'd love to get my hands on two of the nightstands. I also think this Ceramic Table Lamp is also going to be really popular!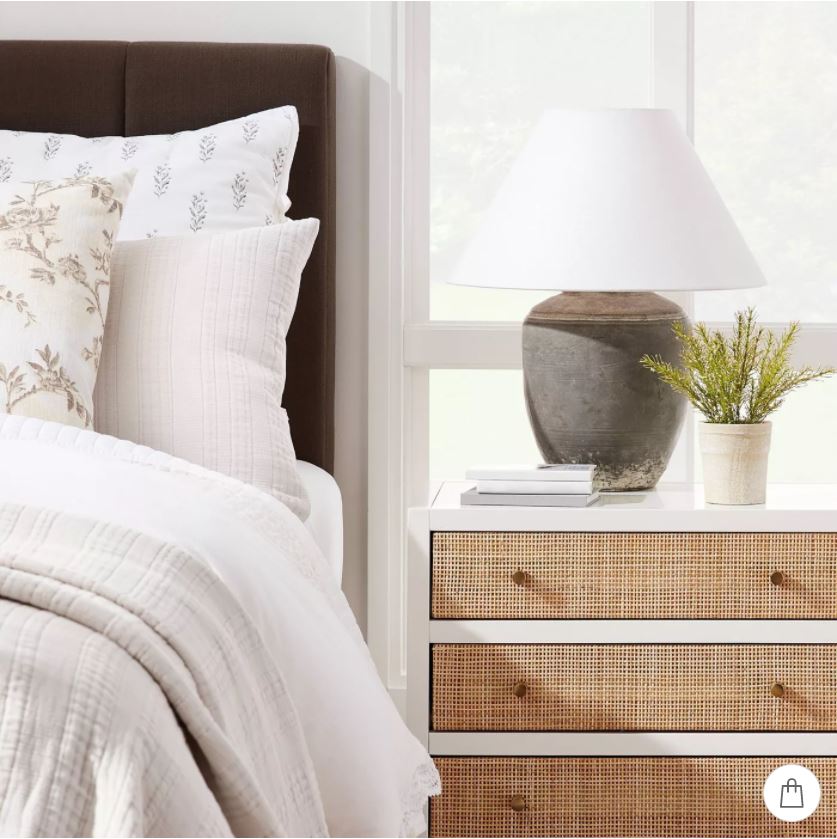 SOURCES: Channel Tufted Headboard | Block Print Bedding | Quilted Bedding | Floral Pillows | Ceramic Table Lamp | Faux Rosemary | Nightstand | Image via Target
This Burled Wood Console Table is already available to shop and has nearly perfect reviews! I love the clean lines and just how versatile the piece could be.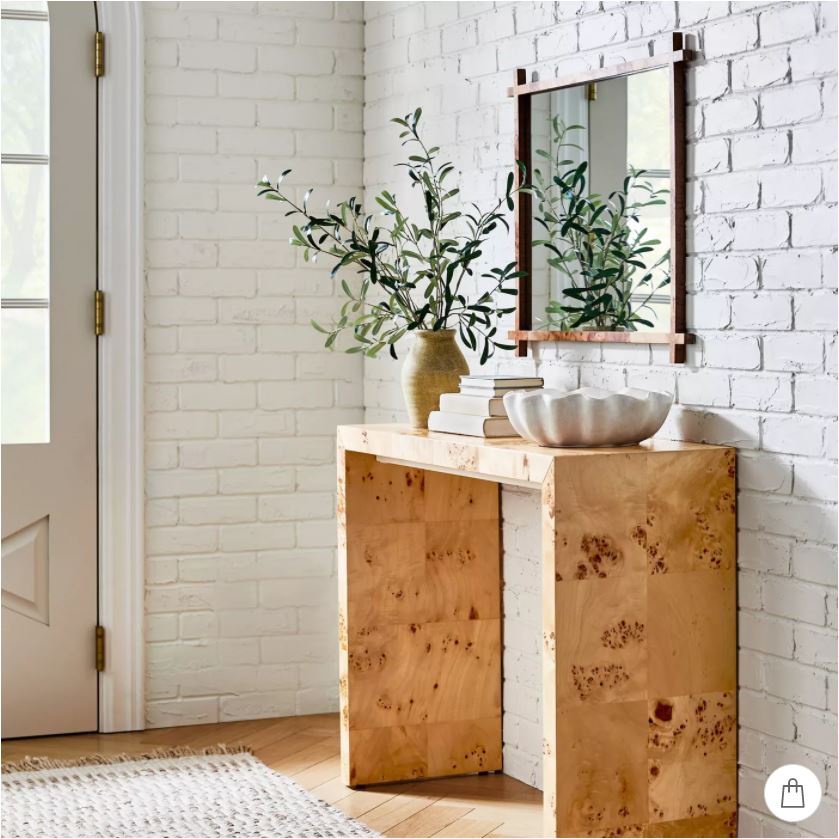 SOURCES: Burled Wood Console Table | Potted Olive Arrangement | Scalloped Bowl | Burl Wood Cross Corner Mirror | Image via Target
In the collection, you'll find a lot of furniture styles that weren't included in years past. This time around, they launched a Modular Sectional! You can actually buy the pieces separately, too, to make any configuration you choose.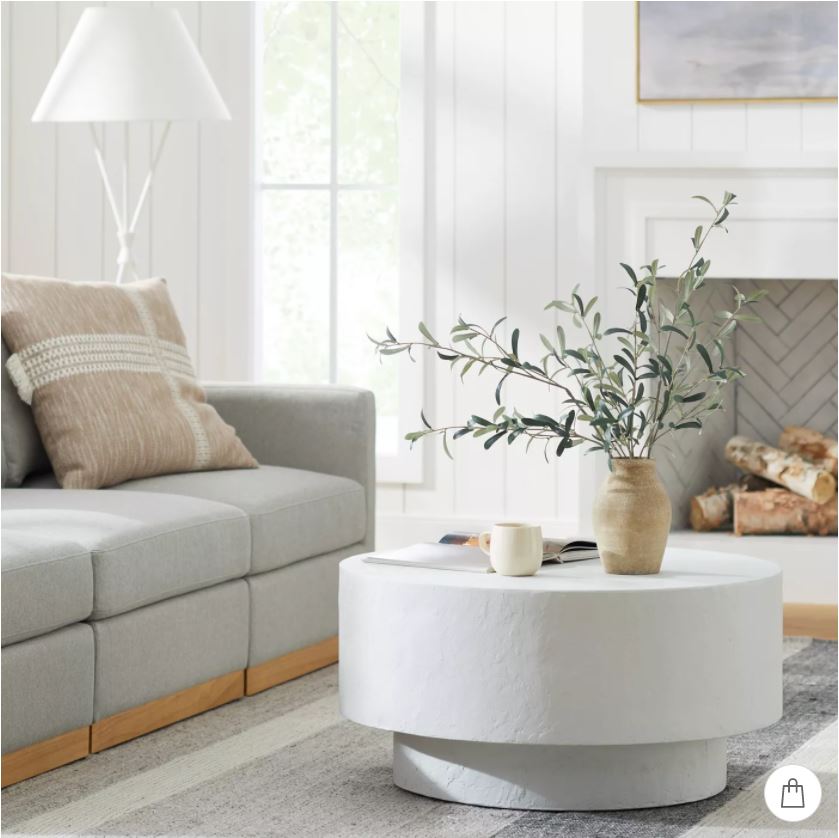 SOURCES: Tripod Floor Lamp | Modular Sectional | Oversized Textured Stripe Throw Pillow | Coffee Table | Potted Olive Arrangement | Striped Rug | Cloud Art | Image via Target
I actually bought the white tripod floor lamp shown above for our pool house and absolutely love it! The tripod legs are very thin (intentionally) but the overall scale is actually very large. That shade is huge! It reminds me of some of the new white plaster Visual Comfort lighting pieces. I also appreciate that they include a filter you can use on the top to diffuse the light. Here's an iPhone shot I took yesterday to show it in the space. Pretend there isn't a puzzle in full swing on the island 😉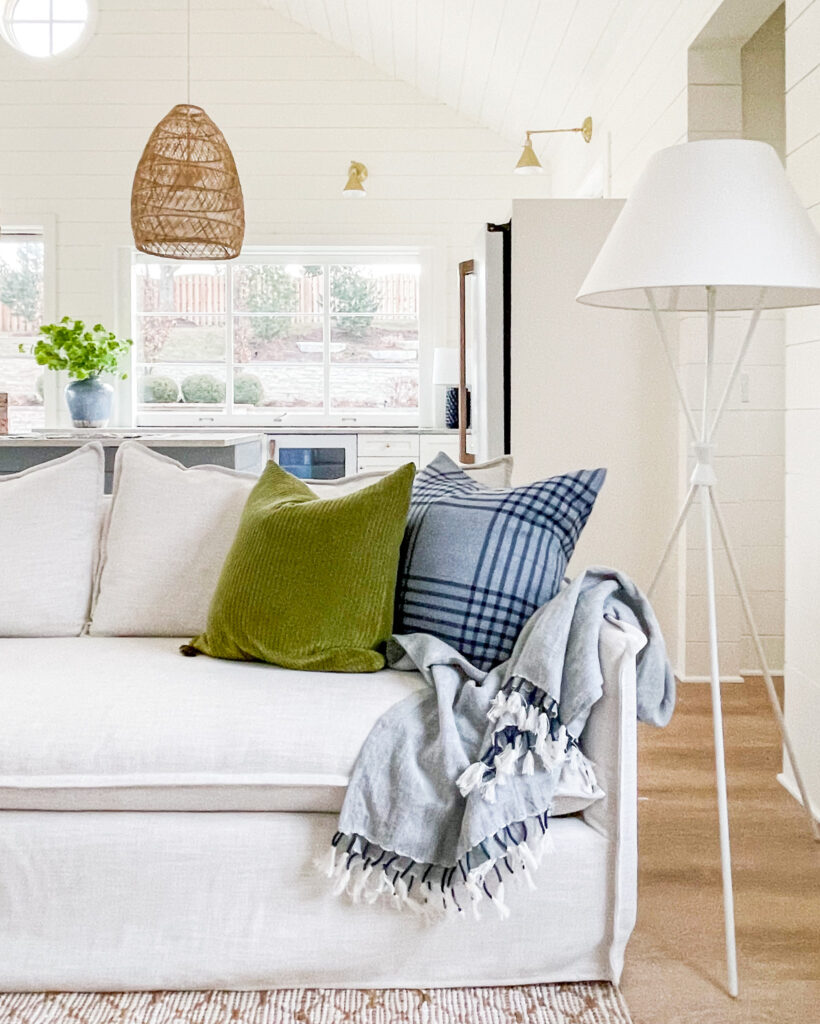 HOUSE LIVING ROOM/KITCHEN SOURCES: Outdoor Sofa (Perennials Basketweave – Chalk) | Rug | Plaid Pillow Cover | Corduroy Pillow Cover | Linen Throw Blanket | Tripod Floor Lamp | Basket Pendant Lights | Brass Sconce Lights | Blue Ceramic Vase | Navy Blue Lamp | LVP Floors
This time around, Studio McGee also introduced bedding to the collection! There are so many great basics included! You'll also note that there are a handful of headboards that are also going to be included.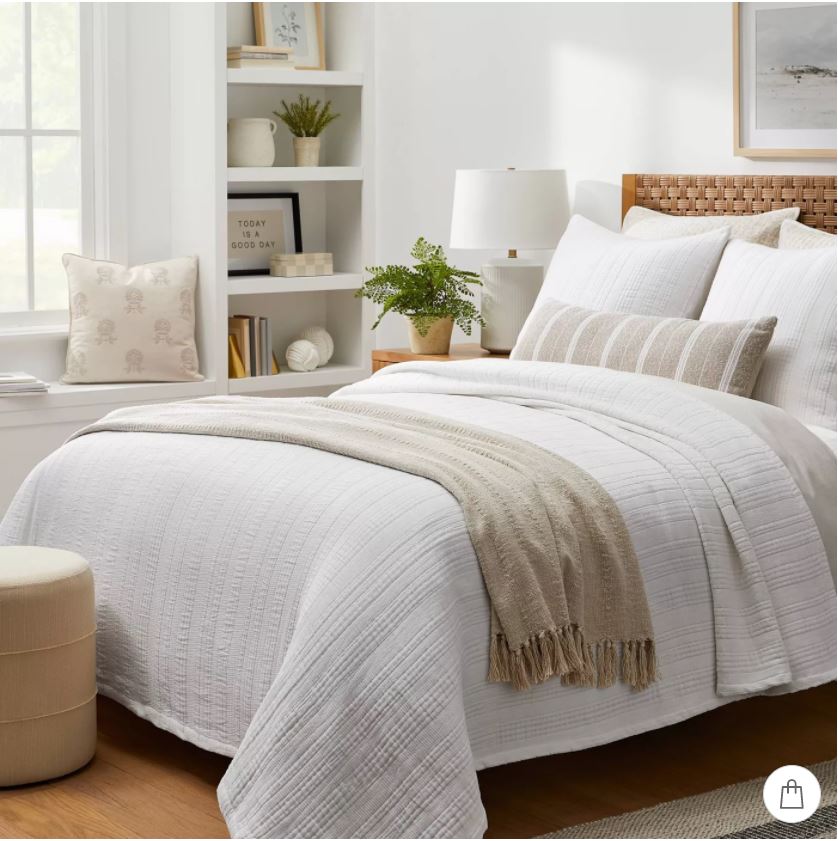 SOURCES: Woven Headboard | Stripe Matelasse Coverlet | Floral Euro Sham | Woven Striped Lumbar Pillow | Oversized Bed Throw Blanket | Faux Rosemary | Checkered Box | Rope Balls | Embroidered Floral Throw Pillow | Rug | Image via Target
There is also a lot of new art in the collection, but the Rattan Wall Sconce is what really caught my eye in this next image!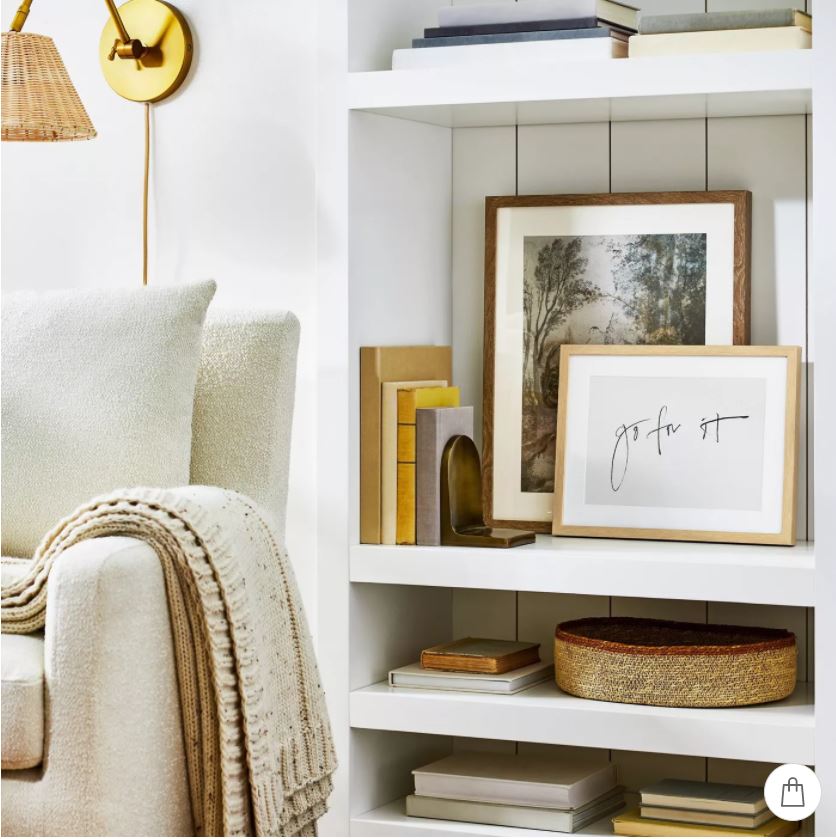 SOURCES: Rattan Wall Sconce | Upholstered Chair | Woven Throw Blanket | Brass Bookend Set | Ancient Fresco Linen Framed Wall Poster | "Go For It" Art | Soft Striped Tray | Image via Target
How beautiful is this Cloud Art?! This one actually launched earlier this week and has already sold out, but I'm hoping we'll see some restocks before the main collection launches 1/23!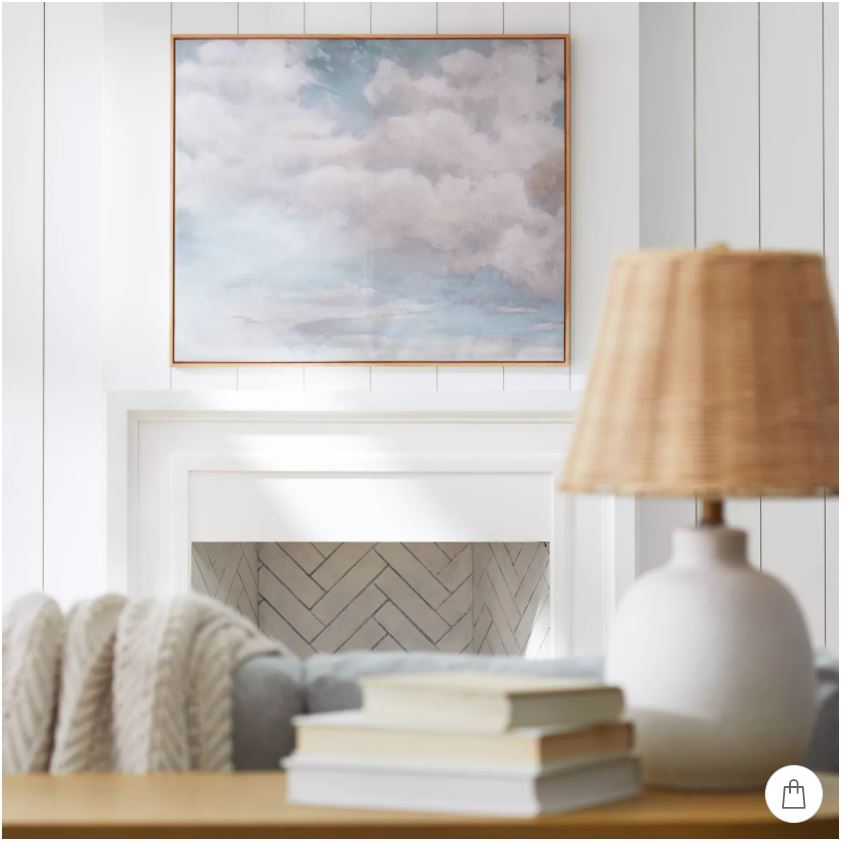 SOURCES: Cloud Art | Rattan Lamp | Herringbone Pointelle Throw Blanket | Image via Target
I thought this entire home office vignette was really cute!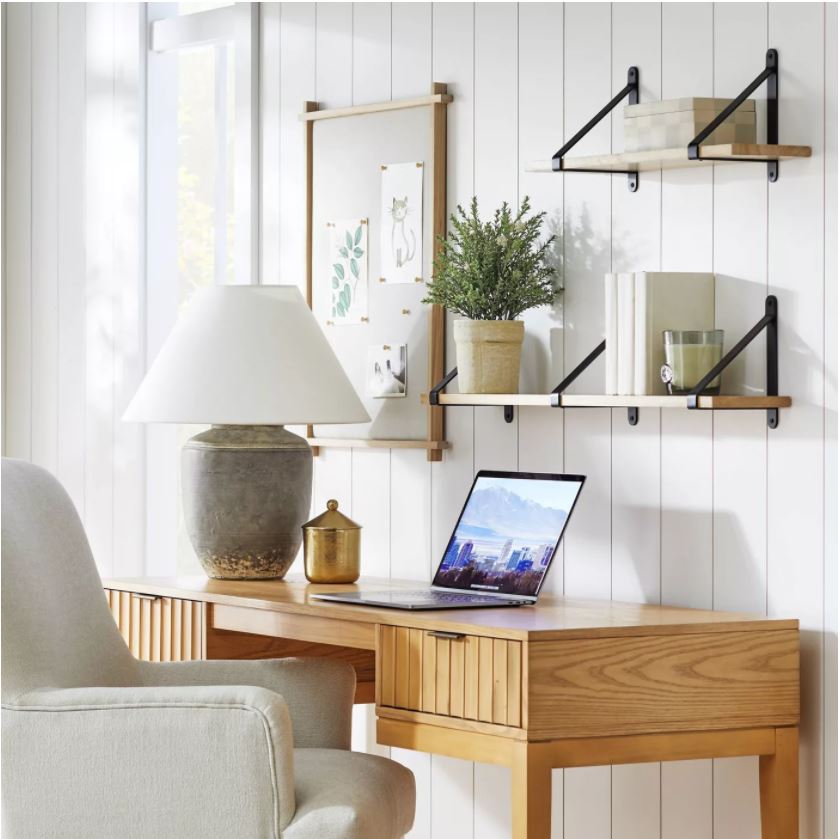 SOURCES: Cross Corner Pinboard | Shelf with Metal Bracket | Wood Scalloped Desk | Arm Chair | Ceramic Table Lamp | Brass Canister | Checkered Box | Flowering Faux Potted Thyme | Candle | Image via Target
This Rattan Wrapped Floor Lamp is another gorgeous designer look for less option! And check out that Slipcovered Swivel Armchair! Finally a piece of furniture from the collection that doesn't look miniature to me!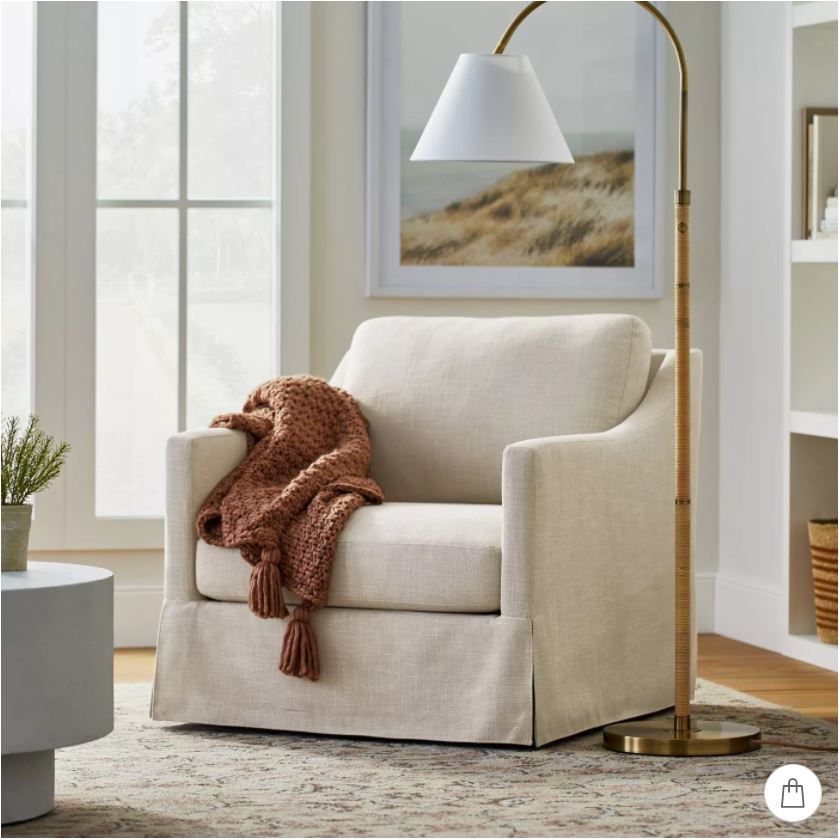 SOURCES: Slipcovered Swivel Armchair | Coffee Table | Throw Blanket | Rattan Wrapped Floor Lamp | Rug | Art | Faux Rosemary | Striped Basket | Image via Target
And I love everything about this dining room situation! That Seagrass & Brass Lantern Pendant Light and those Woven Rattan Dining Chairs look very promising to me!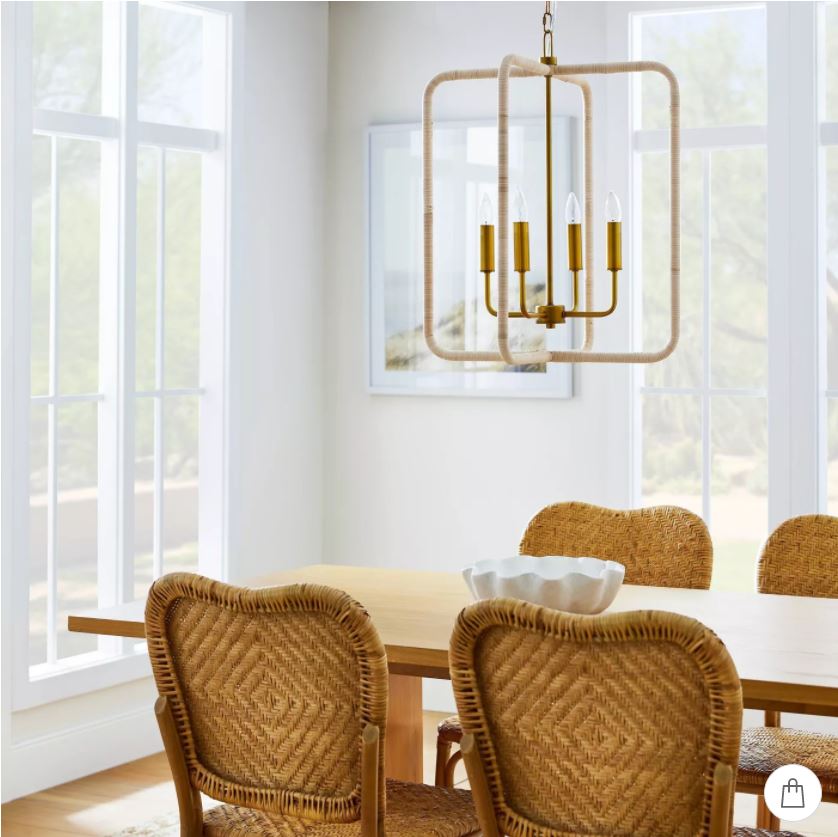 SOURCES: Seagrass & Brass Lantern Pendant Light | Art | Woven Rattan Dining Chair | Scalloped Bowl  | Image via Target
More of the beautiful bedding! I saw the block print Block Print Floral Bedding in person when I got the lamp and it's so beautiful! I was so tempted to get it, but decided I already had enough bedding 😉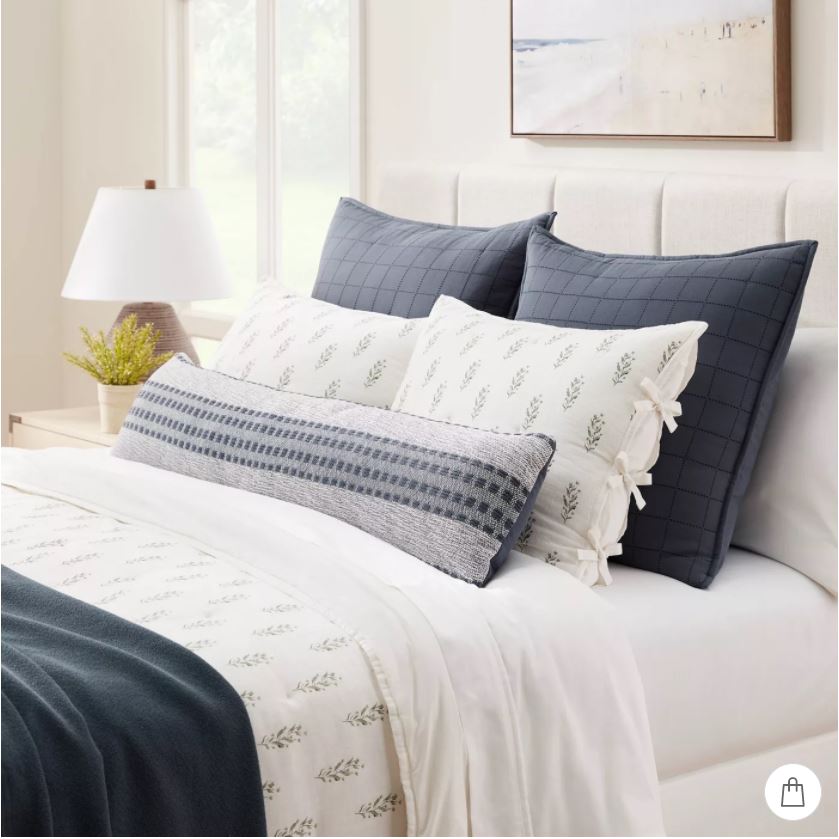 SOURCES: Painted Beach Art | Channel Tufted Headboard | Grid Stitched Pillow Sham | Block Print Floral Quilt | Cotton Bed Blanket | Textured Stripe Lumbar Pillow | Lamp | Faux Rosemary | Image via Target
And if you're looking for patio furniture or outdoor accessories, they added some really beautiful pieces this year! I can't find a great picture of them styled, but these Rush Weave Club Chairs look gorgeous!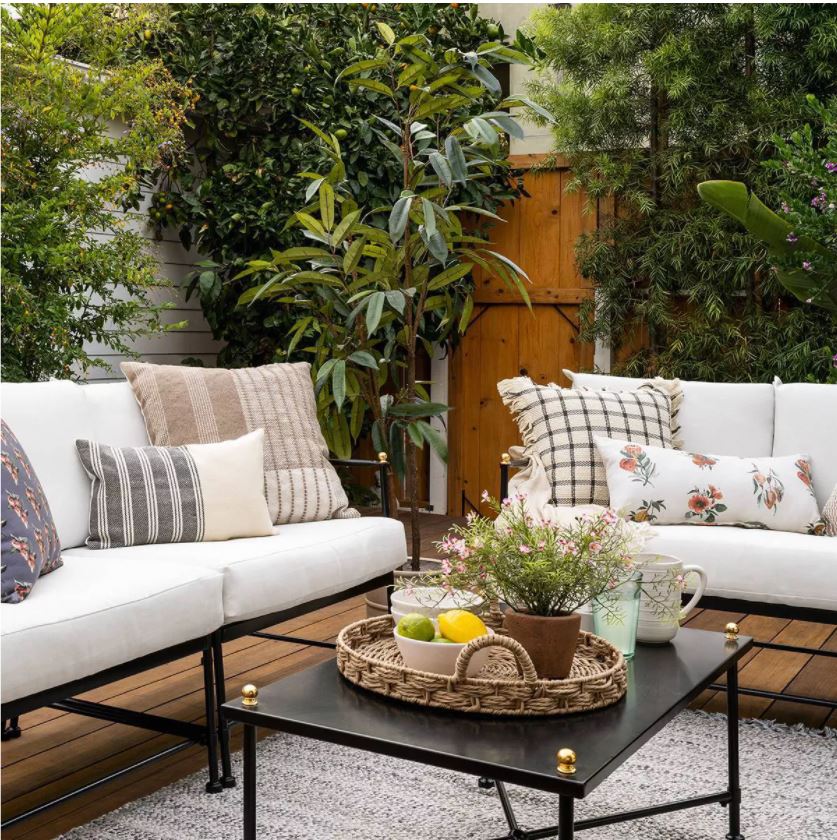 SOURCES: Outdoor Metal Patio Sofa | Outdoor Loveseat | Outdoor Metal Coffee Table | Outdoor Floral Pillow | Outdoor Fruit Lumbar Pillow | Faux Mixed Floral in Terra Cotta Pot | Faux Ficus Tree | Image via Target
Additional Favorites From the New Studio McGee Target Spring 2022 Collection
Following are even more pieces I'm loving from the new Studio McGee Target spring 2022 line. Click any of the images below to learn more about each of the items.

Which items from the new collection are your favorite?
If you would like to follow along on more of my home decor, DIY, lifestyle, travel and other posts, I'd love to have you follow me on any of the following: