Don't stop reading because you saw the word "insurance" in the title. I know the topic may seem a little off from my regular content. But this is something that I strongly believe in and I am passionate about spreading awareness – even if I have to bribe you all with a chance to win a $50 gift card to Home Depot 🙂
You may not know this about me, but I have worked in the insurance industry for almost sixteen years (what?!) In fact, I'm life and health insurance licensed in all 50 states (although I don't actively sell unless asked by someone to do so). Being in the insurance industry, I have heard countless stories of families who have suffered, not only emotionally, but financially after the loss of a loved one (visit here if you're interested in watching some of these powerful stories). I feel that insurance – especially life insurance, because it is not "mandatory" to own – is an area people don't want to talk about. And if they do, the resources available (that put everything in laymans terms) are limited.
When the NAIC (National Association of Insurance Commissioners) contacted me about a new resource they put together along with a giveaway related to my blog, I jumped at the opportunity. Check out the info below from the NAIC (and don't stop reading if you aren't a newlywed. Not only is this info relevant to everyone, the giveaway is open to all as well):
Wedding date? Check! Honeymoon plans? Check! Insurance? Huh?! It's easy for many couples to get wrapped up in the excitement of planning a wedding and fail to fully think through the many financial implications of joining lives. In fact, a recent NAIC survey revealed disconnects in what couples know is important to discuss before getting married — including insurance issues — and what they actually discuss. What about you? Before you tied the knot, did you ask your fiancé about his driving record? Did you discuss whose health insurance to keep, or how much life insurance you needed? If not, you're not alone. According to our survey, 61% of couples age 18-24 said they talked about combining auto policies before getting married, but only 30% cited 'my spouse's driving record' (a key factor in calculating premiums) as an important conversation to have before marriage.
Have "The Talk"
That's why we're letting you know about steps engaged couples can take today to avoid misunderstandings that could dim that newlywed glow. NAIC recommends couples have a
pre-wedding sit-down to address important topics:
Auto: Finding out you're in love with a speed demon after saying "I do" can be a shock to your psyche, and your auto insurance premiums.

You may want to think twice about combining coverage, and educate yourself about named-driver exclusion clauses.

Home: How many of us really know how much 'stuff' we own? Without a clear grasp of our property, our most prized possessions might not be covered by our homeowners or renters insurance.

NAIC's free MyHOME Scr.APP.book app lets you quickly capture images, descriptions, bar codes and serial numbers, and stores them electronically for safekeeping. The app organizes information room by room and creates a back-up file for email sharing.  Readers can search 'NAIC' to download the app at iTunes® and Android market®.

Health: The lowest premium isn't the only consideration when deciding between health insurance plans. To avoid a short-term decision that could result in long-term headaches, be sure to review provisions related to deductibles, co-pays and coinsurance, and pay attention to what is NOT covered.
Life: Now that "I" actually means "we," you may want to revisit your life insurance coverage. To land on a new amount, consider future income potential, the cost of raising kids and any outstanding mortgage.
To help engaged couples get smart about insurance together without tearing each other apart, NAIC created The Insurance Survival Guide for Newlyweds, an adventure-laden infographic of facts and tips to ease the transition to joint insurance lives.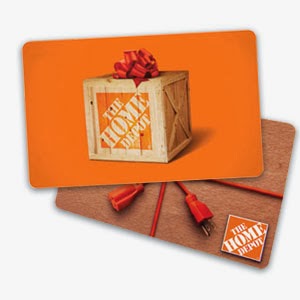 For your chance to win a $50 Home Depot giftcard:
Download The Insurance Survival Guide for Newlyweds infographic. You do NOT have to be engaged or a newlywed to enter.
Post a comment sharing a fact or tip you found most surprising or helpful. There are tips in this guide we can all learn from, regardless of what stage of life you are in!
All commenters are entered into a drawing for a $50 Home Depot gift card to help with their own "I do" adventure.
Want to help your readers have some fun while learning about insurance? Post links to play the two I Do Adventures interactive games (Game 1 is about unexpected obstacles on the road while Game 2 is about protecting the often overlooked valuables in a home as disaster strikes). Maybe even share your own score and encourage your readers to try to beat your score.
If your email address is not loaded in your profile, please leave it in comments so I can reach you if you are the winner.
Contest ends Monday, March 3rd at 11:59 PM Central time.
One entry per person.
This contest is only open to the readers of my blog, so odds of winning are much higher! Good luck and I hope you find some helpful information in this guide!