This simple spring refresh in our master bedroom freshens up the look a little bit!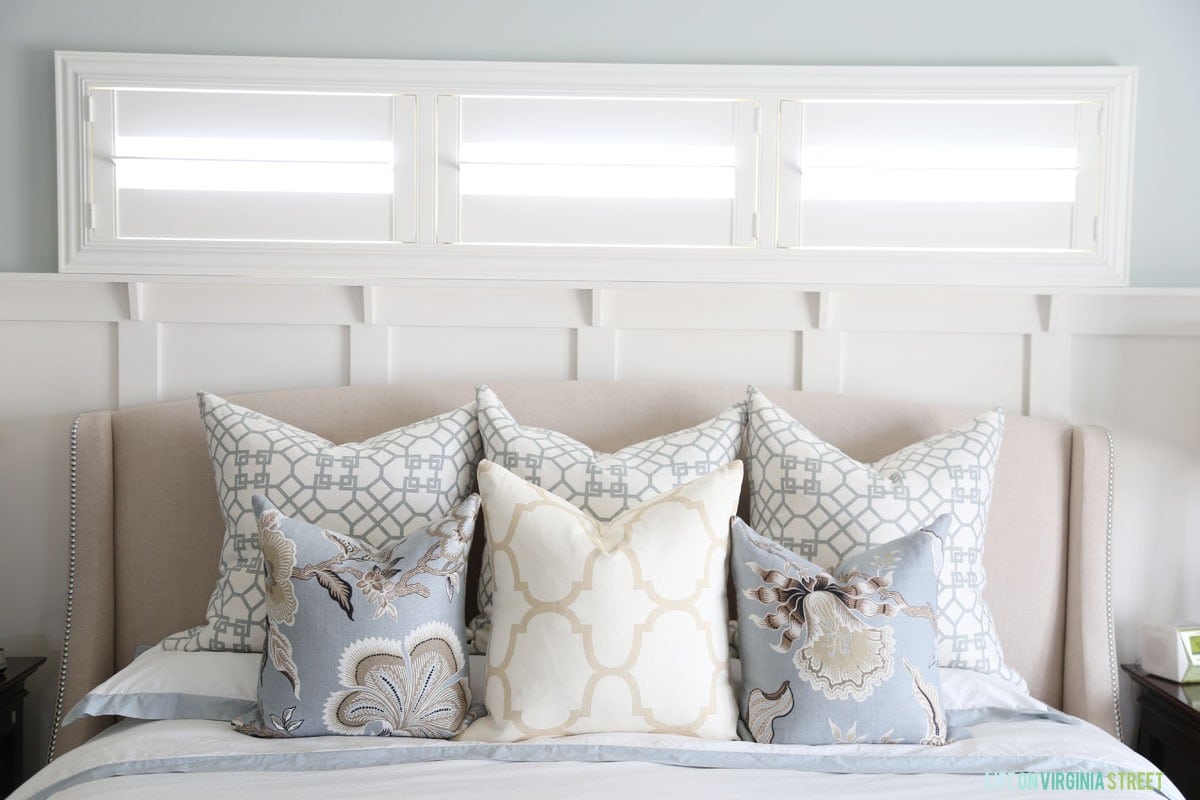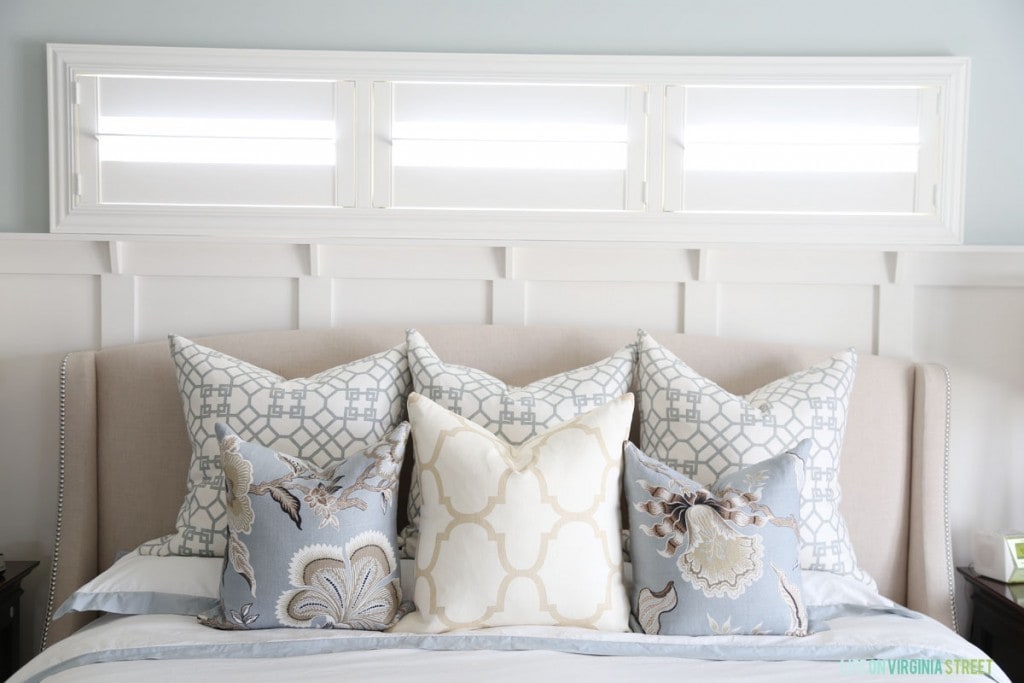 When springs rolls around, I always get the urge to freshen up a few spaces in our home. Our master bedroom is the target for today's post.
Our bedroom has probably received the least number of makeovers of any given room in our home. Basically, I painted it Sherwin Williams Sea Salt a few years ago, painted the board and batten (Behr Swiss Coffee), removed the ceiling fan in exchange for the elegant orb chandelier, hung some faux curtains, installed plantation shutters, and called it a day. The bedding, bed and furniture were all brought over from our prior home over three years ago. How little this room has changed since sounds like a bit of a miracle as far as I'm concerned 😉
But, the reality is, I really love how serene, calm and simple our bedroom is.  There really hasn't been a need to change much up – because I still really like it!
Master Bedroom Refresh
A few months back, Crane and Canopy approached me to try one of their lush duvet covers. I jumped at the opportunity because I hate spending money on bedding (which is ridiculous given how much I like to sleep). We had been using a five+ year old duvet cover I randomly bought at Target one day, and I had been saying for months it was time for a new one. Yet I never pulled the trigger. You know I'm a huge fan of crisp white bedding, so I selected the Linden Porcelain Green Border Duvet (and King shams). I love the banded color of the set that makes it all feel a bit more custom.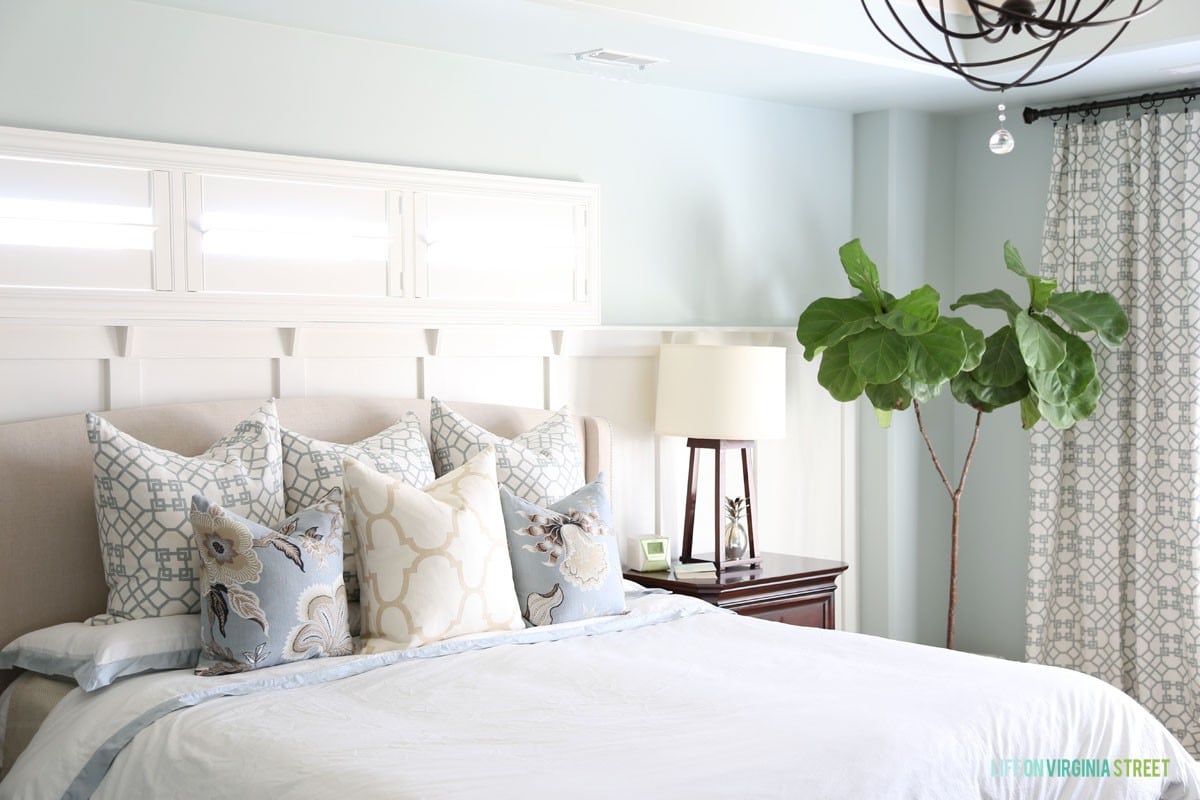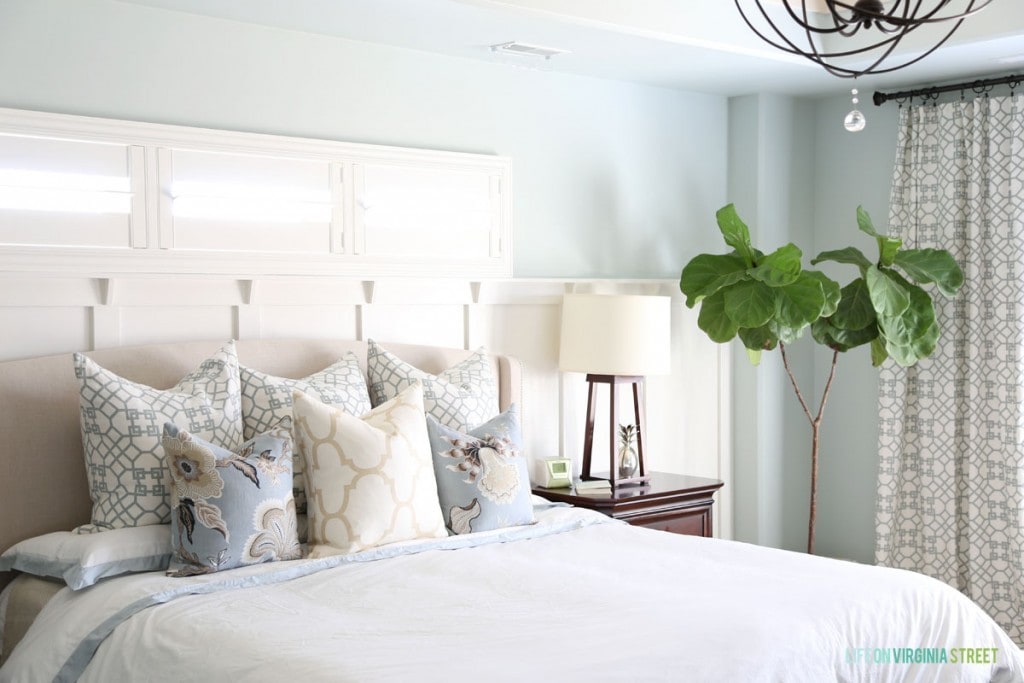 It couldn't be a better match for the soft colors in our pillows I made all those years ago. The porcelain green is a perfect match for the Sea Salt paint, as well, and I love the blue-green-gray color that borders the entire duvet. It pretty much looks like it was made for our bedroom!
I refuse to iron bedding (even for the blog), so I loved that I could remove this bedding from the packaging, throw it in the washer and dryer, and add it to our bed with minimal wrinkles. If anything, I maybe could have ironed the border so it stood out a bit more, but I was really happy to see that this wasn't the type of bedding that gets crazy wrinkled when you wash it. That's pretty key in my life.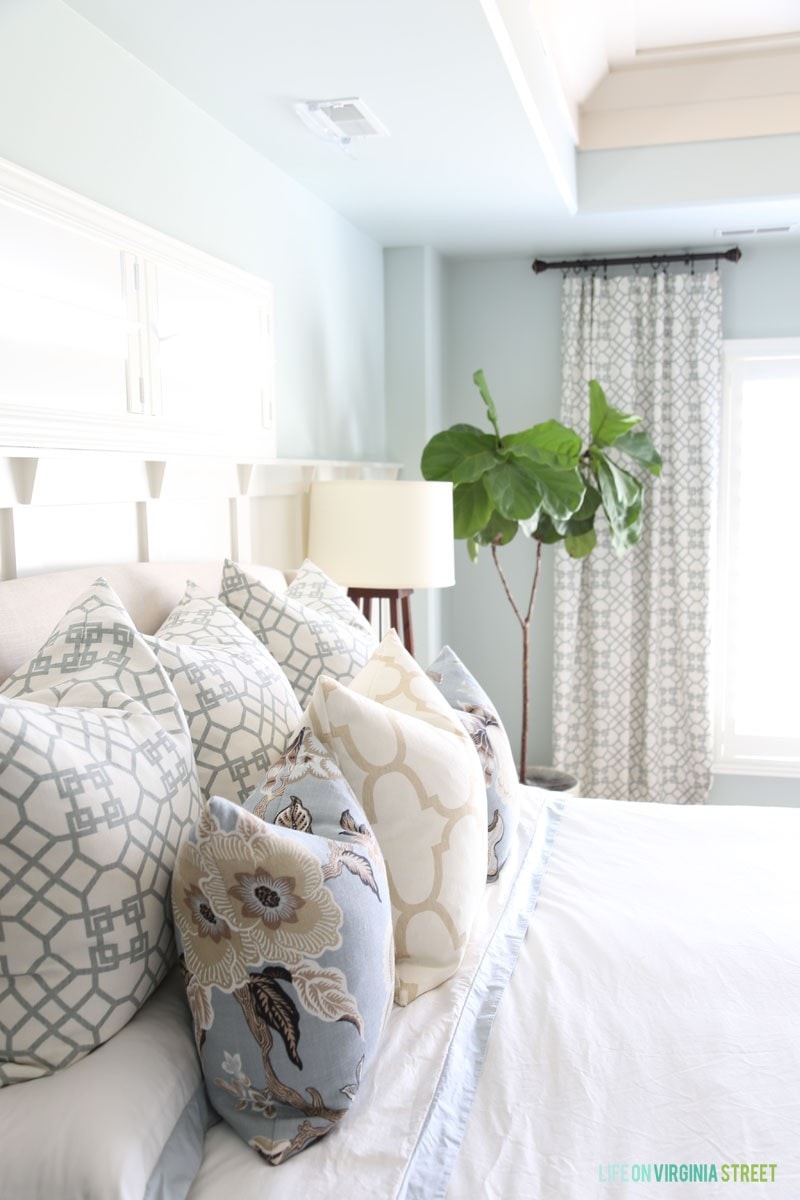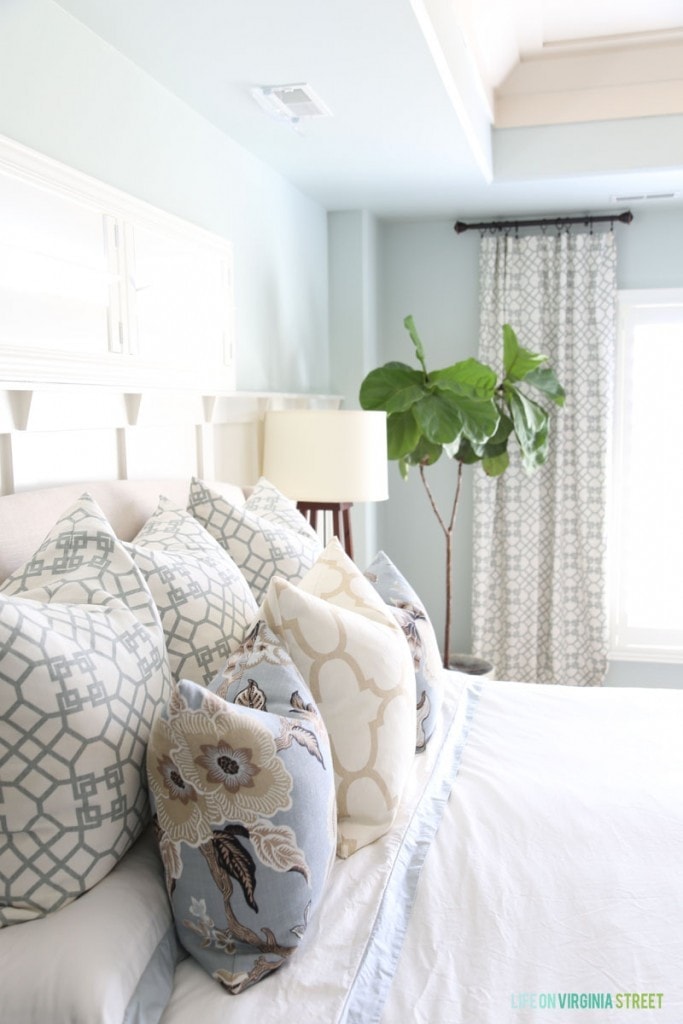 Crane and Canopy use highest quality extra long staple cotton, with weaves ranging in the 300-400 thread count. Did you know that 1,000 thread count sheets are actually not good?! I had no idea and always thought, the higher the better. To get 1,000 thread you need to use really thin threading and the actual sweet spot for duvet covers/sheets is 400. I love the softness of this particular set.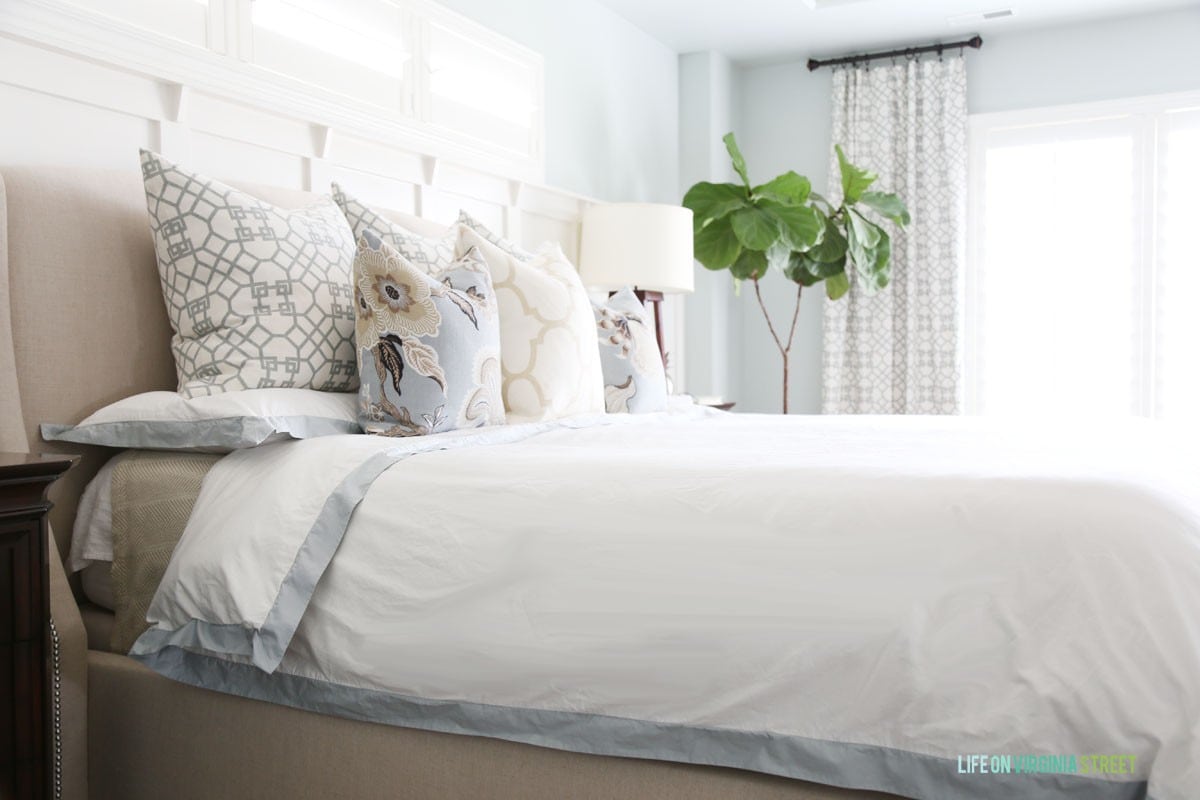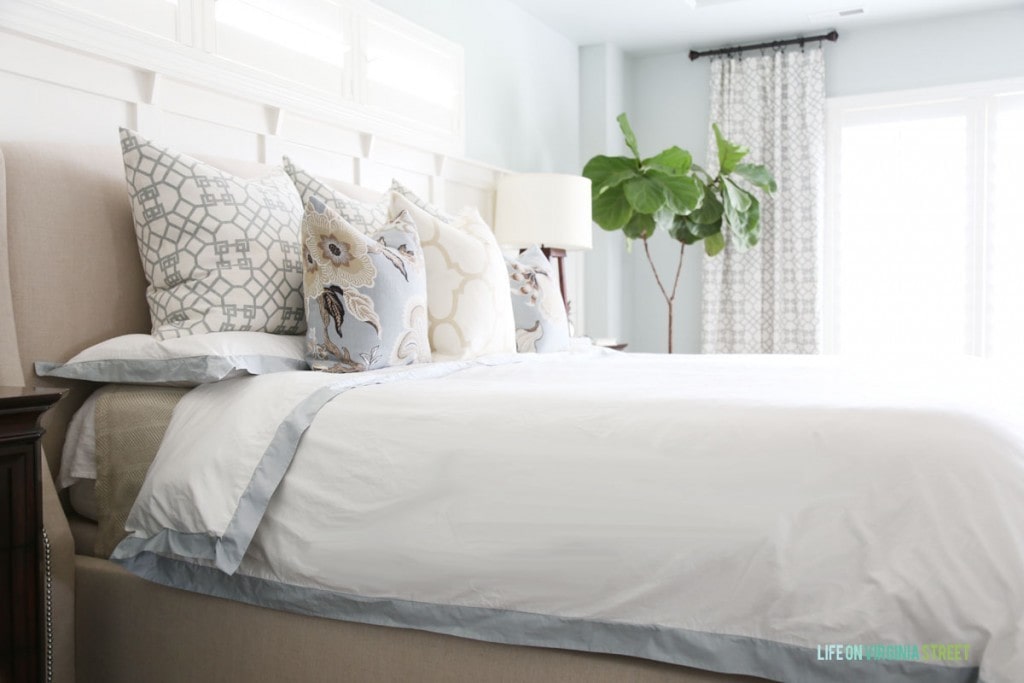 Of course, I couldn't just stop with the new duvet and pillow shams. So, I made the Windsor Smith Riad in Ivory pillow you see below (front middle pillow). I had it left over from my fabric store and I've loved it for quite some time. I'm still loving the other two pillow patterns in our master but I wanted to change things up just a bit, and the Riad seemed like the perfect idea. And for those that have been readers for awhile, I'm sure you're laughing at the fact that I just used the Riad fabric in the FOURTH colorway in our home. I've got four more colors on hand I may use soon 😉 #loyalty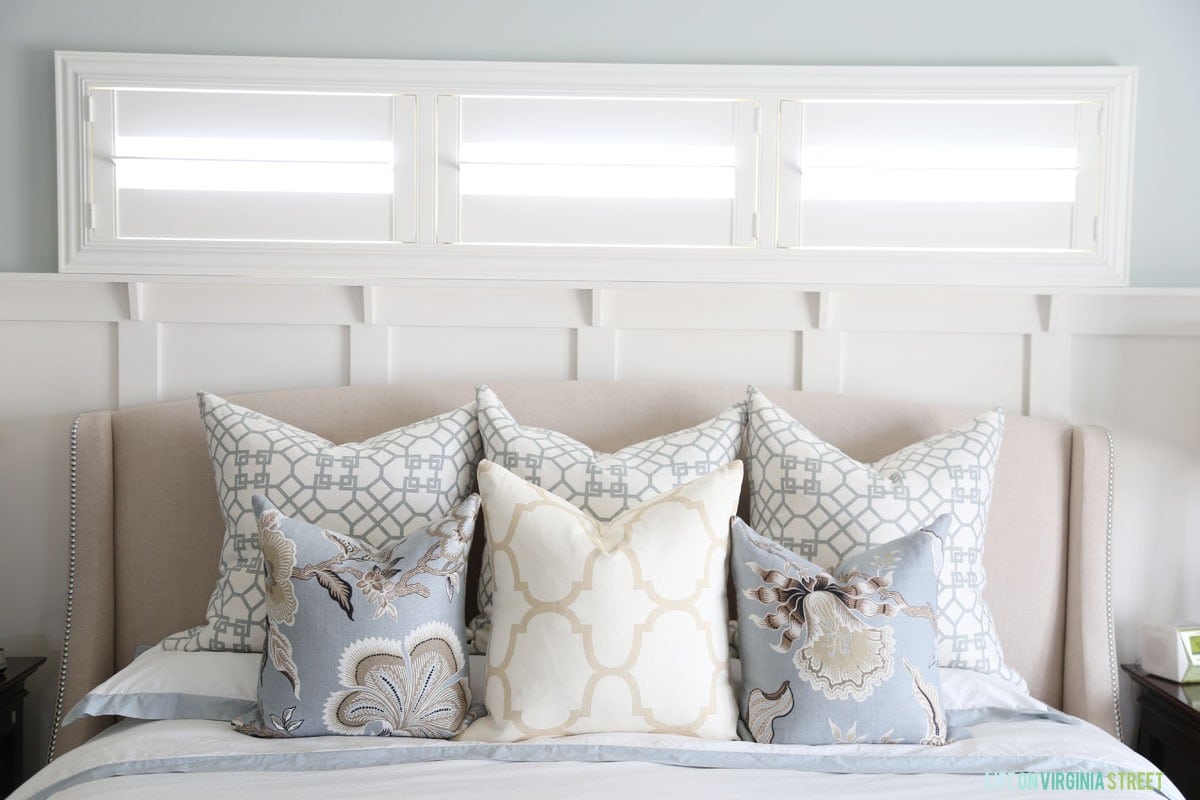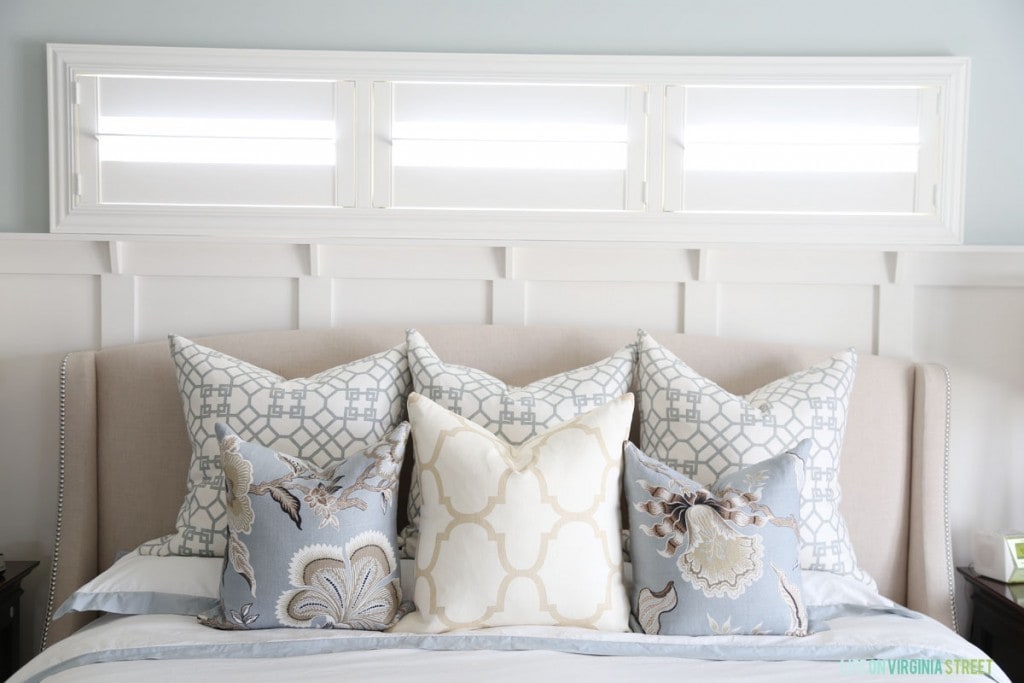 You can shop similar pillows (and other items from our room) below:

I know it's nothing dramatic, but the simple soft addition of the new pillow and the duvet cover and shams make the room feel perfectly refreshed to me…and with daylight savings time, I sort of always want to crawl in bed now 😉
Do you give your bedroom a refresh frequently? Or, are you like me and only upgrade your bedding every few years or so? I'd love to hear if I'm in the minority or not on this one.
Thank you to Crane and Canopy for partnering with me on this post! I couldn't be happier with our new duvet and shams!
If you would like to follow along on more of my home decor, DIY, lifestyle, travel and other posts, I'd love to have you follow me on any of the following:
Pinterest / Instagram / Facebook / Twitter / Bloglovin' / Google
Disclosure: This is not a sponsored post. However, Crane and Canopy did provide me with a duvet cover and pillow shams to review. Some affiliate links are used in this post.