Today I'm sharing all my favorite sources for designer throw pillows and designer fabric!
With an upcoming change in seasons, I always love to switch up my colorful throw pillows! I've been looking for some fun new multi-color throw pillows for our guest bedrooms and master bedroom and found a lot of cute options. Today I'm sharing my favorite sources for designer throw pillows and fabric, as I know they can be hard to find and sometimes, only available to the interior design trade. Additionally, many times custom designer fabrics require a two-yard minimum so it may be cost-prohibitive to make your own at times (especially when you don't usually need that much yardage). Following are some of my best tips to help with these obstacles!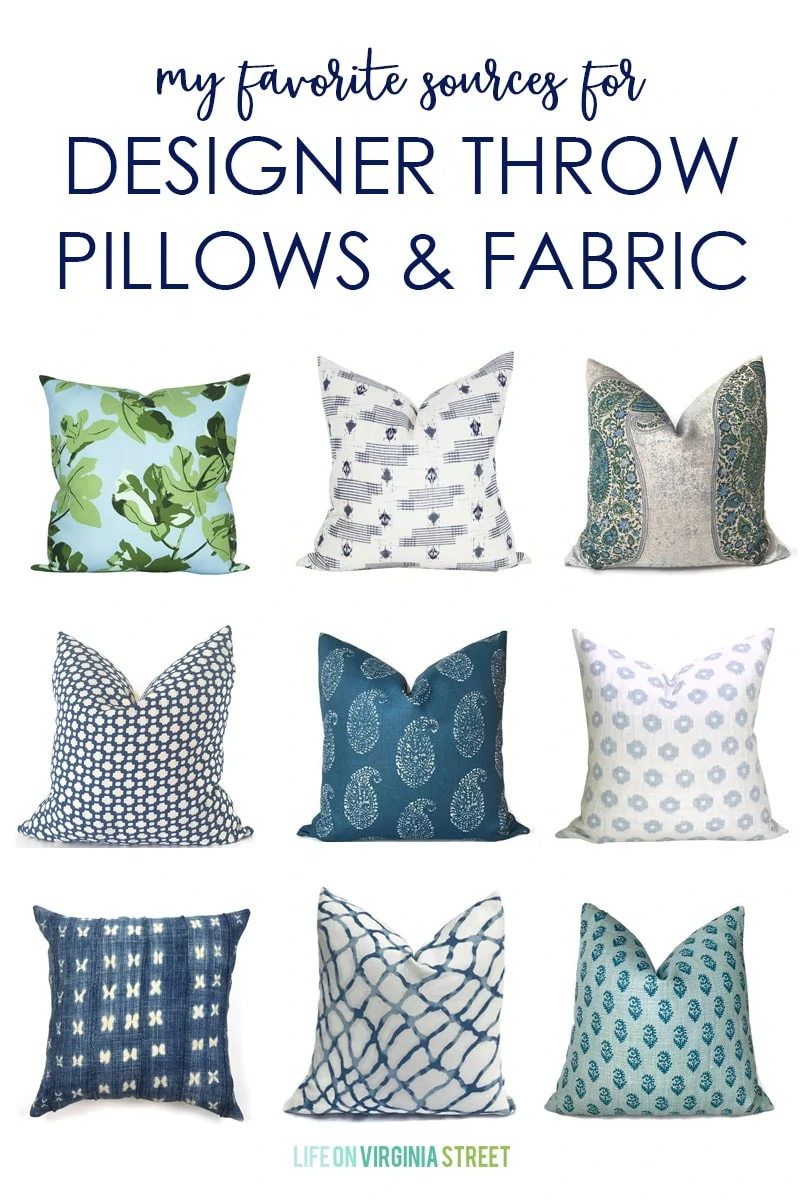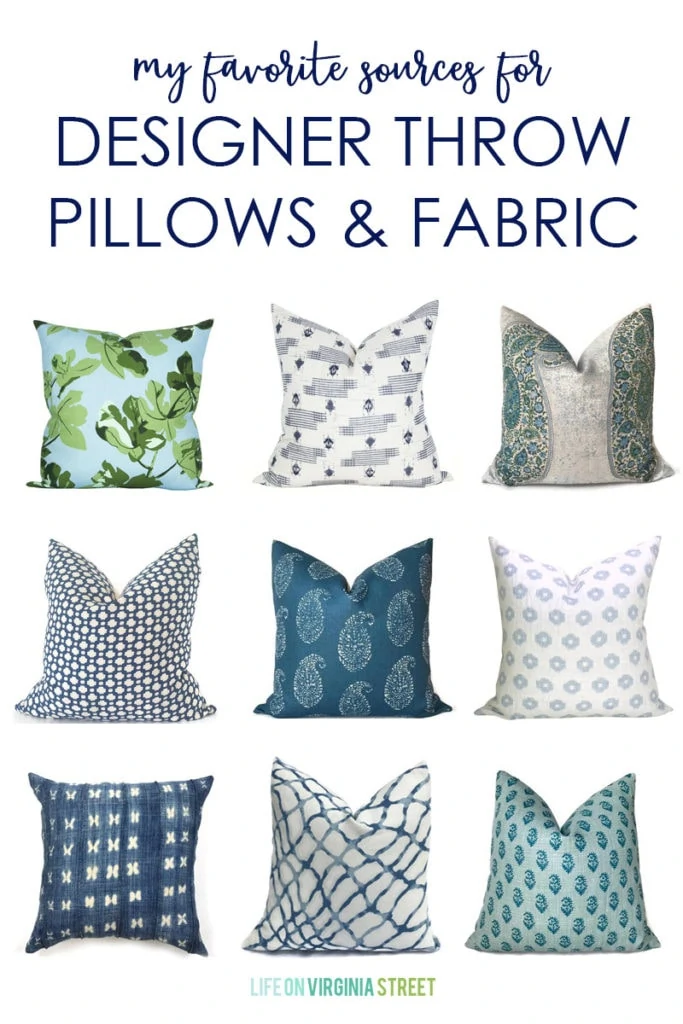 This post contains affiliate links for your shopping convenience. You can read my full disclosure policy here.
As many of you know, I custom make a lot of my own pillow covers (you can see how in my throw pillow tutorial). This is mostly because I tend to be drawn to designer fabrics that are rather expensive, and I've found I get the most bang for my buck if I make the throw pillows myself. If you need help in general with mixing and matching pillows, be sure to check out my post on how to pick perfect pillow pattern combinations. The post also contains some of my favorite sources for throw pillow inserts.
Designer Fabric on eBay
eBay is a great resource if you are looking for just the right fabric. I'll do search for terms like designer fabric, Schumacher fabric (one of my favorite designer brands), etc. I try to keep the search terms more broad, as I've found that some of the sellers don't label things correctly and/or know the actual name of the fabric. Sometimes you have to dig through a lot of stuff you would never buy, but you can get some great deals on designer fabrics this way and typically don't have to adhere to the yardage minimums. Many are end of bolts or fabric remnants, and a great way to save for throw pillows! I always check the reviews of sellers, but have always had great luck with the designer fabric I've purchased on eBay. Sidenote: I've seen Spoonflower fabric popping up quite a bit on eBay. Typically those are designer knock-offs that are printed by Spoonflower. Not a bad alternative, I just don't want you seeing their prices and thinking it's the real deal!
Following are a few great fabric finds from eBay that I found in a quick search.

Designer Throw Pillows & Fabric on Etsy
Etsy is perhaps my favorite resource for modern designer throw pillows if you aren't comfortable making pillows on your own. In fact, nearly every single throw pillow I've ever made can also be found on Etsy by one seller or another. Not only that, but chances are, if there is a designer you love that uses a pattern over and over, you can find the same style on Etsy. In some cases, you can also find sellers offering the actual fabric, but most times, I've found eBay to be a better option. A few favorite shops include Spark Modern and MSstitchesByKatie.
Following are my favorite designer throw pillows on Etsy right now. I tried to pick a variety of price points, but keep in mind, many are pricier because of the designer fabric that is being used (sometimes ranging from $80-400+ per yard). Consider them the icing on the cake of your room design! I specifically love these colorful pillows styled on a bed with white linens or even in a living space with a neutral sofa if you're comfortable with them getting every day use/wear! On to my top picks.
Simply tap on any of the images below to learn more about each item. You may have to double-tap on mobile.

Designer Fabric & Pillow Look-For-Less Options At Retail Stores
Sometimes, all you need is the inspiration from the right designer fabric! You can then be on the lookout at your favorite retail stores for similar vibes. For example, this designer pillow has been a long-time favorite and when I saw this one at Pottery Barn, I immediately snatched it up for a fraction of the price! It gives me virtually the same look! My favorite stores to look for designer look for less pillows (click the store name to be taken to their throw pillow selections):
I especially love when I can find a pillow or cover with a zipper so I can add my own insert! By simply swapping out the insert on a more cost-effective pillow cover option, you can instantly get a more designer look!
Designer Fabric from Online Fabric Stores
Occasionally there will be a fabric I want that I just can't find at any of the various options above. One of my favorite options is DecoratorsBest. They offer fabrics that are typically only sold to the trade. The only caveat is that sometimes you do have to buy a minimum of two yards. I've found that their prices are fair and I've been very happy with the fabric I've bought from them. Some of my favorite purchases from them include my Riad fabric (I have five colorways because I love it so much), Betwixt fabric (also owned in five colors), and a few others.
I realize designer pillows and fabric may not be in everyone's budgets. However, for those that have been on the hunt for a designer look, I hope this post is helpful and you find some decorative pillow options you love! Do you have any other great sources for designer throw pillows and fabric? If so, I'd love to hear!
If you would like to follow along on more of my home decor, DIY, lifestyle, travel and other posts, I'd love to have you follow me on any of the following:
Pinterest | Instagram | Facebook | Twitter
disclosure: some affiliate links used