I've rounded up favorite items from our home that are still available for purchase in various stores. See below and click any of the affiliate images to learn more about a particular item. Since I make most of my own pillow covers, where applicable, I've found sellers on Etsy that make pillows in the same fabrics I've used for those that don't like to sew like I do! I also have a page dedicated fully to every paint color we've ever used if you have any questions. I also have a more thorough page dedicated to all of our furniture, as well. Otherwise, see all of our sources and get the look of our home below!
This page contains affiliate links for your shopping convenience. Click here to read my full disclosure policy.
Shop Our Entryway
You can shop the look of our entryway by clicking any of the images below to learn more about each item. Not pictured below are the white coral mirror and the 'It Is Well' canvas (mine is the 40×50 with the white gallery frame). To see more about this makeover, be sure to check out this post.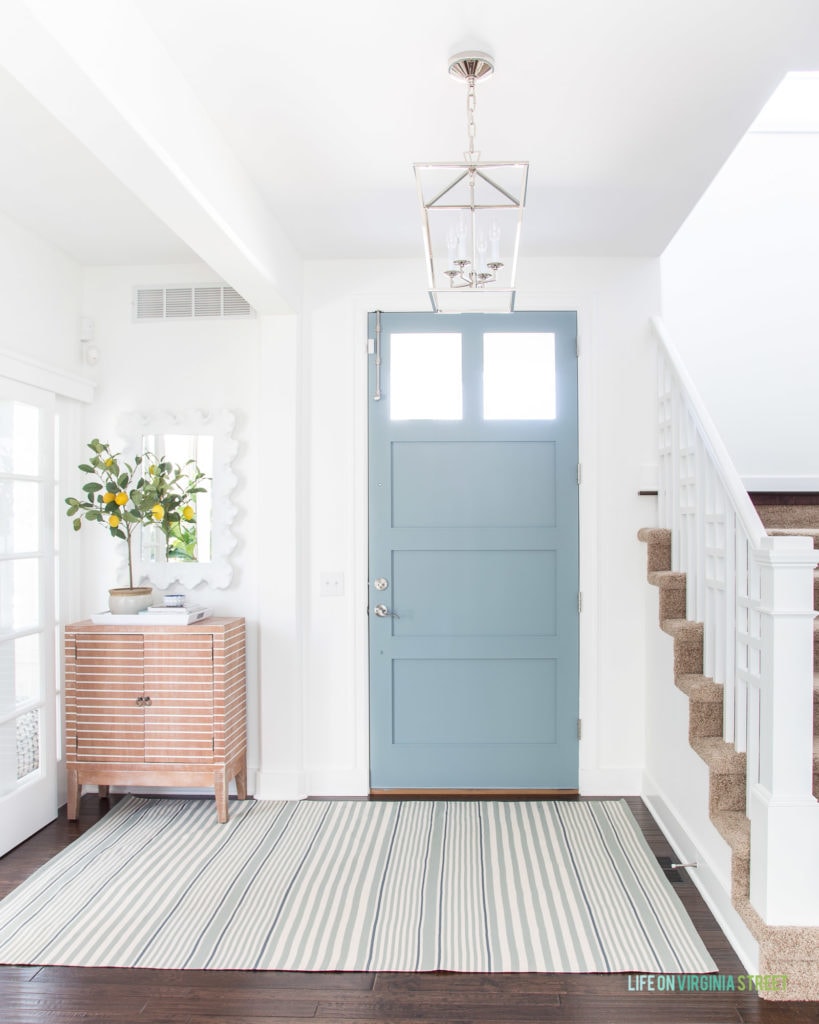 ENTRWAY SOURCES: Striped Rug | Lantern Chandelier | Wood Cabinet | Coral Mirror | Lemon Tree | White Tray | Surface Bolt on Door
Down from our door in our entryway, we have a long hallway that leads to the rest of our home, as you pass the courtyard! The artwork was a lucky HomeGoods find, but I have everything else linked below.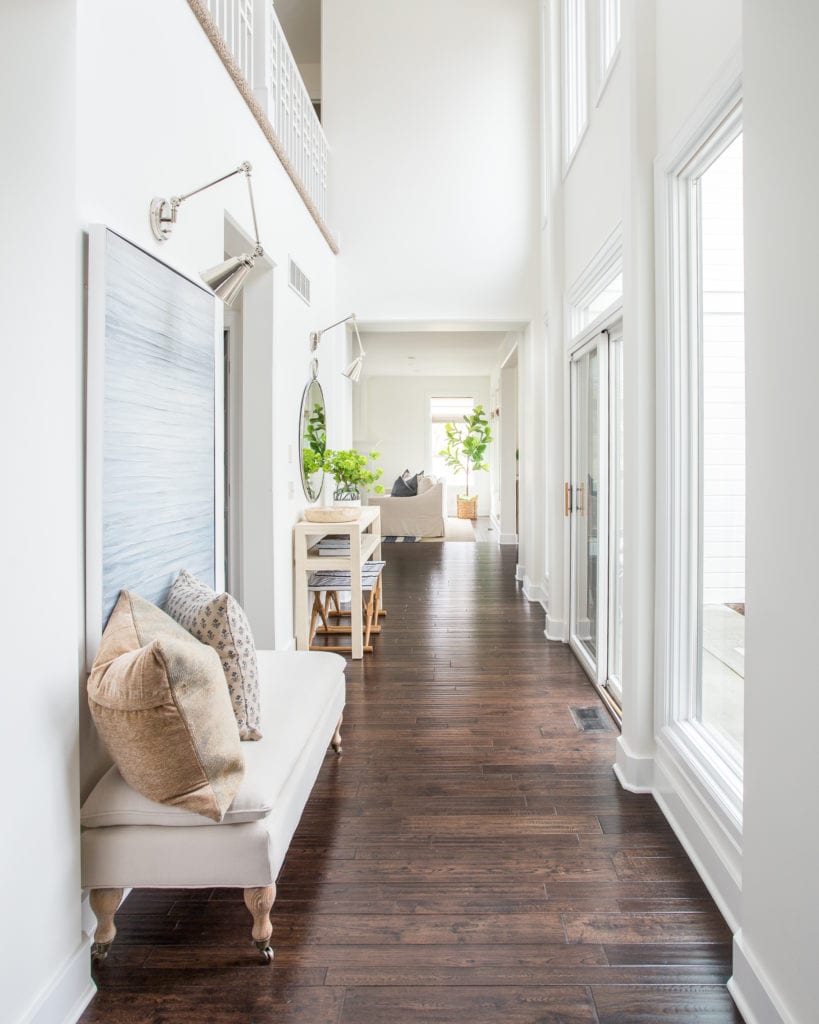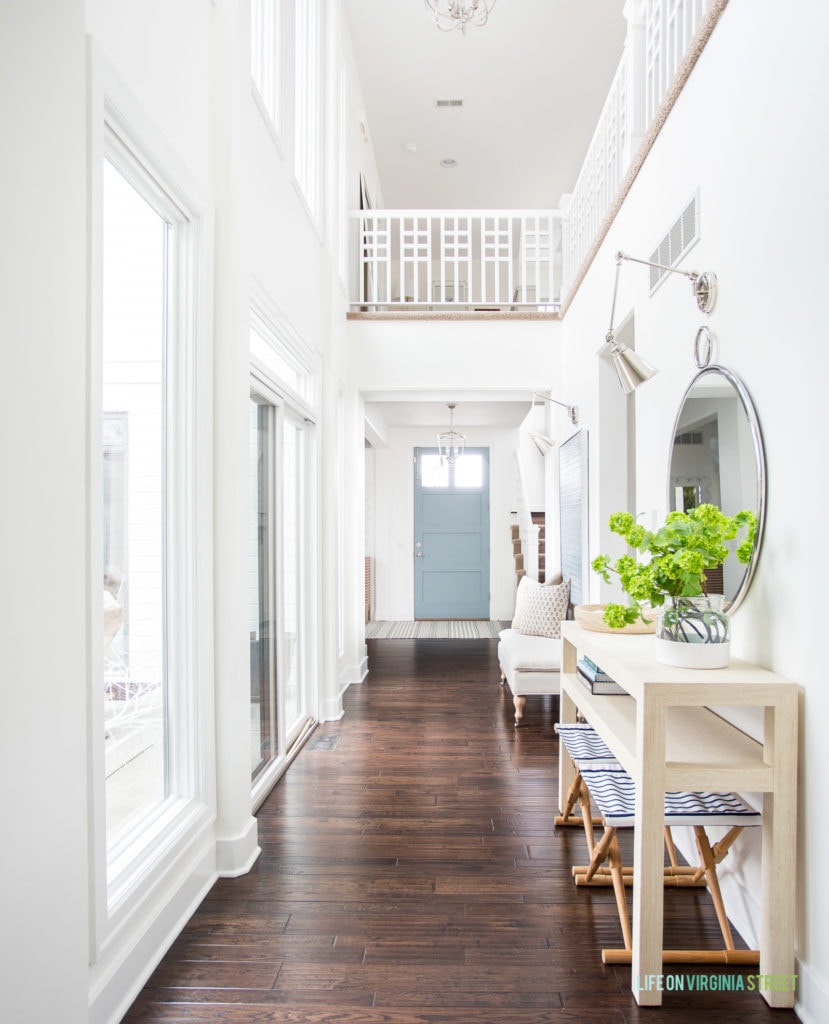 ENTRYWAY HALLWAY SOURCES: Pillowtop Bench | Vintage Pillow | Block Print Pillow | Console Table | Stools | Similar Mirror | Dipped Vase | Faux Viburnum Stems(similar here) | Swing Arm Sconces | Abstract Art (HomeGoods – old)
Shop Our Living Room
If you've considered buying our linen living room sofas, you may first want to read my York Sofa review post first! It's full of tons of helpful information and comments from other purchasers!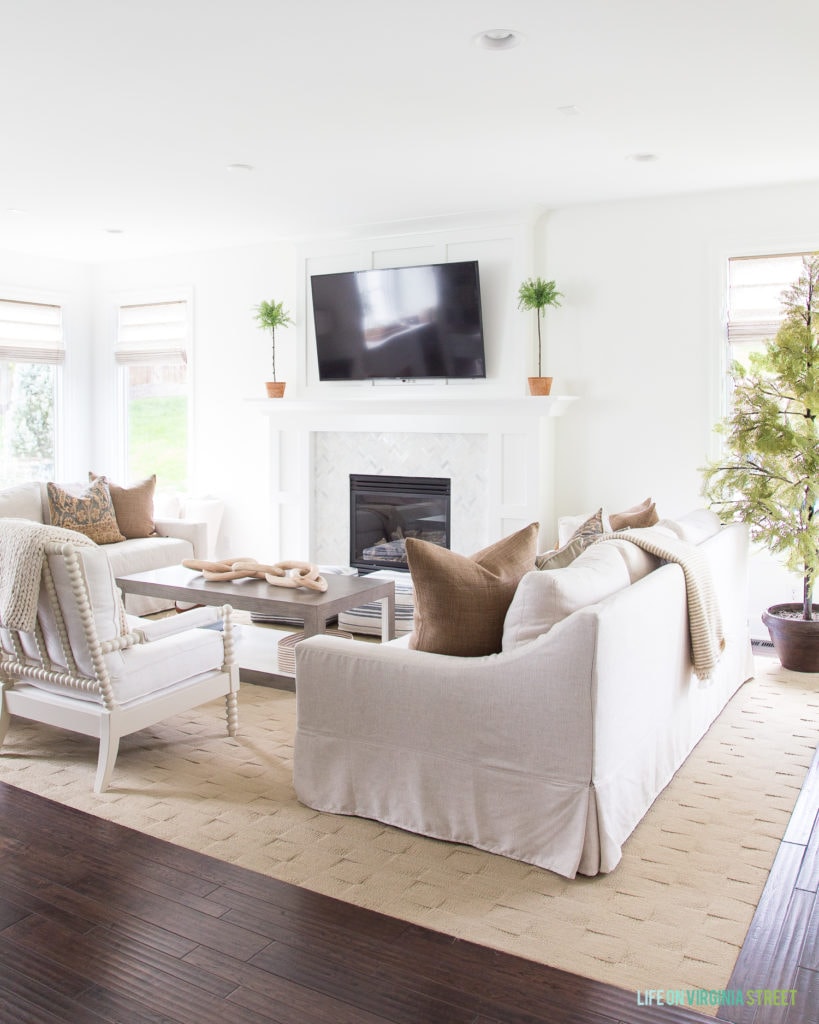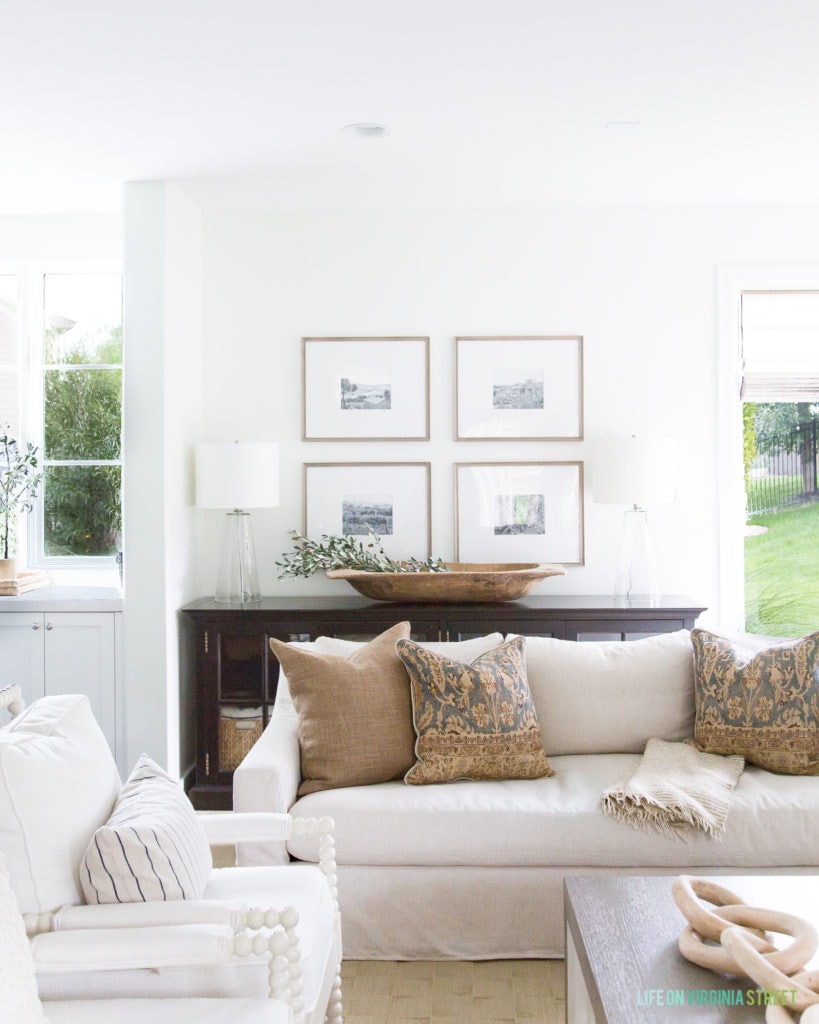 Shop Our Kitchen
For additional details on our kitchen, be sure to check out our Coastal Kitchen Reveal as well as our Kitchen Remodel FAQs!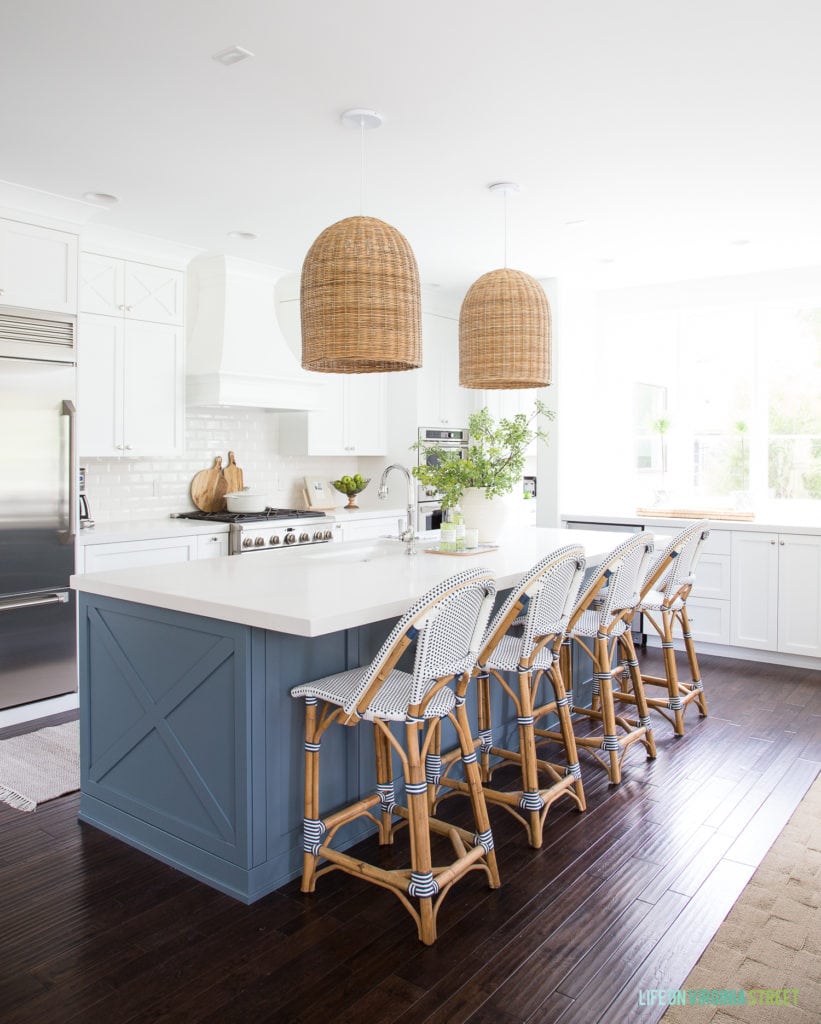 KITCHEN SOURCES: Counter Stools | Basket Pendant Lights  | Runner Rug | Similar Vase | Faux Greenery Stems | Cabinet Hardware | Island Paint Color: Benjamin Moore Providence Blue
Shop Our Dining Room
Unfortunately our hutch is no longer available (the Chimeneas Andover Bookcase) but I have a really excellent list of similar reclaimed wood hutchesat a variety of price points. And if you love our dining room light fixture but not the price tag, you may want to checkout my post on the best Darlana knock-off light fixture options!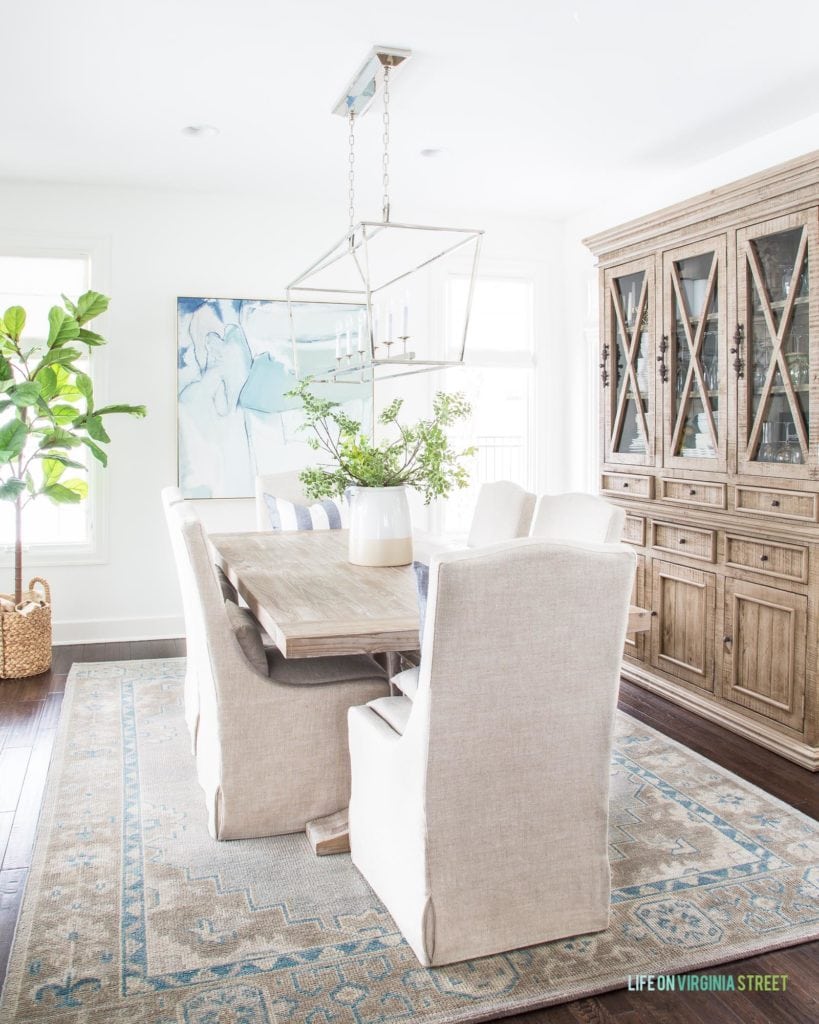 Shop Our Powder Bath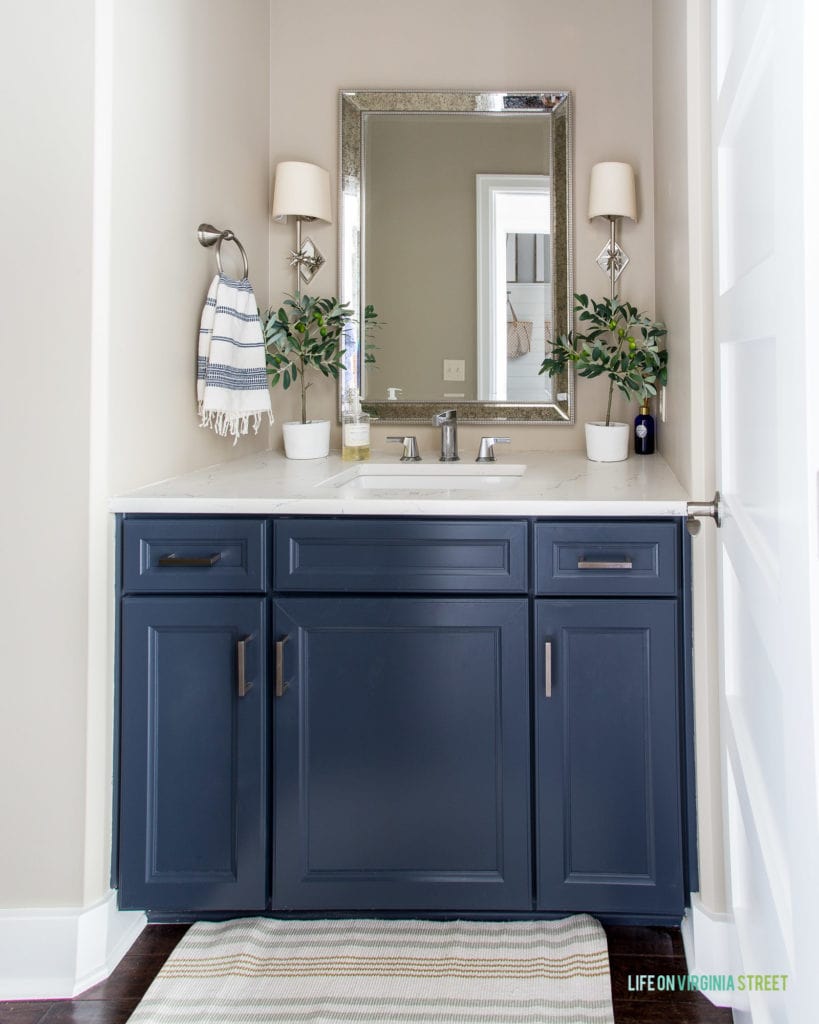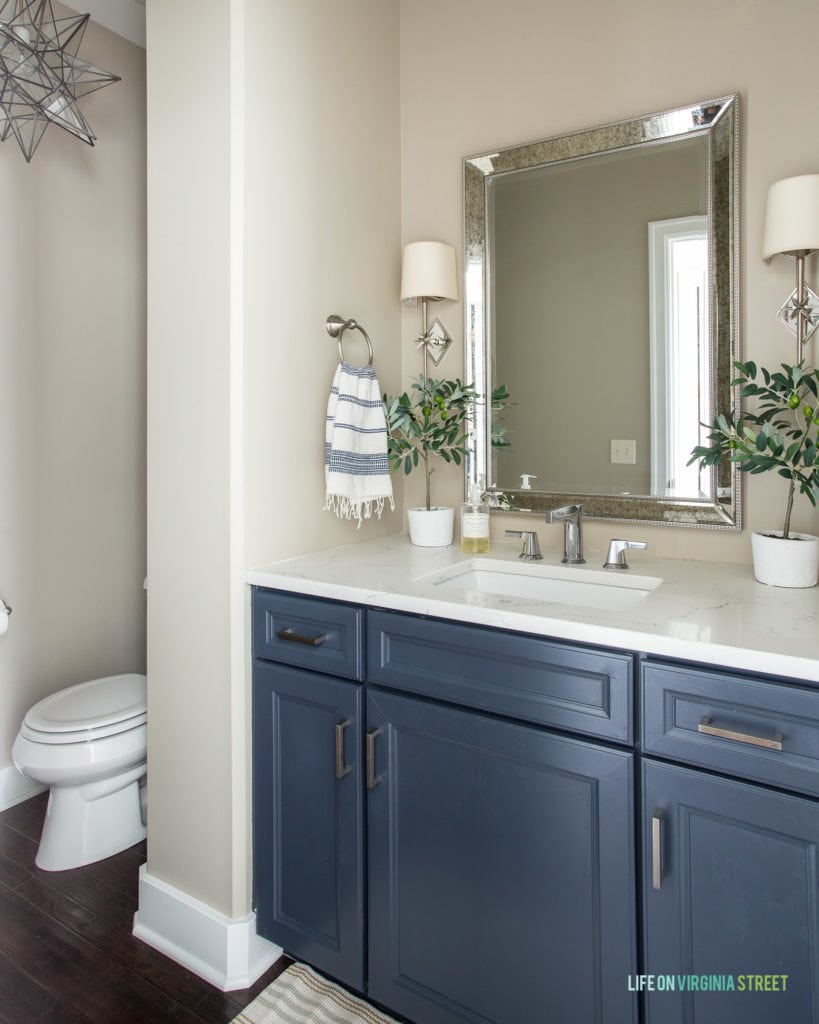 POWDER BATH SOURCES: Star Chandelier | Star Sconces | Striped Rug | Similar Mirror | Meyer Lemon Hand Soap | Faucet | Similar Olive Topiaries
Shop Our Home Office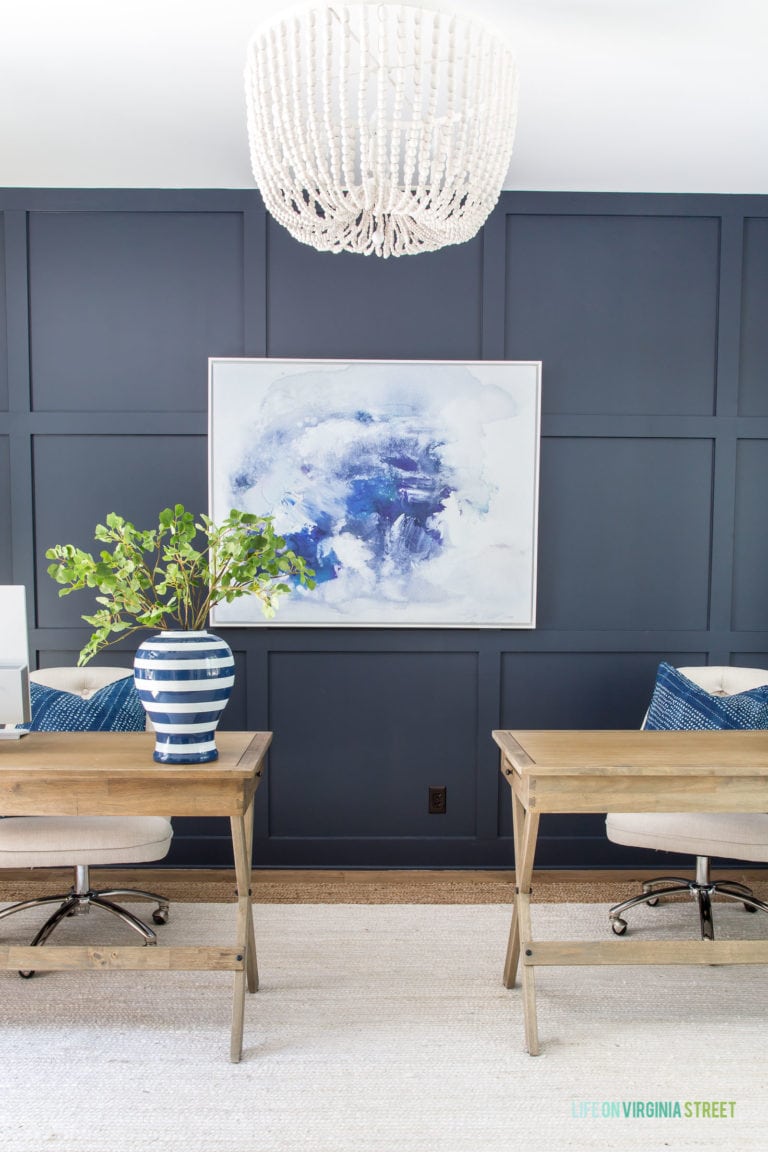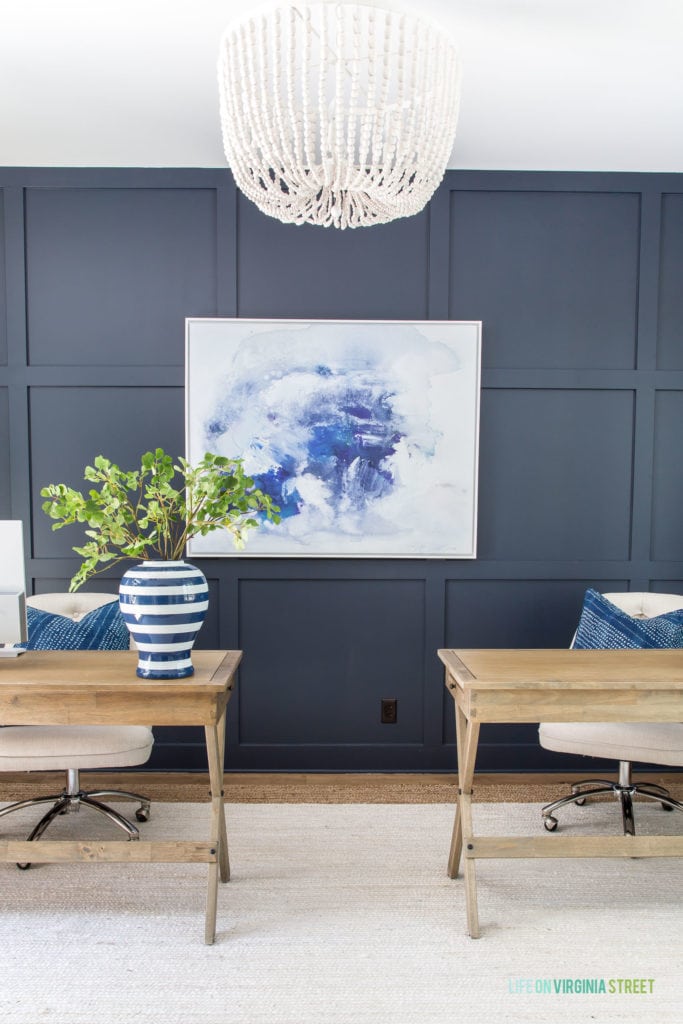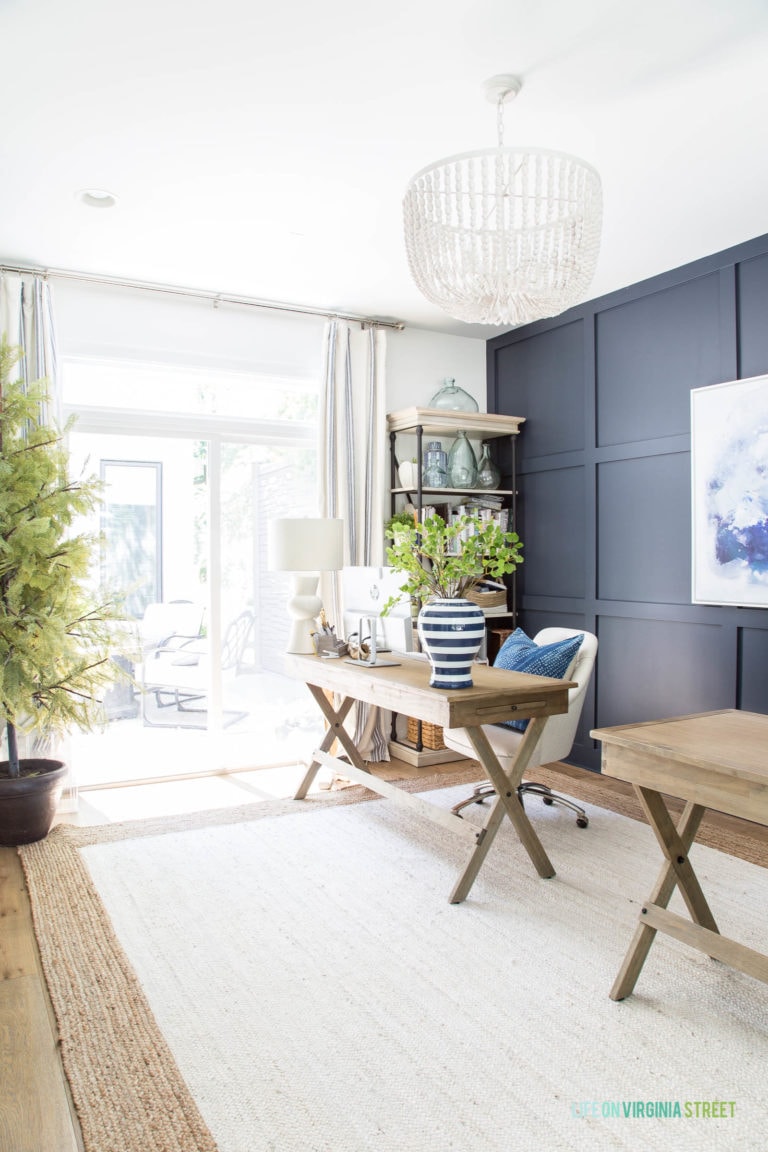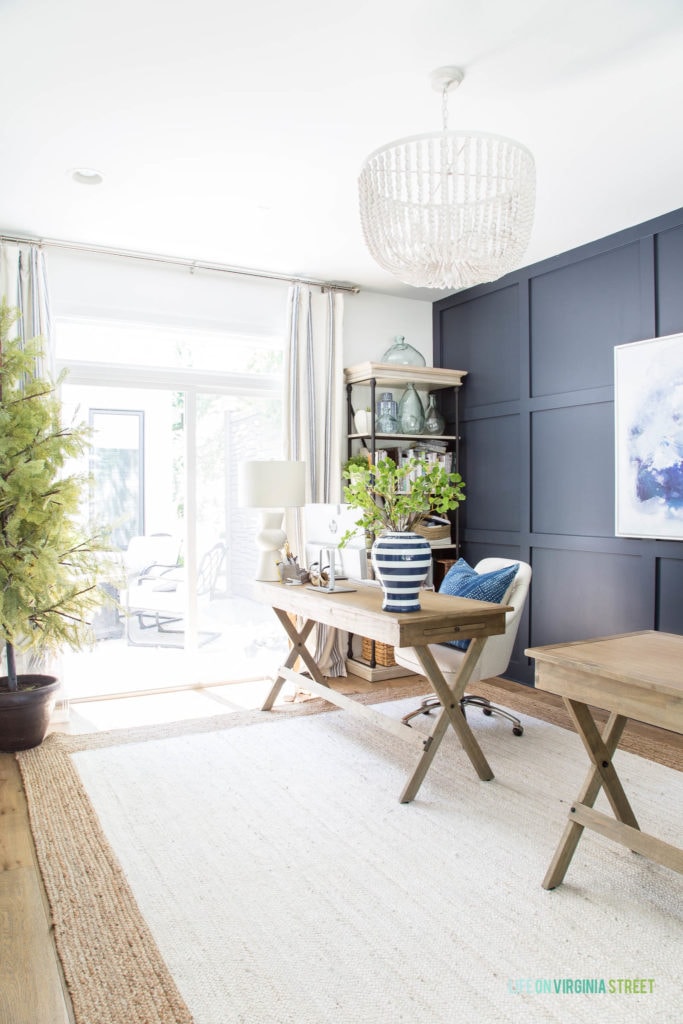 Our floors are the Maison Normandy Bistro White Oak from Mannington Floors. All other sources are linked below. You can see the full room makeover and progress of this space in this post.
OFFICE SOURCES: Wood Campaign Desk | Linen Chairs | Blue Dyed Pillows | Jute Rug | Striped Curtains | Bookcase | White Wood Bead Chandelier | Similar Lamps | Faux Ginkgo Stems | Similar Vase | Abstract Art | Faux Cypress Tree
Shop Our Master Bedroom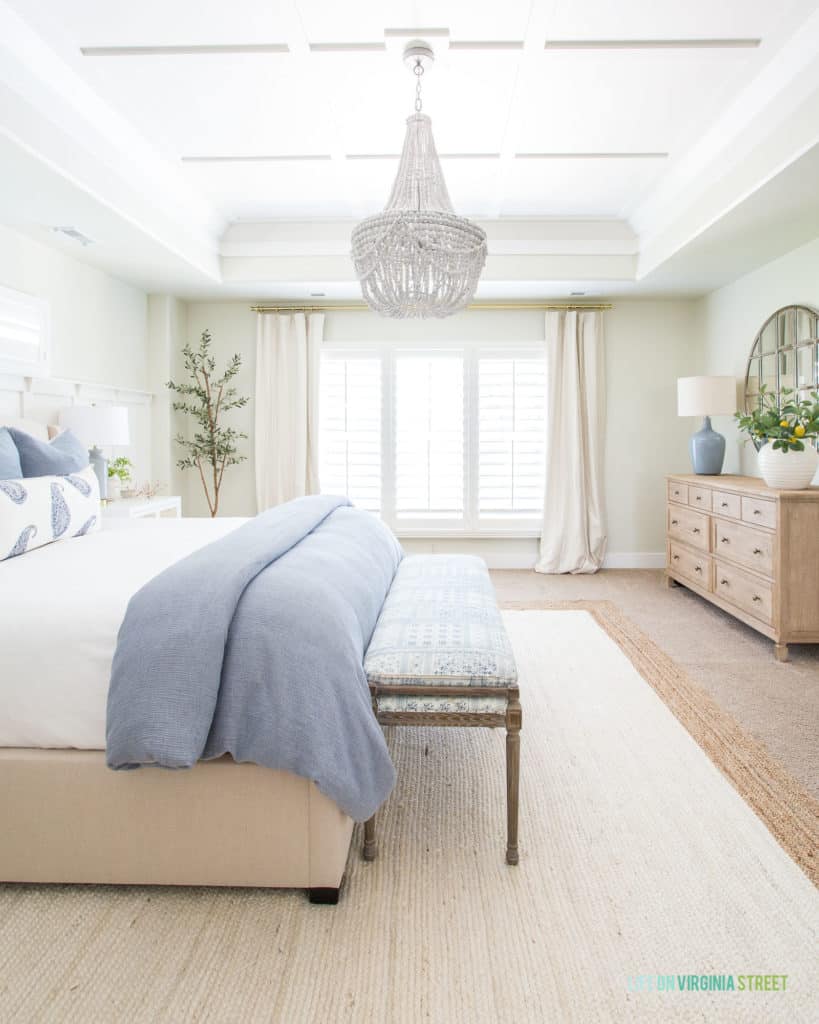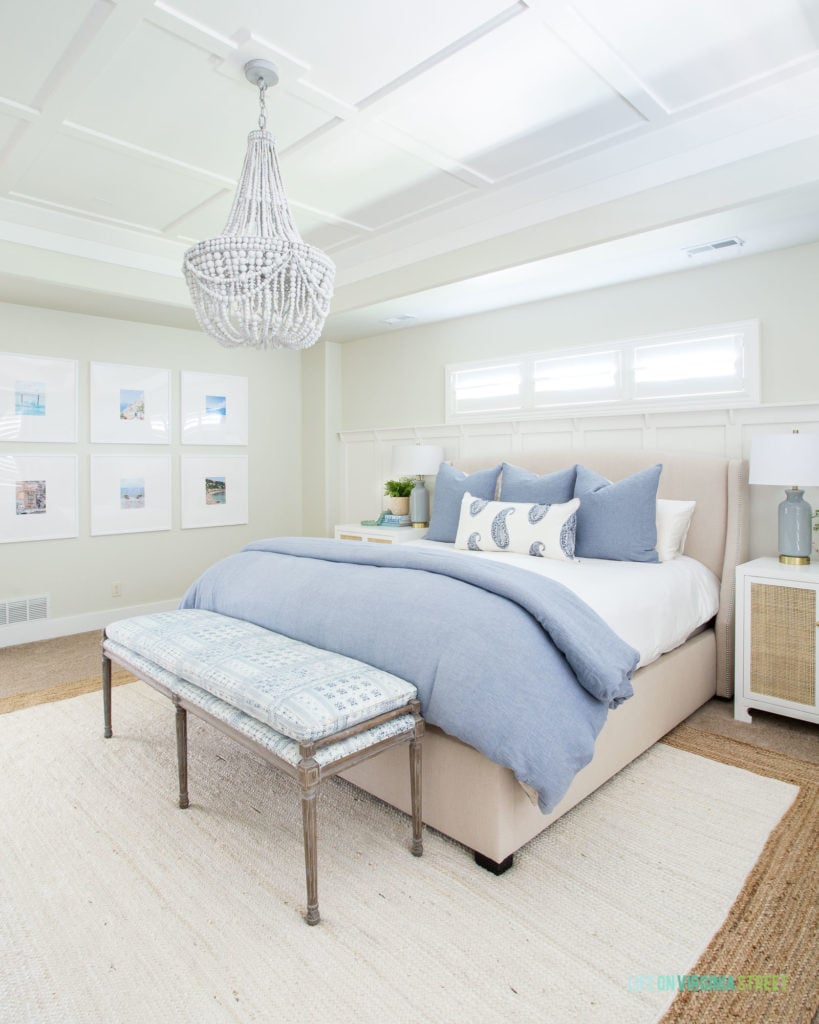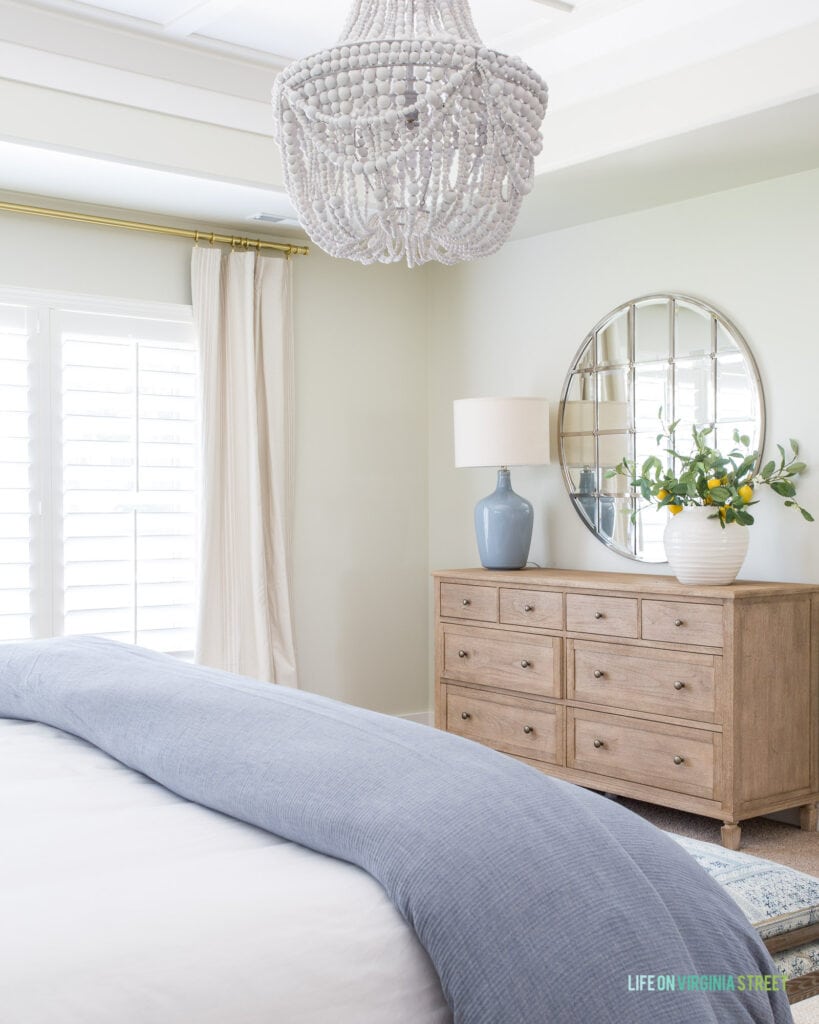 MASTER BEDROOM SOURCES: Similar Bed | Blue Euro Shams & Bedding | Paisley Lumbar Pillow | Cane Nightstands | Bead Chandelier | Faux Potted Maidenhair Fern | Manzanita Branch | Jute Rug | Dresser Lamp | Nightstand Lamps | Gallery Wall Frames | Striped Curtains | Curtain Rod | Bench | Dresser | Round Grid Mirror | Similar Ceramic Vase | Faux Lemon Stems
Shop Our Master Bathroom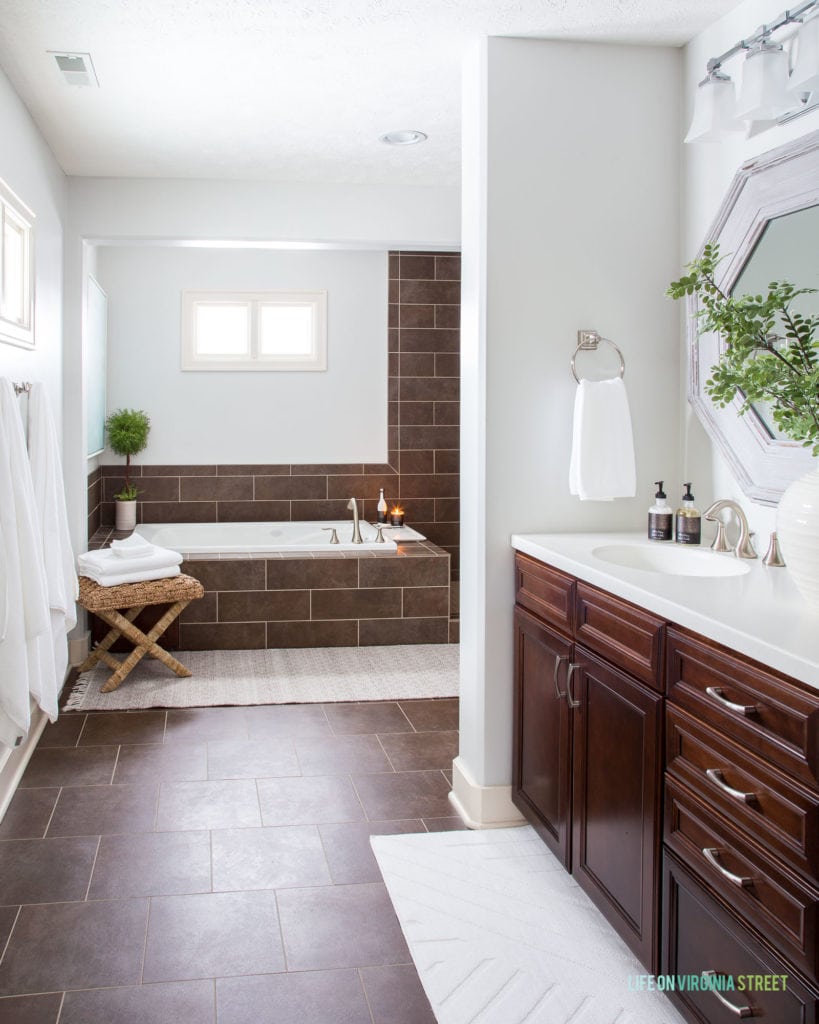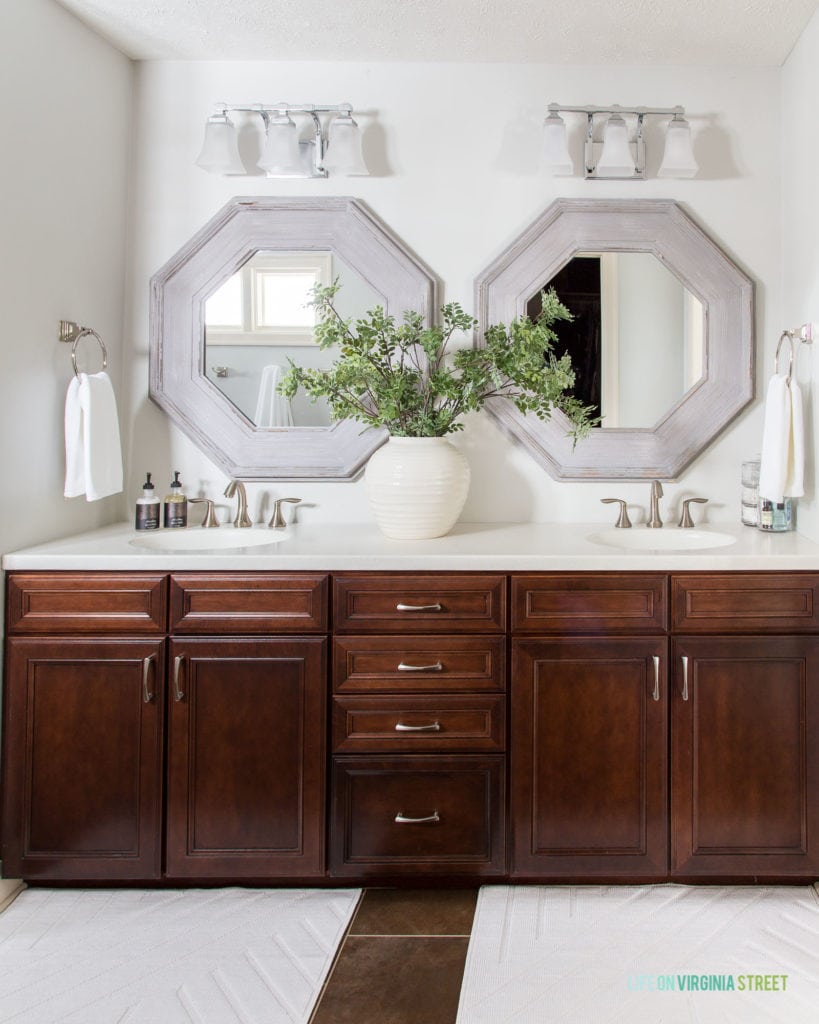 MASTER BATH SOURCES: Woven Stool | Similar Vase | Faux Greenery | Runner Rug
Shop Guest Bedroom #1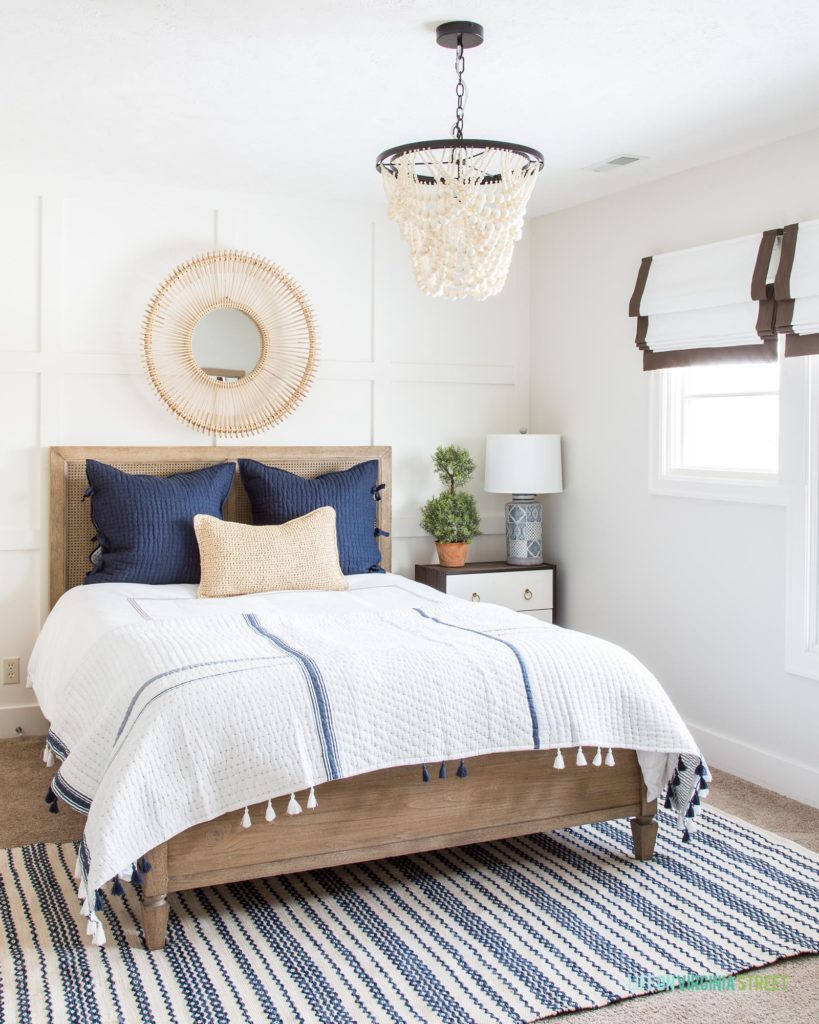 Guest Bathroom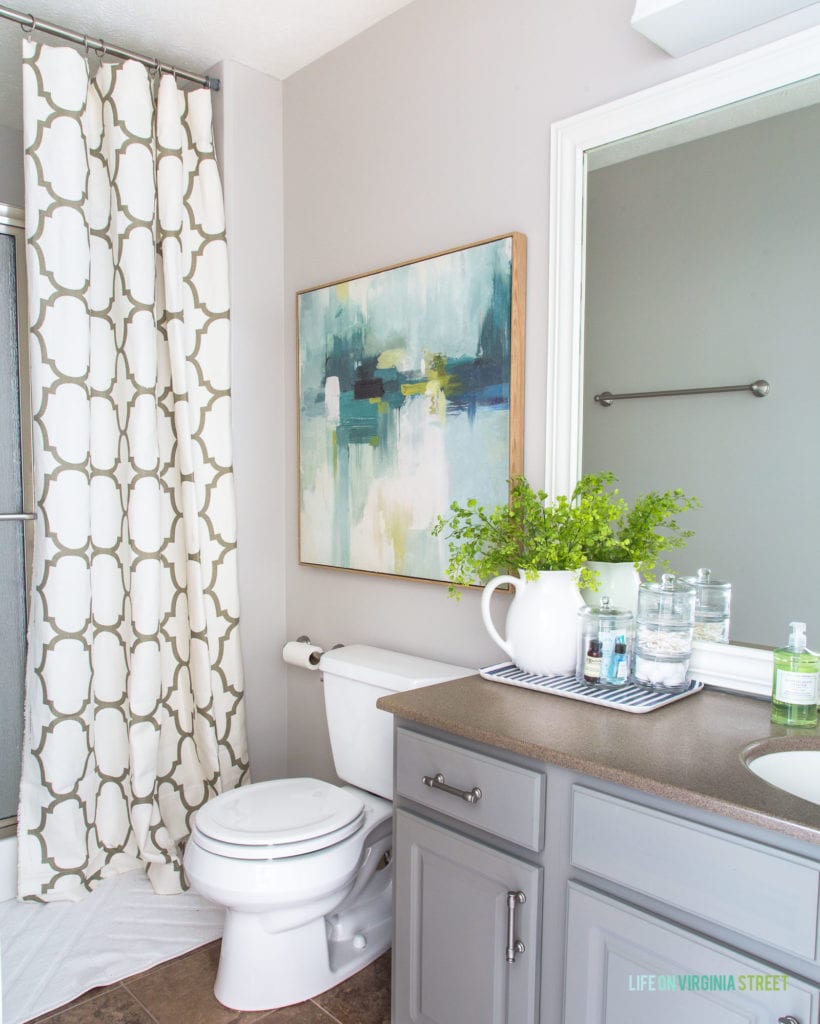 Shop Guest Bedroom #2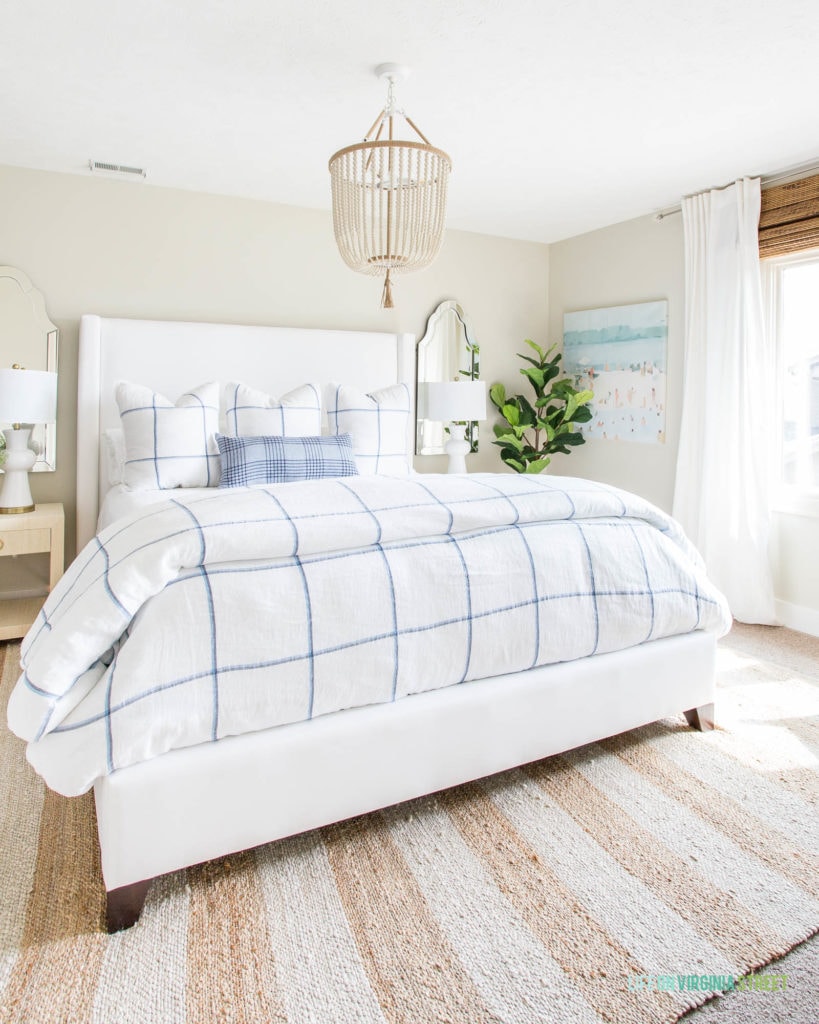 GUEST BEDROOM SOURCES: Upholstered Bed | Windowpane Plaid Bedding | Plaid Lumbar Pillow | Bead Chandelier | Striped Rug | Raffia Nightstands | White Ceramic Lamps (come as a set of two) | Abstract Beach Art | Faux Fiddle Leaf Fig Tree (this is the 5'4″ size) | Mirrors
Shop Our Den (Formerly the Craft Room)
You can see the full transformation of this space in my den reveal post!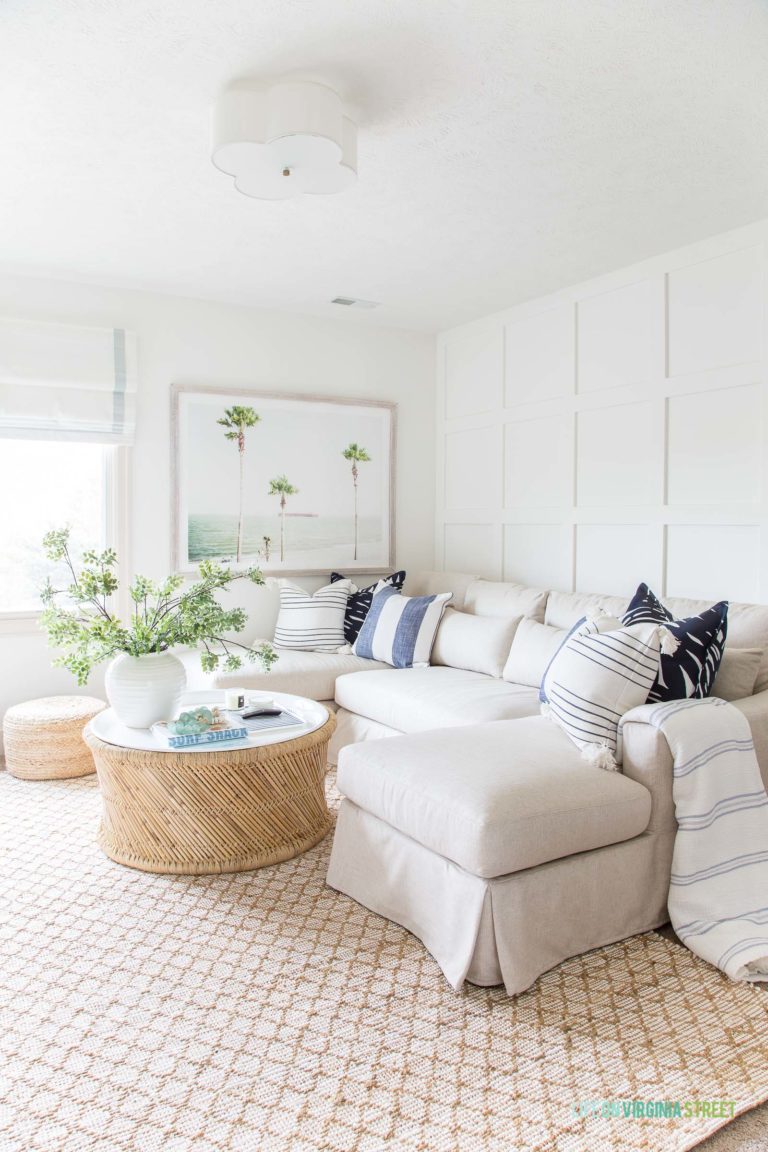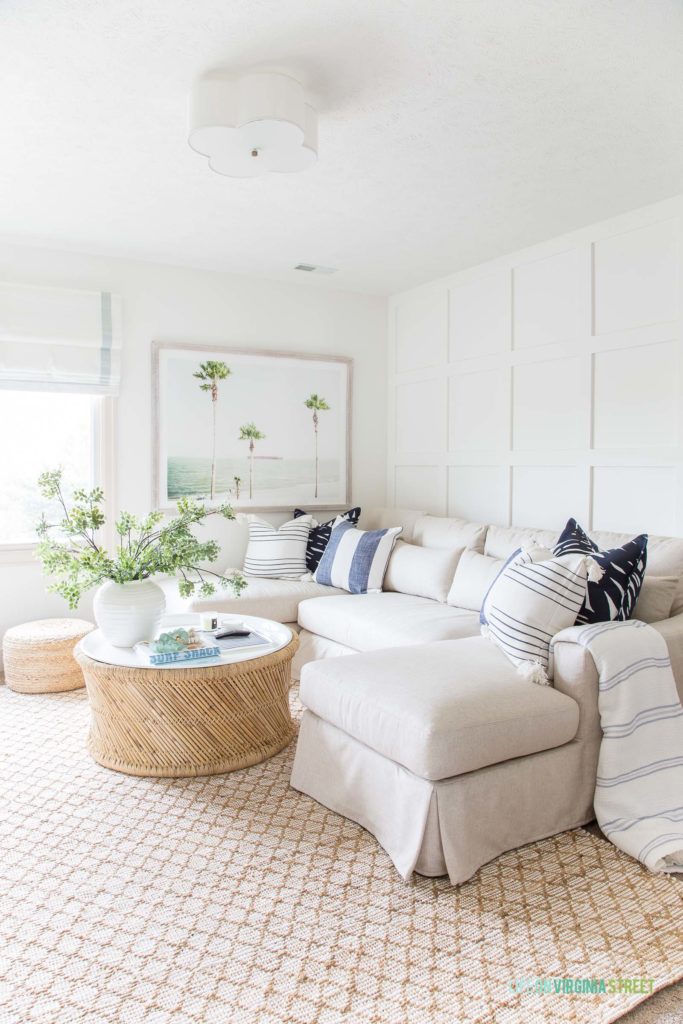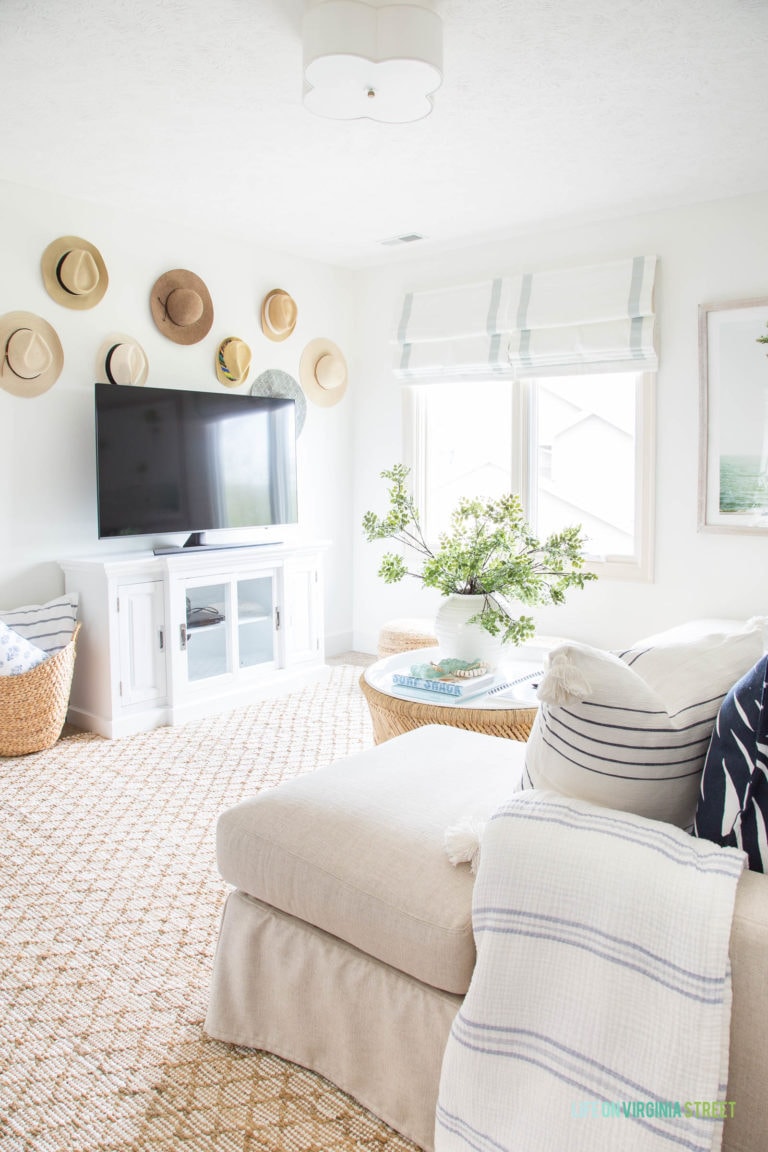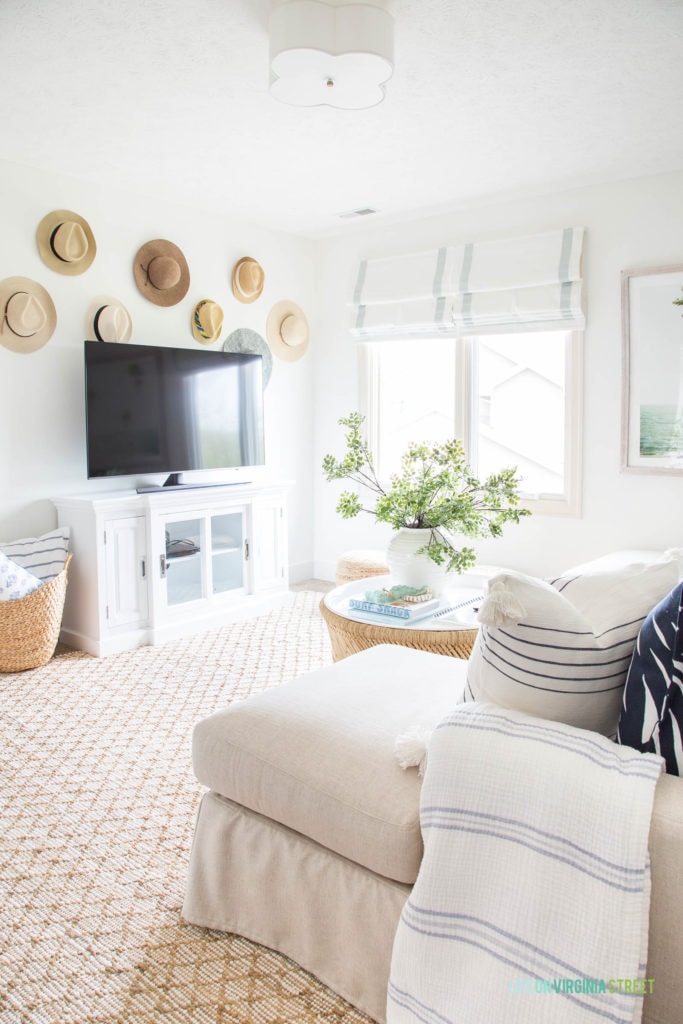 DEN SOURCES: Pottery Barn Sectional | Indoor/Outdoor Diamond Rug | Scallop Light Fixture | Coffee Table | Palm Tree Art | Jute Poufs | Ceramic Vase | Faux Greenery Stems | Small Striped Pillow | Wide Striped Pillow | Palm Print Pillow | Striped Throw | Roman Shades
Laundry Room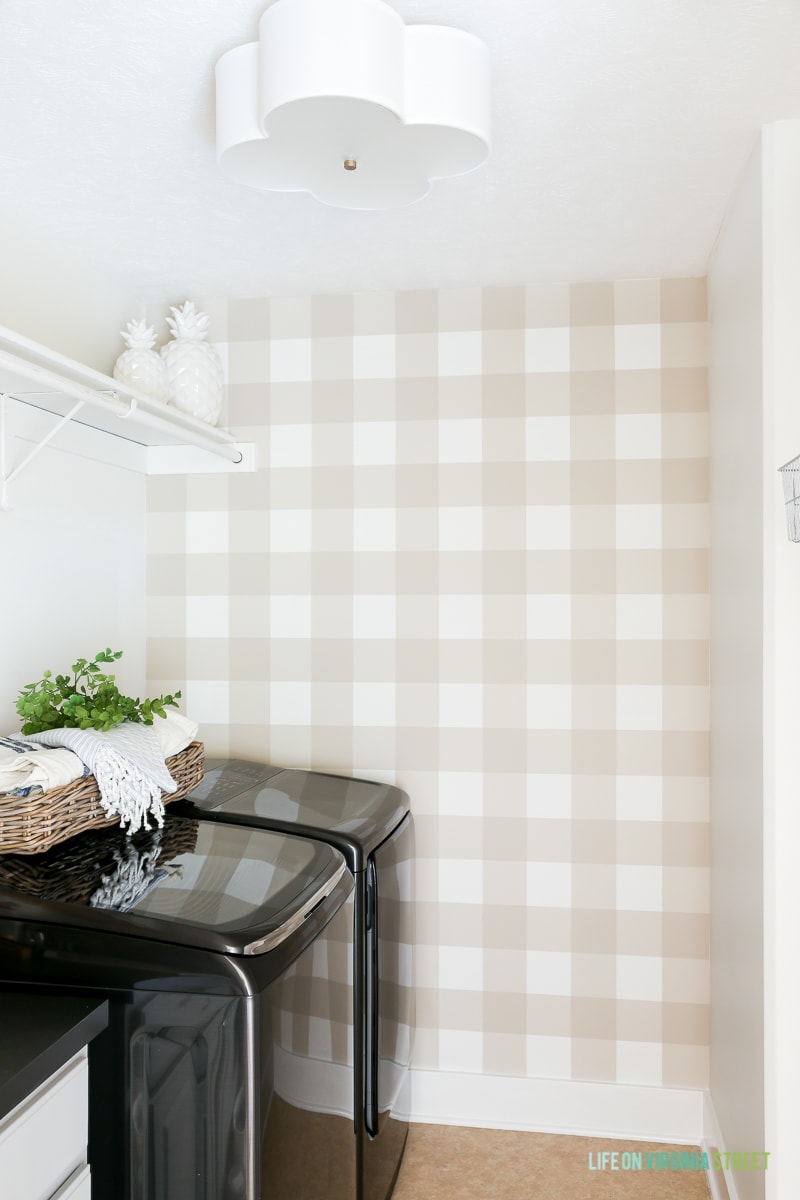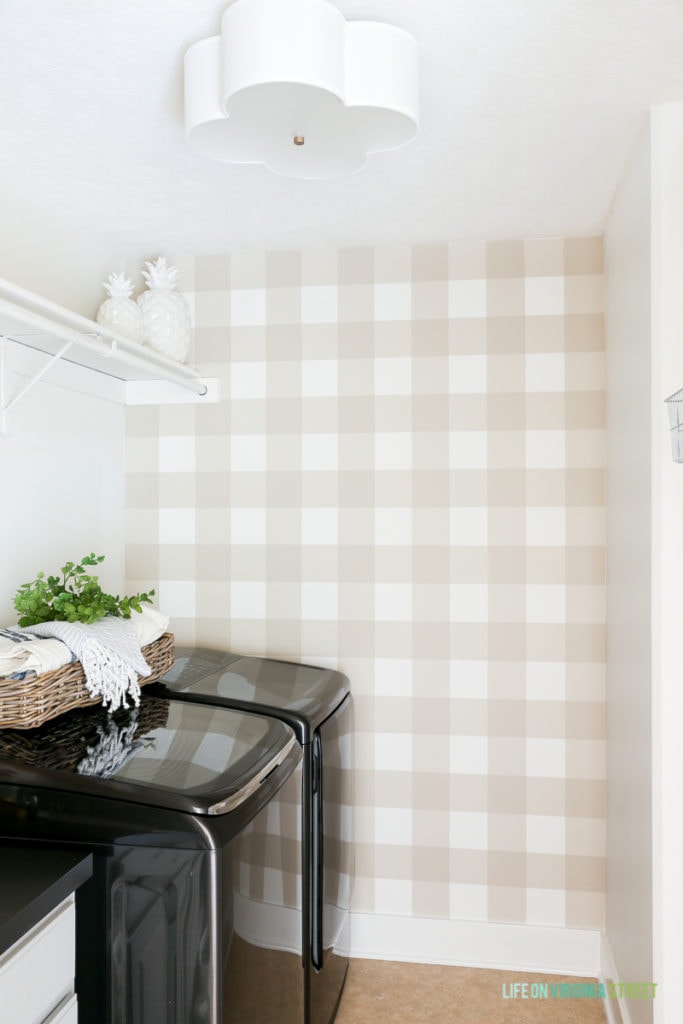 Shop Our Mud Room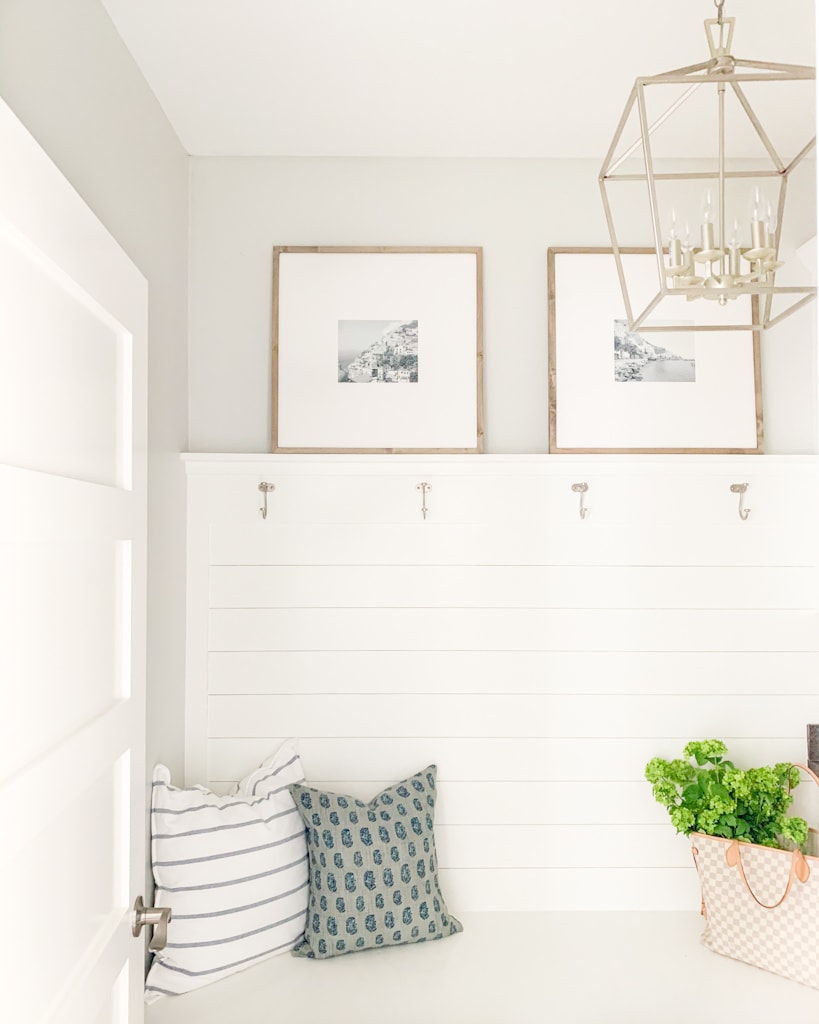 MUD ROOM SOURCES: Lantern Chandelier | Striped Pillow | Similar Paisley Pillow | Gallery Frames | Faux Viburnum Stems (similar here)
Shop Our Pool Deck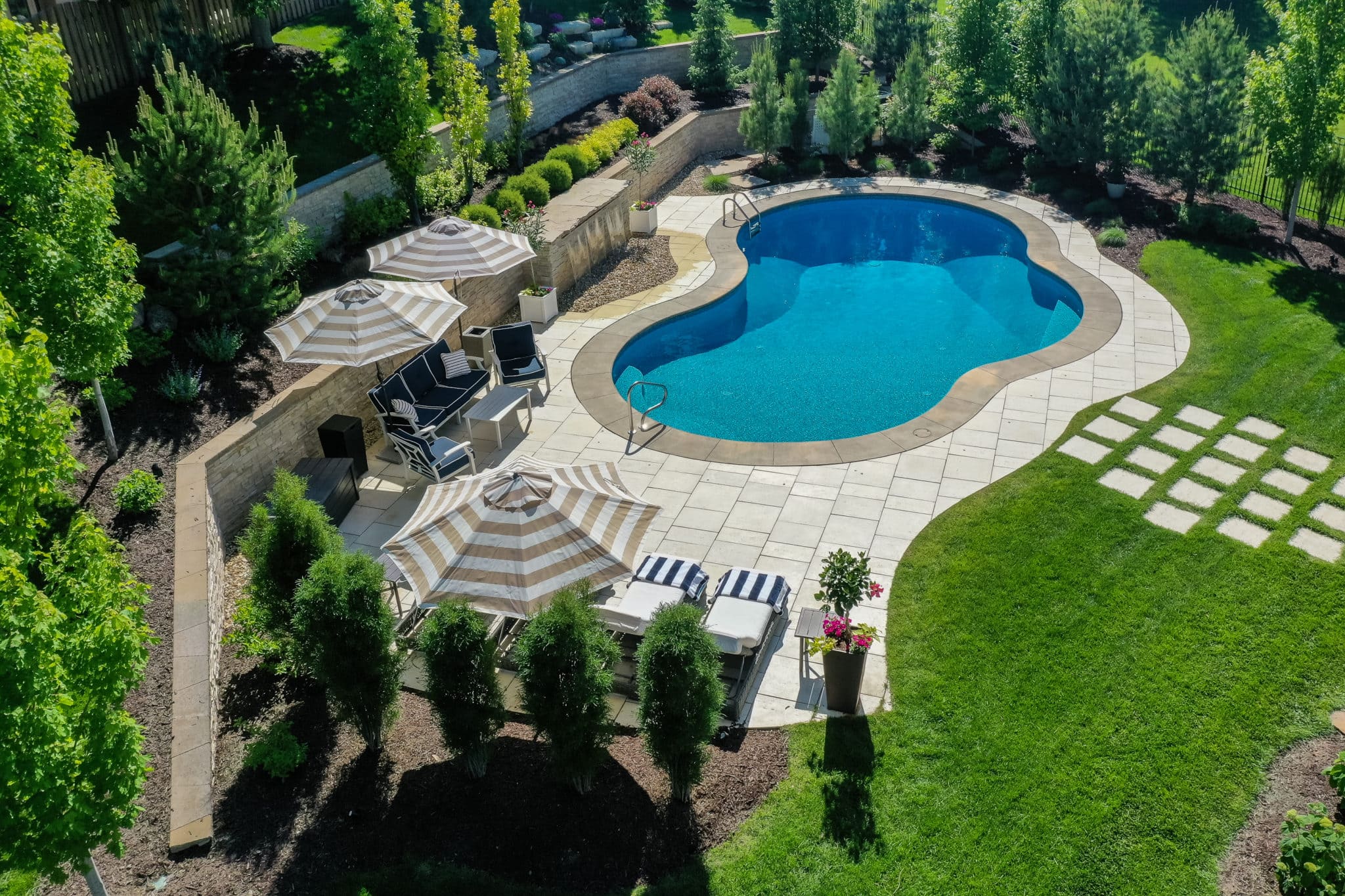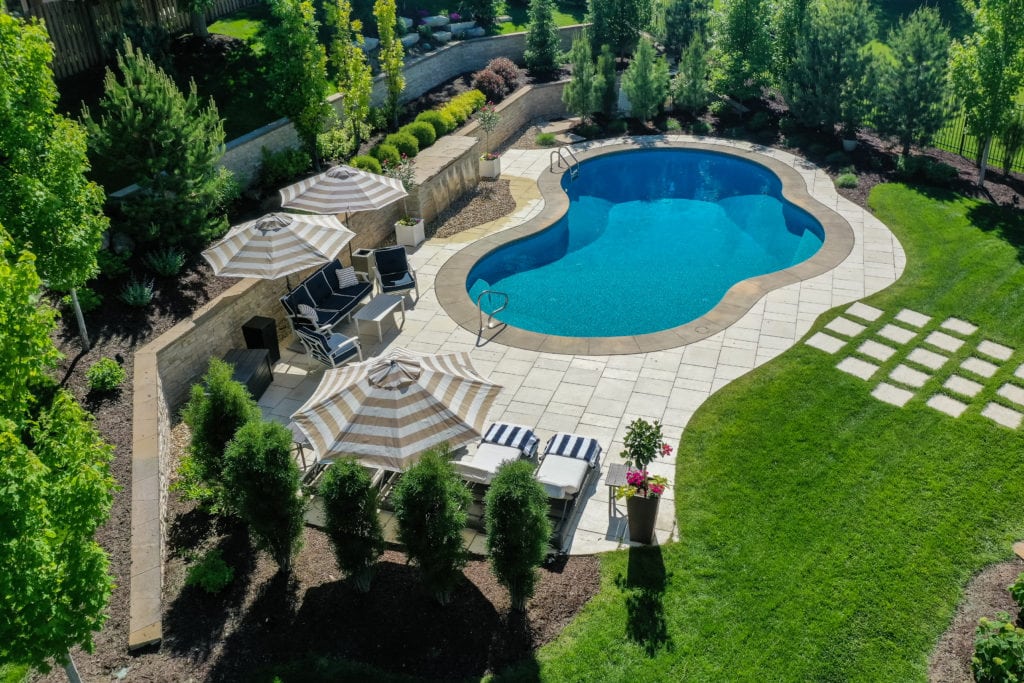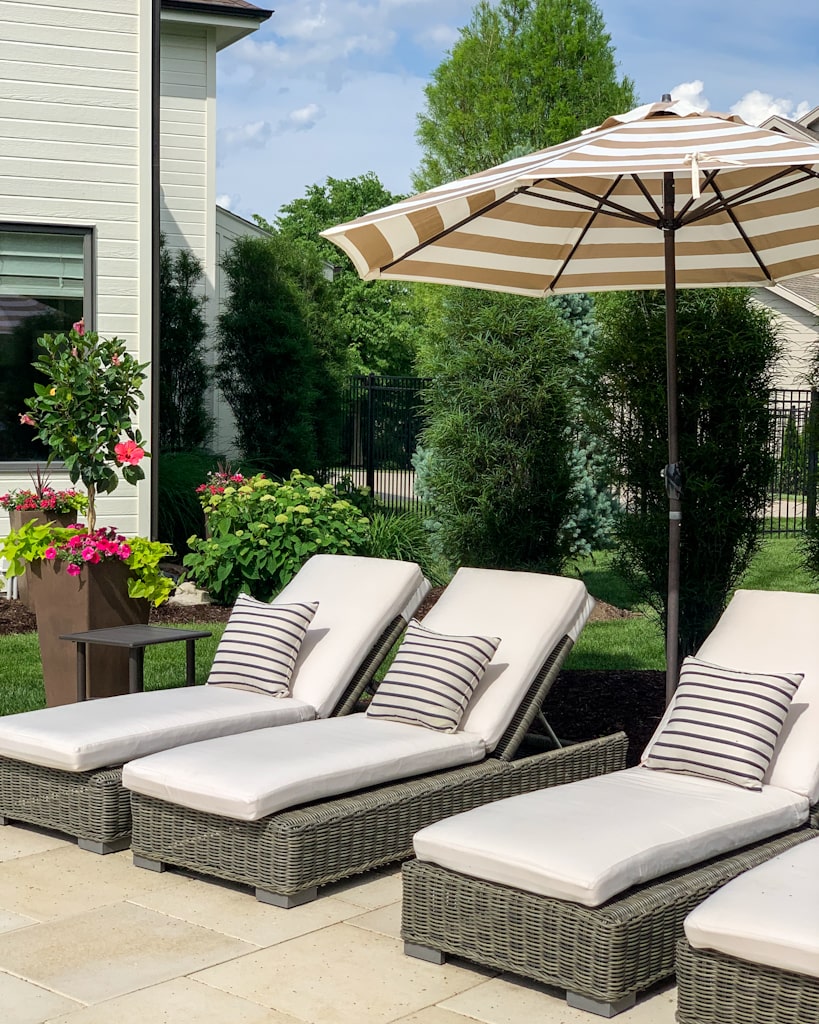 POOL DECK & COVERED PATIO SOURCES: White & Navy Blue Conversation Set | Chaise Lounge Chairs | Striped Umbrellas | White Planter Boxes | Tall Planters | Striped Sunbrella Pillows | Reversible Pool Towels | Hibiscus Topiary | Sweet Potato Vines | Round Dining Table | Similar Outdoor Bistro Chairs | Striped Outdoor Curtains | Rug
Shop Our Outdoor Dining Space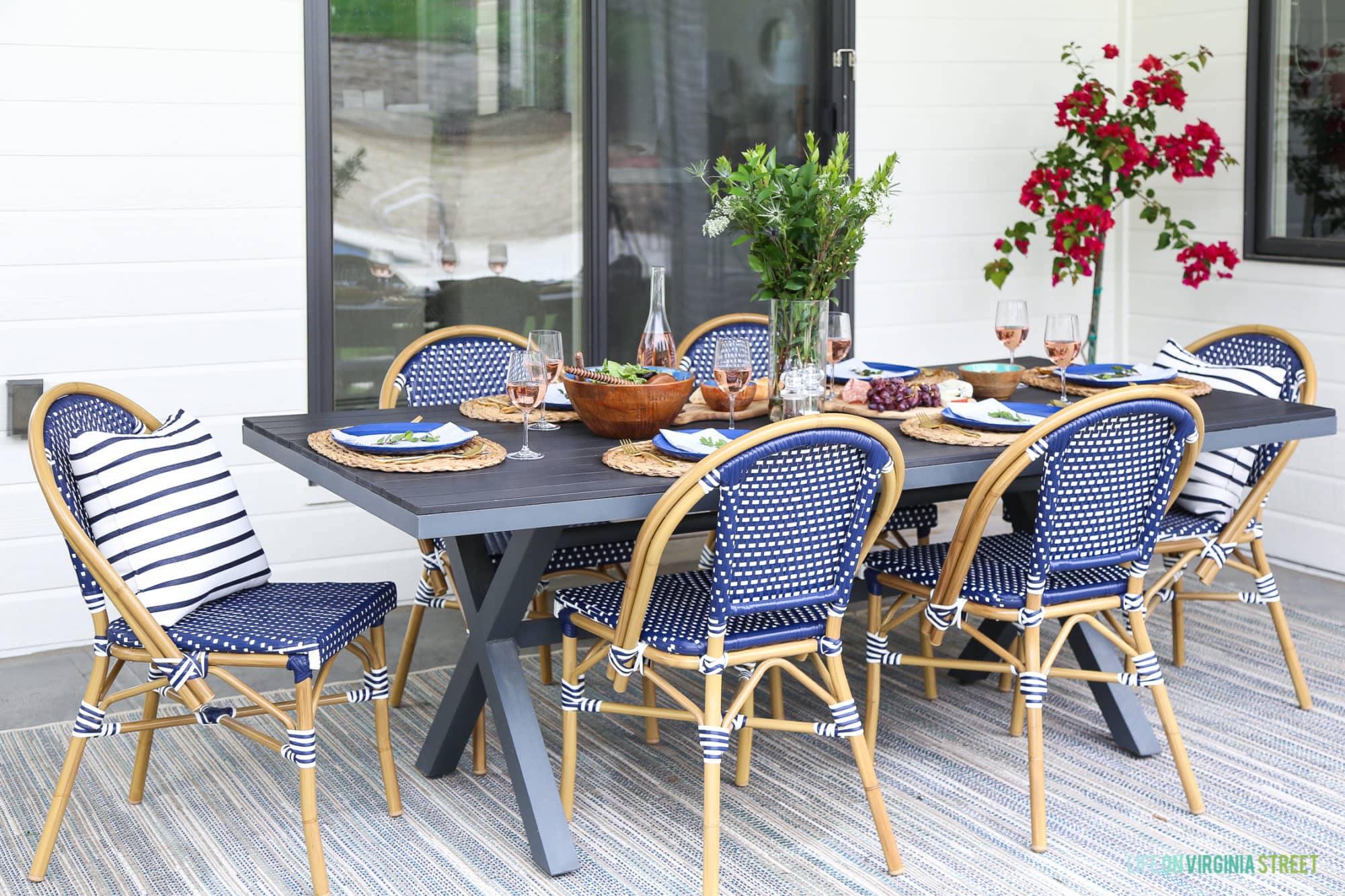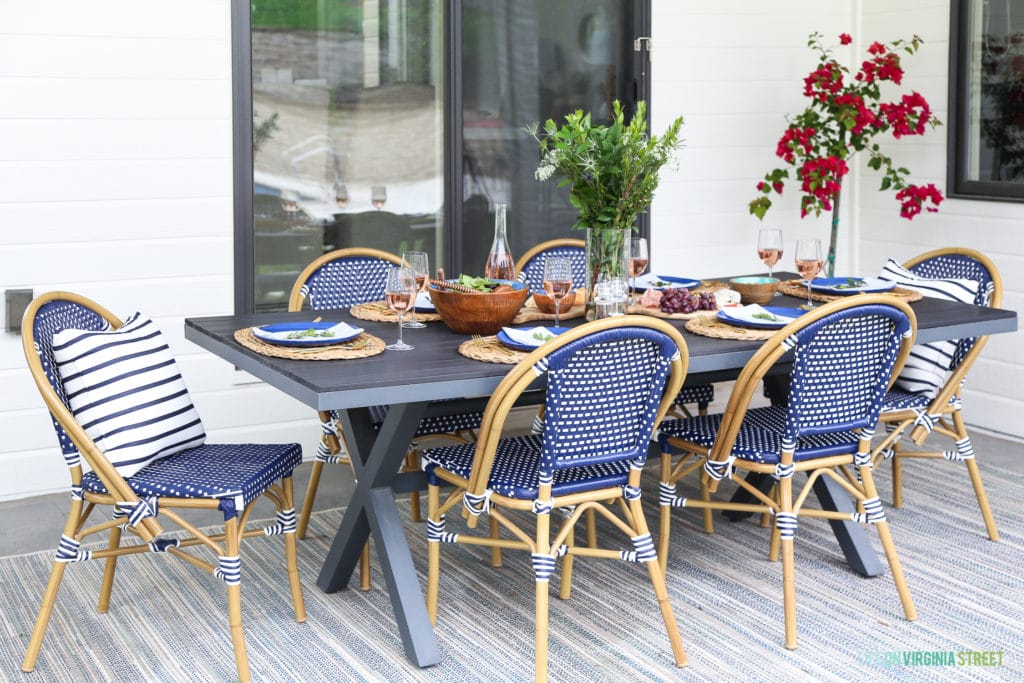 Shop Our Courtyard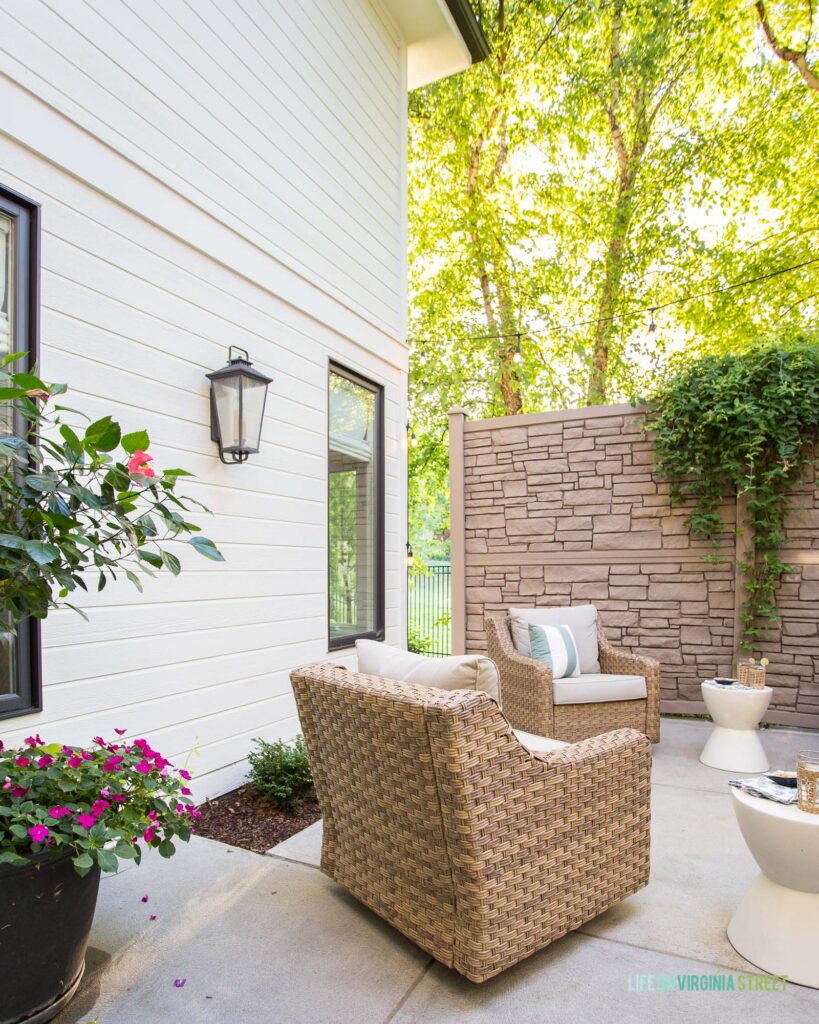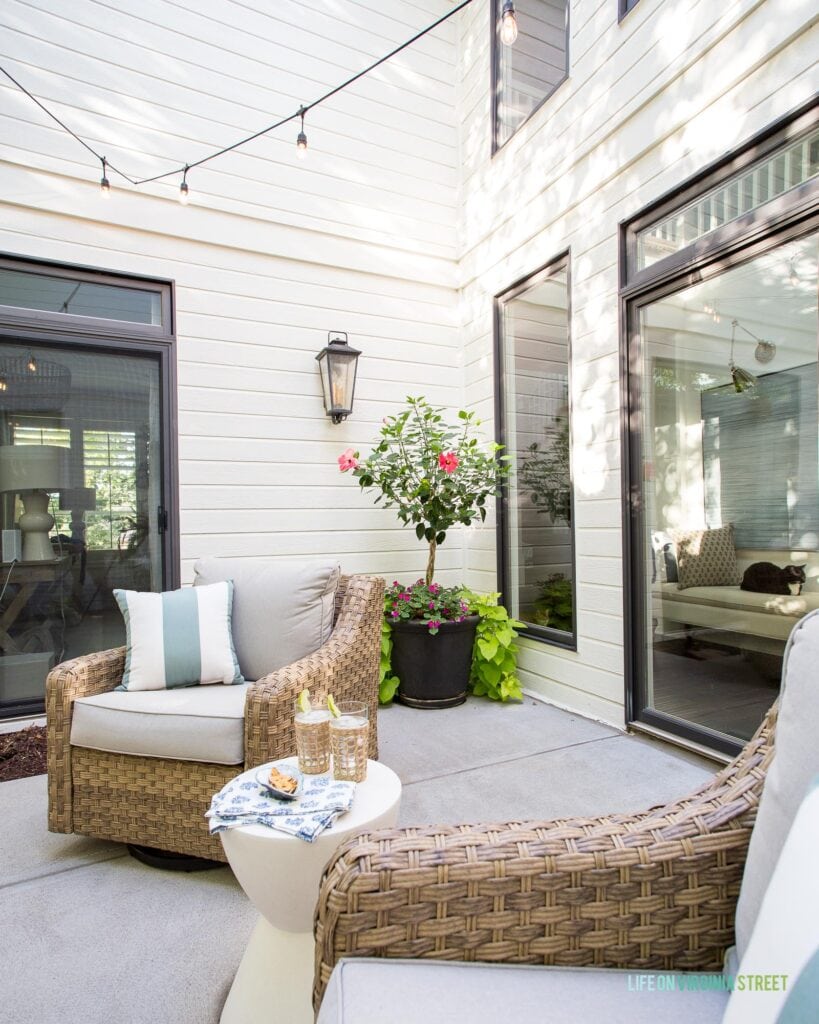 COURTYARD SOURCES: Swivel/Glide Woven Armchairs | Concrete Side Tables | Sunbrella Striped Outdoor Pillows | Lantern Wall Sconces | Shatterproof String Lights | Block Print Napkins | Cane Wrapped Glasses | Oyster Shell Dishes | Faux Stone Wall
I change out my decor and accessories frequently, so if there's something you're not able to find on this page or on the blog, feel free to leave a comment on this page or send me an email!