A straightforward and honest Secrets Aura Cozumel review. Sharing the pros and cons of this property, how it compares to other Secrets resorts, and photos from around the property.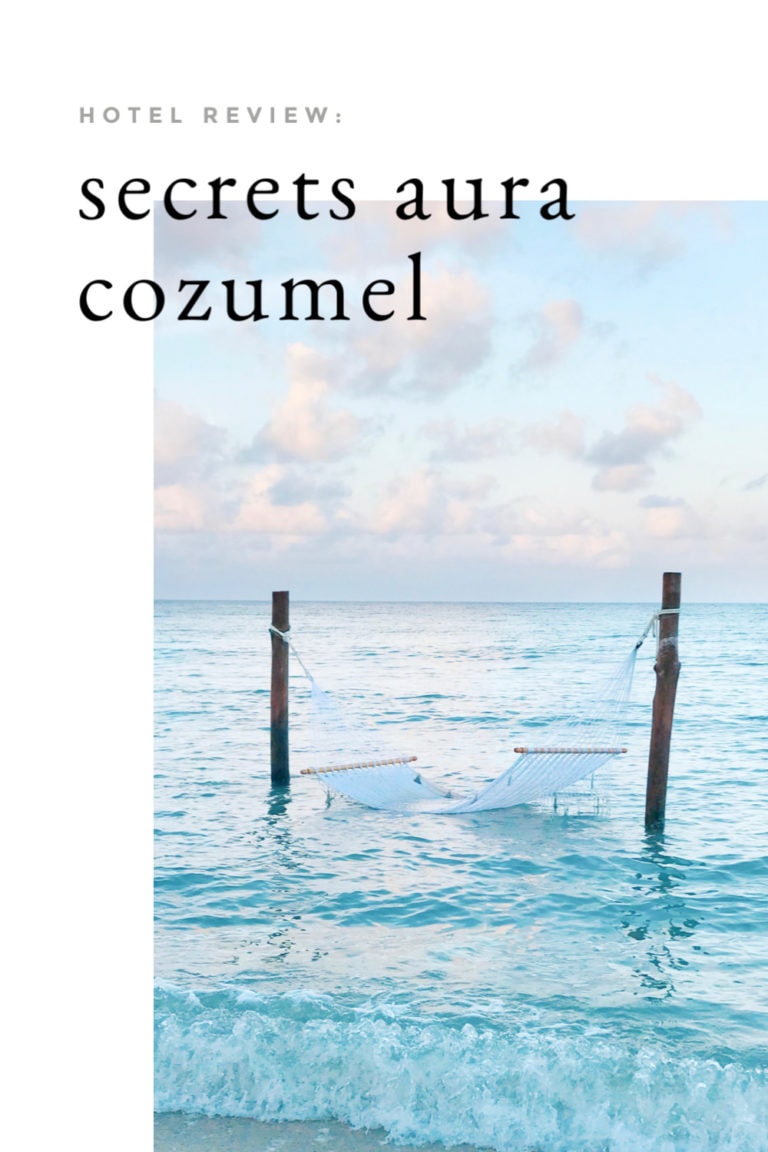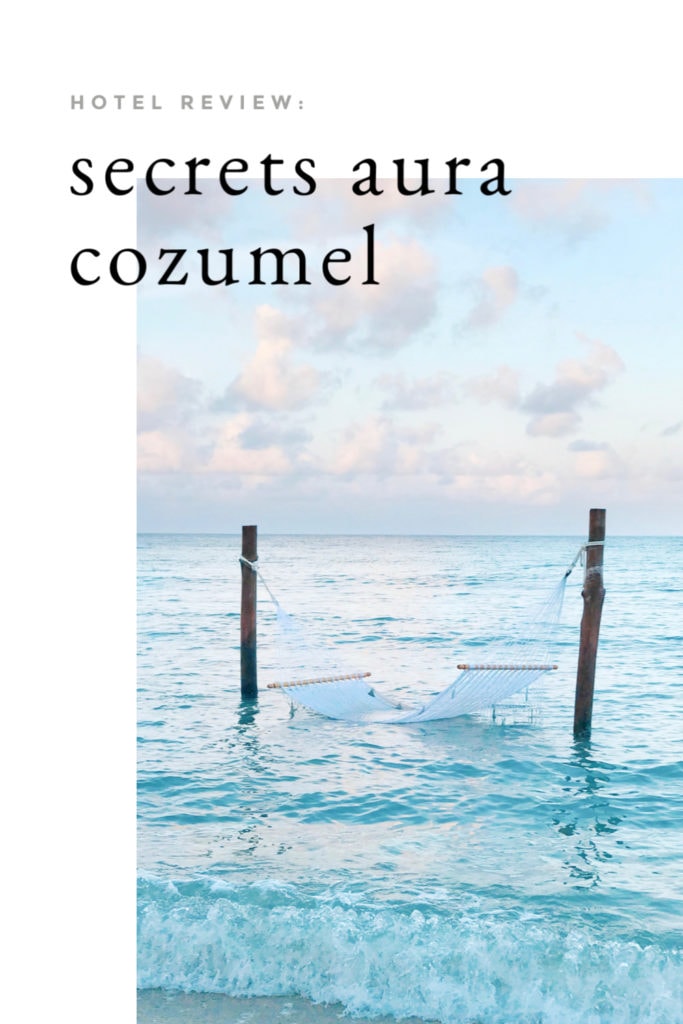 Last spring, my husband and I decided to depart the frigid temperatures in Omaha and depart to some place much warmer. We ended up in Cozumel, Mexico and today I'm going to share our honest review of the Secrets Aura Cozumel in Mexico.
Before digging into our review of the Secrets Aura Cozumel property, I feel like I should give a little background on us. My husband and I both travel a lot, whether for work or pleasure. As a disclaimer, I feel like we've both become hotel snobs to some extent. However, if you give us a clean room with a pretty beach and relaxing vibes, we're also fairly easy to please.
We were solely looking for a peaceful escape from our cold Midwest winters. We wanted a beautiful beach and pools and down time to just relax together. We had stayed at three different Secrets locations prior to booking this trip. We loved our experience at every single location so this felt like a safe bet to book. However, this property wasn't up to the standards we had come to expect from the brand.
I'll be honest. This one has been my hardest review to date but I also want to be transparent about our experience. We likely won't go back to Secrets Aura Cozumel unless they do a massive renovation. If we hadn't ever stayed at a Secrets resort before, our expectations may not have been as high so that may have soured our views a bit. A little further insight and thoughts on our stay can be found below.
Secrets Aura Cozumel: Pros
Easy travel from the Midwest
Beautiful beach
Good food – especially for an all-inclusive
Friendly and helpful staff, particularly at the restaurants and bars
Resort feels very safe and we loved that Cozumel is an island in Mexico
Consistent wi-fi connections
Gorgeous sunsets and views every night
Nice knowing the bulk of your expenses up front since it's all-inclusive
A lot of beach activity options
Some of the most beautiful water colors in the world
Early morning around the property were very tranquil and serene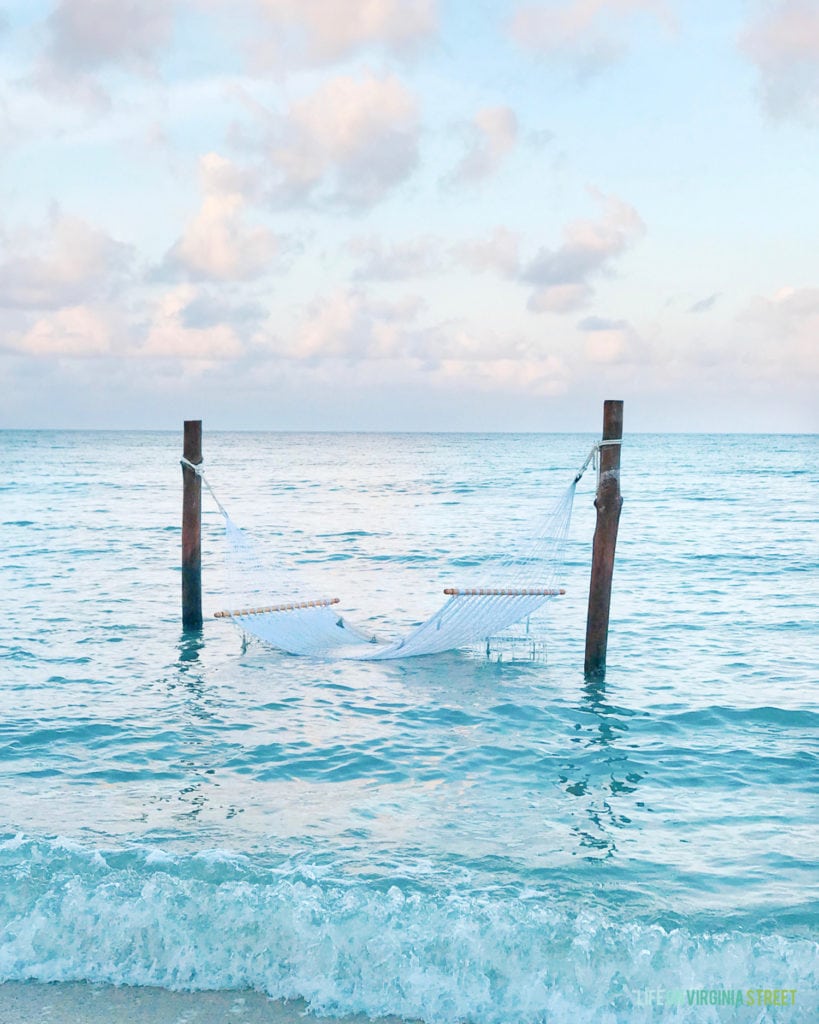 Secrets Aura Cozumel: Cons
Outdated resort. Much of the property felt outdated and had a condo complex vibe. The landscaping was also just "okay".
Inconsistent restaurant times. Signs would say they'd open at 'x' time and it could be plus or minus 20 minutes given the day.
Noise levels. The pool areas were extremely loud every day we were there and felt like more of a party scene for the 40-60+ crowd.
Pool areas that felt average at best. The pools did not have the "resort" vibe we were looking for. We felt like they were more updgraded apartment complex-y than resort. Especially compared to what we were used to at other Secrets locations.
Having to listen to time share pitches at check-in. However, we saw this in the reviews ahead of time, and when we said "no" right away, they were very respectful of our requests.
This image was taken the night that there was a party literally right outside of our room (hotel sponsored party). Once it was over and the party died down, they were cleaning up everything and rolling tables right past outside our door on the path well past midnight. During the event, people that were at the party were actually coming onto our patio to chat or wait for the bar. Not only that, we weren't given any notice about the event or idea of what we should expect.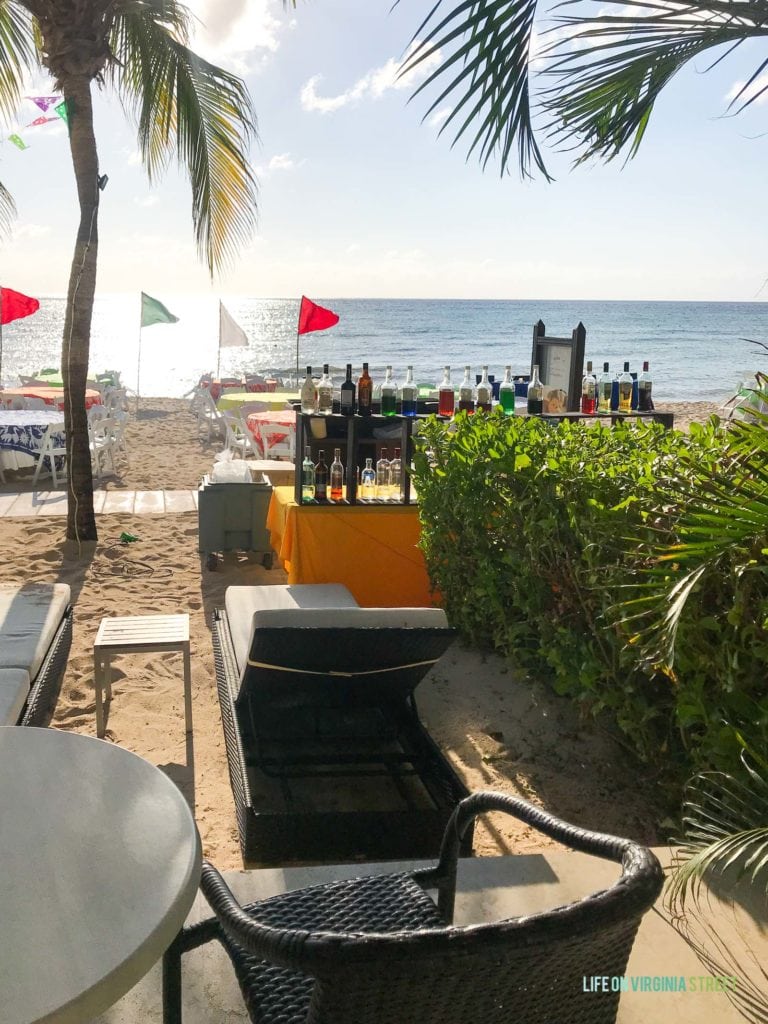 Secrets Aura Tips
If you do plan to visit Secrets Aura, we've compiled a few tips that we think will make your stay more enjoyable. You can absolutely still have an incredible travel experience at this resort if you read the above and know and set expectation levels. Following are our tips to get the best experience at Secrets Aura Cozumel!
Book a Preferred Club room. We had a Preferred Club Ocean Front Suite and absolutely felt it was worth the extra expense. The rooms are limited, but they also include two chaise lounges so you don't have to worry about fighting for lounges on the beach each day. It's pretty hard to argue with this gorgeous view when you wake up each morning! The rooms were nice in this area, and didn't have the "condo" type feel of the rest of the property.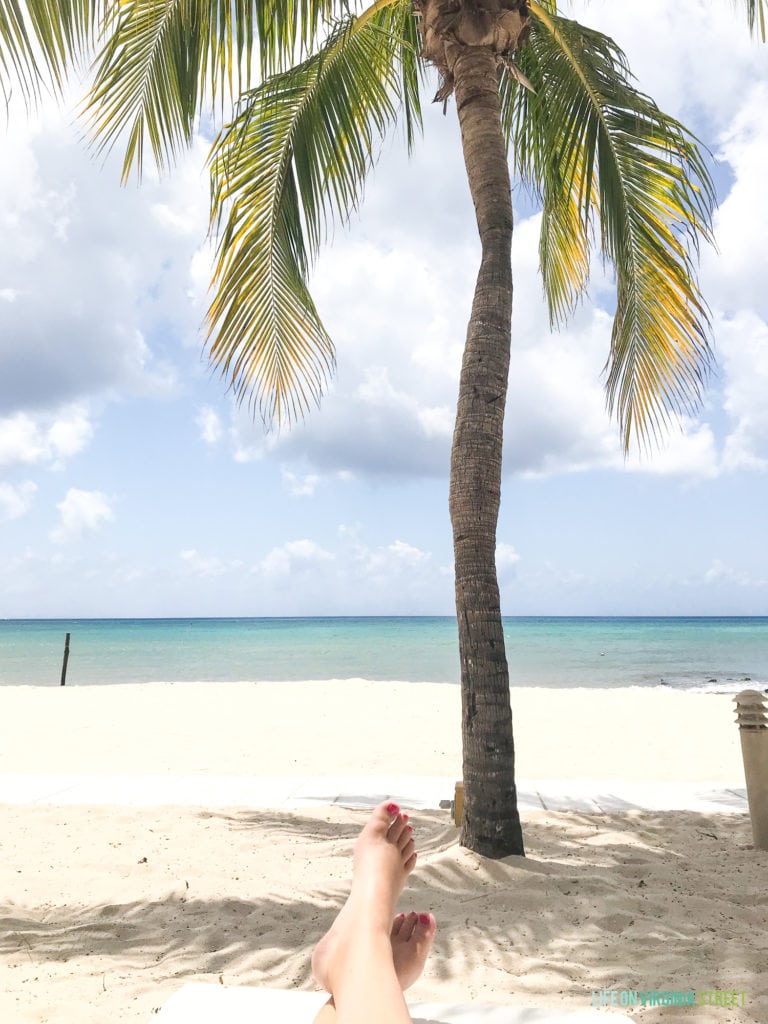 Here's the view looking from the beach. Our room was the bottom left room. The breakfast/lunch buffet building is just to the left of that. Our patio on the mornings would get quite loud from the breakfast line if the restaurant didn't open on time – which was frequently the case. Bonus: we didn't have to stand in line since we could immediately tell from our room when it opened 😉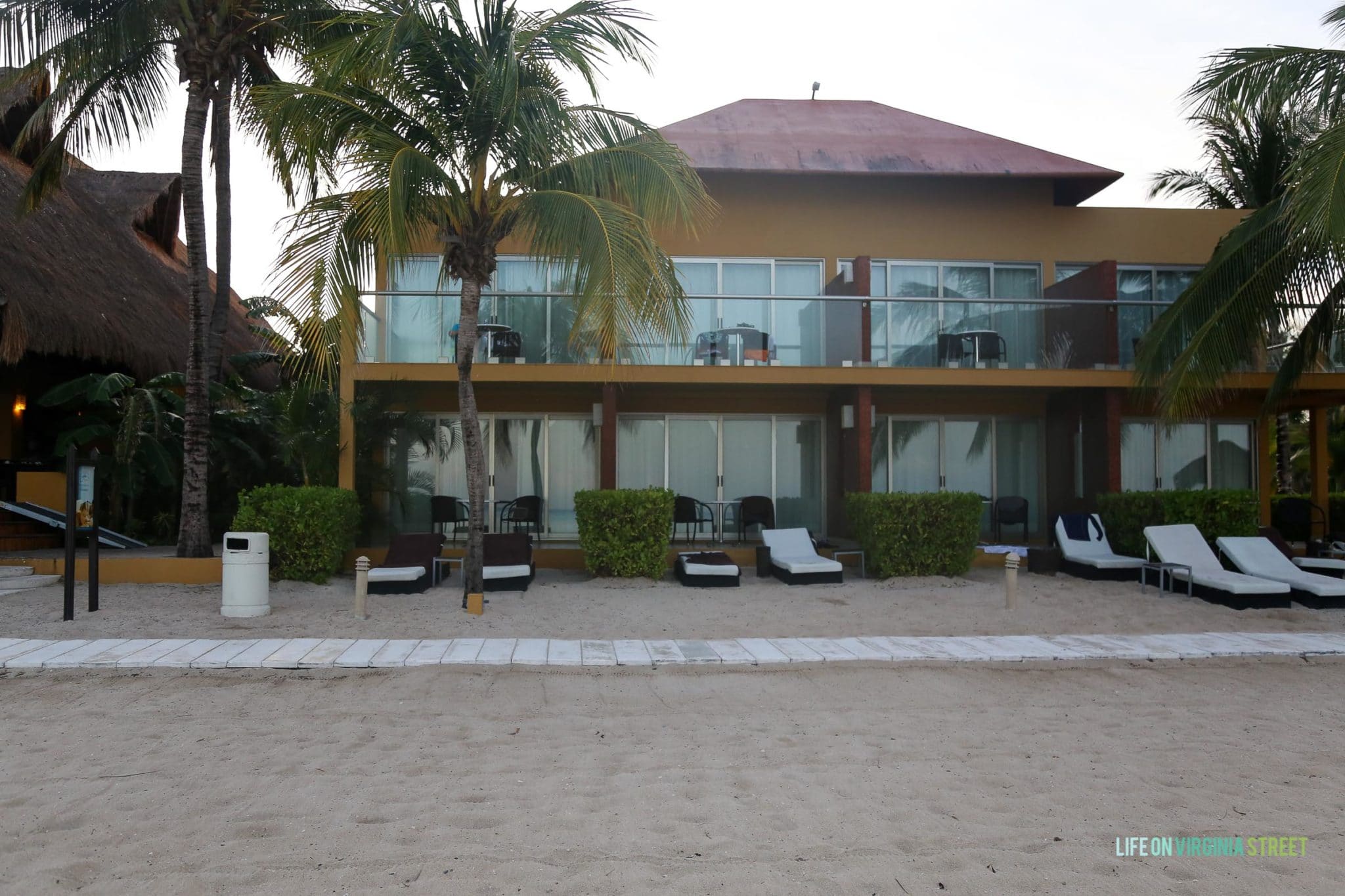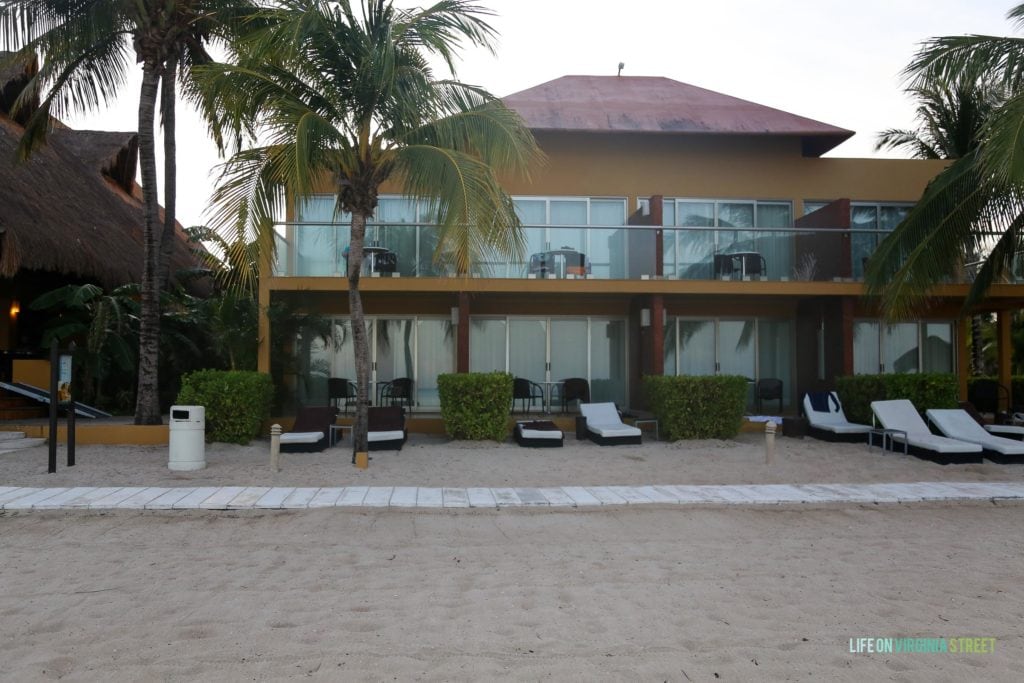 Plan to arrive at Skybar about 45 minutes prior to sunset to get a table (and drinks and/or sushi) to watch the sunset). We found it to be our favorite view!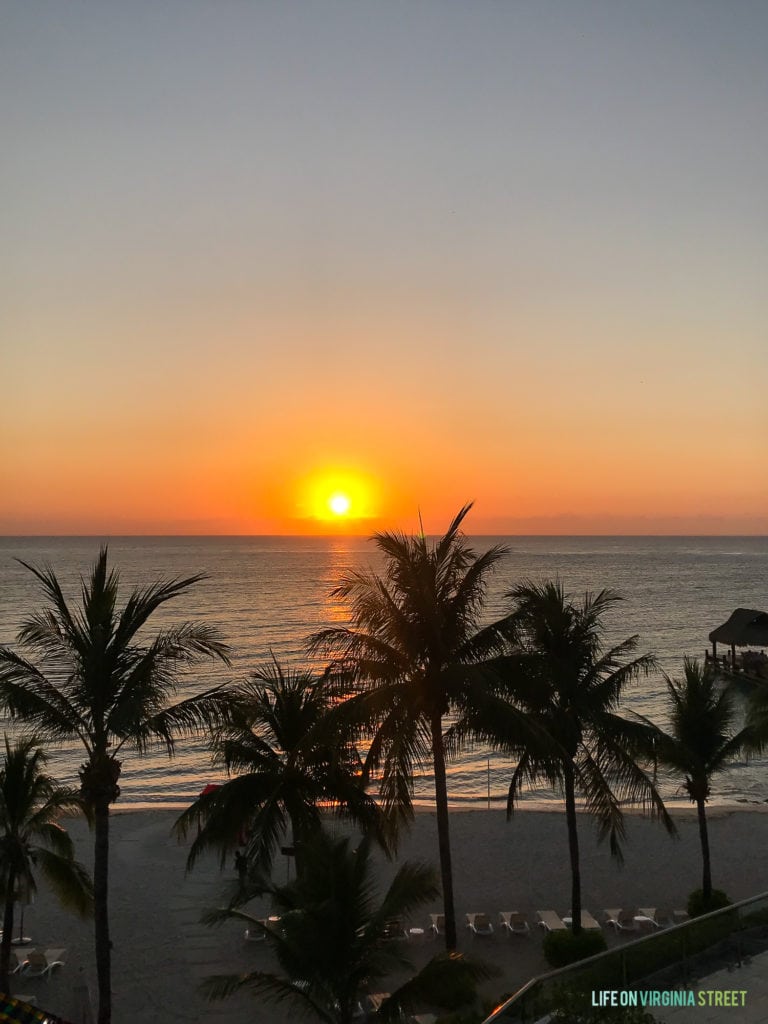 We ate at the sushi restaurant multiple times during our stay. We thought the food was excellent, and my husband isn't even a huge sushi fan!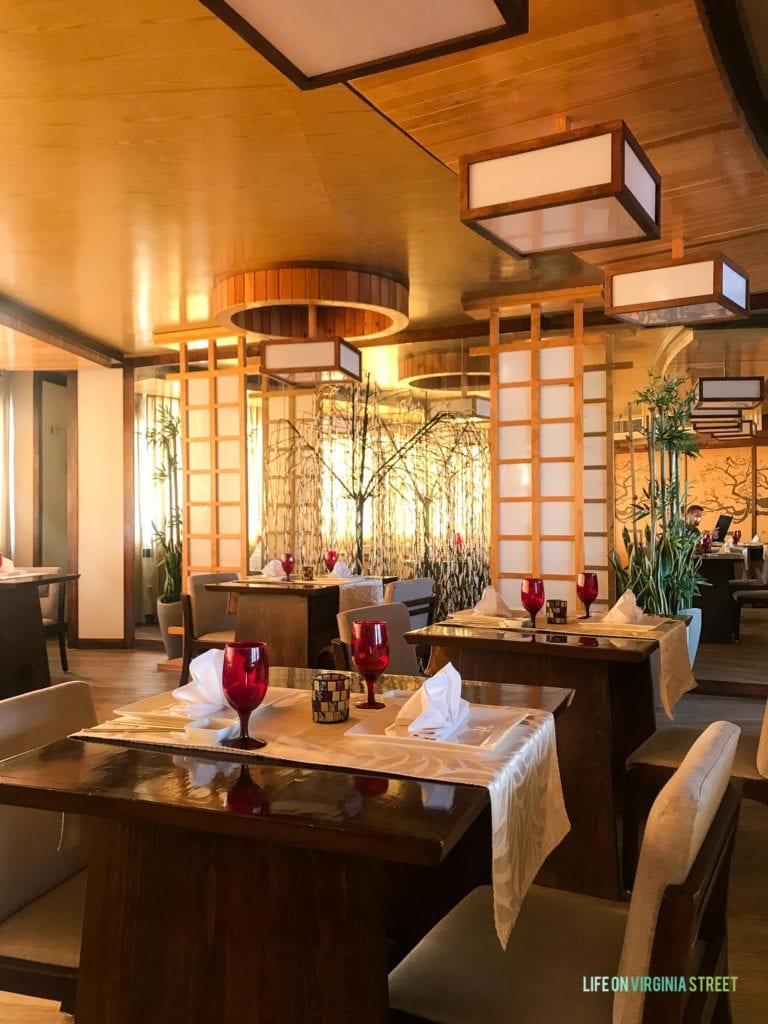 Keep in mind you can use all the restaurants at the neighboring Sunscape Sabor Cozumel. It's a sister property and the Sunscape line is essentially like Secrets, but for families. We had dinner our last night at the pizza restaurant on the side of Sunscape furthest from Secrets, and it was fun to change up the scenery a bit! It was a fairly short 10 minute walk through the properties to get there.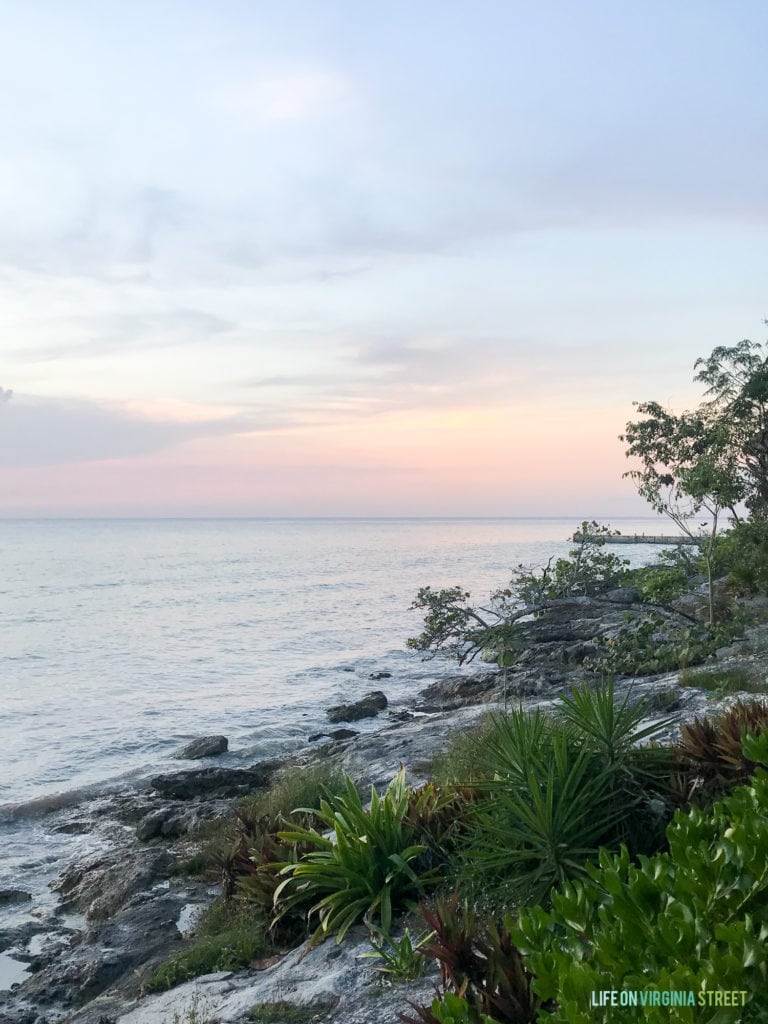 Spend some time at Tortuga Oceanfront Bar (right on the border of Secrets and Sunscape). Even if you don't drink, it's a fun spot with shade and swings and has great views of the water and the happenings around the properties! We made our way over there every day. The bartenders are fabulous and the swings around the bar truly add to the vacation vibes!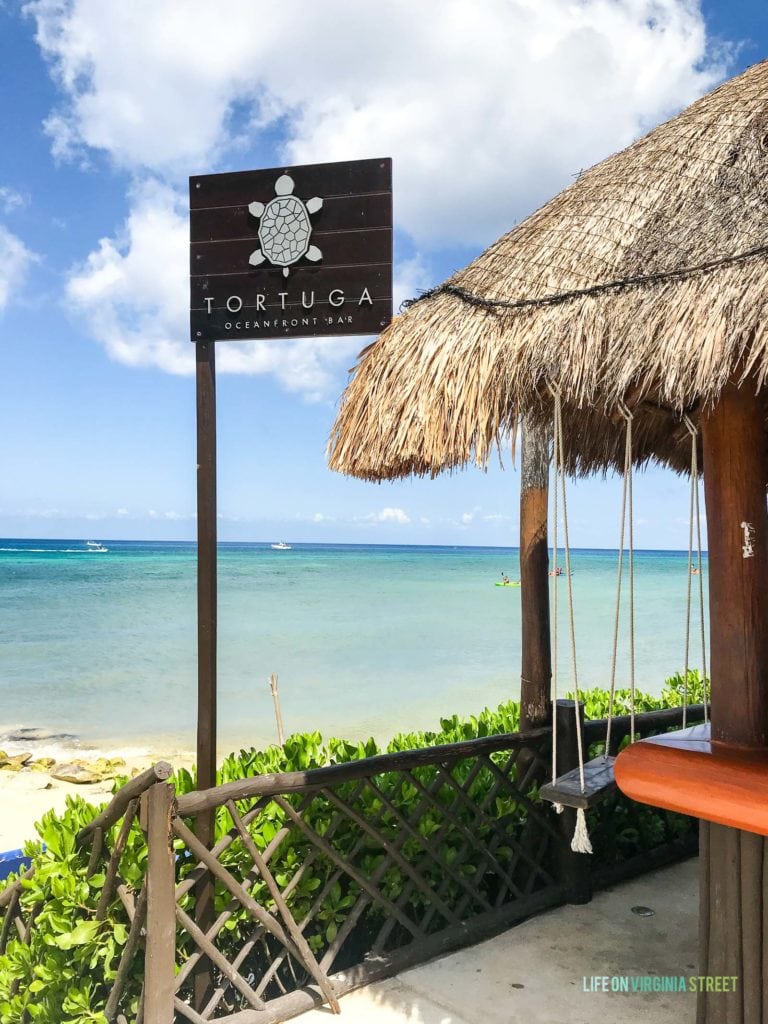 If you want to get slightly adventurous and venture off property, we made a quick 10 minute walk down the beach to Carlos N' Charlies for an afternoon snack one day. It wasn't busy at all (although a few cruise ship passengers were there) and it was fun to do something different for the day. The views were beautiful and they had a few beach toys and mats out in the water you could use (we were too lazy to move). And since it's right on the beach, the views of the water were great!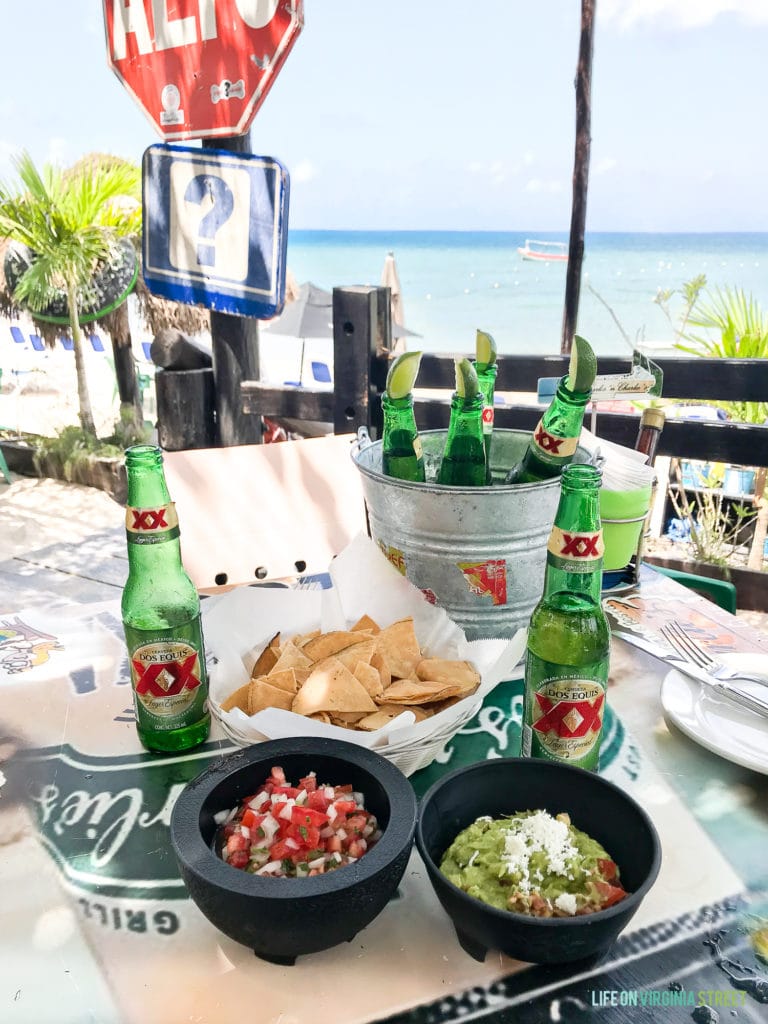 Overall, we were still mostly able to get a truly relaxing vacation like we had hoped for. Outside of the one night with the loud noise outside our room, we were able to enjoy some peace and quiet but avoiding the pools and staying in our private beach chairs!
Additional Photos from the Secrets Aura Cozumel Property
Following are some additional photos from our stay at Secrets Aura. I should note that most of these were taken very early in the morning or in that lull between pool time and dinner so I could avoid people. The resort was actually very busy during our stay.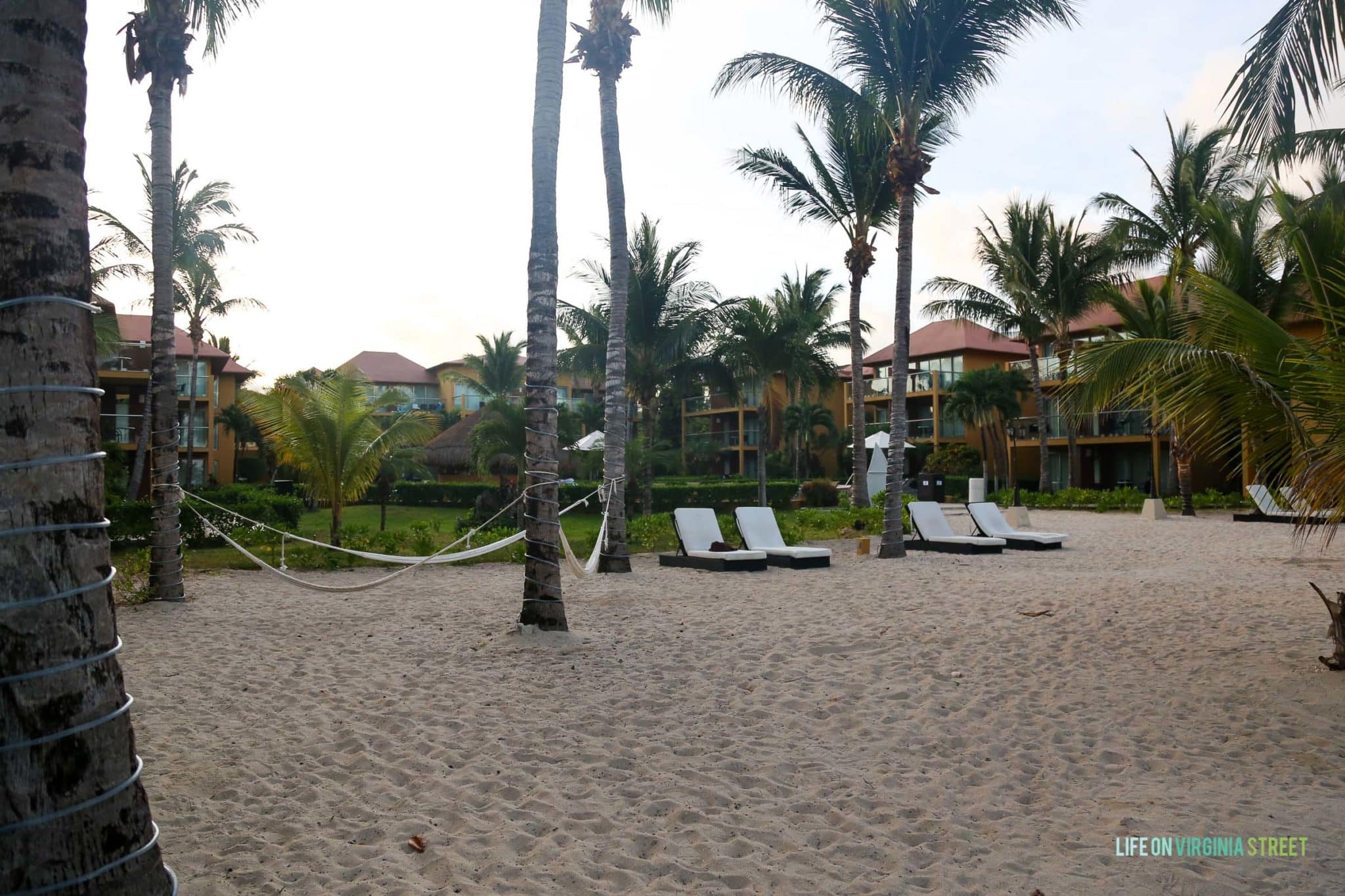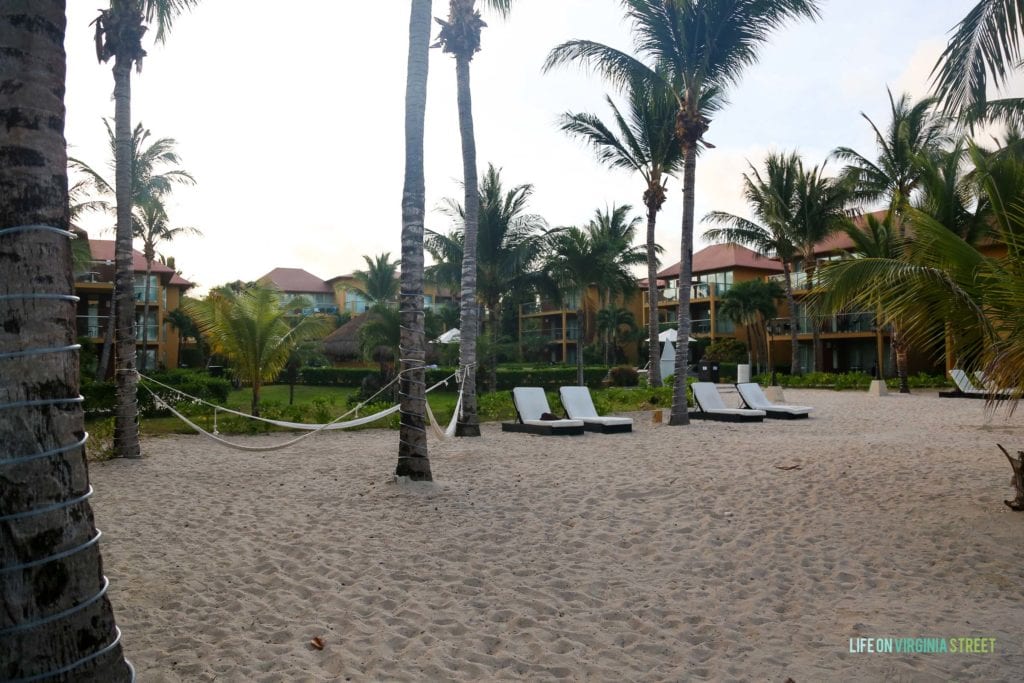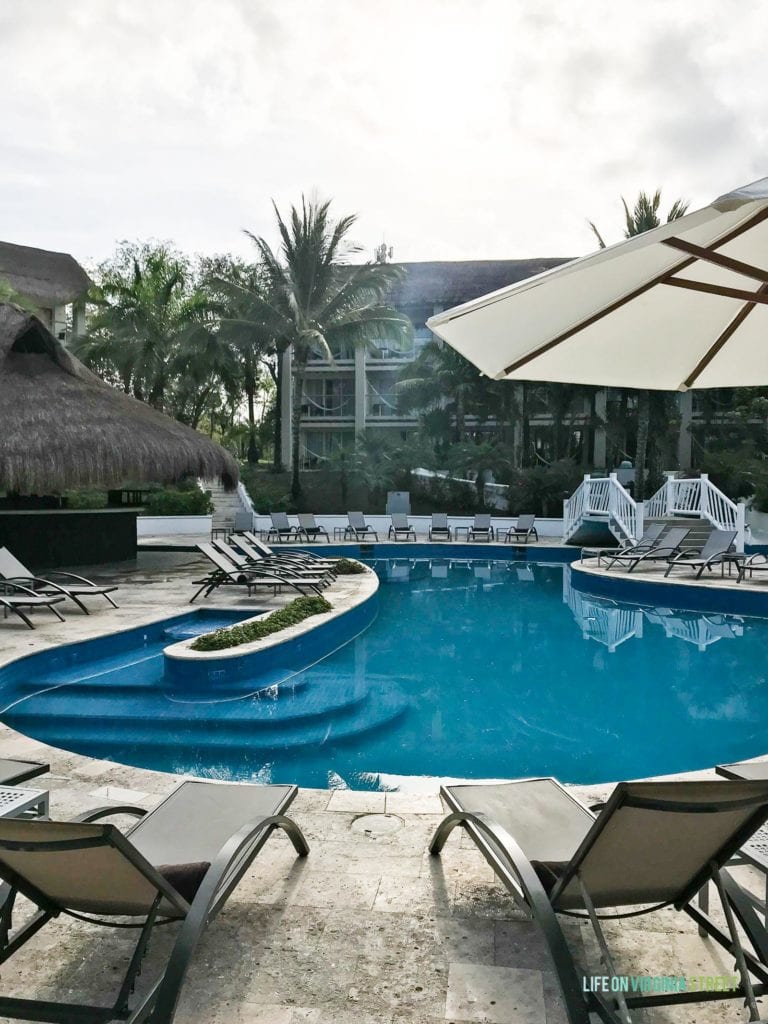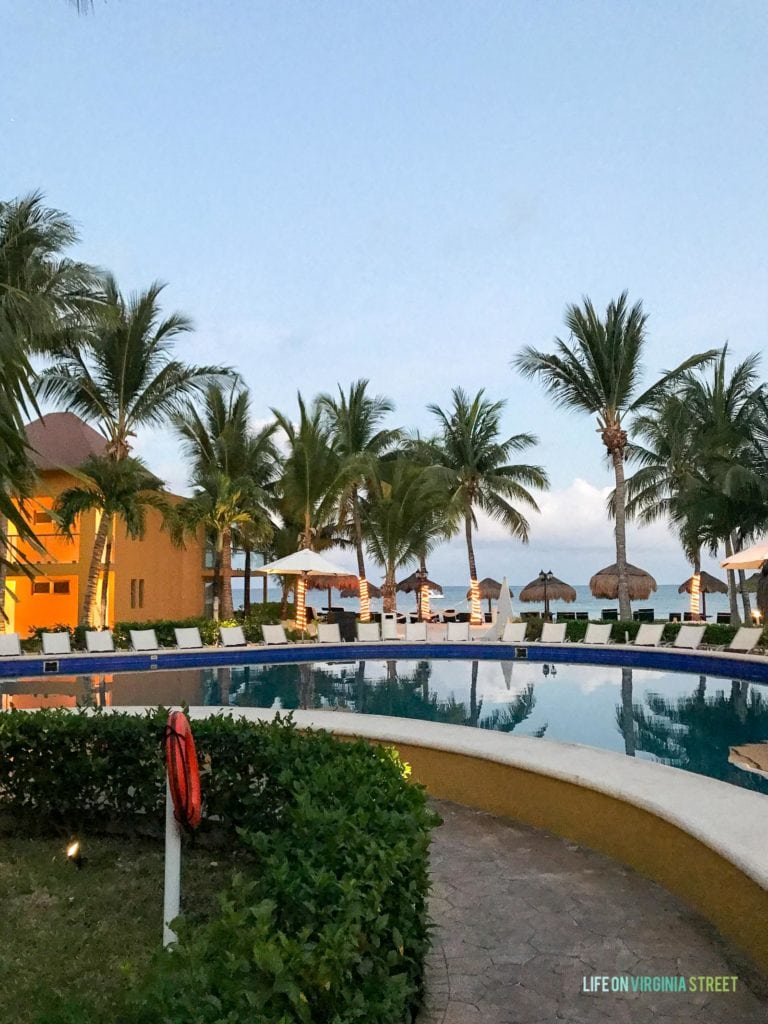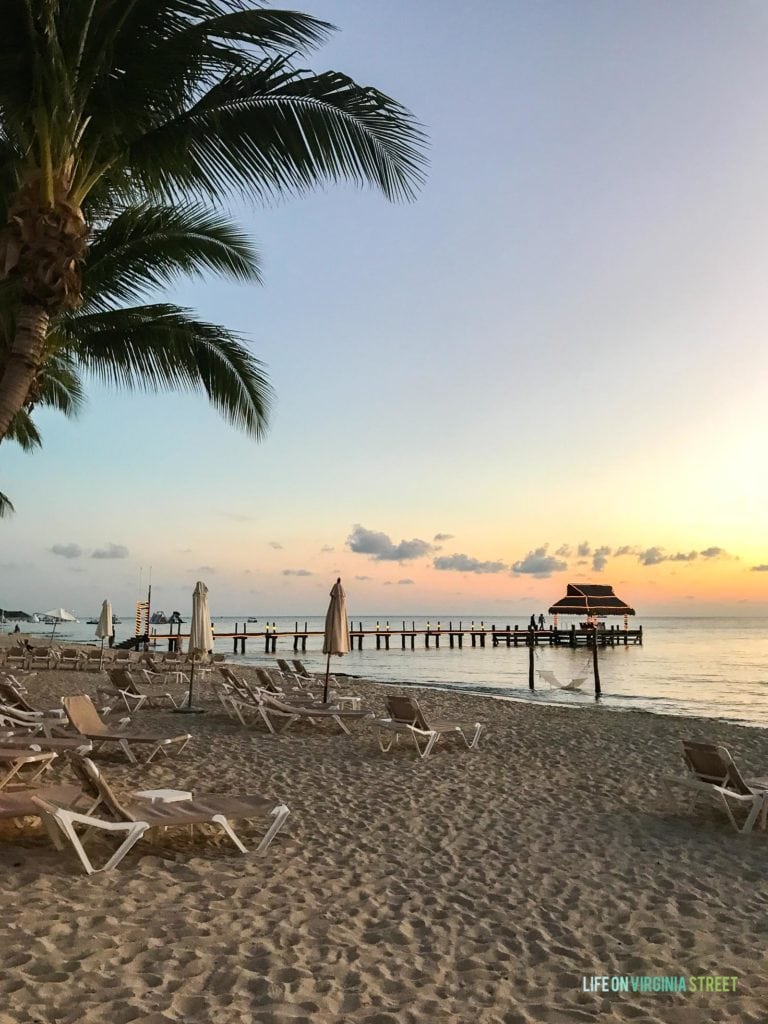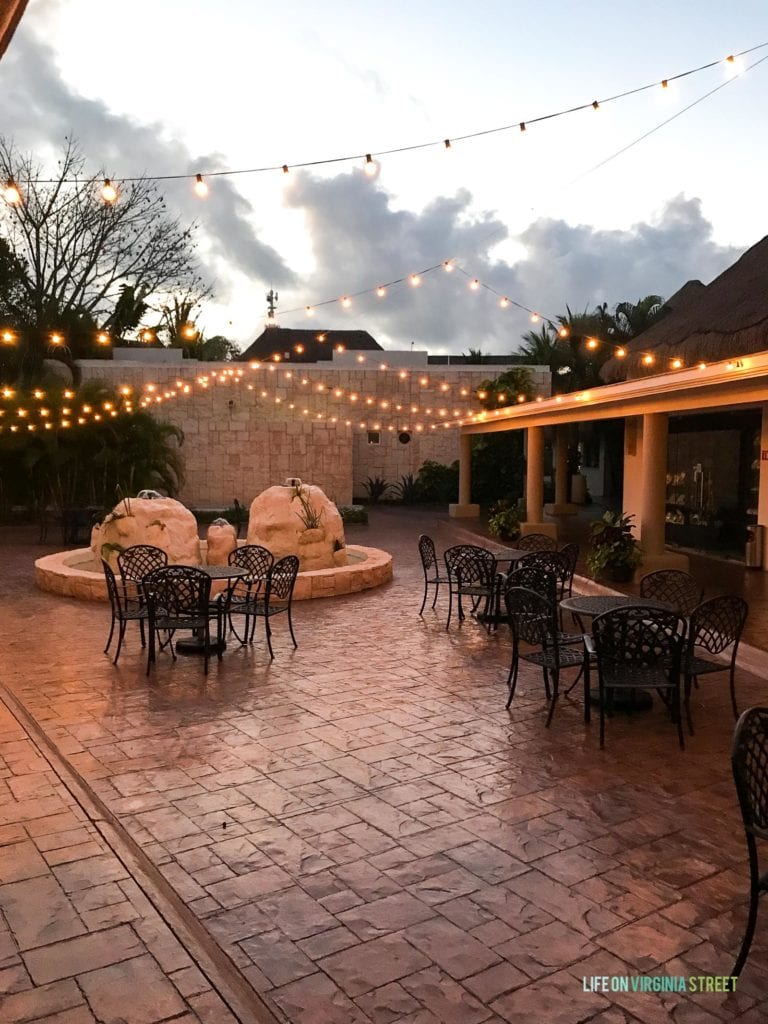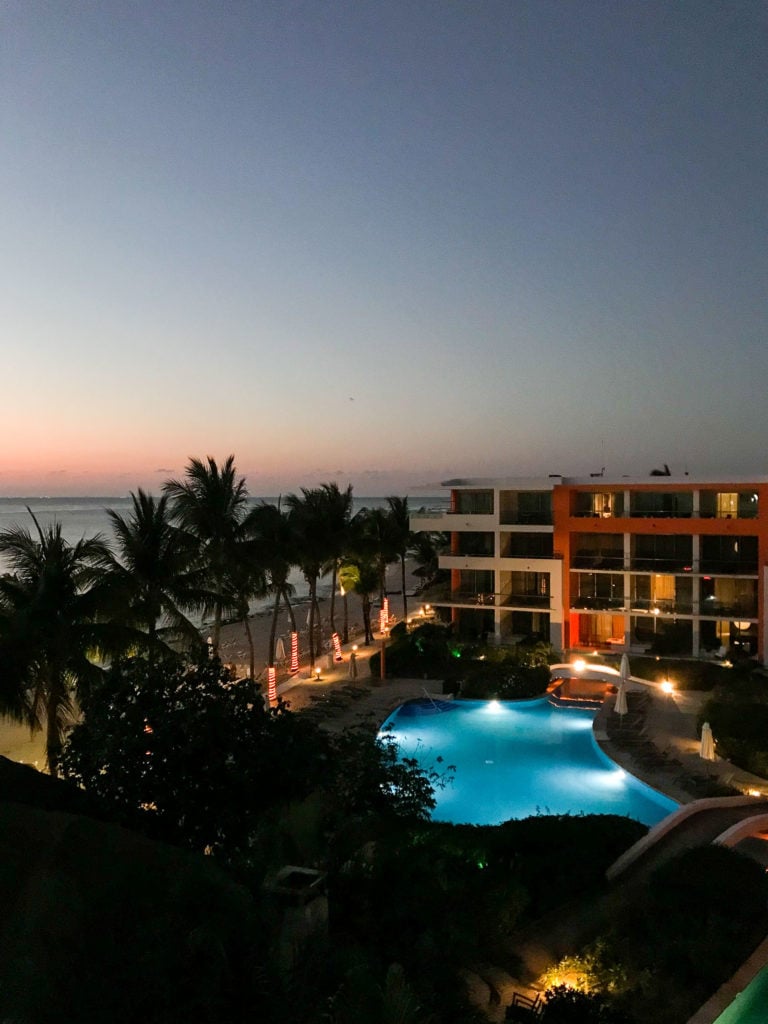 I hope you found this review helpful! Feel free to leave a comment below with any questions you may have about this property or our experience and I'll get back to you as soon as possible! And – if you've stayed here before, I'd love to hear your thoughts and feedback, as well, in the comments!
If you would like to follow along on more of my home decor, DIY, lifestyle, travel and other posts, I'd love to have you follow me on any of the following:
Pinterest / Instagram / Facebook / Twitter
disclosure: some affiliate links used