This post is sponsored by World Market, but as always, all thoughts and opinions are my own. Some affiliate links are used.
And just like that, another year has passed us by! It's so crazy to me that we are now already in 2017. I hope you all had a wonderful holiday season and are looking forward to the new year.
I'm usually not big on resolutions, but this year, we did make a few that I'll be sharing over the coming week. One of our main resolutions for 2017: eating at home. In terms of eating and drinking, 2016 was a bad one for us. Like, really bad. There were honestly weeks where we ate out for dinner every single night. Since we typically take advantage of happy hour pricing and deals on food and drinks, the cost wasn't as much of an issue as the toll it took on our waistlines 😉 So, we have big plans to change that this year!
Kurtis turns 40 in April (yikes!) so we've both decided this is the year we really need to get healthy. We've been making a concerted effort the past two months to eat healthier and prepare more meals at home. Kurtis started P90X with our friend Nick in November, so they've been working out hardcore, as well. I plan to get started on the workout train this week (using this DVD that I've had great success with in the past) because I desperately need it, as well. But, changing our eating habits will also be a main focus.
Today I've partnered with World Market to share some tips for making it easier to eat healthier, and more importantly, eating at home more frequently.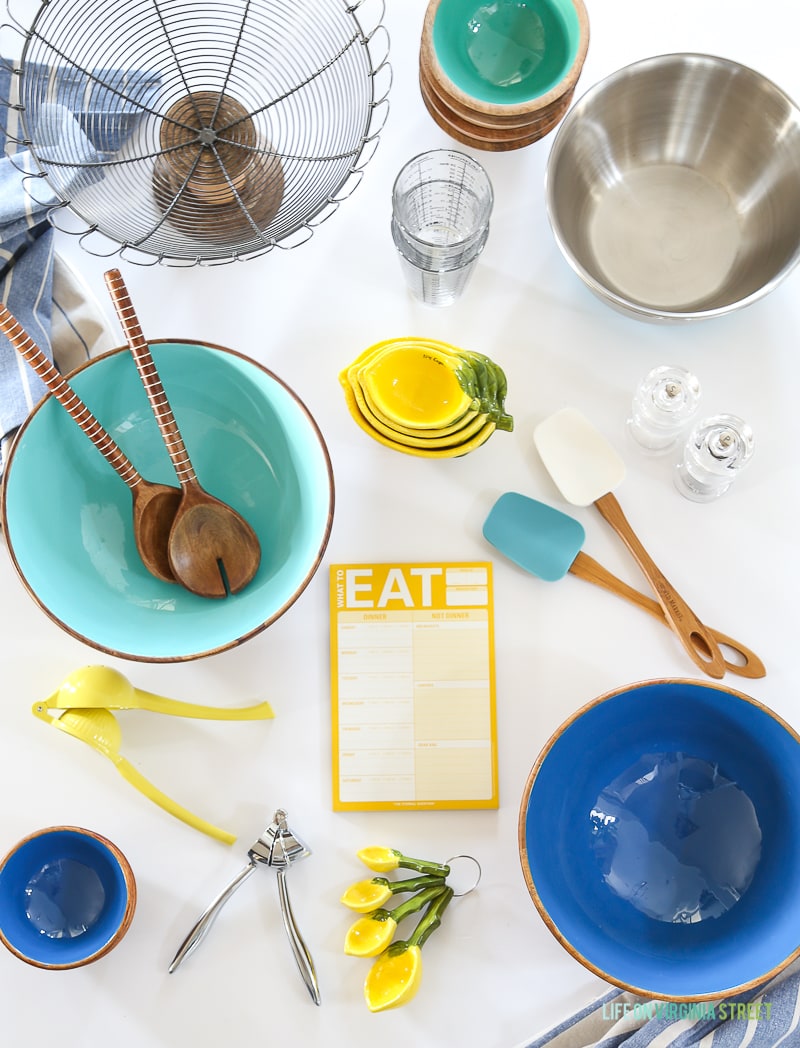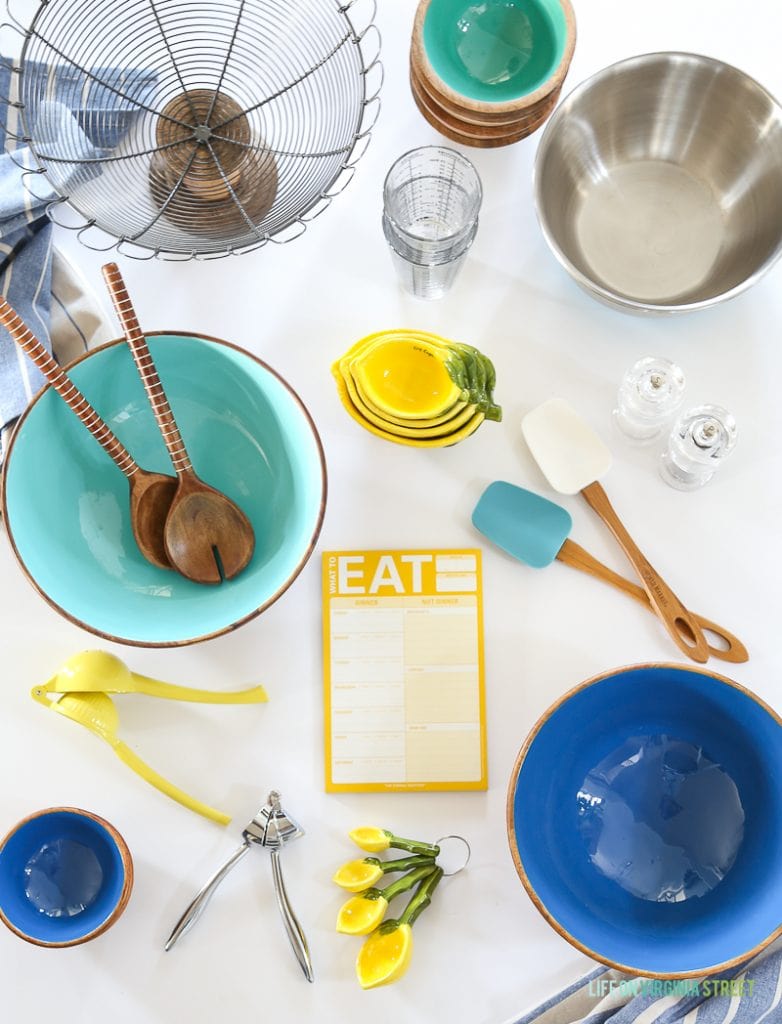 Typically, we don't arrive home from work until 5:30 or 6:00 each night and by that point, we are usually both really hungry. Which means we're usually not patient enough to spend time cooking. We want to eat and eat now!
We've found the following tips helpful in ensuring we make a plan and eat at home:
Plan meals out for the week.
Make a grocery list.
Pick a cheat meal day or two.
Have the tools on hand that will make cooking easier.
Save the more complicated recipes for the weekends.
Kurtis and I have both found that if we plan meals in advance and have the proper tools to cook, we enjoy it so much more and find that we are much more likely to eat at home. I found this magnetic meal planning notepad at World Market and it's perfect. We hang it on the fridge, plan out our meals for the week, and then it's in plain site all week to remind us of our intentions.
For the past two months, we've also been diligent about making a grocery list and planning out our dinners over the weekend (love this notepad because it's sorted by grocery store category). We hit the grocery store, stock up for the week, and know which day will be our 'cheat' day in advance. By having all the ingredients we need on hand, it makes us less likely to make excuses and head to a restaurant.
Knowing the plan in advance really helps us follow through during the week. Rather than having random groceries around the house that we'd have to piece together into meals, we know exactly what we're eating and when. It's also a lot easier to track calories when you know exactly what is going into every meal you make!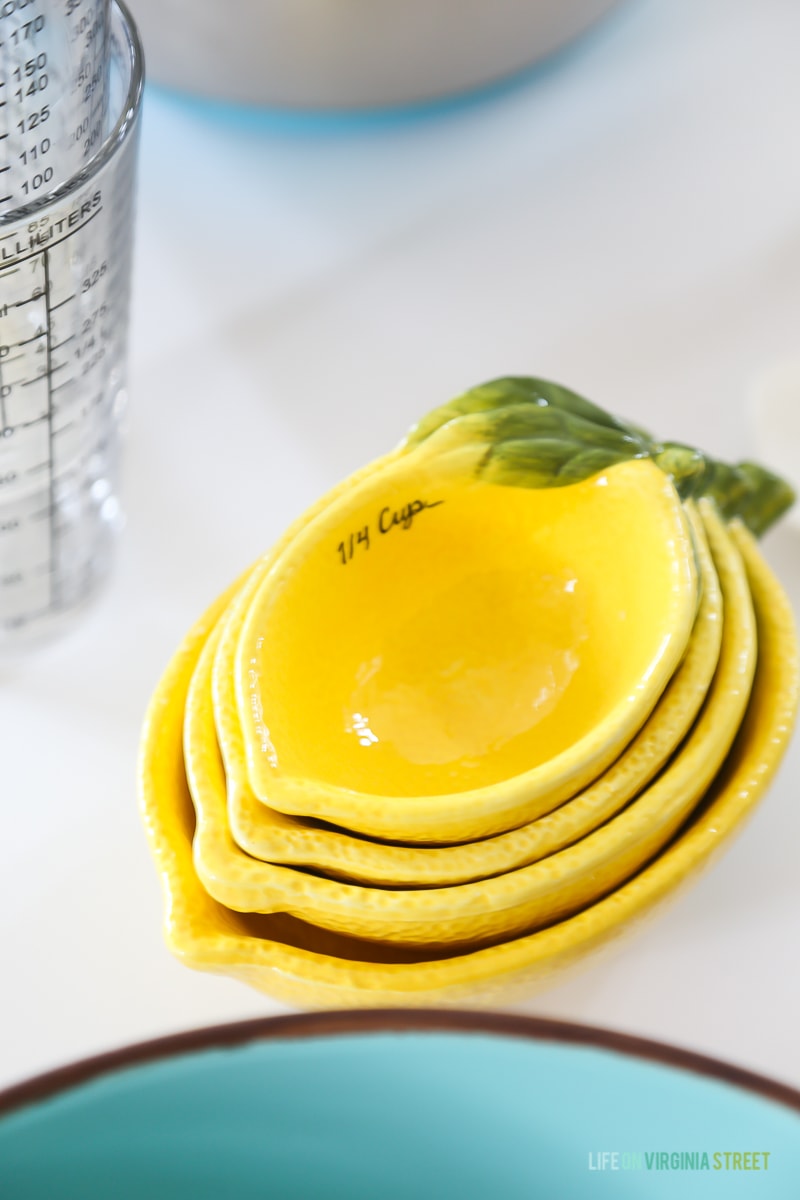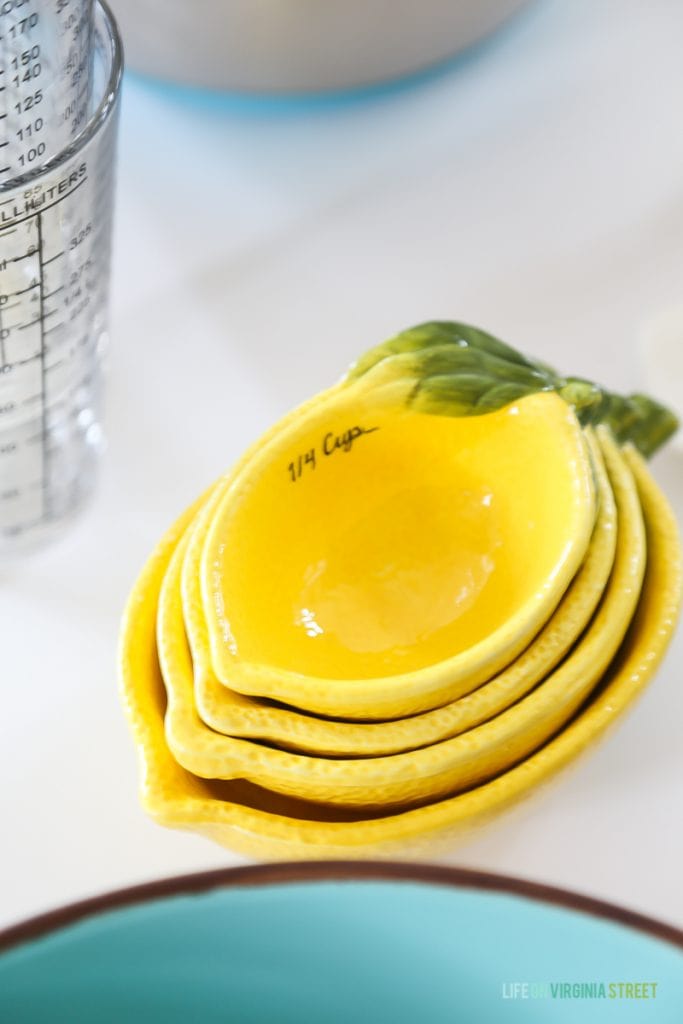 I'm not sure about you guys, but I find when I have cute tools to use, I'm much more likely to use them. It's dumb, but also effective, so I go with it 😉 I'm not sure Kurtis cares that we now have the most adorable lemon measuring spoons and cups, but I do. World Market seriously has the cutest variety of all sorts of measuring tools and I had a hard time picking a favorite! But the cheery lemon yellow looks so good with my favorite blue, greens, and aquas.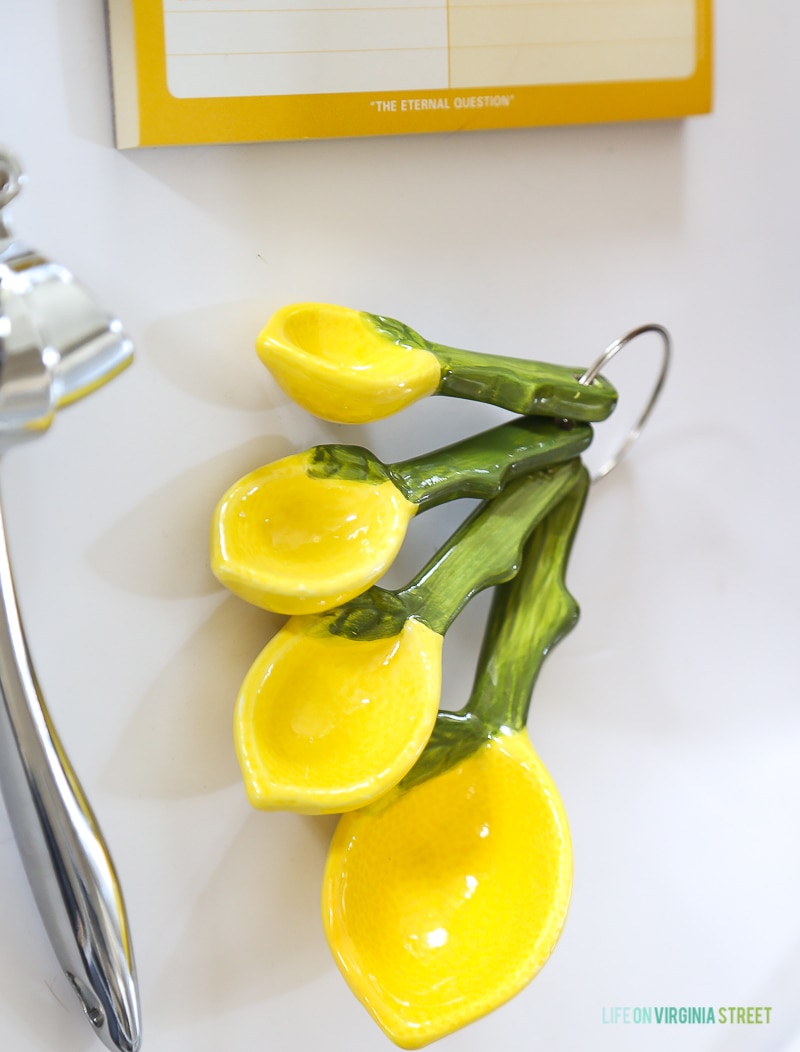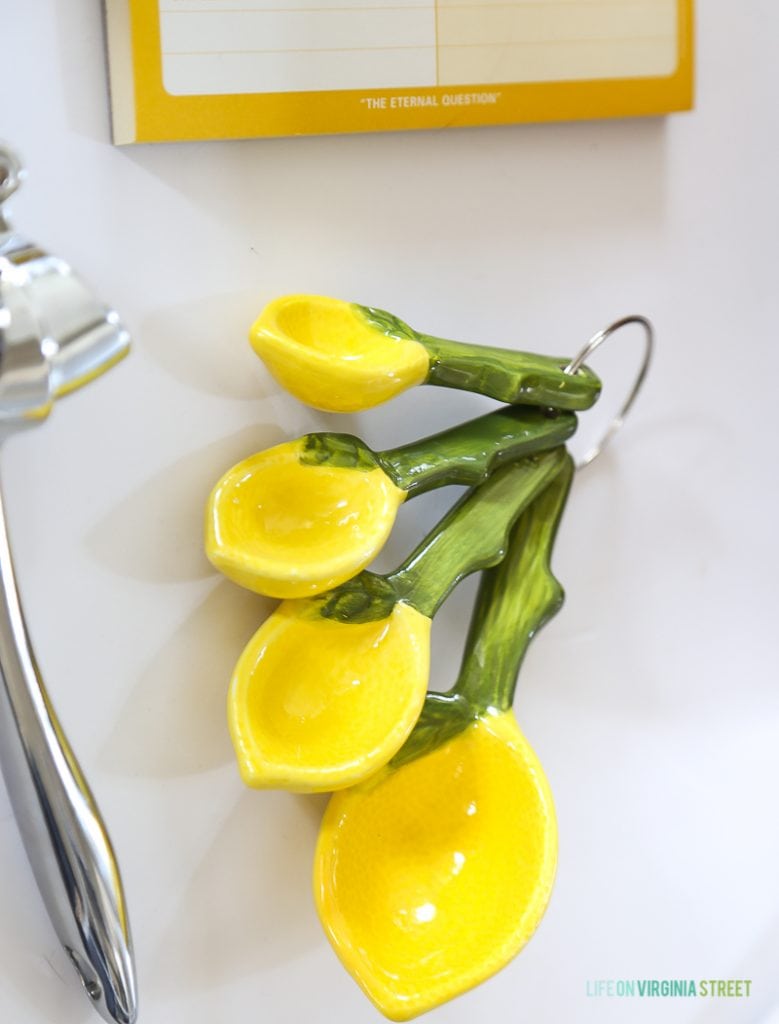 In the past two months, we find that we are using our measuring cups and spoons multiple times a day. So, it was important for us to stock up on more. I also found these measuring pints that are perfect for some of our liquid ingredients. I love that they have so many measurement options and conversions, so they work for virtually any recipe.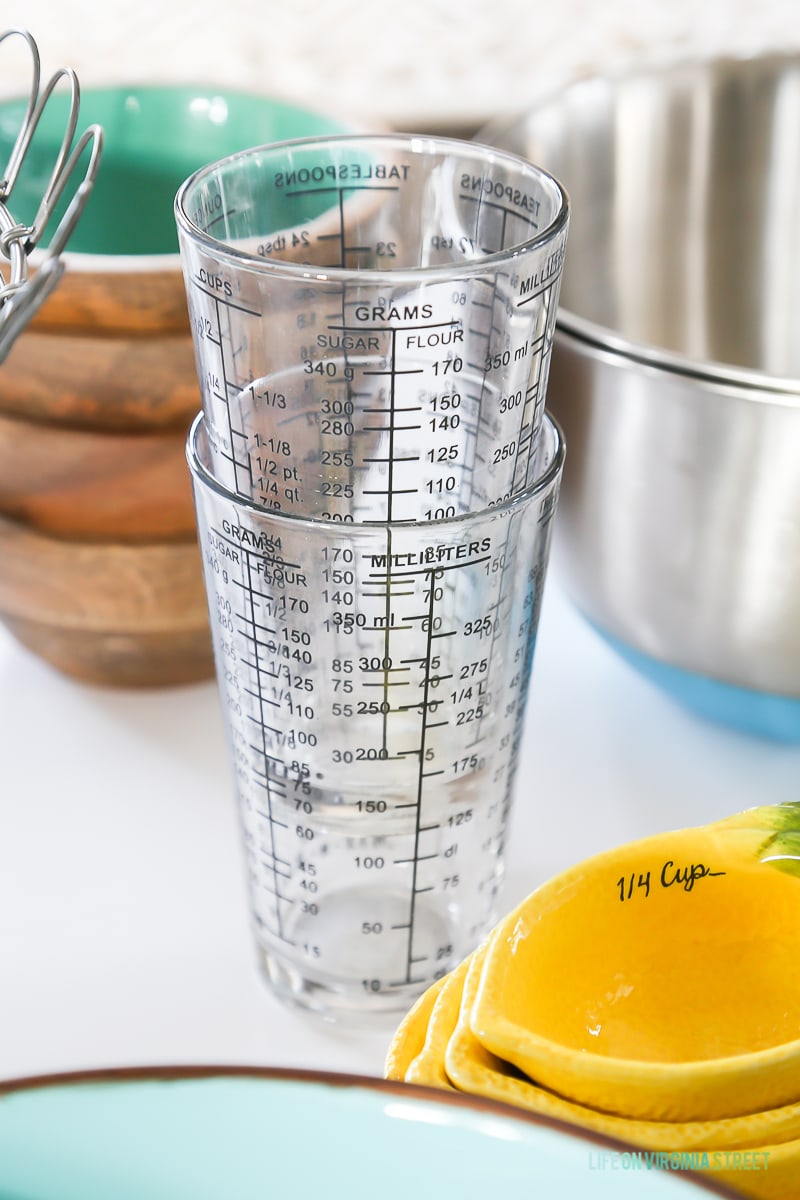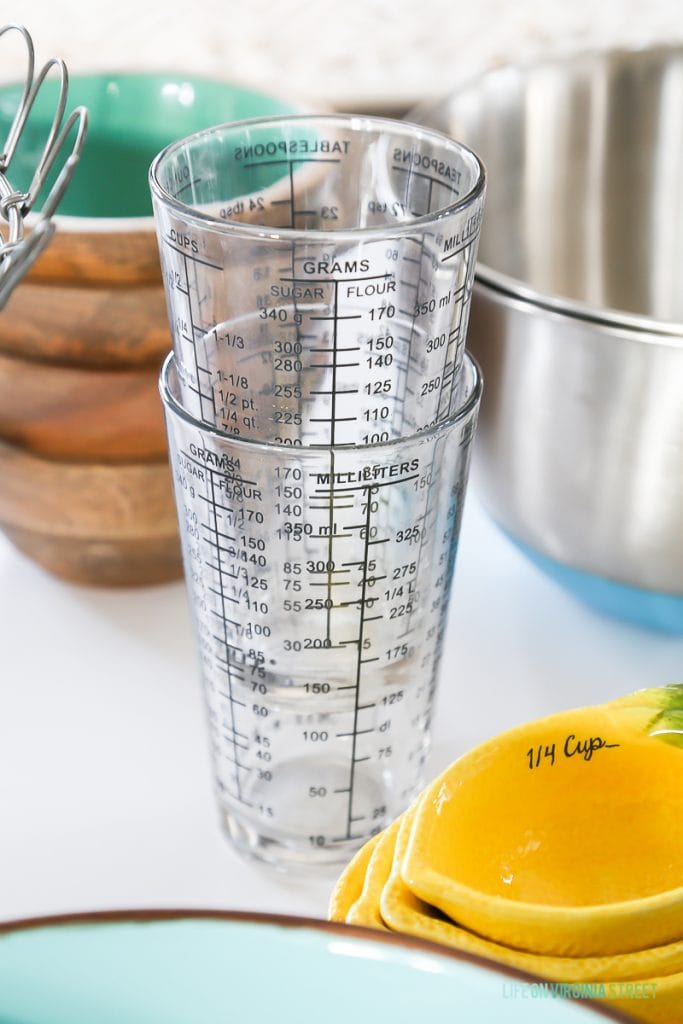 Funny enough, we haven't had real salt and pepper shakers for at least a decade. I'm not even joking – we've been using those picnic-style cardboard shakers for years. It was time for an upgrade. These acrylic salt and pepper mills are exactly what I've been meaning to buy for years, but never pulled the trigger on. Suddenly our meals feel so much fancier now with legit equipment!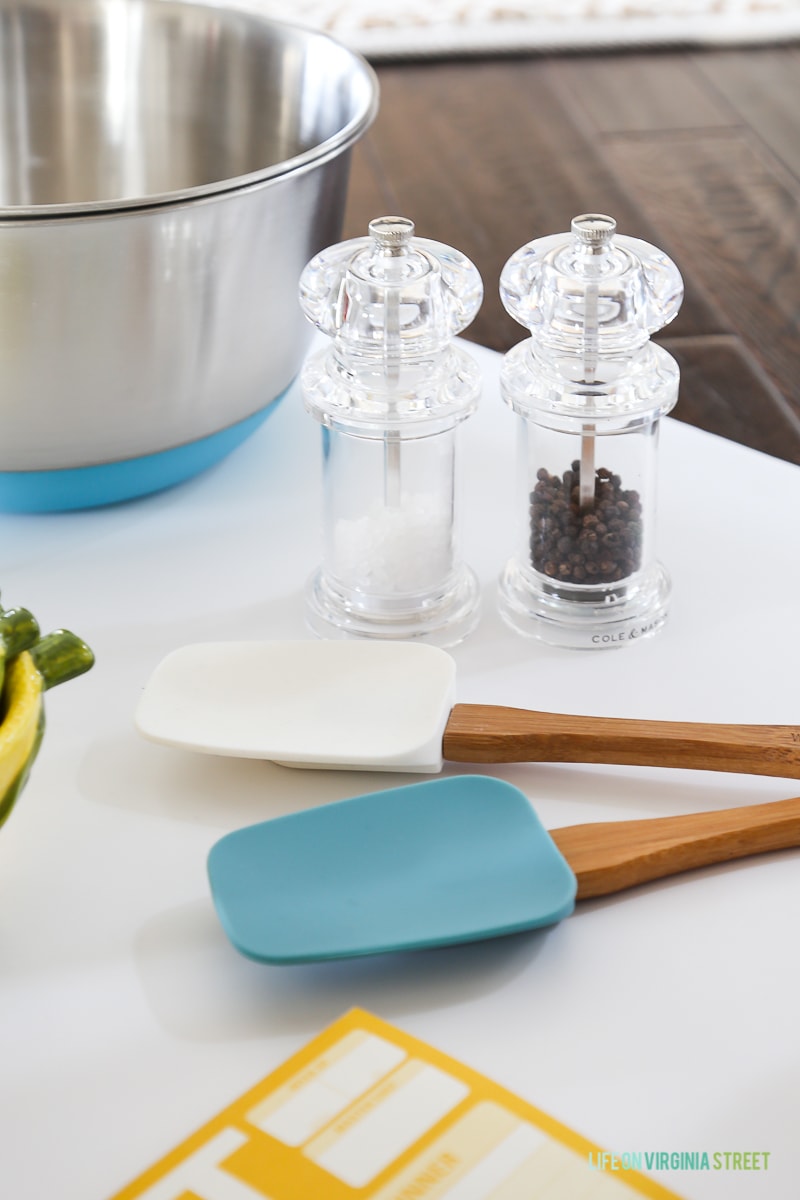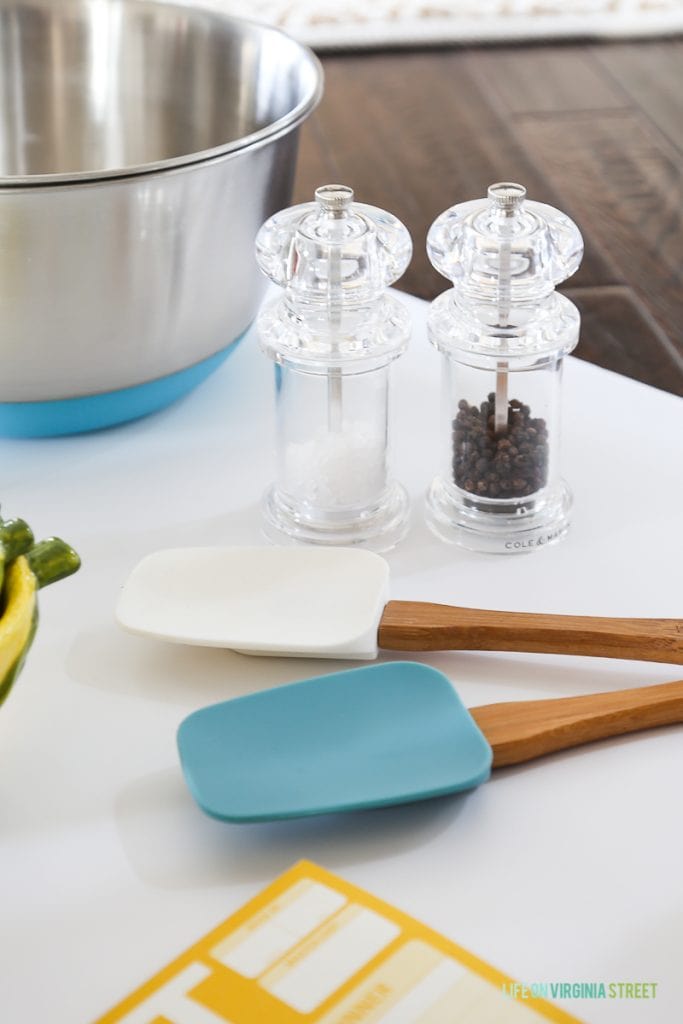 We've also quickly realized that crockpots and leftovers are our friends. Inevitably one of us has a work even every few weeks that includes dinner, so we find it's easy to get de-railed if the other person at home doesn't have a meal made. It's too easy to swing through a drive-thru! But, if there is a pre-made meal on hand it works like a dream. We also love the leftovers for lunch throughout the week.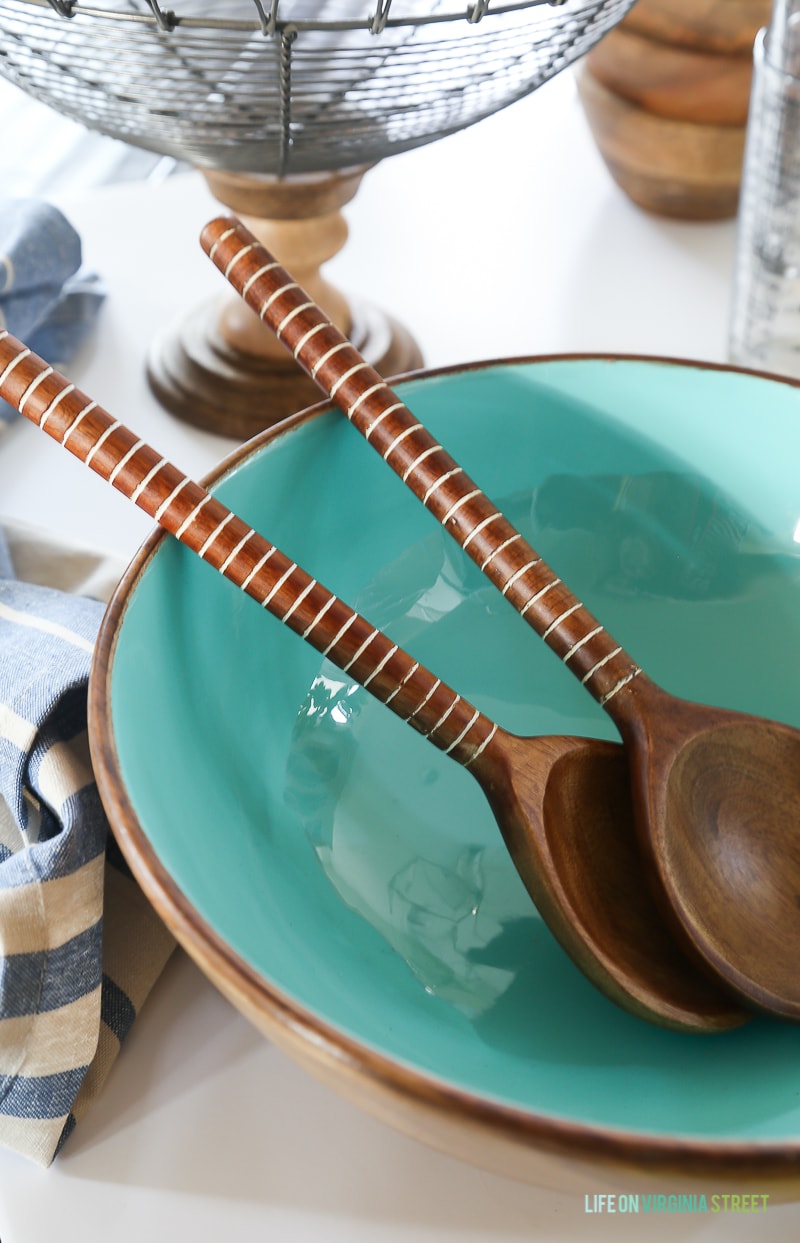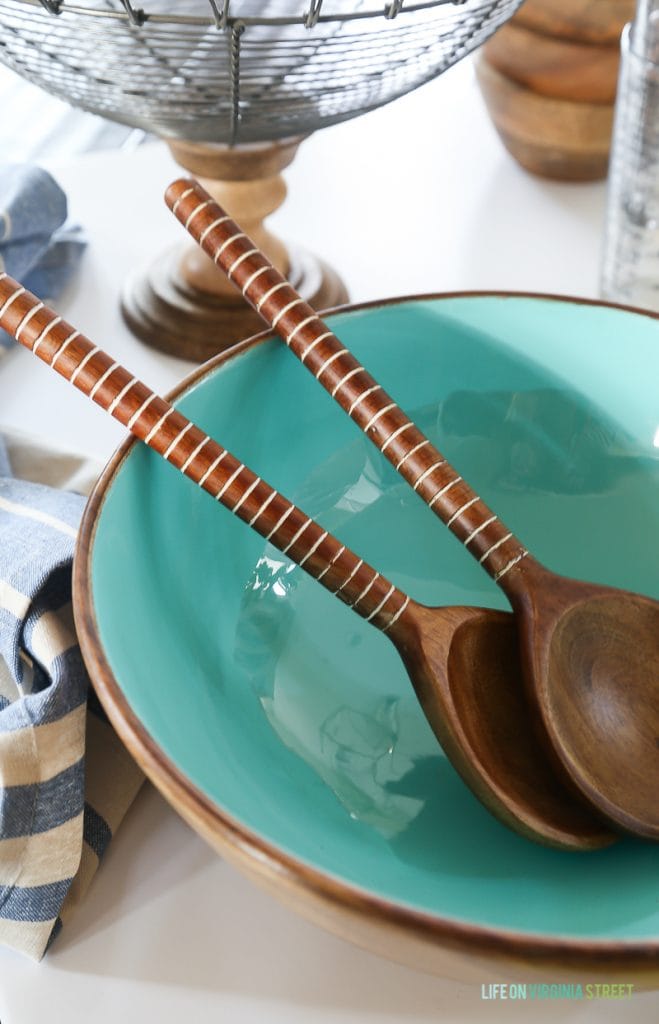 I stocked up on several other gadgets while at World Market as well. I included some fun wood and enamel salad bowls, mixing bowls (ours had started to get rust spots), spoonulas, a fruit basket for our countertop, a garlic press (our old IKEA one died), and a lemon press (we use our lime one all the time and needed the larger lemon size now). Oh, and hello cute striped tea towels. You can see all the items below as well.


World Market also has a huge selection of food and drink items, many of which are unique and add that extra oomph to your meals at home! They are also having one of their largest dining room furniture sales ever so you may want to check that out as well.
Have you ever made a resolution to eat at home more? Do you have any other tips for making this resolution stick? I'd love to hear any other tips you have or some of your favorite kitchen gadgets and tools!
I'll be back tomorrow with two posts: our powder bathroom reveal and my top posts of 2016!
If you would like to follow along on more of my home decor, DIY, lifestyle, travel and other posts, I'd love to have you follow me on any of the following:
Pinterest / Instagram / Facebook / Twitter / Bloglovin' / Google
Disclosure: This post is sponsored by World Market, but as always, all thoughts and opinions are my own. Some affiliate links used.