Our rental house is almost renovated and I am sharing the before pictures and the progress so far.
I partnered with Mannington and Nebraska Furniture Mart on this project. Although I was not compensated, some of the product and installation costs were provided to me. 
It's hard to believe, but the rental house we bought at the end of March is finally done! This was our biggest "project" to date and we couldn't be happier with the end result. And, as of last week, we have a signed two-year lease on the property with some amazing renters! Today I'm going to be sharing all the before photos of the home along with some of my selections, and then tomorrow will be the big reveal day!
This home offered a bunch of "firsts" for us. It was our first "For Sale By Owner" purchase and it was the first time we've had to replace everything. That included the carpets, hard flooring, light fixtures, paint (walls and ceiling) and appliances among other items. Since this was our third rental purchase with nearly an identical floor plan, we had better more realistic expectations going into it. But, there's always a surprise or two along the way!
Following are the photos from Zillow, and how the home looked when Kurtis and our friend Nick first looked at their sale property. Please note that these photos were after the original owner had moved out several months prior and were from an estate sale she was hosting.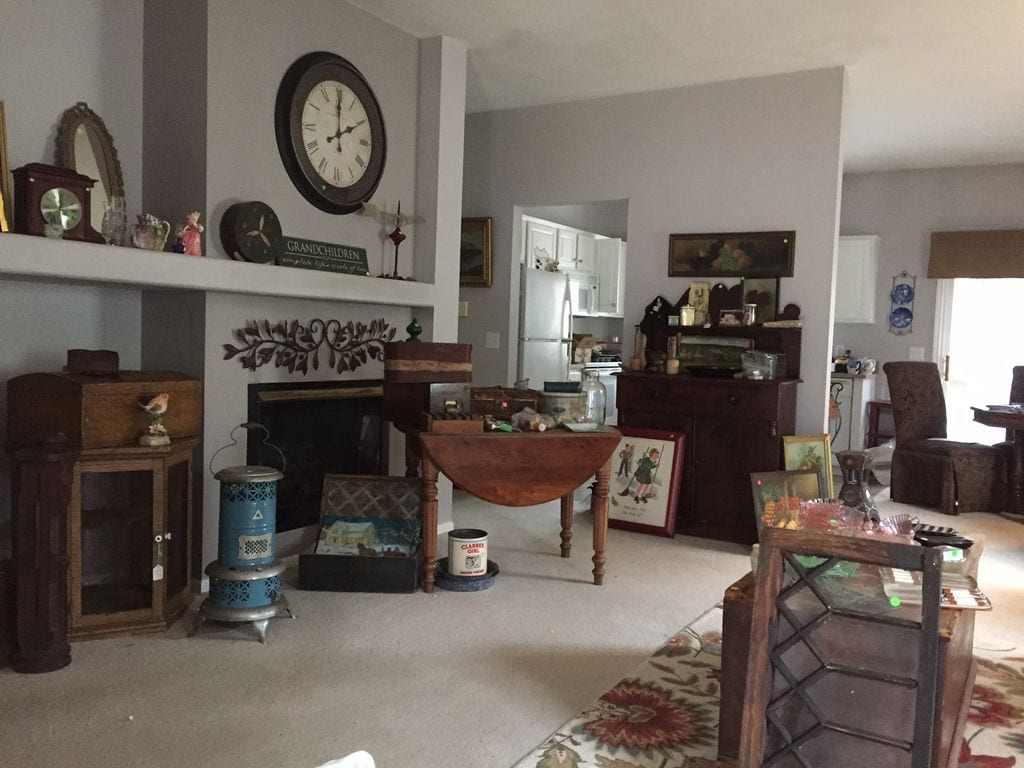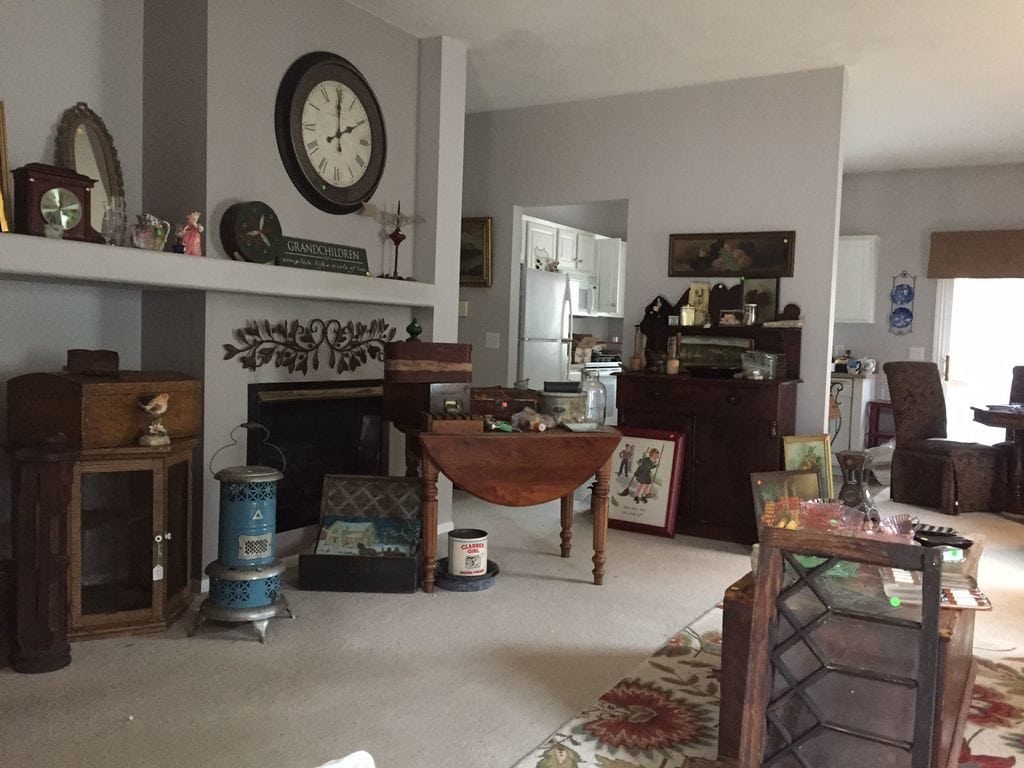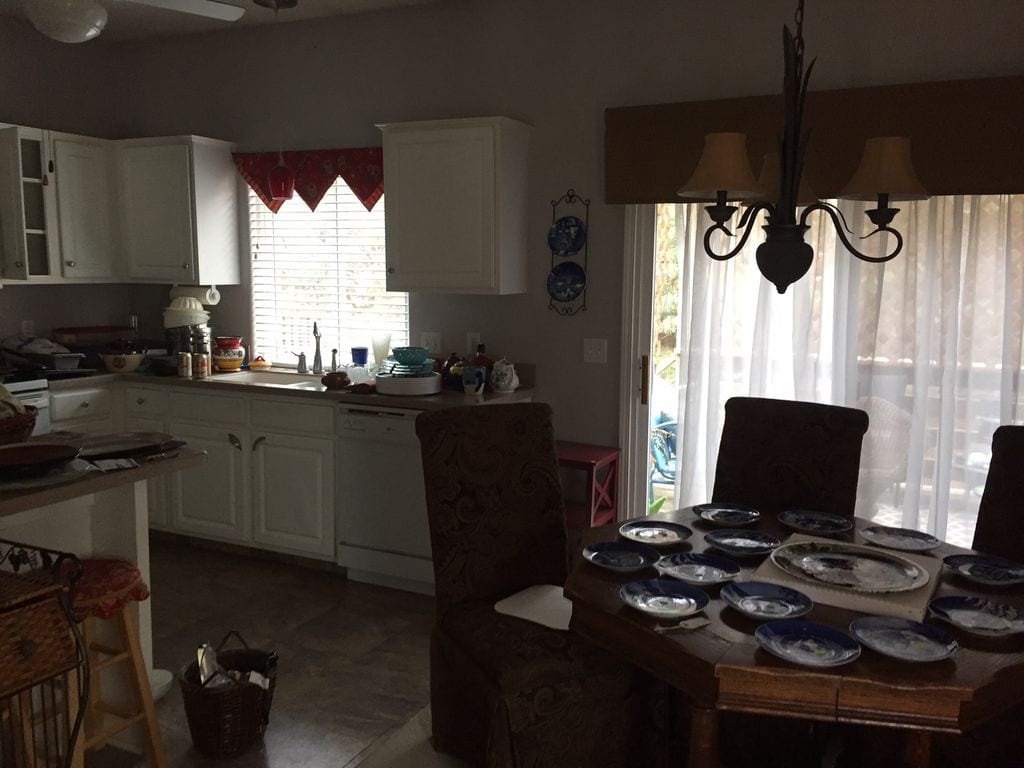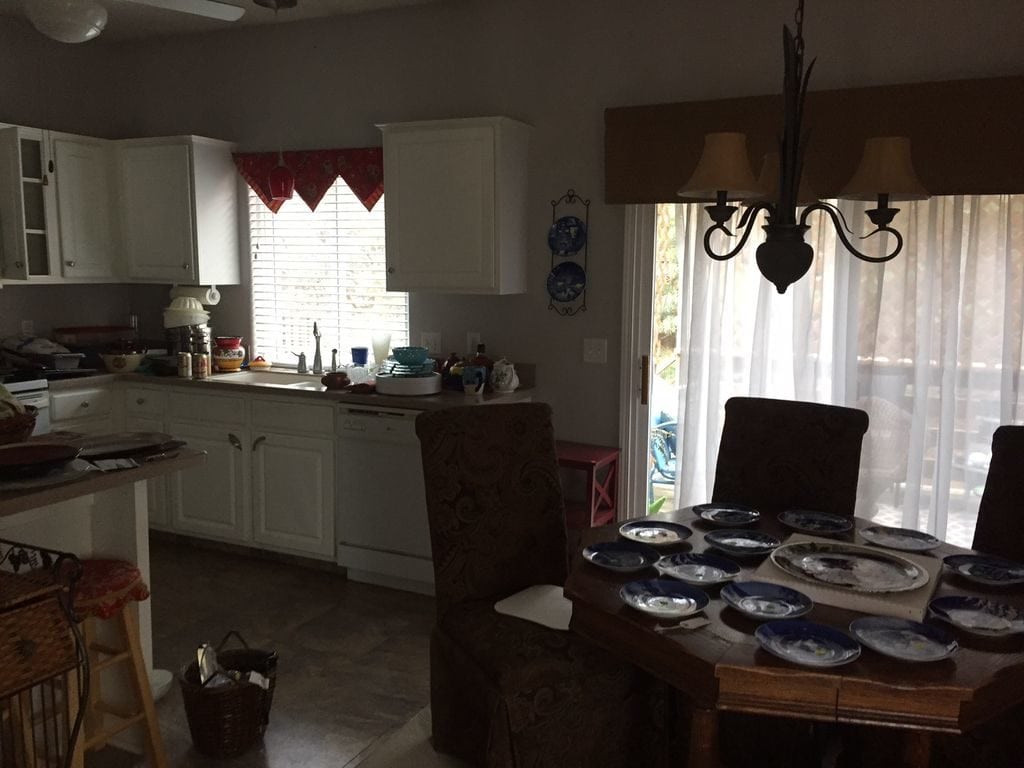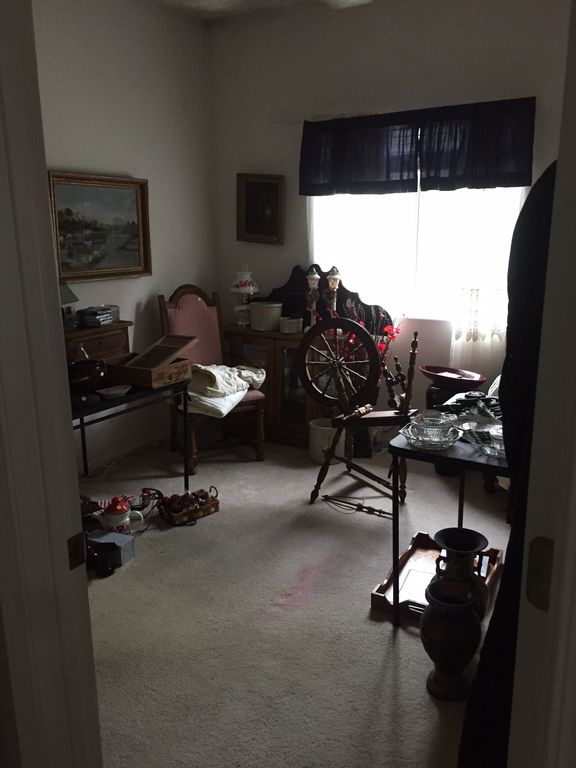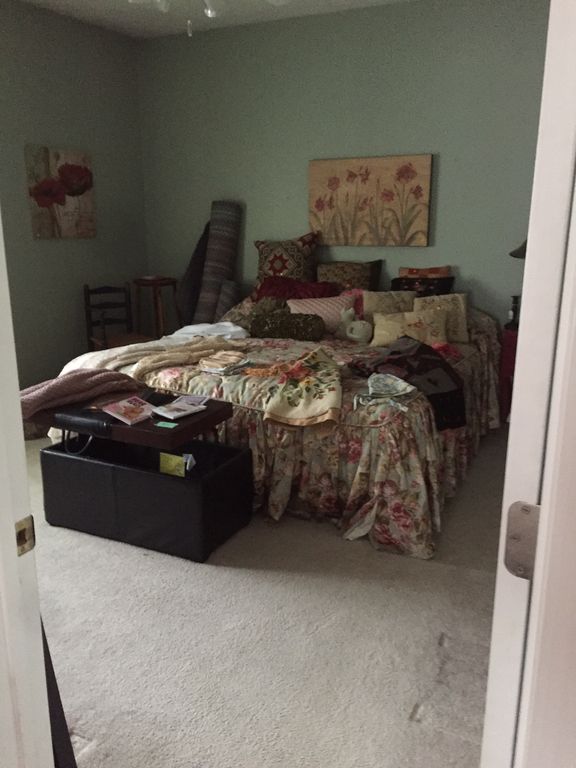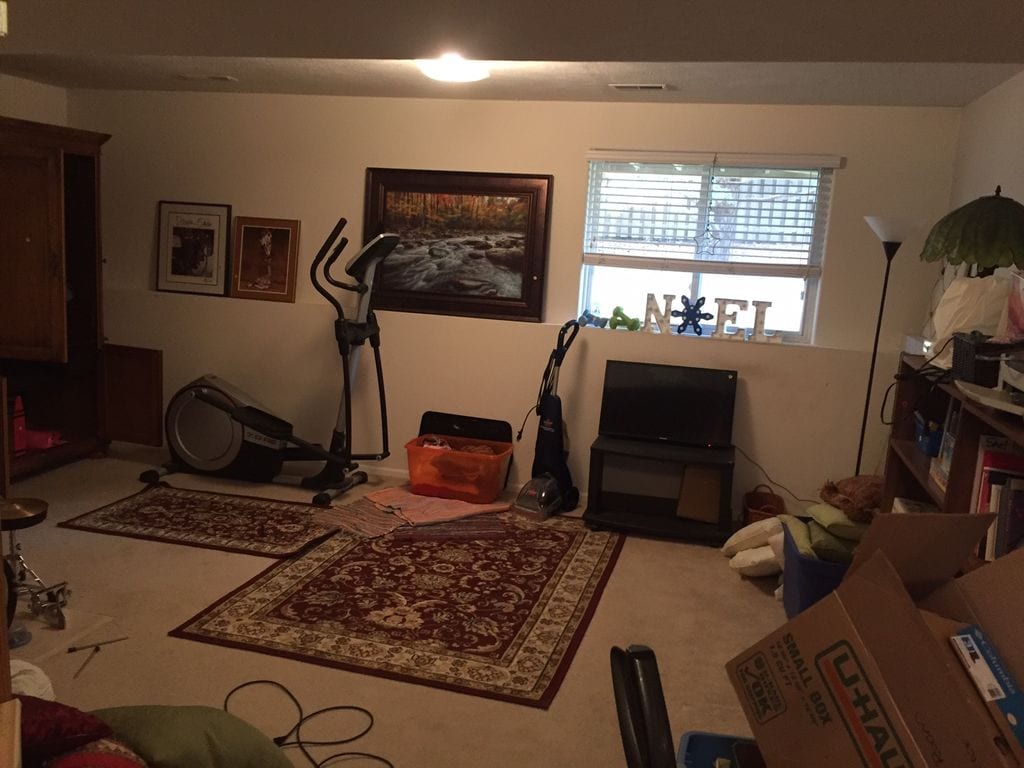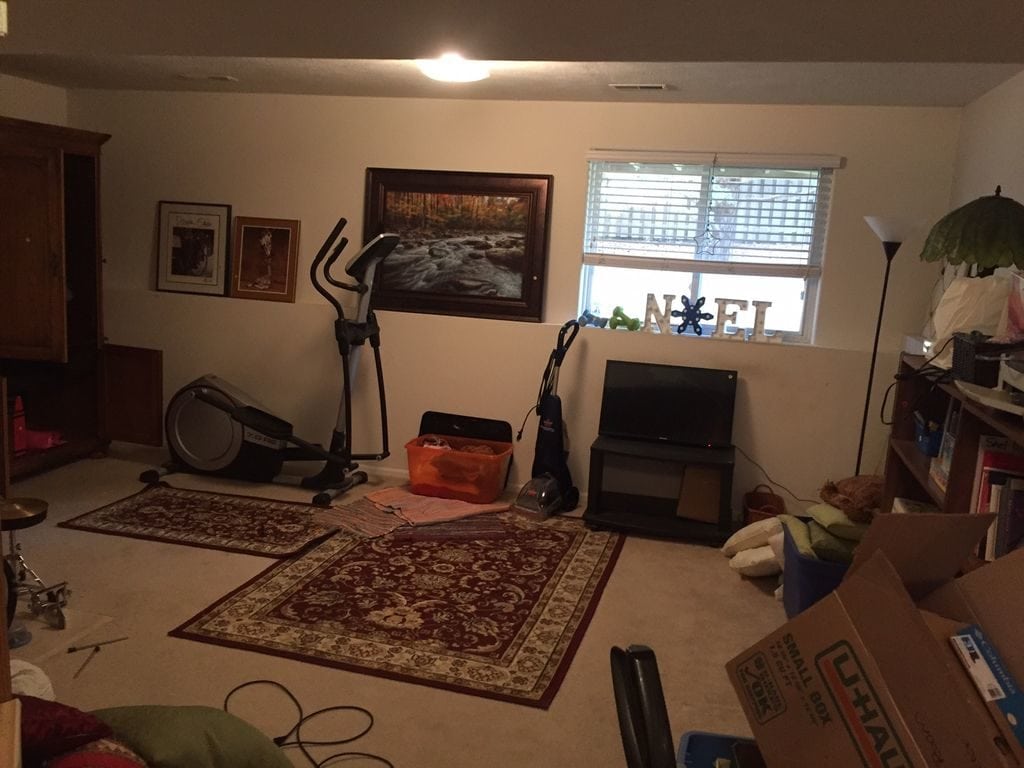 The guys thought it simply needed some minor touch-ups and maybe some fresh paint and it would be good to go.
Once we took possession of the home, we could more closely evaluate what could stay and what could go. Turns out nearly everything had to go. The home is 17 years old and only had one owner. The carpets, the walls and the ceilings were all badly stained and the whole home was in desperate need of a deep cleaning. Likely due to the fact that it had been vacant for a few months and from the estate sale traffic. The appliances were all original as well, and were definitely starting to look outdated. So, in order to get the rent we wanted, we knew it was essentially a gut job.
Immediately we knew the front door would need fresh paint to get rid of the streaky brick red paint color.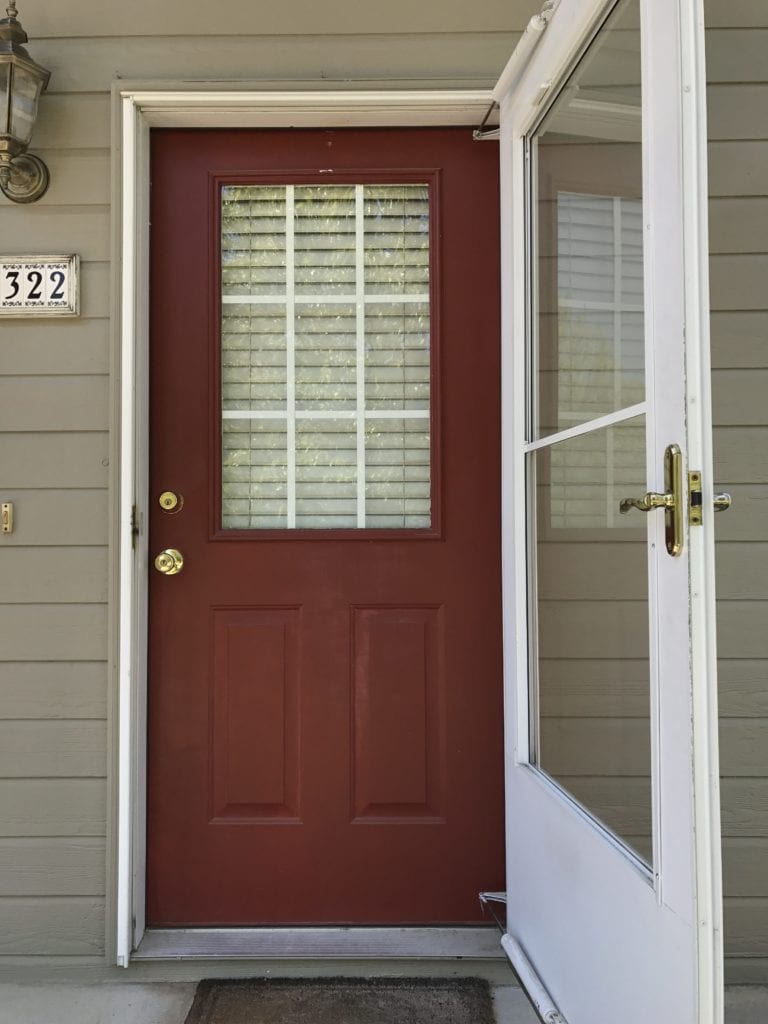 It's really hard to tell in wide-angle shots like this, but the walls were a mid-tone lavender gray color and were very dirty (especially along the ceilings, outlets, and where items were hung on the wall). In the living room, you can see what also looks like smoke stains above the gas fireplace.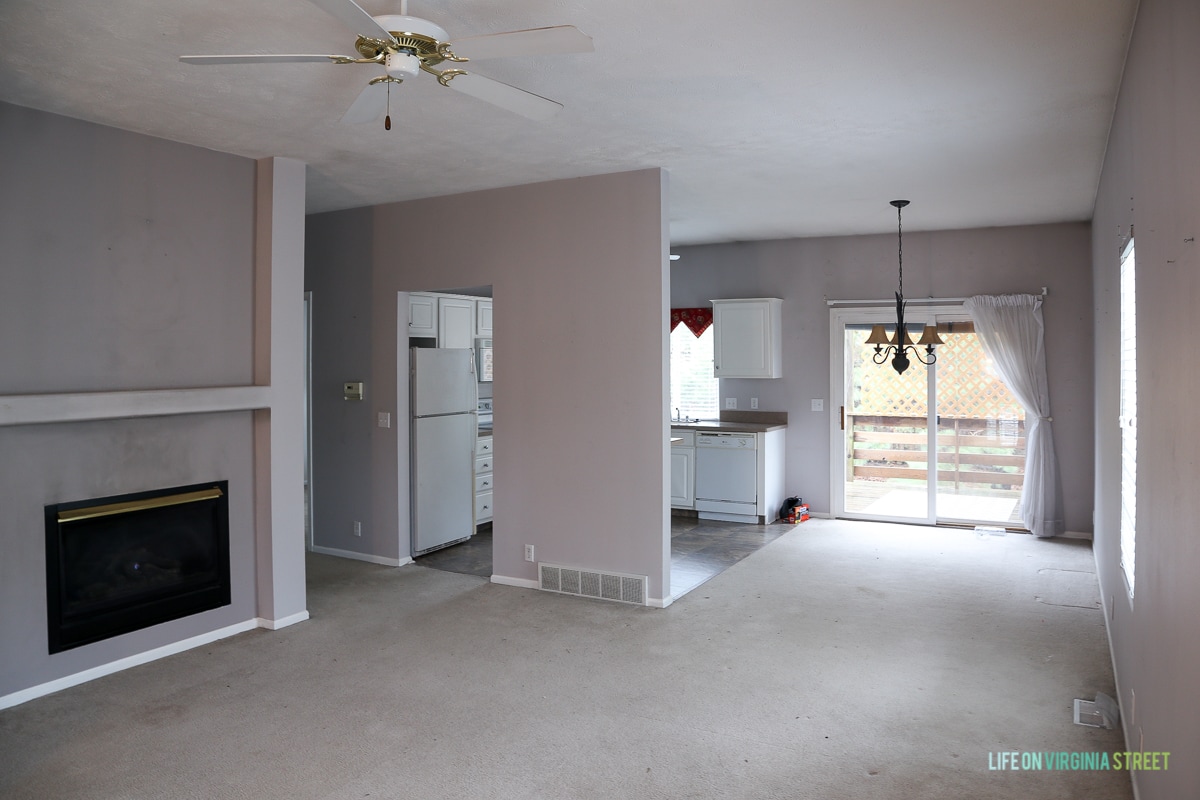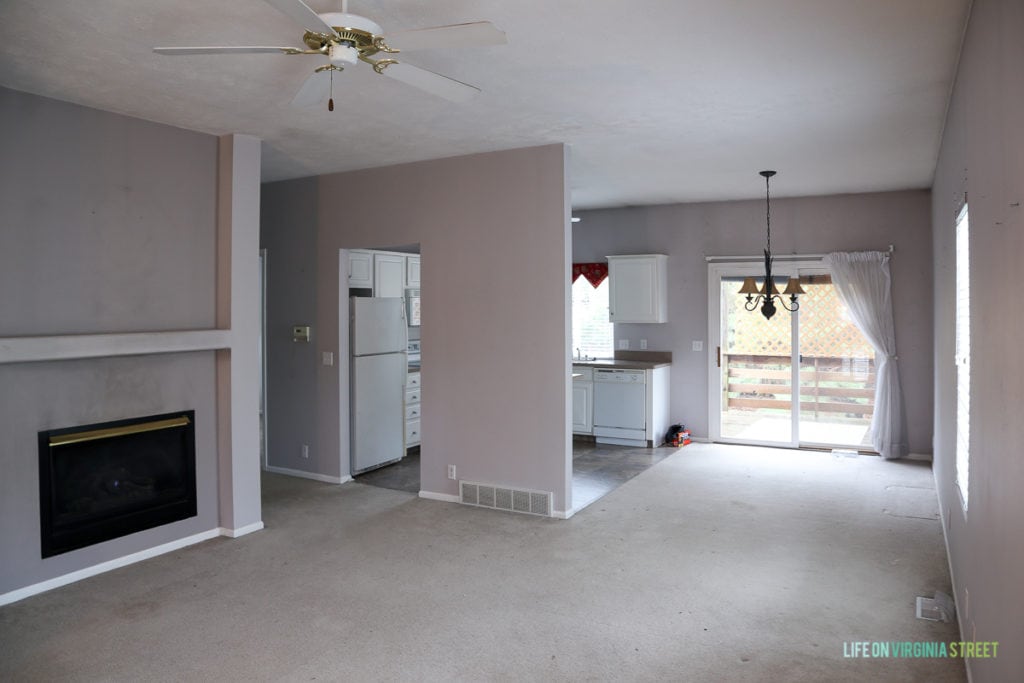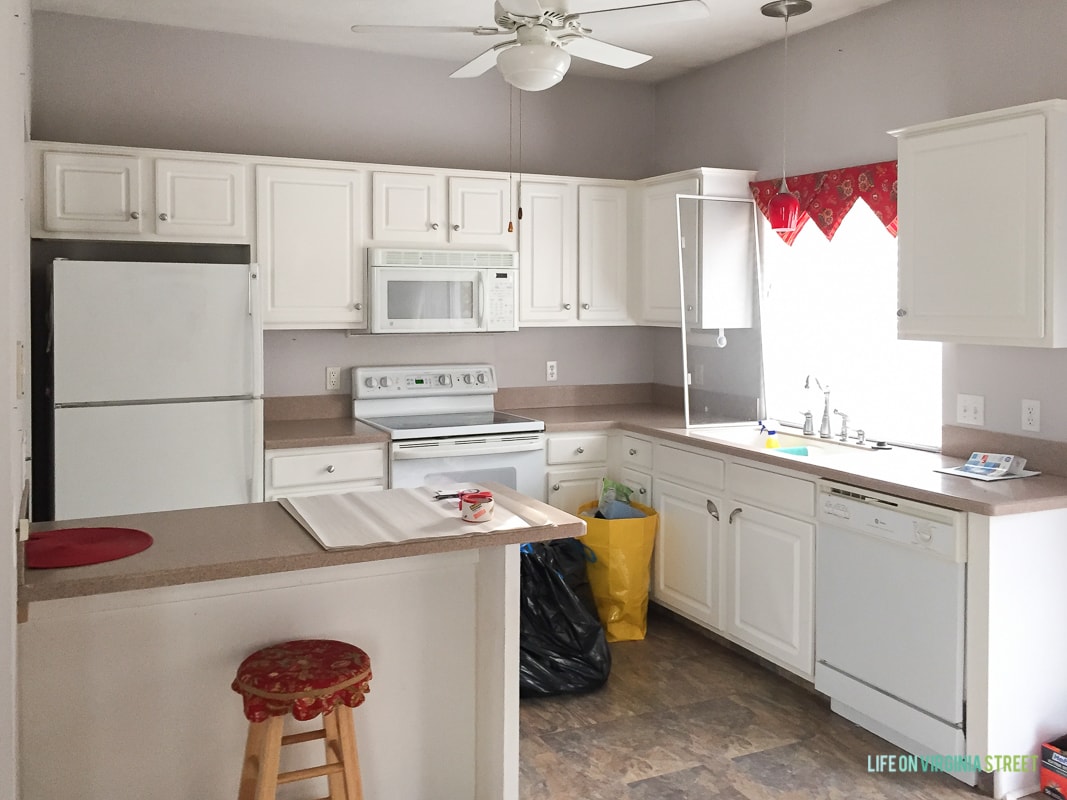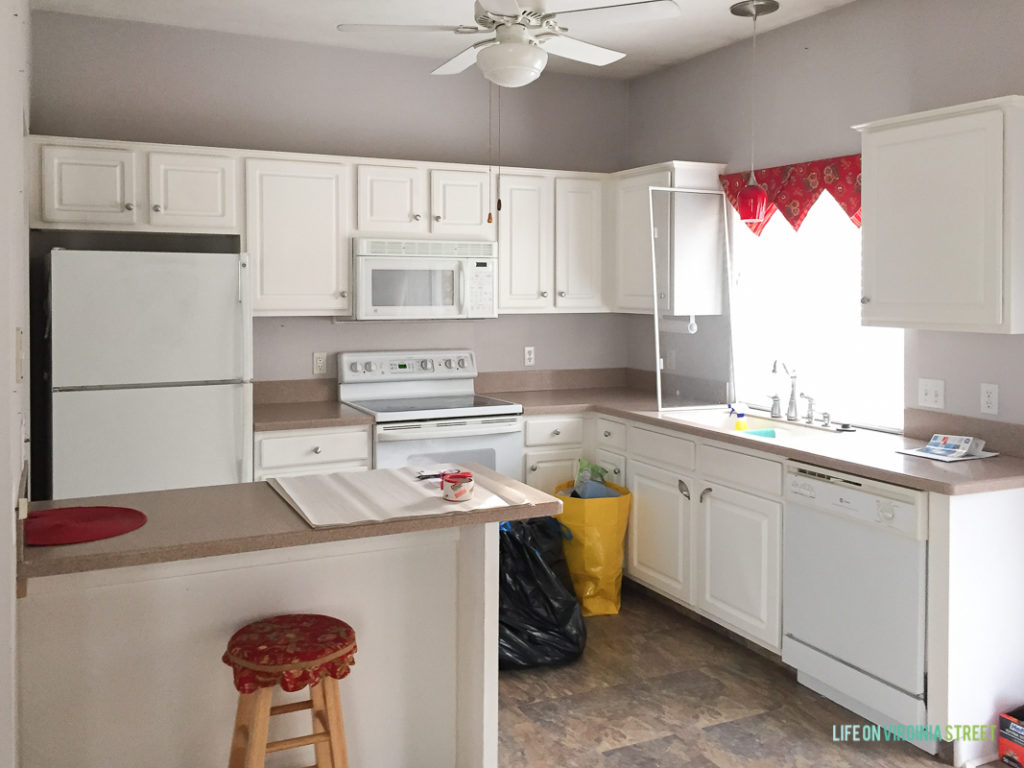 The dining room was previously carpeted and heavily soiled. Again, some of which was probably from the estate sale and from several months of sitting vacant.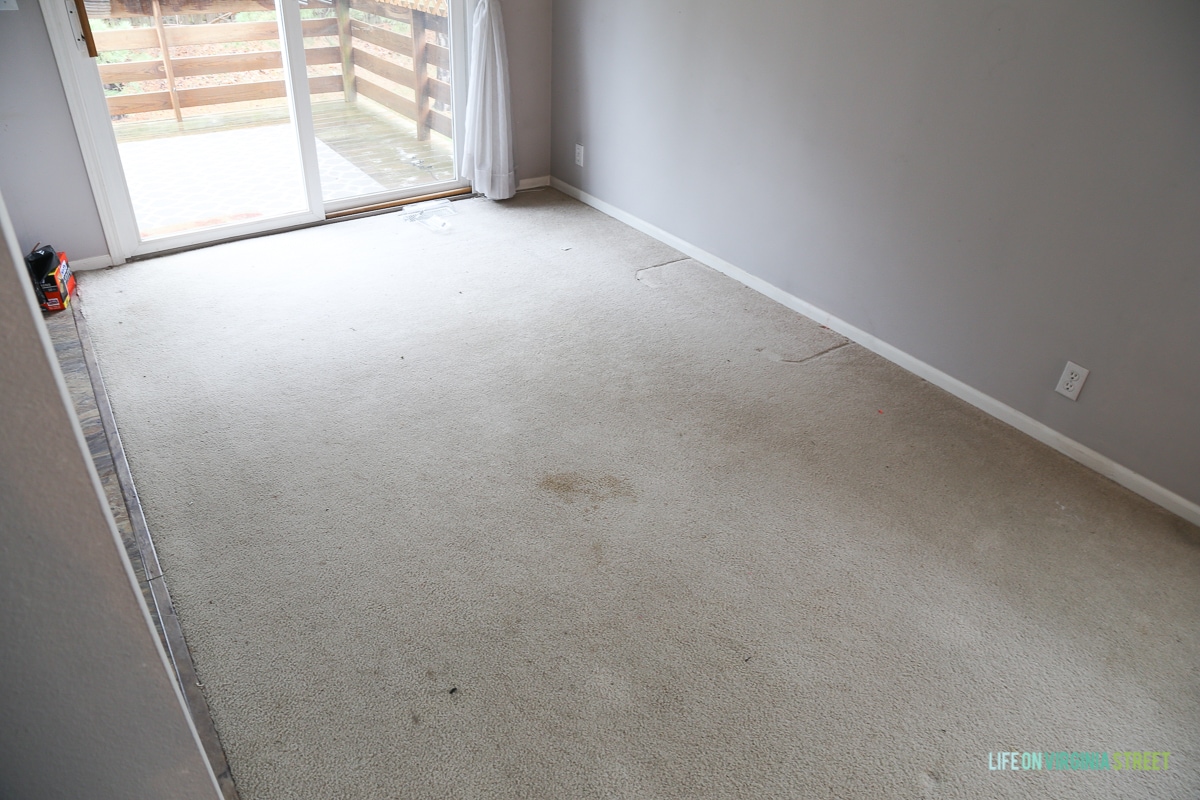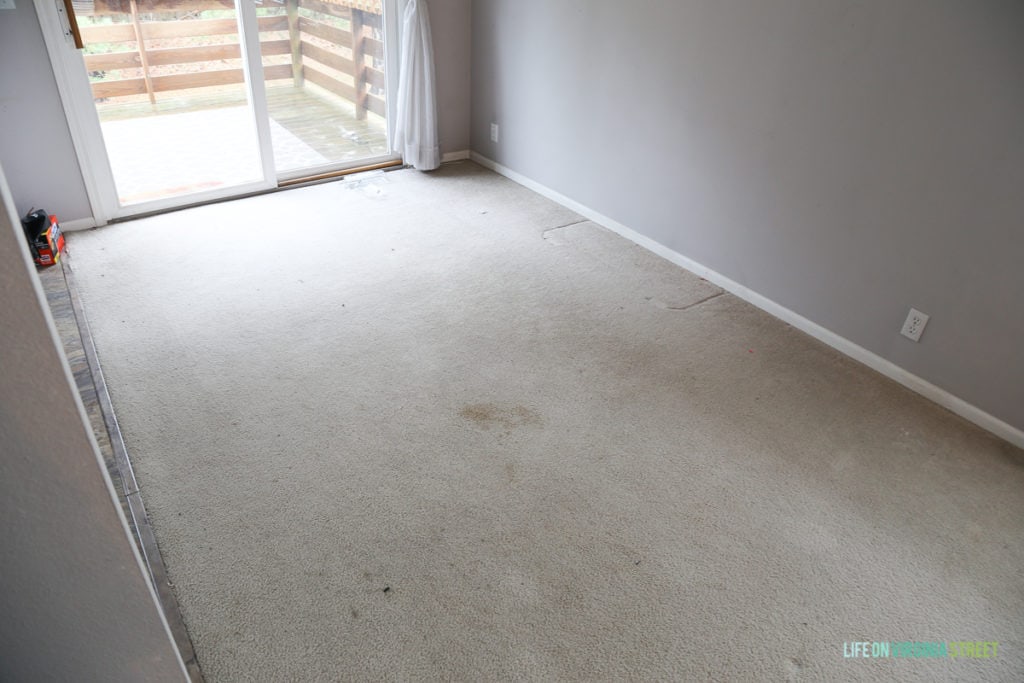 The linoleum in the bathrooms wasn't in great shape either.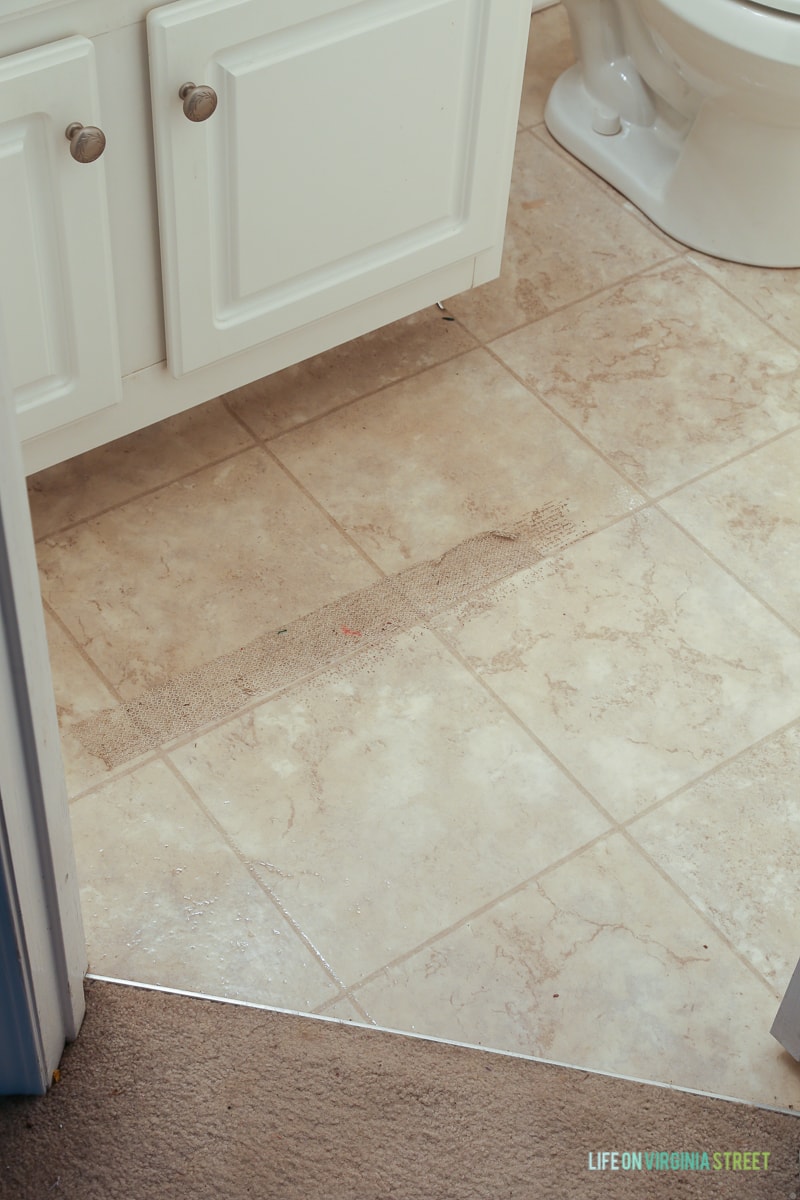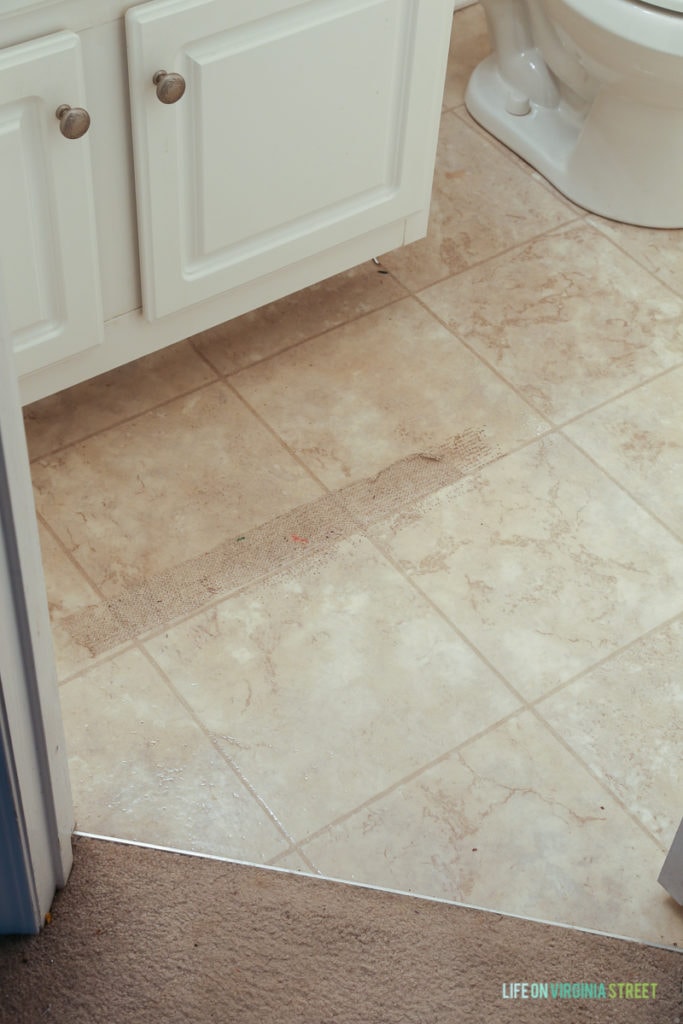 The master bathroom had peeling floral wallpaper and needed some deep cleaning. We also had to get rid of all the pink in order to appeal to a wider tenant-base.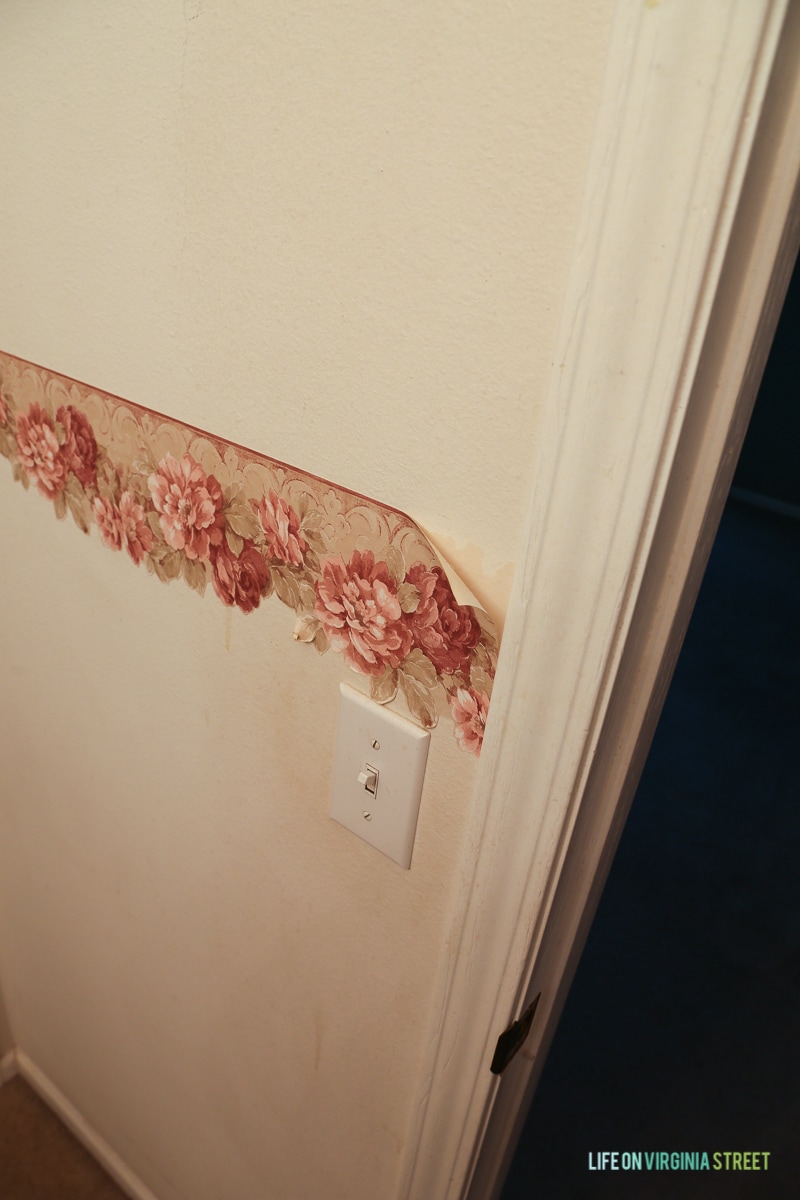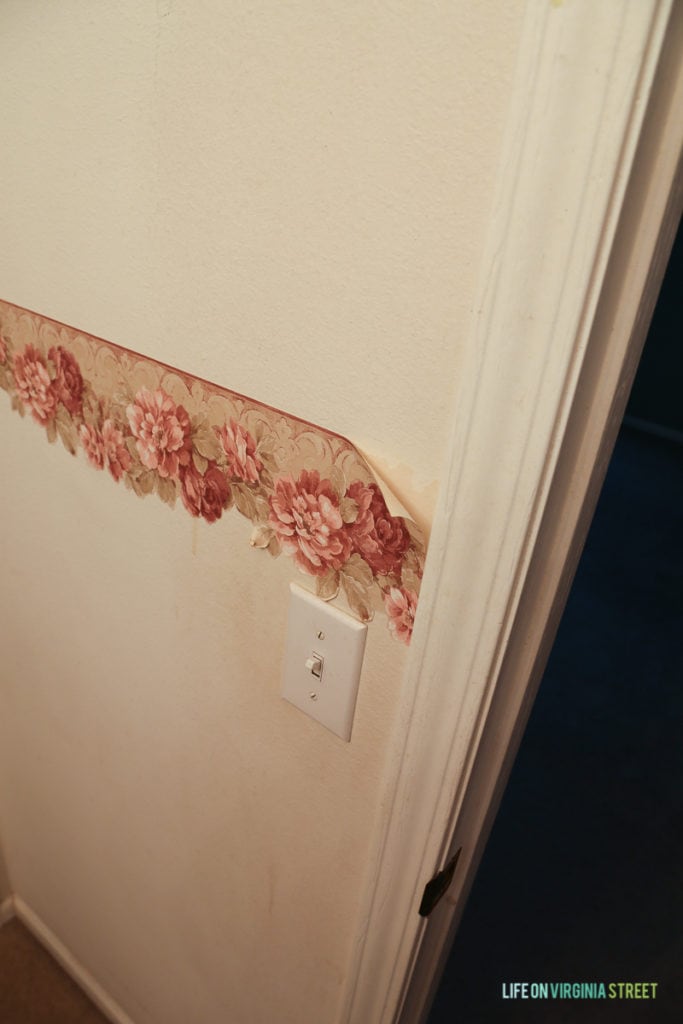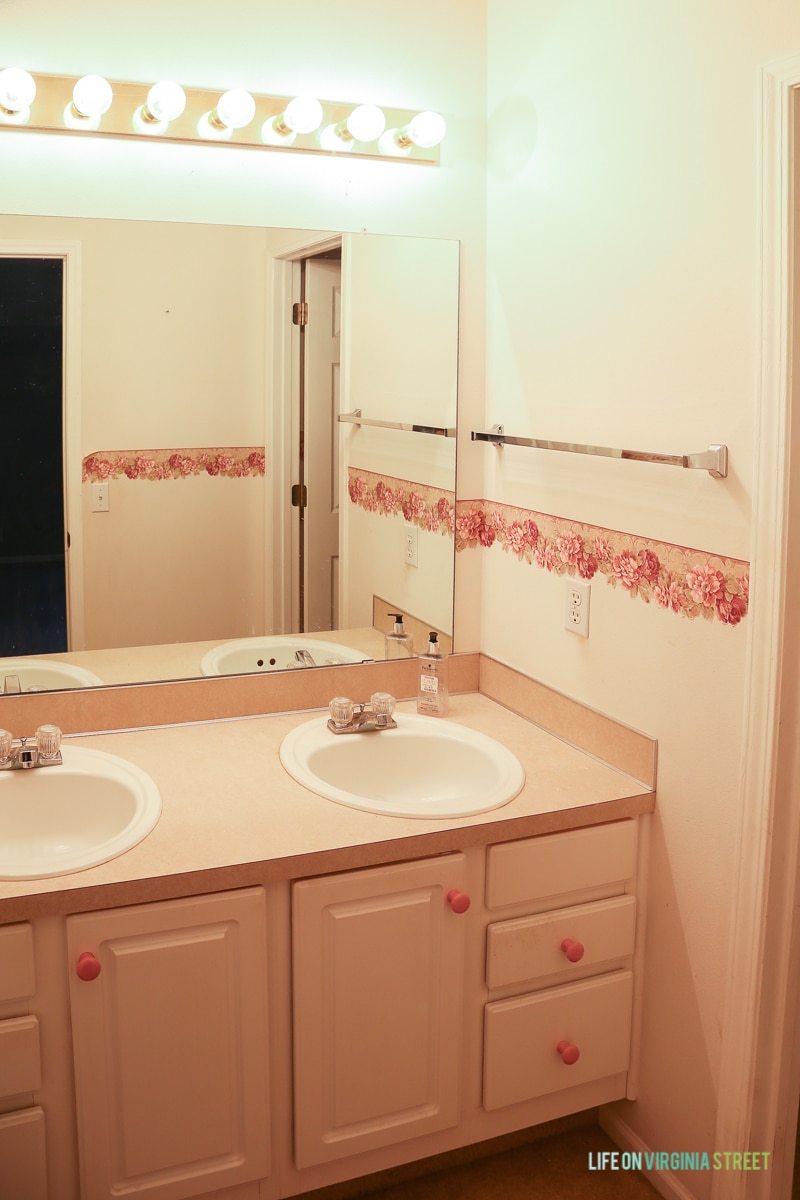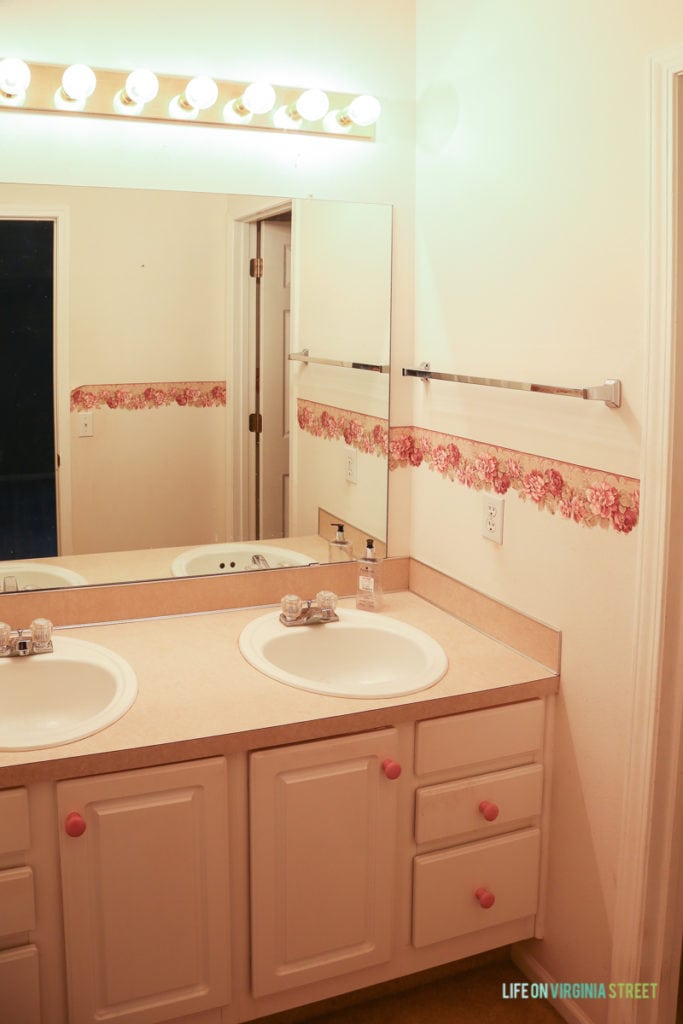 The light fixtures throughout were original to the home, very outdated and in some cases, missing entirely.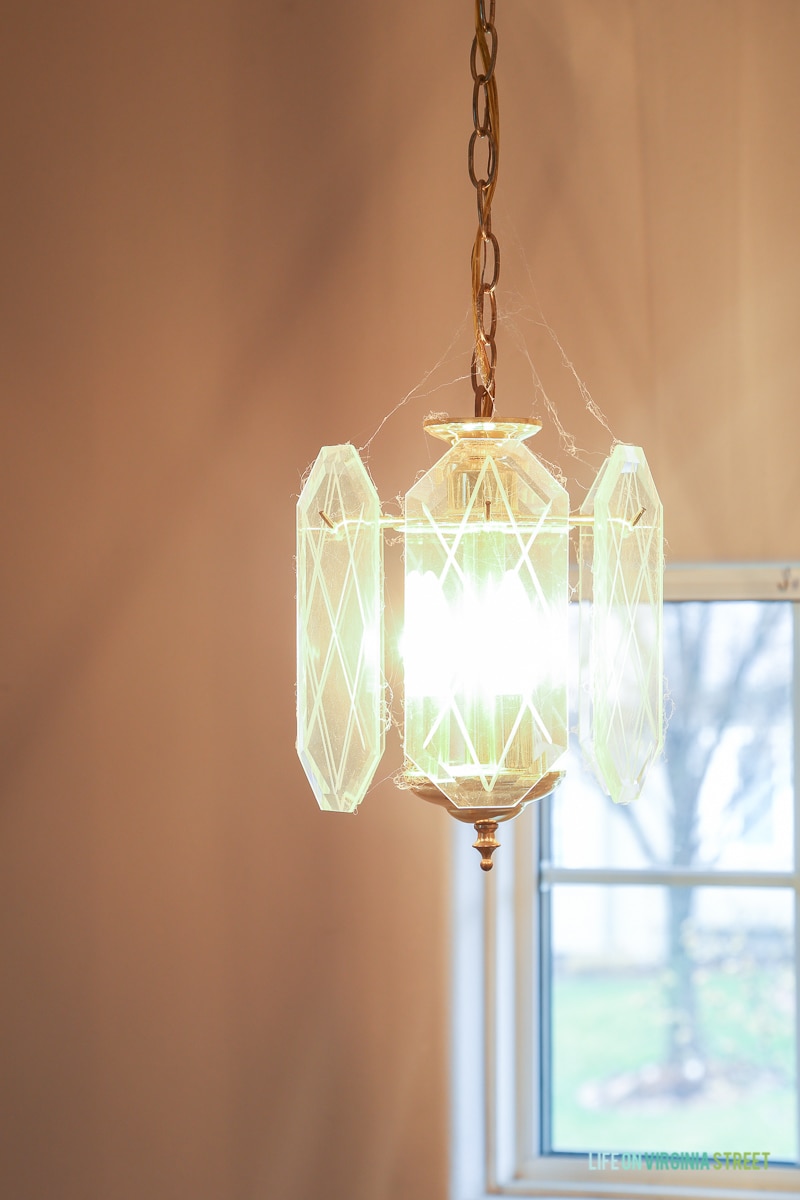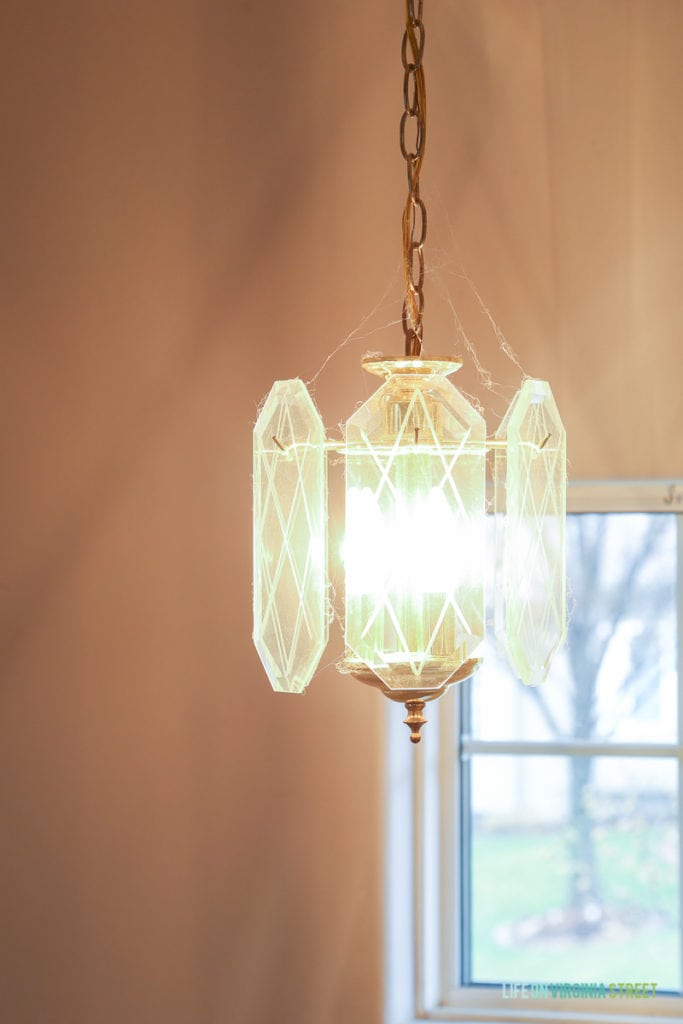 The entrance coming in from the garage needed updating and a good cleaning from all the heavy traffic.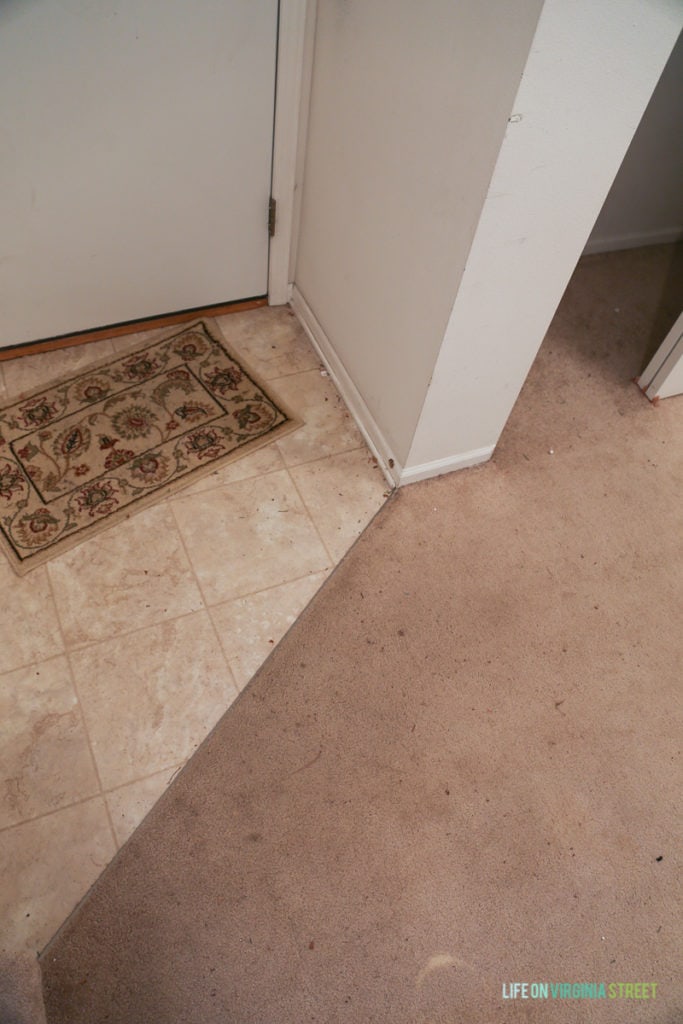 I spoke with my rep at Mannington about good options for a rental. We knew hardwood probably wasn't the best route so she steered me towards the Adura Max product. It gave me the look of hardwood that I love, but it's waterproof, noise-proof and pretty much life-proof. Pretty much everything that's perfect for a rental house! I headed to Nebraska Furniture Mart to see the full line in person. We had used Nebraska Furniture Mart for the hardwood floors at our last house and we were so pleased with the process and installed product that we knew they were the place to talk to again.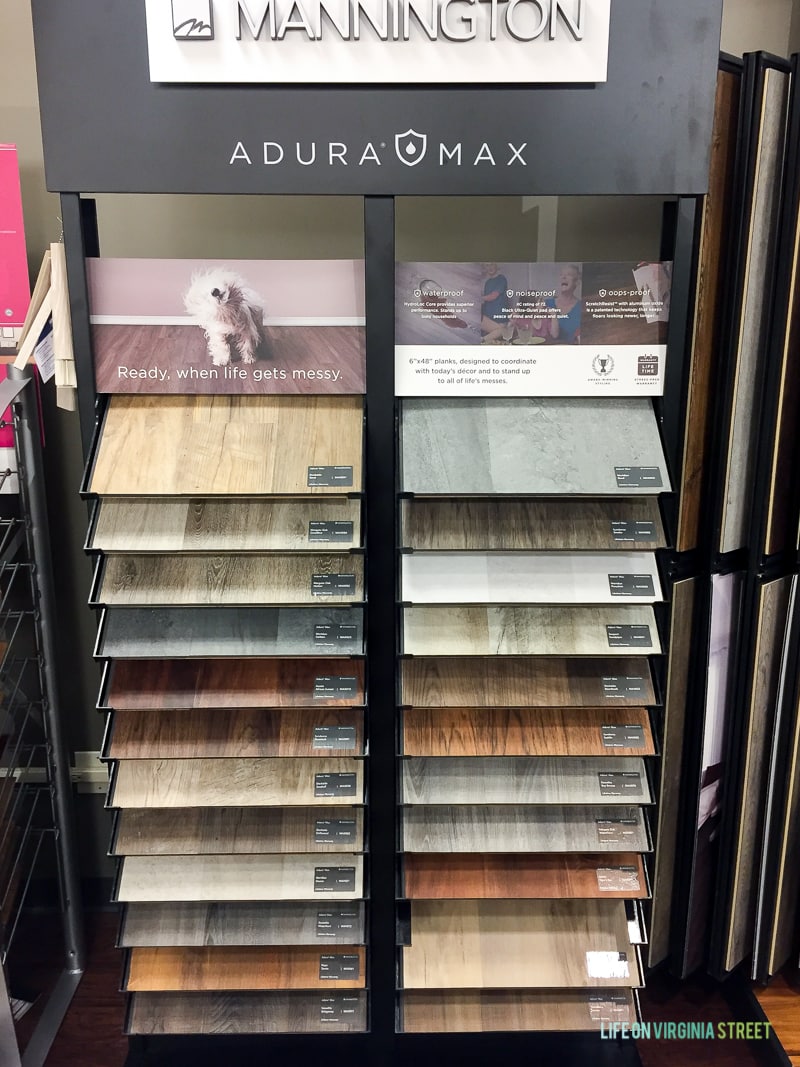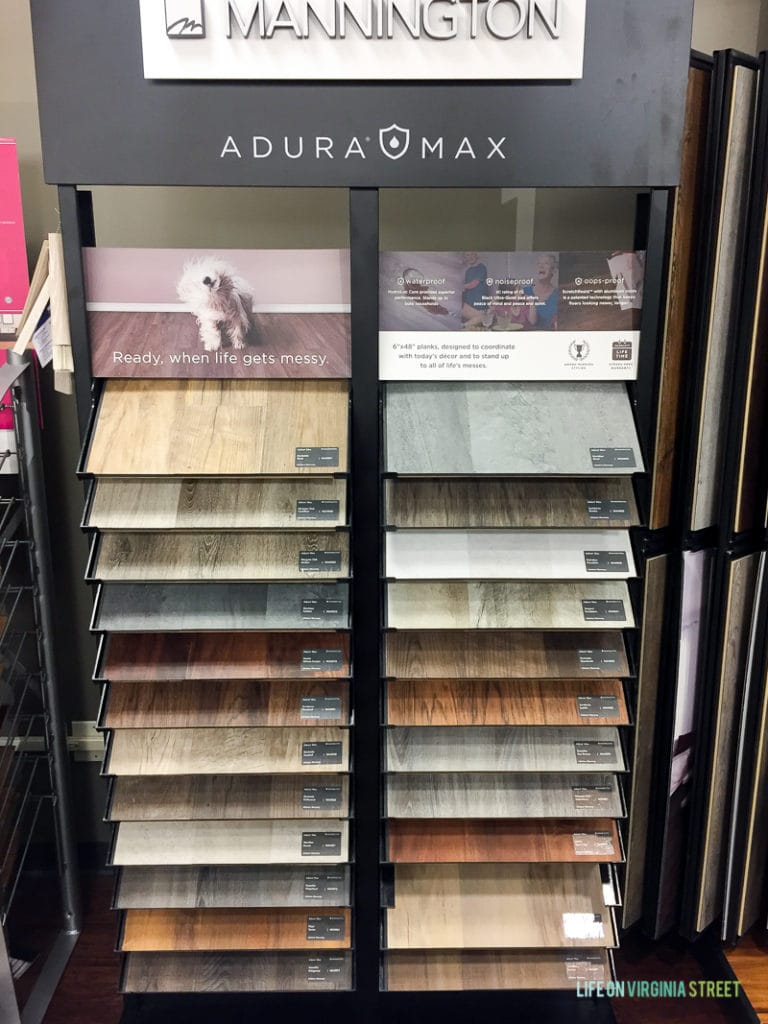 Everyone at Nebraska Furniture Mart was so helpful and allowed me lay out combination after combination on their floors to see all of the possibilities I was considering. A big shout out to Jordan Frum in carpet and Brandon Stufft in hard surfaces for being so patient with me and my indecisiveness! The problem was that I thought virtually every sample would have turned out so well, but again, I had to remember to pick a combination that would appeal to the masses.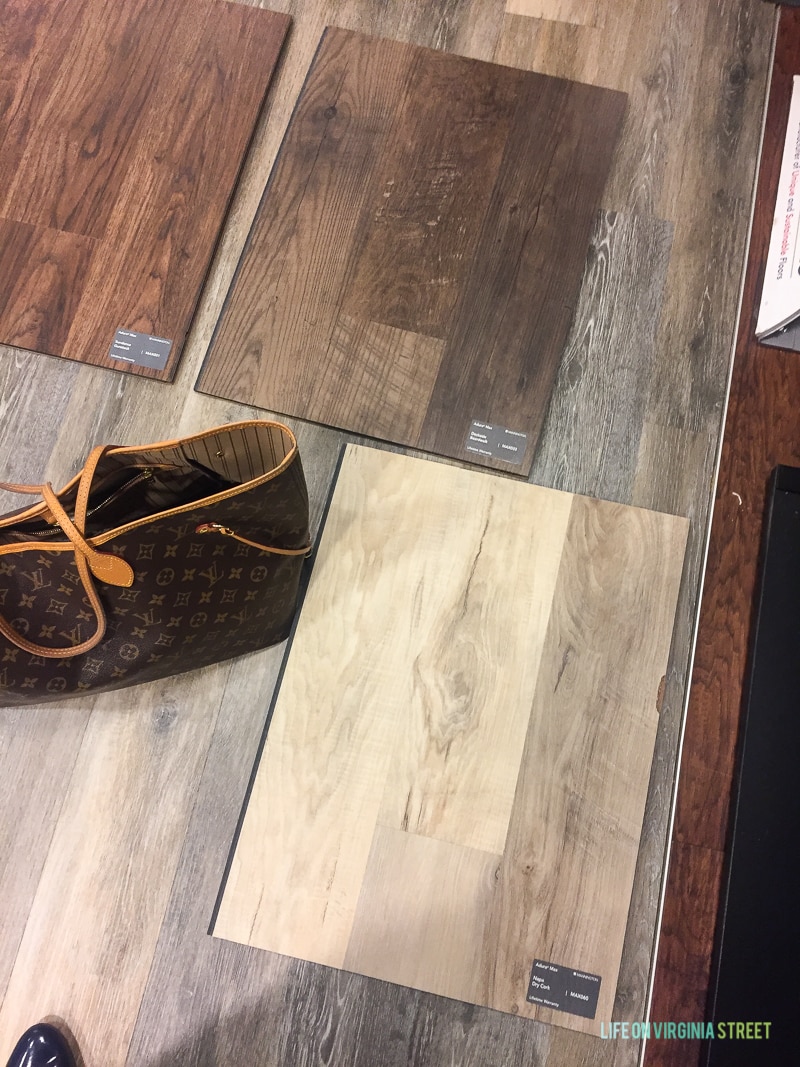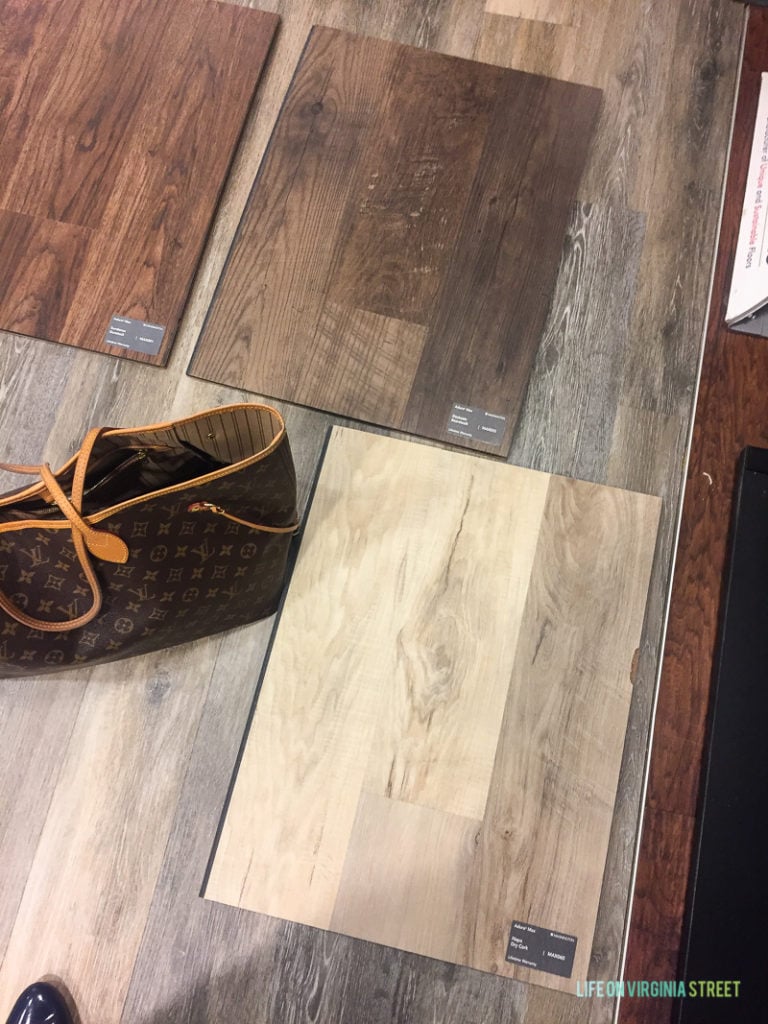 Jordan recommended a line called Dream Weaver for the carpeting in the Cosmopolitan line. The price point is great and he said it would be durable enough for a rental but still look great. As you can see in the image below, it has a lot of great features. And it's also so soft and plush!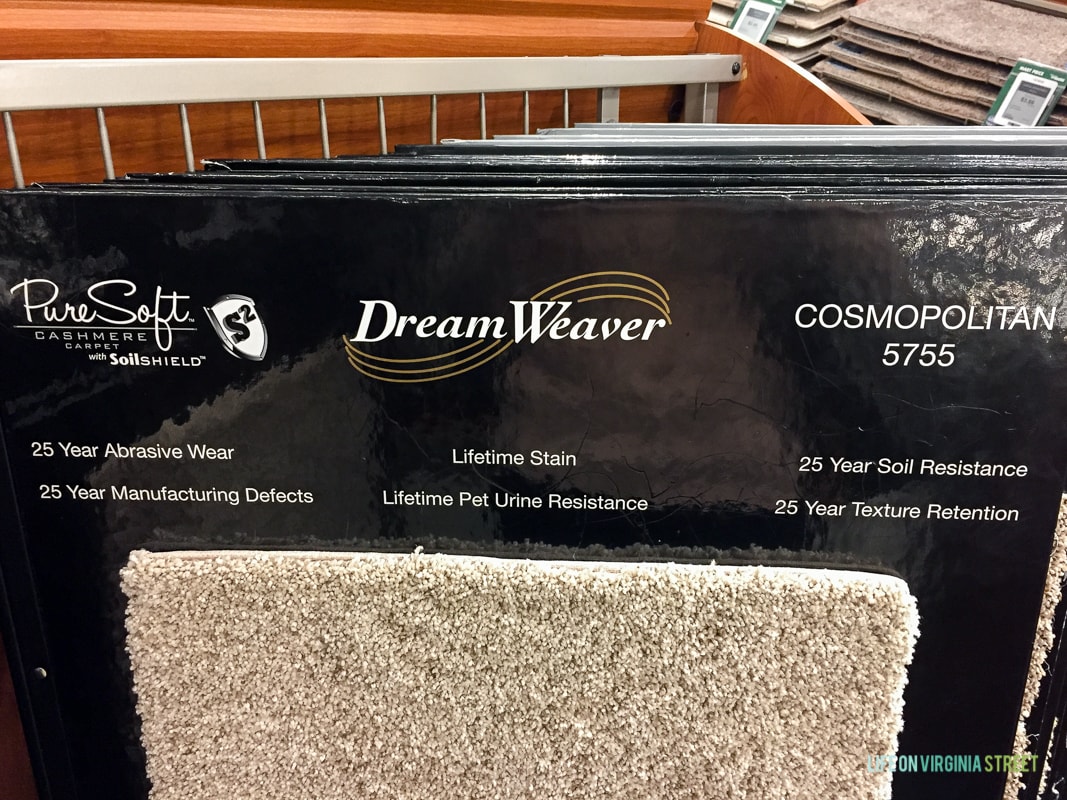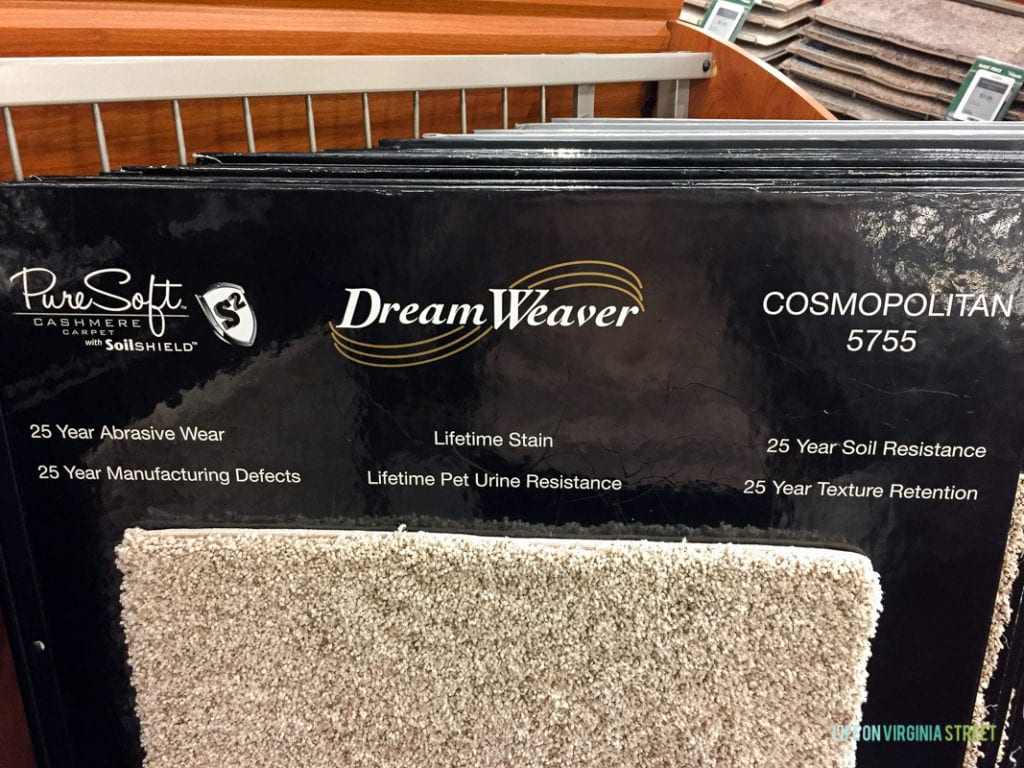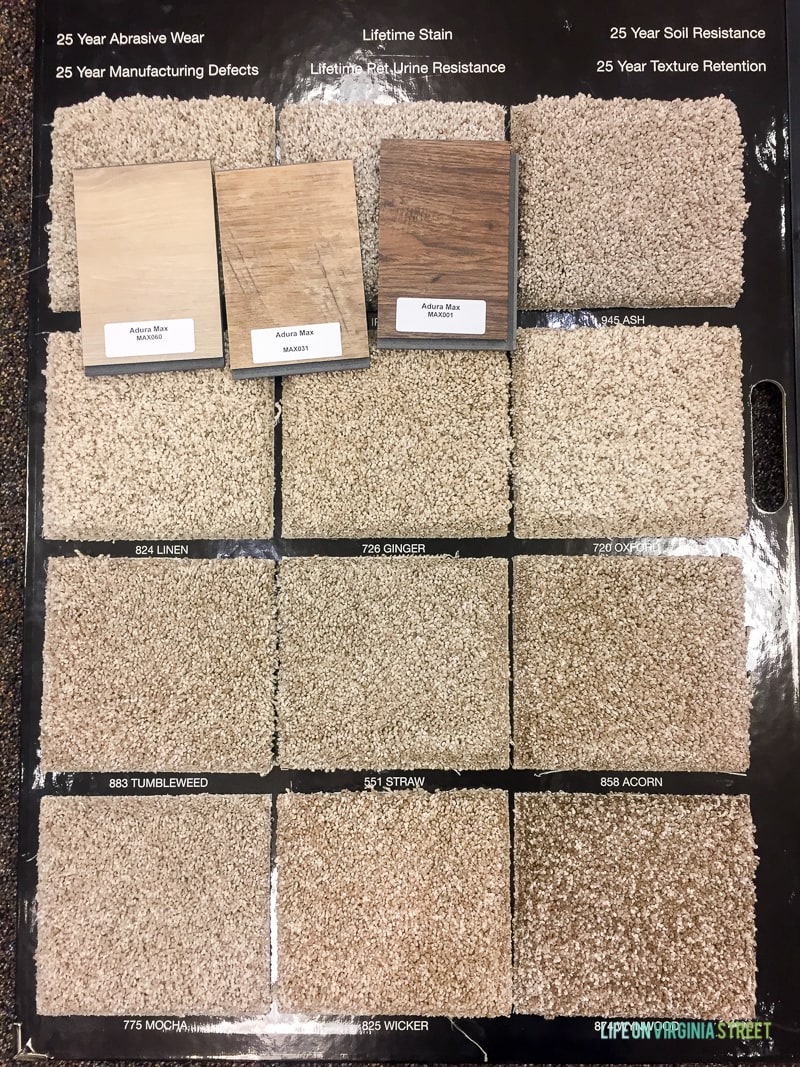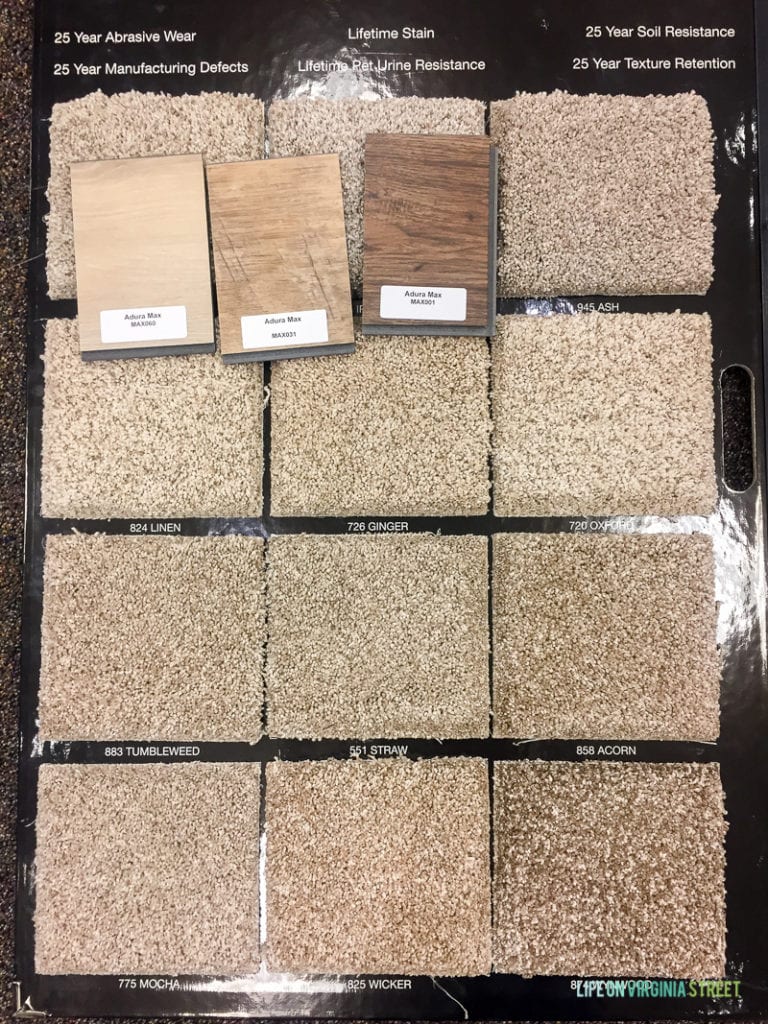 They had so many beautiful flooring options that I loved. But I had to make sure to pick something that would appeal to the masses. After looking at sample after sample of potential flooring combinations, we ultimately settled on the following combination.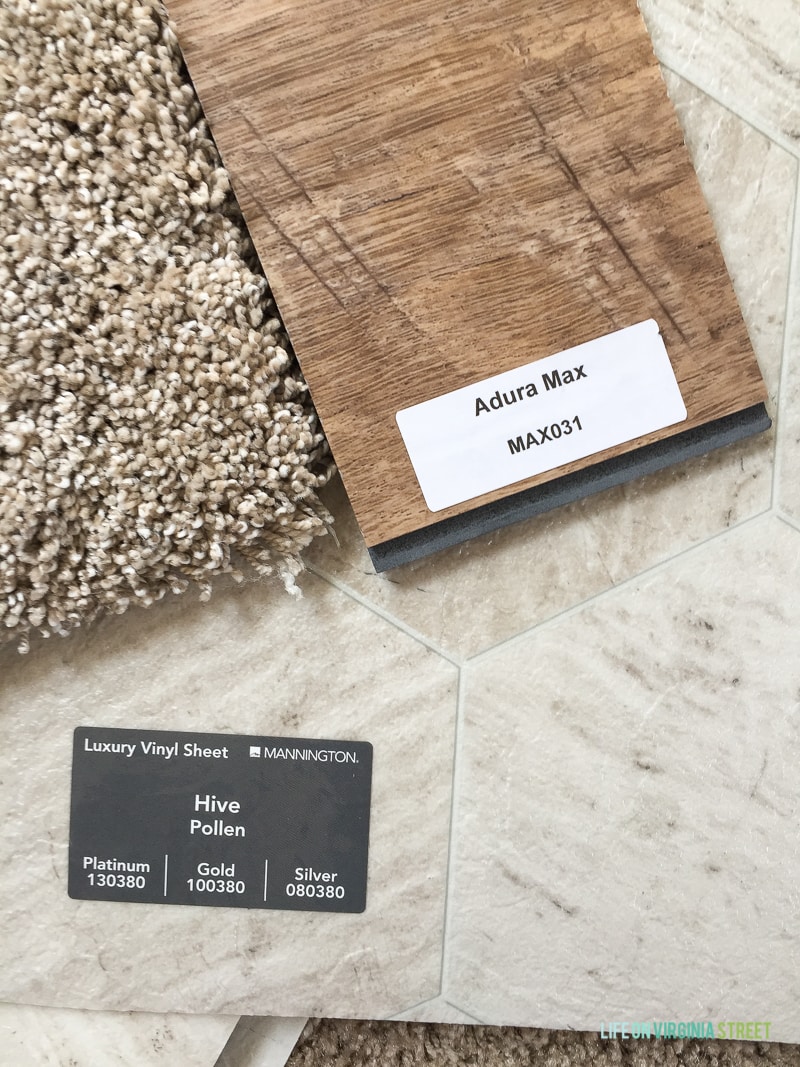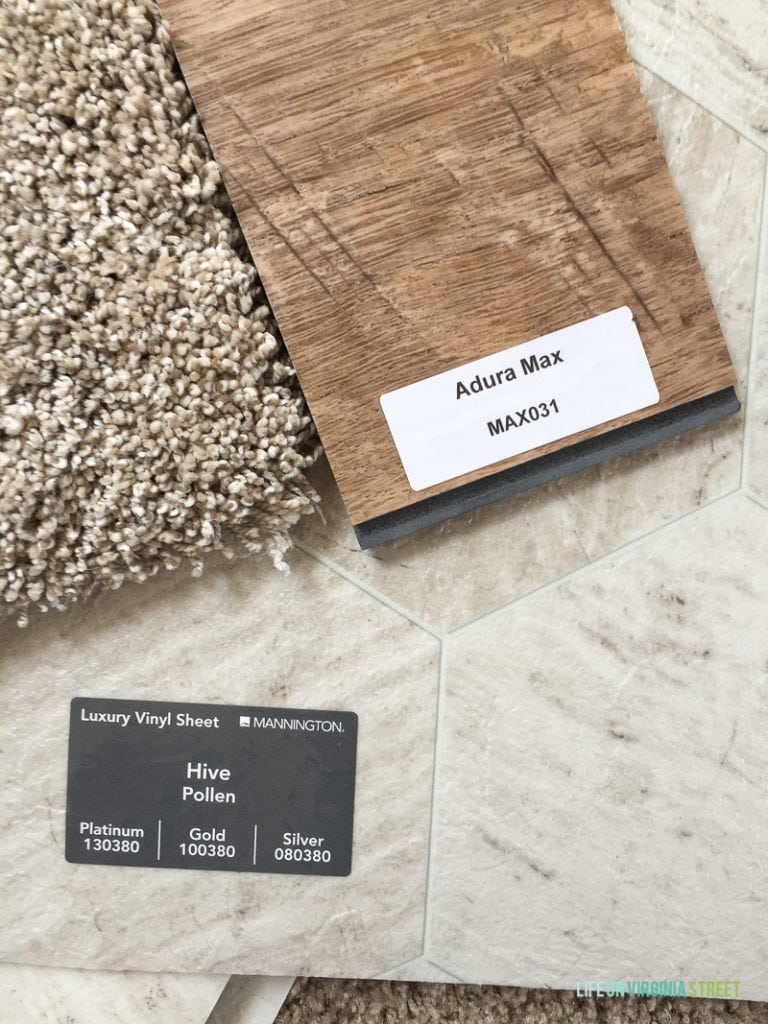 The Dream Weaver carpet for the main living areas, the luxury vinyl sheet in the Hive Pollen Pattern for the bathrooms and laundry closet, and the Adura Max in Dockside Sand. Guys, it all looks so good together! I'll share even more info about these amazing products tomorrow when I can show them to you installed in the rental. It looks like a new home now!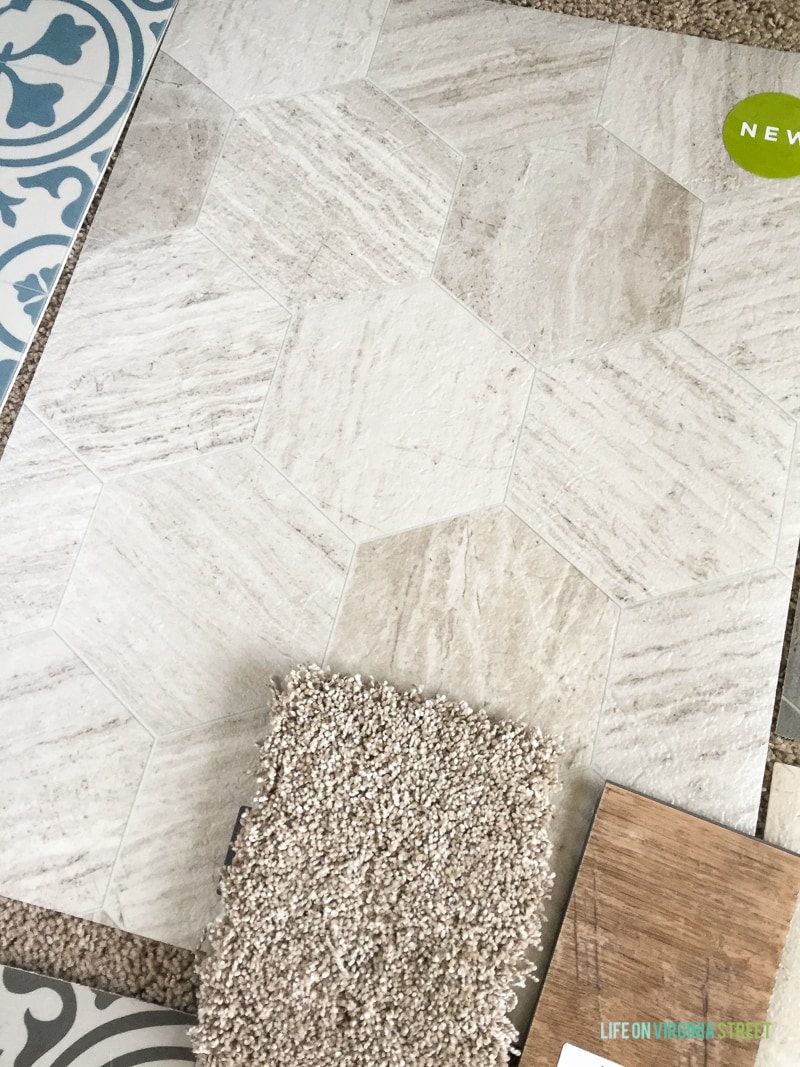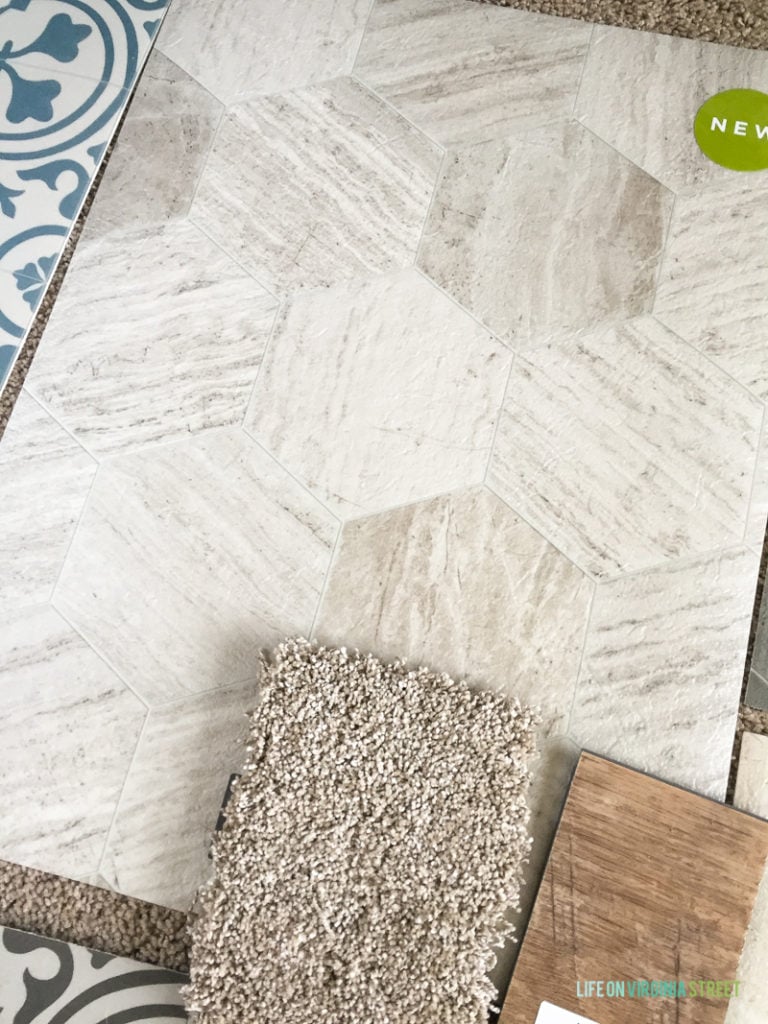 Tomorrow I'll be sharing the full reveal that includes all the new flooring options, paint colors, light fixtures, appliance and more!
If you would like to follow along on more of my home decor, DIY, lifestyle, travel and other posts, I'd love to have you follow me on any of the following: