This feels like one of the most monumental weeks yet! My parents were in town over the weekend, and although they unfortunately didn't get to see the finished product, as we hoped they would, we were definitely closer to seeing the end.
If you're new around here or have missed my other progress reports, you can get up to speed here:
A Pool + Backyard Update | Progress: Week 1 | Week 2 | Week 3 | Week 4 | Week 5 | Week 6 | Week 7 | Week 8 |Week 9 | Week 10 | Week 11 | Week 12 | Week 13
Friday the 11 trees and 5 buckthorns got delivered and suddenly the space looked so much more finished. The trees are by no means large, but we figured since most were on the hill, they would look more substantial than they actually were. It seems to be working so far!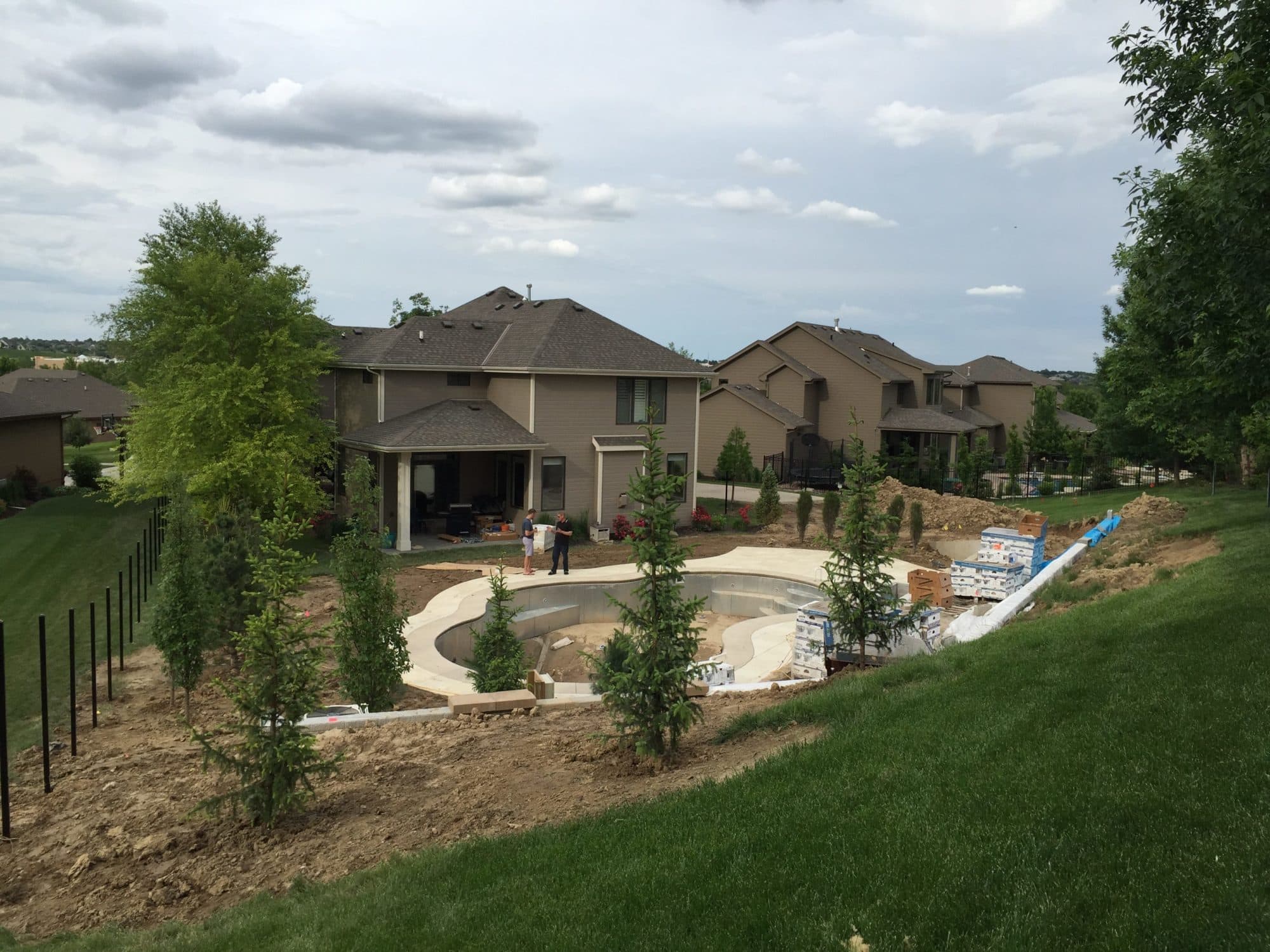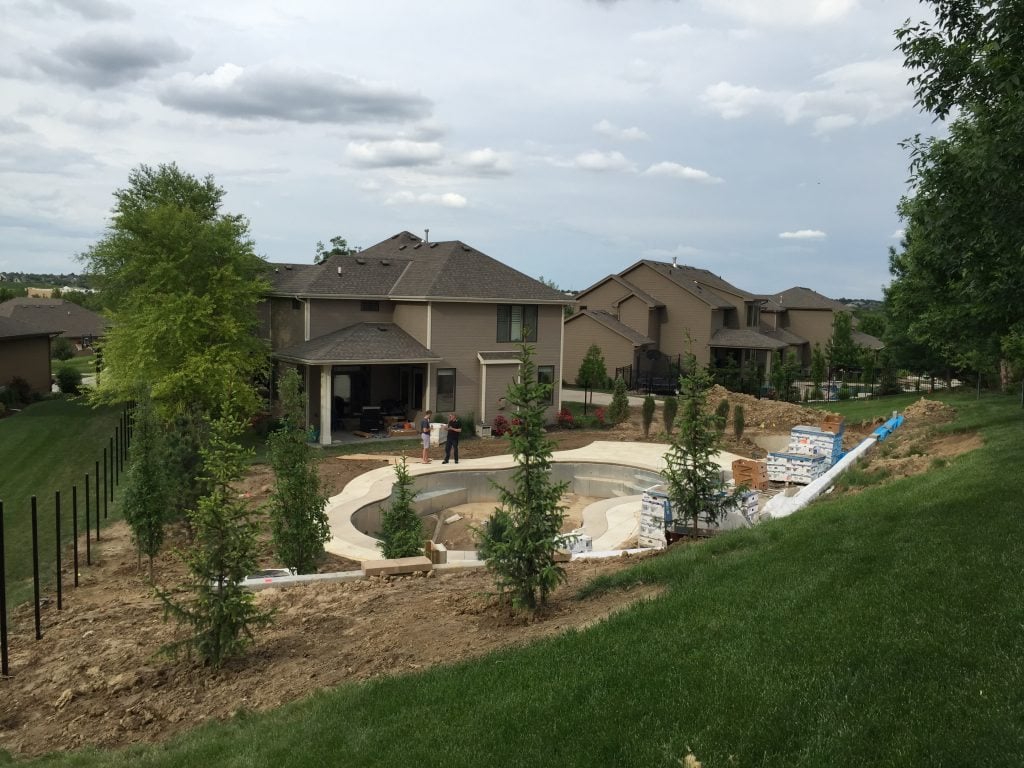 The fine line buckthorns are going to be a huge help in acting like a hedge for the laying out area. We have three of these on the east side of our house and they do really well (and will fill in quite a bit more over the years). They should act as the perfect privacy barrier!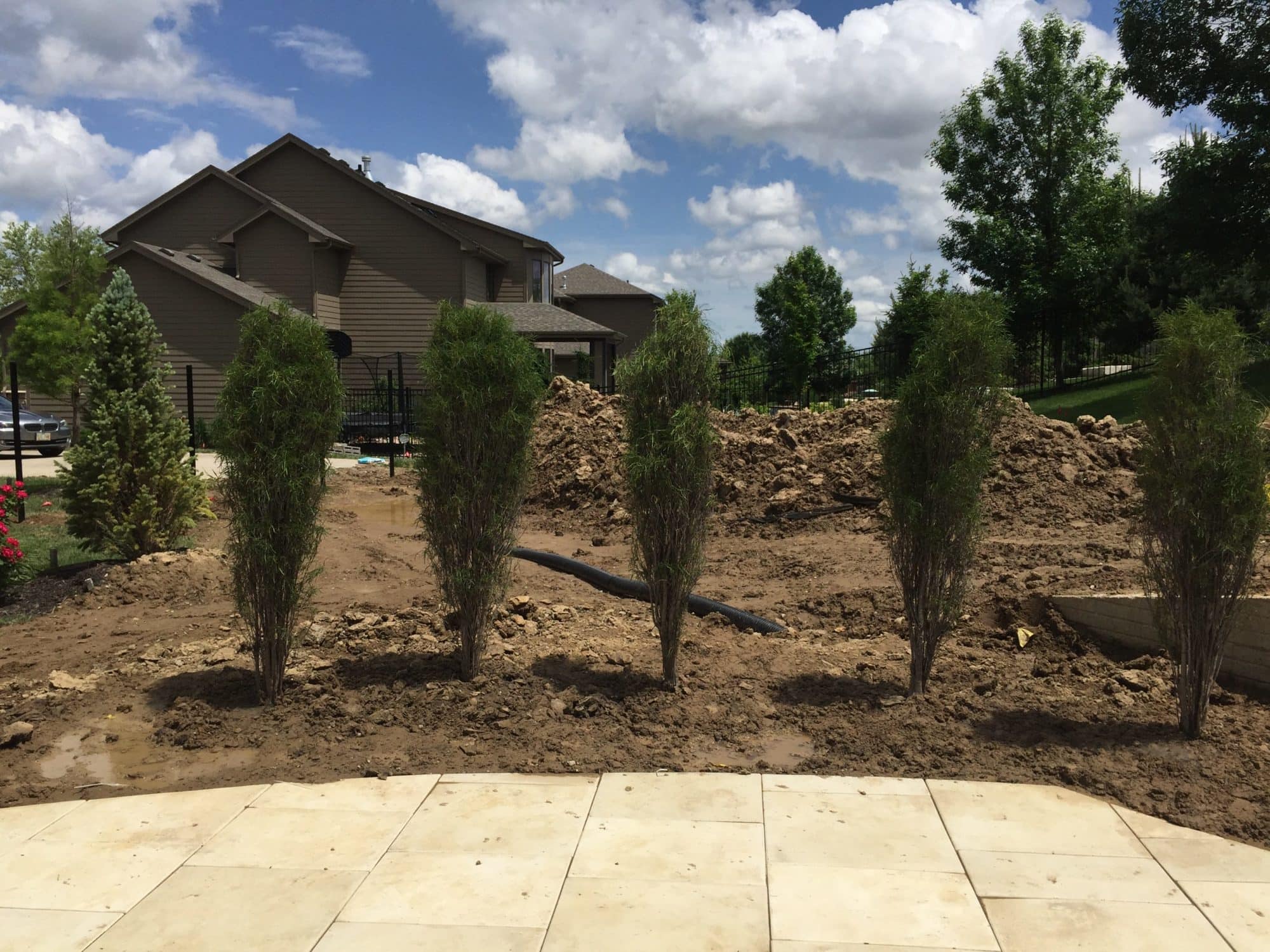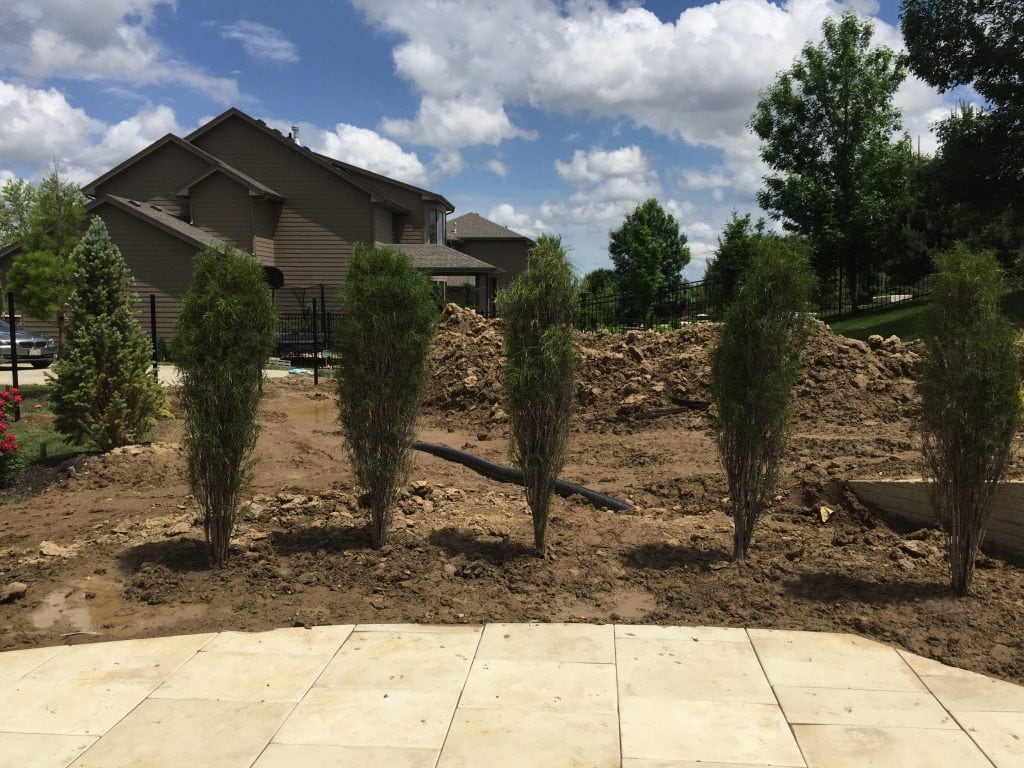 I bought eight lavender plants to plant at the base of the buckthorns to add some color and hide the trunks. I think the smell will be heavenly when we are laying in our chaise lounges! I also got another limelight hydrangea (shocker) and a knockout rose to add somewhere back there.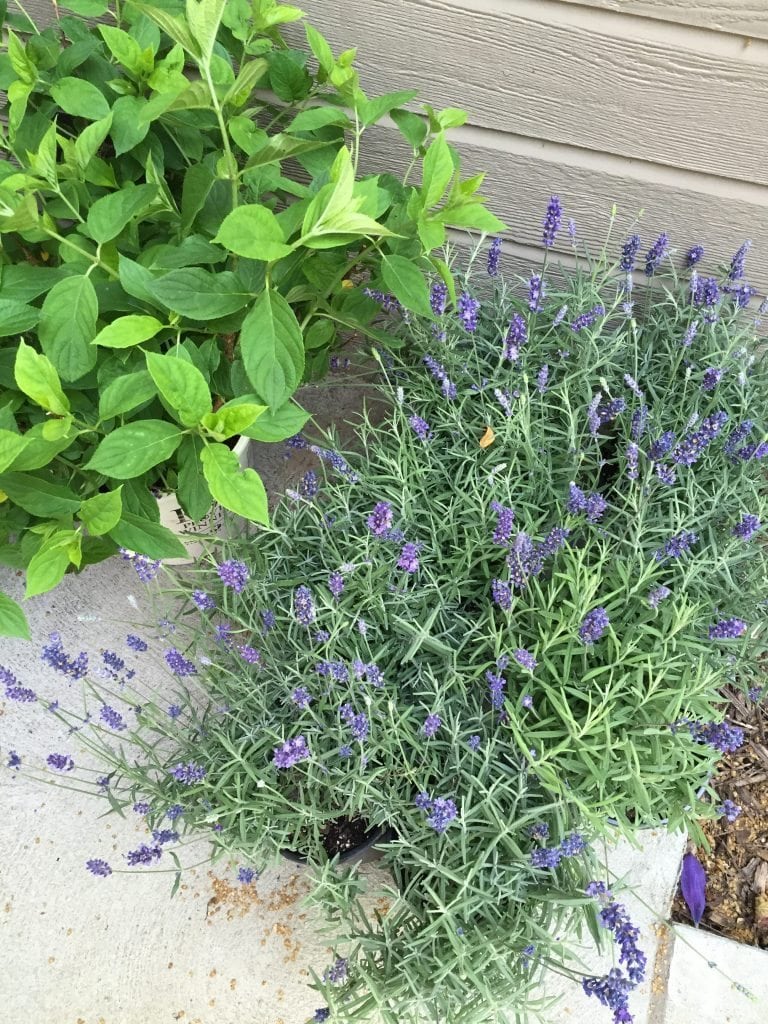 One of the oak trees that was planted looks really rough, and we're pretty sure it's a goner. We're going to wait it out a little longer to see if we can't bring it back to life. Fingers crossed! It's the one on the right below (it should like the one on the left). Not good.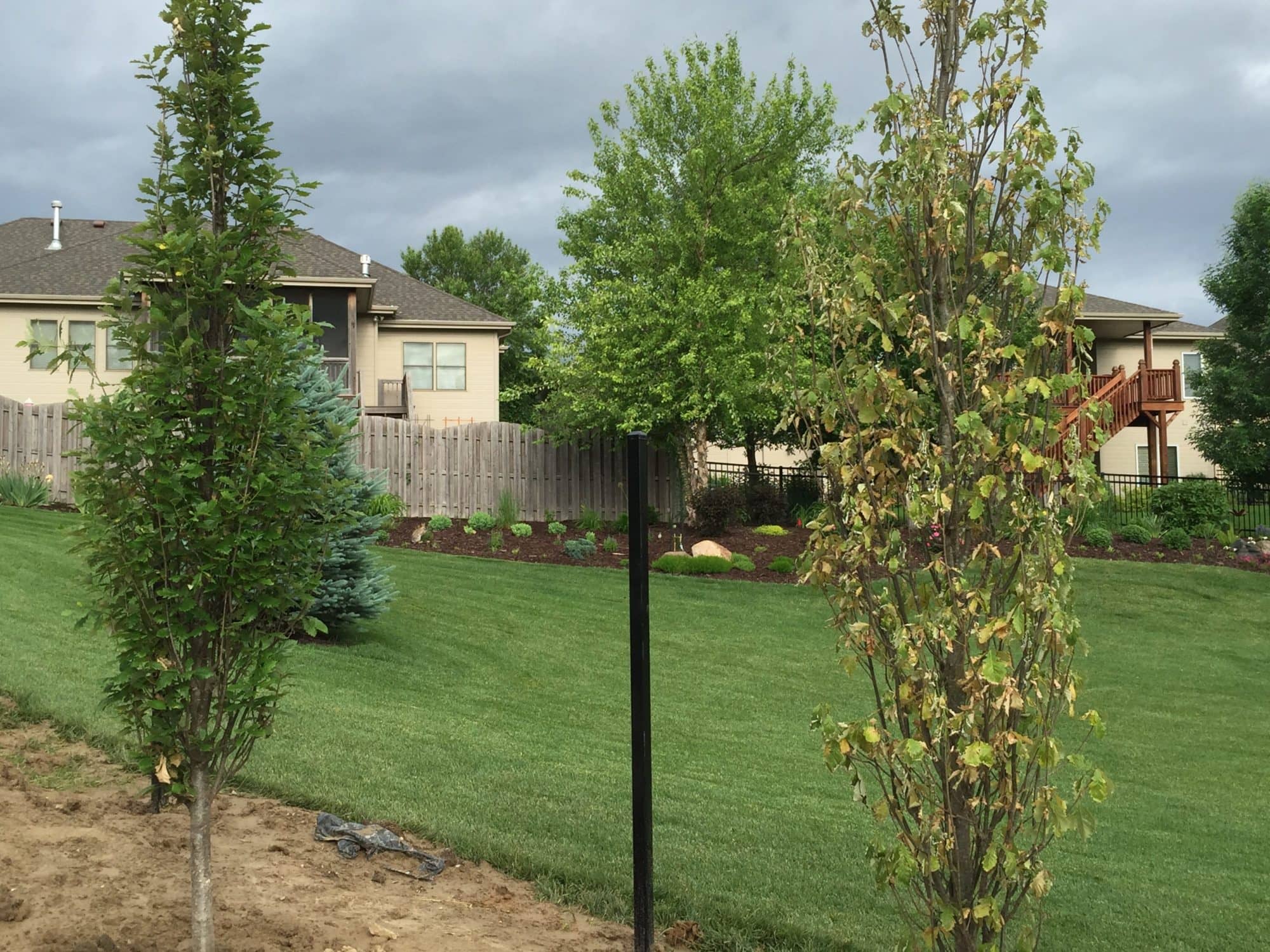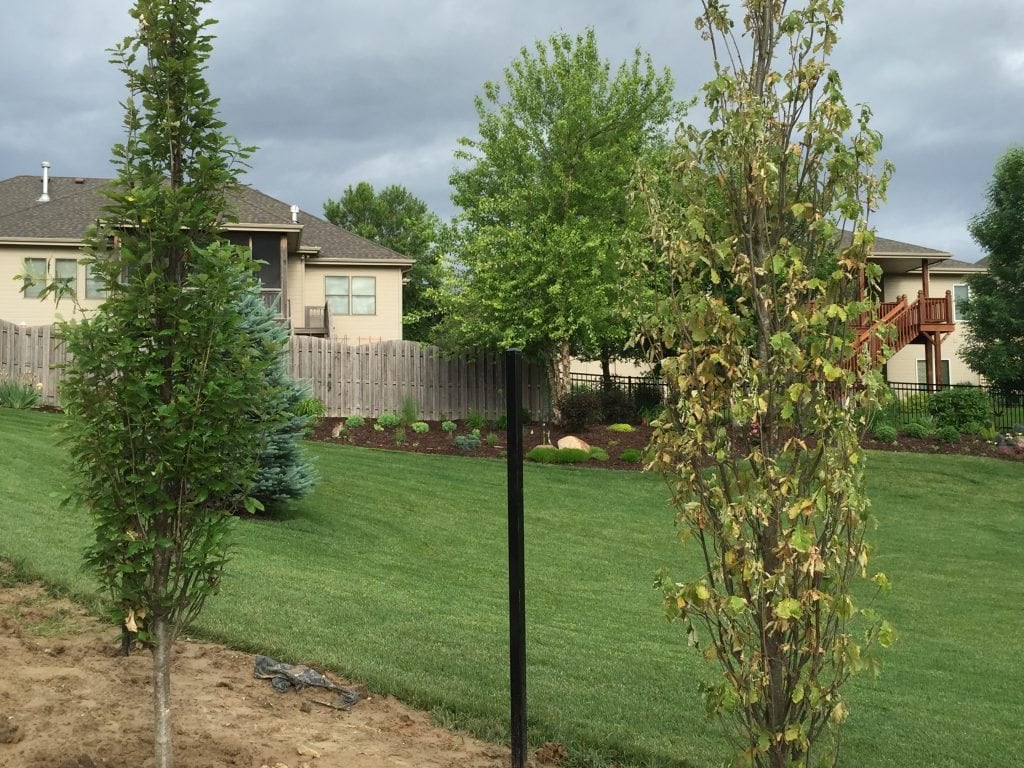 The guys from Phoenix Pools were finally able to come back to start working on the pool itself, now that our fence posts are in. The first order of business was cleaning up all the mud and crap that had washed away/built up in the bottom of the pool with all the recent storms. It took a full day, but the pool was looking so much better by later afternoon Tuesday!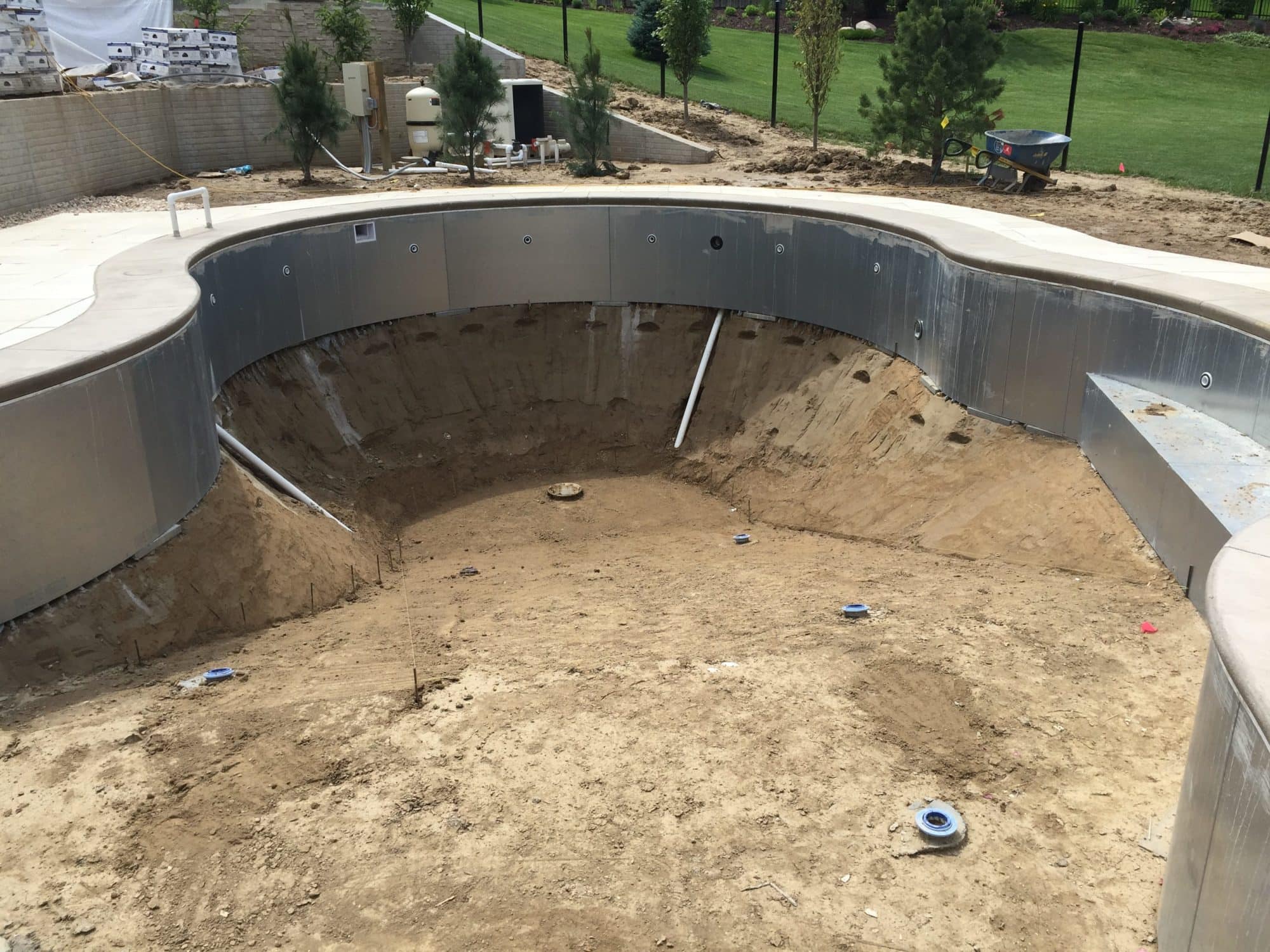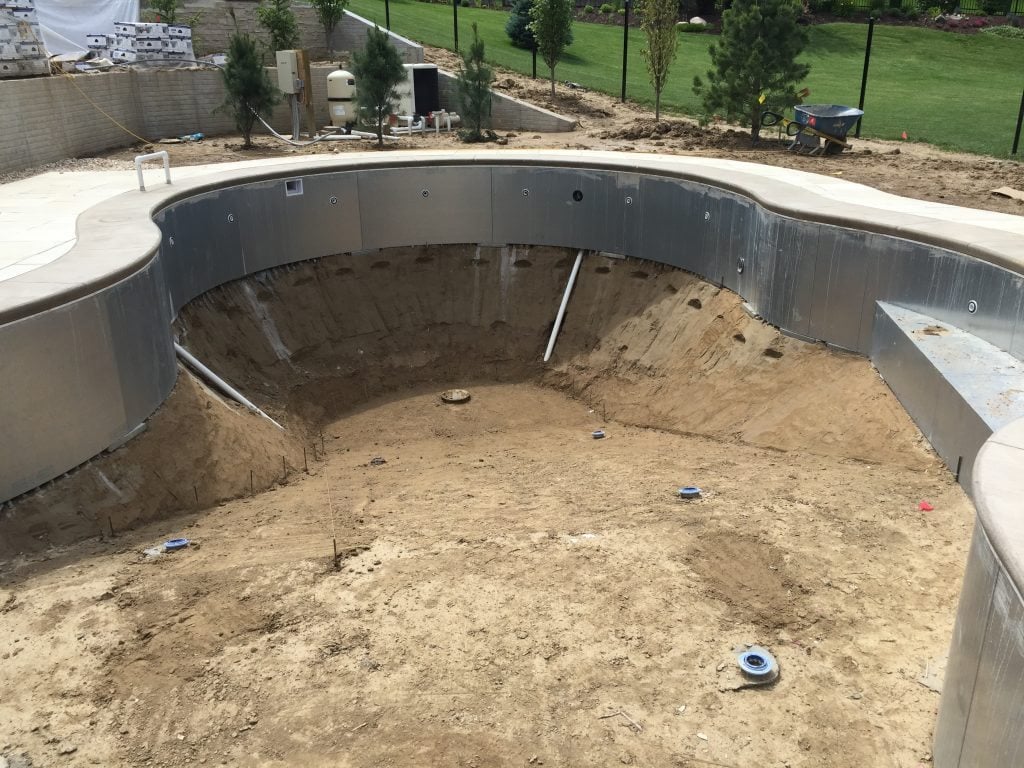 Wednesday, our replacement Vanderwolf Pine (to replace the dead one) along with a second we purchased arrived from Lanoha. They were about two weeks earlier than we expected, but it was actually perfect to get them in before the fine grading and irrigation/sod/mulch that will be occurring in the next few days. We're definitely closer to have more privacy back here!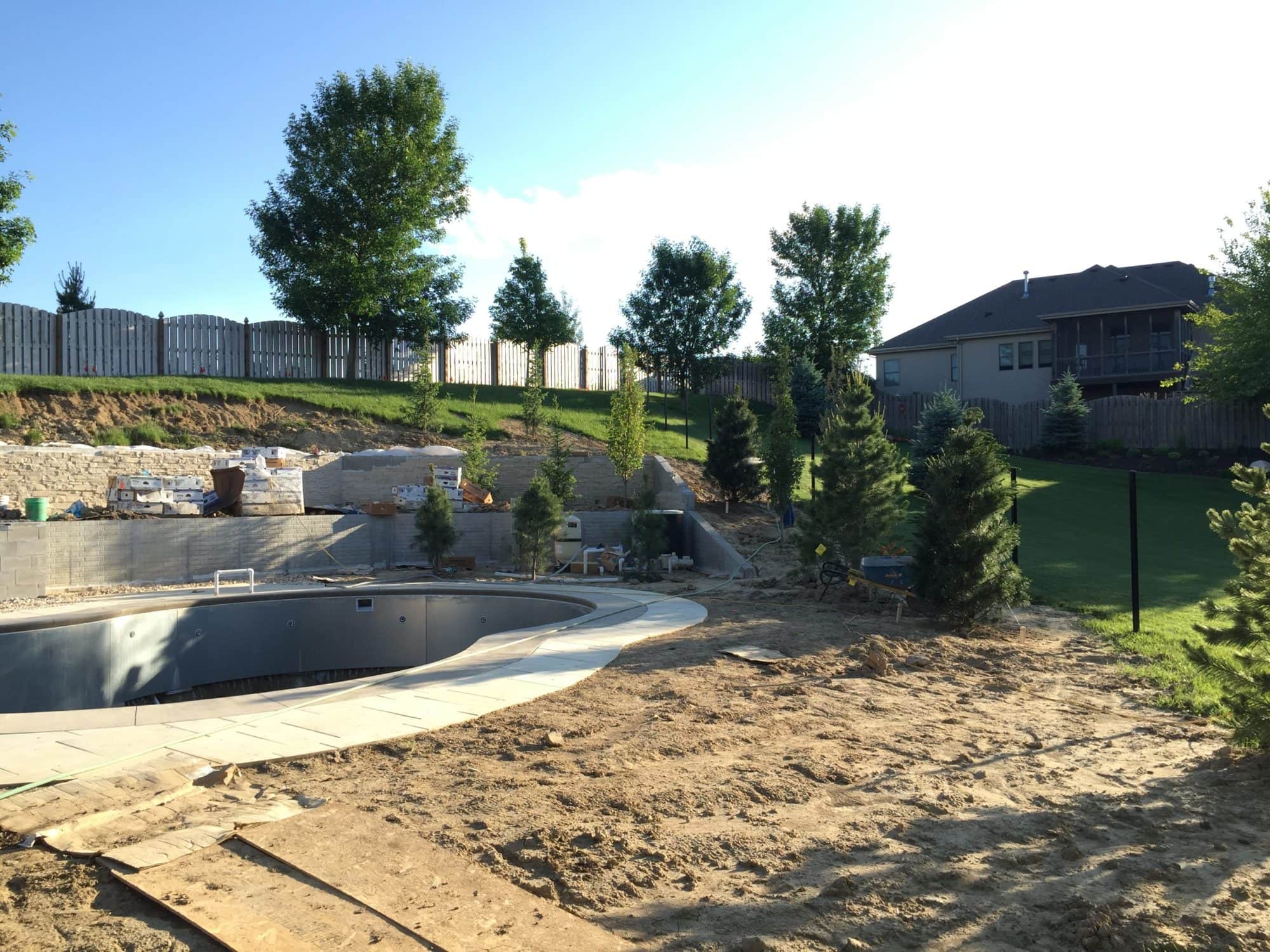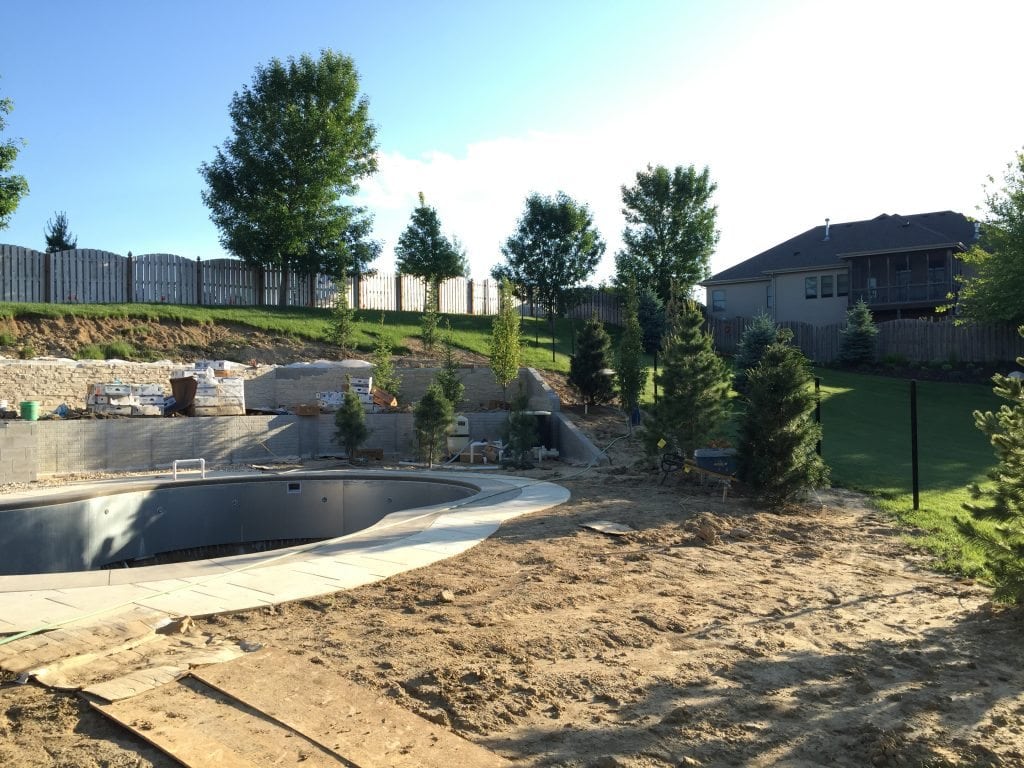 The site lines from the pool benches are so much better now! Even if my pics are crap 😉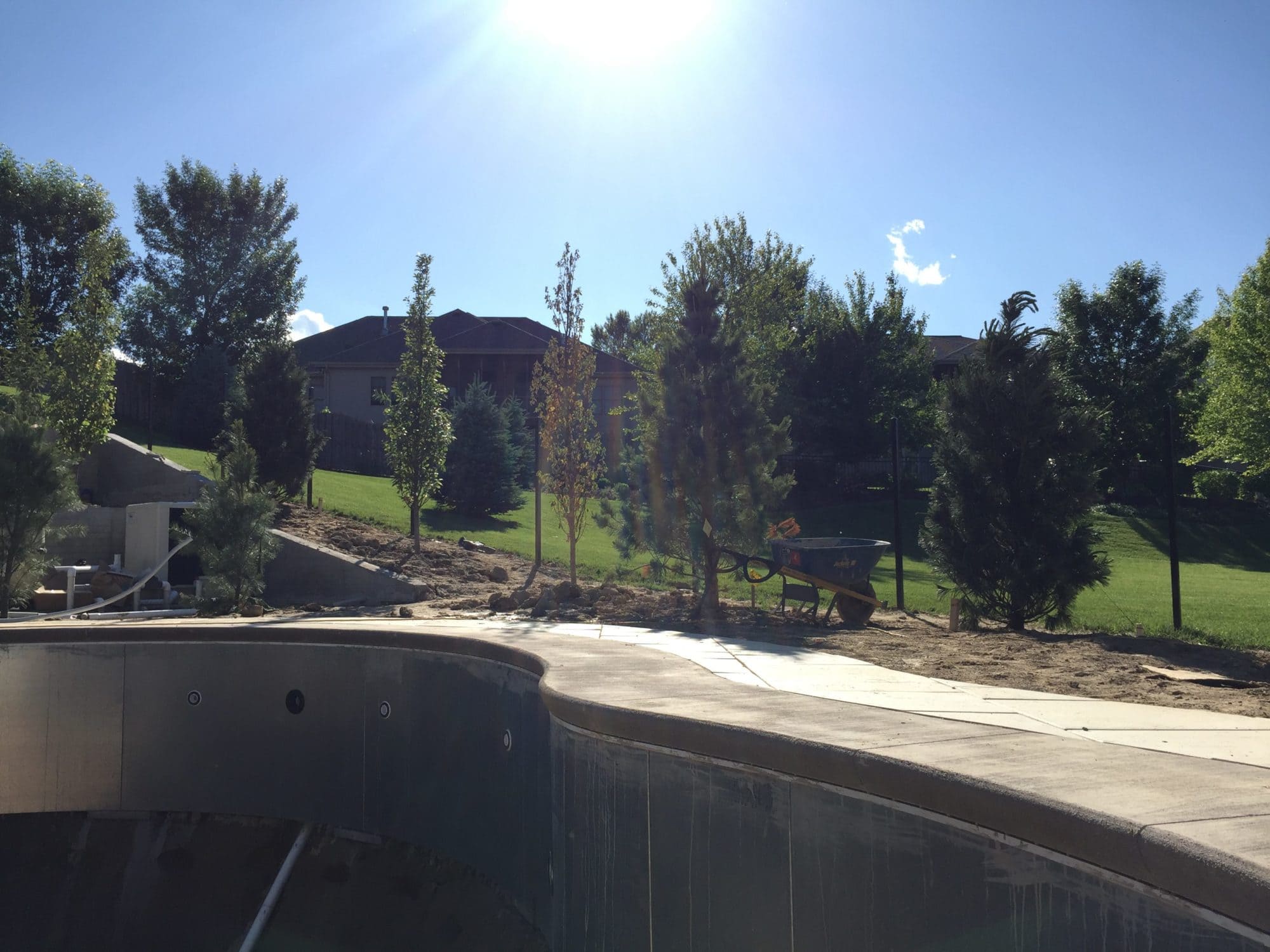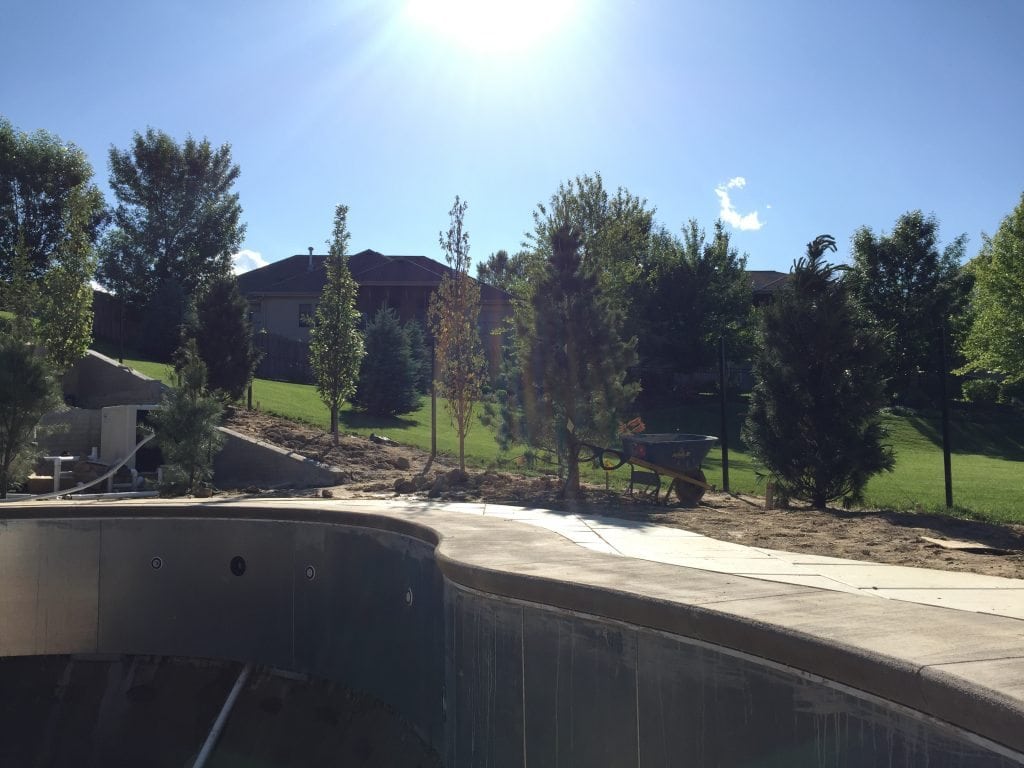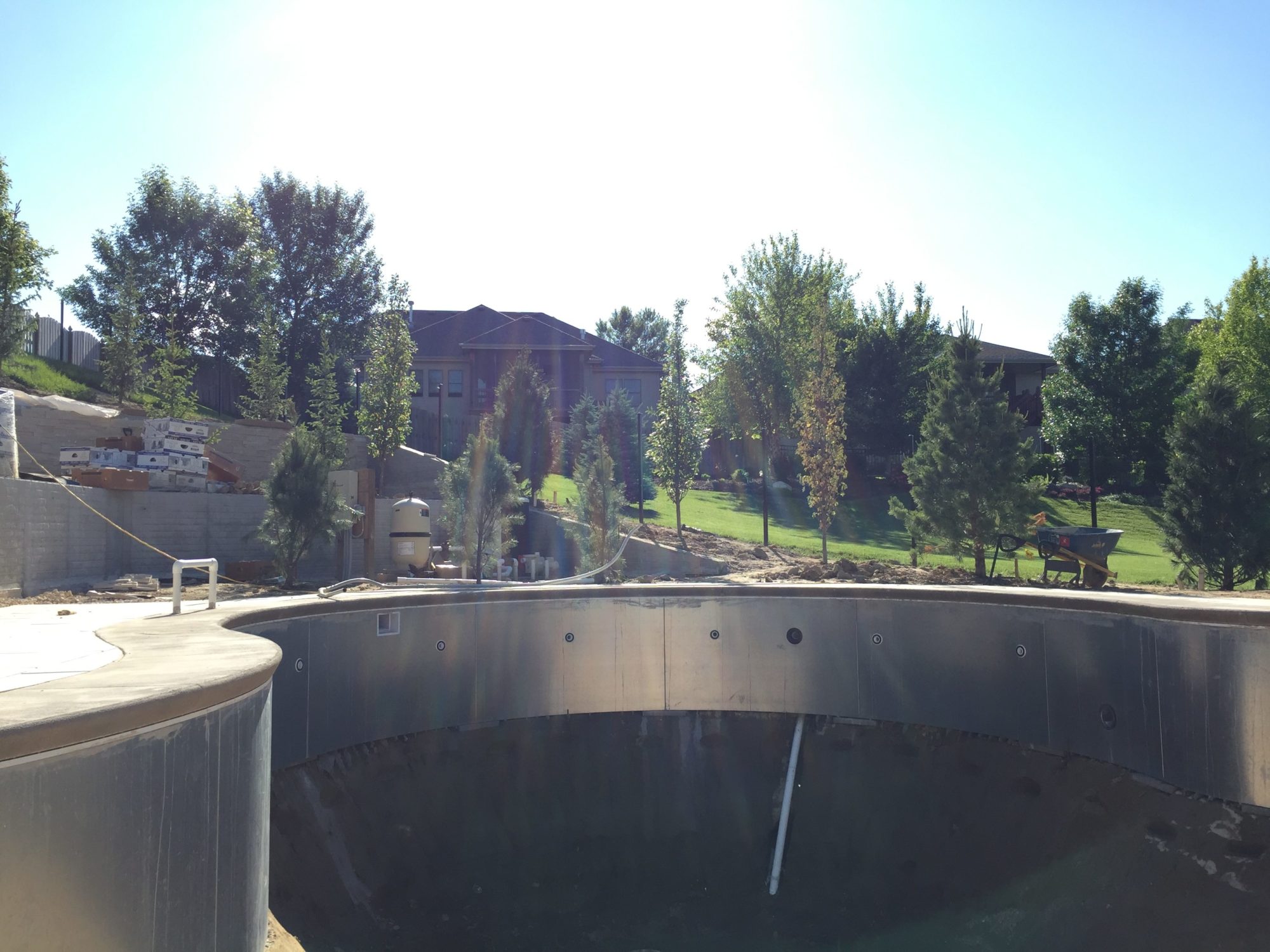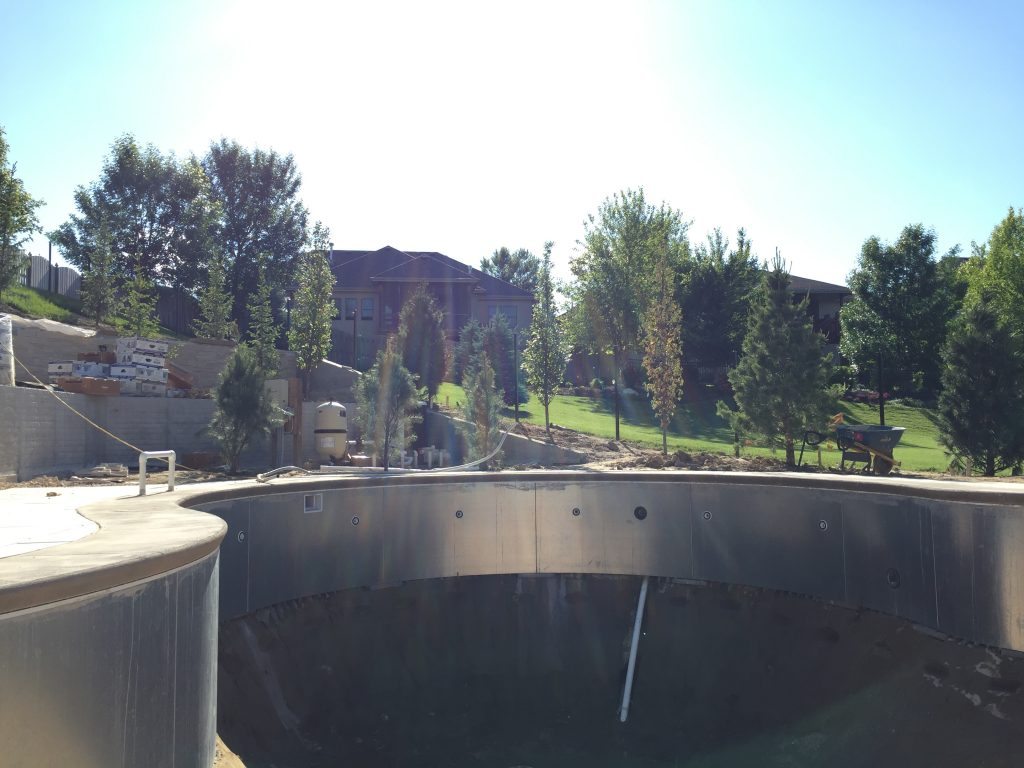 Last night was not a good night. We were told the graders were coming today and that everything had to be moved off the dirt. That included the two 2500 lbs pallets of stone veneer that were up on the second level, along with all the garbage that has been left on the site along the way. After nearly three hours, we got everything cleaned up and got the graders to agree to move the pallets since each individual box was about 140 lbs and we weren't able to move them by hand. Not a fun night.
Here's all the stuff we had to clear out. Keep in mind, 90% of it was covered (and/or buried) in mud.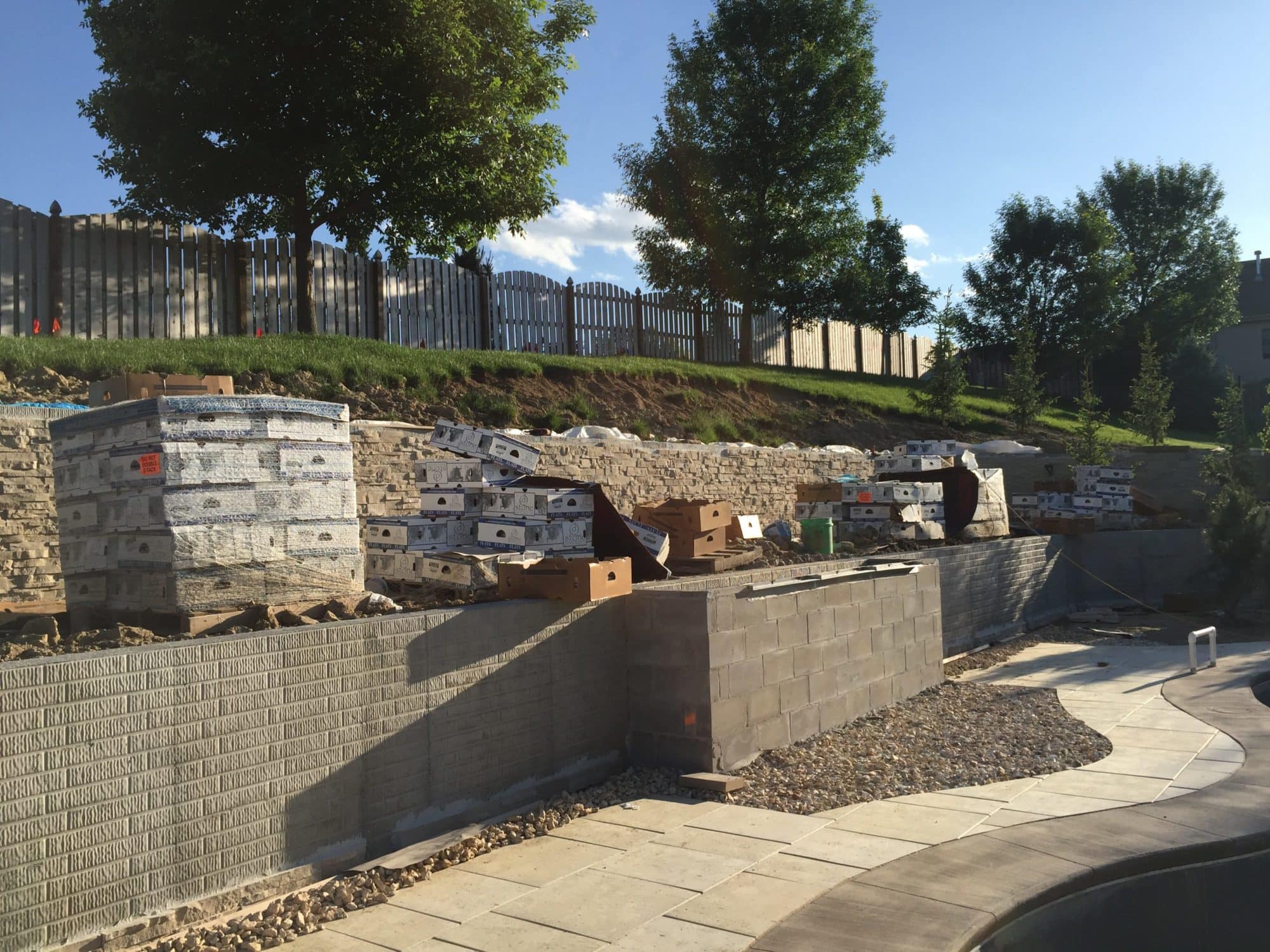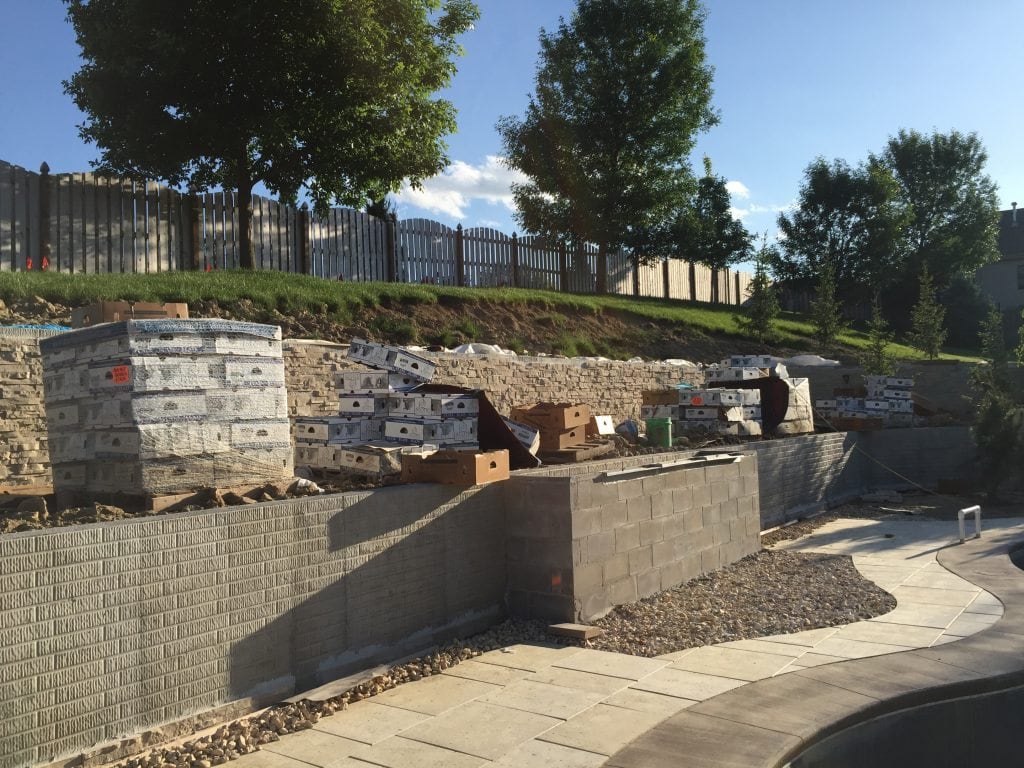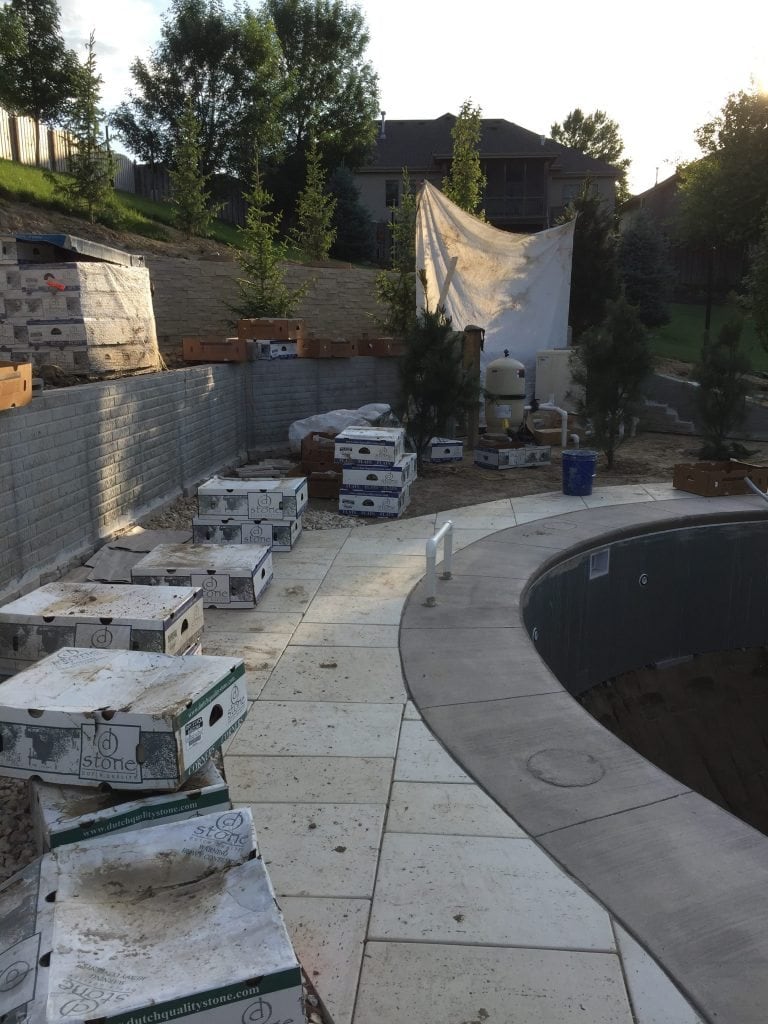 Here's how it looked at 8:40 last night. We got everything (other than the two pallets) off the dirt.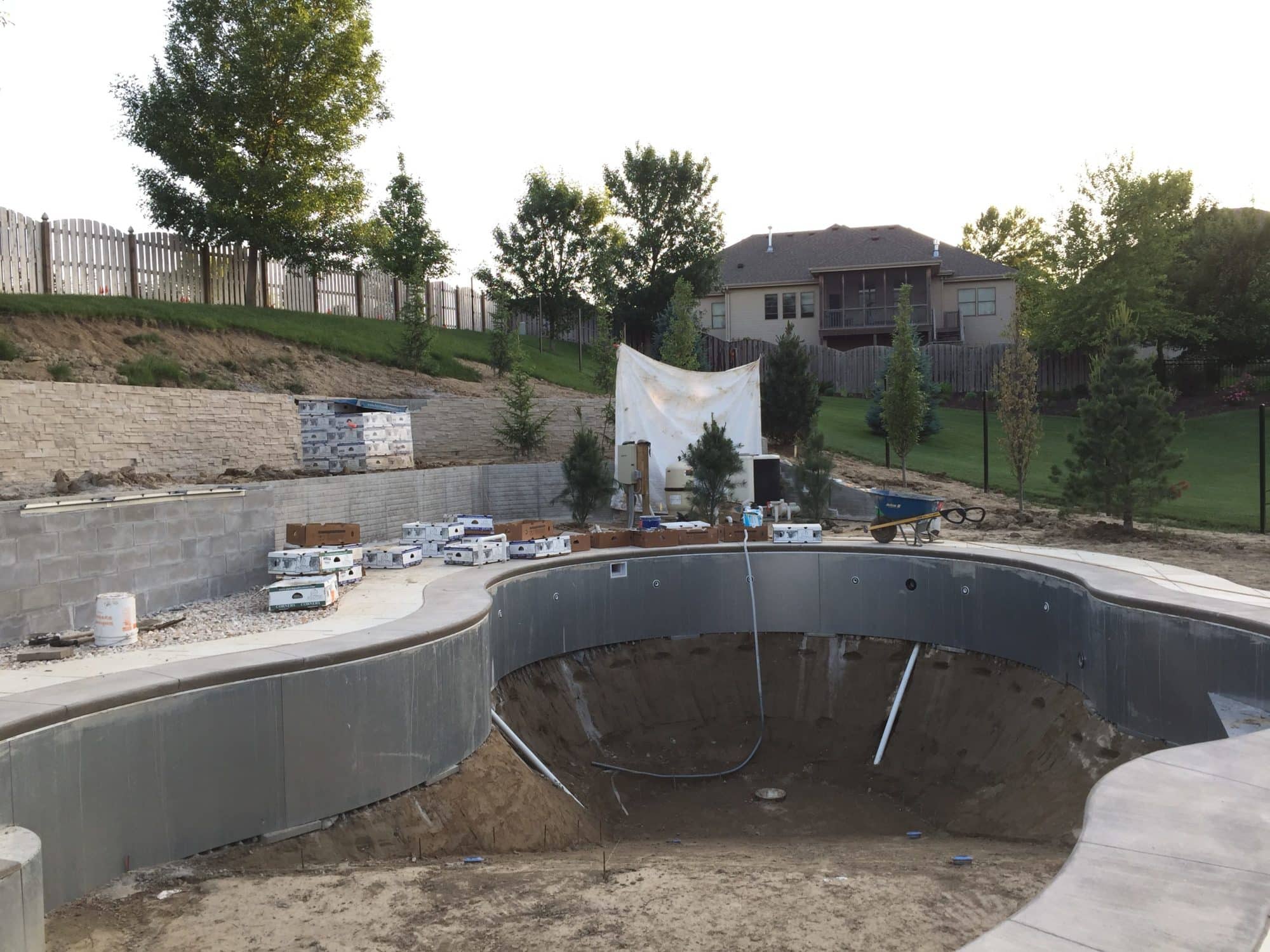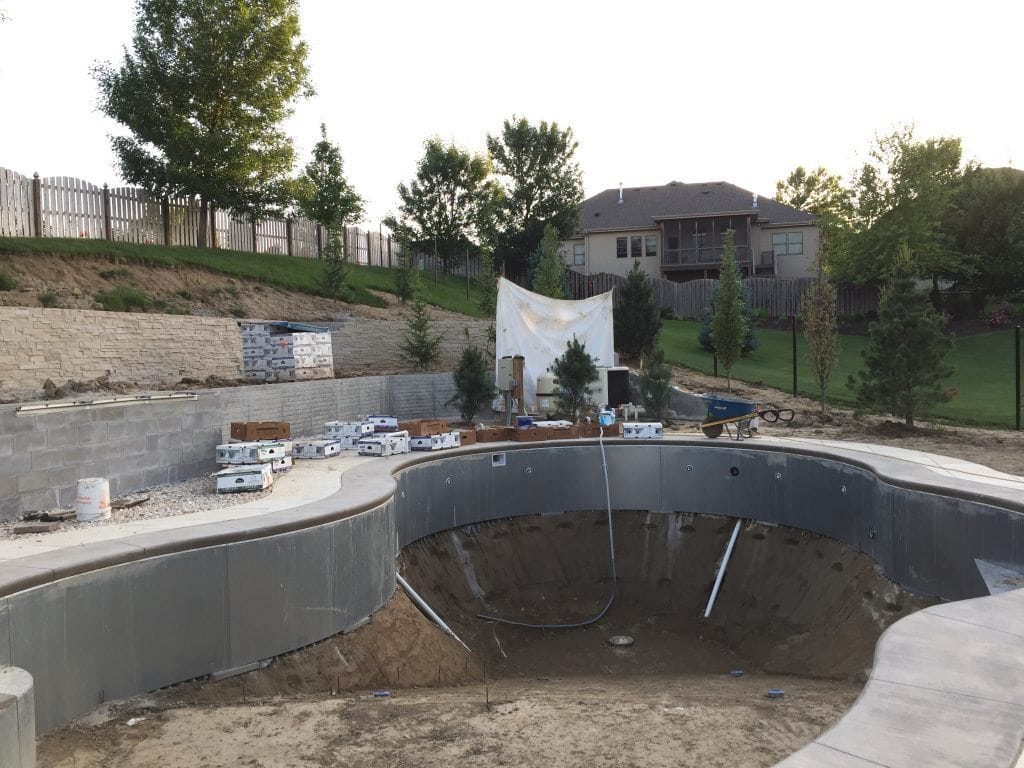 Here's to hoping things go smoothly from here on out.  The good news is, nearly the entire left-hand side of the lower wall has stone now, along with the area behind the pool equipment, so it is definitely getting really close to being done.
In happier news, today I'm also sharing my rough design board for the space, and I do mean rough, but at least it gives you a visual of where things are headed. Everything you see here is either on its way to us or has already arrived, so we have a lot of assembly in our future 😉 I'm sure we'll have a few tweaks when all is said and done, but this is the base of what we'll have in terms of bigger items.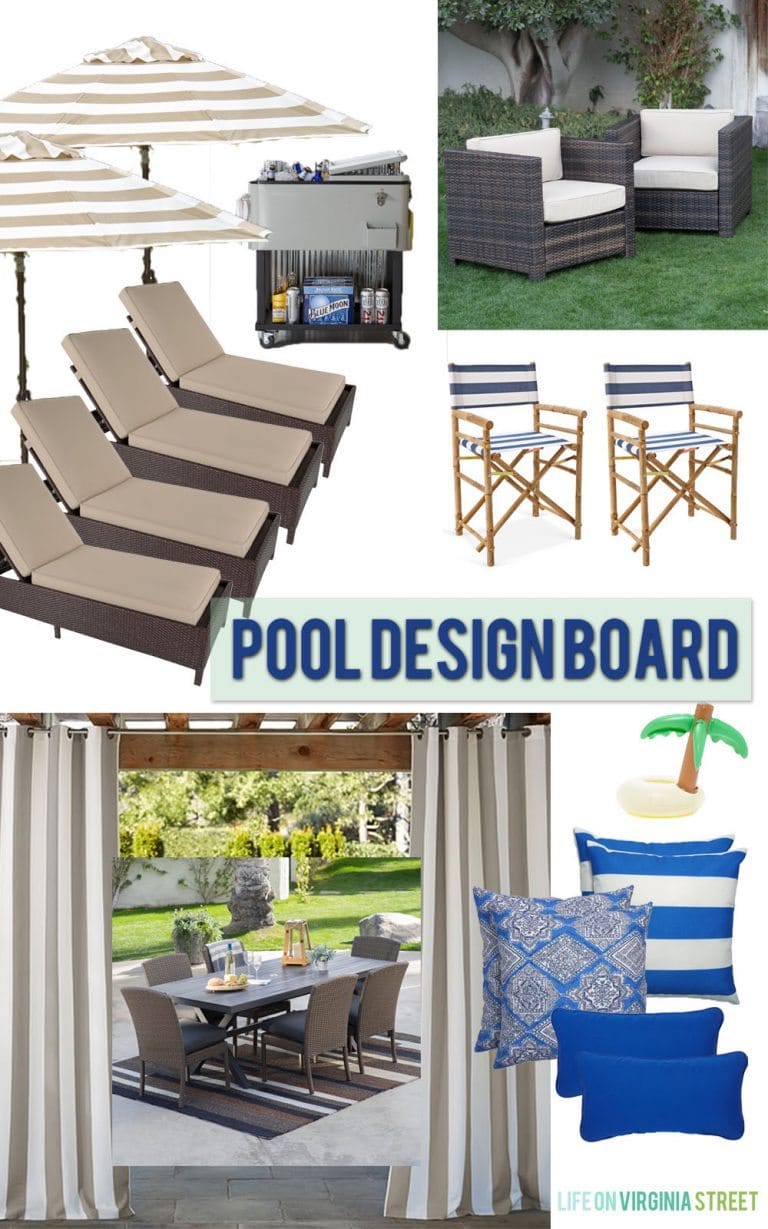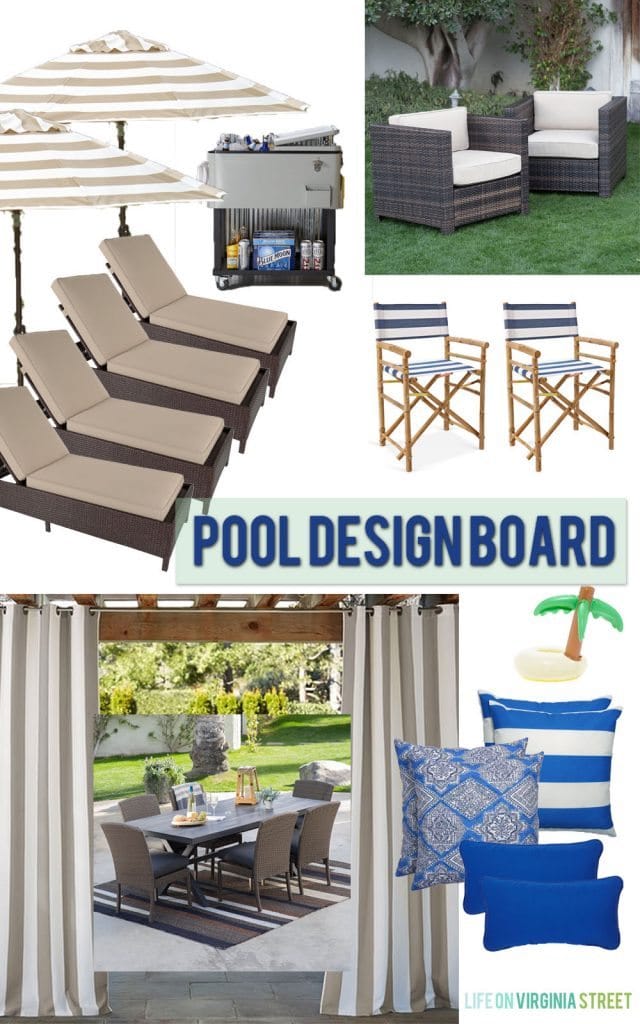 Chaise Lounge Chairs | Outdoor Striped Bamboo Directors Chairs | Conversation Set | Striped Umbrellas | Outdoor Dining Set | Rolling Cooler | Solid Blue Pillows | Blue Patterned Pillows | Blue Striped Pillows | Palm Tree Drink Float | Outdoor Striped Curtains
Shop the look with the links above or my clicking the images below:

I was going for a beachy/California/Cabo/Restoration Hardware vibe if that makes any sense at all. Haha – it really doesn't, but it makes sense in my mind. The best part is, I've started receiving a lot of these items already and it is killing me that they can't be put to use yet! Patience is definitely not one of my strengths.
Kurtis and Justin are planning to install the wall caps over the weekend so we'll be even closer to a finished product by this time next week. The wall guys plan to have all the stone veneer installed no later than Monday, including on the water feature, and Phoenix Pools should be back next week to pour concrete and hopefully drop in the liner (if the fence panels arrive and get installed next week). We are so close now (I hope)!
Next week is already summer home tour week, plus I have a few other really fun posts lined up! Have a great weekend!
If you would like to follow along on more of my home decor, DIY, lifestyle, travel and other posts, I'd love to have you follow me on any of the following:
Pinterest / Instagram / Facebook / Twitter / Bloglovin' / Google
disclosure: some affiliate links used