Good morning! I hope you all had a nice weekend! In lieu of our Weekend Recap, today I'm sharing our Napa/Sonoma Itinerary for those of you that asked! I know quite a few of you had trips coming up rather quickly in the coming weeks so I wanted to get this posted as quickly as possible.
As I mentioned previously, our friend Jill did nearly all of the planning for the trip. We were celebrating her 40th birthday, and she had been to the area two other times in fairly recent years. Kurtis and I had not been together in Napa/Sonoma for over 15 years. At that time, we spent most of our time north of Sonoma during that trip. I then went in 2019 with a brand for a quick half-day trip. So, needless to say, we personally didn't feel like the planning experts this year and left it up to Jill.  Today I'm simply going to share our itinerary along with some photos for reference and a little bit of commentary.
I feel like our itinerary was a great mix of winery styles, and also left enough time for us to enjoy some pool time or down time at our hotel or in Sonoma! If you have a favorite spot in the area, feel free to leave comments on this post for others to read and review!
This post contains affiliate links for your shopping convenience. You can read my full disclosure policy here.
NAPA/SONOMA TRIP OVERVIEW
Where We Stayed: The Lodge At Sonoma. We really enjoyed the location and grounds of this hotel. The pool area was beautiful and a lot of fun. The rooms were nice (but definitely starting to show their age a bit). But we loved the property and felt like the service was great, as well.
Driver Details: We hired a driver for Tuesday morning/early afternoon and Wednesday morning/afternoon. We used Chris at My Napa Valley Driver, and loved him! The company uses your car (we ensured that we had one rental car big enough to hold all of us) and then he'll meet at your hotel and drive you using your itinerary. He was also great at offering insights, suggestions, etc.
How We Booked: We booked the hotel and rental car through Costco. I had always assumed it was more of a travel agency service, but you can peruse a lot of their deals and self-book. I was truly impressed with how much more affordable our hotel was through Costco, and the rates included a free rental car! That worked well with our group, since there were a few arrivals/departure differences and we all had access to our own car. We opted to fly through Sacramento rather than San Francisco. Flights were rather crazy at the time we booked, so much of used airline miles to cover our flights.
We had all been to Napa & Sonoma before. So we wanted to ensure we had a good mix of wine tasting, but also some down time and relaxing! I loved that our agenda wasn't super jam-packed every day. Since we were there the last week of August, the morning were cold and brisk and the afternoons were hot. In terms of dress code, we were all fairly casual during the days (shorts, cute tops, or sundresses). At night we'd dress up a bit more, but never anything too fancy!
Although we stayed on the Sonoma side, most of the wineries we visited this time around were on the Napa side.
NAPA/SONOMA ITINERARY
Monday:
Arrivals
Pool time
El Dorado Kitchen for dinner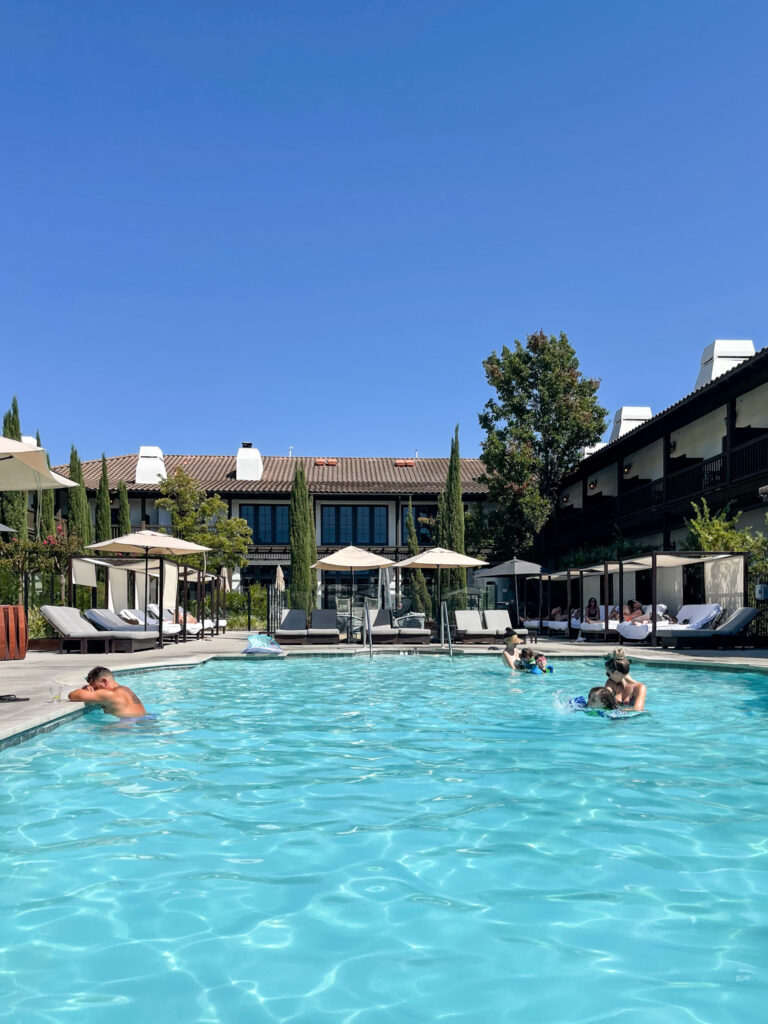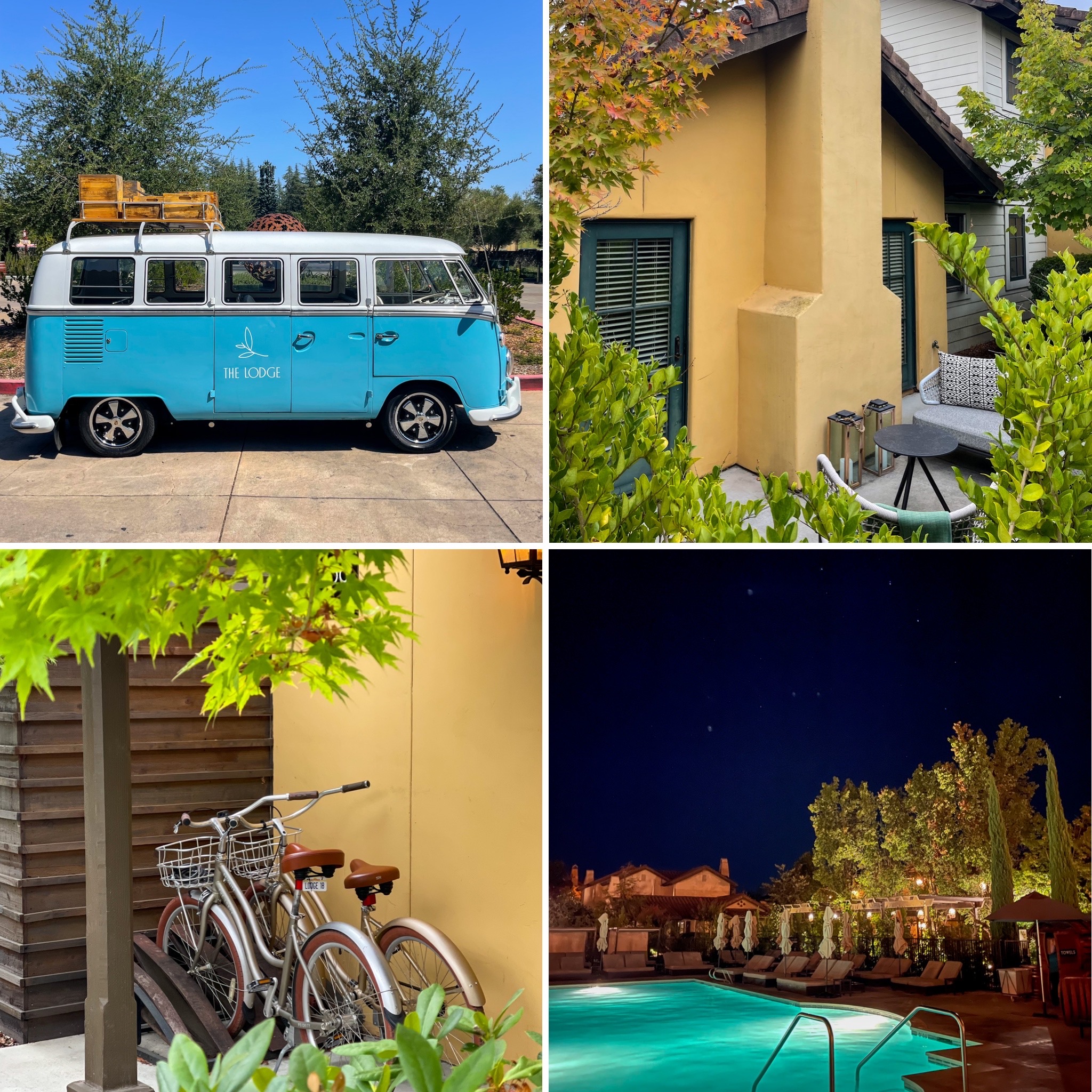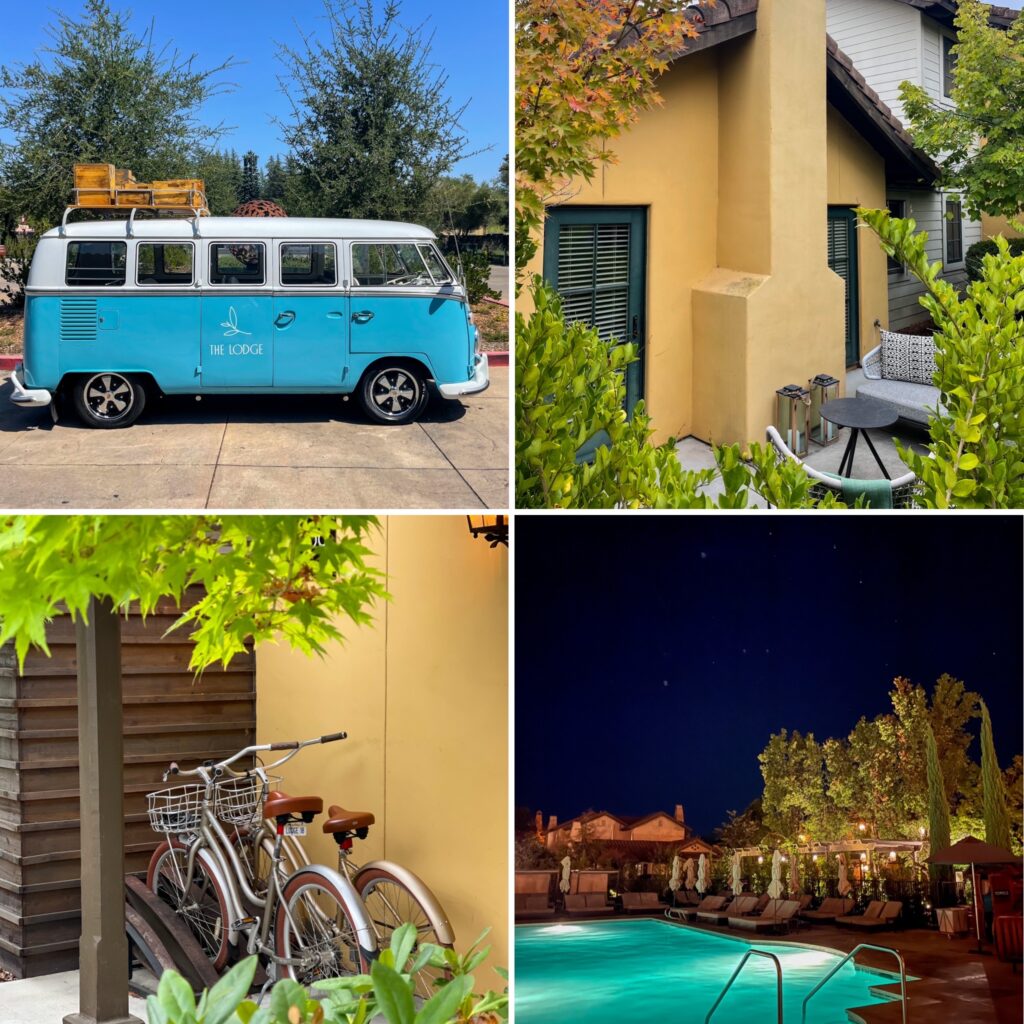 El Dorado kitchen is in the town square in Sonoma. We loved the huge California style dining table we were seated at. The food and cocktails were excellent as well! Our hotel had a shuttle service that could run you to the town square and then pick you up when you were ready so it worked out well.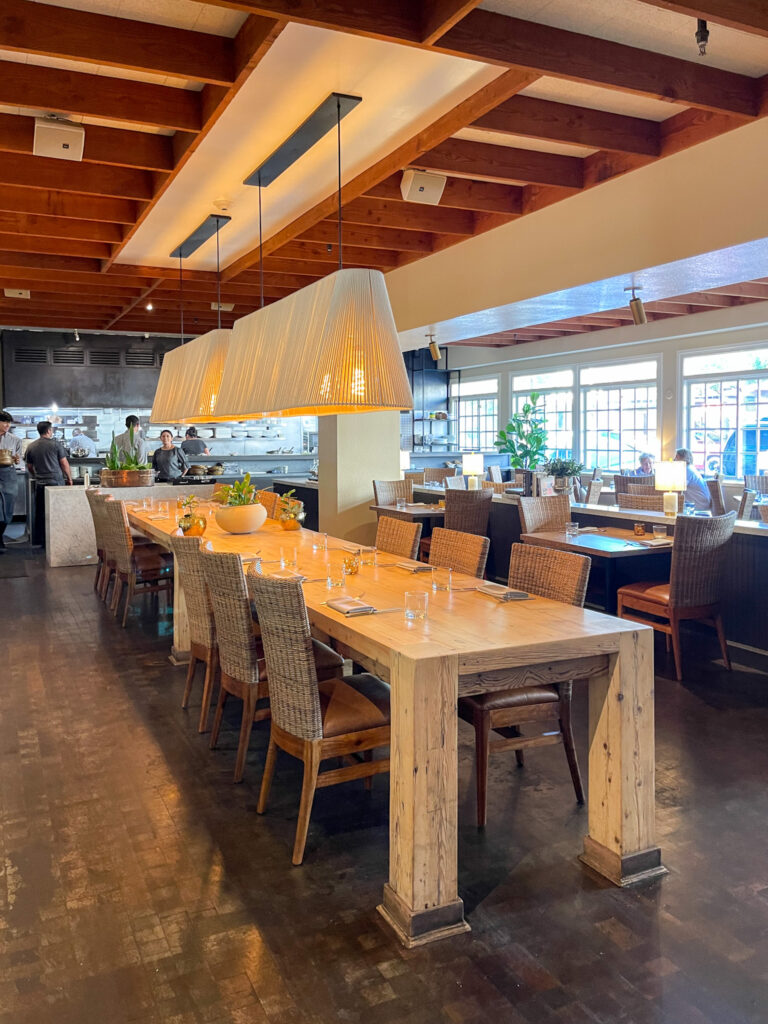 Tuesday:
Frog's Leap – 10:30 am
We were going to hit Oakville Grocer's for lunch, but ran short on time. Our driver had some snacks we ate instead!
Prisoner – 12:00 pm
Chandon Bubble Bar – 1:30 pm
Gundlach Bundschu – 3:00 pm
Pool time and then snacks/dinner from the hotel bar area
Frog's Leap was a fun first stop, and I wish we had a bit more time here to wander their beautiful grounds! We were all also obsessing over their paint colors 😉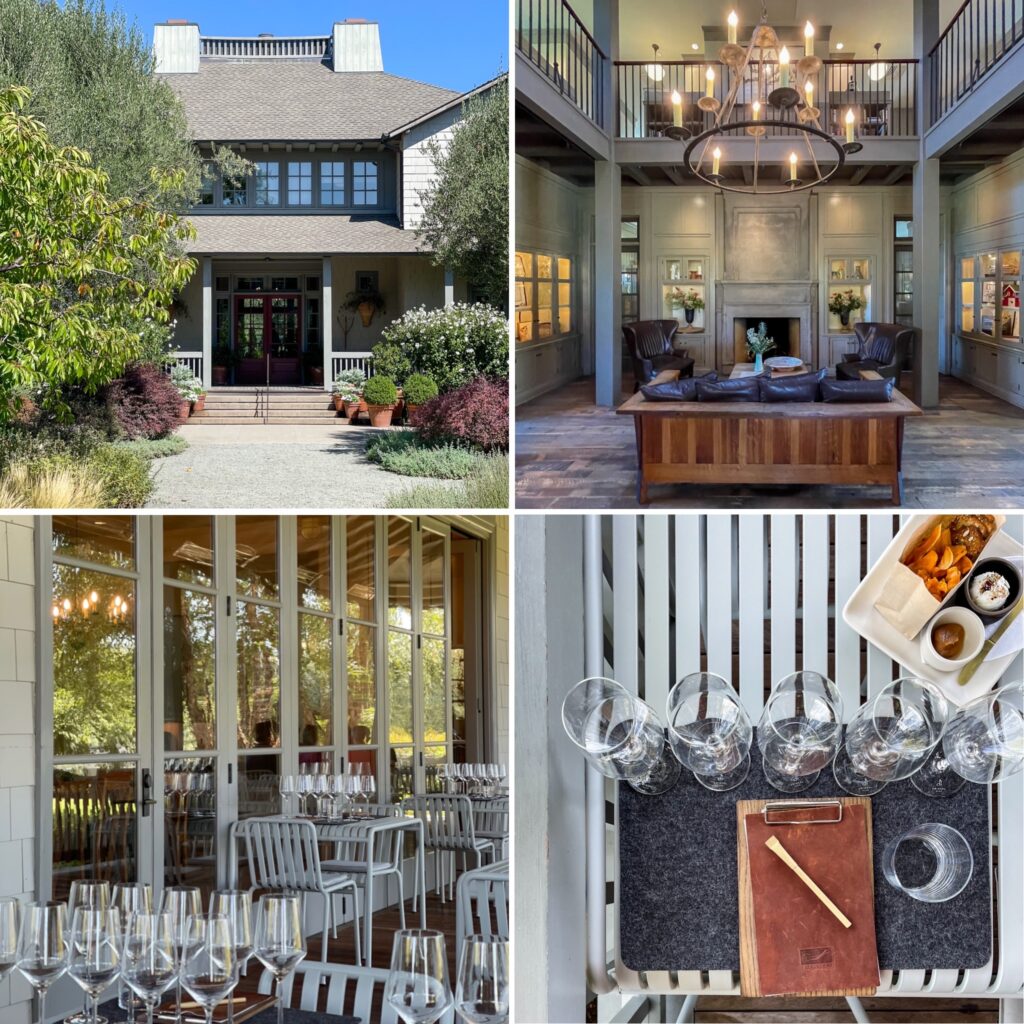 Our friend Jill is a wine club member at a few places, like Prisoner, so many of our tasting fees were waived or reduced. That helped with overall costs. Napa/Sonoma has changed a lot since we were there 15+ years ago, and most places now prefer reservations for larger groups, and in some cases, pre-payment of tasting fees.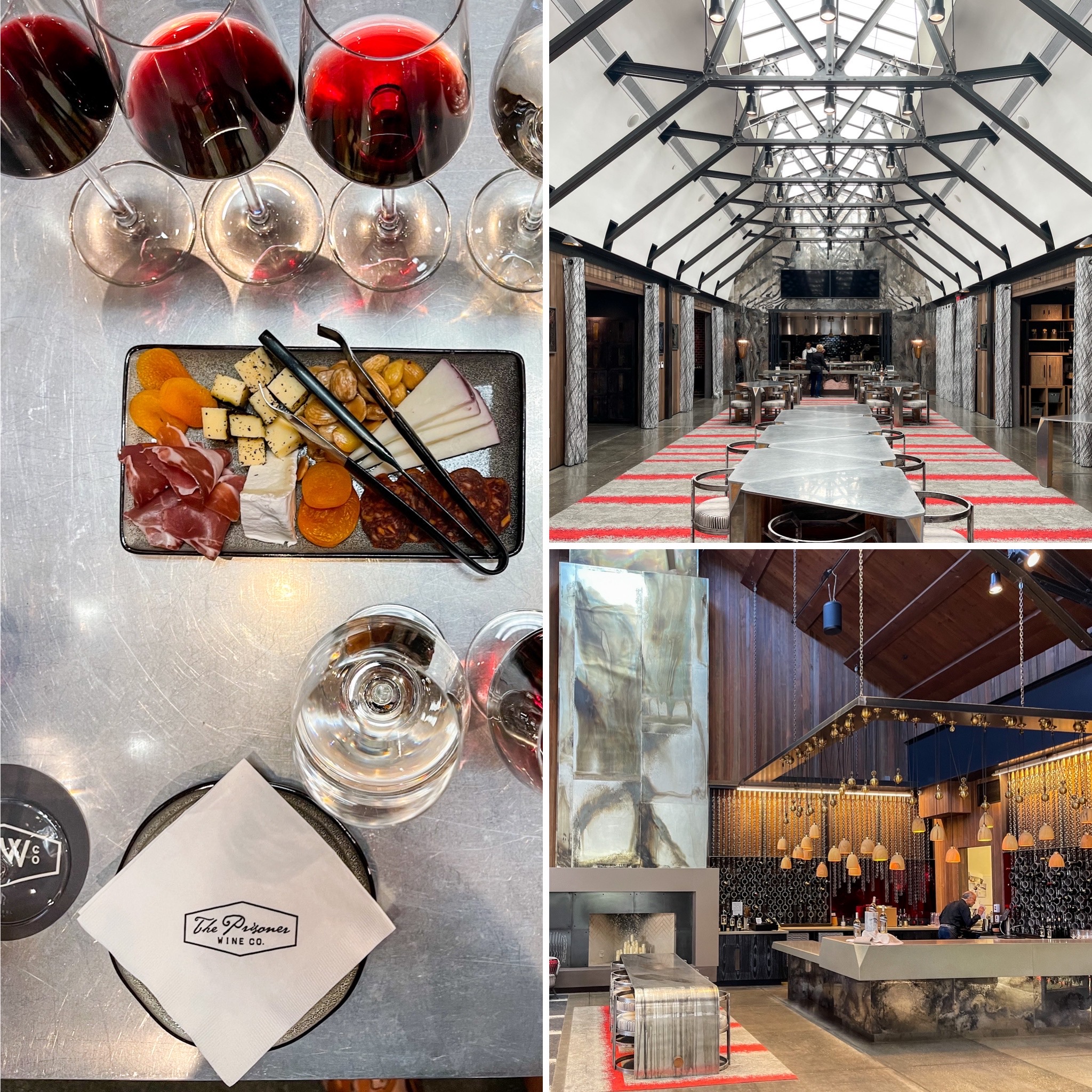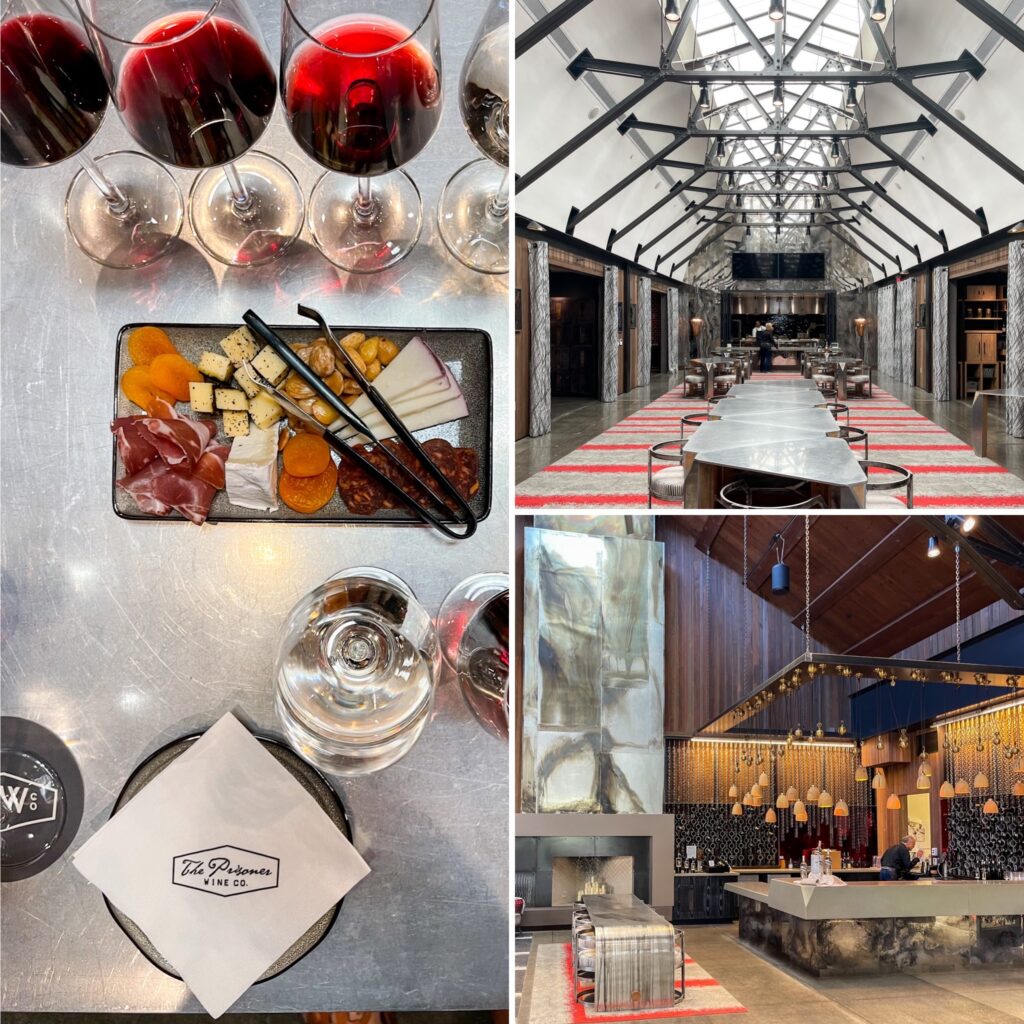 The Chandon Bubble Bar was fun to visit, but was also under construction. We were also told we had to be very quiet because a VIP was there and we couldn't disturb them. We basically grabbed one glass and then left. It was fun to visit, but I'm not sure I'd make a point to go again in the future unless it was near something else we were visiting.
Kurtis had a half-day meeting that he needed to attend in the morning, so he wasn't able to join us for the first half of the day. Once we wrapped up at Chandon, we headed back to the Sonoma side, picked him up, and headed to Gundlach Bundschu. Most of us were pretty wined-out at that point, but their grounds were beautiful and we loved the casual vibe! It was close to our hotel and a great way to end the first day of tastings! We also like that we could order meat and cheese trays here, as we were all needing a snack at this point.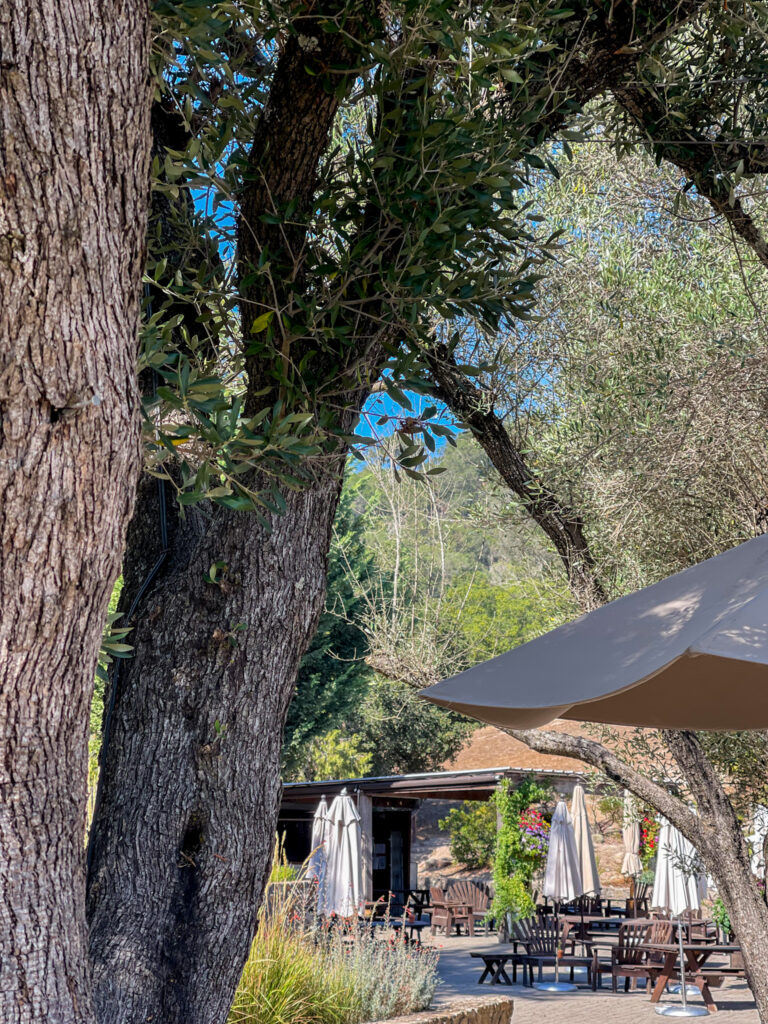 We ended the first day at the pool and then just had casual snacks and salads from the hotel bar in the evening. We wanted to make it an early night so that we were ready for our next day of tastings!
Wednesday:
Mumm – 10:30 am
V Sattui – 12:00 pm
Piazza del Dotto – 2:00 pm
Dinner at Wit & Widsom
Mumm is all about the bubbles! It was a great way to start the morning. The couples each split one tasting, which worked out well!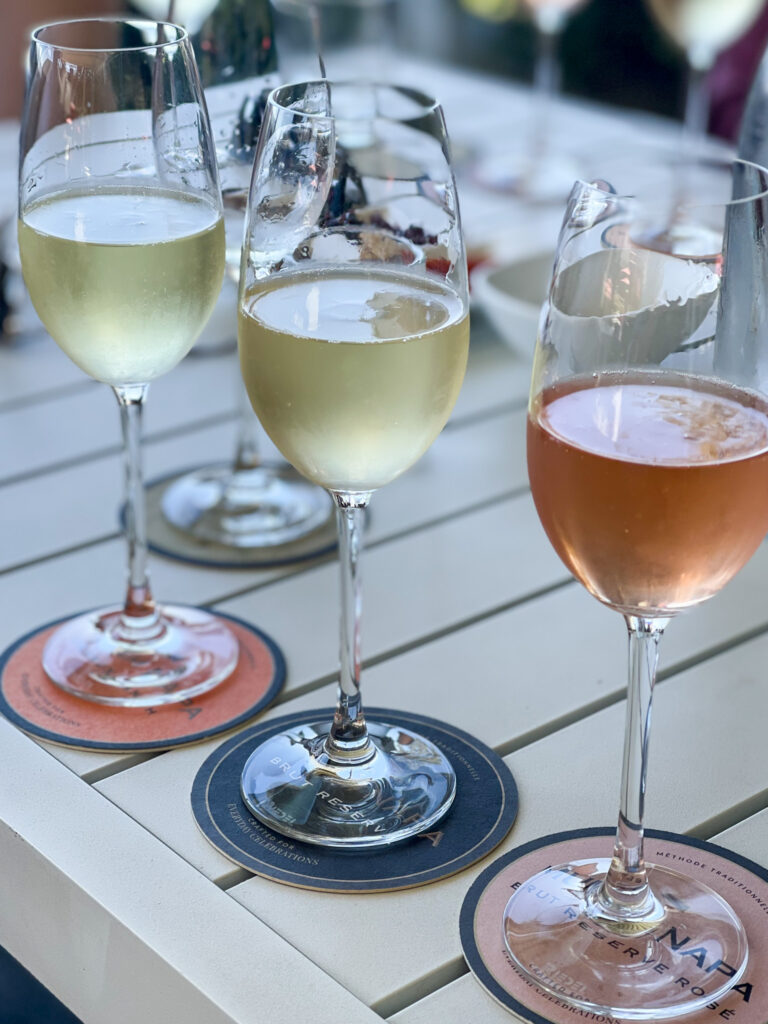 Back when we visited the area for Kurtis' 30th birthday 15 years ago, we went to V. Sattui for lunch one day and loved it. It's more of a deli style winery, with an incredible selection of meat, cheese, and other deli items. The wine isn't top notch but they have beautiful grounds and it's a fun way to make a picnic and have lunch outside. We had just as much fun this time around as we did last time!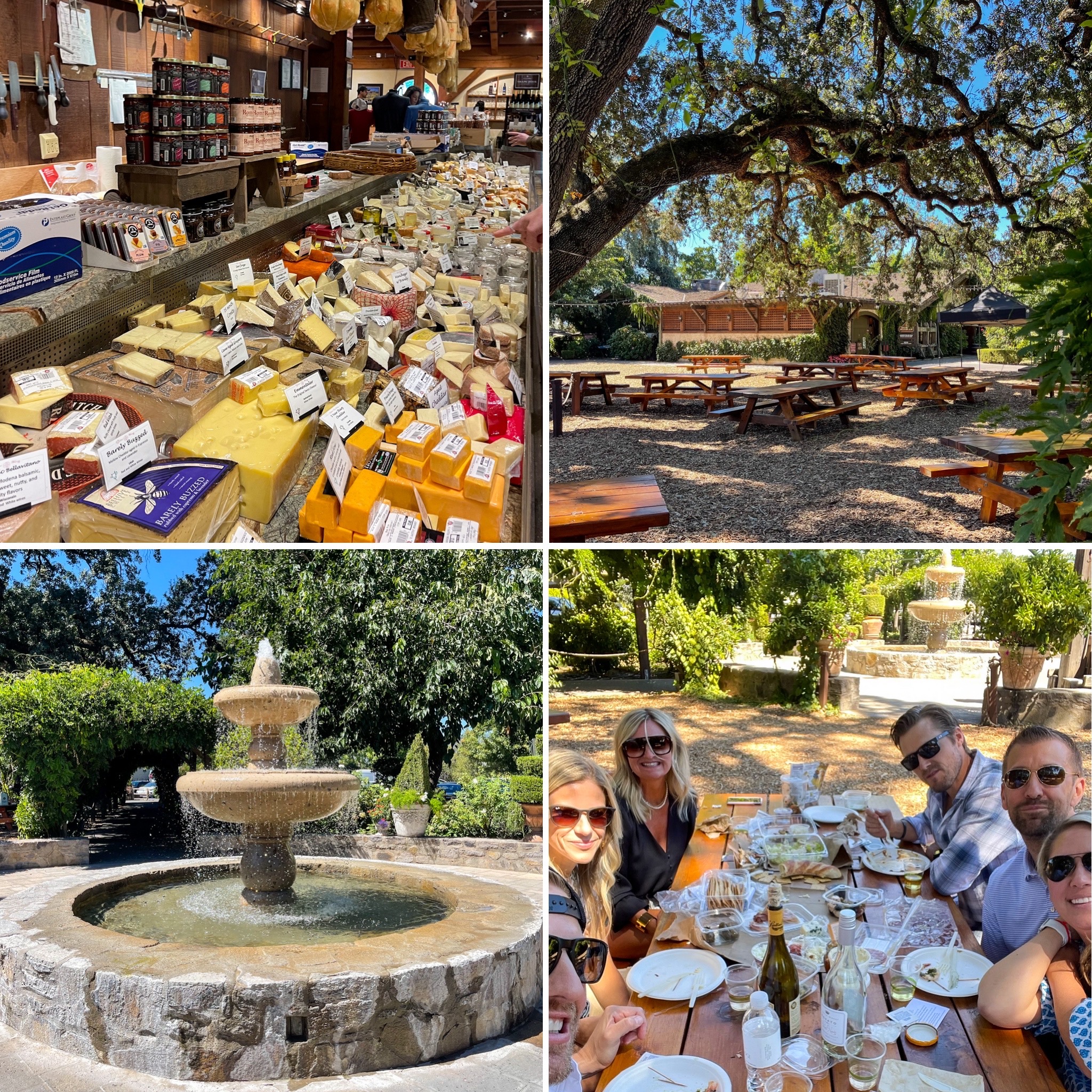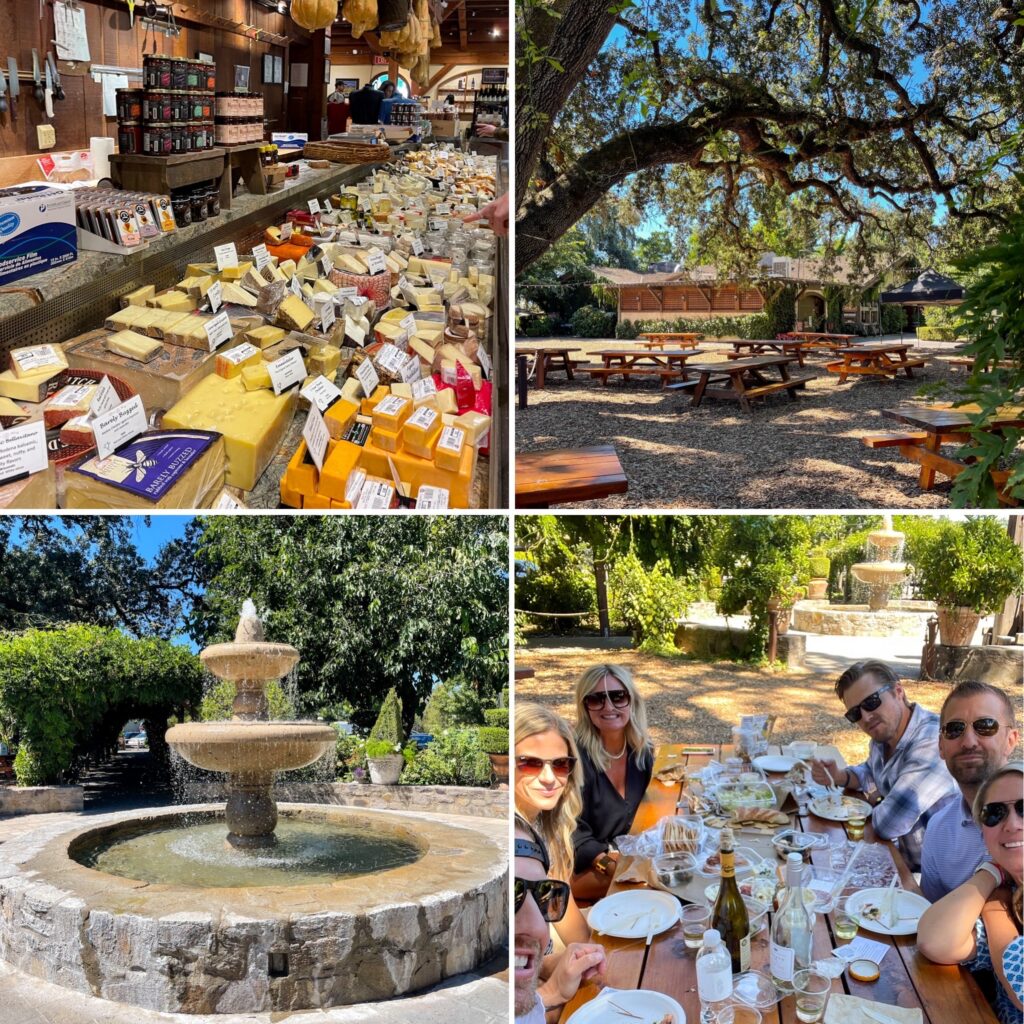 We wavered back and forth on going to Piazza del Dotto because the tasting fees were so high. But, it was definitely one of the highlights of our trip! Their tasting is definitely much more of an experience, as you tour their wine caves, learn some history, drink a lot of wine, and then get fresh pizza (and tater tots) after your tour! We loved our experience here!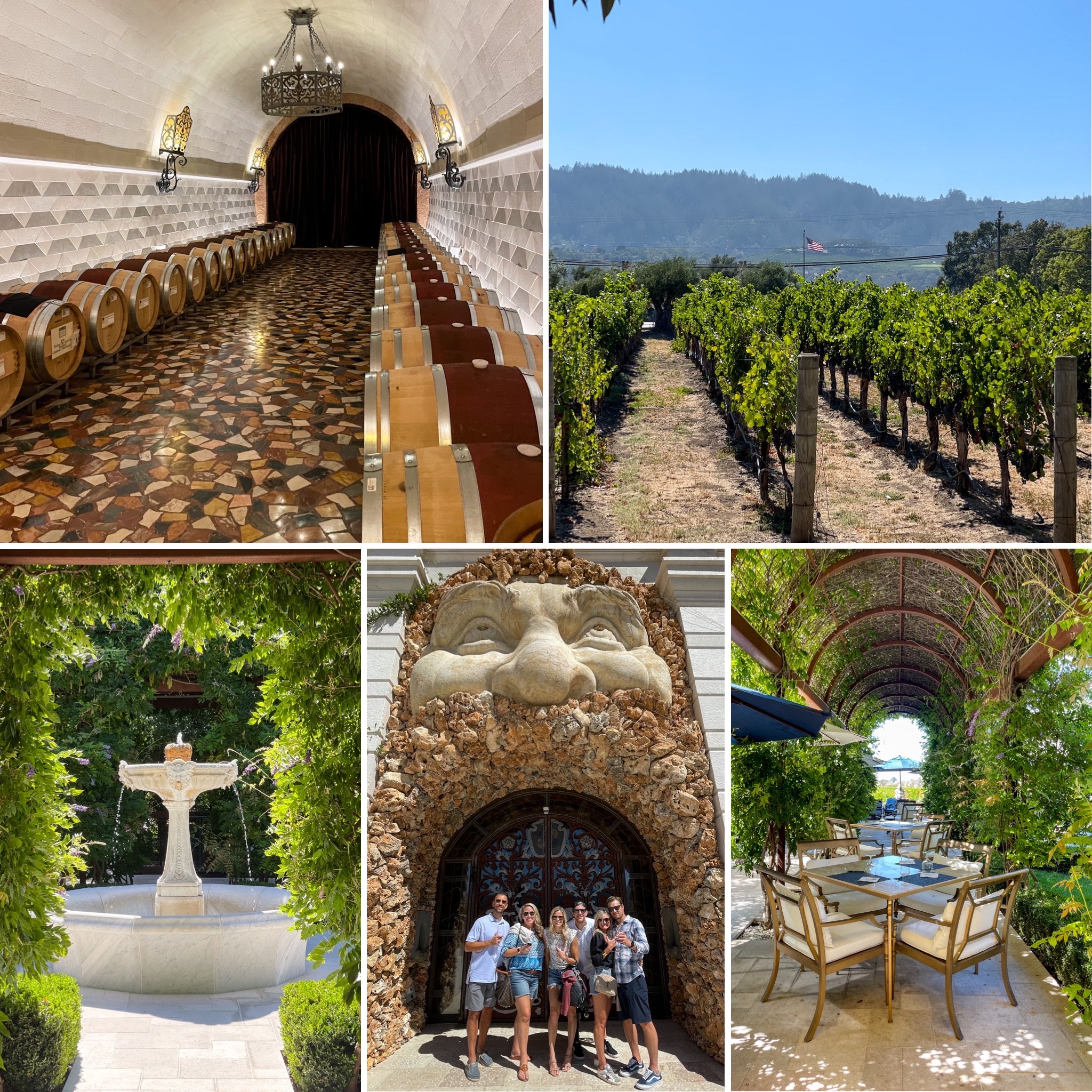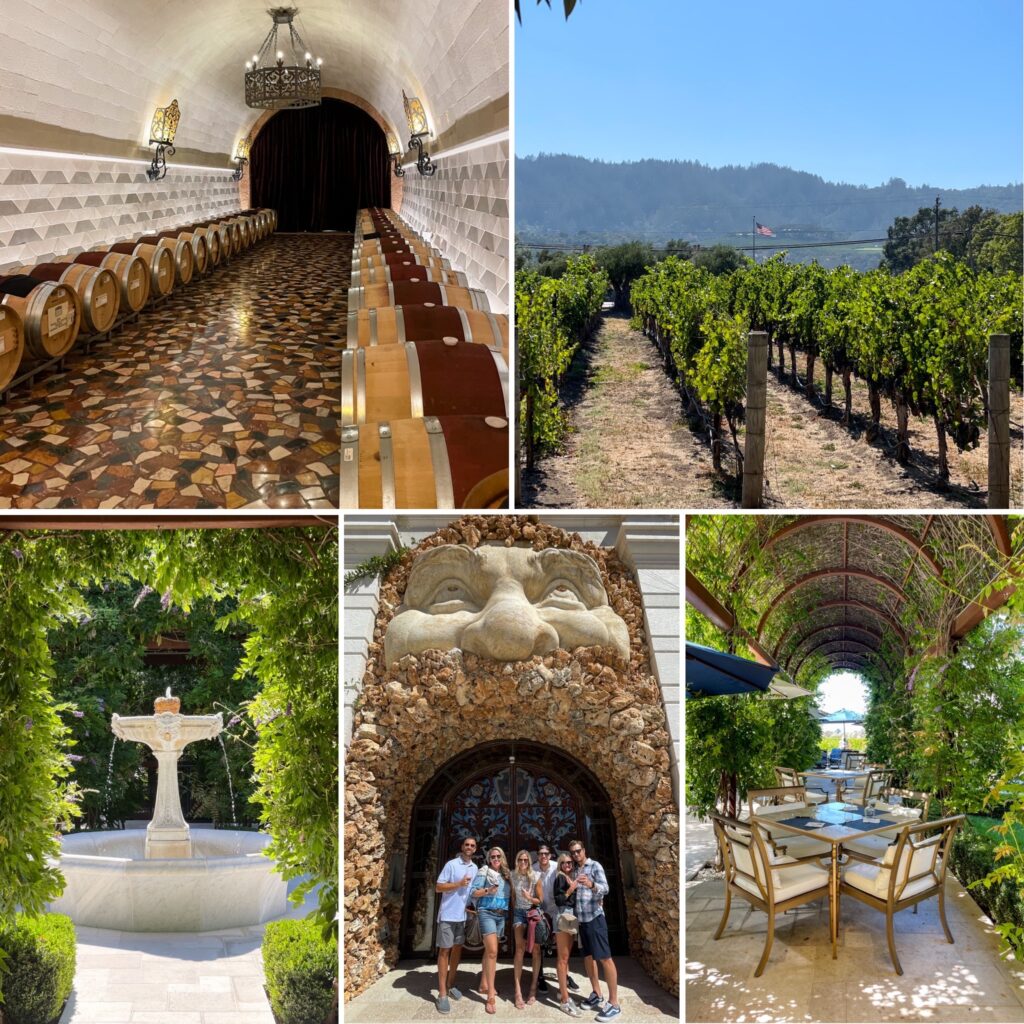 We all absolutely loved Wit & Wisdom for dinner that evening. Their patio was stunning, the food was all excellent, and the service was top-notch. Highly recommended!
Thursday:
Gloria Ferrer – 10:00 am
Anaba – 11:45 am
Late lunch / early dinner at Hopmonk
We stayed on the Sonoma side Thursday, starting at Gloria Ferrer and we enjoyed it so much, we had to adjust our arrival time at Anaba! It's situated in the hills, and the views of the Sonoma valley were stunning! They also just redecorated their patio. I made a comment that it felt like a Restoration Hardware catalog, and one of the managers overheard me and said that's because it all came from there. Ha! So beautiful!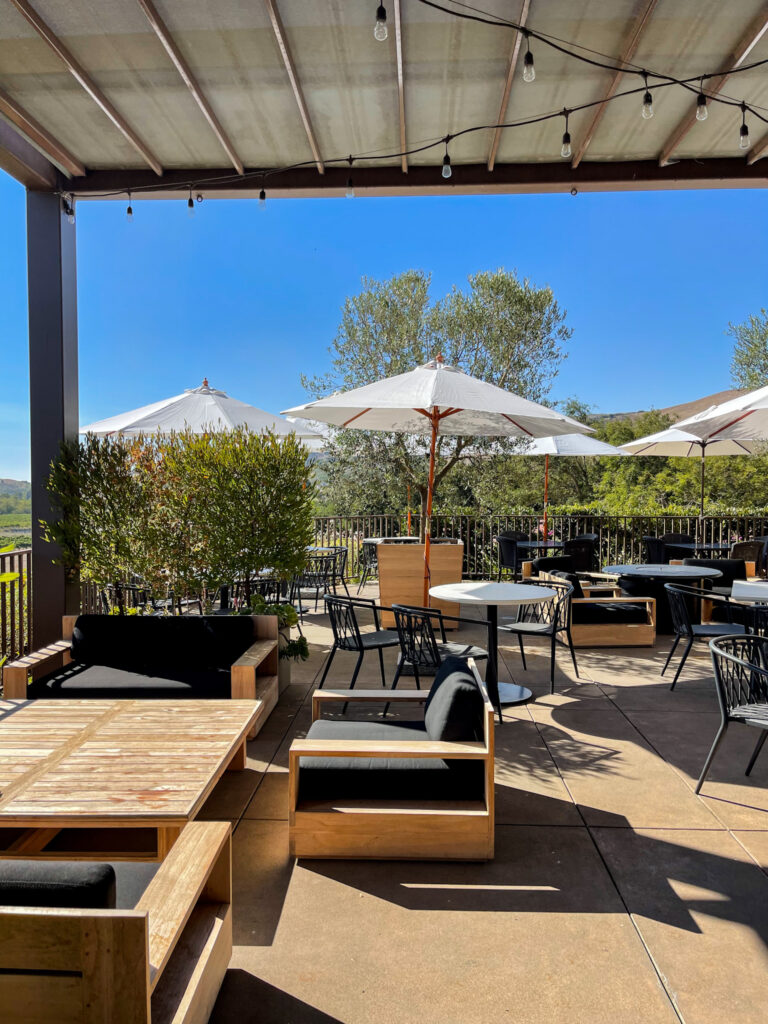 Our last stop was down the road from Gloria Ferrer, at Anaba. It moved at a bit of a slower pace, and I think we were all just done with tastings at that point. It's a fun one though if you're wanting to visit a much smaller-scale producer.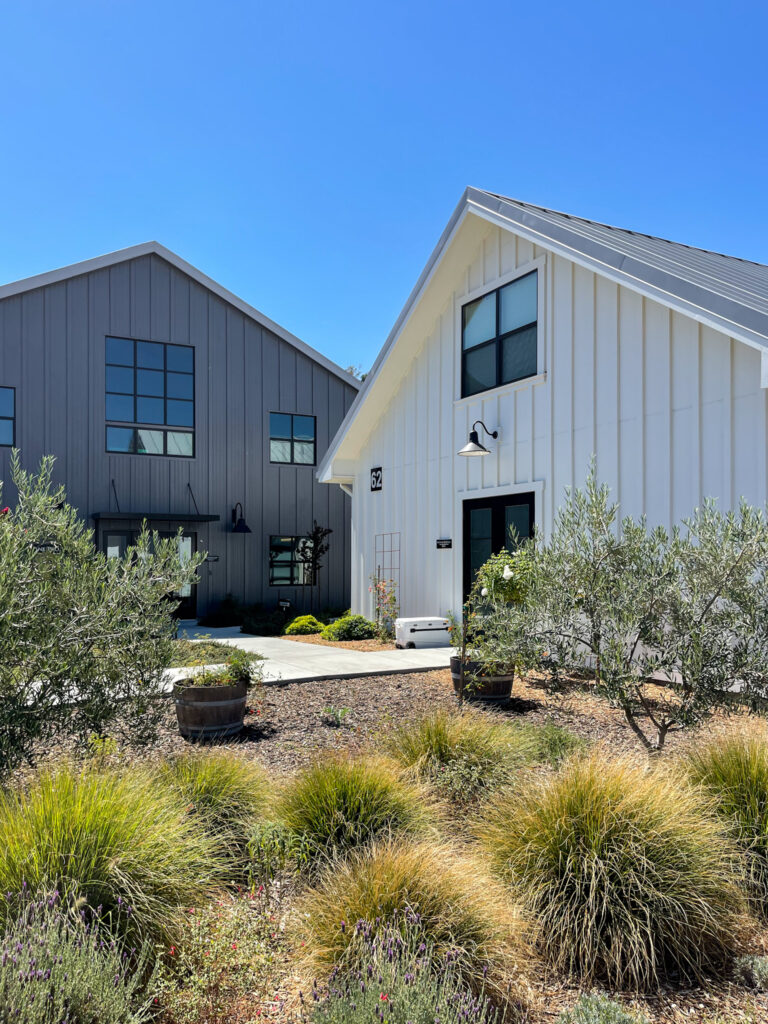 Since none of us could consider drinking any more wine by this point, we had a fun late lunch at Hopmonk in Sonoma! It was within walking distance of our hotel, so the guys dropped us off, returned the car to the hotel, and then we all walked home once we were done for the day. It was a great end to such a fun week!
Friday:
If you have any more specific questions about our itinerary or the trip itself, feel free to let me know in comments! And again, if you have any places you love and recommend in the area, feel free to leave a comment so others can consider visiting!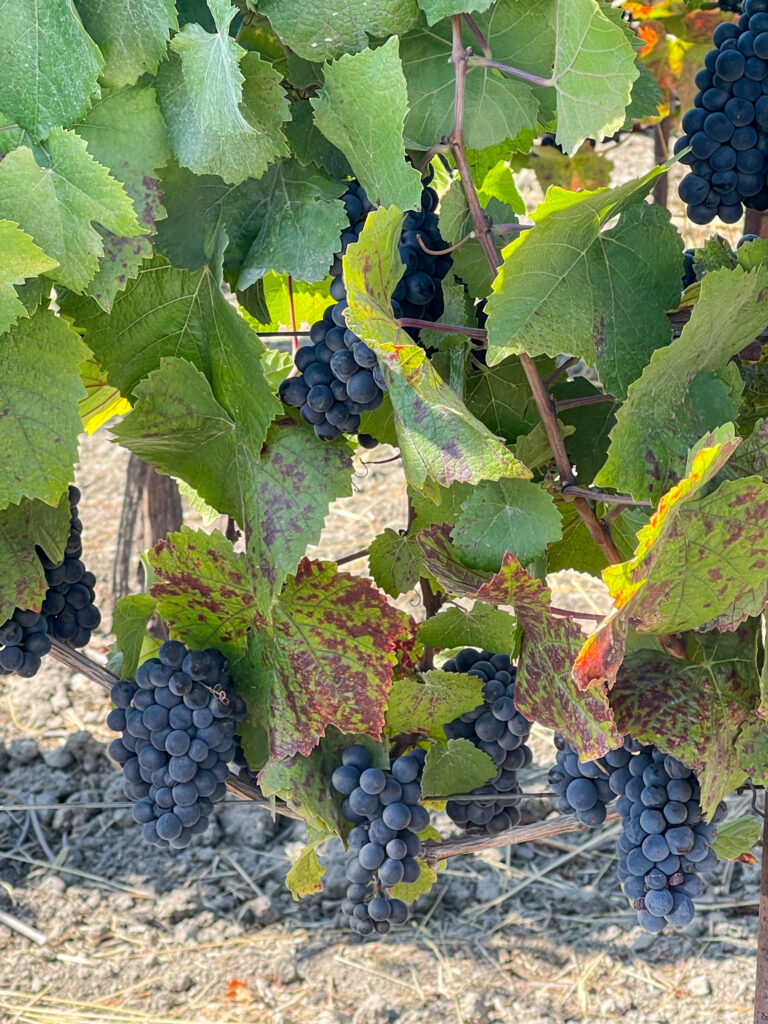 If you would like to follow along on more of my home decor, DIY, lifestyle, travel and other posts, I'd love to have you follow me on any of the below channels: