This is a sponsored post for IKEA U.S., where I am a 2017 Brand Ambassadör. As always, all thought and opinions are my own. This post contains affiliate links for your shopping convenience. Click here to read my full disclosure policy.
As I mentioned in my personal goals post for 2017, I needed to quickly get some things in order around our home. Most of the issues I discussed centered around organizing areas that had quickly gotten out of control. Today I'm going to share how I addressed the biggest issue in our house. My former craft room that had become known more recently as the junk room.
This room serves as my craft room, home decor storage room (which, as a blogger, you know means I have a a lot to store), my workout room and the only other room other than our living room that has a TV. It's a lot of needs for about 180 square feet (the room is 13'9 x 13'2 for reference). The space served so many purposes that items from each of these needs piled up and piled up until it was borderline not even usable any longer.
I'll do a follow-up post soon on all the other features of my updated room (including a full list of sources), but today I want to focus on what made this room usable again. And that included some really great organizational products from IKEA!
I'm not one to shy away from reality and I'm definitely okay with showing you what our house usually looks like outside the frame of all the pretty pictures. And this was reality guys. Please tell me you have a room (or even a drawer or closet) like this somewhere in your house.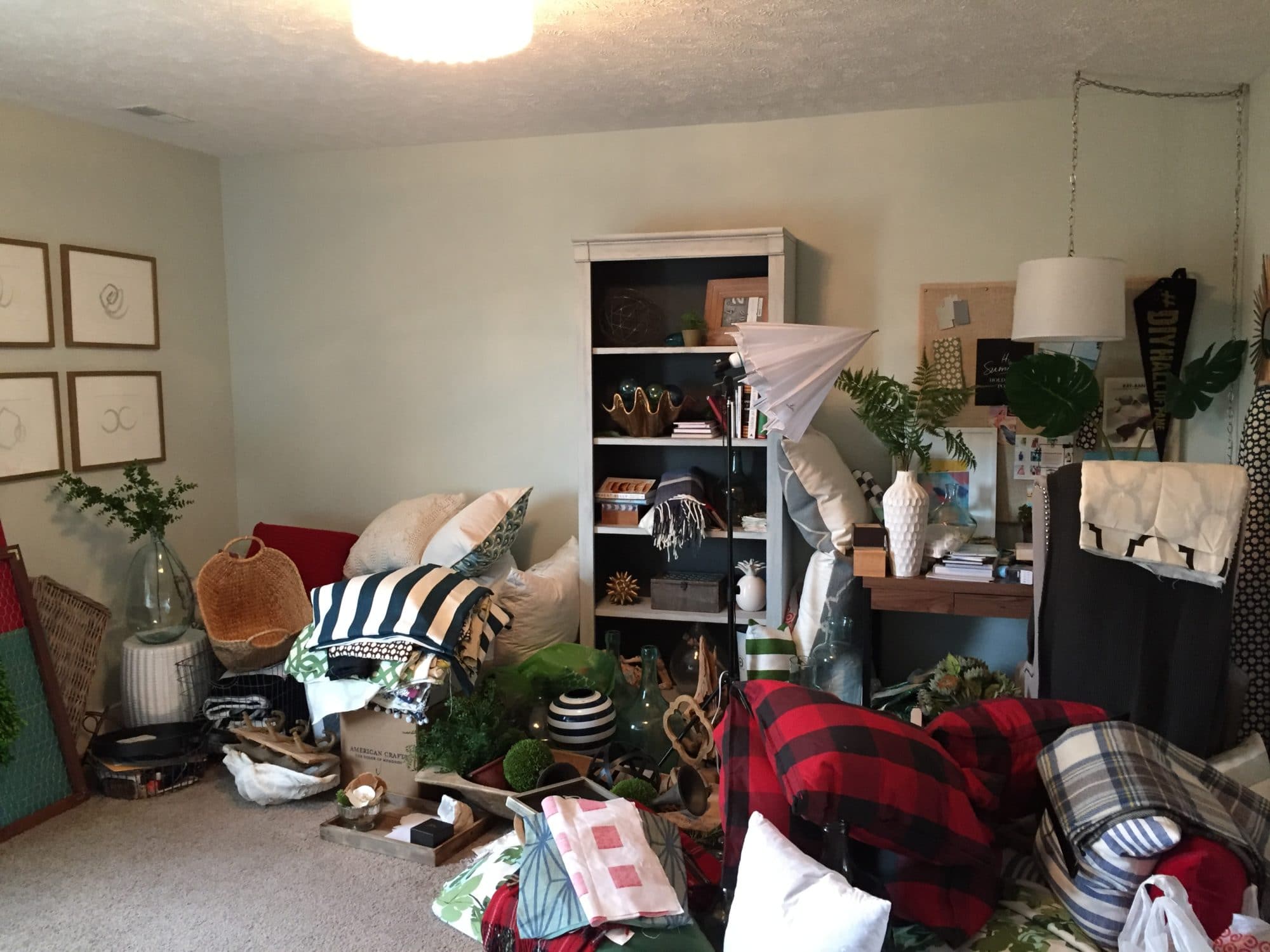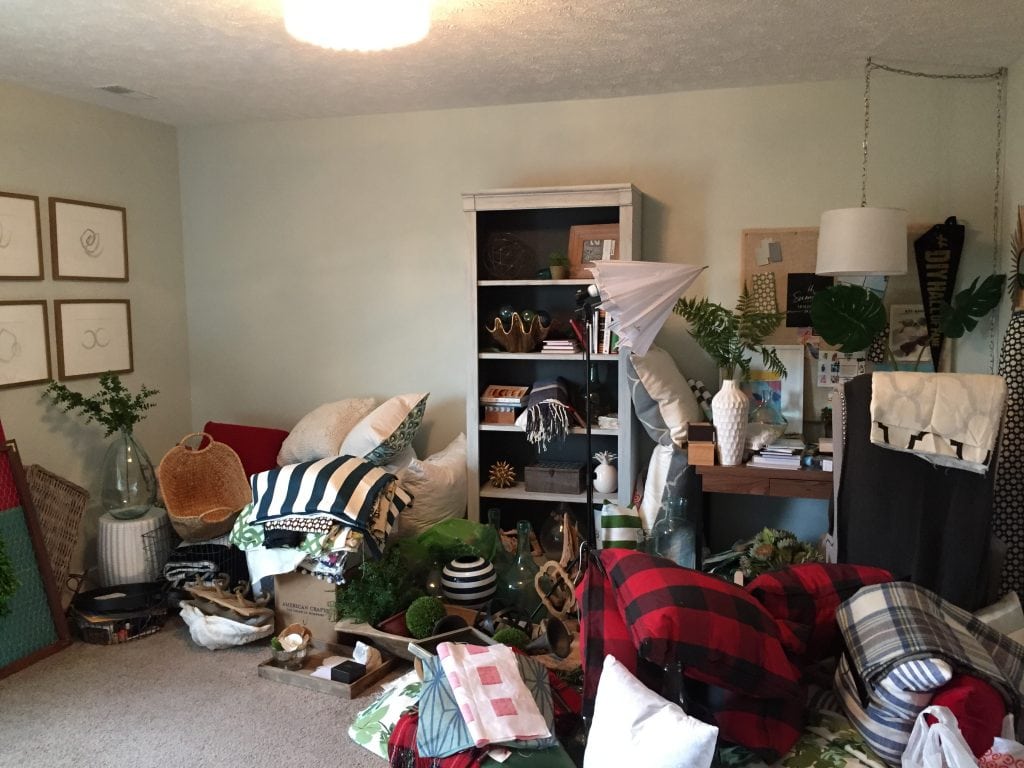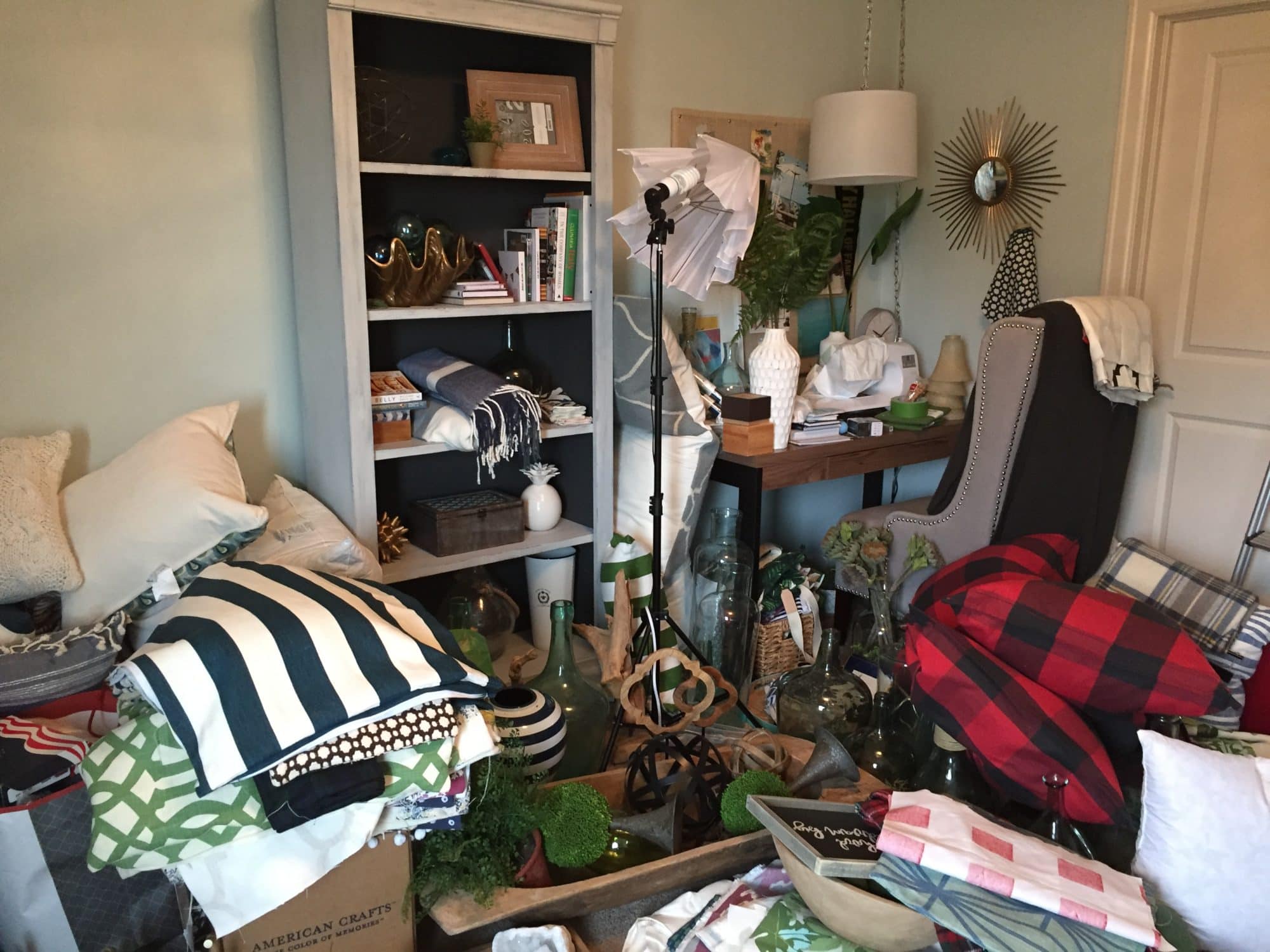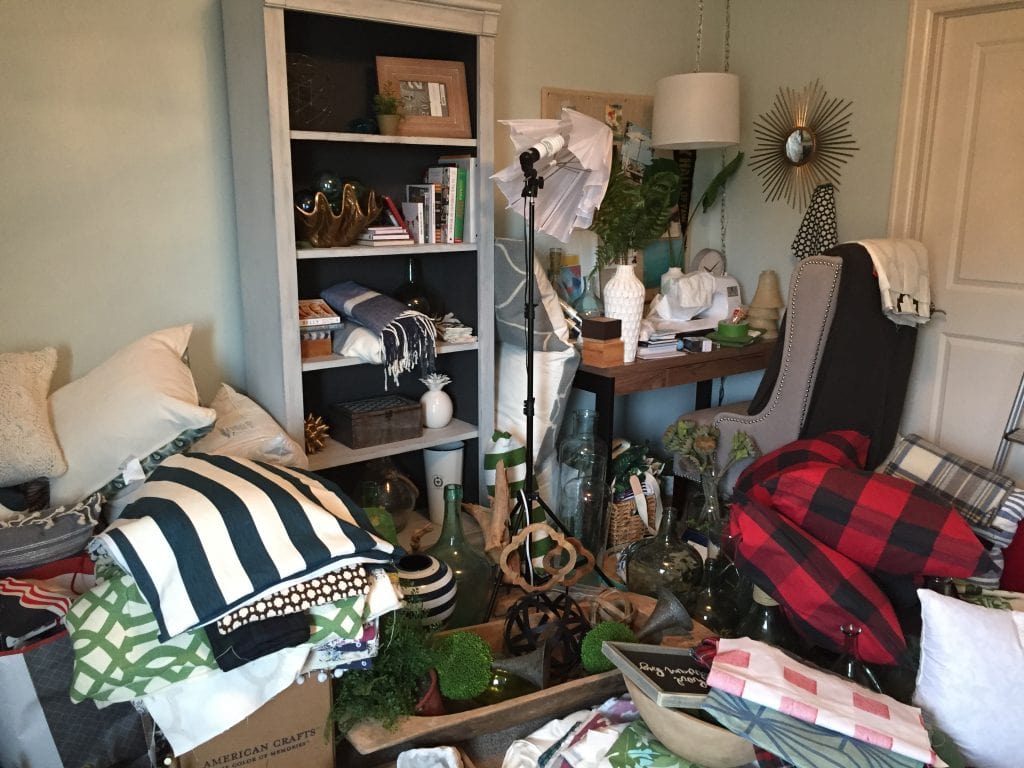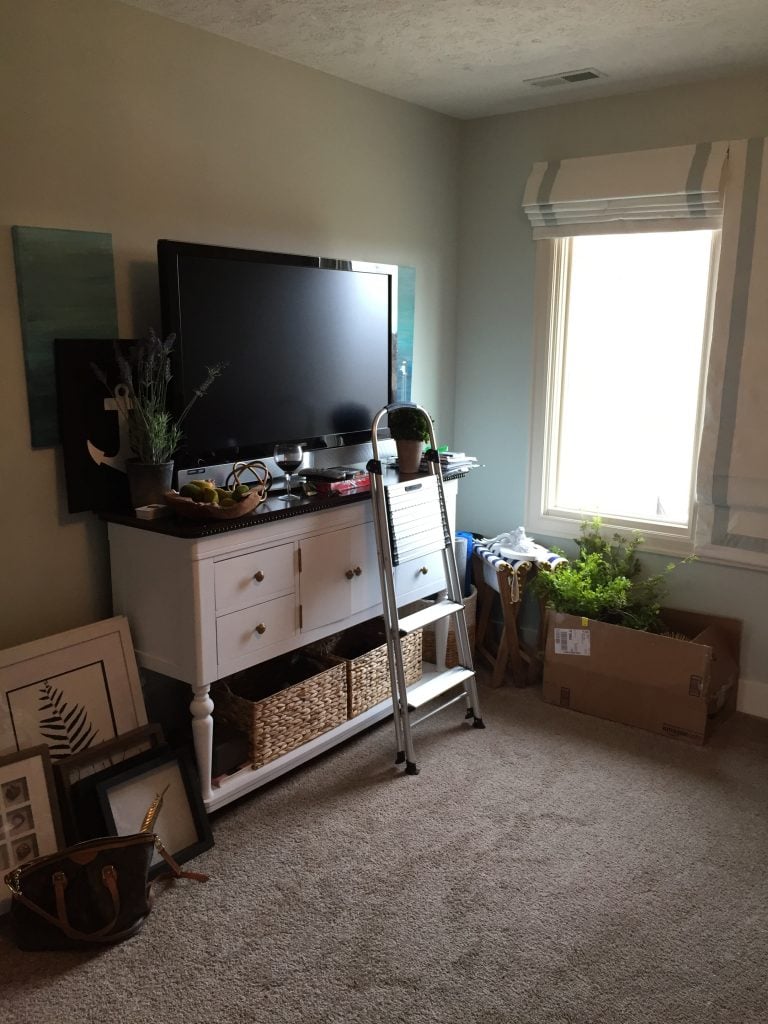 The worst part is that these photos were taken after I "cleaned" a 4×8 section of carpet off so I could still workout after the first of the year. Completely ridiculous, right?
Here was the closet space in that room at the time, as well. Not nearly as bad, but it certainly was not functioning at maximum capacity and it was nearly impossible to walk around on the floor space.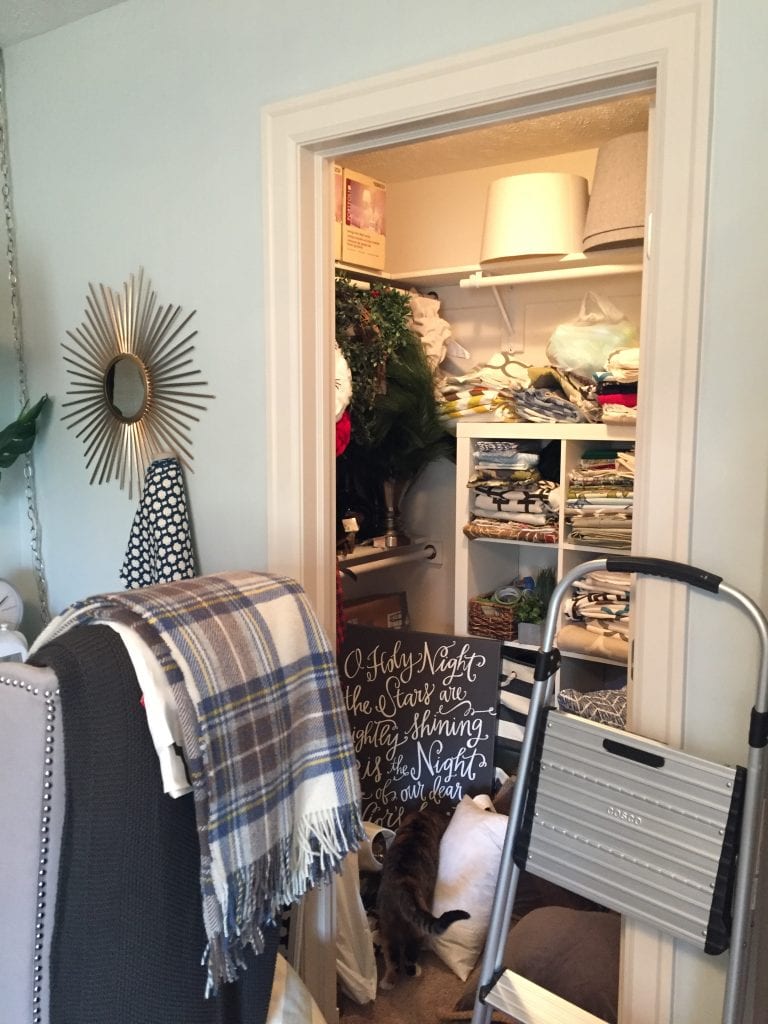 My other dirty secret? I don't think I ever showed this to you before, but this little section by the doorway to the room (and the door to the adjoining bathroom) was never painted after my last room reveal. The walls had been badly damaged by some boards the prior homeowners had hung here, and I really never knew how to fix them. So, the walls remained unpainted, with torn drywall and all. Classy!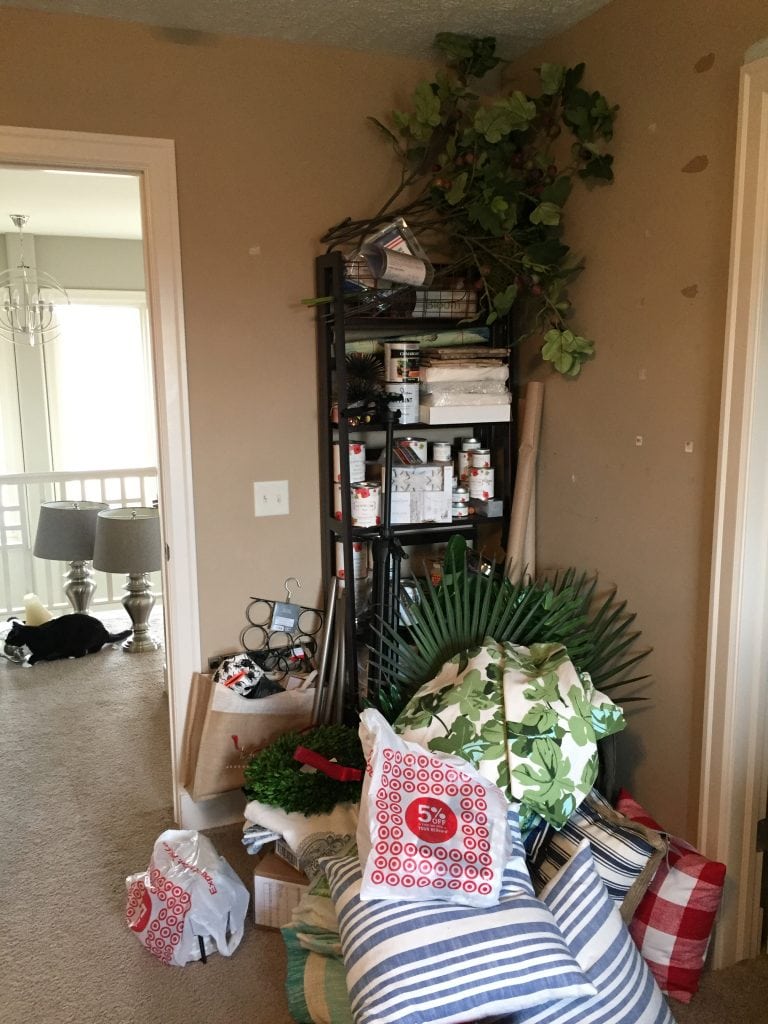 So, enough of the scary pictures! Let's see what I did to clean this room up once and for all!
To be honest, it got a lot worse before it got better. I tried to remove everything from it's current location and put it all out on the floor so that I would be forced to deal each and every item. This also gave me the opportunity to really evaluate which items I wanted to keep and which needed to go. I was able to sell a variety of items that were stored in this space on a local Facebook page and it felt so good to clear a lot of the clutter! Not only was someone else able to get some use out of the items, but it gave me some cash to buy the things that would make this space fully functional again!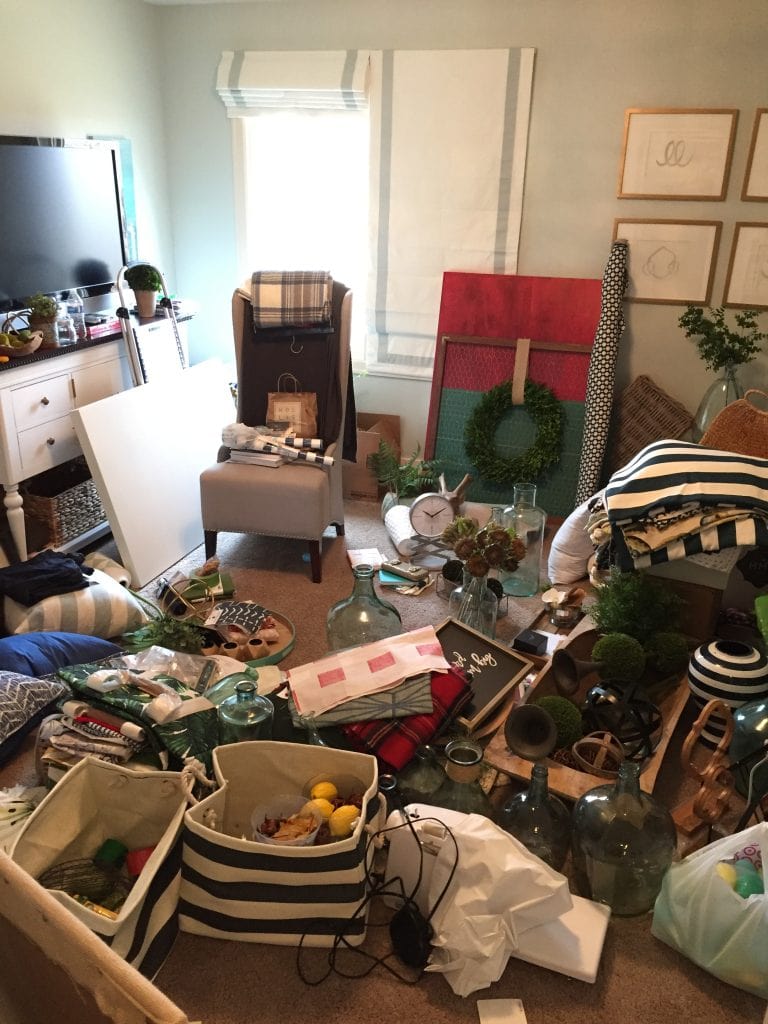 I then started rearranging furniture. I pulled my old EXPEDIT (now called the KALLAX) out of the closet because after measuring, I realized the bookcase could fully fill the exact dimensions in the closet and would offer me more storage space. The EXPEDIT was used in another location that I'll be sharing soon.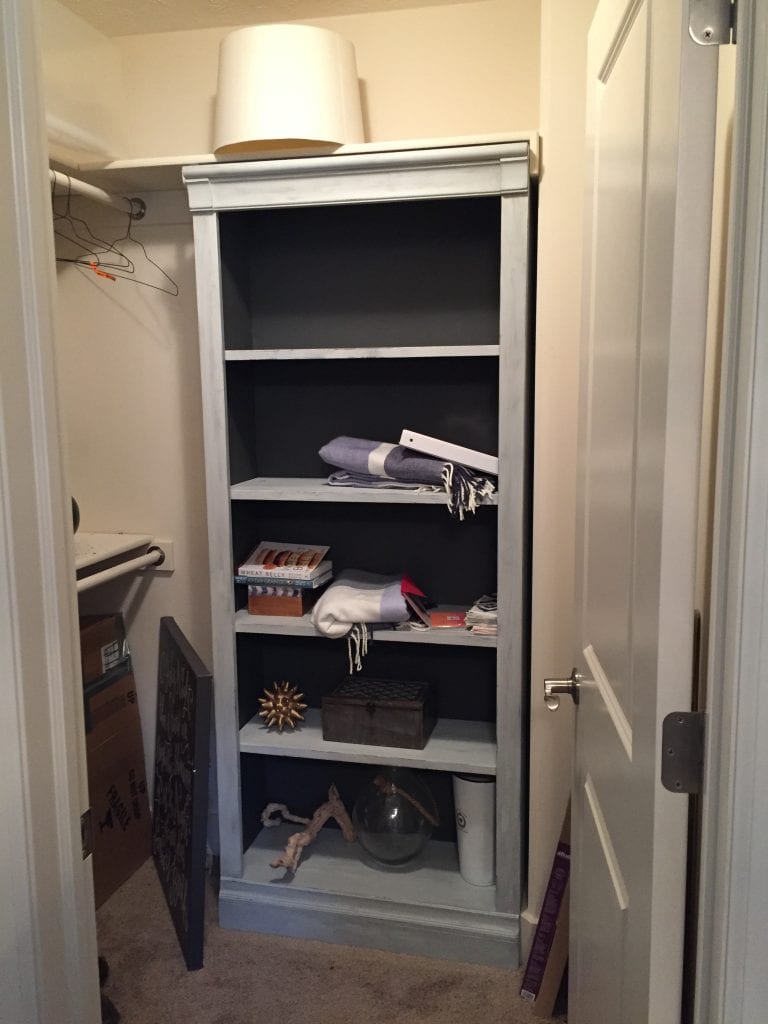 From there I purged, sorted, organized and then organized some more.
I also decided I was no longer in love with the light blue walls (Benjamin Moore Healing Aloe). The window in the room faces east, and after the morning sunlight passes, the walls felt dingy and muddy. I gave the entire room two fresh coats of white paint (Benjamin Moore Simply White). Immediately the room felt cleaner, lighter and so much brighter!
Additionally, because our old TV took up so much real estate, both physically and visually, I knew that it was critical to find a TV storage unit that was much more functional than the old buffet table we had been using. I fell in love with the BESTÅ the instant I saw it. There were over 20 door styles to choose from but I knew immediately that I wanted the Hanviken style. The doors mimicked the board and batten detail we have in a lot of our home, and the white would blend in seamlessly against the freshly painted walls. The best part? It was chock full of hidden storage! I've always loved that IKEA has combined function and beauty into their pieces as well as the fact that they make designer style affordable and available to everyone!
I assembled the bulk of the entire TV unit on my own. The assembly was not difficult at all, but it was very time intensive. Fortunately, I spread the process over two weekends and tackled sections as time allowed. When I reached the point in the photo below? I knew I was beyond in love with how everything was turning out! But it only got better from here!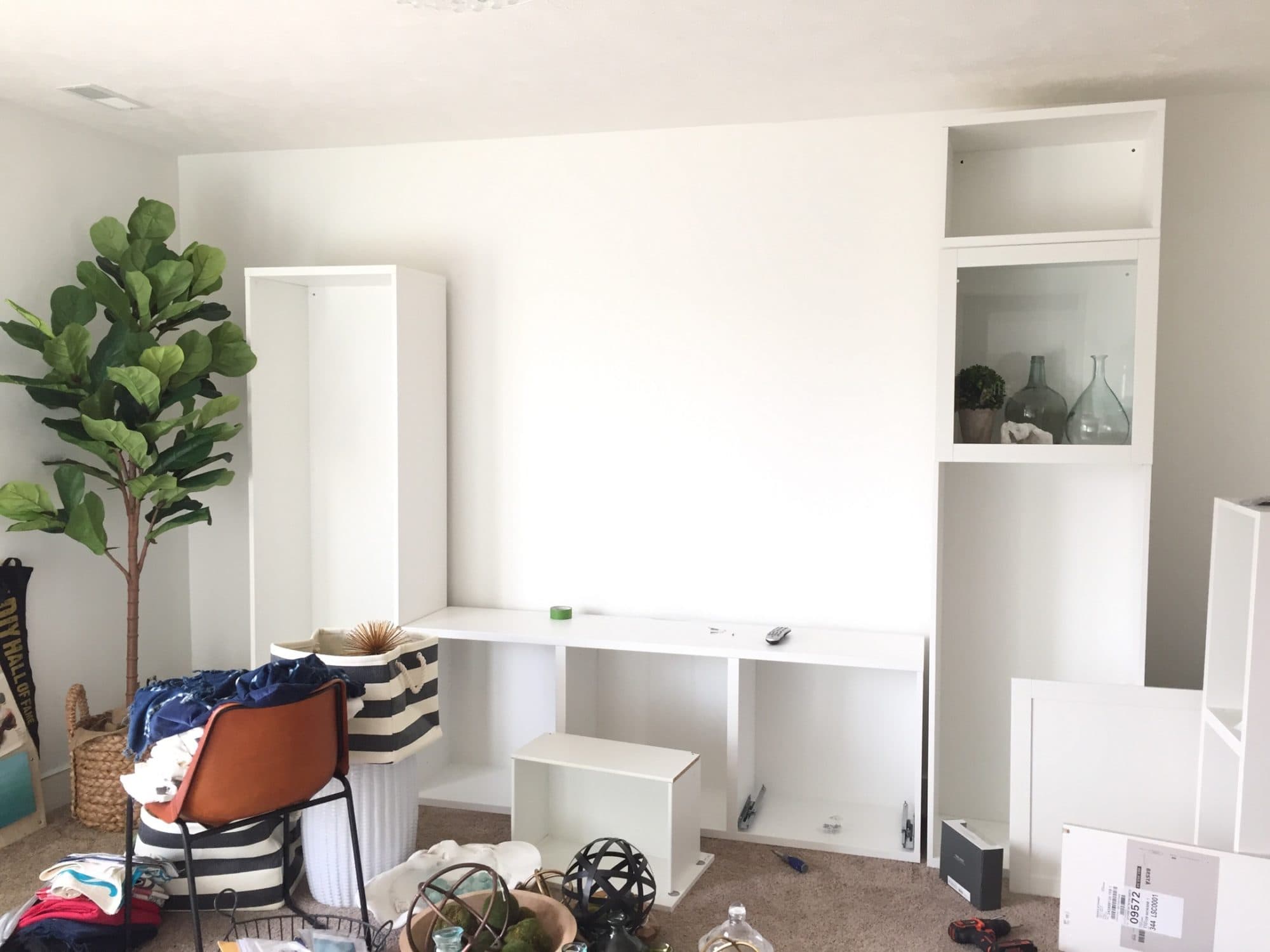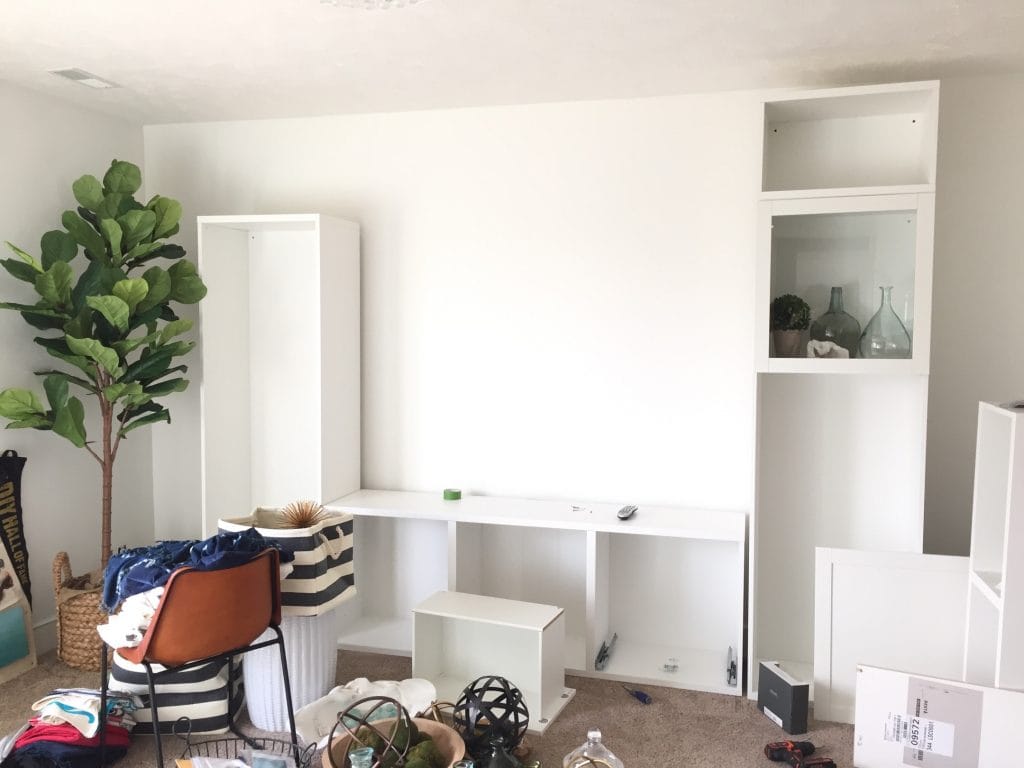 Now, for the final results. Are you ready for this crazy change?!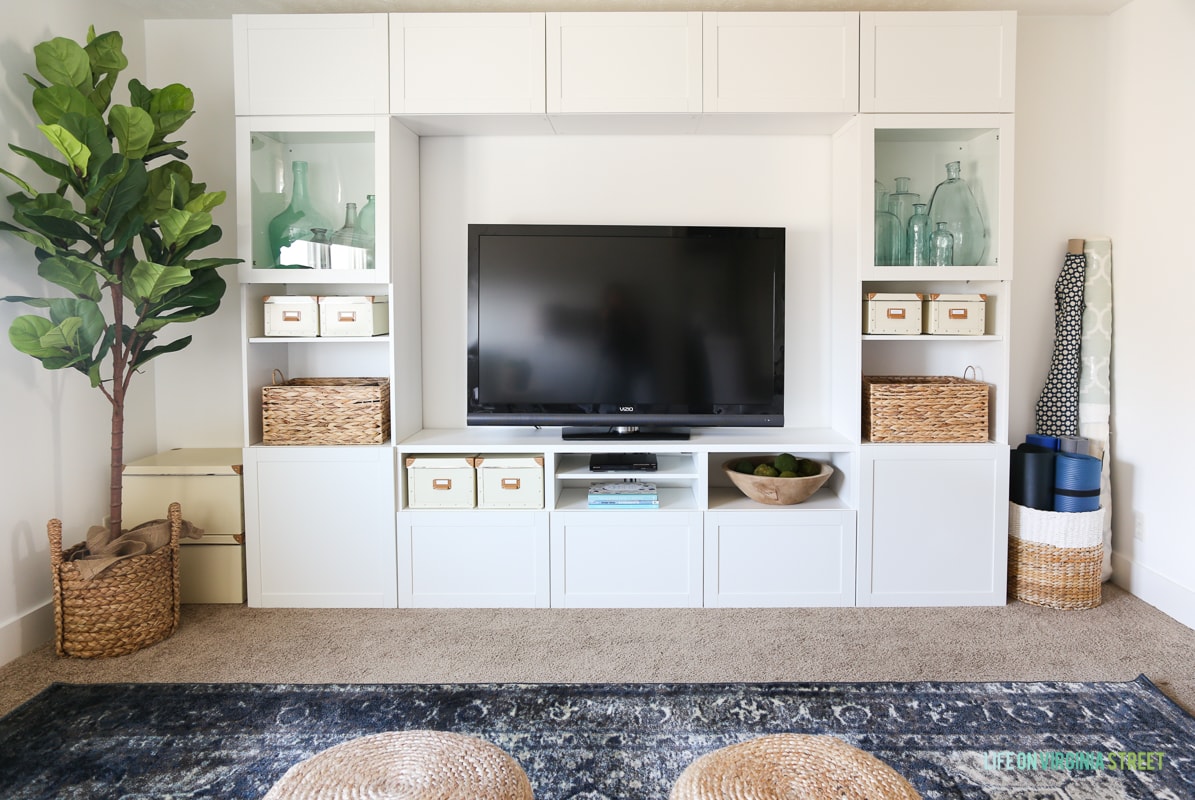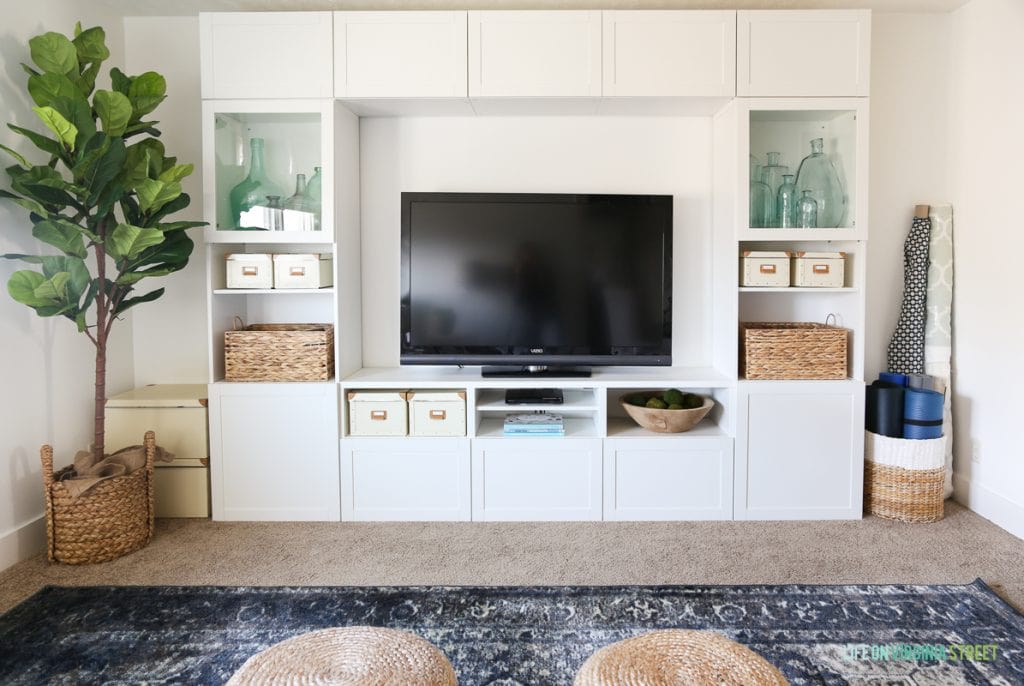 Can you even believe this is the same room? Talk about a beautiful storage option, right? So many of you thought the BESTÅ unit was custom built-ins when I shared a sneak peek recently. The cabinet looks very high-end but at a reasonable price point and blends seamlessly with our style. And yes, our TV is crooked but we've tried and tried to get it straight and it won't budge. Isn't the change incredible though?
With three deep drawers and nine cabinets, I'm in storage heaven! The unit now holds all of my fabric and miscellaneous home decor items that I'm not currently using. Certainly a much better option than strewn all over the floor, right? 😉
I also ordered a variety of sizes of the FJÄLLA series in off-white. I love the added detail with the corners and pulls that looked like leather (they're metal) and the rivets. I also pulled out my new label maker and went to town fancying up the included labels from IKEA. The storage boxes hold everything from our DVDs to batteries, to remotes. And since I still use the room as my workout space, I have my hand weights and yoga mats stored in various seagrass baskets around the room.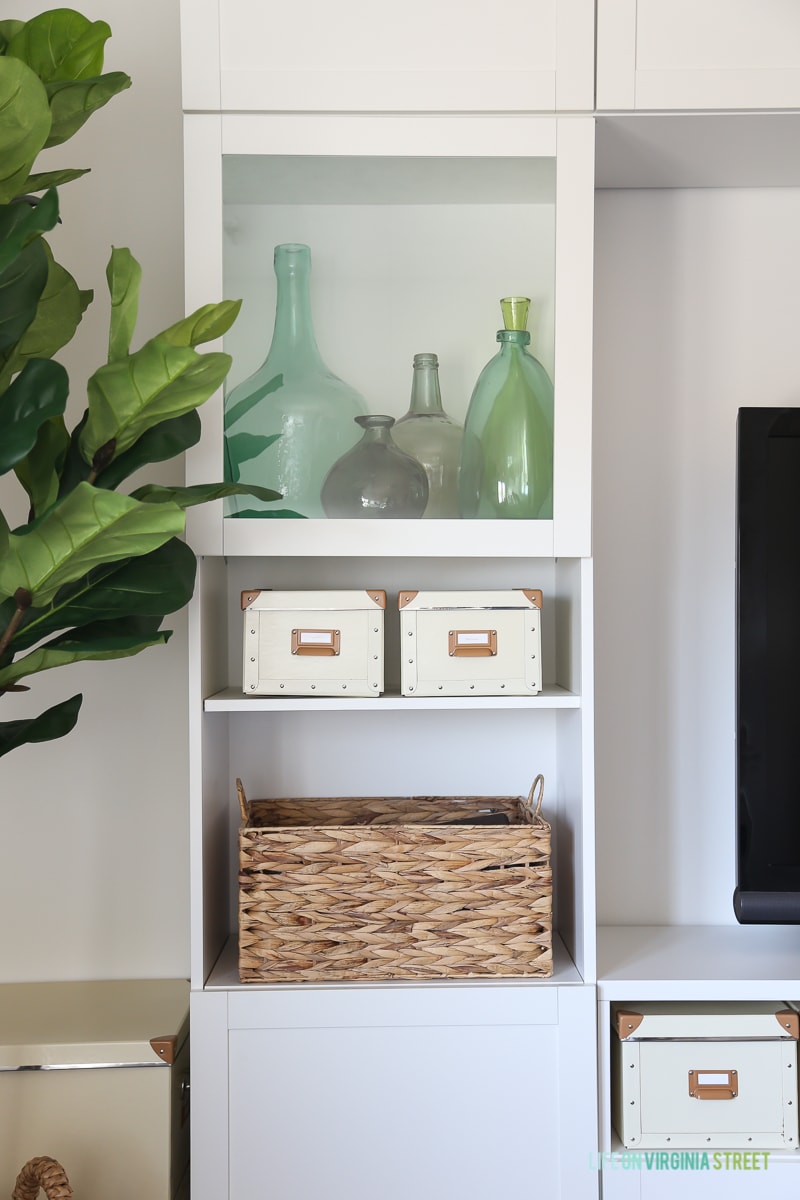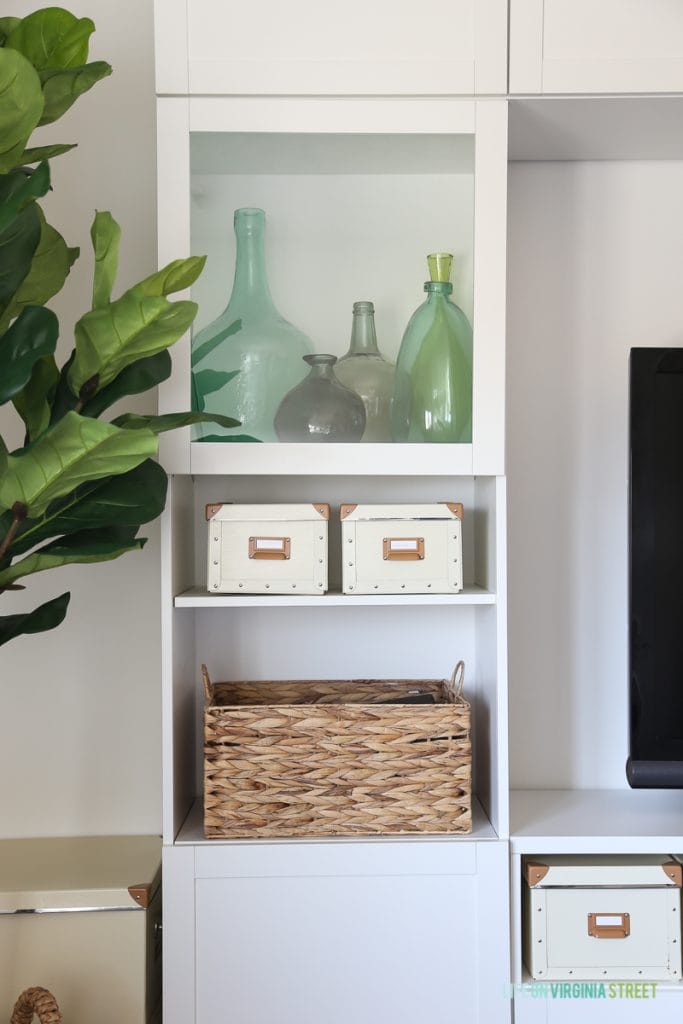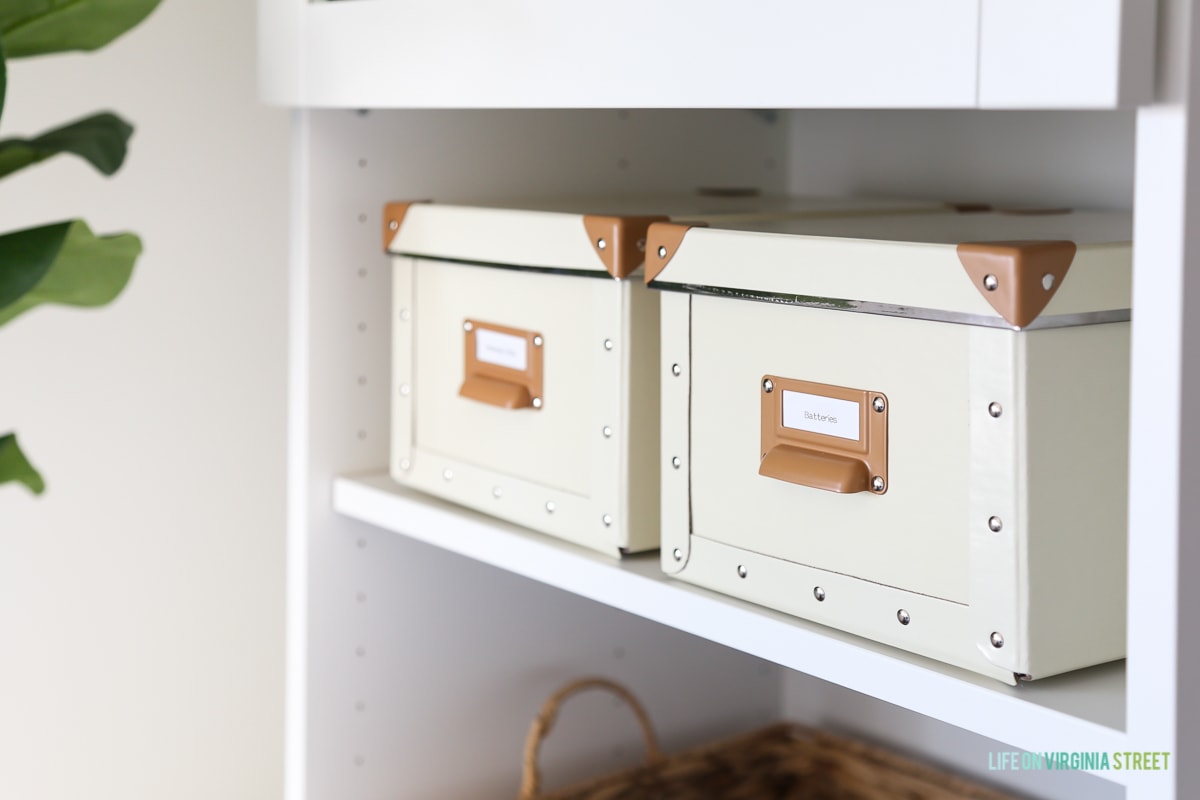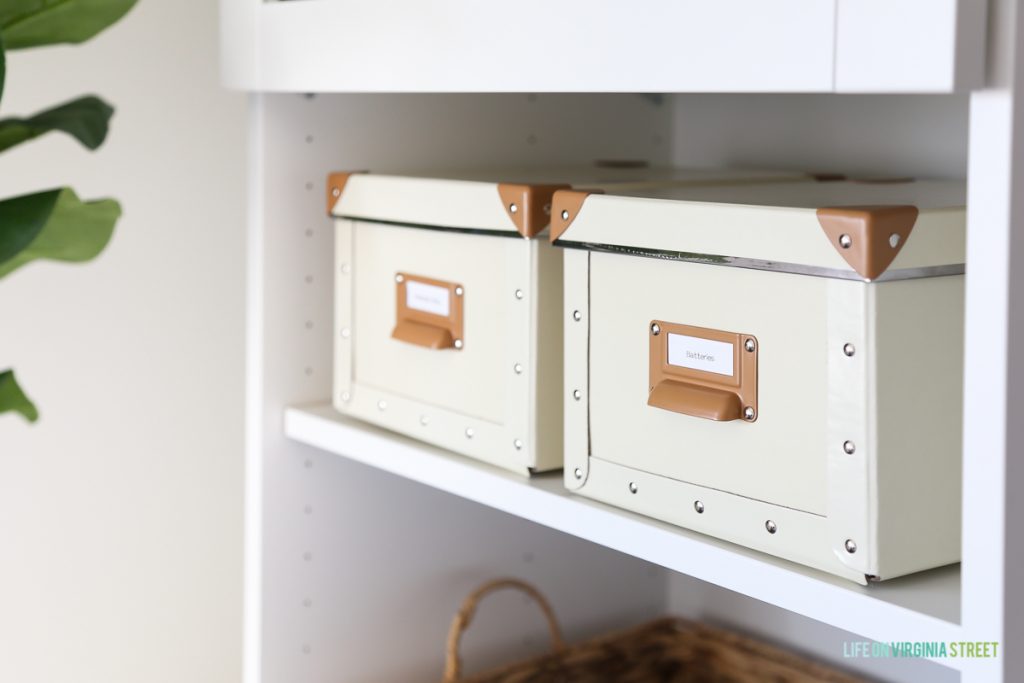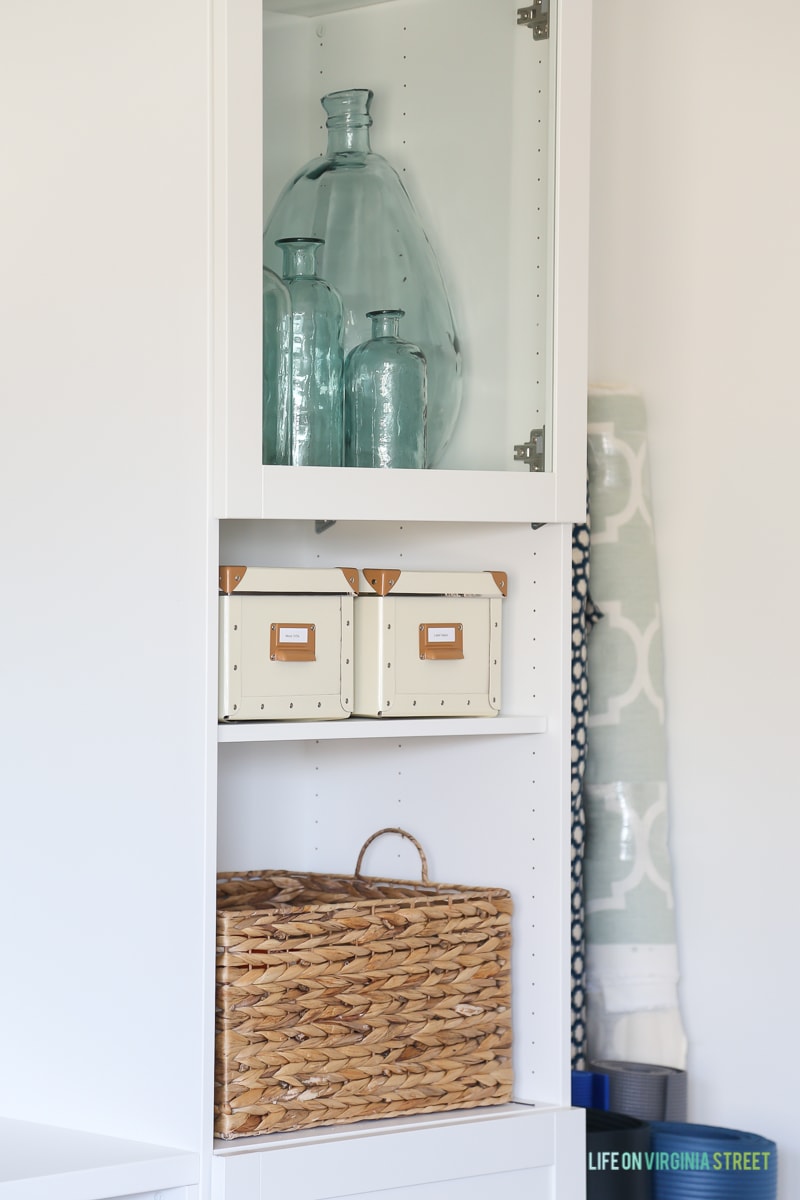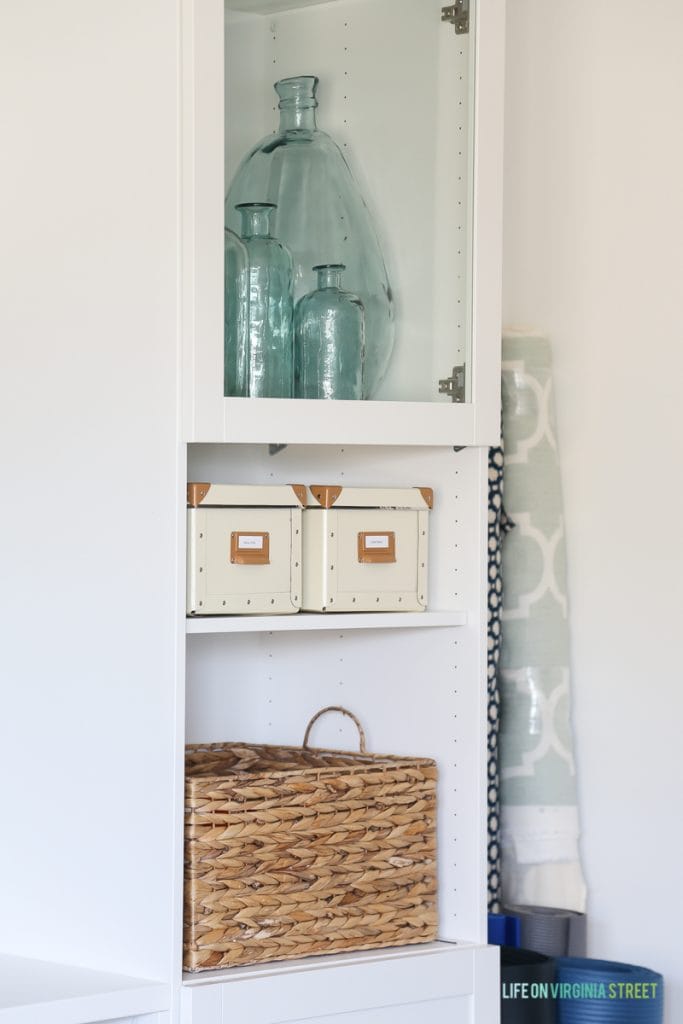 Stepping into the closet I addressed one of the biggest issues with this entire organizing/storage process. All my pillow covers. After adding the bookcase to store some of the bulkier items, I used the wood BUMERANG pants hangers to neatly hang and store every single pillow cover I own. Not only will they not get wrinkled this way, but they are so much easier to find now that they are color-coded and hanging neatly! At only $.99 each, these hangers made me ridiculously happy because they look great and grip four to five pillow covers at a time without letting them slip! This part of the makeover certainly isn't as glamorous as the main room, but this added functionality and organization is what made it all possible!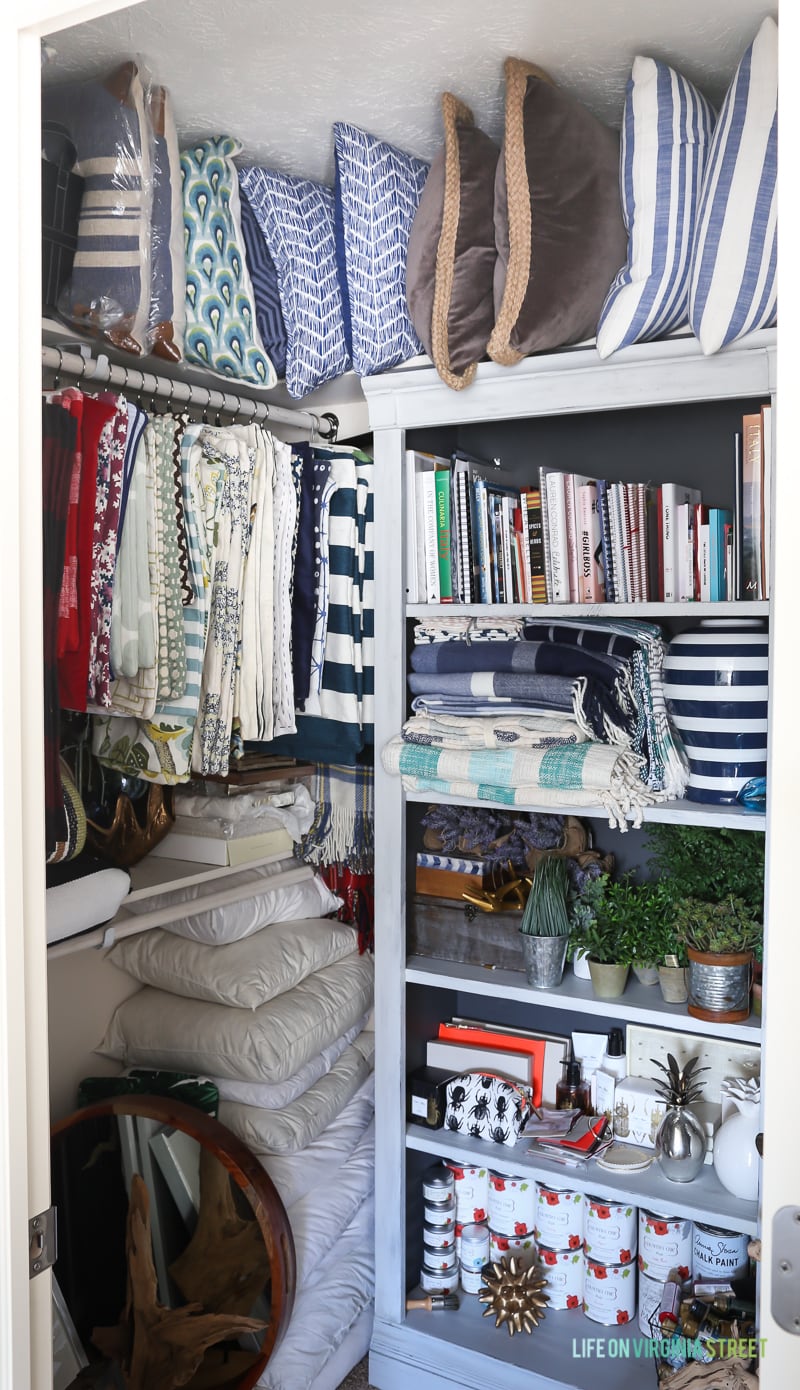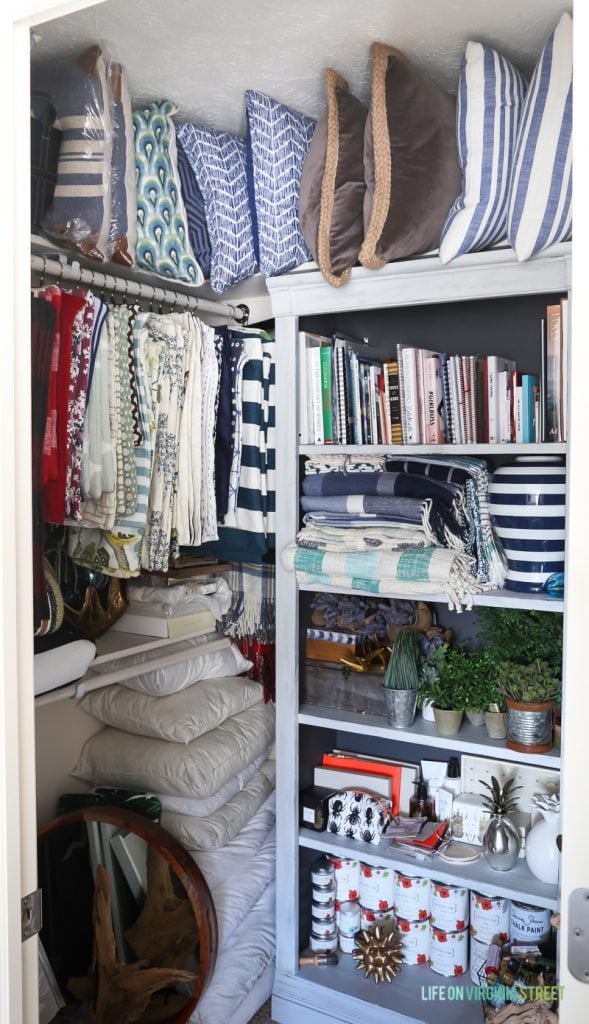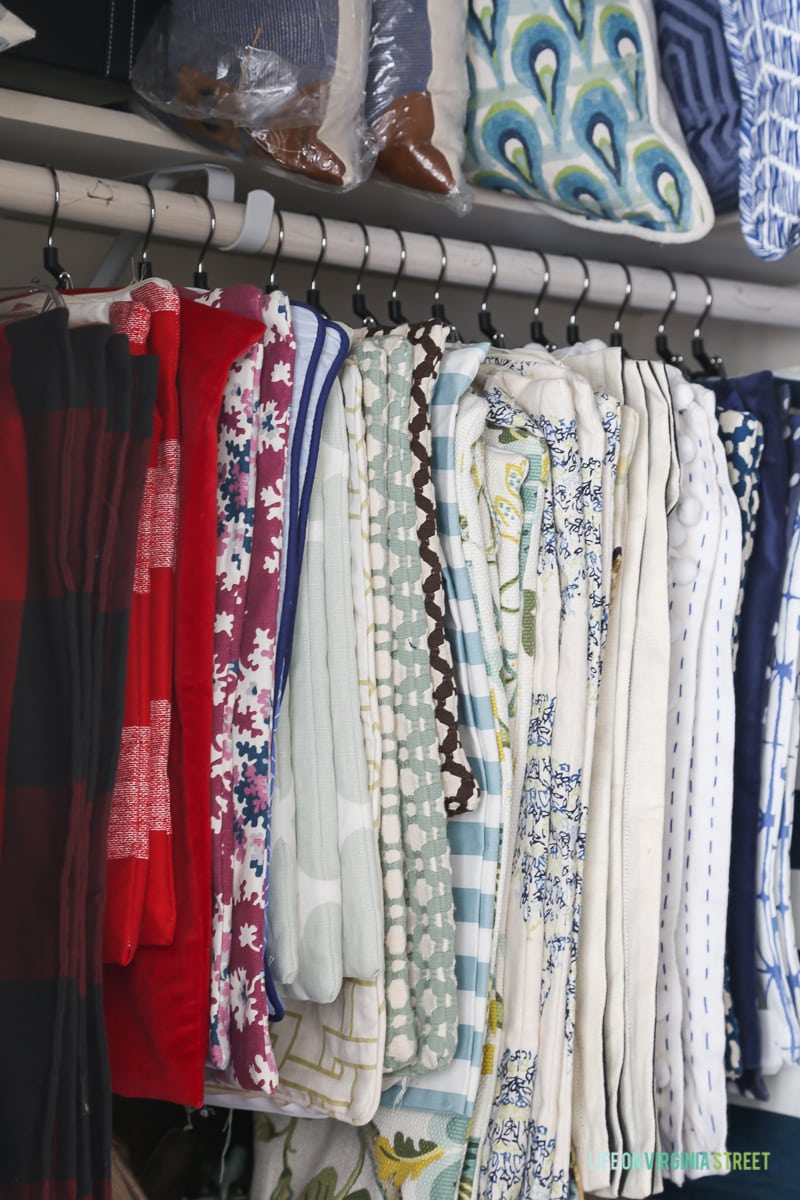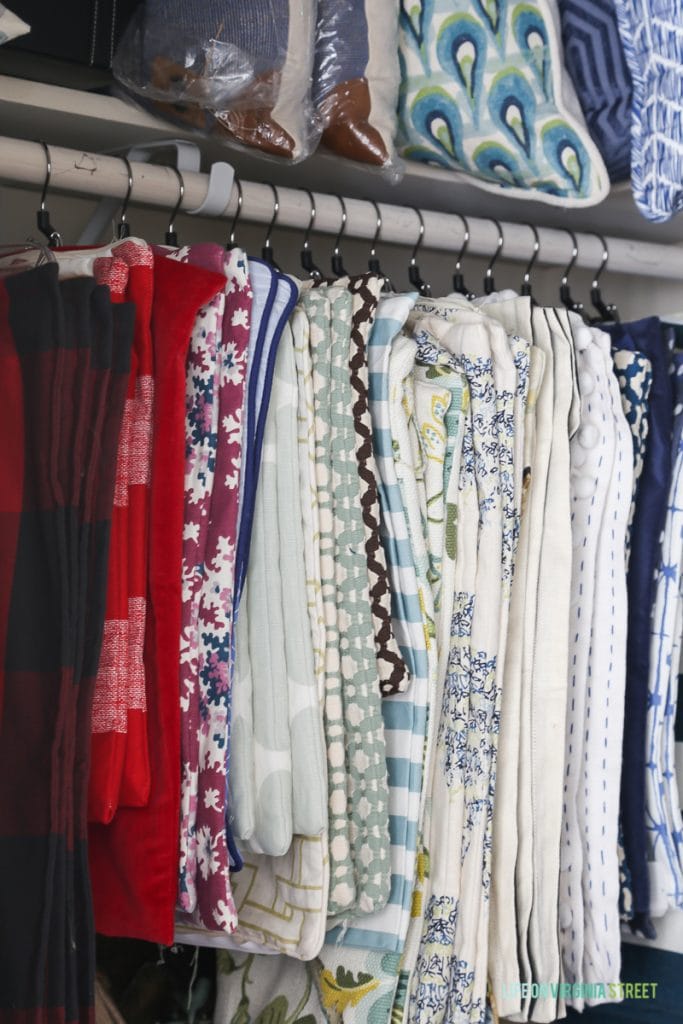 And some parting details from the main room.
I'm obsessed with the two glass-faced doors on the BESTÅ for storing my glass bottle collection. When grouped together by similar colors (the left side houses the more green colors and the right, the more aqua) they look intentional and like works of art!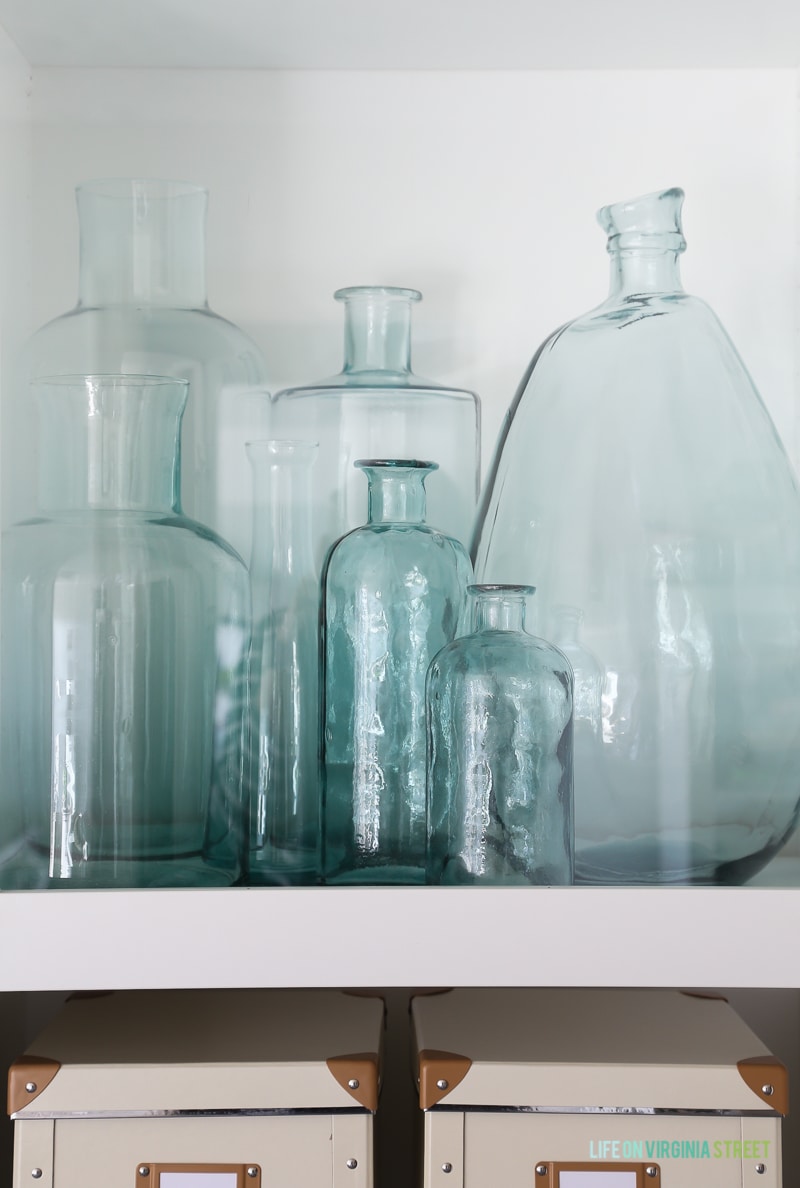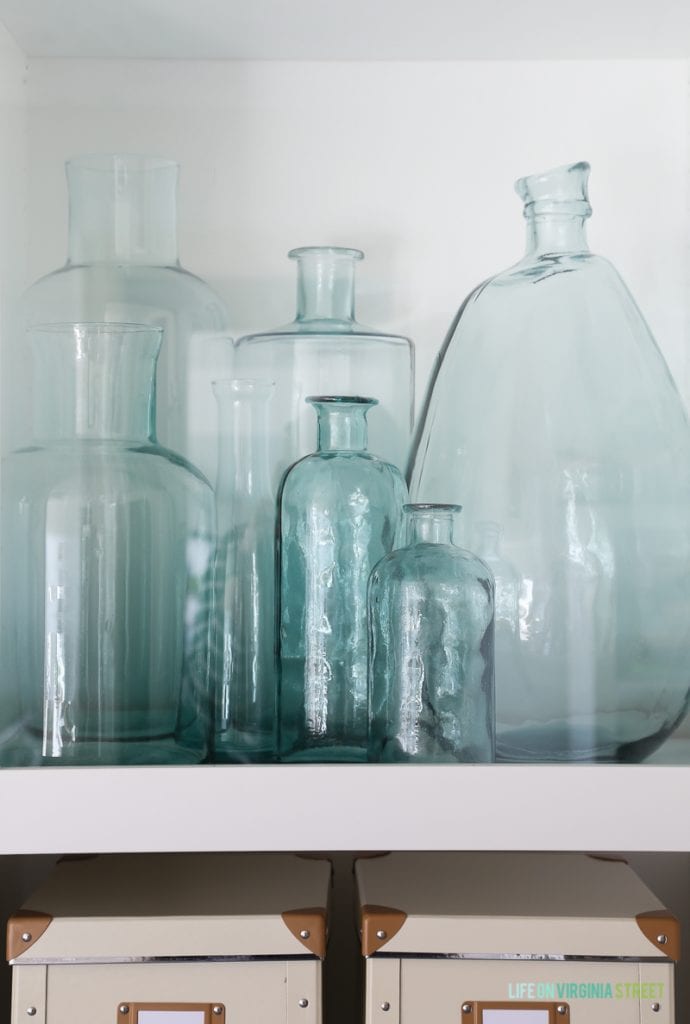 Loving the deep blues and browns in the rug and the texture from the pouf in contrast to all of the other white elements in the room.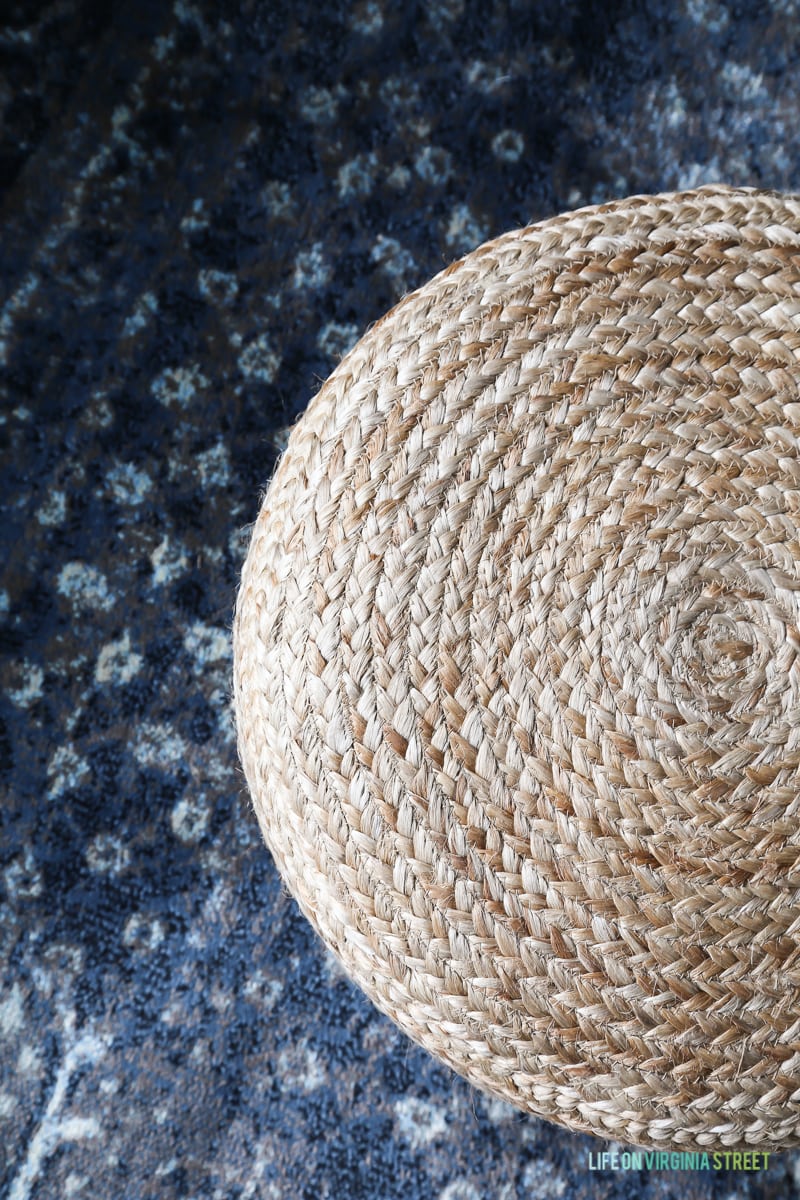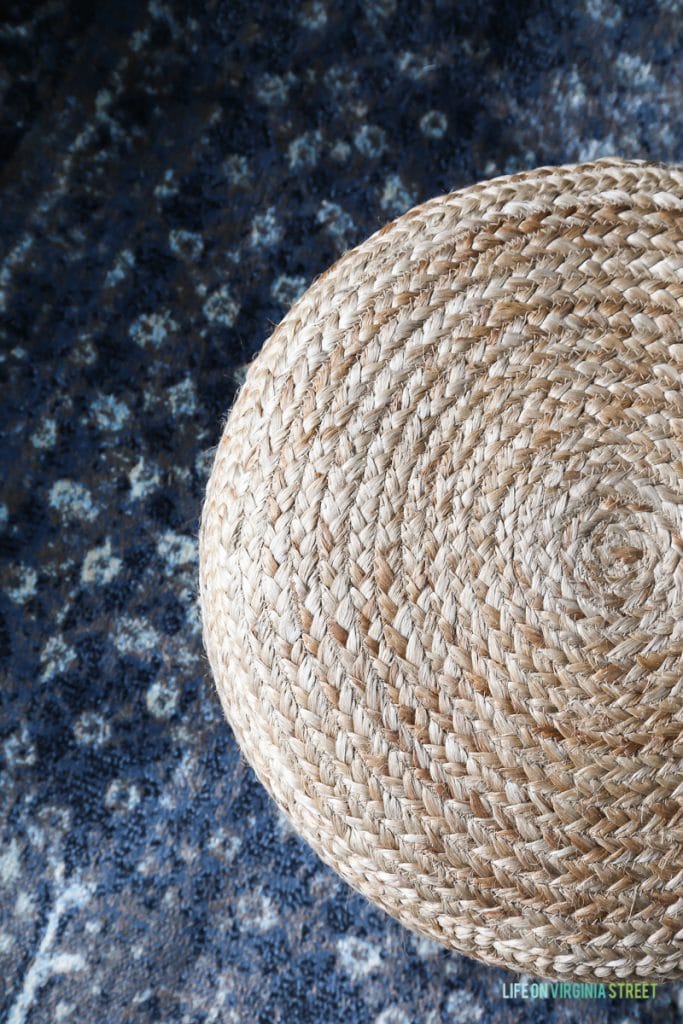 I have some RIBBA frames to fill in some of the black space on the walls but my art hasn't arrive yet. They are some of my favorite frames for letting your artwork shine! I love the look of the white mat with the white frame option and they're going to look beautiful in here! I'm also loving the unique light fixture we added to the space.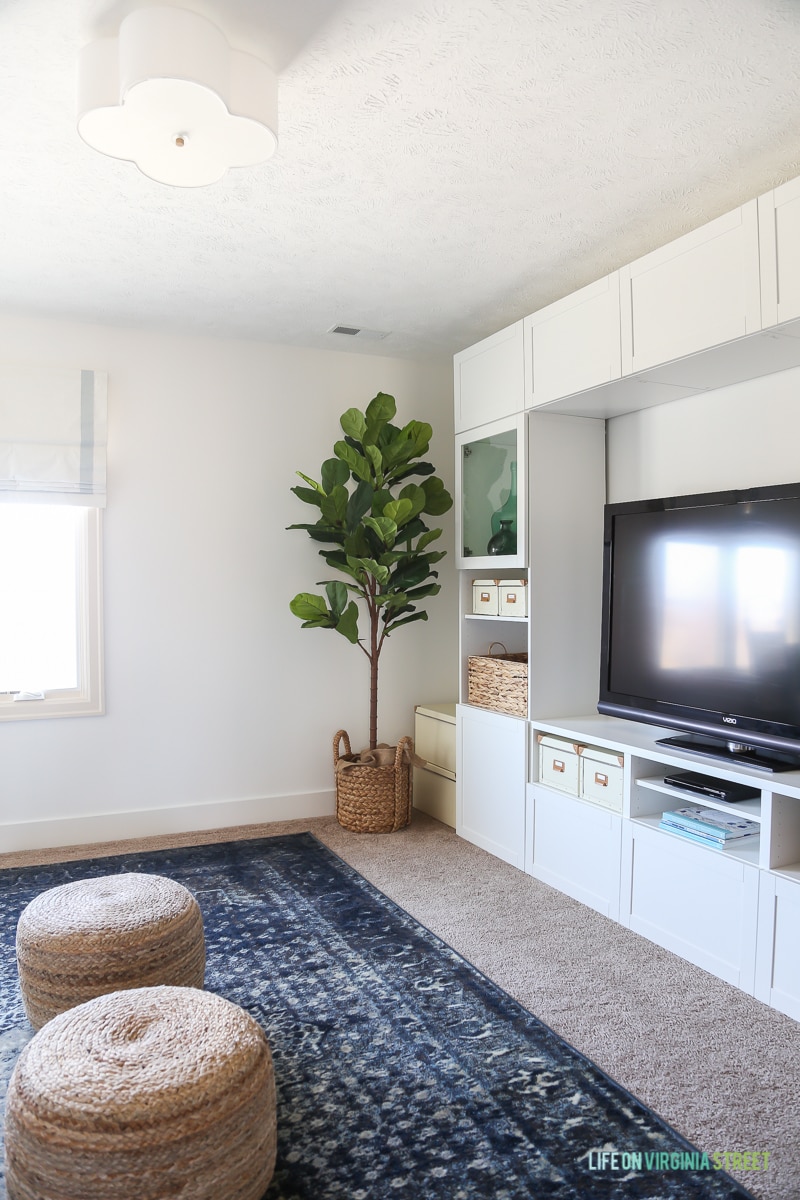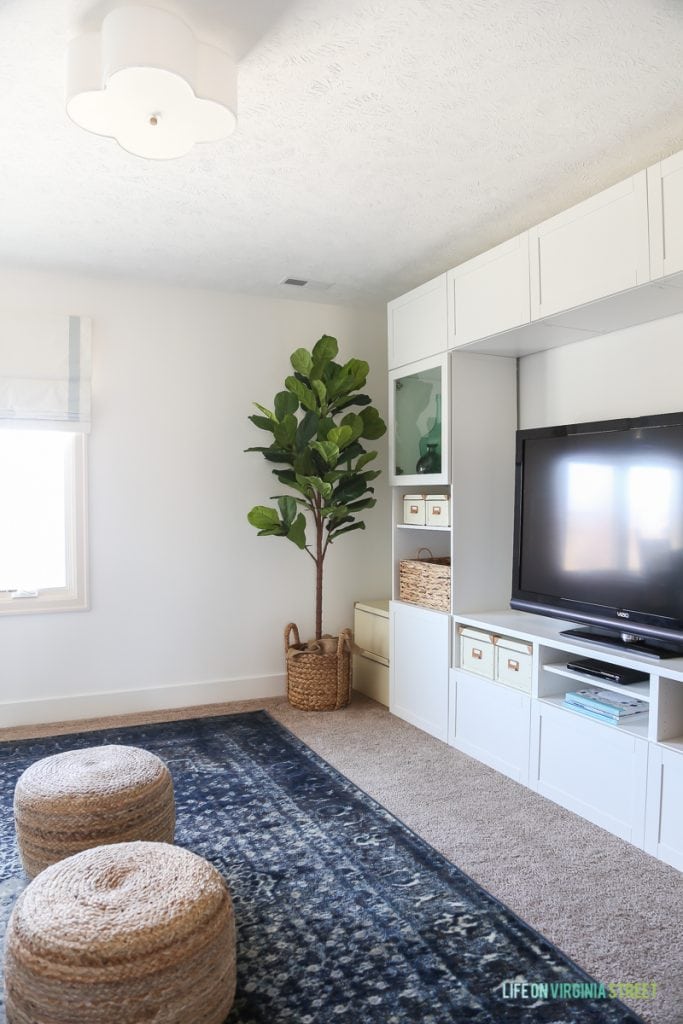 It honestly feels like a huge weight has been lifted now that this room is fully clutter-free and usable again.
Like I mentioned, I'll be back soon to share the other side of the room (the relaxation and work side of the room). I'm so happy with how far this room has already come and the added organization and order makes it that much better!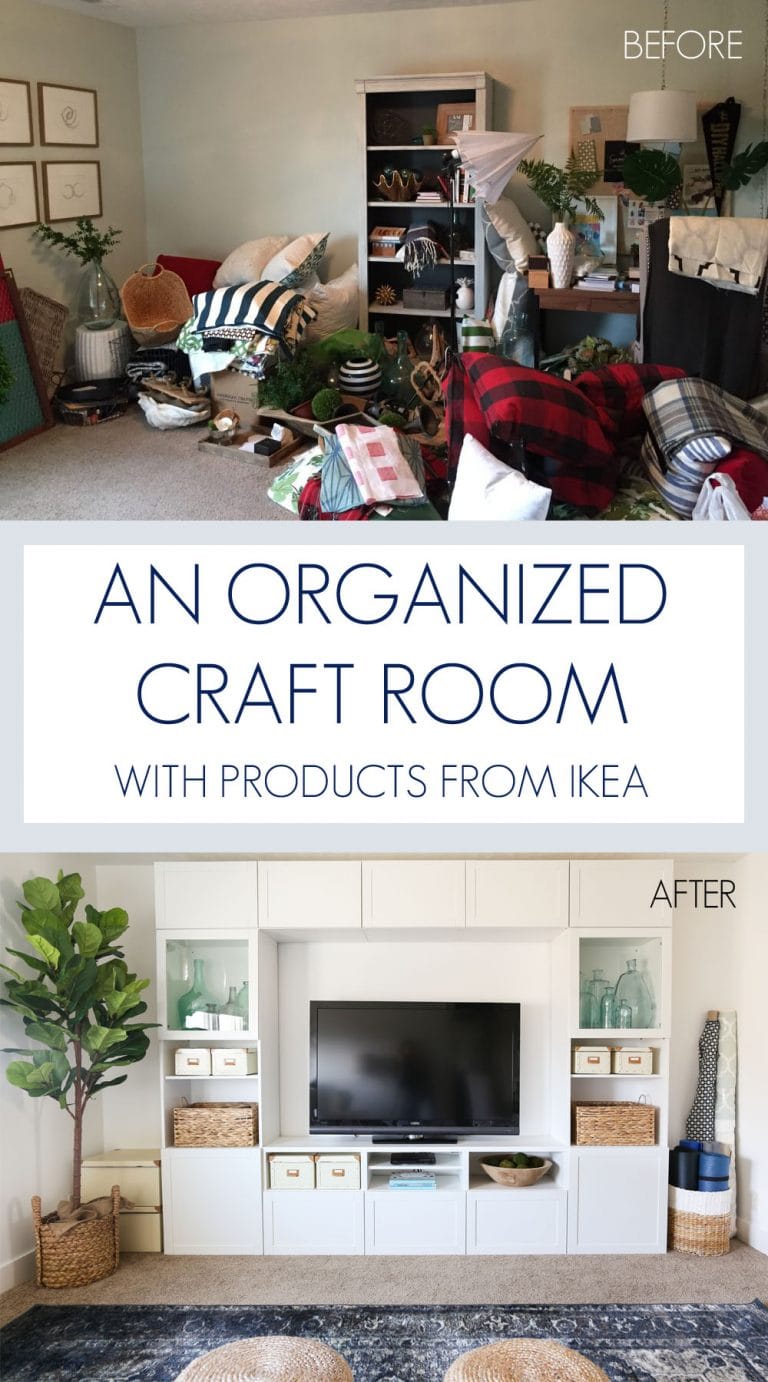 Thank you to IKEA U.S. for sponsoring today's post! IKEA is a registered trademark of Inter IKEA Systems B.V. and is used with permission. The views, ideas and opinions expressed here are my own.
If you would like to follow along on more of my home decor, DIY, lifestyle, travel and other posts, I'd love to have you follow me on any of the following:
Pinterest / Instagram / Facebook / Twitter / Google+
disclosure: this post contains some affiliate links