The perfect neutral rug can help finish off a room and add much needed texture and warmth! I'm sharing the best neutral rug picks along with my favorite affordable rug sources.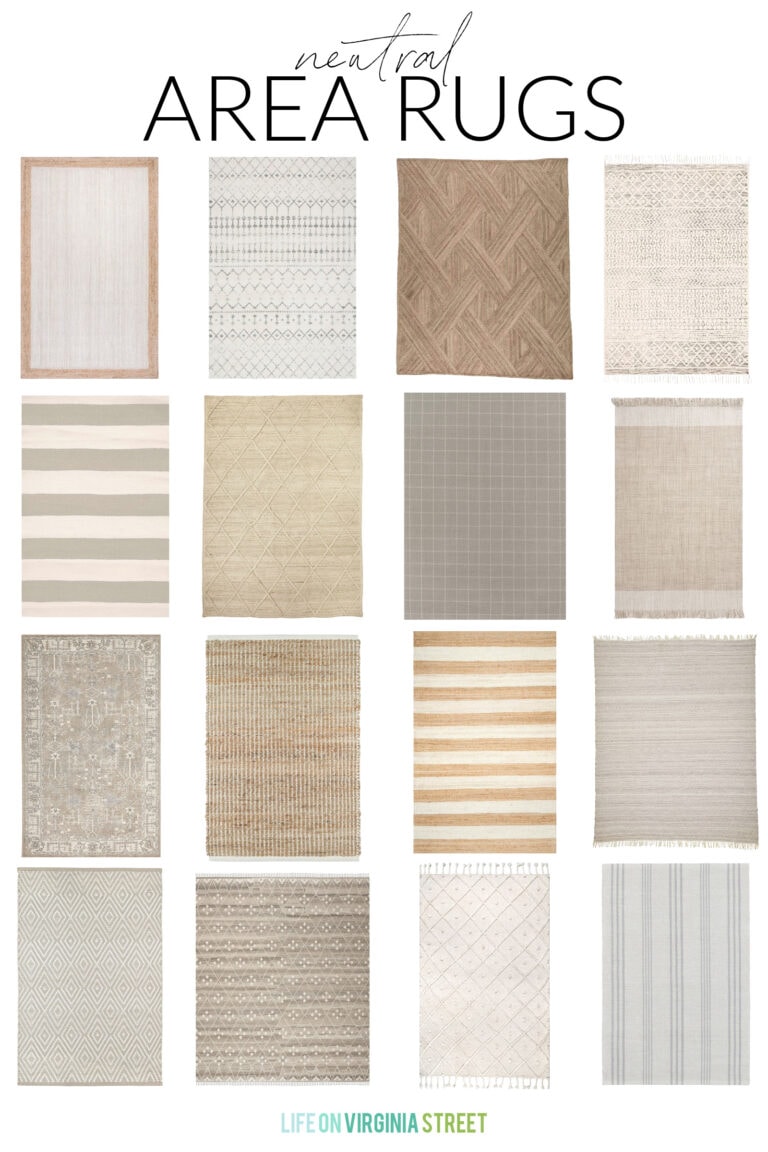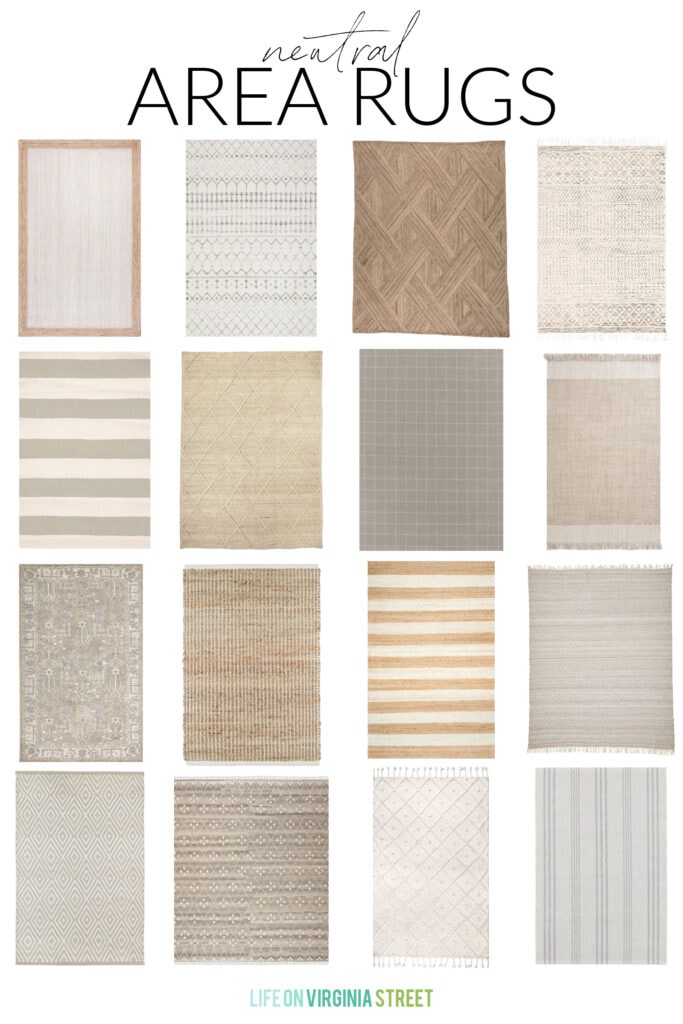 The Best Neutral Rugs
Throughout the day, I receive messages all day long from people searching for various items. By far the number one request is to find neutral area rugs followed by tips for buying rugs online.
I am one of those people that isn't always willing to spend a lot of money on a rug. There is absolutely something to be said about high quality rugs, however, with our relaxed lifestyle (and three cats) it makes no sense to spend a lot of money in most situations. I never want anything in our home to be too precious for others (or ourselves) to worry about ruining expensive items. I feel like there are so many great rugs out there that are reasonably priced, and I know for our lifestyle, it makes much more sense to not have to commit to a rug for years to come.
Today, I'm sharing a few dozen of my favorite neutral rug finds from all over the internet at various price points. I'm also sharing some of my favorite retailers for finding reasonably priced rugs that also come with good reviews.
This post was originally published on August 21,2018 but has been updated today with current product selection. This post also contains affiliate links for your shopping convenience. Click here to read my full disclosure policy.
My Favorite Sources for Affordable Rugs
Following are some of my favorite sources for finding quality, affordable rugs including neutral areas rugs. This list goes beyond just neutral rugs options, and are stores I search every time I'm on the hunt for a new rug. Each of the store names below are clickable and you'll be directed right to their rugs:
Reviews online are usually very telling, so when searching for a rug online, take the time to read the reviews! Some sites even allow buyers to upload photos of the rugs in their space, which can also prove to be fairly helpful, especially when looking at color.
If you're worried about stains, for durability, I always love the Dash & Albert line of rugs. Their patterns are timeless classics and their rugs tend to be very durable (especially the indoor/outdoor options). Most of their area rugs are more of a mat style, but work great with a rug pad underneath. The ones from their indoor/outdoor line can be bleached and hosed down, but are typically still pretty soft underfoot.
I typically look for rug pads at HomeGoods. They usually have a fairly wide selection and their prices can't be beat! Serena & Lily also have excellent quality rug pads. My favorite for hardwood floors is their premium rug pad. They're nice and thick and keep rugs from shifting at all!
Favorite Neutral Area Rugs From Around Our Home
Before I jump into a huge assortment of neutral rugs I'm loving right now, I thought I'd share some favorites from around our home! Sometimes I panic a bit when it comes to rug selection, and always feel safe with a good neutral. They can also help to cover up wall-to-wall carpet you might not like! That's basically what I do for our entire upper level! Let's look at some favorite neutral rugs from around our home.
In our entryway, we recently added this diamond patterned rug! Ours is the gray color, but it's more of a warm taupe-like color in person. It's held up well so far, but I'd definitely recommend a rug pad under it if you have it on solid floors!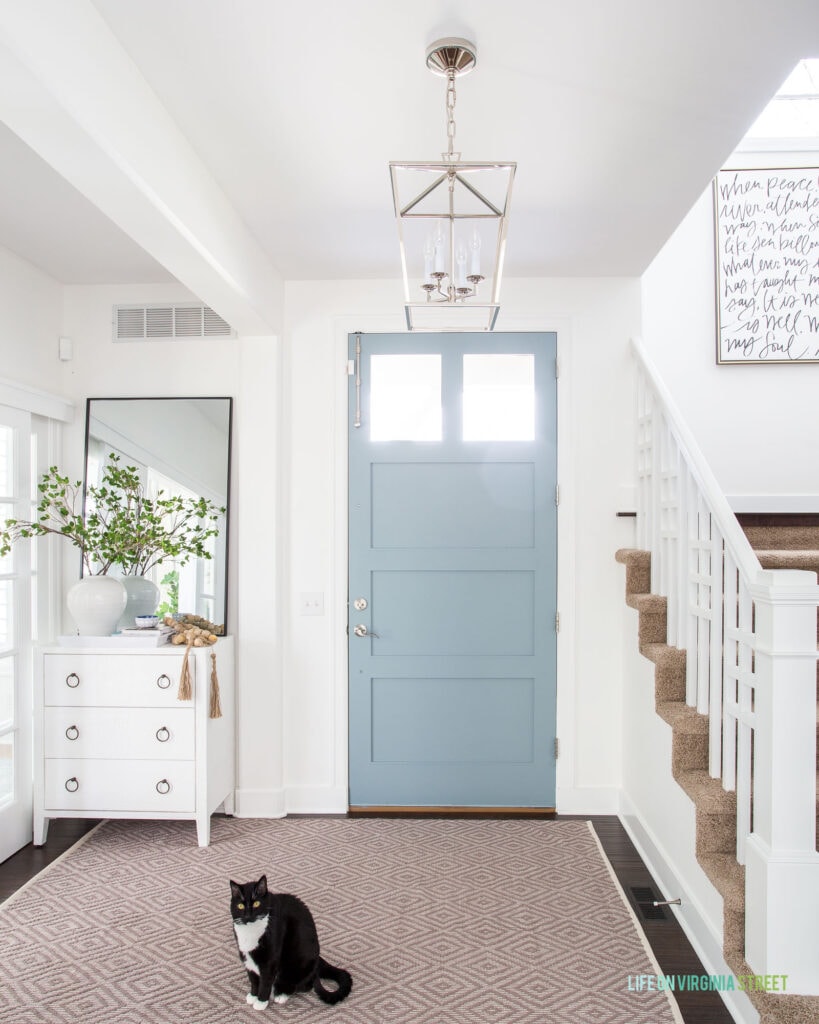 ENTRYWAY SOURCES: Faux Greenery | Diamond Rug | Urn Vase | Tall Mirror | White Raffia Cabinet (also here) | Wood Bead Garland | Lantern Pendant Light | Door Surface Bolt Lock | 'It Is Well' Canvas
We have this neutral striped rug in our guest bedroom. The pattern is a bit more bold than the others in our home, but it still acts as a neutral because of the tone-on-tone coloring. It's a great option if you're wanting something a bit more graphic. The colors on the left side of the photo (where the window isn't' flooding it with light) are the most accurate color depiction.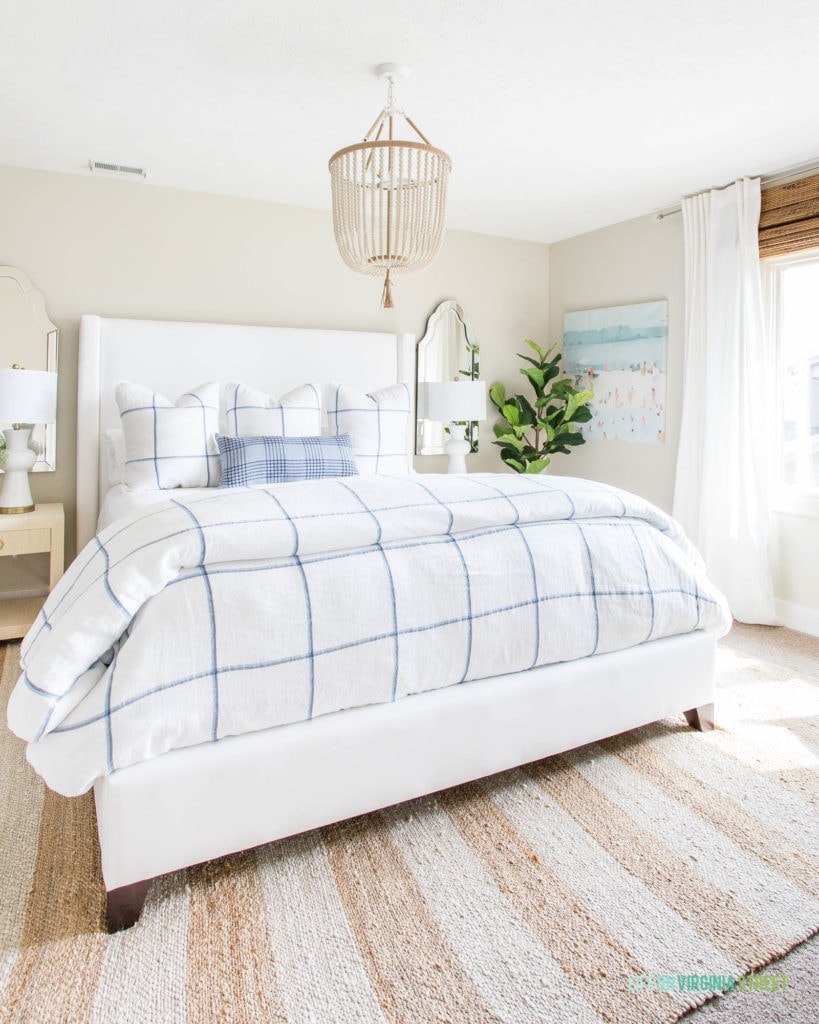 GUEST BEDROOM SOURCES: Upholstered Bed | Windowpane Plaid Bedding | Plaid Lumbar Pillow | Bead Chandelier | Striped Rug | Raffia Nightstands | White Ceramic Lamps (come as a set of two) | Abstract Beach Art | Faux Fiddle Leaf Fig Tree (this is the 5'4″ size) | Mirrors | Similar Drapes | Cane Chair | Striped Pillow
We also have this rug in our kitchen now (in the runner size in Earth) and it's the softest indoor/outdoor rug I've ever found! I love that we can hose it off (although we've never needed to), yet it looks like a high-quality indoor rug! We've had it going on three years and it still looks like new!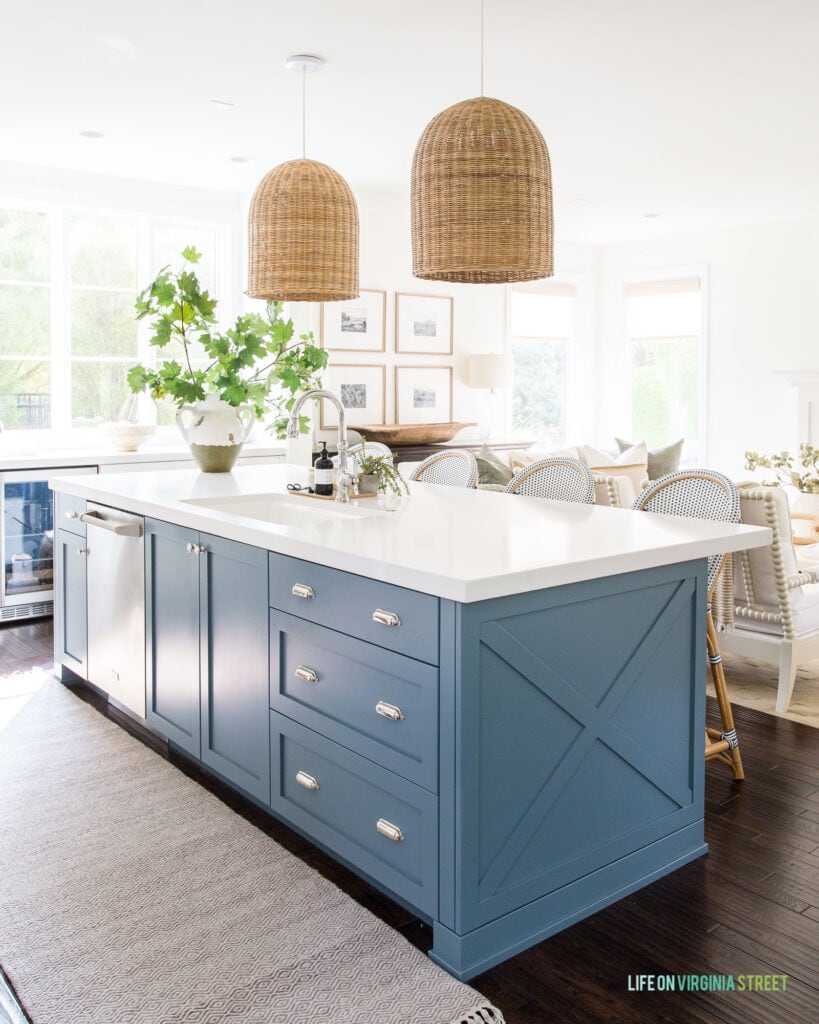 FALL KITCHEN SOURCES: Basket Pendant Light | Bistro Counter Stools | Runner Rug | Tuscan Vase | Cabinet Bin Pull | Cabinet Knob
In our bedroom, we're using one of my favorite neutral rugs to date! I love how it lightens up our drab (and buckling) carpet! Although it's a jute, it's still very soft underfoot, and I don't have issues with this buckling on carpet like I have some others in the past.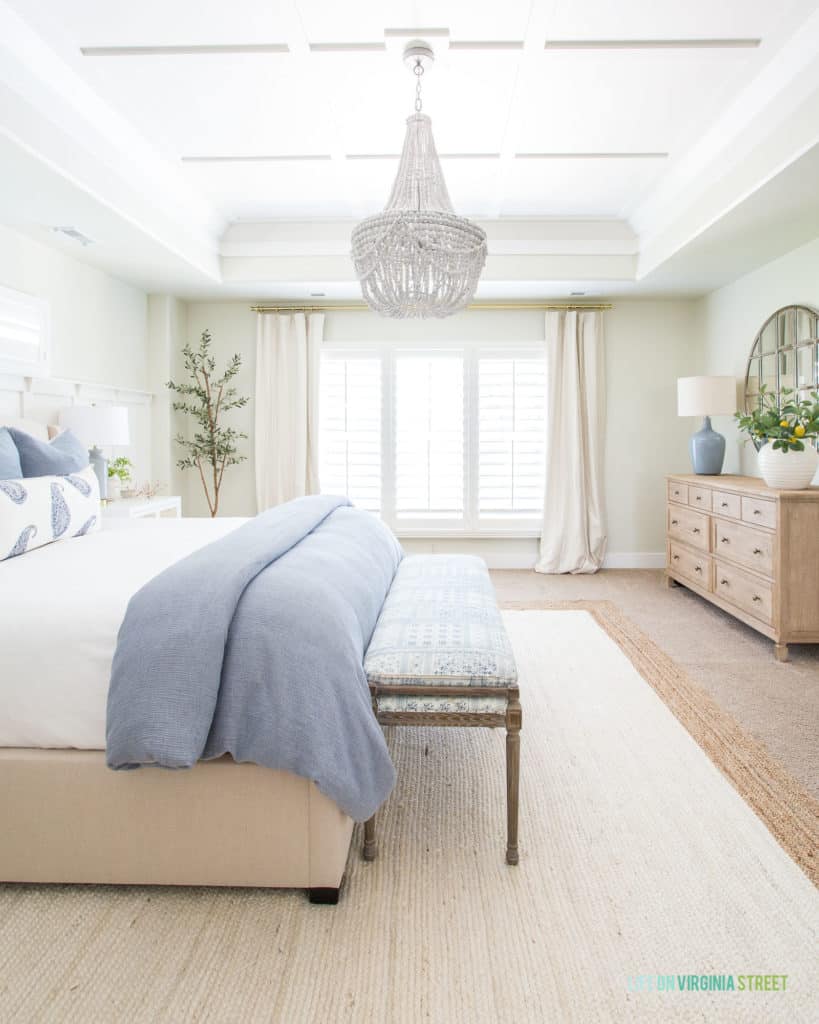 MASTER BEDROOM SOURCES: Similar Bed | Blue Euro Shams & Bedding | Paisley Lumbar Pillow | Cane Nightstands | Bead Chandelier | Faux Olive Tree | Faux Potted Maidenhair Fern | Manzanita Branch | Jute Rug | Dresser Lamp | Nightstand Lamps | Gallery Wall Frames | Striped Curtains | Curtain Rod | Bench | Dresser | Round Grid Mirror | Similar Ceramic Vase | Faux Lemon Stems
In our den, we have another favorite neutral rug that's been around for years and has held up really well! I love that the pattern is subtle, but also still makes a statement!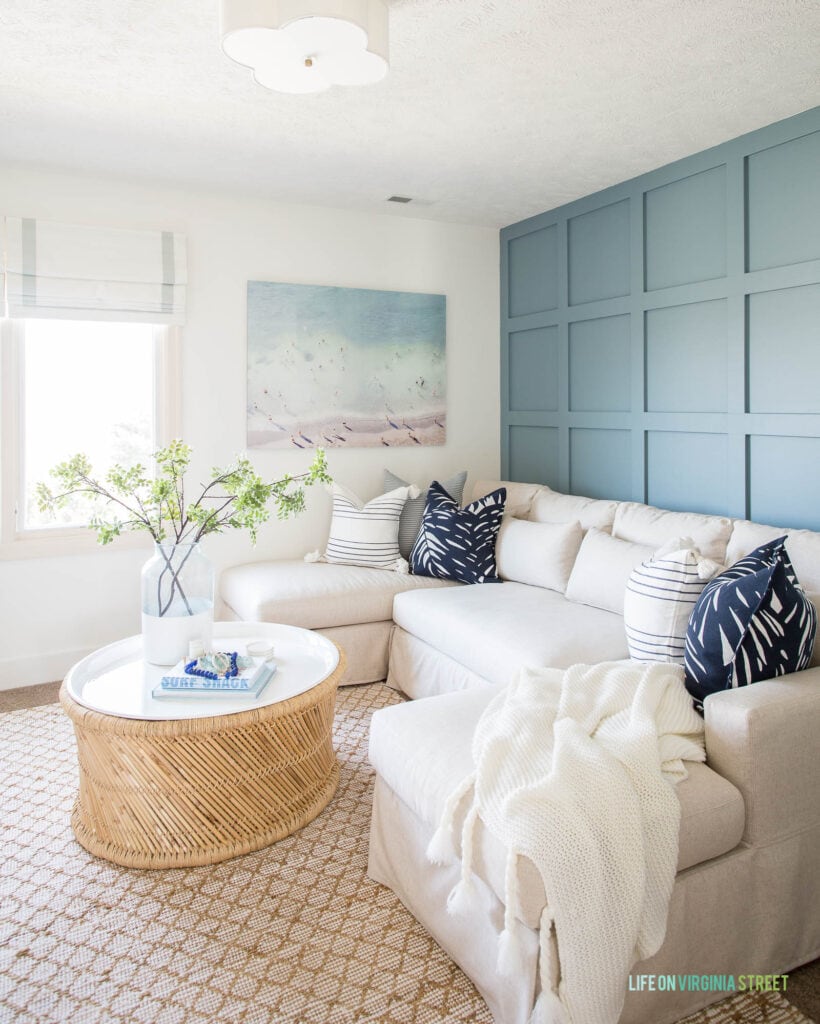 DEN SOURCES: Linen Sectional | Acrylic Beach Art | Jute Diamond Rug | Scallop Light Fixture | Coffee Table | Paint Dipped Vase | Faux Greenery Stems | Raised Stripe Pillow | Striped Tassel Pillow | Palm Print Pillow | Roman Shades | Recycled Glass Beads
If you're looking for a neutral with a pop of color, this hand-knotted rug we used to have in our dining room that is now in our guest room is still one of my favorites of all time!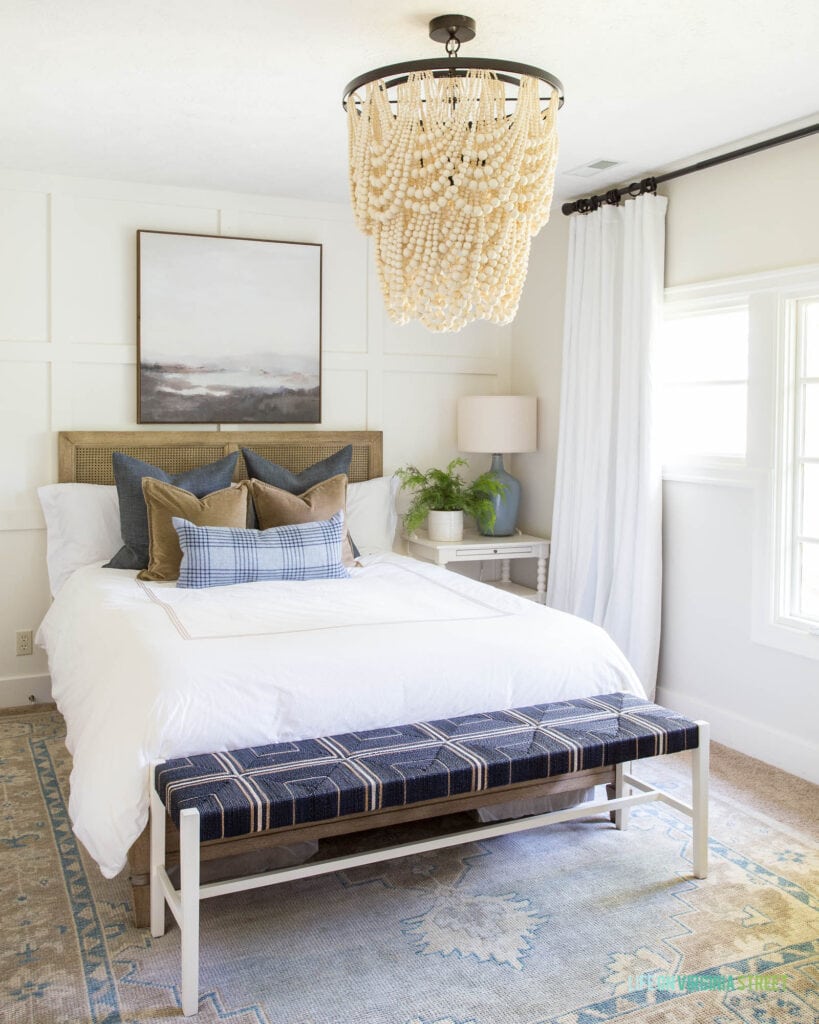 GUEST BEDROOM SOURCES: Wood Cane Bed | Hand-Knotted Rug | Bead Chandelier | Abstract Art | Spindle Nightstand | Belgian Linen Drapes | Iron Curtain Rod | Iron Finials | Iron Curtain Ring Clips | Woven Bench | Linen Pillows | Velvet Pillows | Plaid Lumbar Pillow | Ceramic Lamp | Faux Fern | Hotel Style Duvet Cover
Neutral Rug Picks
In an effort to keep neutral rugs from being boring, I either look for one with lots of tactile texture or ones with a subtle, but interesting, pattern. I used to have this rug in our coastal dining room. It is very soft for a jute (because of the chenille blend) and is a really beautiful option! It's neutral but the tone-on-tone pattern and texture mix made it interesting. Fortunately, it was super easy to clean in a dining room.
Following are even more of my favorite neutral rug picks! Simply click on any of the images below to learn more about each of the rugs shown. Most of these come in a variety of shapes and sizes (and sometimes colors).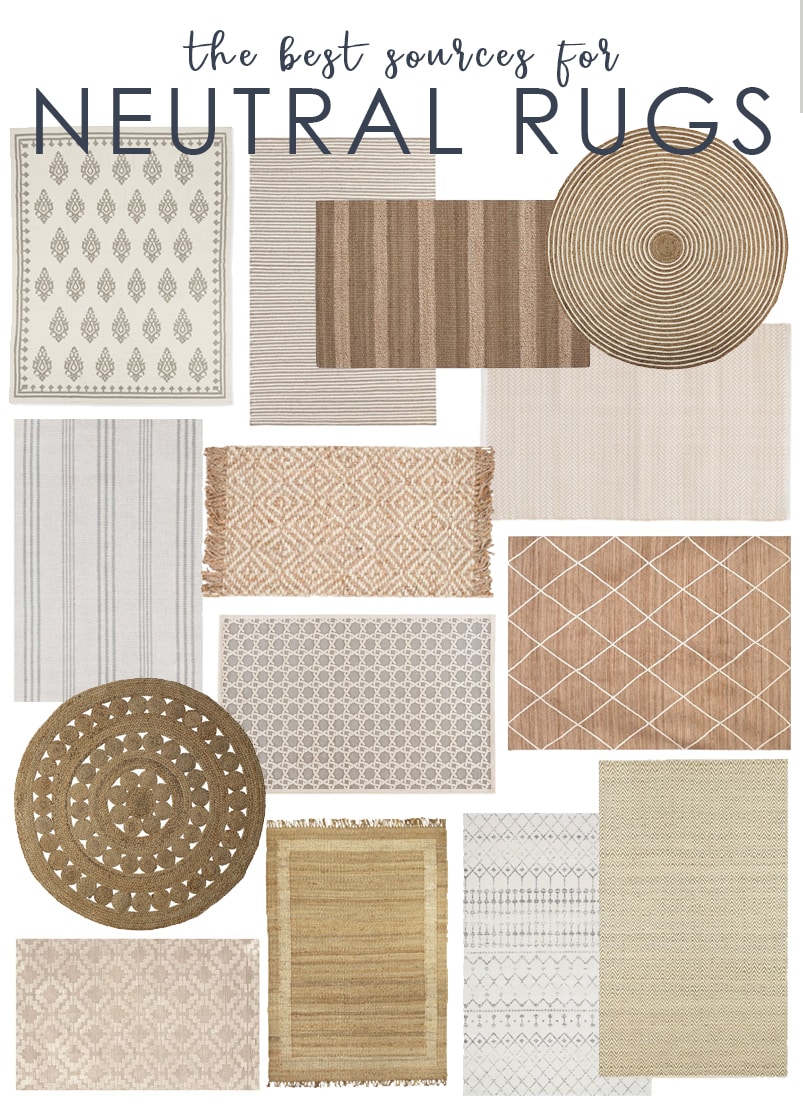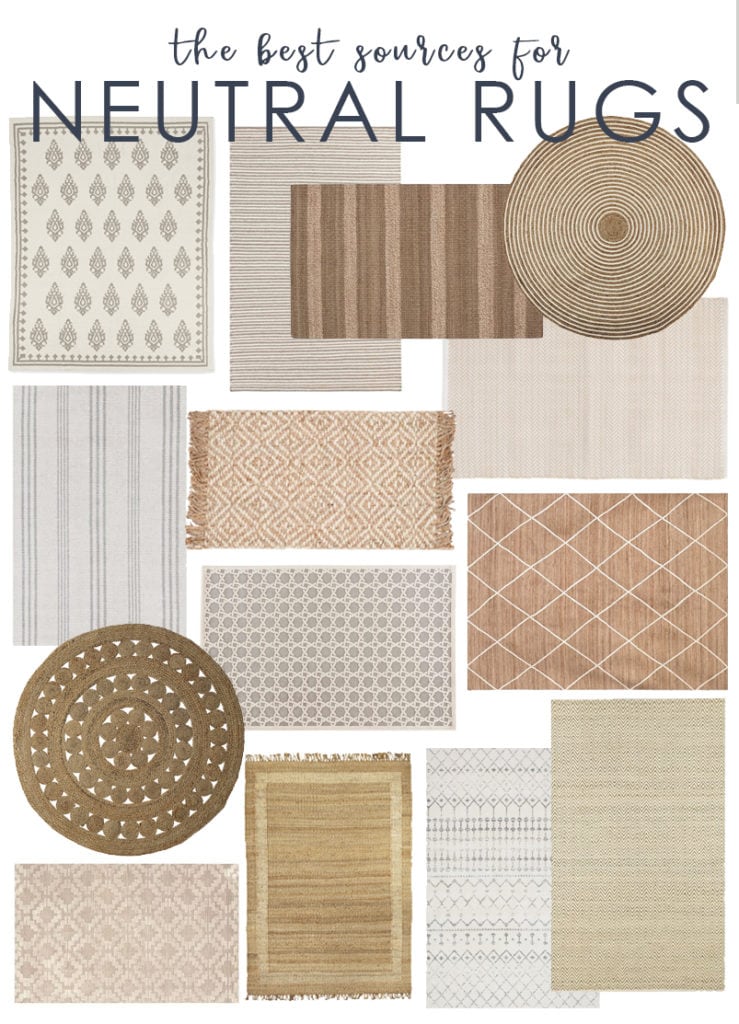 If you would like to follow along on more of my home decor, DIY, lifestyle, travel and other posts, I'd love to have you follow me on any of the following:
Pinterest | Instagram | Facebook | Twitter
disclosure: some affiliate links used