A collection of all of my favorite summertime essentials for both fashion and beauty! Includes everything from bathing suits to unique SPF products to the best denim shorts and more!
This post is sponsored by Nordstrom and ShopStyle and contains affiliate links for your shopping convenience. As always, all thoughts and opinions are my own. Click here to read my full disclosure policy.
I'm pretty sure there's no question that I am summer's number one fan. I would take heat (and yes, even humidity) any day over cold, snow, ice and wind! Today I've partnered with Nordstrom to share my favorite summertime essentials. Many of these products I've used for several years and others are new-to-me finds that I can't get enough of! I'm including my favorites in both fashion and beauty that I think you'll love! As always, all of my Nordstrom picks include free shipping and free returns!
My Favorite Summertime Essentials for Summer Days
My hot summer day outfit typically consists of a cute graphic tee and cut-off denim shorts. I can't rave enough about these denim shorts from Wit & Wisdom. They're super comfy (hello, stretchy waistband) and they aren't too short! I also love that so many brands launched cute chic graphic tees because there seems to have been a shortage the last few years. This year, I've found so many I love and this Italian gelato tee from J. Crew is one I reach for frequently!
Following are a few other graphic tee favorites for summer. Click any of the images below to learn more about each item.

Another go-to staple outfit for me has been these linen pants and my favorite v-neck tee (I've had it in three colors for a few years). This is the first pair of linen pants I've found in a long time that are long enough for me (I'm 5'8″). I love the variety of sleek colors (as well as the stripe option I'm in) that they offer! They do run a bit large (they recommend sizing down one) but since I know my booty and hips (and that linen doesn't stretch) I ordered a Large and love the perfect fit!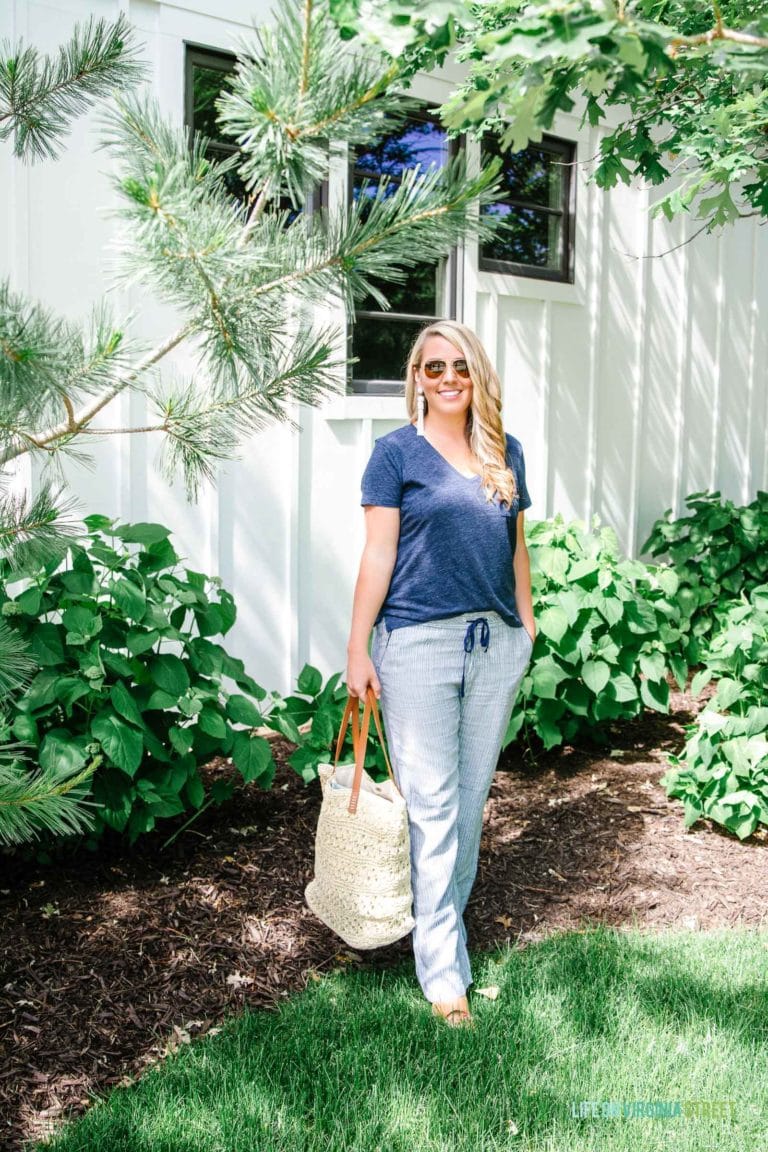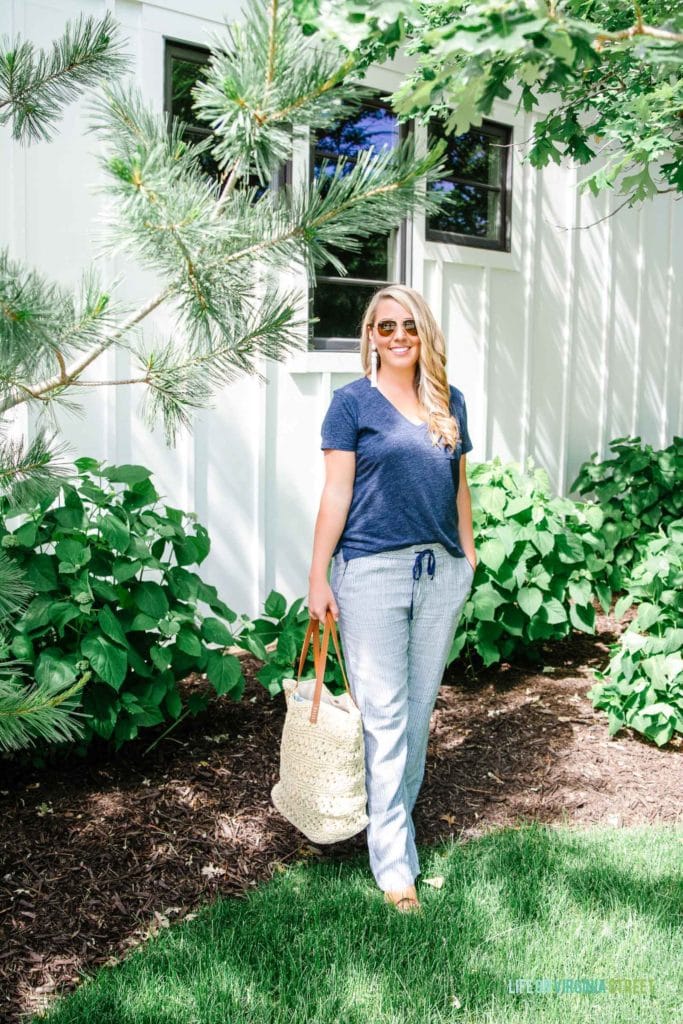 Linen Pants | V-Neck Tee | Wedge Sandals |  Woven Raffia Tote | Earrings | Aviator Sunglasses
This woven raffia tote is a winner because it looks cute and summery but is also packable and durable, making it great for travel and/or the pool and beach!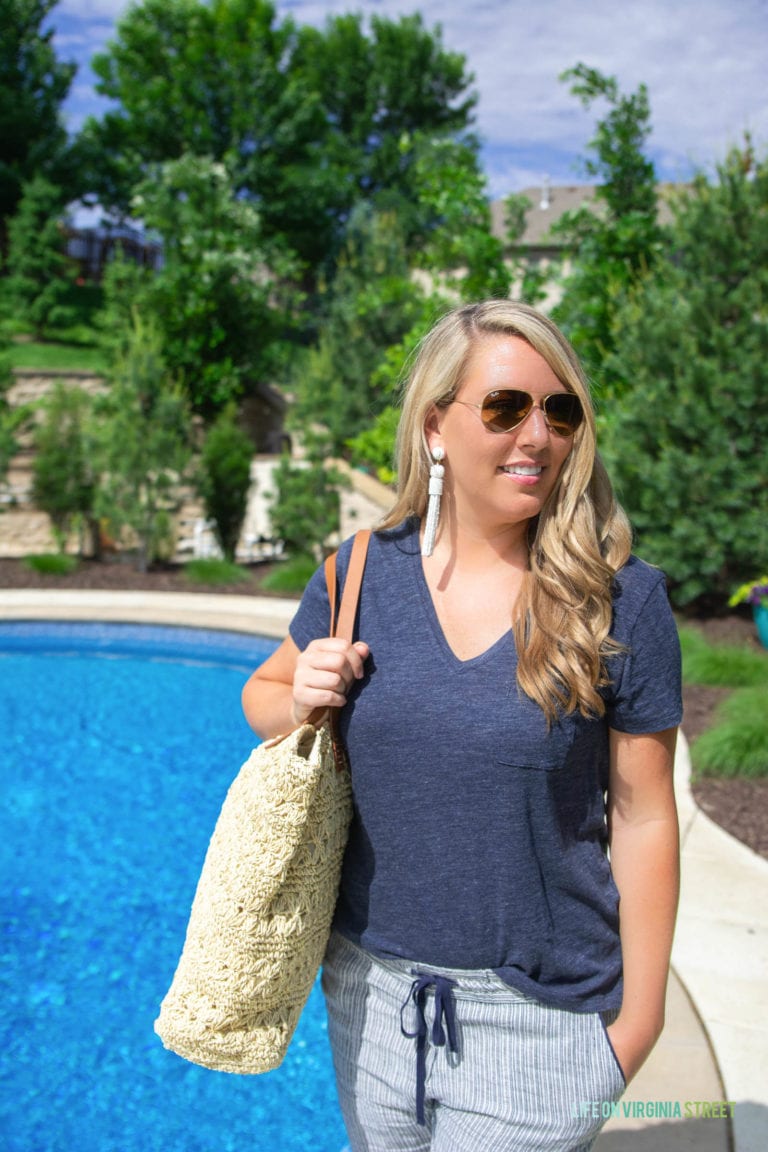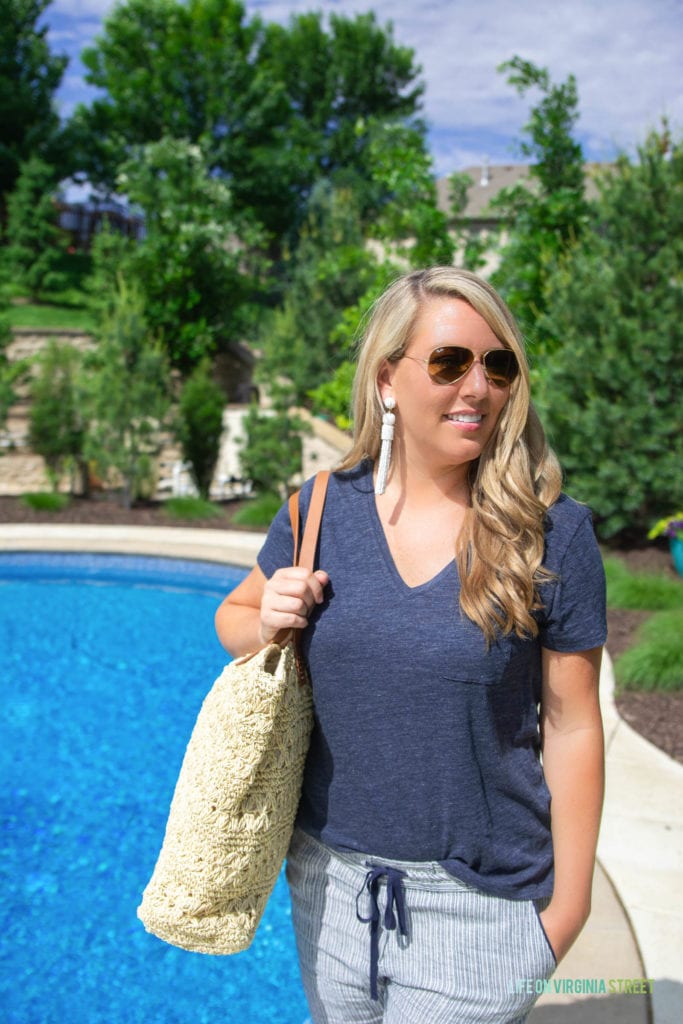 Linen Pants | V-Neck Tee | Woven Raffia Tote | Earrings | Aviator Sunglasses
For the pool, you can find all my bathing suit ideas here. This cover-up maxi dress was a recent find and I can't get enough of it! It's more of an investment piece but is one that looks so chic, and elegant plus it feels great on! I'm wearing the size Medium here.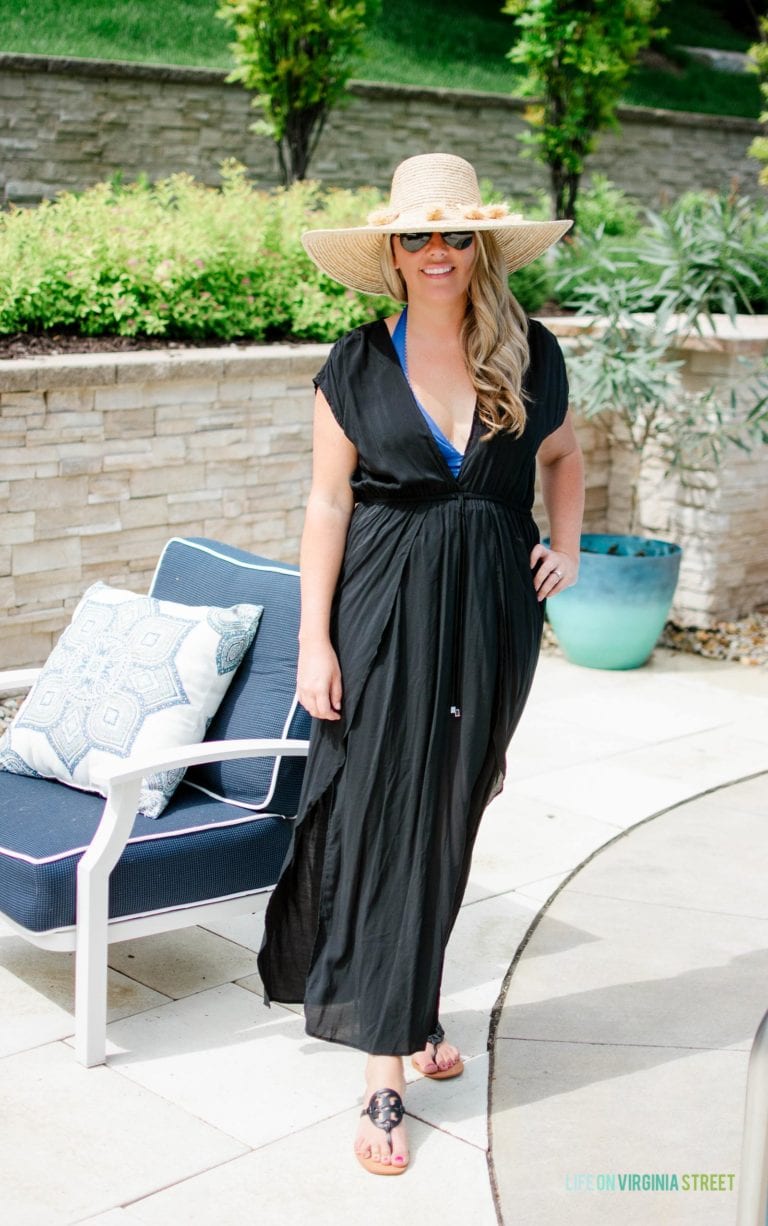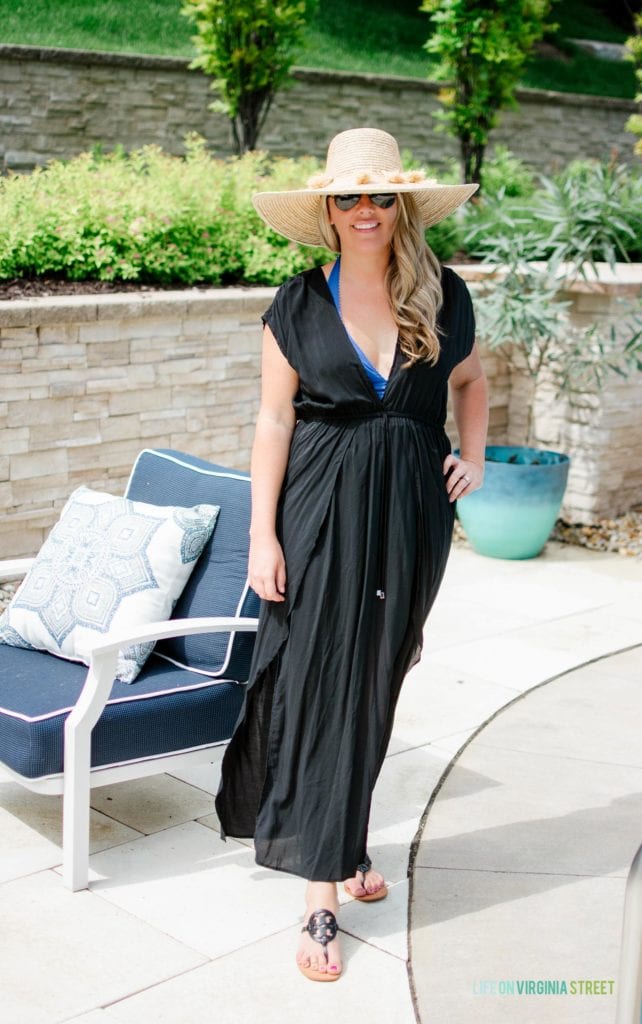 Cover-Up Maxi Dress | Reversible Tankini Top | Tankini Bottoms | Sandals | Floppy Straw Hat | Black Aviators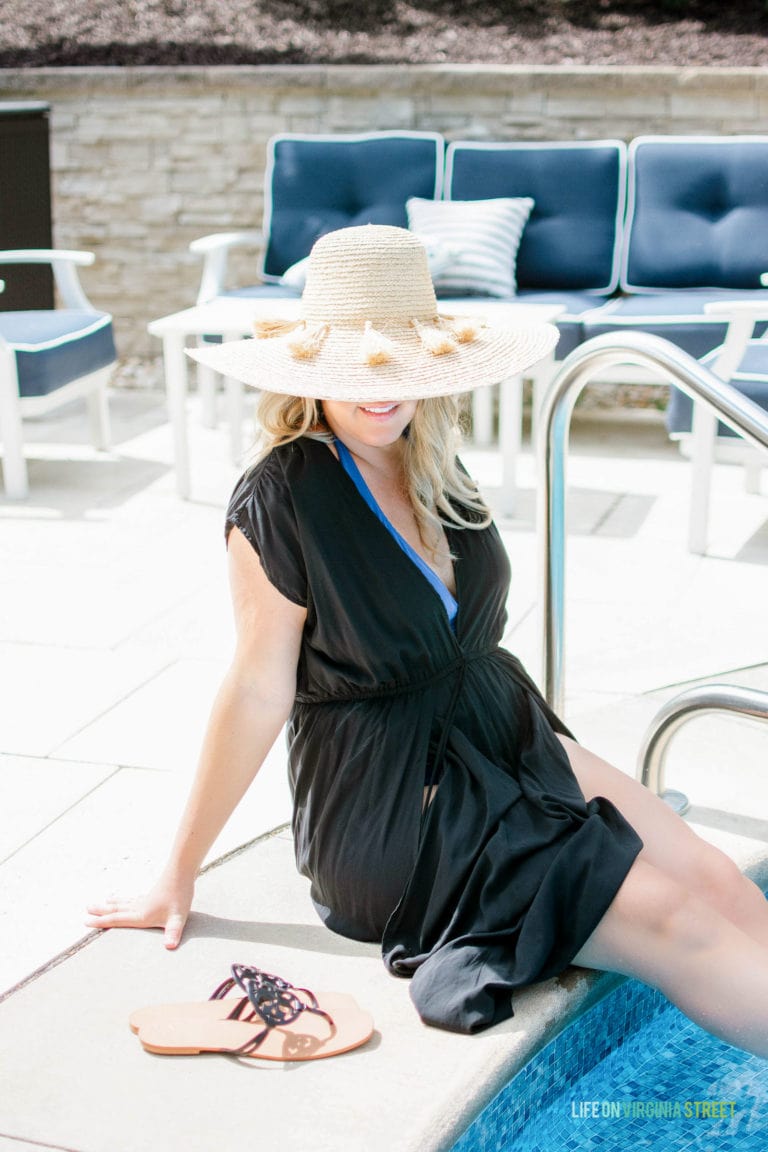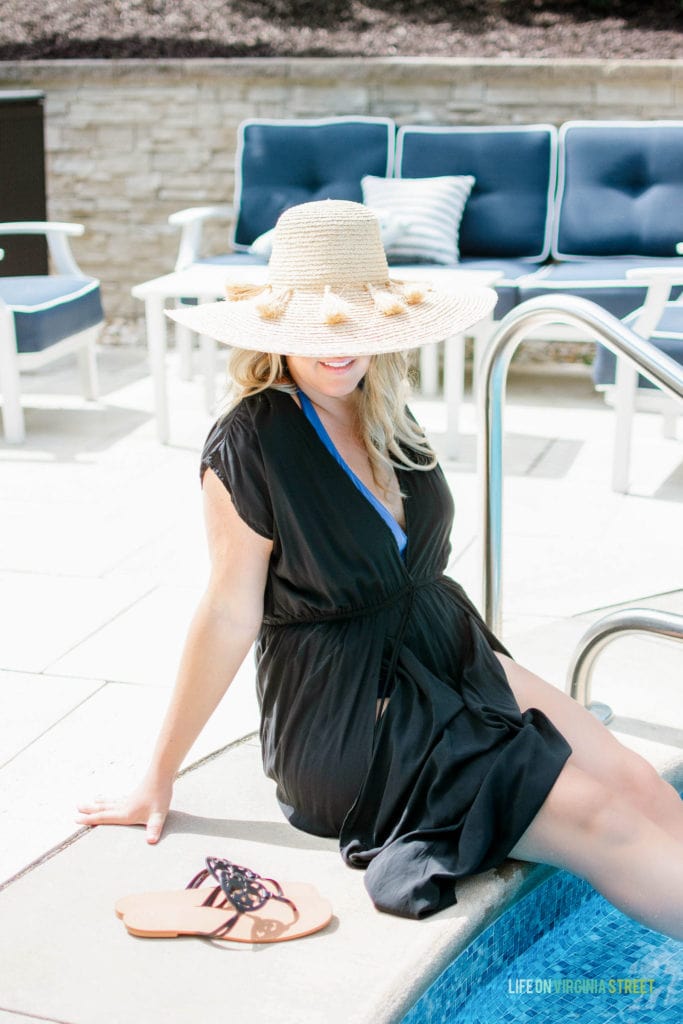 Cover-Up Maxi Dress | Reversible Tankini Top | Tankini Bottoms | Sandals | Floppy Straw Hat | Black Aviators
And can we talk about this floppy straw hat? I have a large head so most hats don't typically work for me. But I love this glamorous one, and it's adjustable inside so if you don't have a huge head like me, it should still work!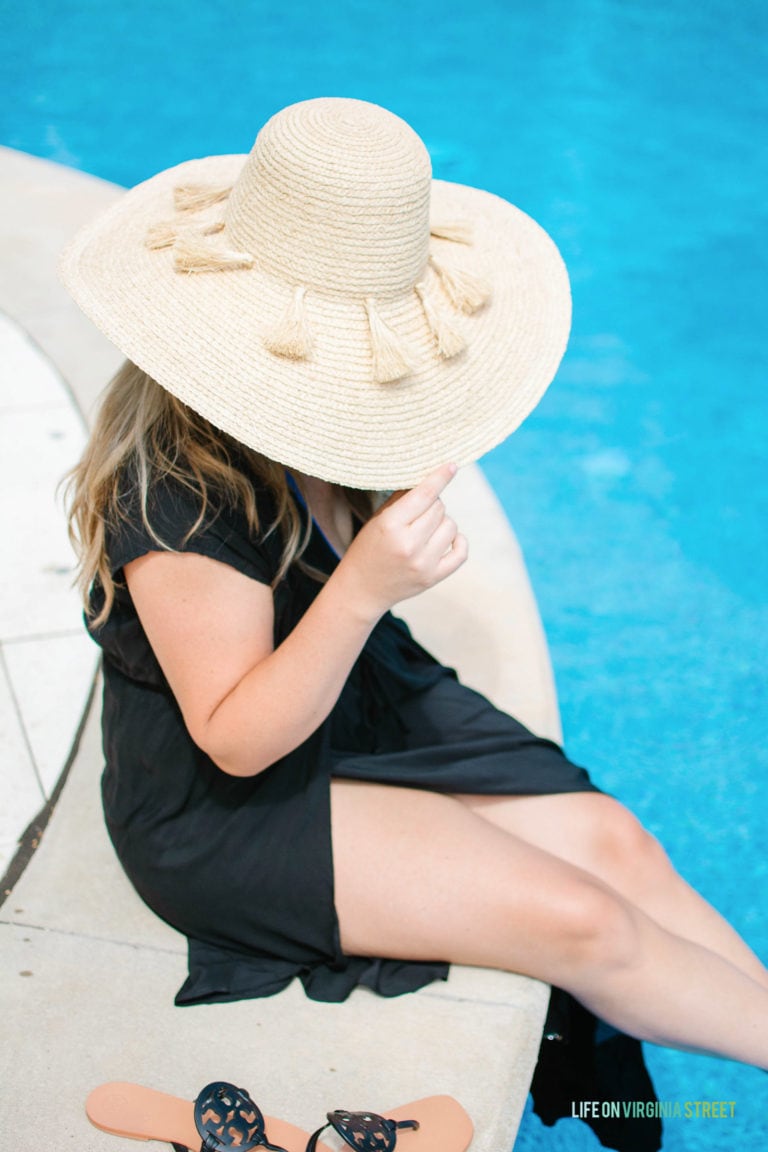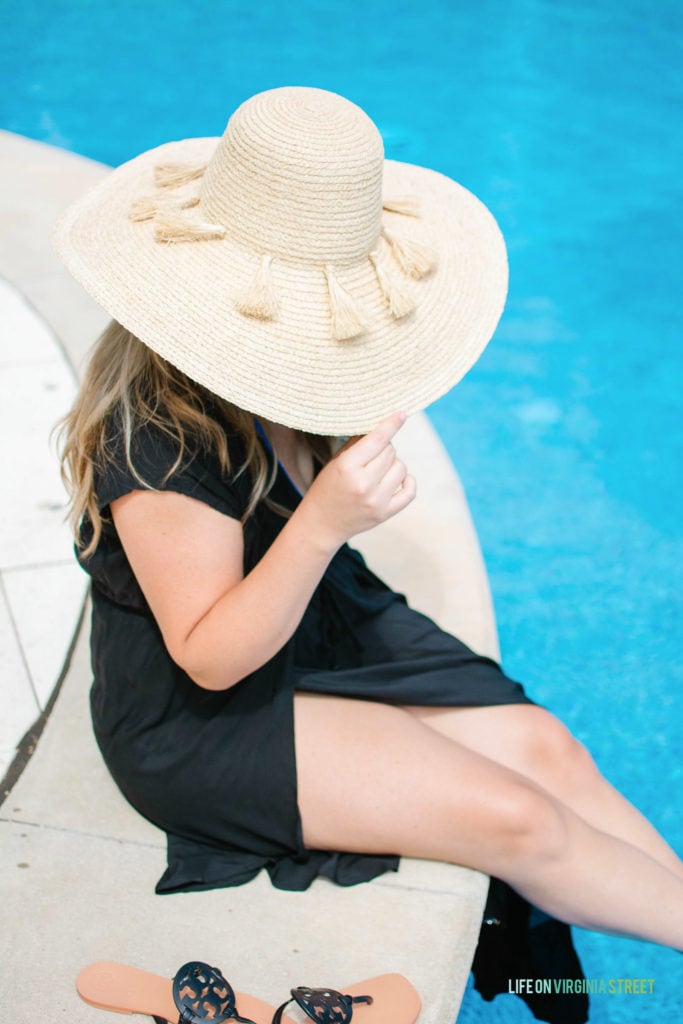 Cover-Up Maxi Dress | Reversible Tankini Top | Tankini Bottoms | Sandals | Floppy Straw Hat
My Favorite Summertime Essentials in Beauty
As much as I love being outdoors and spending every waking moment outside, it can wreak havoc on my hair and makeup! Not only that, being one year away from the big 4-0, I've been much more conscientious about using SPF whenever possible on my skin. Over the years I've found some faves I'm not sure I'll ever give up, and I've tried a few new products in recent months that I'm loving as well!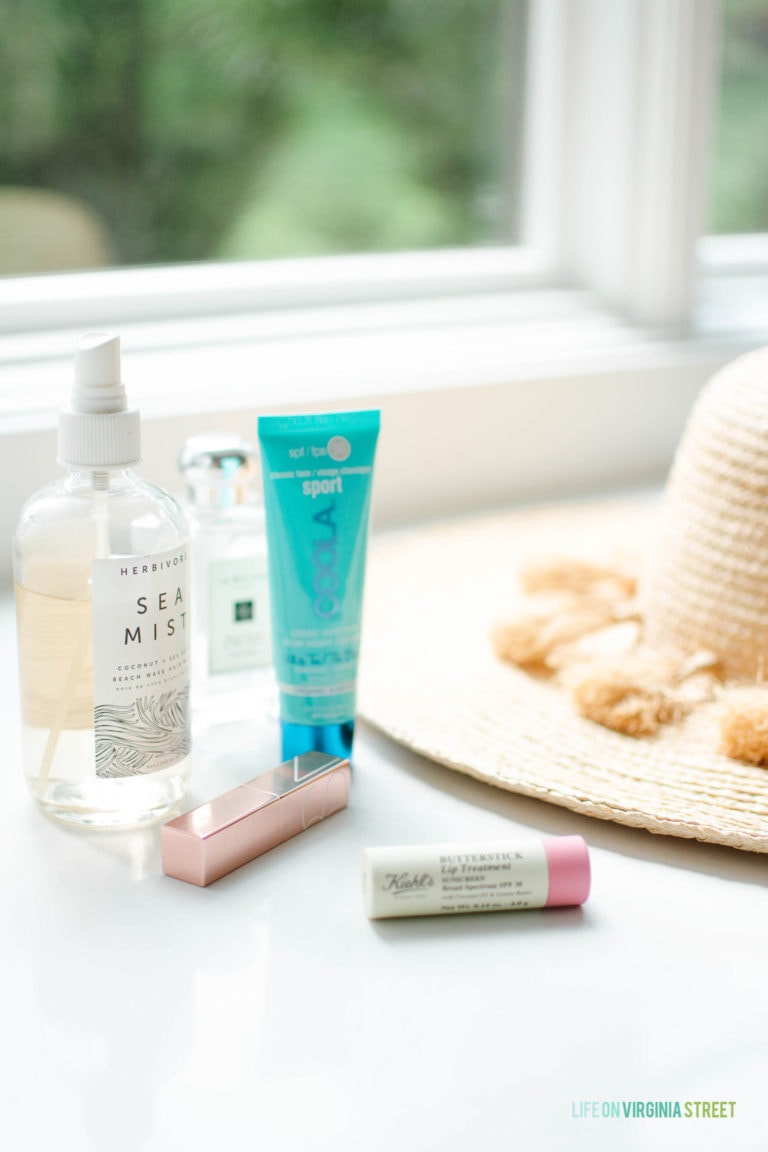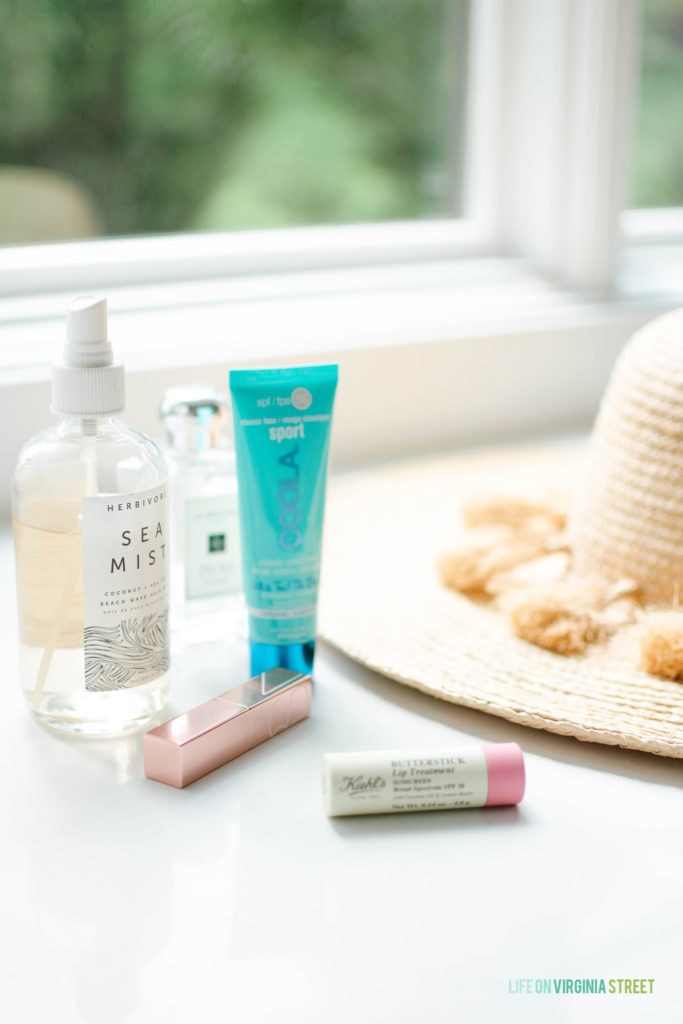 Everyday Sunscreen Products – I've raved about the Supergoop! brand for a few years now. If you're wanting to try a few of the cult favorites, this Life in the Sunshine kit is a great place to start! I bought it a few months ago because it includes travel-sized version of my favorites like the Setting Mist I've been obsessed with for years! It's an easy way to get SPF 50 on your face, plus it locks in your makeup and mattifies. I can't rave about this product enough!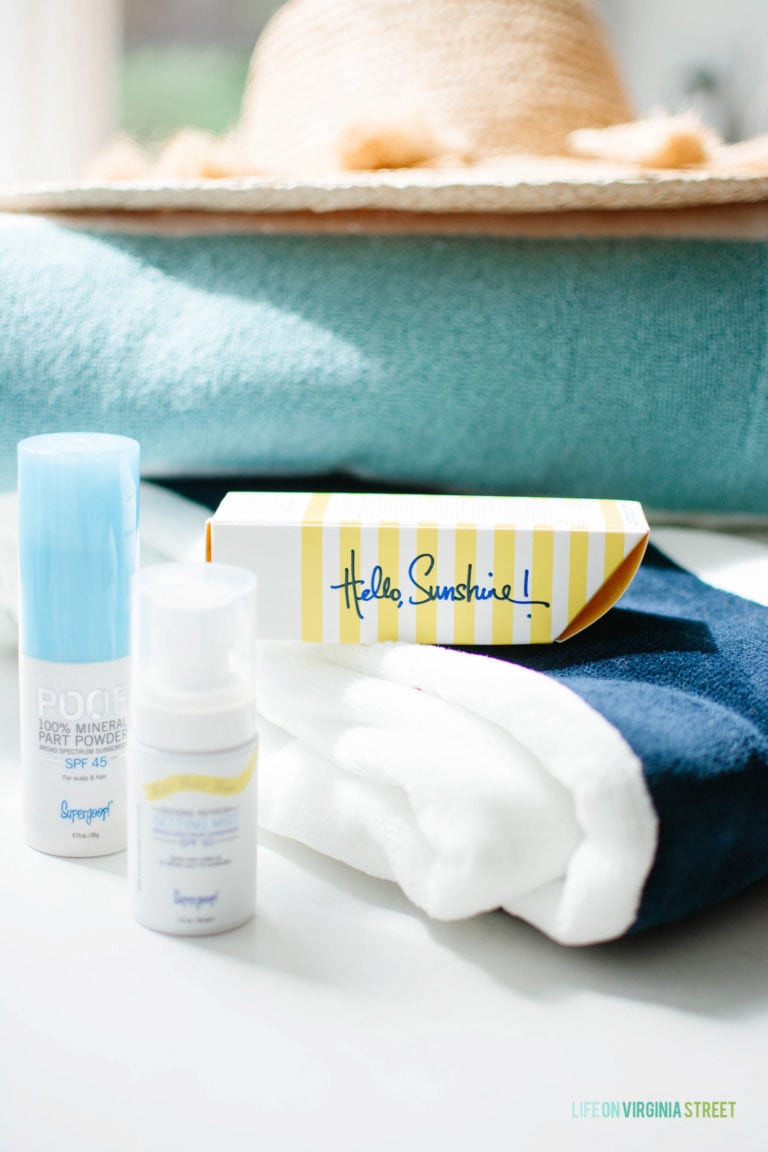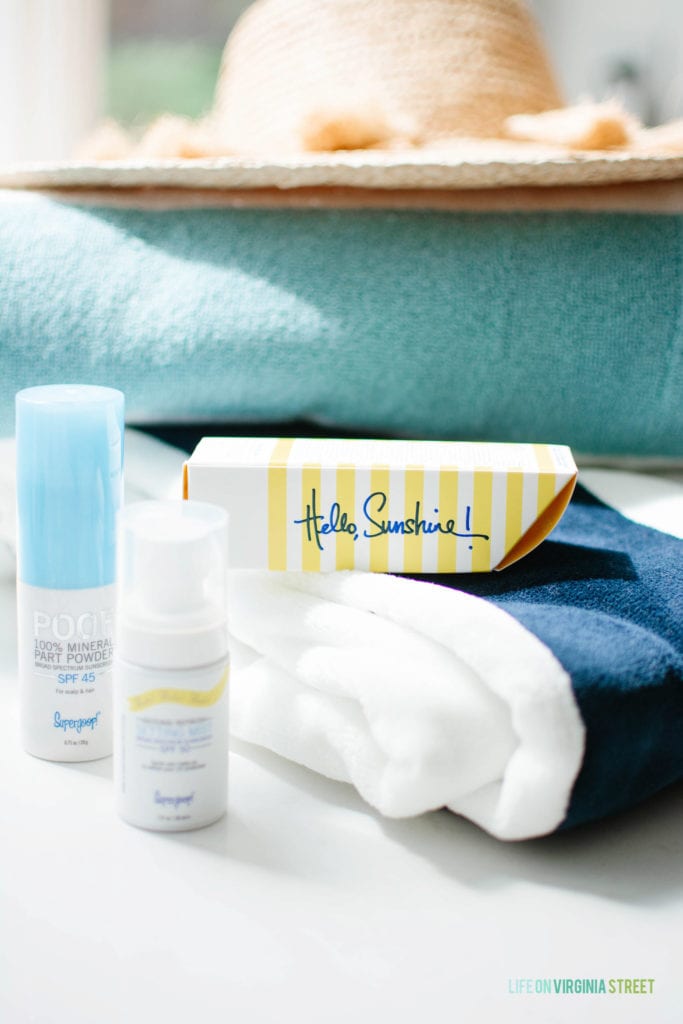 Sunscreen for the Pool – My sister-in-law introduced me to the Coola line last summer and ever since I've been hooked! I do get a bit paranoid about chemicals in other sunscreens so I like that this line is 70% organic. We've been using this non-aerosol sport spray and their face-specific sunscreens this past year and have been really happy with them.
This SPF part powder is a recent favorite! So often I find myself not wanting to wear a hat at the pool, but I also want to protect my very visible part line – and sunscreen always made my head a greasy mess. So, I was so excited to try this! There's definitely an art to applying the right amount. Let's just say the first time I tried it, the entire top of my head was covered in powder 😉 But with a fractional spray, it works like a dream! I'd compare it in use to a powder dry shampoo, but this has the added benefit of SPF! You just spray a little on and then rub it in with your fingers and you're good to go!
I've also been using this Kiehl's Butterstick Lip Treatment. I like that it's SPF 30 and offers a variety of soft subtle colors. The best part is that it's infused with coconut oil and lemon butter so it's hydrating and smells amazing! I've been using the Petal color recently.
After the pool, if my hair is still a bit damp but we're still hosting people at our house and I'm not able to shower, I'll spritz this texturizing sea mist in my hair. It helps add some pretty beachy waves (I usually scrunch my hair a little), isn't sticky like others I've tried, and it smells amazing!
Other Favorite Summertime Essentials
Looking for even more of my favorite summertime essentials? Be sure to also check out these other posts. Click the name of the post below to read more.
Happy summertime! I hope you found a beauty product or two you'd love to try!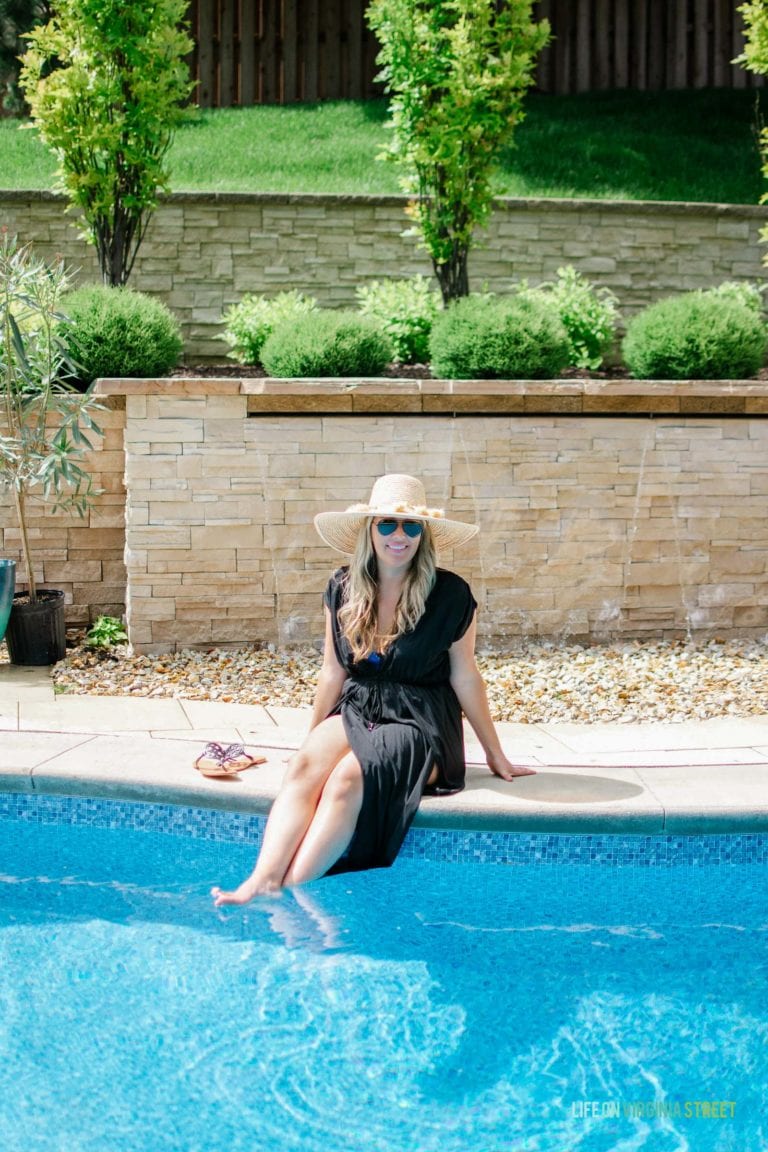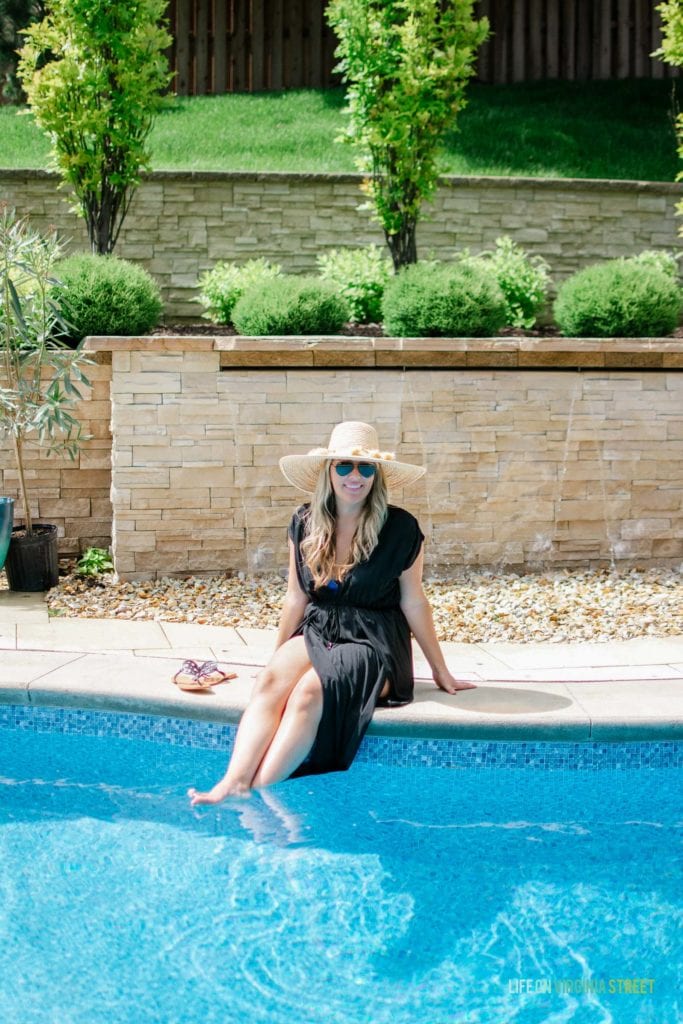 If you would like to follow along on more of my home decor, DIY, lifestyle, travel and other posts, I'd love to have you follow me on any of the following:
Pinterest | Instagram | Facebook | Twitter 
disclosure: some affiliate links used
Photos by the talented Mandy McGregor