Here is a collection of my favorite Omaha restaurants and shops that are locally owned!
One of the most frequent messages I get (particularly on Instagram) relates to my favorite places in Omaha. It's amazing how many people visit our city periodically, and I've never written a post dedicated to my favorite spots. So, this post will be a resource I'll plan to refer people to and will continue to update over the years!
Welcome To Omaha!
Although Omaha has a wide selection of chain restaurants and shops, I wanted to focus on locally owned options that are unique to Omaha for this post. I also want to make it clear that this isn't intended to be a comprehensive list of the best of Omaha. These are places we have actually been to and can honestly recommend. I know there are many other amazing restaurants and shops and around Omaha, but without having been there firsthand, I chose not to include them.
Thank you to Woodhouse for sponsoring this post and lending me an Alfa Romeo Stelvio for these photos. As always, all thoughts and opinions are my own. Click here to read my full disclosure policy.
Alfa Romeo Stelvio
My friends at Woodhouse Alfa Romeo lent me another Stelvio for a few days to drive around Omaha to capture these images. It has quickly become one of my favorite rides and I'll share more details on the car at the end of the post for those interested. But first, let's dig into my favorite Omaha spots! I woke up bright and early for most of these photos in order to capture these locations without tons of people and cars around. I only mention that so you don't think the places I'm recommending are always deserted 😉
Touring Around Omaha
One of my favorite characteristics of Omaha is that people that visit are typically pleasantly surprised by the city when they visit. I think many envision corn fields and barns, rather than the beautiful and lively city they find. Omahans are friendly and helpful and tourists tend to have a very positive experience when they visit. Did you also know Omaha is also home to five Fortune 500 companies, which is more per capita than any other major metro area in the nation? It's such a great city!
Following are some of our favorite restaurants and shops from around Omaha! Rather than sharing images of food at each restaurant (which you can find on each restaurant's site), I thought it would fun to show some of the exteriors of places around Omaha so you can get a sense of the city for those that have never been!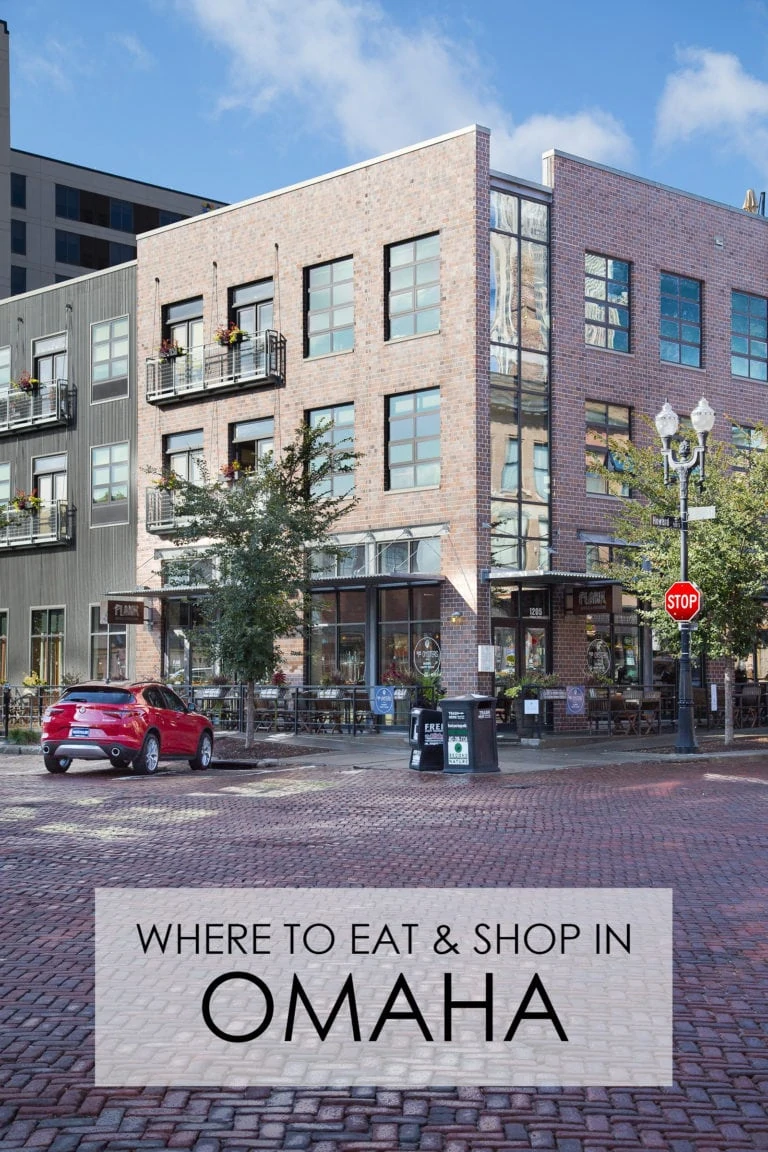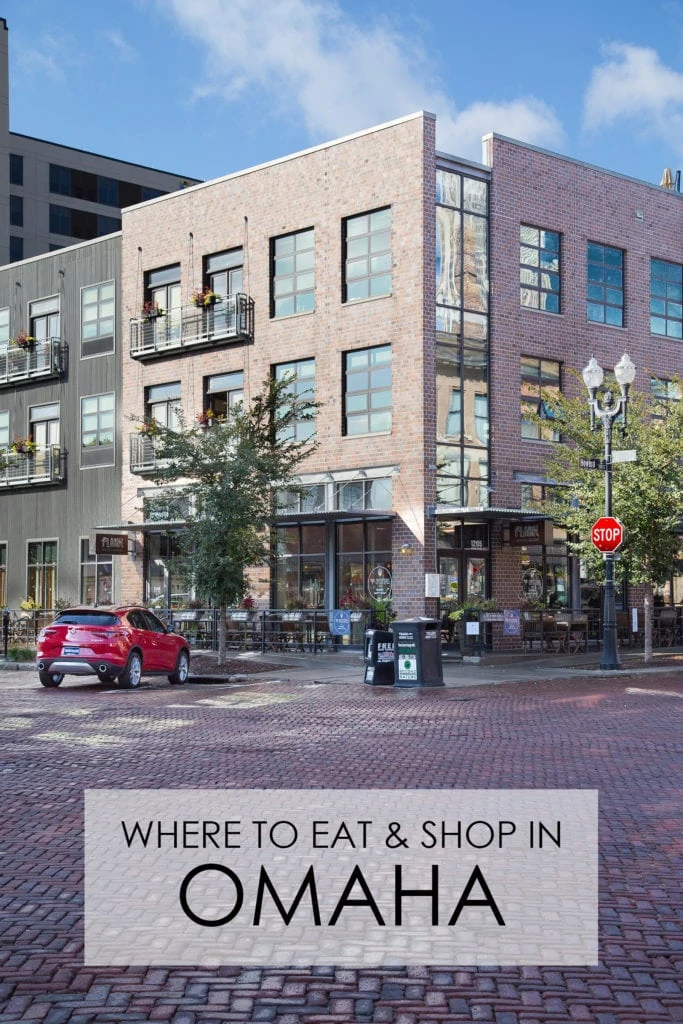 Downtown & The Old Market
The Old Market in downtown Omaha is one of the most well-known areas in Omaha for tourists. It's only a few minutes away from the airport and is now the new home of the College World Series and Creighton Baseball Stadium. It's also where our arena is for concerts, etc. With that comes a slew of great restaurants, fun shops and things to do. The Old Market section has cobblestone streets and old warehouses and buildings that have been converted into lofts and retail/restaurants. It's actually a lot of fun to just stroll around occasionally and see all the new offerings!
M's Pub – One of our favorite places to go, especially around the holidays, is M's Pub. The food and service is excellent and the ambiance is beautiful! It's a great place to get a nice, but un-stuffy dinner before concerts and other activities downtown. We particularly love the window views during the holidays. I'd recommend a reservation if you're going during prime hours during the week, especially if there is an event downtown.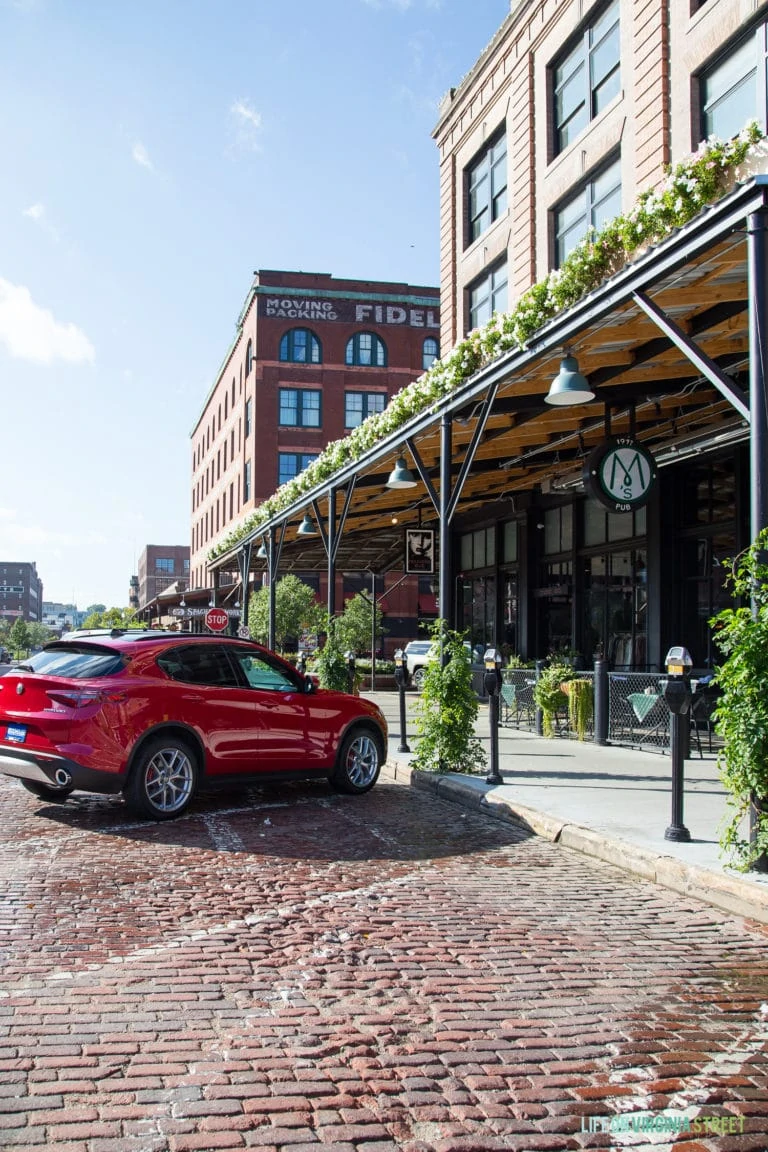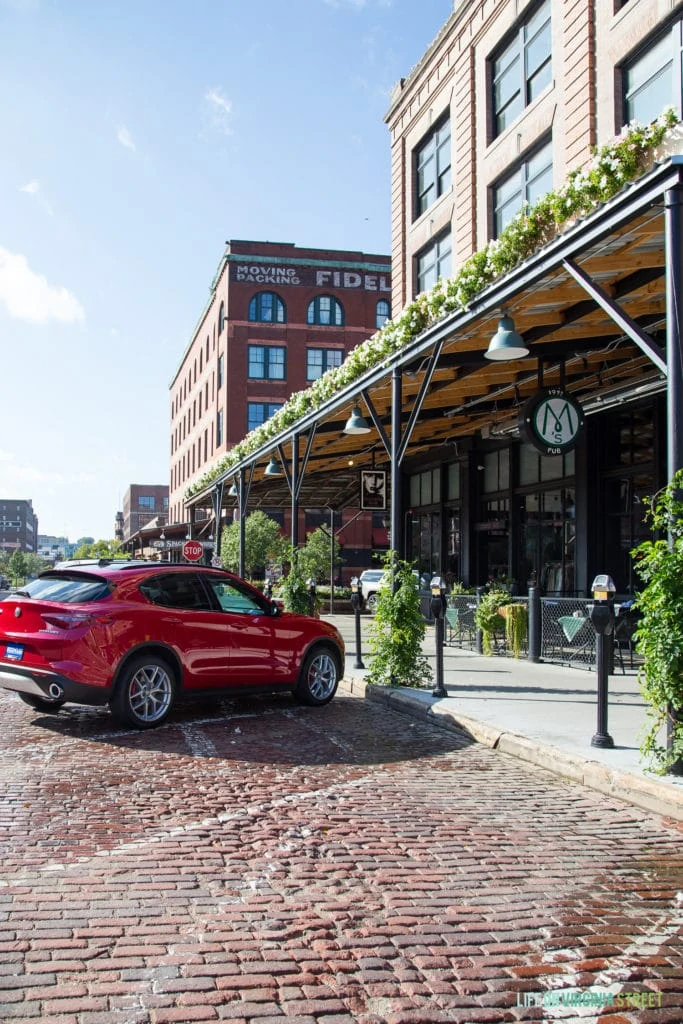 M's Pub in The Old Market
Plank Seafood & Provisions – Owned by Flagship Restaurant Group, Plank is a relatively new addition to The Old Market. They have really great fresh seafood offerings, and we love their happy hour for oysters and other small bites.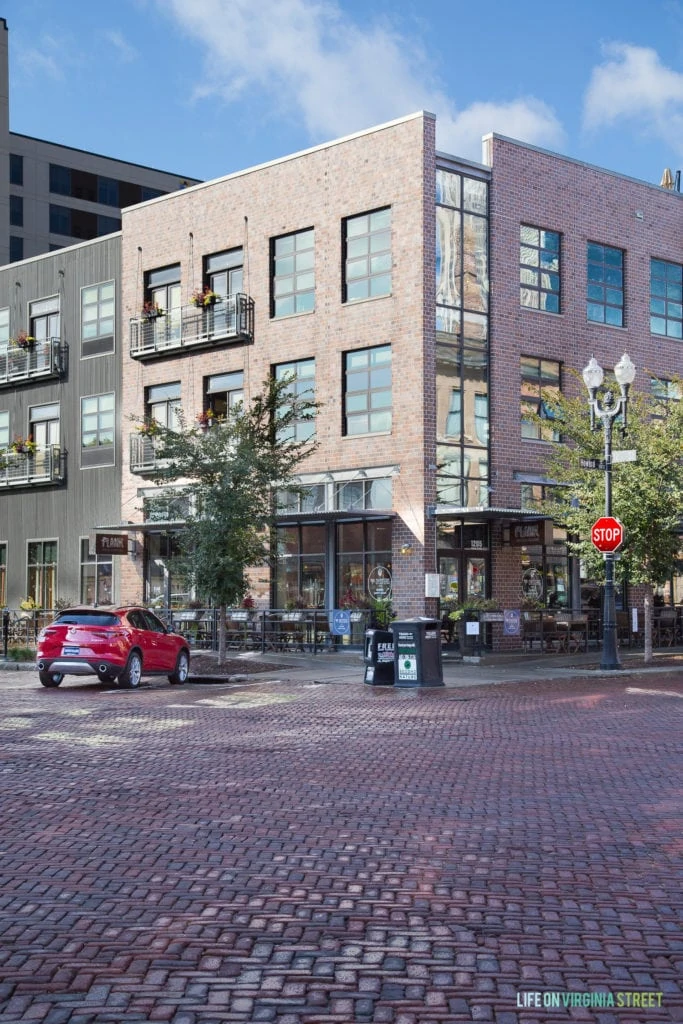 Blue Sushi – Also part of the Flagship Restaurant Group, it's one of our favorite sushi spots in Omaha. We tend to go to the location out west (baby blue), but the downtown version is equally as good! The food is always extremely fresh (despite Omaha being in the middle of the country) and they have an extensive selection of martinis and other cocktails (most of which are on their happy hour menu, with many of their sushi rolls and appetizers).
Roja – The third of my favorite Flagship Restaurant Group locations. Roja offers a trendier side to Mexican food and also has a location downtown and out west. The happy hour times and prices are great with discounted margaritas and appetizers. It's not uncommon for us to make a meal just out of their appetizers!
Upstream – One of our favorite breweries in all of Omaha. They used to have a location out west near us, but it closed recently. The location downtown is the original and is still a favorite. We love their beer and their delicious gastropub style food. It's on the edge of the Old Market and is a great space for parties as well, as they have multiple levels and spaces.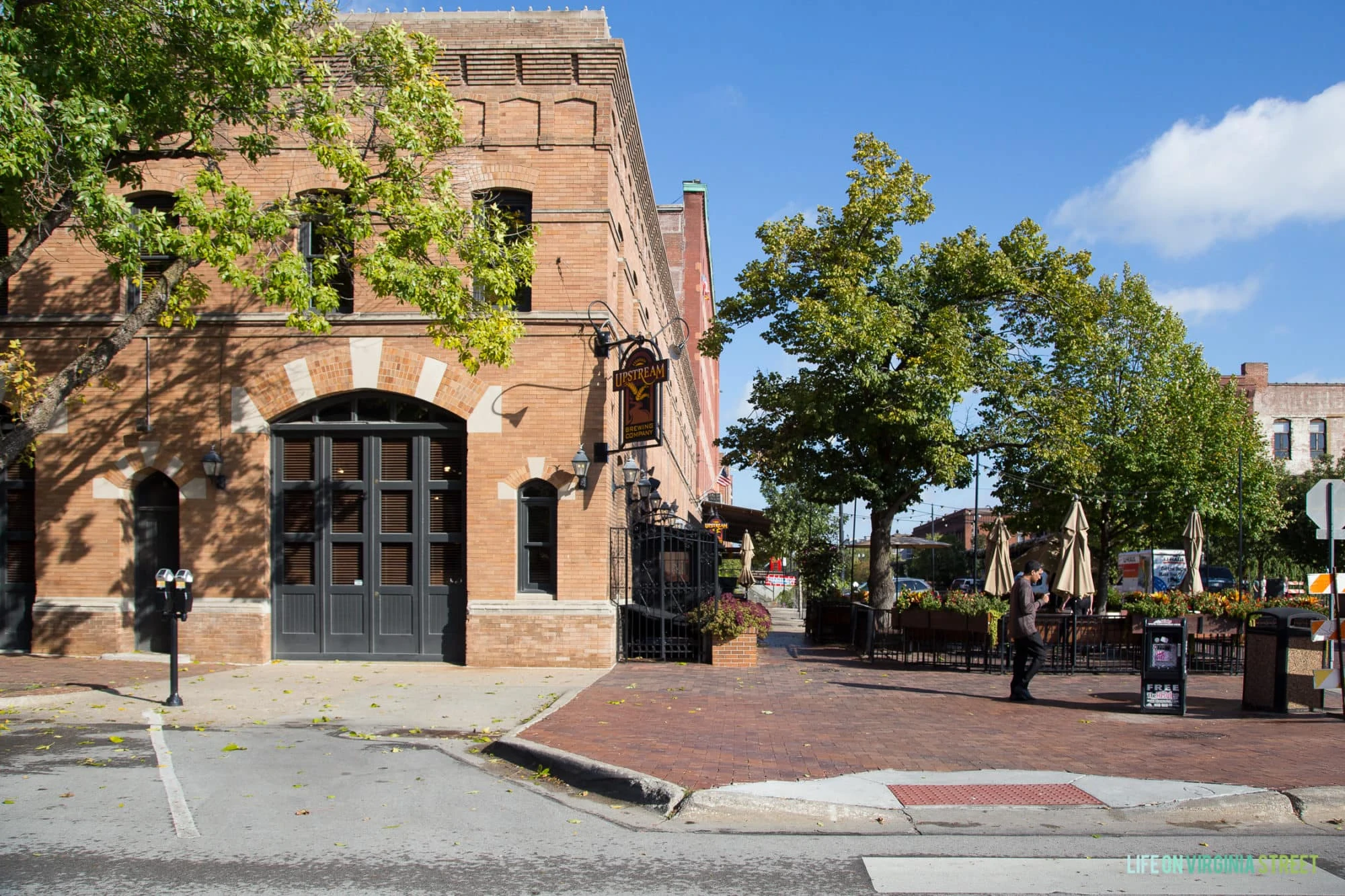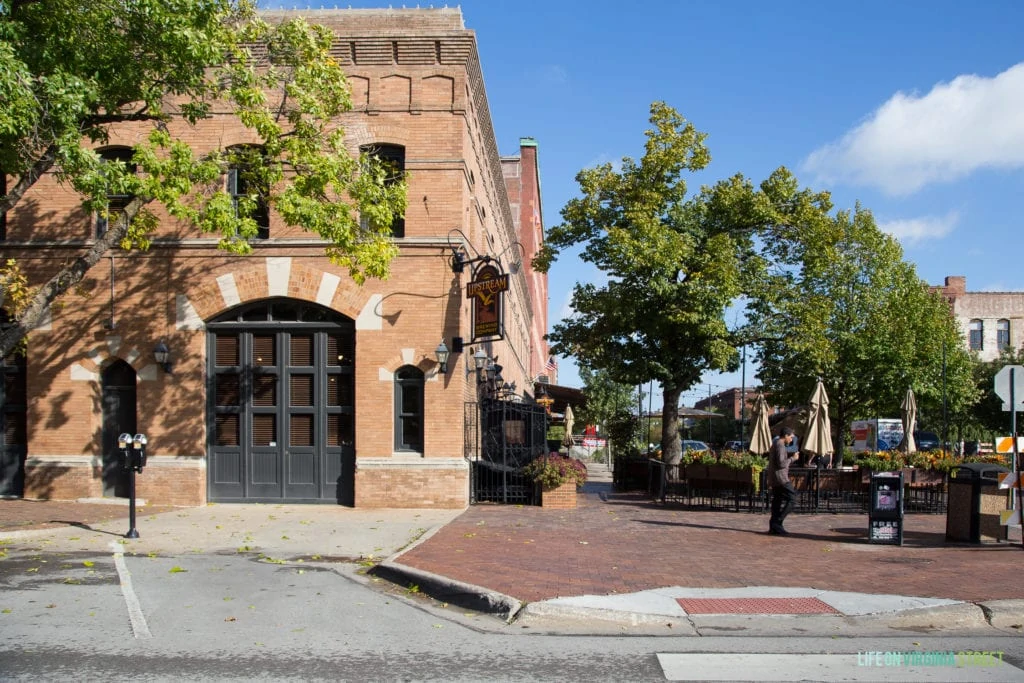 Upstream in The Old Market
801 Chophouse – Nebraska is known for it's beef and steak and our favorite steakhouse is 801 Chophouse. Expect a heftier bill here, but the food and service is worth it! The portions are large, so it's not uncommon for us to share a steak, several sides and then dessert.
Blatt – If you're looking for a spot to grab a beer and appetizers, Blatt is a favorite of ours. Located downtown (just around the corner from TD Ameritrade Park), as well as out west, Blatt offers a wide variety of beer on tap. The seating is German-beer-hall style with a more modern, current spin. The atmosphere is lively and the food is excellent!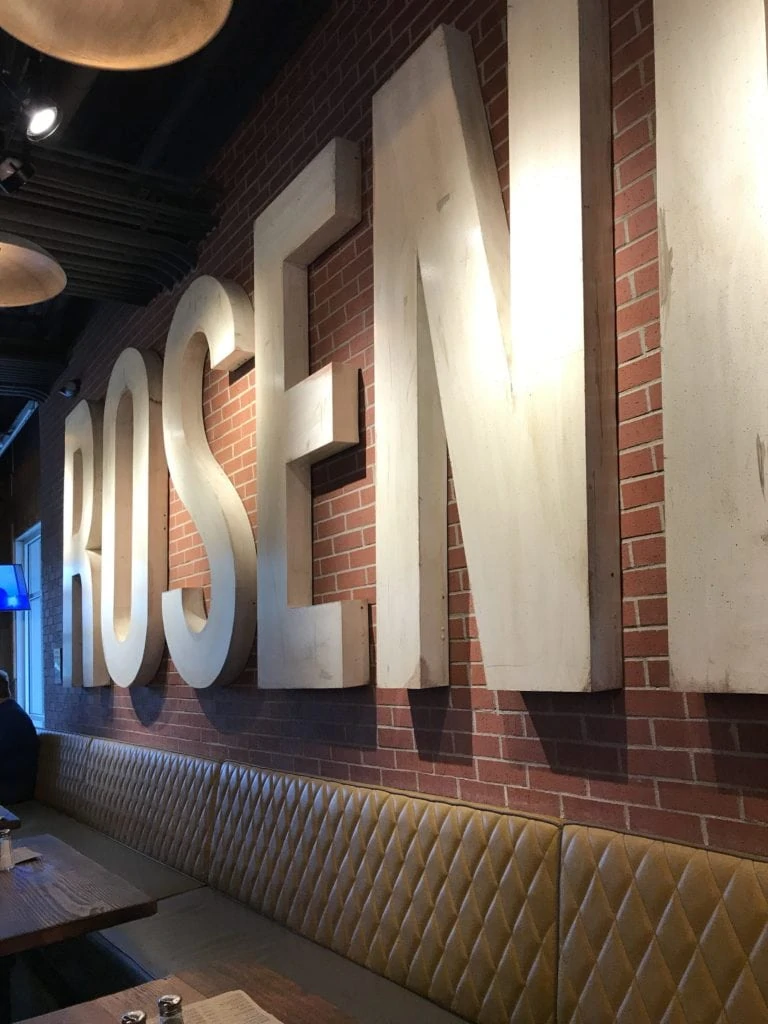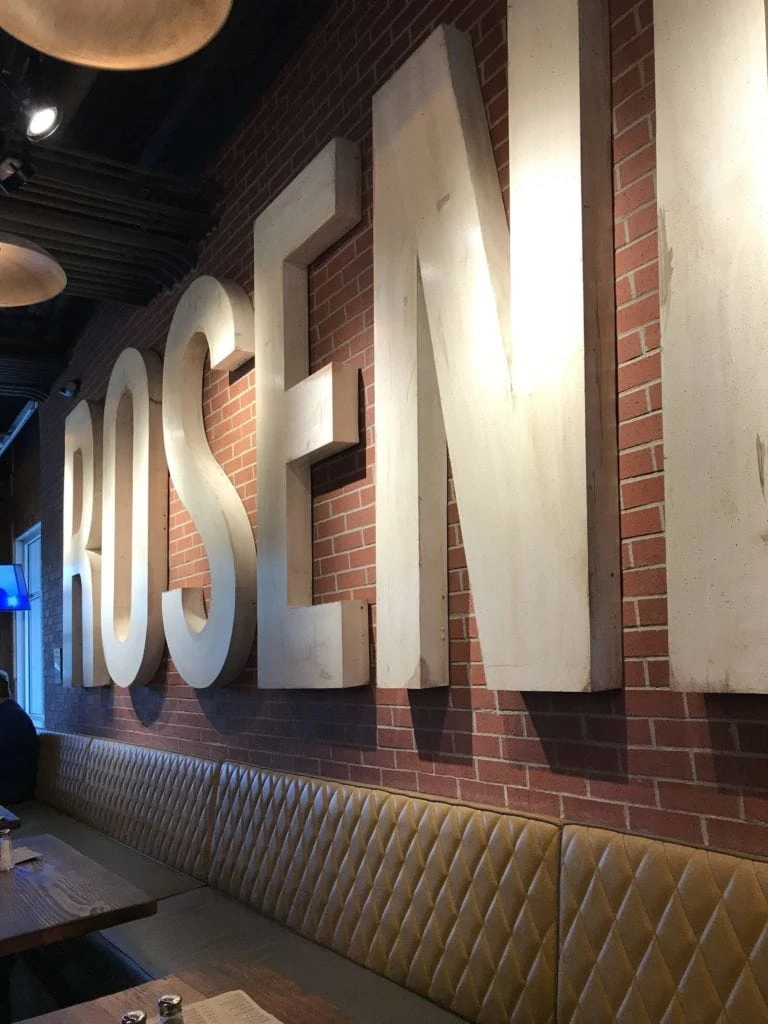 From Blatt in West Omaha
Midtown Crossing & Blackstone District
As you leave downtown and head west, you'll run into Midtown Crossing & Blackstone. Although these areas have been developed for decades, they are currently revitalizing the area and it's become a great spot for hot new restaurants and shops without getting too far away from downtown.
Midtown Crossing – The street level of Midtown Crossing has a wide variety of restaurants and shops. You'll find everything from fast casual restaurants, to chains like Cantina Loredo, to local resturants. They also have a few home decor and gift shops (I haven't been to any yet, but people love them)!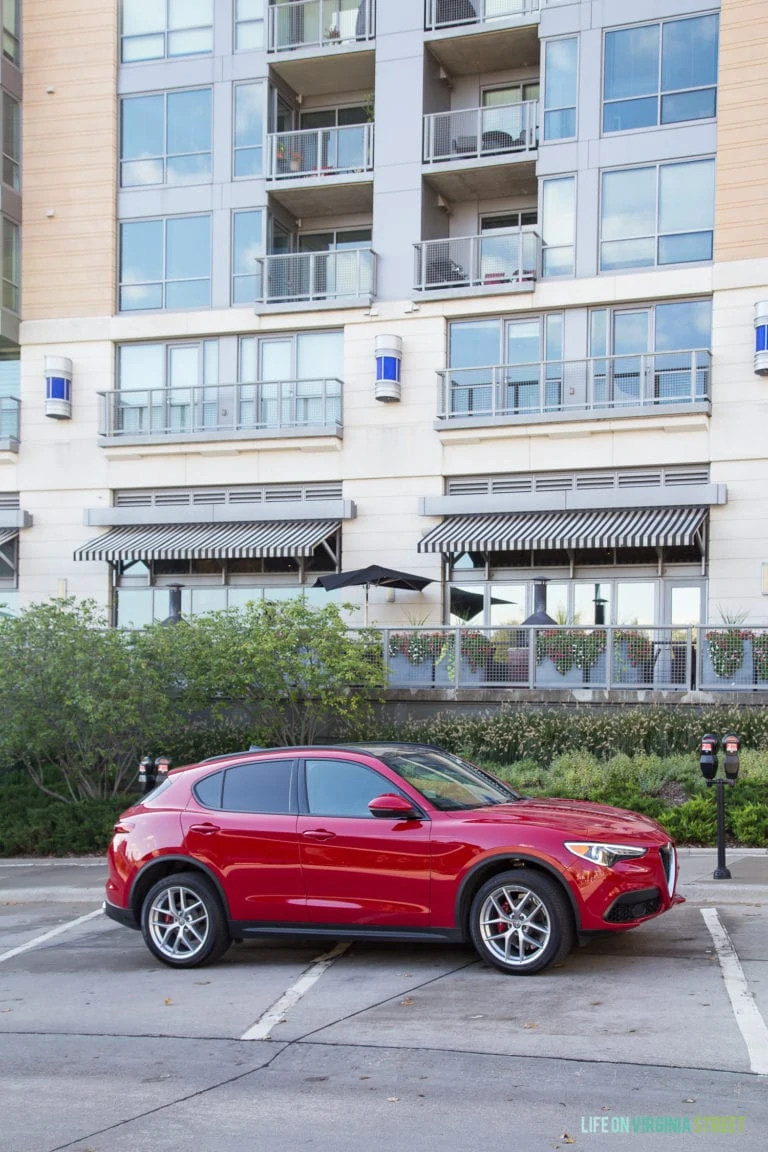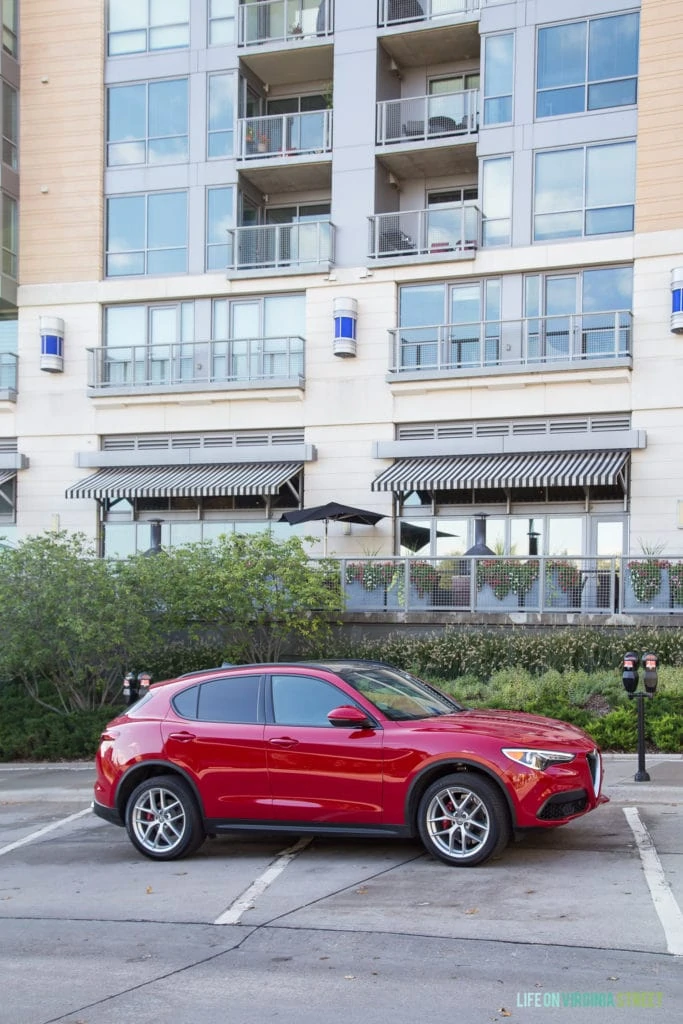 Turner Park – Located in the center of Midtown Crossing, Turner Park hosts concerts, festivals and other events throughout the year. Although we've never attended, Jazz on the Green in the summers is a local favorite.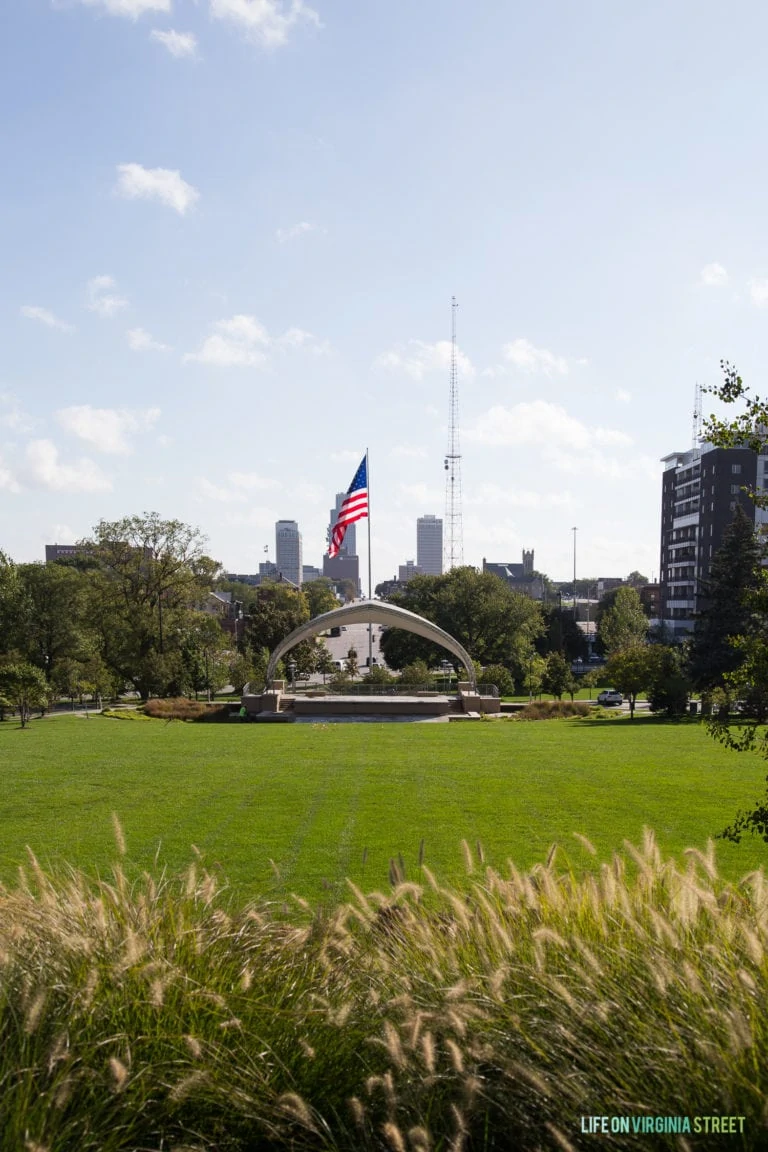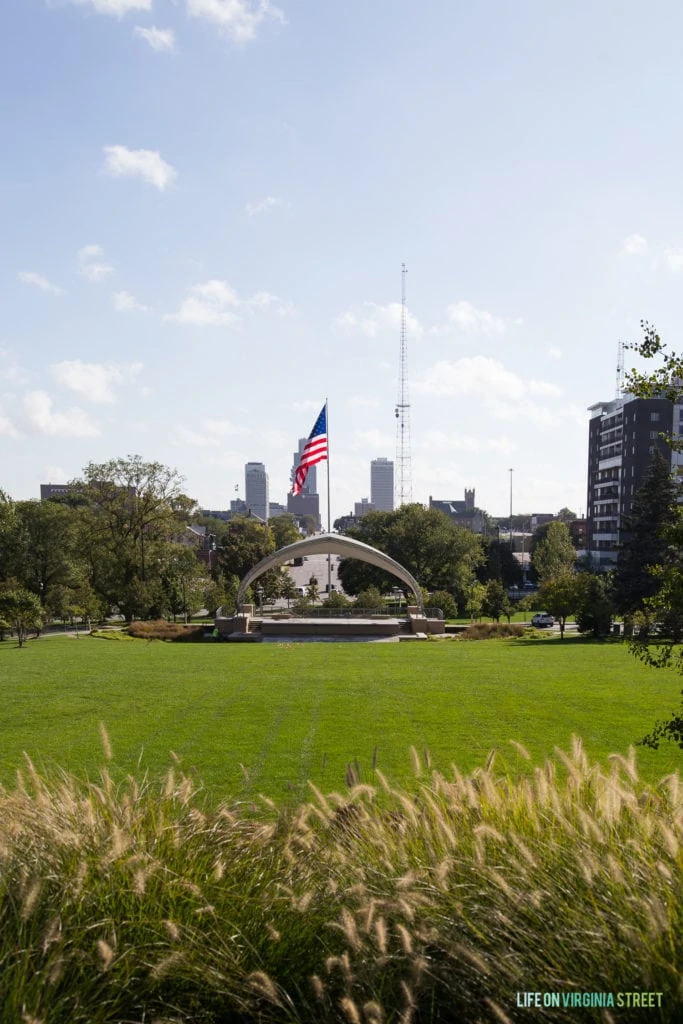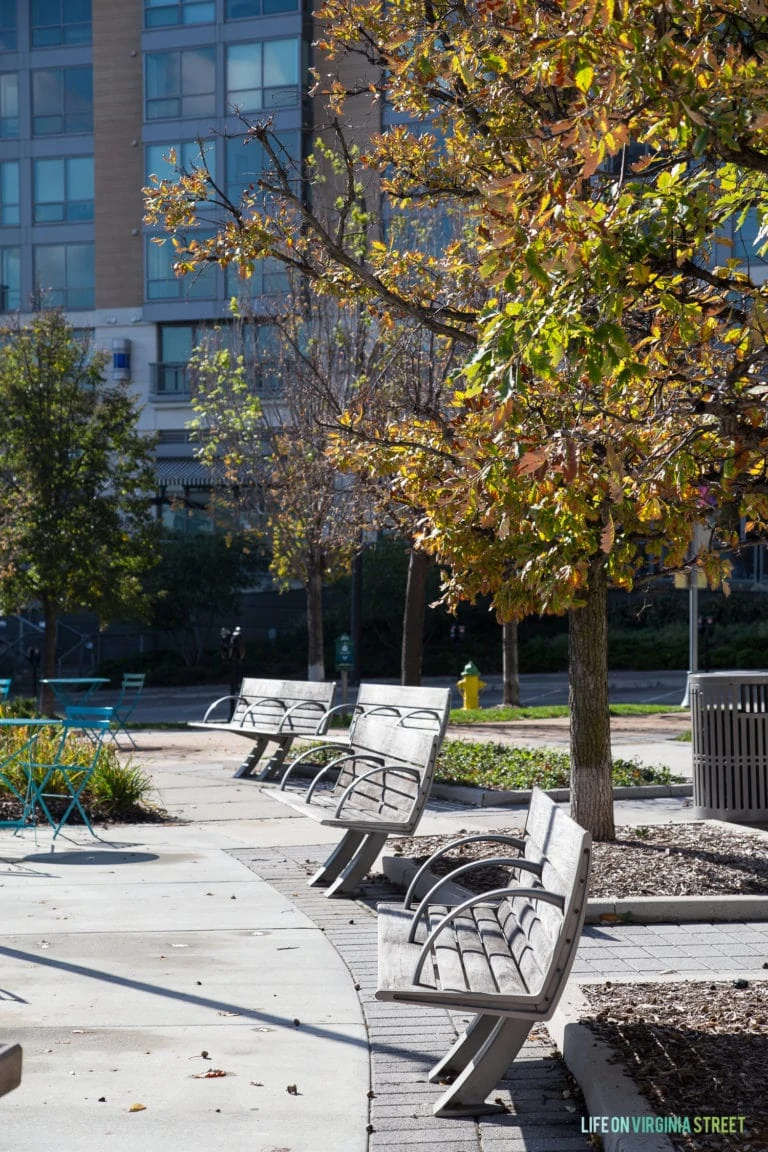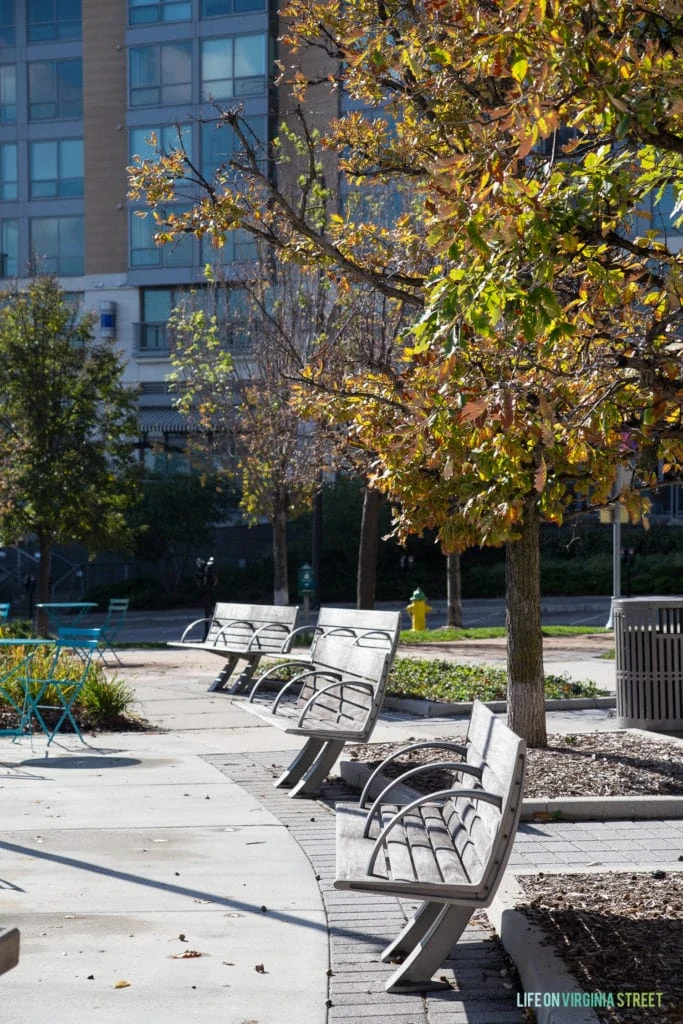 Blackstone District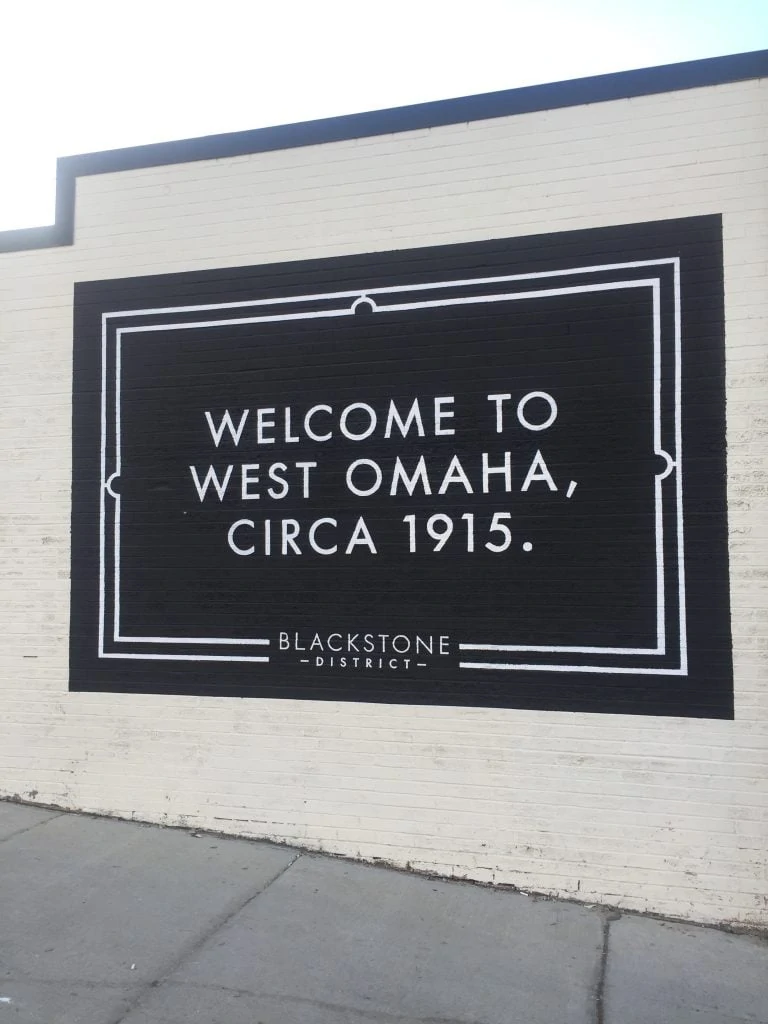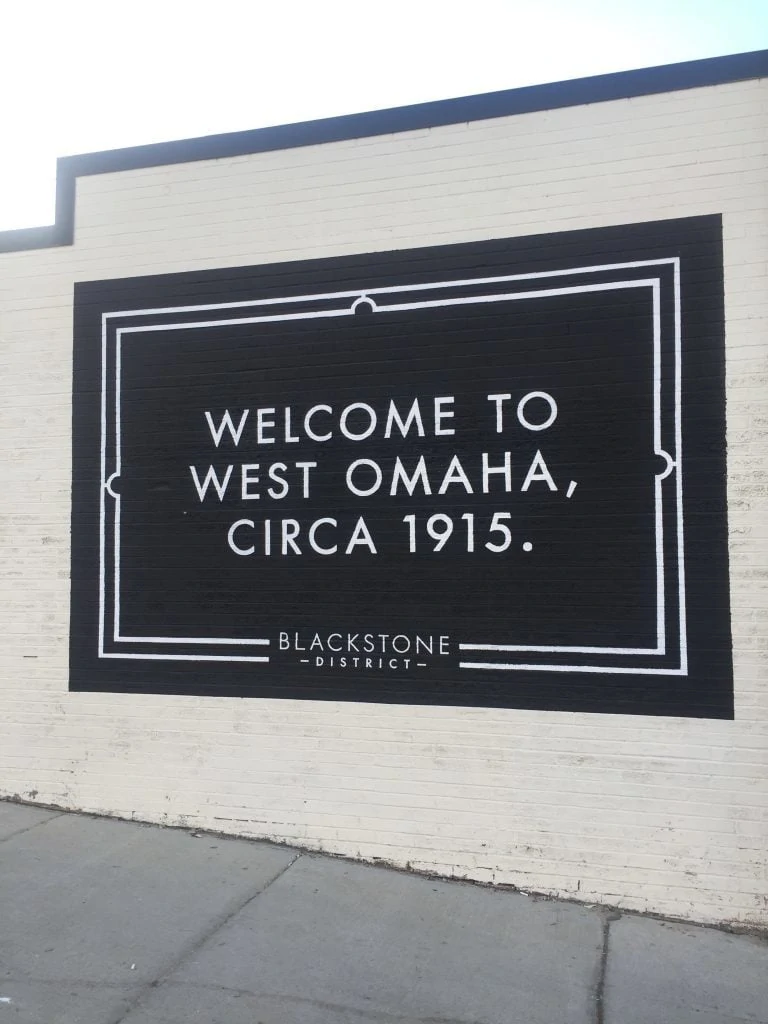 Scriptown – Located in the new Blackstone District, Scriptown is one of our favorite local breweries! They brew their own beer and have a few mixed drinks on the menu, and although they don't have a food menu, you can have pizza delivered from Noli's which is delicious and one of our favorite things to do. The bartenders will order it for you and just add it to your Scriptown tab.
Coneflower Creamery – With a motto of "farm to cone", Coneflower has the freshest ice cream and most unique flavors you can find in Omaha! Everything they offer is made from scratch (including their sprinkles and cones) and you'll find local ingredients and seasonal offerings. The few times we've been, we've had to wait out the door (and we've heard it can actually wrap around the corner). But, it's a delicious treat that's worth the wait!
Corkscrew Wine & Cheese – If you're looking for a fun yet casual wine bar, Corkscrew is definitely a favorite! They offer a wide variety of wine as well as snack plates you can order. They have two locations in Omaha and both are worth a visit!
Regency Area
Amethyst Home – This is my favorite local home decor store in Omaha. The owner, Monica, brings a fresh perspective to Omaha design and has a beautifully curated shop! Although the store is small, they offer an extensive collection online, as well as custom rugs made to order. Every time I stop in, I come home with several items I never planned to buy, including candles, small faux plants, pillows covers, and more. They also carry a gorgeous selection of unique artwork!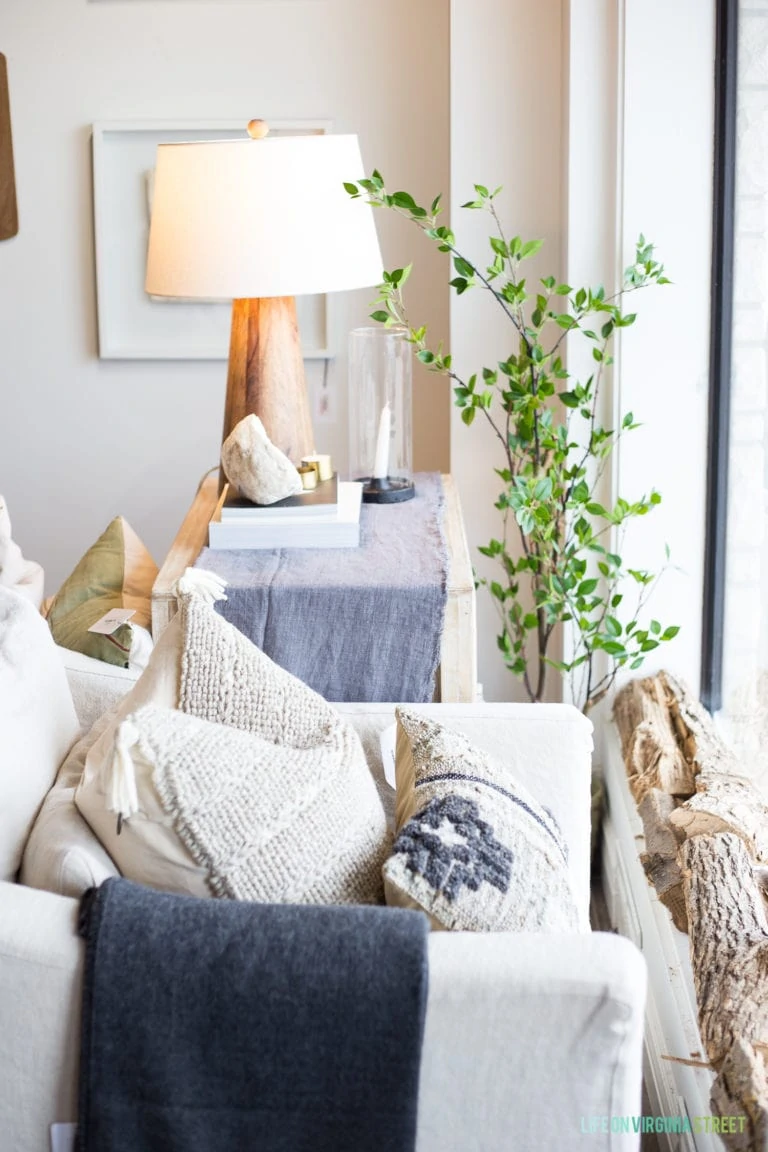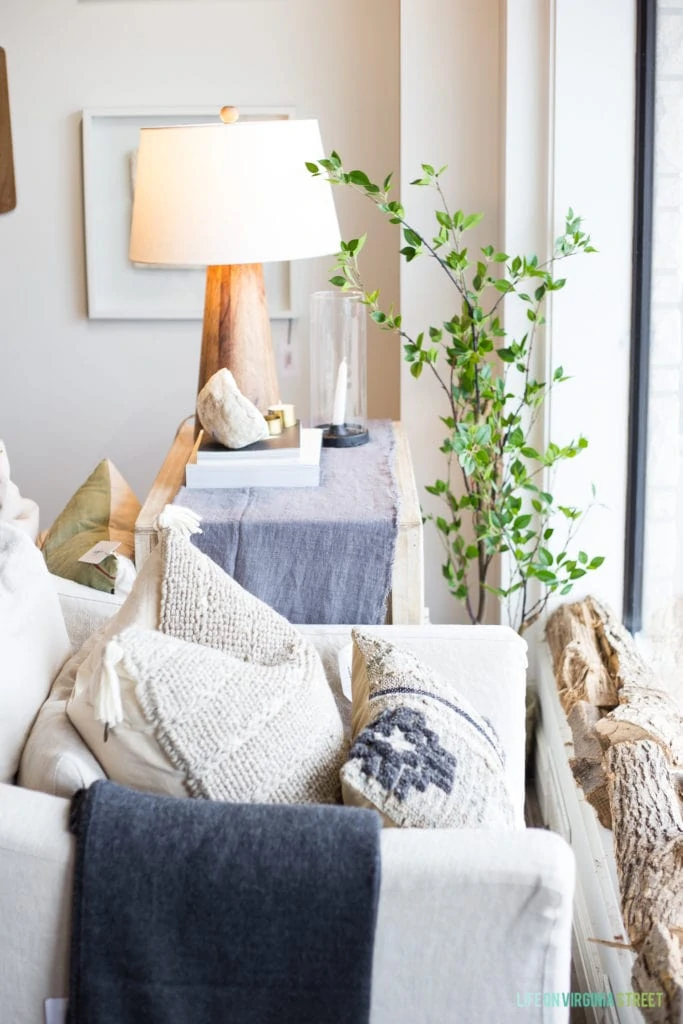 The current window display at Amethyst Home. I love the layered firewood!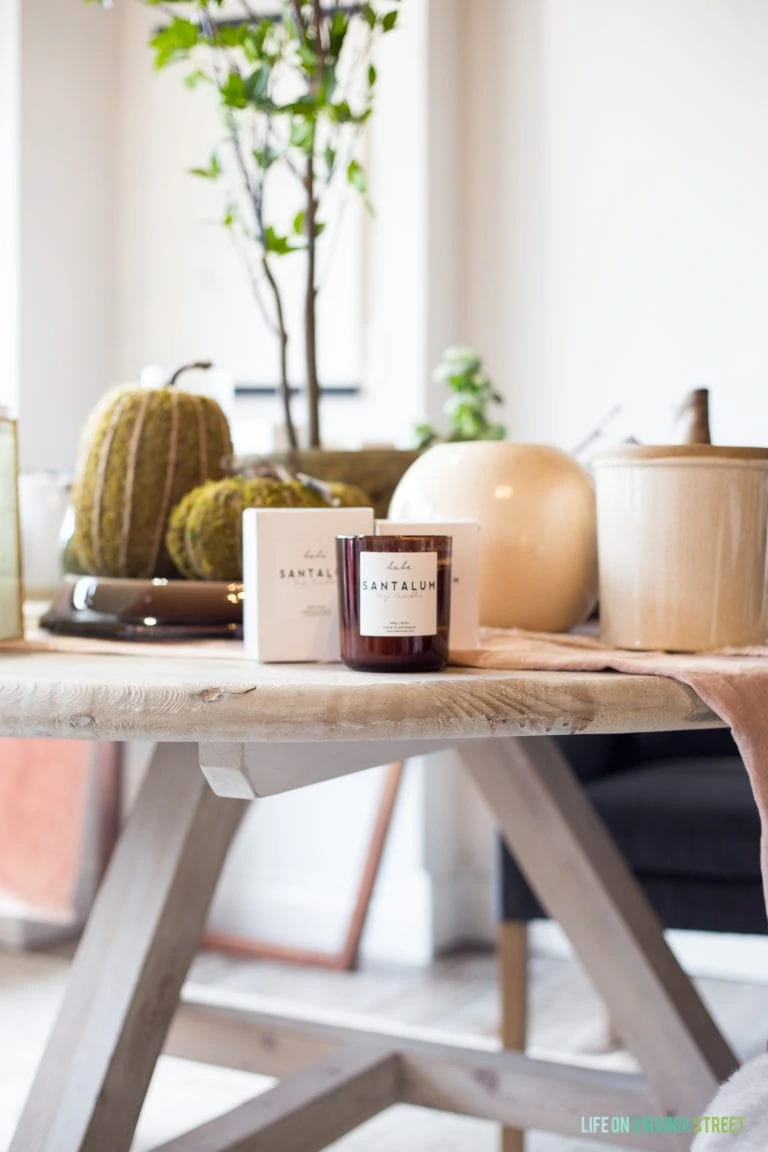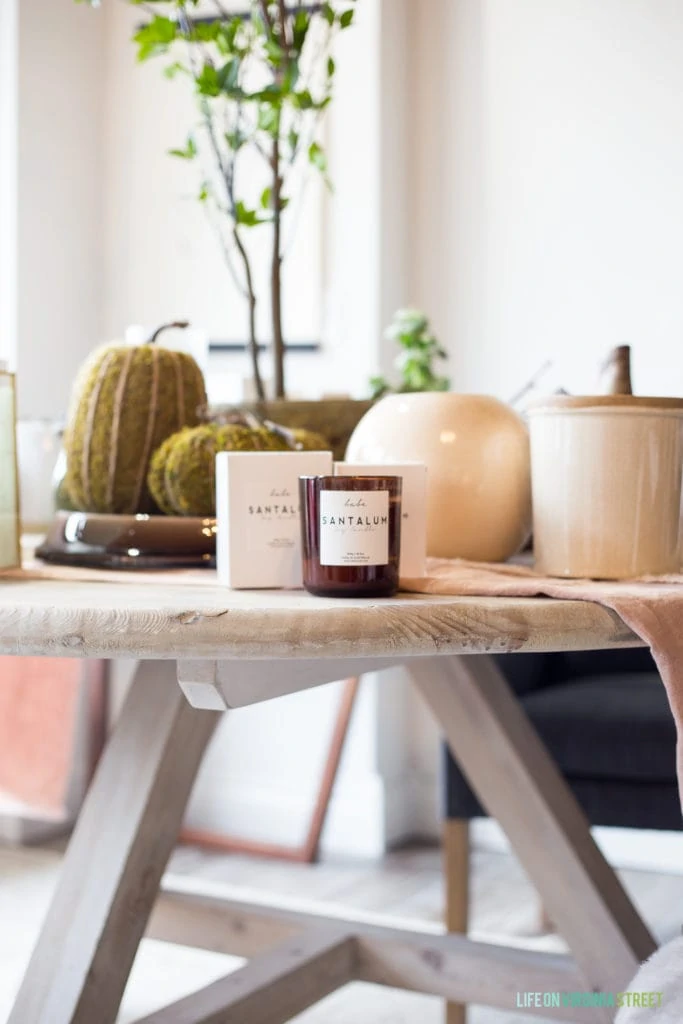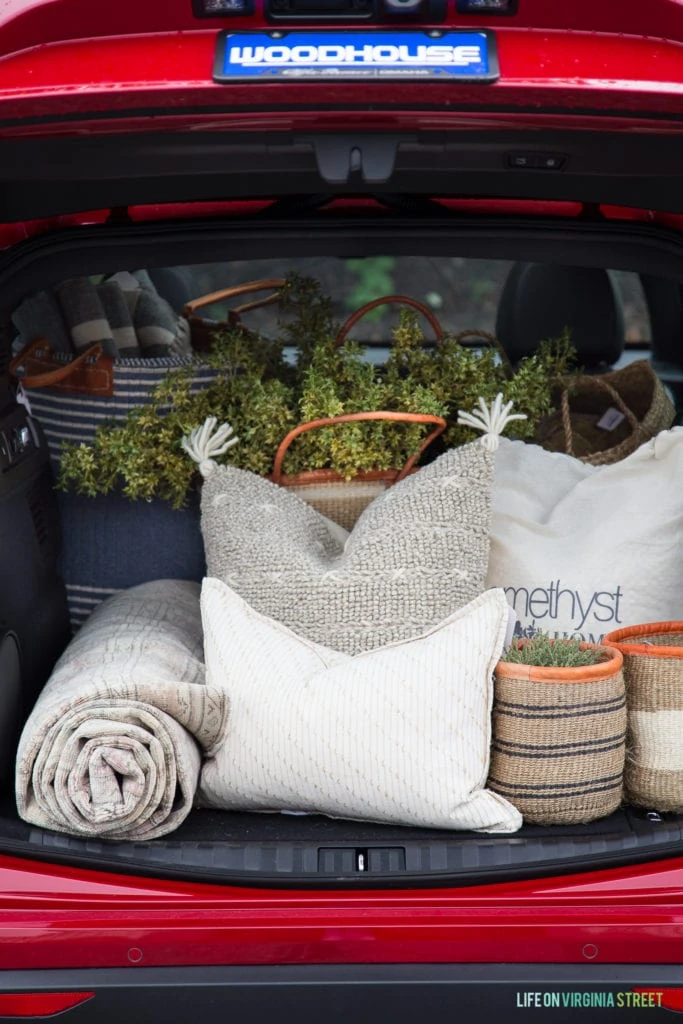 A sampling of items offered at Amethyst Home
Borsheims – If you're on the hunt for fine jewelry or gifts, you'll want to check out Borsheims in Regency. It's owned by Berkshire Hathaway (Warren Buffets' company) and shareholders can get exclusive discounts. The showroom is beautiful and the selection is vast!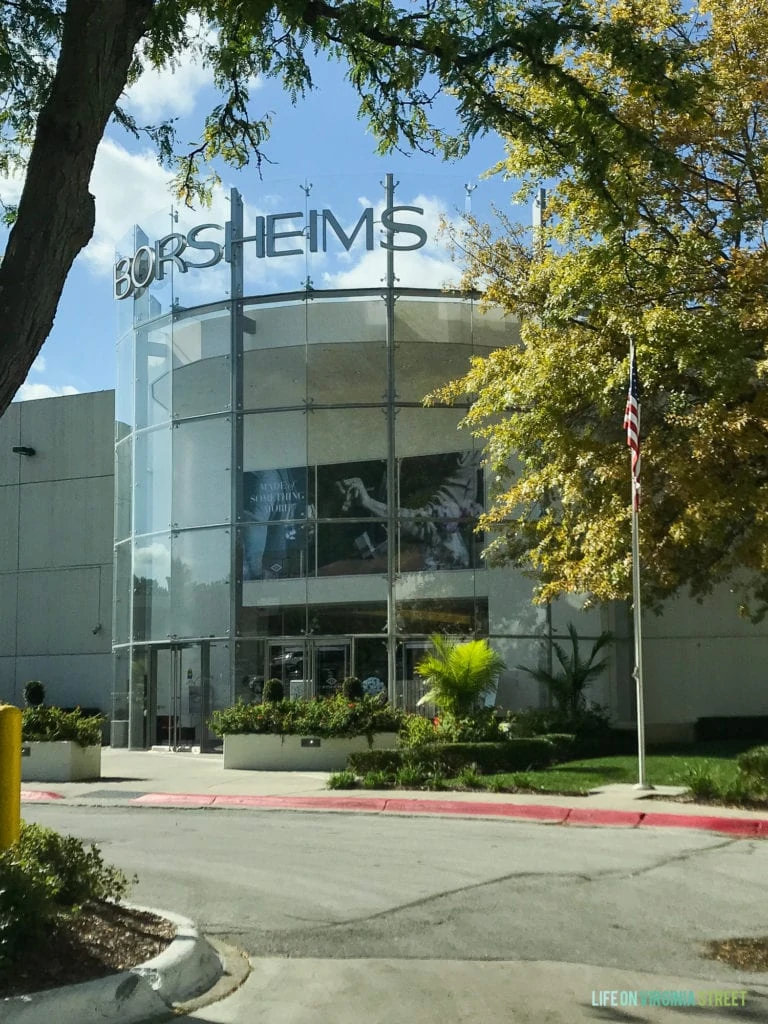 The Shops at Regency – Anchored by Borsheims, the Shops at Regency offer a mix of local brands as well as stores like Pottery Barn, Williams Sonoma and Anthropologie. You'll also find restaurant favorites likes Bonefish Grill. As you can imagine, I'm a frequent visitor to this area. Our Whole Foods and Trader Joe's aren't far from here either so it's a popular location!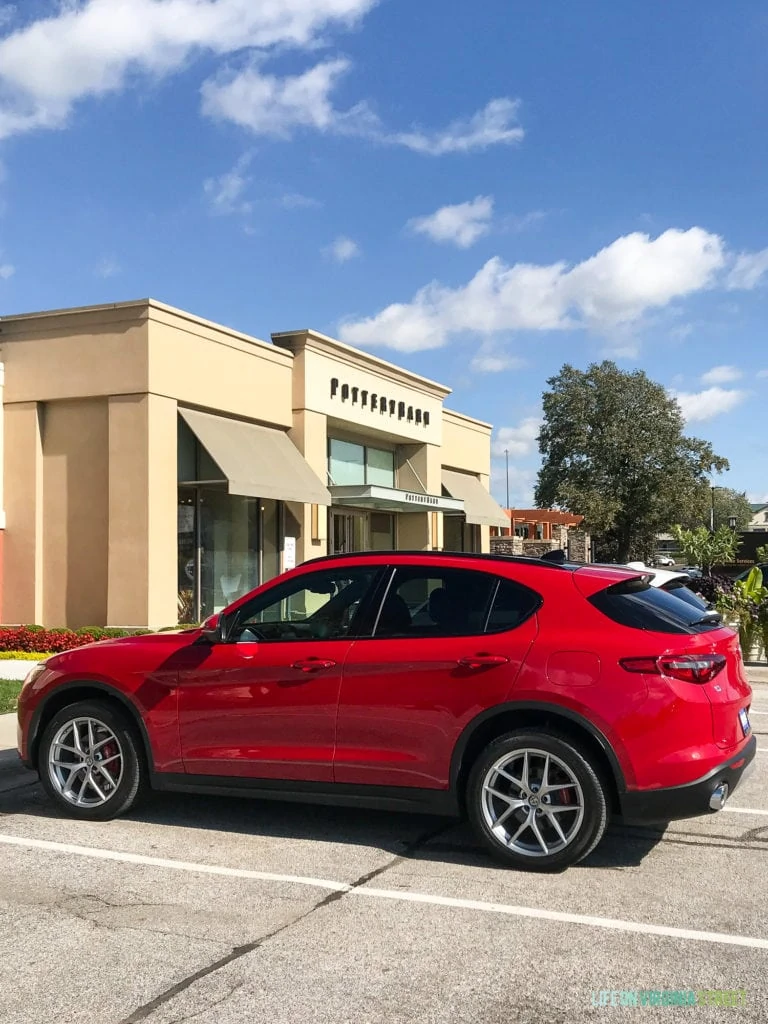 If you're looking for a true mall vibe, I'd recommend swinging into Westroads Mall, which is home to many chains, along with Von Maur – a Midwest department store I'd consider similar to Nordstrom. The mall is located minutes away from the Regency area.
Village Pointe & West Omaha
West Omaha is the newer side of town and is where we spend most of our time (due to proximity to our house). Not only will you find a variety of chain stores and restaurants, but you'll also find cute boutique clothing stores and local restaurants that are unique to the area.
Village Pointe Mall – One of the first open air malls in Omaha, Village Pointe offers a wide variety of things to do. It's home to a half dozen restaurants, shopping, movie theater, salons, and more. The sporting goods store, Scheel's, has an indoor ferris wheel and the center of the area offers seasonal activities such as Christmas tree lighting, summer concerts, and more!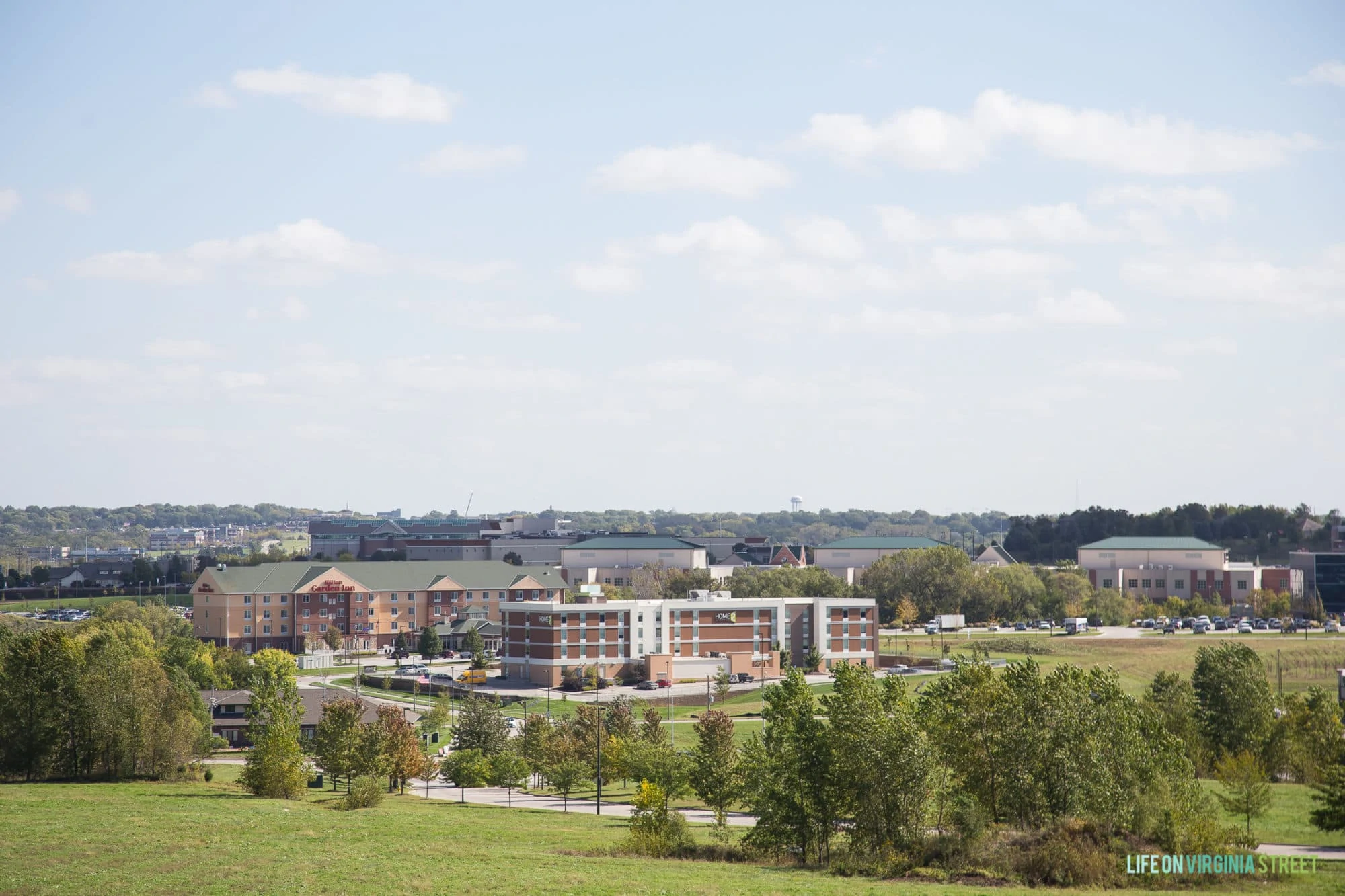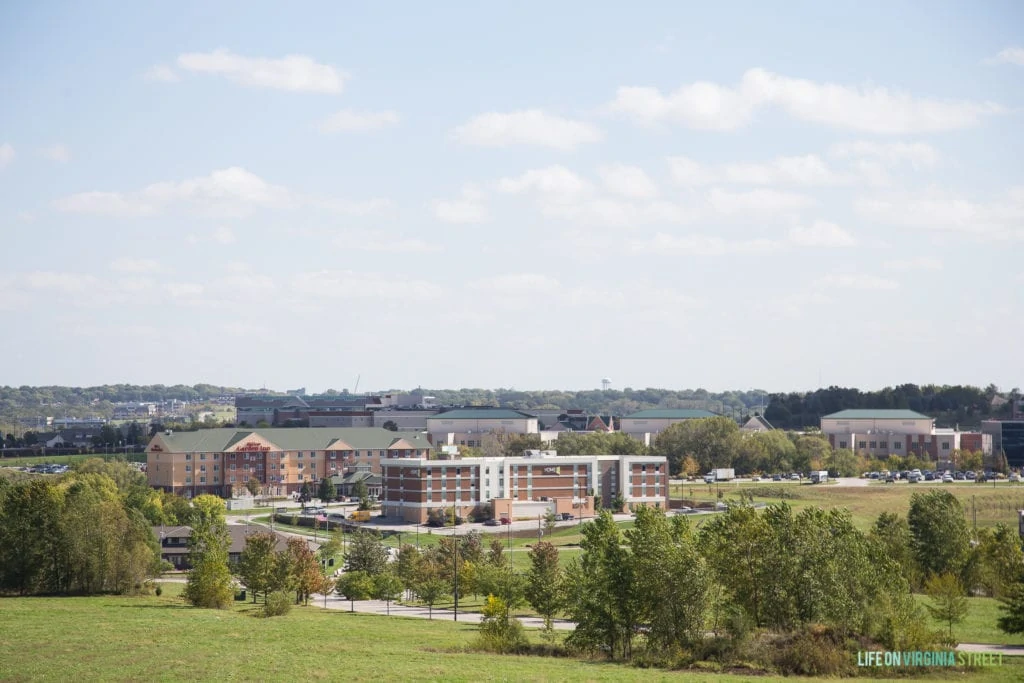 Pitch – Pitch has two Omaha locations – one in the Dundee area of town (not far from downtown), as well as on the outskirts of Village Pointe. It's owned by Omaha native Willy Thiesen (the founder of Godfather's Pizza). Pitch offers a much trendier take on pizza as well as other food offerings, as has great patio offerings both on ground level as well as an upper deck.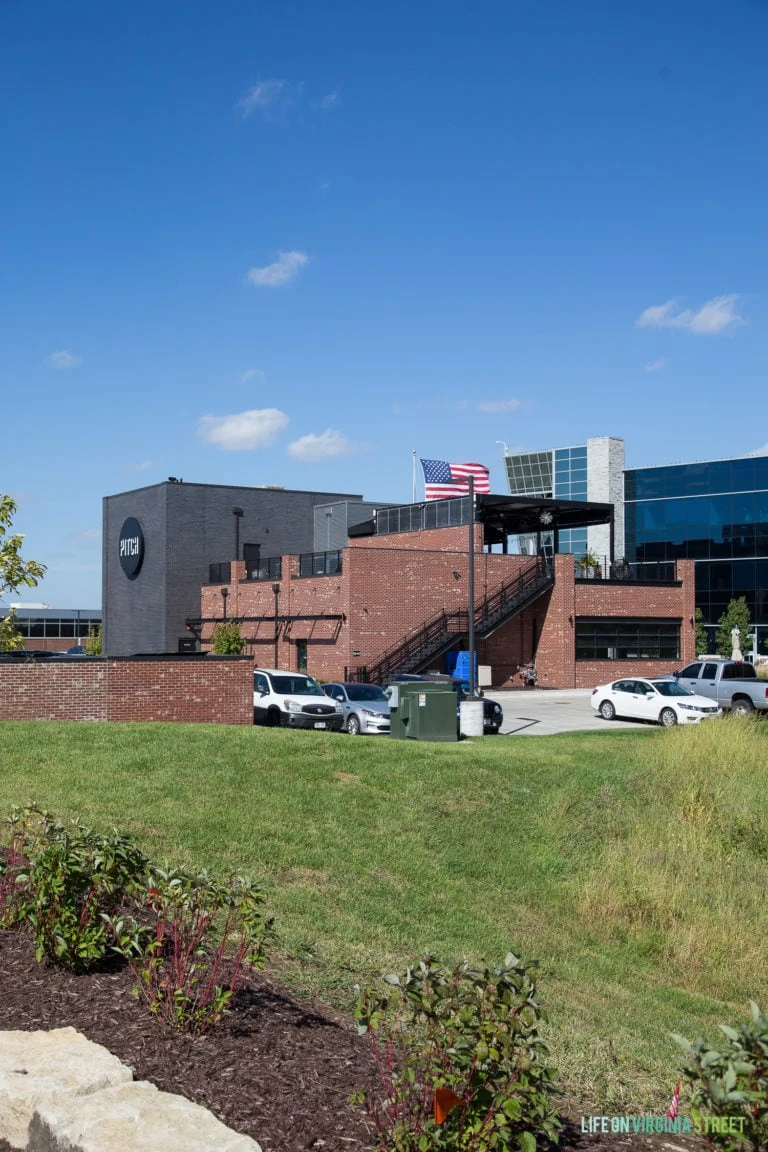 The back side of Pitch, showing their patio offerings
Hiro 88 – We love the sushi at Hiro 88 and tend to frequent it on Sundays when it's all day happy hour. There are locations all around Omaha, but we've only been to the one out west. We're also big fan of their jalapeño bacon rangoon!
Dante – This is our favorite local Italian restaurant. Dante has locations in both the Blackstone District (near downtown) as well as out west in Legacy. The bulk of the menu is made with locally sourced ingredients and the menu changes seasonally based upon availability of local produce. The food is excellent and the wine and drink menu are extensive. The west location offers the full menu, whereas the Blackstone District focuses more heavily on their woodfired pizzas with a bit more of a fast casual environment. We rarely if ever order dessert, but they're budino is to die for a definitely a must-try!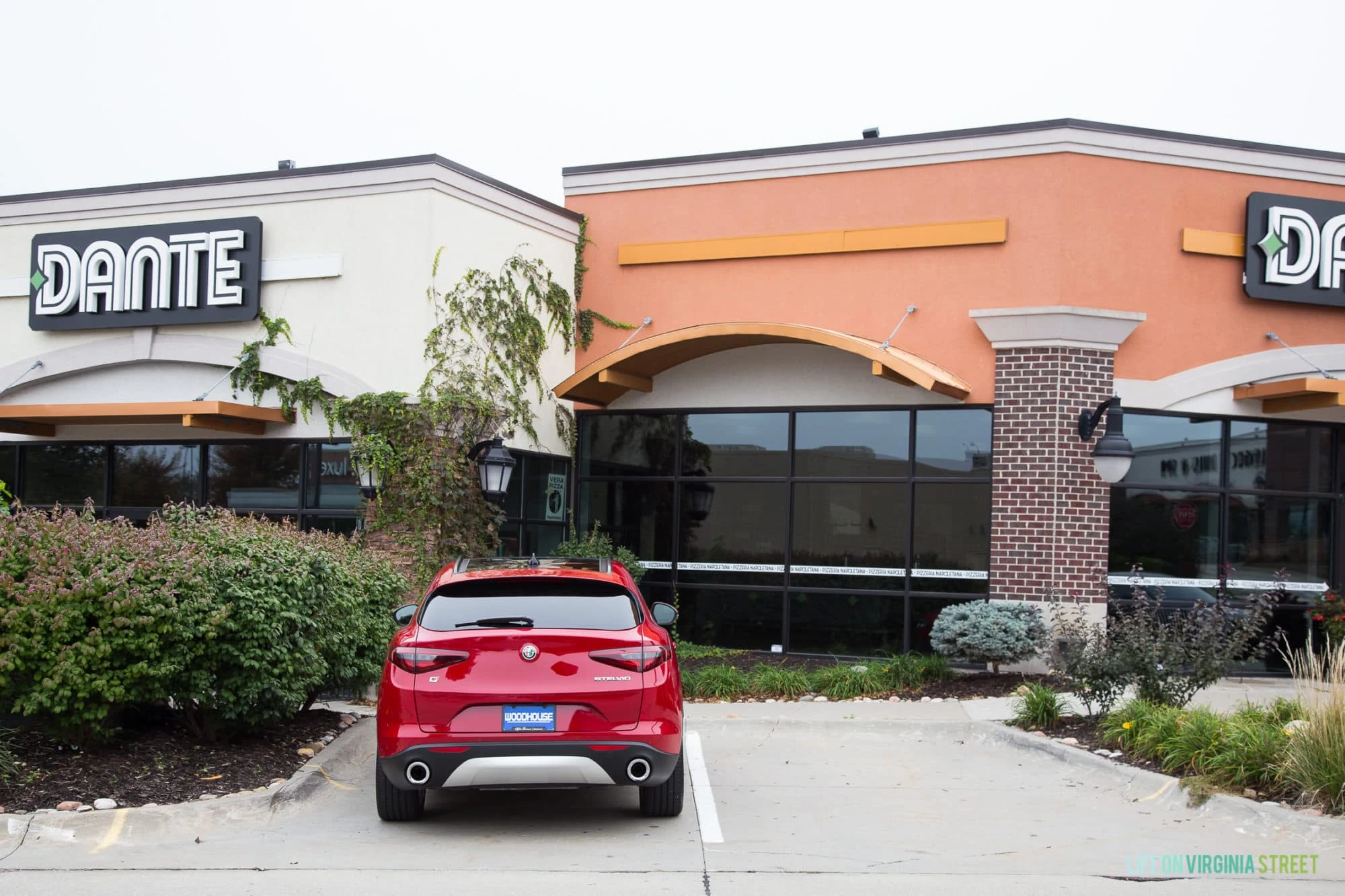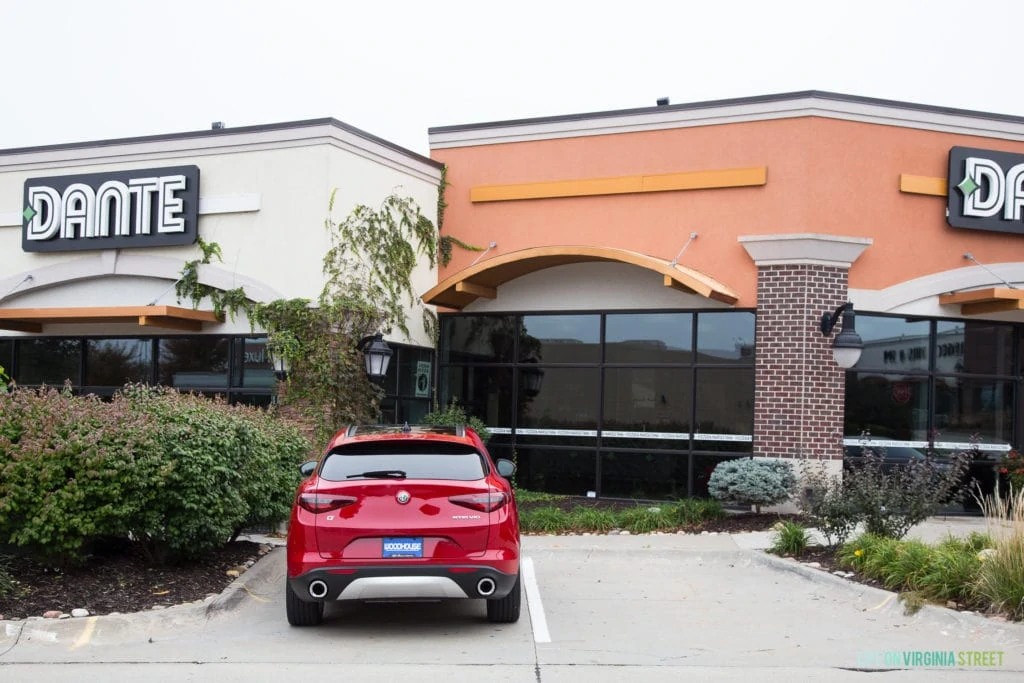 Lazlo's – This is currently our most frequented restaurant. It's close to home, we love their beer on tap, the food is great and the service is excellent. It's a spot where you can be a bit dressier or totally casual and fit in just fine. It's our go-to when we don't want to try and come up with somewhere new to eat – which apparently seems to be a weekly occurrence 😉 I can't think of a single time we've been disappointed when we've gone here. If you're a beer drinker, their Mango IPA ranks in our top three favorite beers ever!
La Mesa – Another favorite Mexican restaurant of ours. We go so frequently they tend to know our order before we even say it. There are locations all over Omaha, but we frequent the one out west and consistently have had good meals and service for past almost decade! It's much more casual than Roja and is a no-bells-and-whistles type of spot but the food is excellent!
Lanoha Nurseries – This may feel like a bit of a random addition to my favorites list, but I spend a lot of time here and figured it was worth mentioning! Lanoha is the nursery near our home (and they actually are the developers of our neighborhood). They have a small home decor section in the main building and have an incredible selection of tropicals, flowers, trees, shrubs, etc. They typically have a wide selection of fiddle leaf fig trees for those that may be on the hunt for one!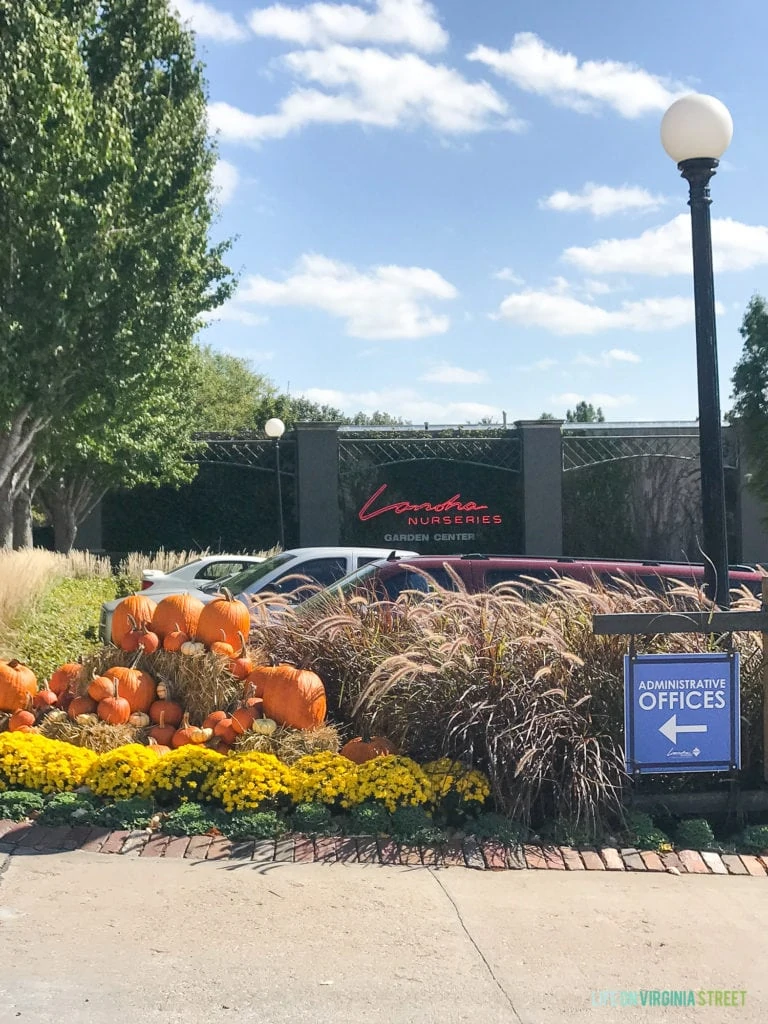 Junkstock – Junkstock is an event rather than a store. However, if you're in town during one of their events it may be worth a visit! It's known for being one of the best vintage festivals in the country. You'll find live music, food, vintage pieces, and over 200 vendors selling antiques and custom pieces from makers. They typically are open three times a year, so check their calendar if you're in town!
On A Whim – Although I don't stop in as frequently as I'd like to, On A Whim has unique home decor and gifts, and I always have fun perusing their store. Although it's rather small, it's full of items and takes some time to really look over everything. It's always a favorite for my mom and I to swing into!
Rush Market – This member's-only discount store is full of items you'd find on Wayfair, Joss & Main and Amazon. Although it's members-only, you can join online ahead of time or at the door. Expect to find great prices on items that I feel are likely returns from a big online retailer, but they are mostly in excellent condition and just open-box items. Everything from light fixtures to rugs to furniture to bathroom vanities – it's a great place to check frequently for updated stock! Unfortunately, they are only open Thursday to Sunday at this time.
Details on the Alfa Romeo Stelvio
If you saw my recent post on stylish tailgating ideas, you probably already know how much I love the Alfa Romeo Stelvio. It combines luxury, sportiness and cargo space all in one perfectly sized SUV. I immediately fell in love and wanted to share a few quick facts if you're not familiar with the SUV or brand.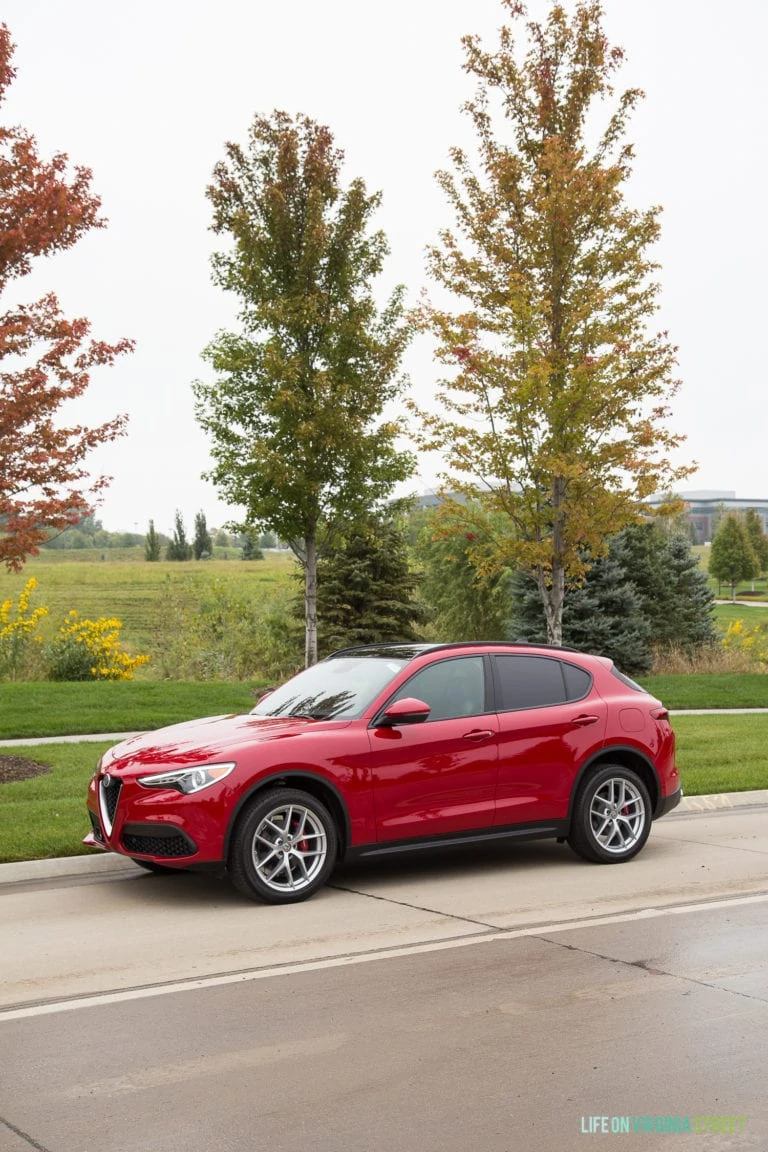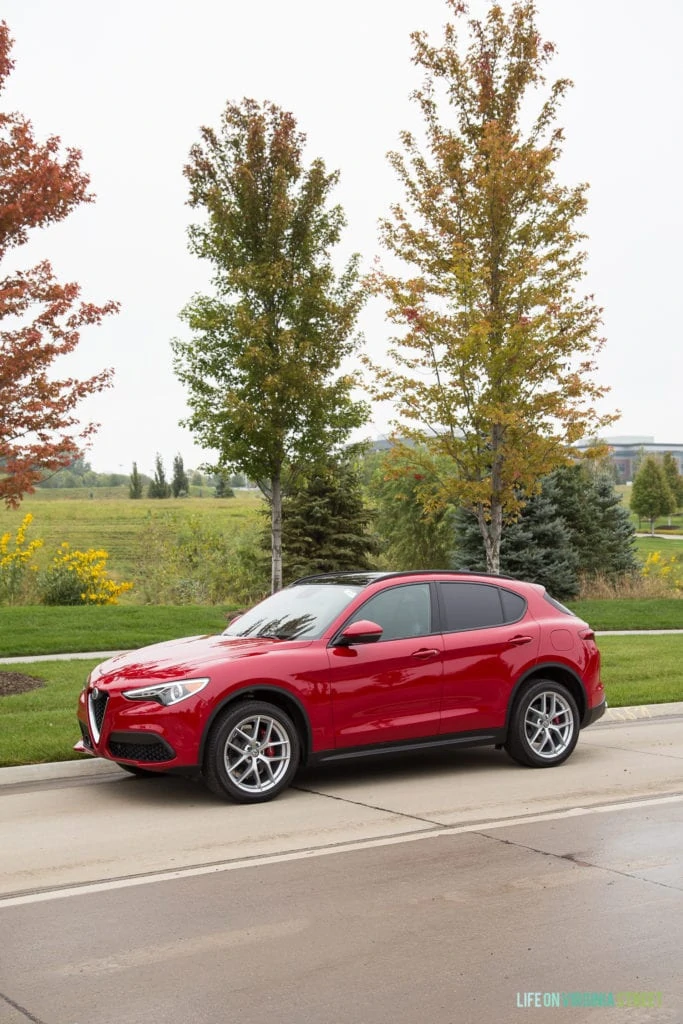 The Italian brand is back in the USA for the first time since 1995 and Woodhouse now has an Alfa Romeo dealership in Omaha! The company is 108 years old with a rich racing heritage (you'll pick up on this as soon as you drive it)! Kurtis loves the paddle shifting feature. I'm pretty sure he thinks he's really driving a race car with it 😉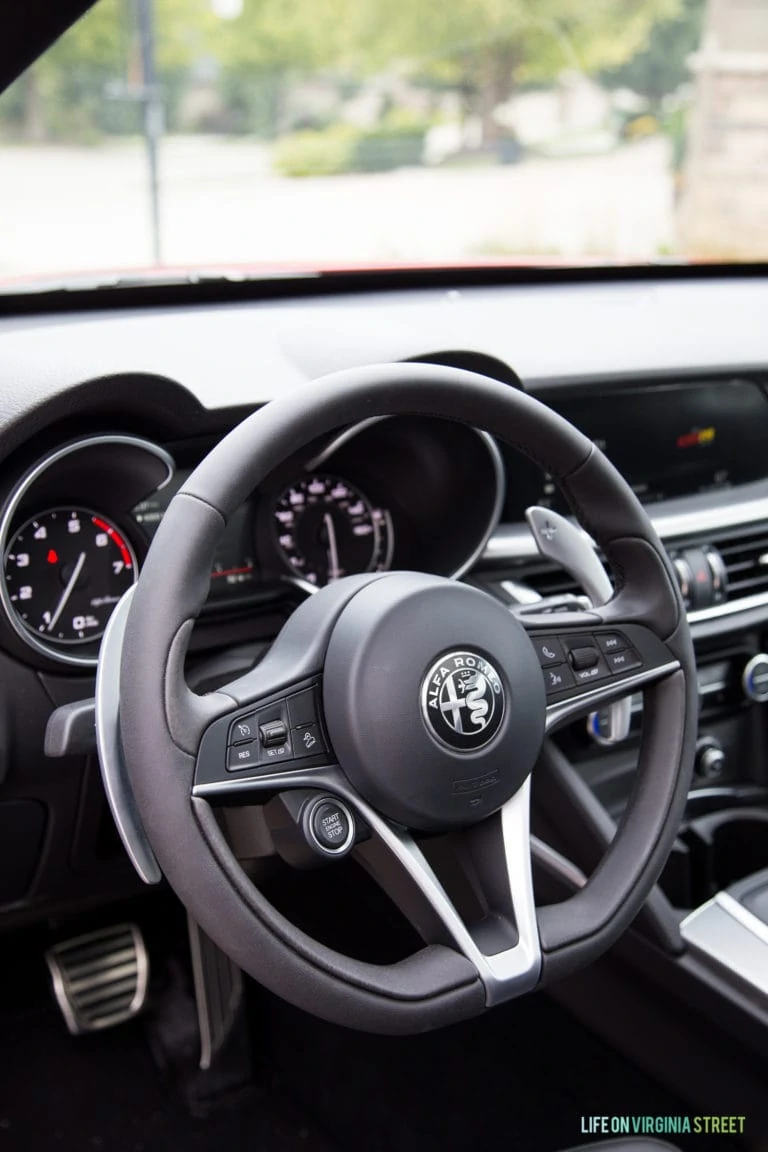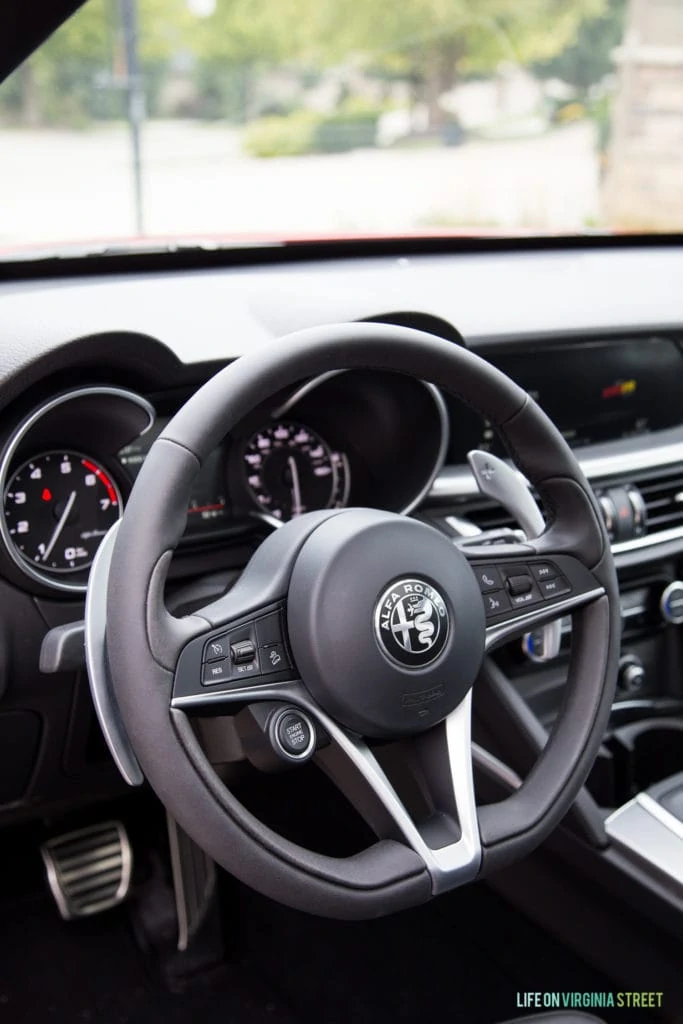 I'm a personal fan of the dual pane sunroof and seat details!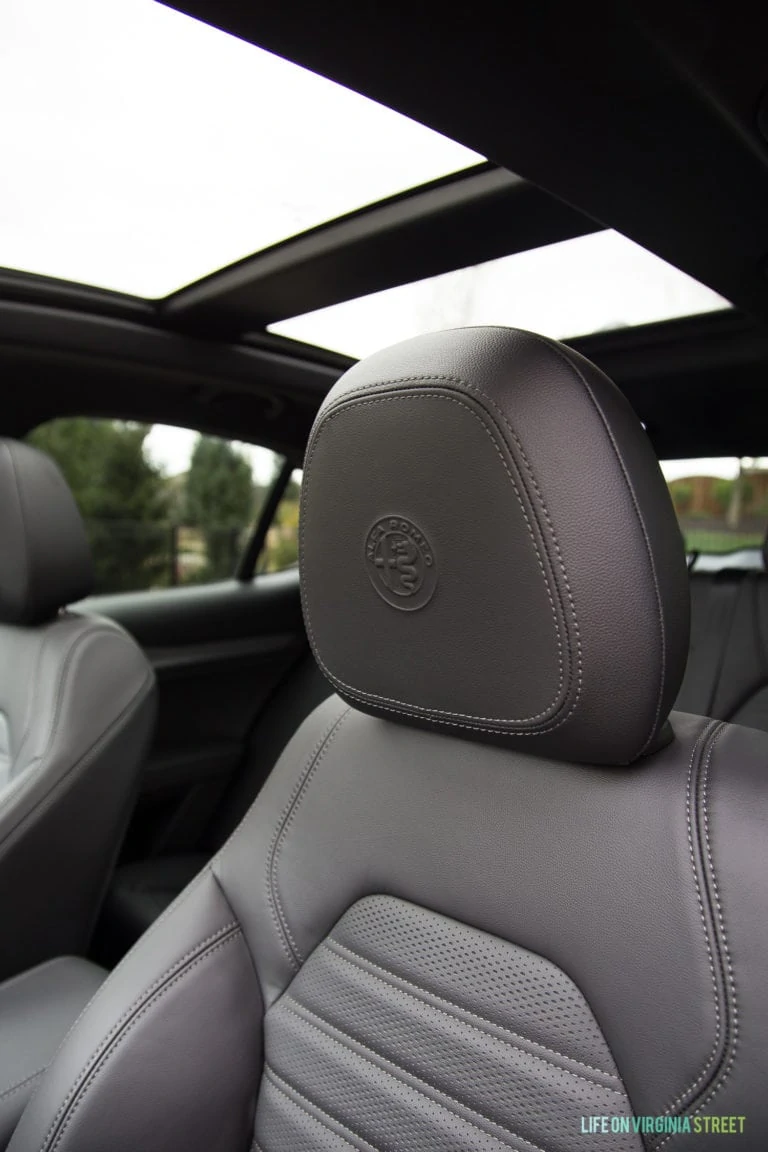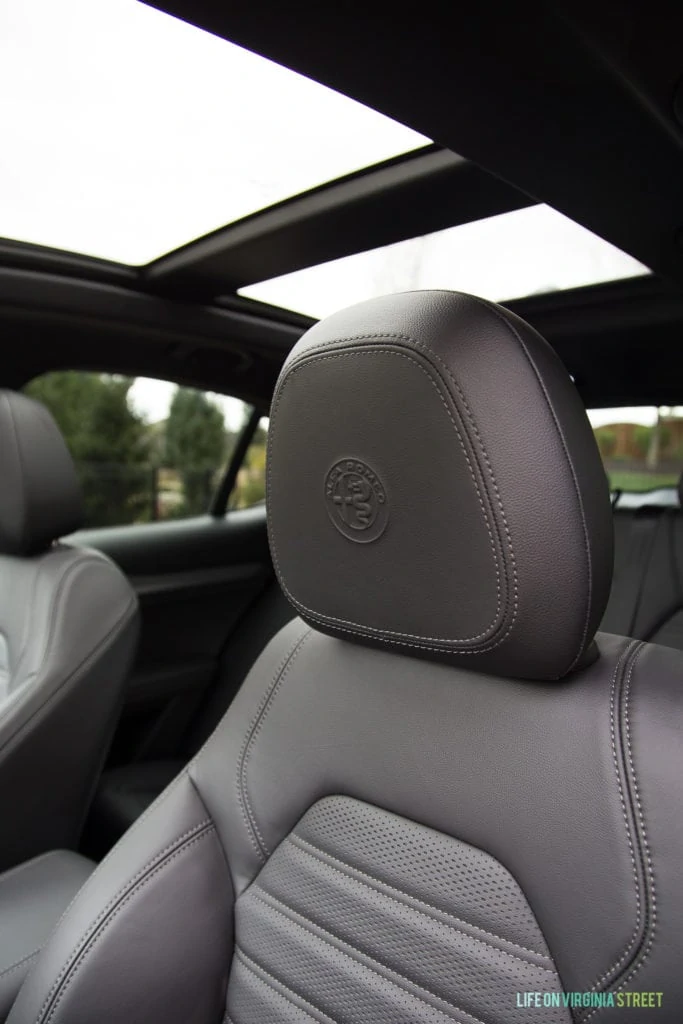 The cargo area is spacious without wasting space. More than enough room for shopping trips around town, whether that be to home decor shops or the hardware store.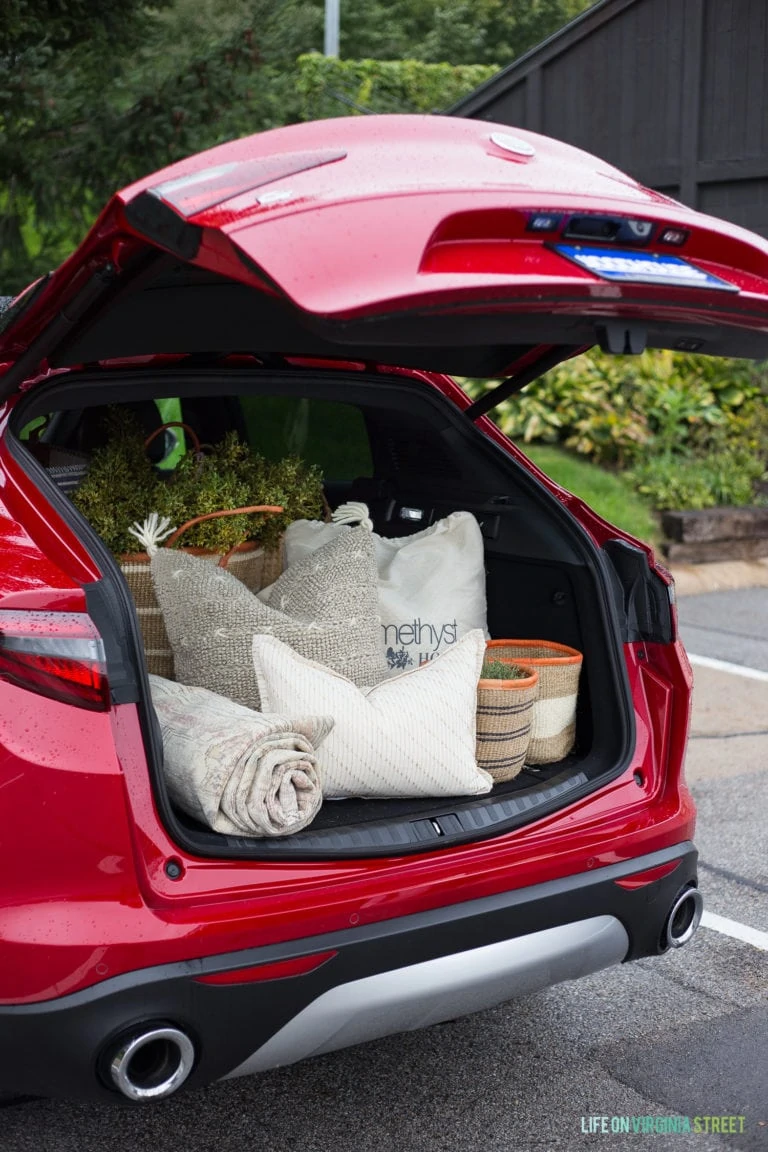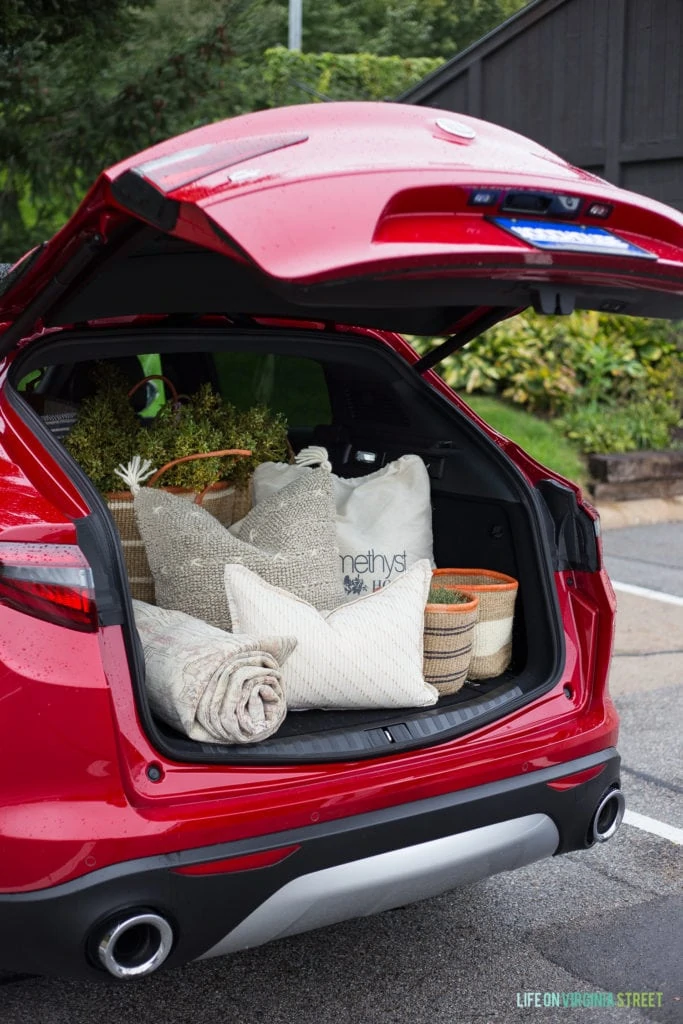 Not only do I love the looks of the Stelvio, but all of the useful features as well! I'm counting down the days until the lease on my current SUV ends 😉
So, for all of you Omaha natives or those that have visited, are there any other places I need to add to the list? Ones I haven't been to that we need to try? Like I said, I'll plan to update this post over time, so it will always be current with our local favorites. Have a great week!
If you would like to follow along on more of my home decor, DIY, lifestyle, travel and other posts, I'd love to have you follow me on any of the following:
Pinterest / Instagram / Facebook / Twitter / Google+
disclosure: some affiliate links used