Yes, it's August, but to me, there are still a good six to eight weeks of summer and I refuse to talk about anything fall related! I am not one of those people that looks forward to fall. It's not that I dislike fall, I just hate winter and fall means it's almost winter. So, with that roundabout logic, I'm intentionally living in the summer moments for the full month of August!
Over the weekend, my husband was out of town and I had every intention of cranking out the final details in the dining room. However, Saturday morning was so beautiful, once I stepped outside to do one simple chore, I ended up staying for over three hours. As I mentioned, I've been out of town nearly every weekend this summer. Although we took great care of our yard early in the summer, it was definitely time for some mid-summer landscape maintenance.
With a few simple projects and a few hours of labor, I had our yard looking much better! Several of these projects are likely easy to replicate in your own yards if you're looking for some quick and easy ways to boost your curb appeal mid-season.
First up. We had a bid a few weeks ago to trim the trees in our yard. Granted, we have over 20 fairly decent sized trees, but I about died. I completely get that there is a skill and likely an art to tree trimming, but seriously. I believe you're not supposed to trim/prune trees until spring or fall, but we had one in our back yard that was completely out of hand and needed to be addressed. So much so, the branches were growing downwards and intertwining with our plants on the ground.
I didn't take a great 'before' shot, because honestly, I expected to cut a few branches and be done. Note all the weeds that had accumulated, as well. You can see the tree on the right that was the real issue. Branches were growing into the hydrangeas, Russian sage and the green bushes to the left.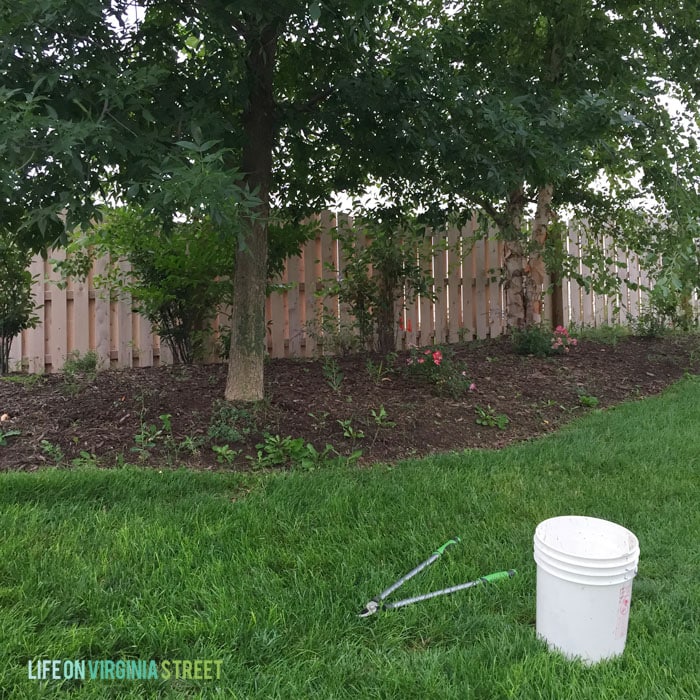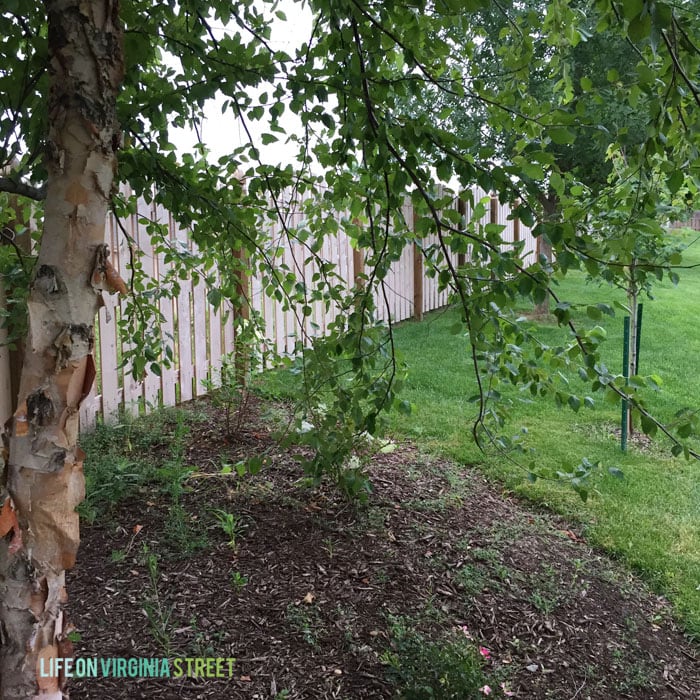 And then this happened. I was like Edward Scissorhands out there once I started going!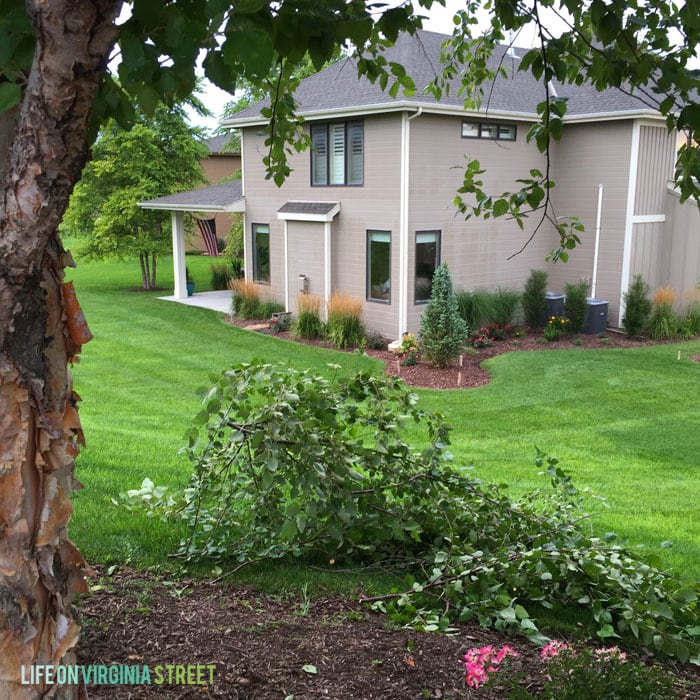 For all of you that lent me your moral support on Instagram and insisted I likely didn't kill the tree, thank you! I was worried if I did kill the tree, my husband would likely kill me 😉 I realize in the photo above, it doesn't look like that many branches…but it was. Basically the equivalent of three small trees as you can see below.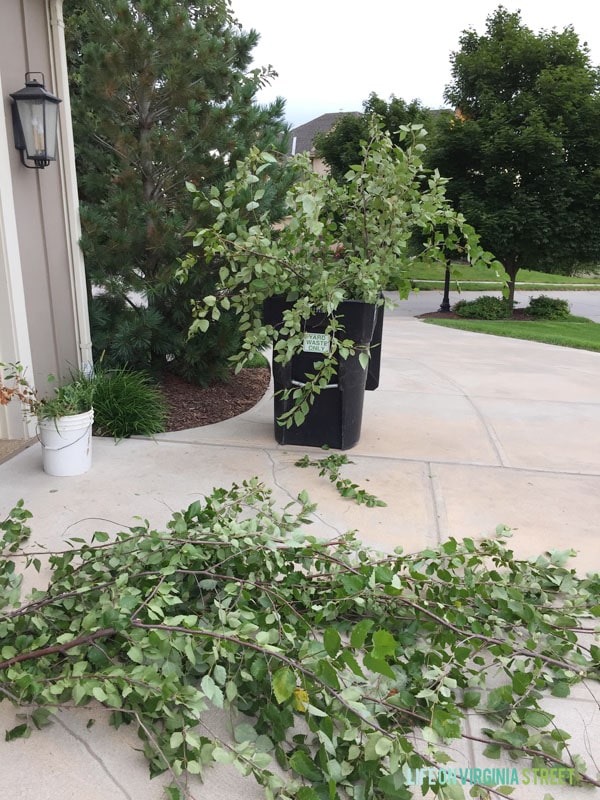 But, the after was totally worth it! I spent another hour or two weeding and it looks so much better now! I'm hopeful that maybe now the plants under the trees will have a better chance of flourishing now that they won't be constantly be under attack. There were one or two larger branches I'd still like to take care of, but I may need a chainsaw for those 😉 This fall, I think I'll plan to prune the ash tree on the left of the birch, as well as the evergreen. We have plenty out front that need to be trimmed up as well. Maybe I'll start pruning trees for a living – I may have that swimming pool a lot faster!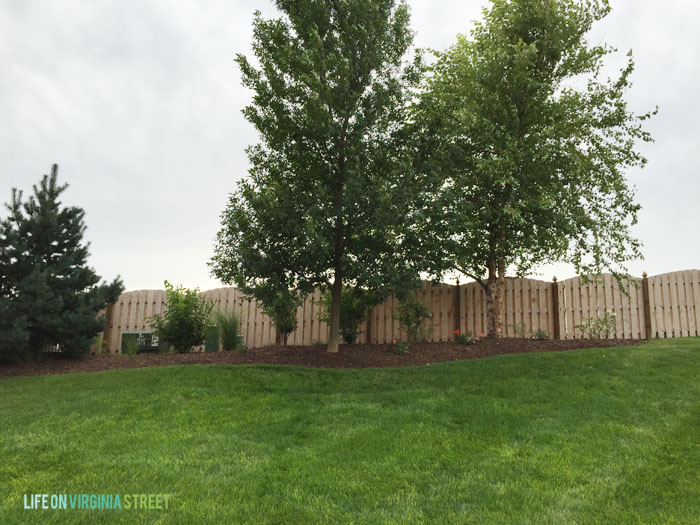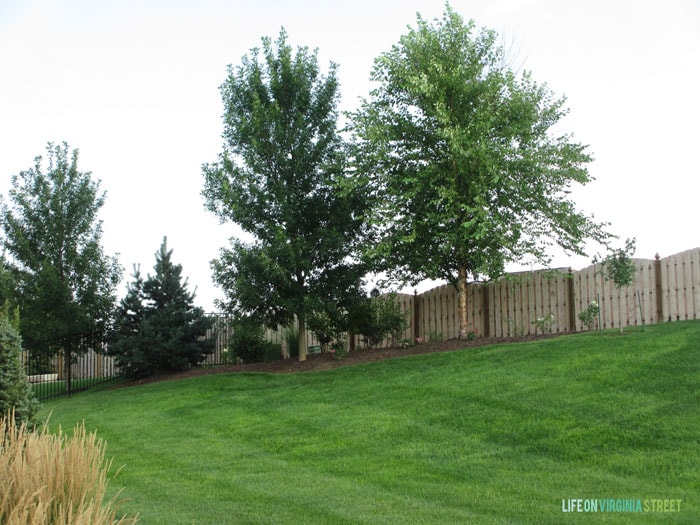 After I wrapped up out back, I moved to the front. Again, we had some minor weeds, but I also noticed our mulch was looking faded. Saturday night, after happy hour with my girl Mandy from Mandy and Such, I picked up a few bags of brown mulch. Here's what the area looked like Saturday morning.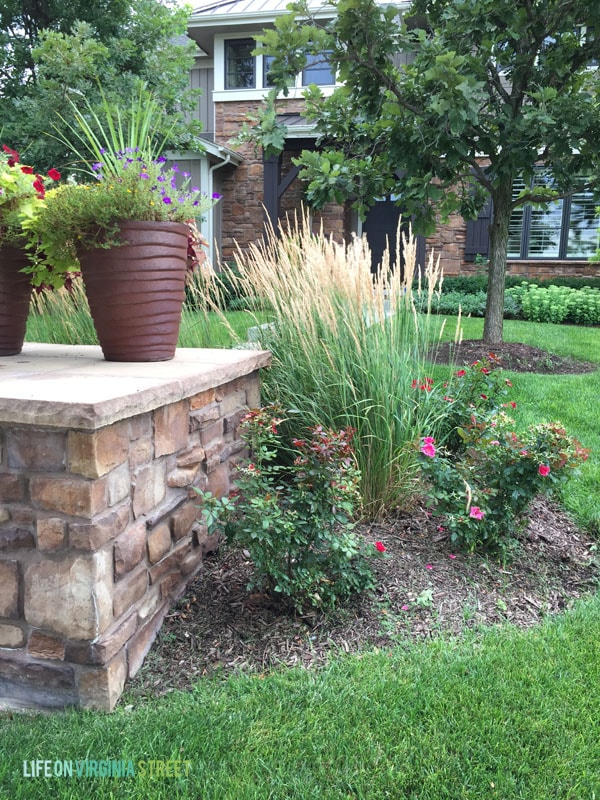 And now the after, with fresh mulch in the yard. I only had to buy three bags to cover this front bed and the tree behind it. In retrospect, I should have bought six so that I could do the other trees out front, as well, but these were the two areas that desperately needed some attention. Granted, the after looks a bit more romanticized because I took the picture in the evening when the sun was glowing, but I think it's clear what an impact the fresh mulch makes!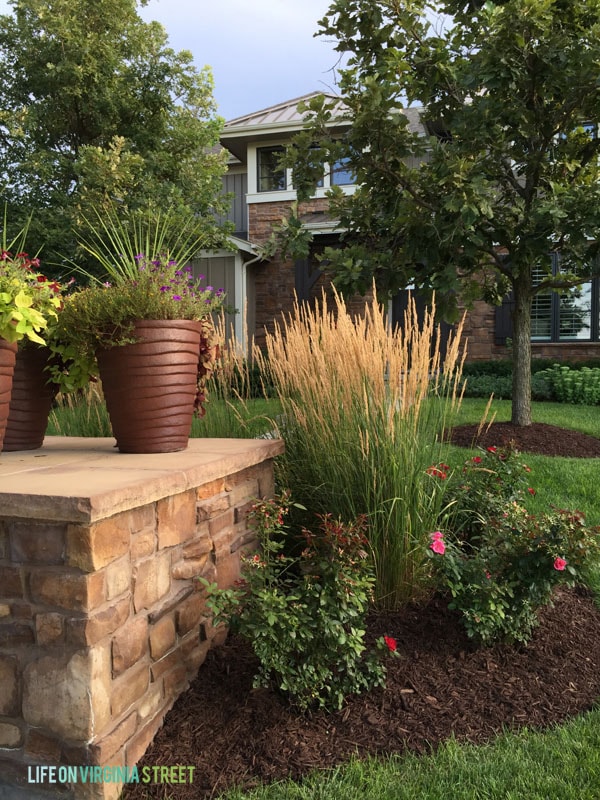 My limelight hydrangeas are starting to look so beautiful. I can't wait to start clipping some of the blooms once they are fully mature!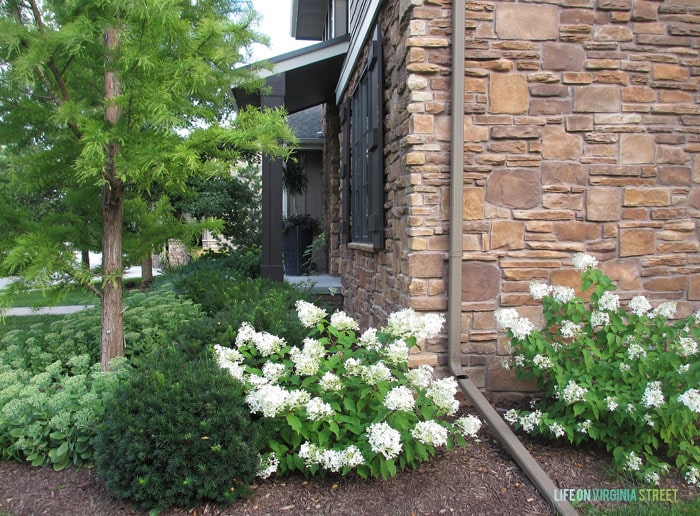 As you can see, my favorite fertilizer is working wonders in the front. I continue to add it to all of my flowers about once a month until fall. Check out that potato vine and size of my traditional and Annabelle hydrangeas! Dare I say they are getting too big?! Impossible 😉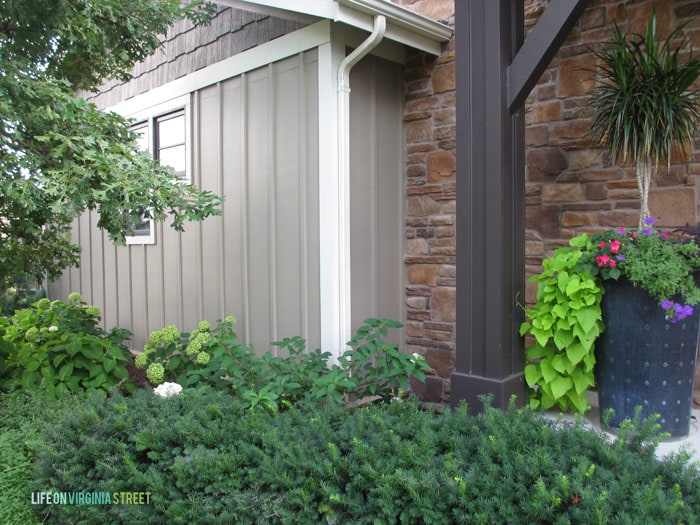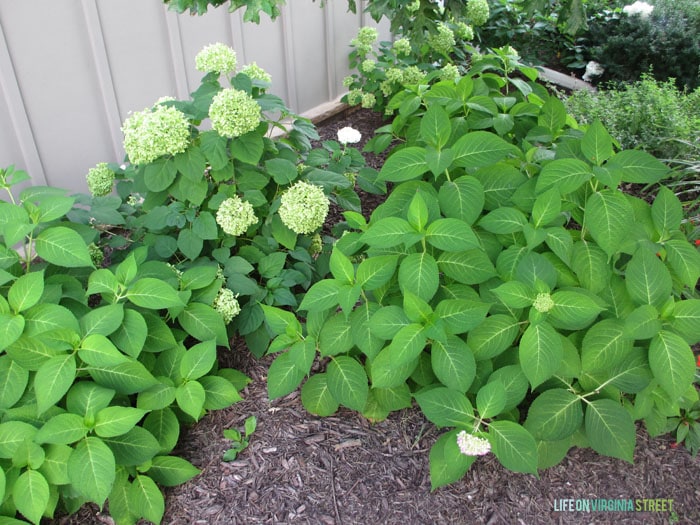 Earlier this summer, I set my "bad" fiddle leaf fig outside, this time on our back patio instead of in the courtyard. It has already sprouted eight new leaves! Setting the plant outside is always such a savior for this plant each year. If you plan to give it a try, make sure it doesn't get much, if any, direct sunlight on it. You can read more about my prior years' experience in this post. Such an easy cure for these finicky little things!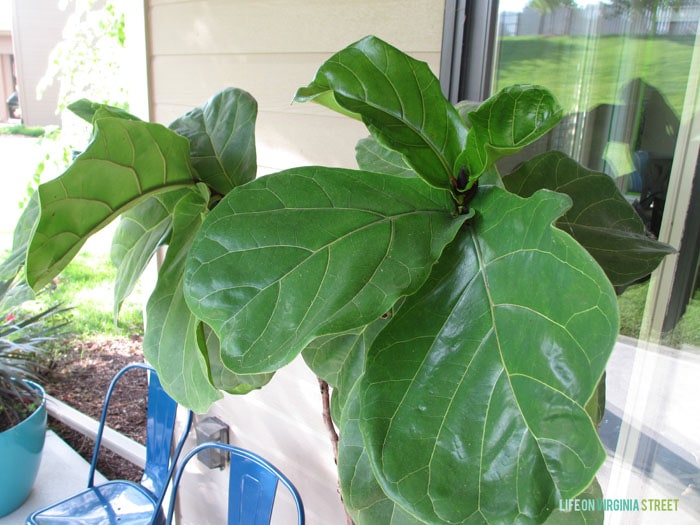 I also managed to get all the leaves and debris that accumulated so far this summer out of our courtyard. Unfortunately we had another storm Saturday night so I didn't get a great beauty shot for the afters. I did grab a quick picture of this planter though. More proof that fertilizer is ridiculous! Don't the greens really bring out the color in the Frog Tape that's on the dining room windows 😉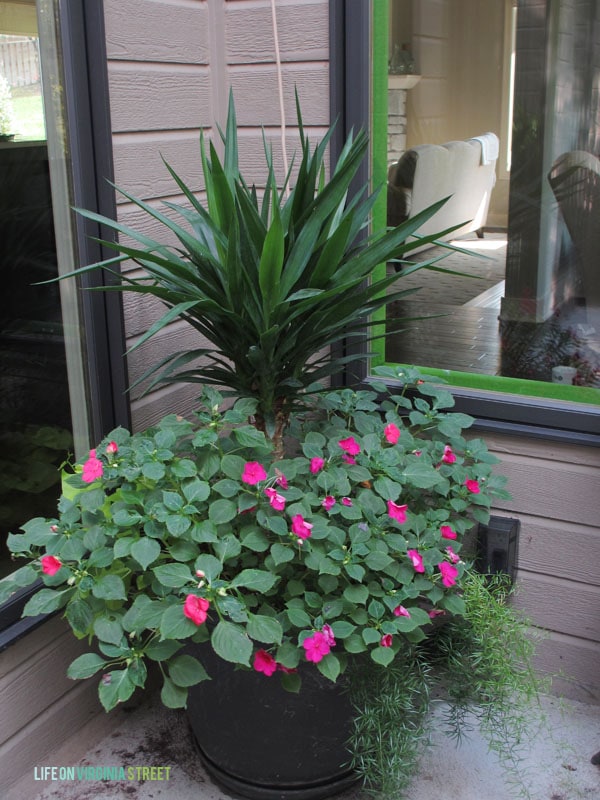 Sunday evening, I was in the mood for a summery dinner so I picked some fresh basil from the courtyard and made a caprese salad, the Italian way. When we were in Tuscany in June, the Italians cringed that Americans put balsamic on their caprese (which I secretly love). They said it was the sign on bad ingredients and you only used it to hide bad flavor. The Italians simply add olive oil and salt and/or pepper to their tomatoes, mozzarella and basil. It was fun to open our souvenir olive oil we brought home (did you know most of their olive oil is in tin cans?) and try it out. It was every bit as delicious as I remembered!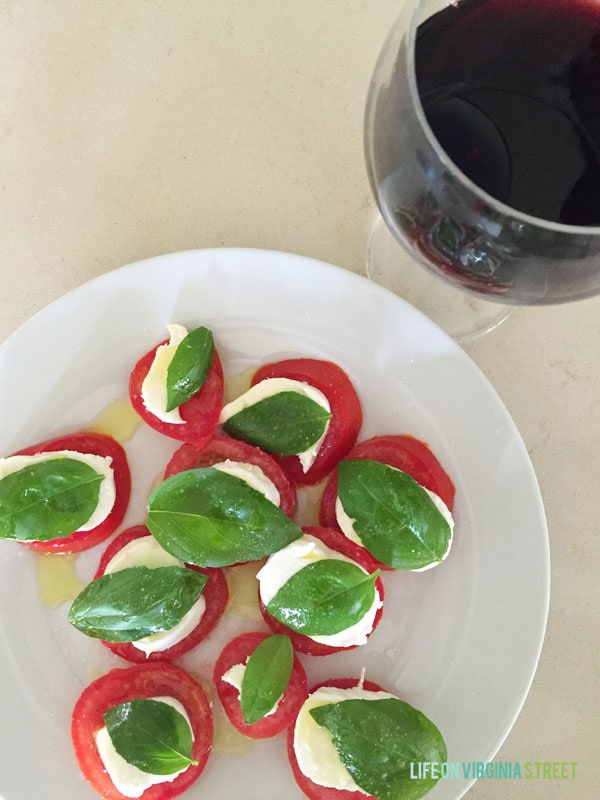 Even with all I was able to accomplish above, I also got the second coat of paint on the baseboards in the dining room. I'm definitely in the home stretch now!
I hope you all had a wonderful weekend and continued to soak up every single minute of summer!
If you would like to follow along on more of my home decor, DIY, travel, lifestyle and other posts, I'd love to have you follow me on any of the following:
Pinterest / Instagram / Facebook / Twitter / Bloglovin' / Google
disclosure: affiliate links used